A Canal Tour in Malmö, Sweden with Kids
Seeing attractions from its canals is one of the best ways to experience a city.  It offers a different perspective and sometimes, better views of the sights. During our recent trip to Denmark, we took a day trip to Malmö, Sweden which was across the Oresund Bridge and was a fast 35 minute train ride or about an hour by bus from Copenhagen.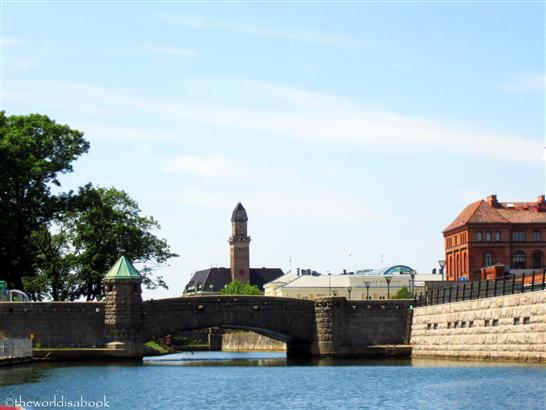 Malmo, like Copenhagen and Amsterdam, also has a vast system of canals and bridges.  Its canals were originally built as part of a defense system.  Guided, open boat tours, called Rundans, were available to see the city from the water.  An onboard guide did our 50-minute tour in English and Swedish and gave us a wonderful overview of Malmo's history and interesting facts about the buildings and sights we saw along the way.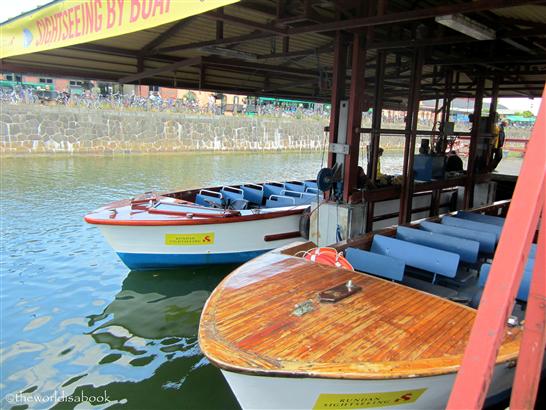 This was a great way to familiarize ourselves with the city and determine which sights we wanted to explore more.  The Rundans were located on a dock across from the city's Central Station.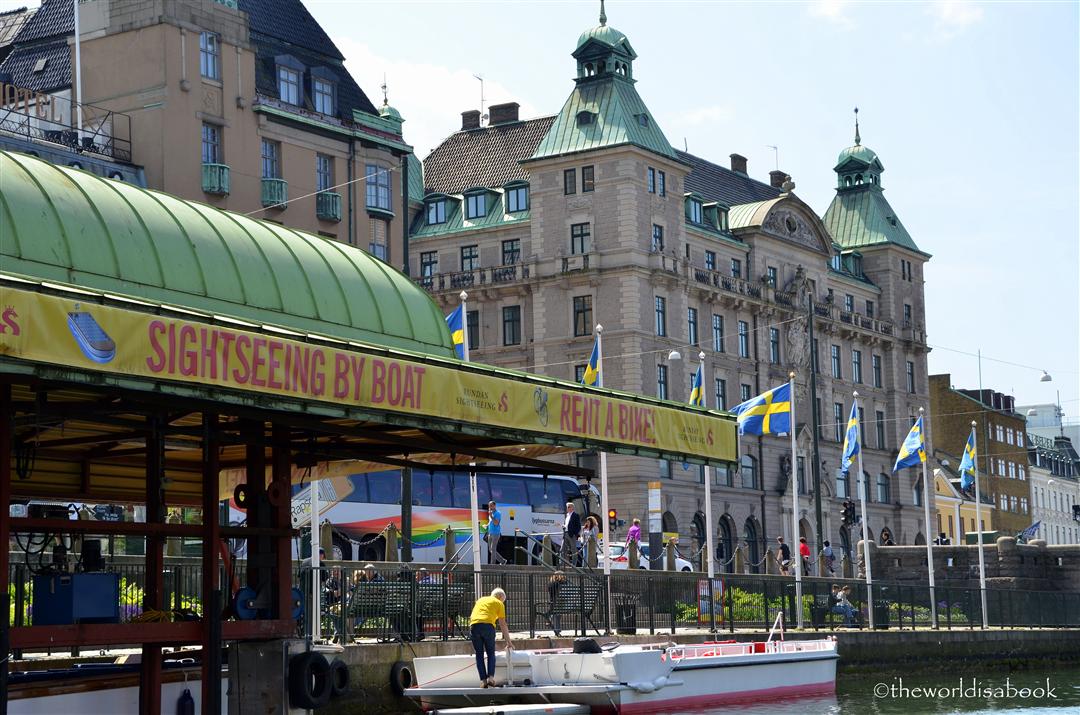 The first of the 21 bridges we crossed was this modern, pedestrian bridge with the old port office in the background.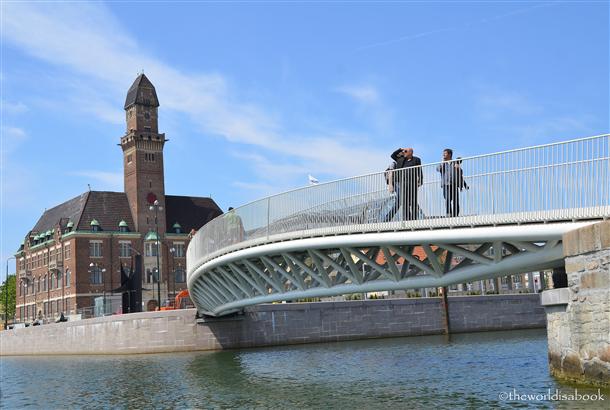 Located next to the Central Station, the old post office was a beautiful piece of architecture in the midst of the new skycrapers.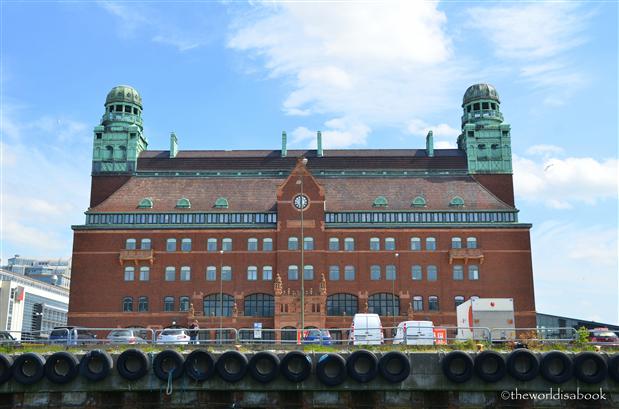 Our cruise on the harbor took us alongside working replicas of old ships, shipyards, factories and old remnants of Malmö's industrial past.  The Harbor Bridge and Malmö Lighthouse were classic symbols of the city.  The 66 ft (20 m) lighthouse was built in 1878 but hasn't worked since 1983.  Malmö has undergone a successful redevelopment from industrial to innovative, architectural designs.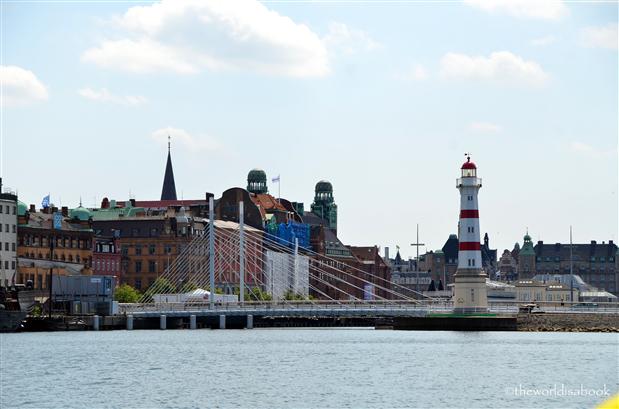 Malmö's most distinguished architectural skyscraper, the HSB Turning Torso, was one of the structures we looked forward to seeing in person.  This unique building was nine cubes twisted through 90 degrees from its base to the top and was designed by famed Spanish architect Santiago Calatrava based on his Twisting Torso sculpture.  It was completed in 2005 and is now Scandinavia's tallest building at 623 feet(190 m) and 54 stories high.  The building has also become Malmö's unofficial symbol.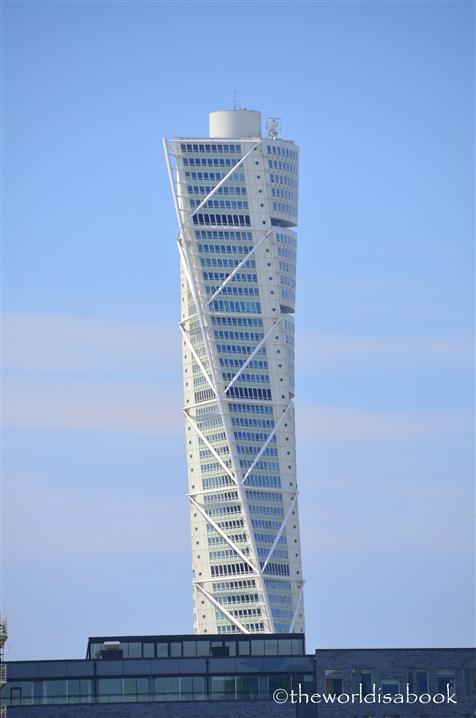 The HSB Turning Torso was a marvelous example of modern architecture and a very fancy residential building.  It is not generally open to the public except for certain few dates during the year.  I wished we had the chance to see it up close or go inside. I'm not sure why an observation deck hasn't been put on the very top floor which will surely draw tourists to see the panoramic ocean and city views.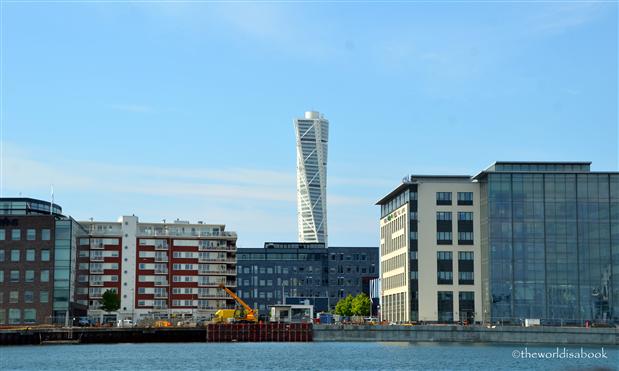 This red brick building behind the bridge didn't exactly fit our image of a castle.  Malmöhus Castle was built as a citadel and became a minting place and even served as a prison but is now used as an art gallery, and the city and Natural History museums.  It is the oldest Renaissance castle in all of Scandinavia built by Denmark's King Christian III in the 15th century.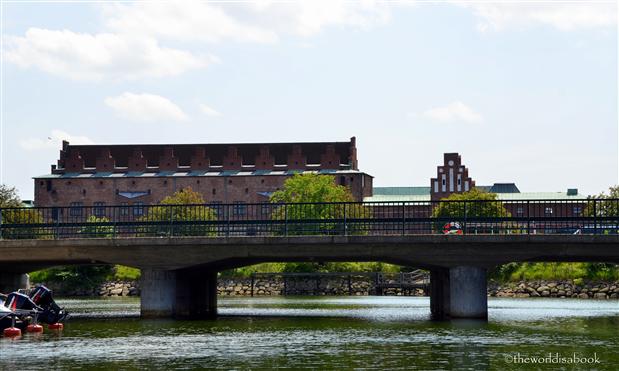 We saw this Dutch Mill or Castle Mill near the castle.  Who knew Sweden had canals and windmills?  We also came upon a gathering of people admiring an Elvis Presley impersonator with an Elvis suit on display alongside American flags.  Totally random!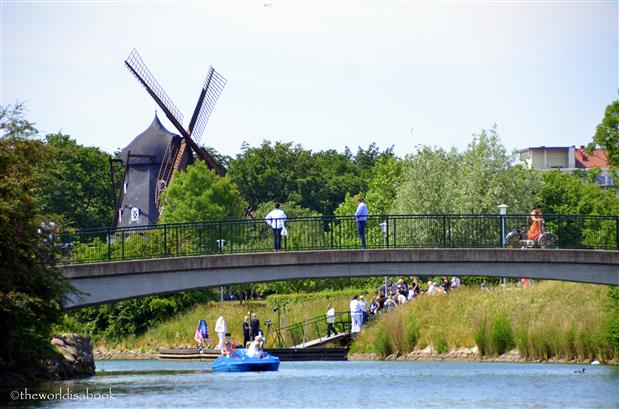 You never really know what odd things you'll come across while sightseeing through canals.  As we rounded a corner, we found this tiny house on its side that appeared to be sinking. Was this someone's abandoned shed that littered the canal?  The sinking house was actually part of an art exhibit.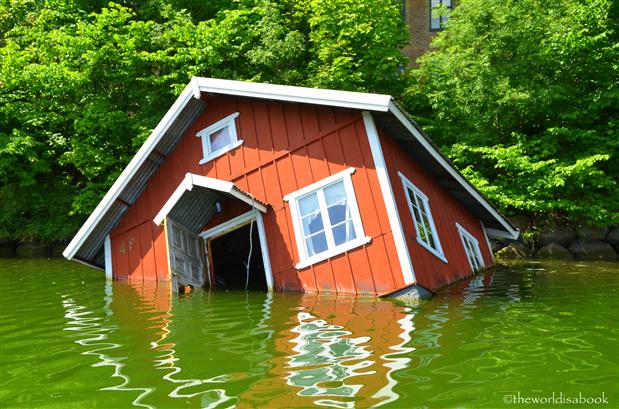 Malmö is also known as the "City of Parks" due to its number of parks that have been around since the early 1900s.  They were well-maintained and clean perfect for sunbathers, kids and residents enjoying the summer weather.  The canal tour meandered through these lush green spaces in the city center.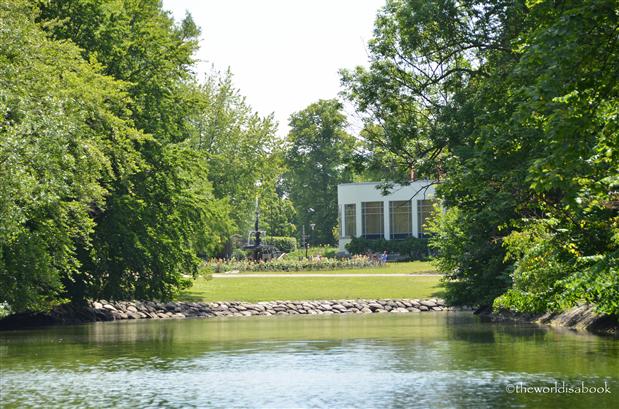 We saw many people on pedal boats, canoes and even this floating barge where people were enjoying lunch with a band entertaining them.  What a delightful way to cruise the canal!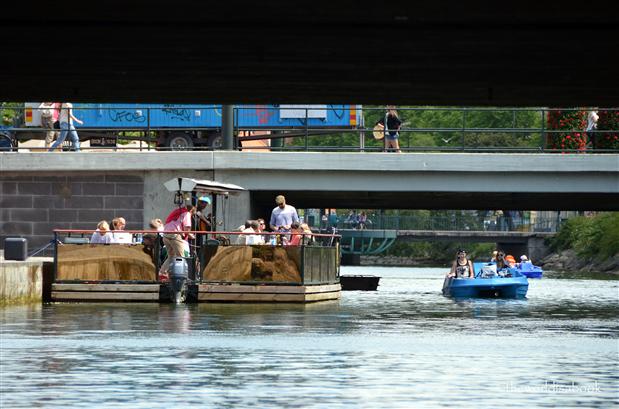 Cruising the canals also felt like an architectural tour through Malmö's varied urban landscape. Rowhouses were kept intact and were one of more expensive real estates in the city.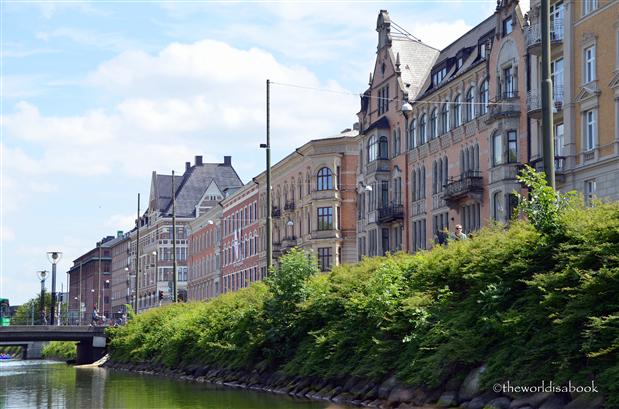 Old buildings with classic architectural styles co-exist with the modern, innovative structures.  Malmö has done a fantastic job of preserving these buildings and maintaining a traditional feel to the city.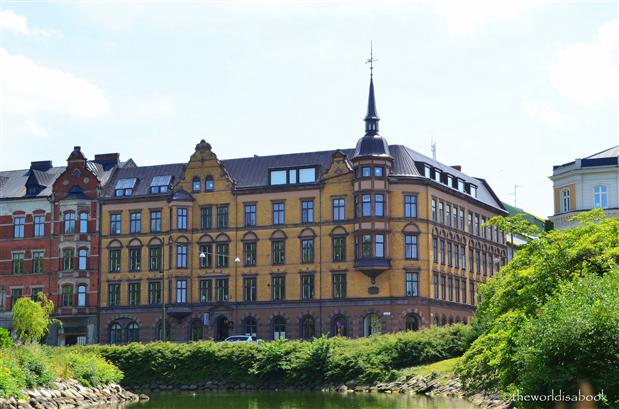 —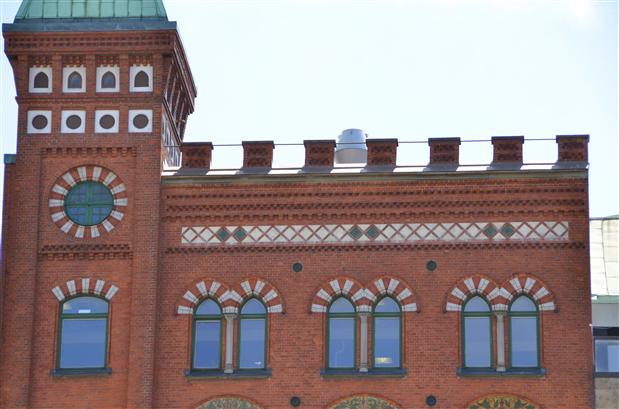 One of the newest buildings was this stylish District Court building that took advantage of the canal views and surrounding parks.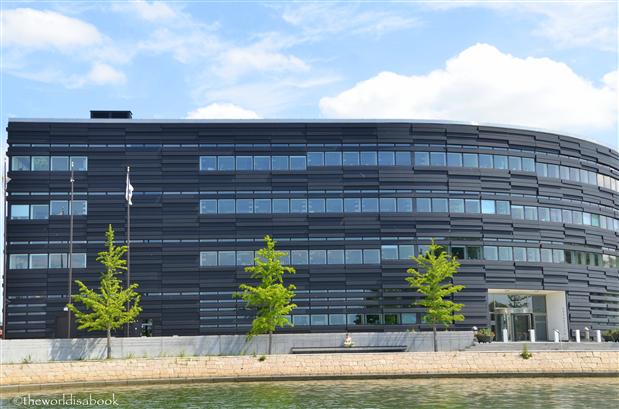 Malmö's canals have become such an integral part of the city.  Restaurants set up dining options overlooking the canal. There was even a set of steps for people to hang out and watch the activities around the canal.  These cat statues were built on the steps, not for aesthetic reasons, but to keep people company.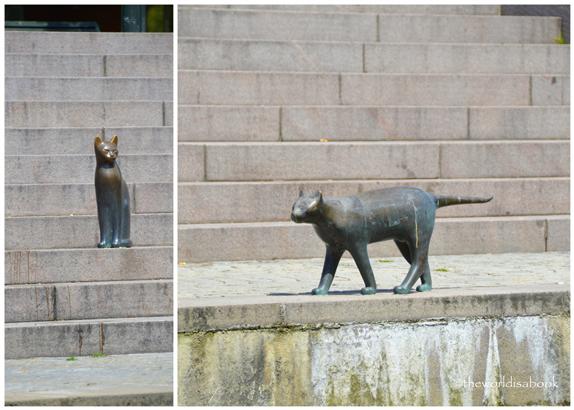 We liked how this tour took us through Malmö's medieval history to the contemporary buildings in the city.  My kids also look forward to seeing cities from the water to rest their tired little feet from sightseeing and is a good way to unwind.  Exploring the harbor, beautiful parks and the city center through the canals was the ideal way to learn more about Malmö while admiring the scenery and enjoying a slow boat ride.  Touted as "the classic way" to see the city, the canal tour was peaceful and relaxing despite the bustling activity that surrounded us.
 Malmö Canal Tour Basics:
Departs from: Norra Vallgatan opposite the Central Station
Prices: Adults 125 SEK ($18.75 US); Children 6-11 yrs: SEK 60 ($9 US)
Tickets can be purchased online or at departure area.
Most tours start at 11:30 AM.
Snacks or picnic baskets can be brought onboard.
Visit the Rundan Sighteeing website to reserve.
*Have you visited Malmö and done the canal tour?  What other cities' canal tours have you enjoyed?
Pin it for later!