Yosemite National Park Tioga Pass: The Road Less Traveled
Most pictures of Yosemite National Park are usually ones like below of the valley floor with cascading waterfalls, granite cliffs and the imposing Half Dome.  For many years, this was the Yosemite we knew and loved.  But, there was another side of the park we had left unexplored.
While at the Mammoth Lakes area last Labor Day weekend, we spent an afternoon exploring the eastern side of Yosemite National Park using the road less traveled – Tioga Pass Road.  This 39-mile scenic drive took us through  granite domes, lakes, meadows, giant boulders and forests.
Tioga Pass is the eastern back road to Yosemite from Highway 395.  This is usually closed from November through May due to snow conditions and lack of  shoulder area to plow them.   The Tioga Road was opened to car traffic in 1961.  At 9,945 feet, it is the highest auto traffic pass in California.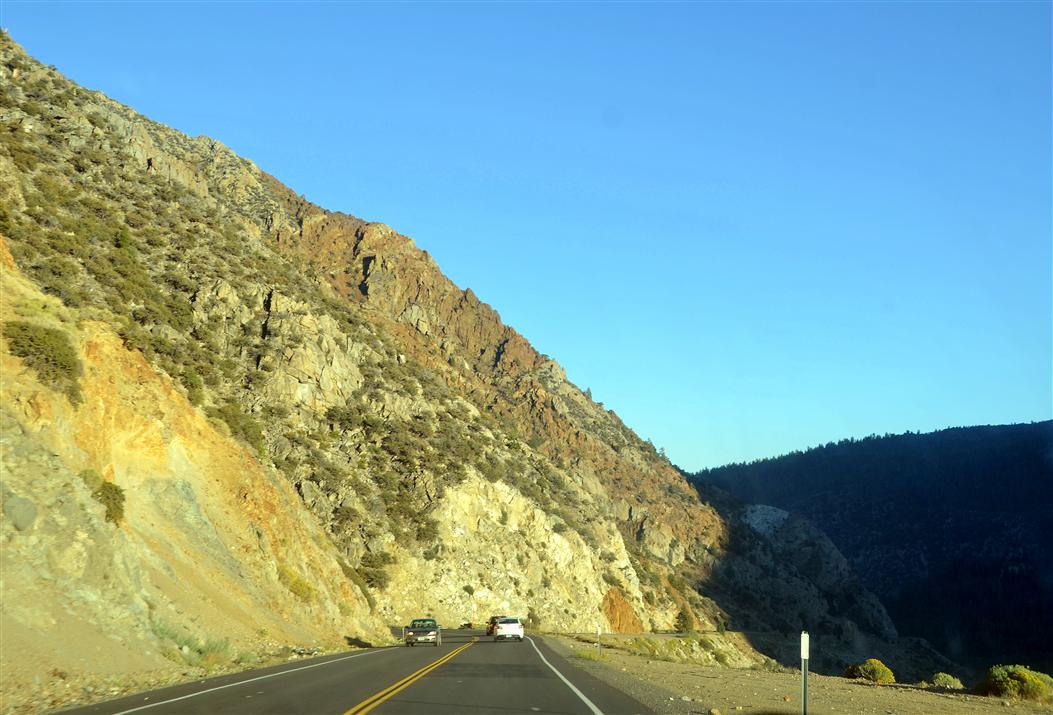 It is also considered the most scenic mountain road in all of the Golden State and one of the most beautiful of the National Parks.  We took the winding road hugging the cliffs with views of the lakes and rugged canyons below. Some parts were a bit nerve-wracking especially if you're prone to motion sickness or fear of heights.  But, there were plenty of turnouts to enjoy the scenery.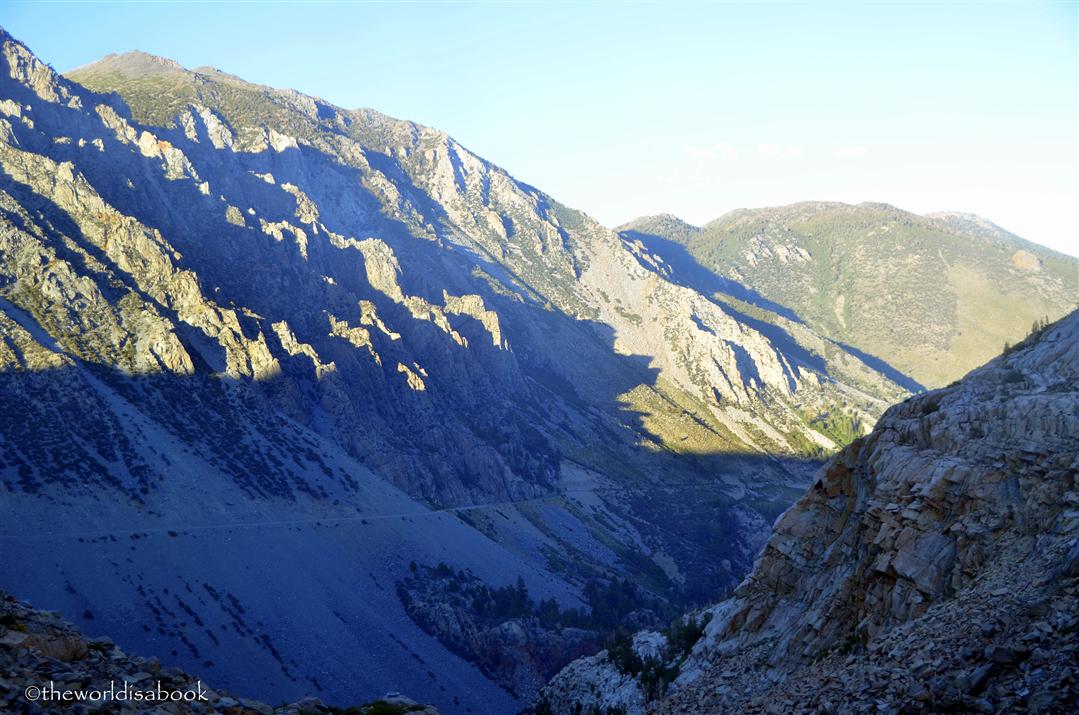 Pressed for time, we only drove a little over halfway through Tioga Road with Olmsted Point as our cut-off.  We decided not to venture into the valley floor since it was  a holiday weeekend and most likely very crowded.  The overlook was named after the father of American landscape architecture, Frederik and his son, Frederik Jr., a conservationist who contributed to establishing the National Park Service.  It was a viewing area that looked down into Yosemite Valley from the eastern angle with sights of Half Dome and beautiful panoramic views.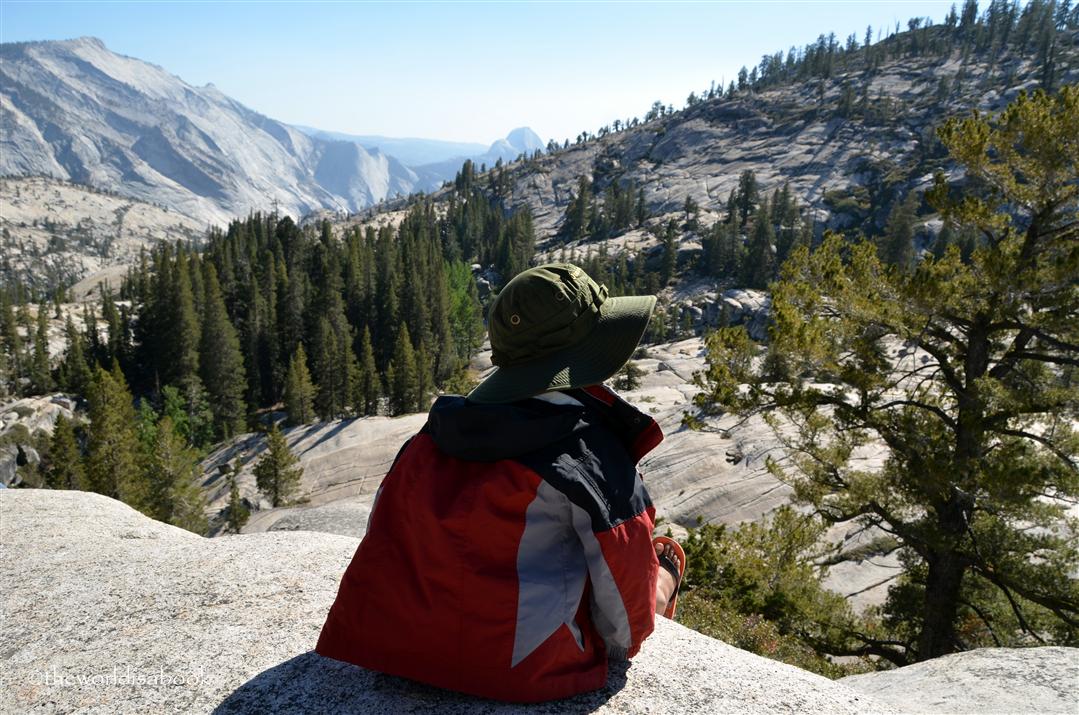 It was a bit hazy during our visit but Half Dome was still visible in all its glory.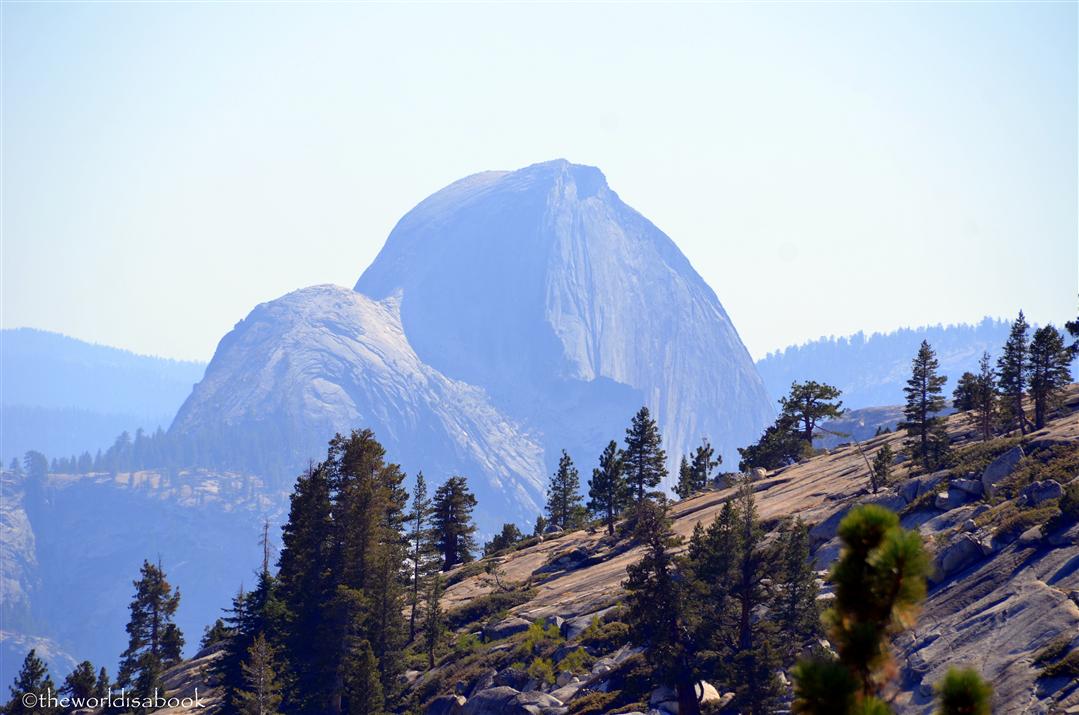 Cloud's Rest, upper right in the picture below, has an elevation of 9,926 feet.  It has one of the world's largest steep granice face and was also visible from the viewpoint area.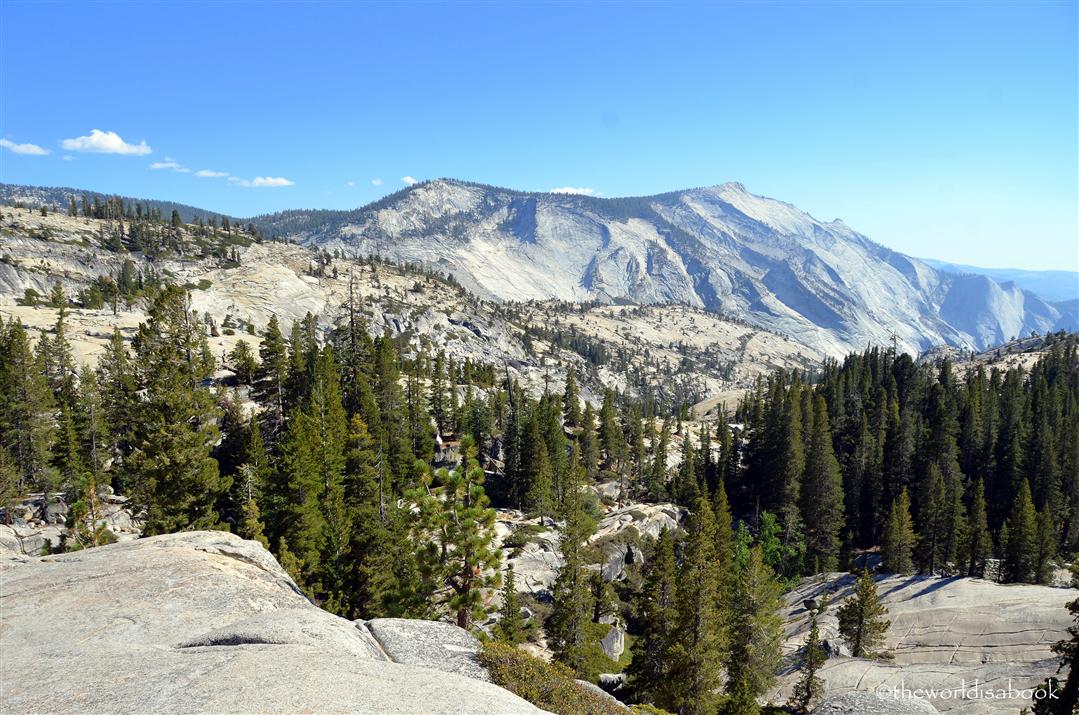 One of the highlights here were the smooth and slanted rock faces with cracks and boulders scattered around as evidence of the glaciation in the area for thousands of years.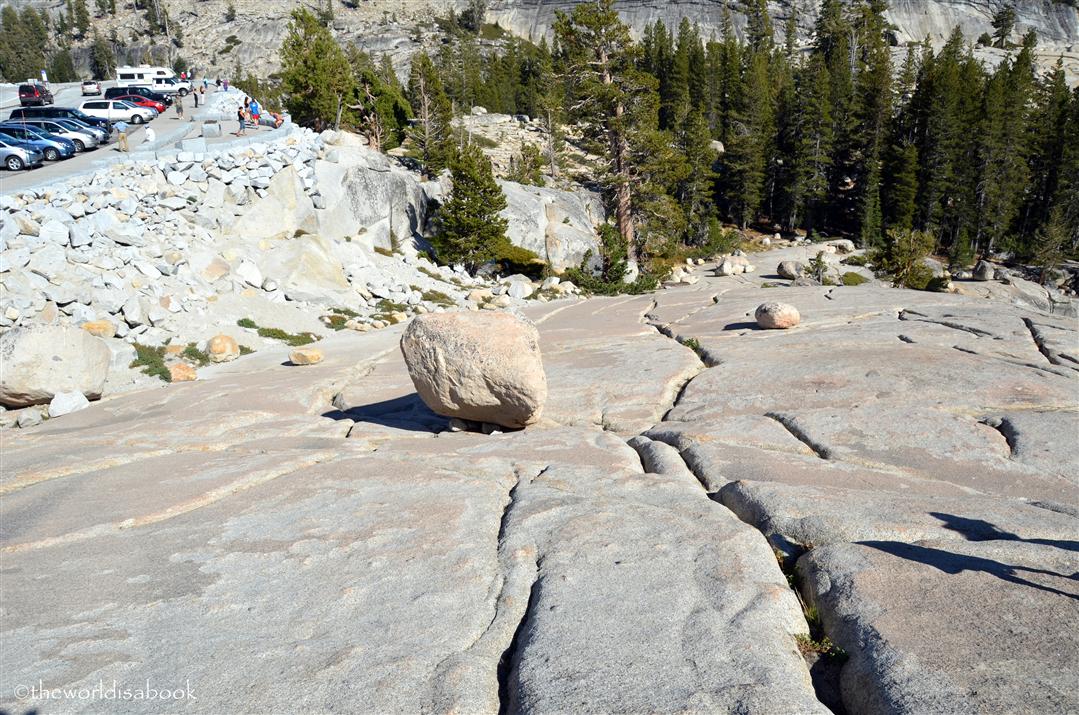 Plenty of kids, including mine, loved this natural playground.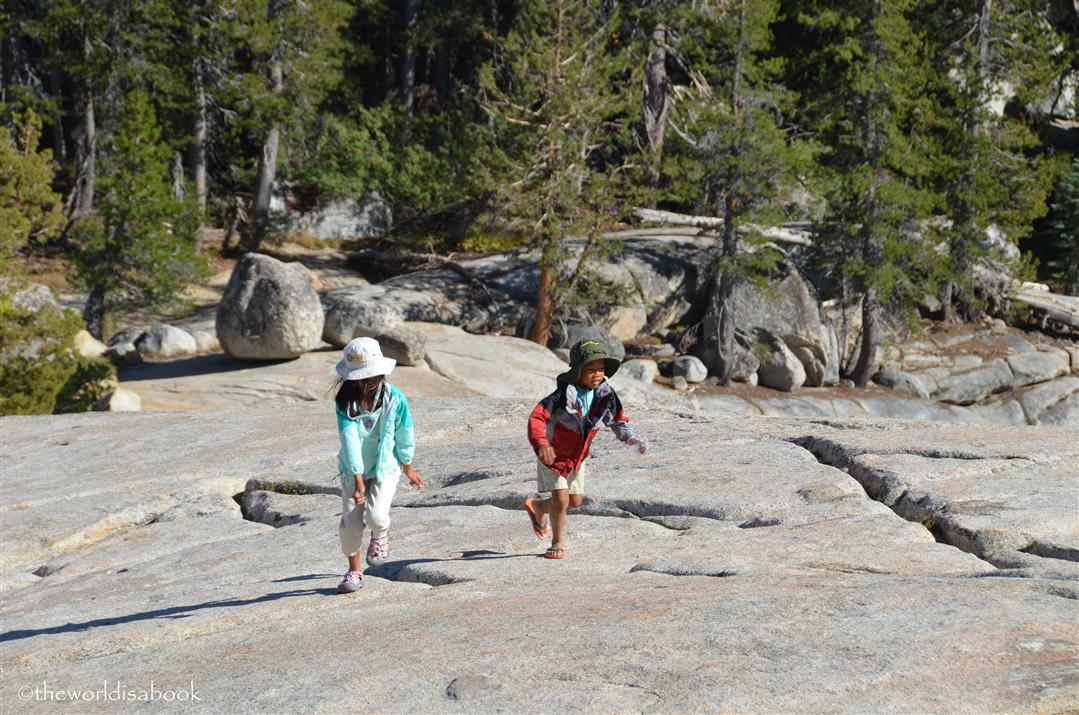 It was fascinating to see various pine trees growing out of the crevices and cracks of the massive rocks and thriving.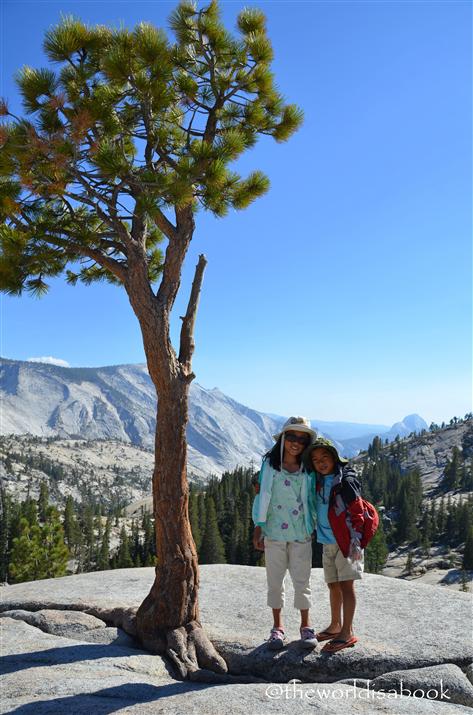 After Olmsted Point, we stopped at other attractions on the way back to the park entrance.  Adventurous rock climbers scrambling their way to the top of a granite dome were common sights  along the way.  I've always admired their patience, skill and dedication to scale these huge rock formations.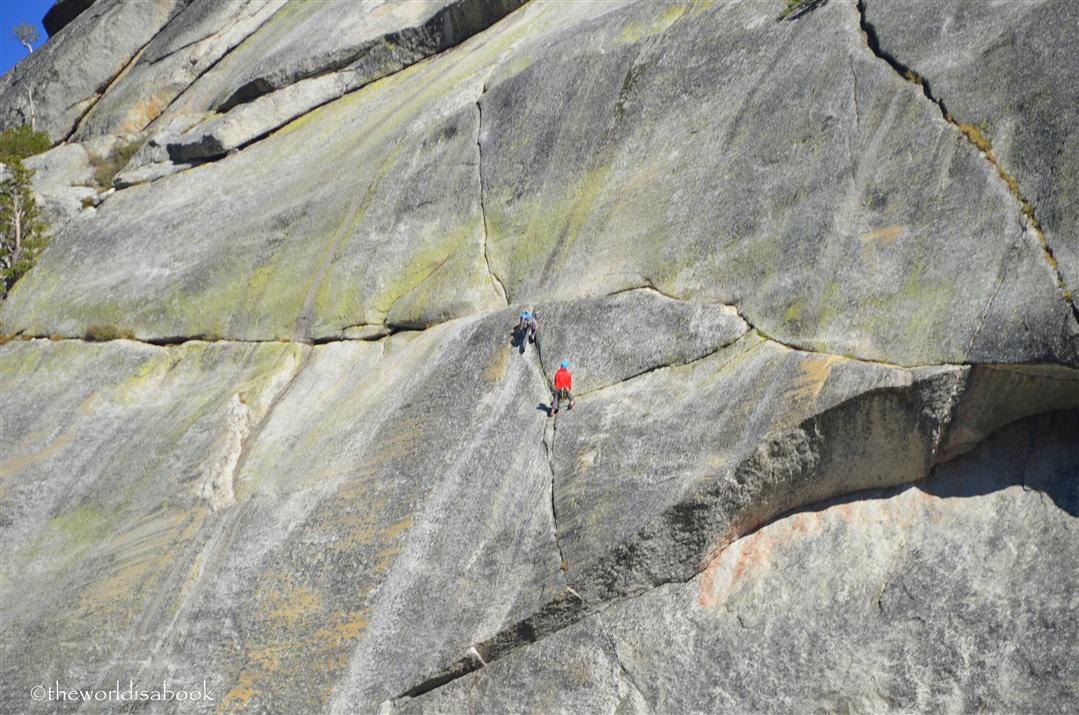 It was hard not to miss the picturesque Tenaya Lake with its sparkling blue waters creeping out between forest trees and granite cliffs.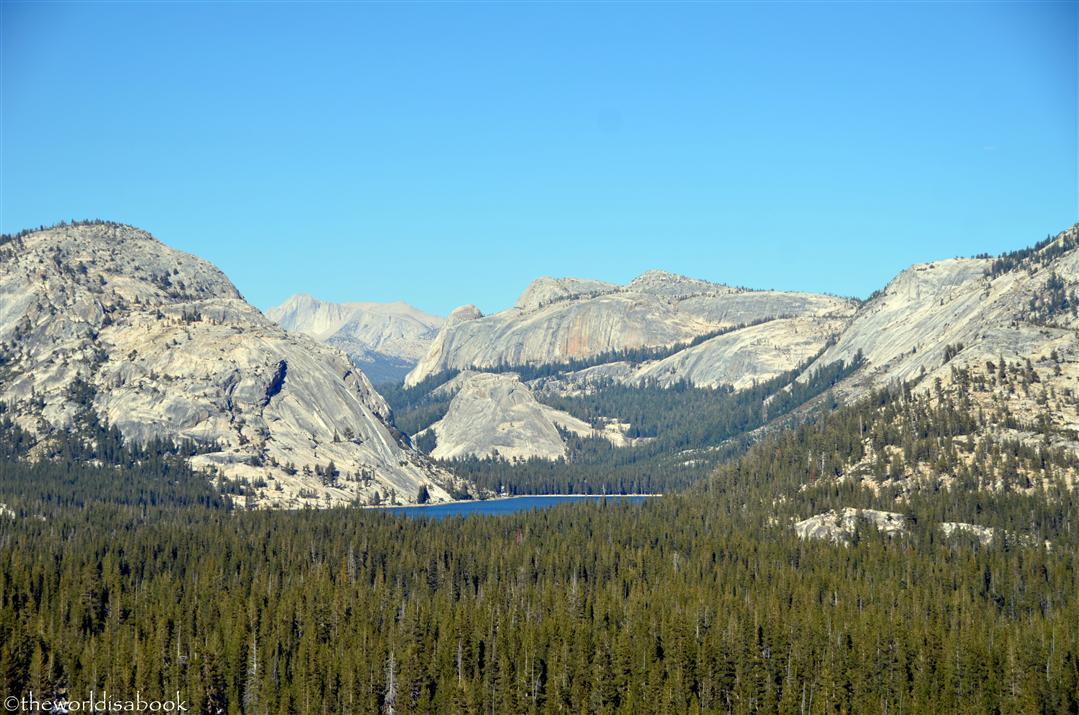 The huge alpine lake had patches of sandy beach.  People were enjoying various activities like boating and kayaking on the lake while we enviously looked on.  It was so calm and peaceful I wish we had more time to enjoy it.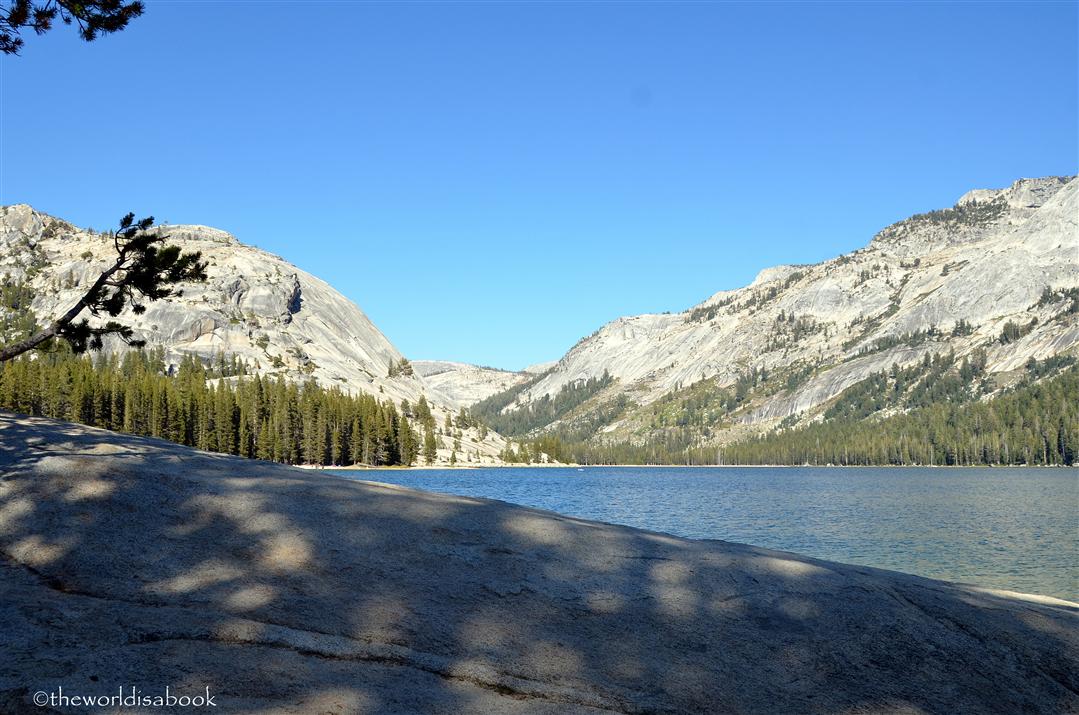 Tuolumne Meadows was a large meadow in the high country with an elevation of over 8,500 feet.  It was surrounded by granite peaks and domes with the Tuolumne River cutting across through it.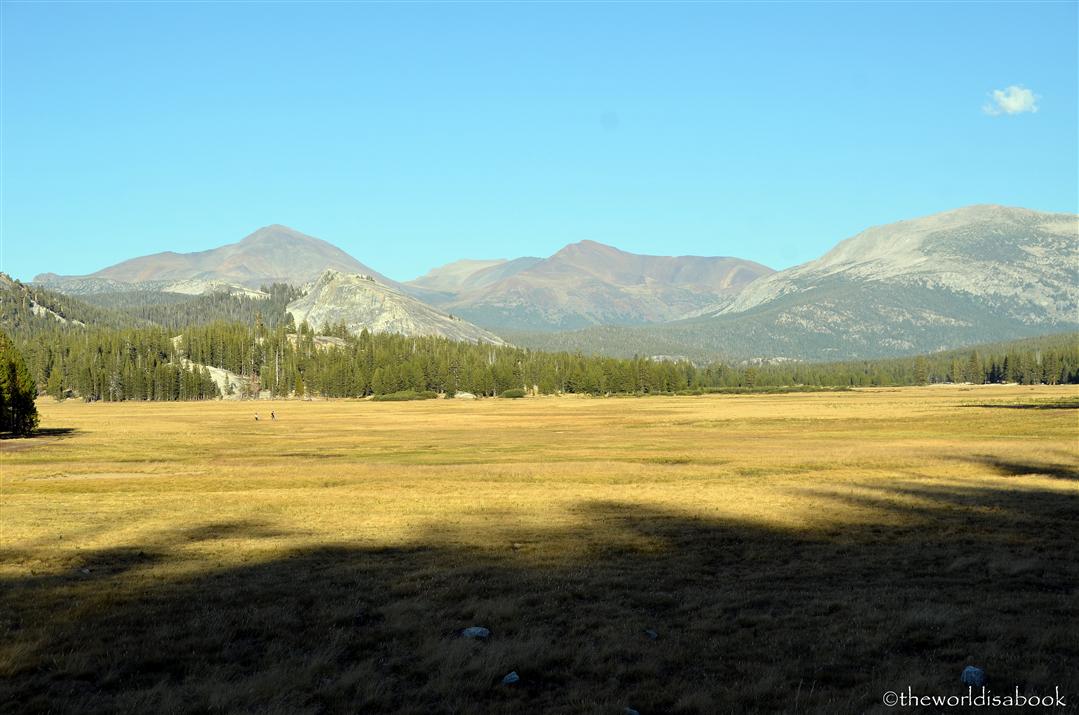 Its vast field of nearly two miles long was picturesque and radiated such serenity.  Various hikes surround the area catered to everyone's physical ability.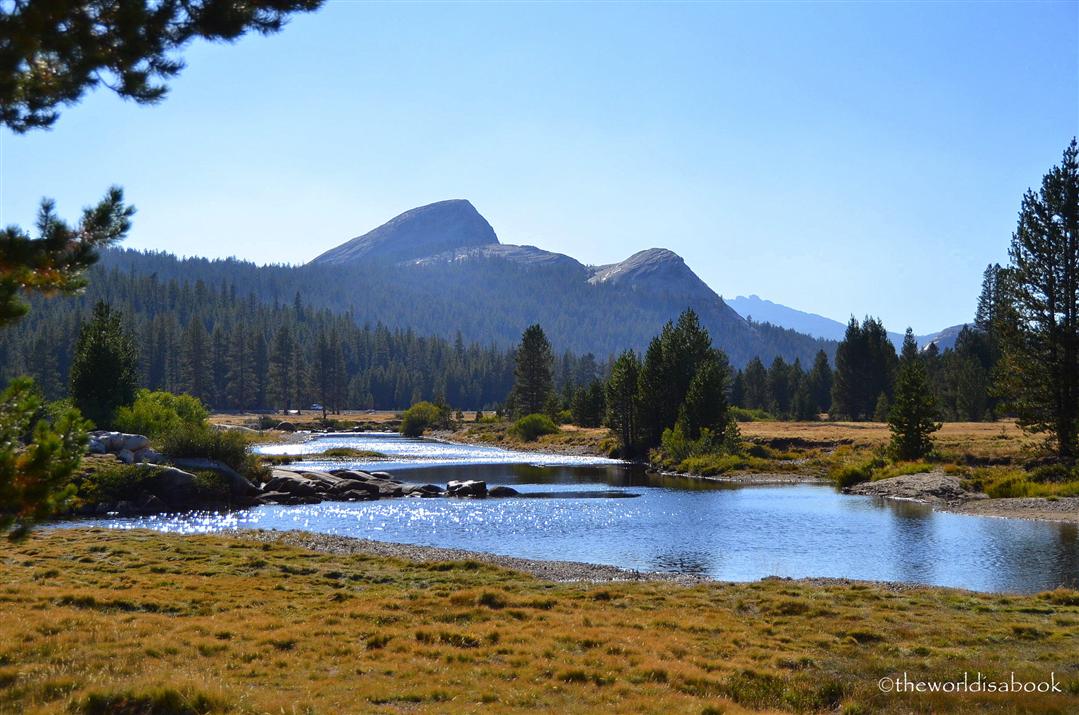 Our kids had to do a hike as part of their tasks to earn a Junior Ranger badge.  We chose the one mile roundtrip hike to Soda Springs trail.  It was an easy and quick hike done late in the day.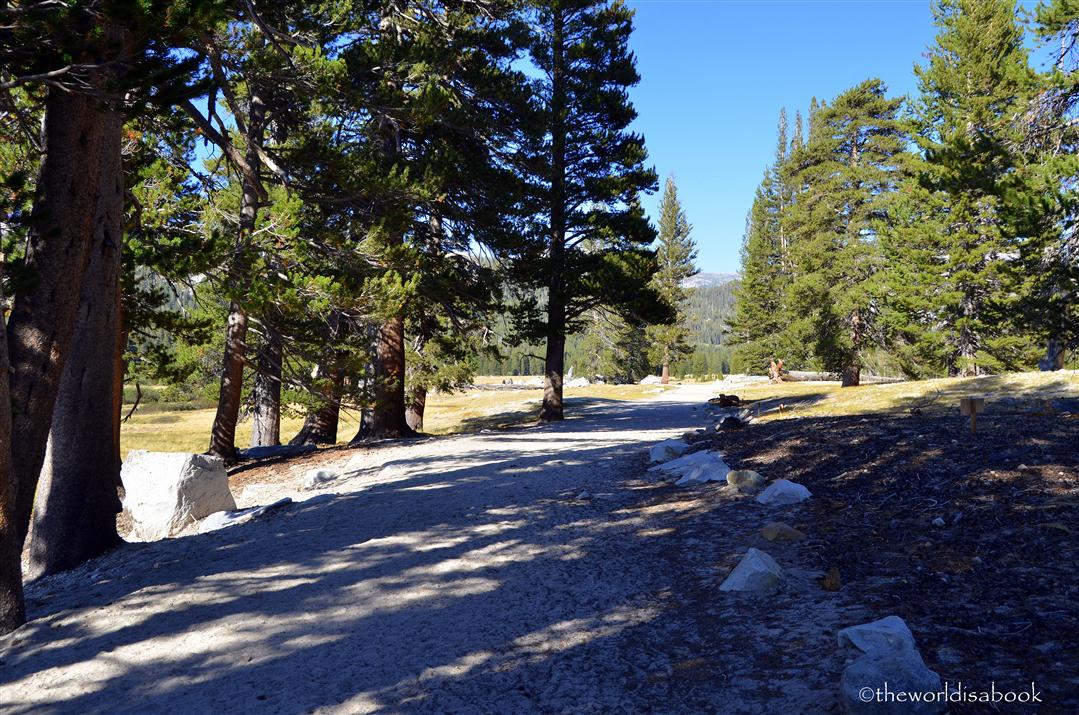 The bridge over the Tuolumne River was the perfect spot to admire the stunning landscape around us.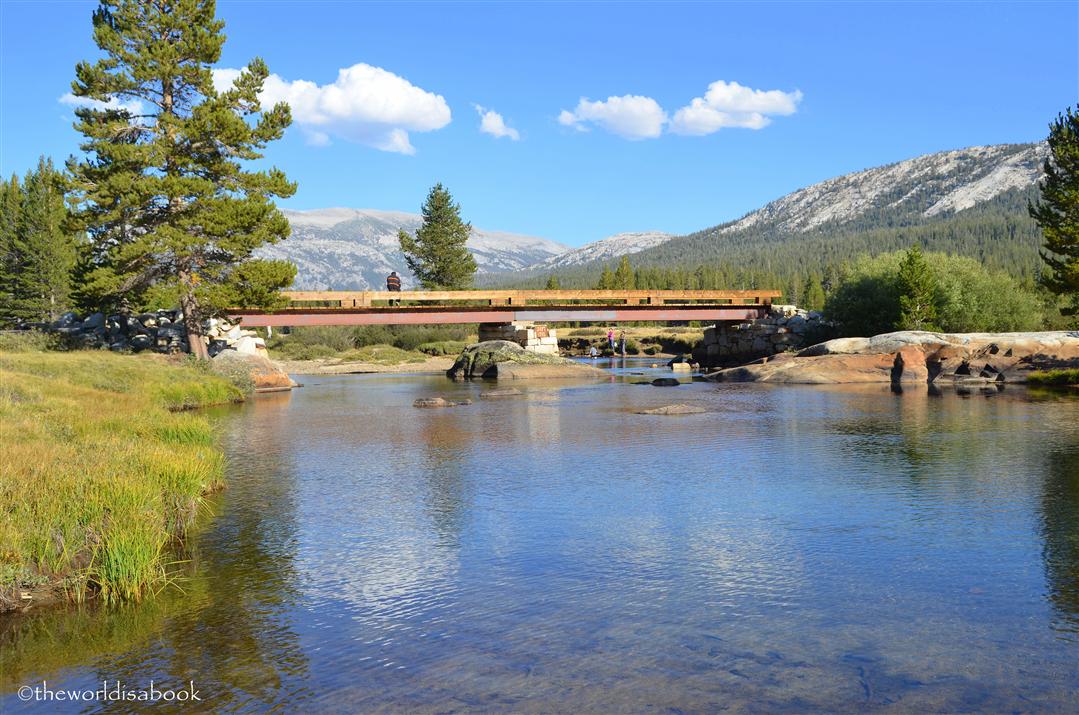 One of the area's large granite domes, Lembert Dome, stood over the meadow.  This was another popular place for rock climbing and hiking.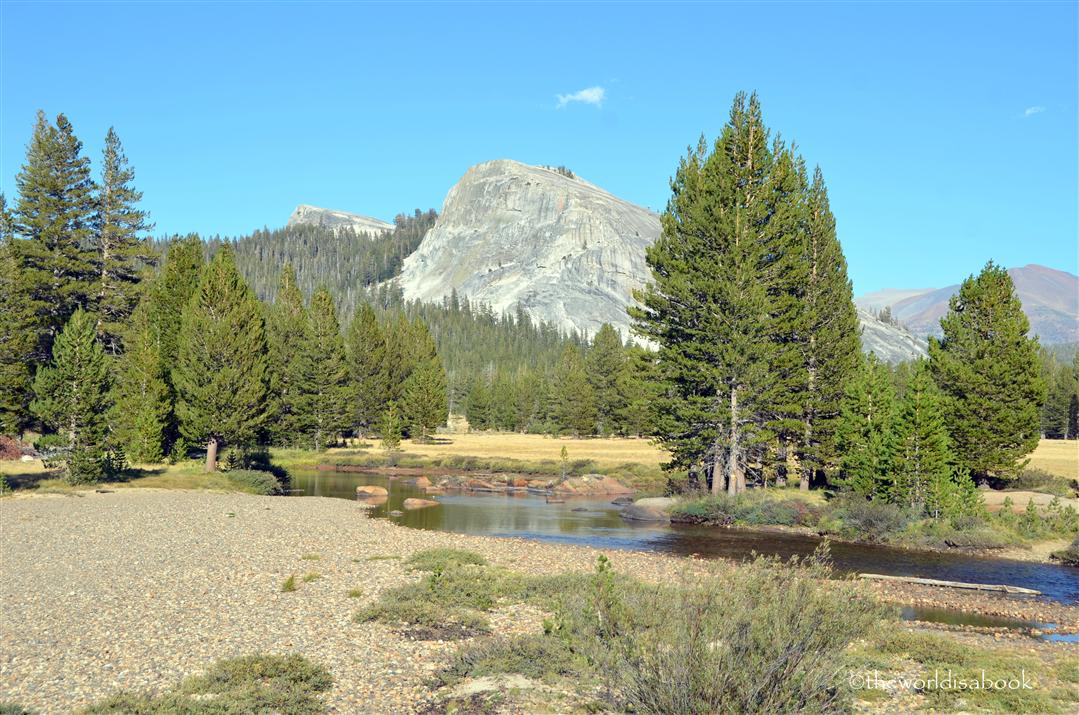 The river was also the perfect place for a quick dip to wash off sandy feet from the trail and skip stones.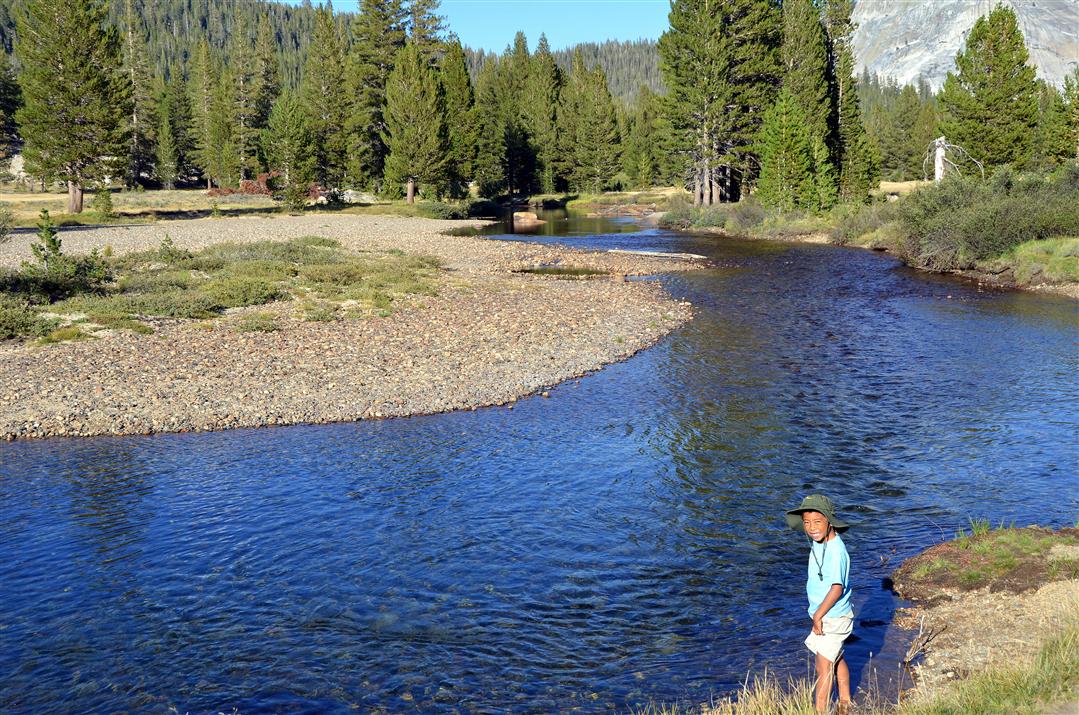 We reluctantly called it a day since it was almost dusk and growling stomachs were heard.  Our parting gift from this short but eventful visit was the sight of deer grazing in the meadow.
Instead of giant sequoias and waterfalls, we were greeted with large domes and the blue waters of Tenaya Lake along Tioga Road.  We wondered why it took us this long to explore this part of the park.  Yosemite is one of my favorite parks and we're lucky enough to live within a reasonable driving distance.  The amazing natural wonders of this park ignited my fascination with the rest of America's National Parks.  This Saturday is National Public Lands Day in the US,  I hope you get to explore a National Park near you.
*Have you explored this part of Yosemite National Park?
Visiting Yosemite national Park's Tioga Road pass Basics and Tips
There is a Visitor Center , lodging, campgrounds, grocery store, grill, gas station near the Tuolumne Meadows area.
Take the Tuolumne Meadows shuttle bus along Tioga Road all the way to Yosemite Valley.
Bikes and pets are not allowed in meadows or trails – only on paved roads.
Dress in layers.  It was cold and windy by Olmsted Point but got warmer by the meadows.
Bring plenty of snacks and water since choices are limited to the Grill and convenience store.
Pin it now, read later!
Check out these related posts: