5 Fun and Free Things to do In Maui with Kids
The Hawaiian islands exude relaxation and beauty and Maui is no exception. The Valley Isle offers plenty of free and fun attractions for the whole family beyond relaxing on its many beaches. I'm not including the beaches since they're a given, free and everywhere.
You can't go wrong with any of them. Our favorites are Ka'anapali, Kapalua and Kihei.  Not surprisingly, the following free attractions are nature-oriented considering the location. Here are five fun and free things to do in Maui with kids.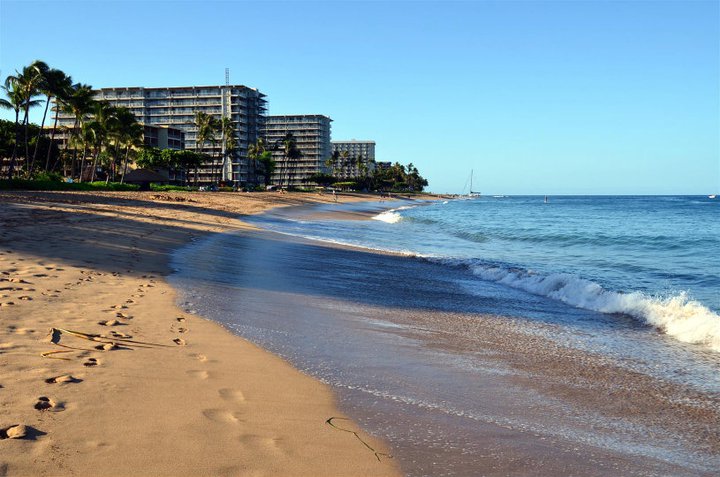 1.  Ali'i Kula Lavender Farm
The Ali'i Kula lavender farm doesn't sound like someplace you would take the time to visit (especially the husbands and kids). But, this lovely property filled with gardens was a pleasant surprise.
It was located in the hills of upcountry Maui with some unbelievable views on the way to Halekala National Park. Don't miss the heavenly scented gift shop of everything lavender and sample some lavender jelly, coffee or tea.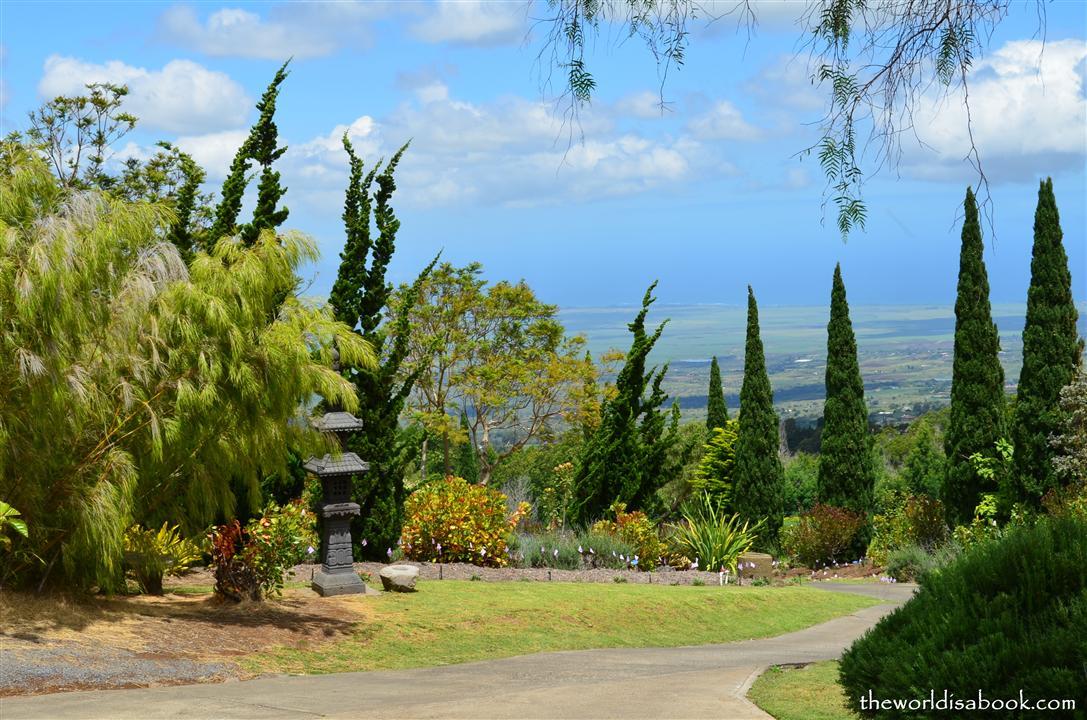 There were 55,000 lavender plants with 45 varieties grown here along with other tropical flowers. They provided a scavenger hunt activity "Lavender Treasure" for the kids to search for treasures(stamps) hidden in ten spots throughout the farm with a special prize after completion.  It kept many kids busy and was a fun way to explore the gardens and gazebos.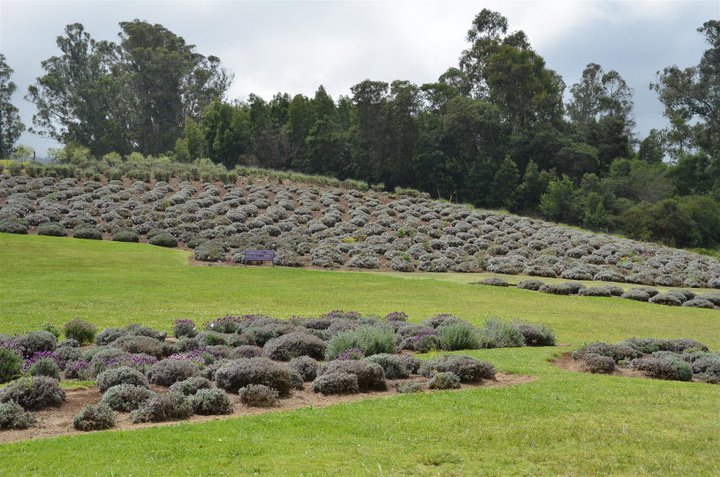 Guided walking tours are available for about $10 per person.  As a bonus, do a quick stop at the nearby Surfing Goat Dairy farm to see and pet some goats and sample some award-winning goat cheese.
2.  Maui Tropical Plantation
This 60-acre working plantation is a treat to visit for the whole family.  Coconut, banana and plumeria trees and rows of taro patch were everywhere.
This is a wonderful orientation for the kids to see where  tropical fruits come from and how they're grown. While a tram tour is offered for a fee ($15 adults/$5 kids), we preferred to walk around the grounds and enjoy this beautiful setting.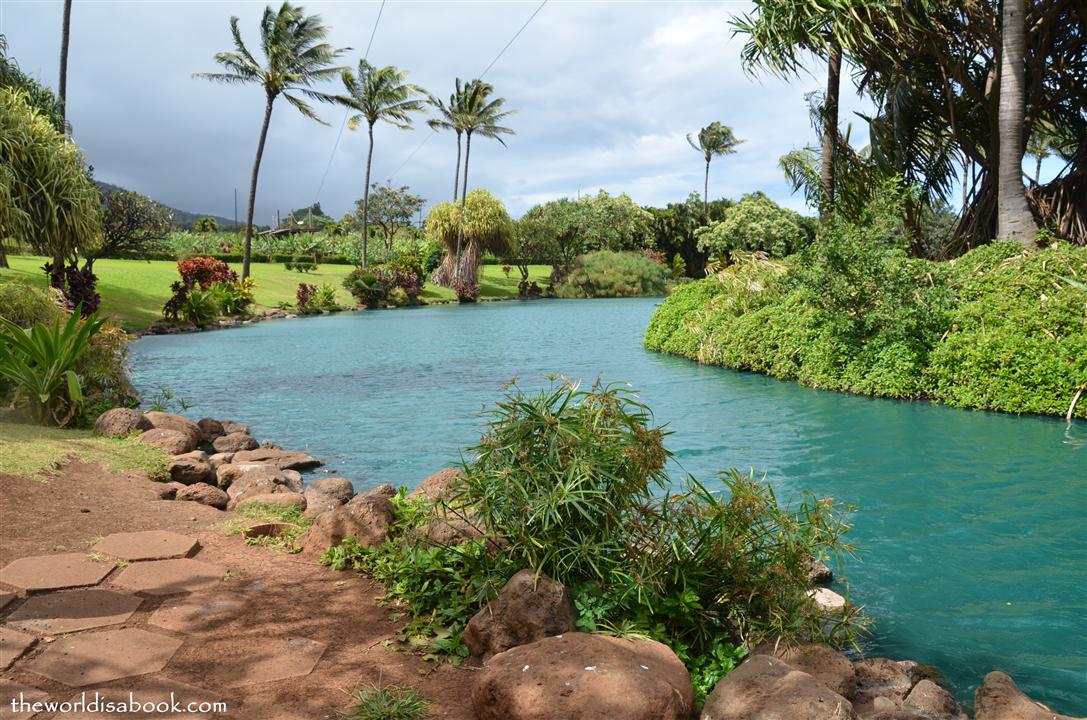 There is a lagoon in the middle of the plantation occupied by numerous ducks. My kids were more than happy to watch and feed the ducks.  Plenty of benches allow for resting and taking in the tropical flowers, blooming surroundings with the green mountains as the ideal backdrop.
3.  Iao Valley State Park
The Iao Valley State Park is a beautiful and peaceful area in Central Maui and is a historical site where an ancient Hawaiian battle took place. A few walking trails were paved and well laid out surrounded by a lush tropical forest and mountains.
On a hot Hawaiian day, a swim or a toe dip in the river may be the perfect way to cool off.  Once in a while, local daredevils jump off from bridge into the cool water for a little exhibition.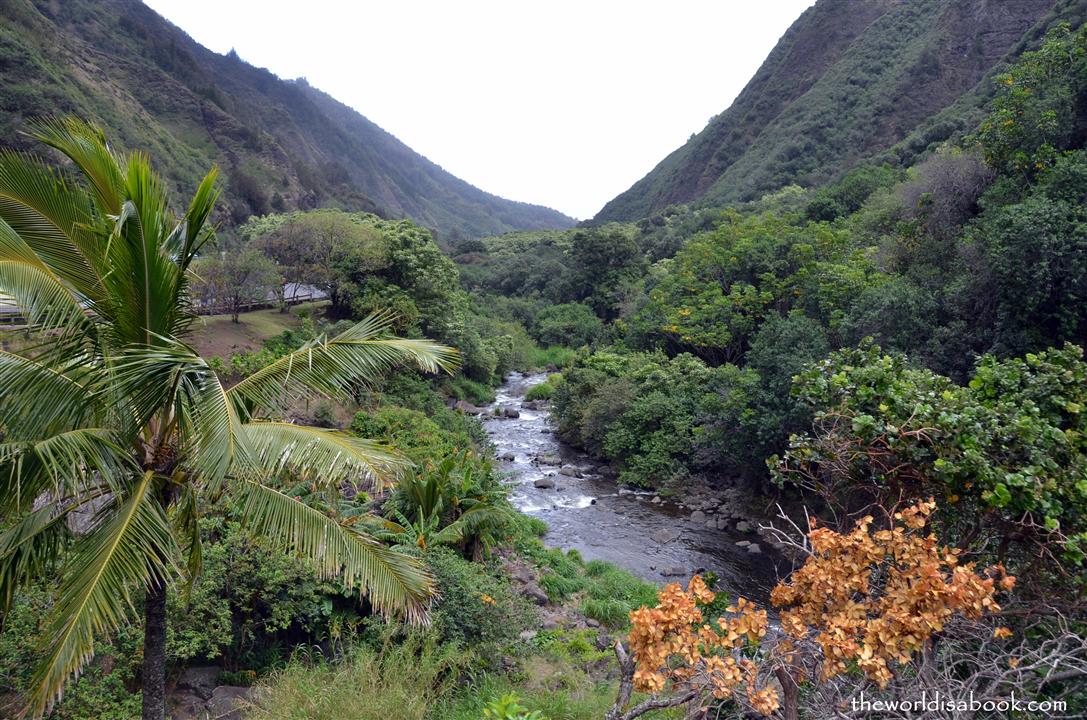 The 1,200 foot Iao Needle is one of the island's iconic attractions and rises high above the valley. It was surrounded by rugged and tropical mountains.
A small botanical garden along a stream was a wonderful place to learn about the native Hawaiian plants and way of life through a couple of recreated thatched roof huts.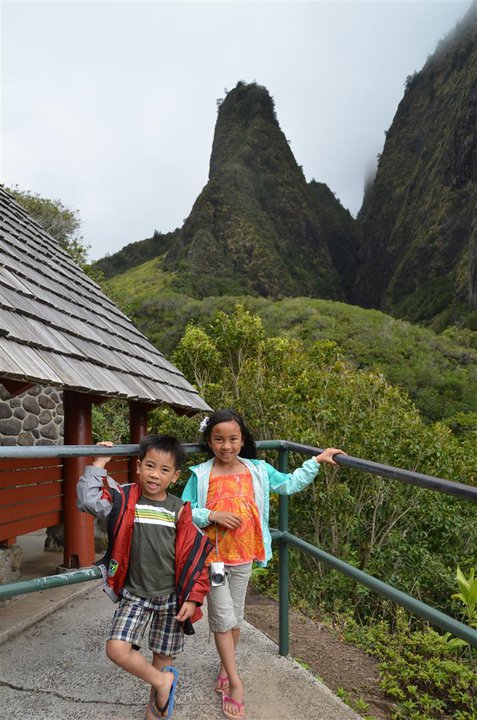 While the entrance to the park is free, Parking isn't free ($5 per car) on the paved lot.  So, count this as almost free.  Hawaii residents get in for free.
I'm not sure how these are enforced since we didn't see any park rangers during our past two visits.  The park is easily accessible and a good short side trip.
4.  The Road to Hana
The harrowing 50+ mile road trip on switchbacks, narrow roads and 600 curves sounds every bit as scary especially when traveling with kids. This is not for anyone prone to motion sickness.
We did seven miles of this Hana road trip due to time constraints. The drive was very scenic along the ocean with waterfalls along the way.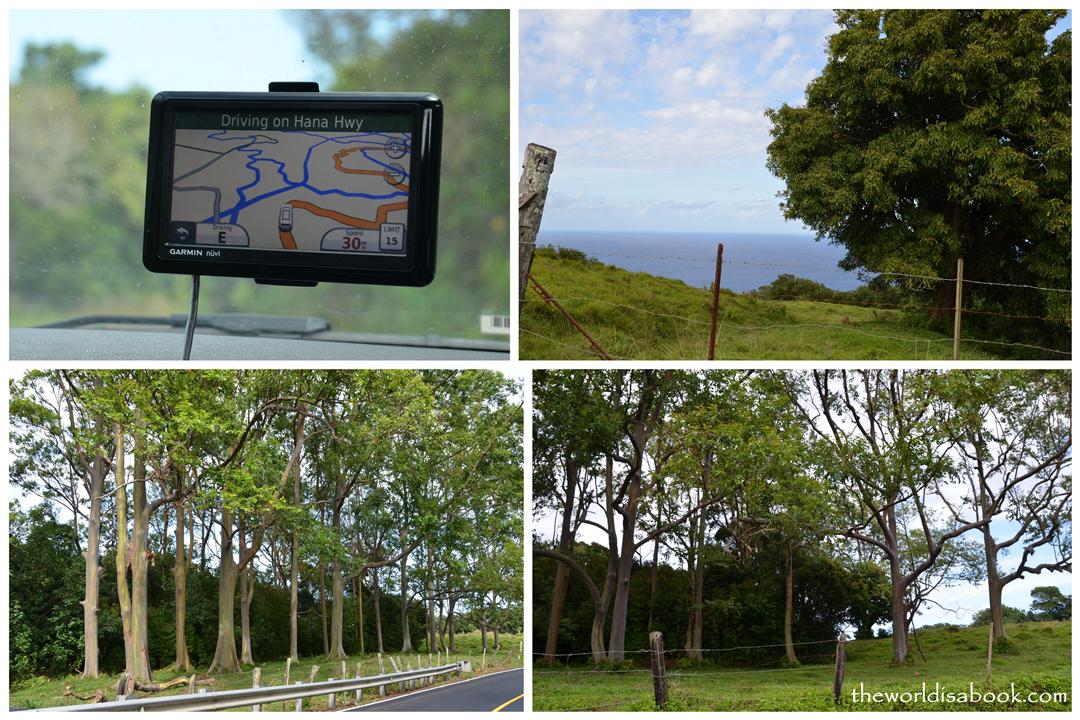 This is one of those trips where it is all about the journey and adventure to get there more so than the destination. Hana is a remote, undeveloped town known as Maui's "Last Hawaiian Place". One of the highlights for us during the brief trip was watching the windsurfers at Ho'okipa Beach Park.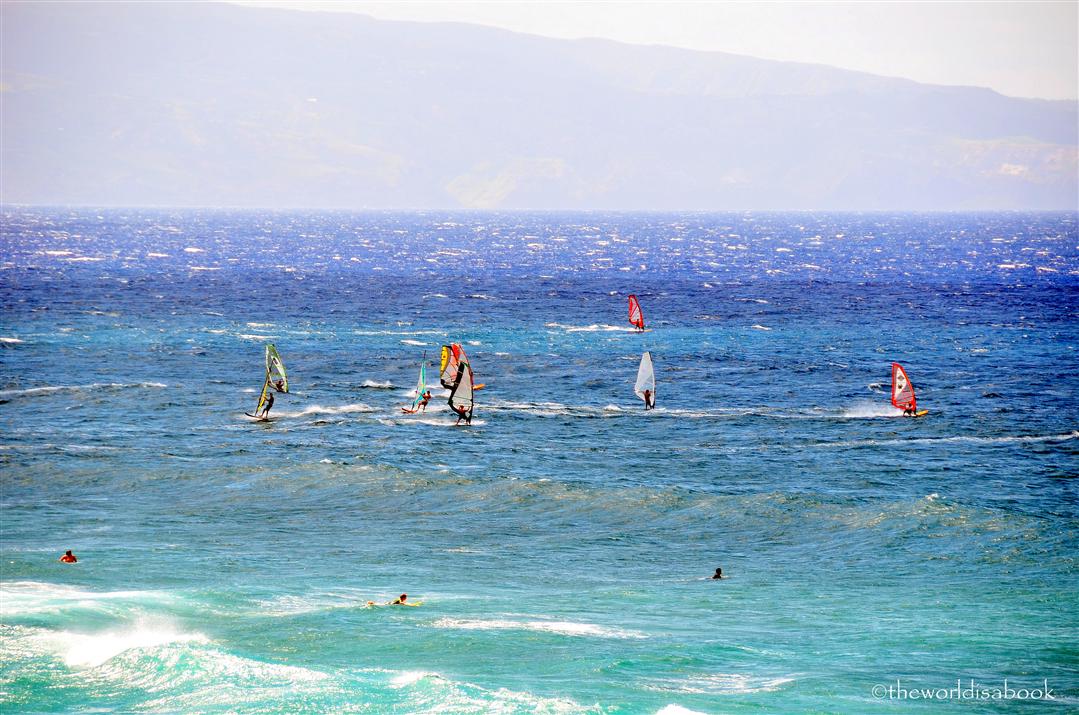 5. Lahaina and the Banyan Tree
Lahaina town offers some historic landmarks and some of the best shopping and restaurants on the island.  Front Street is a lovely area to wander around.
If you're here on a Friday night, don't miss Art Night.  Often referred to as the "jewel in the crown of Maui", this colorful harbor town was once filled with whalers and merchants. 
Along Front Street is a large square with the impressive and massive Banyan Tree.  It stands at over 60 feet high with 12 major trunks and countless branches.
This Indian banyan tree was planted here in 1873 to commemorate the 50th anniversary of the presence of Christian missionaries on Lahaina.  It now covers a shade area of 2/3 of an acre.  It was a popular place for kids to climb on and my two avid climbers didn't want to leave during our last visit.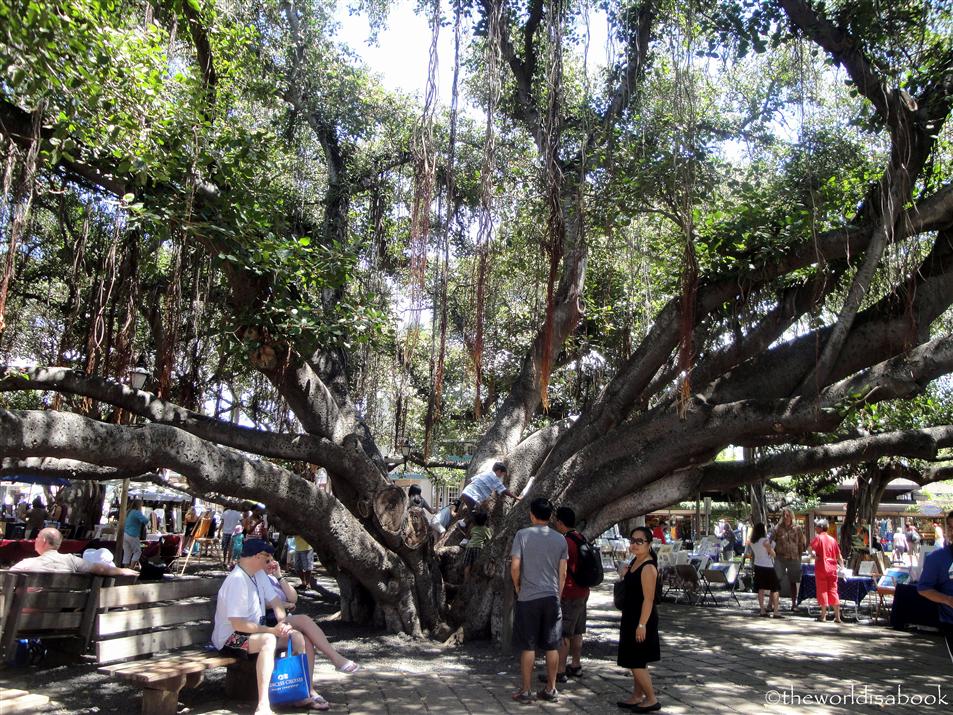 Occasional Freebie
Each year, the National Park Service designates specific dates for free admission to the parks.  Check the National Park website for the dates to visit the incredible Haleakala National Park for free.
*Have you visited any of these Maui attractions?  Any other free attractions you'd like to add?
 Pin it for later!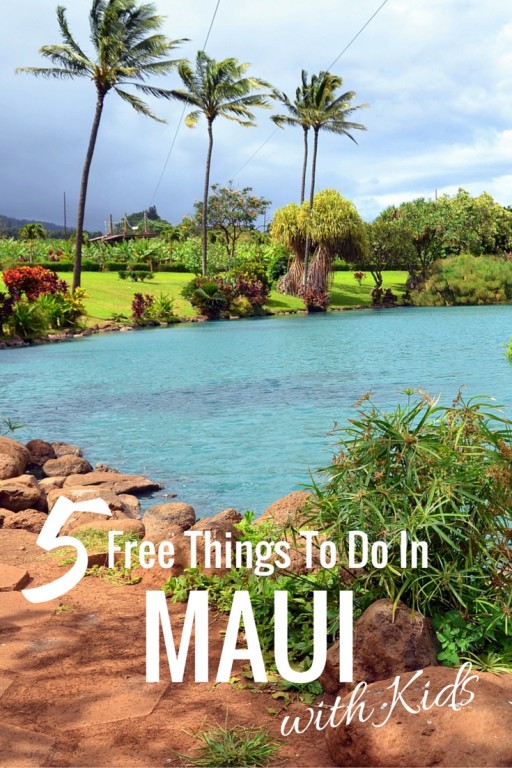 We all know traveling as a family isn't cheap these days and we try to save as much when visiting attractions.  But, why pay when there are many Free attractions everywhere you visit?  This is a new series called Five Free Family Friday.  I hope that this will grow into a collective guide of free family-friendly attractions of places all over the world.  If you'd like to contribute with the free attractions in your home city, I would love your guest posts.  Please email me.  Thank you!
Check out these related posts: