Postcards from Santa Catalina Island
It has a long and varied history once occupied by miners, Native American Indians and was also a film location hotspot.  But,  Santa Catalina Island or simply known as Catalina is now considered a perfect getaway for Southern Californians for a day or a weekend trip and to enjoy the calm, crystal clear waters of the Pacific.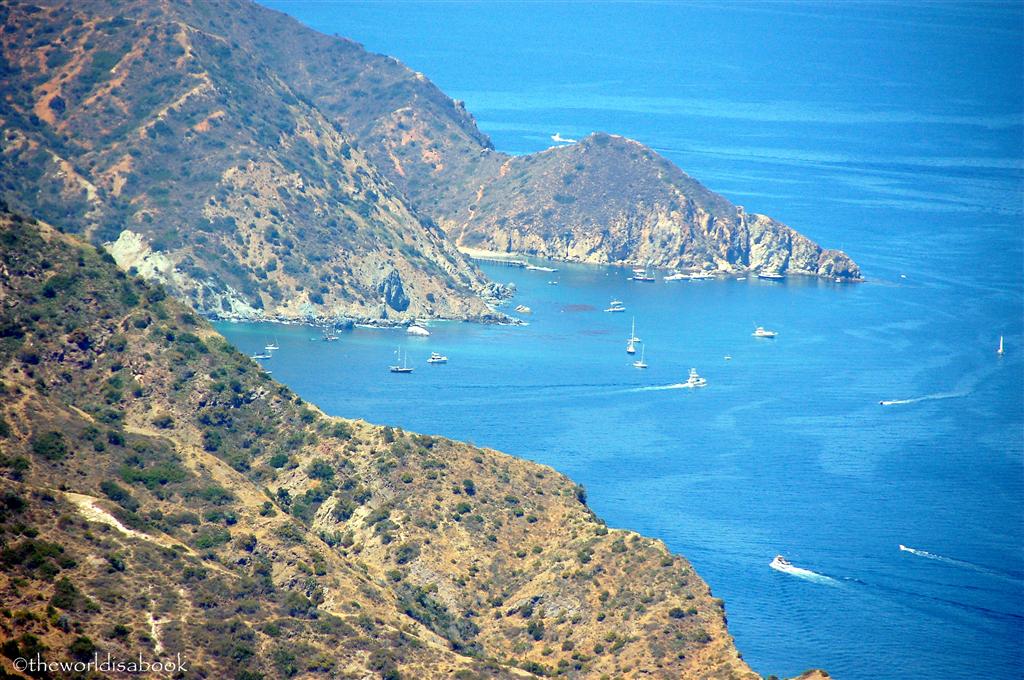 We have visited Catalina Island with the kids a few times over the years and always look forward to returning.  The lack of traffic, with golf carts the primary means of transportation, and the fresh air are enough to lure people to come here.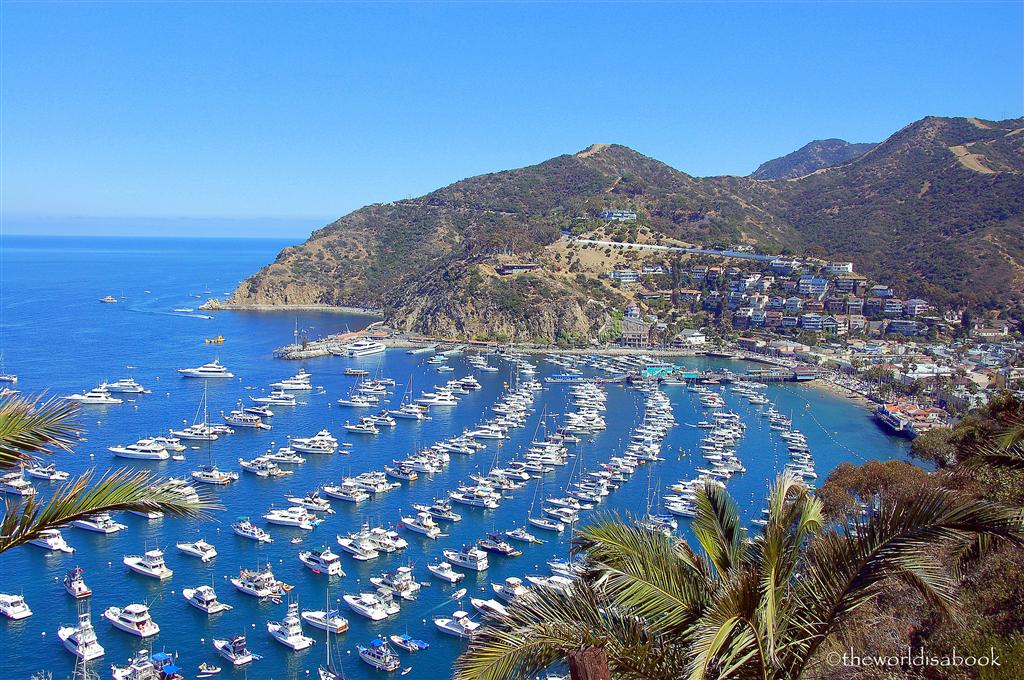 Located 22 miles (35 km) off the  Los Angeles harbor, Catalina Island is part of the Southern Channel Islands and is 21(34 km) miles long  and 8 miles(13 km) at its widest point.  Arriving into the Avalon Harbor, I always find myself marveling at its picturesque setting.   I love the way the harbor is lined  with various types of water vessels that seem to greet its visitors. 
Its main area is Avalon blessed with a year-round Mediterranean climate and one of the most scenic cities by the bay.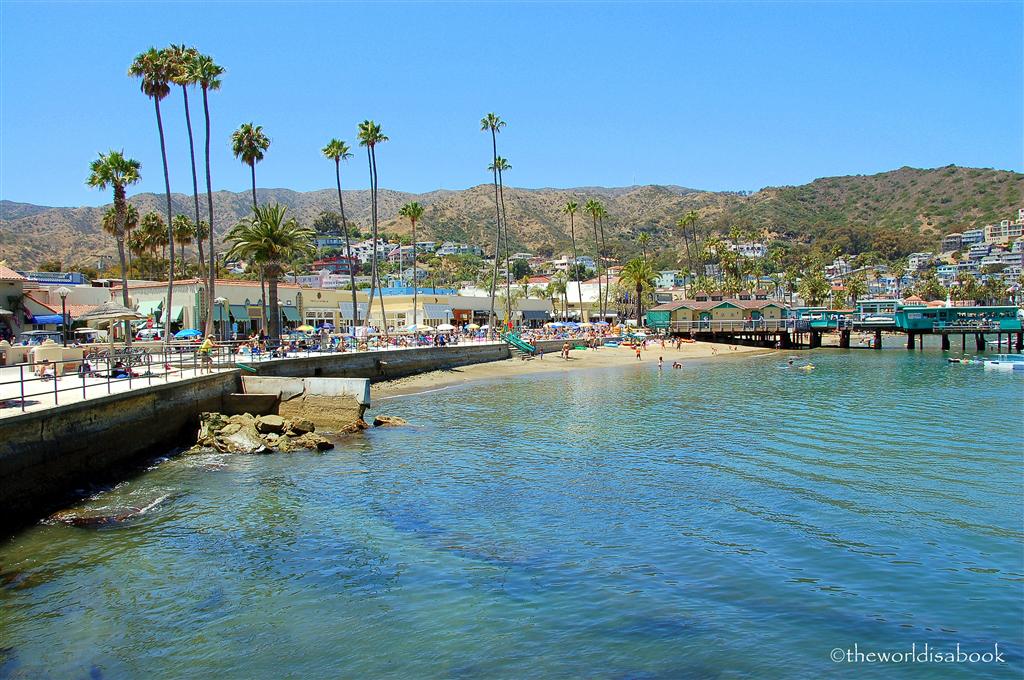 One of the most prominent landmarks in the harbor is the white, round structure called the Casino.  This iconic structure is about 12 stories tall and was built in 1929.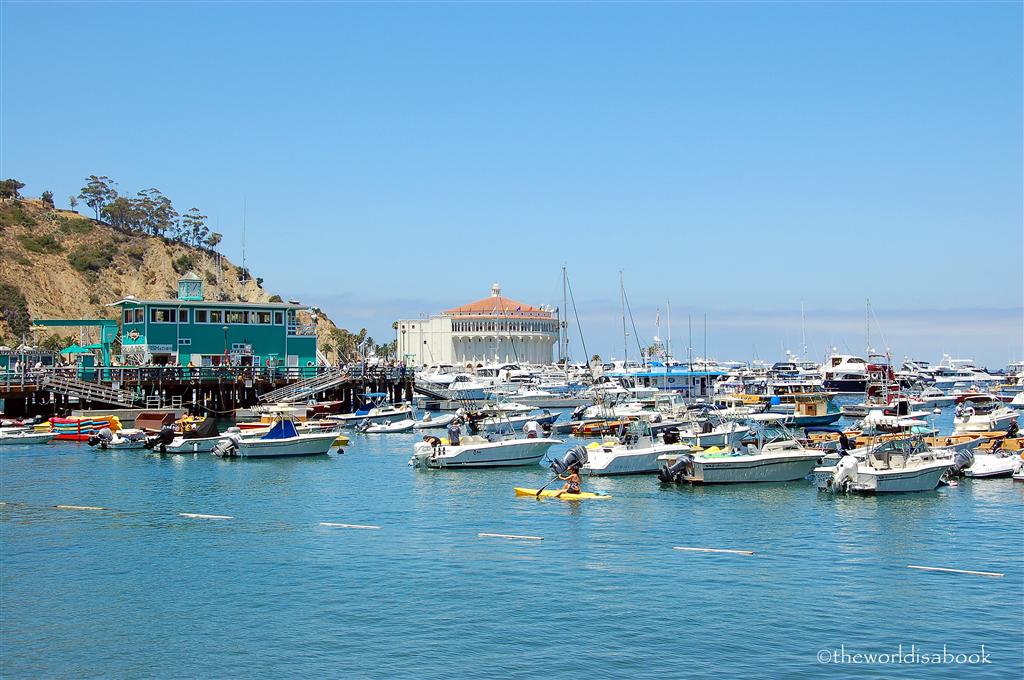 Despite its name, it is not a gambling hall.  It contains a theater and is the island's main indoor entertainment venue including a huge ballroom.  There have been many reports of paranormal activity in the casino which make it a popular area for ghost tours.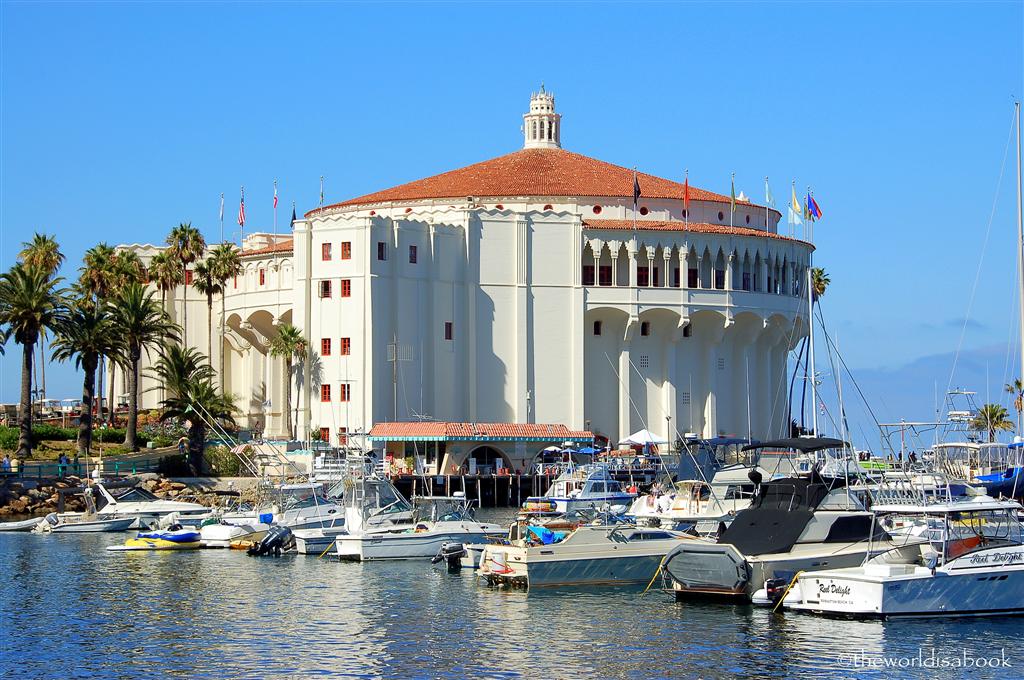 Catalina has a small town feel with a pedestrianized, cobble-stoned main street for shopping, drinking and eating. The side streets are also a wonderful way to discover unique shops and restaurants.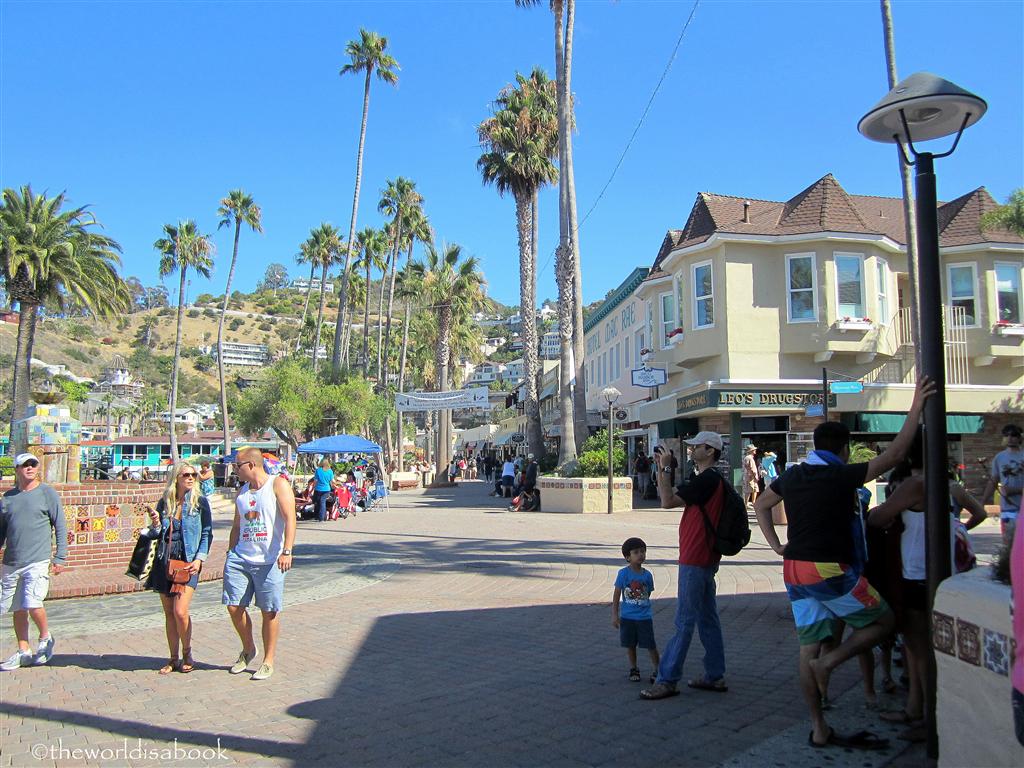 One of my favorite things about Catalina are the variety of colorful tiles incorporated into the buildings, walls, fountains and benches.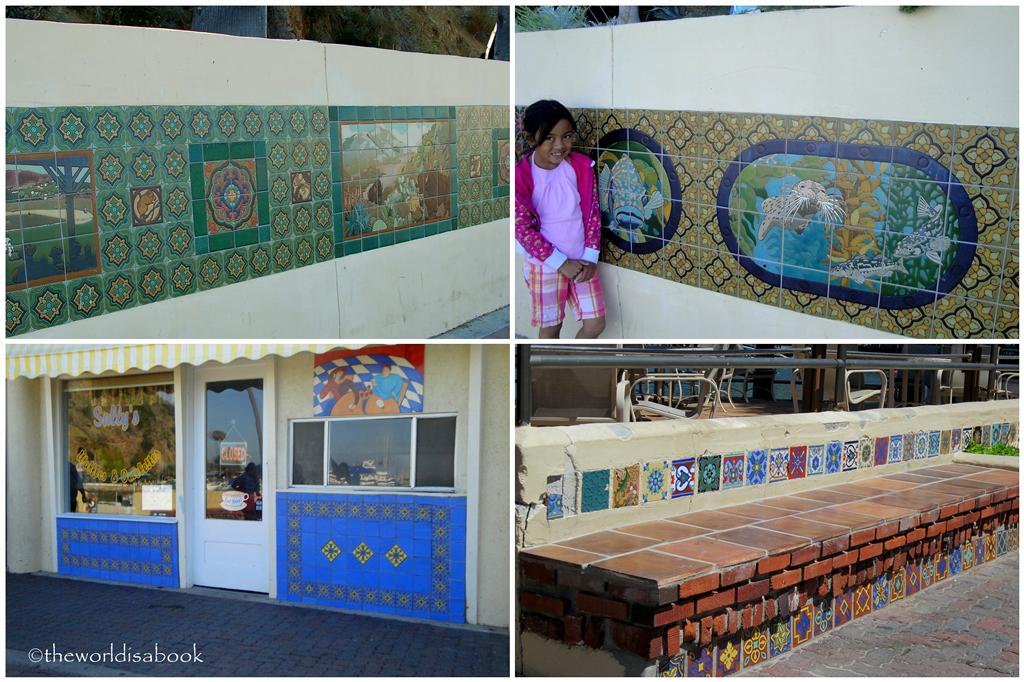 The tiles, cobblestones and the rooftops remind me of how I would picture a small Spanish village by the sea.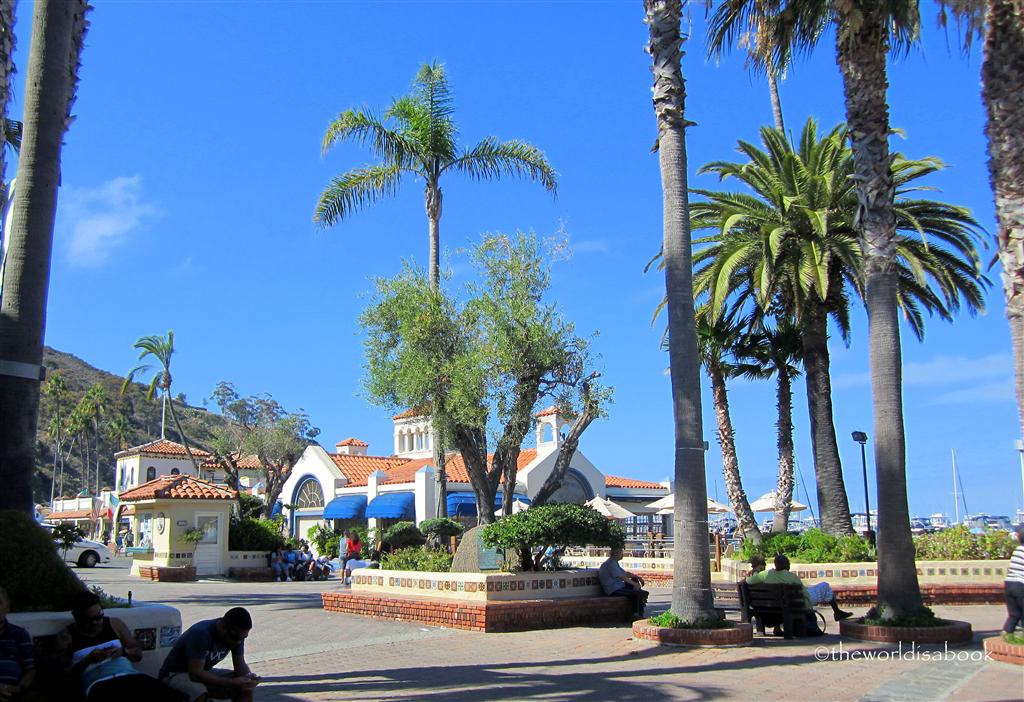 Be prepared for some sticker shock in prices with food and merchandise though.  At times, it may feel like being in a tourist trap.  The island's  primary means of economic survival is tourism after all.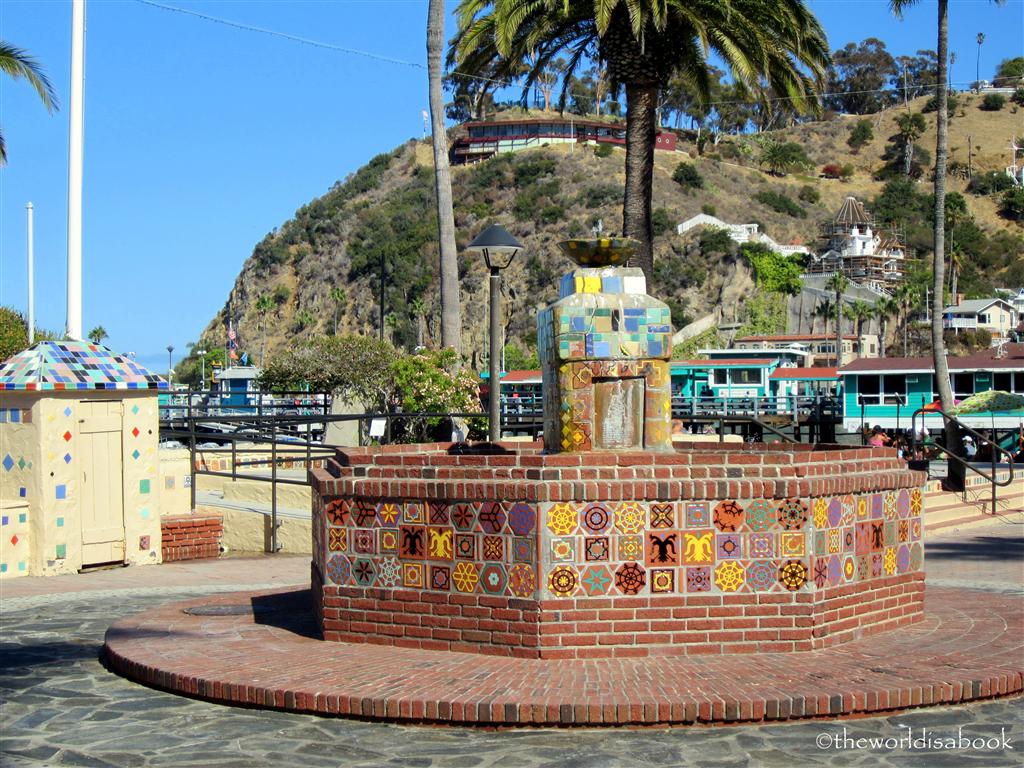 The palm tree-lined pathways with well maintained plant hedges make for the ideal place to walk along the water.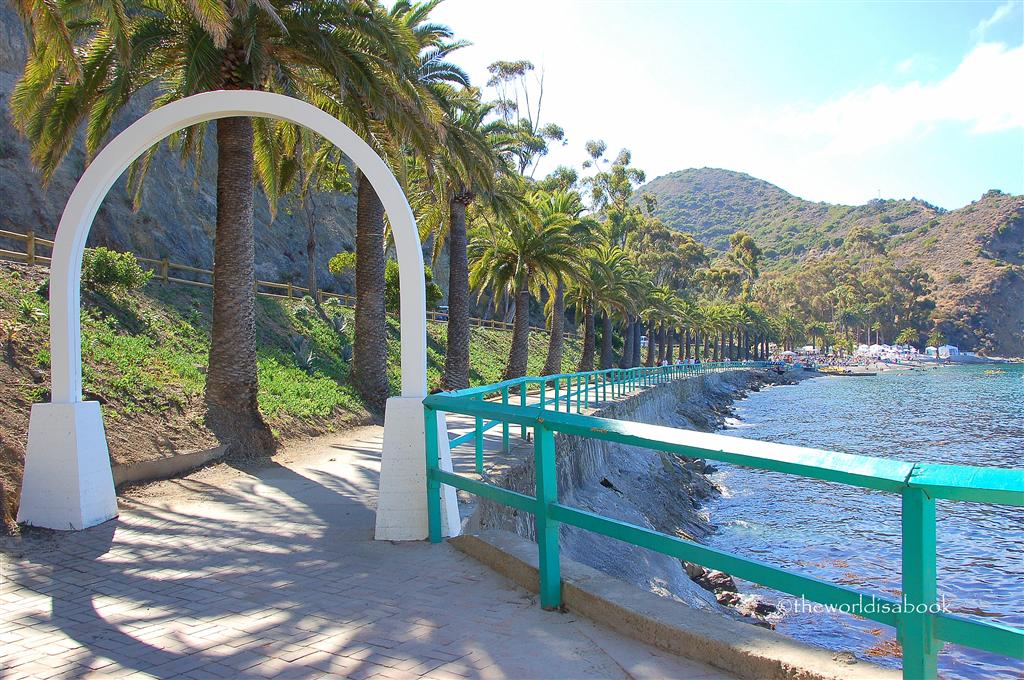 There are plenty of activities on and off the water for kids and adults in Catalina Island.   The island has plenty of hiking trails, a golf course and a botanical garden for leisurely strolls.  We once did a tour to see part of the island's inner region.  Going up to some of the higher points present some dramatic views of the coastline, the harbor and the city of Avalon.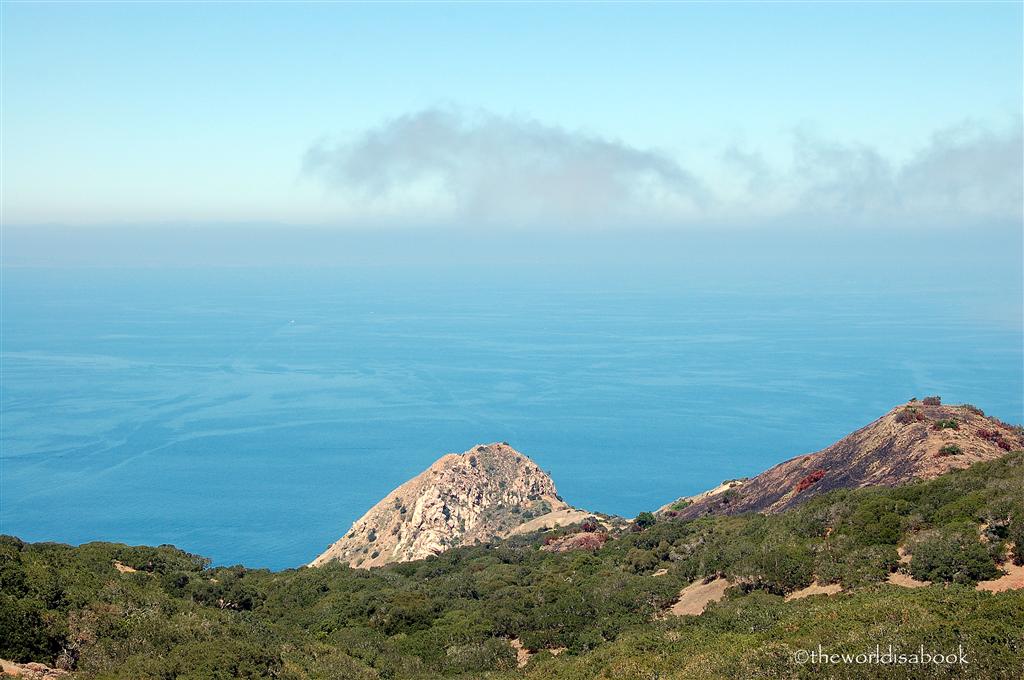 One of the reasons we wanted to do this tour was to see some of the over 100 bison that live on the island.  14 Bison were brought here in 1924 for a movie and the herd thrived.  Unfortunately, we only saw one from afar during this tour and barely showed up in the picture.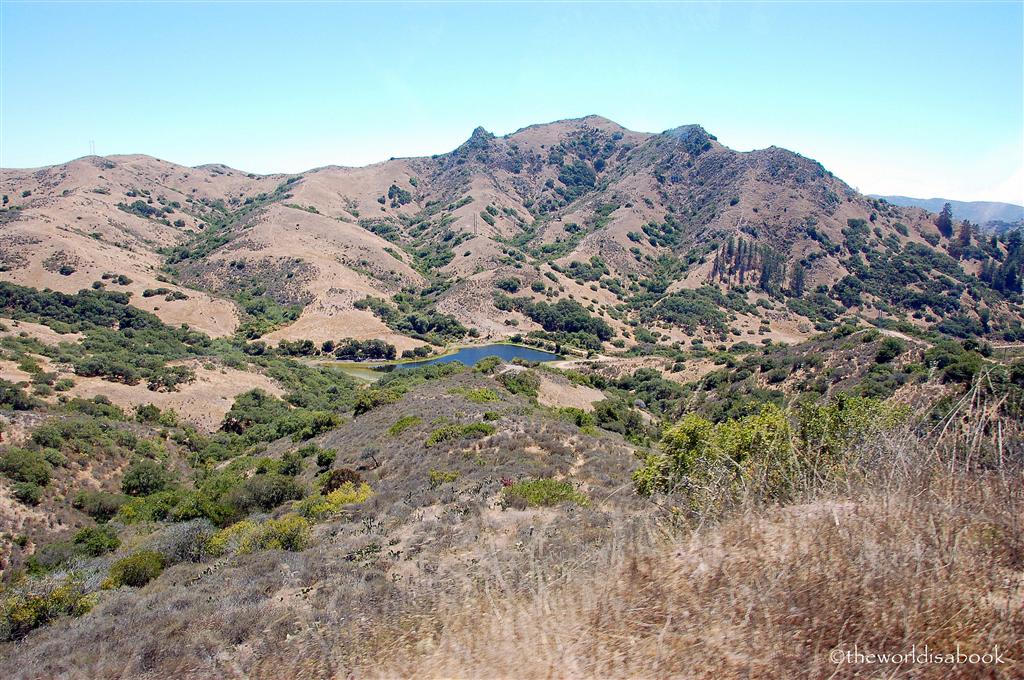 We found part of the platforms for the Zip Line Eco Tour which consists of five lines over canyons and ending at the beach.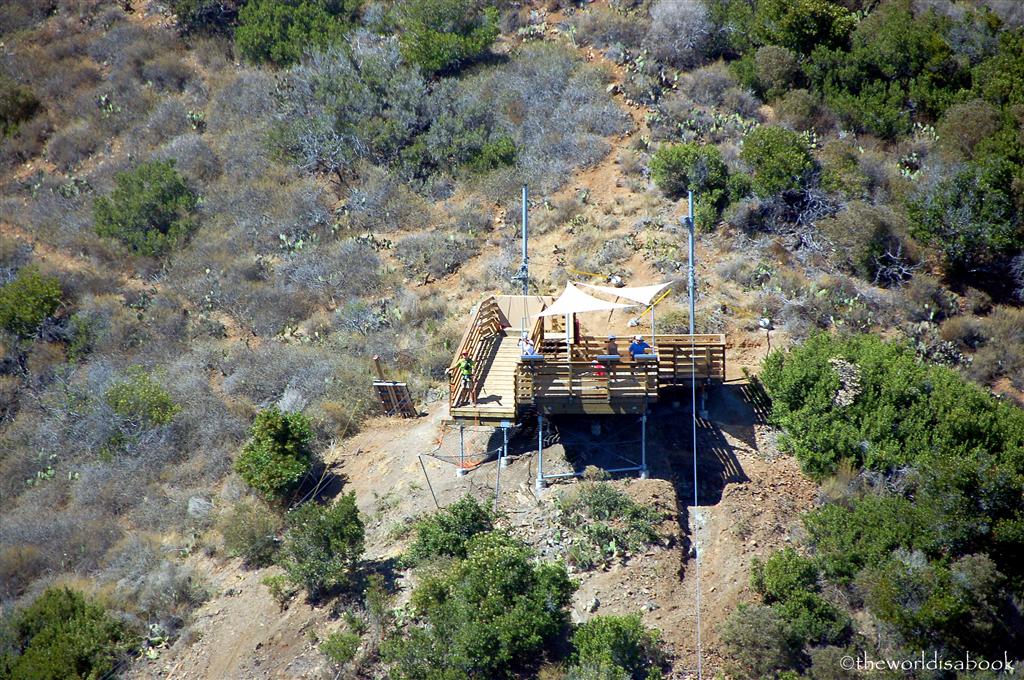 Despite being an island, the beaches are not what you'd expect.  Sand space is at a premium in Avalon and the beach is a bit rocky with a flurry of water activity.  Head past the Casino to Descanso Beach with its relaxing cove and numerous cabanas.  Fortunately, there are options.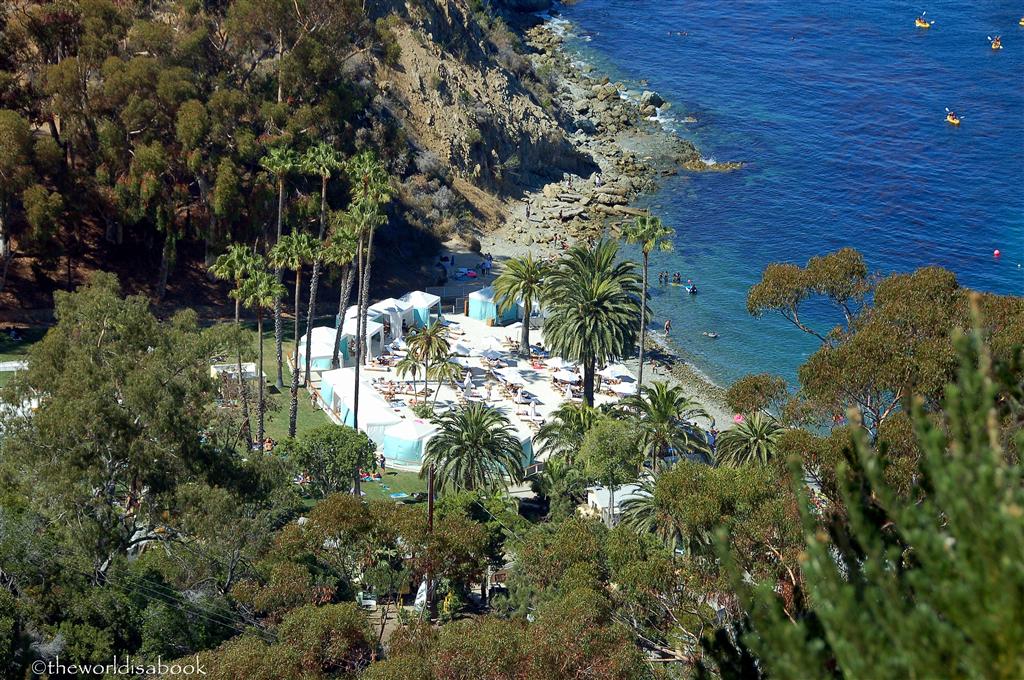 The number of water activities range from kayaking, snorkeling, stand-up paddle boarding, jet skiing, canoeing and parasailing.  My kids loved the glass bottom boat tour we did a few years ago.  They were able to feed the fish from the boat and the number of  marine life you'll see during this short period of time is astounding.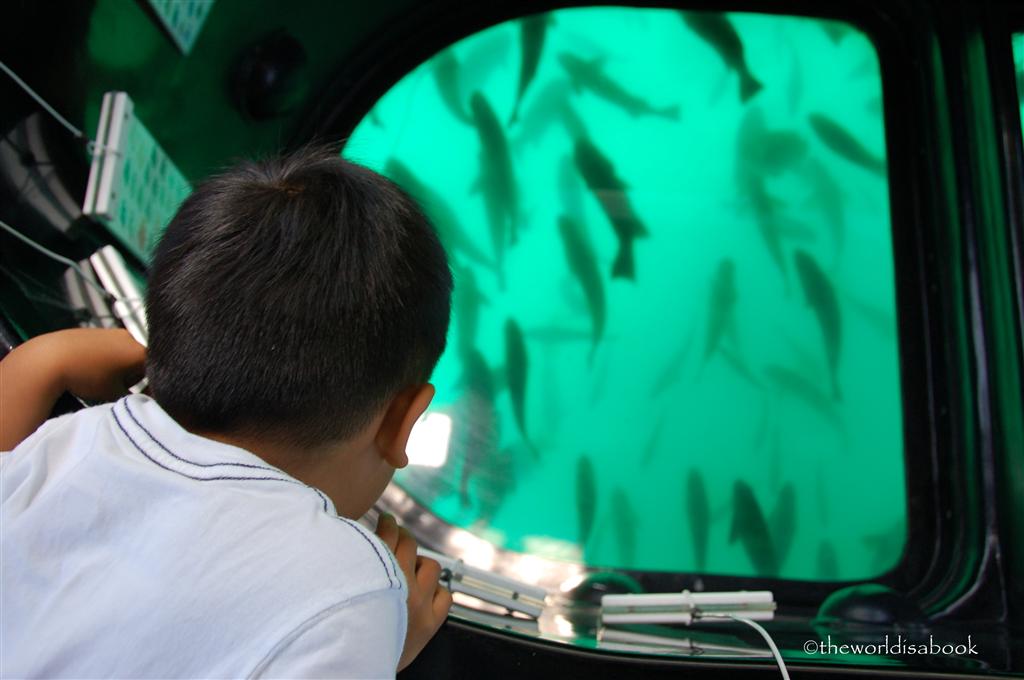 My husband and I kayaked here years ago and the island has some of the best crystal clear water.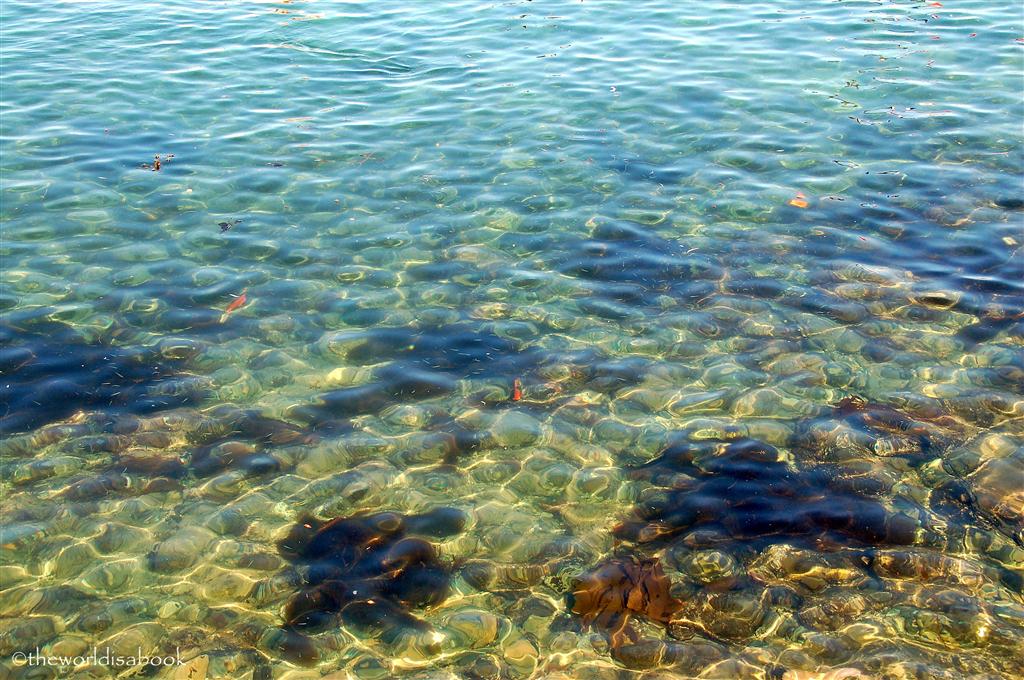 We recently rented a small motorboat for about $60 per hour and was able to see the island from a different perspective.  It was a little unnerving to be surrounded by much larger boats and yachts but it was a wonderful family activity in the water without getting wet.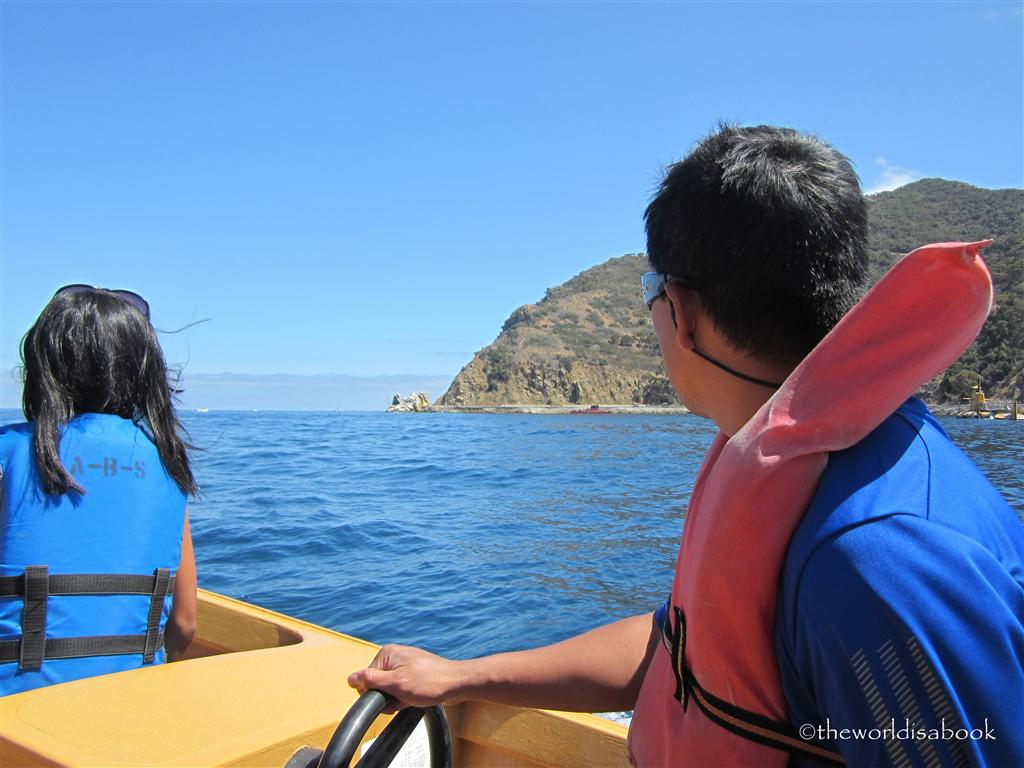 My husband and daughter snorkeled off Lover's Cove Marine Preserve for an hour recently.  Check Spreebird Deals or Groupon for some great deals on snorkeling tours every once in awhile.  There was a guide with them who dumped the fish food and they were instantly surrounded with fish.   While there were not that many fish varieties (mainly California's state fish, the orange garibaldi, and herring) in Catalina's waters, the sheer amount of fish in the water more than made up for lack of variety.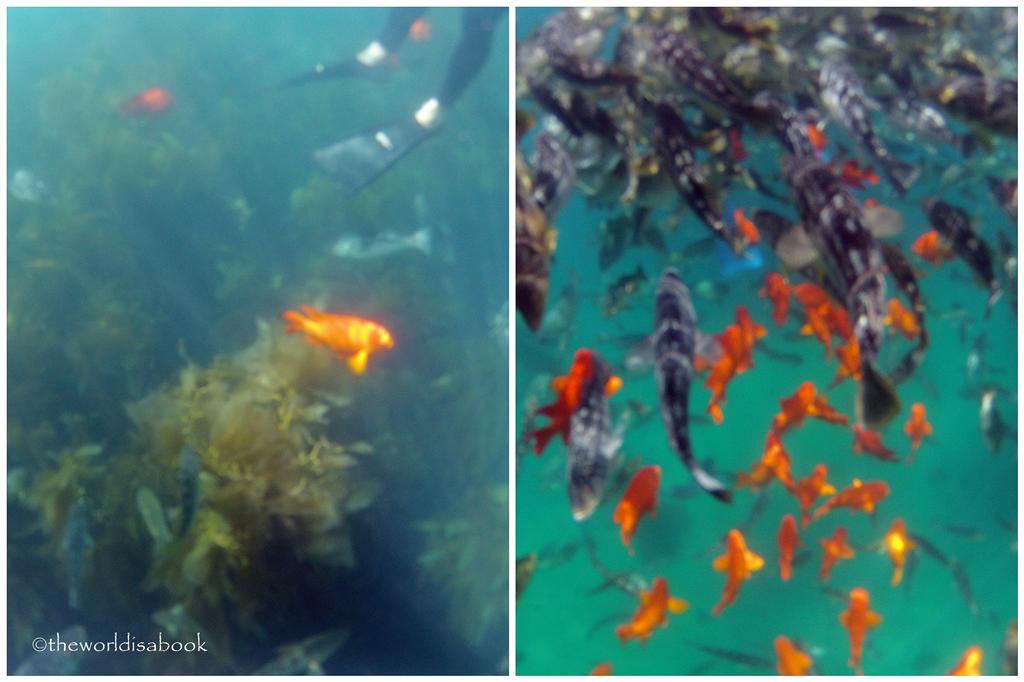 It's hard to believe this quaint and charming island is so close to Southern California's metro areas.  A trip here can both be relaxing and adventurous while offering a number of activities for everyone in the family .  It can get a bit touristy but there aren't many places in the mainland United States with an island getaway off its coast with a Mediterranean inspired setting.
Getting to Catalina Island from Southern California
Helicopter Service from Long Beach or San Pedro for a 15 minute flight aboard

Island Express

.

Catamarans/Ferries which take about an hour are year round services.  The ports are located in San Pedro, Long Beach, Dana Point (1.5 hour) and Newport Beach.  Services are offered by Catalina Express and Newport Flyer.   Check Groupon and Spreebird deals for discounted tickets.
*Have you visited Catalina Island?  Is this someplace you would visit for a day or two?
PIN IT FOR LATER