5 Fun and Free Things to do in Madrid with Kids
Madrid was the first city my kids visited in Europe several years ago.  It was such a lively city full of art, culture and history. Those may not sound appealing to small kids but Madrid was actually very family friendly and had a lot of activities and attractions to offer including some theme parks.  It is a city with plenty of public places and parks designed with kids in mind.  Of course, we targeted the free and kid-friendly attractions during our visit and sharing some of them here. We hope these five free things to do in Madrid with kids will help you explore this lovely city.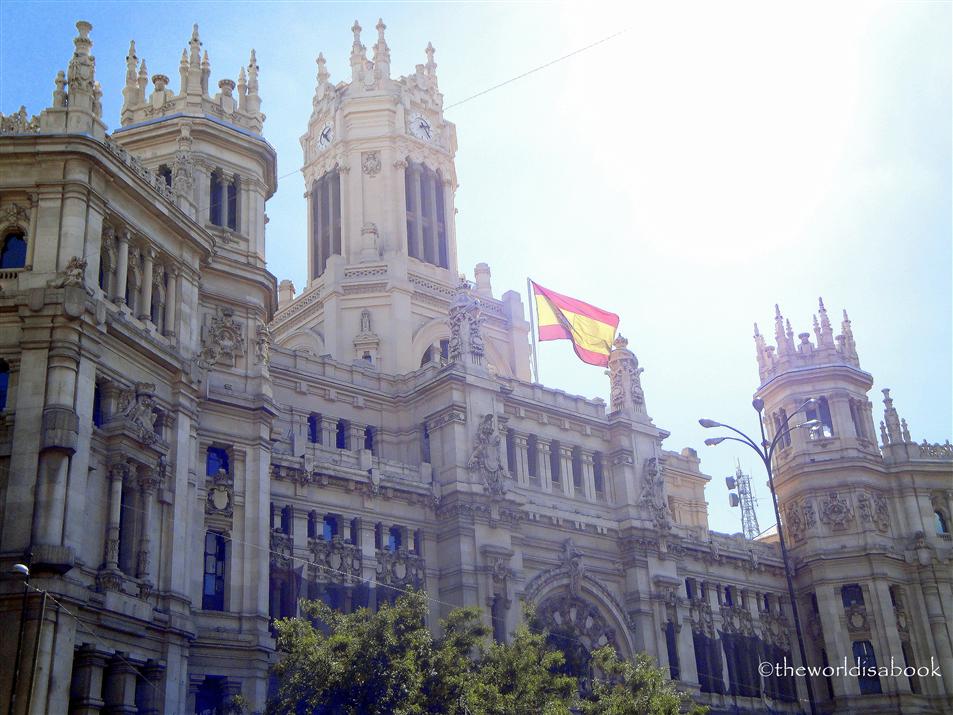 1. El Parque del Buen Retiro or El Retiro Park
Located in the center of the city, El Retiro Park is a stunning, large and clean park.  It wasn't a surprise to see it crowded with families enjoying a beautiful Fall day during our visit.  The park has plenty of lush green spaces and was a perfect place to walk around (including fighting jet lag).  There were a few well-equipped playgrounds for kids to enjoy.  El Retiro is also filled with many beautiful sculptures, monuments and fountains.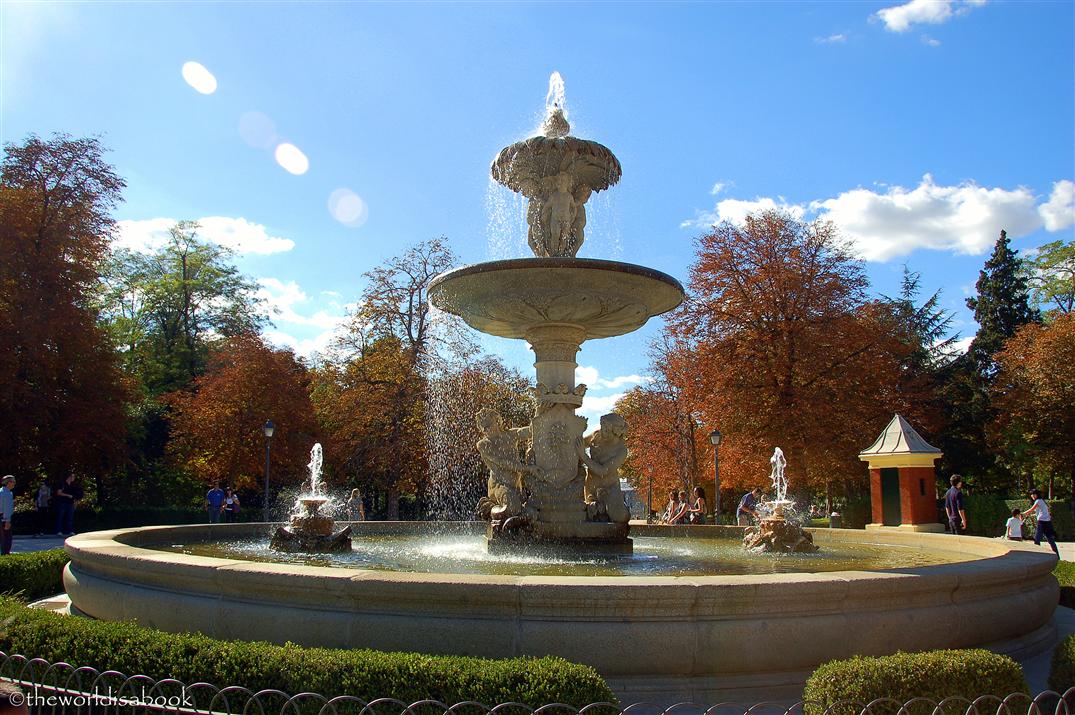 An artificial lake, known as Buon Retiro Lake, was in the middle of the park for rowing boats which cost about 2 Euros per hour to rent.  Don't miss the stunning Cristal Palace which was a glass structure used for exhibitions.  A small lake nearby occupied by ducks and turtles will be sure to catch the kids' attention.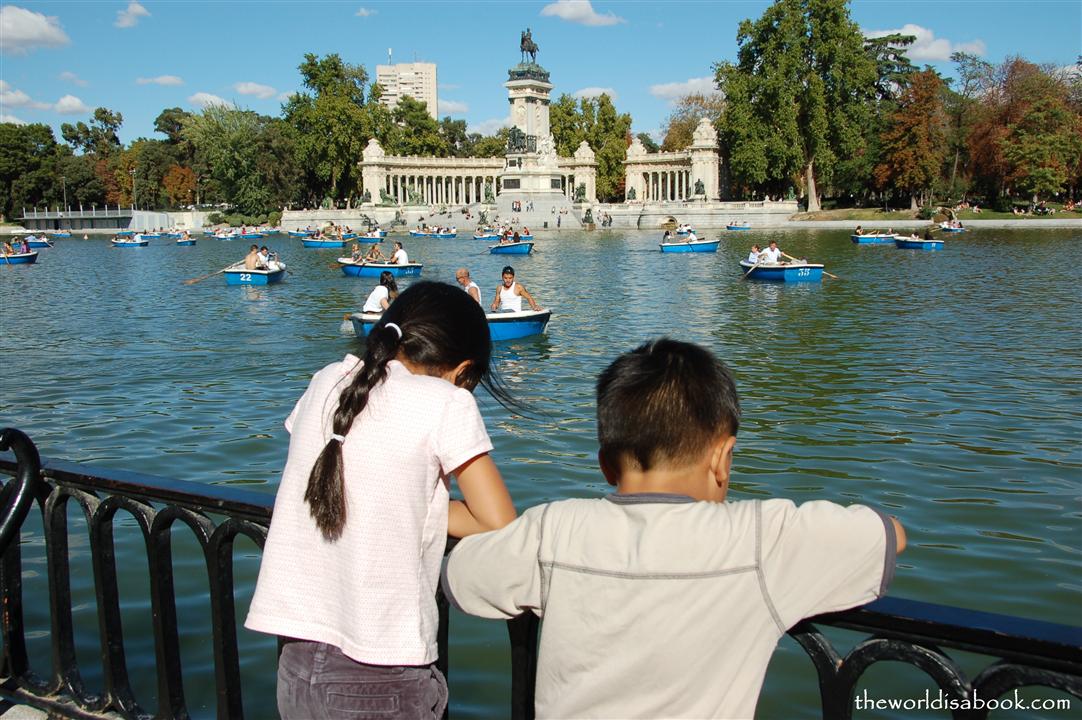 Free outdoor concerts are held at the park during spring and summer.  We found the walkways lined with vendors, street entertainers and puppeteers which made for great distractions. This park is definitely the place to be on the weekends.
2. Art Museums (Reina Sofia and Museo del Prado)
Madrid is home to two of the world's most-renowned art museums.  Timed right, which is usually at night, and entrance fees to the museums are Free.  Do some sightseeing during the day and when it gets dark, visit the museums.
Museo del Prado has the finest collection of art from many Spanish artists like Goya, and Picasso in addition to non-Spaniards like El Greco and Rembrandt.  Most of the paintings here were huge and very colorful with a lot of religious and battle subjects. My kids didn't seem to care too much what they were about but loved looking at these massive paintings.
Pick a few interesting paintings that may interest them and see those like its most famous painting of Princess Margarita called Las Meninas.  Unfortunately, no picture taking was allowed inside the museum.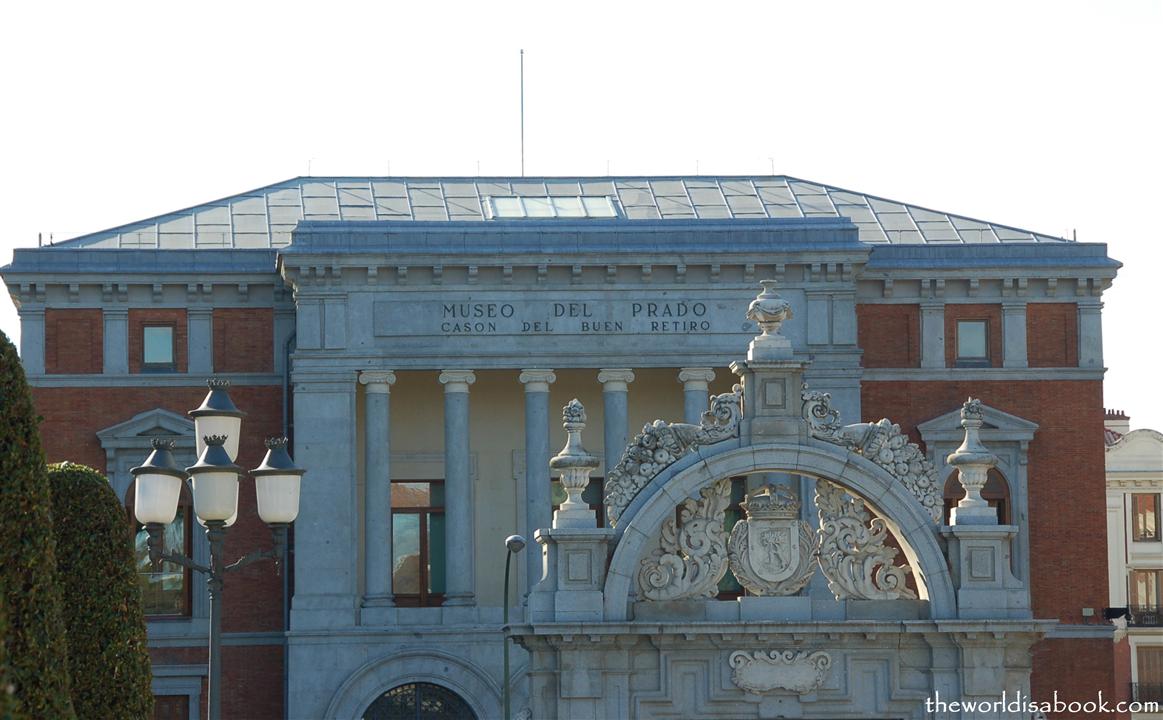 The Reina Sofia Museum which mostly contained 20th century art and more modern pieces was a nice complement to the Prado.  Its building used to be an old hospital and has a courtyard filled with interesting sculptures.
Do not miss its most famous artwork which was Picasso's Guernica. It was huge taking up an entire wall and a remarkable piece.  There were some Salvador Dali paintings that were too morbid, creepy or with sexual tones for the young ones here too. We rushed our kids past those quickly.  So, be warned.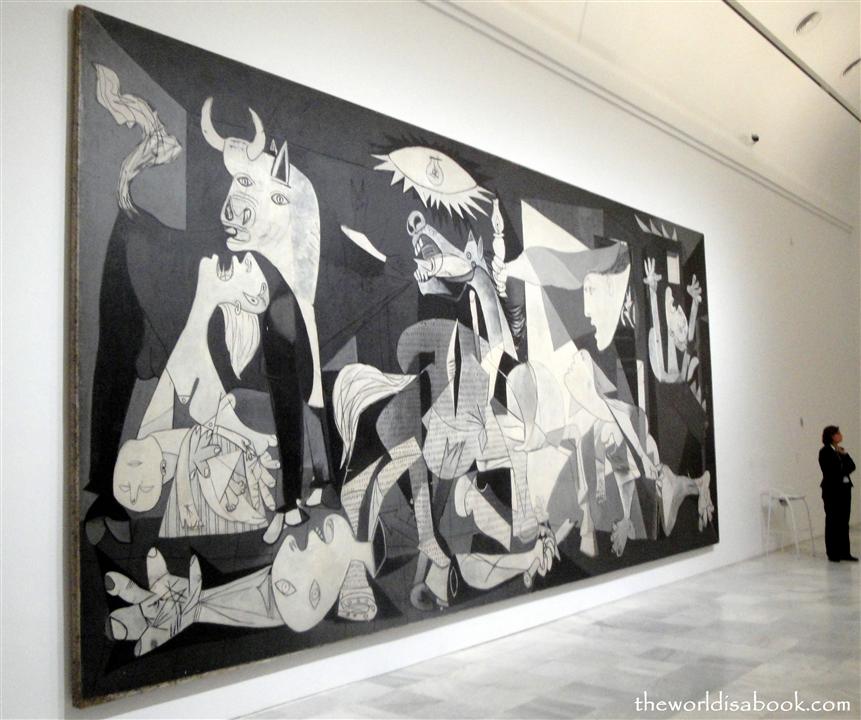 Picassso's Guernica
Free Museum Admission Hours:
Prado Museum: Mon. – Sat. (6-8 PM); 5-8 PM on Sundays
Reina Sofia Museum: – Mon- Fri. (closed Tuesdays) (7 PM – 9 PM); Saturday (2:30 PM – 9:00 PM); Sunday (10 AM – 2:30 PM)
3. Madrid's Squares and Plazas
Many European cities are known for their central and public squares and Madrid had plenty of grand and lovely ones.  Plaza Mayor is one of the most popular with striking architecture.  Many restaurants and shops surround the square as well as artists and for the kids, familiar cartoon characters walking around to pose with (for a fee).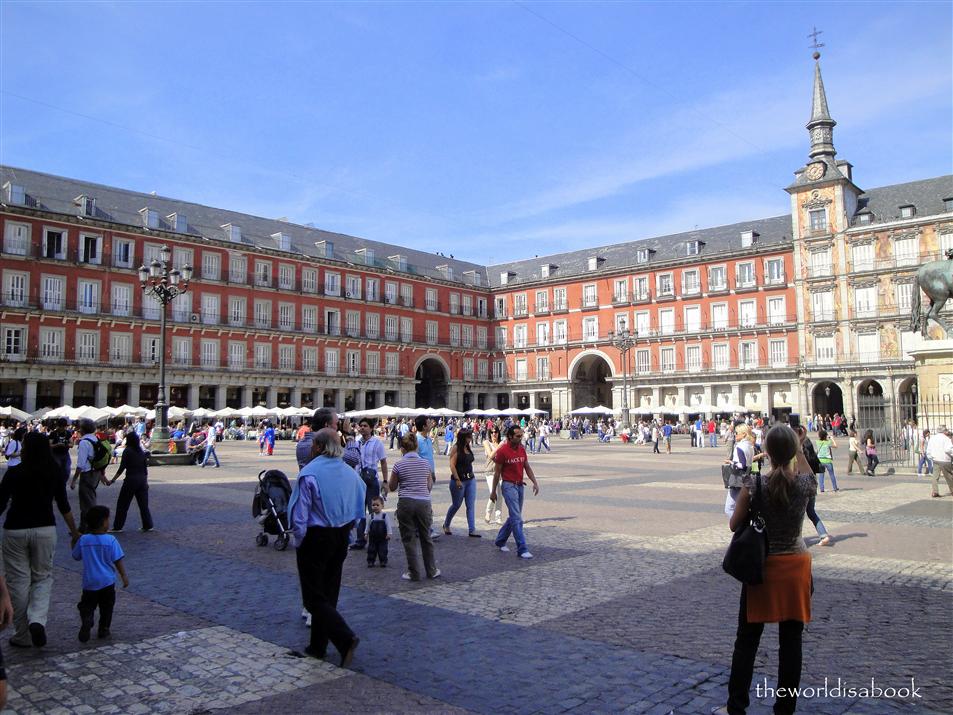 Puerta del Sol is a centrally located square filled with stores and restaurants and has the liveliest atmosphere.  While walking around, look for the "kilometer 0" plaque which is the official starting point where the Spanish highway distances are measured.  Madrid's symbol of in the form of a 20 ton, bronze statue 'El Oso y El Madroño' (the Bear and the Strawberry Tree) is also located here.
4. Templo de Debod
One of the things we sorely regret was missing Templo de Debod.  This ancient and authentic building was Egypt's gift to Spain.  It originally stood in Debod in the Nile Valley and reconstructed here in Madrid.  Admission to the temple is free Tuesday to Sunday.
Inside are hieroglyphics, carvings and photographic history of the temple.  A public park also surrounds the temple grounds.  A sunset visit to the temple is highly recommended.
5. Madrid's Royal Palace grounds
If you have knights and princess fans in your family, then seeing the impressive Madrid's Royal Palace is a must.  This is the official residence of Spain's King Juan Carlos but now mainly used for state functions. While admission to the palace isn't always free (free entry on Wednesday), walking its grounds and the garden behind it is.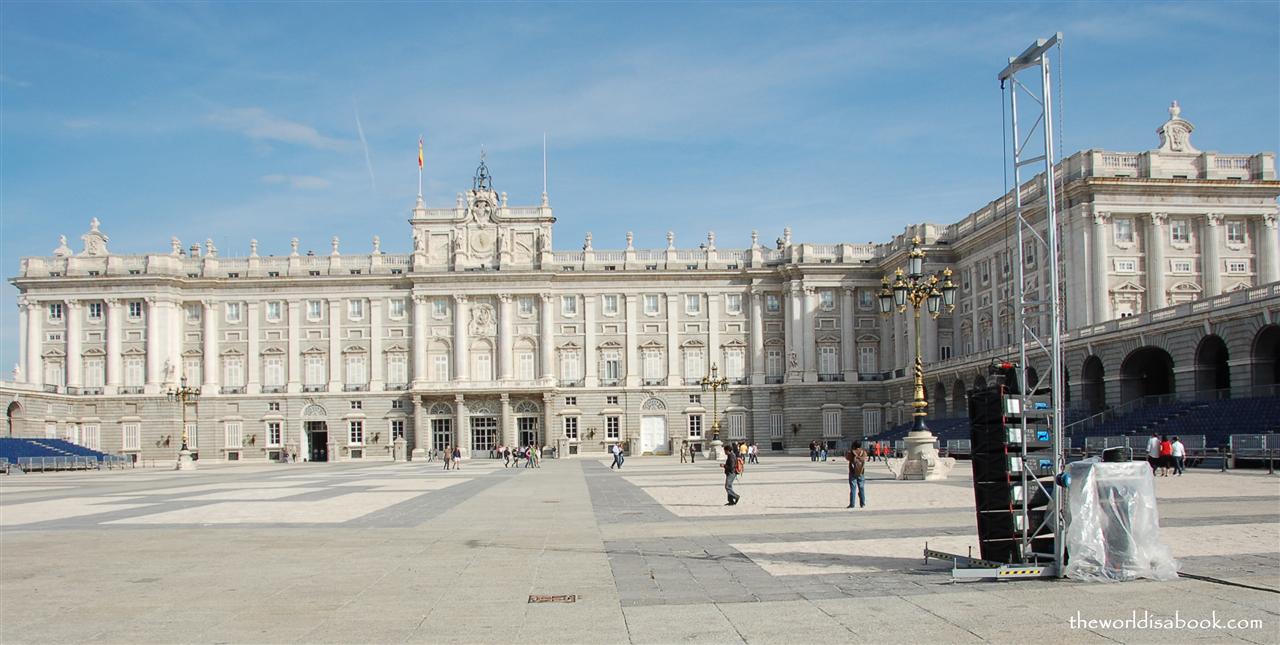 The back of the castle has a vast open area called Sabatini Gardens.  Fountains, many statues, a pond and a small maze made this the perfect palatial backyard for kids to roam around.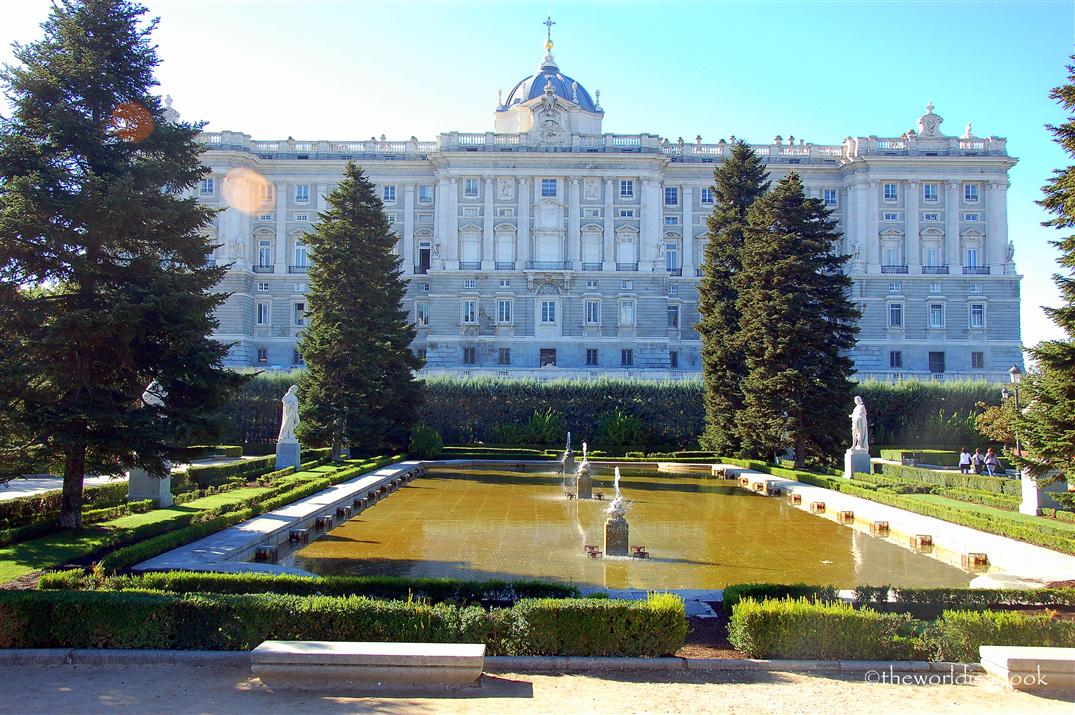 We missed this event but the Changing of the Guard is a popular event that occurs every Wednesday from 11AM – 2 PM (except in July-Sept).   The entrance to the palace is by a square next to the Almudena Cathedral.  Admission to the church is free.  A visit inside is worth it to gaze at the beautiful ceiling art, colorful stained glass windows and a magnificent altar.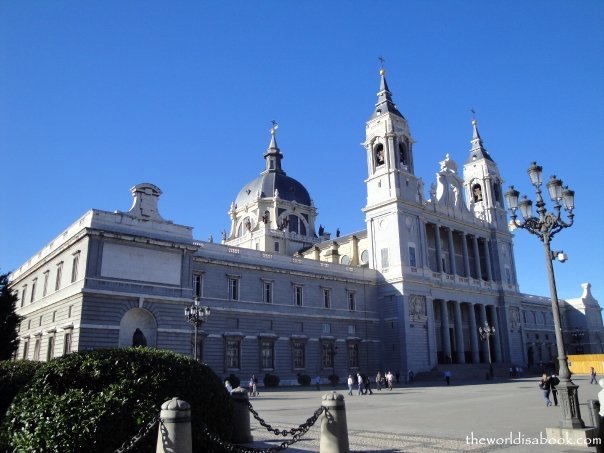 Free Things to do in Madrid with Kids Honorable Mention
Stop by Tourist Centers (one in Plaza Mayor) to get a free Family Experience guide book of three recommended family friendly itineraries around the city and a puzzle book for the kids.  Prizes awarded for turning the answers.  For more information, visit this esmadrid site 

for more details

.
*Have you visited any of these free Madrid attractions?  Any other free attractions you'd like to add?
This is a part of a new series called Five Free Family Friday.  I hope this will grow into a collective guide of free family-friendly attractions of places all over the world.  If you'd like to contribute with the free attractions in your home city, I would love your guest posts.
Pin it for later!