Rocking to the Songs for Junior Rangers
You never know who will find you when you put yourself out there on a blog for the world to read.   Sometimes, one comes along that just makes your day or year.  A few months ago, I was contacted by Jeff Wolin, a park ranger at Colorado's Florissant Fossil Beds National Monument.  He found and asked to use a picture of my kids "holding" the Statue of Liberty for a Junior Ranger CD they were planning to release.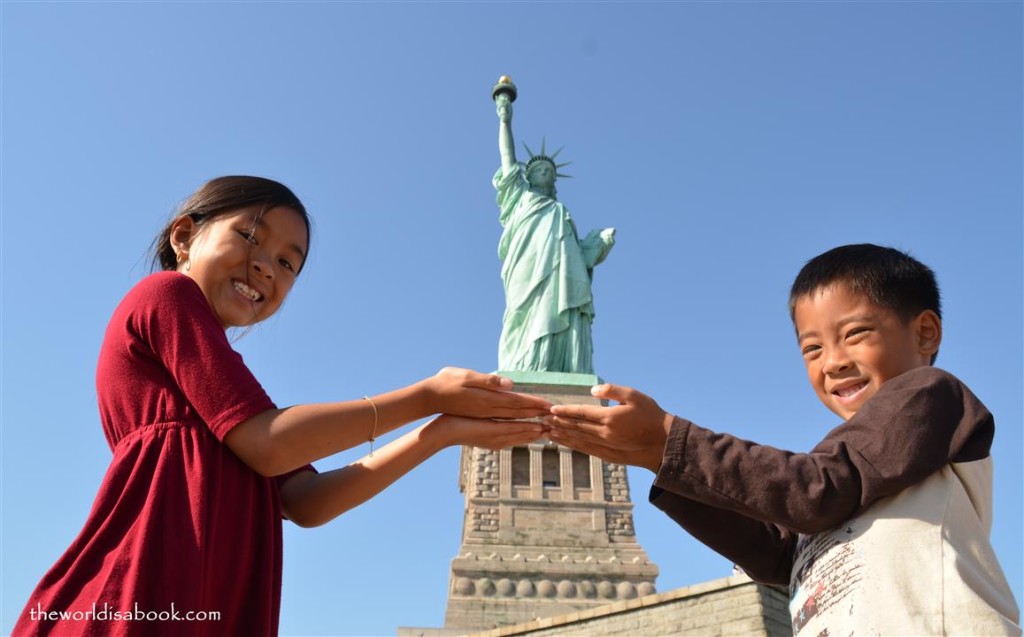 America's National Parks have a wonderful program to educate school age kids by becoming Junior Rangers with the motto to 'Explore, Learn, Protect'.  My kids look forward to doing the Junior Ranger programs and earning their badges at each park we visit.  Of course, I happily obliged to be a part of this CD project.  We do love our National Parks.
For many weeks, Jeff was so efficient with sending out Email updates on the CD's progress.  The official release of the CD was held on Oct. 20, 2012 with a concert and party in New Orleans.  Many of the parks across the country had release events too.
We were in Washington, DC a couple of weeks ago and found the Songs for Junior Rangers CD at the Washington Monument gift shop.  At that time, the kids had just gotten their National Mall Junior Ranger badge which made this extra  special.  My kids' picture ended up on the inside flap opposite the CD.  They think they're  famous now and thought this was "so cool".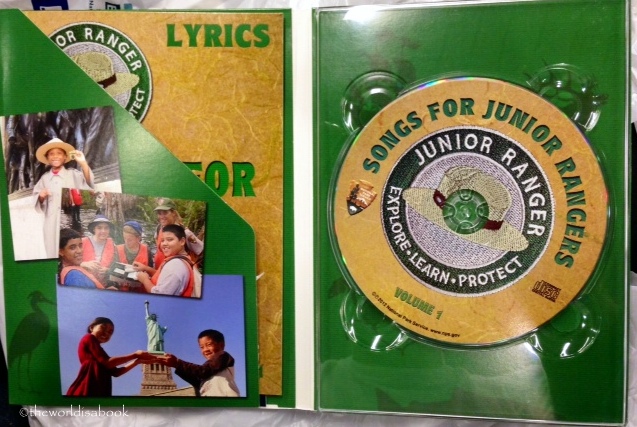 The CD contains 20 songs from a variety of genres which range from reggae, hip hop, pop and even a Spanish song.  Most songs are about a National Park or monument including lesser known ones like Thaddeus Kosciuszko National Memorial to the wildly popular Yellowstone National Park.
It also has a separate lyric book for the kids to sing along.  Coincidentally, Linda of Travels with Children by Minnemom, a fellow family travel blogger, has her son's adorable picture featured on the lyric booklet too.
We've been playing the Junior Ranger CD since we got it.  Many of the  songs are catchy, enjoyable and easy for the kids to remember and sing.  I love that  they also learn something about the featured parks as they sing along.  The CD also includes a sticker and map with a park locator game.  Needless  to say, we've added more parks to our travel list.
I admit my husband and I have found ourselves singing along too.  Some of my kids' favorite songs are Four Presidents (about Mt Rushmore),  Run Fish Run, New Orleans Jazz and Humps, Hooves, and Horns.   Some tracks are available to preview on YouTube through the song links listed here.  It's hard not to tap your feet and rock along to these upbeat tracks.
Looking at the credits, it took many people and a lot of coordination to release this CD.  It was wonderful to find out Jeff Wolin wrote, performed and arranged most of these songs too.  It is evident how much thought process and dedication was put into making this CD fun, entertaining, inspirational and educational for the kids and the young at heart.
We never expected our attempt at a cheesy tourist picture would be circulated around the country.  This is  a testament not to hold back on those fun pictures.  Who knows where it can end up?  I guess having a blog to  post them helps too.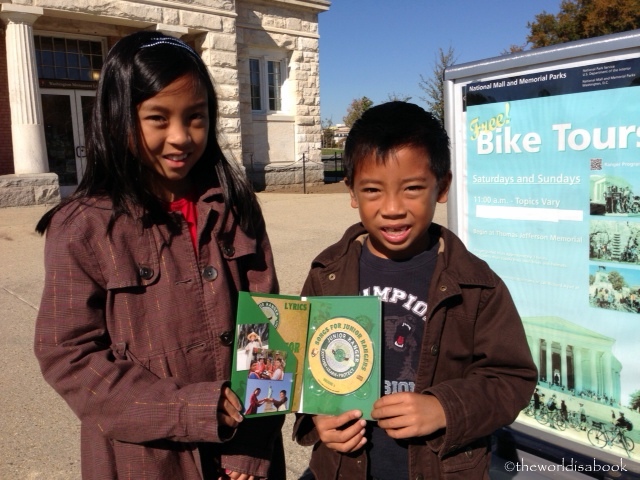 It's FREE entrance days at the 398 National Parks this weekend (Nov. 10-12) for Veteran's Day.  If you're visiting any of the National Parks soon, stop by the park stores to get the Songs for Junior Rangers CD.  The CDs can also be ordered through eparks.com.  Proceeds are used to help the Junior Ranger programs.  It's a terrific value for $9.95, supports a worthy cause and includes many fantastic songs for kids to learn from and sing and dance along.
*Do your kids participate in the Junior Ranger programs?  Are you interested in getting this CD for your  kids?