Natural Spectacles of Colorado National Monument
Sometimes, it's worth not having any preconceived notions or expectations about a place and be pleasantly surprised.  I didn't know very much about Colorado National Monument but we were glad to have experienced its beauty during our visit last summer.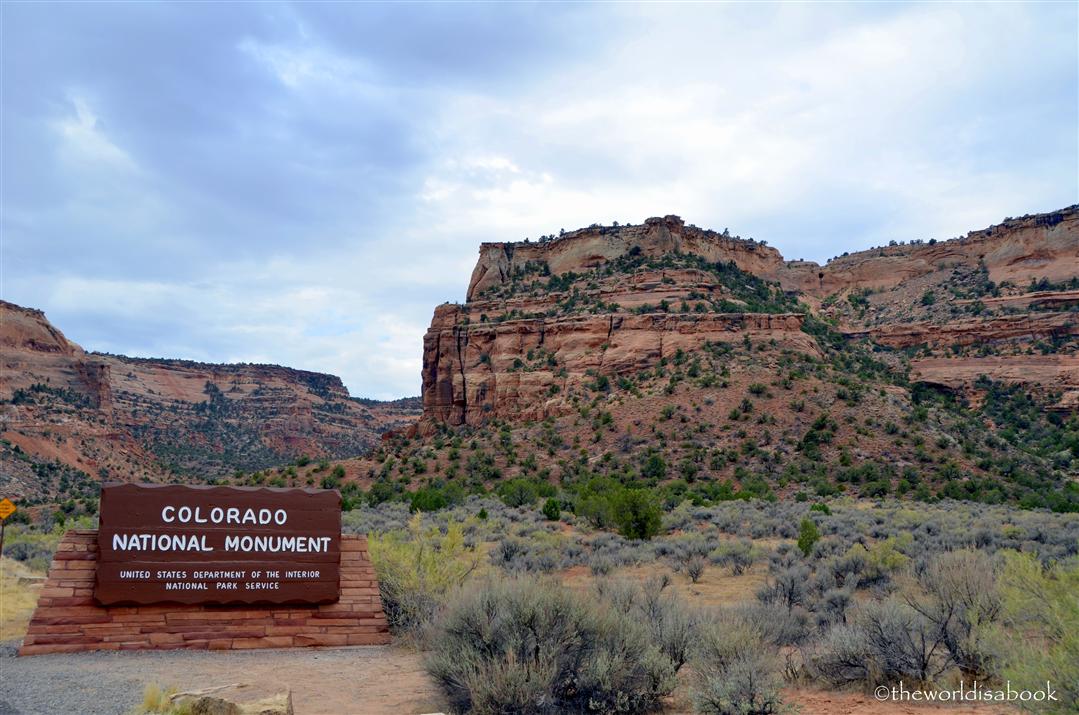 We flew into Grand Junction, Colorado for the sole purpose of visiting Arches and Canyonlands National Parks.  A late flight home allowed us a few hours to explore the lesser known Colorado National Monument.  There were many things that made this park a fun and fascinating visit with the family.
The monuments here weren't buildings or structures to honor former presidents or fallen heroes but geologic structures of enormous monoliths and towering red rock formations.  Its founder, John Otto, was an early resident whose efforts enabled this place to become a National Monument.  A National Monument is established with the President's declaration while a National Park is established through an Act of Congress.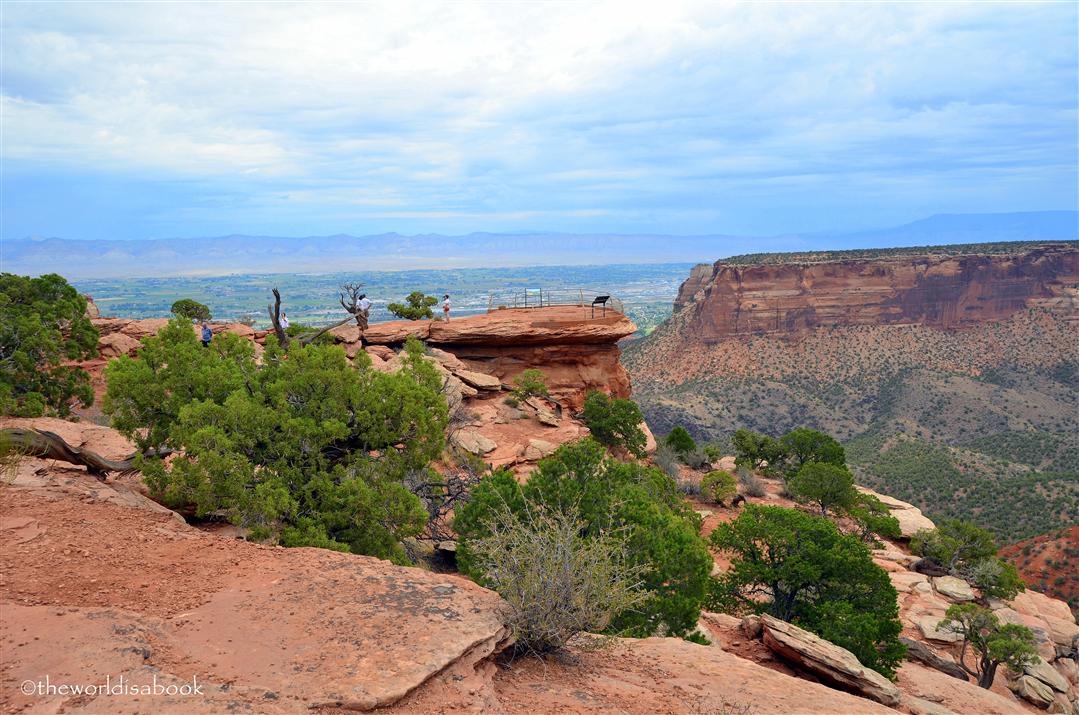 Otto's vision of this place's potential led to building a road that later became the monument's main thoroughfare.  He wanted to make visitors feel as if they were in a place "where only birds could fly" and he accomplished it.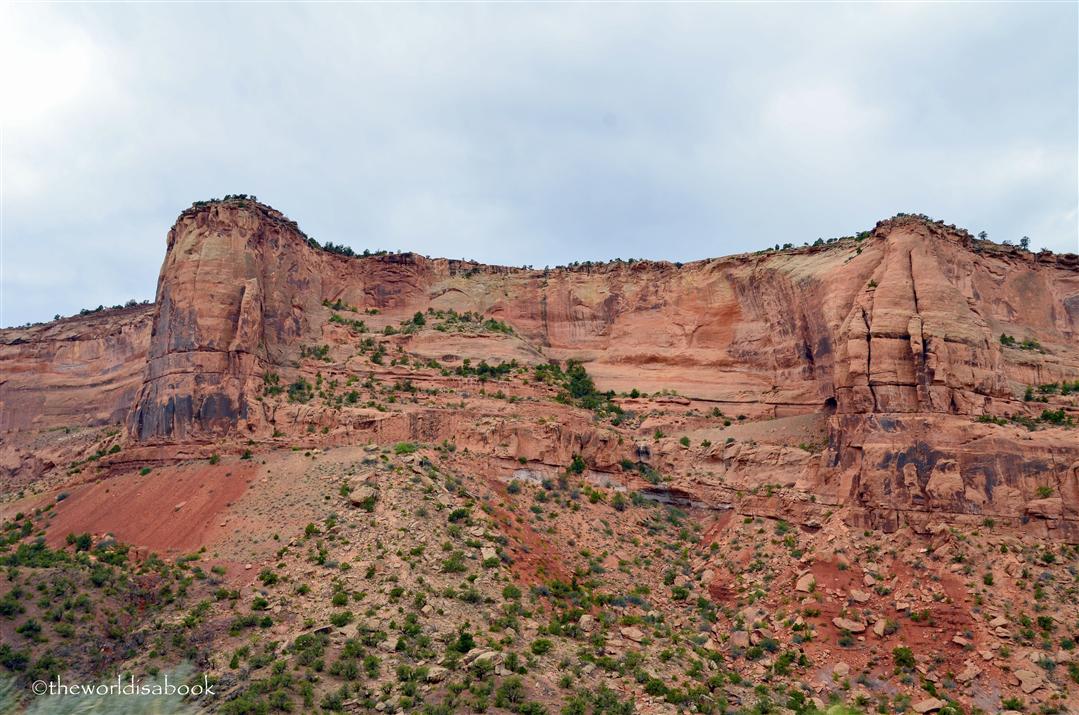 We entered the park through the Fruita entrance off of the I-70 Highway.  It was a bit surprising not to see other cars for miles even though it was still summer season.  We were surrounded by sheer, red rock cliff walls and rugged landscape.
There is only one winding road in the park that goes from one end to the other. Rim Rock Drive has been described as one of America's best scenic roads.  It is 23 miles (37 km) of paved road with 19 scenic overlooks – many worth a stop.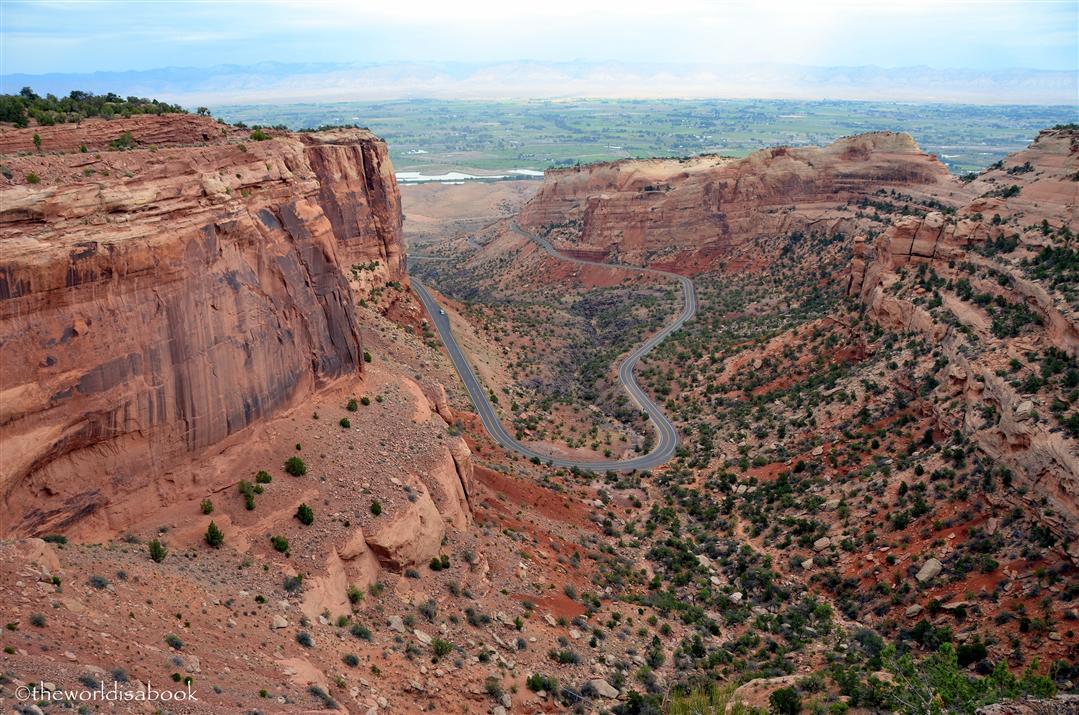 Most of the road was built by the Civilian Conservation Corps (CCC) between 1933 and 1942. It was an extraordinary feat using native building materials and without the aid of bulldozers.  Blasted rocks were removed by hand or through small carts on rails pulled by horses.
Knowing the back-breaking and intense labor used to build this road made us appreciate the beauty that surrounded us even more.  The CCC also built three tunnels along Rim Rock Drive. We passed through two of the short ones enough to marvel at how they carved it through the rocks and mountains.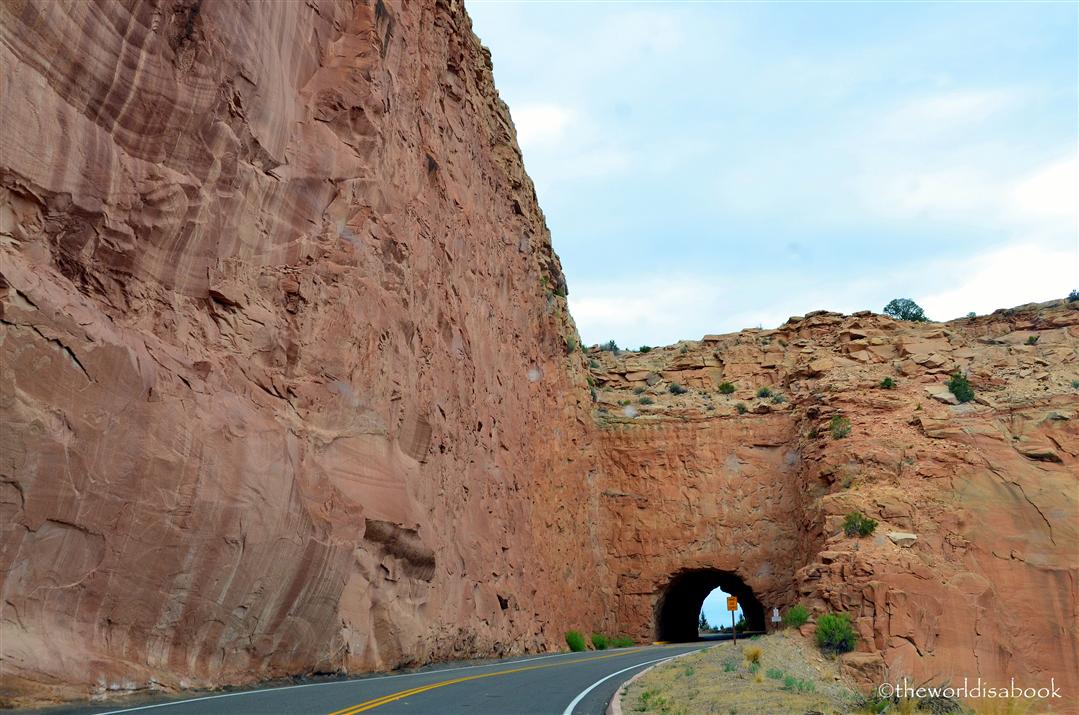 One of the natural wonders we saw as we drove up from the valley floor to the monument's plateau was Balanced Rock. It was precariously perched on a towering formation that seemed ready to tip over with the next jolt.  Balanced Rock weighs 600 tons which equals to 120 African elephants.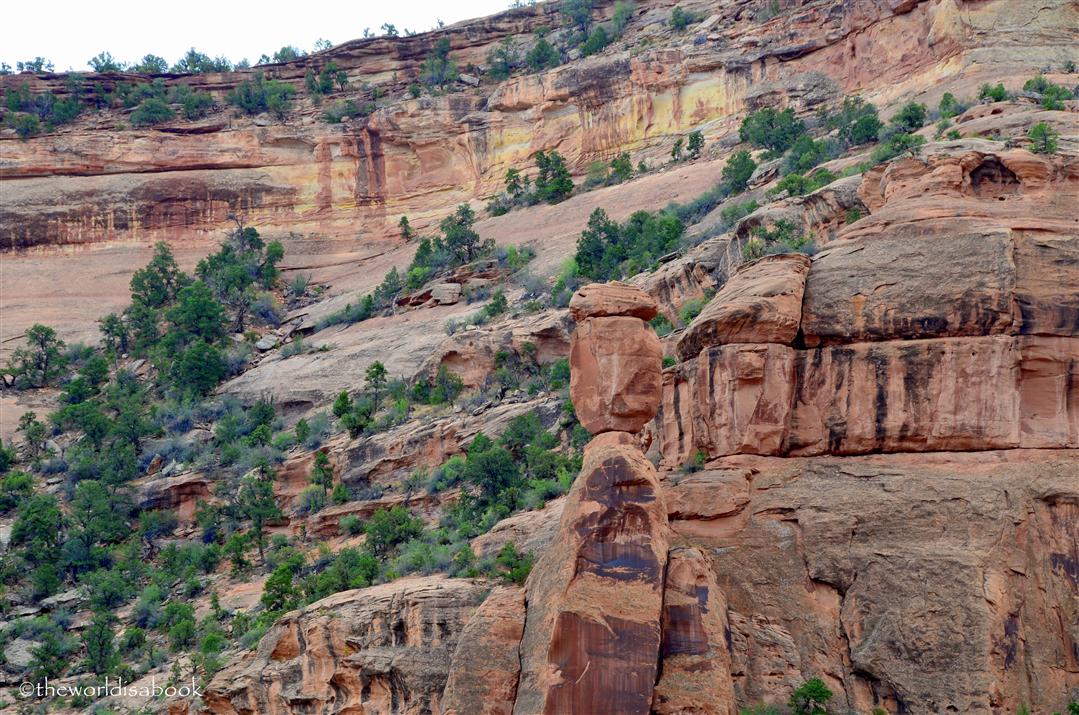 While Rim Rock Drive will take you eastward to the Grand Junction entrance, we drove two-thirds of the way to the Red Canyon overlook.  We wanted some time for short hikes and also needed to return to the Visitors Center (near the west entrance where we entered) for my kids' Junior Ranger badges.
Formed by flowing water, Red Canyon was a wonderful turning point.  The scenery framing the city of Grand Junction was very picturesque.  We were surrounded by boulders and colorful cliff walls dotted by plenty of vegetation.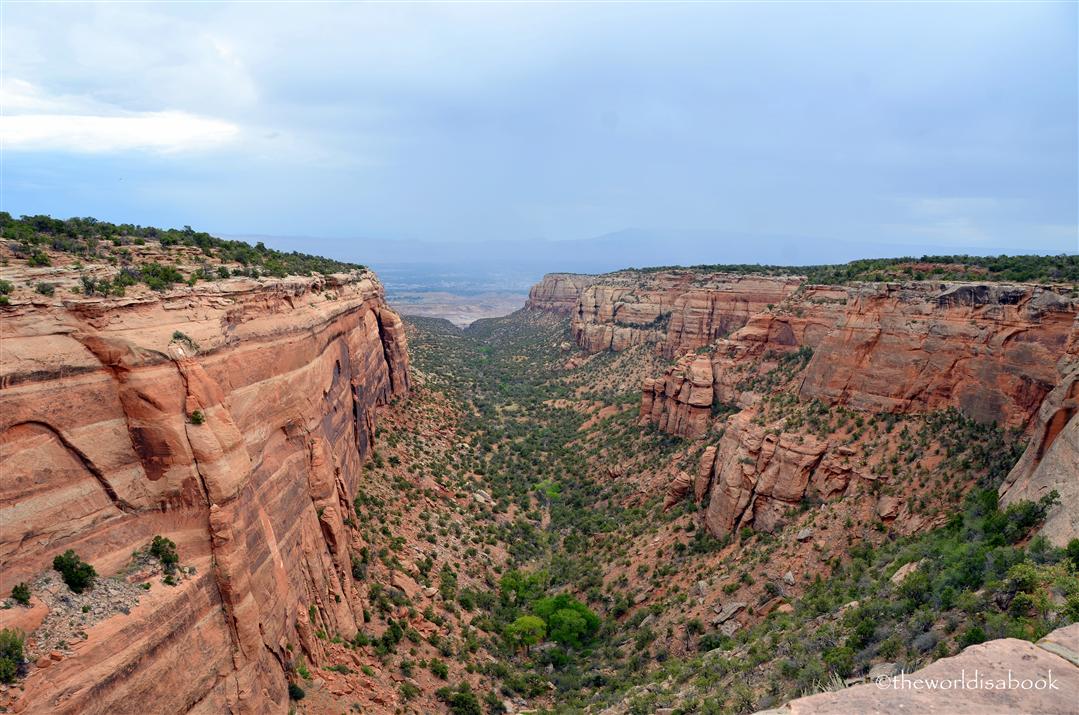 Rock layers represented their different ages found throughout the monument.  The oldest rocks were found at the canyon bottoms and youngest are located at the top of the canyons.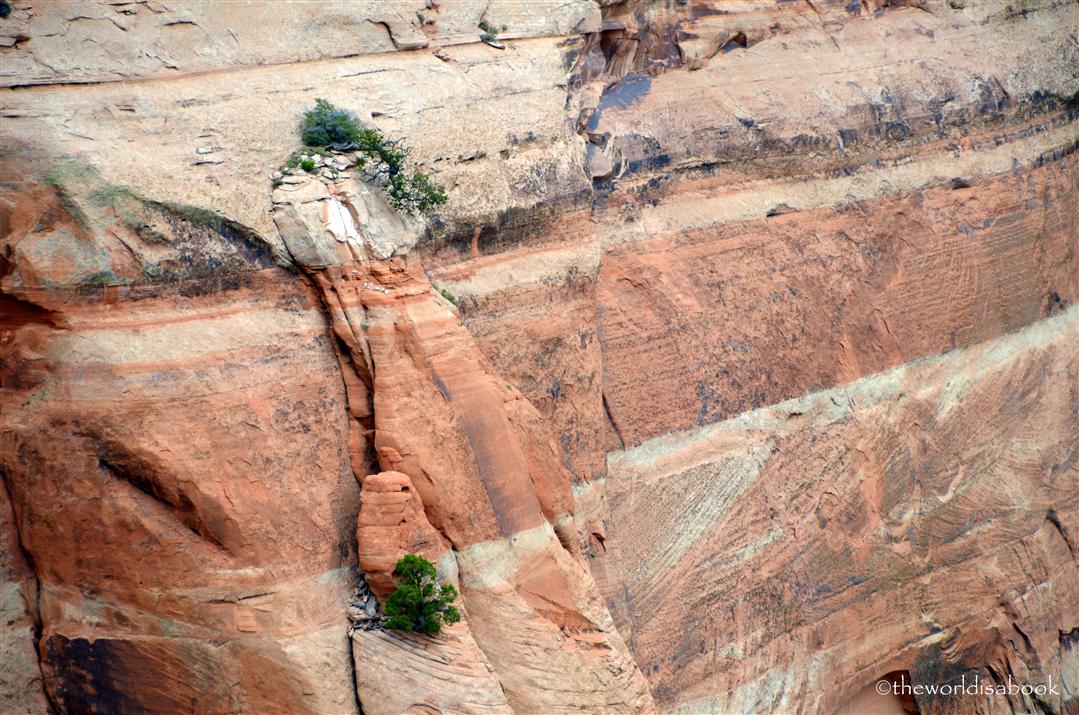 The reddish orange cliffs here were incredibly stunning.  Some of them looked so smooth and looked like a painting.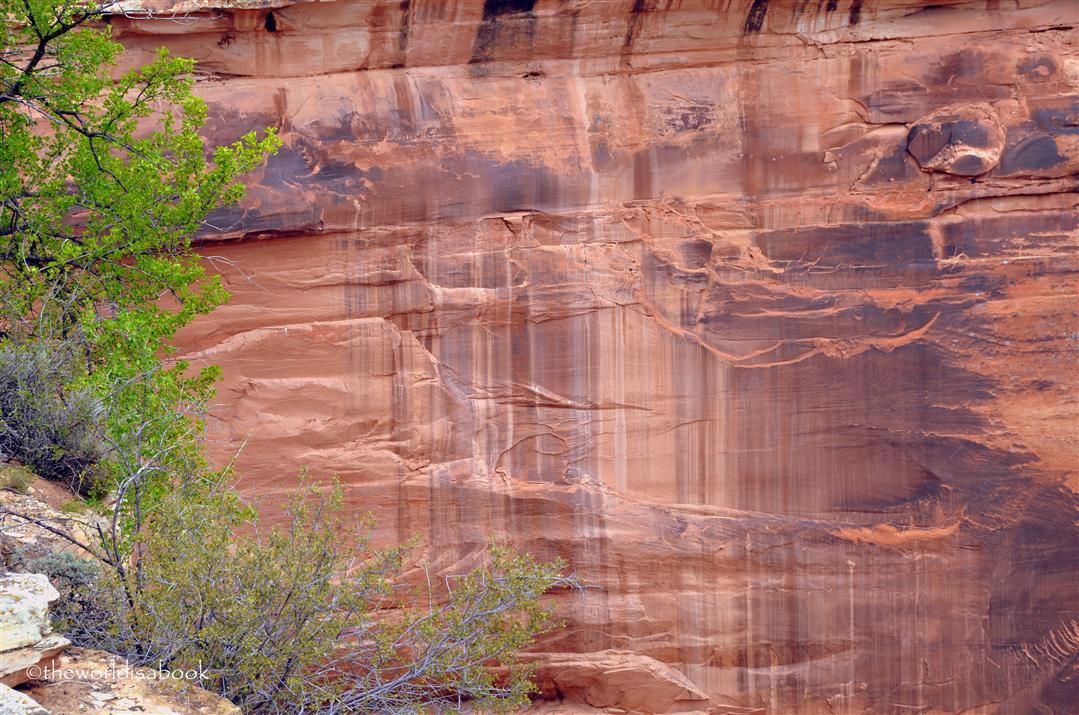 Many of the lookouts presented majestic views of canyons with numerous Utah juniper trees and layers of rocks surrounding it.  One of the more interesting lookouts was Fallen Rock.  Fallen Rock slid from the cliff face behind it more than 100 feet (30 m) and now rests on the nearby slope.  The gradual geologic process of water, temperature and wind over many centuries contributed to its downfall.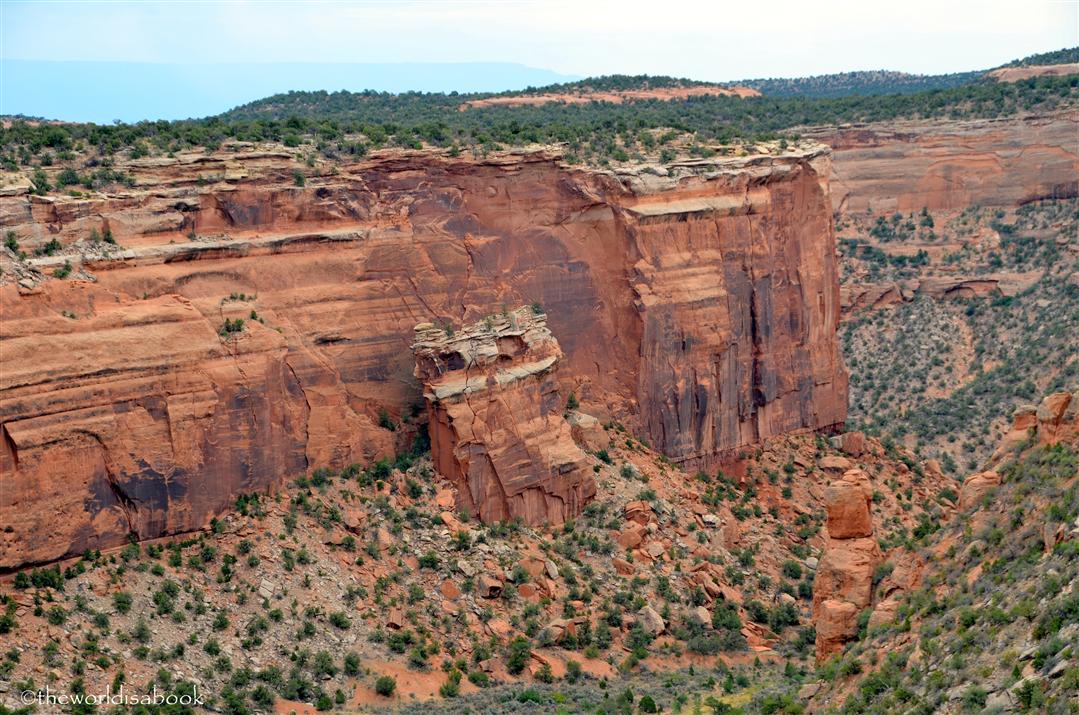 Weathering and erosion forces carve canyons and create rock formations.  Colorado National Monument is known for its cliffs, monoliths and rock formations mostly made of 200 million year old sandstones.  The most remarkable formations we found were these groups of oddly shaped rocks.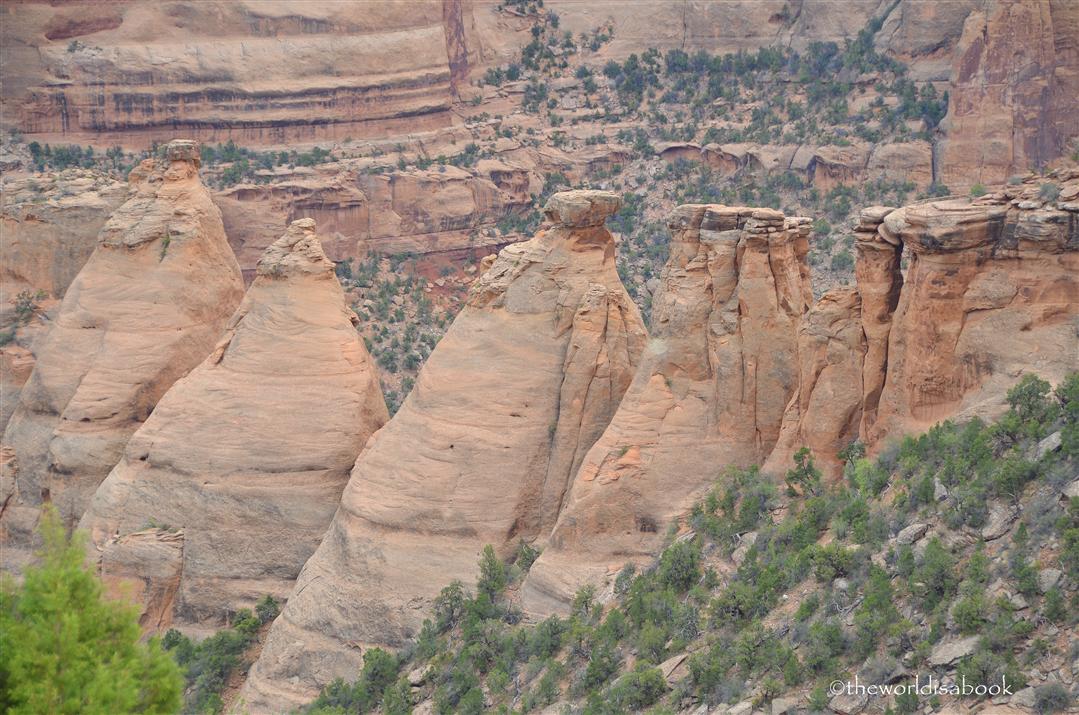 We weren't quite sure what they looked like but they were known as the Coke Ovens.  The dome shapes were thought to resemble the beehive ovens used to transform coal into a type of fuel called coke. The easiest trail we did was the half-mile Coke Oven Trails which was fairly easy to do on a warm day with kids.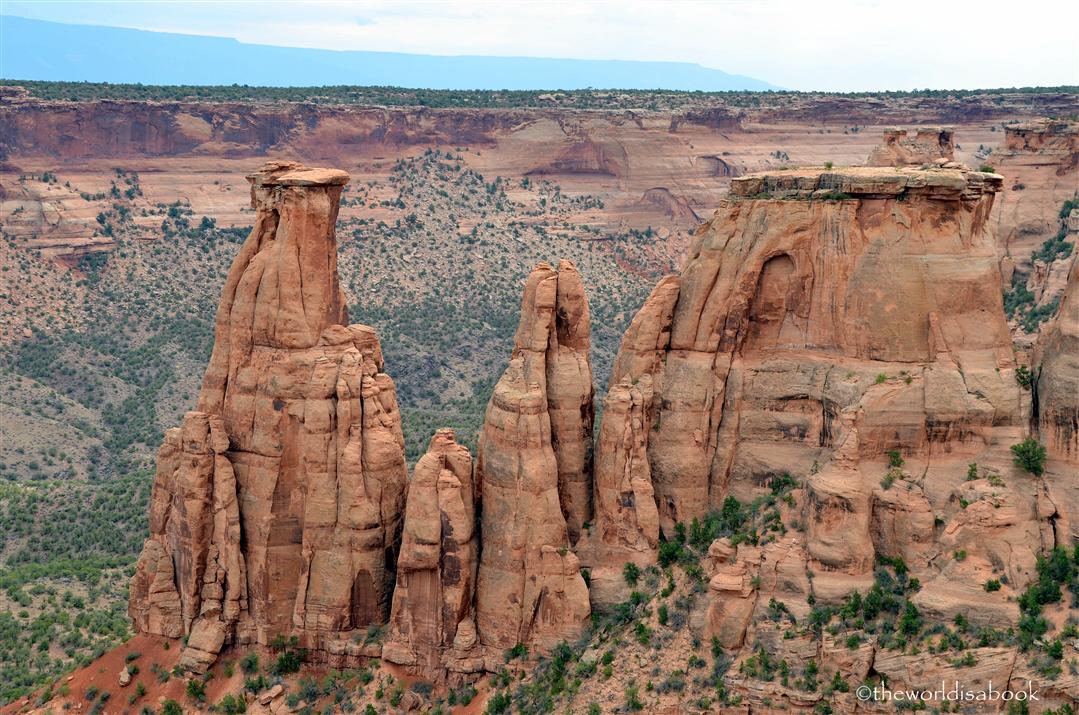 Other rocks formations were strangely or appropriately named which included Kissing Couple, Praying Hands, Needles Eye and Pipe Organ.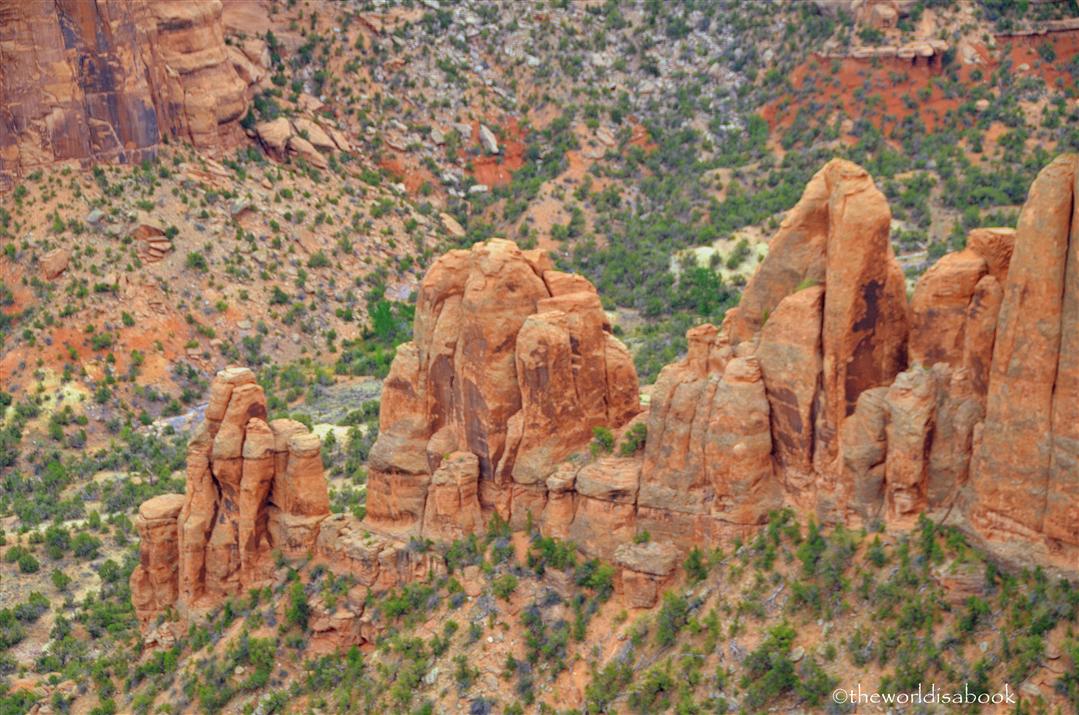 The park's symbol was a 450-feet tall monolith and the canyon's tallest formation was known as Independence Monument.
Every Independence Day (July 4), park rangers and a group of rock climbers climb to the top to fly the American flag here.
During our visit, we saw some of the climbers high on top of the rock tower.  Can you spot them?  I don't know how long it took them to get up there but a lot of us only stared in amazement and admired their dedication and skills.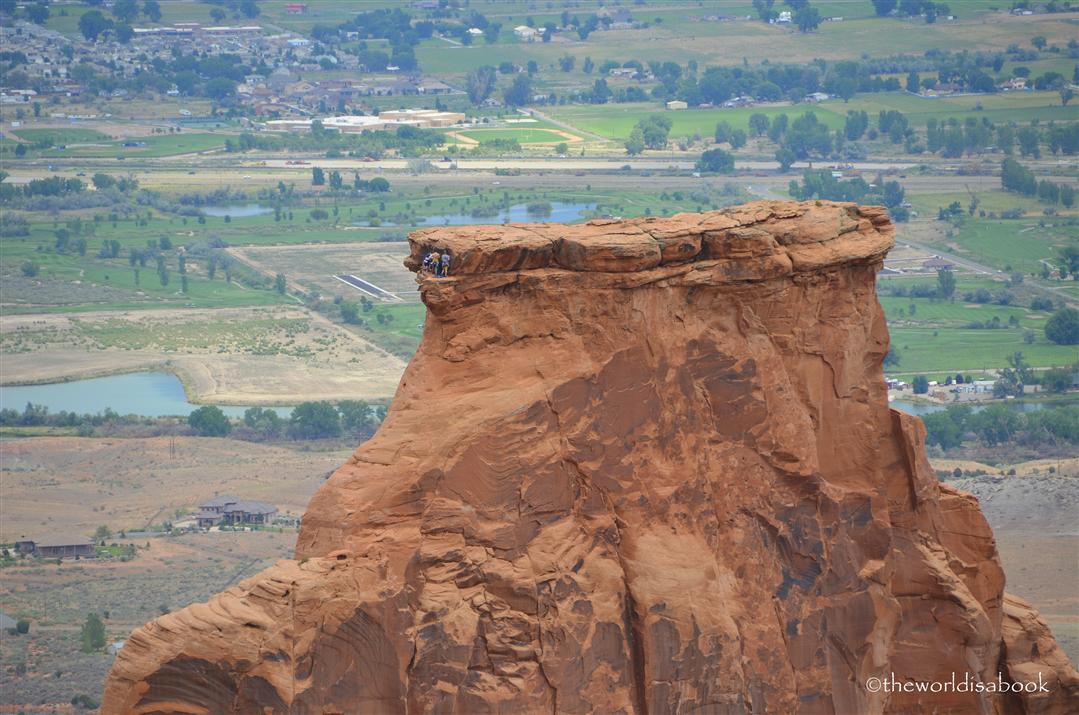 One of the things we liked was the solitude this place offered.  Many of the National Parks in the summer tend to be very crowded.  The lack of visitors and not having to deal with traffic on Rim Rock Drive was a welcome relief.  It's an overlooked gem in America's National Park system.  The impressive canyons, panoramic views and fantastic rock formations were just some of the reasons we were happy to have spent a few hours here.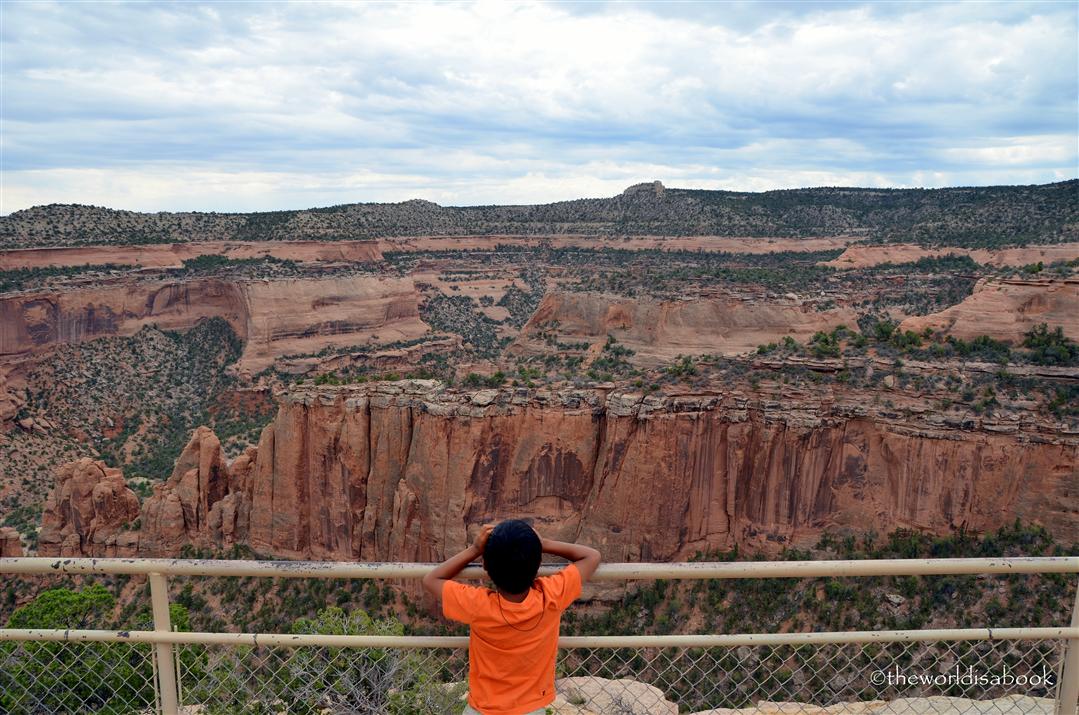 Tips for Visiting Colorado National Monument 
It takes a little over an hour to drive all 23 miles of Rim Rock Drive with minimal stops at the overlooks.
There are 14 hiking trails that range from .5 mile to 14 miles roundtrip.  Stop by the Visitor's Center for maps and current conditions.
Gas up and bring water and food.  There are no services available in the park.
Restroom facilities available at the Visitor's Center and two campgrounds but not in any of the viewpoints.
Fees: $10 per car and good for 7 days;  Free with National Park Pass.  Parks are FREE this weekend Nov. 10-12 for Veterans Day. 
Traveling with kids? Grab a Junior Ranger booklet to earn their badge at the Visitor's Center.  Families can also borrow the Junior Ranger Explorer Backpack for free for up to four hours.  It includes binoculars, colored pencils, microscope, bird, plant and wildlife guides.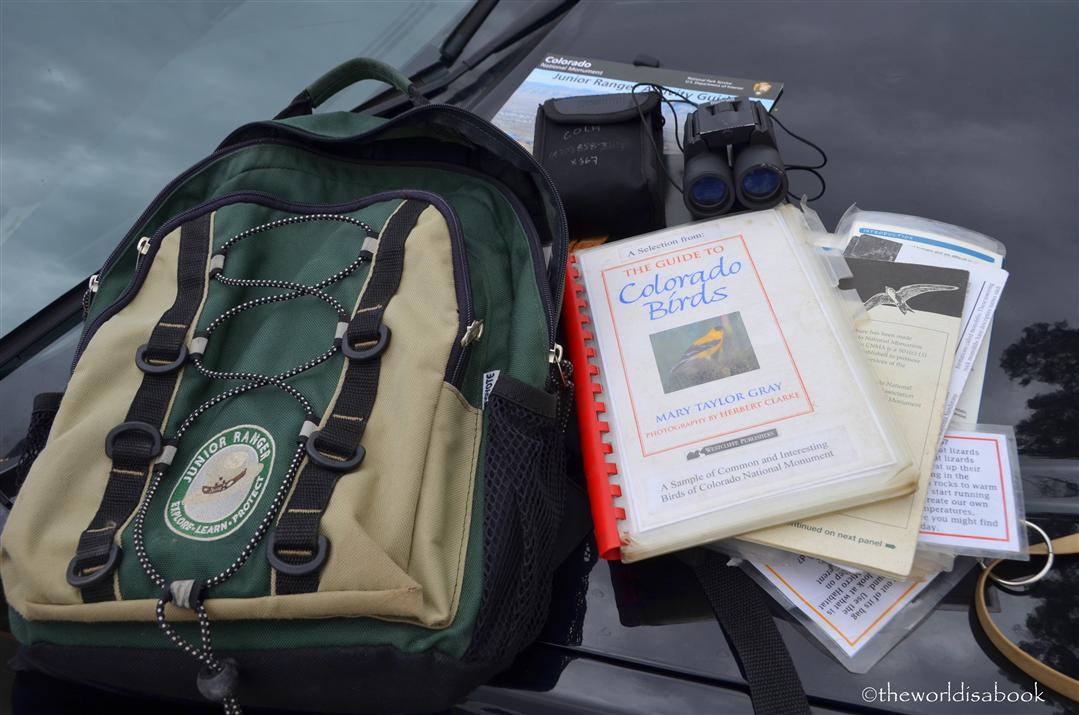 *Have you explored Colorado National Monument?