Ice Skating in Colorado
Ice skating is a winter event staple and we found a few options during our last Colorado trip.
Nottingham Lake – We ended up ice skating in Nottingham Lake located in the town of Avon, which was r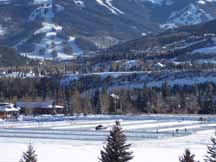 ight below Beaver Creek Resort.   There was also a hockey rink and ice fishing in the middle of the lake.  Avon's Log Cabin was located on the premises where you could rent ice skates, use the restrooms and buy popcorn and hot chocolate.  No charges if you use your own ice skates. After rentals, we just went to the lake and ice skated for free.  This lake was huge and had plenty of open spaces.  This was my kids' first time on a frozen lake and ice skating so this was a perfect place to learn. There weren't that many people skating past them and it might have helped that we went around 6:00 PM but the place was still well lit.
Hours: Noon – 8:00 PM  ~ Rental & Admission Prices: $8.00  ~ Bring your own skates – FREE  ~ Contact: (970) 748-4086 ~ Address: 1 Lake Street, Avon, CO
Money Saver Tip:   Grab "The Parents Handbook to the Vail Valley" publication from any place in town or Beaver Creek and Vail Resorts and get a 2 for 1 ice skate rental coupon and a ton of other coupons.  Total Cost with coupon: $8 for two children including rentals.

Beaver Creek Village – The Black Family Ice skating rink was right in the middle of the beautiful resort village.   It got pretty crowded since the rink was not that big. There were fire pits surrounded by cushioned seats around the rink for parents and non-ice skaters to relax, people watch and sip hot cocoa. Parking was free in the structure for two hours.
Hours: Noon – 9:00 PM  ~ Admission Prices: Kids 12 and under $8.00; 13 and up $14.00 (Bring own skates $5.00)  ~ Skate Rentals:  $$  ~ Contact: (970) 845-0438 ~ Address: 26 Avondale Lane, Avon, CO
Keystone Lake – A 5-acre lake set in Lakeside Village.  This was where we initially wanted to go since it was near our condo. But, Nottingham Lake was cheaper.  However this may be a good option for some who don't want to drive to the Vail valley area.
Hours: 10:00 AM – 9:00 PM  ~ Skate Rentals and Admission Prices: Child (under 12 years old)= $16;  Adults = $18 * Contact: 1.800.354.4386 ~ Address: Lakeside Village, Keystone, CO 80435
Check out these related posts: