Visiting Chankanaab Beach Adventure Park Cozumel
One of the biggest appeals on a cruise for us is that it has something for everyone in the family.  It is sometimes hard to replicate that during the shore trips.  We visited the Caribbean island of Cozumel, in Mexico's Yucatan Peninsula, last January on a cruise stop.  We were fortunate to have spent a day at one of our favorite excursions – Chankanaab Beach Adventure Park.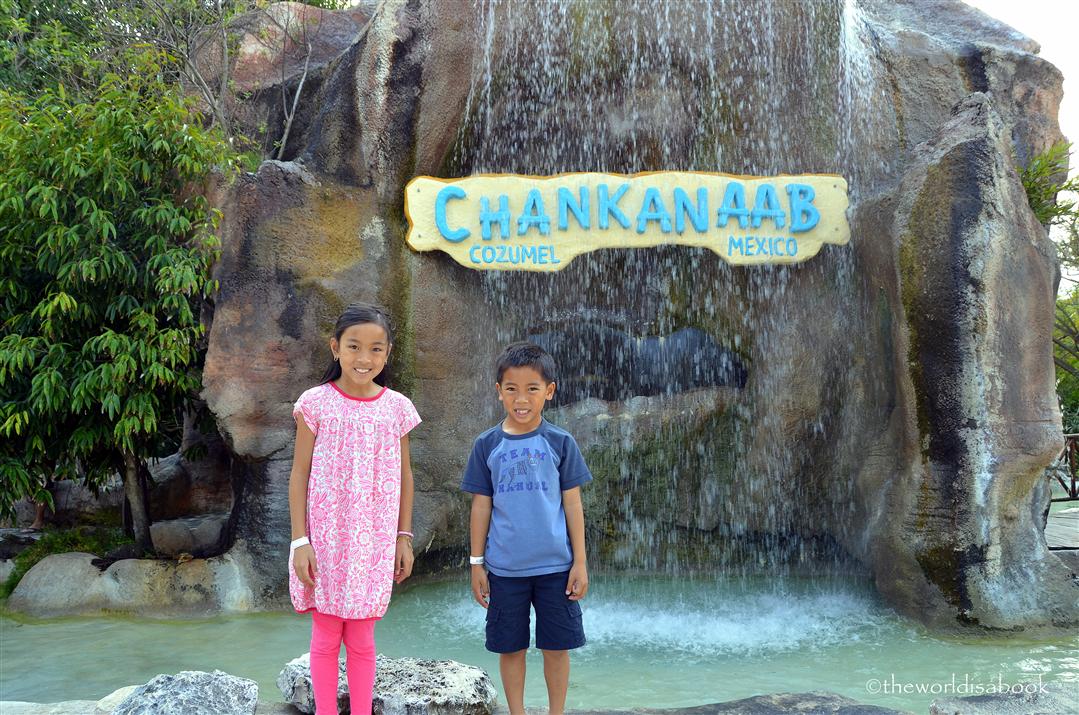 Chankanaab was a conservation area and a natural reserve and was established as a national park in 1980. This wasn't the same as the National Parks we were used to visiting here in the USA.  This looked more like a beachfront resort.
The word Chankanaab means Chan (small) Kanaab (sea or ocean) in Mayan and was so named for the natural lagoon within the park.  Now filled with numerous tropical fish, this was a remnant of an old Mayan settlement.  It was also used, at one time, by pirates as a refuge since the lagoon was fed by underwater caves.  Swimming is not allowed in the lagoon to protect its fragile ecosystem.  No matter its past uses, it was undeniably stunning.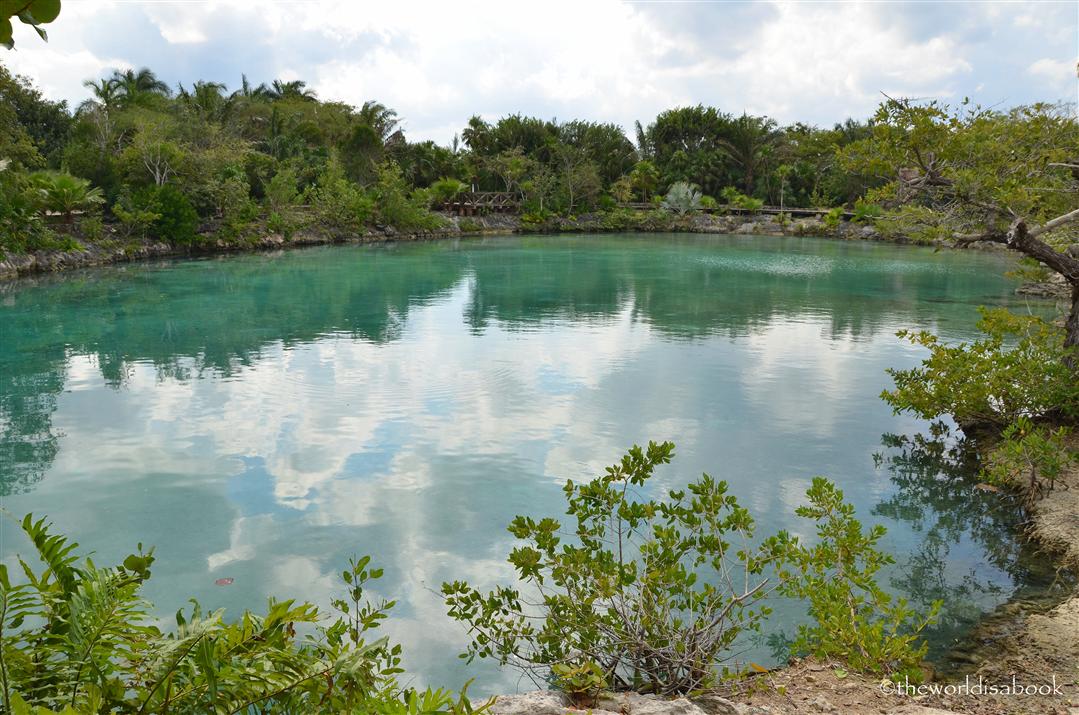 A botanical garden with over 350 species of tropical plants was a wonderful place to walk through.  The fauna and flora here was one of the reasons this became a national park and an environmental conservation zone.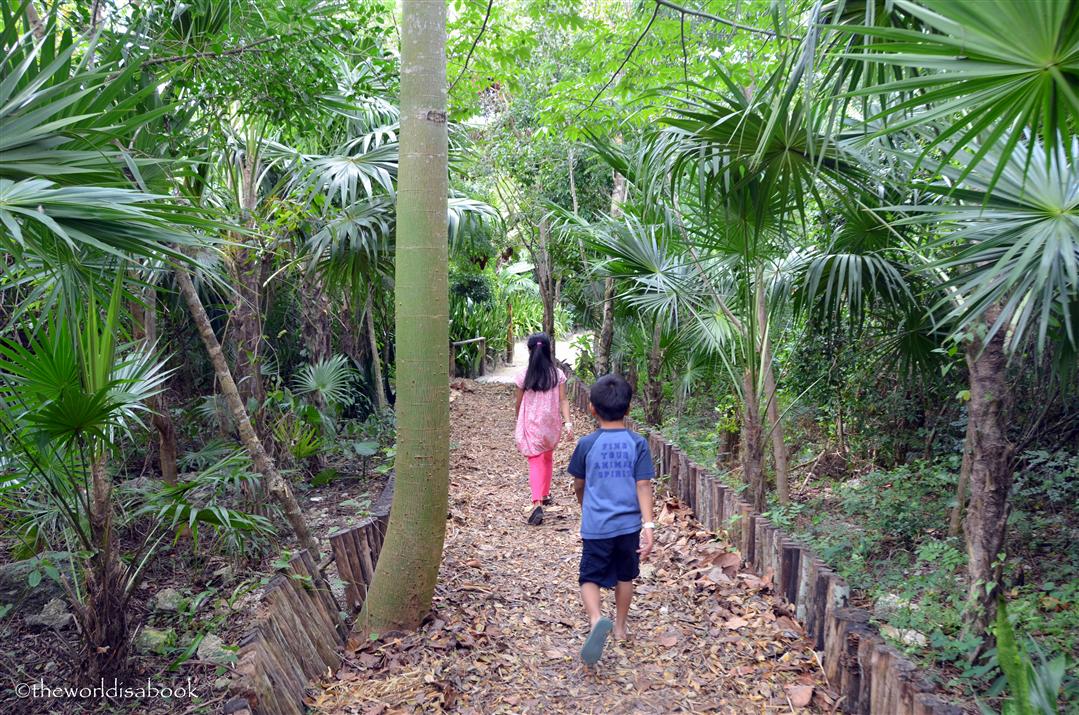 Plenty of statues, stone carvings and small monuments (all replicas) were scattered throughout the park with descriptions along lush, walking paths.  These were created to represent the various tribes that lived in the Yucatan.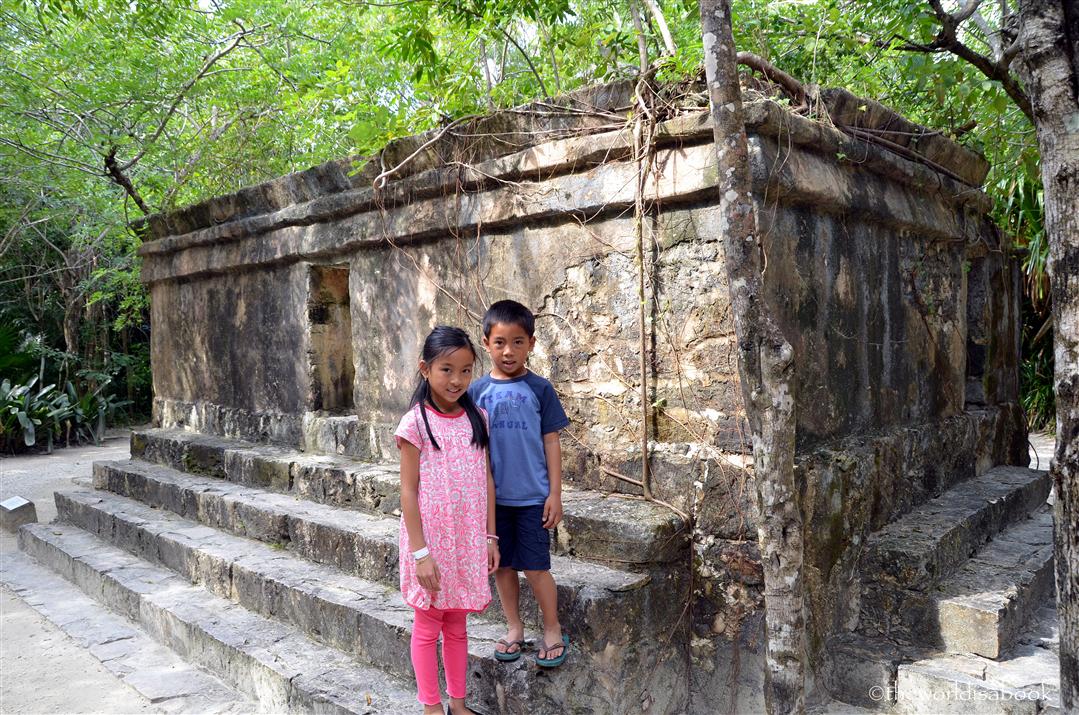 They did a fantastic job reproducing the Mayan statues that almost look authentic and felt like they were actually part of an old Mayan city.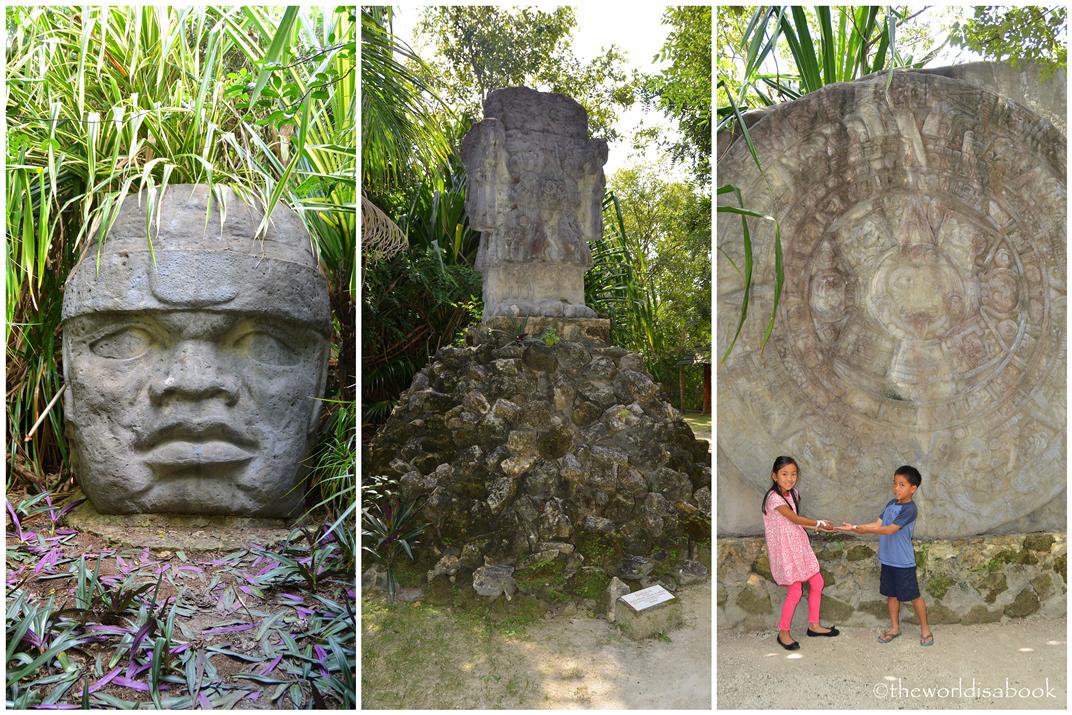 The small Mayan village was a replica of a traditional one from 2,000 years ago within the archaelogial park area. There were multiple huts and even gardens behind a couple of them to show how some of the Mayans lived and their farming practices.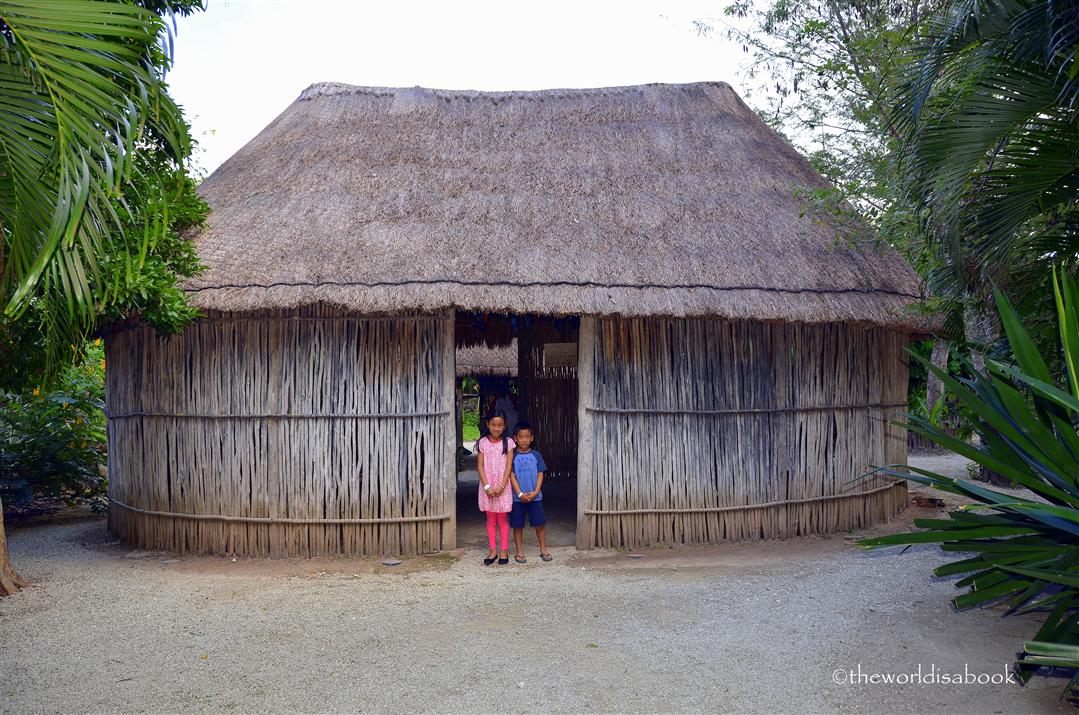 Though, the highlight of Chankanaab for us was its stretch of a clean and very well maintained beach.  Once we caught sight of the beach, we felt like we stepped into paradise.  White, powdery sand, palm trees for shades and straw hut umbrellas or palapas for the extra comfort were everywhere.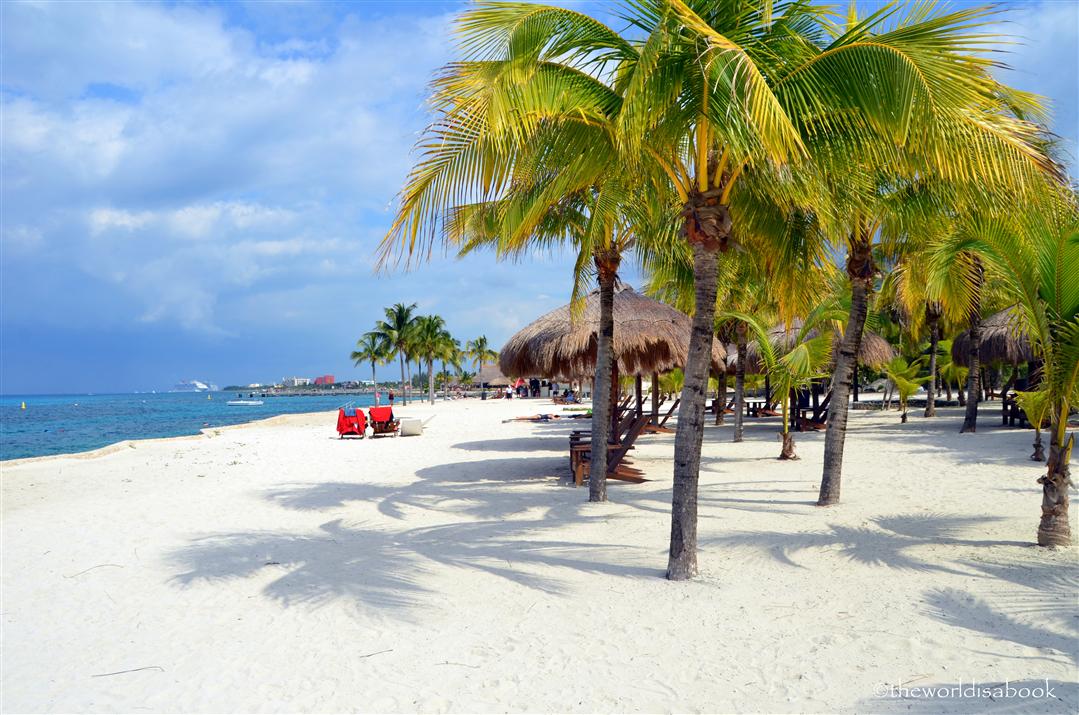 Chairs and palapas were on a first come, first serve basis.  Three cruise ships were in port that day which made for a crowded park.  There were already plenty of visitors and cruise passengers so we walked further along the beach.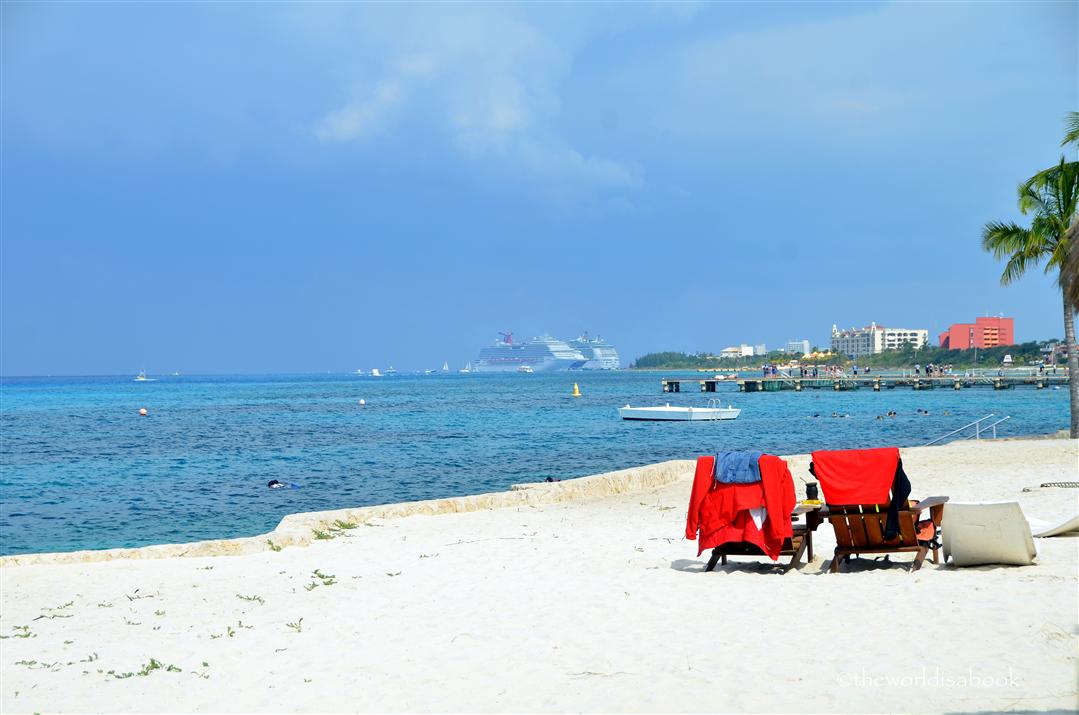 It turned out to be our best decision of the day.  We came upon rows and rows of hammocks tied to palm trees.  The area looked like a postcard setting for some sort of beach retreat.  They may not look the part but those hammocks were comfortable and with an ocean breeze, was the perfect place for a nap or to read a book.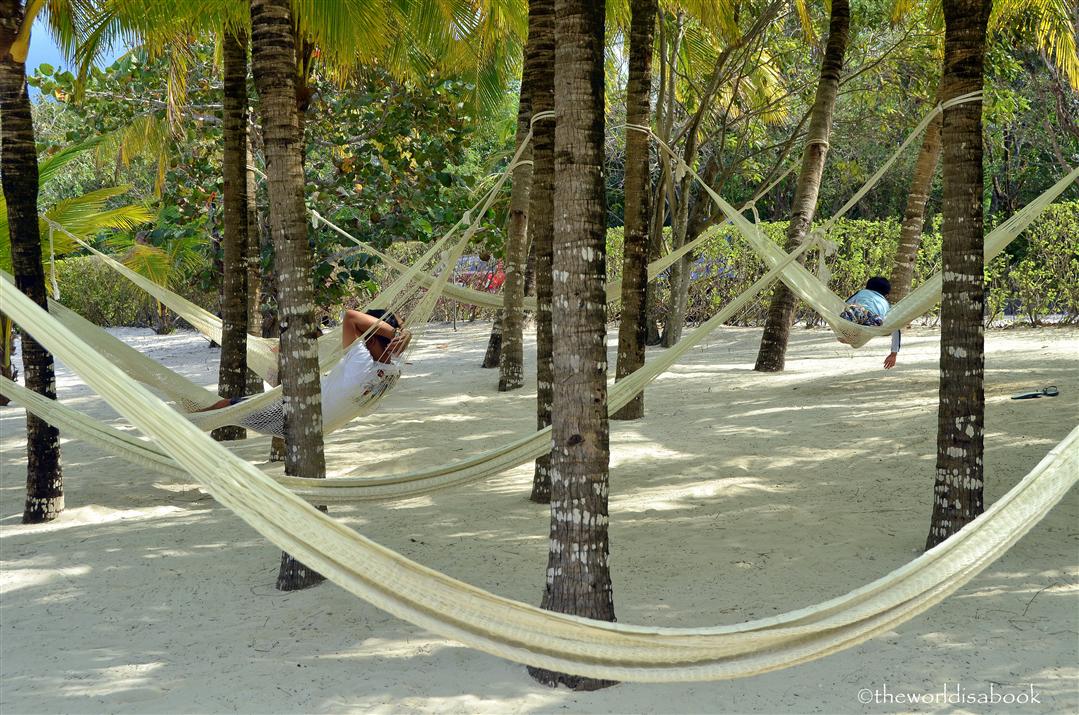 There were plenty of palapas and chairs too with hardly anyone around.  Sure, we had to walk further to the restrooms and restaurants but it was well worth it.  We needed to walk off all the food we had eaten on the cruise anyway.
Though, some restaurant staff made their rounds to take food and drink orders too.  I think the only thing missing from these tropical pictures were some beds for a beachside massage.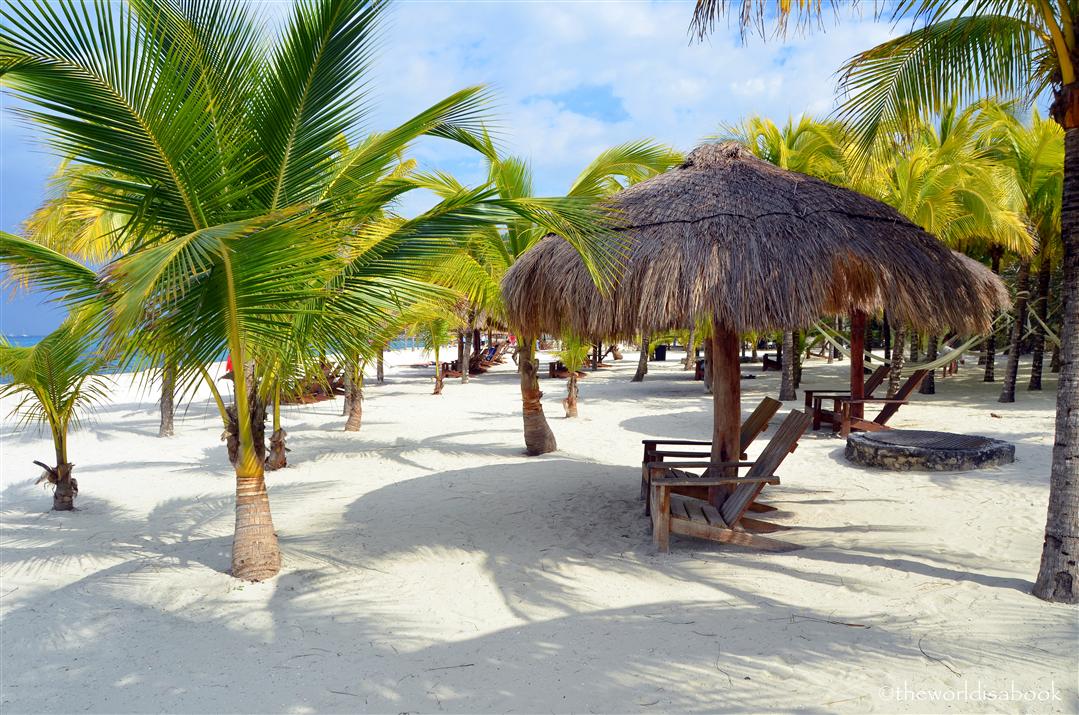 Cozumel is known for its clear waters and is popular with snorkelers and divers.  It is considered one of the top five diving destinations in the world.  My husband and kids snorkeled in a designated and easily accessible area.  I was too content in my hammock to go with them.  My husband was also too paranoid with leaving valuables in public tourist lockers so I became the watchman.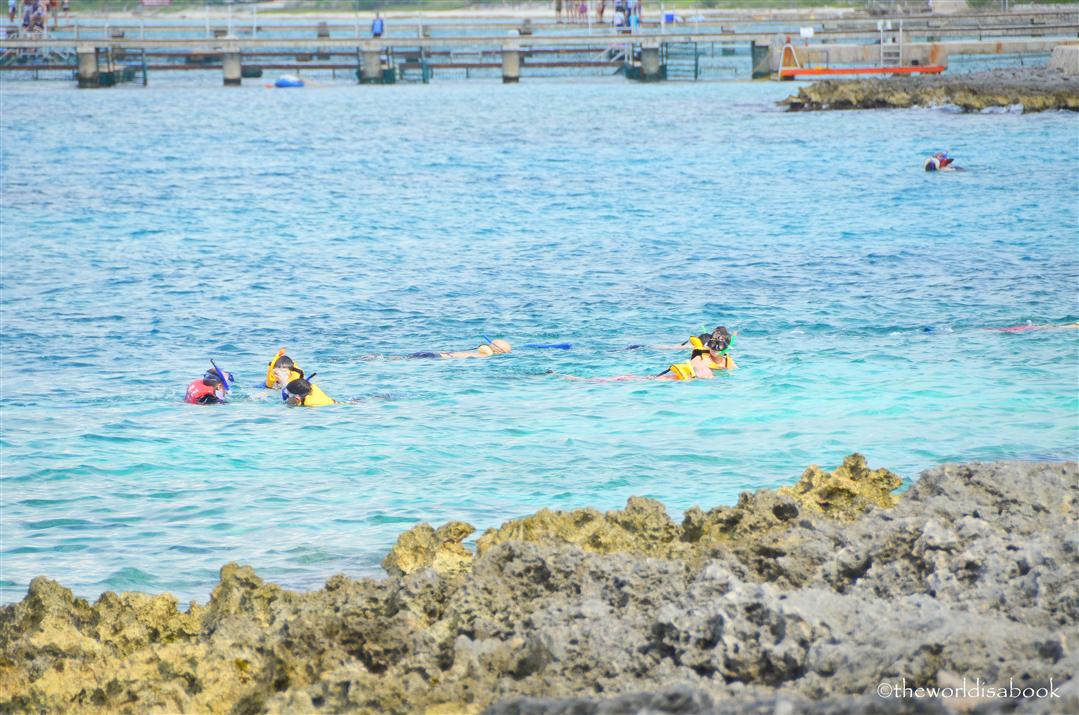 My kids loved their first try with snorkeling.  The waters were warm, calm and close enough to the shore which made them more comfortable.  You don't have to worry about bringing your own gear since there were many shops renting out snorkeling and diving equipment.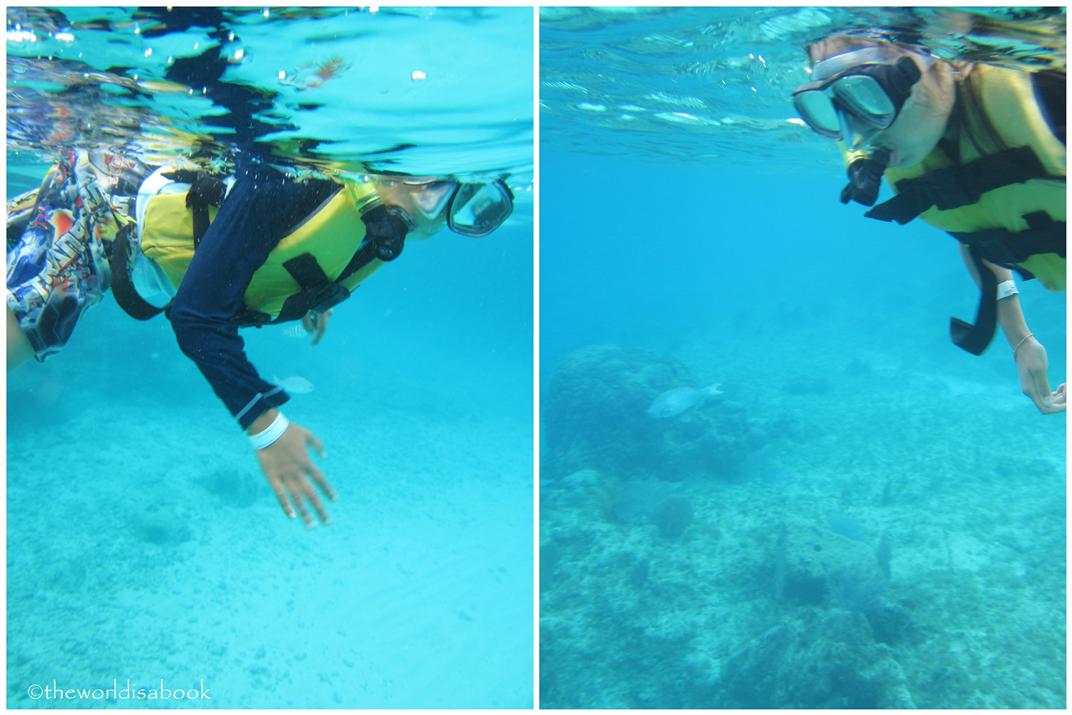 They just finished their third snorkeling adventure last week and still proclaim snorkeling in Chankanaab Park as their best one so far for its warm waters and the variety of colorful fish they saw (including some divers).  It was a great place for snorkeling beginners.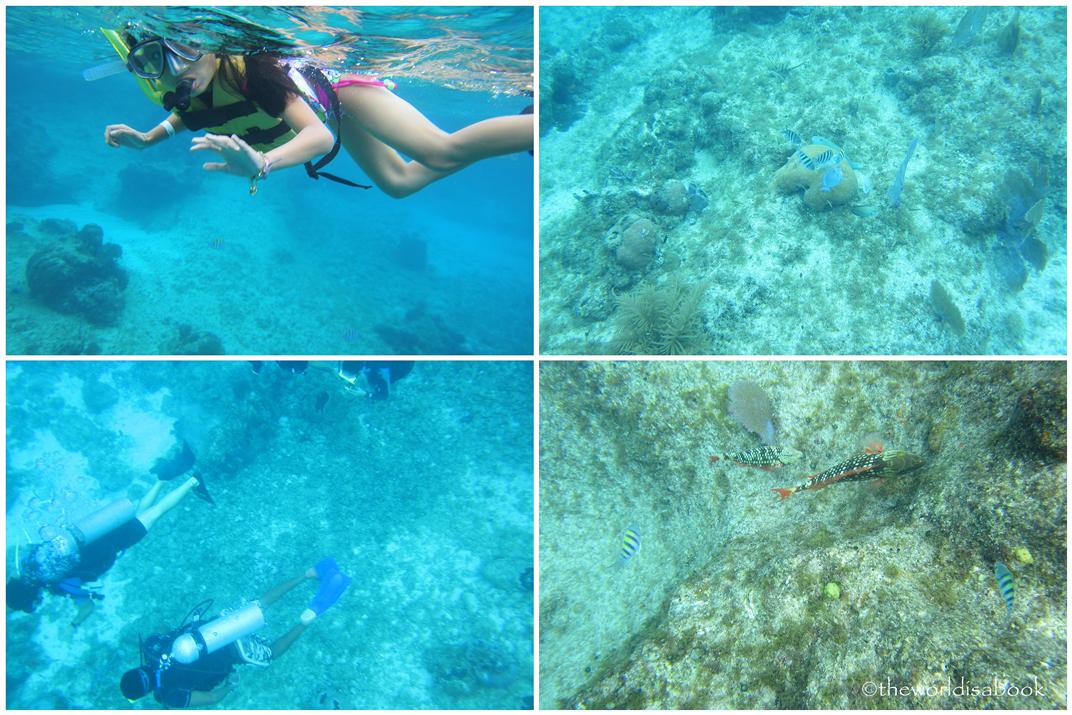 Sea lion shows were available for the visitors at designated times throughout the day in a special outdoor theater.  This was included with the admission price.  For anyone who has been to Sea World, this was very similar to their shows.  It was in English for the tourists. We found it entertaining enough and the animals were adorable.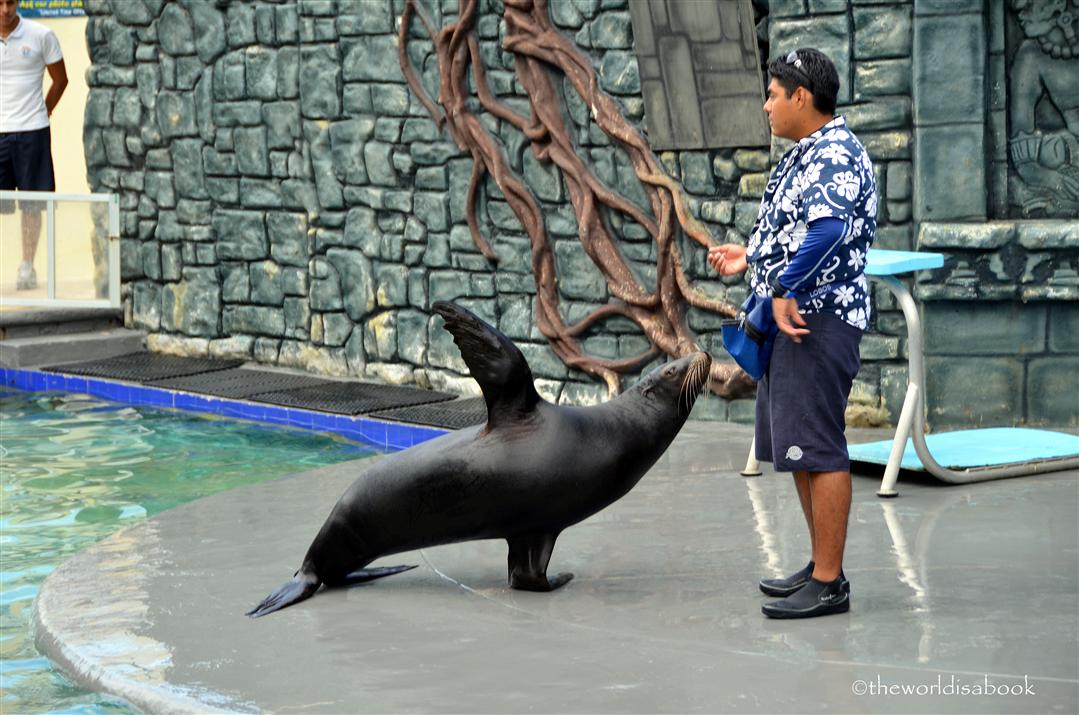 After the show, guests were invited to go up on stage to meet the stars of the shows.  Of course, my kids were so up for it.  Visitors sat on a stage bench and the sea lion came up to kiss the guests.  My daughter volunteered to be the recipient so she got the wet kiss from the cute sea lion.
She was initially worried that the sea lion would slobber all over her but it just gave her a peck on the cheek while we all amusingly watched.  To no surprise, it all smelled very fishy on stage.  Photographers were on hand to take that memorable photo and sell with a huge mark-up.  Or dad can stay on the stands and use his zoom lens to take the below photo too to avoid the tourist trap.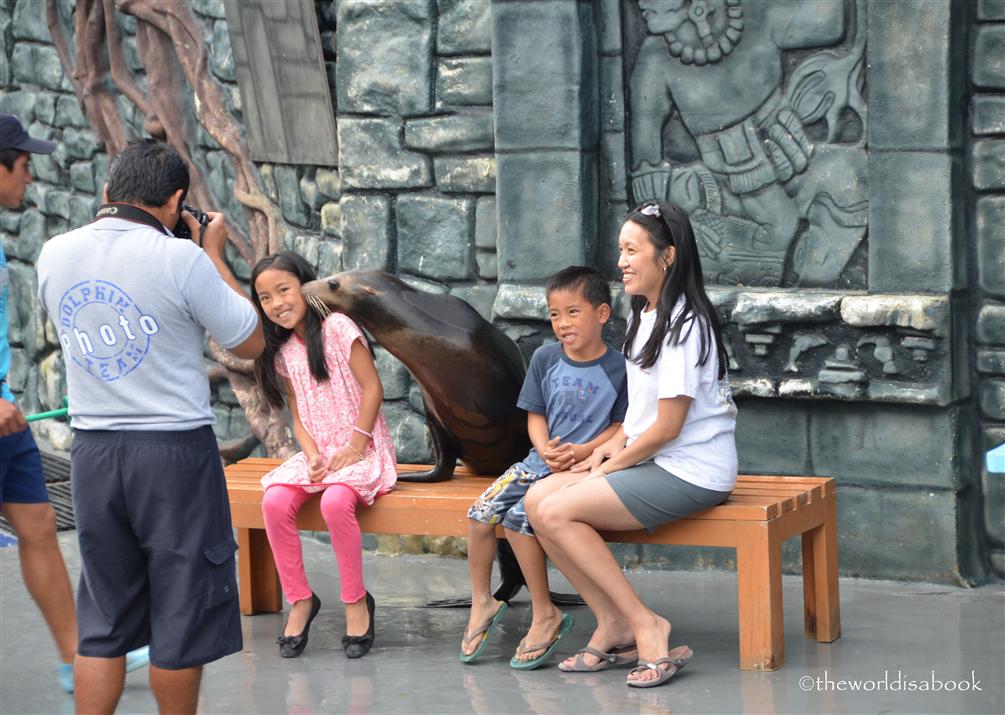 Chankanaab is also known for its Dolphin Discovery Program.  We saw some dolphins jumping high and visitors interacting and swimming with them. We didn't even look into doing this, only because we live near Sea World and it was a bit pricey.  But, it seemed like a fun excursion. Discounts are available for early bookings.  There was also interaction with manatees and sea lions.  Unfortunately, the manatee wasn't around.  From what we've read, cameras were not allowed during the dolphin swim and photos are $30 each. Yikes!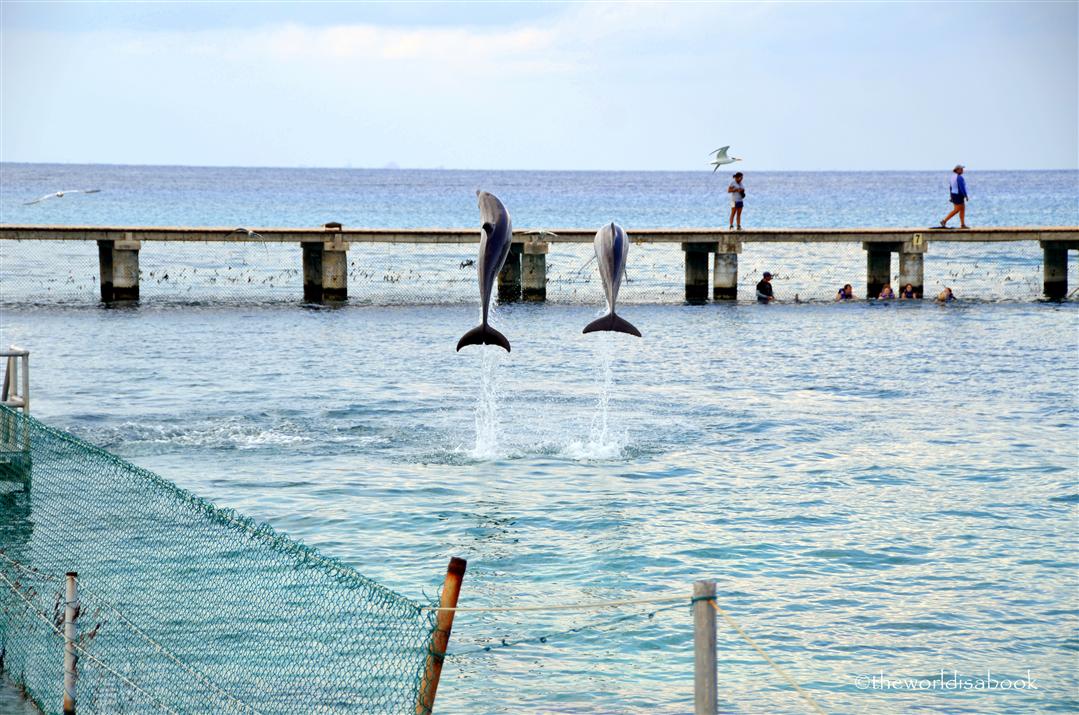 We stayed most of the day here and will gladly return.  Although, there were some parts that felt like a tourist trap, the overall admission was well worth the price.  It offered plenty of amenities and activities for everyone in the family.  So, if you find yourself in Cozumel during a cruise stop, this is a wonderful place to go for a day of family fun.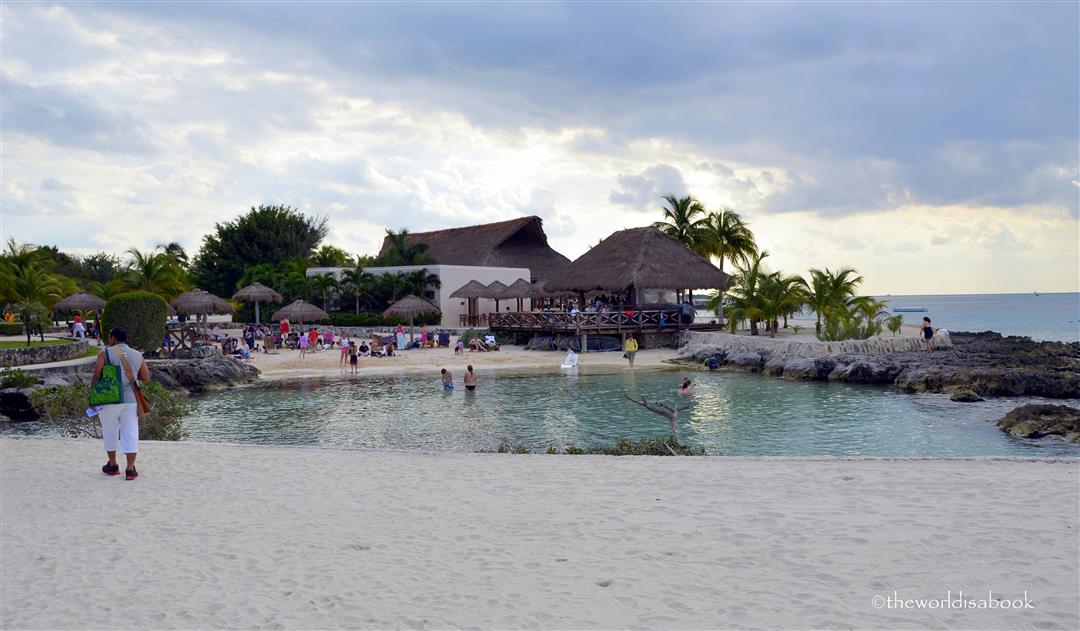 Visiting Chankanaab National Park Tips and Basics
Ticket Admission Price: $21 (Adults); $14 (Kids 2 years old and up)
Print out the $2 off Discount Coupon for further savings.
Ask your Taxi driver for special promos.  We got a $64 package special for the four of us which included a T-shirt and a drink for each of us.
Do not book this excursion through the cruise ship since it will likely be more expensive.
Taxi ride from the ports and downtown was $10 (up to 4 people)  which took 10-15 minutes.
There is a Family area and Children's Beach with calm, shallow waters sheltered from the ocean.
Two restaurants, a snack bar and gift shop were located inside the park.  Their food items were resonably priced and could be ordered for takeout to eat by your palapa.
*Have you visited Cozumel or Chankanaab?  Would you visit this nature reserve and relax on those hammocks ?
Pin it for later!