River Seine Boat Tour
We knew we wanted to go on a river cruise down the Seine and decided to do it at night. Guidebooks highly recommend doing it just as the sun sets for the best effects but that particular time was sold out. We bought our tickets ahead of time online through Vedettes Pont-Neuf.   Tickets came out cheaper with a discount of 4 Euros per ticket for adults and 2 Euros for children (4-12 years old). We didn't have any issues with our US issued credit cards booking on their site.
We had a bit of hard time looking for their location. They were located beneath the Pont Neuf bridge which is really by the Rue Dauphine. There were some stairs leading to their dock under the bridge. Our boat left at 7:00 PM for a one hour non-stop cruise. It was best to be there early or the premium seats, such as the outside areas and those by the window, since these filled up quickly.    The boat was decorated with artificial vines and was very roomy. There were wide glass window seats and the boat was fully enclosed in glass so you can see from all angles yet kept us warm enough. There was a snack bar onboard though understandably overpriced so we got our snacks by buying some crepes and ate them board.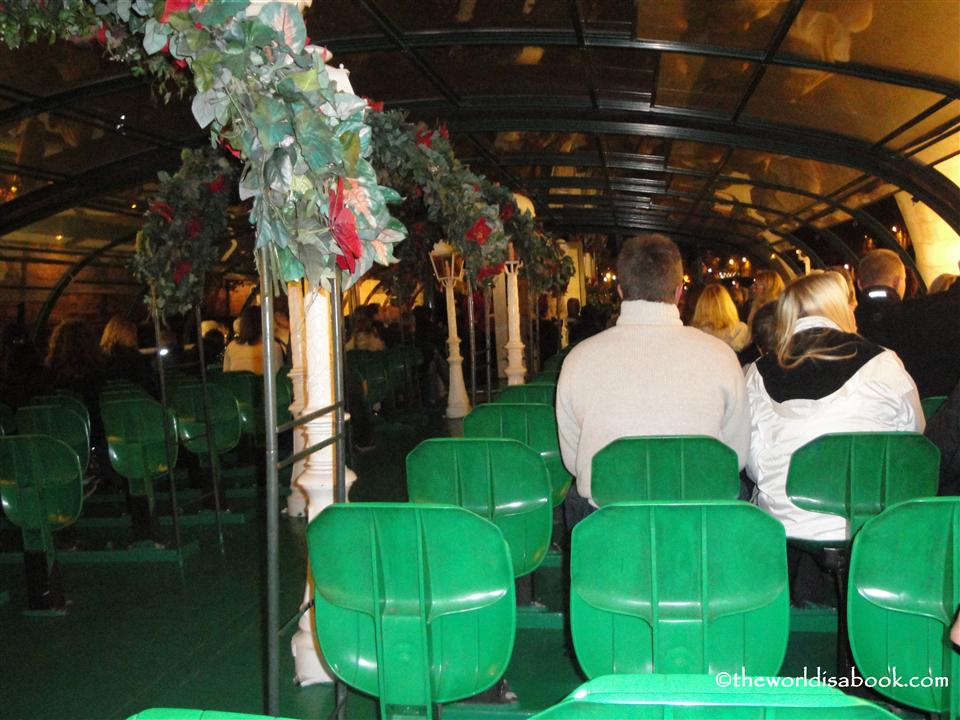 Unfortunately, we were in the boat with groups of students who were very noisy throughout the entire trip. There was also a tour guide describing the various points of interest both in French and heavily accented English but we understood her enough to have an idea what we were seeing.     Our kids loved seeing all the sites we had seen earlier all lit up at night.
We sailed under a lot of the Parisian bridges and passed by Notre Dame, the Louvre, Musee d'Orsay and Place de la Concorde.   But, the highlight was passing right by the Eiffel Tower all lit up and was perfectly timed to see the lights blinking at the top of the hour. What a sight! We also saw many people dining on other stationary bateaux dining. It really was a different experience to see the City of Lights at night cruising on the river Seine.
After a long day of sightseeing around Paris, our then 4 year-old son found the boat ride to be very relaxing and its movements rocked him to sleep.
Useful Links:
Related Posts:
Check out these related posts: