5 Fun and Free Things to do in San Juan Puerto Rico with Kids
Puerto Rico, also known as the "Isle of Enchantment", is the most popular tourist destination in the Caribbean.  It is a beautiful island filled with beaches, rainforests, history, culture and tropical Latin flavor.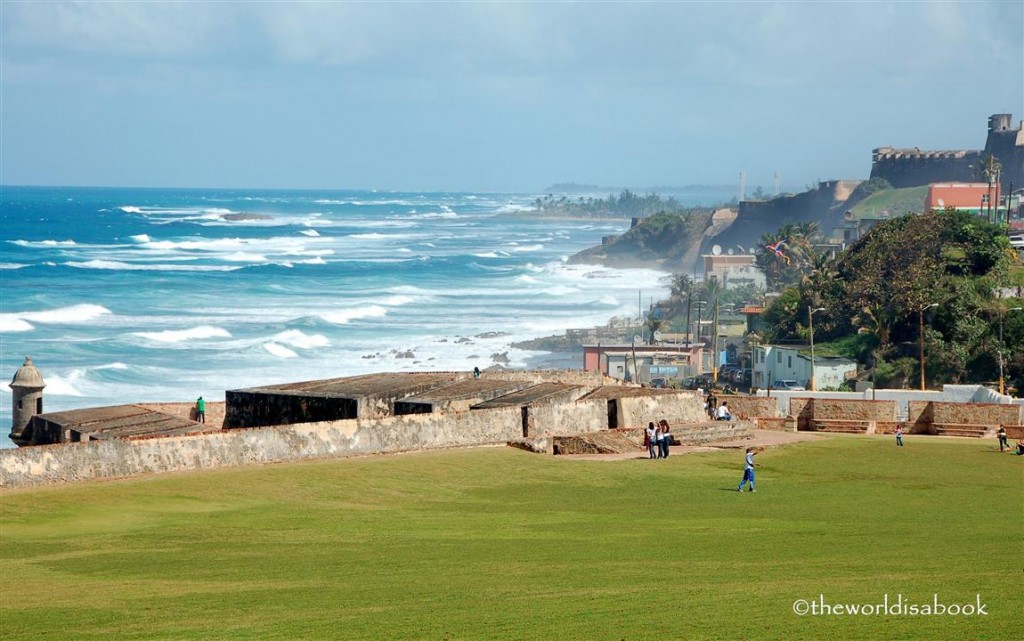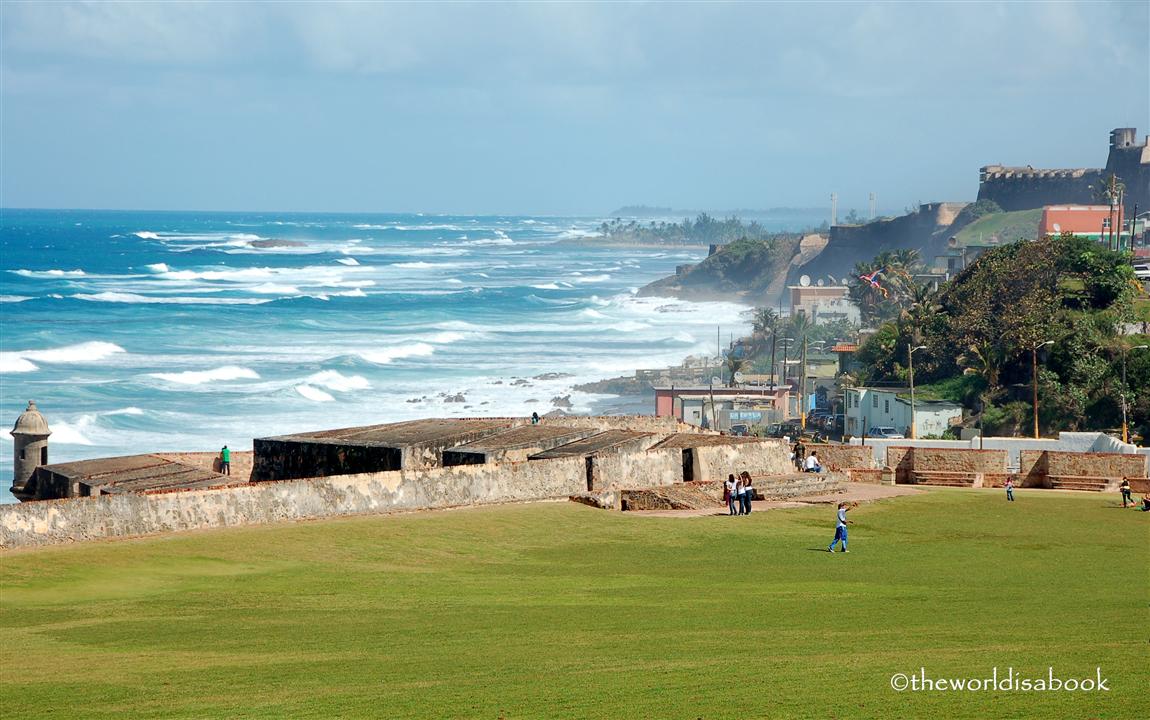 We've visited Puerto Rico as embarkation ports during two Southern Caribbean cruises. Puerto Rico is an appealing destination to many Americans.  There is no passport requirement and as a US Commonwealth, English is spoken widely and dollars are used.  Its capital city of San Juan is more than a popular cruise port stop.  Come see the free things to do in San Juan Puerto Rico with kids.
1.  El Morro grounds
Castillo San Felipe del Morro or commonly known as El Morro was a 16th century citadel with six levels of tunnels and barracks.  While admission to the buildings and forts is $3 (15 years old and up), El Morro's grounds are free for the whole family to enjoy.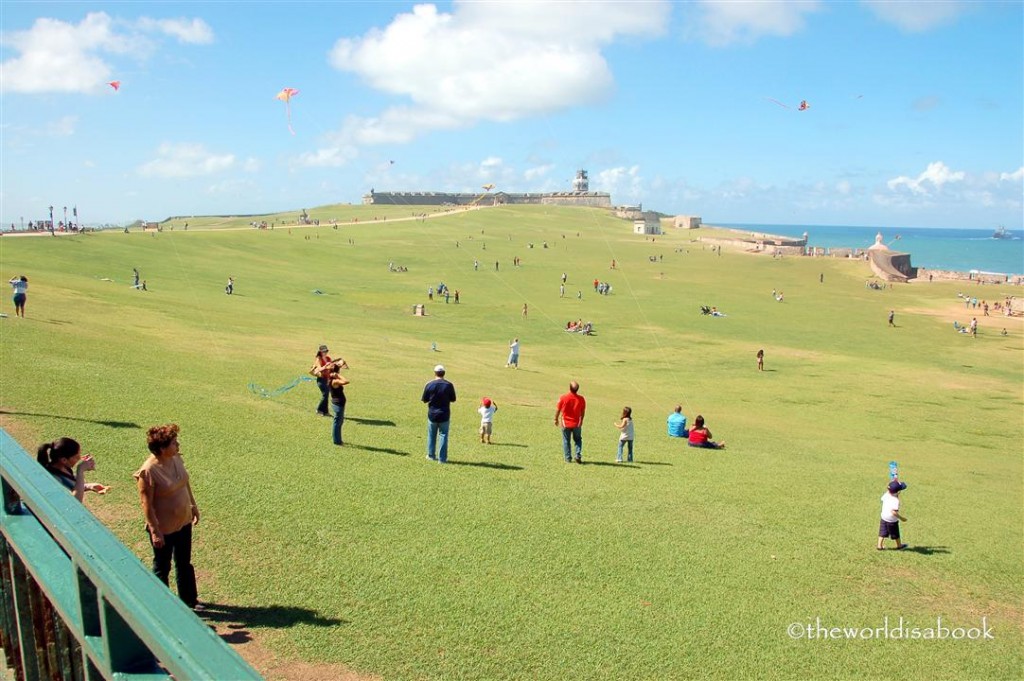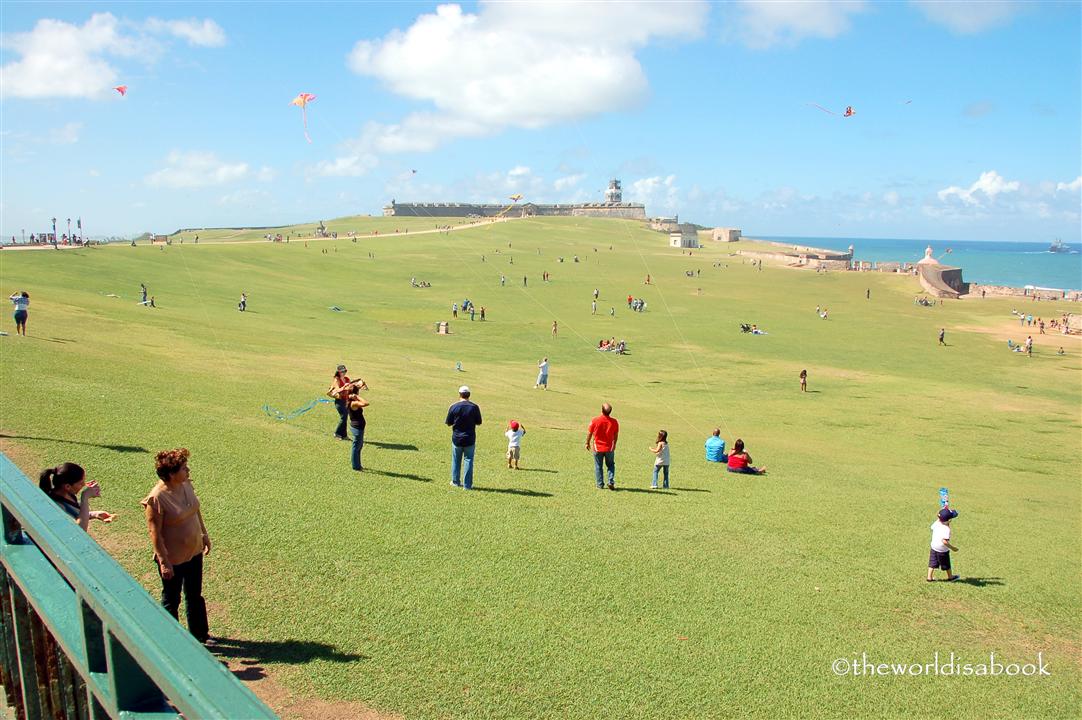 It is a National Historic site with 74 acres.  The grounds offer some of the best views of San Juan Bay.  This was a popular place during the weekends for many of the locals who were out playing, flying kites, enjoying the sun and having picnics.  Kites were sold cheaply on the streets or you could take over some of the abandoned ones.  The expansive and well maintained green lawn was also a huge playground for kids for rolling, running and tumbling.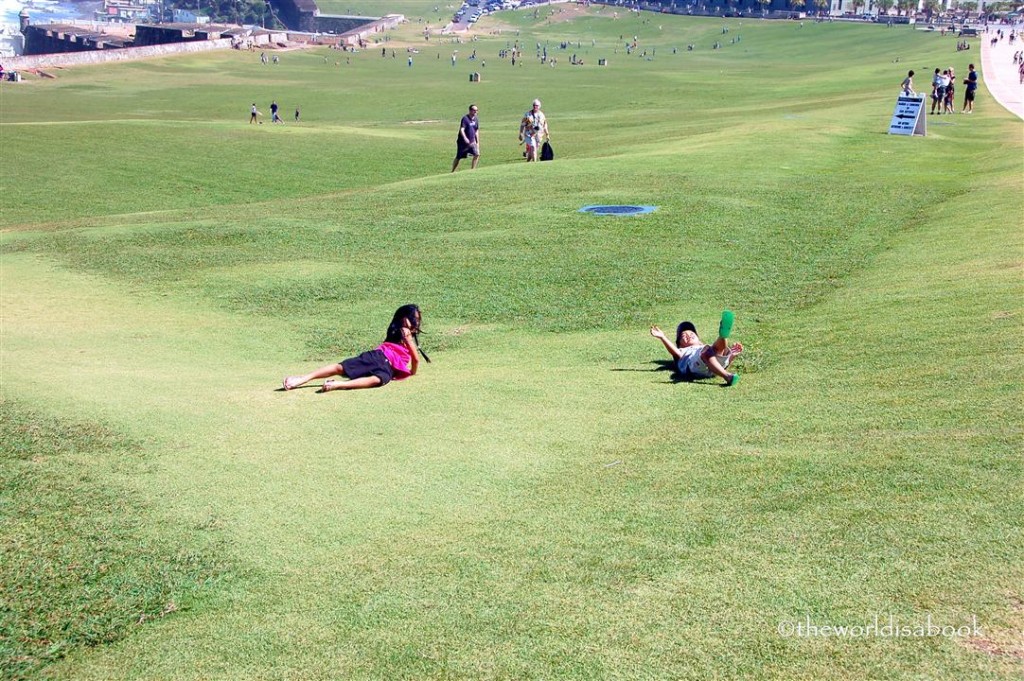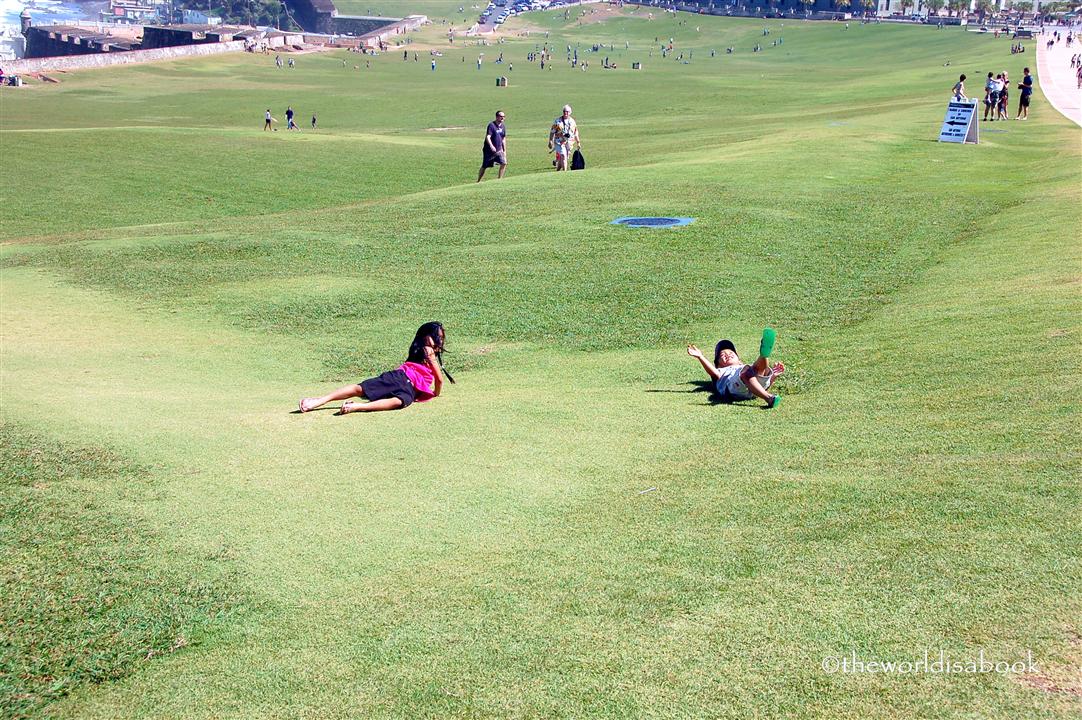 2.  The Beaches
Puerto Rico boasts about 270 coastline miles of public beaches.  One of San Juan's district is actually called a Beach and Resort area where many of the hotels, casinos and restaurants are located.  We've ventured into Condado (located near downtown) and Isla Verde (near the airport) areas.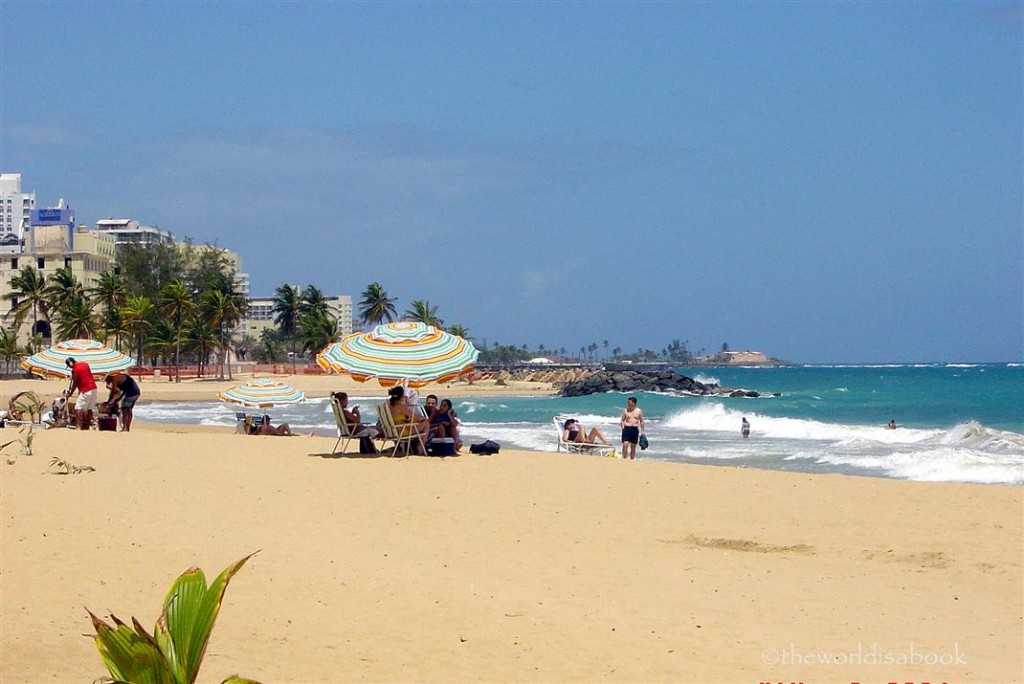 The Caribbean turquoise waters, golden sand and warm weather are very tempting for a day of laying out in the sun and playing in the sand for the whole family.  We've found them clean but the waves were a little strong.  Beach chairs and umbrella rentals are available at the resorts and the beach.
3.  Old San Juan District
Founded in 1521, San Juan is the oldest city in a US territory.  Known as the walled city, Old San Juan is one of the city's districts filled with seven square blocks of historic and residential and business buildings.
This 465 year old neighborhood has about 400 restored 16th and 17th century Spanish colonial buildings. It's a popular spot for shopping and assembling in plazas with some entertainment during the weekends.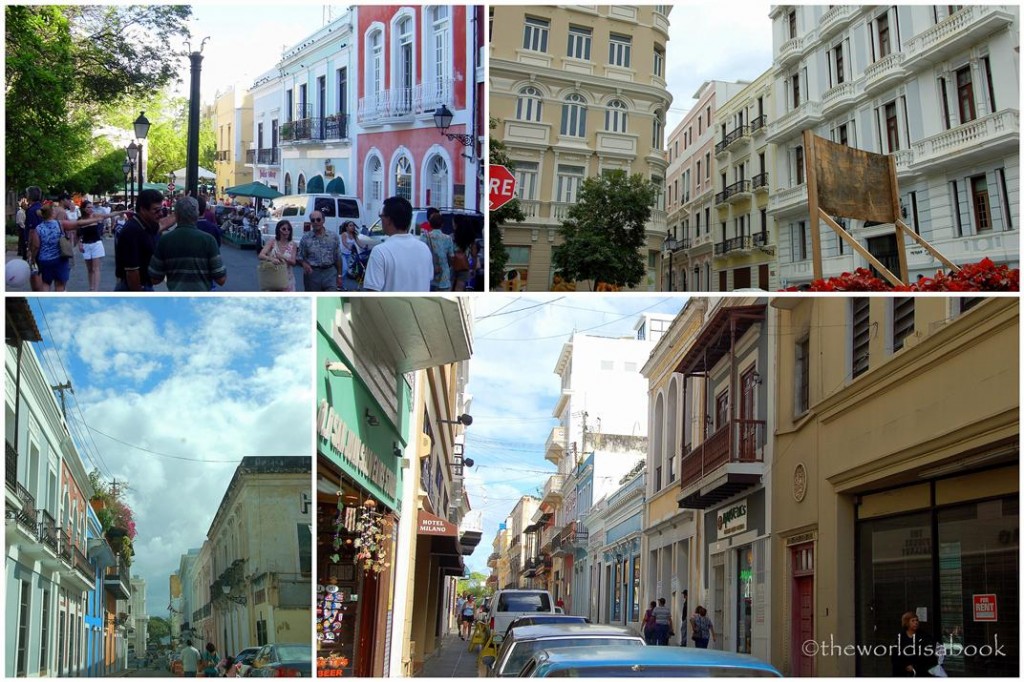 Look up at the old world architecture and you won't be disappointed.  Its narrow and steep cobblestoned streets are best for walking and not driving.  Parking can also be very difficult.  We loved walking down Old San Juan's streets and exploring the little corners and shops we found along the way.  This self-guided walking tour of Old San Juan is a wonderful way to get acquainted with this historic district.
4.  La Fortaleza
La Fortaleza was initially built as a fortress in the 16th century to protect San Juan's harbor. It was once an arsenal, a prison and has also been home to 170 former governors as well as its current one.  Being the oldest governor's mansion in the Western Hemisphere, it is filled with a lot of history.
Its blue and white 40-room mansion houses gilded banquet halls and rooms furnished with period pieces.  Free guided tours of the gardens, dungeon and chapel are available during the weekdays on the hour.  It is recommended to call first in case tours are not available due to government functions.  We passed by the mansion but didn't get the chance to do the tour.
5.  National Botanical Garden of Puerto Rico
This 75-acre urban garden was designed as a pleasant escape from the hustle and bustle of the city.  Affiliated with the University of Puerto Rico, it includes a diverse group of tropical plants and flowers including bromeliads and orchids. Animals like ducks, egrets, iguanas and turtles living here are sure to entertain the kids.
Gardens with names like Monet, Sculpture and Palm are found here.  I now wish we carved out some time to visit the botanical garden because it sounds like a lovely place to spend a few hours for a leisurely stroll and enjoy nature.
Bonus: Free Trolley Service
There is a free trolley service that runs continuosly around Old Town San Juan to take people around the city walls.  Although it's not a tour, it is a lovely way to see the sights and especially great with kids when they get tired of walking.
*Have you visited any of these free San Juan attractions?  Any other free attractions you'd like to add?
Related Post:
Exploring El Morro with Kids
This is a part of a series called Five Free Family Friday.  I hope this will grow into a collective guide of free family-friendly attractions of places all over the world.  If you'd like to contribute with the free attractions in your home city, I would love your guest posts.
Pin it for later!