Visiting Cabo San Lucas, Mexico with Kids
Cabo San Lucas, Mexico boasts almost 350 days of sunshine and beautiful beaches making it a perfect year-round getaway.  It is one of the top tourist destinations in the world for good reason.  We visited last November during our 7-day Mexican cruise and these are some of the sights, attractions and photos of Cabo San Lucas that made this seaport a memorable one.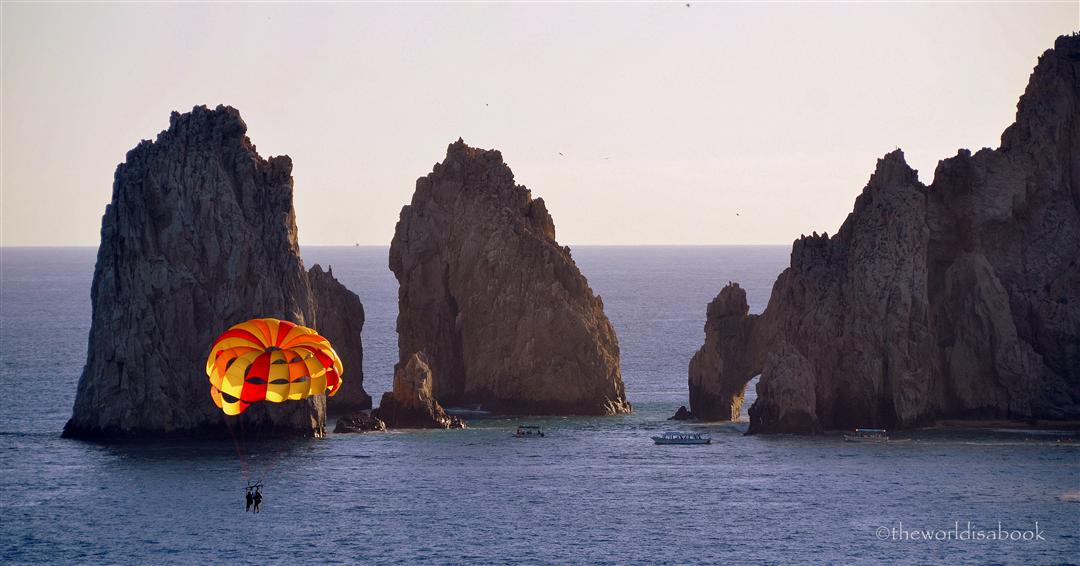 This was our third visit to this picturesque seaport and the number of all-inclusive resorts and luxury hotels along Playa Medano keeps increasing during each visit.  This is usually one of our first sightings from the ship.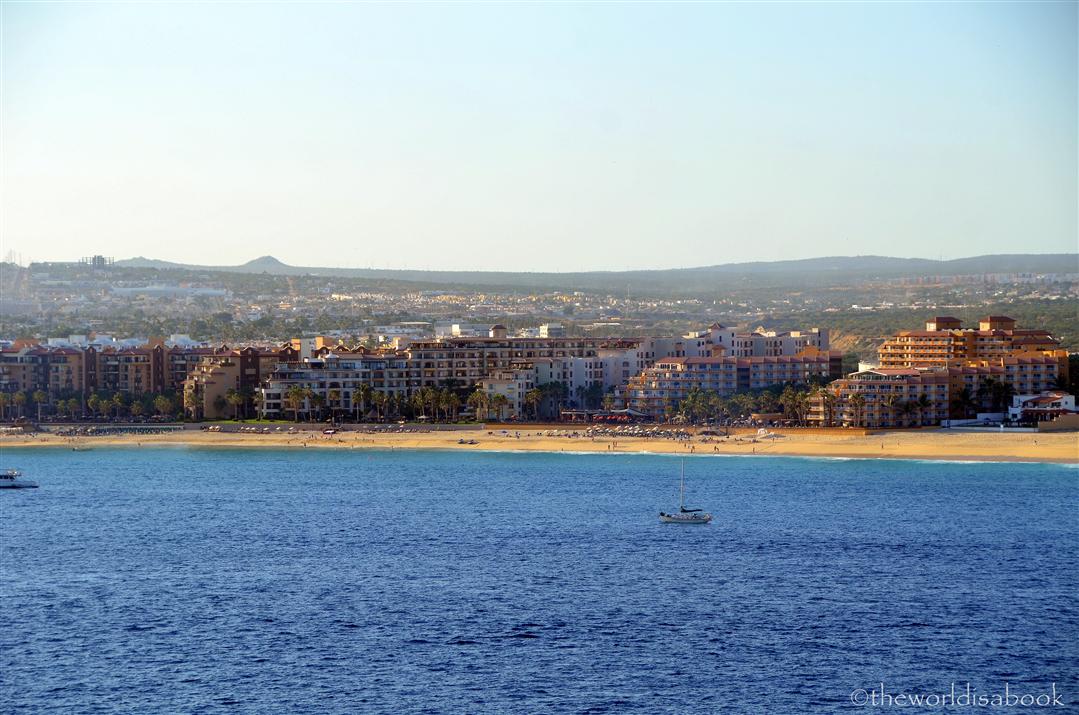 This stretch of beach area was dotted with many beachside properties that have always made us wish for a land vacation here.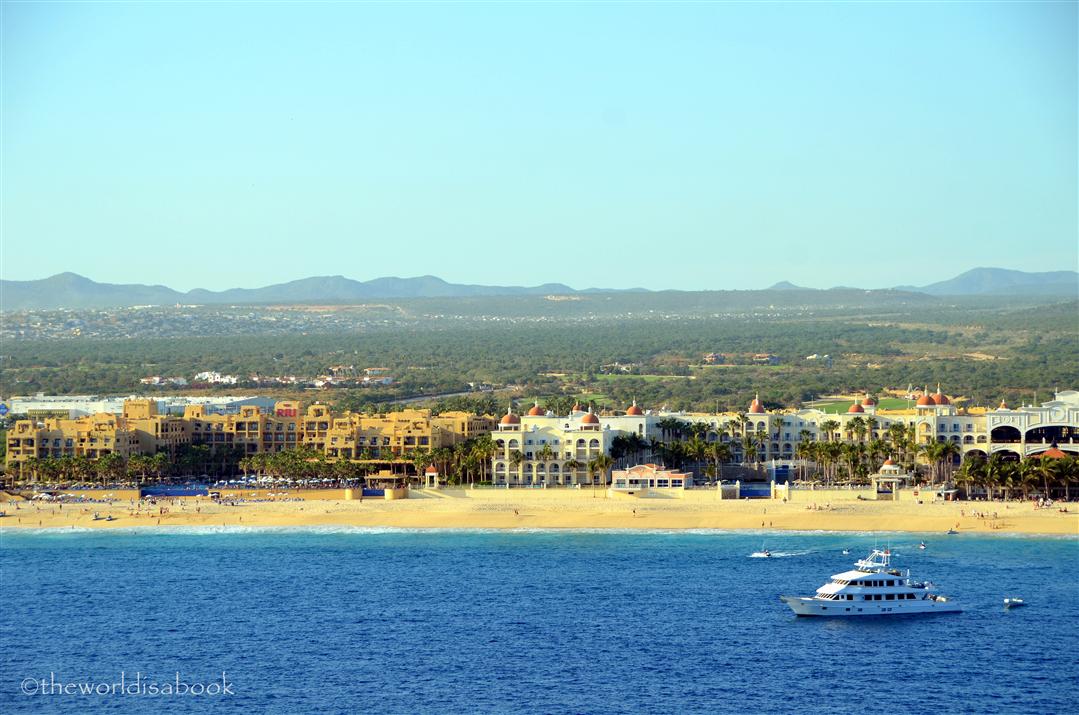 There were three ships docked in town that day which made for a busy day of activities on land and sea.   Ships usually anchor offshore and passengers are taken into the town in tender boats since their marina isn't equipped to handle the large cruise ships.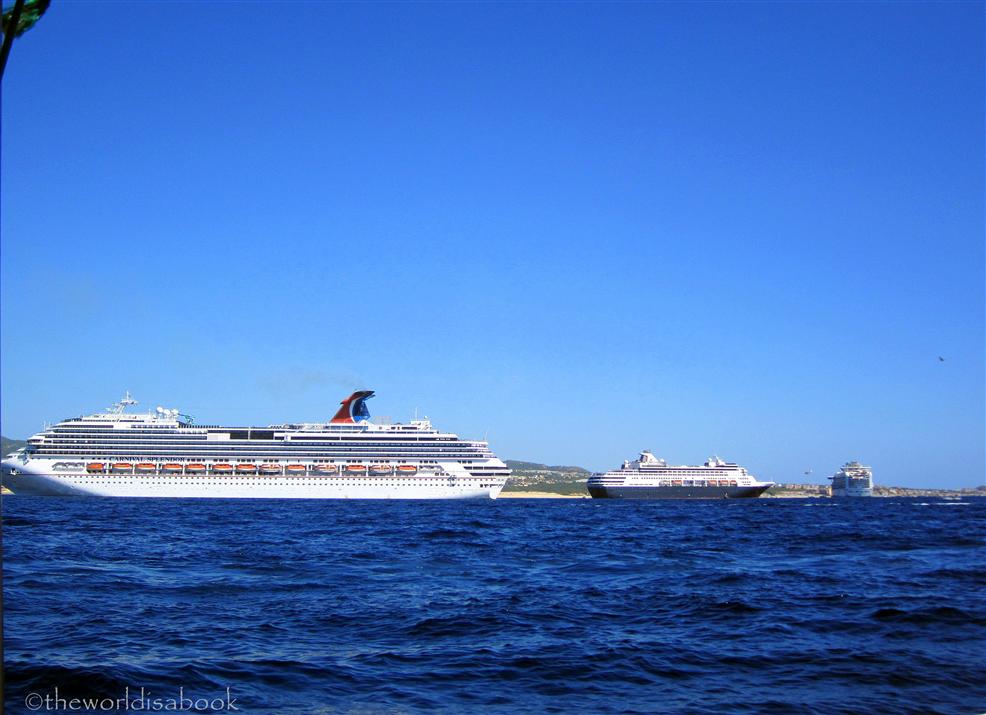 We were greeted with this huge Mexico sign flanked by its famous Corona beer, of course.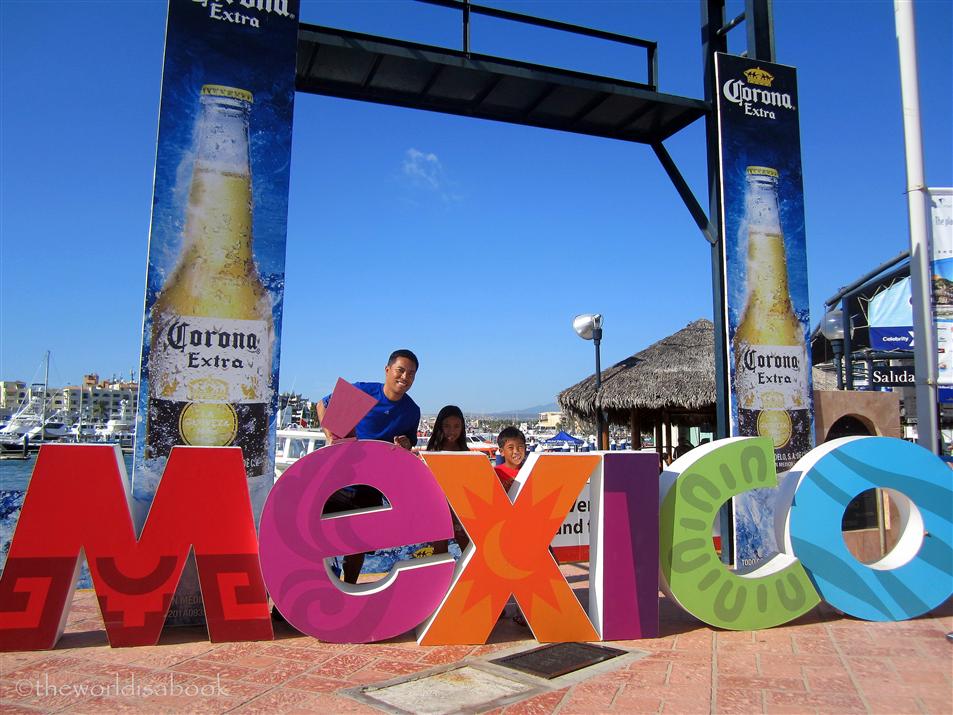 Like many tourist areas, the area was filled with souvenir shops and restaurants.  I love buying souvenirs and Mexico doesn't disappoint with its variety of colorful ceramics, pottery and cheap trinkets or what my husband calls "clutter".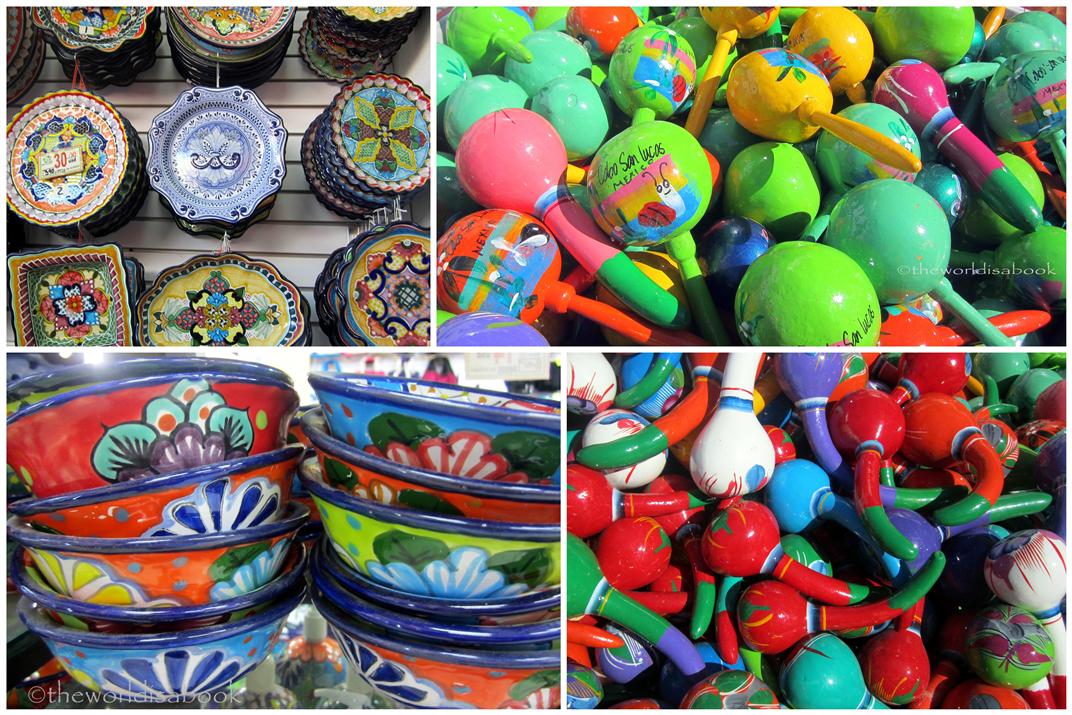 Giant sombreros and maracas are always a big hit with the kids.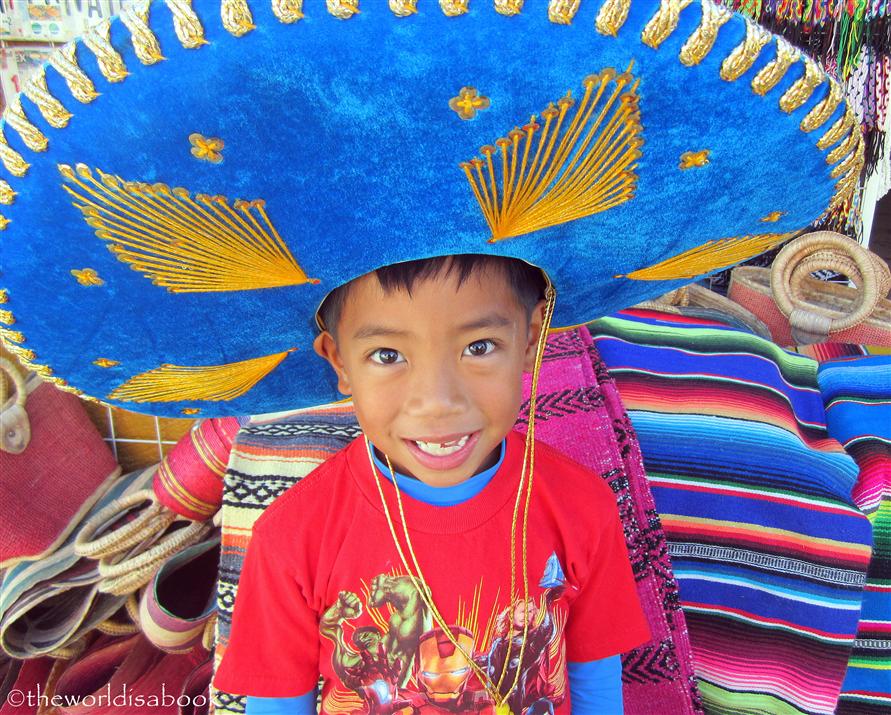 We felt a little safer after seeing these police officers on Segways. Apparently, Cabo's police officers have a bigger budget than many of their US counterparts since I don't see my local cops patrolling in these high-tech toys.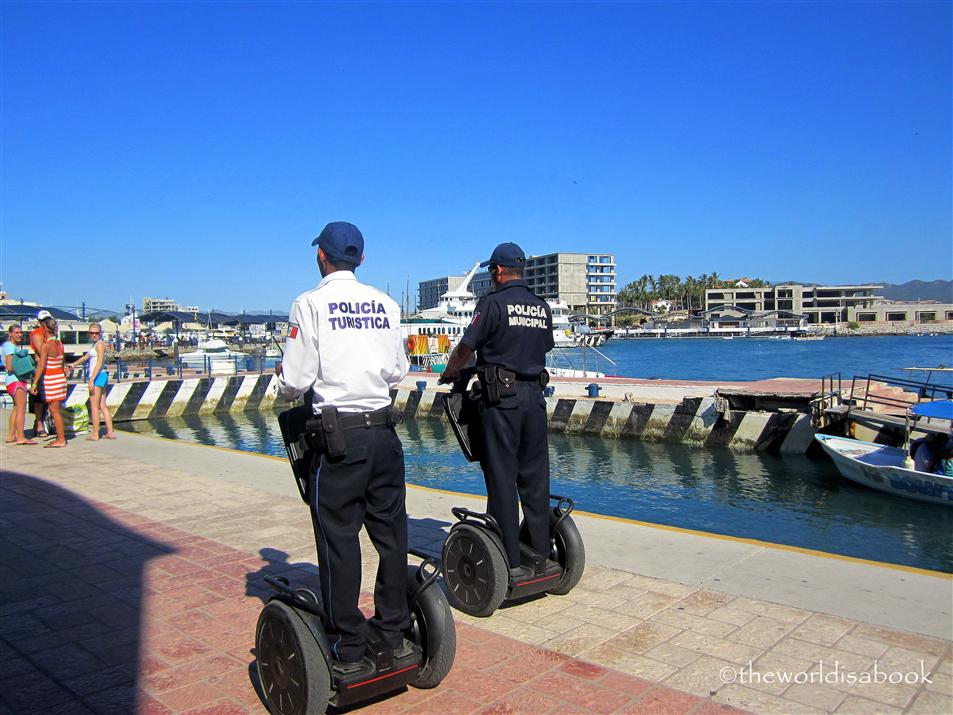 We saw a few of these interesting and bizarre cartoon characters posted outside many drug stores or "pharmacias" on the three Mexican ports we visited. Many tourists visit Mexican pharmacies to buy inexpensive medicine.
Of course, my kids wondered what these characters were. In our best straight face, we told them they were "medicine men", left it at that and proceeded to distract them. We're not ready for that discussion yet, and we're hoping they don't remember to Google it one of these days.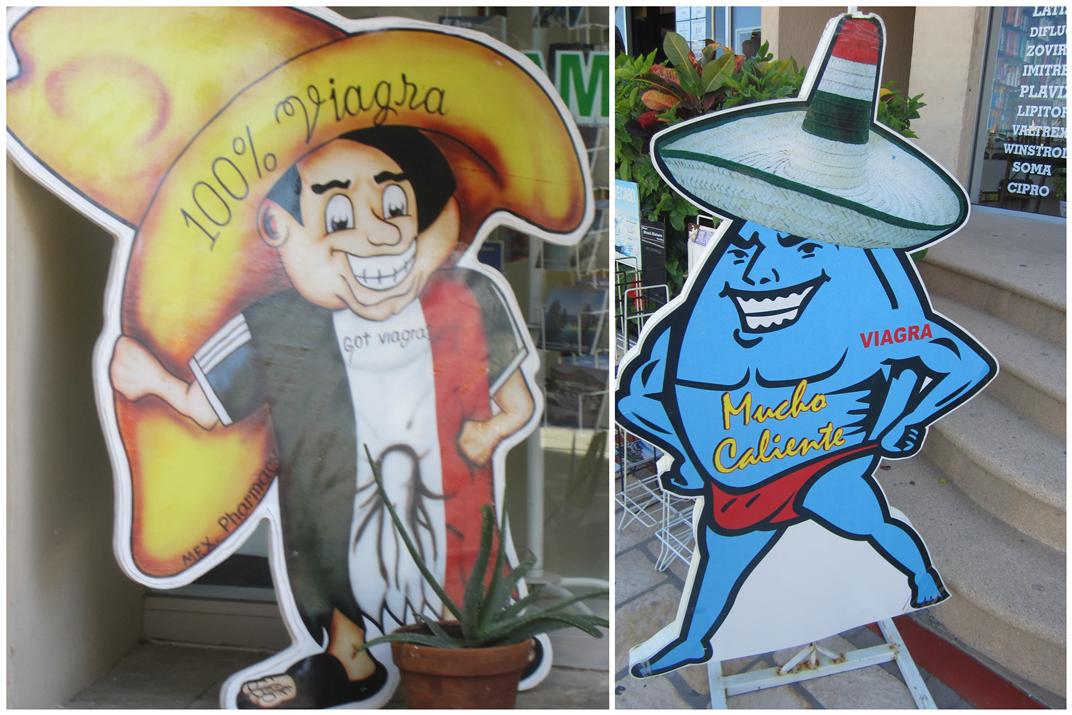 One of the things we like to do is walk along the marina to go into the town.  Sights like below makes you momentarily forget you're actually in Mexico and not a Southern California town.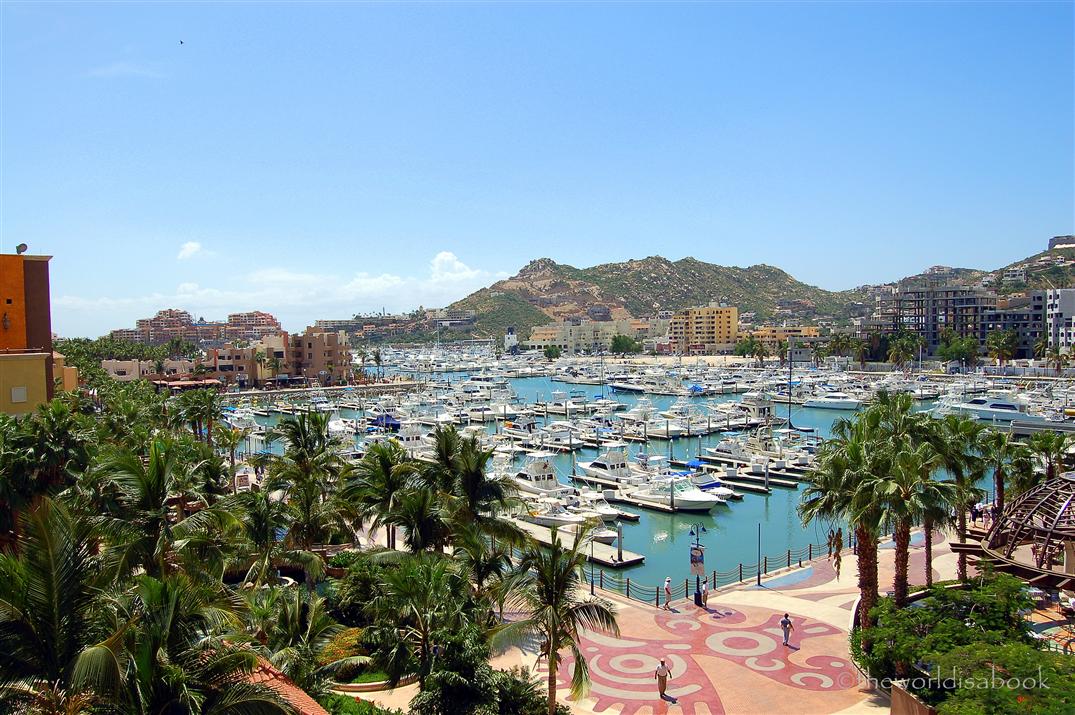 Water activities are the primary draw to Cabo San Lucas. Our scheduled port activity for the day was snorkeling at one of the beaches. The snorkeling tour company dropped us off at Pelican Beach for over an hour of snorkeling and provided us with all the gear.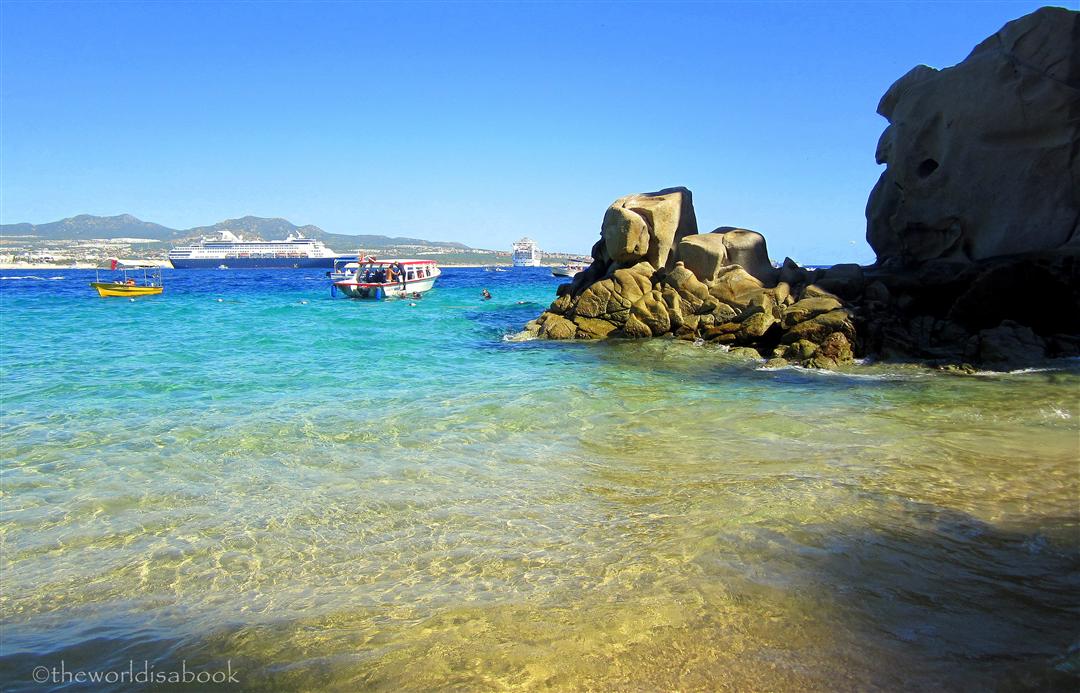 Though the water temperature was warm and comfortable, the waves were pretty strong. This was also a pretty crowded snorkeling area but my husband was able to capture a couple of these underwater shots with no distractions.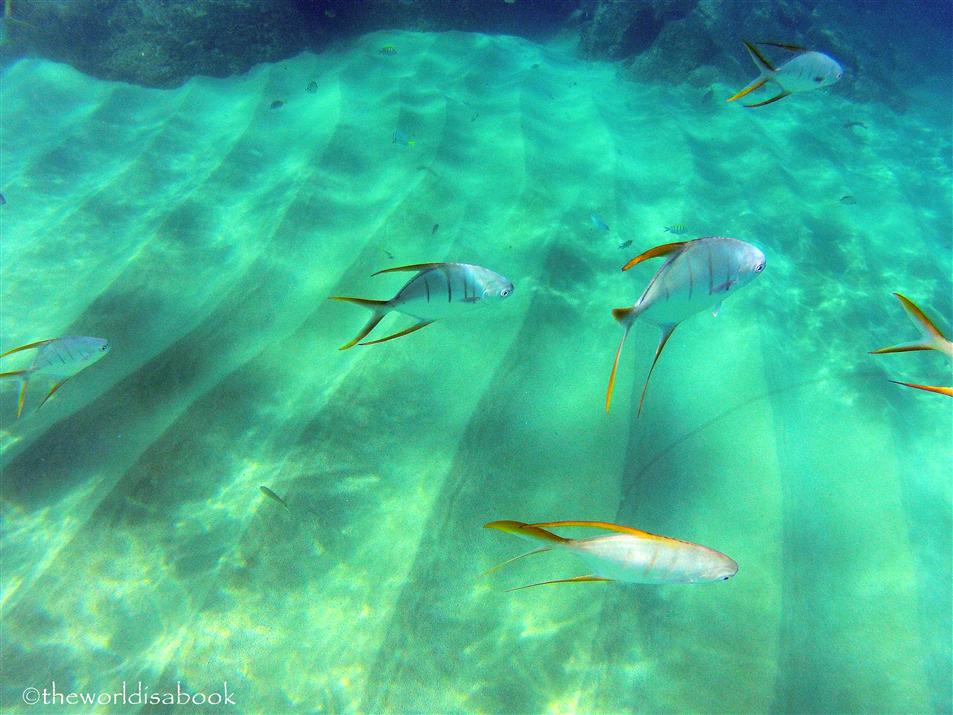 The kids enjoyed seeing the variety of tropical fish although they didn't see as many fish as they wanted compared to their experience in Cozumel last year. I think this had more to do with this specific area since the Sea of Cortes has been dubbed as the "Aquarium of the World" for its diverse marine life.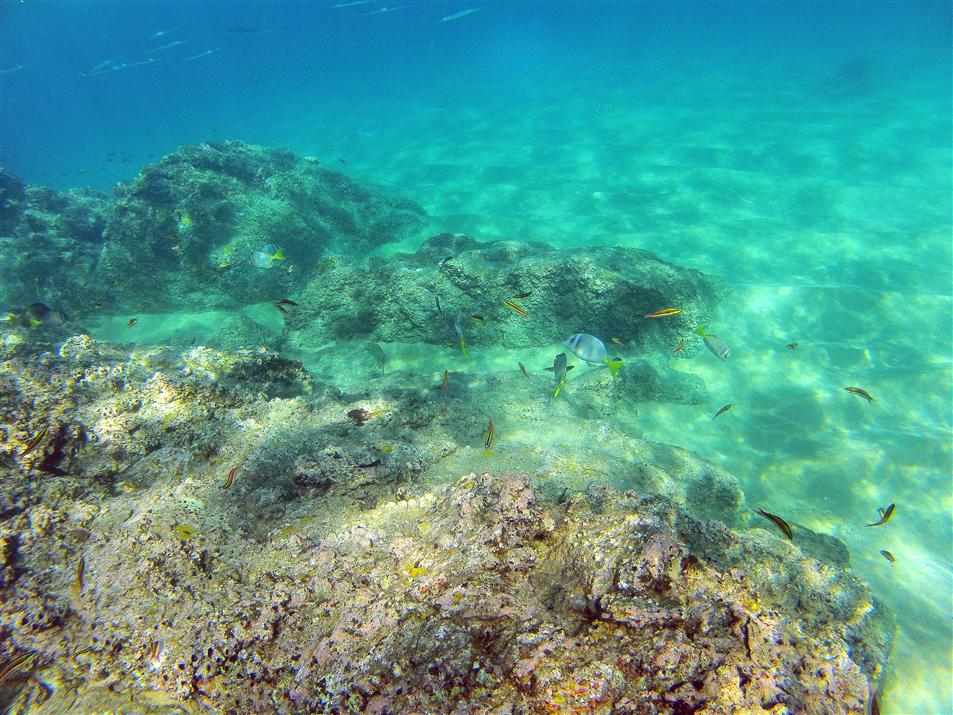 Pelican Beach was also a popular area for relaxing on the beach with these huge rock formations as dramatic backdrops. We found this nice, quiet area for the kids to play and climb the rocks.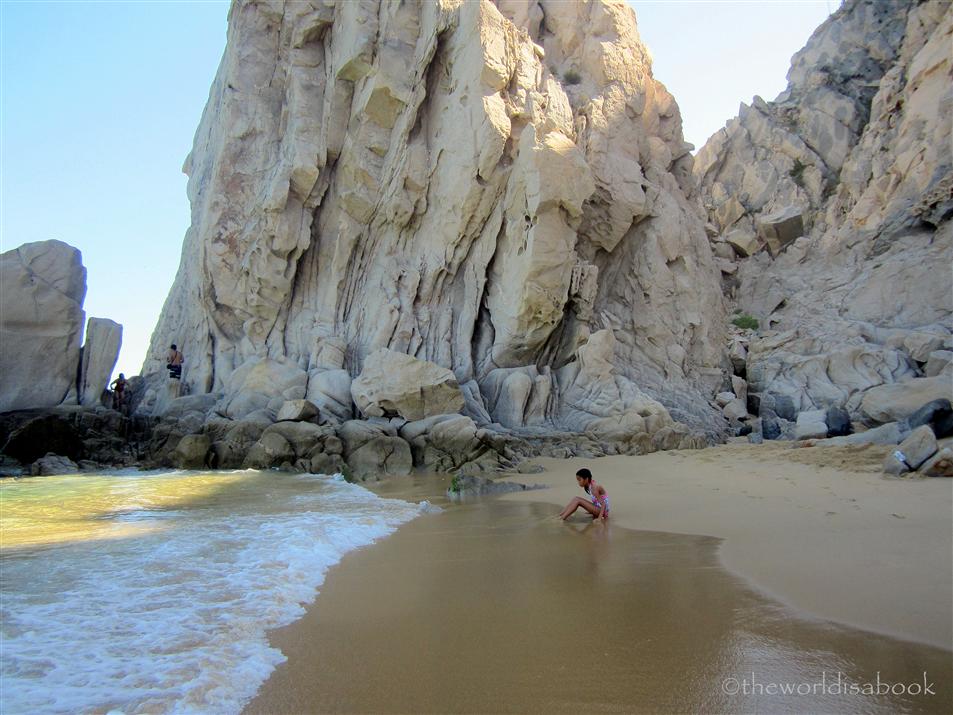 After snorkeling, our tour boat took us to Cabo's most famous attraction – El Arco de Cabo San Lucas, Los Arcos or Land's End.  Los Arcos is a distinctive rock formation located on Baja Peninsula's southern tip where the Pacific Ocean meets the Sea of Cortes.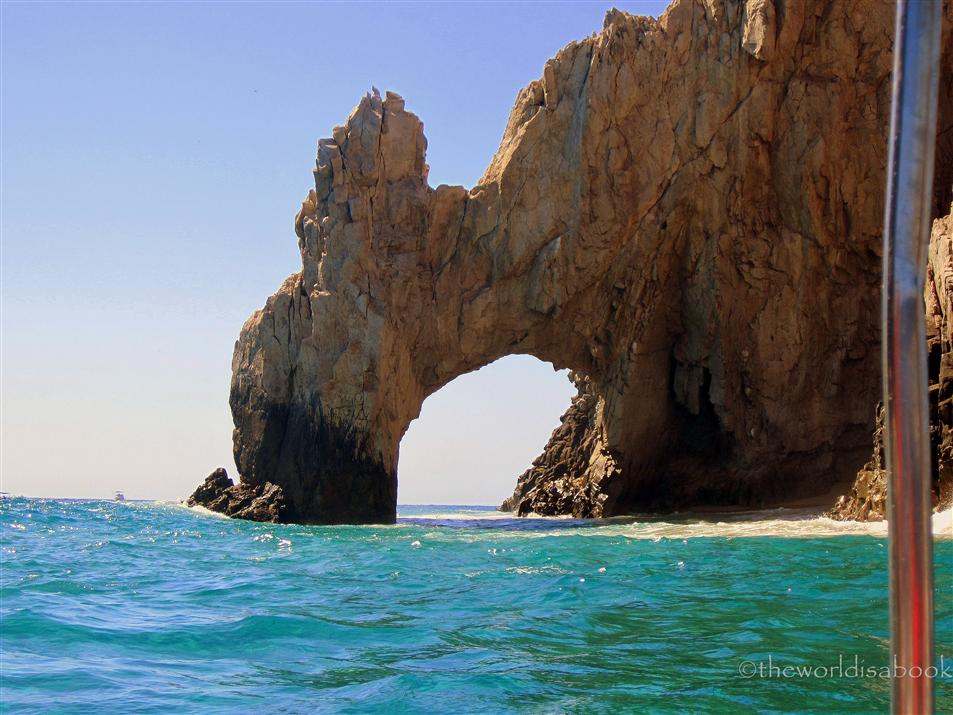 We saw plenty of sea lions nearby sunbathing on the rocks.  It was a bit noisy and smelly here, as expected, but we loved seeing so many of them in their natural environment.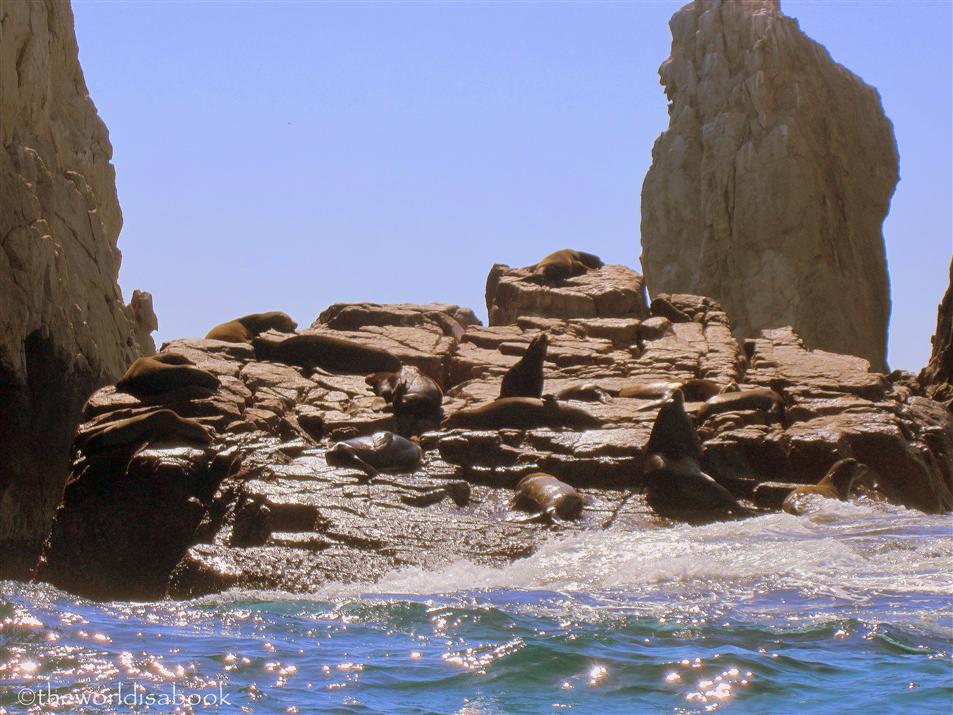 Los Arcos has been nicknamed Land's End due to its location but was also used by pirates to hide behind and rob Spanish galleons loaded with treasures when this area used to be an important trade route in the 1500s.
Cabo San Lucas has always been one of our favorite ports for the myriad of activities it offers for people of all ages with varying interests.  While we've visited it as cruise ports, we hope to return for an extended land vacation soon and enjoy this tropical paradise.
Tips for Visiting Cabo San Lucas 
There are plenty of water-related activities from diving, snorkeling,kayaking, jet-skiing, parasailing and glass bottom boat tours to choose from with many tour operators around the marina area ready to bargain.
Water taxis were plentiful and cheap to take visitors to the arches or to Playa Medano.
Some of the Playa Medano resorts accept day passes from cruise ship passengers.
The town isn't very big but very easy to walk around with a lot of stores and restaurants.
A large, enclosed craft market is a great place to buy souvenirs and bargain. Our favorite buy is a large hammock.
High tourist season and the best weather is from December to May.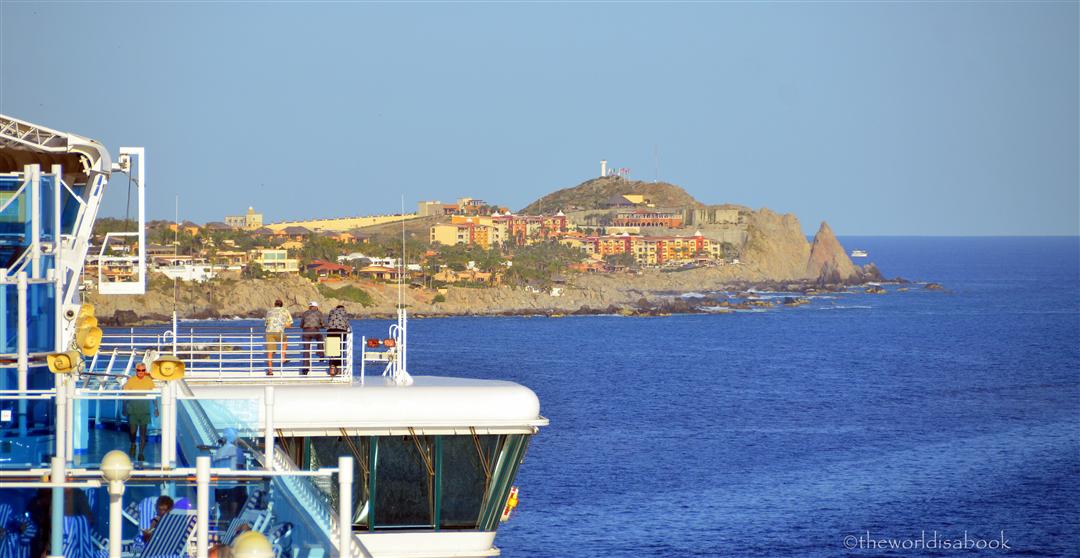 *Have you visited Cabo San Lucas? Is Cabo on your travel list?
Pin it for later!