5 Fun and Free Things to do in Seattle with Kids
Many of my childhood friends have made Seattle (aka the Emerald City) their home so it has always held a special place in my life and one I've visited a few times.  One of the great things about blogging is virtually meeting all these wonderful people around the world especially fellow moms and travellers and here is one I've loved following – one busy, traveling mom from Seattle.  It is my pleasure to introduce this guest post from Terumi Pong, of the appropriately named Emerald City Kids blog, who was kind enough to give us a list of these awesome Seattle attractions. Thanks Terumi!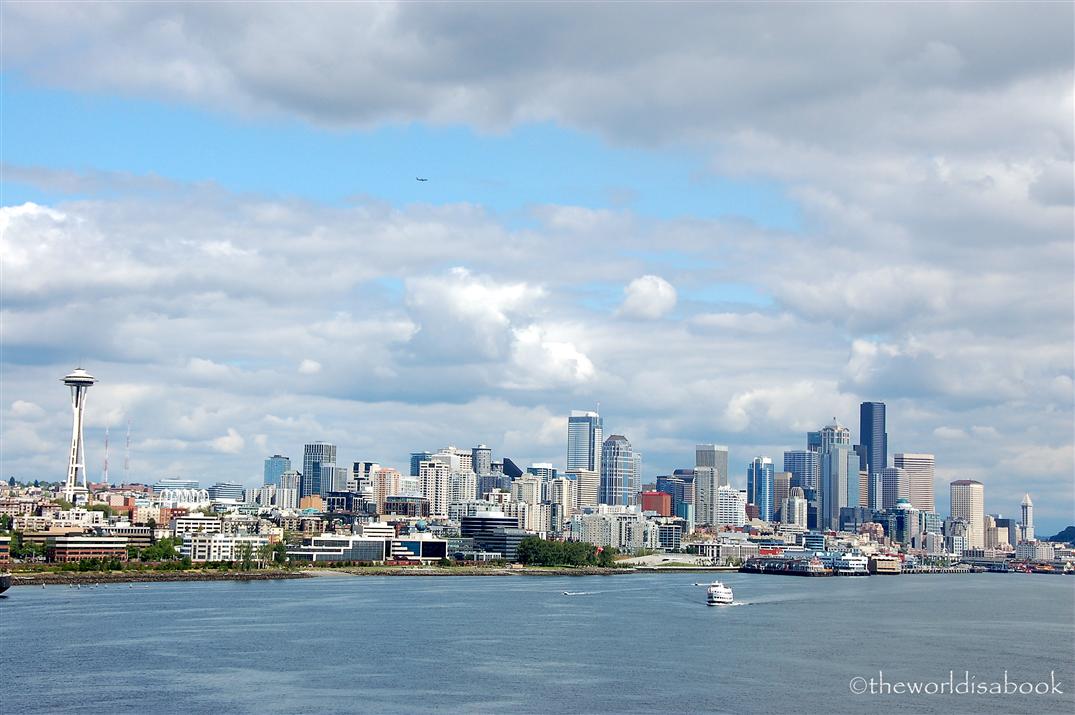 There are so many free things to be found in Seattle, but these are my top five free things to do in Seattle with kids.  Visit them all and you're sure to get an inexpensive and fabulous tour of the city and I couldn't help myself but throw in a couple of my favorite bakeries and coffee shops too!
1.  Free place to leave your gum: The Gum Wall in Pike Place Market
There is a strange beauty about the gum wall even though it's second on this list of germiest attractions in the world.  Since it's right below THE biggest tourist attraction in Seattle (Pike Place Market), you might as well just check it out. To find it in the market, go down the stairs near Pike Place and don't forget to get a free sample at the Mount Townsend Creamery shop nearby.
If that whets your appetite for cheese, continue on through the market to the Beecher's Cheese Shop where you can watch it being made and if you ask nicely, they'll often give you a free sample of one of their amazing cheese curds. For a few dollars, you might as well splurge on a piroshky (we're team cheese and onion) from Piroshky Piroshky which almost always has a line out the door, buy a latte from the original Starbucks or if you have actual cash, stop by the Daily Dozen (which does not take credit cards) for some fresh hot mini doughnuts.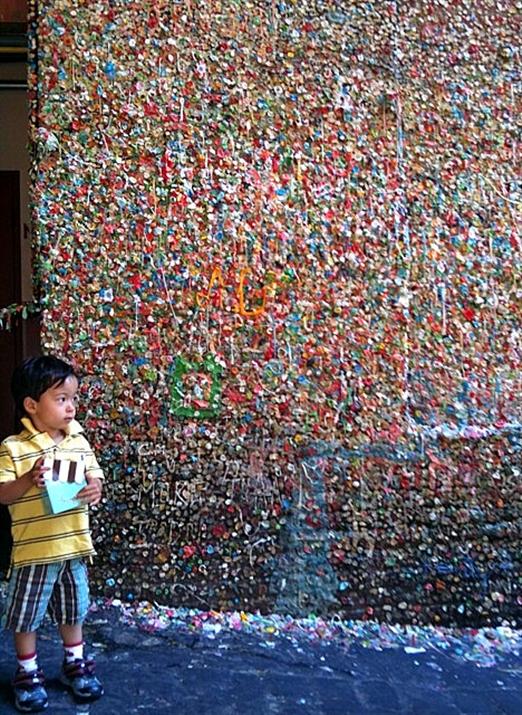 2.  Free sighting of a troll under a bridge: the Fremont Troll
As with many of Seattle's big wonders, this is something you just need to see to understand. You can find Seattle's Famous Troll at N 36th street and Troll Avenue (How fitting, right?) and you just have to look under the big bridge and you'll find him.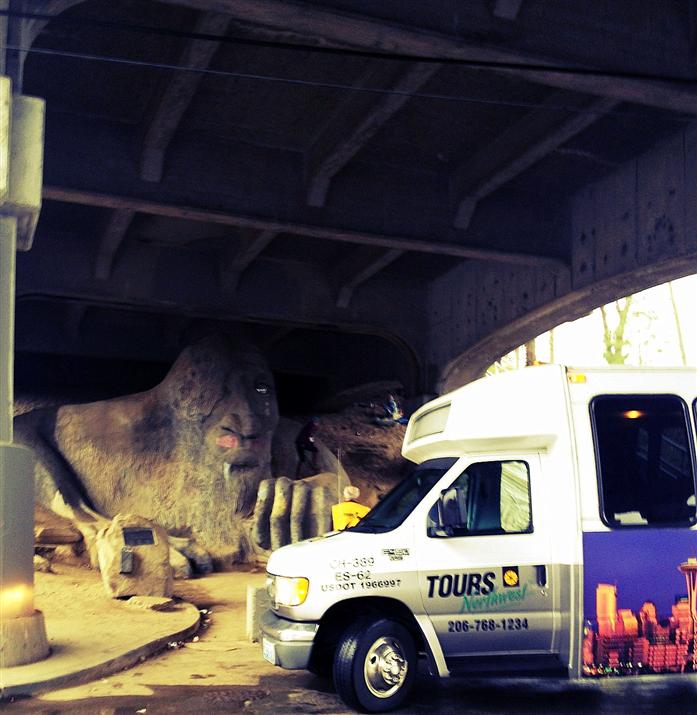 But because it's Fremont, you'll want some yummy coffee in hand, and you'll find that just a couple blocks away at Milstead and Co. And if you're the type who actually drives all the way to Fremont to get your picture with a troll you'll probably want to get one with a famous rocket or a giant statue of Lenin too f. Grab a sandwich from Homegrown or Baguette Box and on a not-rainy day you can lunch by the canal and get more pictures: this time with the giant topiary dinosaurs that inhabit the area. On Sundays, this is where theFremont Market takes place and it's also free and fabulous.
3.  Free million dollar view of the city: Kerry Park
If you watched Sleepless in Seattle, chances are at least one of the Seattle city shots was taken from Kerry Park on a clear evening. It's an absolutely gorgeous park where you can get a free taste of what it might be like to wake up on Highland Drive. Minutes away you have Queen Anne Avenue which is full of yummy shops and restaurants including Top Pot Donuts, Molly Moons and La Reve Bakery. If you have young kids in tow, Twirl Cafe is a great place that they can play while you enjoy a cup of coffee.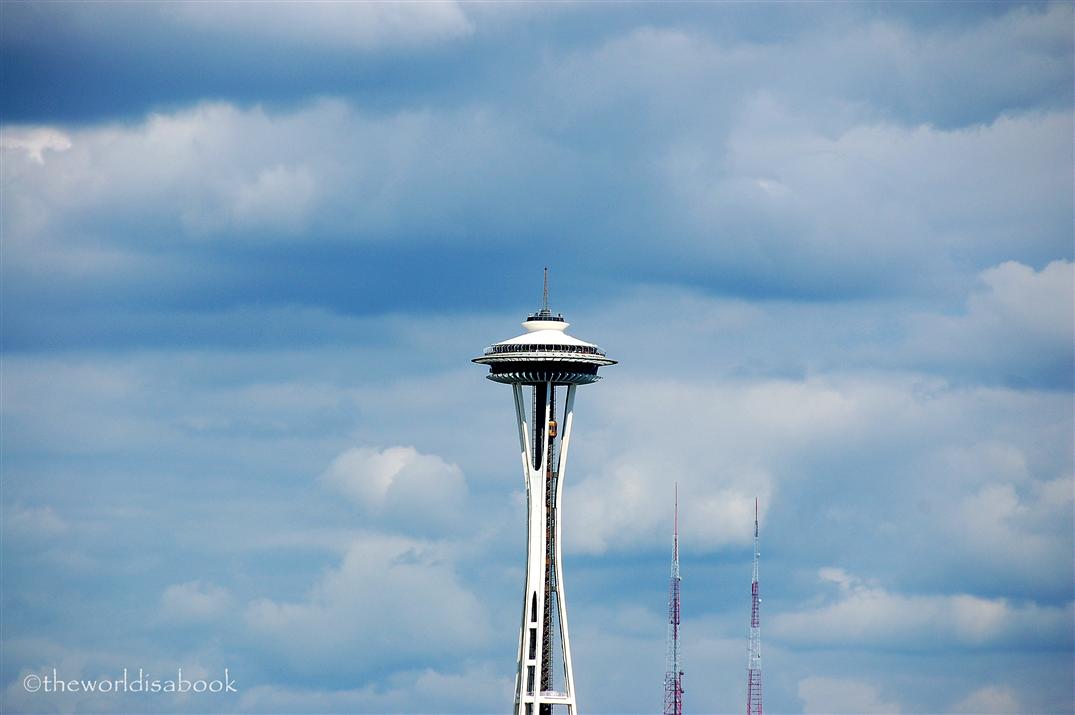 4.  Free Boat Tour of the City: Center for Wooden Boats
If you want to get a glimpse of the Sleepless in Seattle houseboat for free, you can get often get a free boat tour from the Center for Wooden Boats on Sundays at 2PM. Ask for the Free Public Sail and you can usually sign up for one as early as 10am. The Center for Wooden Boats is in the South Lake Union park where the new MOHAI museum has opened.  If you visit on the first Thursday of the month, your entry is free.
5.  Free place to watch boats go up an elevator: Ballard Locks
This is one of my boys' favorite places in Seattle. They can watch for hours as the parade of boats go up and down and intricate lock system that brings boats from the Puget Sound to the Ship Canal.  It's so close to my favorite breakfast place in Seattle – the Portage Bay Cafe.
In the Fall, you can watch as salmon return up the fish ladder and it's fun and free place to enjoy a bit of Seattle outdoors even on a rainy day. Ballard is a lovely place to explore and if you are looking for lunch you might head nearby to the Red Mill Totem House (cash only but they have yummy inexpensive burgers) or venture a little farther and stroll Ballard Avenue where you can get coffee at Caffe Fiore and some tasty pastries at Hotcakes Molten Cakery or Fresh Flours.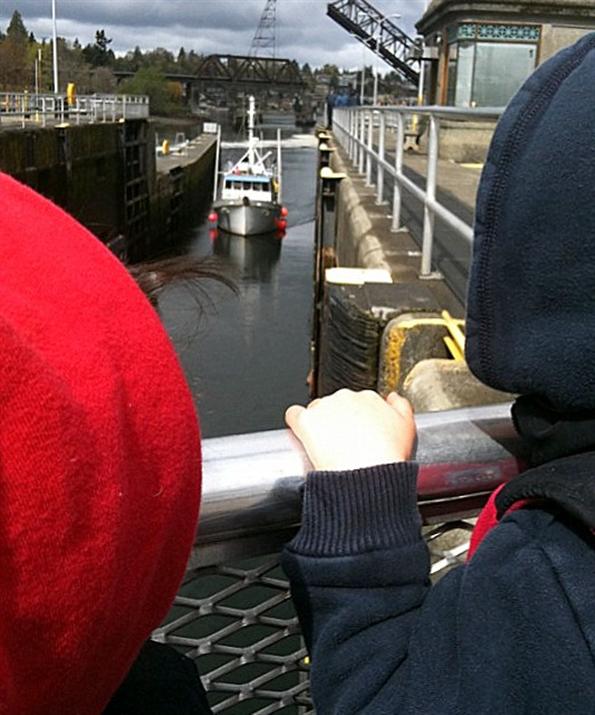 And a bonus! 
You can't leave Seattle without a stop at the Olympic Sculpture Park, especially if you're here on one of those miraculous sunny days without a cloud in the sky. There are fantastic views of Elliott Bay from the park and inside the visitor's center there is a quiet place for your kids to play and create their own art masterpieces as well as really colorful raindrop backdrops for taking cool souvenir pictures.
You can bring your own lunch and enjoy it in the peaceful, artsy setting before you stroll the park to see sculptures and watch the trains or head next door to the always kid-pleasing, but uber-touristy Spaghetti Factory.
*Have you visited any of these free Seattle attractions? Any other free attractions you'd like to add?
——————————————————
When Terumi is not traveling she is a stay-at-home mom in Seattle who loves her duo (4-year old boys!!!), her husband, yummy bakeries, cute stores and coffee shops with character.  She blogs at www.emeraldcitykids.com.  You can follow her on Twitter and like her Facebook page too. 
This is a part of a new series called Five Free Family Friday.  I hope this will grow into a collective guide of free family-friendly attractions of places all over the world.  If you'd like to contribute with the free attractions in your home city, I would love your guest posts.
Pin it now, Read later!