The Magical World of Tivoli Gardens Copenhagen
Sure, we saw castles, the Little Mermaid and Vikings during our trip to Copenhagen last summer. But, one of the reasons we really wanted to visit Denmark's capital city was Tivoli Gardens. This family-friendly theme park was supposedly what inspired Walt Disney in creating and building the overall look of Disneyland.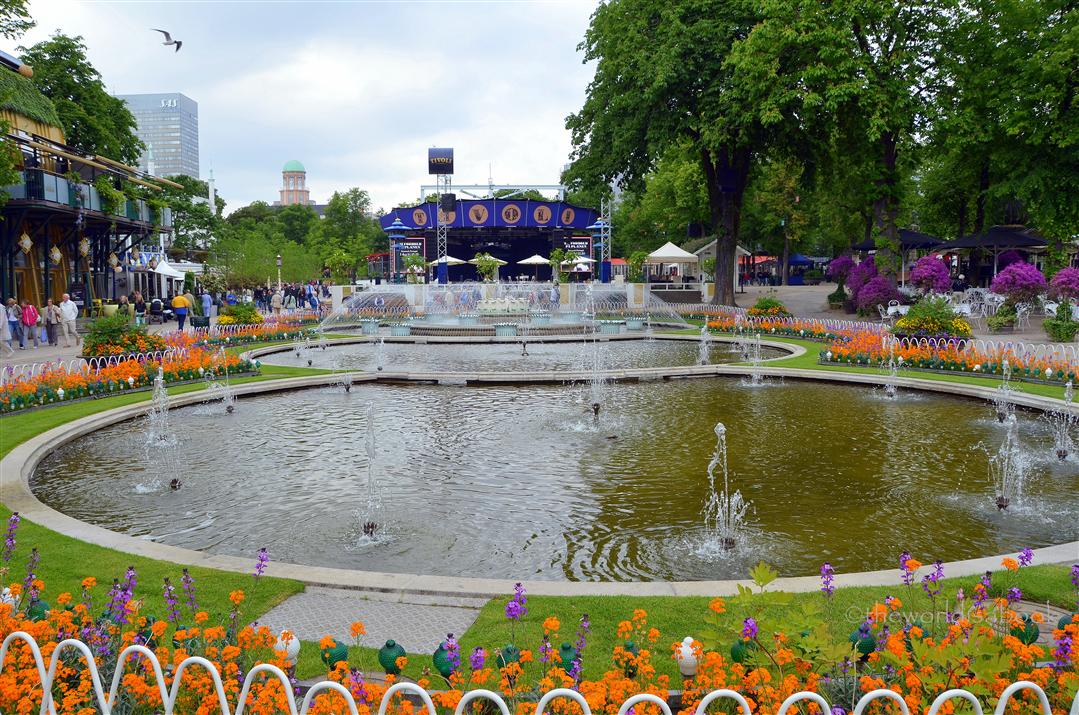 It wasn't hard to see why he was captivated with this park.  Tivoli featured classic and modern amusement park rides, gardens, theaters, concert halls, an aquarium, varied restaurants and even a hotel. We knew as we walked into the park we were entering someplace magical and unforgettable.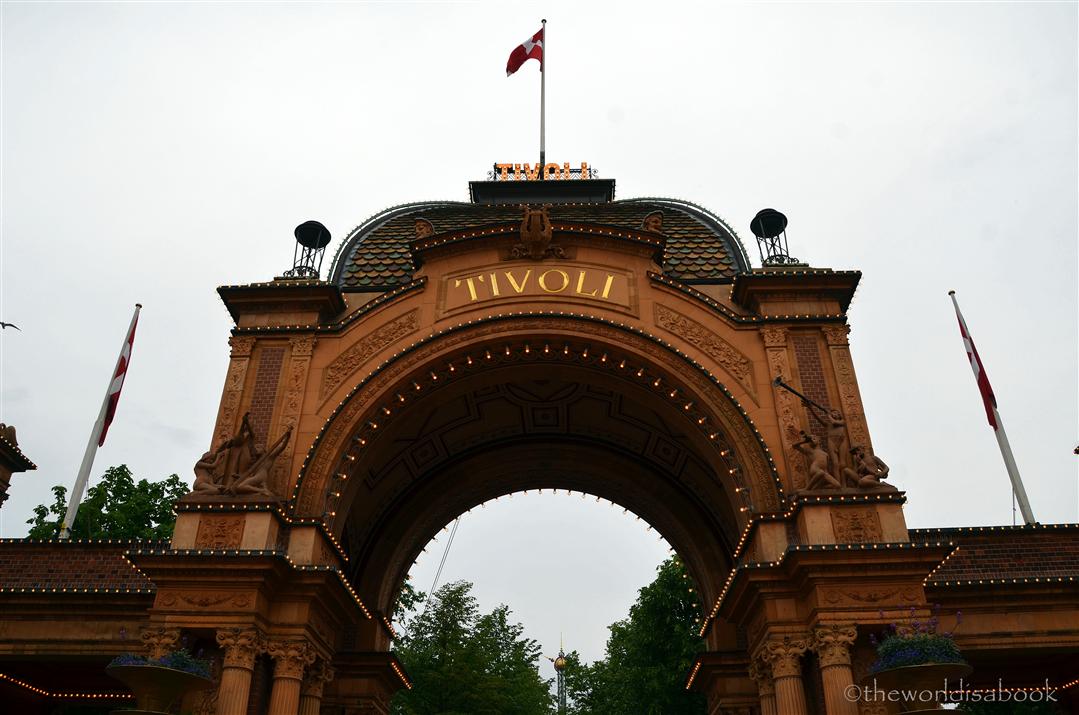 Pleasure gardens, which were parks filled with pavilions, music and performances were popular in Europe and were used by the locals as getaways during the 18th and 19th centuries. The King gave 15 acres to build Tivoli Gardens, Copenhagen's version of the pleasure garden, and was opened in 1843.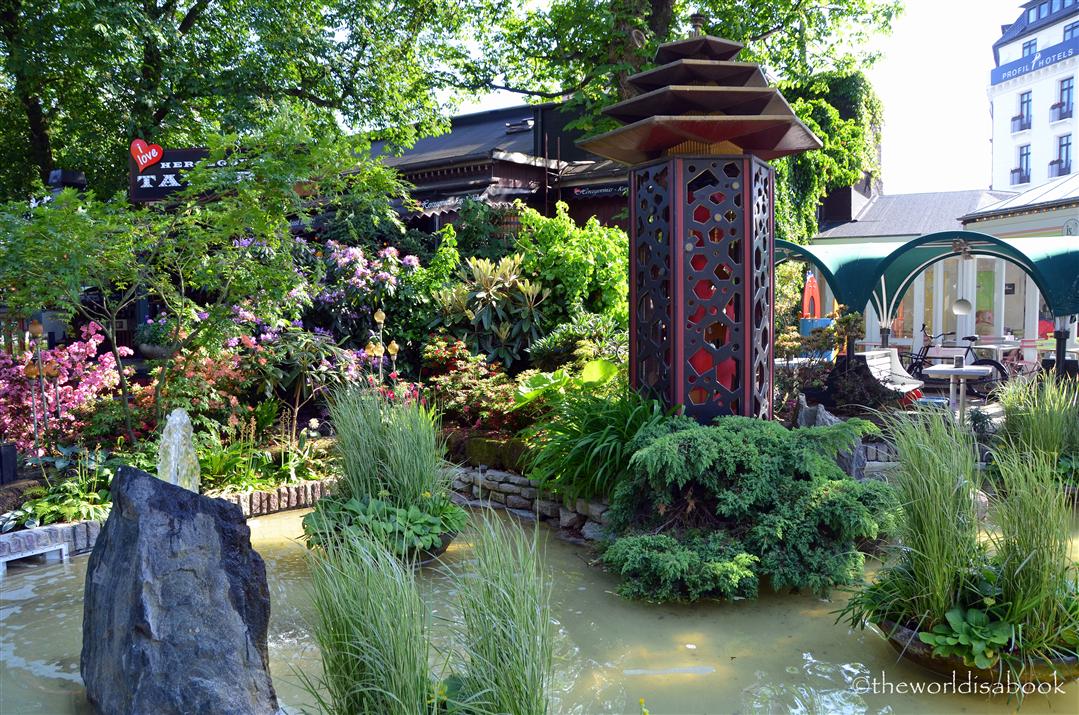 Tivoli flourished and adapted to the public's needs and demand over the years while other European pleasure gardens closed down. It is the second oldest park in the world. Tivoli is also the most visited theme park in the Scandinavia region and fourth most visited in Europe.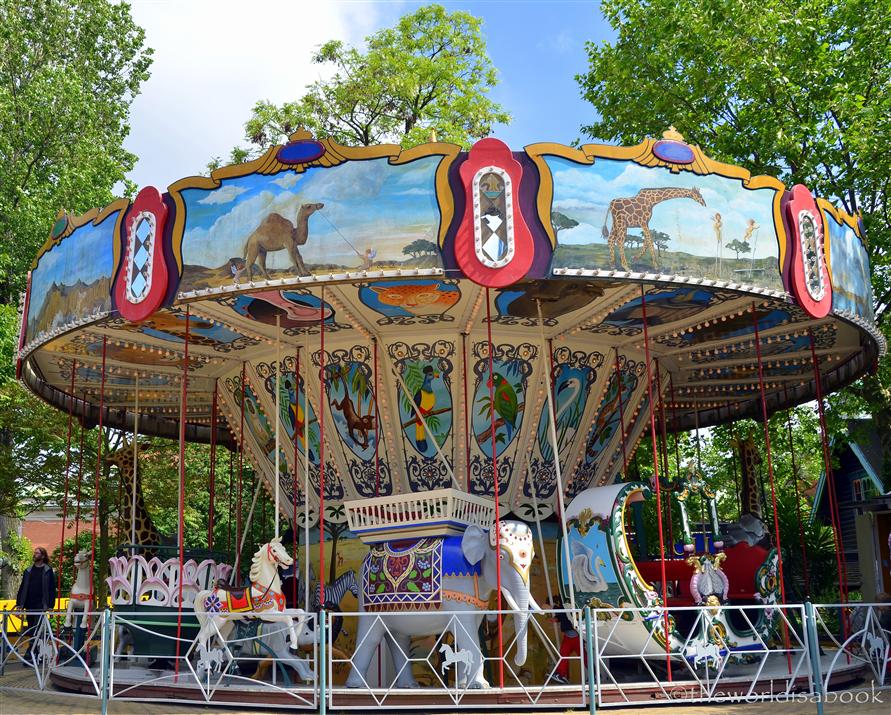 The park had originally intended to include travel inspirations from exotic places like the Middle and Far East. These are still evident in some of the structures found around Tivoli.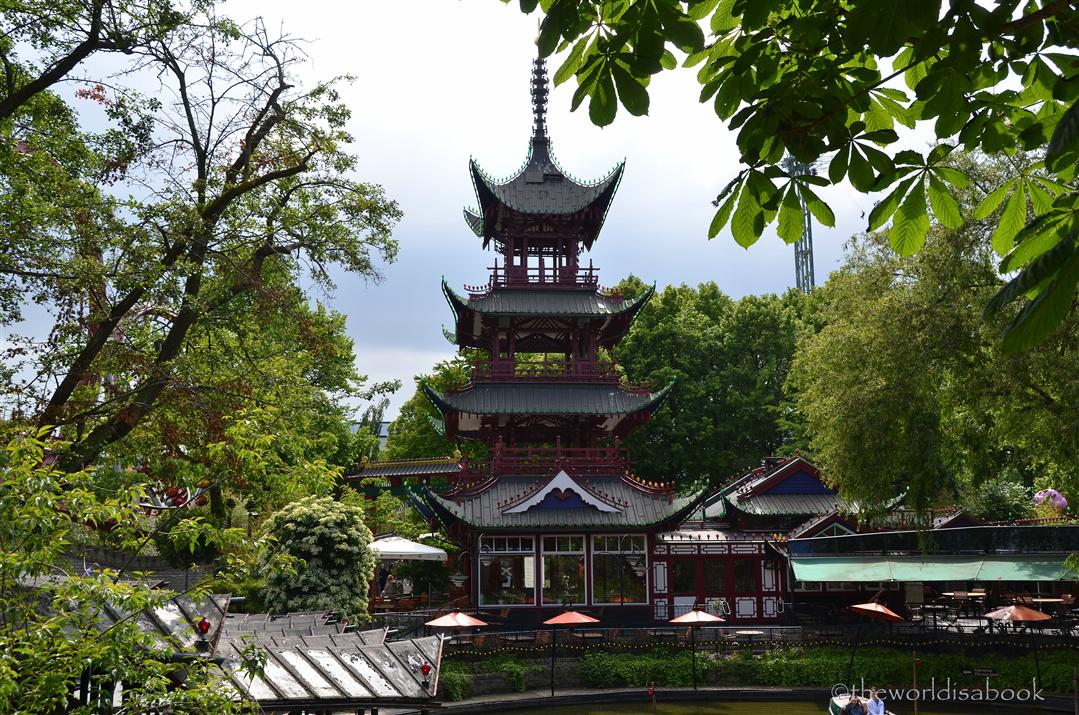 Tivoli Garden Rides
Tivoli's general entrance fee admission didn't include any of the amusement park rides or some of the shows.  This à la carte pricing structure meant visitors can simply visit the gardens and restaurants or spend part of the day on the rides. Tivoli offers 26 rides during the summer and 29 rides during the Halloween and Christmas seasons. Two-thirds of the rides were age-appropriate for my then 7 and 9 year olds.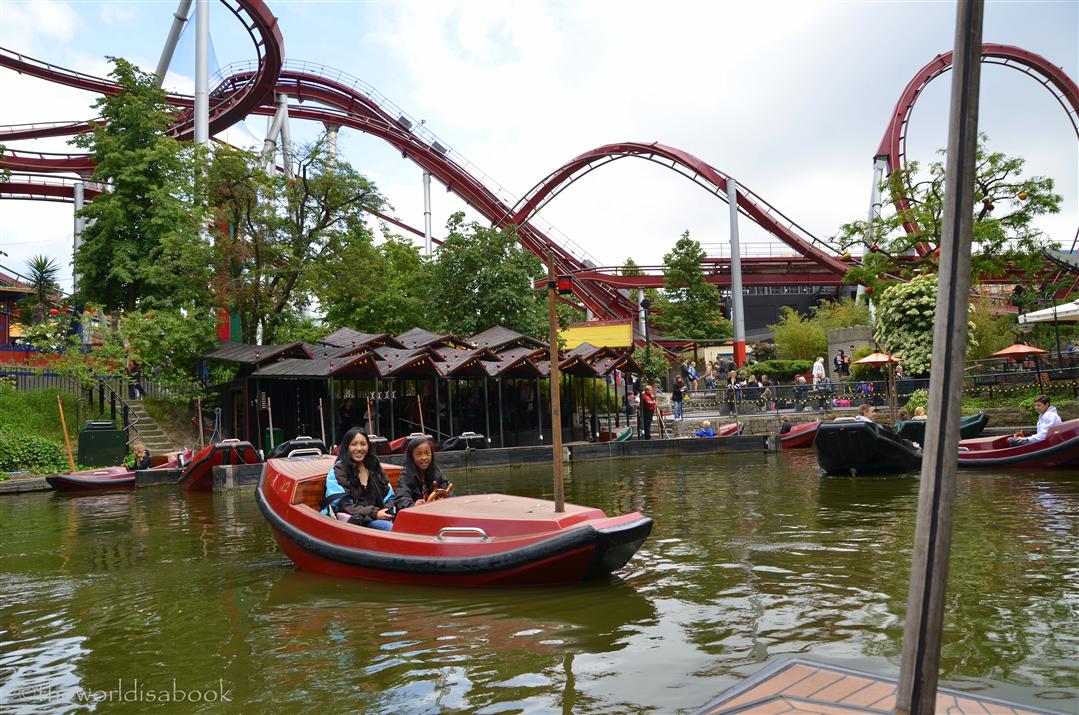 Our family favorite was the Flying Trunk which was a ride through Hans Christian Andersen's land of fairy tales. Yes, we were actually in trunks that floated over the different story book lands and scenes from many of his popular fairy tales with whimsical characters and sets.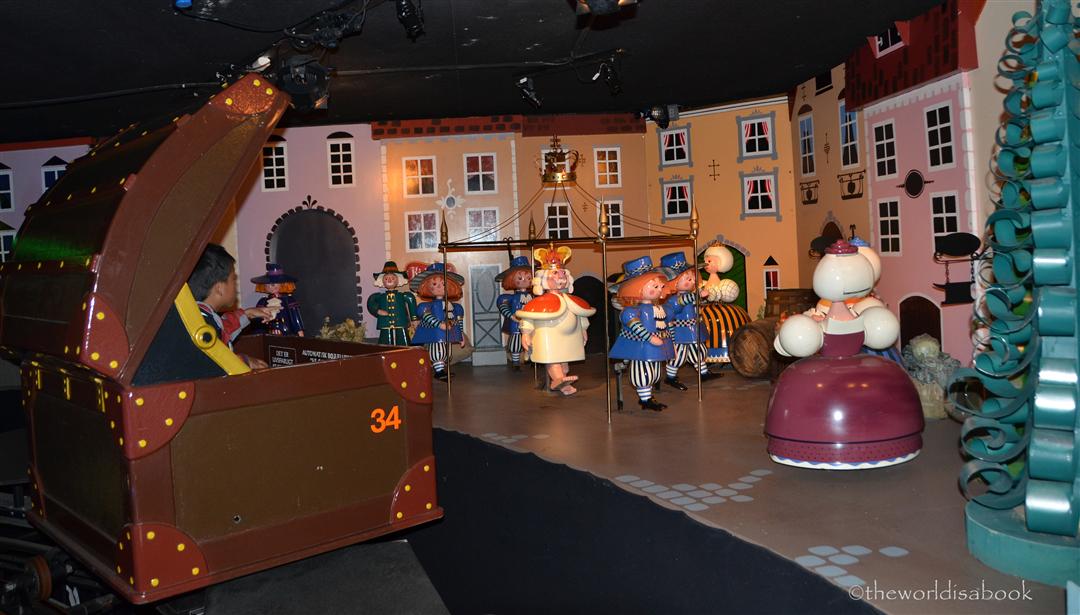 My kids excitedly tried to guess which fairy tale land they were looking at. Since there were no lines during our weekday afternoon visit, we rode the Flying Trunk three times. I don't think my kids would have ever gotten tired of this ride and could have ridden it repeatedly if we didn't remind them there were other rides we had to try.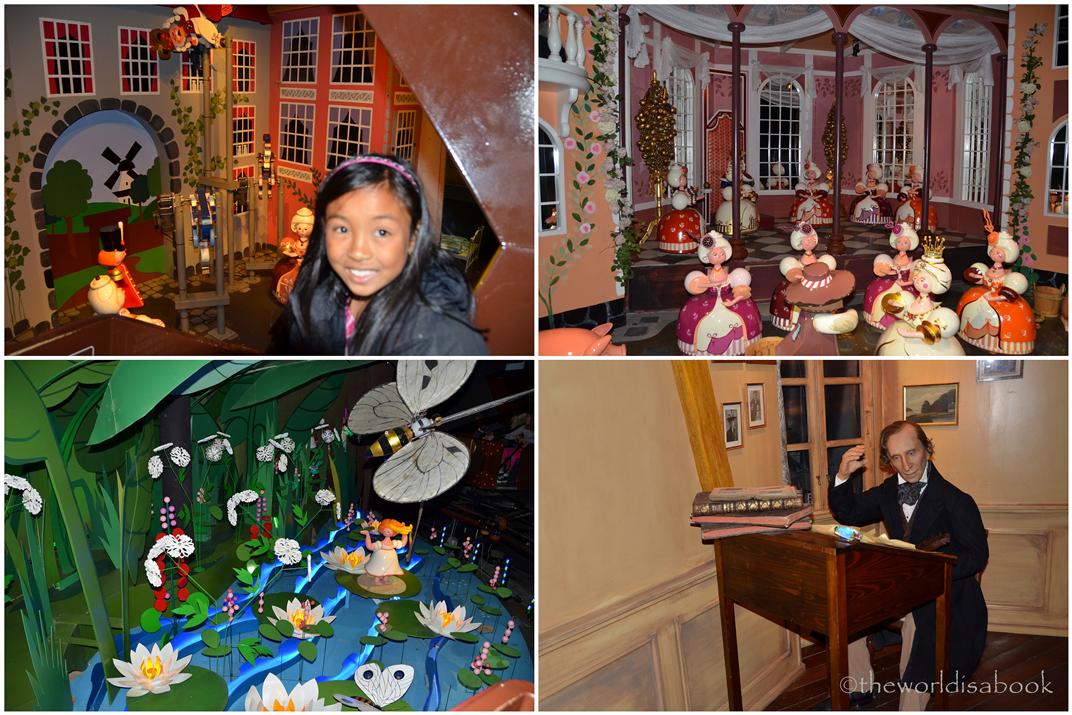 Unlike other theme parks, there was only one character that frequented Tivoli. Petzi, a Danish cartoon bear had his own world for the younger set. There were about 40 activities here to keep toddlers to school-age kids busy. Those ranged from playgrounds, small gardens and rides. Unfortunately, we missed meeting Petzi. We didn't know a single thing about him but that didn't stop my kids from wanting to meet him and explore this area.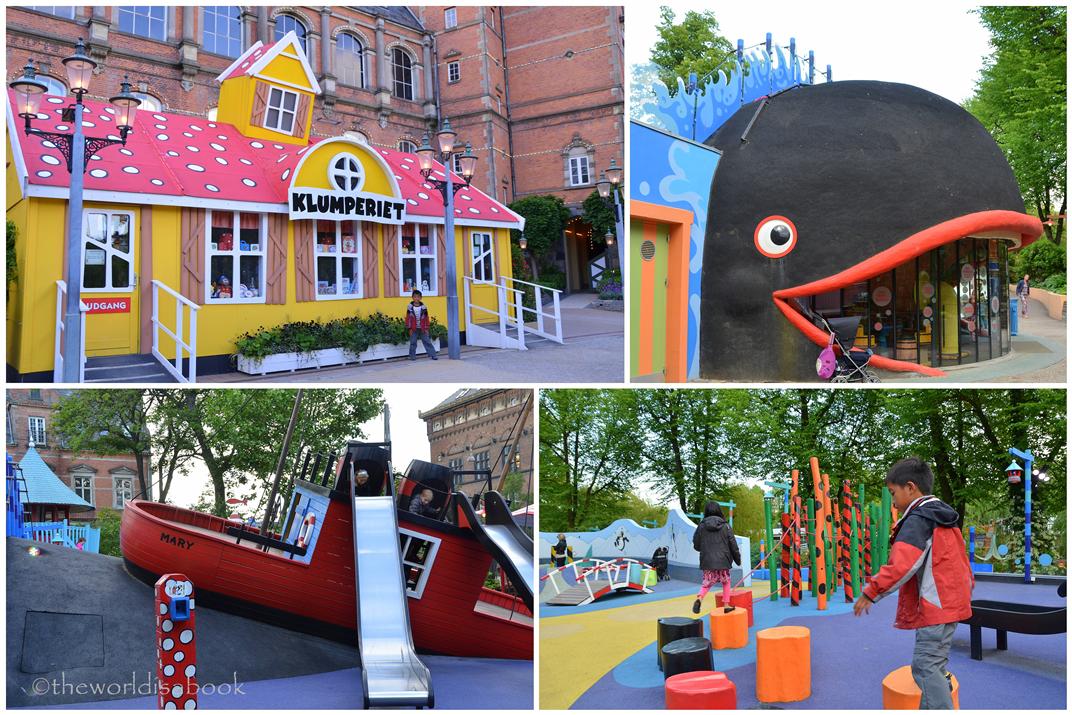 There were rides here too for those looking for some thrills and excitement.  Europe's tallest carousel reaching up to 260 ft (80 m), Himmelskibet or Star Flyer, was a prominent fixture here at Tivoli offering panoramic views of the park.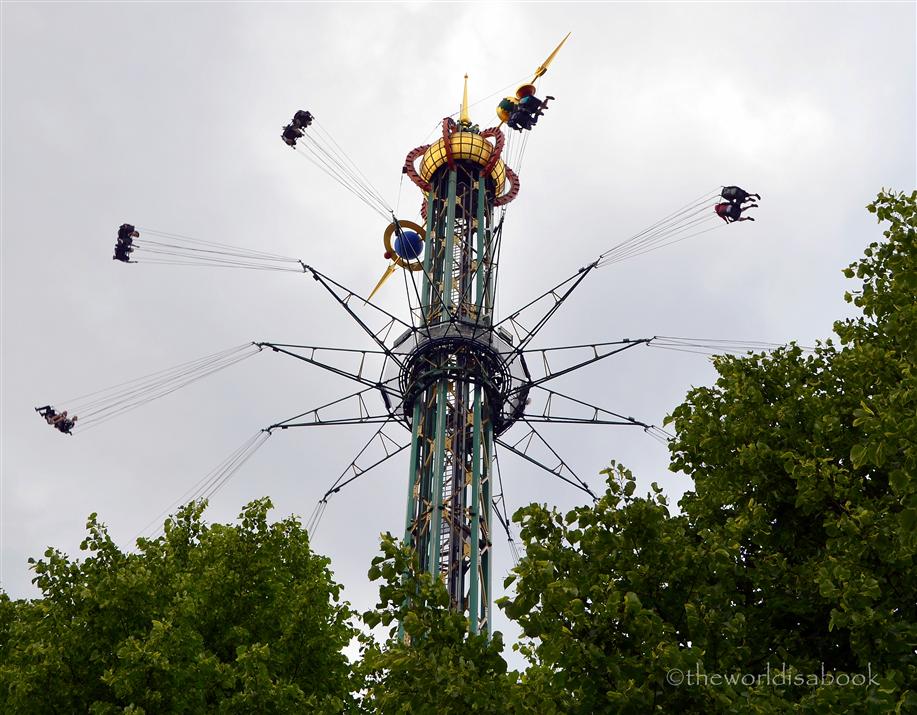 We settled for the old fashioned ferris wheel instead which also gave us a wonderful bird's-eye view of Tivoli.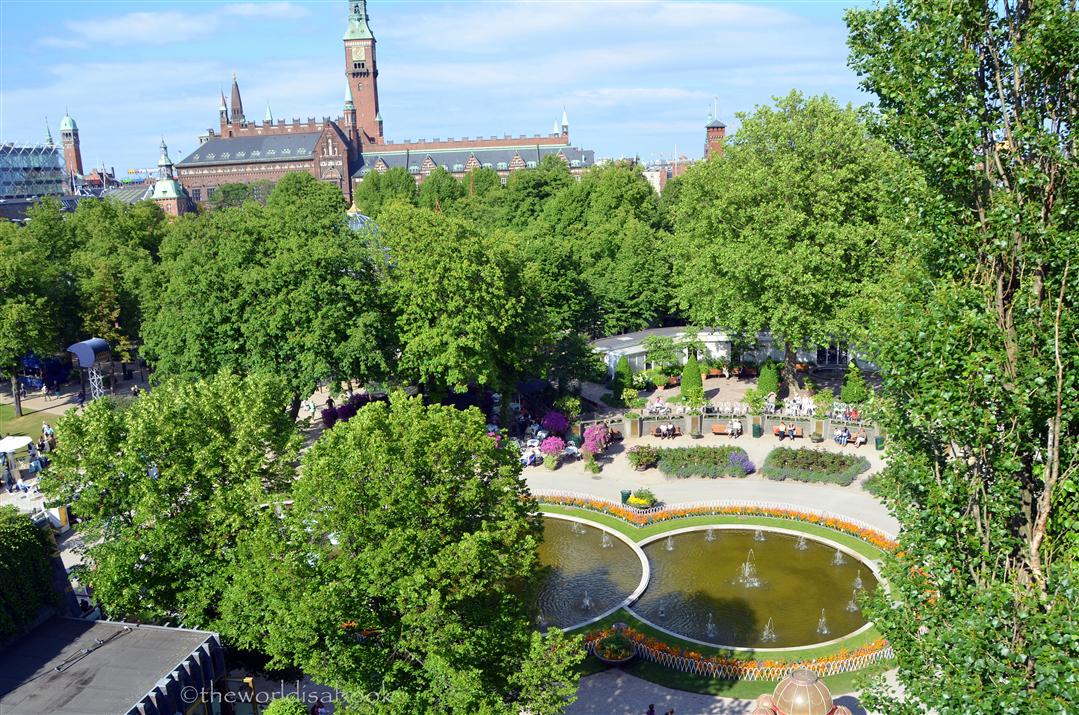 Rutsjebanen is the oldest running wooden roller coaster in the world. It carries an operator on each ride to control the speed as it goes downhill. My husband and kids actually enjoyed this ride very much. Vertigo, was a looping plane ride that made my stomach queasy just by looking at its movement and hearing the constant screams of joy mixed with fear.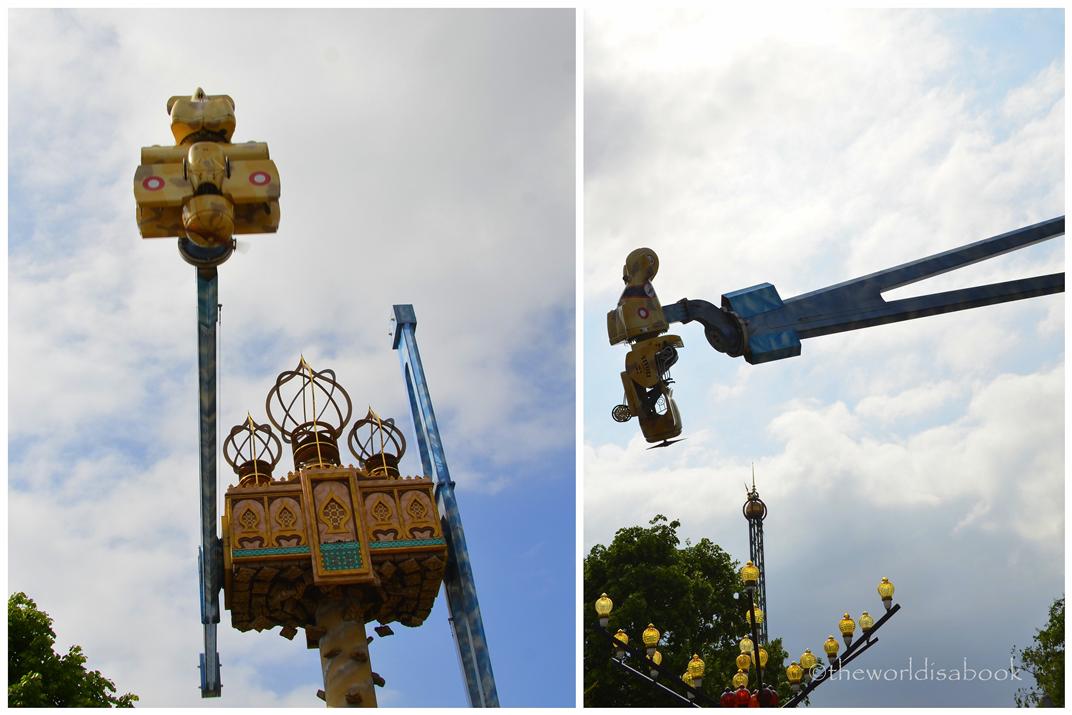 The Gardens of Tivoli
My favorite parts in Tivoli had to be its various gardens scattered throughout the park. They were well-maintained, beautifully landscaped with flower beds, shrubs, lakes and fountains. They were perfectly situated between rides and restaurants. We visited in June so the flowers were in bloom where some areas were filled with sweet floral scent.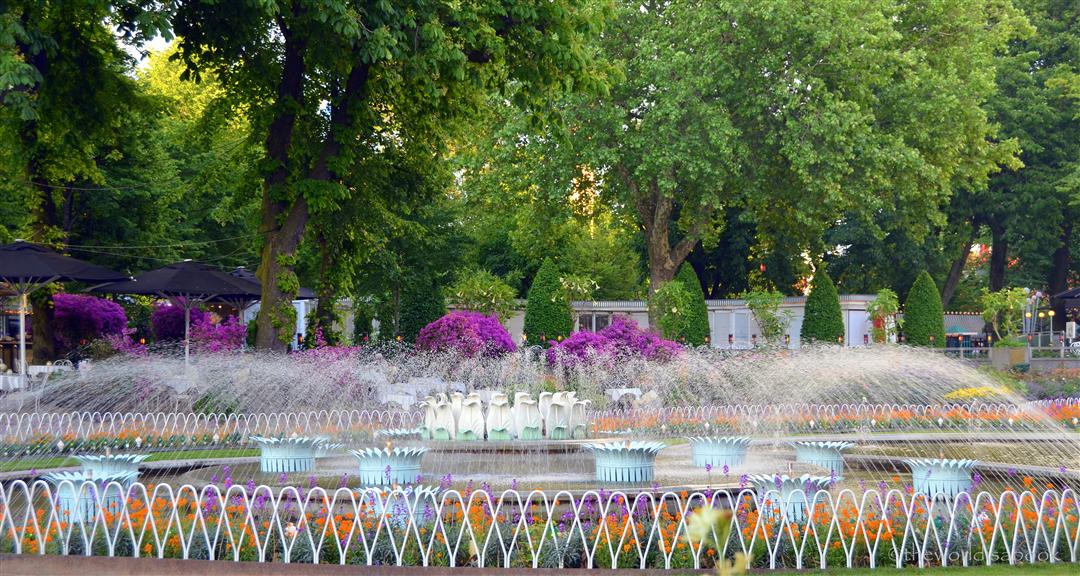 There were lakeside gardens decorated with oversized hanging flower baskets perfect for a stroll or for just relaxing on the many benches.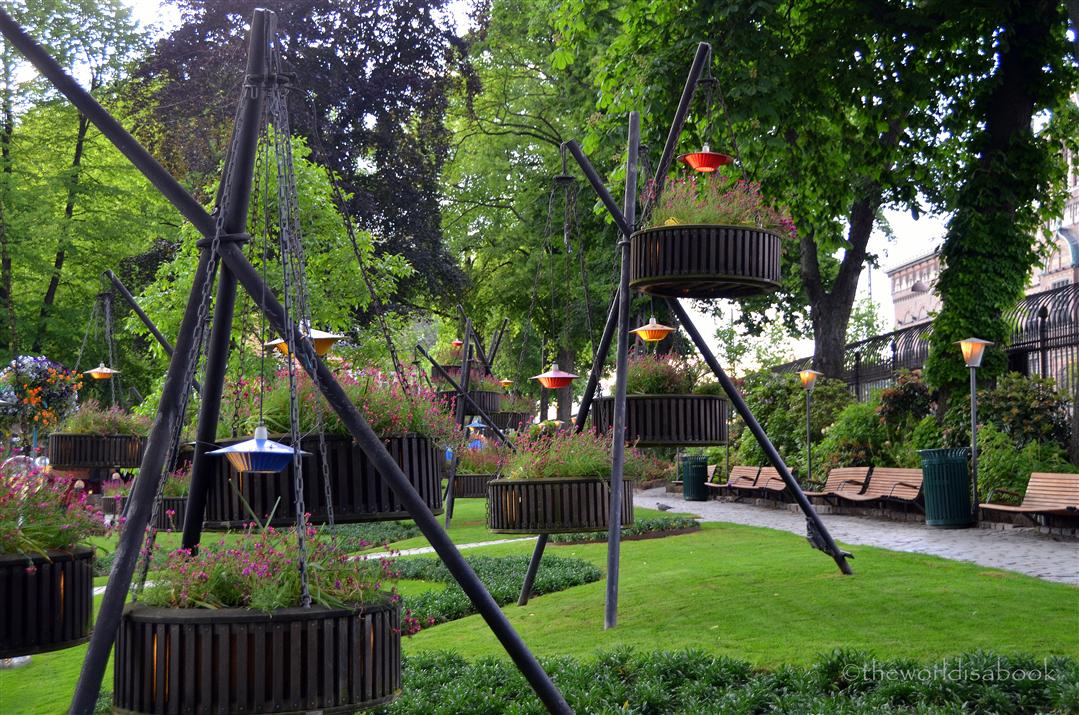 There was even a traditional Japanese garden with a few friendly ducks that entertained the kids.

Eating in Tivoli Gardens
Tivoli Gardens has over 40 varied restaurants and food stands found throughout the park. They ranged from hotdog stands to fine dining. There was something here to satisfy everyone's tastebuds from traditional Danish cuisine to Hard Rock Cafe. Many of them had outdoor dining areas. We ate at three of the restaurants (Bull Diner,A Hereford Beefstouw, wagamama) which were part of our dining plan, and they were all delicious.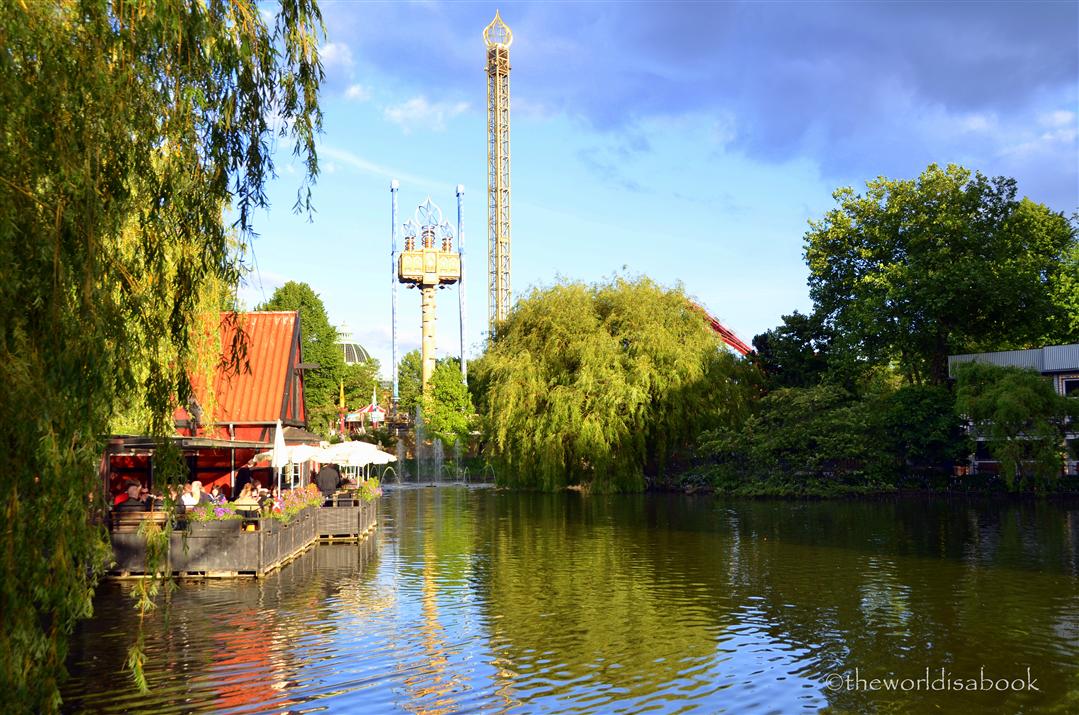 How about a Pirate ship docked along Tivoli Lake? This was actually a family restaurant that we didn't get a chance to eat. We loved its look of authencity despite the plastc hanging sharks.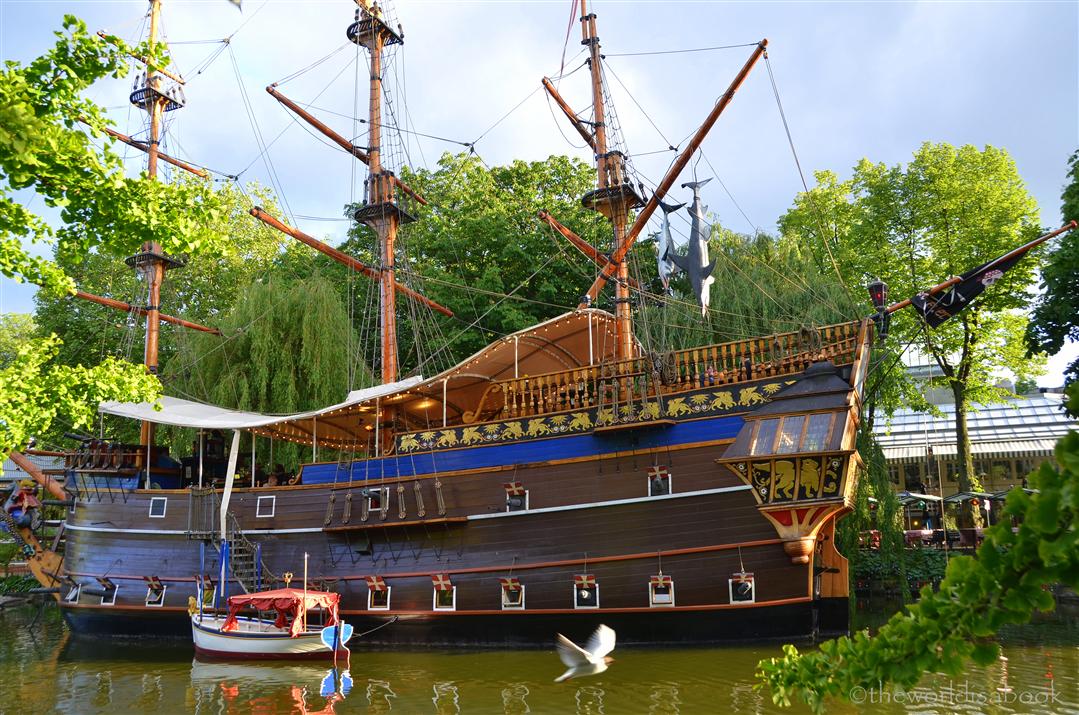 For the adults, there's a Biergarten to satisfy those German food cravings or a refreshing drink on a hot night inspired by Oktoberkest. This was located near the area for carnival games.

Tivoli Gardens Show
Performing arts, pantomime theater and live music have been part of Tivoli's history for more than a century. The Chinese Peacock Theater had free shows and we were lucky enough to catch two of them. The wordless drama was based on the love of two characters of Columbine and Harlequin with Pierrot, the clown.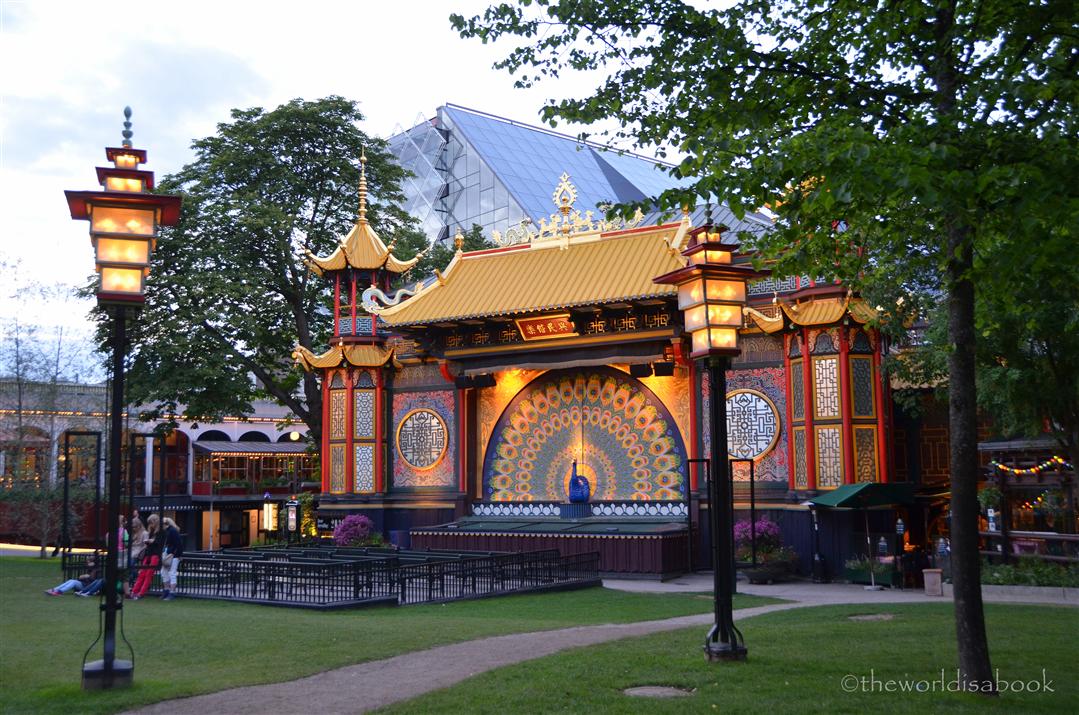 It was every entertaining and the kids loved it. They even had special seating for the kids in the front. Their sets and costumes were beautiful and colorful. We were really glad no words were necessary to convey the story which made it universally appealing for all the tourists in the crowd.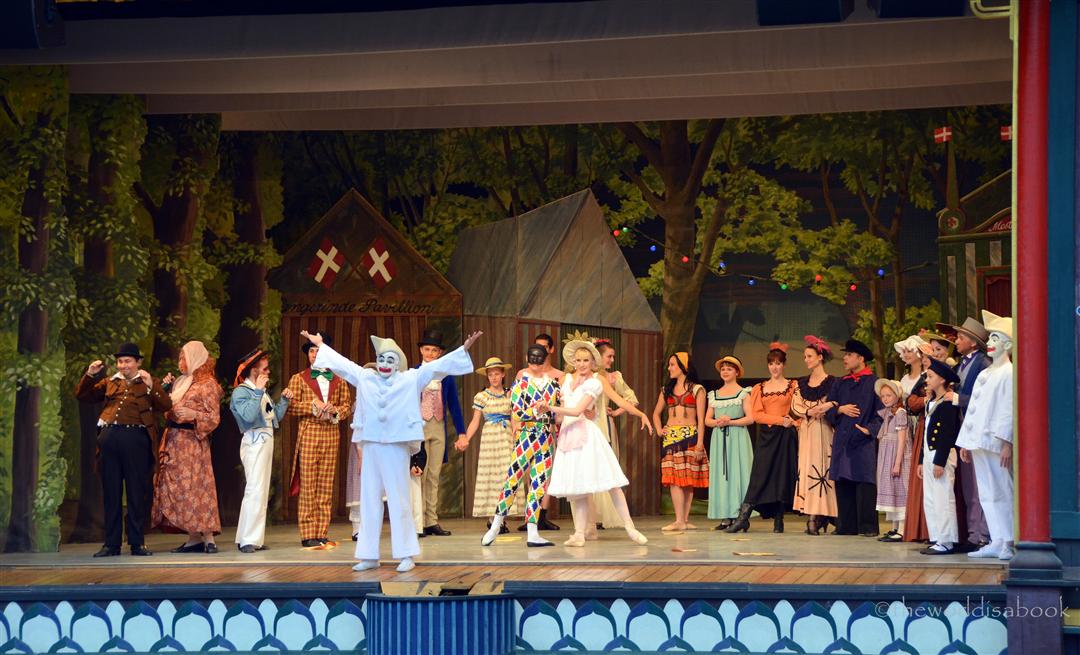 One of the things that stood out for me as we walked around Tivoli was its sense of community. It was one of the most popular tourist attractions in Copenhagen but it was also where the locals seemed to like hanging out to watch shows and concerts, enjoy a picnic or eat at the many restaurants. The theme parks we have visited in the US have that impersonal feel while Tivoli had an old world charm and traditional feel. It almost felt like a combination of Disneyland from long ago, New York's Central Park and a state fair.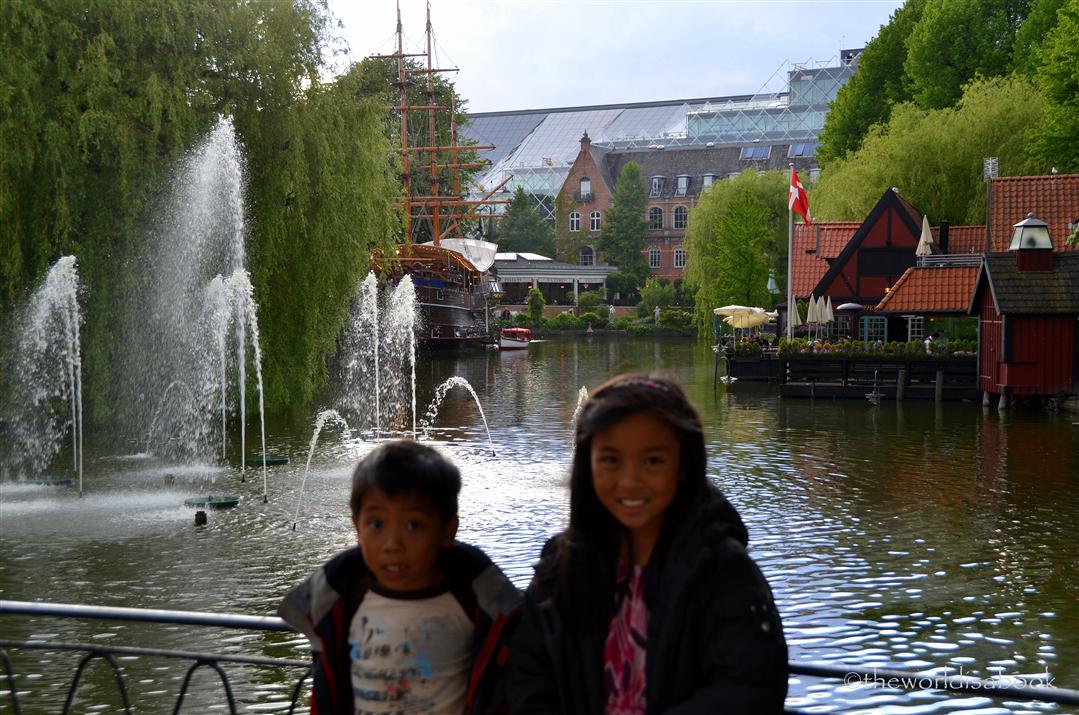 We were there during a football match between Denmark and Portugal. It was such a festive atmosphere as the game was shown on the big screen in the central square. The kids and I were out exploring the other rides while my husband watched the game with all the fans. He found it so interesting and satisfying to be a part of the fanatical European football crowd he has often seen on TV. We certainly heard the loud cheers and jeers as it reverbrated throughout the park.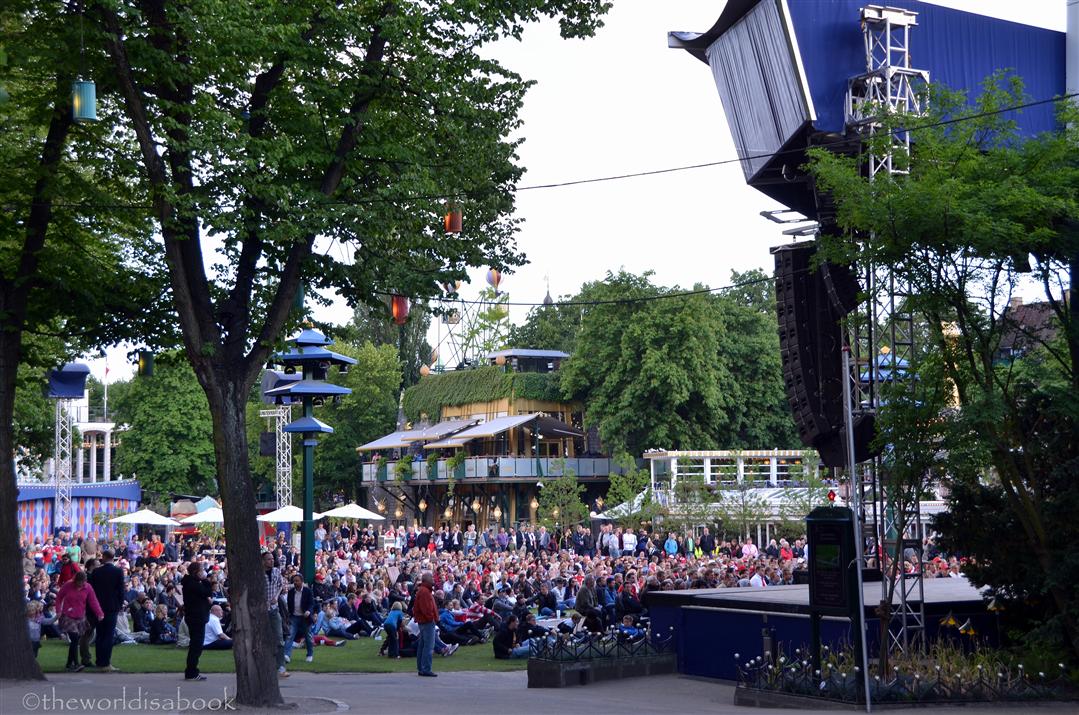 The Nimb Building
A white Moorish or Taj-Mahal looking building, with towers and minarets, was a dominant feature and attraction upon entering Tivoli. Copenhagen's most luxurious hotel with only 14 rooms averaging over $800 US per night and over $1,200 US for suites are inside this Nimb building. There were also a couple of upscale restaurants in here. Needless to say, staying here was beyond our budget so we just happily admired from the outside.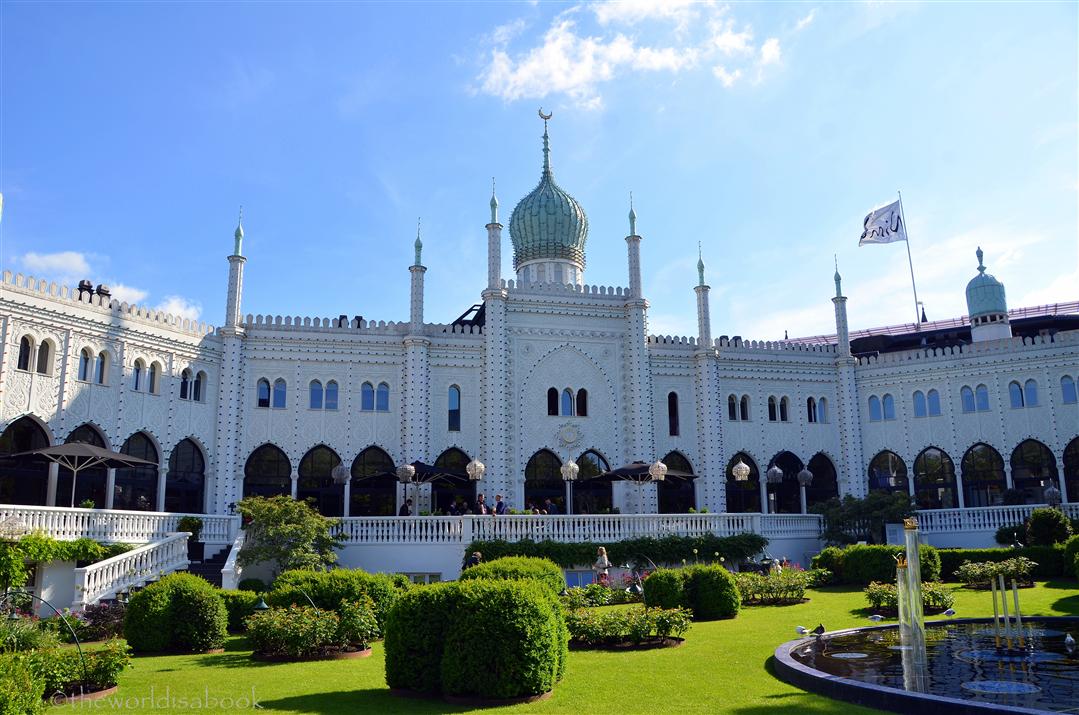 Tivoli takes on a magical glow at night when the lanterns and 120,000 incandescent bulbs light up the park. The twinkling lights were found everywhere. Here is the Nimb building at dusk all lit up.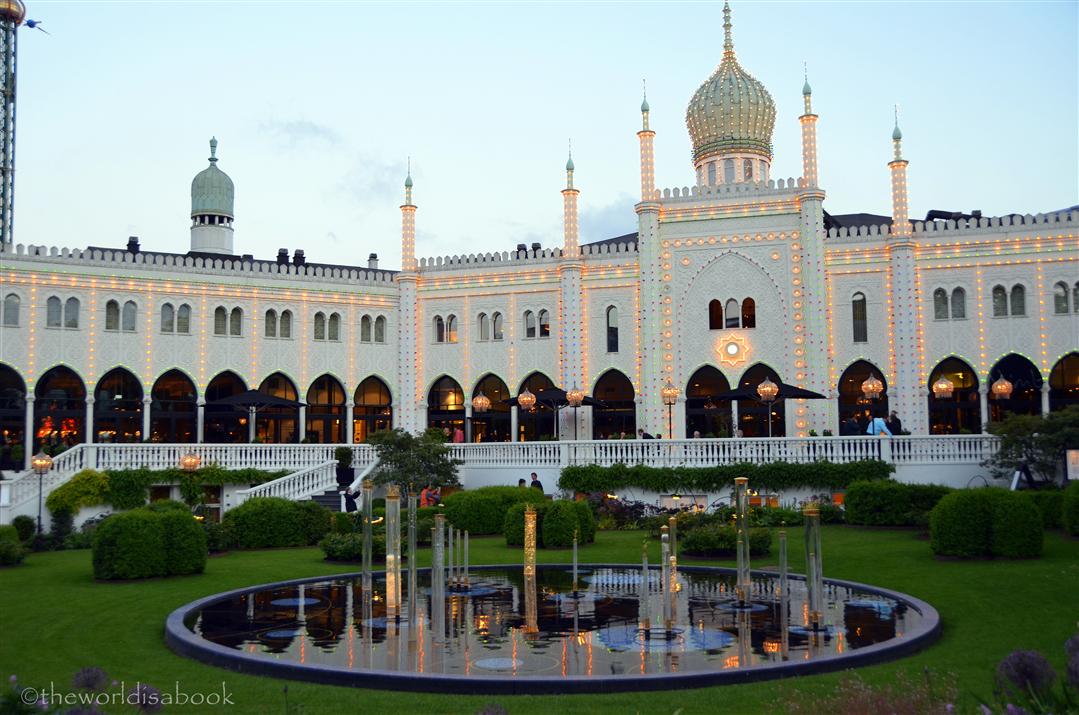 Tivoli was a special place to visit once it got dark and this meant after 9 PM during the summer. More crowds appeared eager to have dinner or stroll along the romantic promenades. You have to go to Tivoli twice (or stay for a while) to experience both sides of Tivoli's festive atmosphere.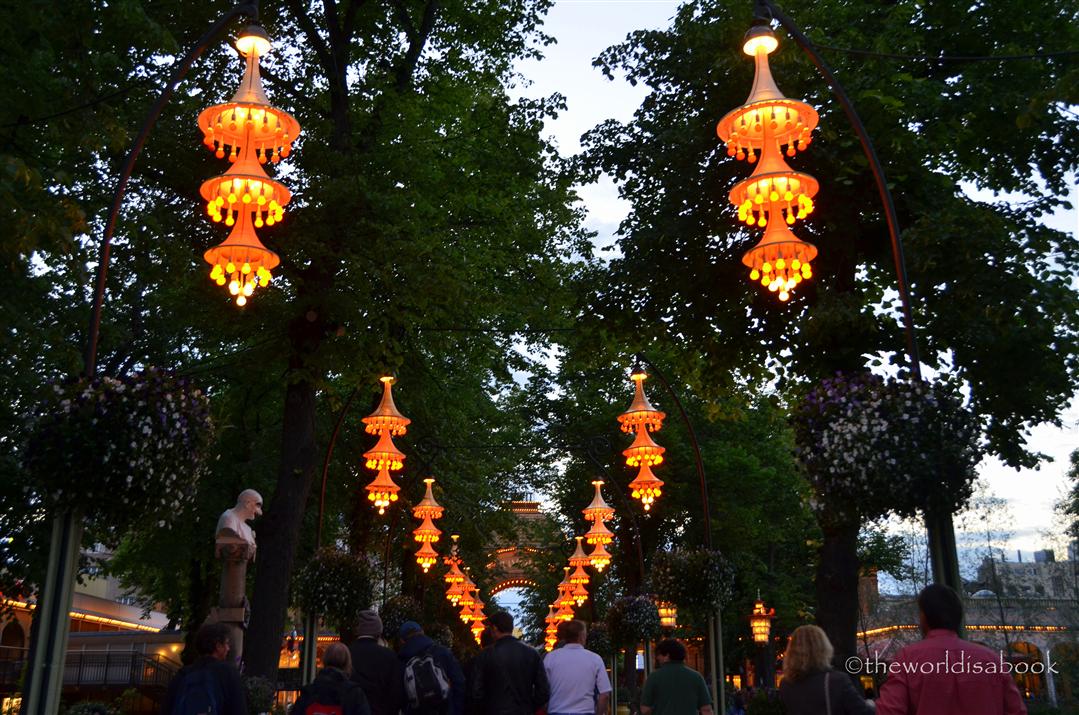 Tivoli Gardens was the highlight of my kids' Copenhagen trip. Even though we spent 8 hours on our first day here and covered most of the park, my kids didn't want to leave and we returned a few days later. Can you tell how much fun these rides were?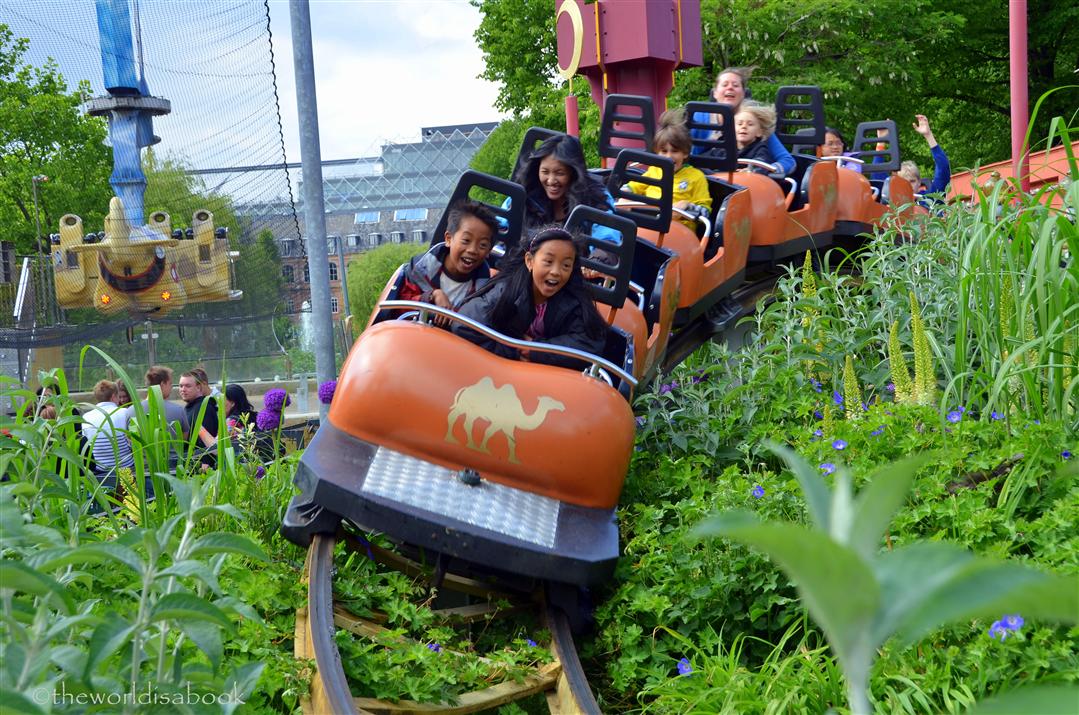 Tivoli caters to people of all ages and interests, locals and tourists. The mixture of modern and old world charm filled with landscaped gardens, amusement park rides, varied entertainment and restaurants was unique and magical. These are just a few of the reasons this historic park has survived for over a century and continues to fascinate visitors. It is definitely a can't miss attraction when visiting Copenhagen.
Tivoli Gardens Copenhagen Tips and Basics
The park is only open 220 days a year between April – September with special opening days during Halloween and the holiday season.
Admission (8 years old and up): 95 DKK ($16.50 US)Admission to the park does not include any of the amusement park rides.

Copenhagen Card

includes free admission to Tivoli Gardens.
There are ticket machines around the grounds where you can get tickets for the rides. Each ride takes 1 – 3 (20DKK each) tickets.
Multi-ride passes for unlimited rides are also available or all-inclusive packages. Check the

Tivoli Gardens website

for more ticket options.
Look into the neighboring hotels with Tivoli Gardens Package specials. We stayed at the Copenhagen Island hotel which included the

Tivoli all-inclusive package

. This had a multi-ride ticket, aquarium admission, ride photo, meals at participating Tivoli restaurants.
Go during weekday for less crowds and with hardly any lines on the rides. It got crowded at night.
See the Tivoli Boys Guard (life size toy soldiers) during the weekends.
Fireworks are every Saturday at 11:45 PM. Unfortunately, we weren't there on a weekend.
Tivoli is easily accessible since it is right across from Copenhagen Central Station.
*Have you visited and enjoyed Tivoli Gardens in Copenhagen?