I'm a Hilton Mom Voyager!
Who knew checking Twitter randomly could reap huge benefits? A few months ago, I saw a Twitter ad from Hilton Hotels and Resorts searching for 15 traveling mom and dads to be a part of a new family travel website called Hilton Mom Voyage (ala Bon Voyage).  It required meeting some specific criteria and answering six essay questions about family travel.
It didn't hurt that among the rewards was a 5-night all expense family vacation plus 5 Hilton hotel nights anywhere in the world.
 We've been loyal Hilton brand guests for years, and I knew this was a good fit. Sometimes, the right opportunity comes along and you get a gut instinct it's the right one for you. In this case, that instinct was proven right for me. One of the highlights of my year was being selected as one of the lucky 15 team members.
Hilton assembled us (14 moms and 1 dad) for a training and meeting last October in Virginia.  This is a group picture of some of the most wonderful people I've had the pleasure to meet who all share the same desire to show our kids the world.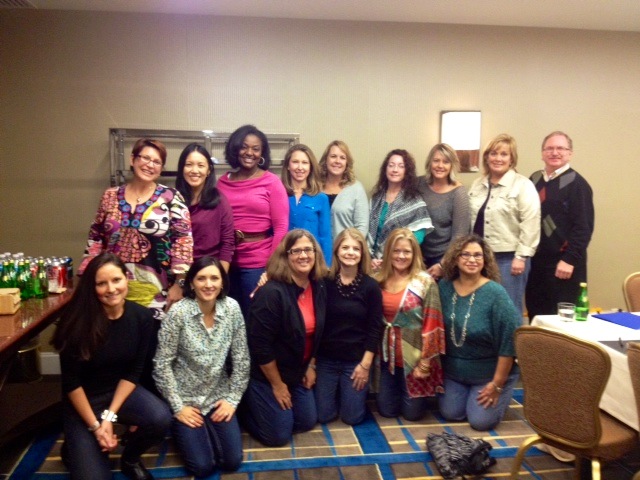 It was so exciting to meet my fellow Hilton Mom Voyagers and share this amazing journey with this new project.  Through much hard work from the Hilton Hotels and Resort staff and the web designers, the project has finally come to fruition. The Hilton Mom Voyage website went live on January 16.  I'm sure you'll be hearing more about it throughout the different media channels soon.
You can find me at the Hilton Mom Voyage site with more traveling tips and articles to supplement what I have on the blog. Stay tuned as you virtually travel with our family to Munich and Bavaria Germany (and a couple of other European cities) this summer. Please visit the site and my first of many articles: San Diego with kids: Attractions for varied interests.  While there, please look around, bookmark it and come back for more family travel tips, ideas and inspiration. Thank you!
Check out these related posts: