5 Fun and Free Things to do in Santa Barbara with Kids
Santa Barbara is one of the most beautiful beach towns on the western seaboard. Located about two hours north of Los Angeles, its history, mild climate and scenic beauty has deservedly earned its nickname of the "American Riviera". Understandably, it's got a reputation for catering to rich people. No worries, though. There are still plenty of free things to do in Santa Barbara with kids.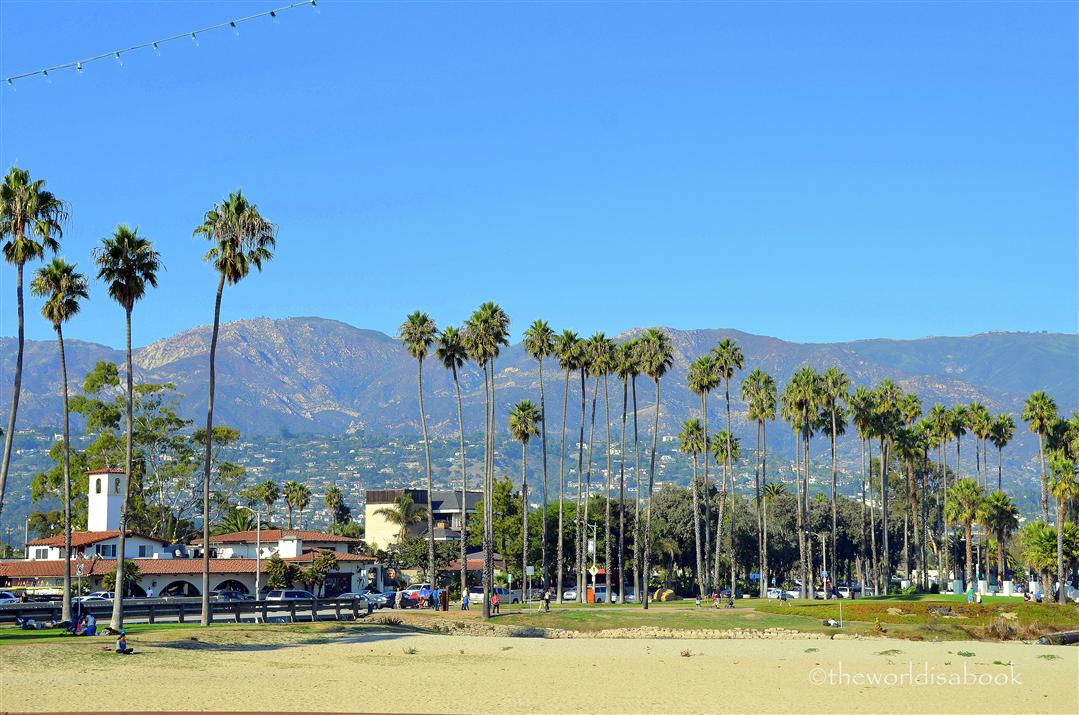 1.  Old Mission Santa Barbara
A visit to the Queen of the Missions is a must when visiting Santa Barbara. The 21 California Spanish missions were an integral part in the state's history. Founded by the Franciscan priests, they were built as centers of religious and cultural activities but are now parishes and living museums. California's fourth graders usually have to choose a mission for a project and my daughter picked this mission for her report last year. The expansive lawn in front of the mission is popular with families and sunbathers or kids who need wide open spaces to play tag.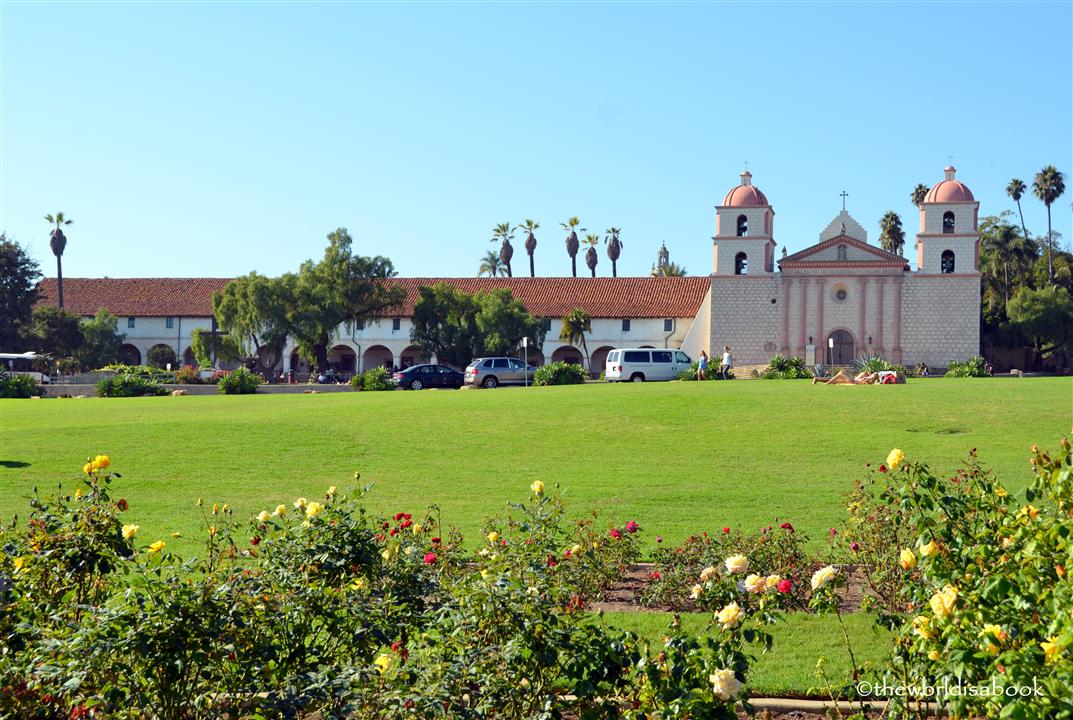 Going inside the mission for a self-guided tour requires a minimal fee of $5 but it is definitely worth it. There are still some free attractions to see on the mission's grounds such as the rose garden, a small garden of plants the Spaniards and Indians used, the beautiful fountain and the lavanderia (used for clothes washing). Considered the prettiest of the missions, it is easy to see why with its architecture and surrounding area.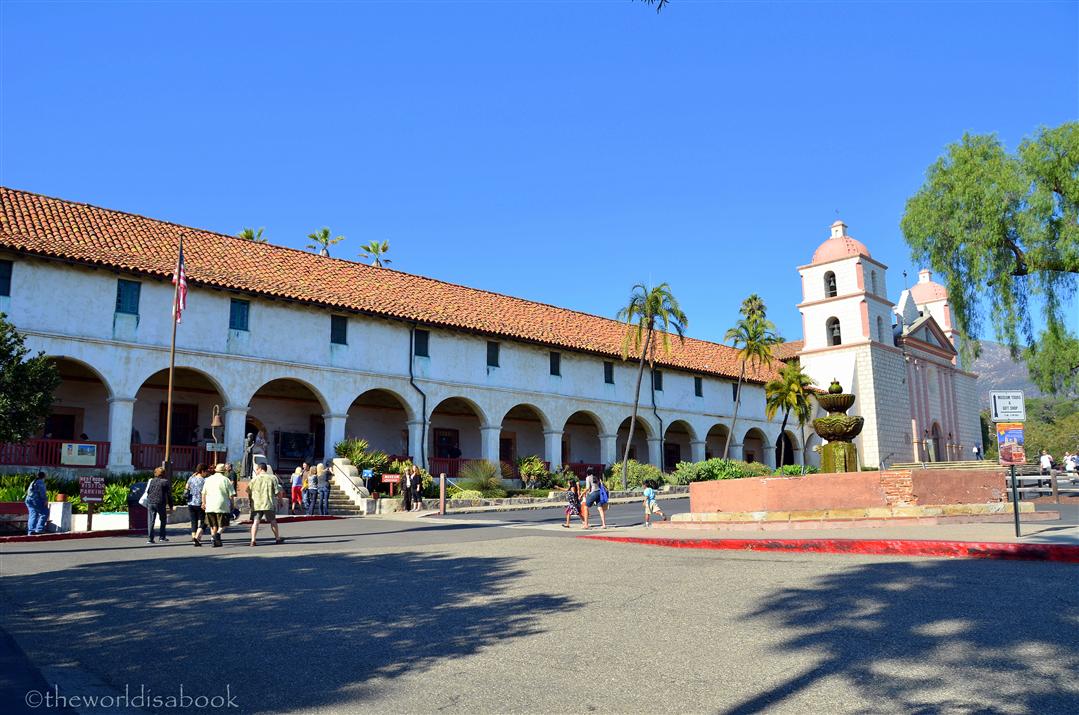 2.  Alameda Park and Alice Keck Park Memorial Garden
Santa Barbara's oldest park, Alameda Park, occupies two blocks of facilities, picnic areas and wide open spaces making this a popular gathering for families and for city celebrations. We've visited our fair share of playgrounds all over the world. But, the Alameda Park's Kid's World area was an impressive one.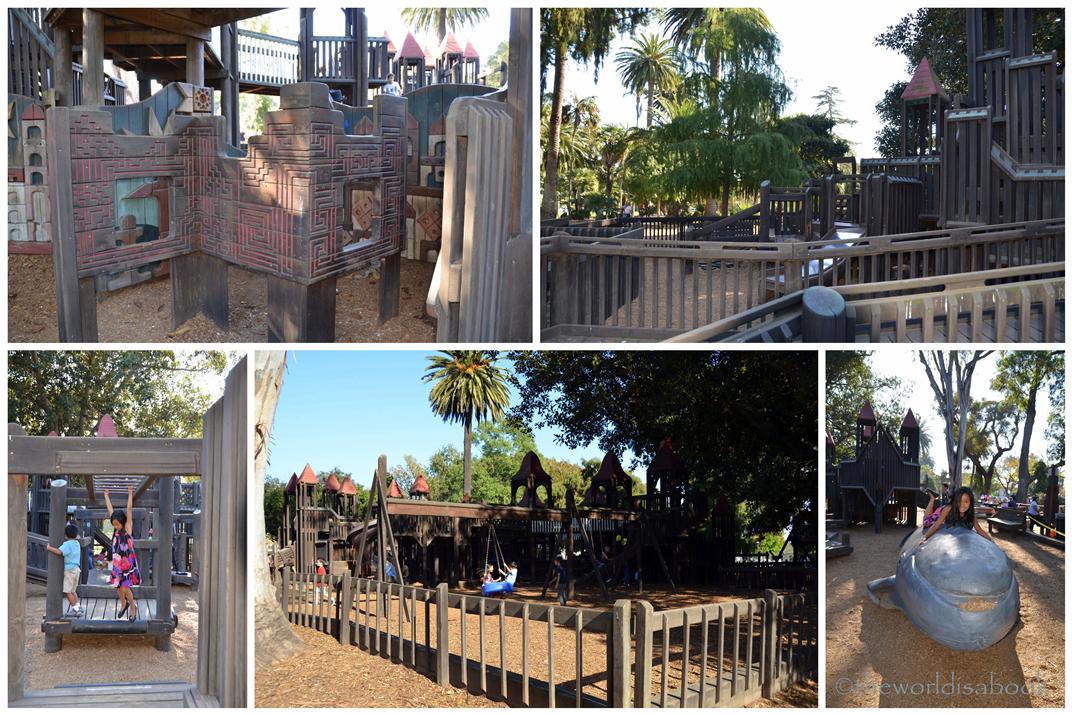 The 8,000 square foot playground that looked like a wooden fortress contained every imaginable activity to keep kids of all ages busy from castles, swings, slides to large sculpture animals to climb on.  There were quite a few parties going on here during our visit. Don't miss the 120- year old Moreton Bay Fig Tree here.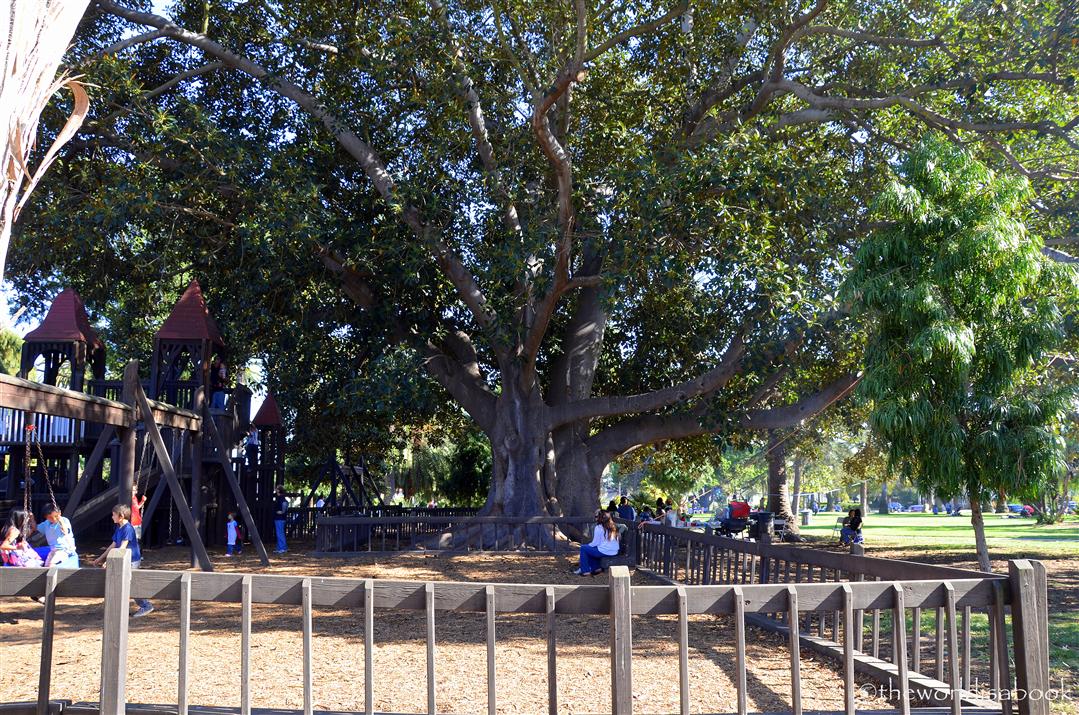 Walk across the street to the Alice Keck Park Memorial Garden for the kids to feed the koi and turtles in residence at the pond.  This was a wonderful place to walk around and see the well-maintained gardens with California native plants. It contains 75 different tree and plant species along winding paths.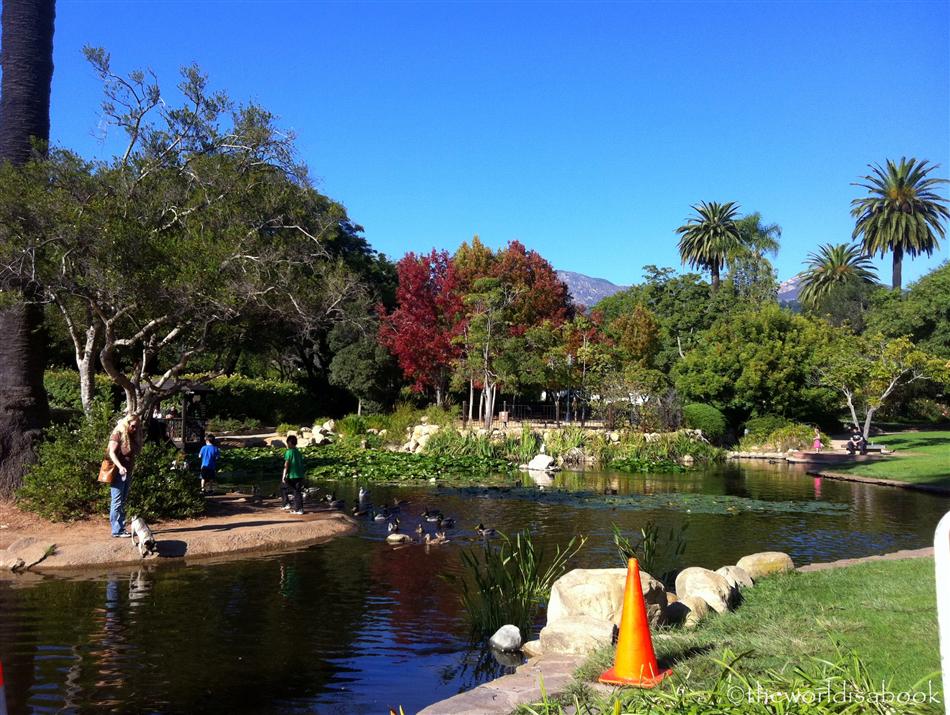 3.  Historic Santa Barbara Courthouse
A courthouse may not sound very appealing for a visit but this public building is considered one of the most beautiful Spanish-Moorish buildings out there.  It occupies one whole block in the downtown area and its building and grounds are open to the public. Docent tours are free everyday at 2PM except Sundays. Climb the stairs or take the elevator to the 85-foot "El Mirador" clock tower for amazing views of the city, ocean and mountains. We regretted not having enough time to go up the tower during our last visit.
Don't miss the mural room for beautiful intricate painted walls and ceiling. The courthouse is surrounded with a wonderful collection of plants and palms.  The well maintained lawn is  a great place to relax and a wide enough space for kids to play at.
4.  Beaches
Visiting one of Santa Barbara's beautiful beaches needs to be on everyone's itinerary. East Beach tends to be the most popular due to its close proximity to hotels. It has good facilities, children's play areas and plenty of bike and rollerblading paths. This is also the hub of some shows and street entertainers. The West Beach area has much more boating activity.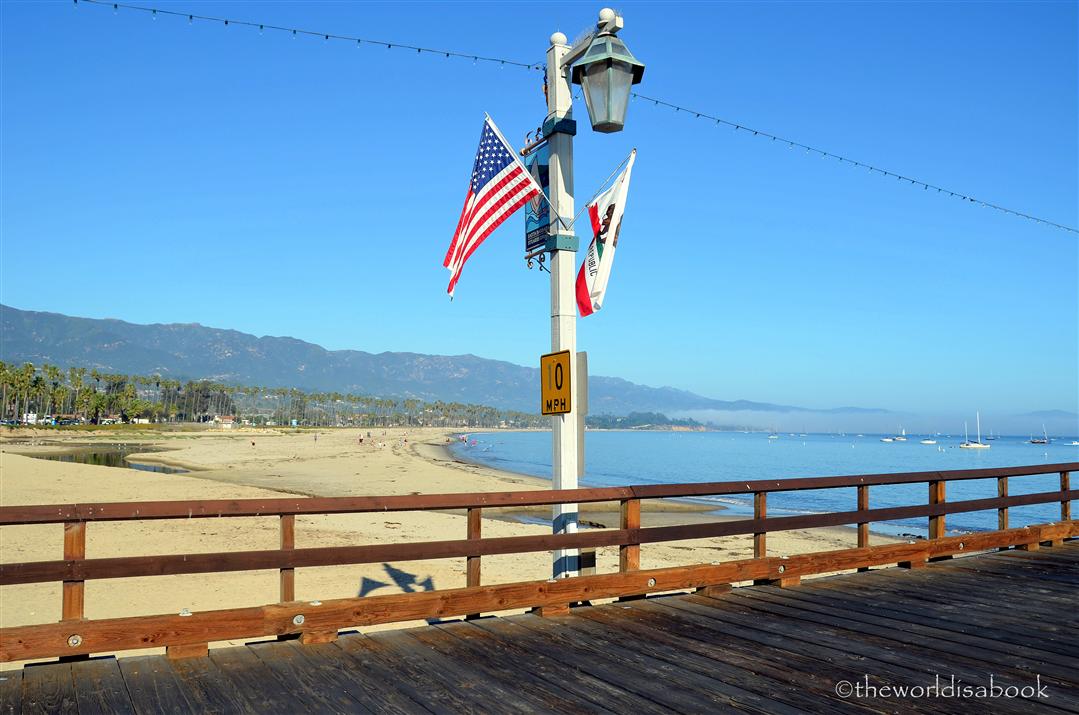 5.  Stearns Wharf
California's wooden piers have always been wonderful tourist attractions. Stearns Wharf is no exception as California's oldest working pier. This important landmark has many specialty shops and restaurants including candy and ice cream shops for the kids and a wine tasting room for mom and dad.
It is a great place for a leisurely stroll, people watch, inhale the ocean breeze and enjoy the mountain and ocean views. Kids can see the locals fishing at the end of the pier and a glimpse at their catch. They may even get lucky and spot seals or dolphins too.
Occasional Freebies
*Have you visited any of these free Santa Barbara attractions? Any other free attractions you'd like to add?
This is a part of a series called Five Free Family Friday.  I hope this will grow into a collective guide of free family-friendly attractions of places all over the world.  If you'd like to contribute with the free attractions in your home city, I would love your guest posts.
Pin it for later!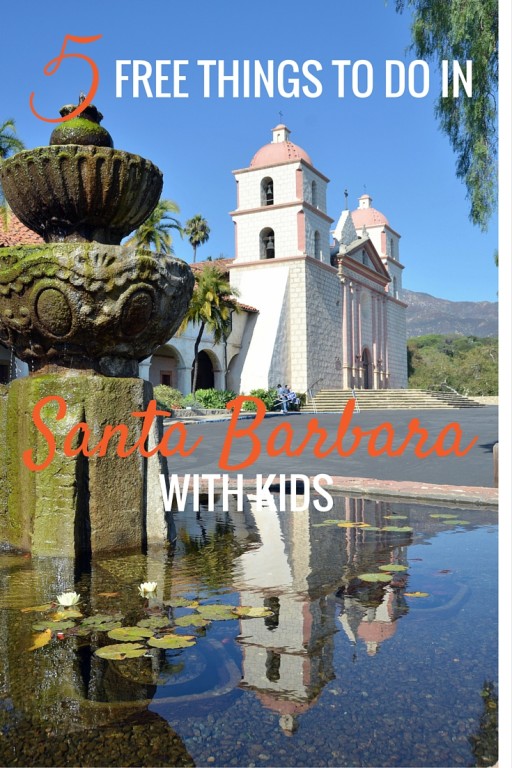 Check out these related posts: