Doubletree Hotel Colorado Springs: Convenience Filled with Amenities
We recently spent last week's Martin Luther King holiday weekend in southwest Colorado primarily to visit the Great Sand Dunes National Park. After a long, three hour drive and some hiking we spent our last night of the trip at Doubletree by Hilton Colorado Springs.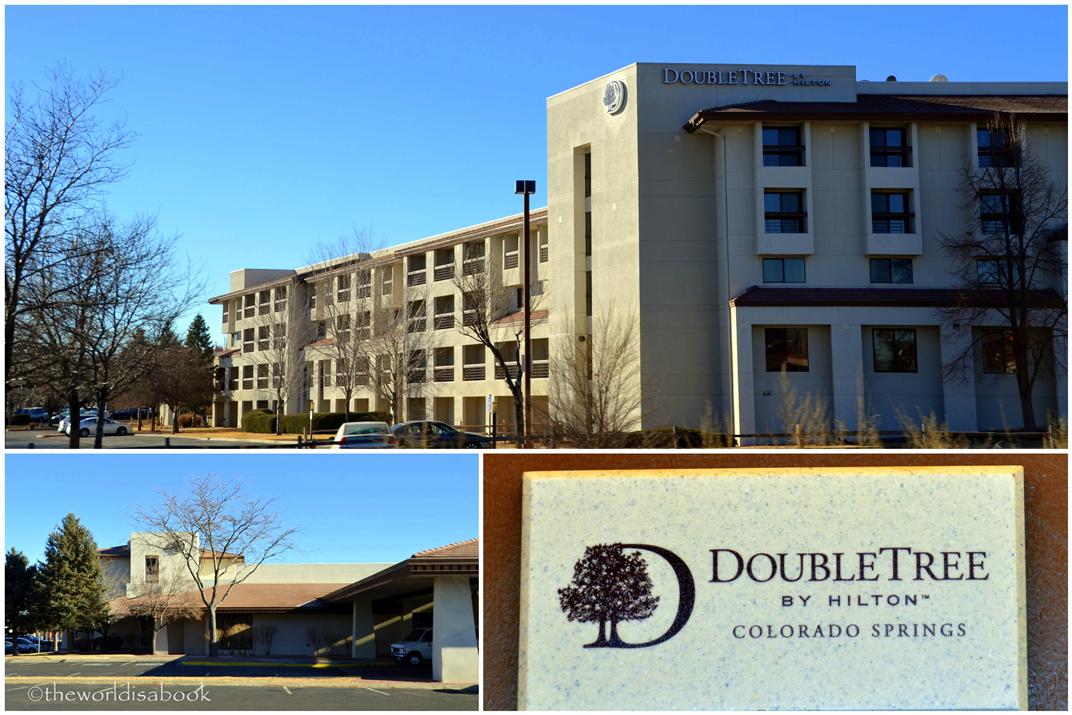 We were welcomed with friendly staff and those delicious chocolate chip cookies Doubletree is famous for. My kids get so excited getting those warm cookies. To them, a Doubletree stay equals yummy cookies.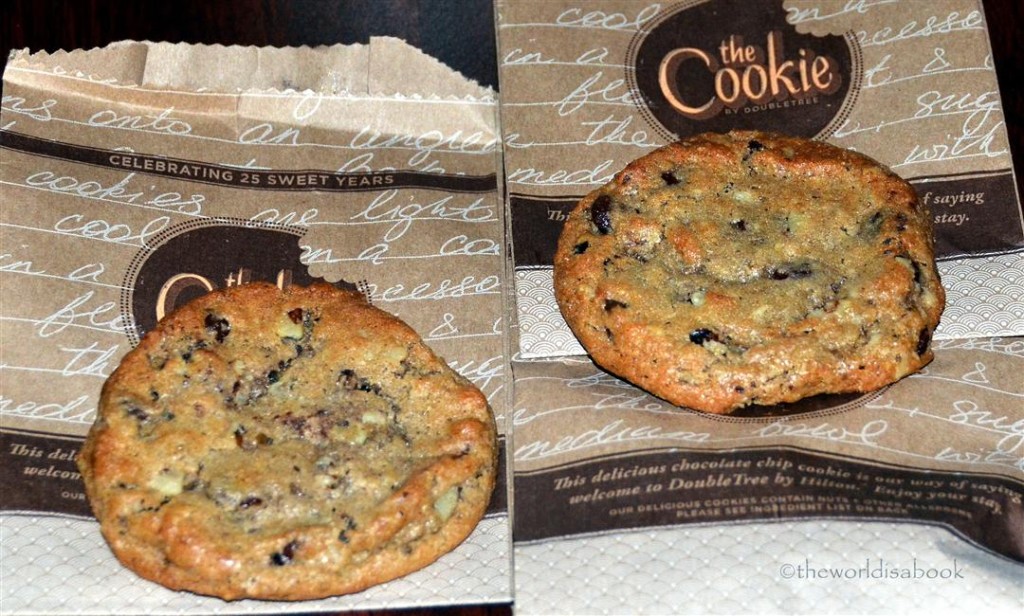 One of the things we loved about this hotel was its great location. It was right off Interstate 25 which was a convenient thoroughfare to Denver and the rest of Colorado Springs.  Being next to the freeway and a main road, we surprisingly didn't hear any traffic noise and that may be due to our room location. So, be sure you get rooms facing the mountains or courtyard.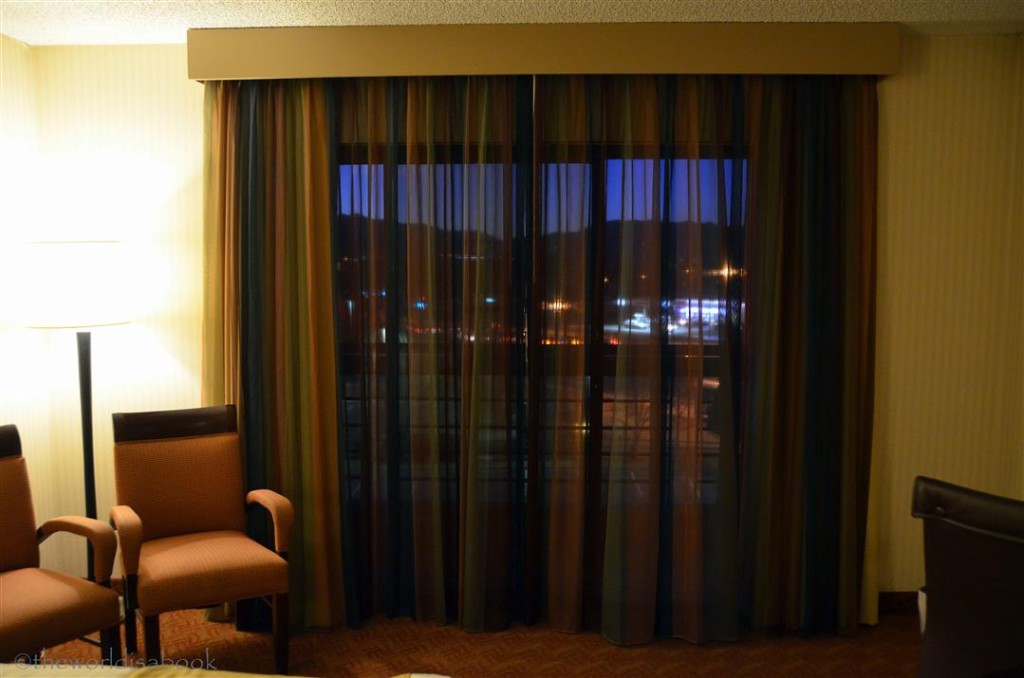 Within a short walking distance was Target, many small shops, family-friendly restaurants and even a large movie theater. It's always a relief to find a hotel next to all these stores knowing you don't have to travel far to eat or if you need to run out and get some necessities. It's also within a mile of the World Arena Events Center making it a convenient location for attending concerts and shows.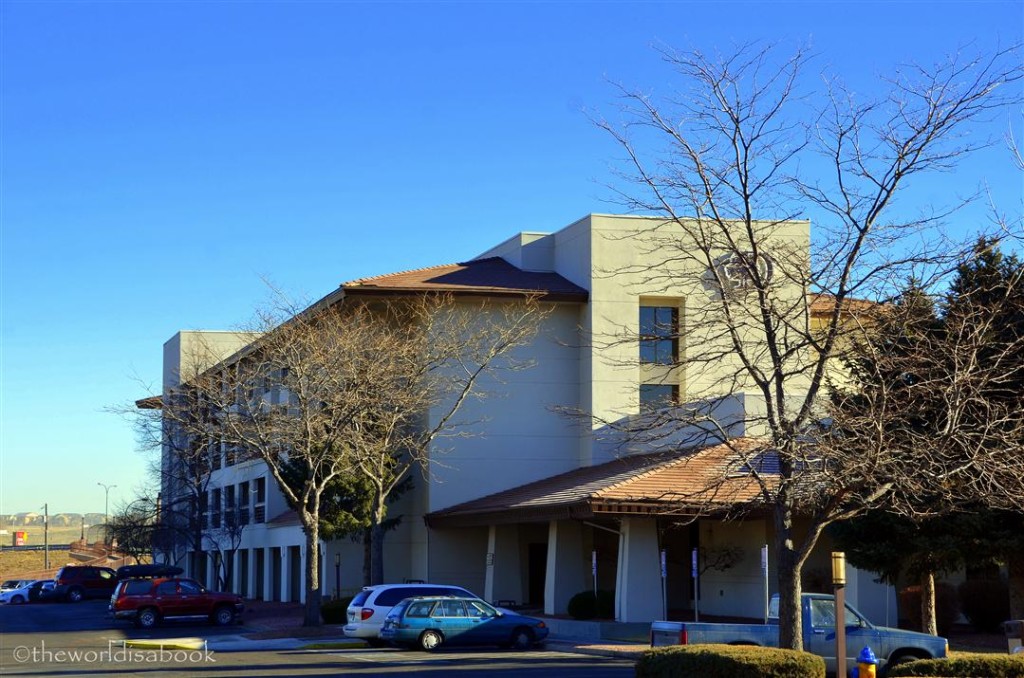 After a long travel day and hiking afterwards, we were anticipating a relaxing evening in the room. Our spacious room with two queen beds and plenty of pillows didn't disappoint. Decorated in warm tones, there was also a spacious desk to spread out with an ergonomic chair and two comfortable chairs perfect for the kids to lay out and read.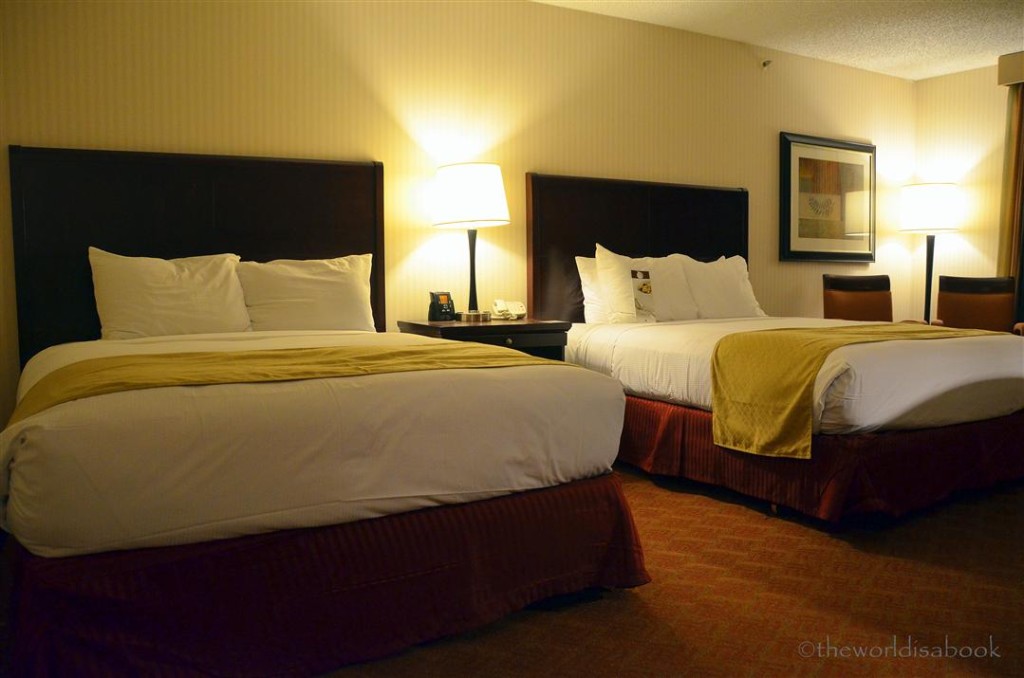 It was a pleasant surprise to find a microwave and mini-refrigerator in the room. These two small appliances may not take up much space but they are amenities that are very much appreciated when traveling with kids. We always use them for warming milk and storing snacks and drinks in the refrigerator.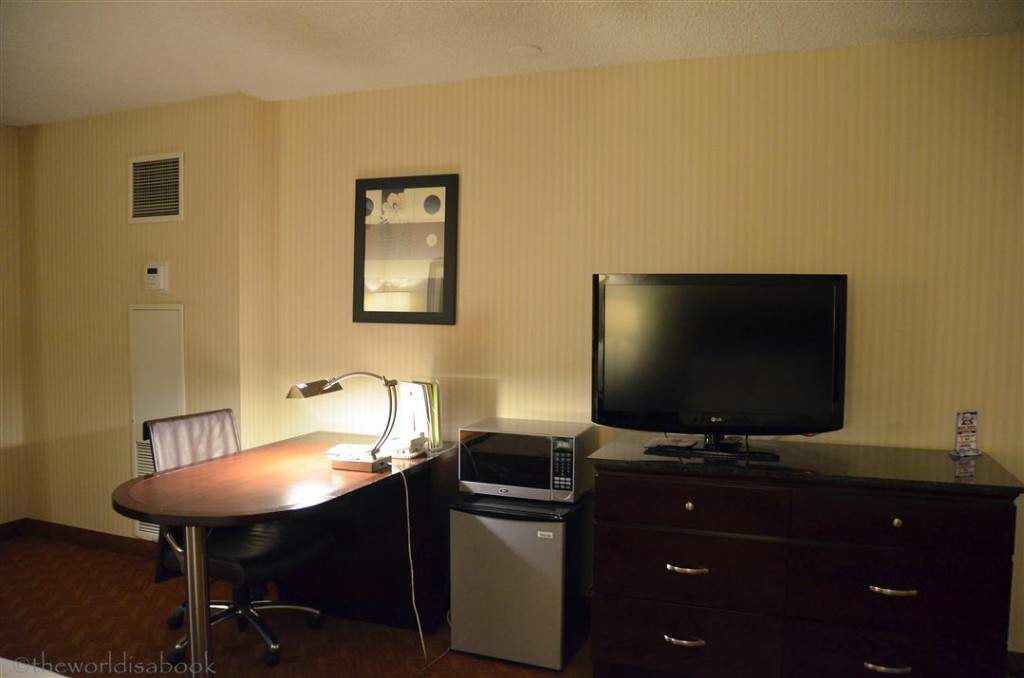 Colorado Springs lies in the foothills of the Cheyenne Mountains and the world's second most visited mountain, Pike's Peak. Hotel room balconies are usually the luck of the draw. In our case, luck was on our side.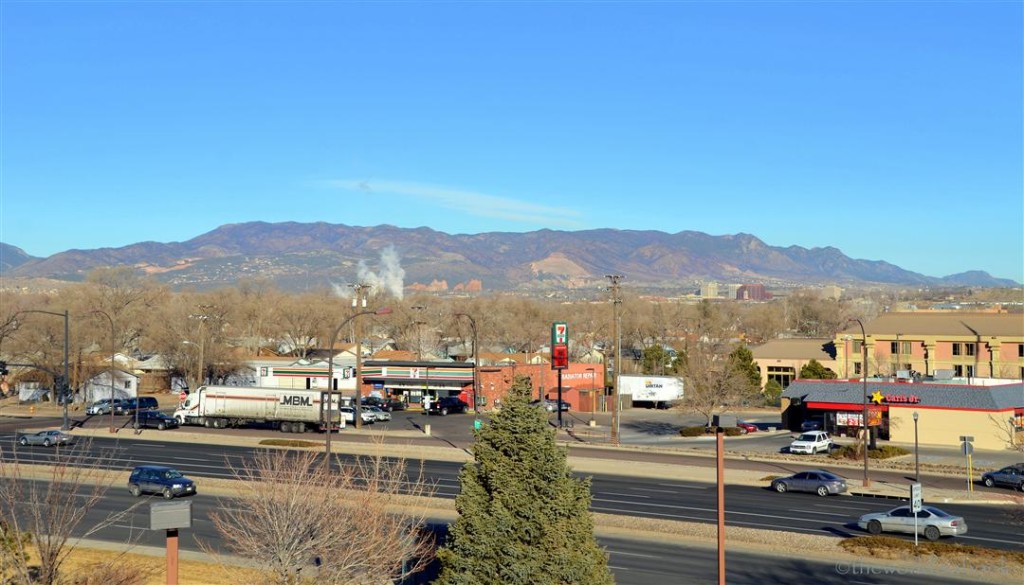 These  wonderful mountain views and the Garden of the Gods (a free park filled with beautiful rock formations that needs to be explored) were all in sight as we stepped off our balcony. It was worth standing out there in the cold to admire this scenic vista.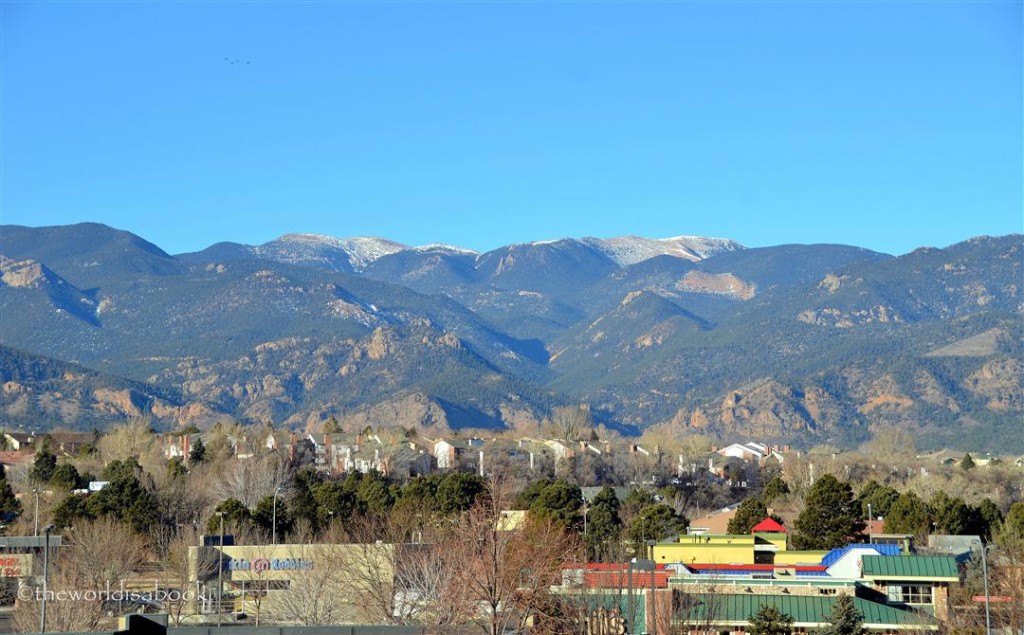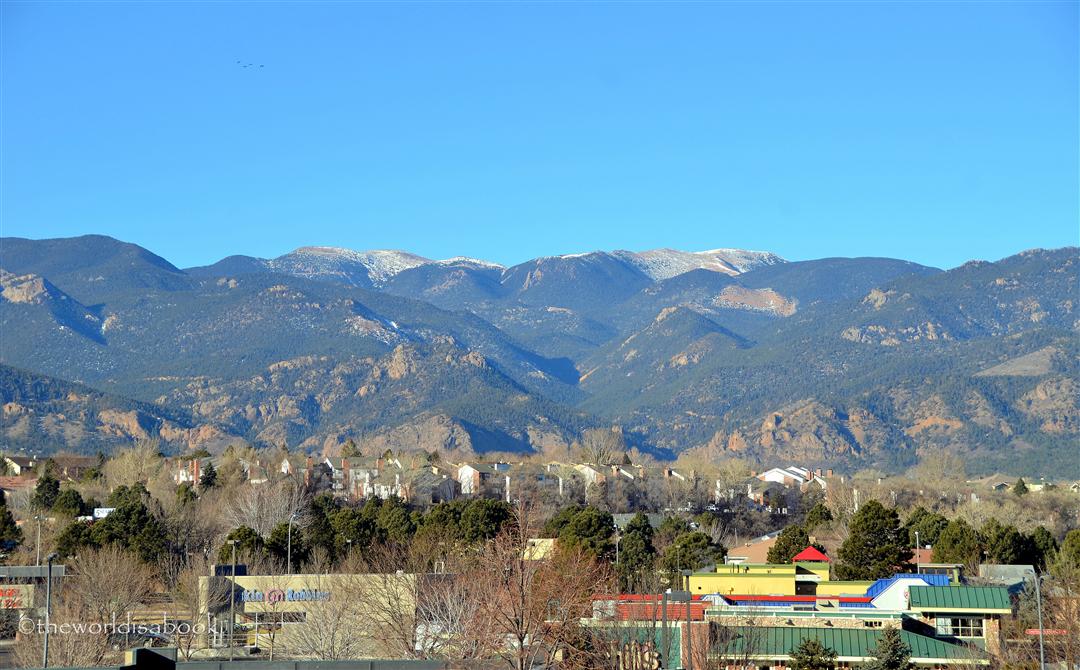 The Doubletree Hotel Colorado Springs is a big hotel with almost 300 rooms. It was wonderful to also find it with so many amenities for the family to enjoy. The spacious lobby opened into the atrium cafe, restaurant and lounges.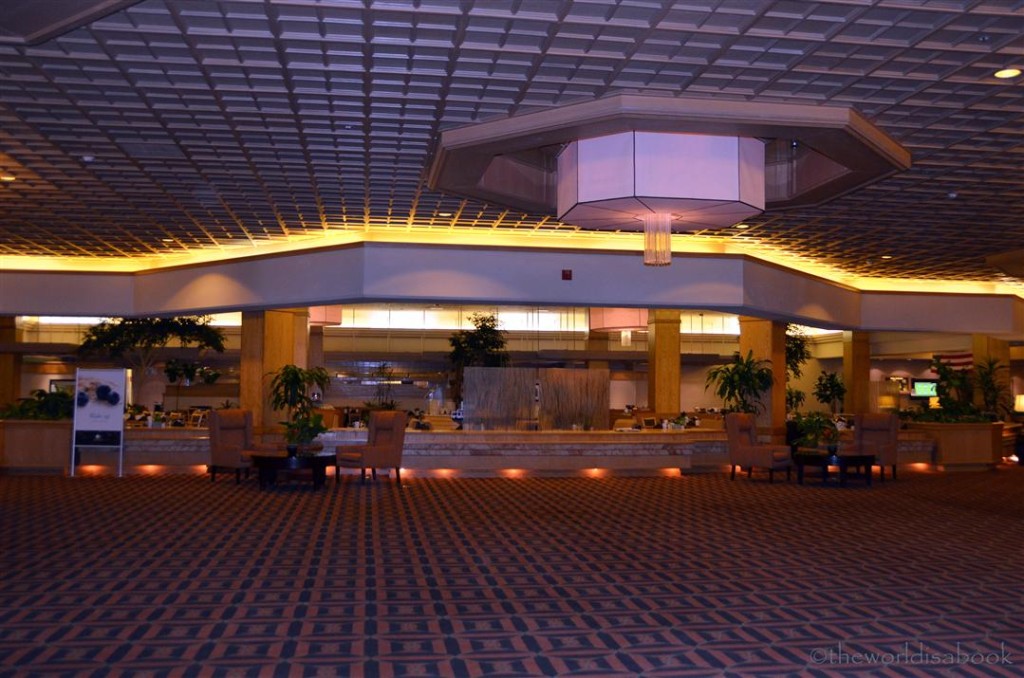 My kids headed straight to the wide screen TV on the wall full of information at the touch of the screen. It came in handy but they also had a small section full of brochures of the area's attractions.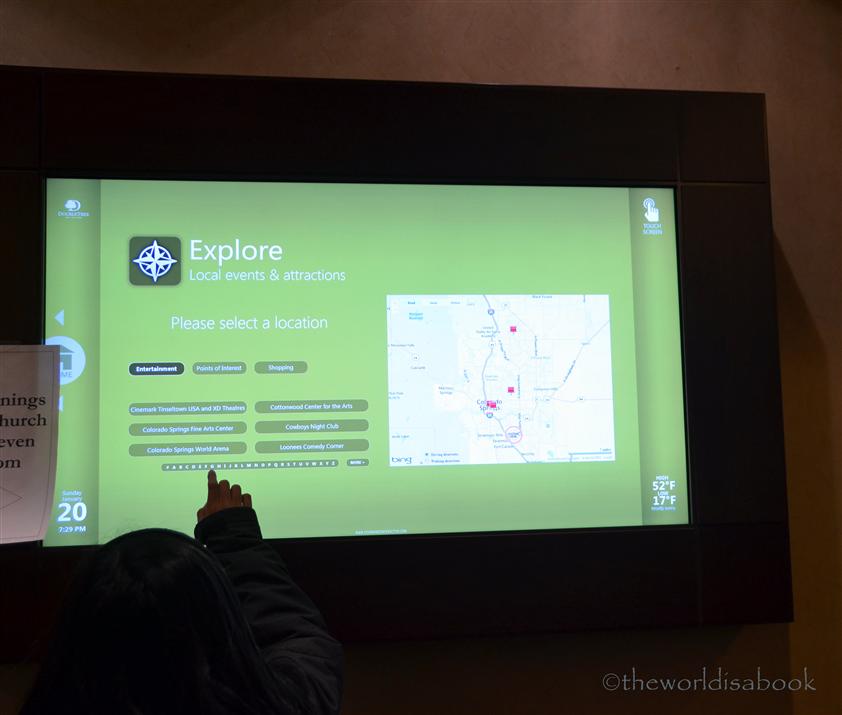 We found the indoor pool tucked in the lower level (it took us awhile to find it). It was heated, spacious and included a hot tub area. Unfortunately, we forgot our swimsuits which clearly disappointed my kids.
Next to the pool was a fitness center with two rooms and a lot of equipment. This was much larger than many I've seen in other hotels. There was even a small room with arcade games which my son desperately wanted to use. It was a nice touch and a rare find nowadays in hotels. Another surprising find was a laundry room which we would have gratefully used if we were staying for a few days.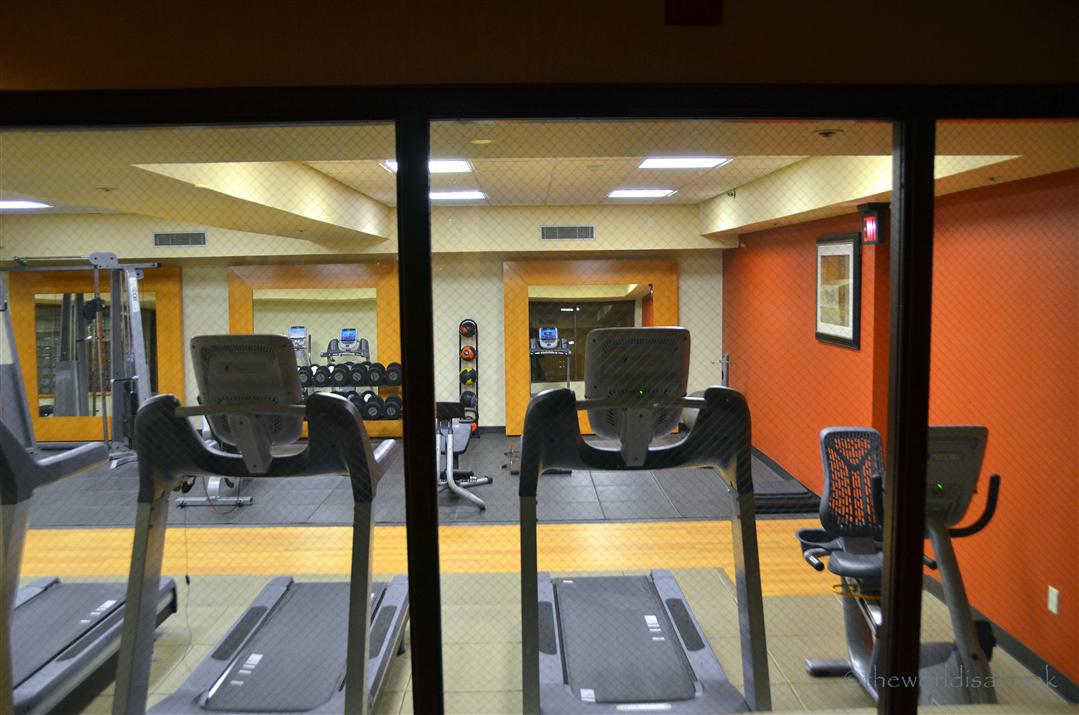 Our day at the hotel ended with breakfast at the atrium cafe. As HHonors Diamond members, we welcomed our complimentary breakfast with plenty of hot and cold options. Choices ranged from potatoes, eggs, bacon, green chile, assorted cereal, yogurt, pastries and fruit.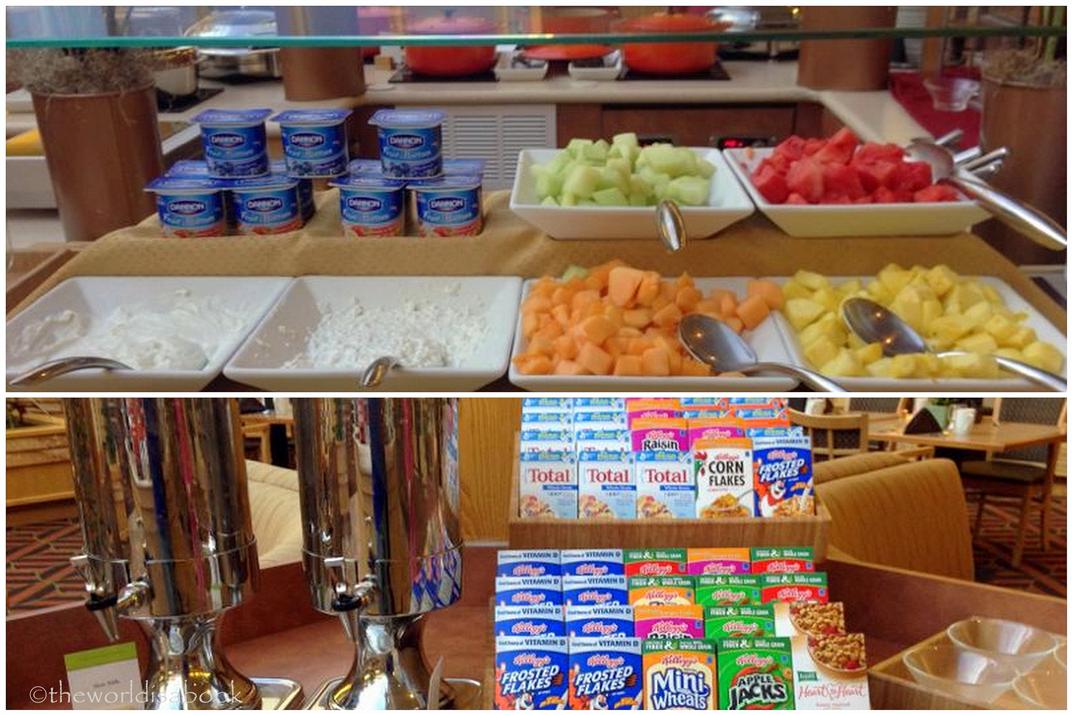 The Buffet stations were nicely set-up and laid out well. We liked that the food was not all lined up against a wall. They were located at various stations which made it easier for guests to access all the food.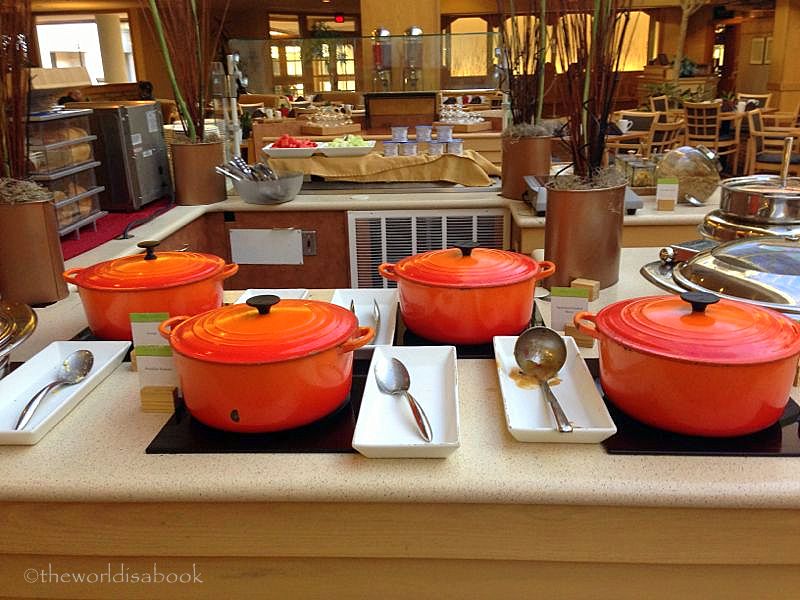 The Doubletree Hotel by Hilton Colorado Springs was a welcoming and convenient hotel with plenty of amenities which we thoroughly enjoyed. While it caters to business and leisure travelers, we were happy to find it also offered many pleasant surprises that made it a great family-friendly hotel.
Tips and Basics When Staying at Doubletree Hotel Colorado Springs
Request for rooms away from the freeway and with mountain or courtyard views.
Don't forget to ask for the breakfast buffet voucher if you're a Hilton Gold (or higher status) HHonors member.
Not all rooms contain a microwave and refrigerator so be sure to ask (if they're important to you) when making reservations.
Bring your swimsuits to enjoy the indoor heated pool or workout wear to take advantage of the nice fitness room.
Don't be shy..ask for the cookies during check-out too. They make great snacks for the drive or flight home.
The hotel is seven miles from the airport but shuttles are available.
Check the

Doubtree Hotel Colorado Springs website

for package deals and special offers.
Address: 1775 East Cheyenne Mountain Blvd., Colorado Springs, Colorado, 80906     Phone: (719) -576-8900
*Have you visited Colorado Springs or stayed at this Doubletree Hotel? 
My family and I were guests of the hotel. We were not financially compensated for this review.  All opinions and photos of Doubletree Hotel Colorado Springs are my own based on our stay.
Check out these related posts: