5 Fun and Free Things to do in Reykjavik Iceland with Kids
Iceland has a reputation among travelers as one of the most expensive places to visit. It is understandable considering its location in the Atlantic Ocean and mostly everything needs to be imported. Please don't let that deter you, though.
Two-thirds of Iceland's population live in its capital city of Reykjavik.  These are our recommended 5 free things to do in Reykjavik with kids from our visit last summer. It is a great homebase to explore parts of the island. With IcelandAir's free stopover in this spectacular country to/from Europe and many of its most beautiful outdoor attractions free, it is definitely worth a visit.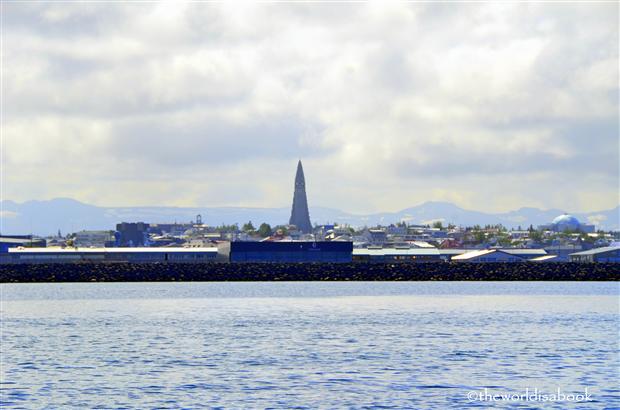 1. Old Harbour and Waterfront
Reykjavik's waterfront is a pleasant place for a family stroll. Kids can see the various ships of all sizes including their grey coast guard vessel which is the closest military presence they have used to defend their fishing waters. This calm and blue water here created some of the best reflections we've seen.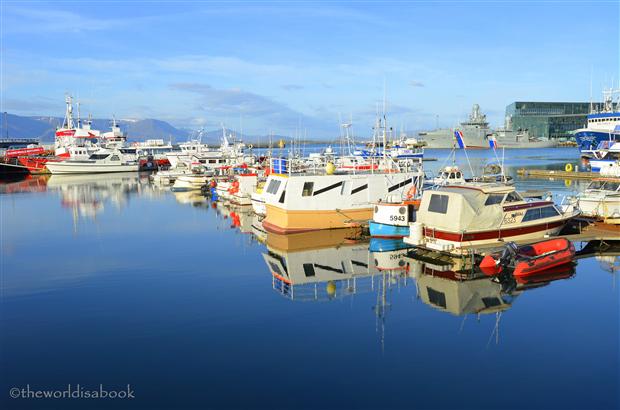 The Old Harbour's green houses once used by the fishermen has been preserved and now houses museums, shops and restaurants. This area is also where many of the whale, sightseeing and puffin tours are located. If the kids look hard enough, small fish can be spotted on the waters.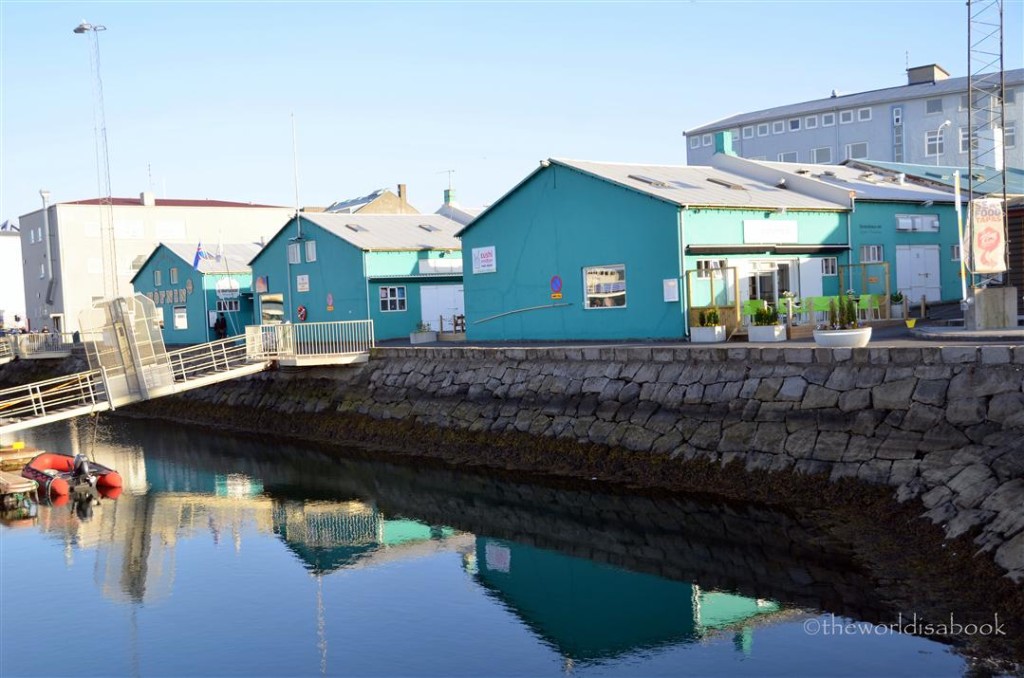 You can't miss the Harpa Reykjavik Concert Hall and Conference Centre nearby. This structurally enchanting building made of shimmering 10,000 glass windows is a sight to behold. Daily guided tours of the building are available for about 10Euro ($13.50 US). Be sure to walk along the path near here for a relaxing stroll with scenic views of the water and mountains.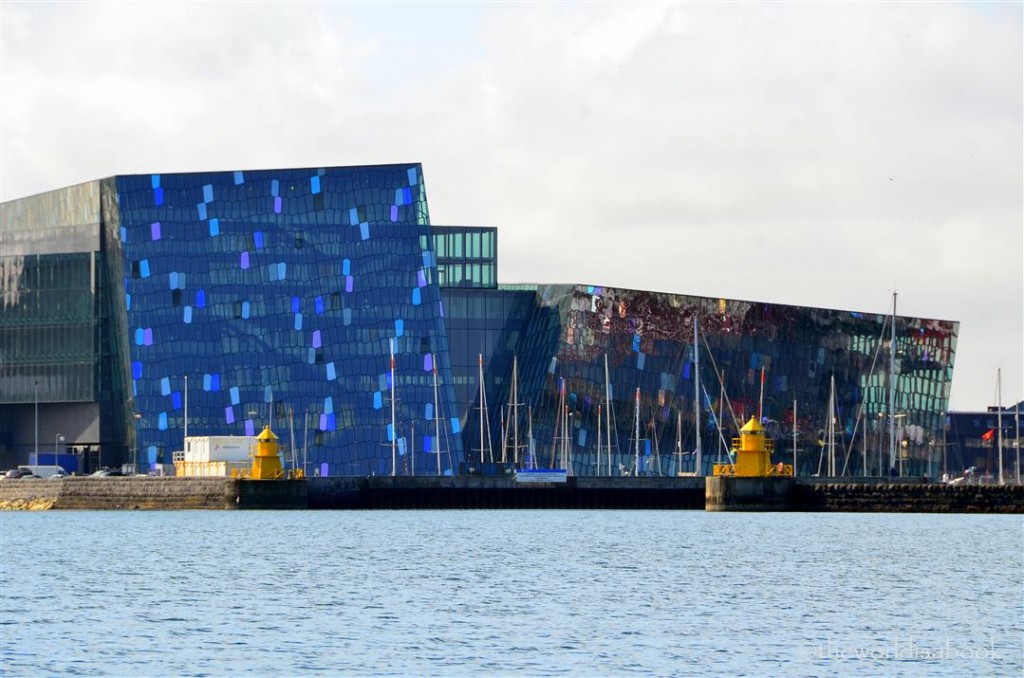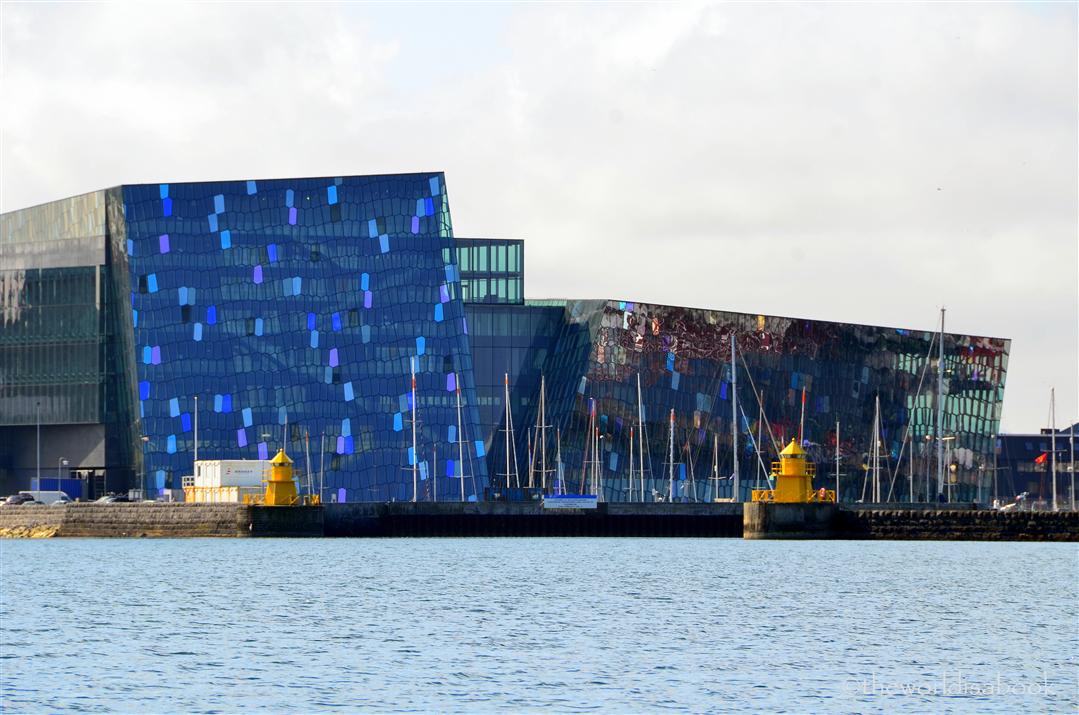 2. Hallgrimskirkja
Iceland's tallest building also happens to be a modern Lutheran church with a very distinctive architecture. My kids called it a rocket and I thought it looked like a space shuttle. Does it look ready to take off? Although, I've also read it was supposed to resemble a mountain of lava. The nave is usually open during the day for visitors to explore. Its interior was minimalistic with a lot of light streaming in.
While entering the church is free, there are minimal fees (about $5) to go up to the tower for a grand view of Reykjavik. Kids have free admission. It was worth the trek up to see Reykjavik laid out with its colorful rooftops and panoramic views of the city.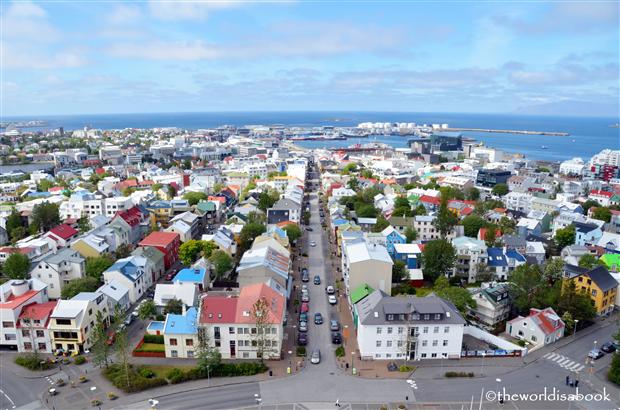 Marvel at the architecture but also walk around the grounds outside. The front of the church has a huge statue of Scandinavian Viking, Leif Ericson, a gift given to Iceland by the US in 1930.
We found some kids using a small part of the statue as a slide. It wasn't long before my kids joined in. It goes to show kids can find joy even in the most unlikely structures.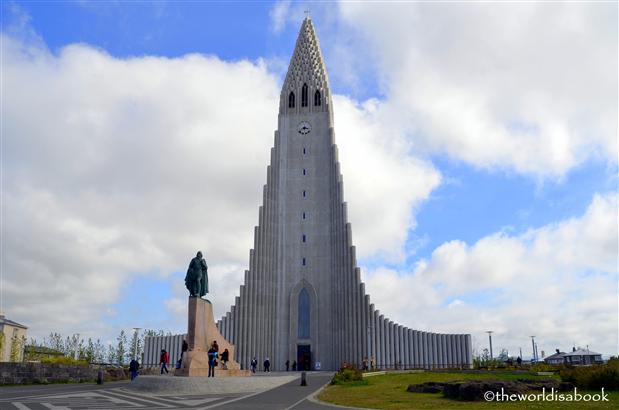 3. Street Art
Reykjavik is a small enough city that it is easy to walk around with kids in the city center. We were pleasantly surprised to find many walls and buildings decorated with creative and quirky murals and interesting sculptures along some sidewalks.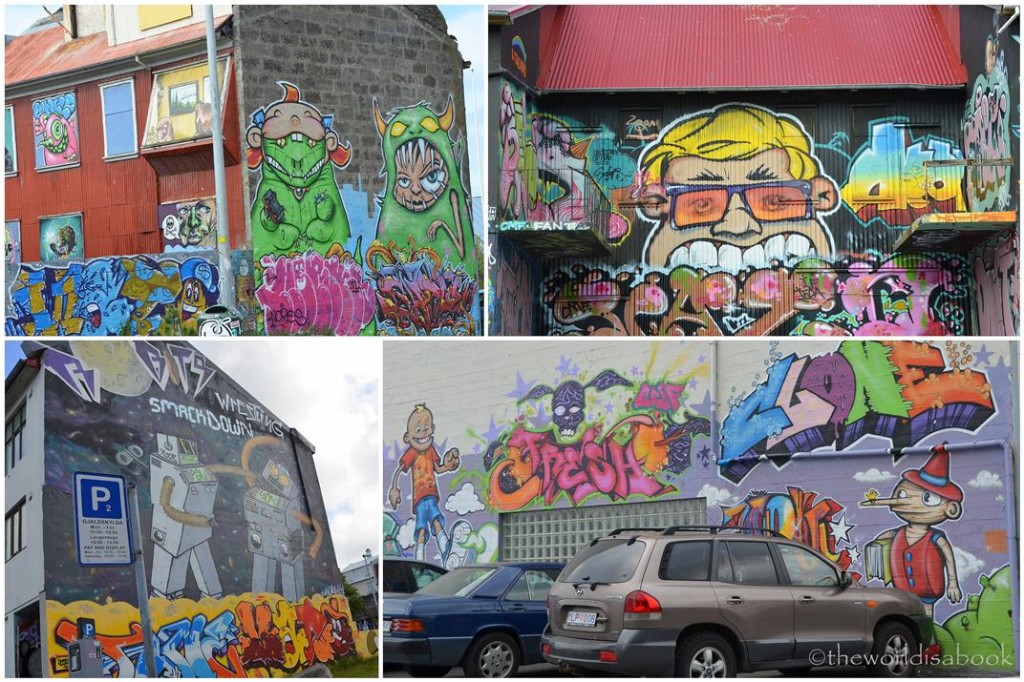 But, we saw a majority of the murals on Reykjavik's main shopping street of Laugavegur. We stumbled upon a square on one of the side streets surrounded by vibrant and colorful murals and graffiti. While a car is necessary to tour much of the outlying parts of the country, this central area was best explored on foot. You never know what you'll run into on the sidewalks.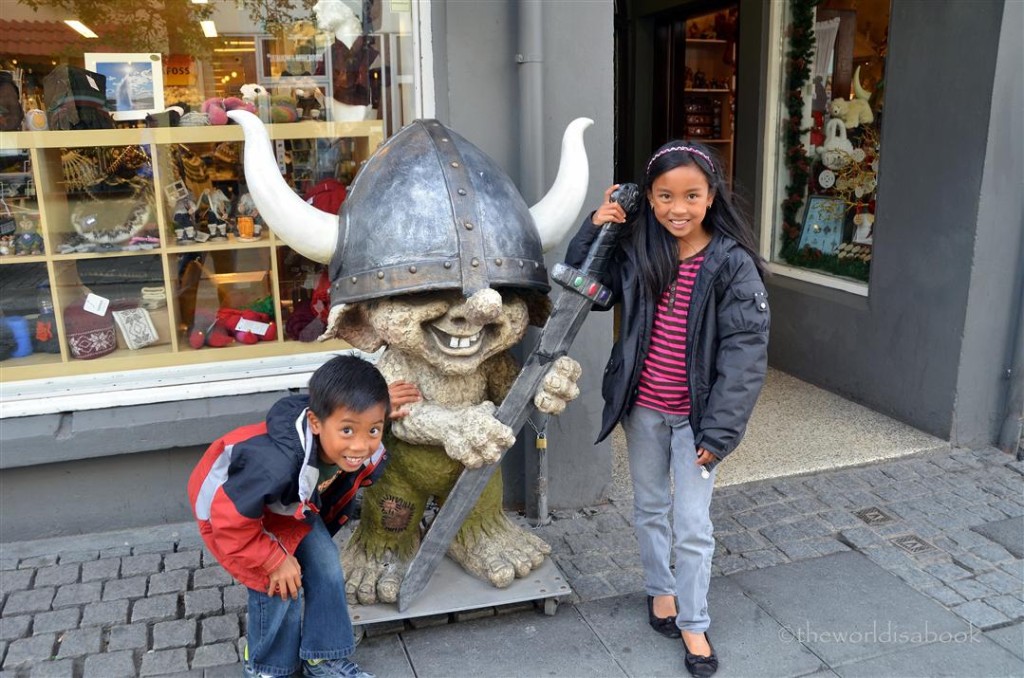 4. Parks and Gardens
For a country known for its short days and long winters, there were actually quite a few parks and gardens in Reykjavik perfect for families.  Austurvöllur is a small park located in front of Althingi, the parliament building and popular with picnickers and lined with cafes. Reykjavik's lake known as Tjörnin (the Pond) was filled with ducks, geese and swans perfect for kids to feed.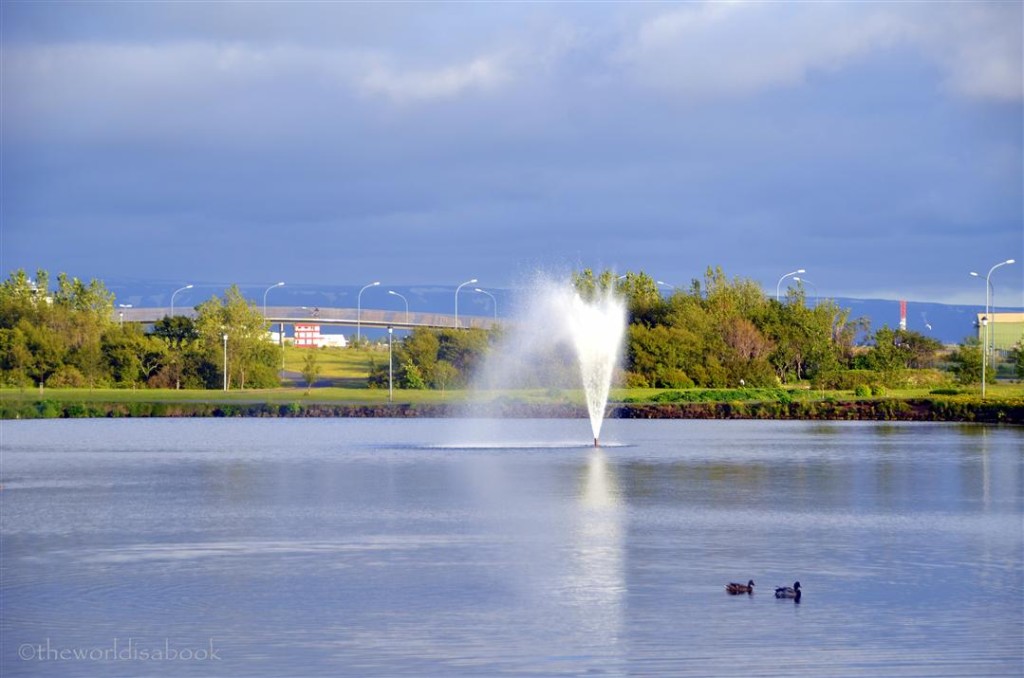 Sadly, we missed the Grasagarourinn I Laugardal (Botanical Garden) with many labeled plants, ponds and themed gardens. Another local favorite on Rekyjavik's outskirts is Ellioavatn Gardens with a large lake and some Viking remains onsite.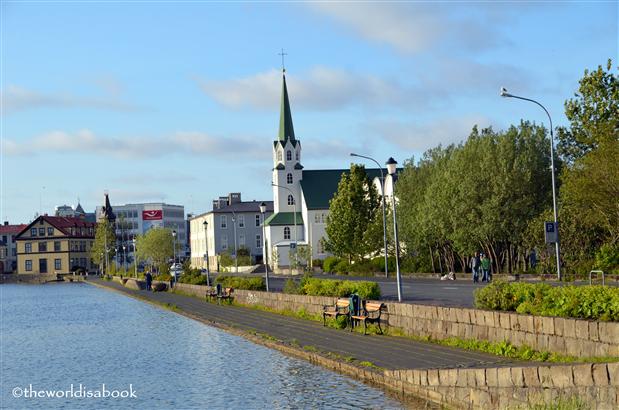 5. Perlan
Perlan (The Pearl) was another eye-catching building overlooking Reykjavik.  This glass and steel dome built over six large water tanks contained four million liters of natural warm water providing heat to the city.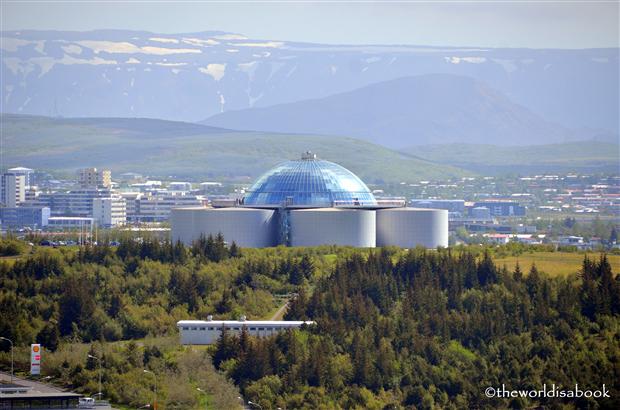 The fourth floor level has a free balcony and viewing platform for guests to see panoramic views of Reykjavik and the surrounding area. Unfortunately, we didn't get a chance to go outside.
The top floor has one of the world's top revolving restaurant and from what we've read worth the splurge. The ground floors contain shops and the Saga Museum which featured wax Viking figures (admission fees apply). A couple of them were displayed outside and looked a little too realistic and creepy.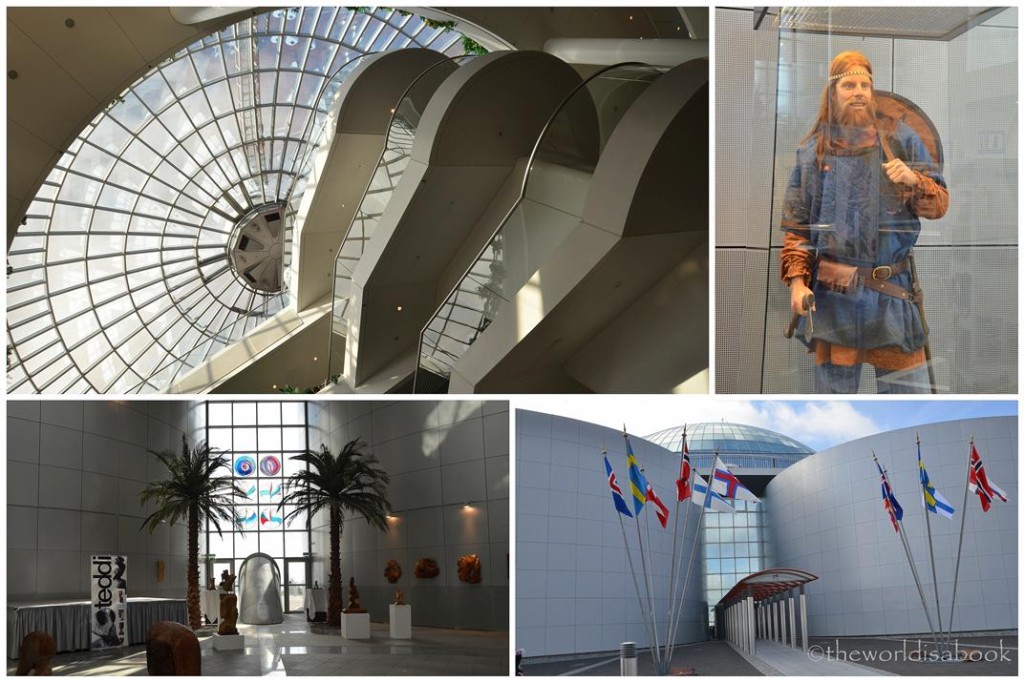 My kids enjoyed imitating the musician statues, another example of fine Reykjavik artwork, in front of the Perlan. Walking distance from the Perlan is Reykjavik's only beach, Nauthólsvík.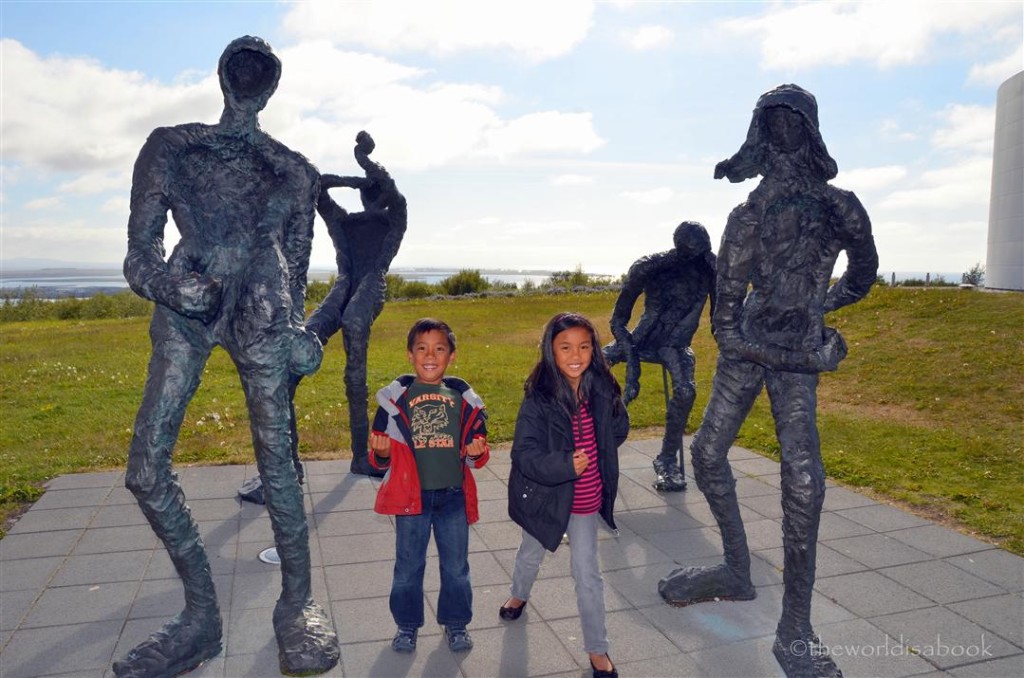 *Have you visited any of these free Reykjavik attractions? Any other free attractions you'd like to add?
Related Posts:
Where to Stay
Car Rntals
Flights/Vacation Packages
Pin it for later!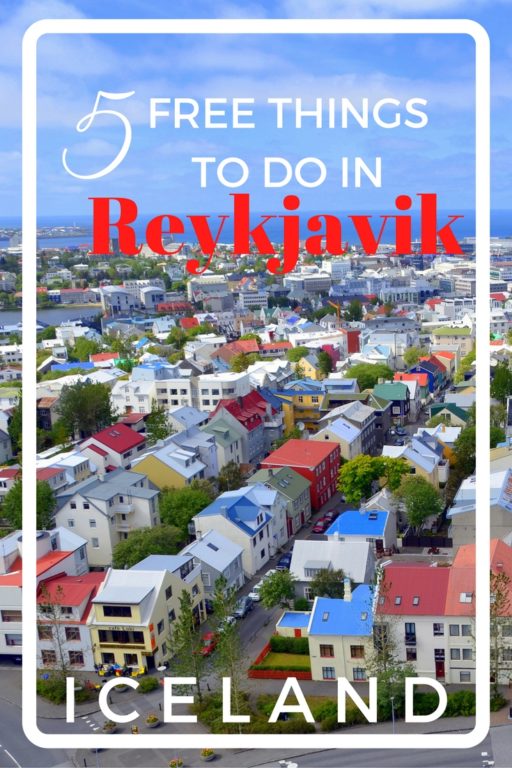 This is a part of a series called Five Free Family Friday.  I hope this will grow into a collective guide of free family-friendly attractions of places all over the world.  If you'd like to contribute with the free attractions in your home city, I would love your guest posts.