Vatican Papal Audience: Our Close Encounter with the Pope
One of the questions we were often asked after our Rome trip a couple of years ago was "Did you see the Pope?".  We have happily answered "Yes" when we attended the papal audience at the Vatican. The surprising and recent resignation announcement of Pope Benedict XVI, the spiritual leader of 1.2 billion Roman Catholics, finally prompted me to do this post that has lingered in my memories.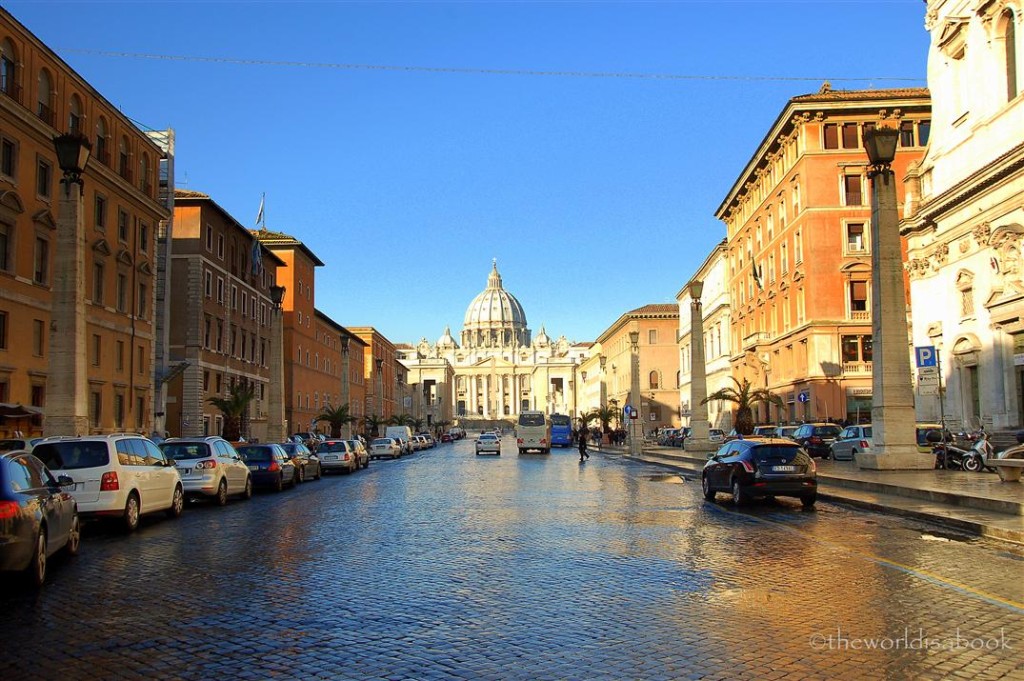 One of our goals during our anniversary trip, while in Rome, was to see the Pope. It was just one of those things on a Catholic's travel wish list. I'm so glad we did because it was one of the most memorable experiences I've ever had in my life.
The papal audience is held every Wednesday if the Pope is in Rome. This was usually held at the square in front of St. Peter's Basilica. During our visit in late November, it was held indoors at the Hall of Pope Paul IV or Sala Nervi on the left area of the basilica.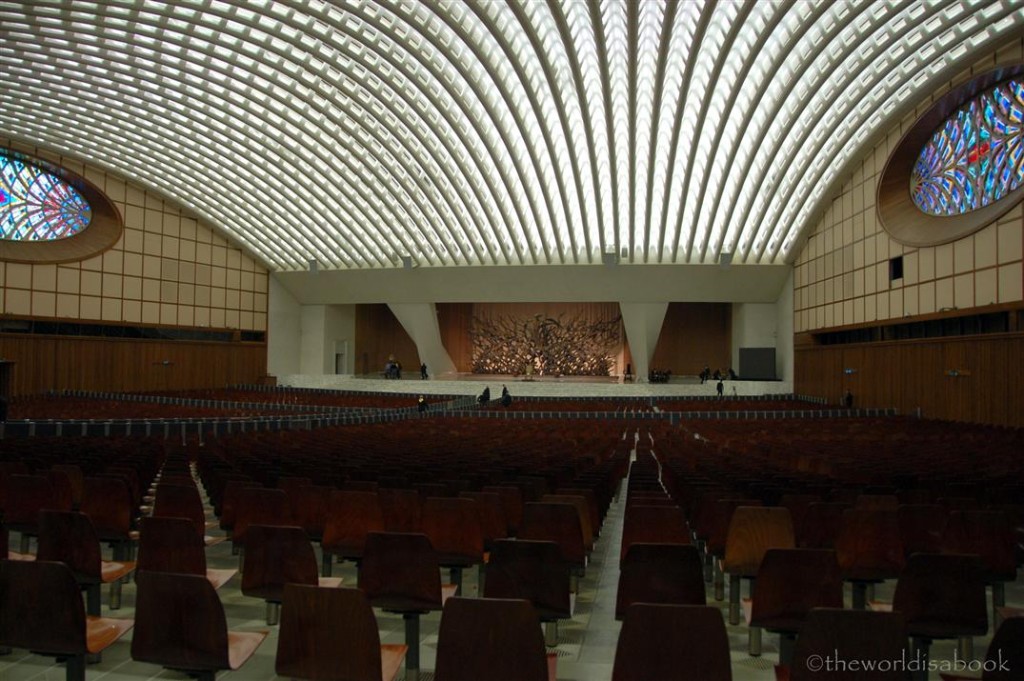 Attending the papal audience is free but tickets must be requested in advance through the Vatican or various churches. We got to the hall around 9 AM even though things didn't start until 10:30 AM. We were ushered into a section based on our ticket. It was open seating for each section which was a relief. I've heard and read that people get to the square very early when held outdoors, and people run to get the best seats when the gates open. I can just imagine that wild scene.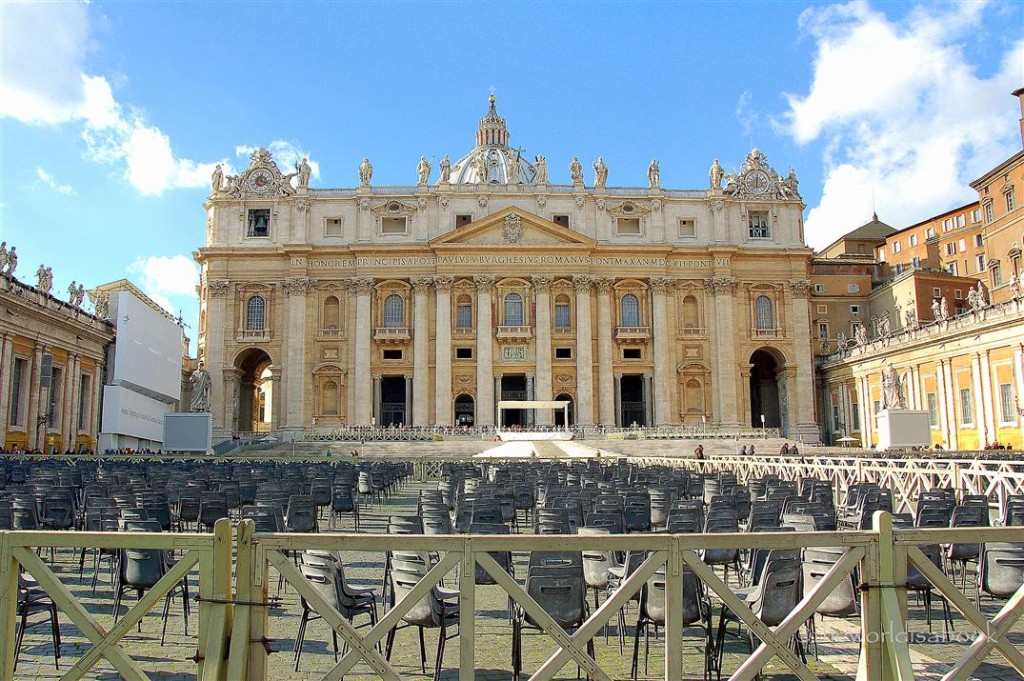 We weren't too happy with our seats though. As it neared the time for the Pope's entrance, we found an unguarded gate and made our way closer to the front. We found two empty seats with a delegation from Brazil. They welcomed us and we became part of this Brazilian group despite looking so out of place but grateful we were able to sit closer to the stage.
While we were waiting for Pope Benedict's entrance, various groups from all over the world spontaneously belted out chants and songs. The energy was infectious. It was remarkable to see how dedicated these groups were and how far some of them traveled on these pilgrimages.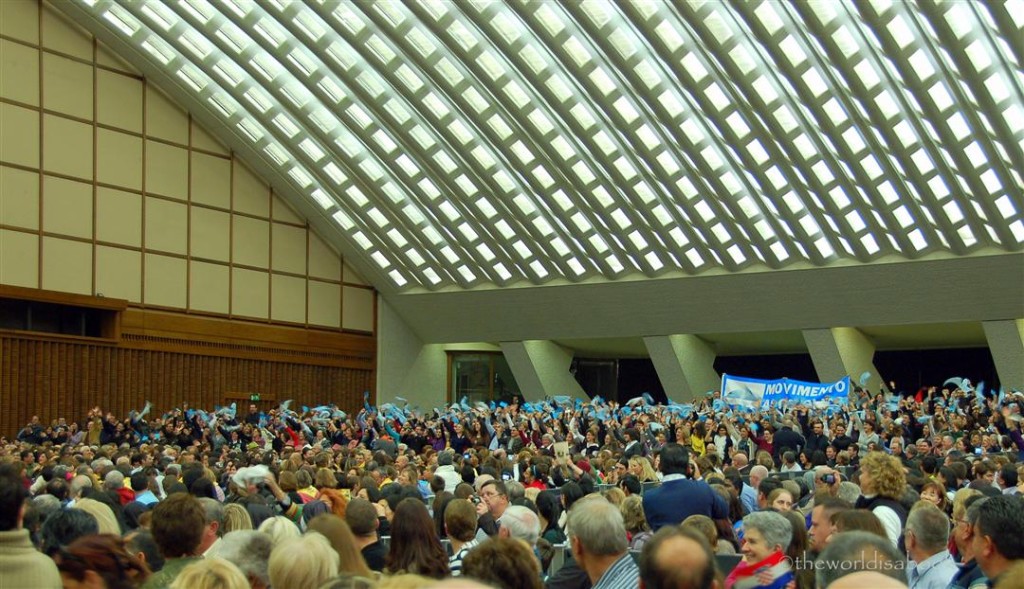 When the Pope entered, the crowd's noise and cheers were deafening. It was like attending a rock concert or a really huge rally with crazed fans. The noise seemed magnified within the wall's confines. There was a lot of screaming, clapping, crying, jumping up and down and waving – men and women of all ages. It was fascinating to watch.
The Pope greeted everyone in multiple languages. Two huge screens were on each side of the screen for some close-up shots. There was a brief prayer and sermon on the life of St. Catherine of Siena. Most of it was in Italian and then translated to English, Spanish, French and German.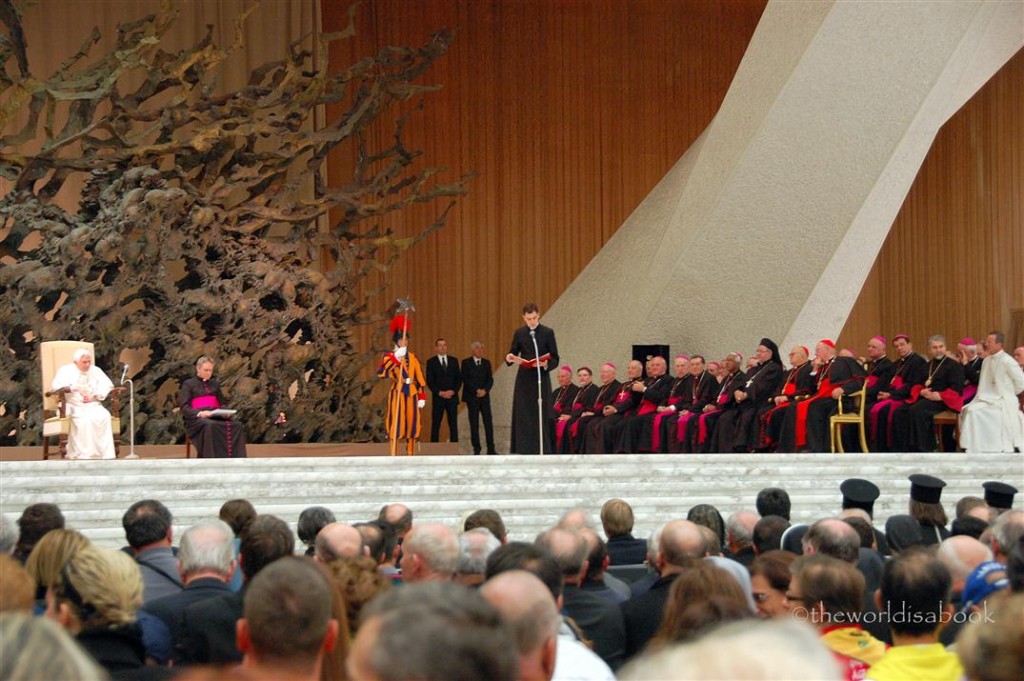 A majority of the time was spent acknowledging the various groups present. The groups were announced by languages. As they were called,they stood up, waved flags, banners and colored cloths. Then,  they broke out into short songs or cheers for the Pope.
A group from Oakland, California, dressed in choir uniforms, sang a song. They were the only ones I was able to capture on video and now remember fondly. Some were dressed in their native costumes like the Japanese delegates wearing their kimonos, and some from African nations wearing their traditional attire.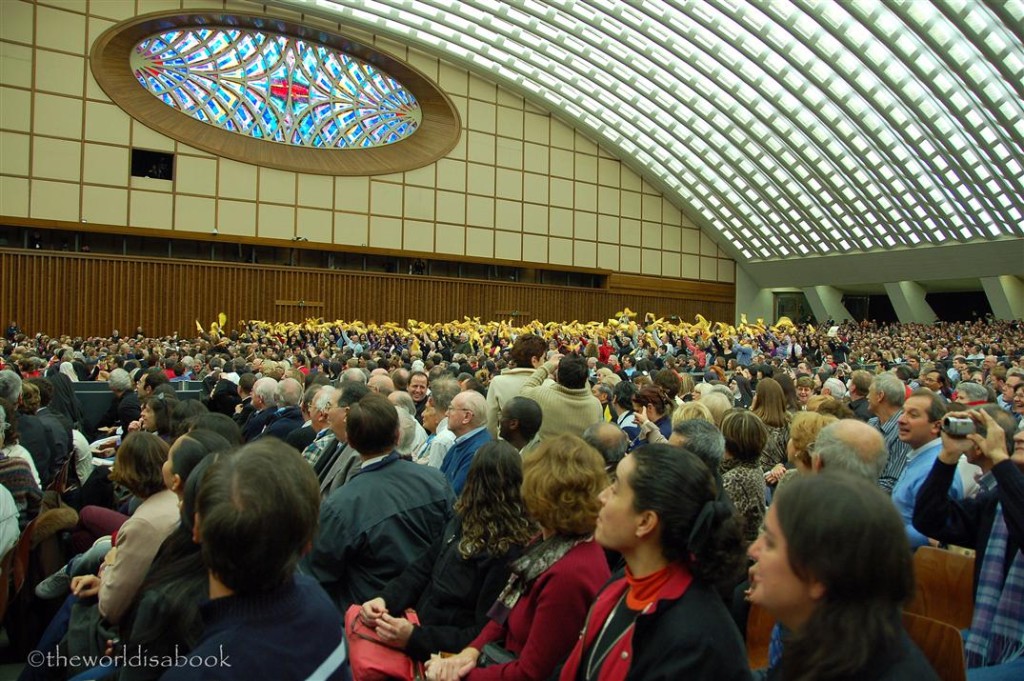 Looking around, many people had this starstruck look in their eyes as we sat there mesmerized at the Pople. There was this overwhelming sense of disbelief that we were actually staring at the Pope in person and hearing his gentle voice over the microphone – LIVE.
The papal audience event ended with the singing of the "Our Father" prayer in Latin. No worries since the words are printed on the back of the ticket. It was actually pretty neat to follow it along in Latin. The Pope then gave his blessings to any religious objects brought from home. This blessing is also extended to the loved ones who are sick or suffering.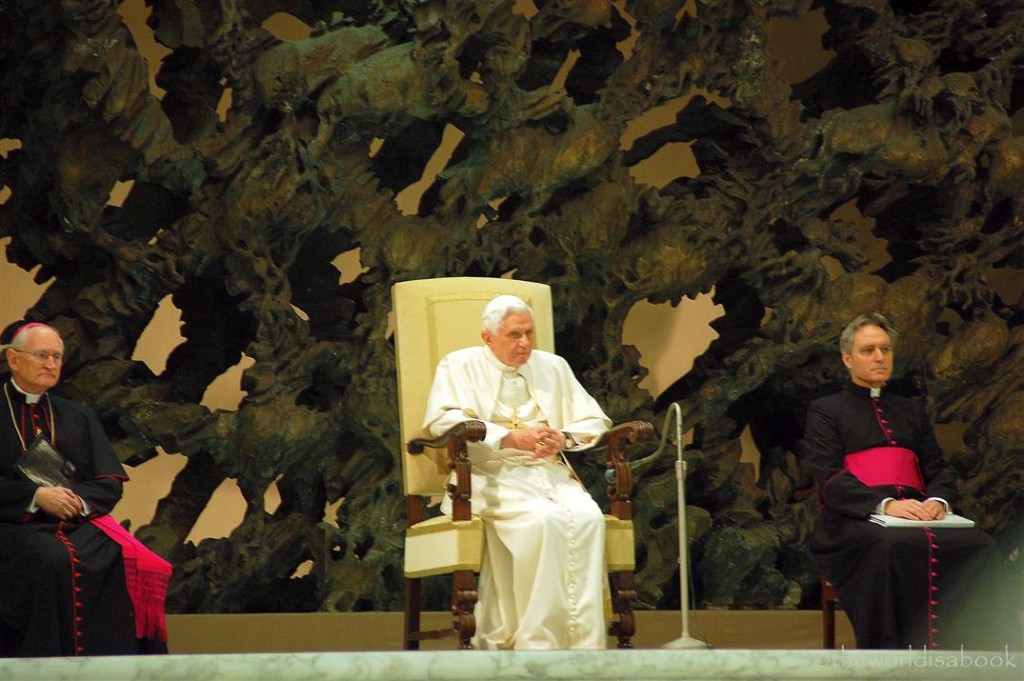 Then, we sat there and watched the distinguished robed guests of Cardinals and Bishops line up to greet the Pope. Some lucky people with gifts also had the chance to meet him. I'm not sure what steps have to be taken to accomplish this private encounter.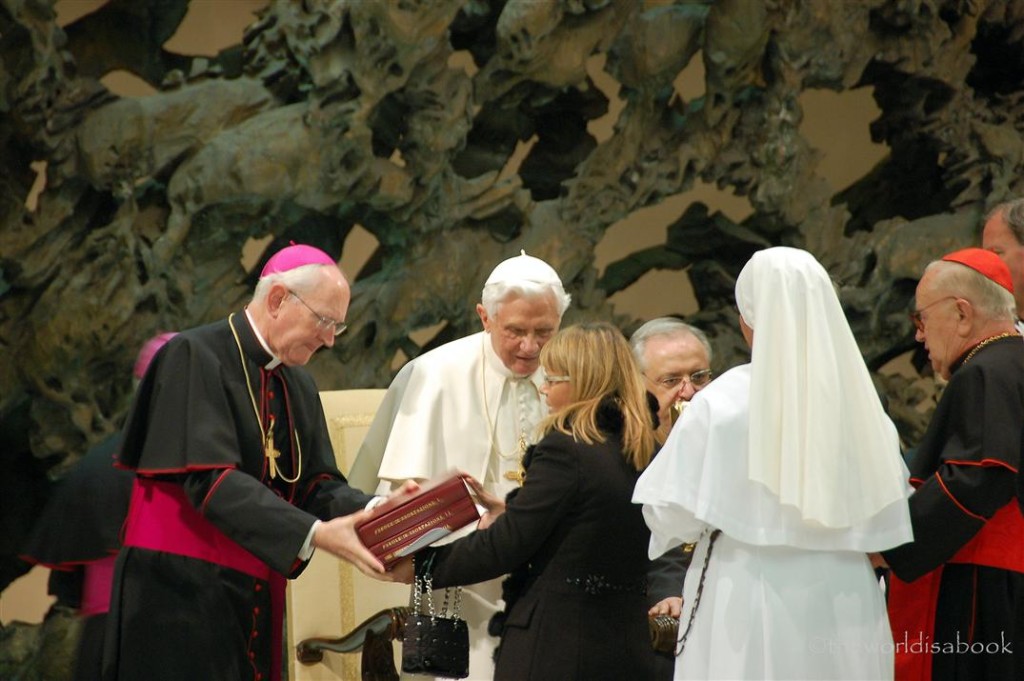 We made our way to the front when the meet-and-greet was winding down and people started leaving. No one stopped us as we moved closer and stood by the barricade to the steps.
We were rewarded with this priceless photo as Pope Benedict exited. I think he saw some of us frantically waving. He looked straight at us and smiled and waved. At least, we hoped he was looking at us. We'd like to think we made eye contact with the Pope.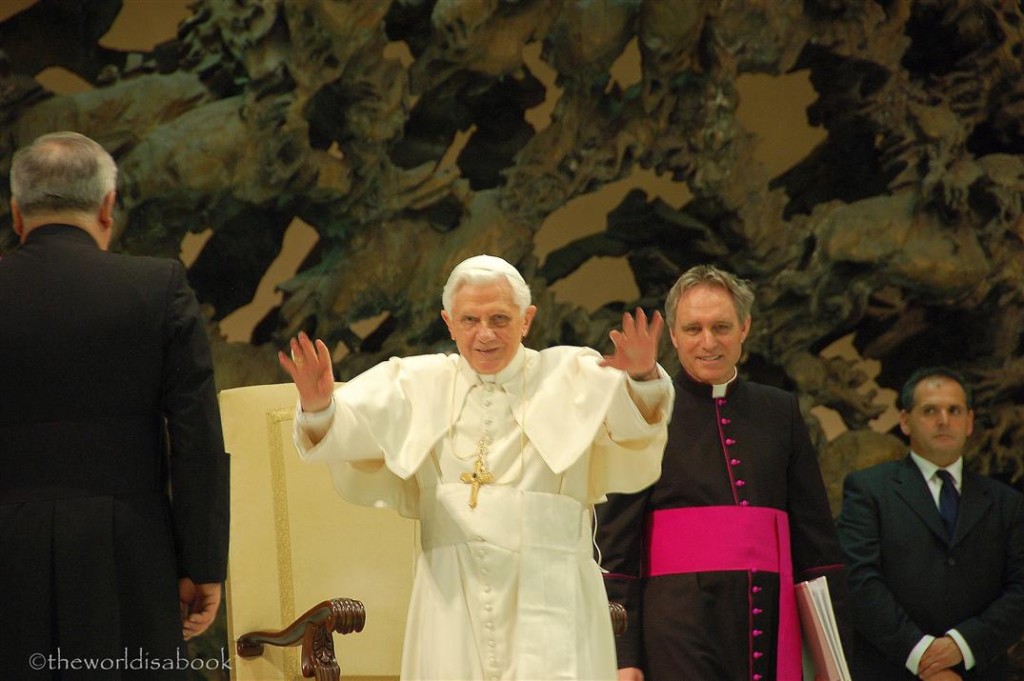 One of my other treasured photos from this trip was with the Papal Swiss Guard. As we were leaving, he greeted my husband and me in Tagalog (the Philippines' national language). We were taken aback and quite impressed because it was so unexpected and because he recognized us as Filipinos. Throughout my adult life, I have been mistaken as a member of every other Asian ethnic group (even by my fellow Filipinos) so that really was a pleasant surprise.
Below is my tourist picture with that friendly guard. I guess we weren't supposed to take pictures with them while they're on duty but he said we could do so in a hurry before other people came. I'm really not that short. He was just really tall. Do you know those colorful uniforms weigh about 8 lbs? 
What caught my interest and what I found amazing throughout that whole event was how people reacted to the Pope. Many of us acted like the paparazzi with our iPhones and cameras trying to get the best shot.  But, it was the people who were brought to tears, those hopeful ones who held bibles and rosaries in hand for a blessing, and those excited and elated faces during this blessed event who made that whole visit much more special.
It was very emotional and moving and as a Catholic, a privileged experience. But no matter what your religious belief may be, we highly recommend attending the papal audience which could very well be a trip highlight. It was for us, and we would gladly do it again especially with a new Pope in residence soon. Farewell and Best Wishes Pope Benedict XVI!
Vatican Papal Audience Tips and Basics
Free tickets can be obtained from the

Papal Audience website

or from the

Church of Santa  Susanna

 in Rome.
We got our tickets from the

Bishop's Office for US Visitors to the Vatican

since it was easier to pick up with our itinerary.  We emailed them a couple of months before our visit and picked up our tickets the Tuesday before at their office near the Trevi  Fountain.  Tickets must be picked up in person.
Unreserved tickets are also available (for requests of less than 10 tickets) with the Swiss Guards at the "Bronze Door" at St.  Peter's Basilica.
Visitors can also see the Pope and receive the papal blessing on Sundays at noon when he appears from his window apartment  overlooking St. Peter's Square. This one lasts approximately 15-20 minutes.
Dress appropriately with casual, modest attire. Ladies should have shoulders covered and skirts must fall below the knees. No  shorts.
During the summer, bring hats, sunscreen and water when attending at the square.
Arrive early to get good seats in your section when indoors or by the aisles where he may pass when on the popemobile at  the square.
Look out for empty seats closer to the stage as the event gets underway. It doesn't hurt to ask and it paid off for us.
Don't forget to bring rosaries or sacred objects from home for the papal blessing.
The indoor ceremony we attended lasted 1.5 hours but the outdoor one has been known to last way over two hours. We didn't have  our kids with us and barely saw any there. With kids in tow, bring something to keep them busy, fed and hydrated.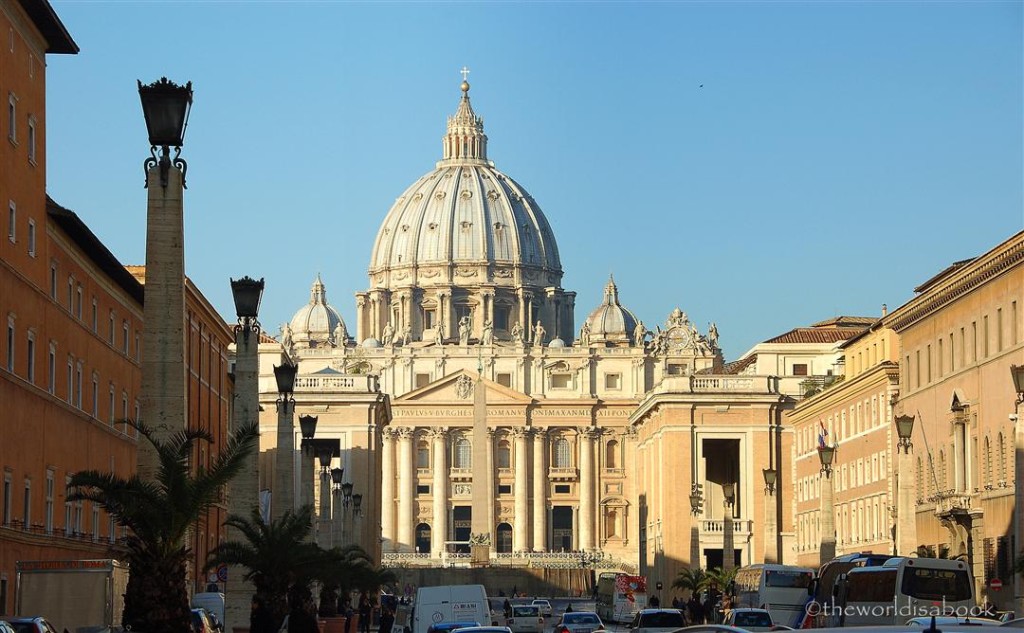 *Have you attended the Papal Audience? If you haven't, would you attend it?
This post is part of Travel Photo Thursday at Budget Travelers Sandbox , Friday Daydreaming at R We There Yet Mom? and Photo Friday at Delicious Baby.  Do some armchair traveling and please visit the sites for other travelers' wonderful photos and posts.
Check out these related posts: