Wacky Seuss Landing at Universal Studios Florida
"From there to here, from here to there, funny things are everywhere!"  – Dr. Seuss, One Fish, Two Fish, Red Fish, Blue Fish
Dr Seuss' popular books have played a big part in my kids' childhood and started their love for reading. One of the areas we looked forward to seeing at Universal Studio's Islands of Adventure in Orlando, Florida last year after Wizarding World of Harry Potter was Seuss Landing. This Saturday (March 2) is Dr. Seuss' 109th birthday and also the start of the annual Read Across America campaign week. So, it's good timing for this post.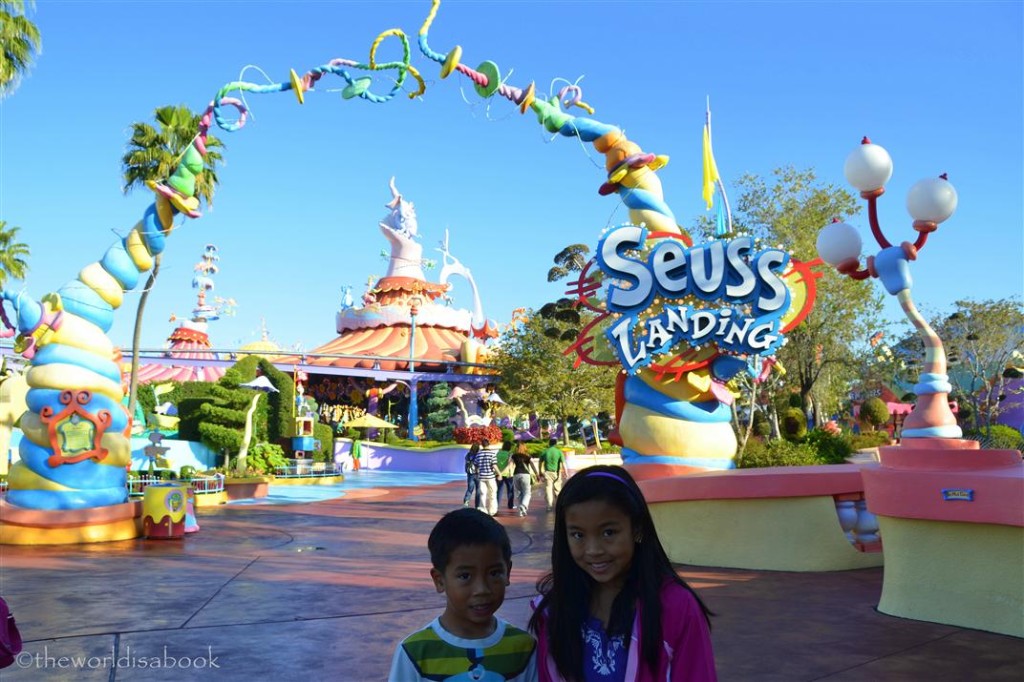 Indeed, "funny things" were everywhere! This 10-acre land filled with rides, shops and eateries was based on Dr. Seuss' children's books. It was visually stimulating, whimsical, quirky and creative all rolled into one with an explosion of color. The color palettes of bright pastels and primary colors stayed true to the books.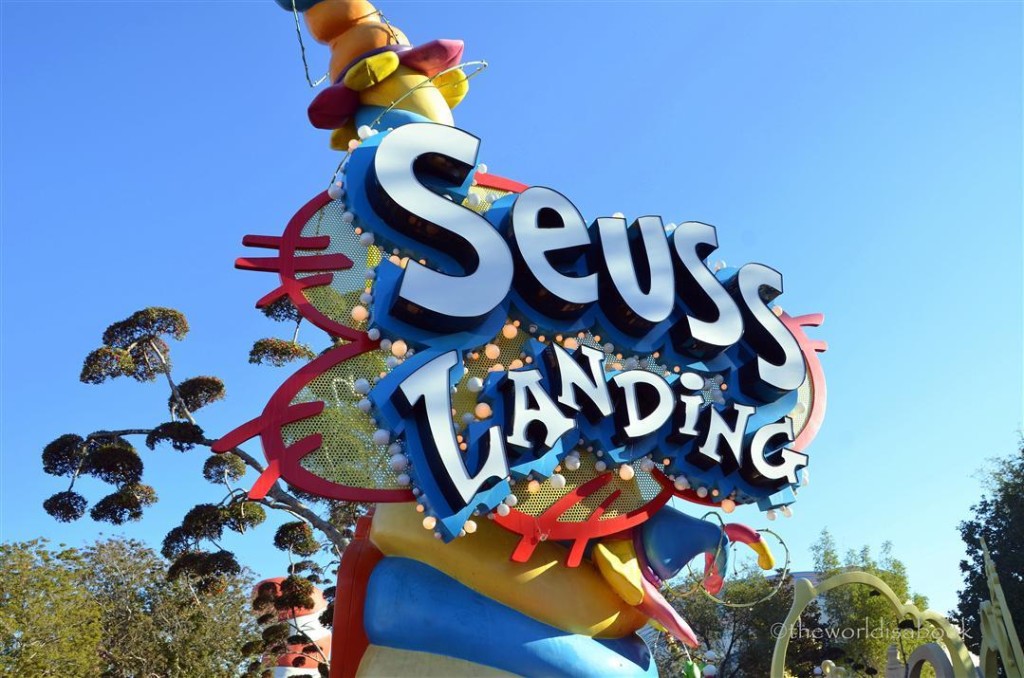 The books and characters come alive here. It was like stepping into the wonderful, wacky world of Dr. Seuss. The whole area was designed with barely any 90-degree angles or straight lines. Curves and whimsy were everywhere from street lamps to crooked rails.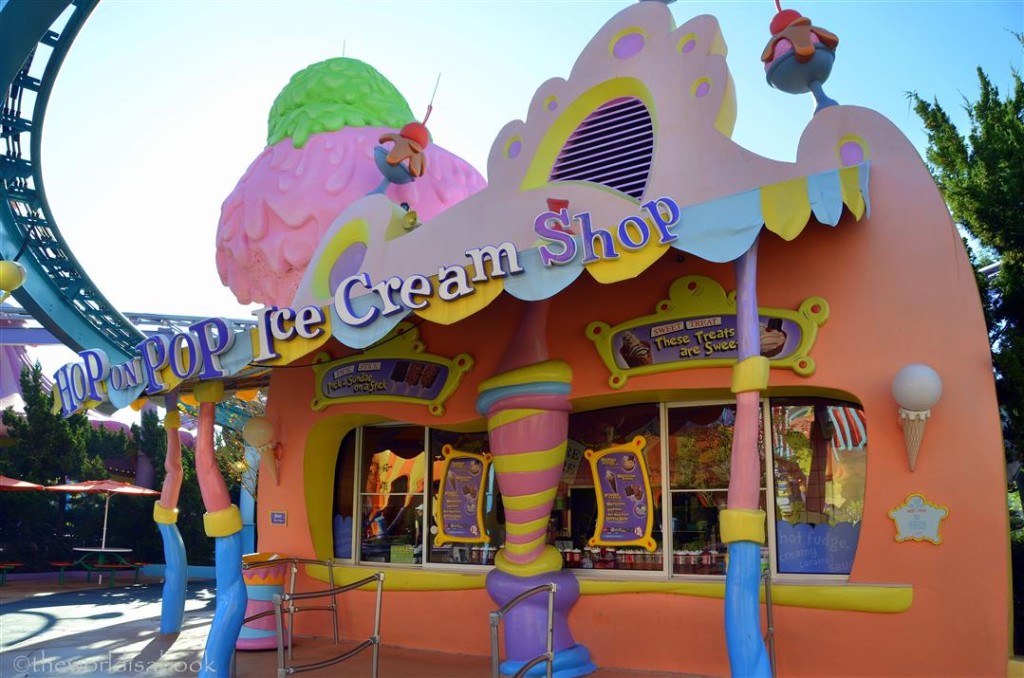 Look up and you'll see the palm trees are bent too. Mother Nature helped courtesy of Hurricane Andrew in 1992 which gave the trees its curves.  These trees survived the hurricane and were brought here for extra "seussian" touches.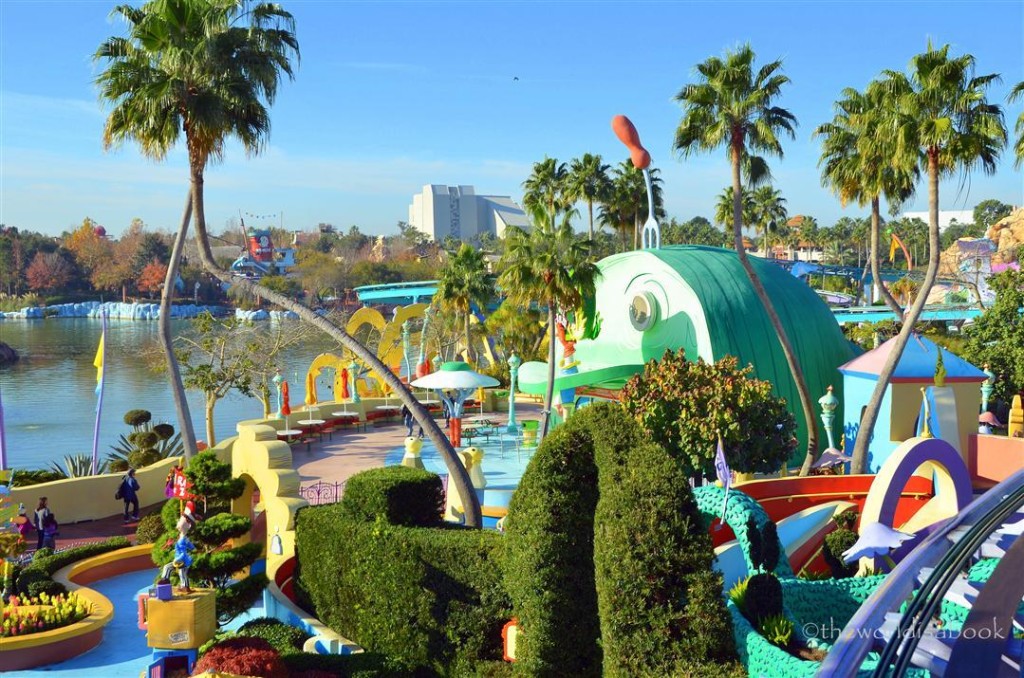 I'm glad we brought the kids here when they were 9 and 6 years old last year. All the rides were appropriate for kids 10 and under. I'm not sure Seuss Landing will go very well with them five years from now. It's a stark contrast to the dark and more adult themed lands of Harry Potter and Marvel Comics nearby. With only four rides here, it was surprising to find barely any lines on any of them.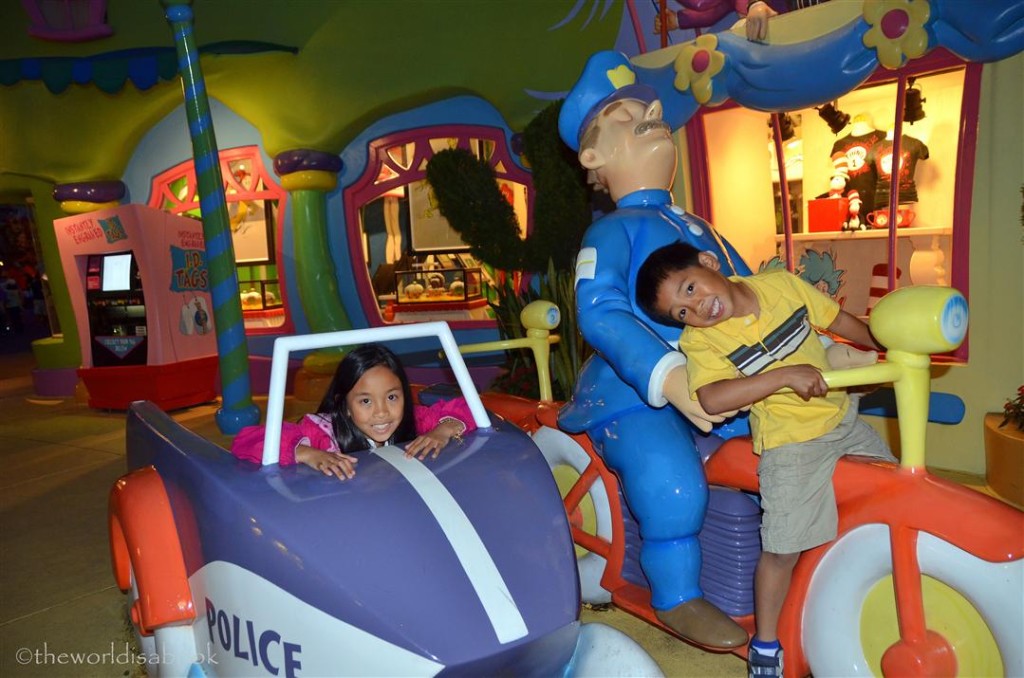 Seuss Landing Rides and Attractions
The Cat in the Hat ride was a popular one with a 31-foot hat outside and 120 ride effects inside. We rode this twice because my kids were certain they missed things. It was fun to watch their reaction as their eyes lit up when we were transported into the pages of a beloved book we've read countless times.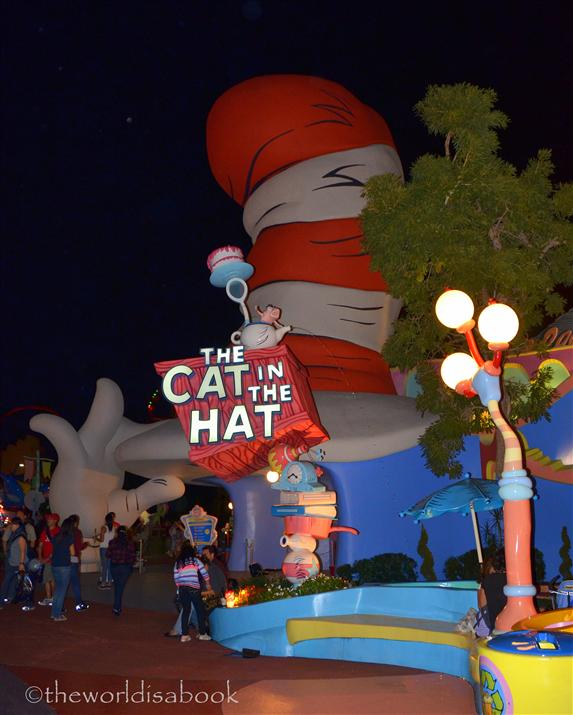 We rode on plastic couches and were spun every which way with animatronics and bright graphics on a whirlwind tour of the story. So, be aware if anyone is prone to motion sickness. Please don't ride this after eating lunch too.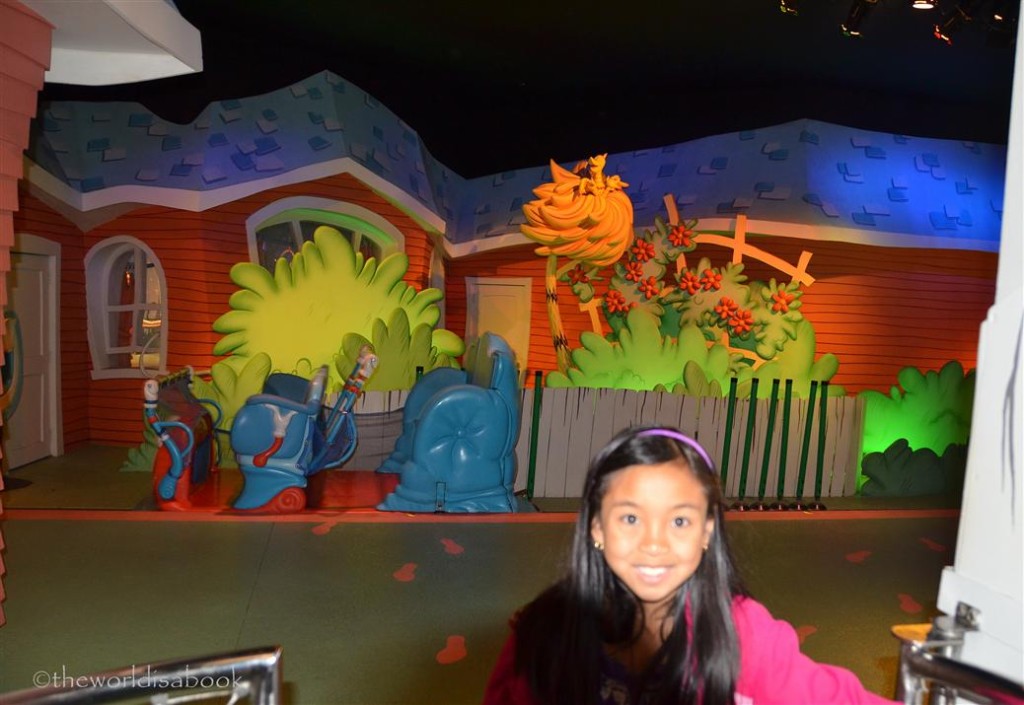 This wouldn't be a kid's theme park without some type of carousel. Caro-Seuss-el is this park's version which included many of the animals that appeared in the books like the elephant-birds(Horton Hatches the Egg), cowfish(McElligot's Pool) and twin camels (One Fish, Two Fish...).  You won't find a carousel like this anywhere else. In addition to the unique animals, riders can move the animals' heads and make the fish eyes blink.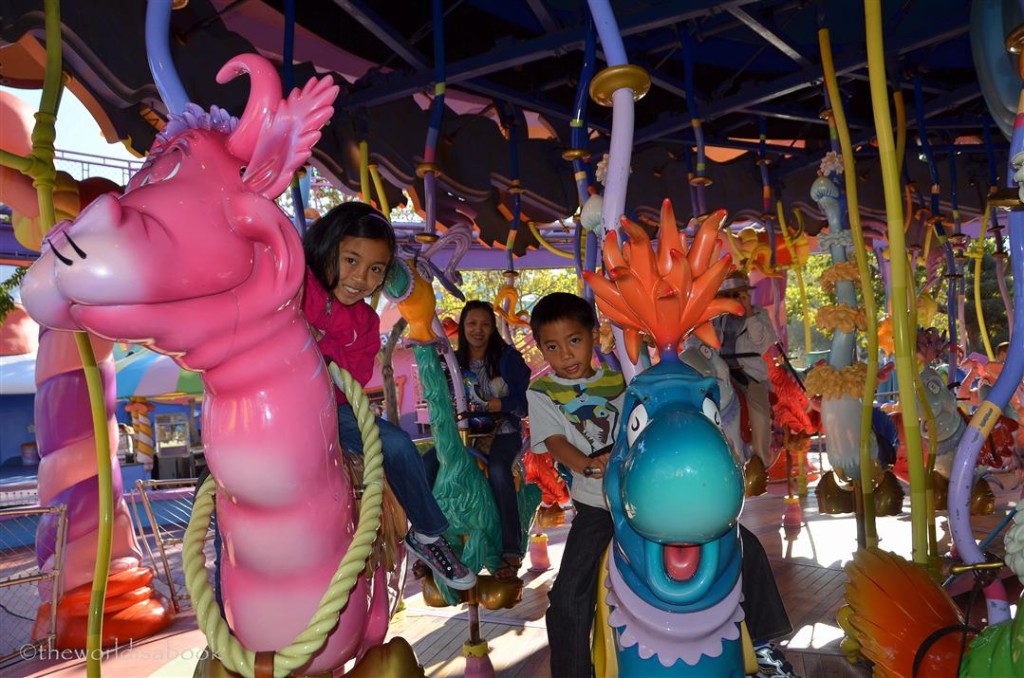 Horton the Elephant sits high on top of the carousel's roof. True to its theme, the operator at Caro-Seuss-el even greeted us in a rhyming Dr. Seuss fashion. It was too bad I was too surprised and amazed to record him.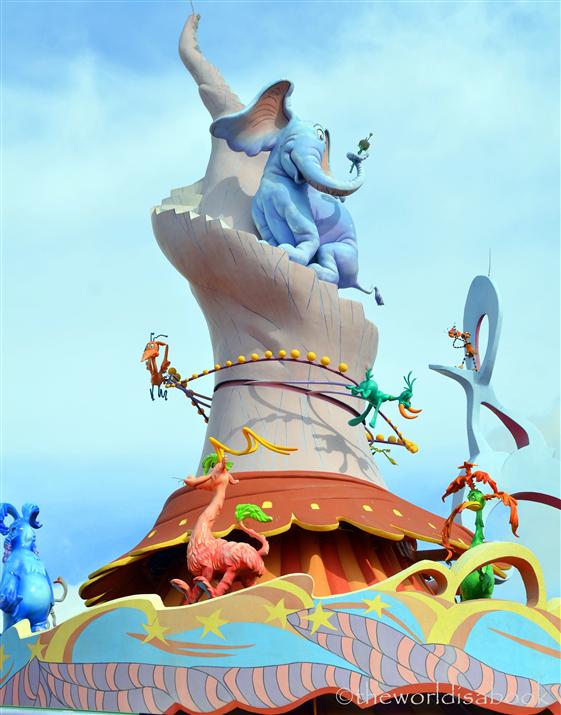 One Fish, Two Fish, Red fish, Blue Fish was a ride reminiscent of Disneyland's Dumbo the Flying Elephant. This ride took us on fish vessels where kids controlled their fish's motion and tried to avoid getting squirted from select spots (as long as you followed the instructions). This ride would be perfect during the humid Florida summers.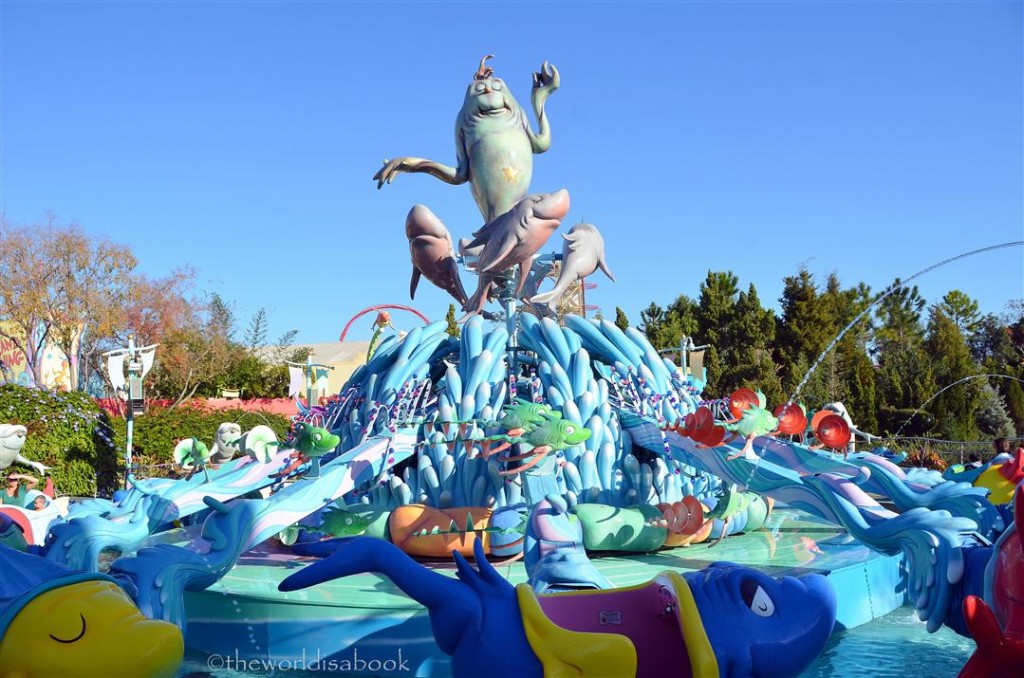 High in the Sky Seuss Trolley Train Ride was great for kids of all ages especially the younger set. It was a monorail that meandered high above the land giving the riders a different perspective.  It was a pleasant ride to people watch and see which part of Seuss Landing you've missed.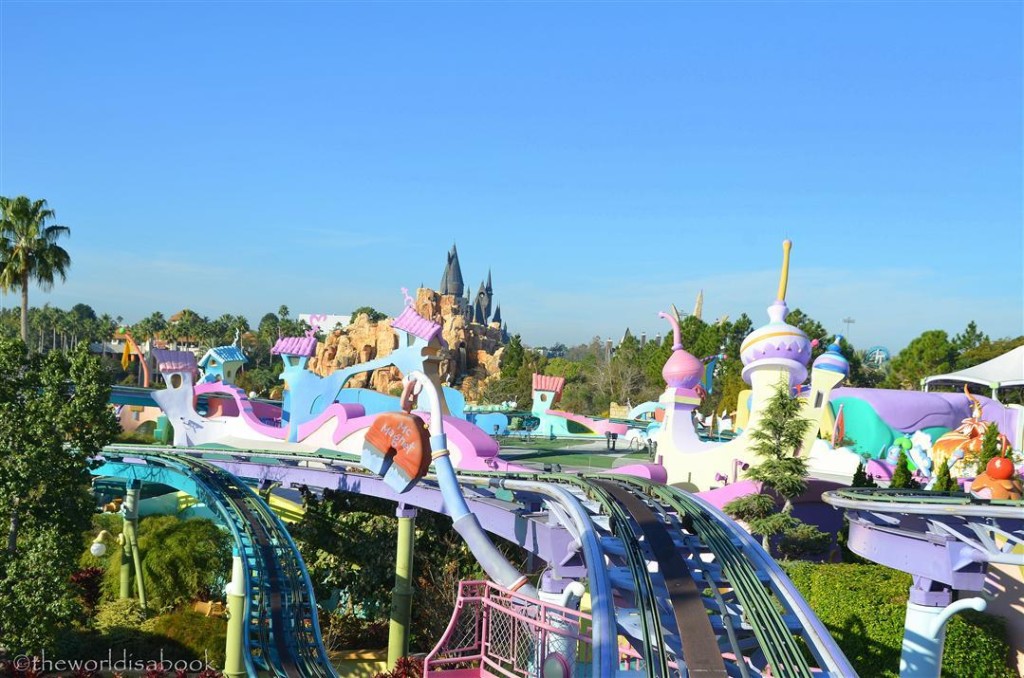 Seuss Landing had four family-friendly eateries onsite including an ice cream shop and juice place. The two main ones were Circus McGurkus Cafe Stoo-Pendous and the Green Eggs and Ham Cafe. Yes, they actually served green eggs and ham sandwiches which didn't sound so appealing. Since we had a dining plan, we ended up under the colorful circus big top instead.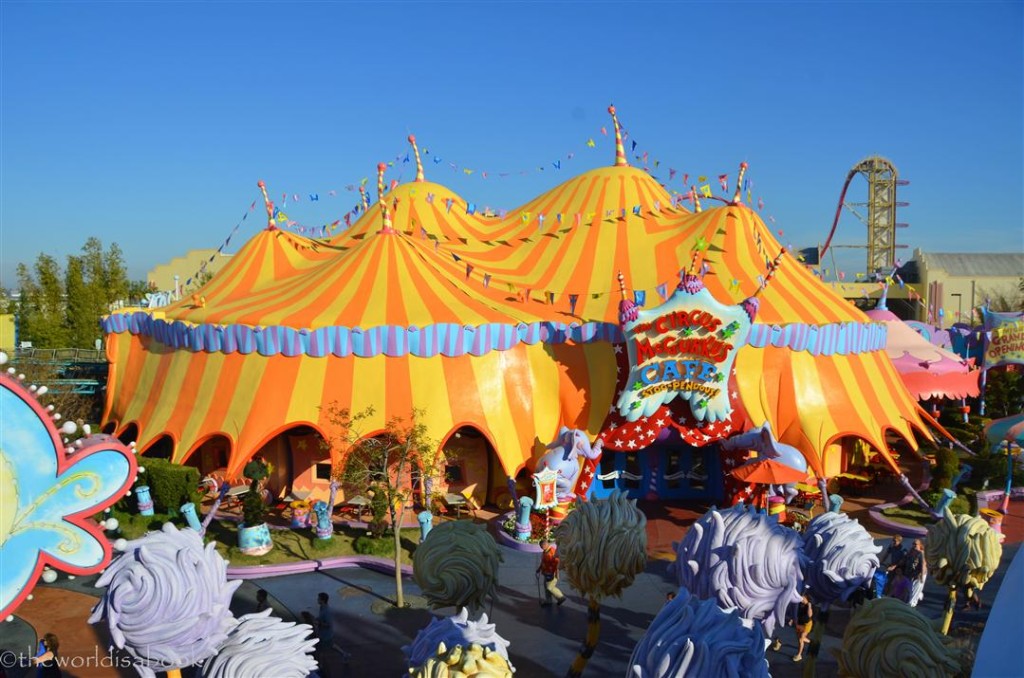 My kids enjoyed going into each of the shops here. They were curious as to what each attractive storefront had inside. From books, toys, souvenirs and apparel, there were enough shops here to keep the kids entertained. Though, I can't guarantee walking out empty-handed.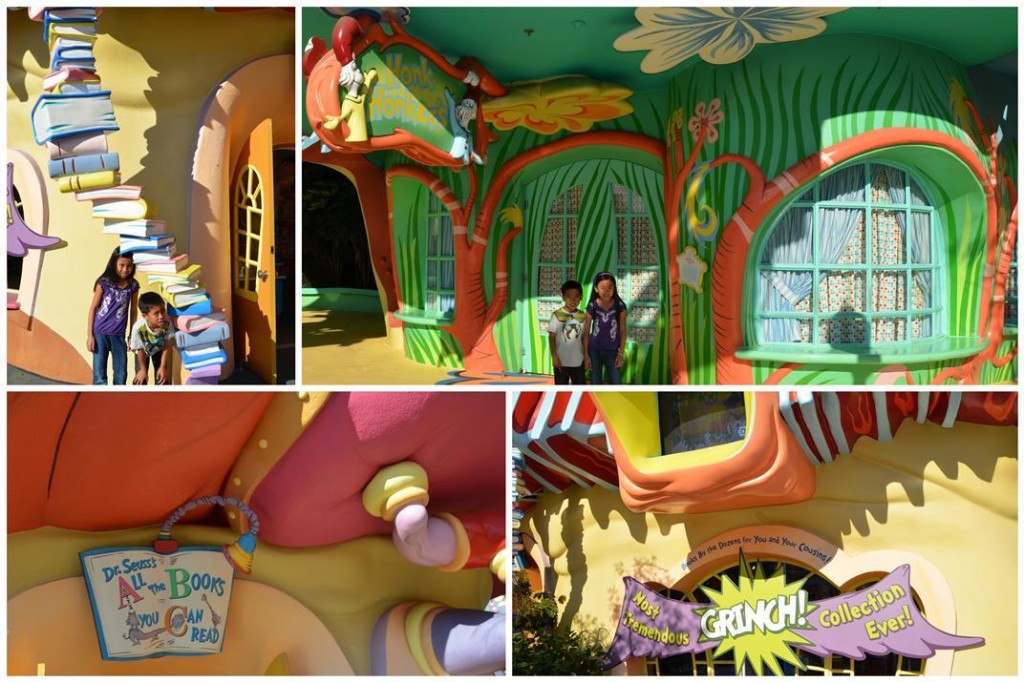 If the kids are too small or not too interested with the rides, there are some walks like Sneetch Beach and the If I Ran the Zoo interactive playground.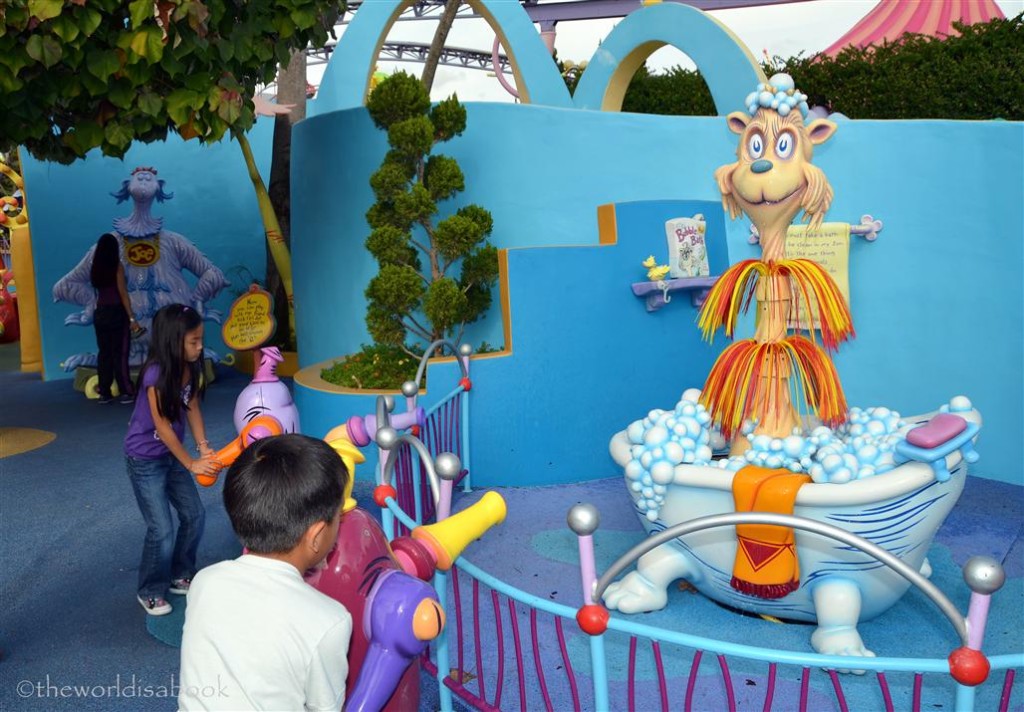 My then 6-yearold son loved crawling through the tunnels and ran from one attraction to another. It was supposed to have 19 different interactive experiences but we were too busy keeping track of the kids' whereabouts to count how many we did. Plan to spend some time here if you have toddlers.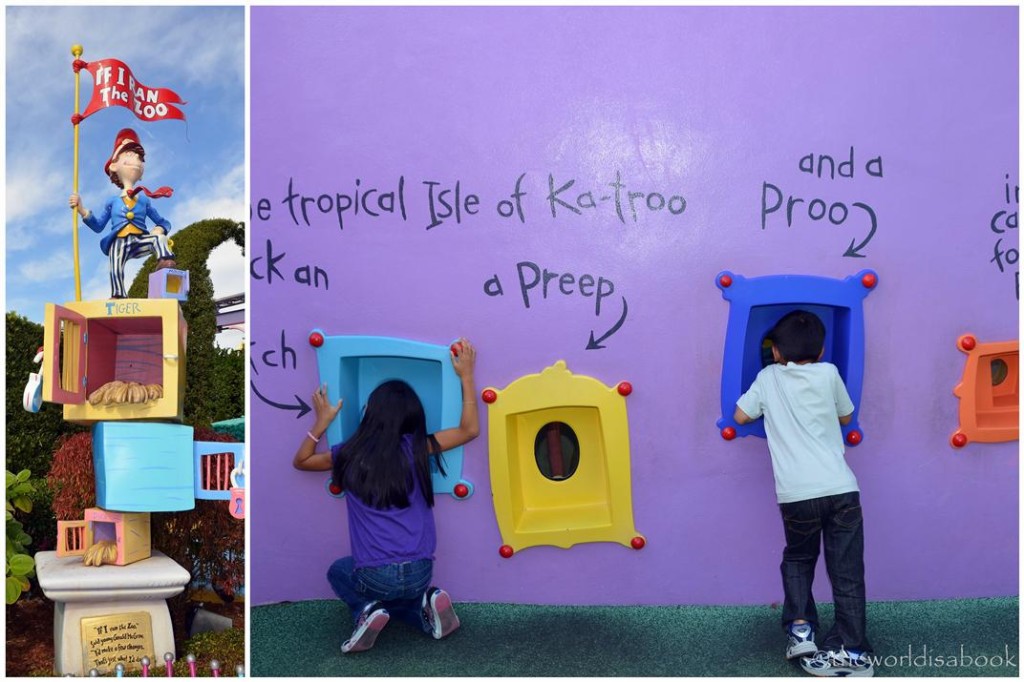 One of the main draws at many amusement parks is meeting the characters. My kids were so excited to meet the Dr. Seuss characters they have grown up with and haven't seen anywhere else. They were more than happy to pose with Things 1 and 2 (nicknames they had also given themselves) and of course, the Cat in the Hat.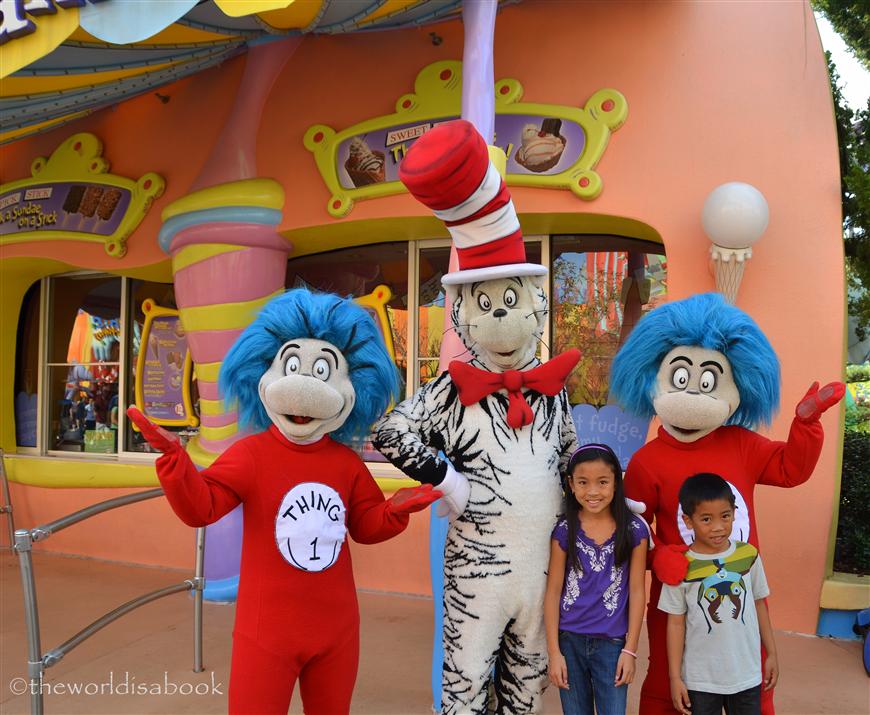 We also found the Lorax and Sam I Am from Green Eggs and Ham.  They were a bit disappointed to not have seen the Grinch.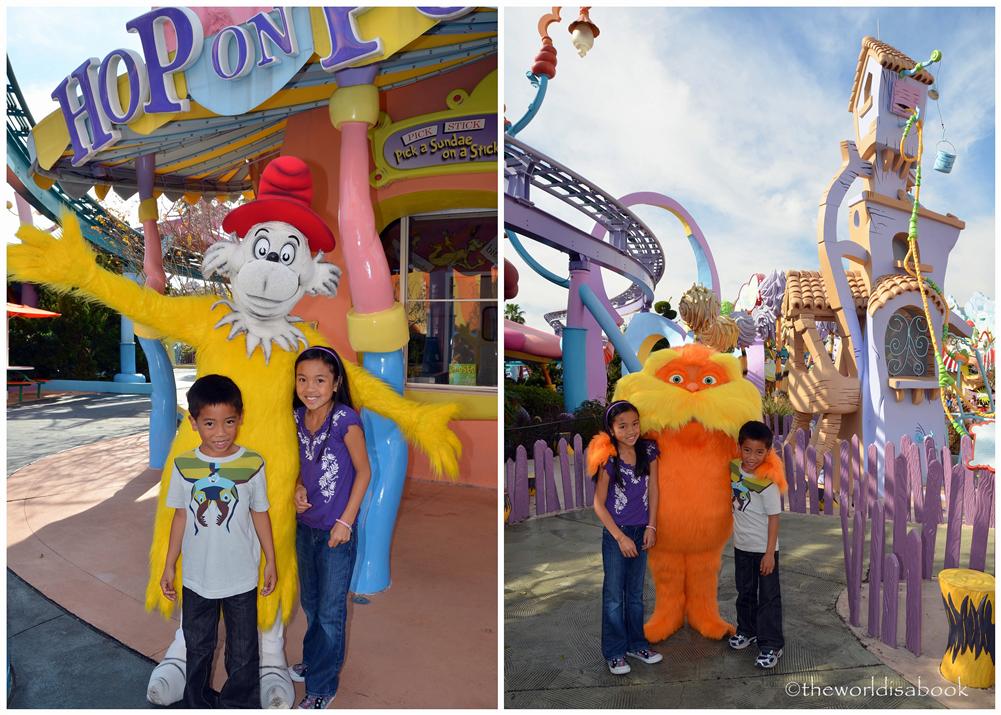 We love Dr. Seuss for the various messages of conservation, inspiration and life lessons in the books. We were happy to find out most of Seuss Landing was created from recycled materials. Don't miss walking through the Trufulla trees which was an important part in The Lorax about protecting the environment.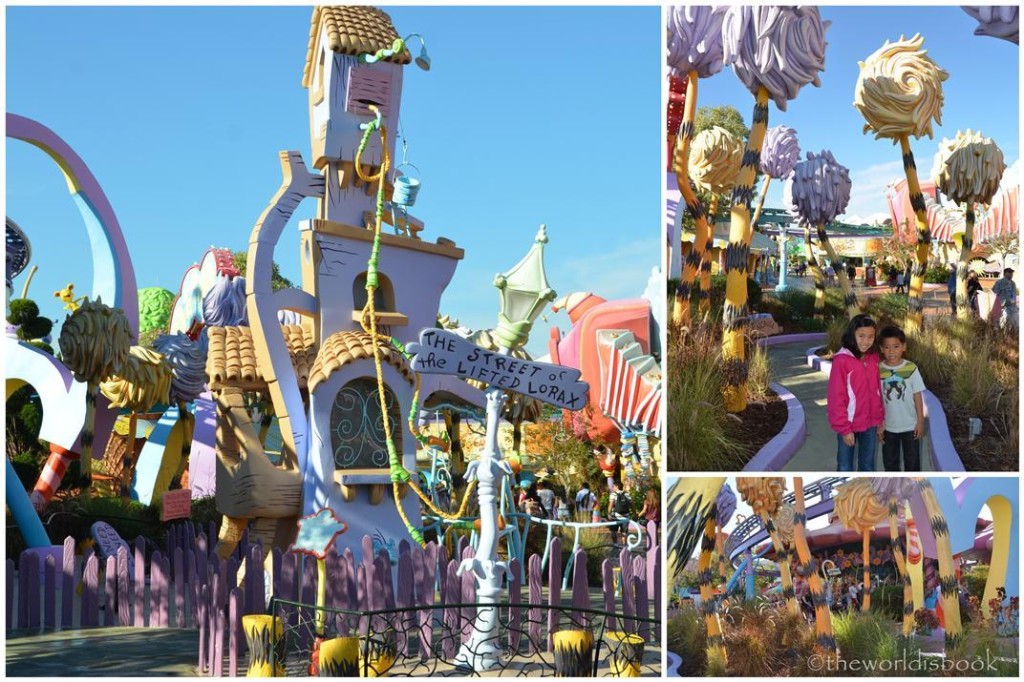 Being in Seuss Landing brought out the inner child in many adults. We saw couples enjoying the area without kids in tow. We loved the intricate details put into this land to ensure everyone who visits is completely immersed in the stories and books. My kids loved Seuss Landing, and we spent quite some time here. It was also the perfect place for fun and zany shots.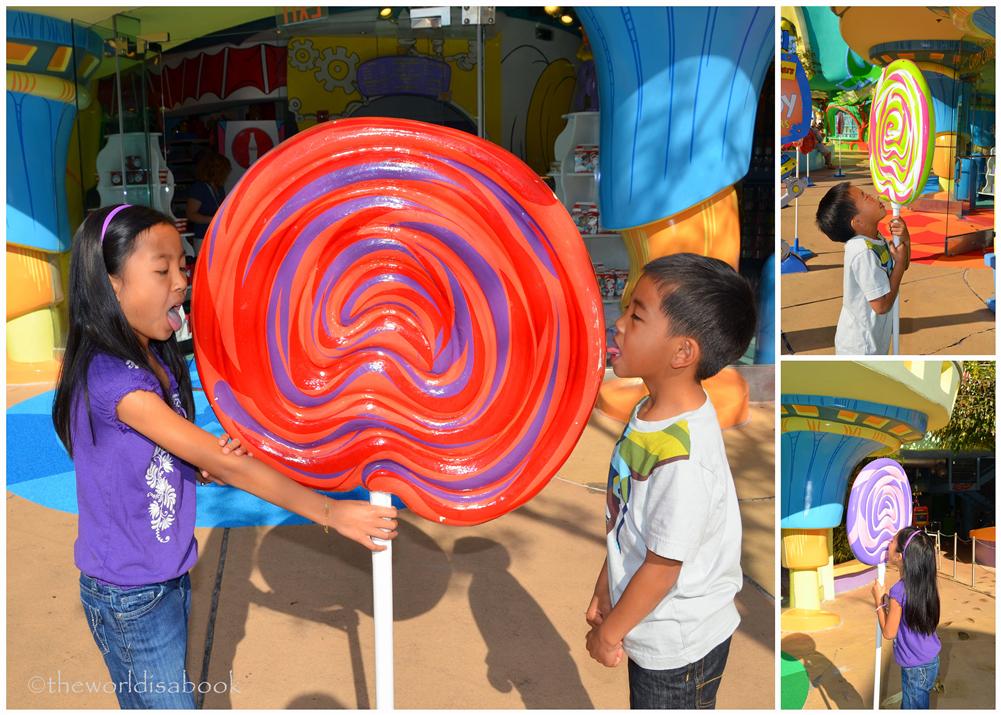 In honor of Read Aross America, I leave you with one of my favorite quotes and one I like to remind my little travelers.
"The more that you read, the more things you will know. The more that you learn, the more places you'll go" – Dr. Seuss, I Can Read With My Eyes Shut
Visiting Seuss Landing Tips and Basics
Check the

Universal Studios Orlando website

for the latest ticket prices and options.
We got the 2-day pass option which gave us enough time to explore the park. We only stayed for half the day on Day 2.
Consider staying at some of the onsite hotels (Loews Portofino, Hard Rock Hotel, Loews Royal Pacific) for packages to the amusement parks which can also include express passes that bypass lines. It can be a great time saver for the whole family when visiting other parts of the park especially Harry Potter.
Get the Meal Deal for the park. Kids 9 and under ($10.99) and anyone ages 10+ ($21.99) can do the all-you-can-eat all option at select restaurants all day. It includes an entree and dessert.
We visited Seuss Landing on Day 2 before 10 AM and there were no lines on all the rides on a Monday in early January. So, visiting off-season on a weekday is best especially with younger kids. Go as early as you can to beat the crowds.
Read or catch up on some Dr. Seuss books if it's been awhile since the kids read them.
Check the times when characters come out for photo ops at Seuss Landing since it always varies.
*Have you been to Seuss Landing? Would you make a stop? Favorite Dr. Seuss Book?
Related Post:
 *Ten Things Not to Miss at Wizarding World of Harry Potter