5 Free Things to do in Rome with Kids
Rome is such a fascinating city filled with ruins, piazzas, history and museums. I've always thought of it as a city for religious pilgrimages and history buffs. But, during our last visit, I realized how family-friendly it was and how the whole city is like a living art and history museum. It has a reputation for being expensive but also has many free attractions including these five free things to do in Rome with the kids.
1. The Fountains
My kids are fascinated with fountains wherever we go whether it's dipping their fingers in or tossing coins to make a wish. Rome has 280 fountains that can entertain kids of all ages. Of course, the most popular is the Trevi Fountain. We saw plenty of families tossing coins into the air to ensure their safe return to Rome.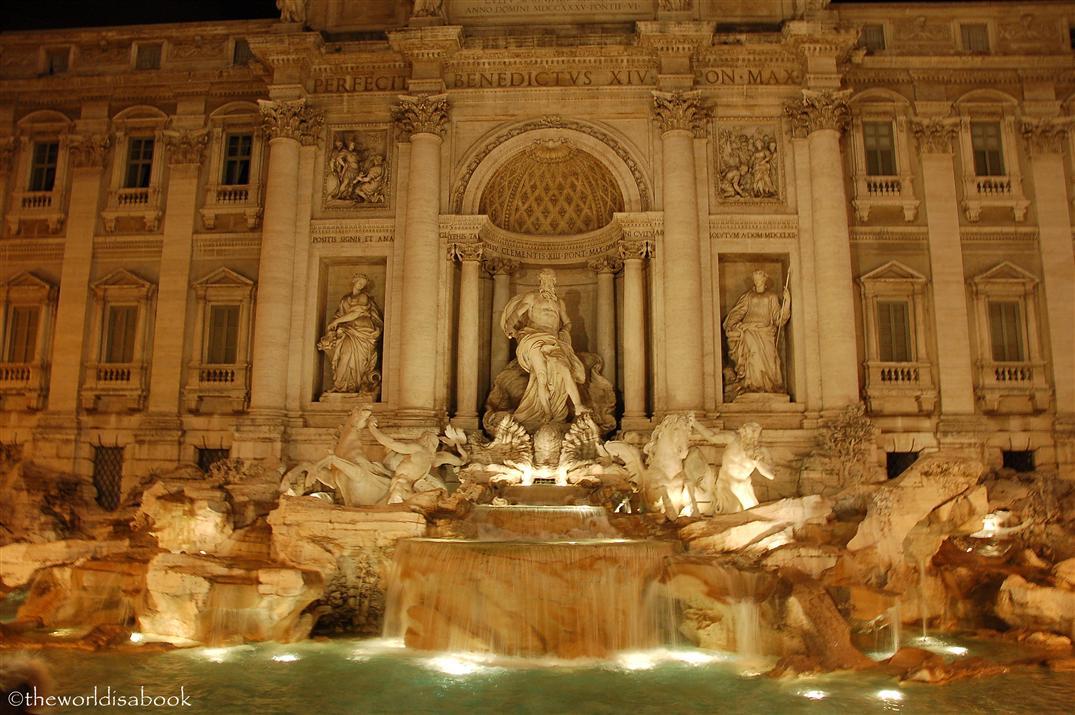 These fountains were both rich in history and art. Some of them contained sculptures by famous artists like Bernini. It can even be a wonderful lesson in art history for kids. You can walk throughout the Eternal City and you'd be sure to pass by some of these beautiful fountains. These were works of art that should be seen during the day and at night.

2. Piazzas/City Squares
Rome's other main attractions are its many piazzas or public city squares. They have long been considered the city's "center of life". They're the sites of outdoor cafes, restaurants, fountains and stores but also boast a lot of history. We found them filled with activity and energy during the day and a relaxing, serene atmosphere at night.
The piazzas were hubs for locals and tourists and great places to catch street entertainers or watch artists paint. Our favorite was Piazza Navona which I think is the most beautiful of the squares we visited. It had three marvelous fountains including the Fountain of Four Rivers and an obelisk in the center. One of the great things about the pedestrian squares is that kids are able to wander around and play in the wide open spaces.
 3. Villa Borghese Gardens
Rome's parks aren't as well-known as its churches and fountains but there is a family-friendly one definitely worth exploring. Villa Borghese is Rome's large public park and its version of central park. Located near the Spanish Steps, the park has an artificial lake, botanical garden, ampitheater, fountains, temples, sculptures and some museums (fees apply).
There are enough activities here to keep kids busy but also a perfect place to have a picnic and relax away from Rome's hustle and bustle. This was originally a vineyard but also the site of the 1911 World Exposition where some of the pavilions still stand. The Museo e Galleria Borghese which contains some great works of art from renowned masters is located here.
4. The Churches
It's no surprise to find hundreds of churches throughout Rome having the Vatican City, the seat of the Roman Catholic Church, within its city limits. While churches aren't the most ideal places for kids, wandering through many of them is like visiting art and history museums. I think I've taken my kids to enough European churches that they actually like visiting them for their stained glass windows, relics, paintings and sculptures.
One church that should not be missed is St. Peter's Basilica. It is worth spending some time inside this extraordinary church with the world's largest dome. It is filled with art masterpieces like Michelangelo's Pieta, marvelous architecture, history and amazing mosaics. If you're Catholics, it is an amazing experience to attend mass here and listen to the choir. Its incredible interior is one of the most beautiful we've ever seen.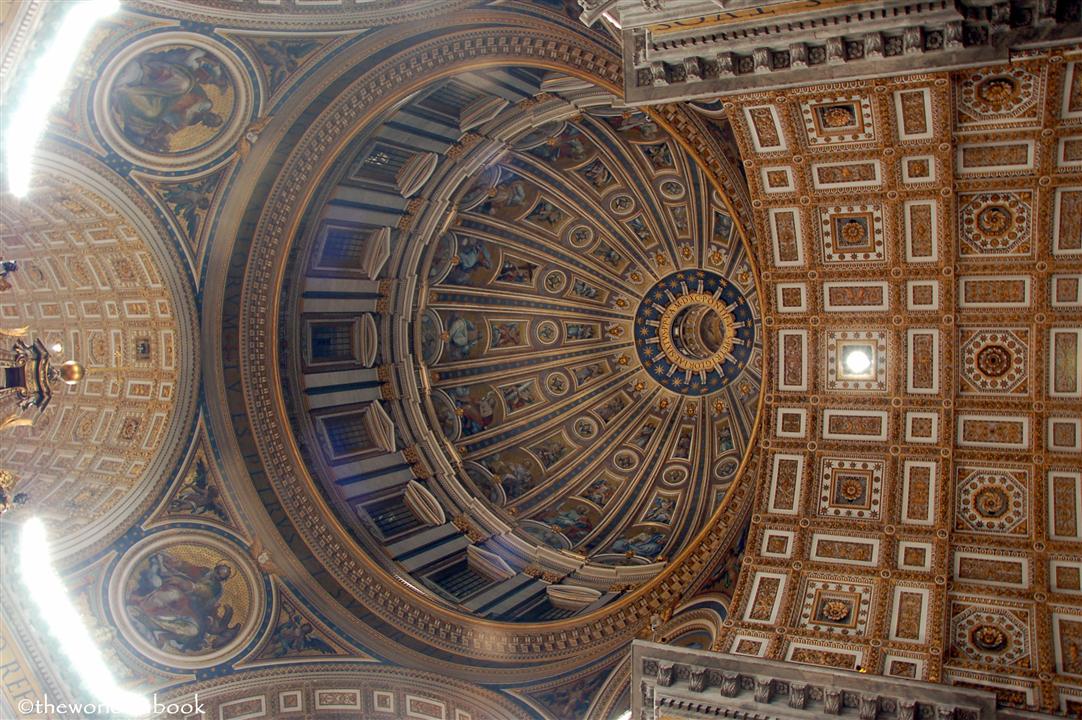 One of the best ways to see Rome is by walking and you're bound to come across a church. I couldn't seem to pass by one without stopping to look inside.  Some may charge an entry fee but many of the churches are free to enter. Just be sure to remind the kids to be in their best behavior inside and dress appropriately out of respect or you could be denied entry. Shoulders must be covered; no shorts and dresses should be at least to the knee.
5. Ancient Roman Ruins
The city's historic center is filled with ruins from Ancient Rome. It's impossible to drive or walk around the city and not see them. They're great lessons in architecture, archaeology and history and kids will marvel at these ruins.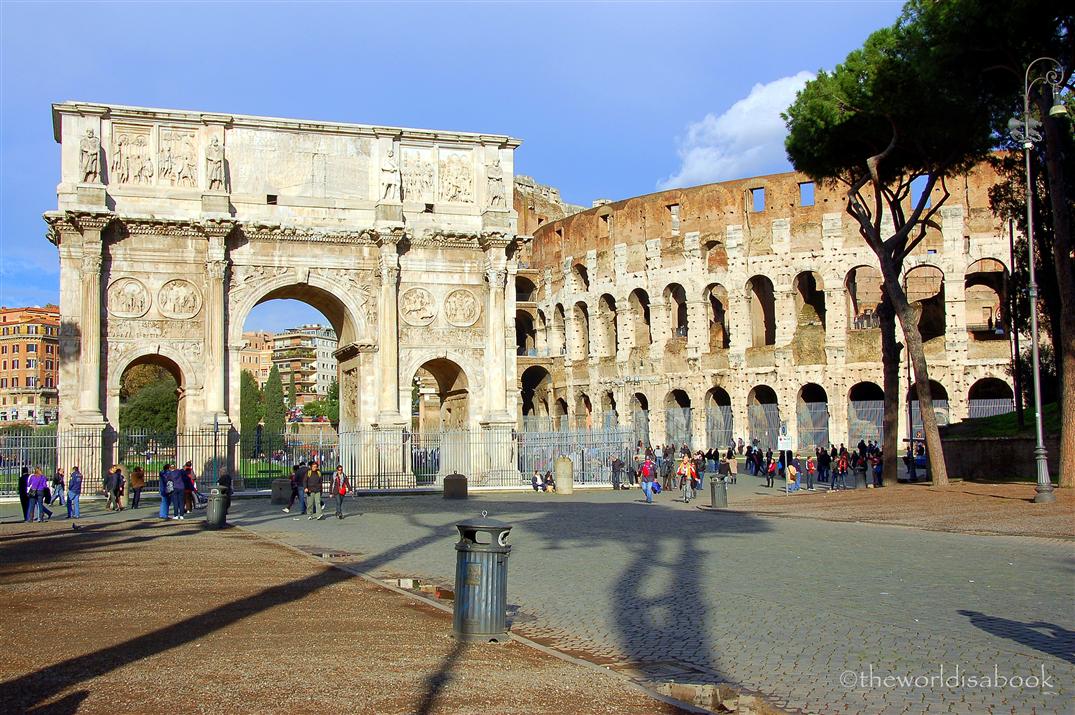 While we highly recommend paying to go inside the Colosseum, Palatine Hill or the Roman Forum, it's still possible to admire these architectural and historical wonders from the outside for free. Kids will find the dressed-up gladiators in front of the Colosseum entertaining and interesting too.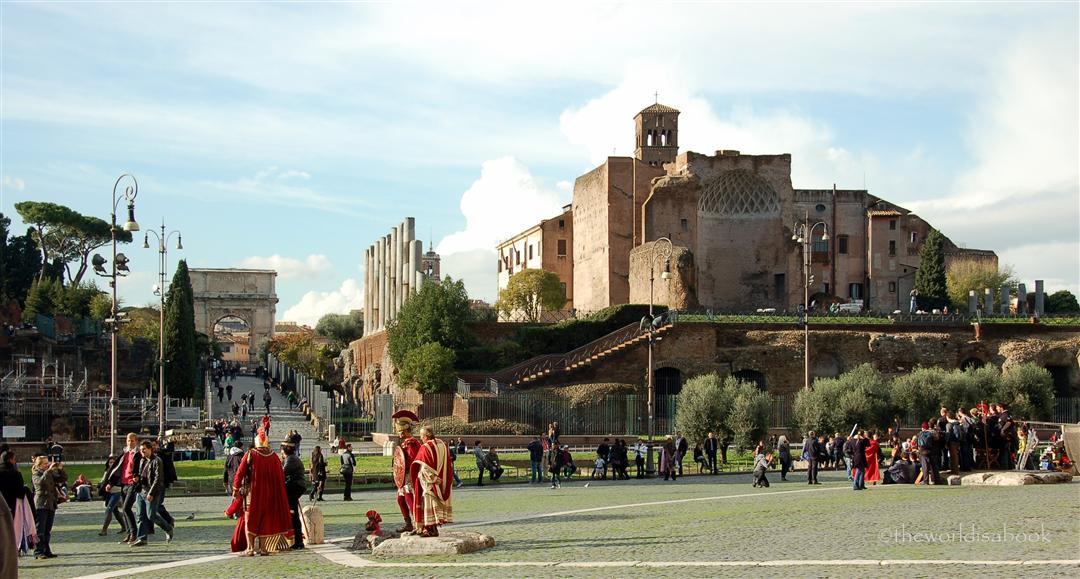 Occasional Freebies
The Vatican Museum and Capitoline Museums (Musei Capitolini) are free on the last Sunday of the month. Come early to beat the crowds.
Noteworthy Freebies
If your kids are a bit older and can handle long assemblies, consider

attending the Papal Audience at the Vatican

. It is an experience not to be missed especially if you're Catholic. Tickets are free upon requests.
Angel Tours Rome offers a free 30-minute tour of the Pantheon in small groups everyday at 7PM.
 *What other free Rome attractions would you like to add?
Related Posts:
This is a part of a series called Five Free Family Friday.  I hope this will grow into a collective guide of free family-friendly attractions of places all over the world.  If you'd like to contribute with the free attractions in your home city, I would love your guest posts.
Pin it for later!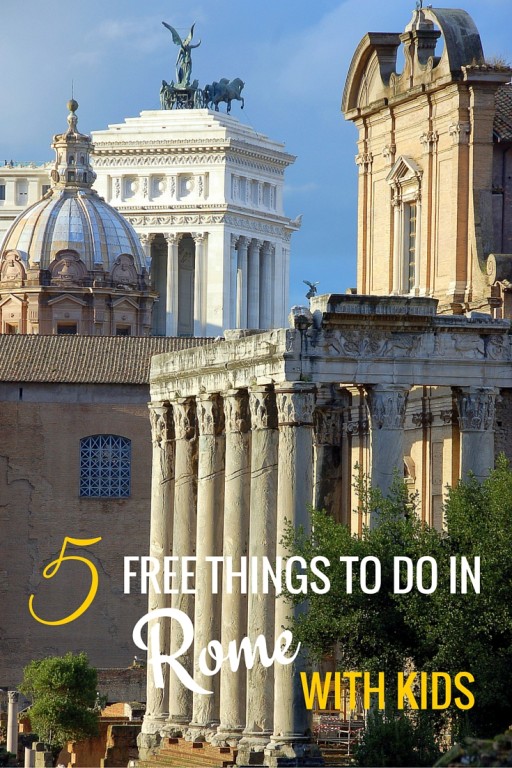 Check out these related posts: