The Otherworldly Kasha-Katuwe Tent Rocks in New Mexico
We were in New Mexico last week and visited quite a few interesting places and national parks. I hadn't heard of Kasha-Katuwe Tent Rocks until I was researching for things to do in northern New Mexico.  Kasha-Katuwe means "white cliffs" in the nearby Pueblo de Cochiti people's traditional Keresan language. This was a special place for the Native Americans and we were happy we did this detour into this otherworldly landscape.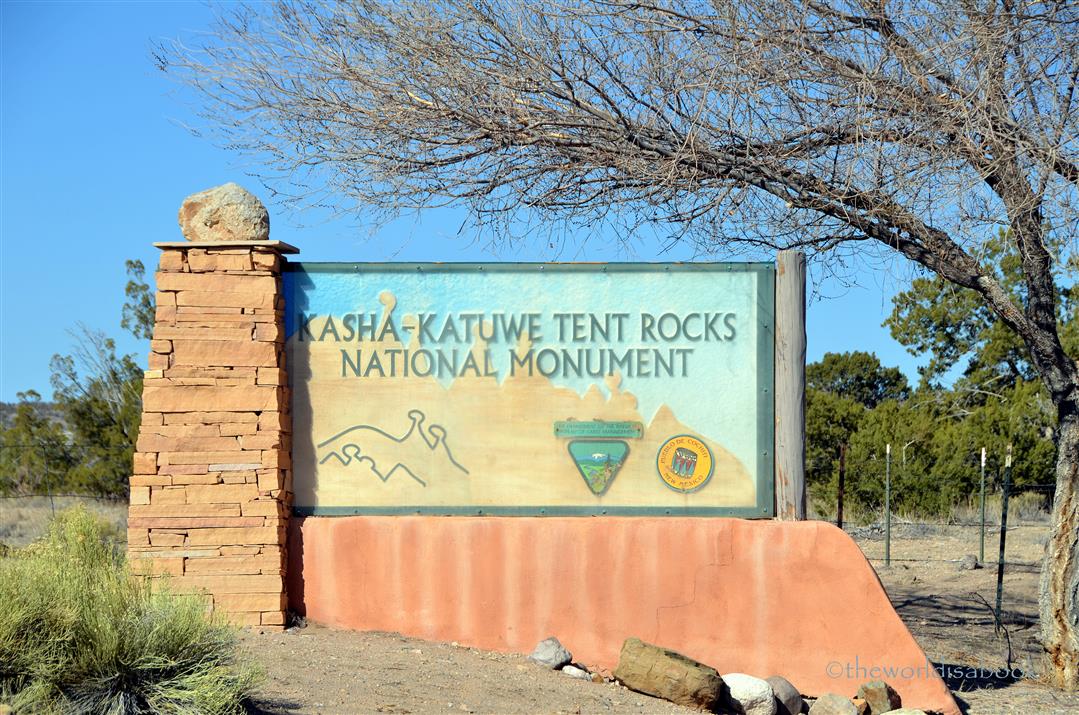 Located 35 miles(56 km) from Santa Fe and 52 miles (84 km) from Albuquerque, Kasha-Katuwe Tent Rocks was established as a National Monument in 2001 "to protect its geologic, scenic and cultural values". There is a vast geologic process that formed and shaped these unique rock formations into cones and tents of all sizes.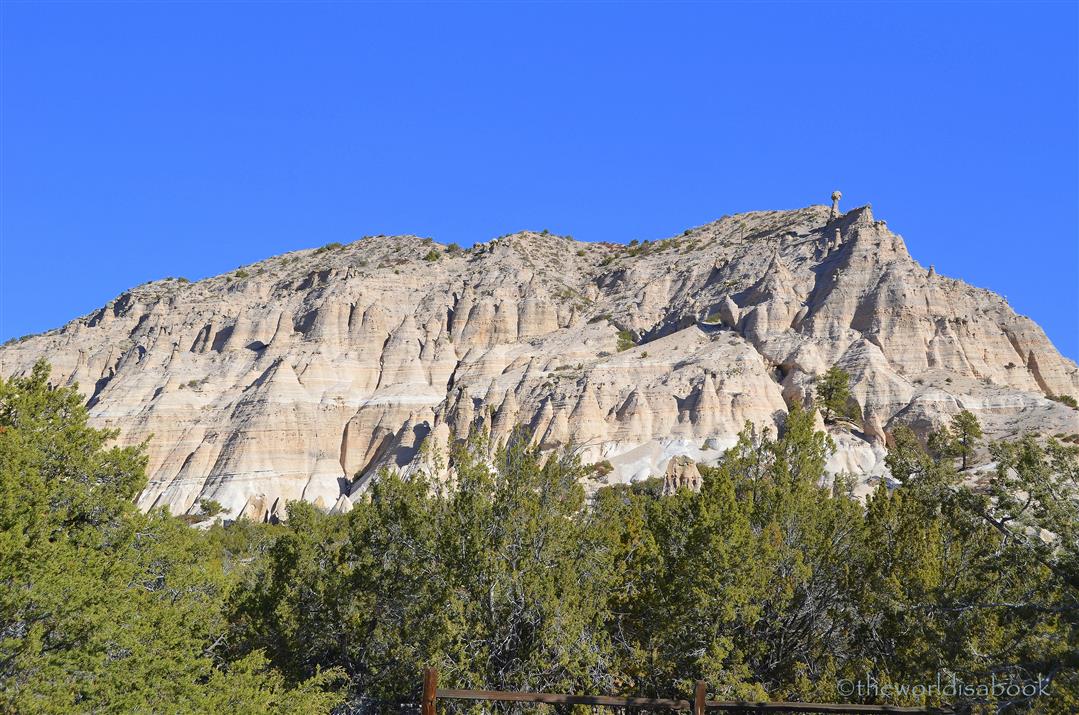 Pictures don't do them any justice. Like many of the National Parks we've visited, seeing these for the first time made us gasp in awe.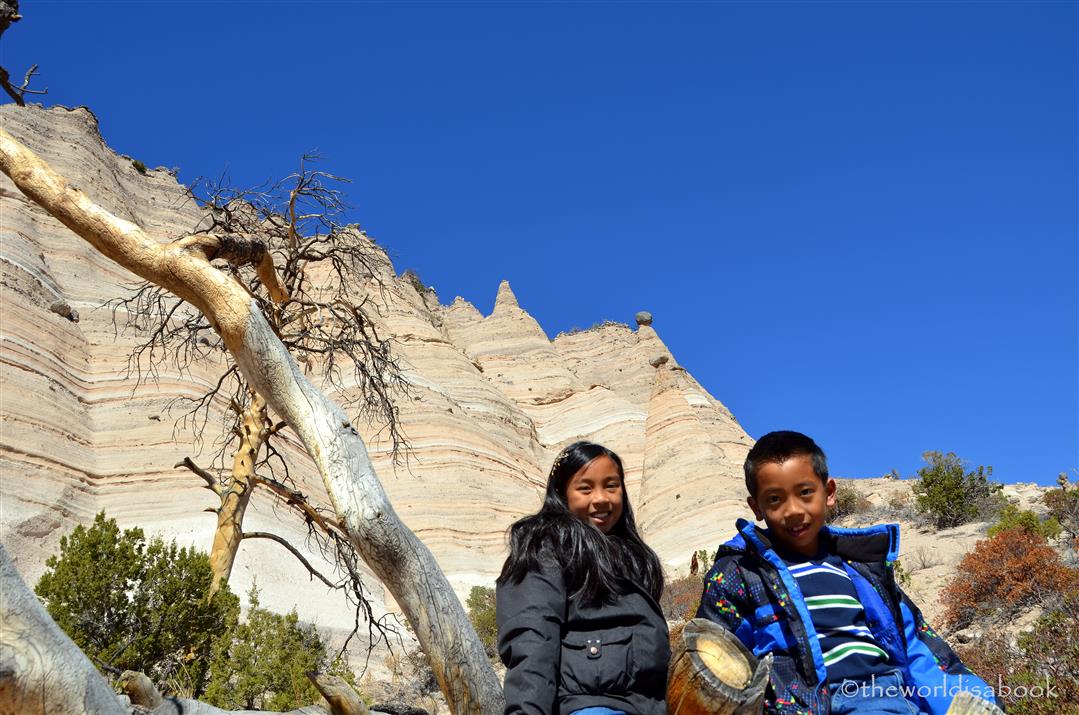 These rock formations were produced after a volcanic eruption 6 to 7 million years ago. The leftover white and silvery-gray pumice and ash formed an igneous rock called tuff.  The fragments of light gray to red were results of another igneous rock called rhyolite from other volcanic eruptions.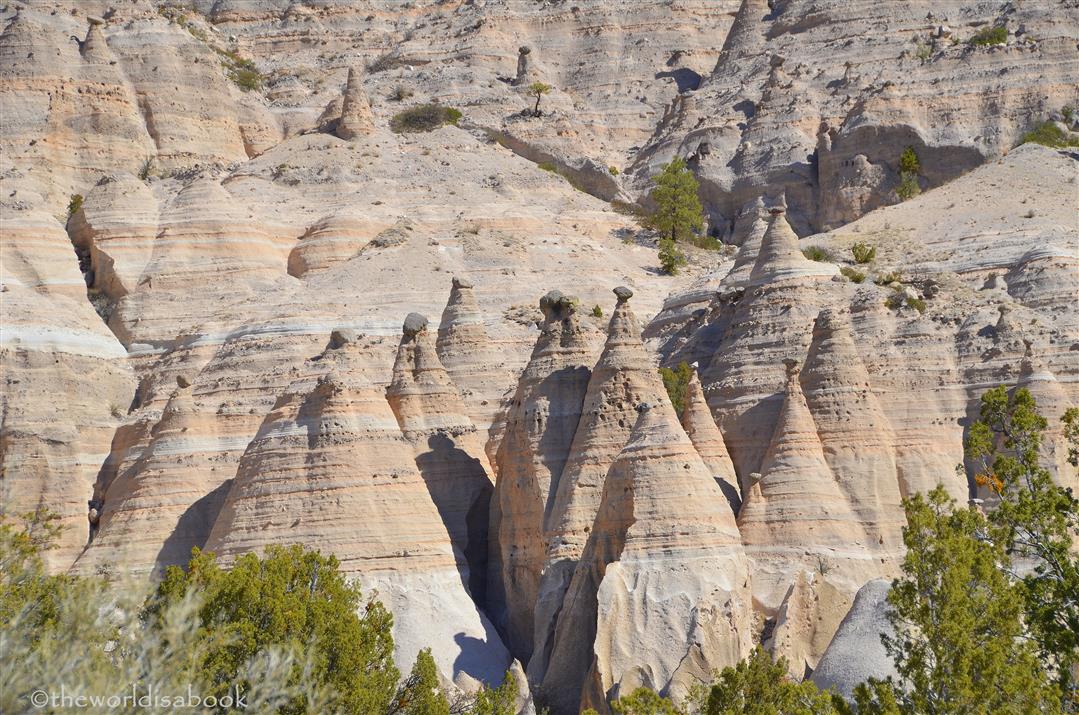 Layers of volcanic material that have formed over the years show the various colors of grey, beige and hints of pink colored rocks on the cliffs.  The rock layers were a mixture of volcanic activity and wind and water erosion.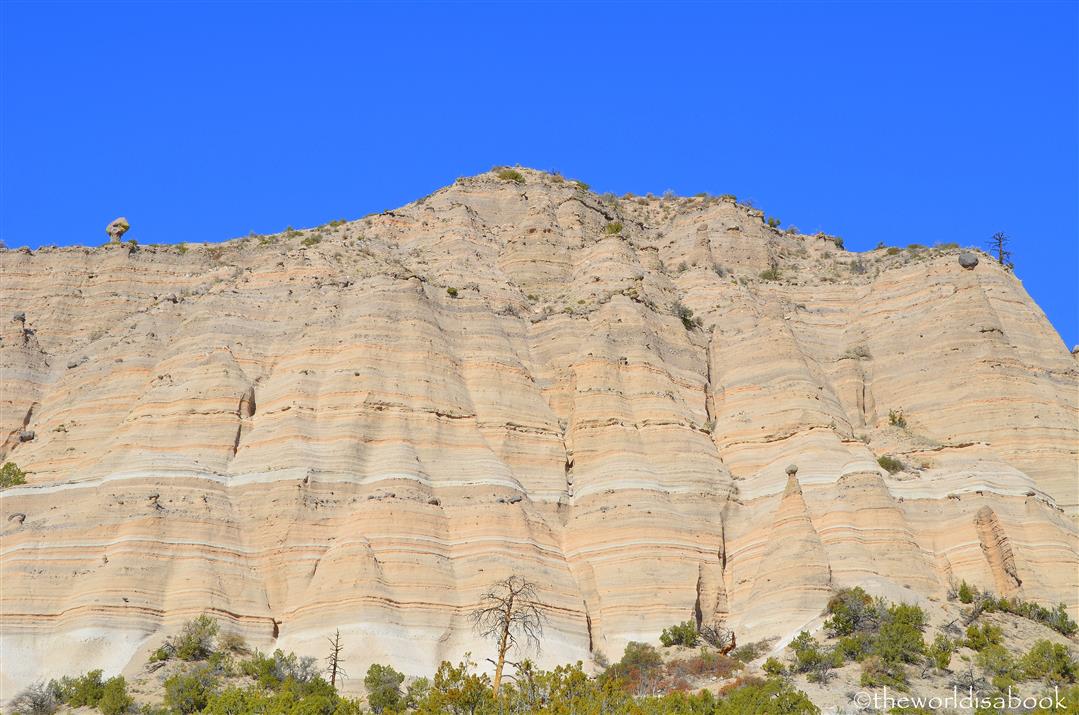 Some of the tent rocks had boulder caps protecting the softer pumice and tuff below it from wearing away.  It was an amazing and surprising landscape.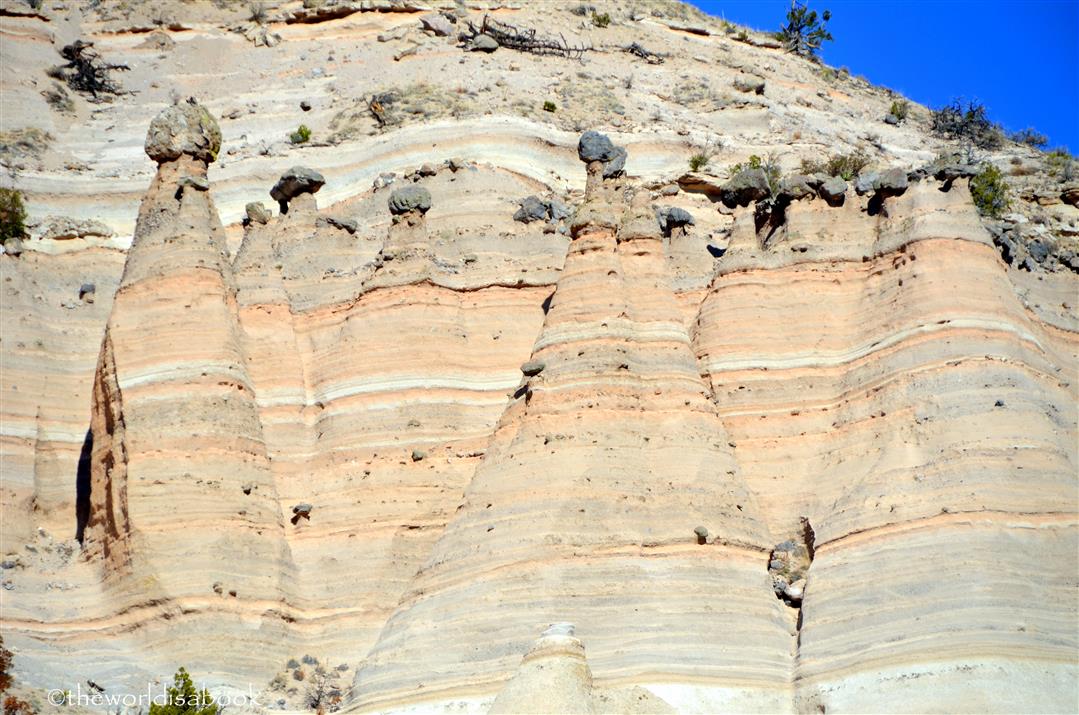 There were a lot of whimsical shapes that would make even Dr. Seuss proud. It left us baffled how these were naturally sculpted in almost perfect cone shapes.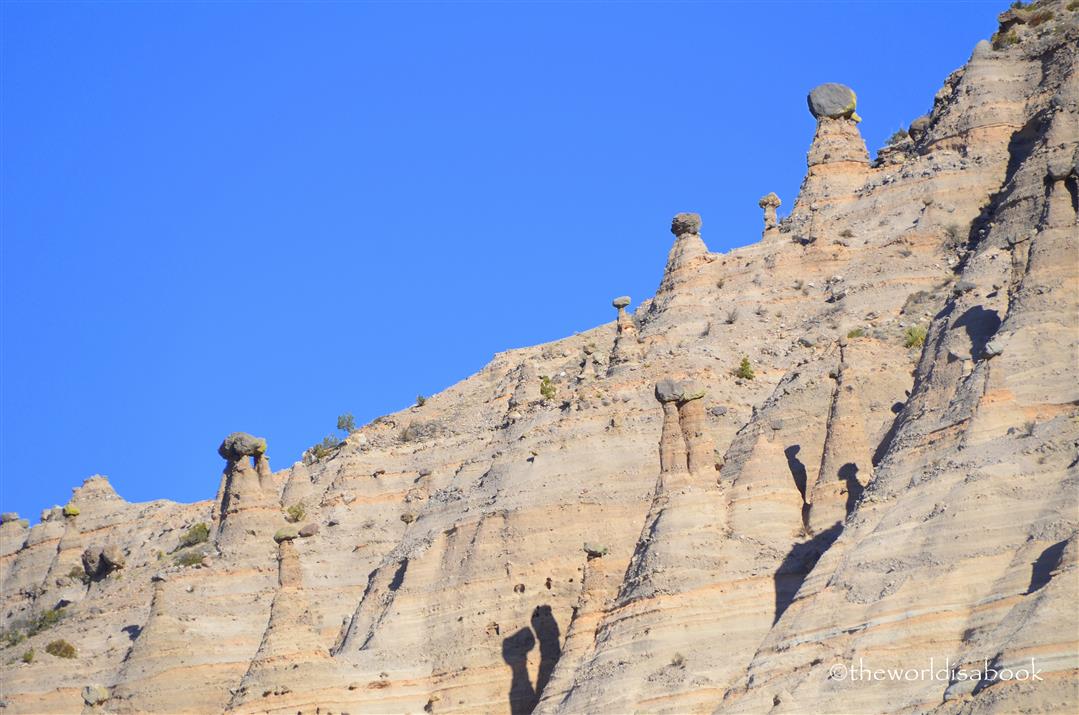 Some of them precariously balanced and look about ready to topple over.
These deposits can be over 1,000 feet thick. The tent rocks are also known as hoodoos but look very different from the ones we've seen at Bryce Canyon National Park.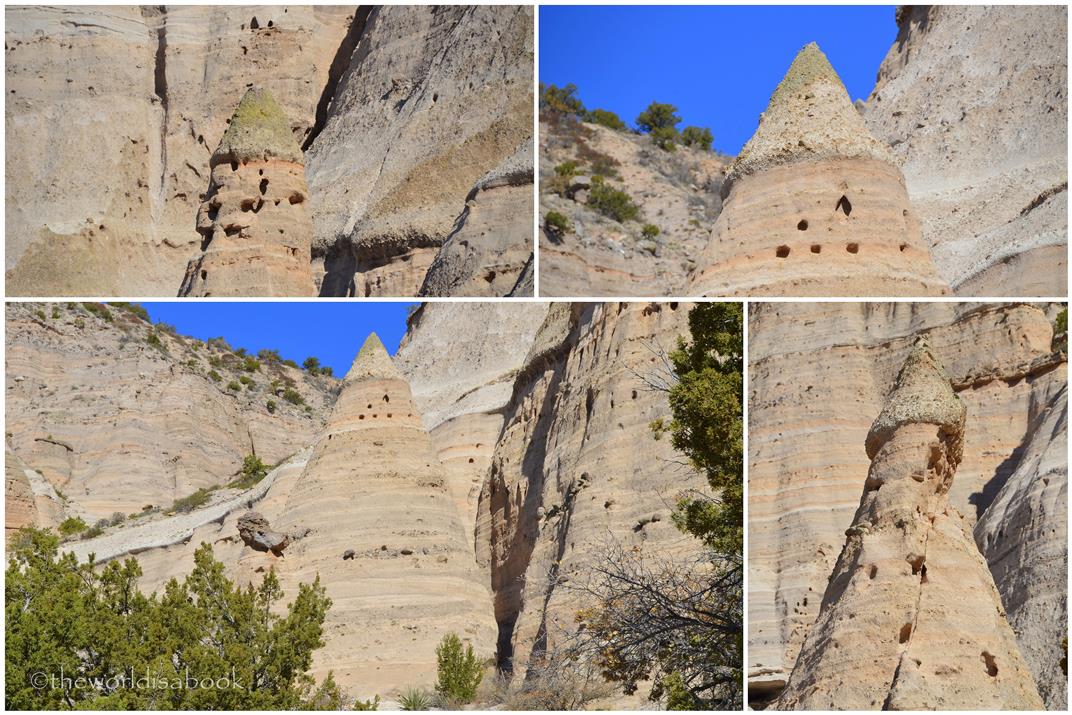 Humans have inhabited this area for 4,000 years from archaeological recordings. Native Americans settled here in the 14th and 15th centuries and at times, the park is closed due to Pueblo de Cochiti tribal activities. The Pueblo and Tribal Land are located right outside the park.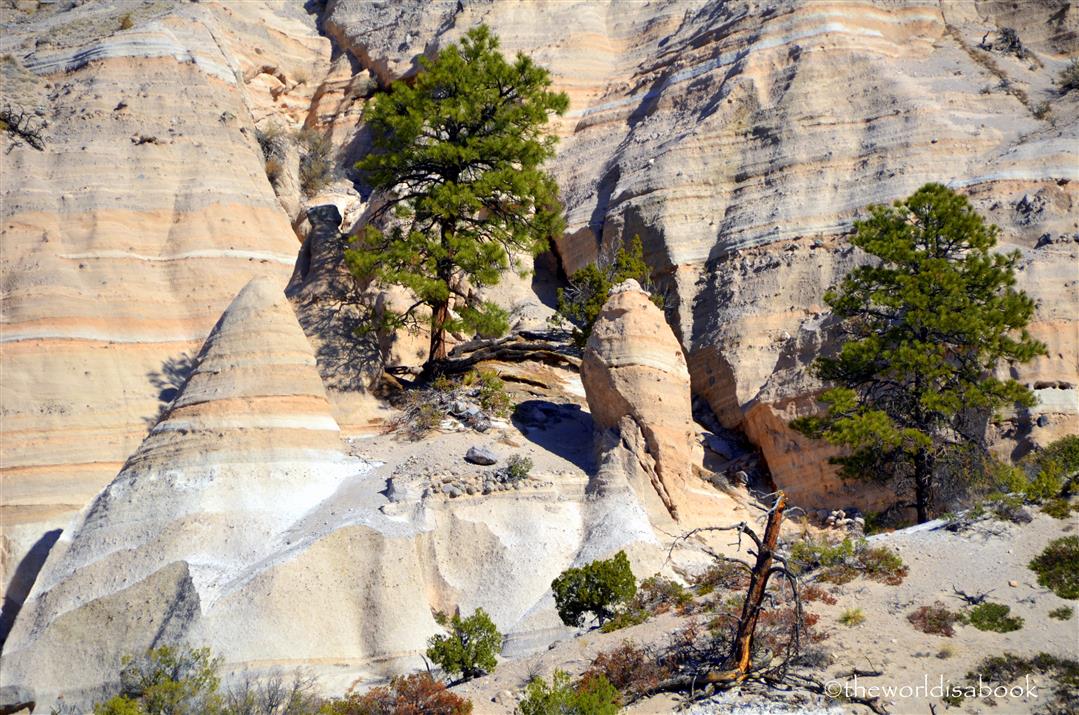 We got there around 10 AM on a Sunday morning and we had the trail to ourselves. It was wonderful to stand there and listen to the sounds of nature and hike in solitude. The trails weren't paved and were mostly gravel and sand. There were make-shift benches along the way for resting. The rattlesnake warning signs were enough to make my inquisitive kids stay on the trails and very close to us.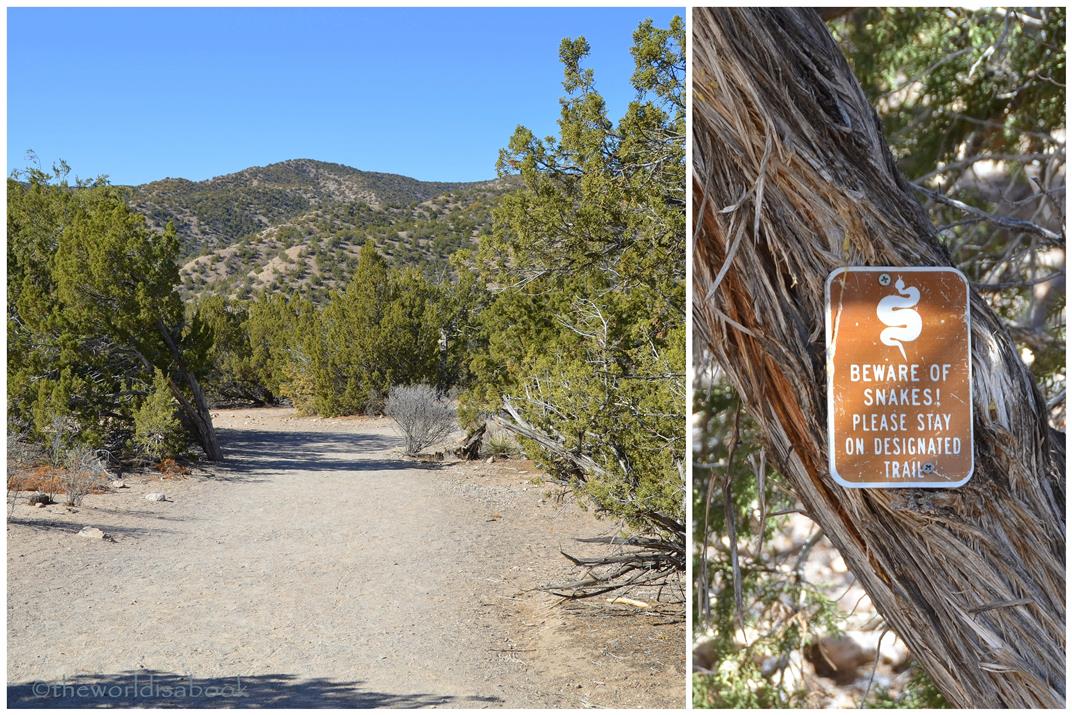 We hiked the fairly easy 1.2 mile (1.93 km) Cave Loop Trail. There is also the Slot Canyon Trail which is 1.3 miles (2.09 km) one way through a narrow canyon and involved a steep climb. We had other plans in Santa Fe that day so we regrettably passed on the canyon and enjoying a scenic view from the top.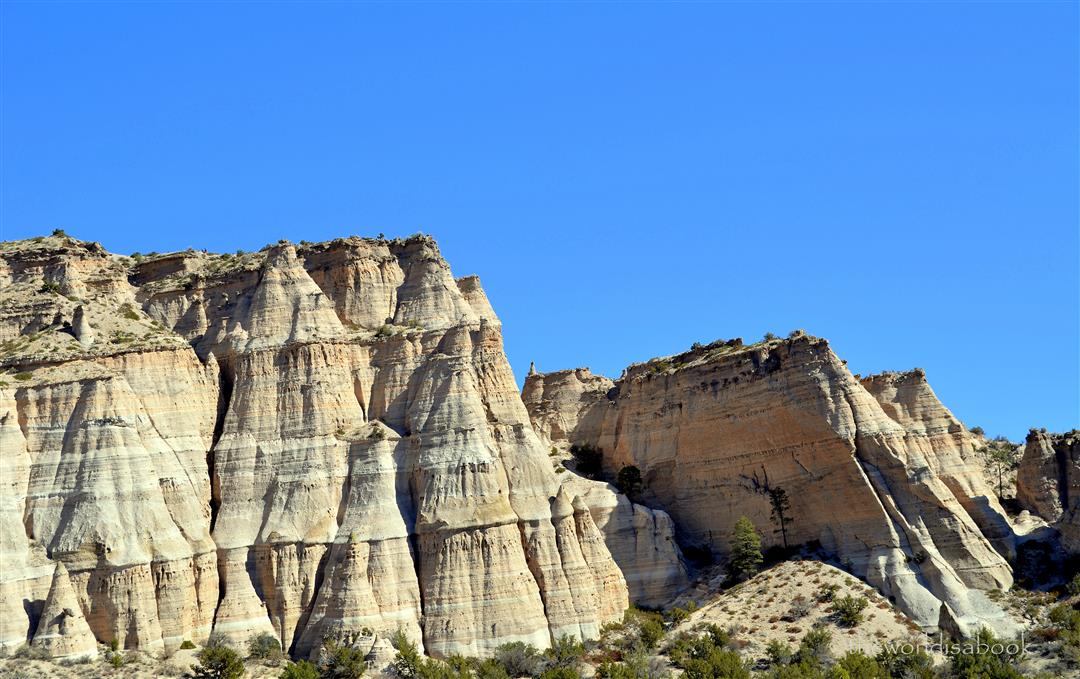 We passed a variety of shrubs, desert plants and blooming cacti along the way.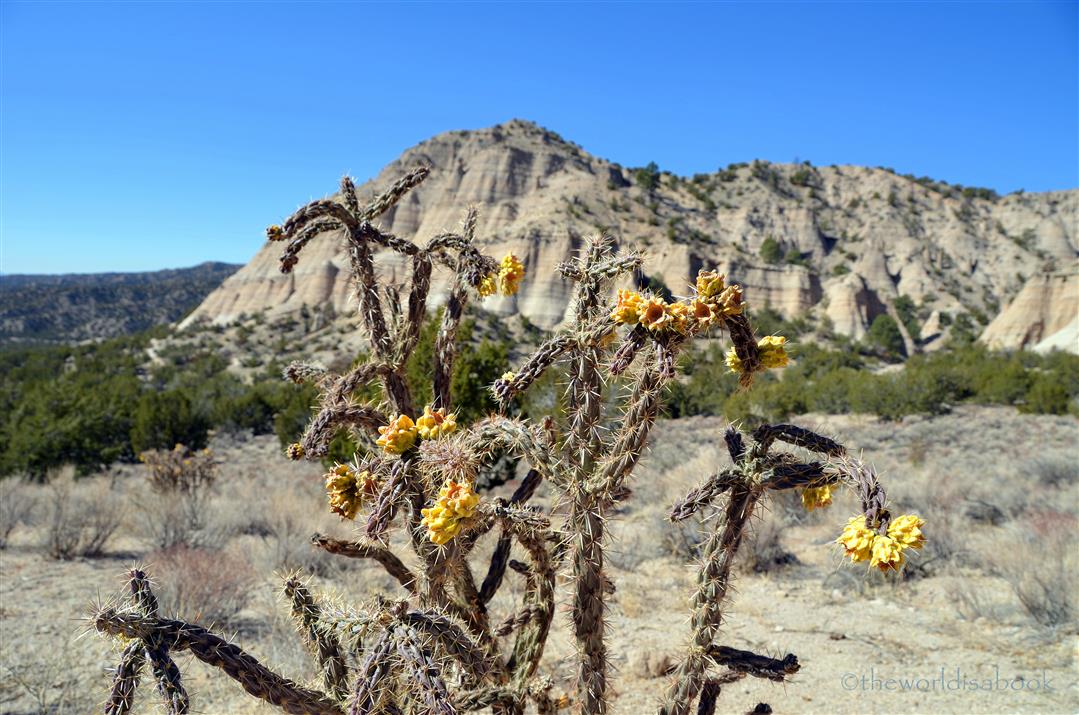 One of the highlights for my kids was spotting this Western Scrub-Jay (according to our bird guide). We heard its noise long before we saw it. It was also the only wildlife we saw inside the park.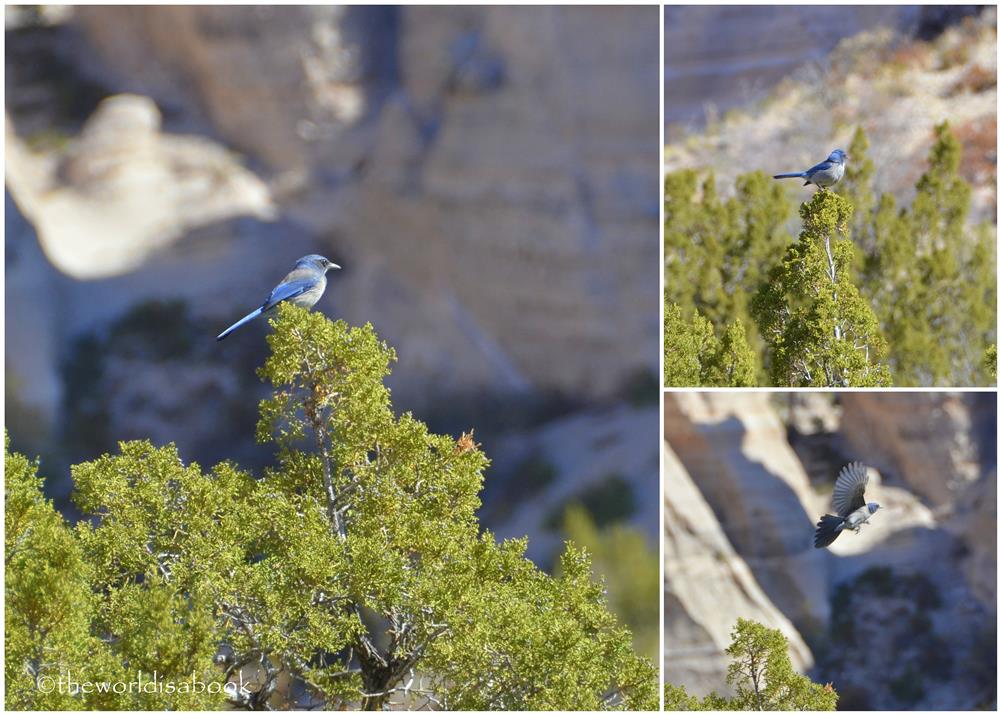 The end of the trail was a human-formed cave or caveats (cave-ate) carved into the volcanic rocks.  Archaeologists believe this was carved by using sticks or sharp stones. Soot from fires could be seen inside the cave.
We liked how this trail gets visitors close enough to see the tent rocks and marvel at their size. The tent rocks' height are from a few feet to 90 feet (27 m).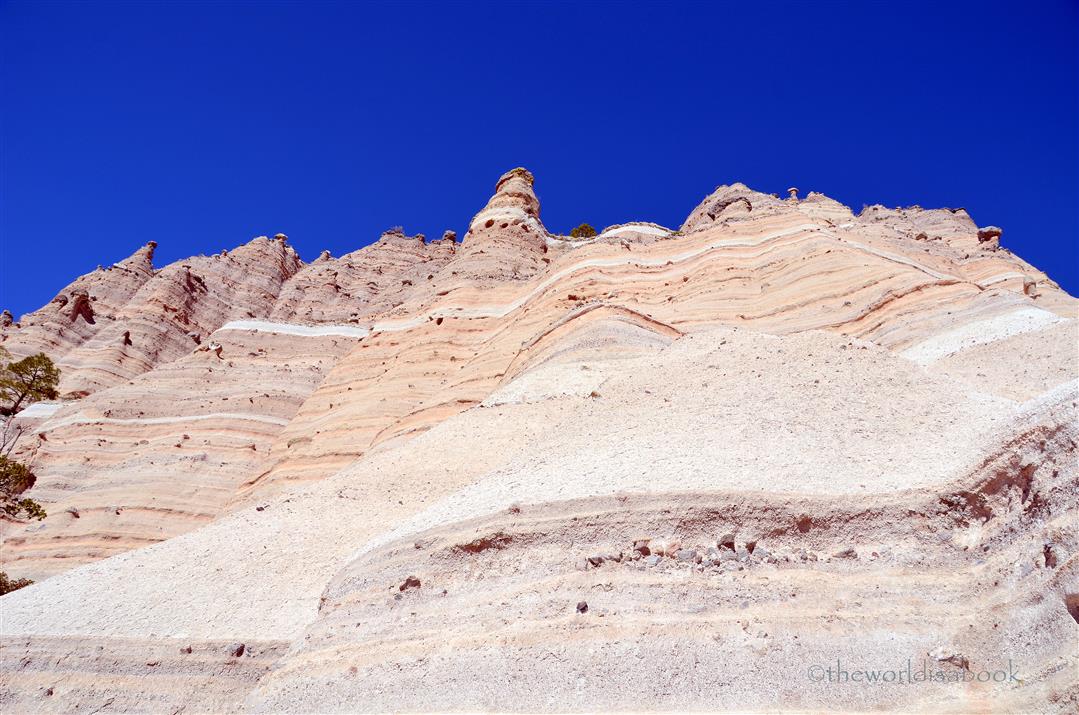 Our hike was more enjoyable with a gentle breeze and the sun shining. It was another good reason to visit in the off-season.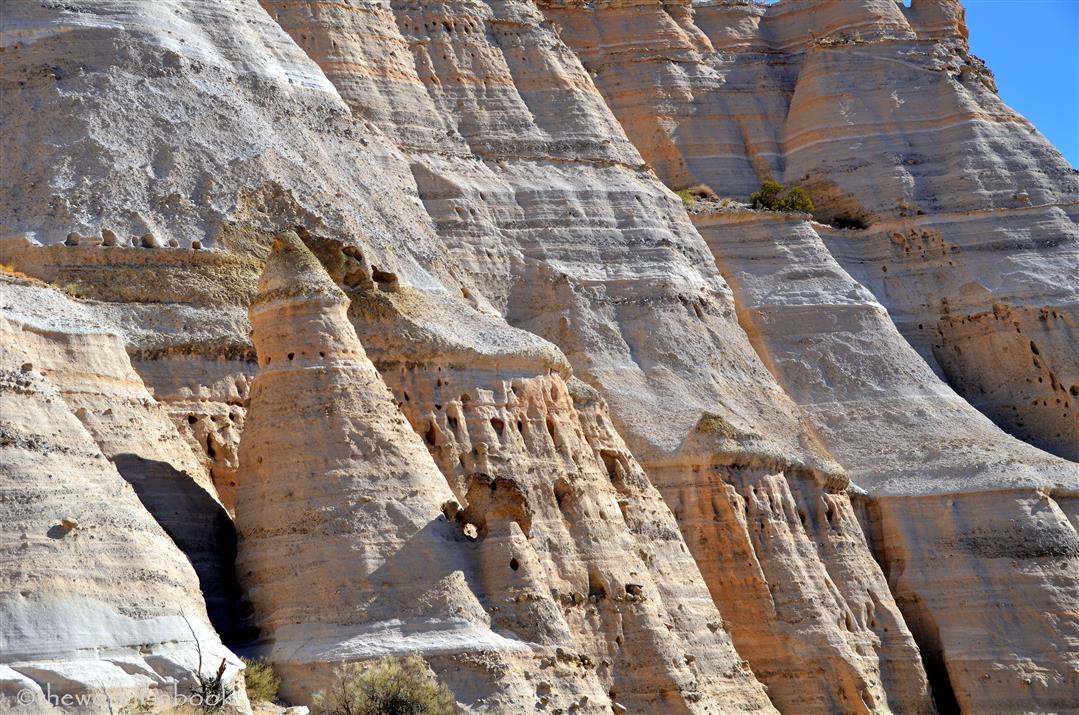 These trails can get crowded and temperatures can soar to over 100 degrees during the summer.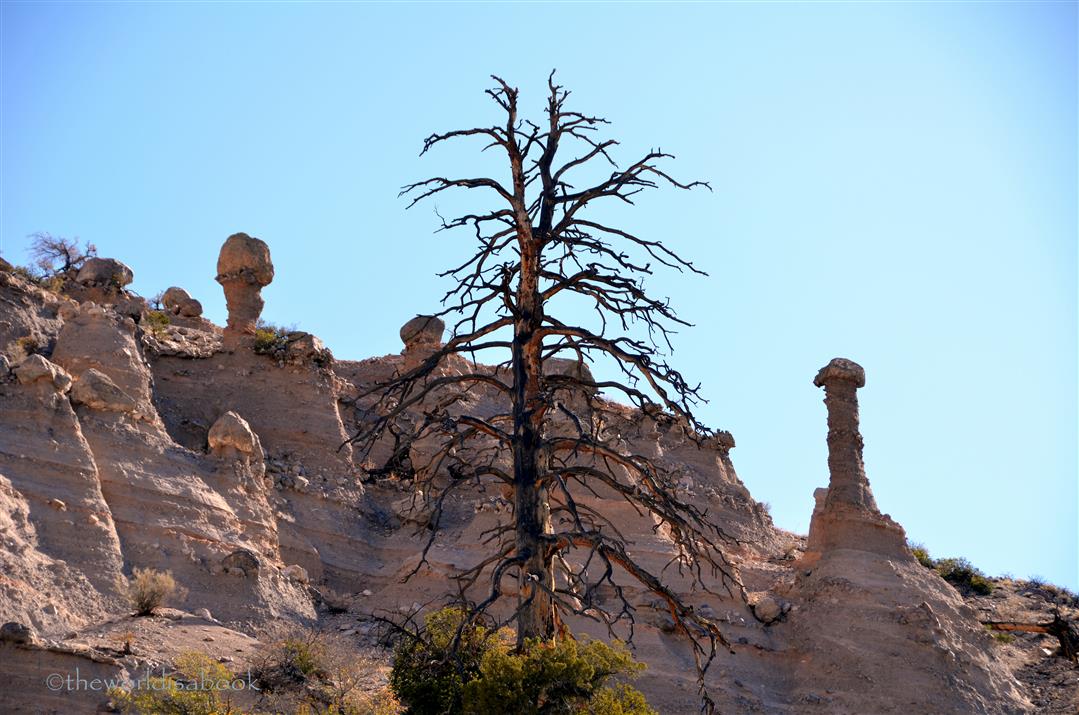 We passed by one of these tent rocks on the trail and couldn't resist doing this shot.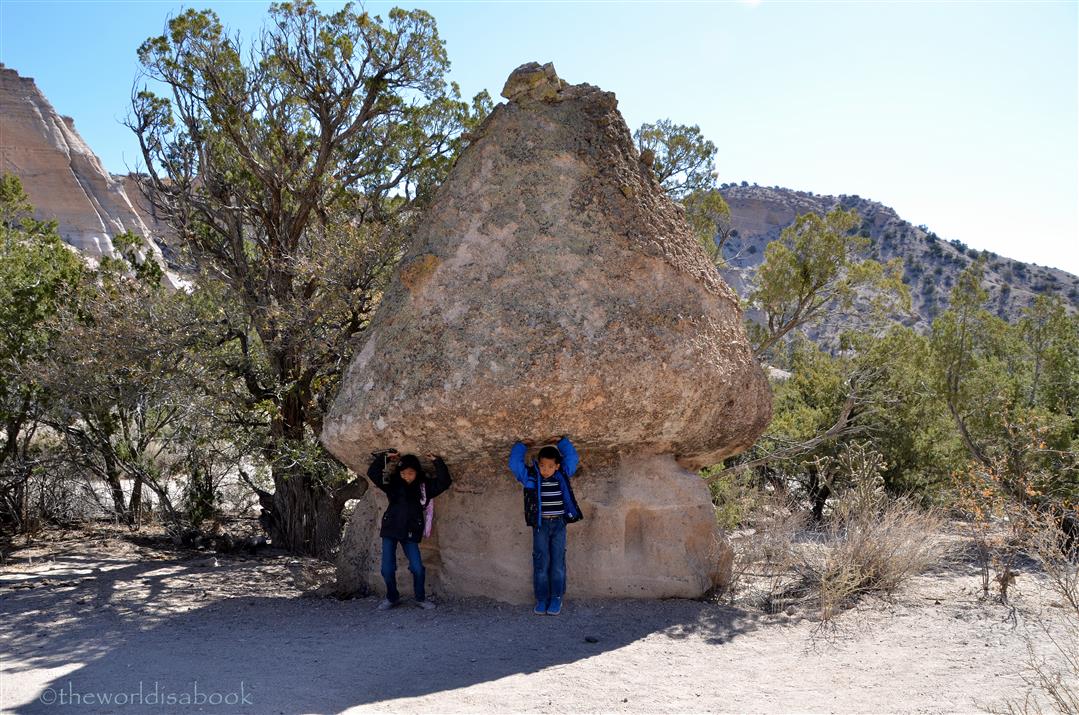 The end of the trail looks out into a few tent rocks on the ground and away from the cliff face. This looked like a campground of cemented tents.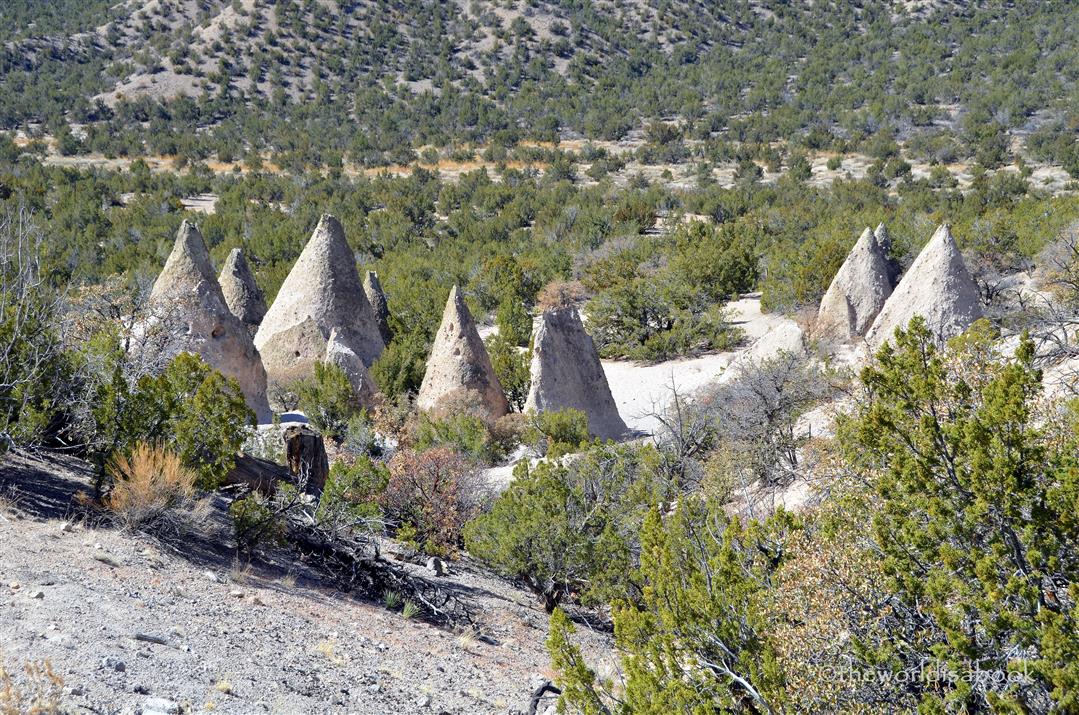 New Mexico's nickname is the Land of Enchantment. It was amazing places like this and a few more I'll be writing about in the next few weeks that showed why it clearly earned its well-deserved name. Kasha-Katuwe Tent Rocks was an unexpected treat. This beautiful and lesser known park deserves a visit if you're ever in this area. We were so glad we visited and would love to return to do the trail we missed.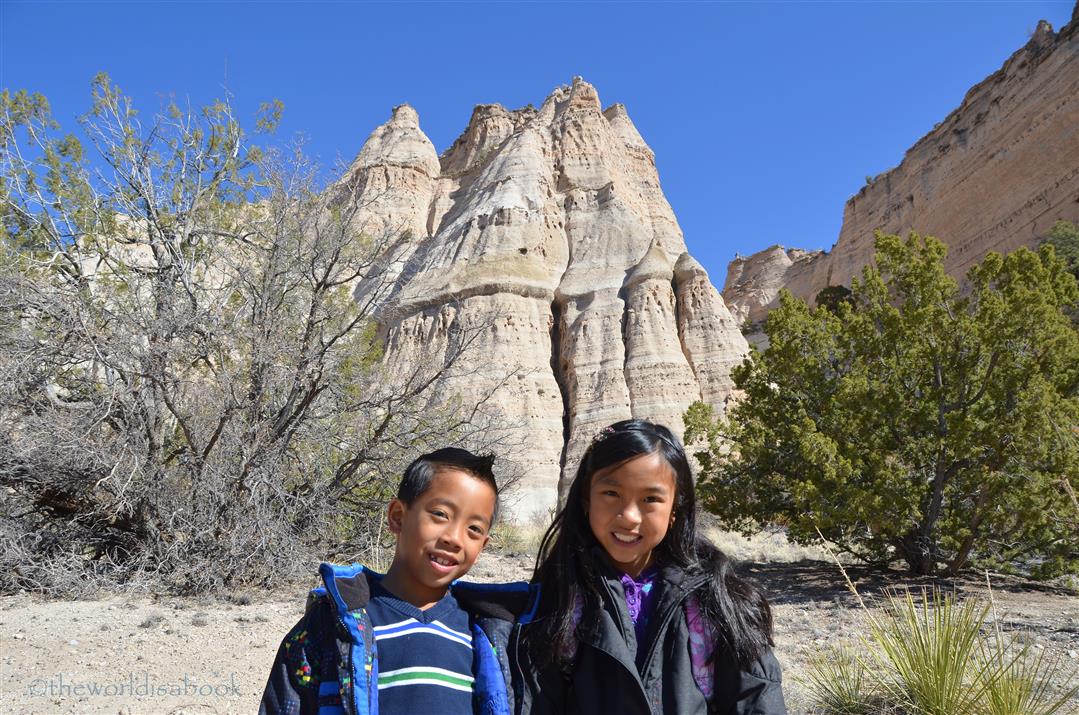 Visiting Kasha-Katuwe Tent Rocks Tips and Basics
 Admission: Private Vehicles – $5; Free with America the Beautiful Parks Pass.
Hours: November – mid-March (8 AM – 5 PM); mid-March – October (7 AM – 7 PM)
Since it's a small park, there was no visitor's center or Junior Ranger activities for the kids. Restrooms and picnic tables at the parking area.
No drinking water available so bring a lot of water. The nearest food, water and gas is 15 minutes away at Cochiti Lake.
No dogs are allowed on the trails.
Bring binoculars to see the birds up close.
Get the Plant and Bird Guide before the hike from one of the kiosks. It's a great way for the kids to be involved with the hike. My kids loved trying to match the plants along the way and guess the few birds we saw flying.
Keep your eyes out for a few buffalo along the Rio Grande River before turning on the main road to the park.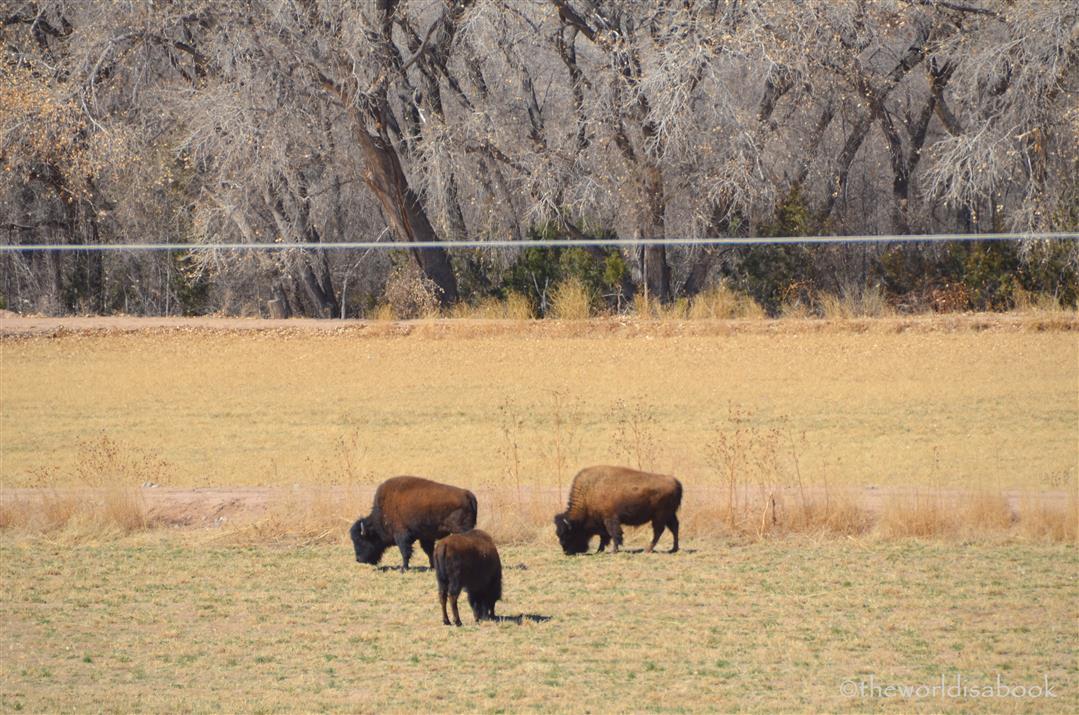 *Have you visited and explored the Kasha-Katuwe Tent Rocks? Would you make a detour?
 Pin it for later!