Underground Wonders of Carlsbad Caverns National Park
I have a National Parks travel bucket list and Carlsbad Caverns in New Mexico has always been high on that list. I've always been fascinated with caves and this is one of the most extensive and popular. We were in New Mexico a couple of weeks ago to explore the state and with the sole purpose to visit Carlsbad Caverns. This was an extraordinary place filled with a variety of fantastic formations.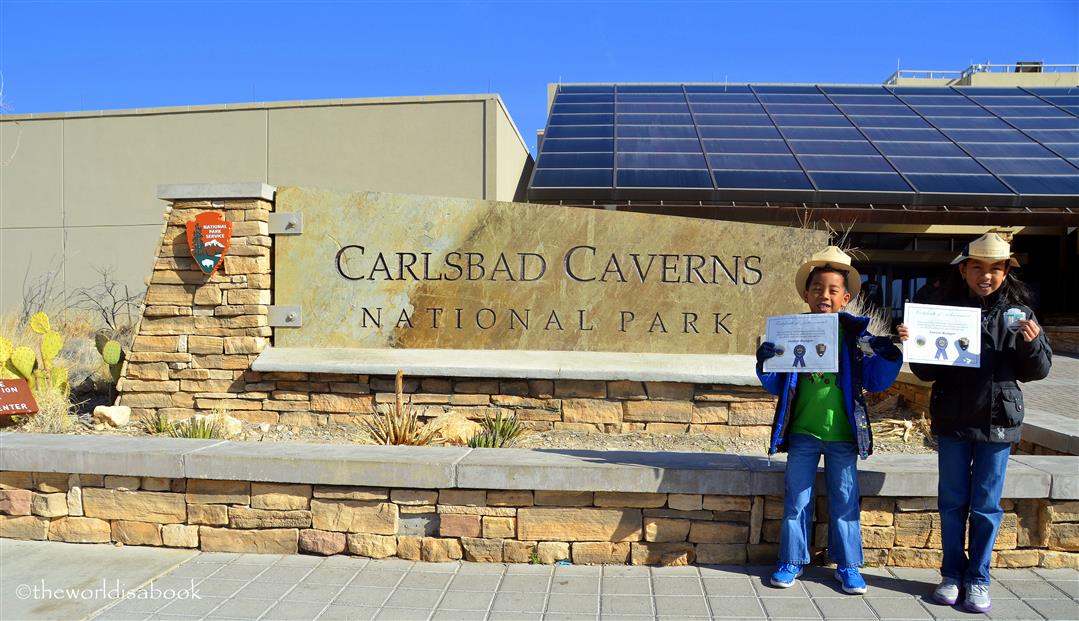 There were many stories by early settlers in the area of a "Bat Cave" in the 1800s. It was later in 1898 when a cowboy, Jim White, found bats exiting the cave and made wooden ladders to fully explore the underground world. It took many years for Mr. White to convince others of the cave's existence and its natural wonders.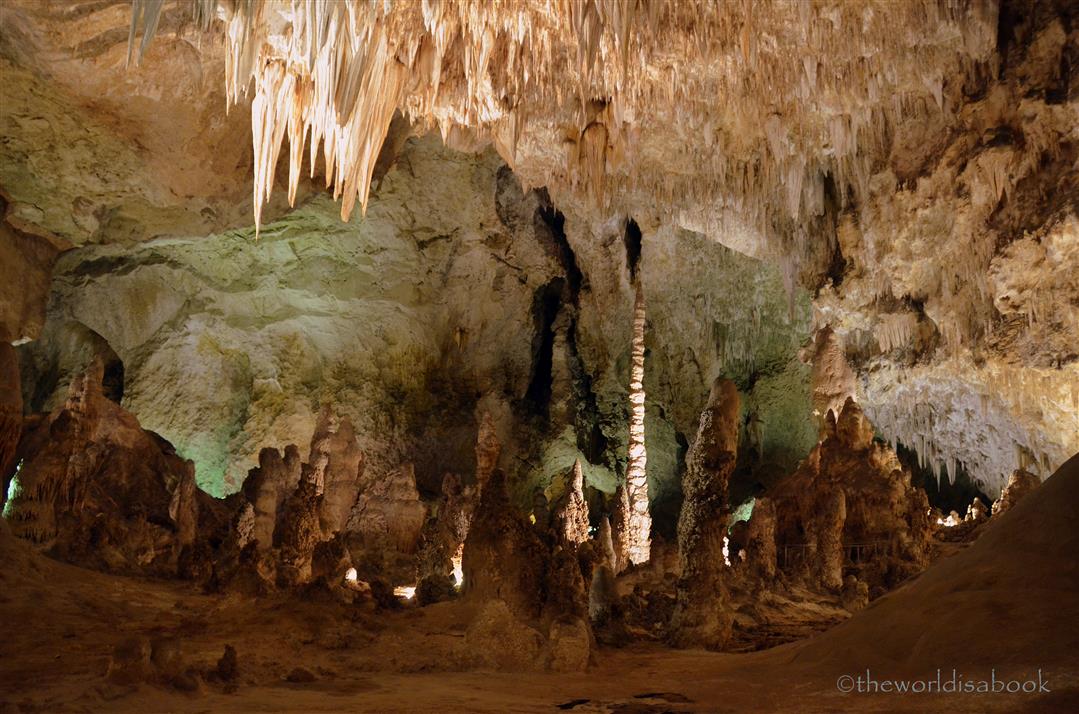 Pictures taken in 1915 displayed in the nearby of town Carlsbad, New Mexico finally convinced the residents of its existence. Mr. White led the tours including a 170-foot descent into the cave on a bucket once used to mine the bat droppings known as guano deposits and sold as natural fertilizer..  It became a National Park in 1930 and was designated as a World Heritage site in 1995.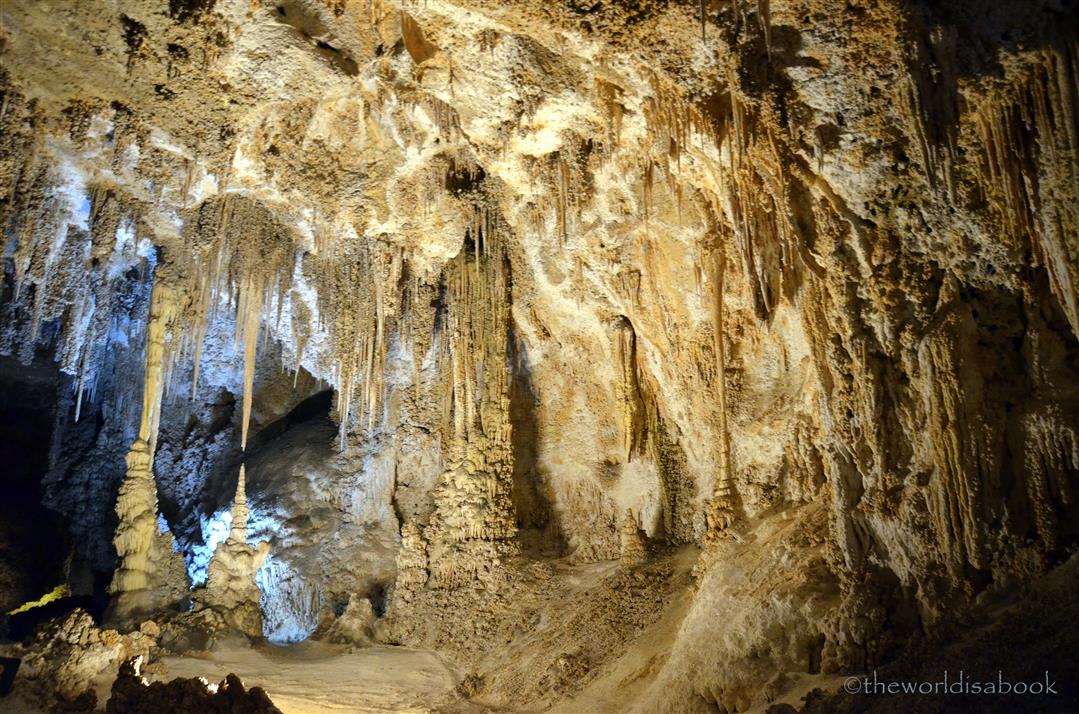 We visited Carlsbad Caverns during the afternoon and the morning on two separate days. There are two self-guided tours for visitors to take. They are the Big Room Route which is the one taken by most visitors and the Natural Entrance Route.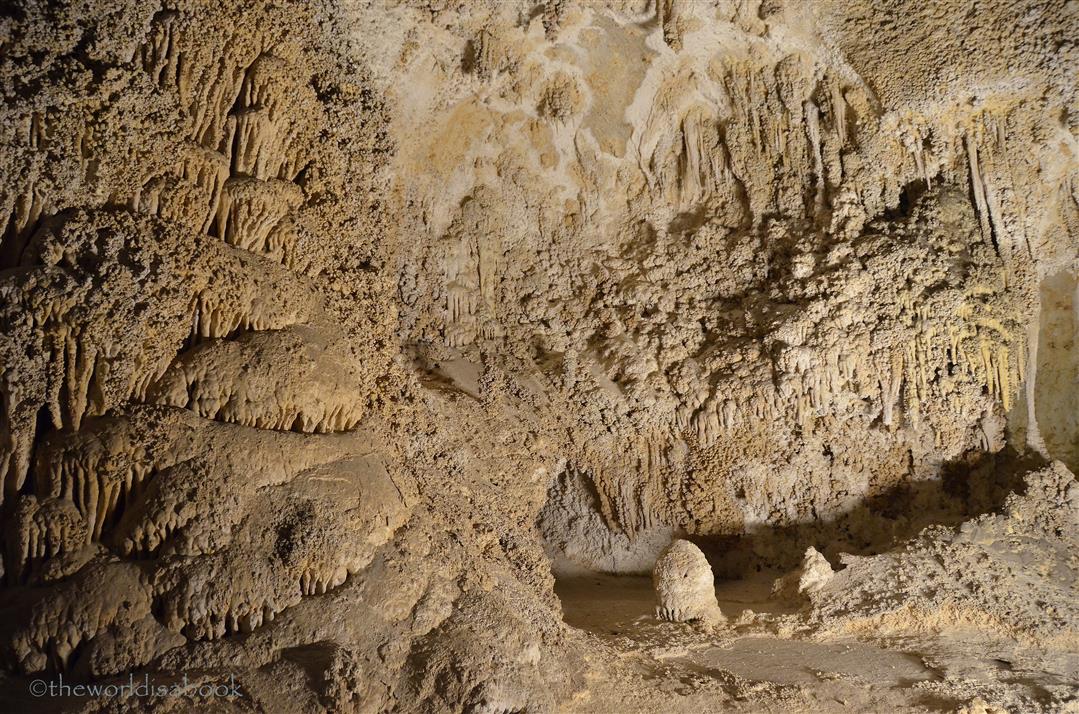 Carlsbad Caverns Big Room Route
We did the Big Room Route first by taking the elevator at the Visitor's Center which was equivalent to over 70 stories of descent and took about a minute to go down. Rangers operate them with a pre-orientation. The first thing that greeted us below was the cafe and store carved under the rocks. It was pretty amazing how they were able to carve out a small underground center here.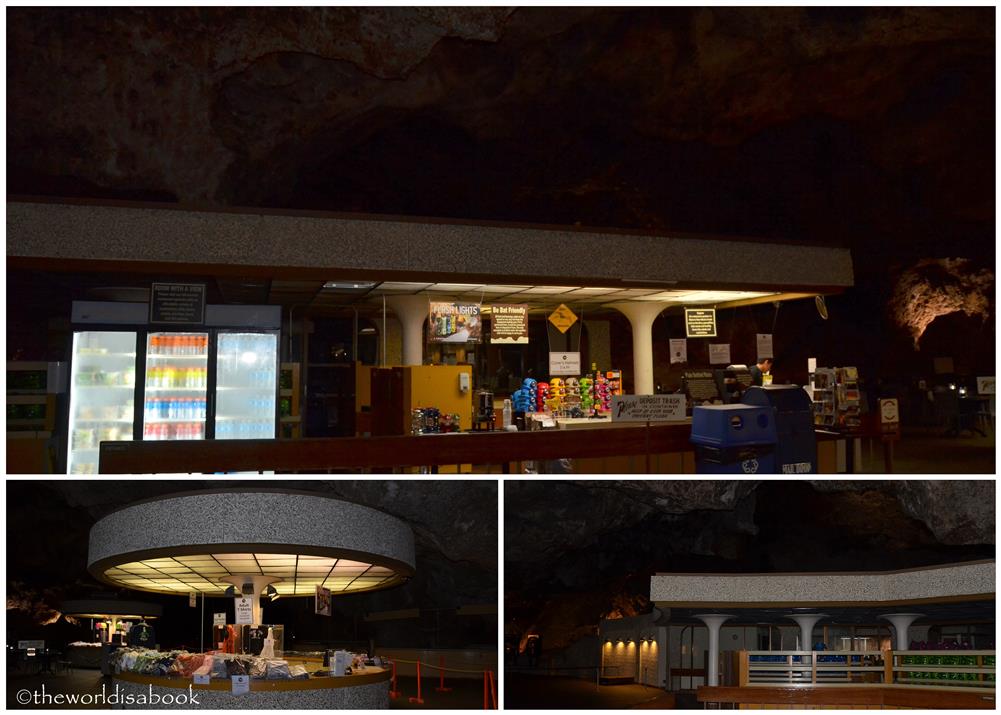 The temperature inside the cave is a constant temperature of 56° F (13° C) so bring a light jacket. Its location and predictable temperature makes it a great place to visit regardless of the weather outside. The paved walkways with rails were well-lit with plenty of lights to enhance the cave formations. The one-mile circular route took us to the cave's main highlights. It was a great route with kids or those with walking difficulties.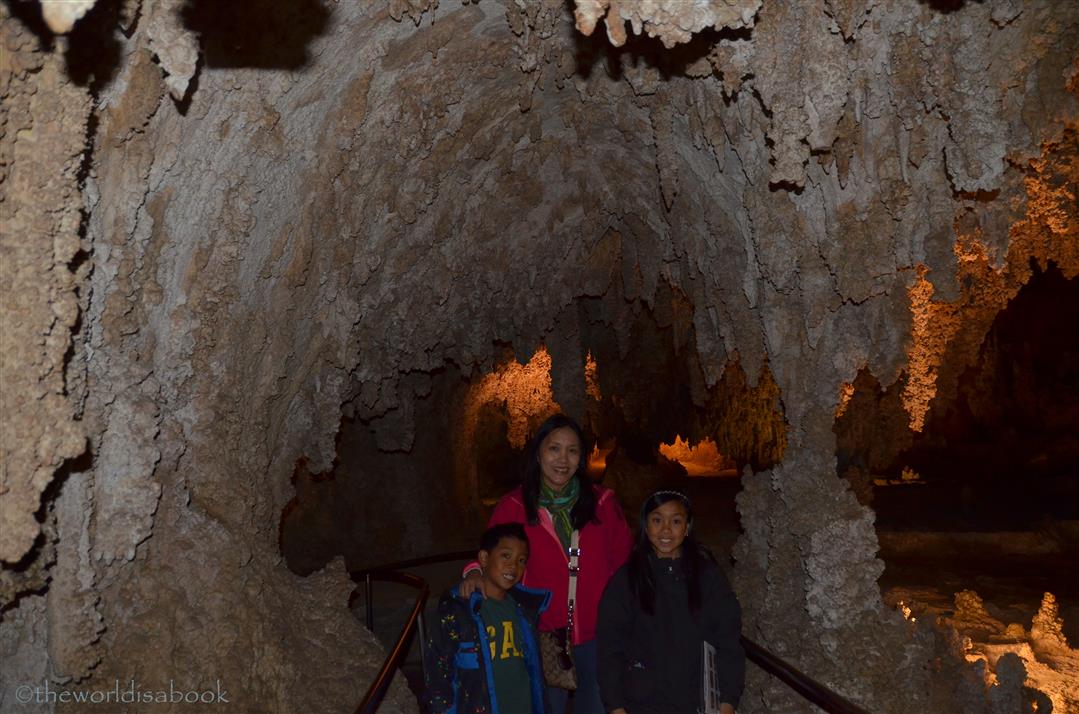 Some areas were wheelchair accessible but strollers were not allowed. Babies needed to be carried on carriers or baby backpacks. It took us a little over 2 hours to walk around with plenty of stops to read the signs, take photos and look at the formations closely. The Big Room is equivalent to six football fields.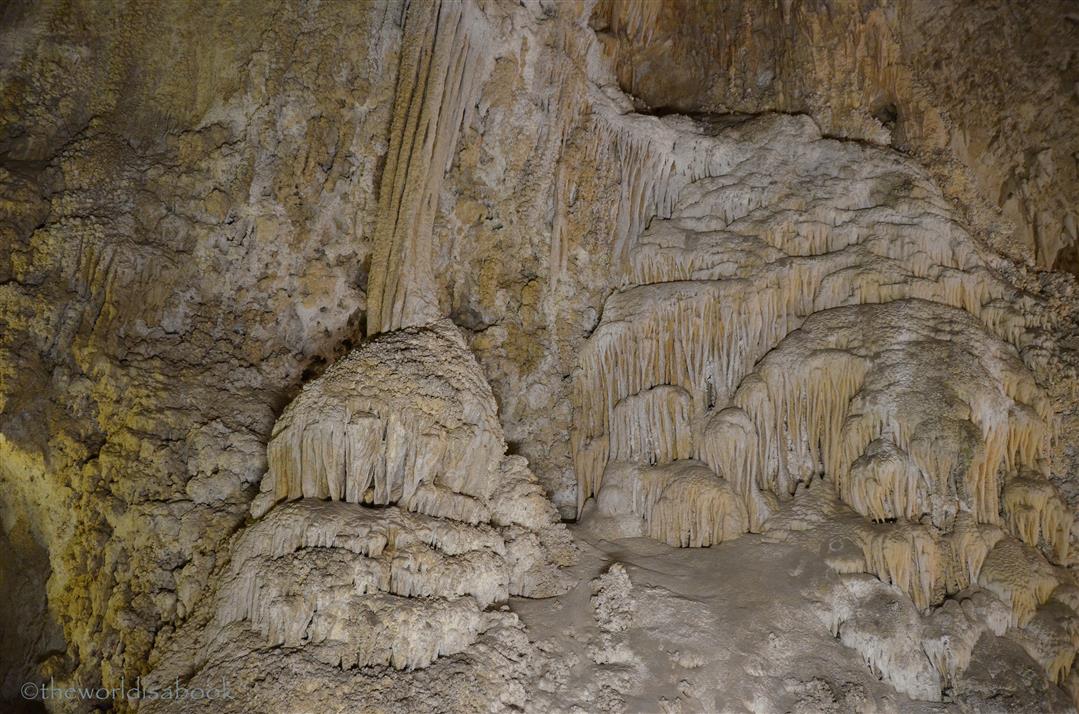 I've often said there's no comparison with pictures and seeing things in person. In this instance, our pictures don't even begin to capture the beauty and size of these formations. It was also a bit hard to take pictures with the low light. My husband did a great job with some of them considering the light and lack of tripod.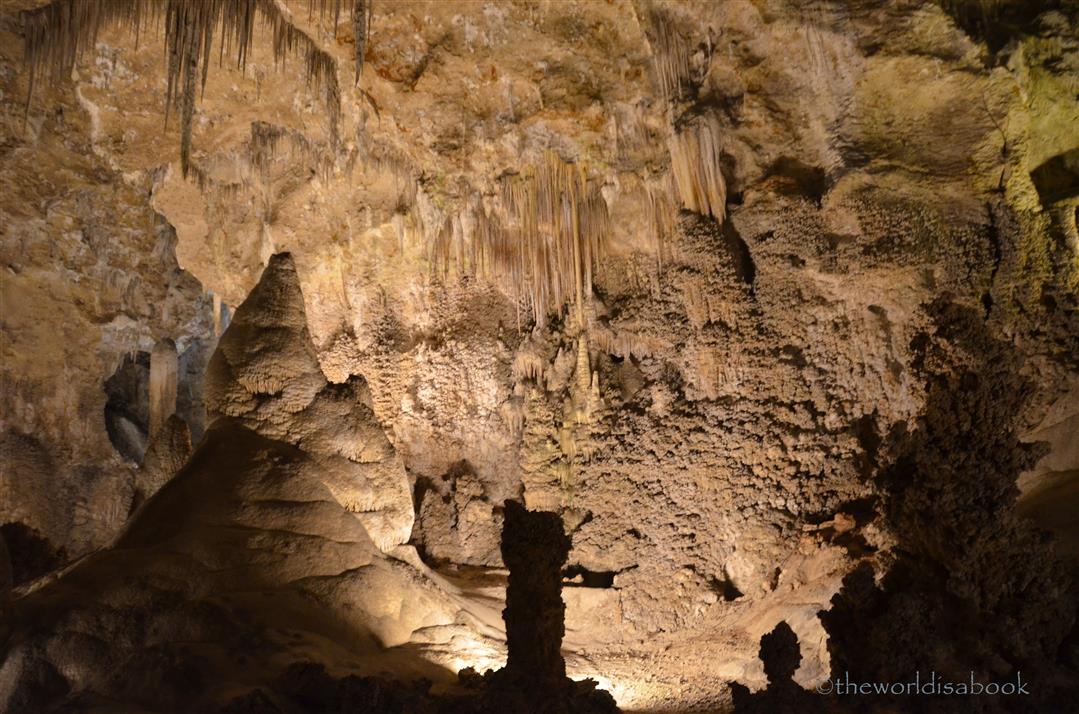 So, how were these formations created? The process began 500,000 years ago after the caverns were already carved out. The formations were created by billions of water that dripped or seeped over time into the cave and left behind a mineral called calcite.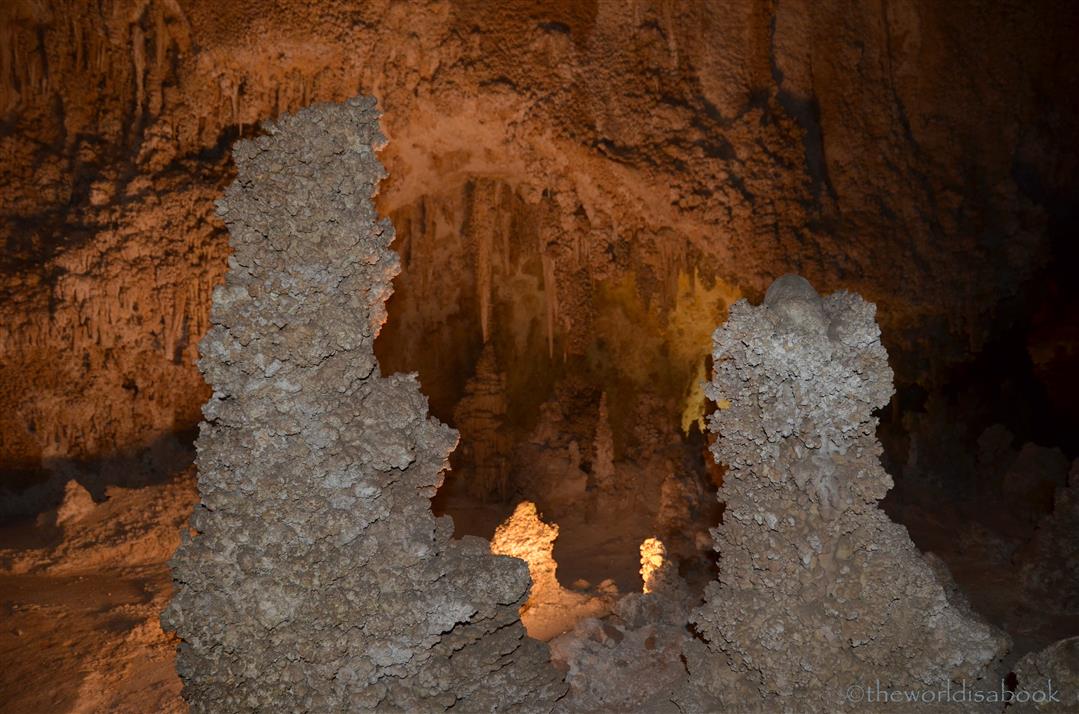 These decorations were all spectacular sights. We saw the Stalagmites growing from the ground and created by water falling on the floor.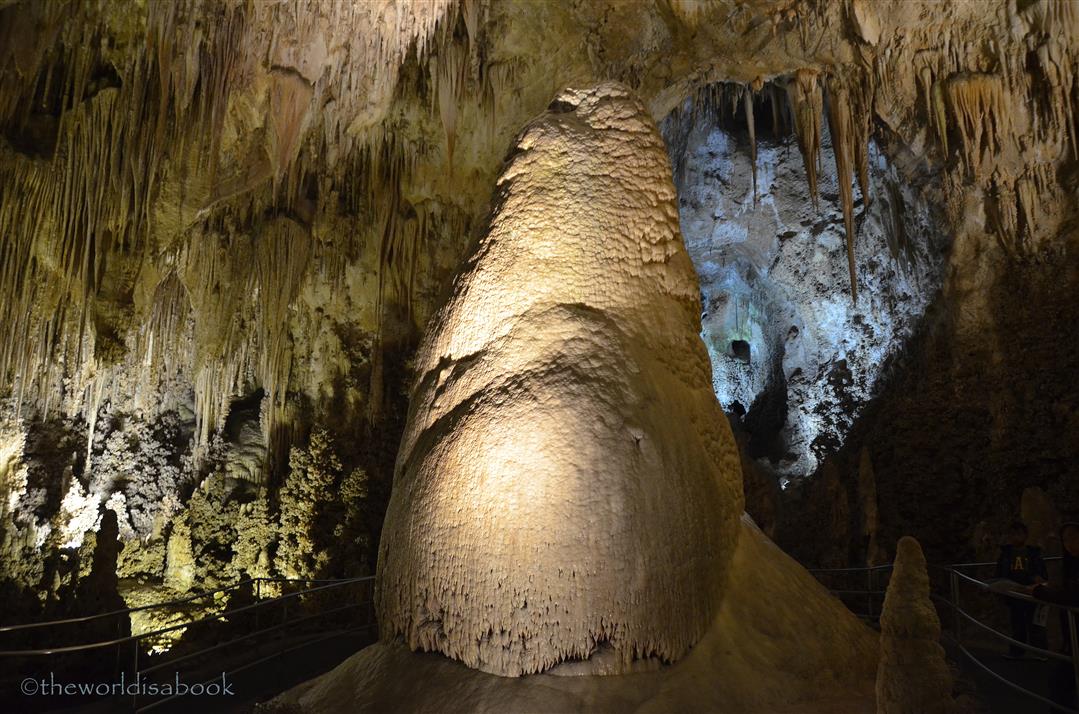 Water dripping slowly from the ceiling created the Stalactites hanging down. The thinner, hollow ones are called Soda Straws.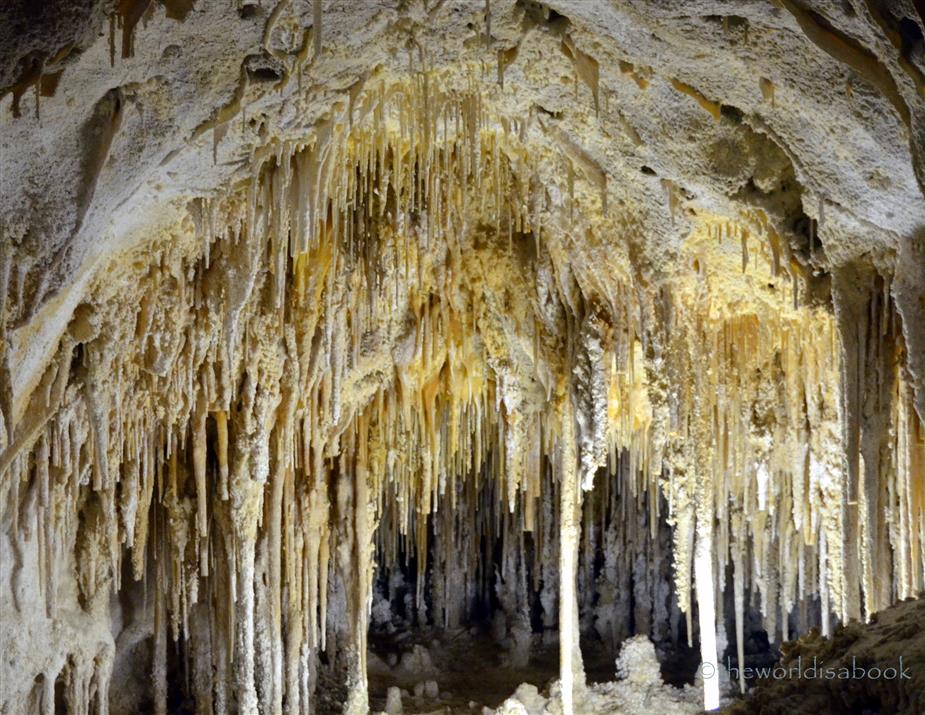 When stalagmites and stalactites grow and meet together, they create these massive formations called Columns.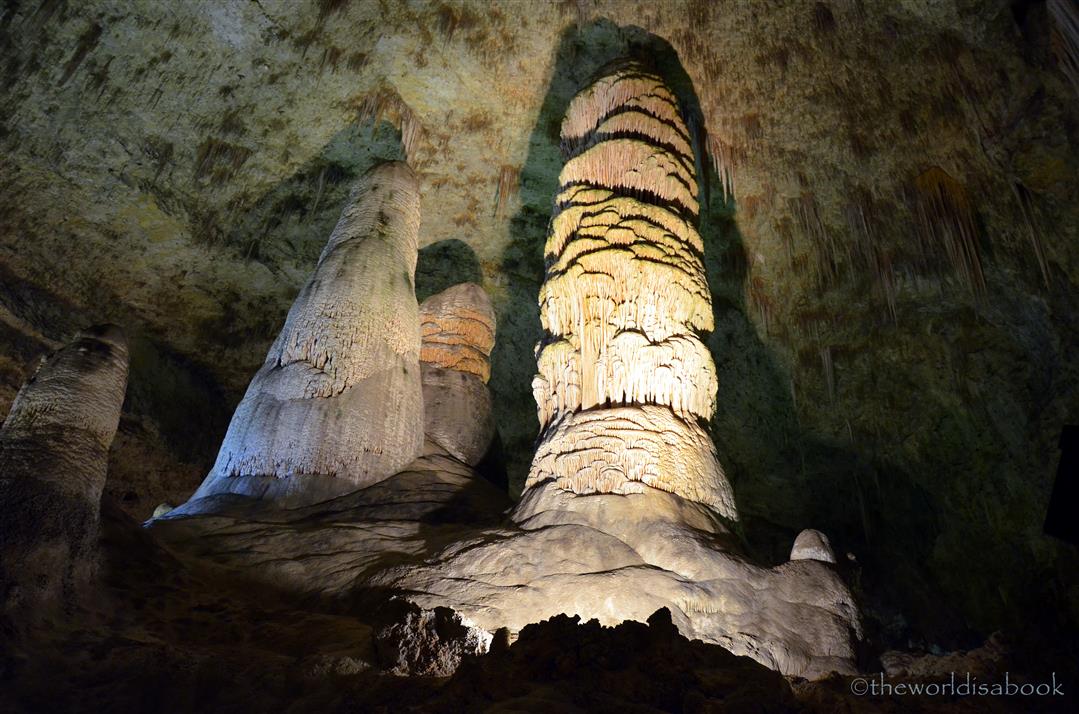 My kids' favorite decorations were the Cave Popcorn. They were everywhere!  They looked like hard bubbles clinging to the walls or like caramel popcorn.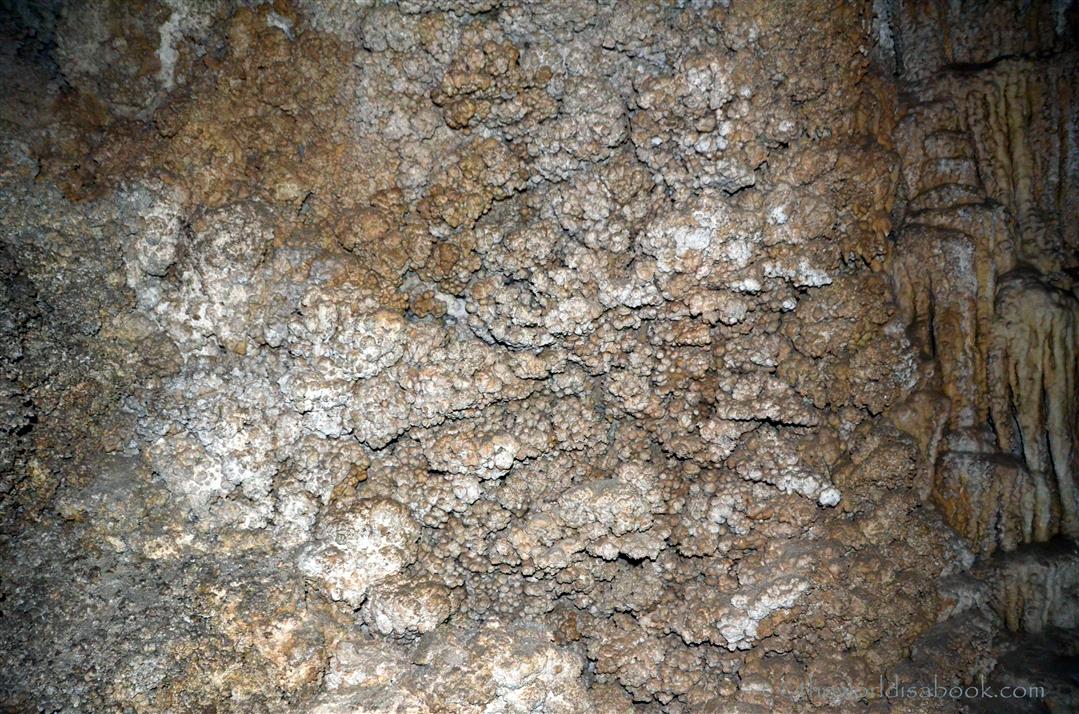 Sometimes, water gathers in the cave and form Cave Pools. This one was clear and made for some wonderful reflections.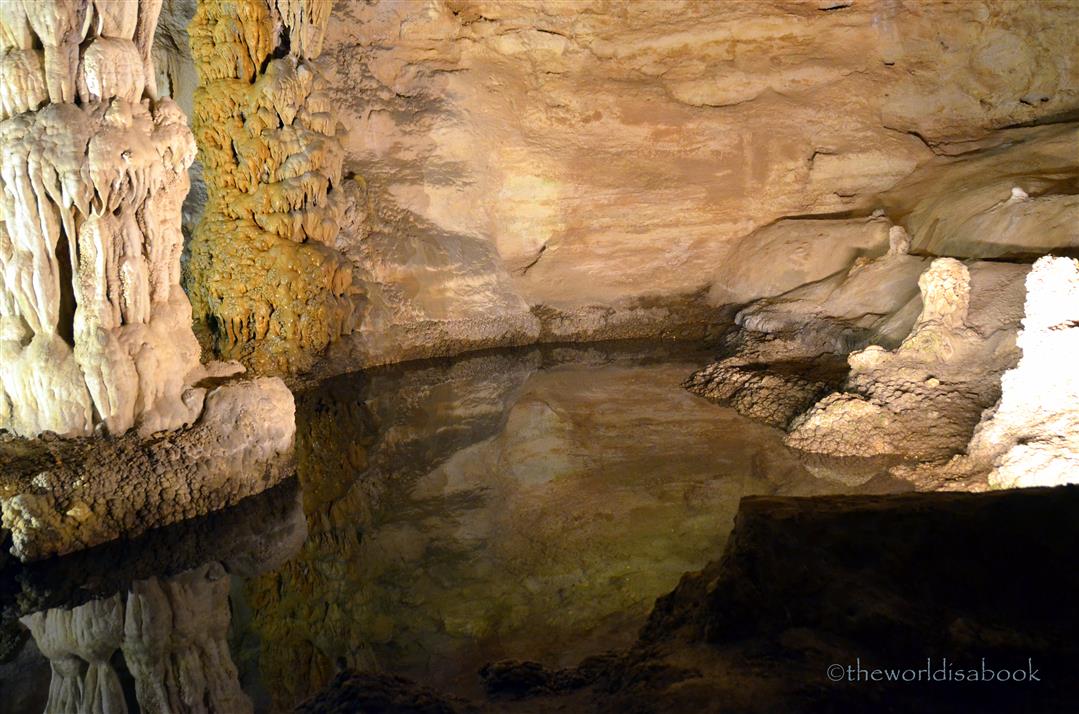 I didn't expect my kids to be so interested but they loved looking at all the formations. The Junior Ranger booklet was a great resource to help them learn and observe. Their imagination ran wild picturing what some of the formations looked like. Some actually had names like this one called Lion's Tail.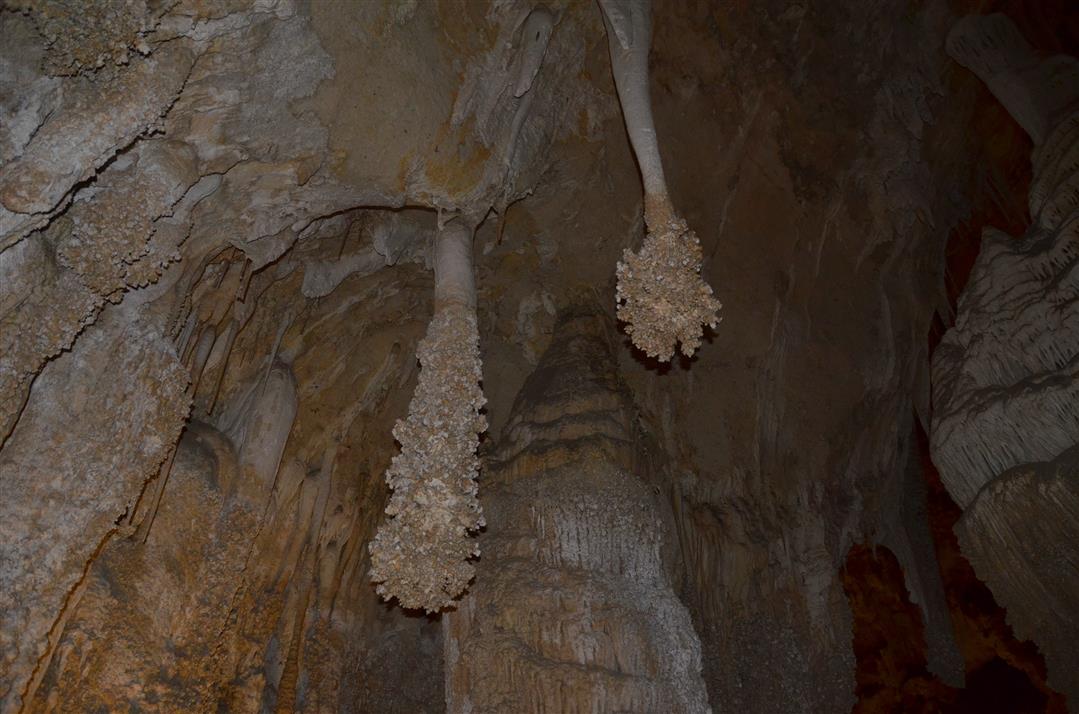 Some of them took on shapes that provided a good laugh for my husband and me and a few of the visitors. This was one example. What do you think? Chinaman hat or a female body part?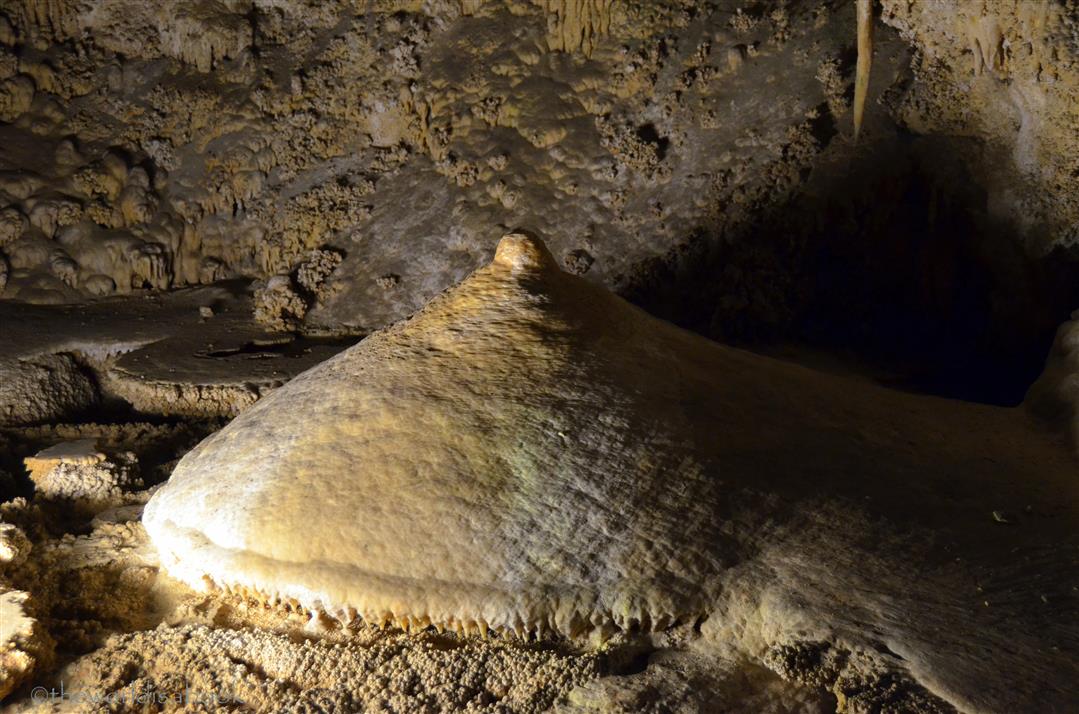 I've visited my fair share of caves but this was huge and a bit overwhelming. I've never been worried of Stalactites before. But as we kept walking all over the caverns, I started to get paranoid with the amount of stalactites hanging down. These have been around for thousands of years, who knew when they would give out. It was unnerving to look up and see these giant sharp rocks pointing directly at you.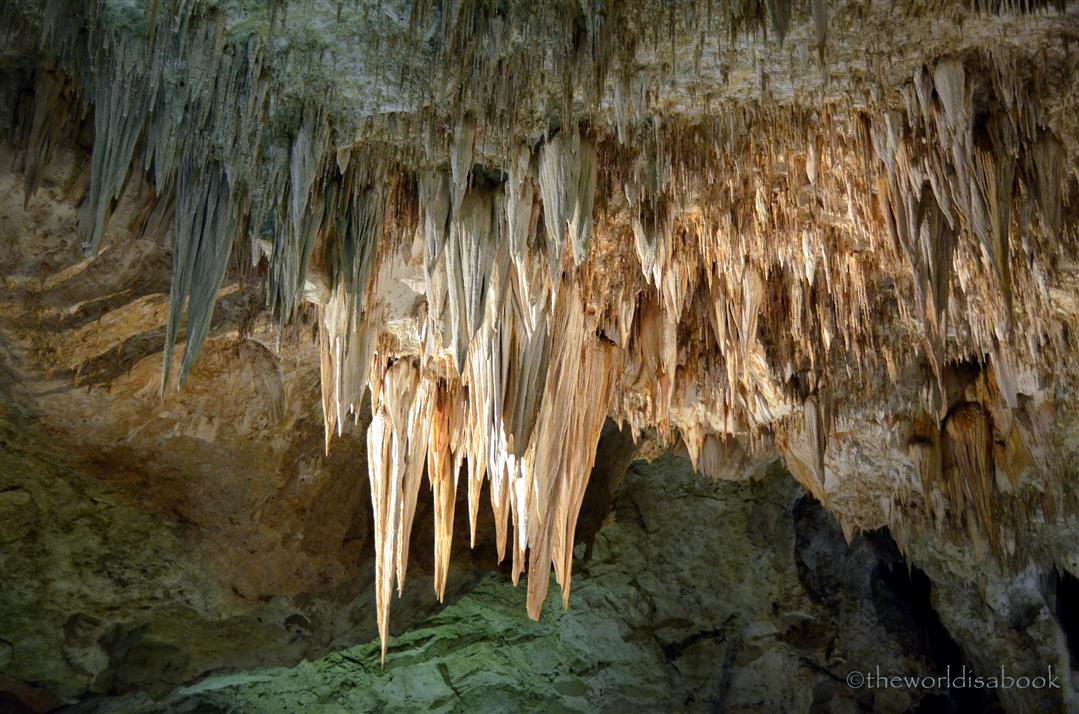 For the most part, people are asked to speak softly since it magnifies the echo effect. Standing still long enough, we heard water dripping from many directions. It was a pretty fantastic feeling to know we were witnessing more formations being created.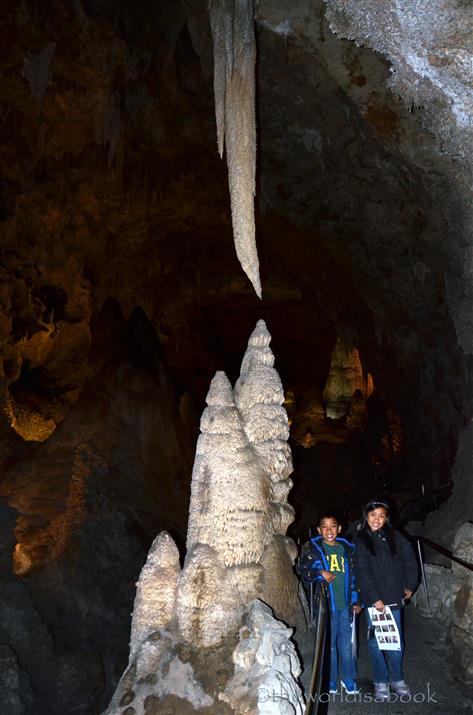 Natural Cave Entrance Route
The following day we set out to explore the Natural Cave Entrance which was down the hill from the Visitor's Center. This was also a one-mile tour with some narrow passages. We passed by the Bat Amphitheater where visitors can sit and wait for the thousands of Mexican Free-tailed bats leave at sundown to eat from May to October. It looks like we'll have to return to witness this event.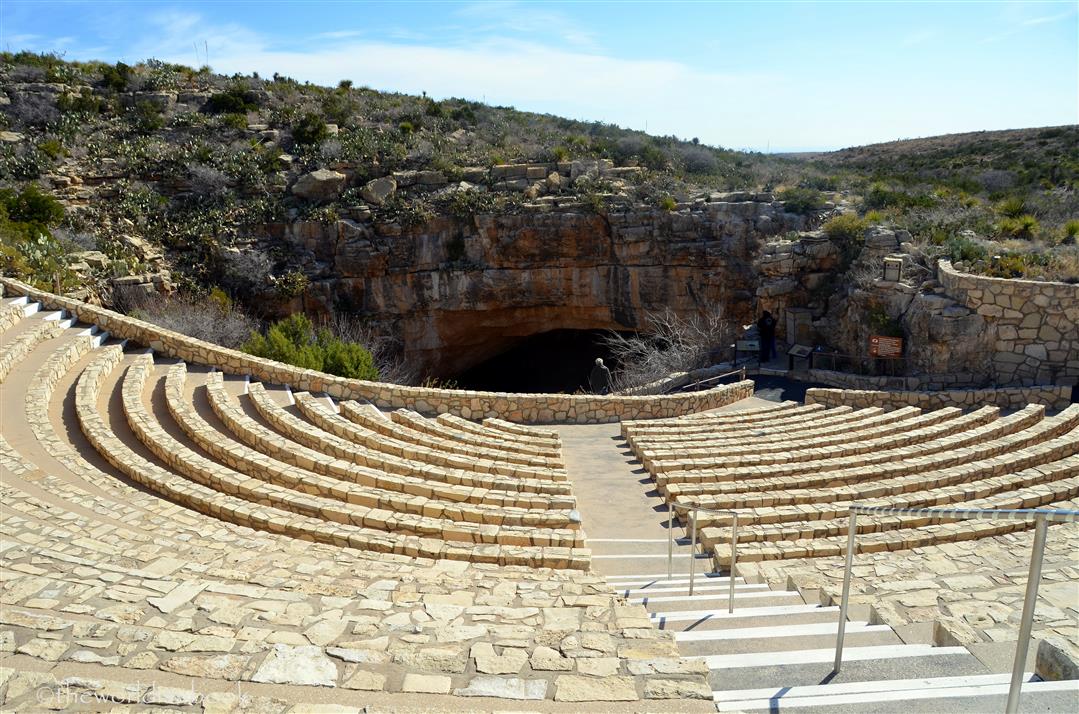 We entered the cave via a massive hole which was the same one early explorers used to go down minus the winding paved path. The paved walkway descended 750 feet (229 m) down.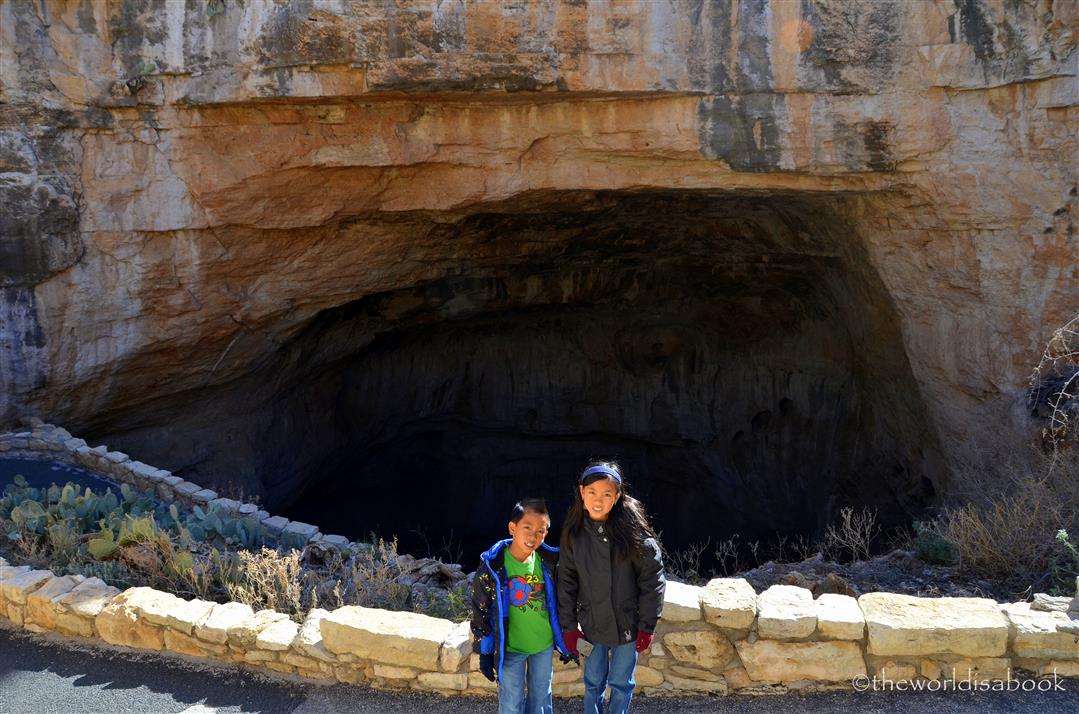 This was our view from below as we went down the cave.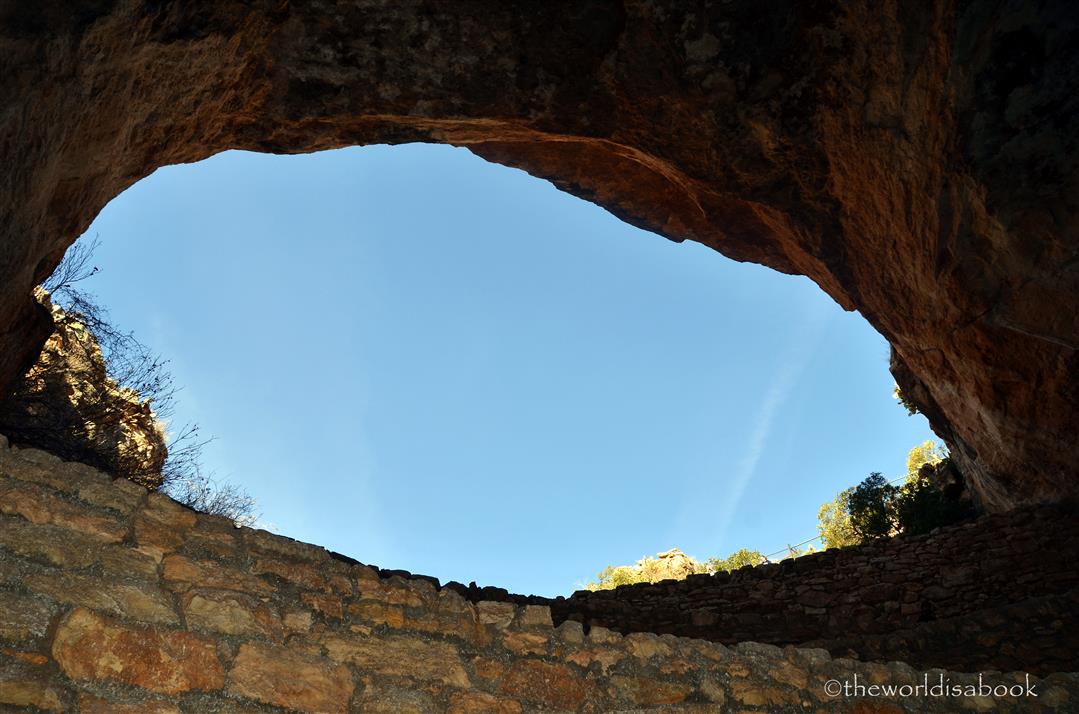 While we saw many of the same formations, the Big Room Route's arrangements were bigger and more dramatic. If you can only do one self-guided tour though, do the Big Room Route for a lot more highlights.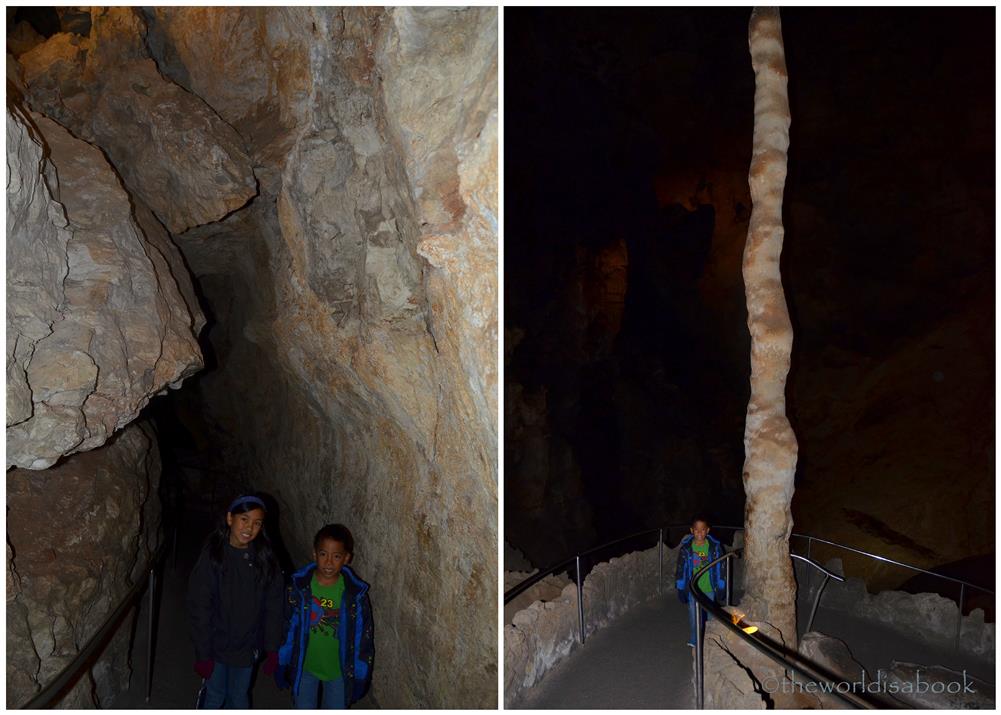 Remember my fear of things falling on people? Well, it actually happened thousands of years ago when Iceberg Rock fell from the ceiling probably causing a small earthquake. The 200,000-ton boulder now sits on the ground for visitors to walk around and marvel at its size. You can still see the formation on the ceiling where it fell from.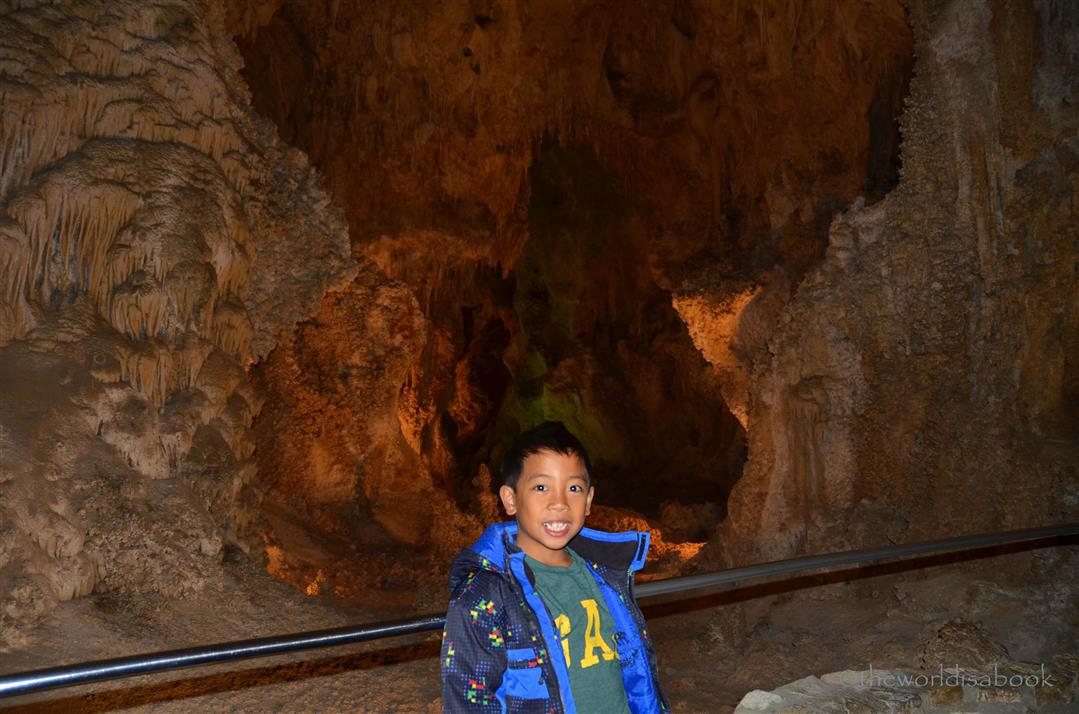 We passed by these Historic Stairs that were used by visitors until the 1950s. Can you imagine using these stairs to climb down here using only lanterns?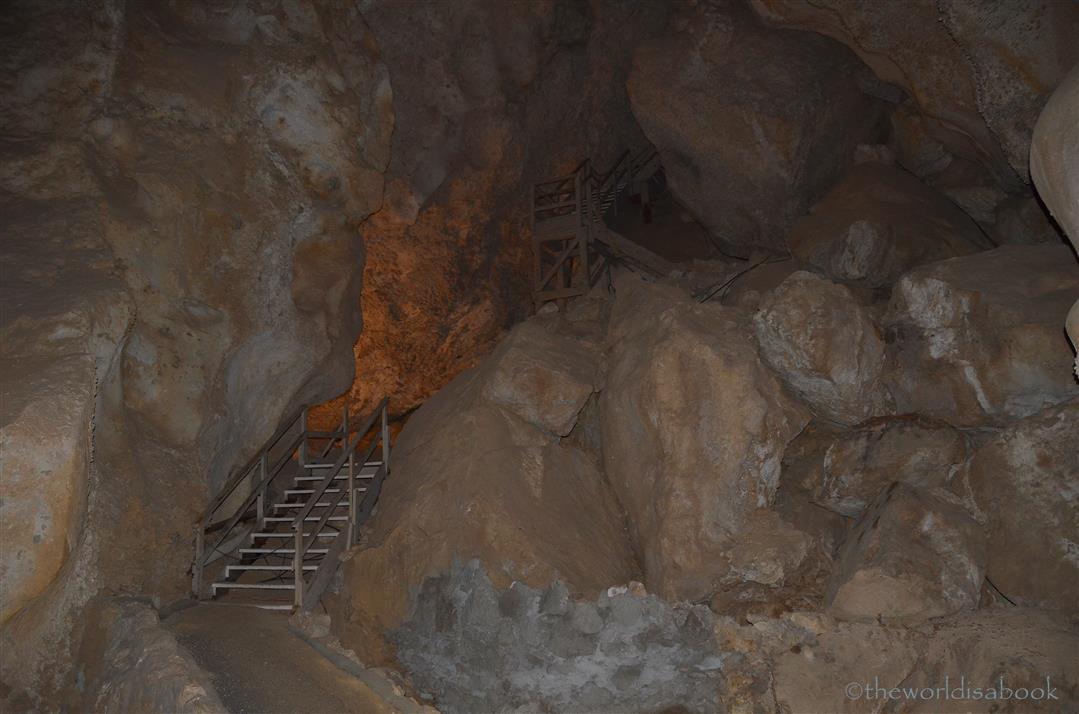 We also passed by an area called the Boneyard which were limestone rocks that looked like Swiss cheese and bone fragments. This route ended near the underground rest area and café.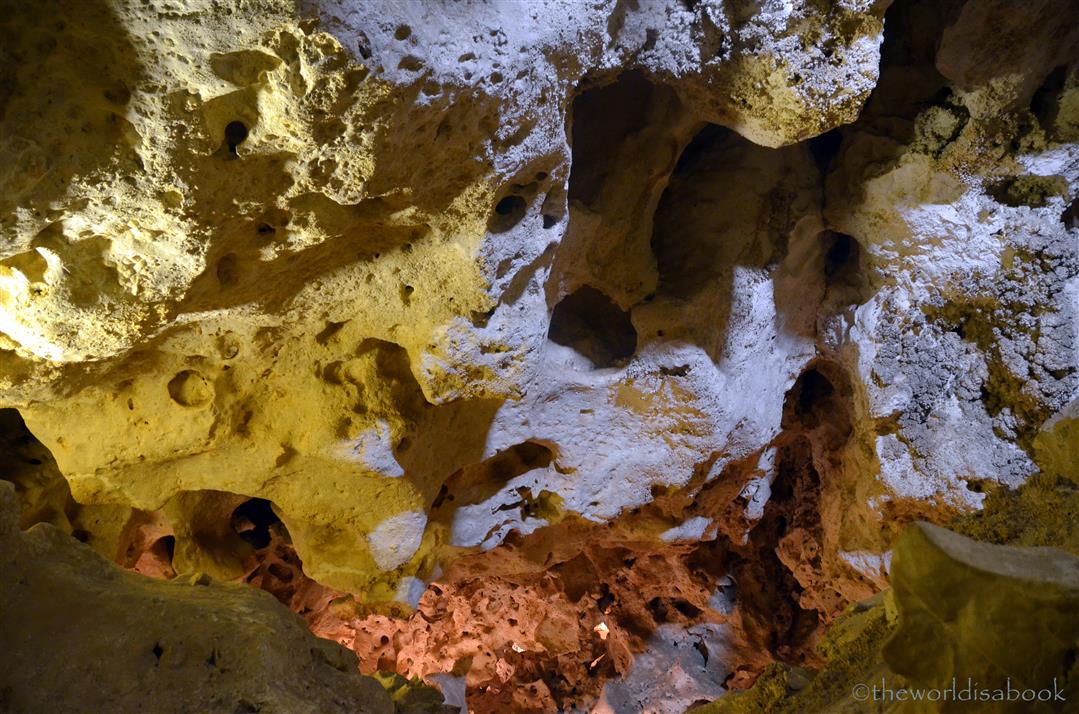 It was such a delight to explore this incredible underground world of Carlsbad Caverns National Park. Whether you're a fan of caves or not, there's no question these cave formations and chambers are stunning to see for its variety, sheer size and scale. We loved that most of the trails were accessible and made it easy for everyone, no matter what age, to enjoy the cave. This cave is Mother Nature at her best and we highly recommend visiting this national treasure.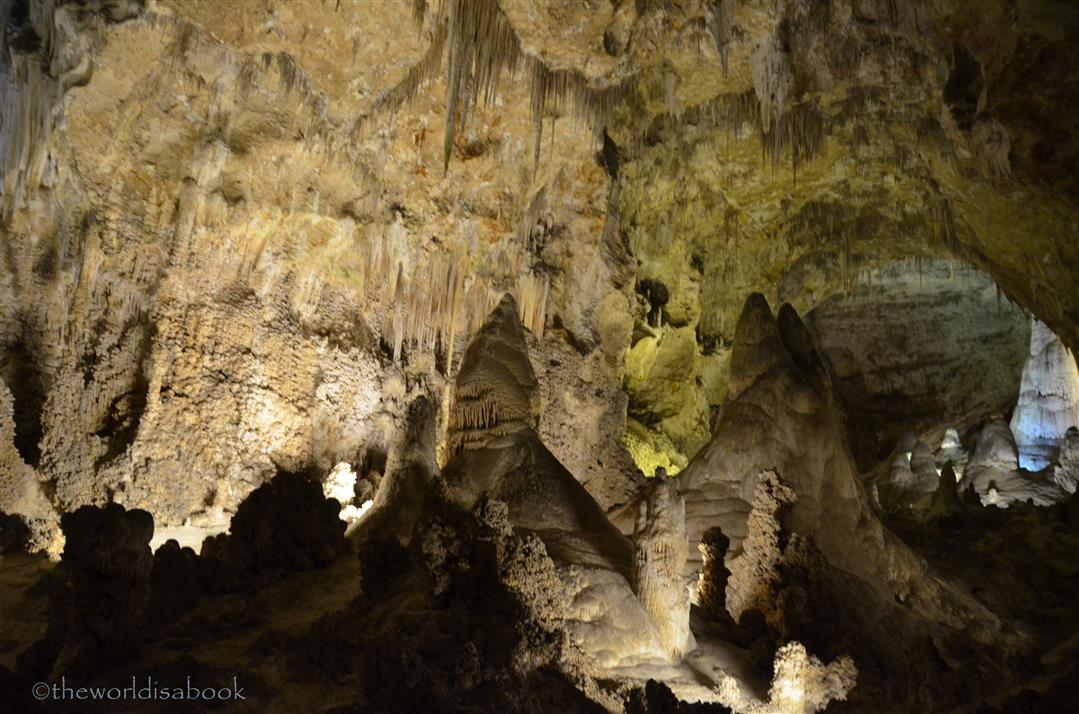 Tips for Visiting Carlsbad Caverns National Park with kids
Admission Price: $6 (16 years old and over); Kids 15 and under are Free; Free with America the Beautiful National Park Pass.
Get the Junior Ranger Booklet at the Visitor's Center. Kids, ages 7-12, can earn a badge or patch by completing 7 of the 14 activities. They also had junior ranger paper hats which we've never seen before.
Reserve ranger-guided tours in advance online at www.recreation.gov or by calling 1-877-444-6777. There are three tours kids 8 and under can go which includes the popular King's Palace Tour with only 55 spots. During busy times, the park recommends reserving 6 weeks in advance.
Rent Audio guide for $5 at the bookstore to help with the self-guided tours.
Bring flashlights to look at formations more closely. We also used our iPhones' flashlight app.
Expect long wait times at the elevators during the summer season or around closing time. We only waited 5 minutes at the most during our visit in late March.
No food, gum or drinks other than water are allowed inside the caves.
Wear shoes with traction despite the paved walkways for some steep and wet areas.
Kennel services are available for your four-legged friends.
Most lodging is located in the city of Carlsbad, NM. There aren't that many decent options which is surprising for a city near a major National Park.
The nearest major airport is 150 miles in El Paso Texas. You can also do what we did which was fly into Albuquerque, New Mexico. We spent a few days in Albuquerque and Santa Fe and drove down for 5 hours passing the alien city of Roswell to the caverns.
*Have you visited and explored Carlsbad Caverns National Park? Is this on your travel list?