5 Free Things to do in Orange County with Kids
Orange County is an area made up of 34 cities and located between Los Angeles and San Diego, California. This is home to Disneyland and Knott's Berry Farm. Amusement park tickets eat up a lot of a travel budget. But, there are various activities here for families too that range from museums to outdoor adventures along the coast. Here are free things to do in Orange County with kids to offset the cost a bit for families.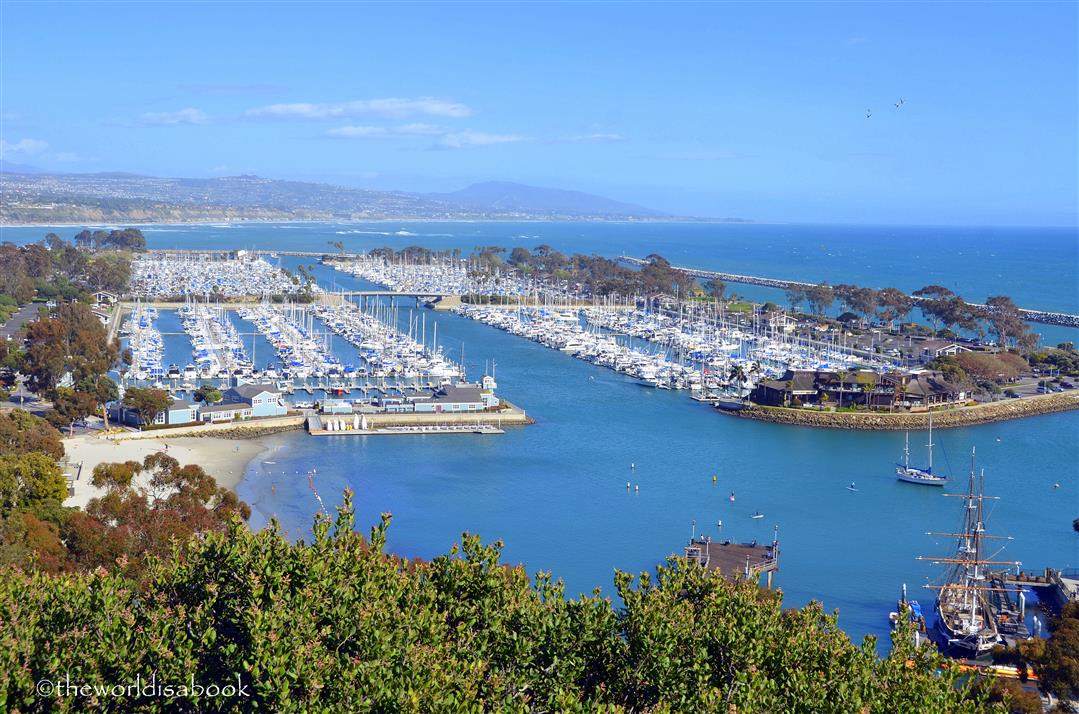 1. Orange County Great Park
This is one of our favorite places in the area. Located in Irvine, there's not much at this planned metropolitan park yet. But, once completed in the next few years, it is slated to be twice as large as New York's Central Park. The most popular attraction is a ride on the giant, orange helium balloon for panoramic views of the area. This used to be a free ride but fees have been imposed starting April 4, 2013. Read about our experience at the OC Great Park Balloon ride.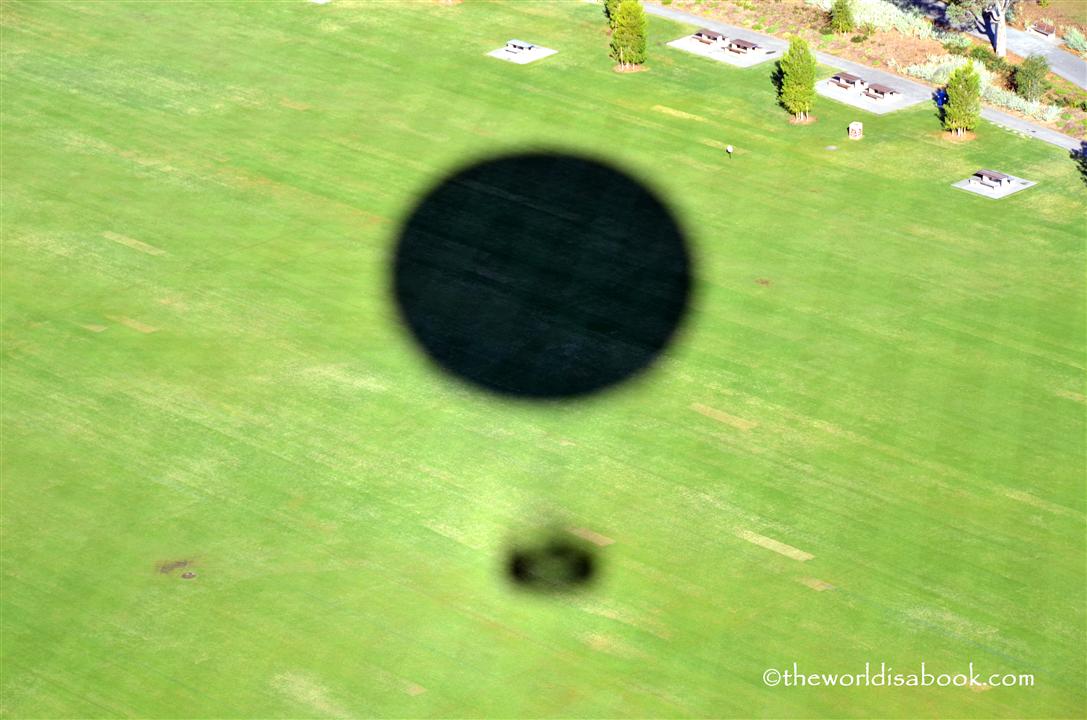 There are plenty of wide open spaces for kids to explore including a wonderful Kids Rock playground and a walkable history timeline. The Palm Arts Complex offers rotating art exhibits throughout the year. Don't forget to explore the Food + Farm Lab. It's an exhibit of urban agriculture where kids can see how plants grow in various ways. They have different small themed gardens like Pizza, Ethnic and Sensory which always smell delightful. A free children's garden workshop is also offered on the 2nd Sunday of each month.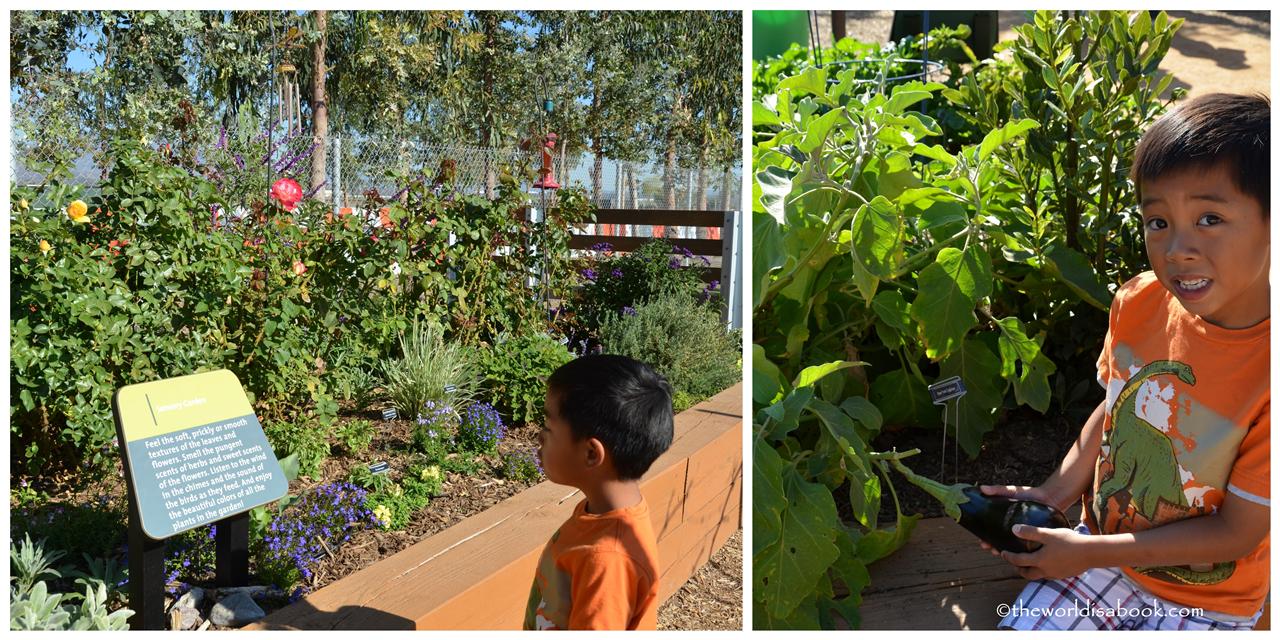 2. Beaches and Tide Pools
Orange County has some of the best and cleanest beaches in Southern California. There are plenty of boardwalks, piers and over 40 miles of coastline to explore. Grab a picnic basket and some beach toys and play at some of its popular beaches including Newport Municipal Beach, Laguna Beach and Huntington Beach aka Surf City. You may just catch a surfing competition here. You can also drive along Pacific Coast Highway and pull over at some sidestreets to discover an uncrowded public beach.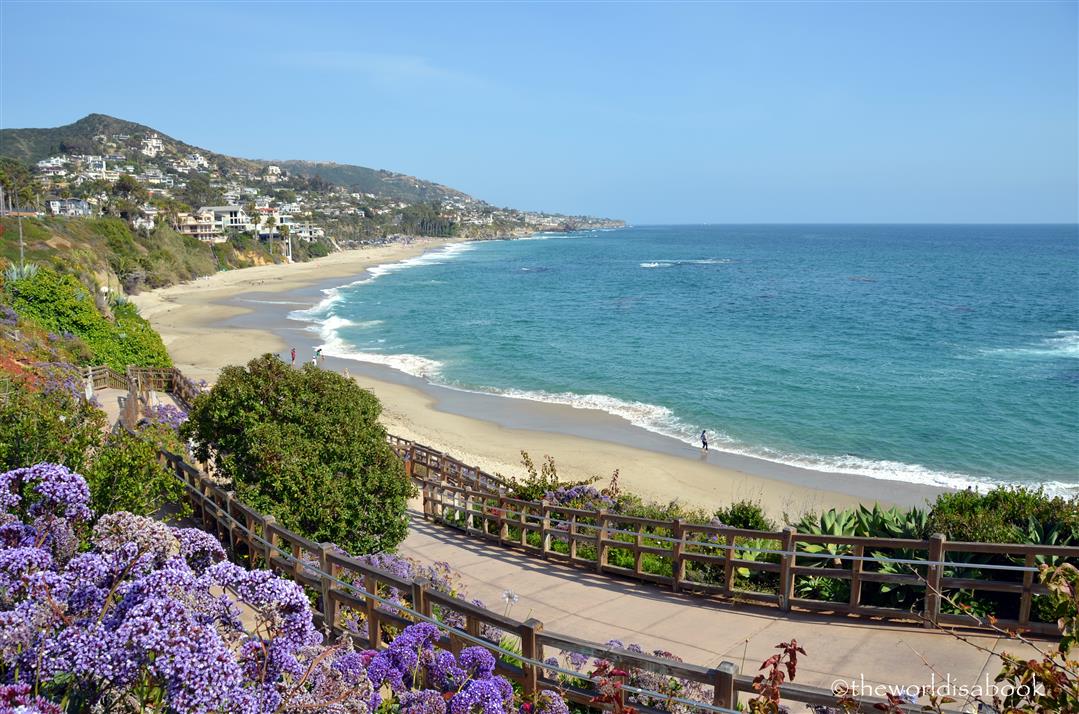 One of our favorite activities along the coast is tidepooling and Orange County has no shortage of great areas to explore marine wildlife. Check the lowtide chart for the best times to visit and look for zero or negative low tide. The winter months are also the best times.
Tidepools allow kids to observe and learn about the fascinating world lurking beneath the waves. Bring/borrow some books to identify the creatures they spot from abalone to sea urchins. Some popular areas are Crystal Cove State Park,Dana Point Marine Life Refuge, Laguna Beach State Marine Reserve's 6 square miles of marine protected areas and Little Corona Del Mar beach.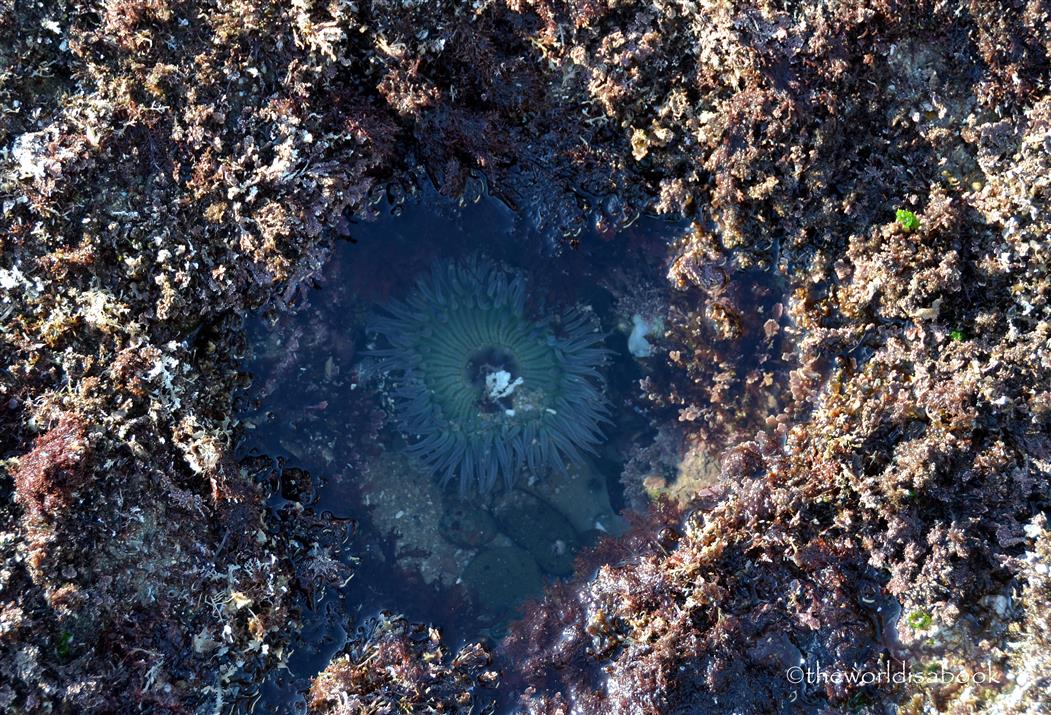 3. Explore the Arts
Orange County is home to some beautiful art museums and an emerging art scene. The Orange County Museum of Art and Laguna Art Museum offer free admission to kids ages 12 and under everyday. Participate in the museums' hands-on art projects or gallery tours. I had to include this here because it's also my most viewed Facebook post. This 28-foot-tall sculpture called "Bad Dog" by Richard Jackson is outside the OC Museum of Art and here until May 5, 2013. It's certain to put a smile on anyone's face.
Art Walks are popular self-guided tours to many city's art districts. Visitors can see and meet artists at work. It's a wonderful way to expose kids to diverse works of art or provide that inspiration for your budding artist. Many cities offer free art walks on different days throughout the month. Here are just a few:
Laguna Beach (first Thursday of the month)
Fullerton (first Friday night of the month – 6PM to 10PM)
Huntington Beach (third Wednesday of every month – 6 PM to 9PM)
Santa Ana's Artist Village (first Saturday of the month – 7PM to 10PM)
Santa Ana 2nd st Promenade Artist Village (first Thursday of the month – 7PM to 10PM)
San Juan Capistrano Art Fair (second Saturday of the month – 10AM to 4PM from March to December)
4. Irvine Regional Park
This 477-acre historic park is a wonderful oasis in the city of Orange and offers something fun for everyone in the family. You can do the myriad of paid activities from riding the train, horseback riding, pony rides to wagon rides. But, there are also six short trails for hiking and expansive areas for picnics. There are also snack concession stands. You can bring your own bikes or rent inside.
Bicycle Surreys can be rented for a low price for a fun family activity that can seat 4-8 people. It can be a lot of work for the parents but it's a lot of fun and a great way to see the park. The small Orange County Zoo is located inside here and charges $2 for anyone over 3 years old.
The six well-maintained playgrounds ensure the the kids will have plenty of outdoor fun. They were also great stops for bike rides. There is a pond where kids can feed ducks (my kids' love this) and a lake area where visitors can rent aquacycles and paddleboats.
This is a pleasant park to take the kids to enjoy nature, get some exercise and at a low cost. While admission to the park is free, there's a minimal fee of $3 per car to park on weekdays and $5 on weekends. Check their events calendar for special activities during Halloween, Easter and the holidays. Keep your eyes out for the peacocks that roam the park.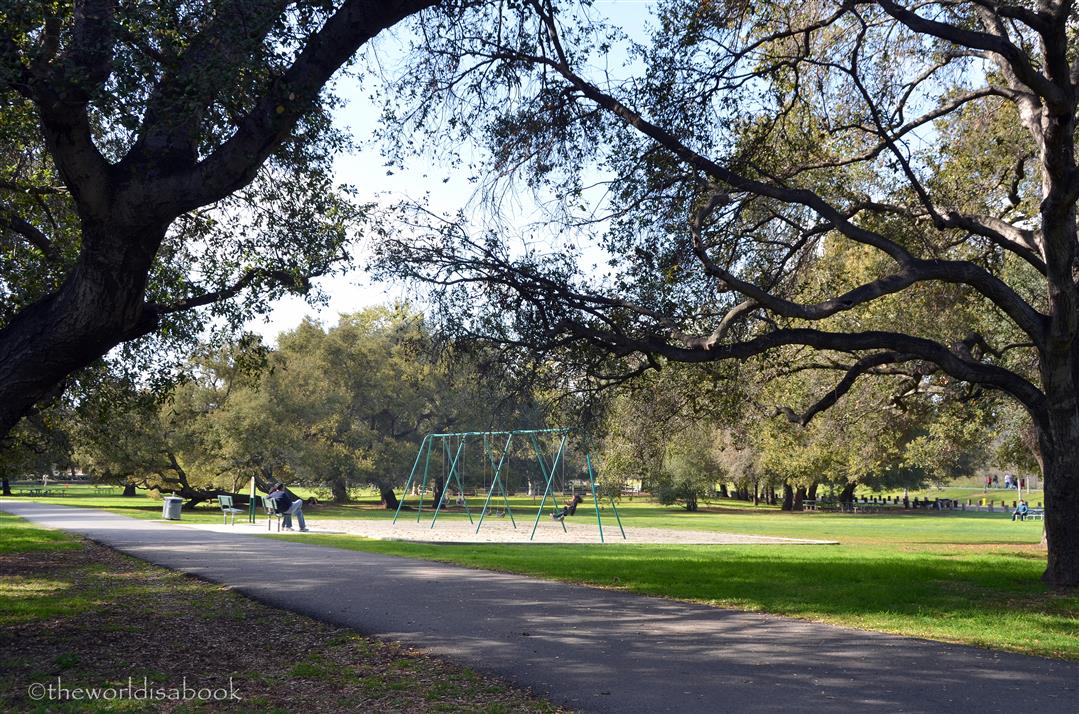 5. Hiking Trails
Orange County has 40,000 acres of parks and open spaces that caters to hikers of all levels. Some of them with enviable views and hikes near the ocean. Popular hikes include the Upper Newport Bay, Aliso and Wood Canyon Regional Park, Salt Creek and Cystal Cove State Park. An easy hike with kids is the Bolsa Chica Wetlands or Ecological Reserve which has a 1.5 mile trail loop and great for bird watching. Also, check the Orange County Hiking Club's website for tips and trail information.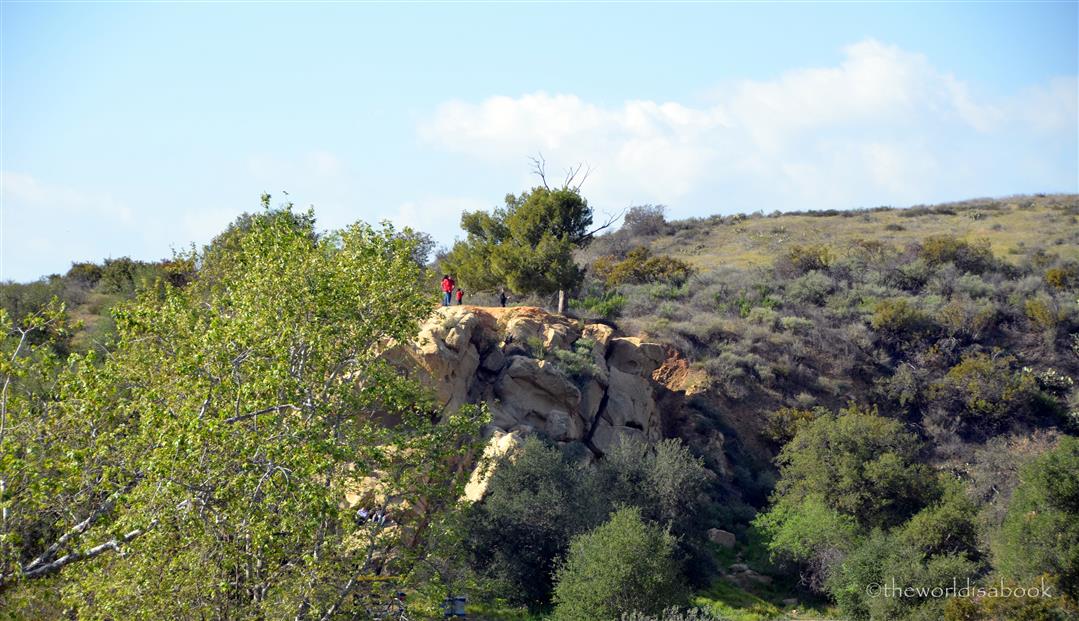 Occasional Freebies
The

Bowers Museum

is Orange County's biggest and most popular museum. It is free on the first Sunday every month including admission to Kidseum with special family festivals.
The

Discovery Science Center

in Santa Ana offers free admission on the first Sunday of the month for Bank of America/Merrill Lynch credit or debit card holders.
 The Orange County Museum of Art offers free general admission on the second Sunday of the month with special activities.
The Laguna Art Museum offers free general admission ion the first Thursday of the month from 5PM to 9PM.

Dana Wharf Sportfishing

offers free kid's fishing clinic every Sunday from Noon to 12:30 PM. No reservations are needed.
*What other free attractions in Orange County can you add to the list?
This is a part of a series called Five Free Family Friday.  I hope this will grow into a collective guide of free family-friendly attractions of places all over the world.  If you'd like to contribute with the free attractions in your home city, I would love your guest posts.
PIN IT FOR LATER!