The Marvels of the Getty Center Los Angeles
On the hilltop overlooking the west side of Los Angeles is a fantastic and popular world class museum that offers free admission. The J. Paul Getty Museum's Getty Center Los Angeles is a magnificent architectural marvel that features European paintings, drawings, sculptures, decorative furniture and photographs as well as a beautiful central garden.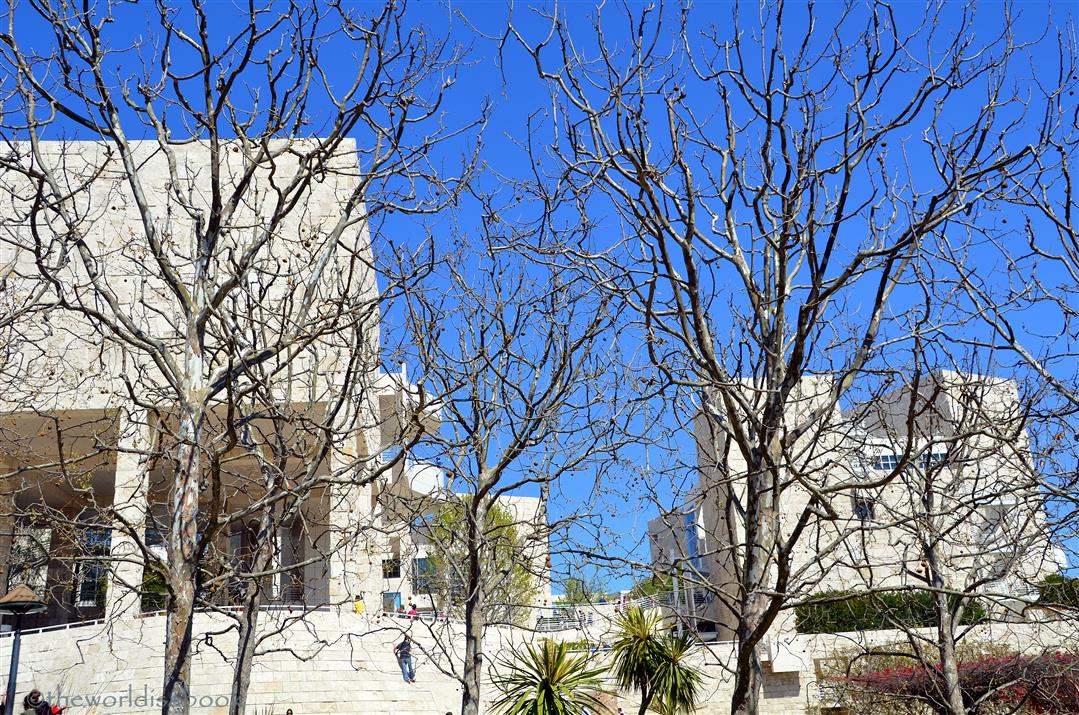 We recently visited the Getty Center on a beautiful spring day in LA. It had been awhile since our last visit and made me wonder why it took us years to visit again. Located in the Santa Monica Mountains, this museum opened in 1997. Visitors are taken on a tram to go up the hill with great views of the city on the way up. Kids love this smooth and quick ride and makes for a unique way to enter this special place.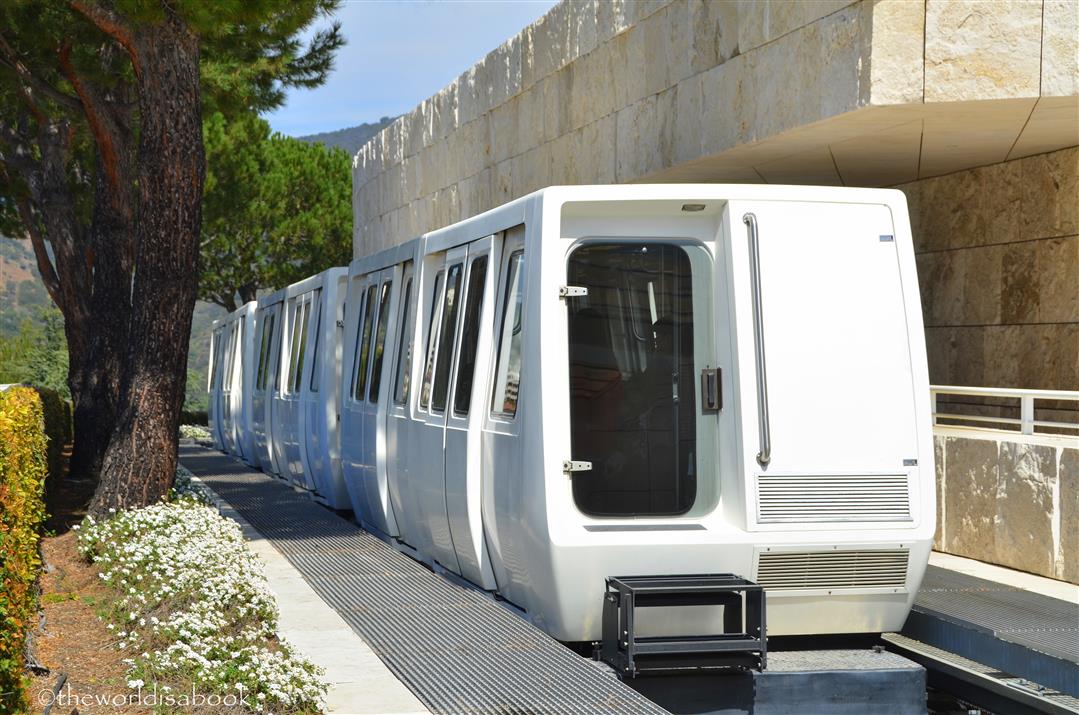 Once on top, the center greets visitors with wide open areas and bright, modern buildings. It was designed by architect, Richard Meier, making it look like it grew out of the hillside.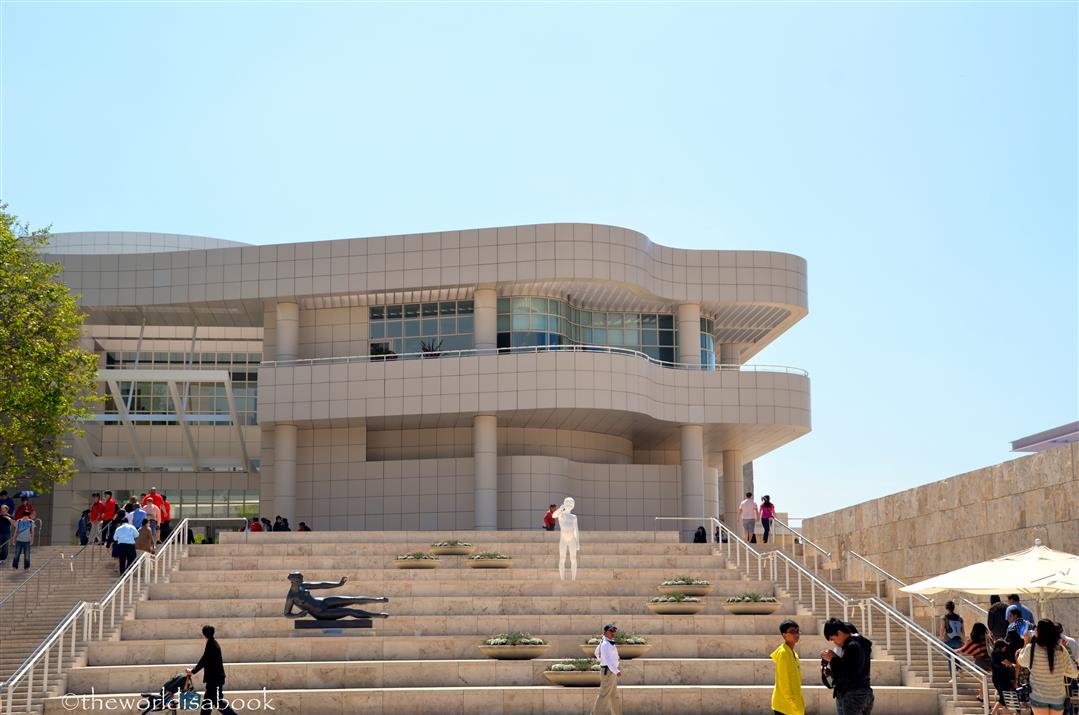 There were 1.2 million square feet or 16,000 tons of textured, beige, Italian travertine used for the buildings that made up the complex with a central plaza. The buildings were well-designed and on a bright, sunny day were gleaming.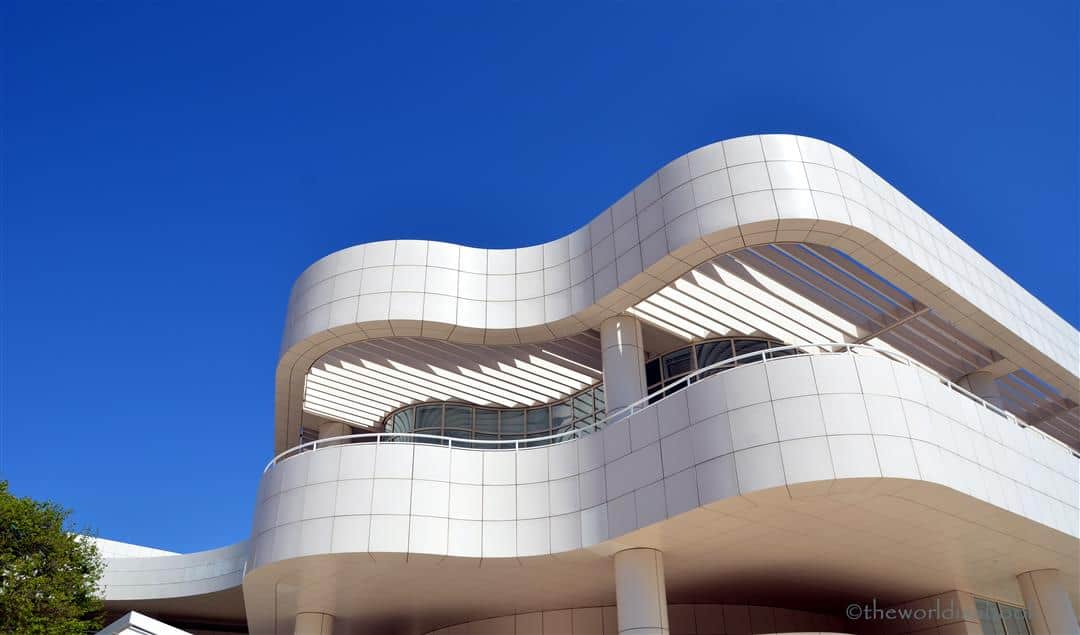 We couldn't help but look up numerous times to admire the lines and construction of these buildings.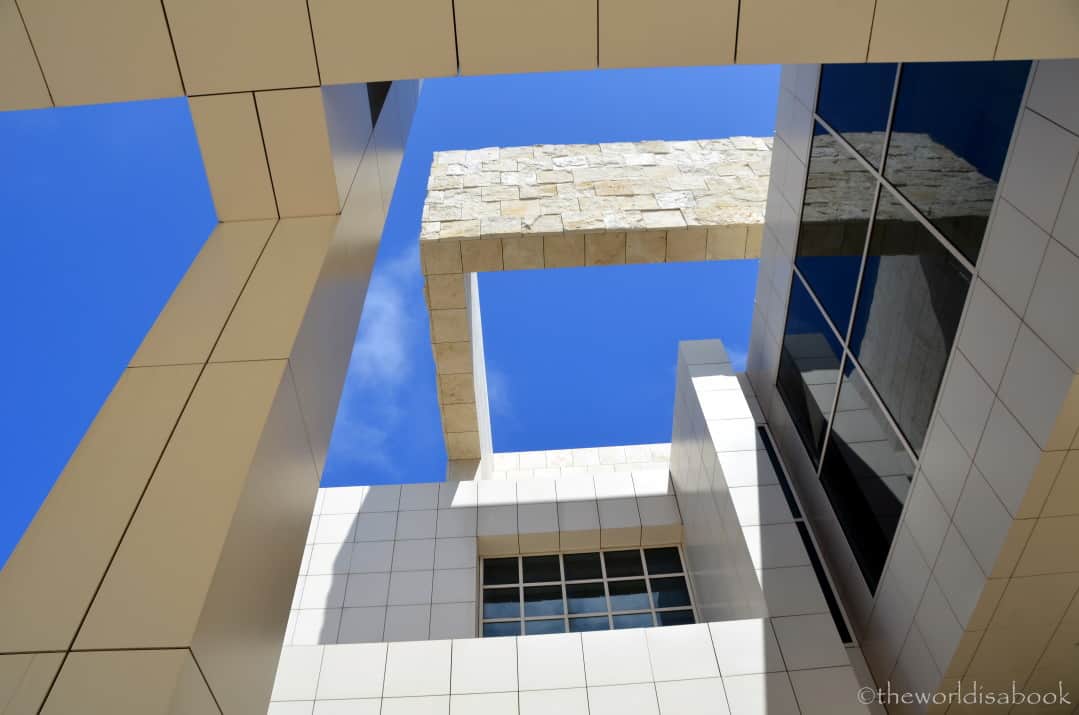 The central plaza has water features and fountains with plenty of shaded areas to sit and relax. The sounds of water flowing was a wonderful background noise. There were enough things here to entertain kids without going into the museum.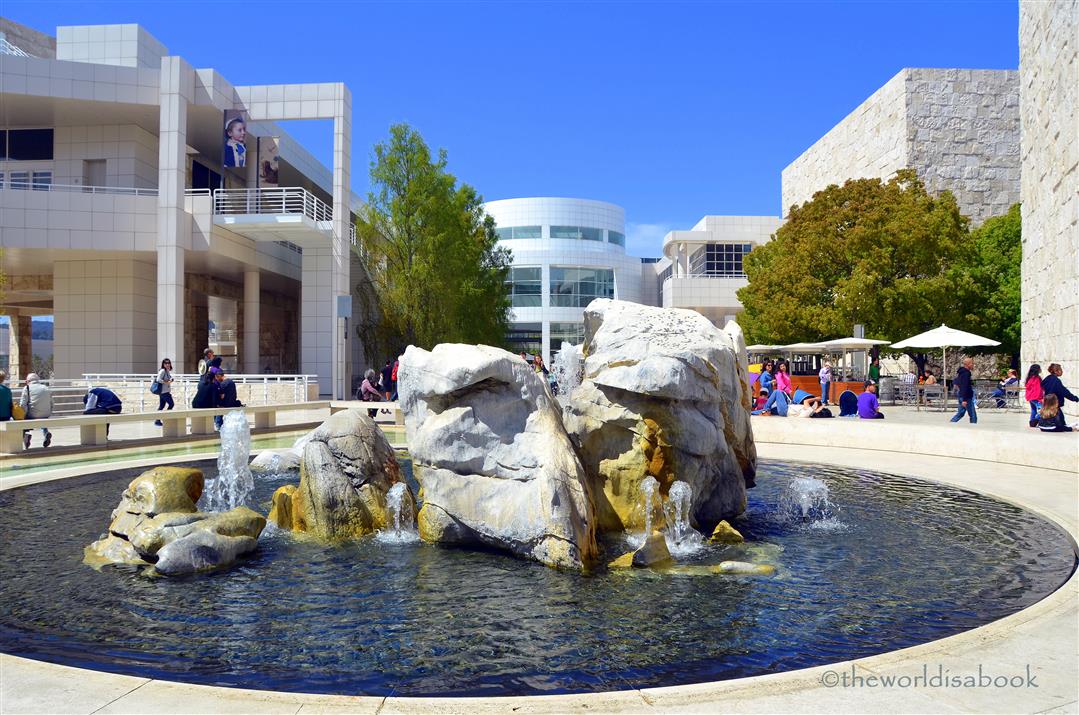 There are five interconnected two-story pavilions that feature the museum's extensive art collection in various exhibits and galleries. To help visitors orient themselves, they're appropriately named East, West, South and North Pavilions. The Exhibitions Pavilions has rotating exhibits throughout the year.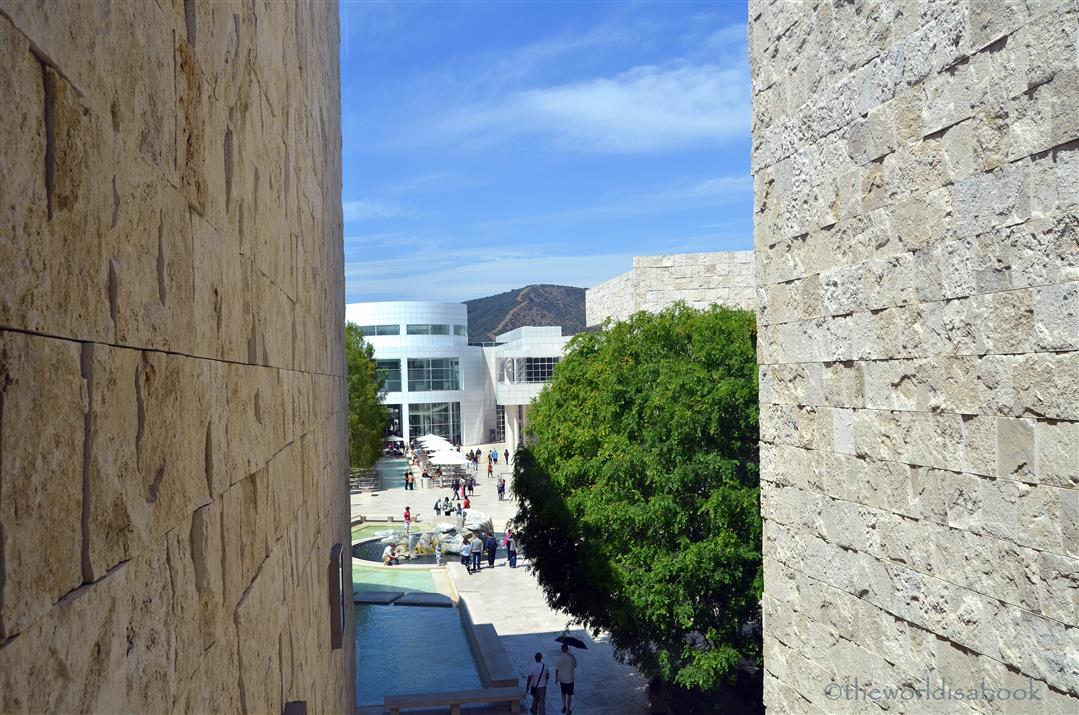 The pavilions mainly house pre-20th century European art including works from Renoir, Van Gogh, Degas, Cezanne and Monet. It was an eclectic mix of Renaissance, Baroque, Impressionist and religious art –  all amazing pieces that make one appreciate art no matter what subject matter.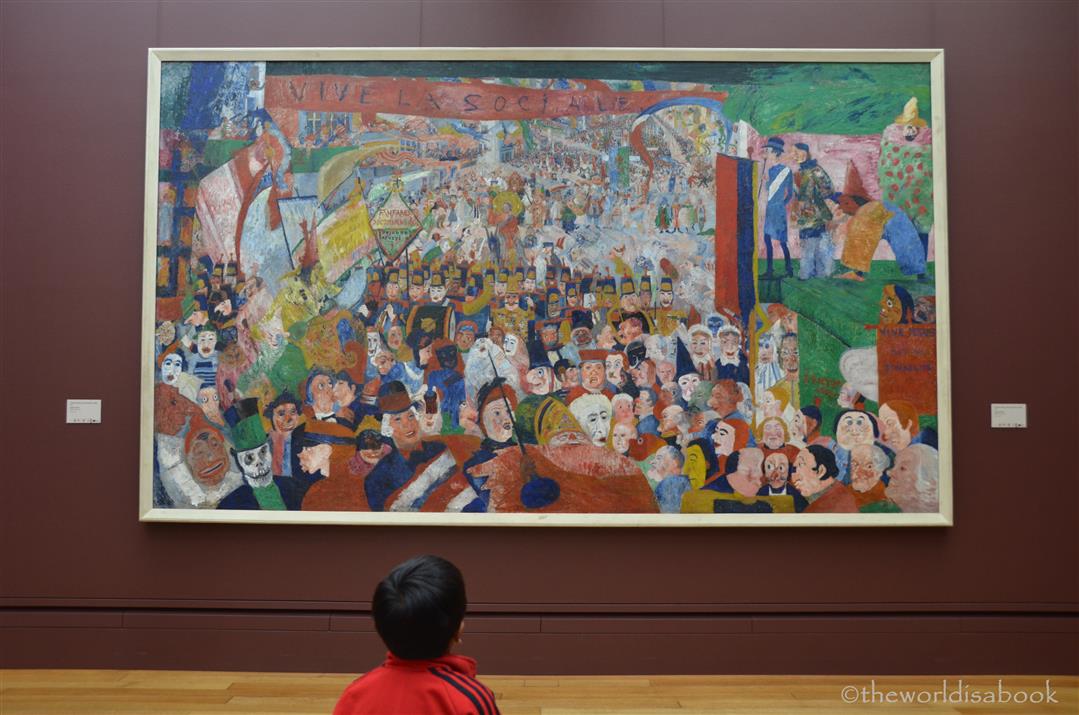 The sculptures, decorative arts and some paintings were on the ground level and the second levels house the paintings. The buildings were also designed with a lot of natural light coming inside.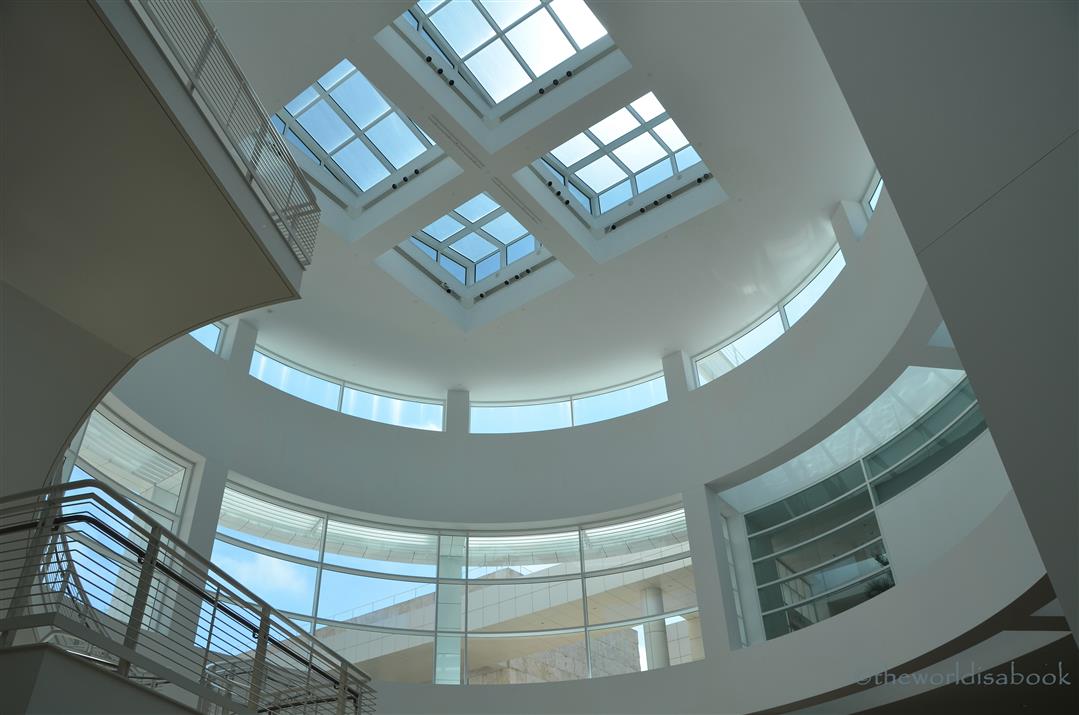 We found rooms with large and colorful tapestries. The details on these pieces were extraordinary.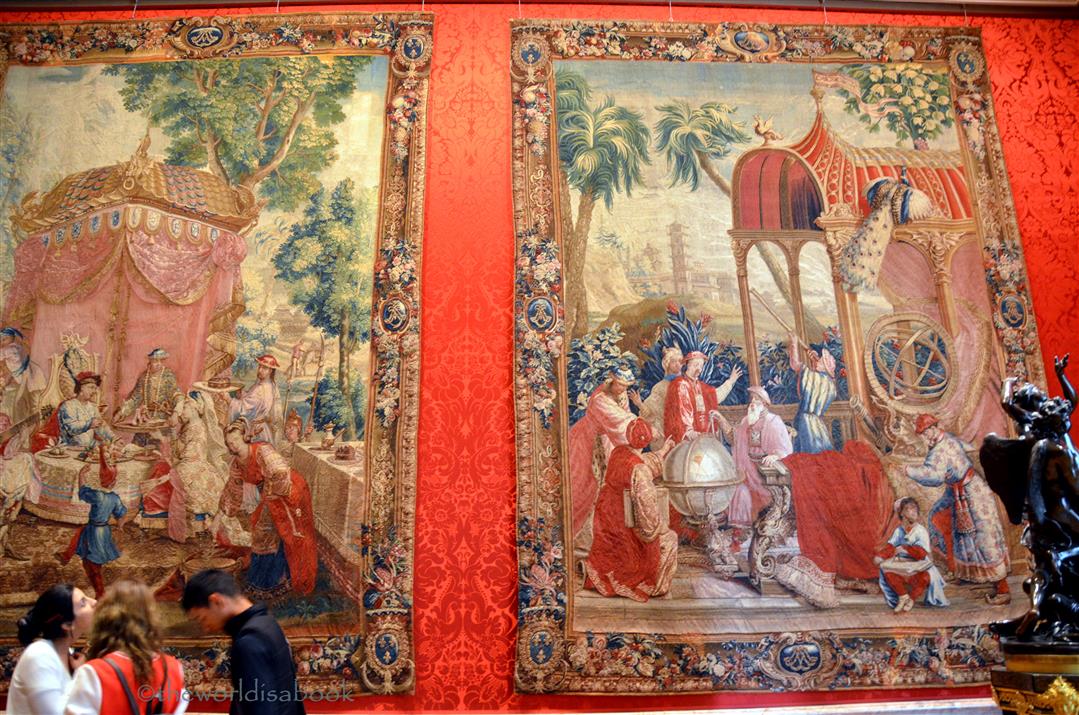 There were quite a few decorative arts and furniture. It was those pieces that made you wonder what rich people bought and decorated their houses with a few centuries ago. This bed was a very popular photo subject with many young girls during our visit.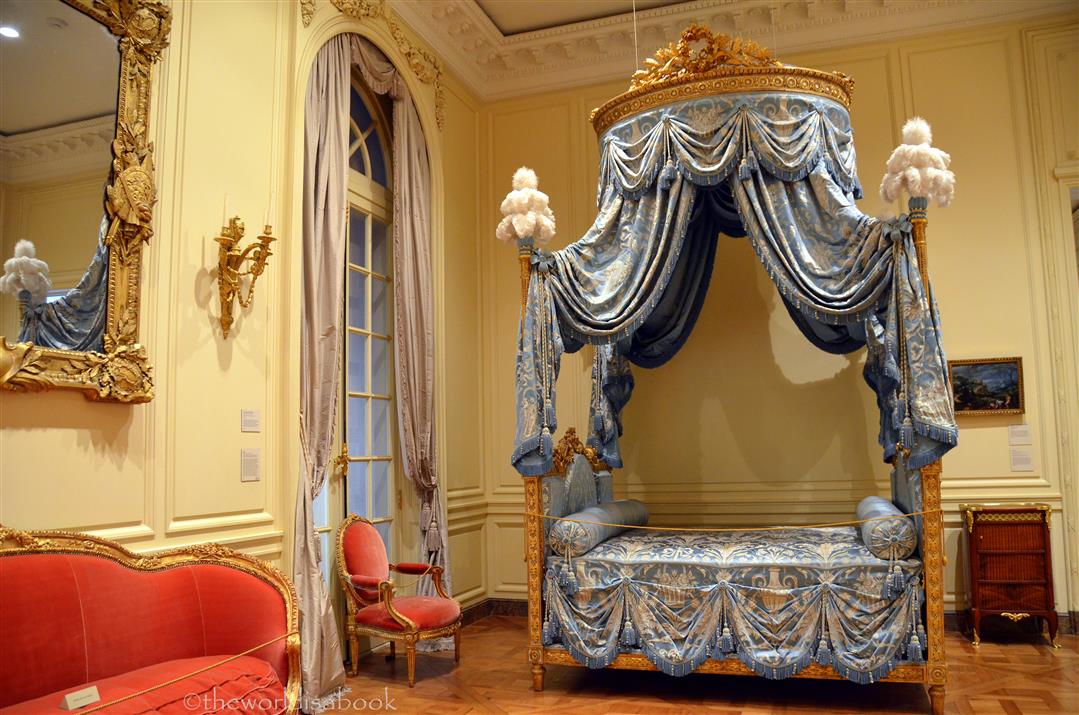 There were wood paneled finished rooms, as they would have looked in a noble's residence, showing their opulence like this French room in Regence style.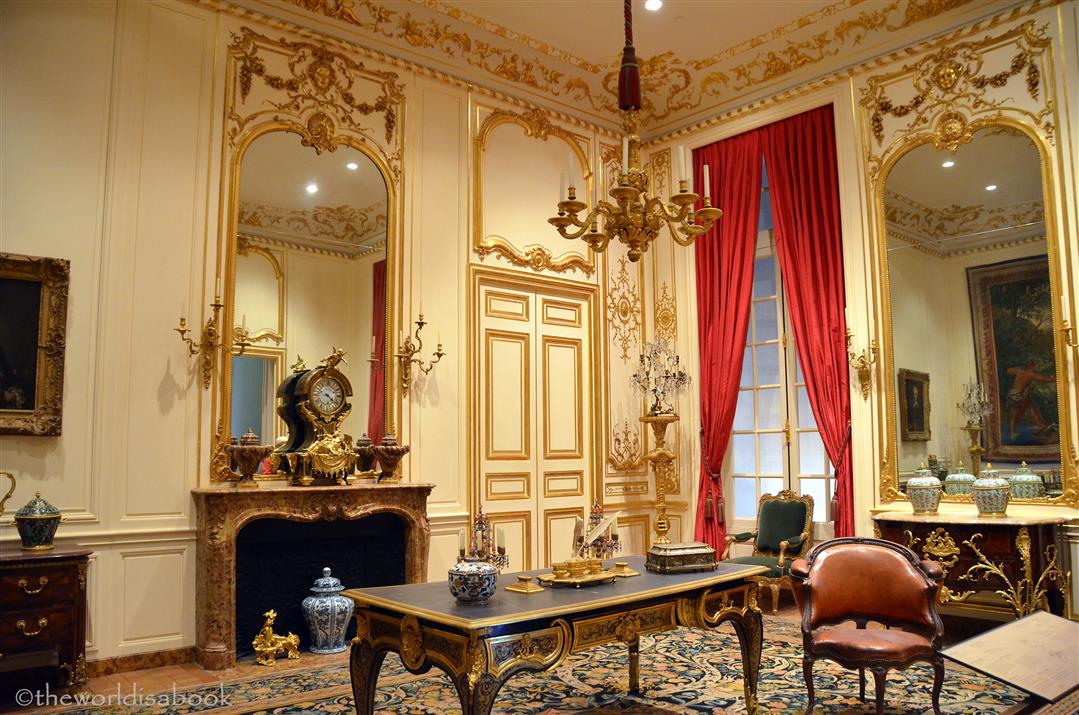 The museum's star attraction is Vincent Van Gogh's famous piece called Irises located on the West Pavilion. The museum acquired this piece in 1990. Irises was one of the many paintings Van Gogh painted the year before he died and while he was in the asylum. This was an amazing masterpiece and surprised it wasn't enclosed in glass.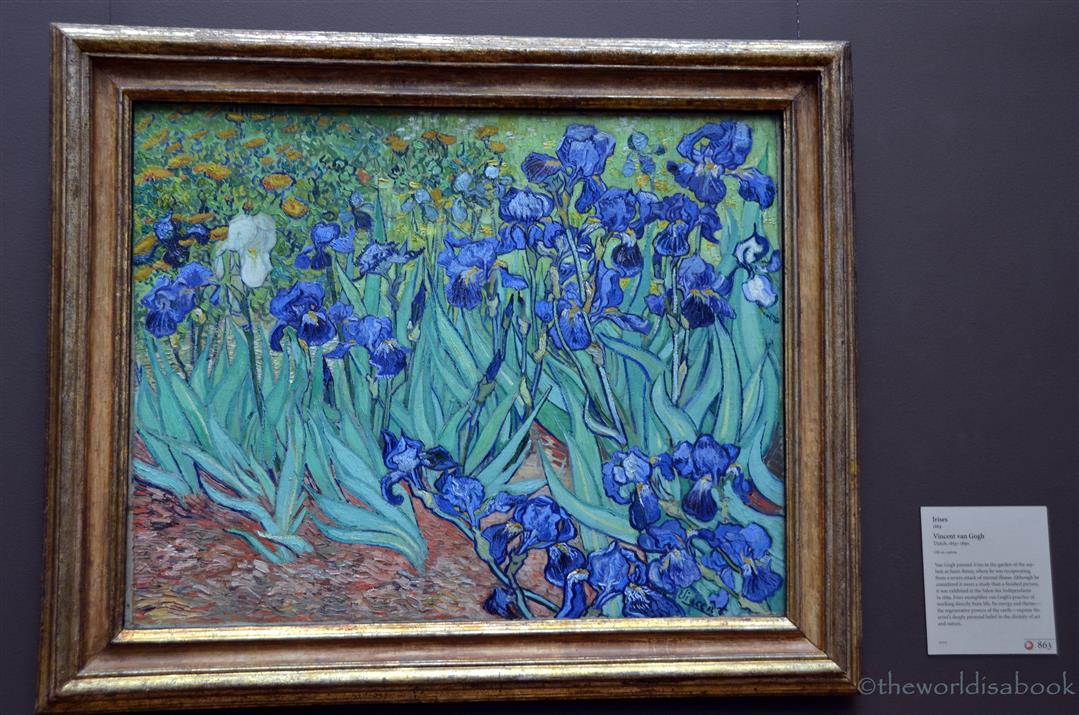 They've gone a bit high-tech here too with the use of iPads to scrutinize the details on some artifacts.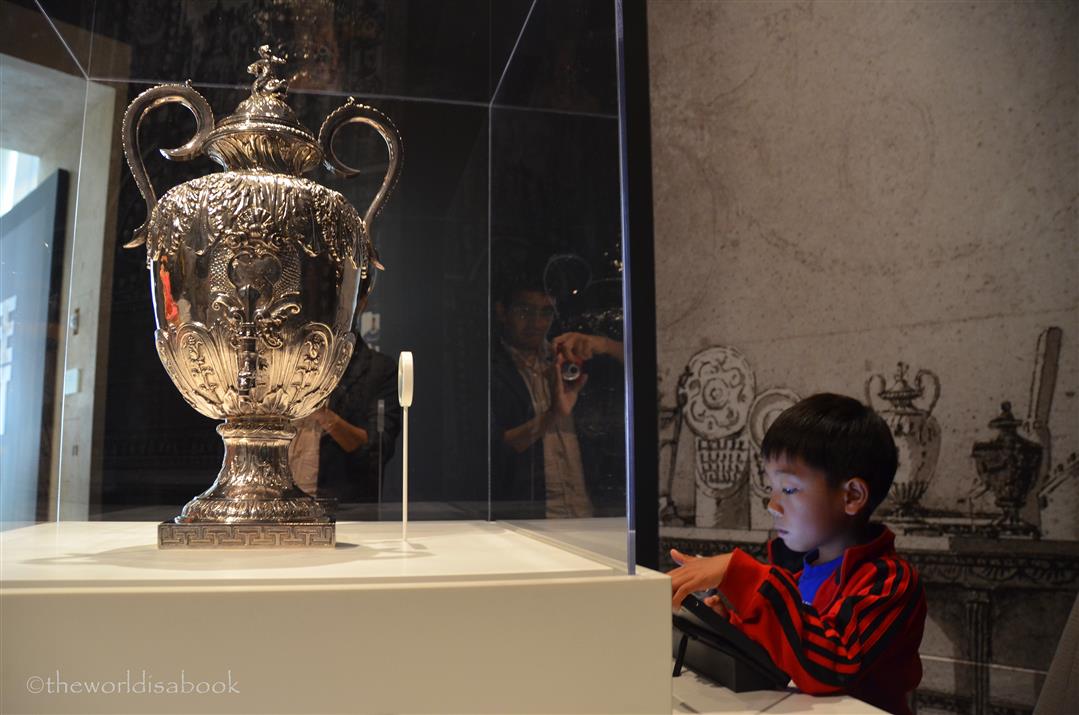 We also liked that many of the pavilions have outdoor terraces to sit and relax and enjoy the panoramic views of West LA and Century City. For a sweeping view of the city, it's hard to beat the Getty Center's prime location.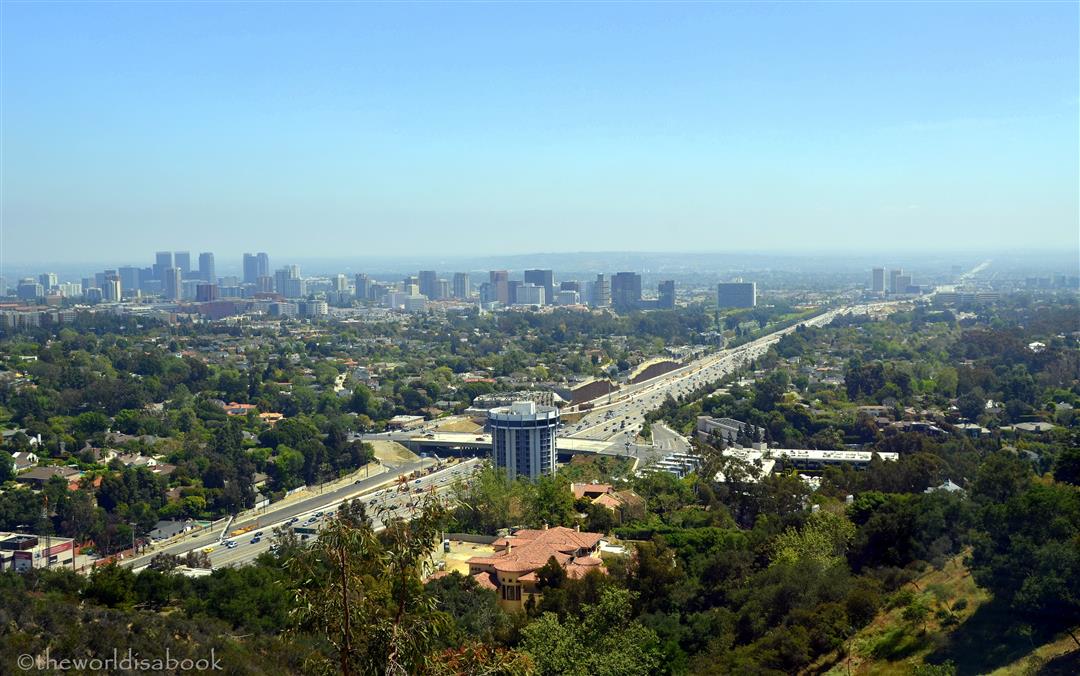 Let's face it, there's only so much art youngsters can take no matter how colorful, large and interesting they look. One of the best things about the Getty Center is how it caters to kids. The Family Room houses five interactive activity areas with plenty of things for kids of varying ages to do. Kids can hunt for art treasures, make masks, re-create a tube sculpture, sit on a fancy bed, and play with a wall of mirrors or rearrange animals on a board that looks like the desert.

We loved the treasure-hunt walls which featured 70 peepholes showing details from the museum's art collection. It's a wonderful way for kids to keep their eyes open for art they saw through the peepholes. It wasn't a very big room so they let in a few families at a time. Despite its size, it packs a lot to entertain the kids. Some, like my son, may not even want to leave for awhile .

The Getty Center Gardens
Despite the dramatic architecture and beautiful works of art, my favorite parts here are the center's gardens. The Cactus Garden on top of one of the buildings had a varied collection overlooking the city.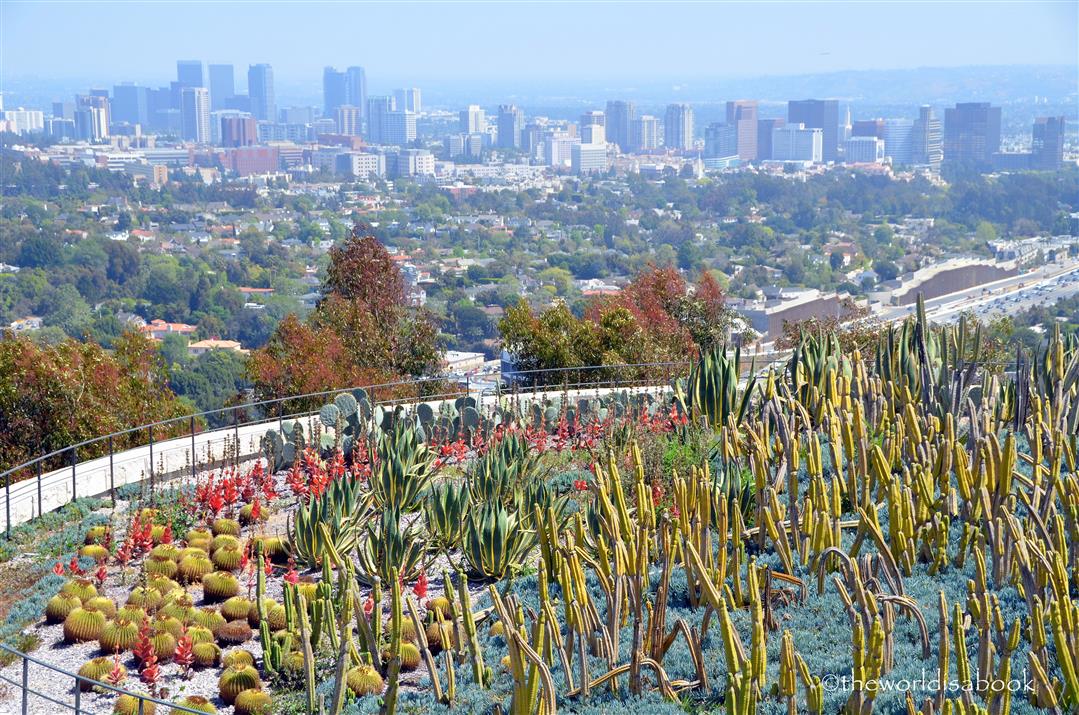 The Central Garden can be seen from many vantage points outside the pavilions. It wasn't in full bloom yet but the colors were still vibrant.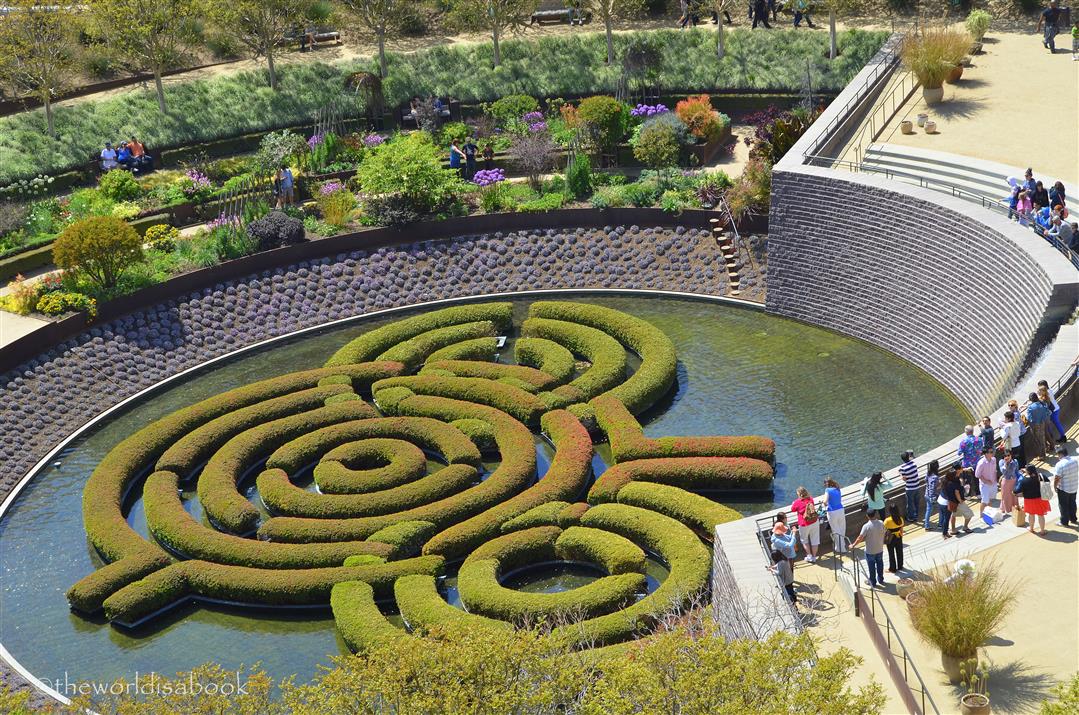 The best part is going down and immersing yourself inside this beautiful area.
The 134,000-square-foot garden was created by renowned artist, Robert Irwin, using over 500 plant varieties. The centerpiece is the floating azaleas maze. I may come back here during the summer just to see this whole garden in full bloom.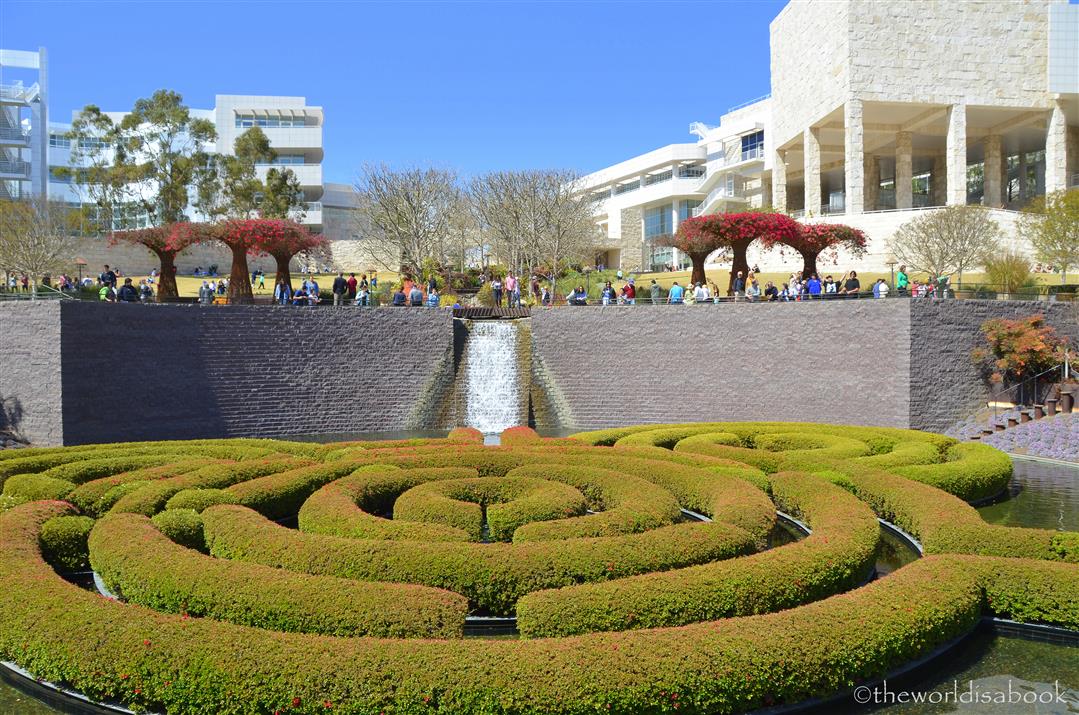 The walkways led down to specialty gardens and the pool. The sounds of birds chirping and the waterfall in the background along with a variety of heavenly scent made for a delightful walk down the path.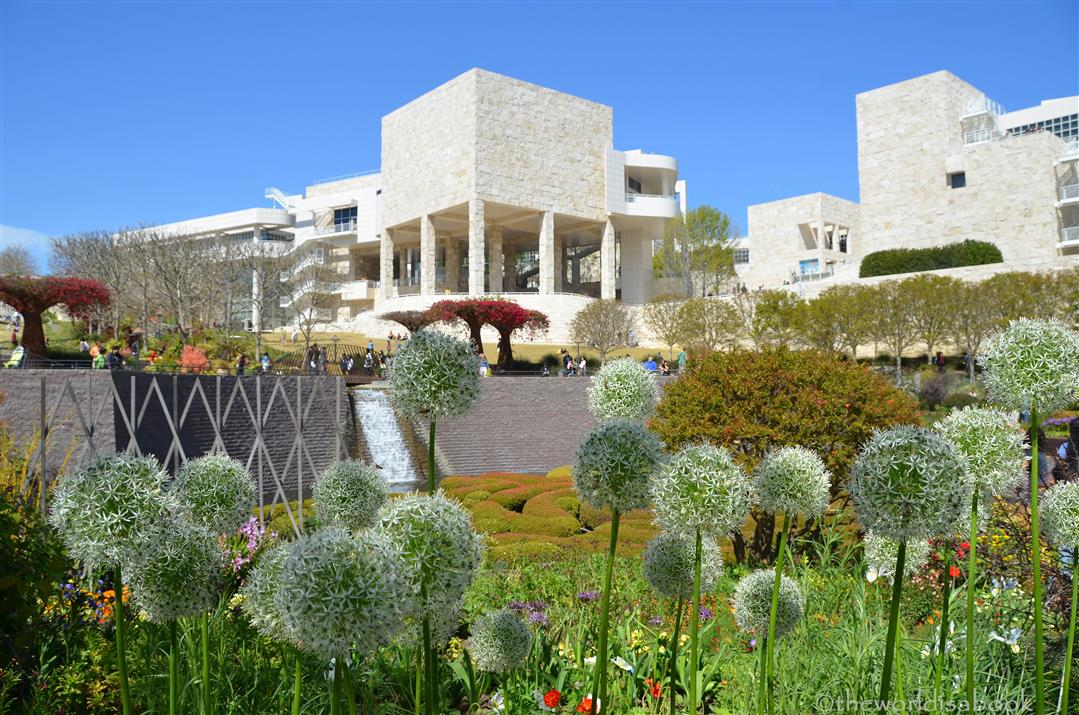 Many of the flowers we saw had a lot of bees buzzing around it like this Purple Sensation allium.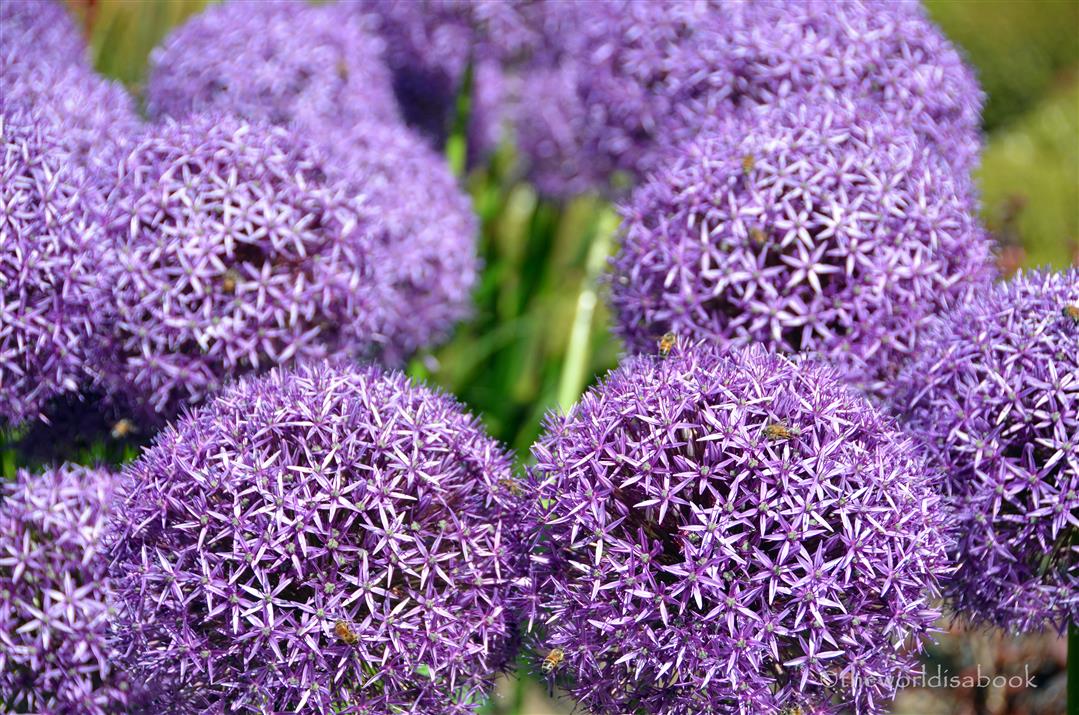 This small creek area seemed to be a popular place especially for the kids.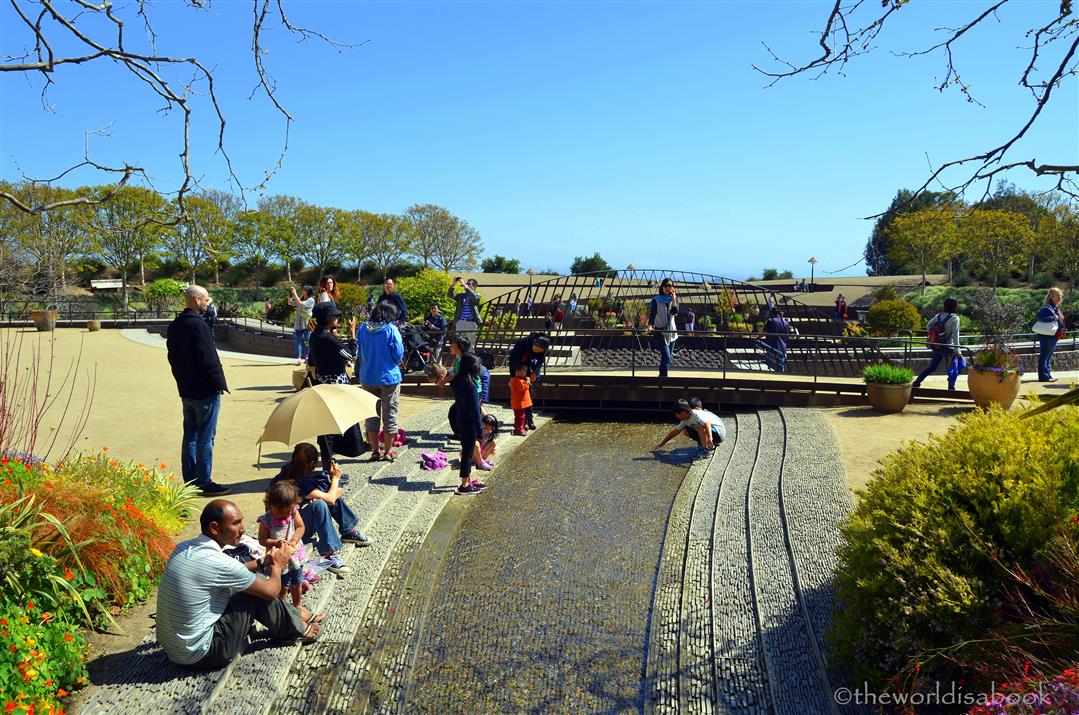 They've even strategically placed benches to enjoy views. This was my view relaxing on one of them.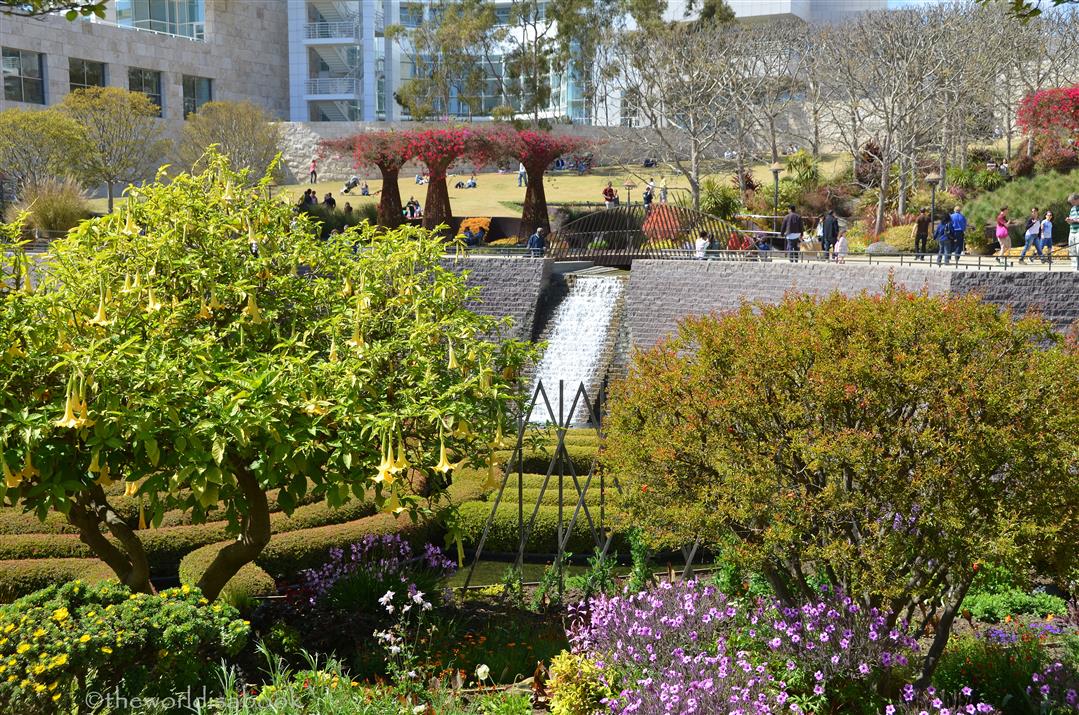 The Getty Center is the #1 rated attraction in Los Angeles on Trip Advisor. Considering the variety and number of attractions in the area, it's quite an accomplishment but not surprising. It offers so much (for free) with its modern architectural elements, open spaces, vast art collection and beautiful gardens. The Getty Center proves art and architecture can also make for a fun visit.
Visiting the Getty Center Tips and Basics
 

While admission is free, Parking is $15 per car or $10 after 5PM. Pay machines are available at many locations.

The center is closed on Mondays.

There are restaurants and snack cart throughout the center with many food options.

Bring your own picnic. We saw plenty of people with baskets and sandwich trays. There are many lawn spaces by the Central Garden.  

Sign up for the free talks, tours and other programs, including one for families, to enhance the museum experience. Be sure to get in line before the designated sign up time. We missed the Family Program due to limited spaces.

Get the free iPod touch tour "Getty Guide" from the GettyGuide Desk in the Museum Entrance Hall.

 

If traveling with kids, get the perforated Scavenger Hunt cards in the Visitor's Center or in the Family Room. Kids can hold on to these cards and use their senses and be more engaged with the art and garden features throughout the center.

Give the kids a camera. You never know what amusing things they'll capture. It's also a great way for them  to pay a little closer attention to details on the works of art.

Please allow plenty of time for tram lines on busy days (weekends and summer). There's also an option to walk up the steep hill for about 15-20 minutes.

Go to the Events Calendar on the Getty Center website before your visit to see what will be in store for you.
*Have you visited the Getty Center in Los Angeles? 
Pin It For Later!