Copenhagen with Kids: Exploring Ny Carlsberg Glyptotek
Located at the center of Copenhagen, Denmark is an international acclaimed art museum that credits its founding from beer. The Ny (New) Carlsberg Glyptotek boasts the largest collection of ancient art and antiquities in Northern Europe. The Glyptotek is mainly a sculpture museum but also houses over 10,000 works of art spanning 6,000 years. The imposing and beautiful architecture outside was a great preview of the art treasures it housed inside.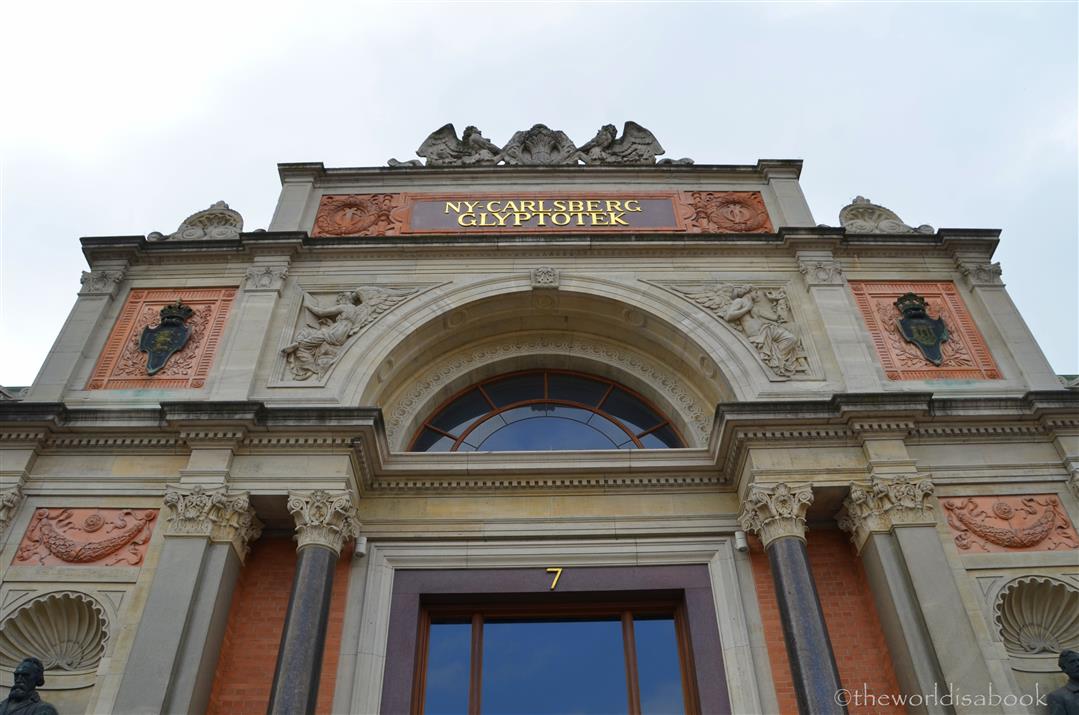 The Glyptotek was founded by Carl Jacobsen of Ny Carlsberg Brewery fame and opened in 1897. The legacy and influence of the Carlsbergs are visible all over Copenhagen. He also commissioned the famous Little Mermaid statue in the city.
Mr. Jacobsen was an avid art collector and many of the pieces here was from his personal collection which he donated to the public in 1899. He greatly admired King Ludwig of Bavaria who created the Glyptotek in Munich with ancient sculptures and named his collection storehouse the Glyptotek which also means collection of sculptures.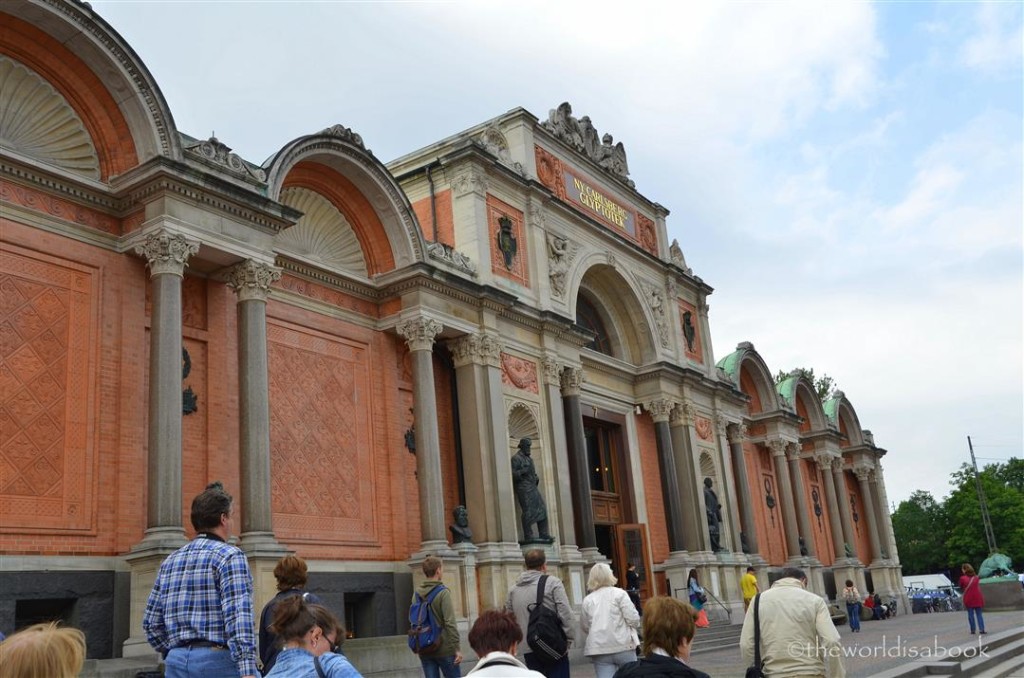 This was located across the street from the city's famous amusement park, Tivoli Gardens. The museum's centerpiece is the Winter Garden filled with palms, a goldfish pond and a variety of other plants. It was like an oasis in the middle of the museum. There were plenty of seats to relax and enjoy this beautiful and tranquil area topped with a large cast iron and glass dome.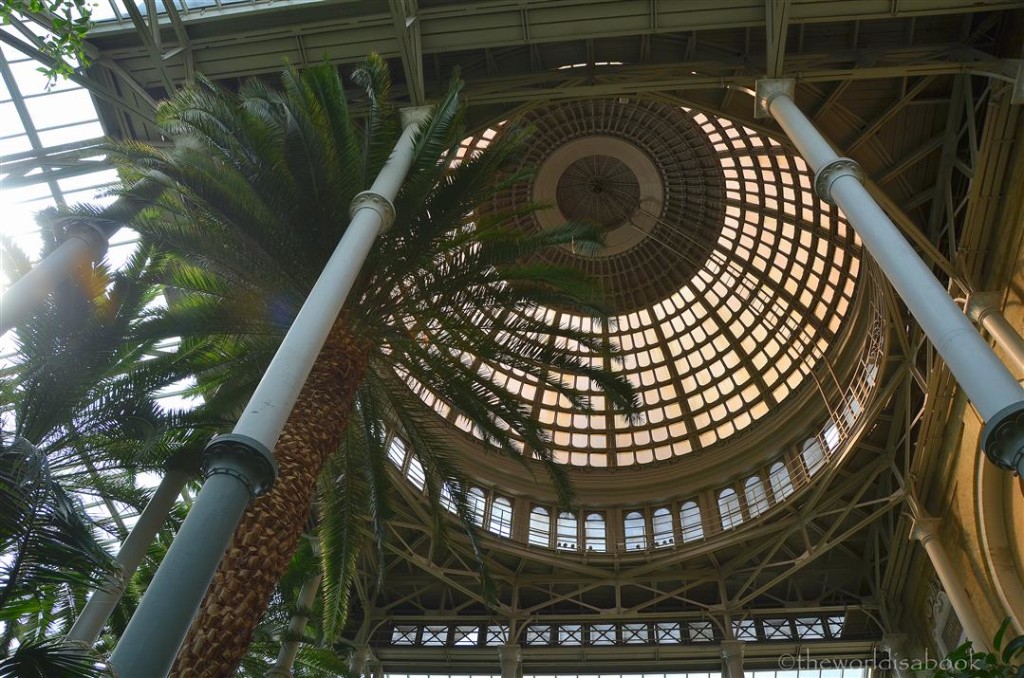 I can imagine how much this haven injects some relief and joy during those cold winter months in Copenhagen. I loved how they set up this rotunda alongside the café and how there was so much light coming in here.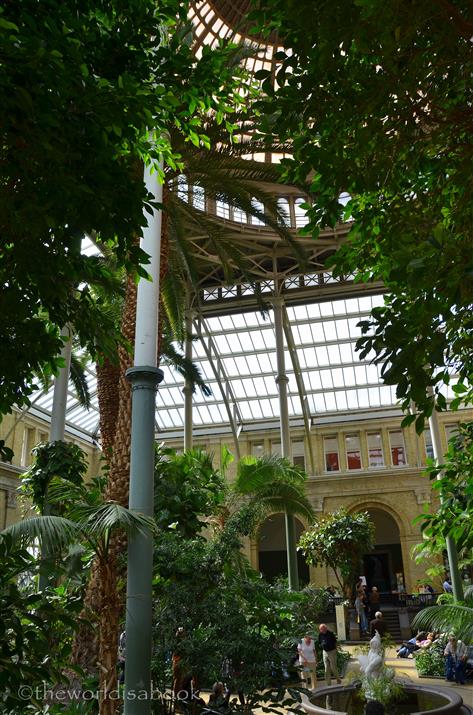 We were greeted by this striking white sculpture called Water Mother by Danish sculptor, Kai Nielsen.  It was a depiction of a woman with 14 naked babies crawling on her. The baby propped up on her arm is supposed to be Venus, the Roman goddess of love, beauty and fertility. I found it interesting but beautiful and I guess it was supposed to signify a woman's fertility. My kids thought the babies were adorable.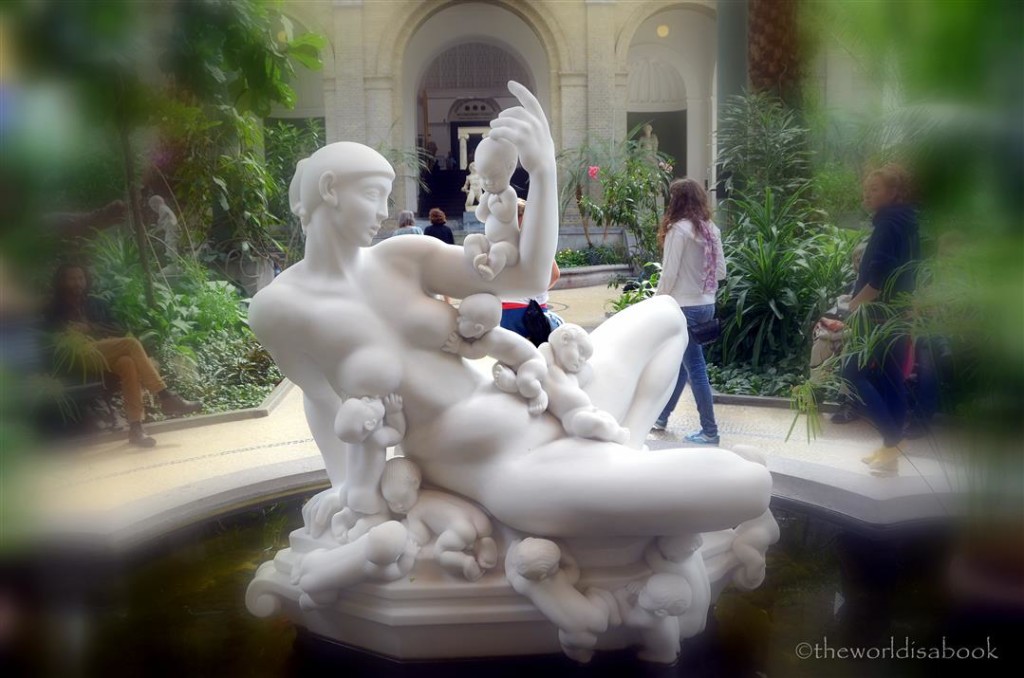 The museum collections include Egyptian, Greek and Roman antiquities as well as  Danish and French art from the 19th and 20th centuries. As we started exploring, it wasn't just the impressive collection of marble statues that were amazing but the floors, walls and ceiling art that surrounded them.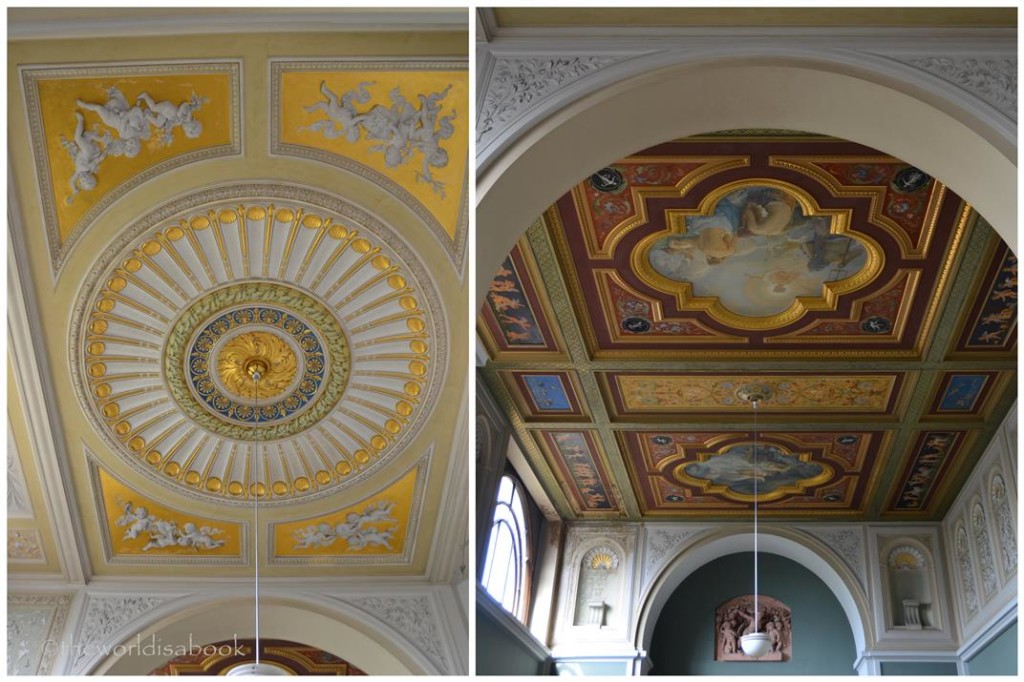 It almost felt like we were visiting a palace or one of those very ornate European churches instead of a museum. Clearly, Mr. Jacobsen spared no expense with these buildings to house his beloved collection and treasures.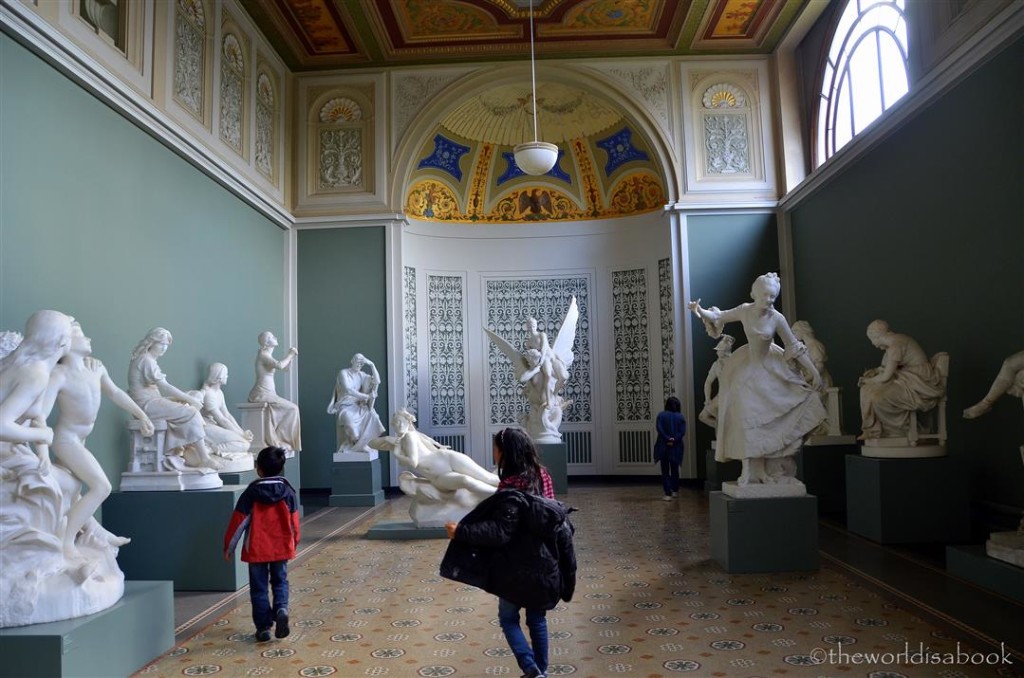 The number of white marble sculptures here was astounding. They ranged in many different subjects from romance to hints of violence. Yes, some were a bit disturbing for young kids but mine came out mentally unscathed. There were so many wonderful sculptures here but these were a few of our favorites.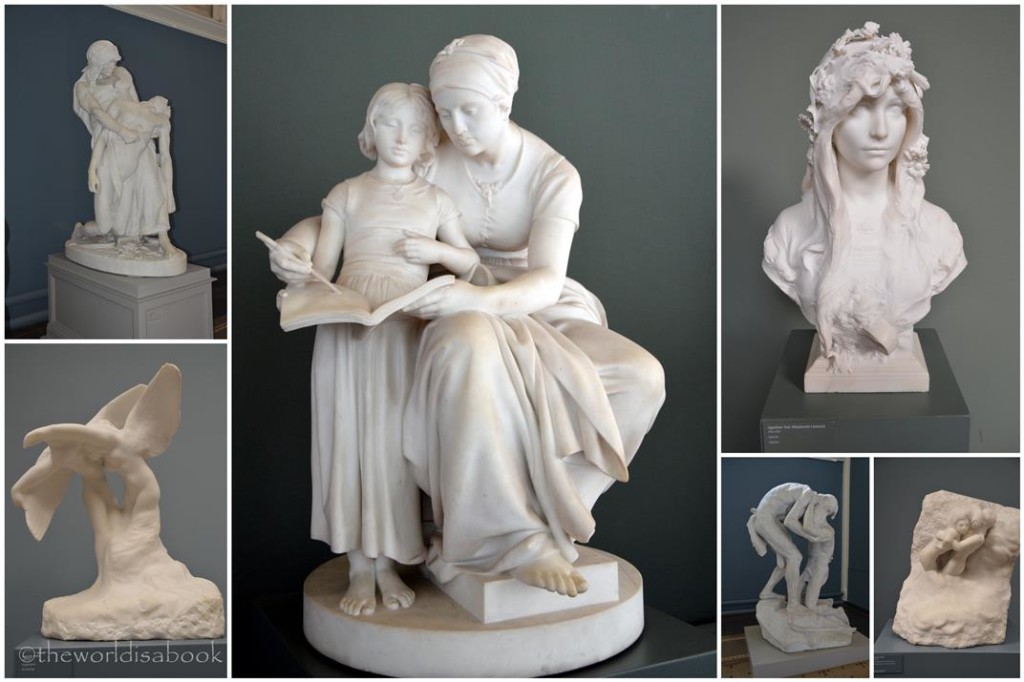 One of my kids' favorite area was the Egyptian collection. The museum had more than 1,900 pieces dating back to as early as 3,000 BC. It was amazing to see how well-preserved some of these sculptures were. There's also a mummy collection in its own chambers.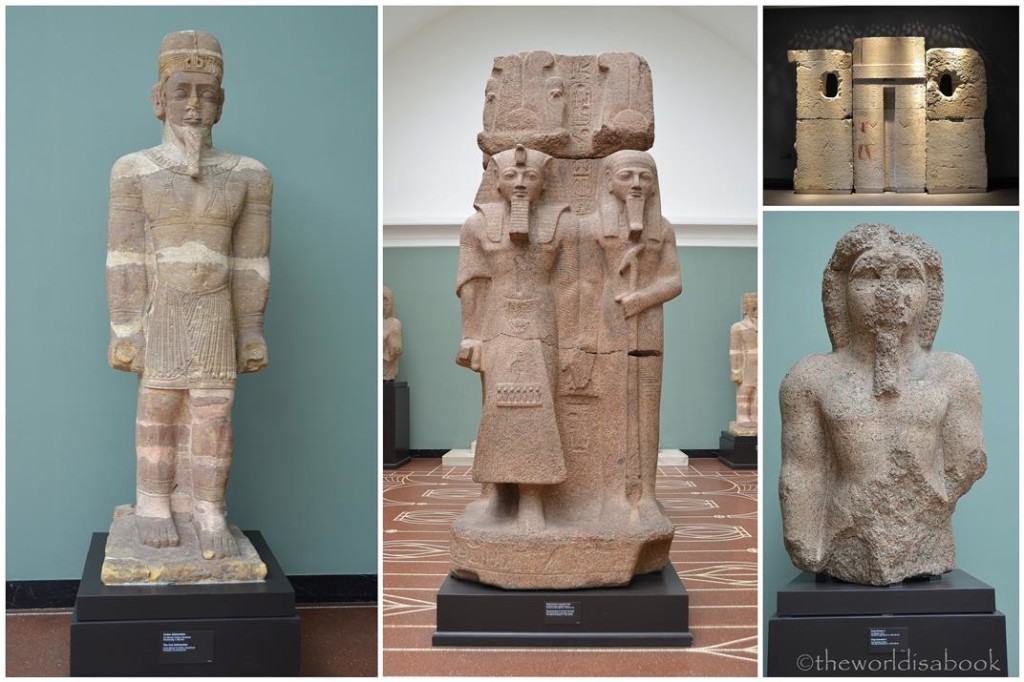 We found this room full of Roman busts very interesting. The details on these pieces were stunning. After awhile, it got a little creepy with all those rows of eyes looking at you though.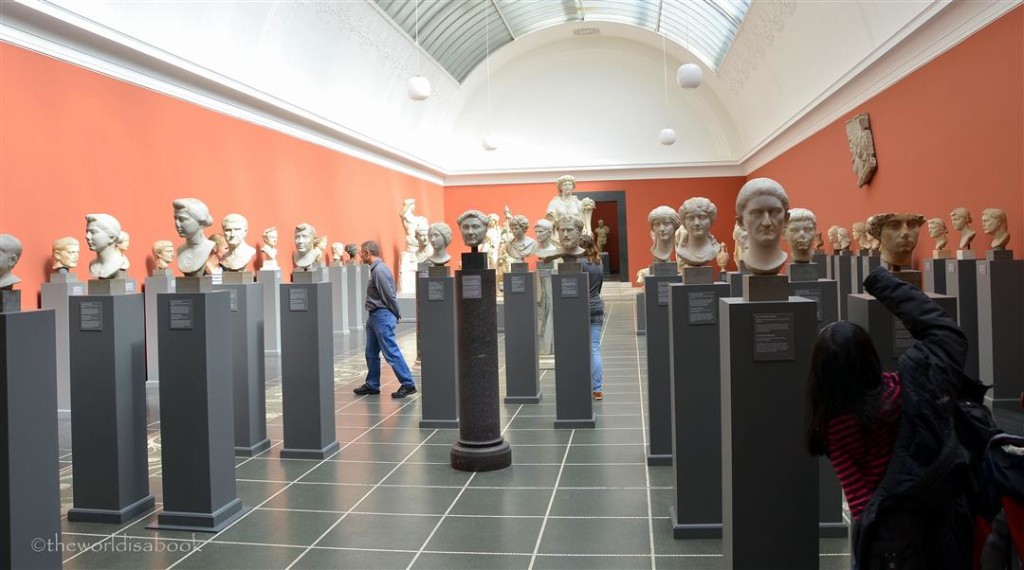 We loved the hall of columns filled with sculptures and sarcophagi. It felt like we were transported back in time to one of the ancient emperor's gallery.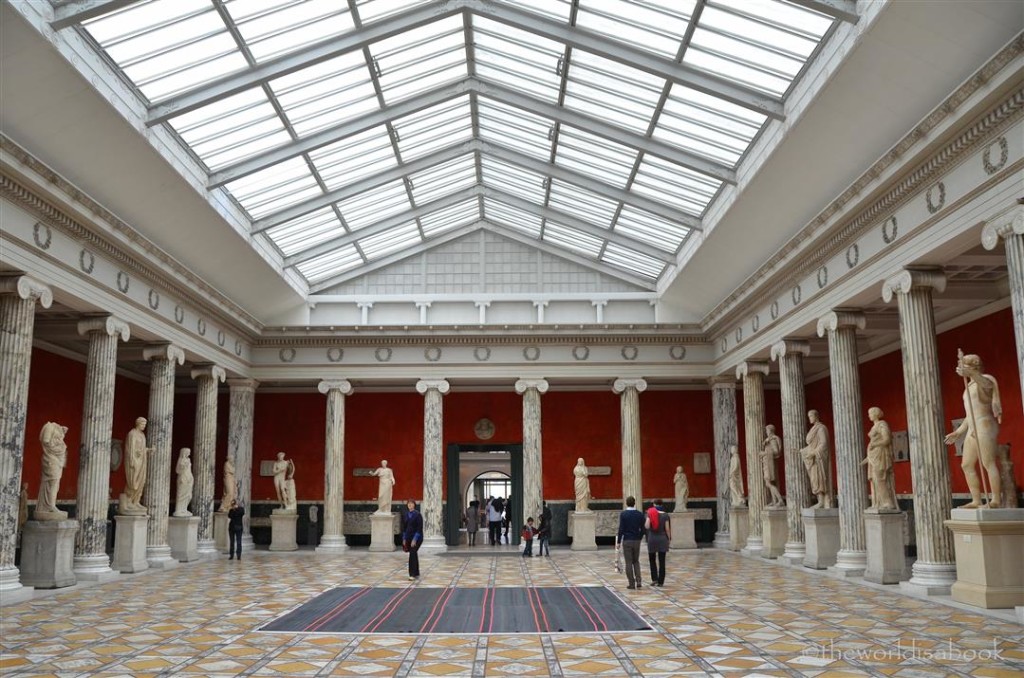 We liked that many of the sculptures were well marked with wordings in both Danish and English. I just wish some of them had a little bit more descriptions. These buildings were constructed well to allow a lot of light to come into the rooms to clearly see the details of the sculptures.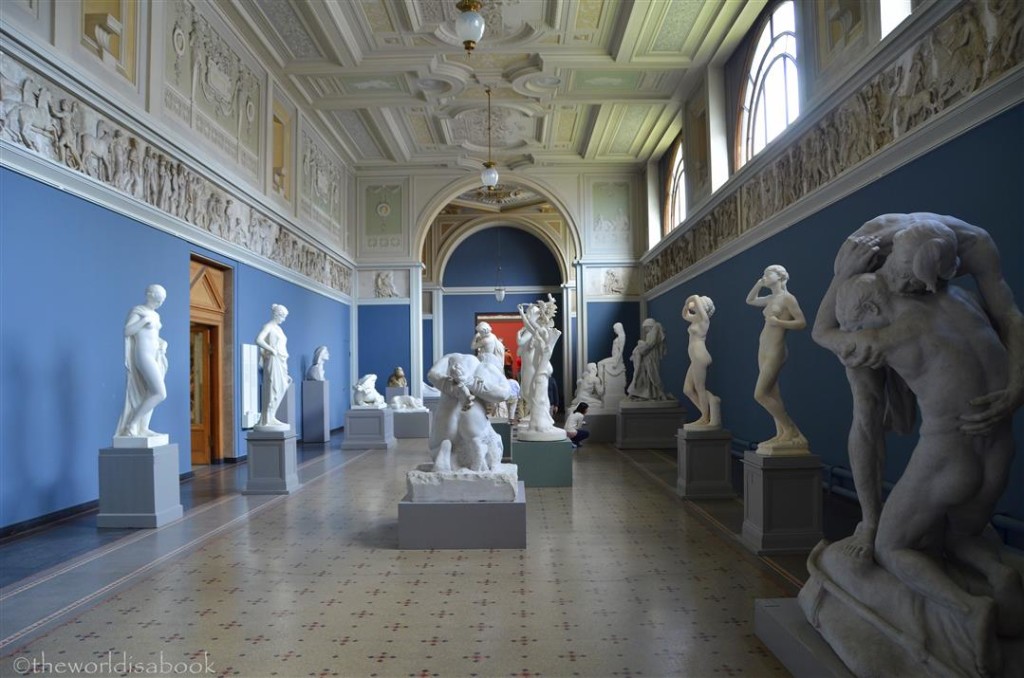 Most areas of the museum were laid out well. But, there were quite a few stairs and some sculpture rooms were laid out like a maze. So, it may get complicated navigating some of the rooms with wheelchairs and prams/strollers. Kids do find these sculptures looking at them fascinating.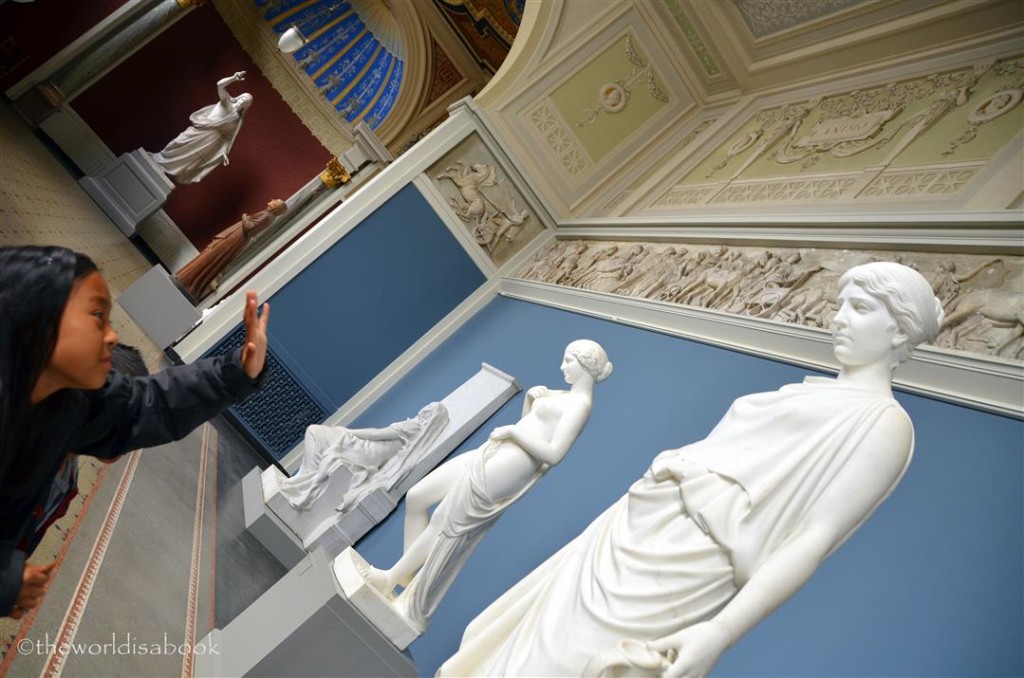 I probably would have been a little nervous visiting this place a few years ago with an active toddler. Some of those sculptures looked very attractive to touch for curious kids. My son managed to do a fist bump with this impish creature.
We were happy to see a collection of 35 sculptures from Rodin since we missed visiting the Rodin Museum during our visit to Paris. My husband tolerates my affinity for art museums but he is a big fan of sculptures and Rodin so he was excited to see a roomful of some of his famous bronze casts like The Thinker. The Rodin collection here is supposed to be the largest outside of Paris.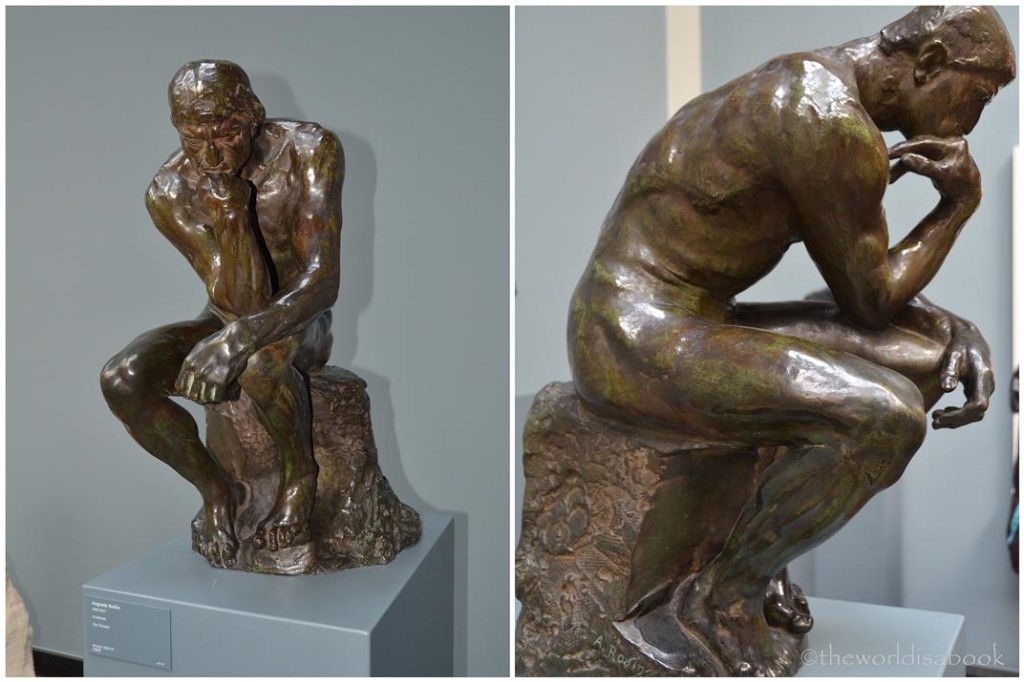 My daughter's favorite sculpture here was Degas' famous ballerina sculpture called The Little Fourteen-Year-Old Dancer. The bronze ballerina is in a pose with her tulle skirt and silk ribbon on her hair. My daughter gravitates towards anything with young girls or babies whenever we visit art museums so this was no surprise.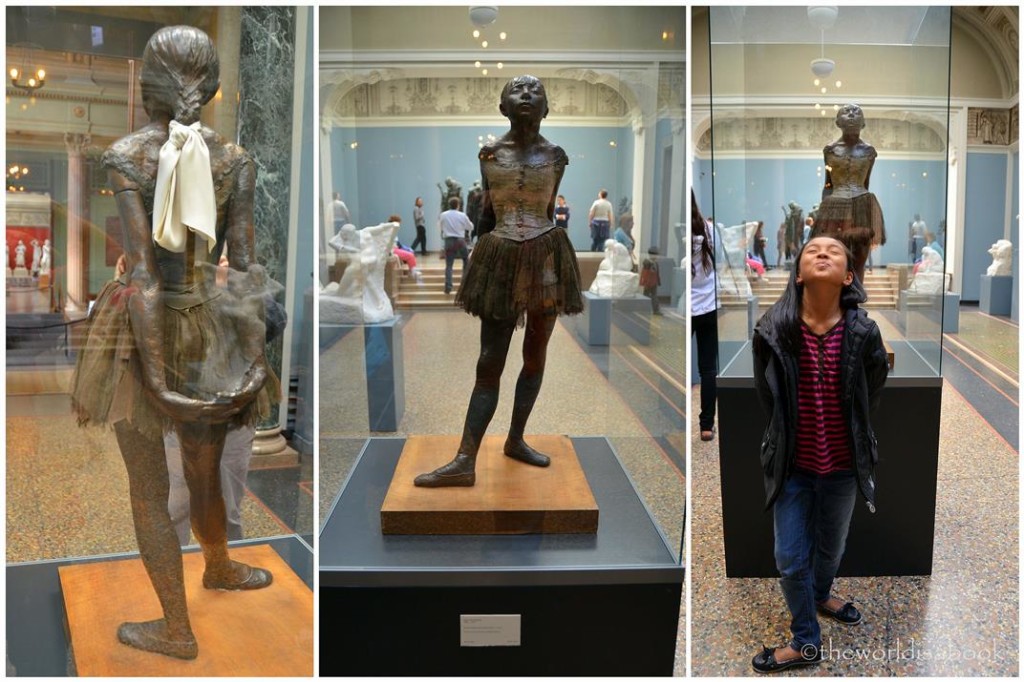 While it's primarily a sculpture museum, there is also a vast collection of French impressionists (Monet, Cezanne, Renoir) and Danish paintings. Paul Gauguin's paintings which focus on Tahitian women represent most of the paintings in the French collection with over 40 of his works.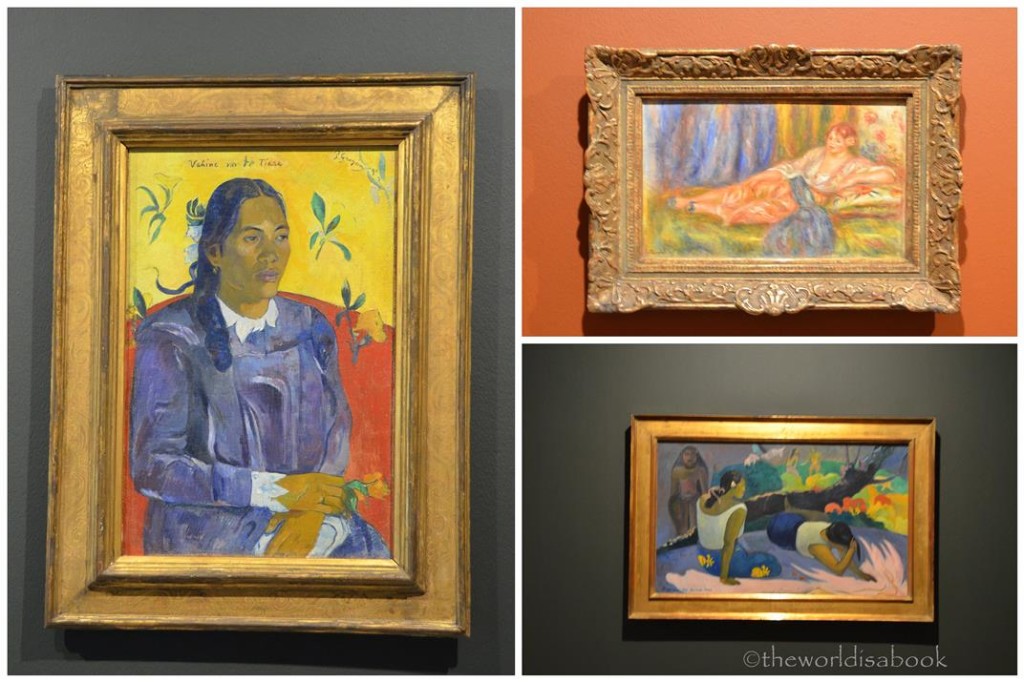 The Glyptotek was a wonderful place to spend a few hours and stroll through its rich collection of sculptures and galleries. We didn't make it to the outside garden which also had plenty of statues. We came here late on a Sunday but it wasn't as crowded as we expected. It was a change from Copenhagen's other attractions or other museums but definitely a worthwhile visit even with the kids who only had amusement parks and castles on their minds.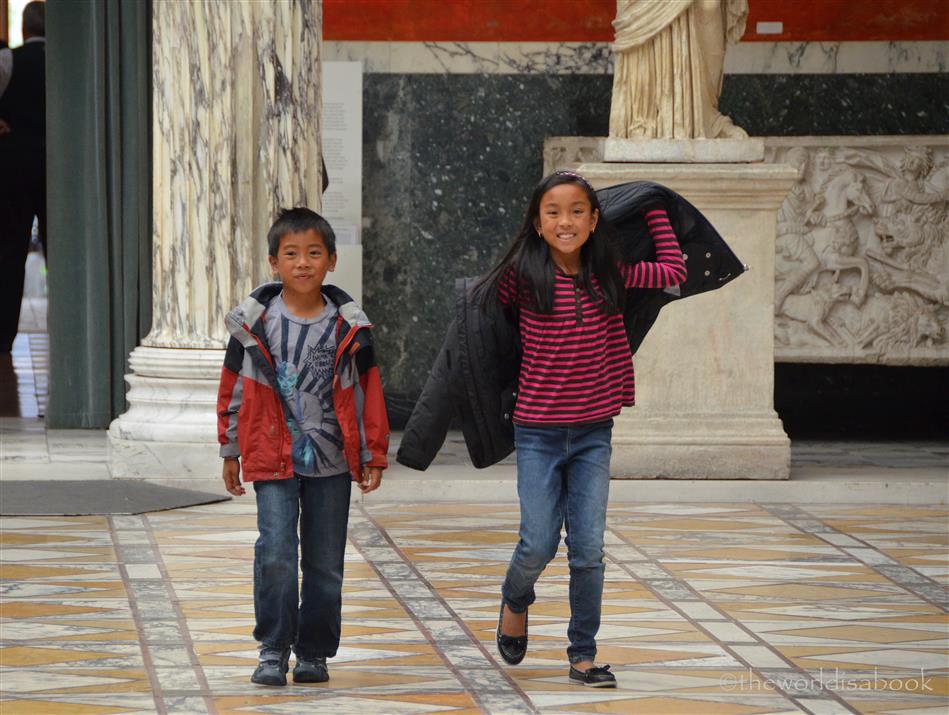 Visiting the Glyptotek Copenhagen with Kids Tips and Basics
Free admission to the public on Sundays.
Admission: Adults – DKK 75 (EUR 11/$14 US); Children under 18 years old are Free.
Free Admission along with other museums and attractions with the

Copenhagen Card

.
Closed on Mondays; Tuesday – Sunday 11 AM – 5 PM
Located near the Copenhagen Central Station (Københavns Hovedbanegård)
There are lockers at basement to store all bags. Cost is 20 DKK but machine returns coin after use.
There is also a lunch area in the basement to enjoy packed lunches or for snack breaks.
Check the calendar or information desk if treasure hunt for the kids is going on.
Give the kids a camera and see what interesting images they capture.
From May to August, they offer free guided tours in English every Sunday at 1:00 PM. No advance reservation so granb the limited tickets (2 per person) at the ticket desk.
*Have you visited the Glyptotek or other sculpture museums?
Related Posts:
Pin it for later!