A Walking Tour Through Munich, Germany
Munich is almost synonymous with beer halls and Oktoberfest. But, we discovered there was so much more to this beautiful, green, family-friendly city. Munich became one of our favorite European cities after our visit a few weeks ago. We heard that it was a great walking city so we went on a walking tour offered by Munich Tourism. We did the 3-hour orientation tour on a Sunday morning. These are some of the memorable sights we saw during our walking tour.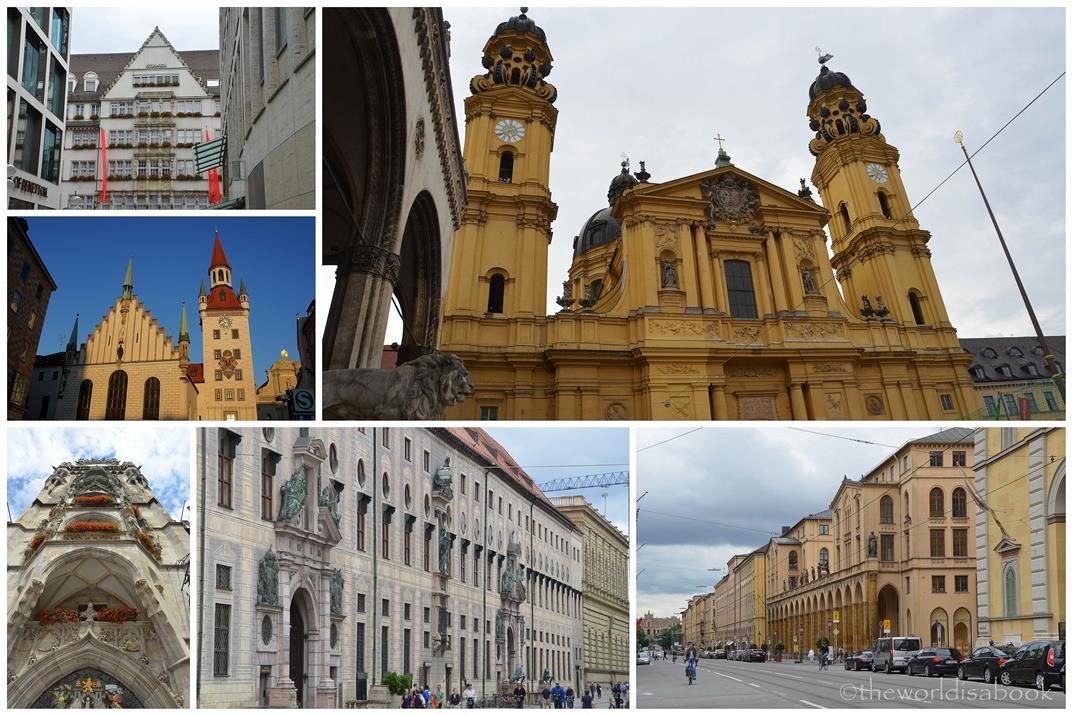 Munich has a rich history that dates back to the 12th century. It was named after the Benedictine monks who settled here in the 7th century. Munich is from a medieval German word 'Münichen ', later shortened to München, which can be literally translated to English meaning 'monks'. It was founded by Henry the Lion, Duke of Saxony and Bavaria over 800 years ago. The city eventually became the capital of the kingdom of Bavaria.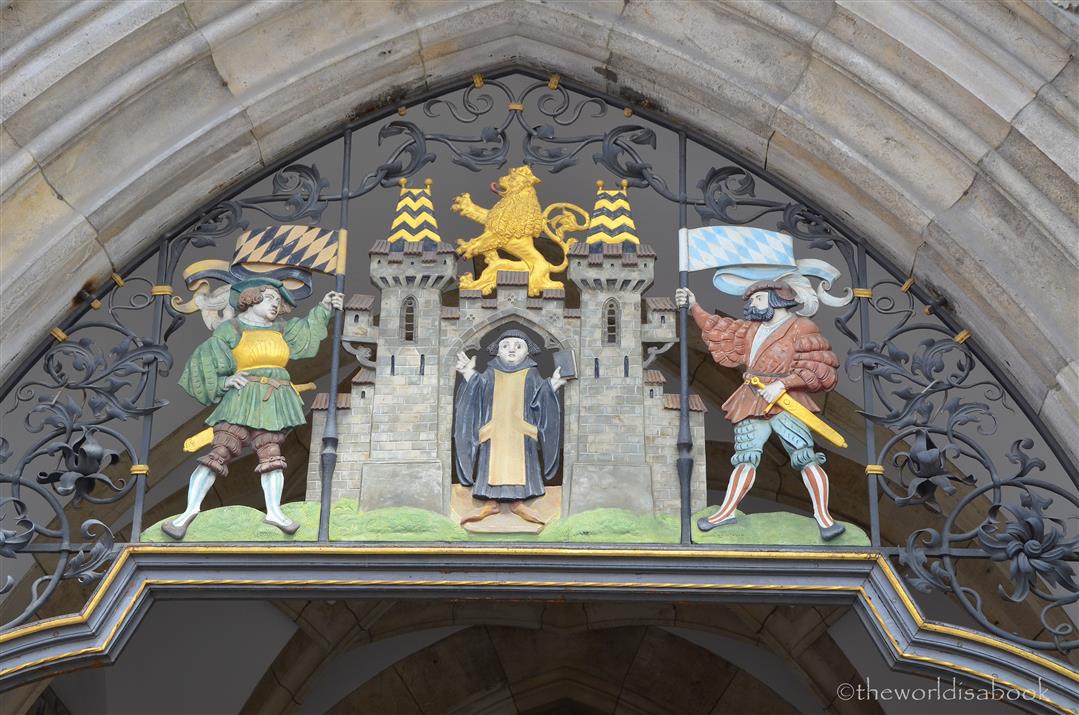 Our tour started off by our hotel and we passed through the Isar River that flows through the city. This was surprisingly a pretty small river. A few weeks before our visit, we were told this was flooded and we saw remnants showing how high the water level rose.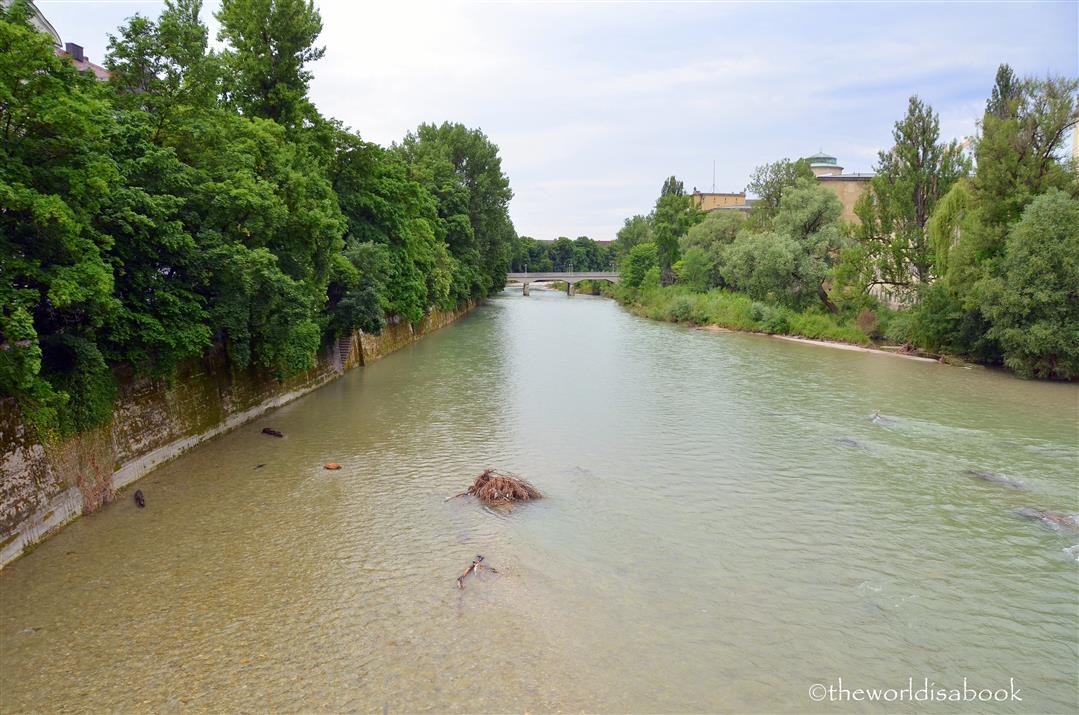 Munich was protected by a city wall and surrounding towers in the Middle Ages. Isartor or Isar Gate was one of the main gates of the city wall. Its central tower was built in the 1300s as an entrance to the Isar River. The murals on the facade is of King Ludwig IV's victory procession after a battle with the Austrians.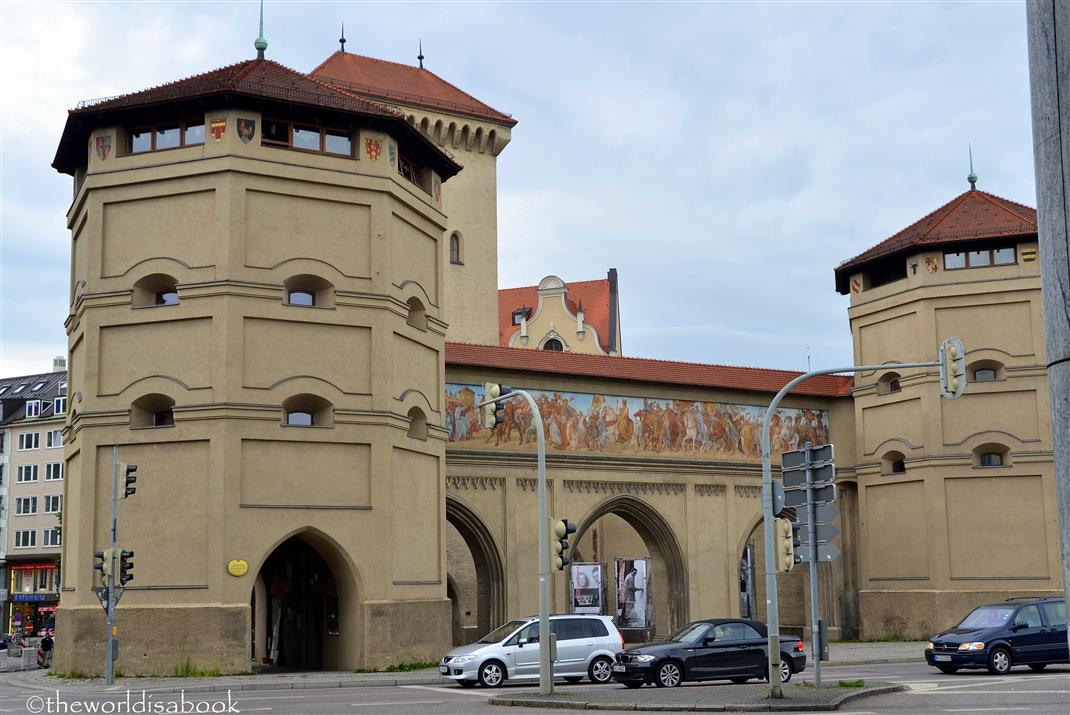 One of the places I was excited to see was Viktualienmarkt, fondly known as the "city's stomach". It's a food/farmers market that I could have spent hours exploring. There was a beer garden surrounded by food stalls selling local delicacies including a wide variety of bratwursts and pretzels. Unfortunately, we were there a little earlier than everyone else. But, we did visit a few more times and I'm looking forward to sharing all the delicious and eye-catching things we found there.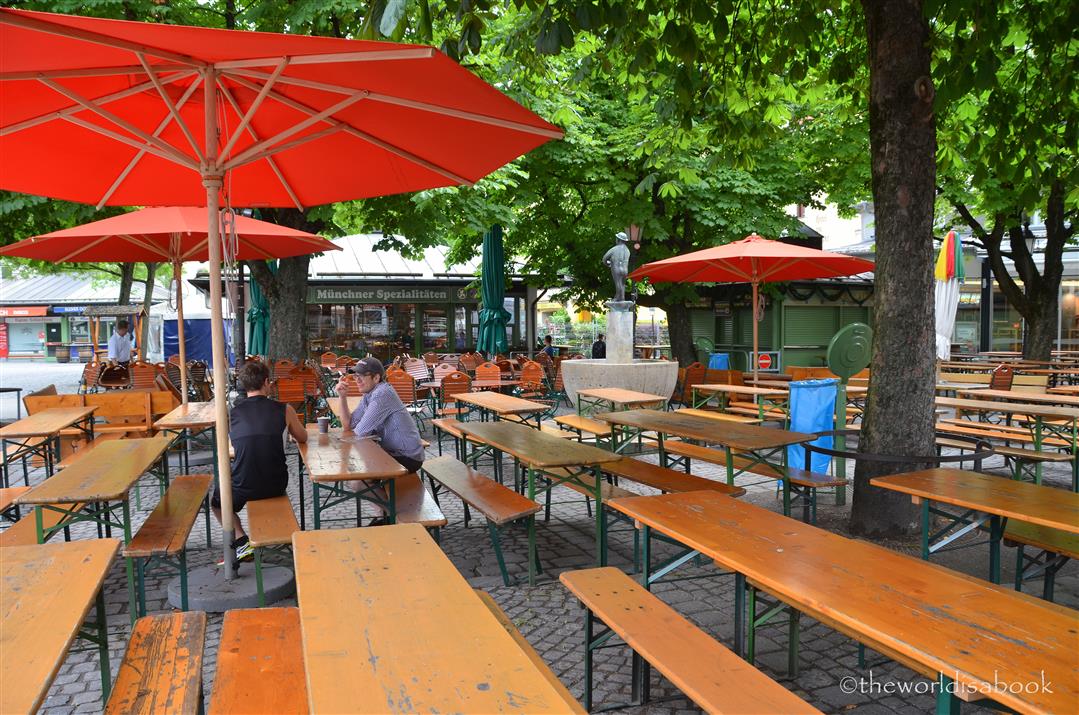 My kids were fascinated with the tall maypole overlooking Viktualienmarkt. Maypoles are wooden poles used in festivals. There have been many theories of its meaning but we liked the one of it being part of celebrating the return of summer.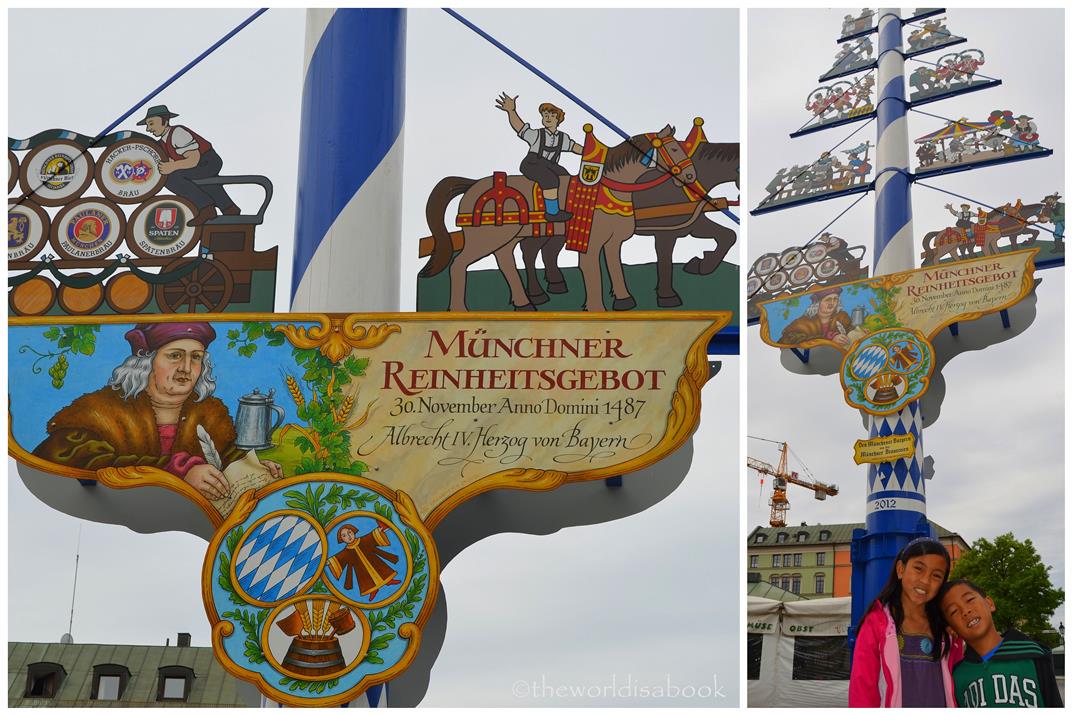 We also saw some surprising street art along the way.
Munich was heavily bombed during World War II. Though, the city has done a wonderful job with restoring many of its old buildings. Many of those included beautiful Catholic churches which were near each other. Church spires seem to dominate Munich's skyline. We were told that more than half of Bavaria Germany was still Catholic. I guess I shouldn't have been surprised knowing the previous pope (Pope Benedict) was the archbishop of Munich.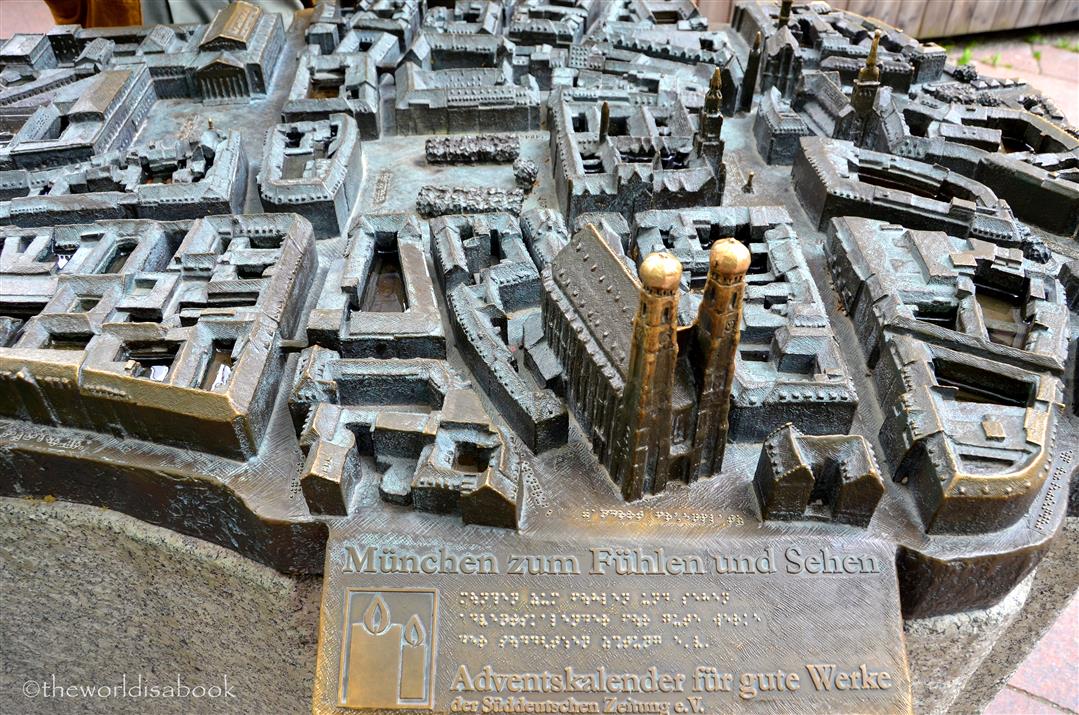 Peterskirche or St. Peter's Church was Munich's oldest parish church and was also the only church for many years. A fire destroyed it in 1327 but was later rebuilt in the late 1300s. One of the downsides to touring on a Sunday is that many of the churches were closed at various times for church services. Visitors can climb up the towers for a panoramic view of Munich. Unfortunately, we didn't get the chance to see that view.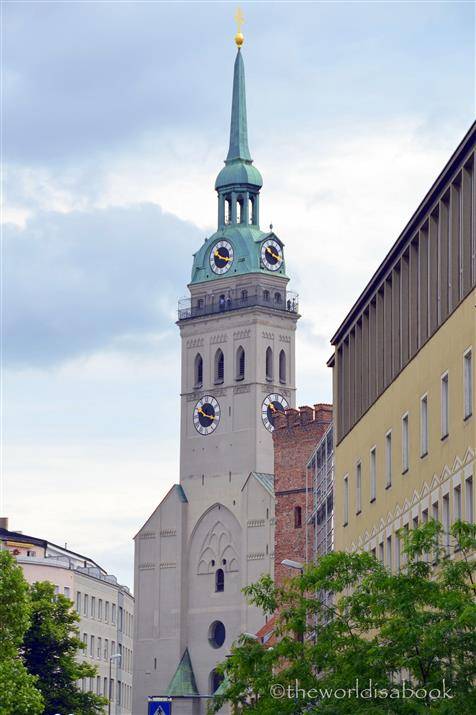 The twin onion dome towers of Frauenkirche are one of Munich's most recognizable landmark and symbol. These twin towers actually survived World War II bombing despite the rest of the church being heavily damaged. This is the largest Gothic building in southern Germany and completed in 1488. There is a law forbidding the construction of no new buildings that can obscure the view of the church.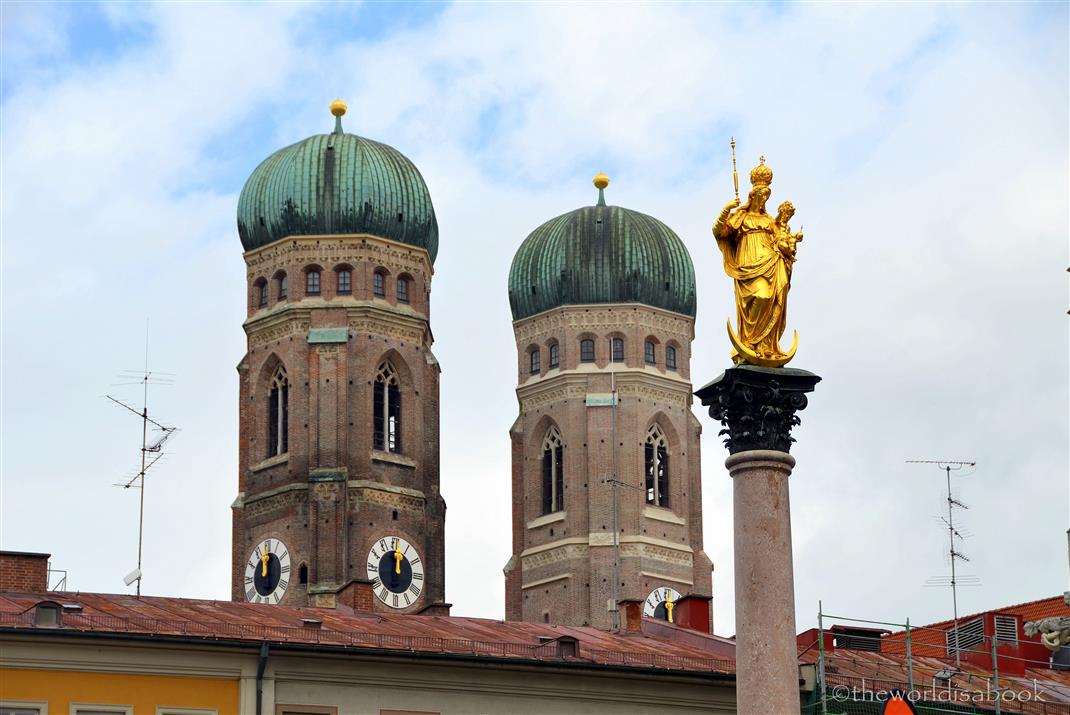 One of my favorite buildings was the Church of St. Kajetan or Theatinerkirche. The Roman baroque church was built to celebrate the birth of one of the Bavaria ruler's son and named after its patron saint, St. Cajetan of Thiene.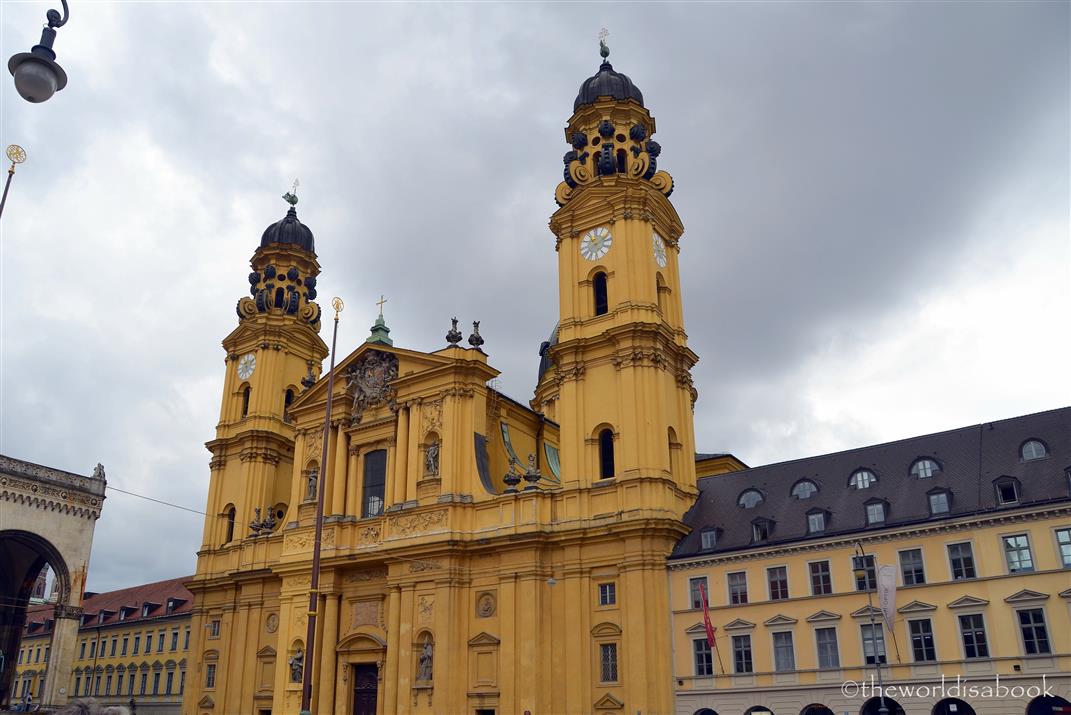 I loved the white contrast of its interior with its yellow/golden facade.
The Feldherrnhalle or Field Marshal's Hall was next to the church. The open hall flanked by columns with a central stairway was built to honor Bavaria's heroes. We passed by here a few times and it was usually crowded with tourists and locals resting.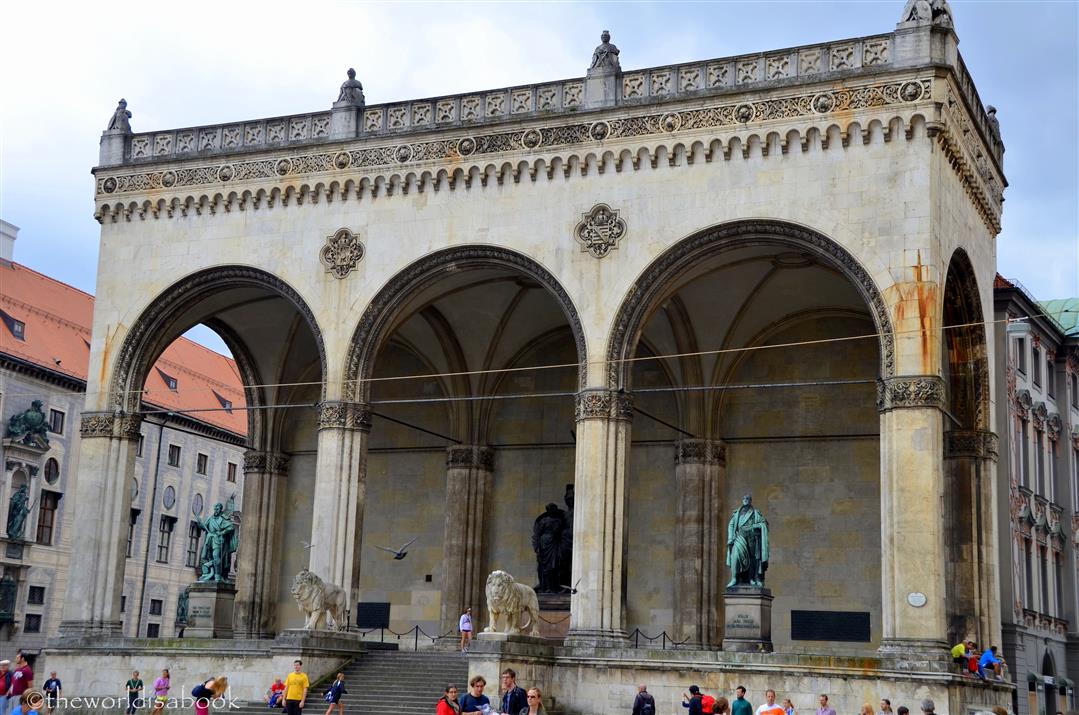 There was also a race going on so the city was very lively but some of the streets were closed off. It was fun to see the locals cheering on the runners.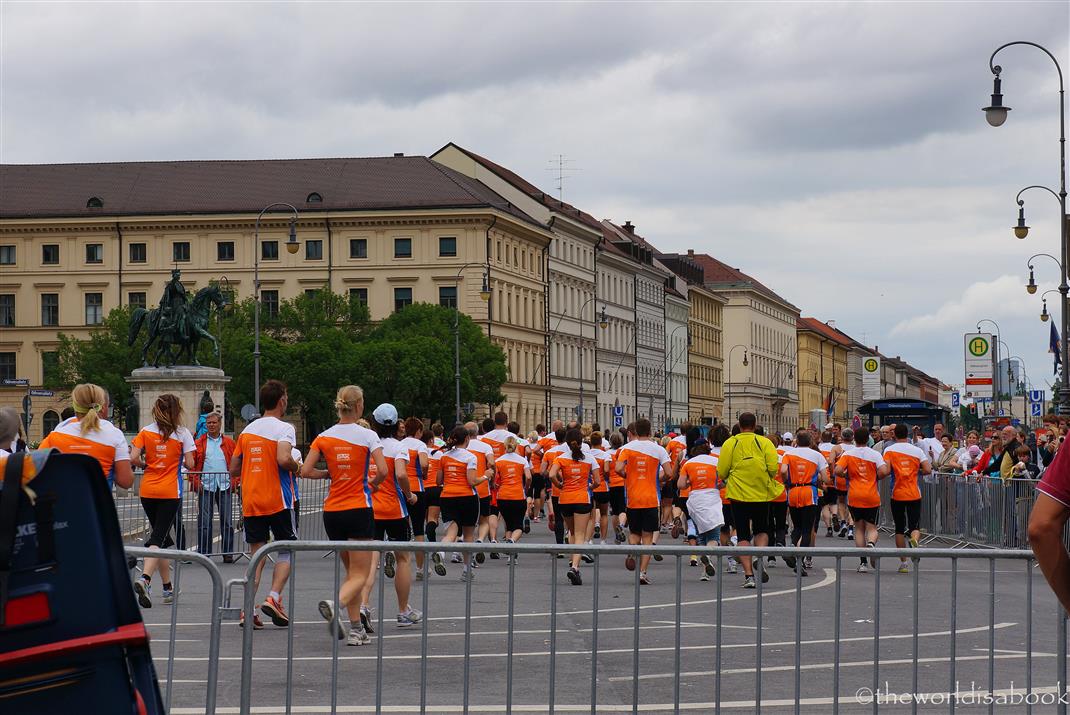 We also passed by a Jewish synagogue with a very modern architecture. The Ohel Jakob Synagogue was a steel and glass cube on top of a travertine stone base. It was opened in 2006 with over 500 seats.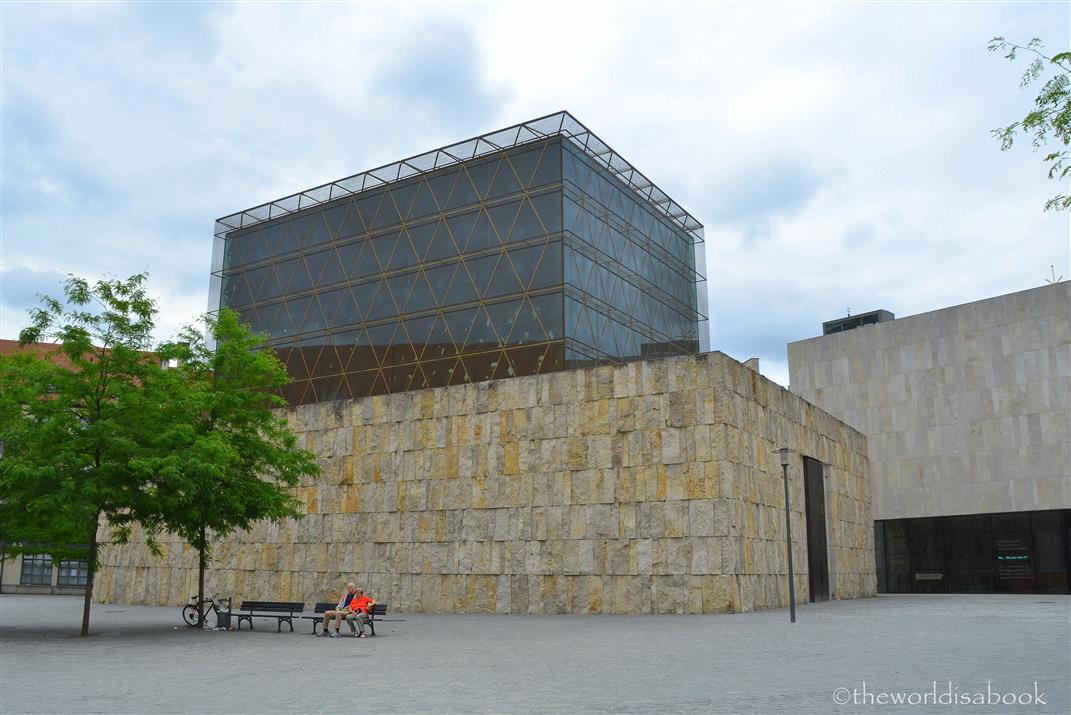 The Munich Residenz takes up quite a huge area in the city center. This once royal residence is a group of large building complexes designed around several courts.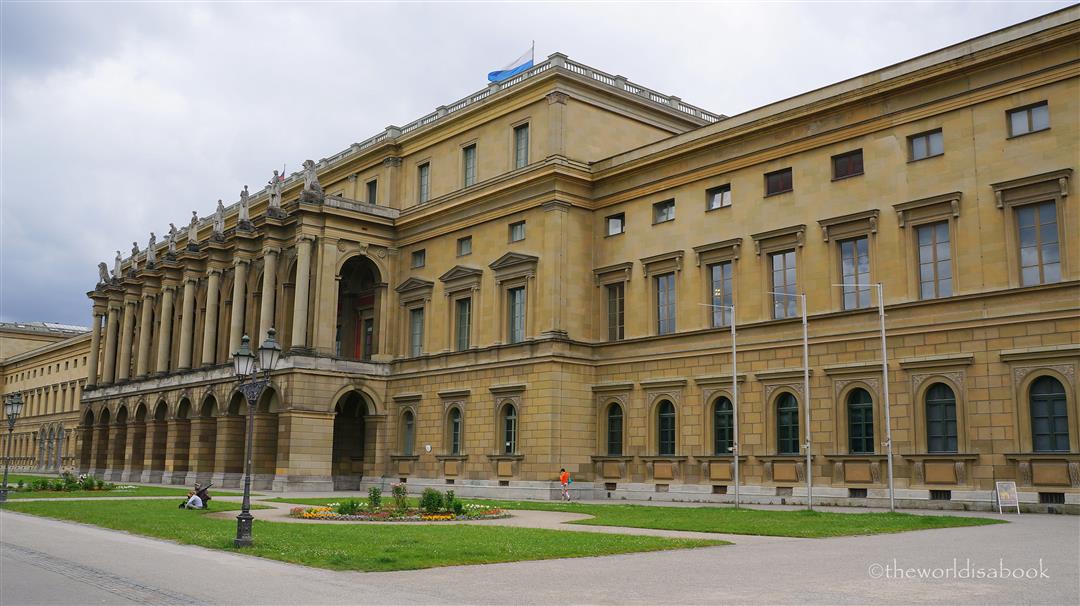 My kids needed that bit of distraction apart from all the history and architecture. They found a lion by the Residenz entrance with a rubbed off nose for good luck. Lions and lion symbols were common around Munich.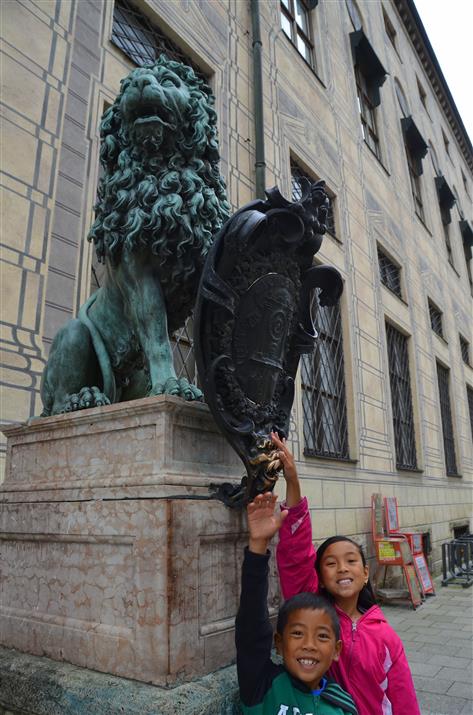 The adjacent Hofgarten (Palace gardens) surrounding this area was spacious and a perfect place to rest.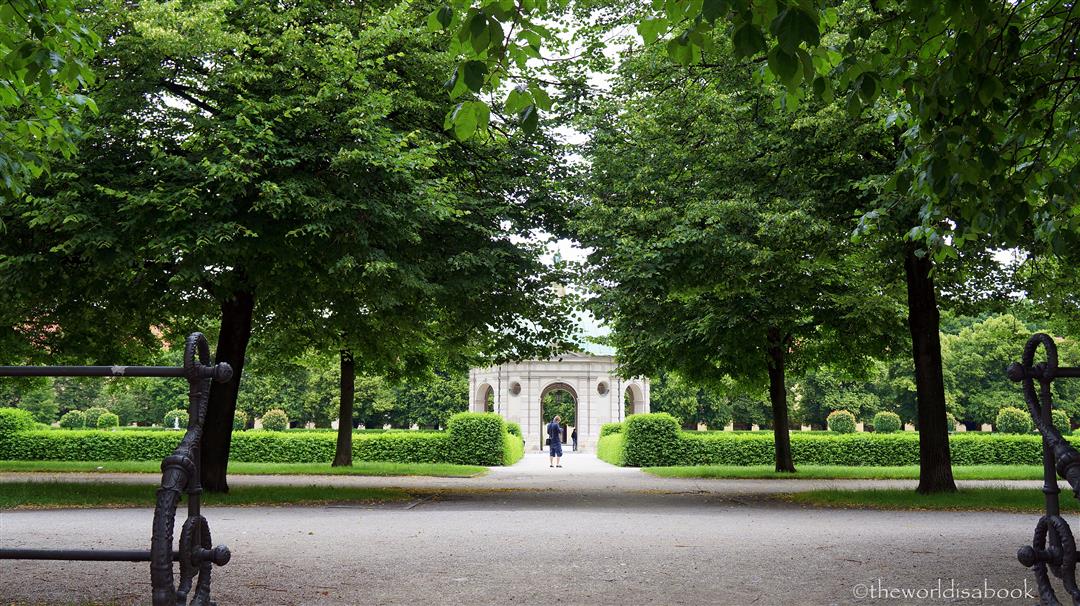 We loved passing by the National Theater with its colorful, wrapped columns. They were getting ready for an outdoor film festival when we passed by.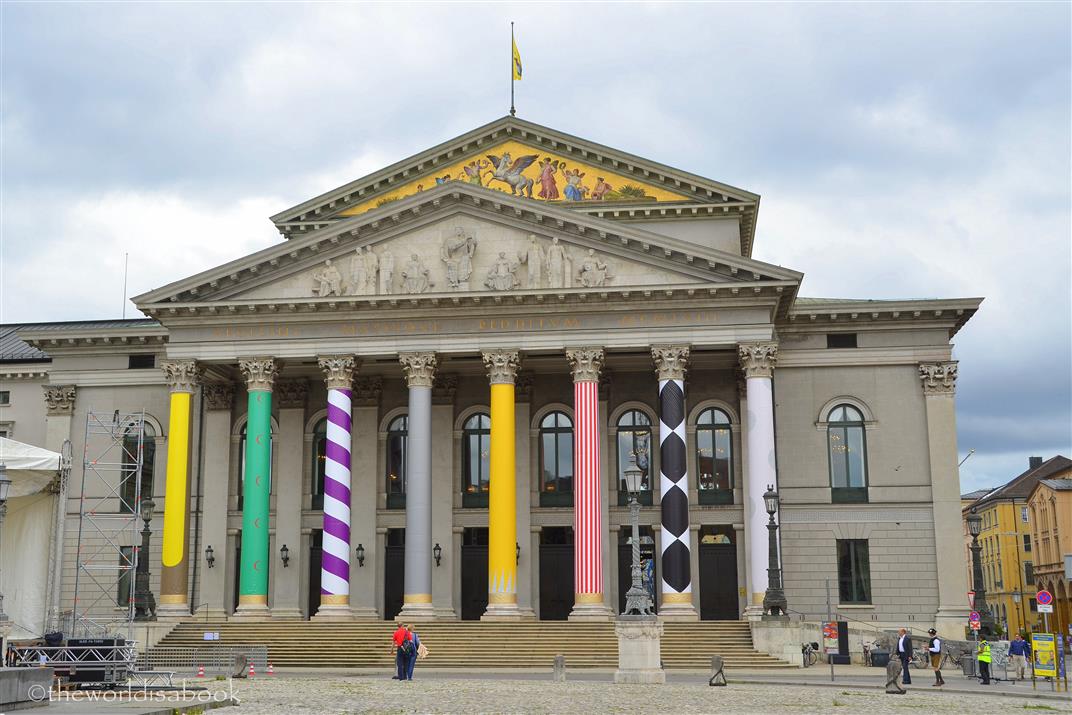 Alter Hof or Old Court was once an imperial residence but later used for administrative purposes after the royals moved to the Residenz palace. Since it was damaged during the war, only a portion of it was reconstructed. The story that perhaps resonated with my kids was that of the Monkey Tower which is actually the colorful bay window.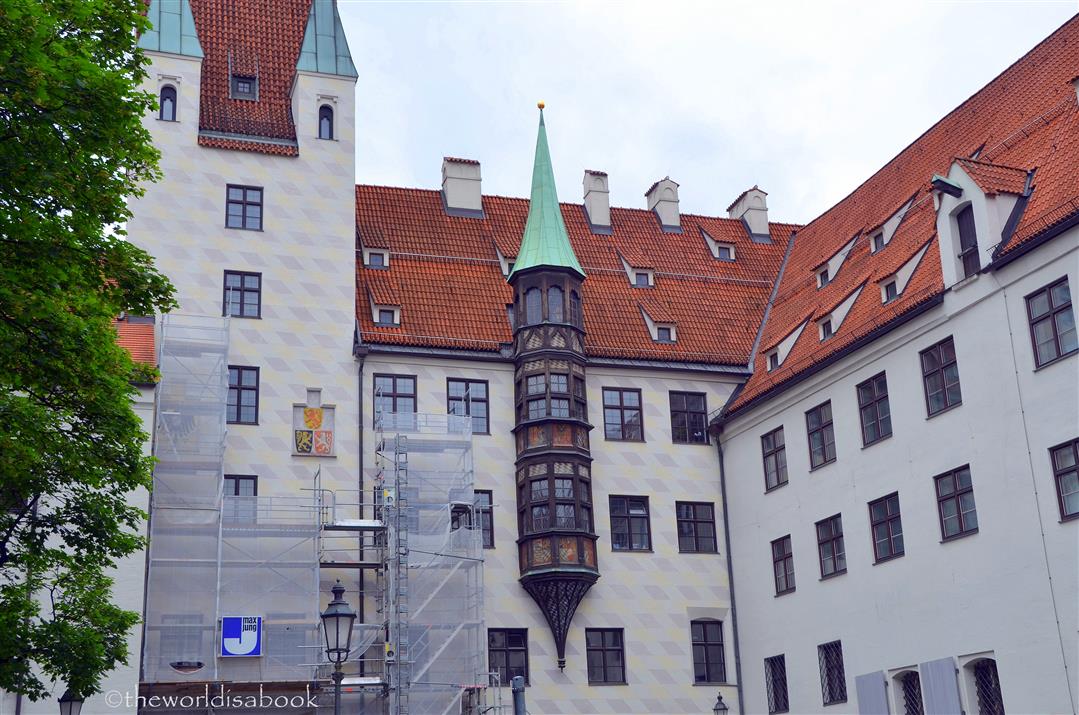 Legend has it that when King Ludwig IV was a baby, he was carried off by a monkey that belonged to the royal court. The monkey took the baby to the top of the tower. It took awhile and a lot of persuasion before it came down with the baby. Thankfully, the baby was unharmed but no one knows what happened to the monkey afterwards.
We ended our tour at Marienplatz (Mary's Square) which is Munich's centerpiece. I lost count on how many times we ventured, ate and shopped here. It was great hub of activity including street performers even late in the night. It was a marketplace until 1807 and was named after the Virgin Mary when the citizens asked to be protected from a cholera epidemic. It is now a busy area and very popular with tourists and locals.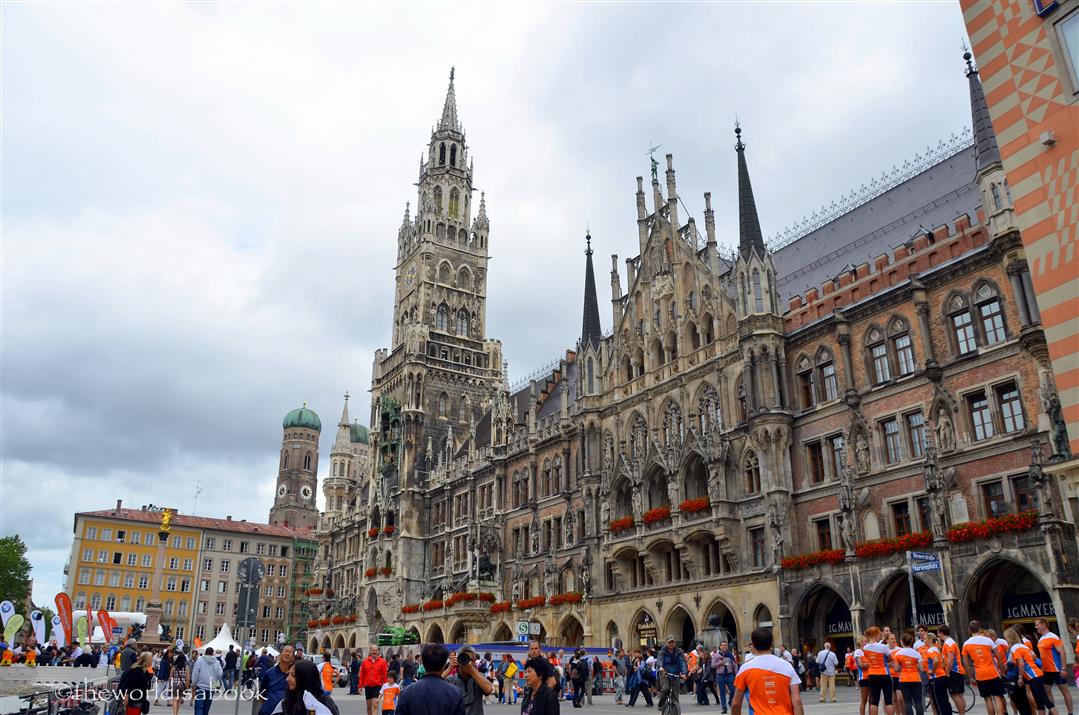 There were quite a few notable structures that surrounded this glorious square. The Mariensäule (Column of the Virgin) in the middle of the square signifies the citizens' gratitude after the Swedish invasion in the 1600s.  A golden statue of Mary adorns the top with child warrior statues on each of its four corners symbolizing overcoming hunger, war, heresy and pestilence.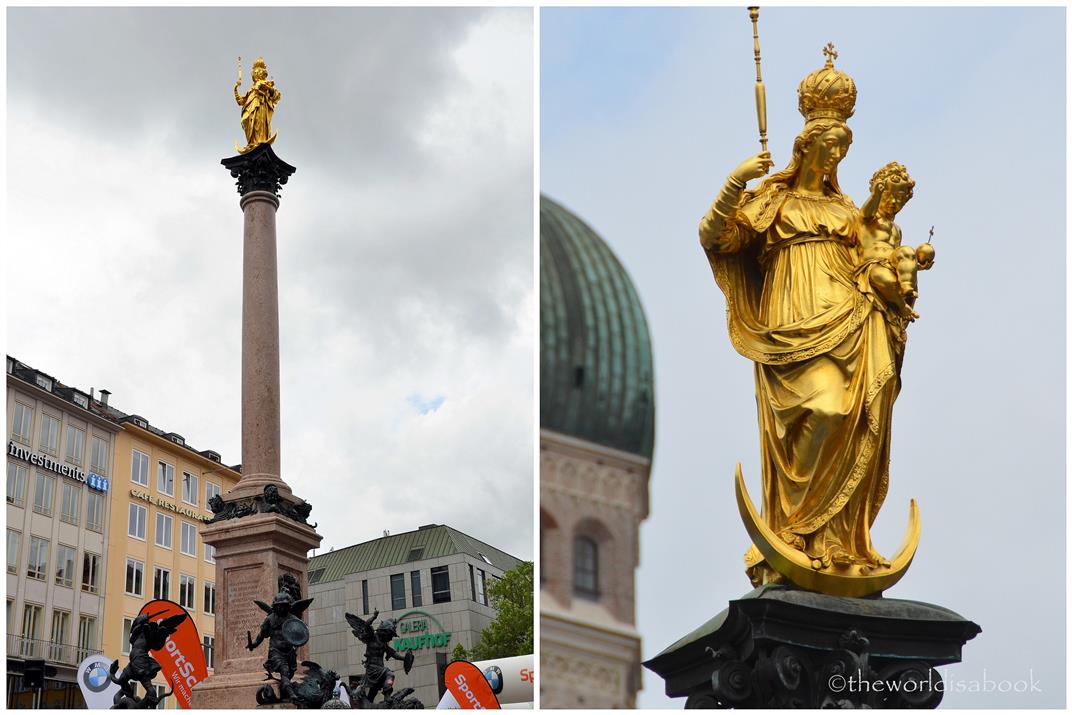 The Altes Rathaus (Old City Hall) was a Gothic building and looked a little plain compared to its neighbors. The 180 feet (55 m) tower was a lookout point but now houses a toy museum. This was restored after a majority of it was destroyed by WWII bombs. But, the original 15th century design was meticulously followed.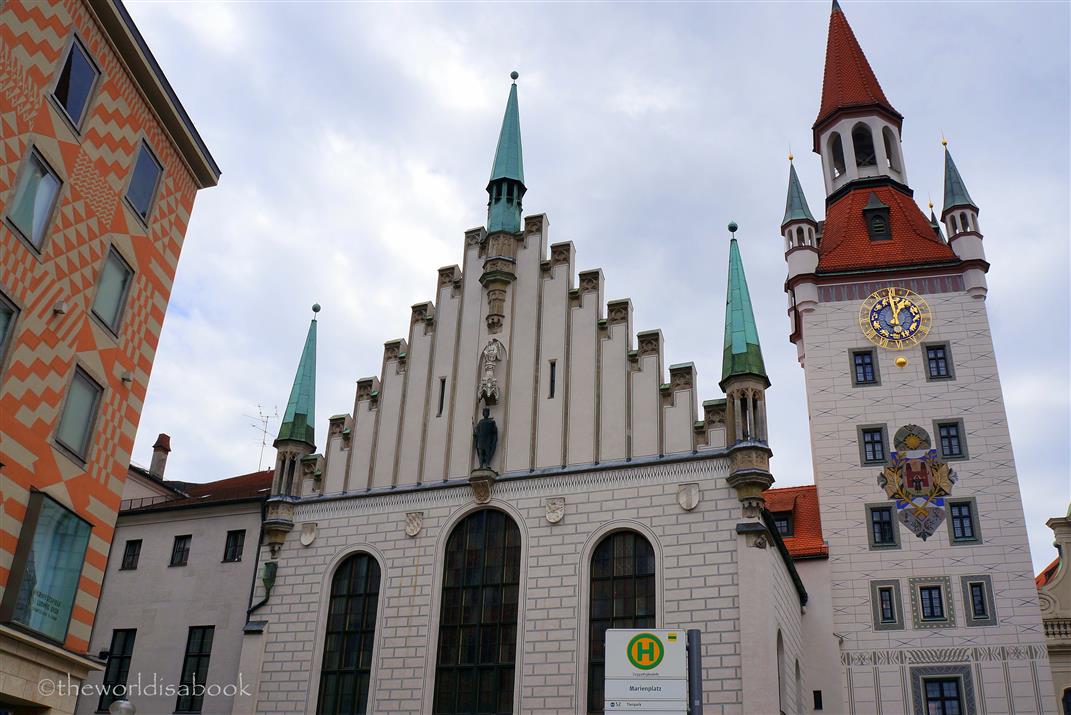 It may not look newer than the old city hall, but the New Town Hall or NeueRatHaus dominates Marienplatz. This ornate neo-Gothic building was quite a sight with colorful flower boxes and Bavarian royalty statues adorning its facade.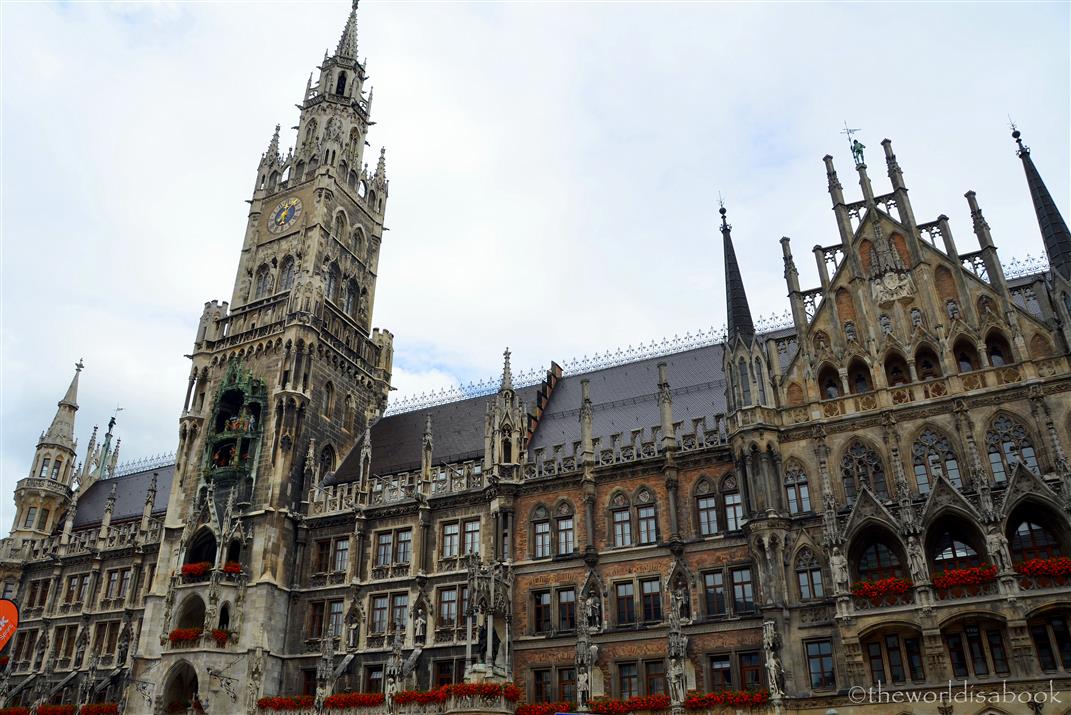 This is the seat of the mayor and the city council. It took 41 years to build this and was completed in 1908 and spanned 300 feet (100 m) long. We never got tired of seeing this ornate building.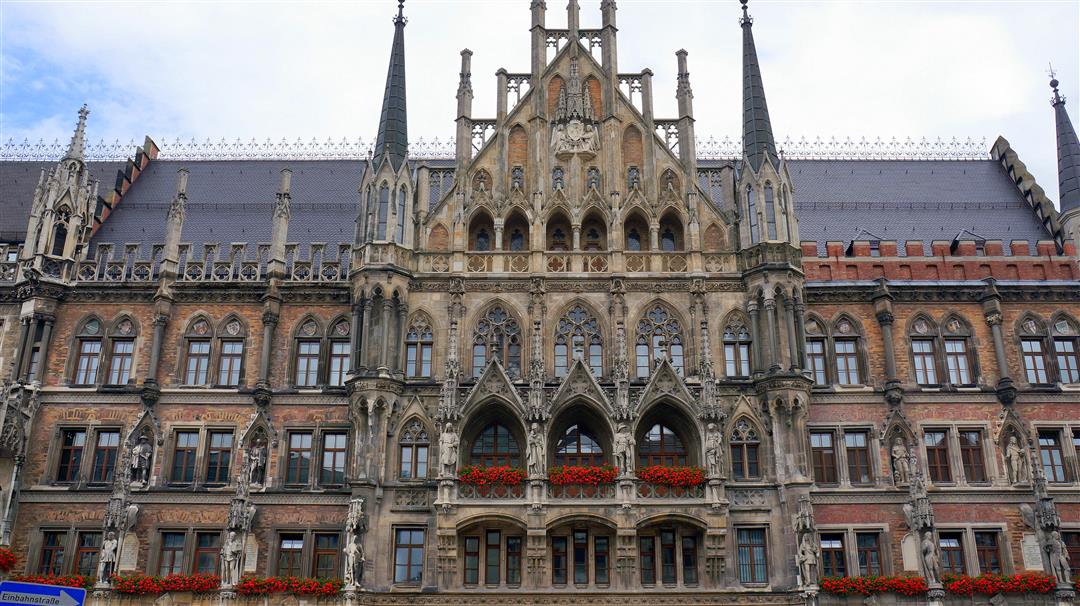 The biggest draw here though is the famous Glockenspiel and Carillon with 43 bells in the central tower. 32 wooden, life-sized figures emerge from the clock to perform a tournament, wedding and peasant celebrations on two levels for 12 minutes. They come out at 11AM and noon (also at 5 PM during the summer). It was entertaining to watch and was a hit with everyone especially the kids. It was a wonderful way to end the tour.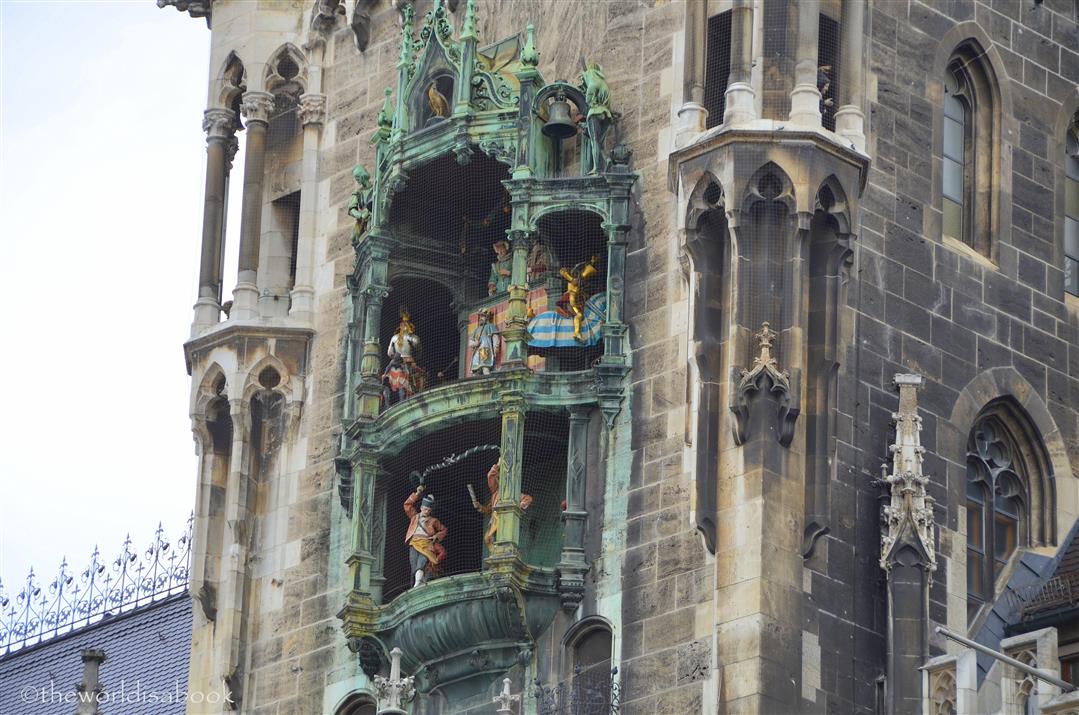 Munich had many pedestrian zones and hidden alleys to explore with many stunning and interesting structures. Walking through it was really one of the best ways to explore the city. Our guide, Angelika, provided us with so much information that even my kids were interested. We don't usually do walking tours but this gave us such a great overview of Munich and covered so much for a limited time.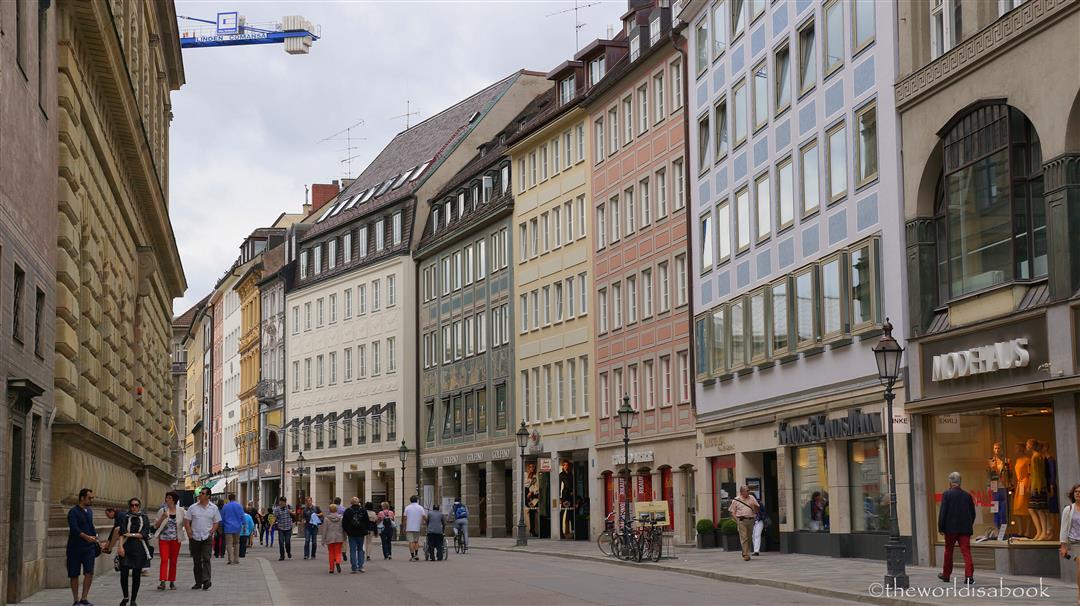 Thank You to Munich Tourism for providing us with the fabulous walking tour with Angelika Domes and all the helpful recommendations. All opinions and photos are my own based on our experience.
*Have you visited Munich? Do you do walking tours?