Salzburg with Kids: Our DIY Sound of Music Tour
Chances are many of us have seen the classic movie musical, the Sound of Music, countless times over the years. I grew up watching this movie and luckily, my kids enjoy watching it too. The breathtaking scenes of Salzburg, Austria created a long-lasting impact for me along with the unforgettable songs. So, there was no question we were going to do a Sound of Music tour to see the sites featured in the movie while we were visiting Bavaria Germany last month. Salzburg was an easy day trip from Munich by car or train.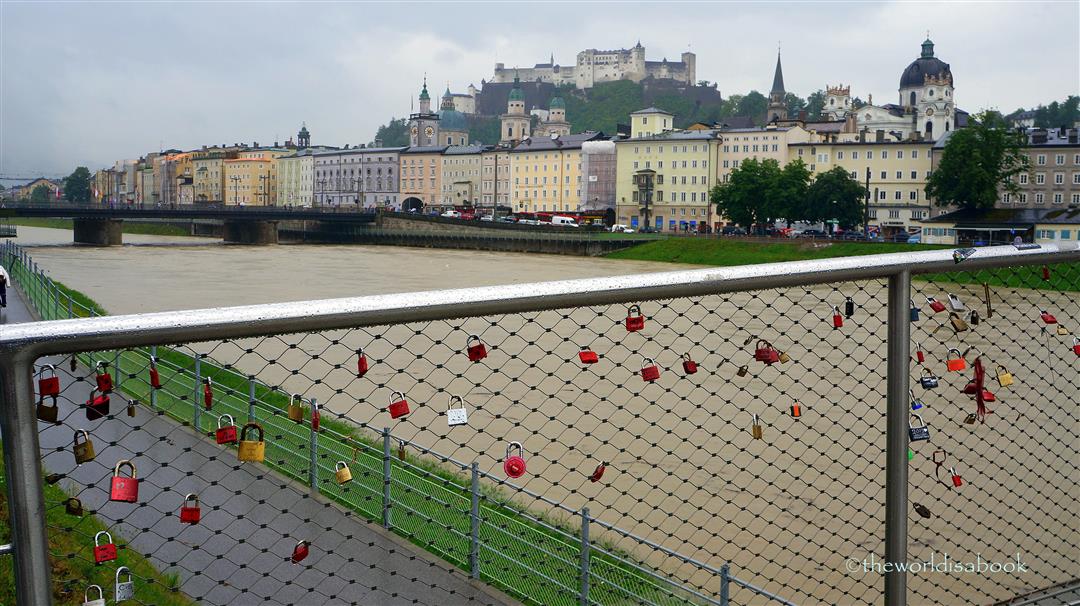 Most people do the 4-hour Sound of Music bus tour which takes visitors to several filming locations. The Sound of Music is one of the most popular movie musicals of all time. The movie was based on the book The Story of the Trapp Family Singers by Maria von Trapp. It told the story of a young lady (Maria) who left a convent to be a governess to 7 children and eventually became their stepmother.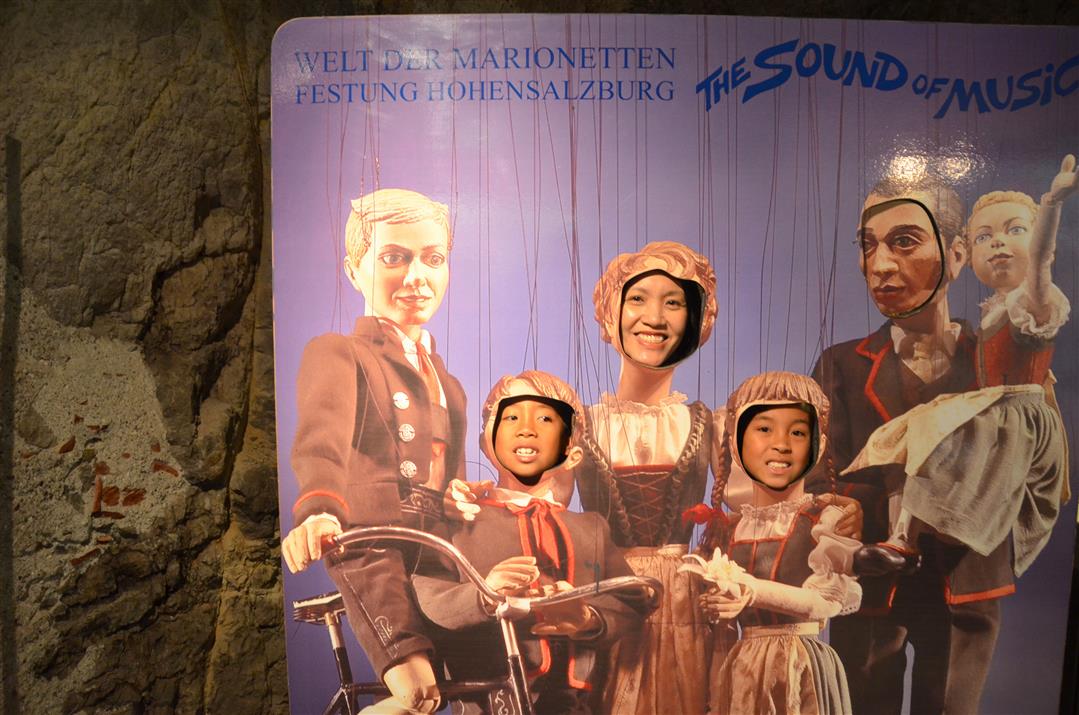 We ended up doing our own Do-It-Yourself (DIY) tour for several reasons. We're usually not the tour bus types, if we can help it, and we had a rental car. Most of the locations were also within the walkable city. While it would have been fun to do a sing along on the tour, how much can we see in the rain from a bus? So, this was our family's condensed version of the Sound of Music tour. If you haven't seen the movie or not too familiar with it, think of this post as sightseeing through Salzburg instead.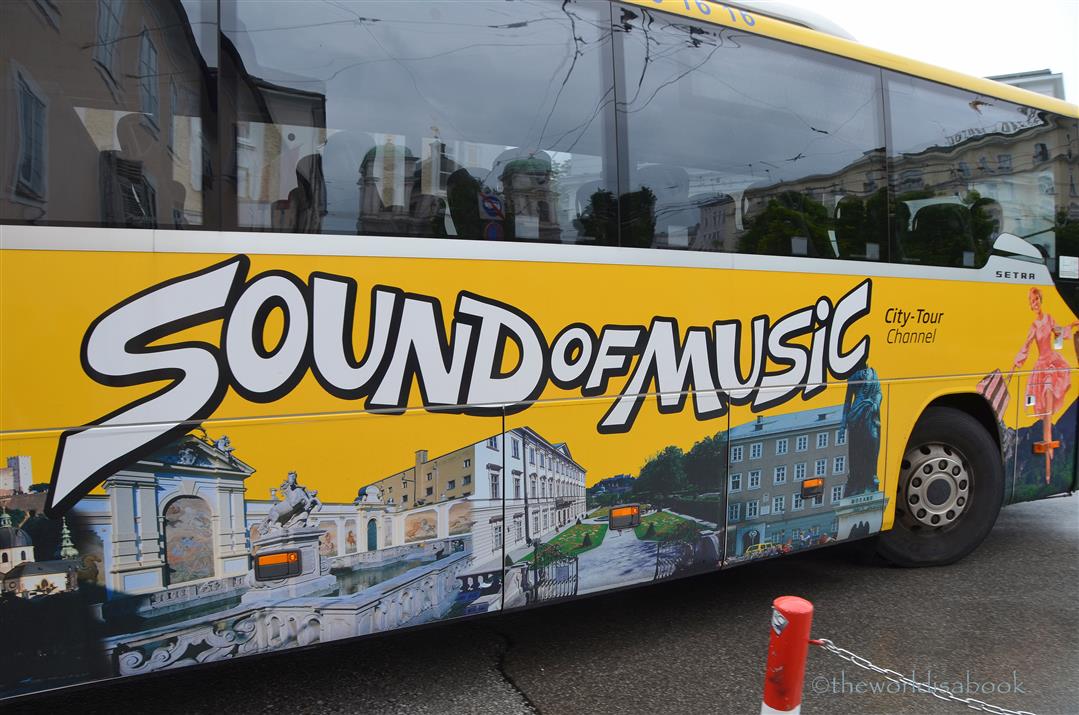 Salzburg's Old Town area, where many of these film locations were, is a UNESCO World Heritage site. There was minor damage to the city during World War II so many of its old world architecture and charming buildings were still intact. Unfortunately, despite traveling in the summertime, there was forecast of rain no matter what day we would have visited Salzburg. That didn't stop us from sightseeing with umbrellas in hand and dashing outdoors when it stopped raining.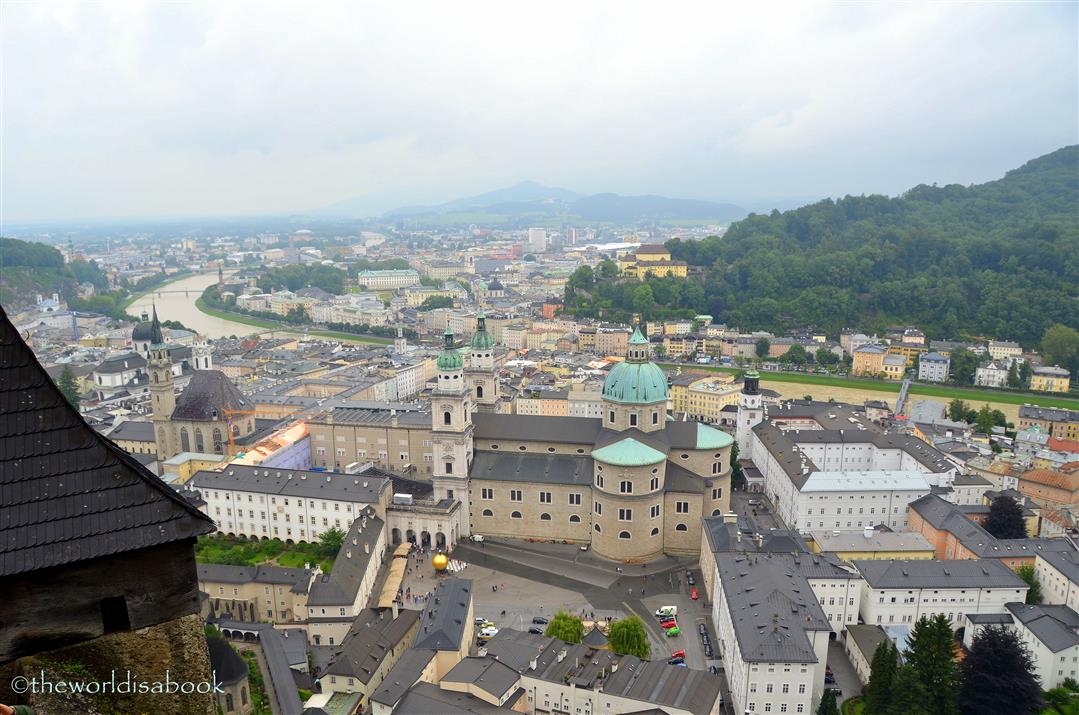 My daughter and I have always wanted to go on a grassy hill in the Alps with a twirly dress and sing "The hills are alive with the sound of music". Contrary to what the movie showed, that mountain in the opening scene wasn't right by Salzburg. According to many sources, it's on Mellwig, near the little Bavarian village of Schellenberg several miles from the city. Unfortunately, we couldn't find one that came close to it other than this one in Germany and it was on private property. We had to hold off on that "twirling" dream.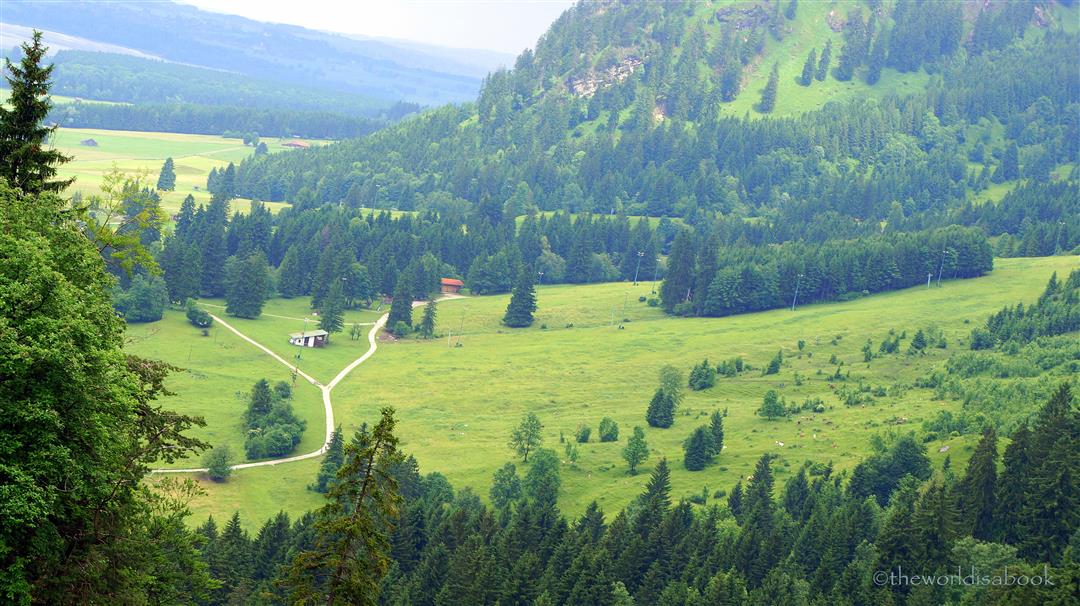 We started our tour in the Old Town area at Residenzplatz Square. This was one of the squares shown in the movie where Maria crossed singing "I Have Confidence in Me". It was surrounded by many museums and the Salzburg Cathedral and probably got pretty crowded on a nice sunny day.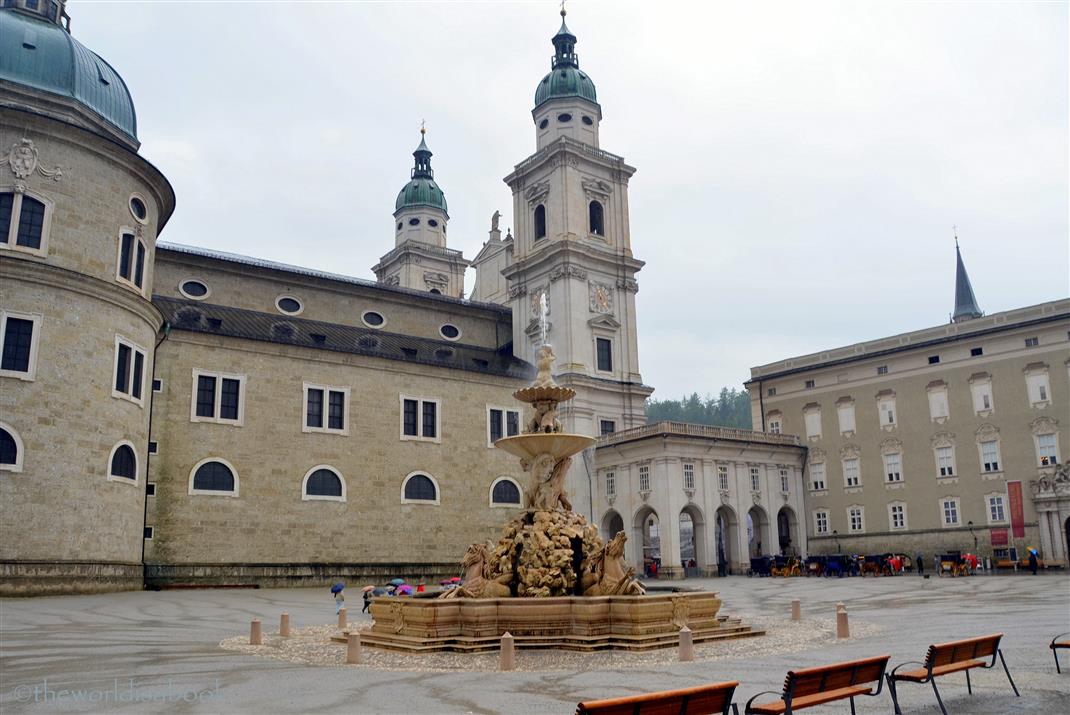 The large Horse Fountain or Residenzbrunnen dominated the square and was where Maria also dipped her hand as she passed by. This fountain was built by the Italian master architect, Bernini, in the 17th century. If the triton on top here looks familiar, it was supposed to look like Bernini's Triton fountain in Rome.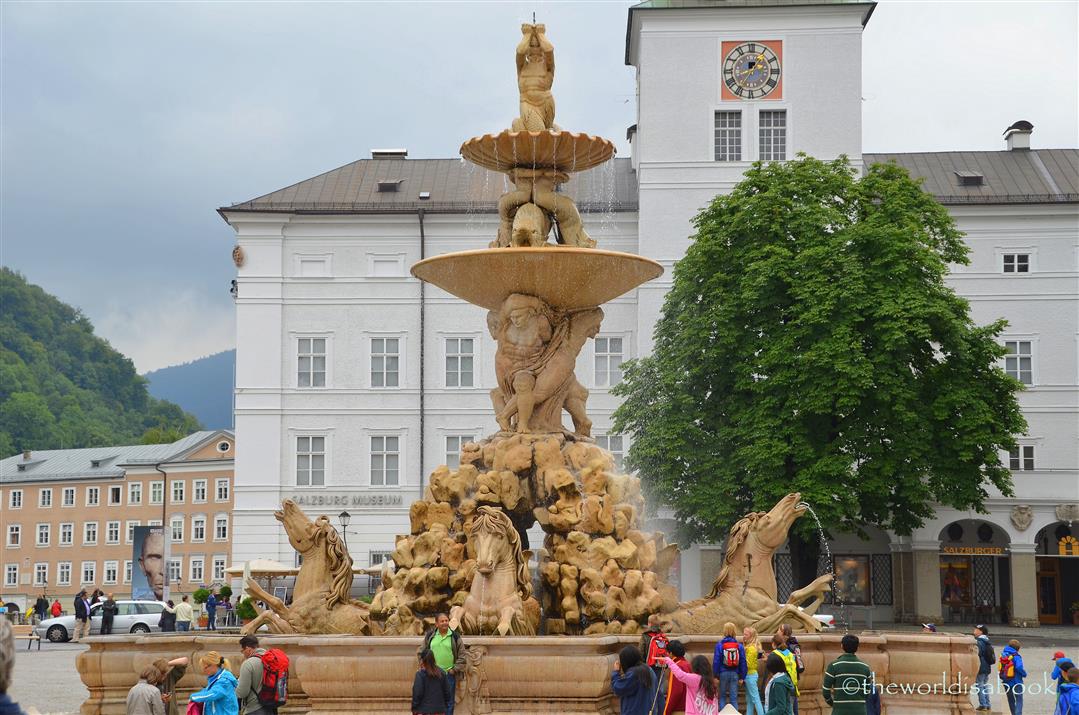 Shades and history of Mozart were everywhere in Salzburg since he was born and spent part of his childhood here. Nearby was Mozartplatz to honor the native son including a pretty tall statue of him.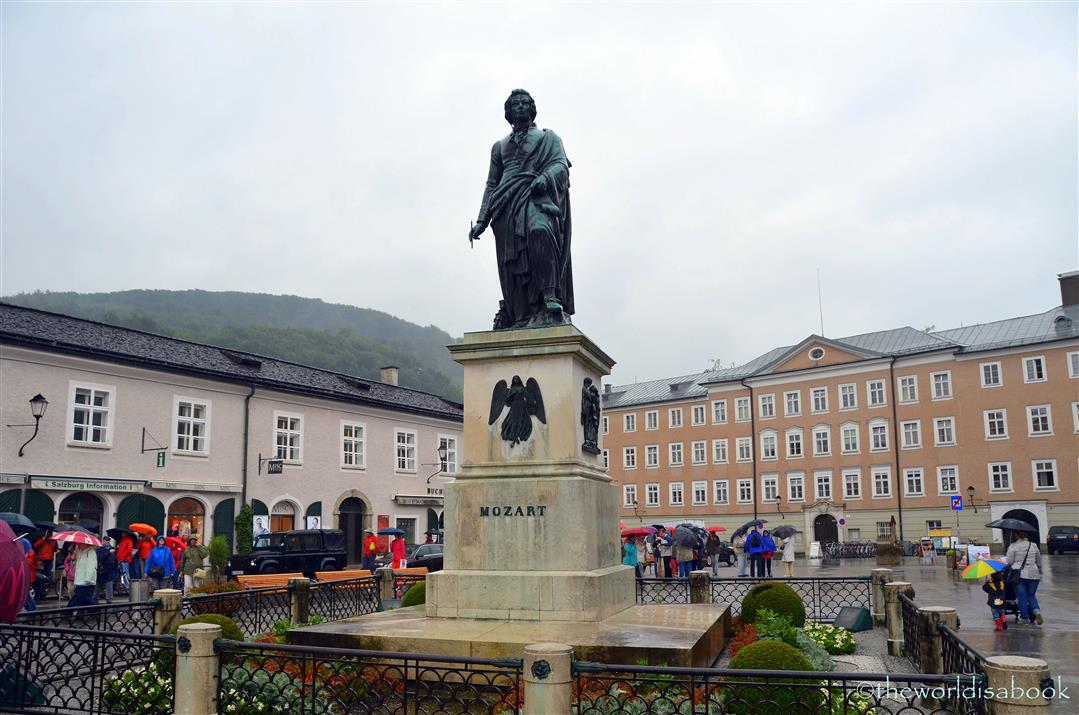 One of the movie scenes had the kids riding through this square in a horse and carriage singing the popular "Do-Re-Mi" song. We found a few of these horse-drawn carriages waiting for riders. Rates started at 40 euros($51 US) per carriage (4 persons) for about 20-25 min. We decided to skip on this despite it being a lovely way to see the city.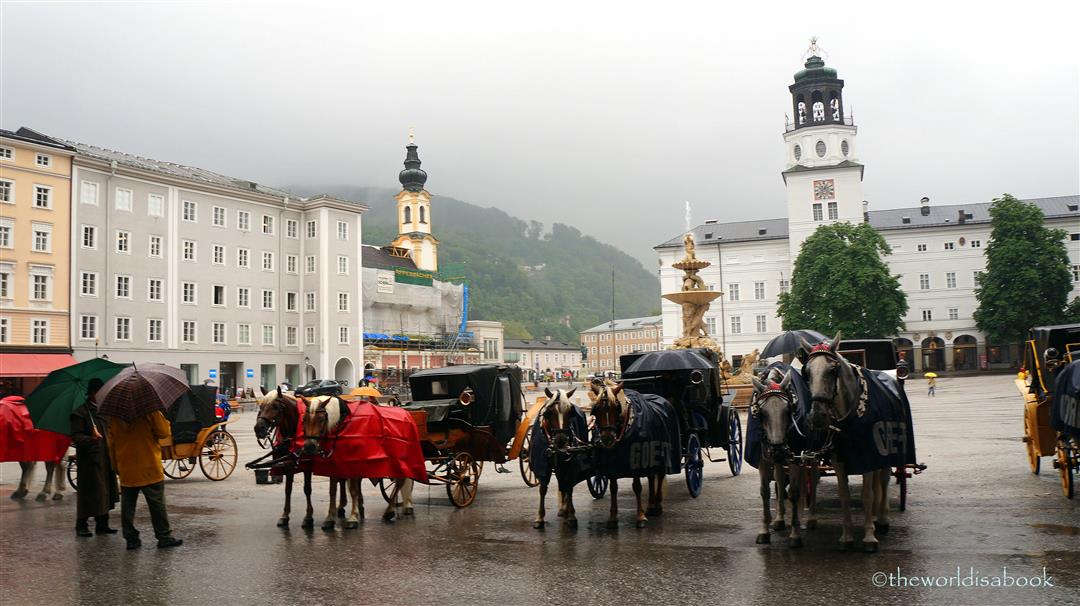 After exploring a fortress and Salzburg cathedral, we headed to Petersfriedhof, or St. Peter's Cemetery. This was actually one of Salzburg's popular tourist attractions. This cemetery was the inspiration for where the Von Trapp family hid behind tall grave stones enclosed by wrought iron gates in the movie. This was Salzburg's oldest Christian graveyard but was very well maintained. It was beautiful and filled with unique markers and colorful flowers.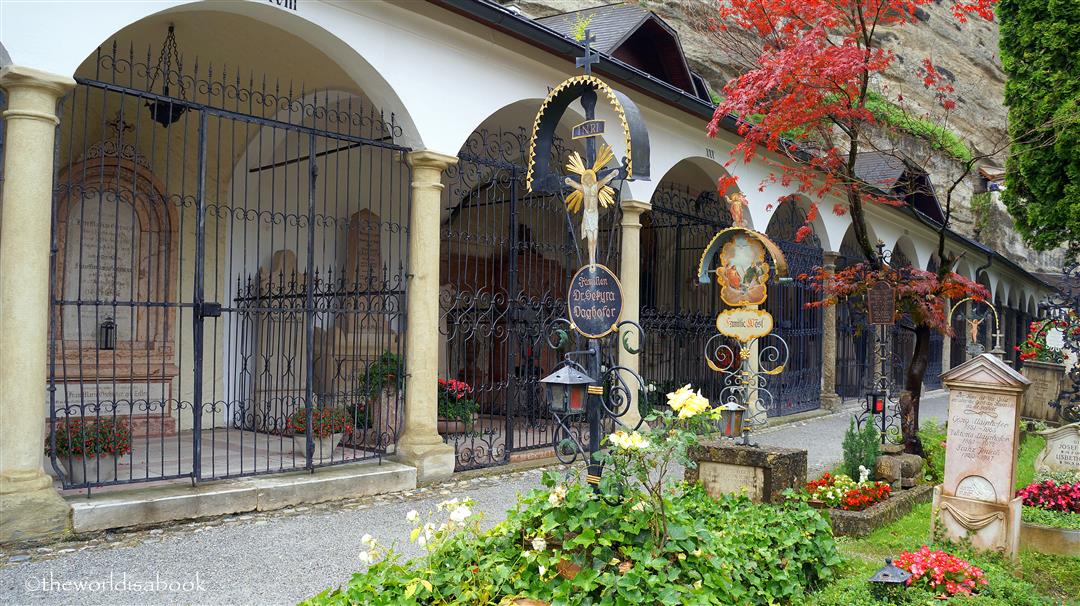 The song, Edelweiss, was one of the most beautiful songs in the movie and sang during one of the most dramatic scenes. We were happy we came across these edelweiss flowers in a cart. The song was named after the flowers. It was nice to see these small and delicate flowers finally.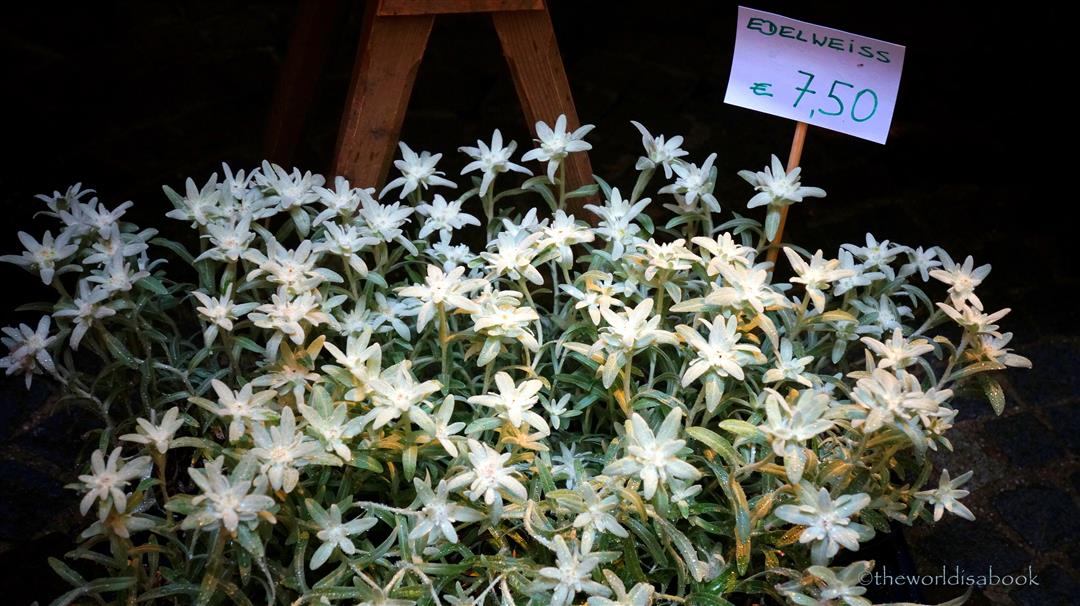 The Mirabell Gardens
The highlight of our walk in the city was the time spent in Mirabell Gardens. This was where many of the scenes that accompanied the popular "Do-Re-Mi song" were filmed. Mirabell was such a lovely garden filled with blooming flowers, a maze, hedges, a concert palace and even a playground. It offered so much for tourists and locals that you can also overlook the Sound of Music connection. The gardens were opened to the public in 1854.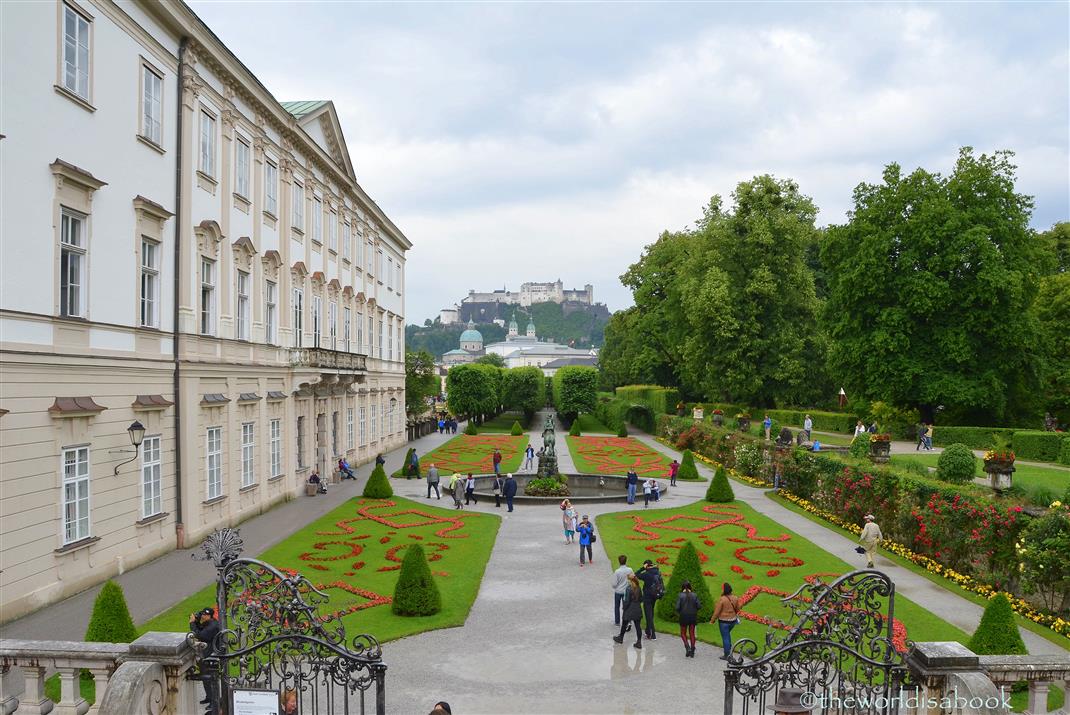 The gardens had many sculptures to pose with or ones to ride on.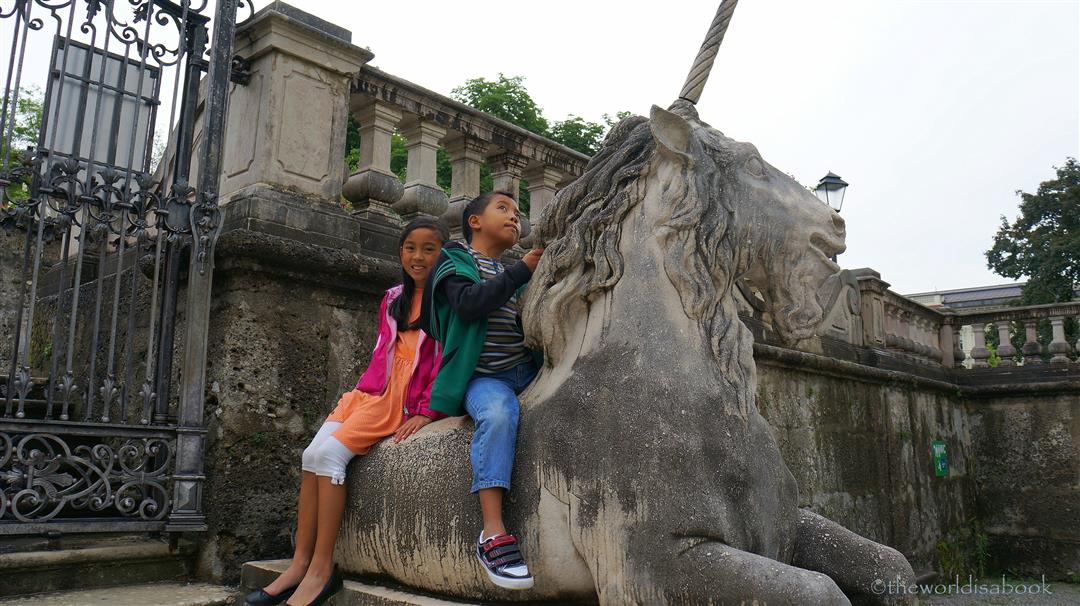 We followed a footbridge guarded by two whimsical looking gnomes into a small area known as Dwarf Gnome Park (Zwerglgarten). There were many marble gnome statues surrounding an open field.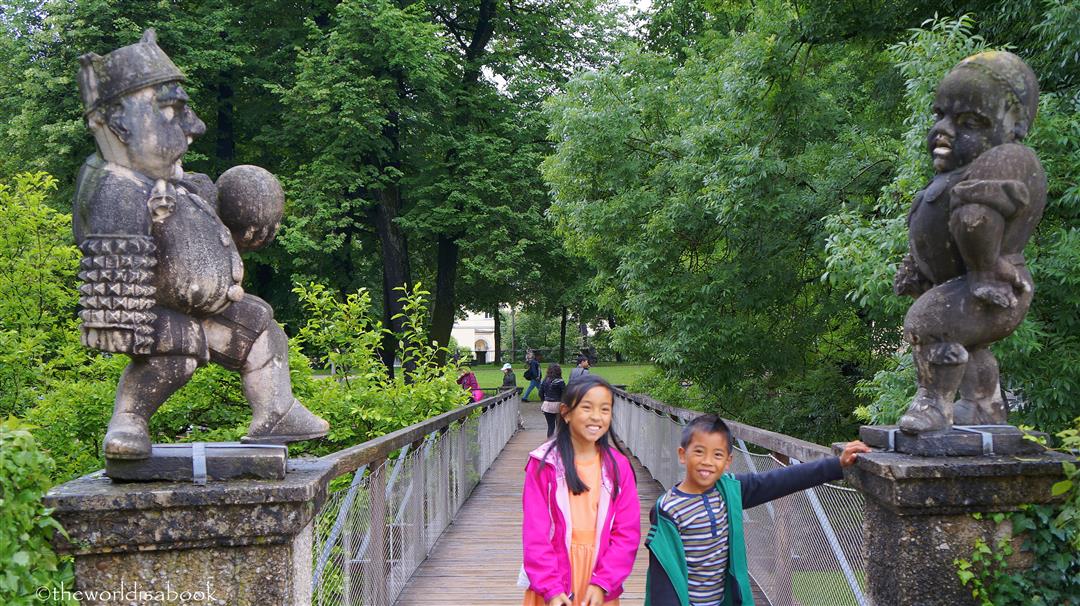 They were supposedly modeled after real dwarves and each had a unique personality. The one with the glasses (left photo below) even made an appearance in the movie.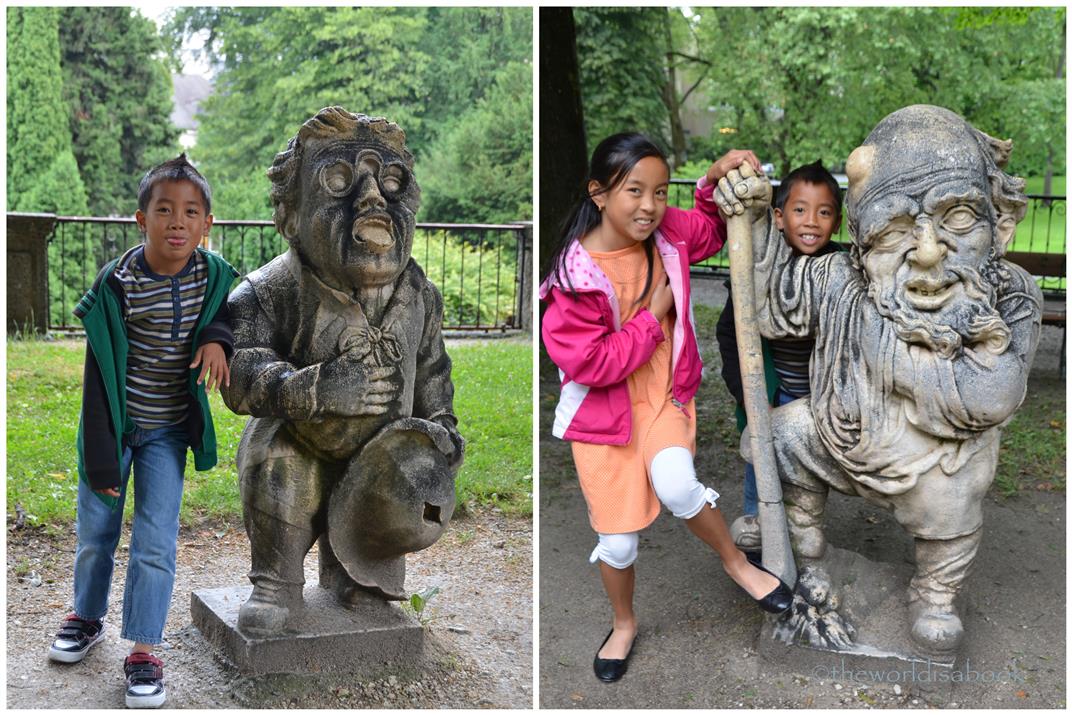 One of the most popular and crowded areas was the set of steps where Maria and the children sang, hopped the music scales and ended the "Do-Re-Mi" song. Of course, we took that obligatory tourist picture here. It also helped to have the Hohensalzburg Fortress as a backdrop.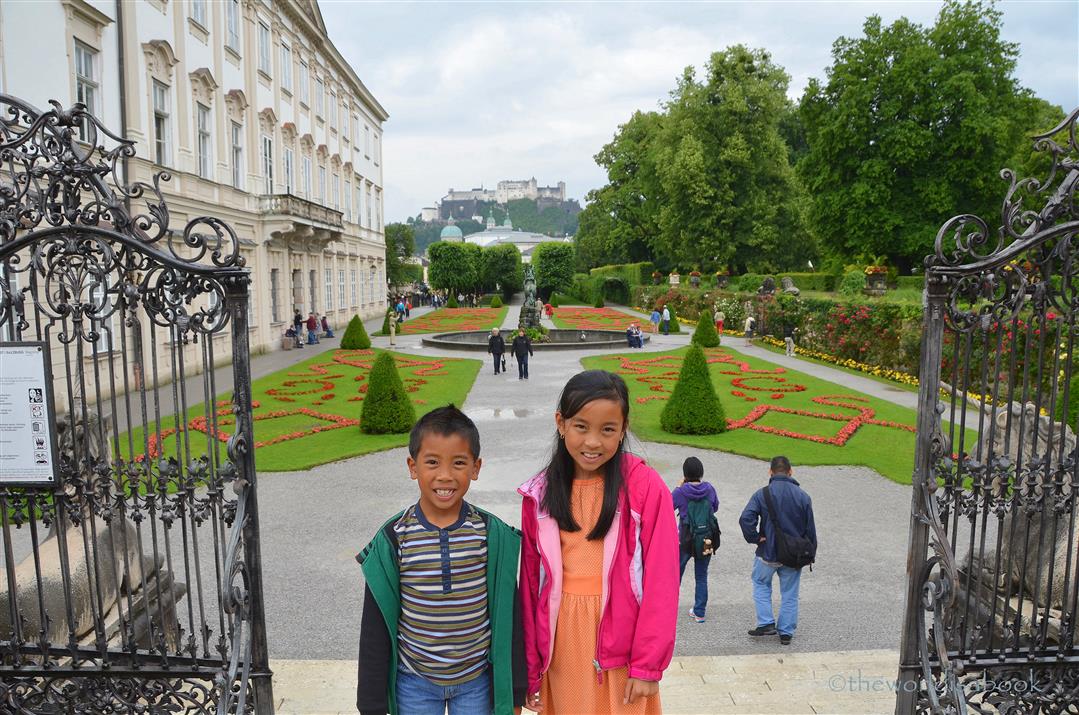 The steps weren't that big but it was fun to watch many people recreate the music scenes from the movie here.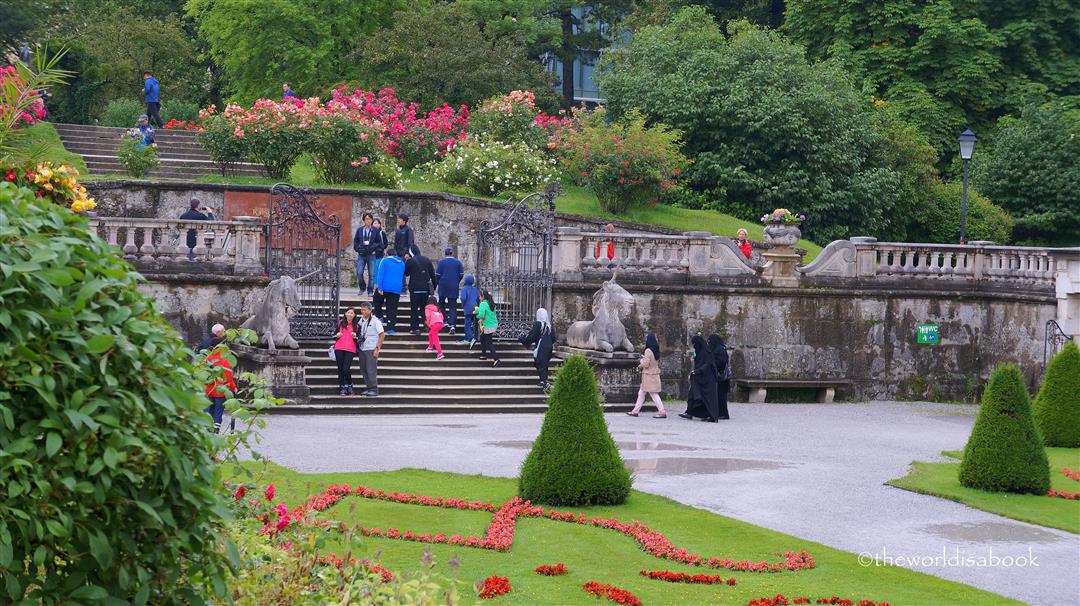 Who remembers the kids dancing around the statue of the winged horse, Pegasus? Like many things in the movie, things were smaller in real life. This fountain was installed here in 1913.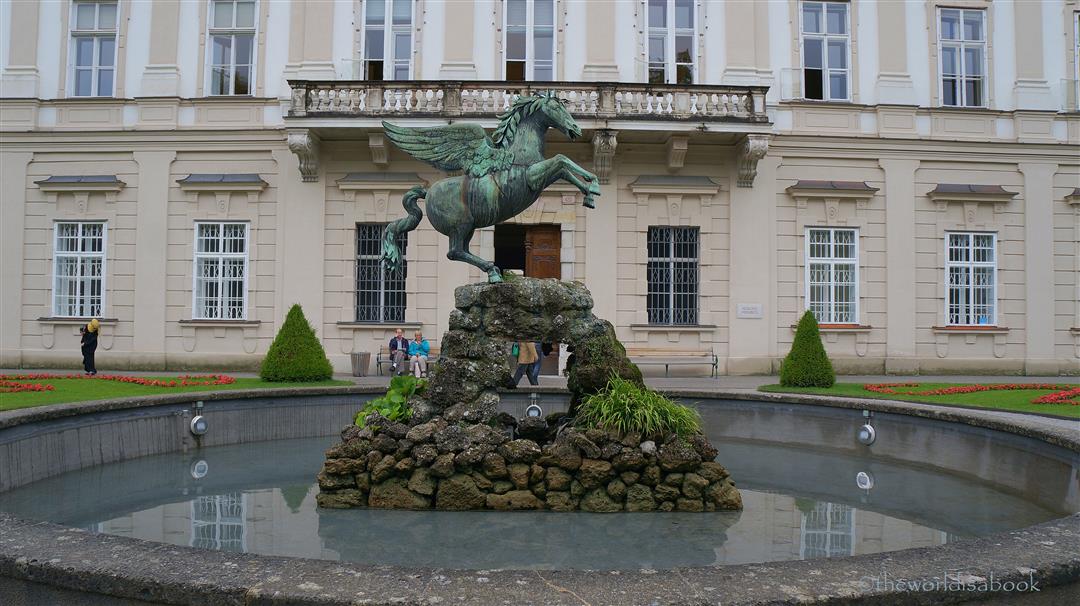 My kids, like many others we saw, loved running through the vine tunnel. It was also a great way to stay dry from the rain.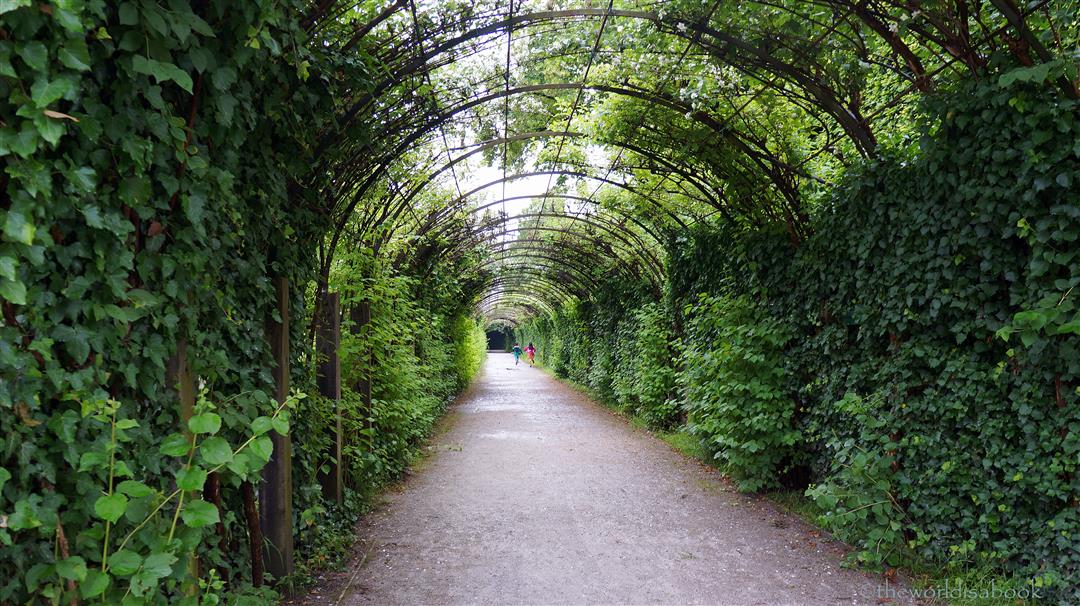 We had to recreate the scene where the Sound of Music kids ran and jumped through here. My kids didn't hesitate and had so much fun doing these poses. This was one of my favorite shots from our trip.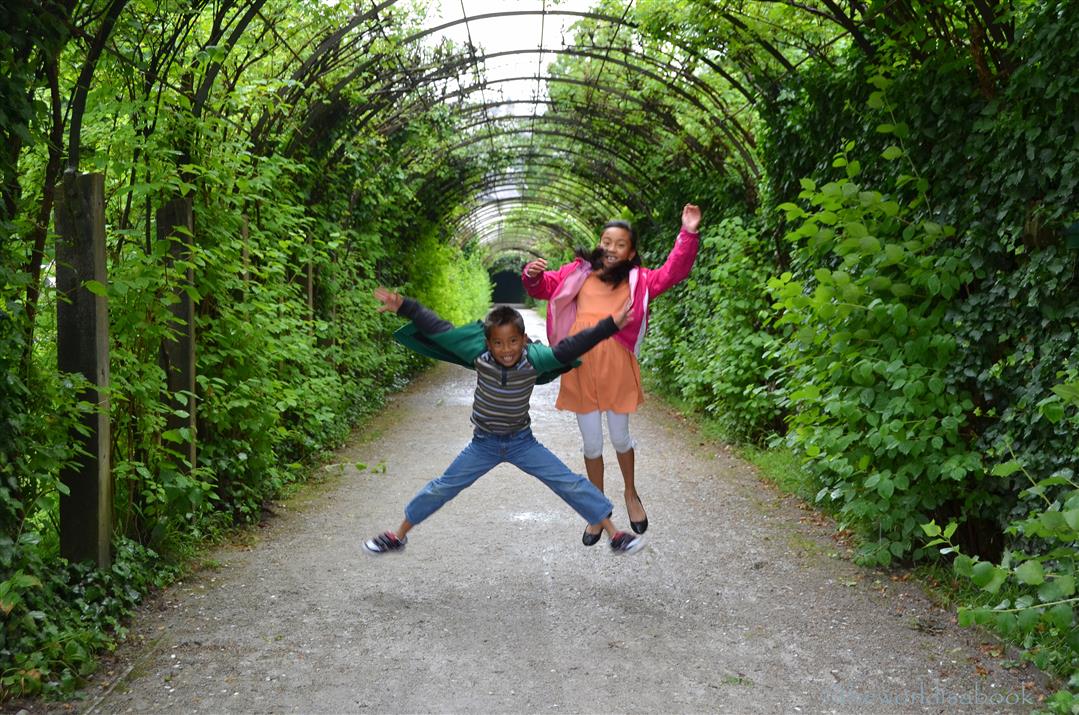 The last part of our day was spent on the outskirts of Salzburg. There were actually two separate buildings used for the exterior shots of the family home. Schloss Frohnburg, a 17th century country house which is now the Mozarteum Music Academy, was used for the front.  The back of the house and lakeside terrace was actually Schloss Leopoldskron, which is now a private college. The grounds and lake also made quite a few appearances in the movie.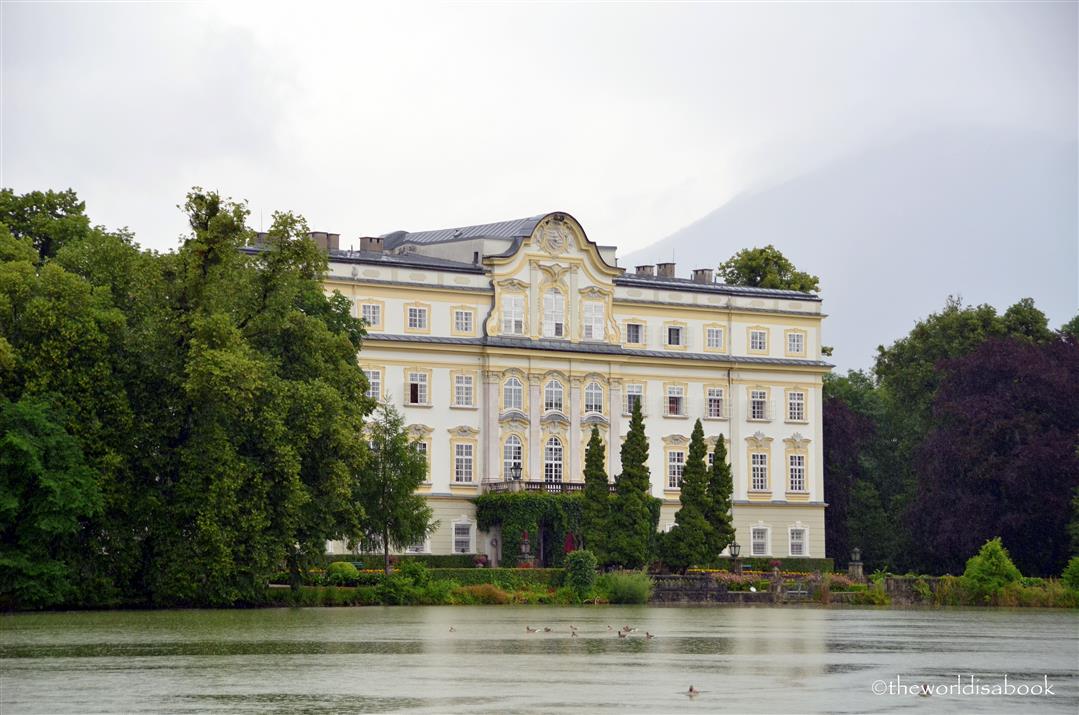 The Sound of Music Pavilion or commonly called Gazebo was used in a few memorable scenes in the film. This provided the background for the songs "I Am 16 Going On 17" and "Something Good". It was given to the city after filming and was at Schloss Leopoldskron. It was later reconstructed and relocated at Hellbrun Palace gardens after too many trespassing incidents.  The gazebo has been closed off since someone tried to recreate the scene in the move and had an accident.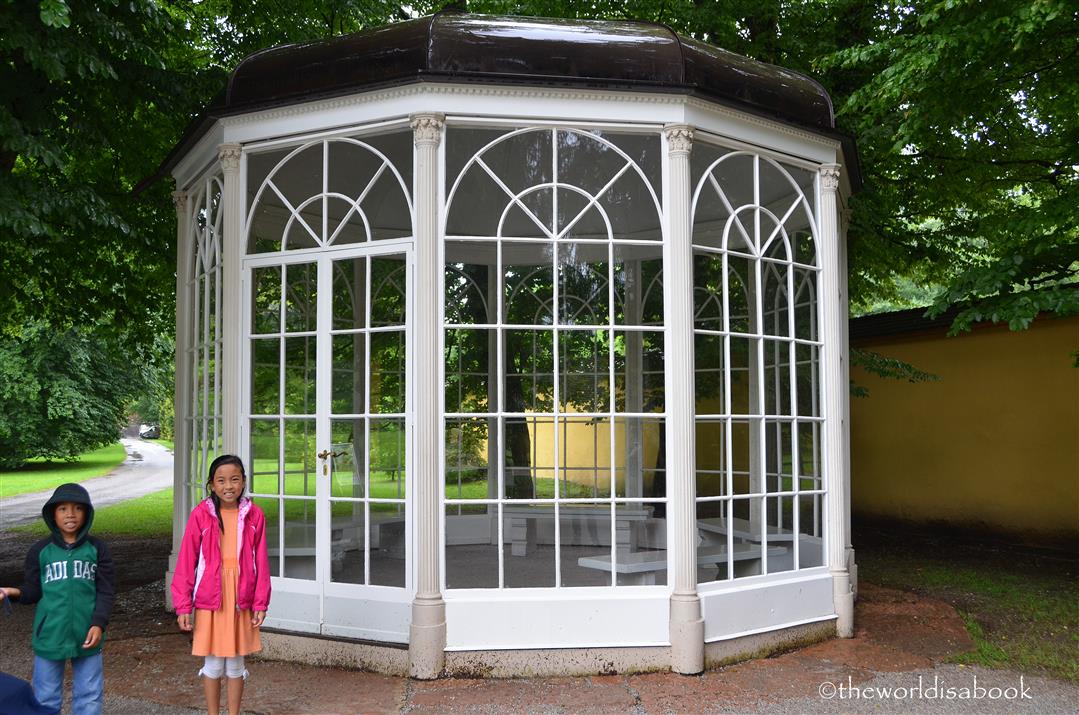 We would love to return to Salzburg and spend more time there. We missed many other sites with the rain and our limited time. Seeing the movie scenes in real life gave us a different perspective of the movie. While many of the scenes were filmed inside a movie studio in Los Angeles, it was wonderful to see those outside scenes. The great thing with having a goal in mind to see these film locations was it also allowed us to see Salzburg's historical sites and major attractions and explore its hidden corners. I'm glad that we did this tour on our own.
Visiting Salzburg Tips & Basics
If you can, spend a few days in Salzburg. There were many sights we missed and it was such a beautiful city to walk around in and spend some time.
Many Sound of Music bus tours have two daily schedules (9Am and 2 PM). The tours range from 40 euros($52 US) which can be a van or a 50+ person bus tour.
Watch the movie again before you go and again when you return. You'll see it in a whole new way.
Get a

Salzburg card

, in different time increments, for free admission to all attractions throughout the city including free bus transportation and tour discounts for a reasonable price. Prices started at 23 euros($30US) for adults and 11.50 euros($15 US) for kids for a 24-hour card. This will save you time and money.
Have you done the Sound of Music tour or visited Salzburg?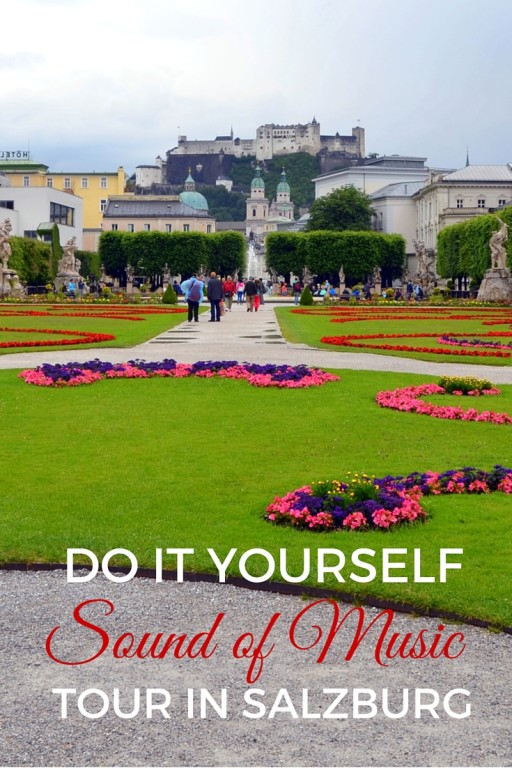 Check out these related posts: