5 Free Things To Do in Toronto with Kids
Welcome back to the 5 Free Family Series! This has been on a summer hiatus and will return every two weeks. We're starting off this series again with a wonderful guest post from my friend, Lisa from Gone with the Family, as she tells us free things to do in Toronto with kids. I attended my first blogging conference in Toronto last June and was so fascinated with the city. I wish I had brought my kids with me. Lisa was one of the first bloggers I met online and luckily, got to meet her and spend some time with her at the conference. I have loved following her family's travels around the world with her teen and tween.
Located along the shores of Lake Ontario, Toronto is the best-known and largest city in Canada with a population exceeding 2.5 million residents. The city is considered to be the cultural, financial and entertainment capital of the country, is one of the most multicultural cities in the world, and will be the host city for the PanAm Games in 2015. Toronto boasts numerous attractions and activities that will appeal to visitors of all ages and with any interests. However, like most large cities, it can be a very expensive destination. This is especially true for families. Fortunately, there are fun and free activities that can help keep the vacation budget under control.
1. Visit Queen's Park
A good place to start is Queen's Park which is home to the Legislative Assembly of the Province of Ontario. There are a number of free guided tours available including 30 minute tours of the historic building which provide a brief introduction to the workings of Ontario's Parliament; 90 minute Art & Architecture tours; and interactive Family Fun Fridays in the summer months for families with children aged 6-10 to learn how Parliament works, explore the building, dress up and participate in a mock debate and go on a scavenger hunt. There are also 30 minute walking tours of the grounds of Queen's Park which highlight the history and the monuments. The grounds of Queen's Park and the adjacent University of Toronto campus are both pleasant places for a walk even if your family isn't up to a tour of any sort.
BONUS: Other free tours in Toronto include:
ROMWalk

s – free guided walking tours of the city's historic landmarks and distinctive architecture offered Wednesday evenings and Sunday afternoons from May through October by the Royal Ontario Museum's Department of Museum Volunteers.

Tap Into T.O

. – Toronto's free Greeters program has volunteers who are resident in the city that meet visitors and show them around.
The City of Toronto's 

Discovery Walk program

 – a variety of self-guided tours available. Visitors can download a PDF of the tour and a map and then head out to explore the area of the city that they are most interested in.
2. Toronto's Neighbourhoods and Parks
One of the best parts of Toronto is that the city is made up of many multicultural neighbourhoods that are fun to explore. The best known and the ones that will be most popular with families are Greektown, Little Italy, and Chinatown. Fair warning: although it costs nothing to visit these neighbourhoods you will be hard-pressed to have a look around without poking around in the many shops or pausing to enjoy a delicious snack or meal in one of the many eating establishments.
Parks and green spaces are a central part of the city and Toronto proudly boasts that there are more than 1,600 parks as well as beautiful gardens and conservatories in the city. One of the largest and most popular is High Park, located in the city's west end, which welcomes more than 1 million visitors annually. Attractions there include the High Park Zoo, the Jamie Bell Playground, and the High Park Children's Garden as well as walking/nature trails and recreational activities.
3. Harbourfront Centre
Harbourfront Centre, located on Toronto's waterfront, is a not-for-profit cultural organization that offers year-round programming such as concerts, workshops and performances – much of which is suitable for families and FREE! In the winter the Natrel Pond along the picturesque boardwalk is turned into a free skating rink with one of the best views in the city.
4. Riverdale Farm
Riverdale Farm is a 7.5 acre property located in the downtown community of Cabbagetown which is open year-round and quite popular with local residents. Riverdale is representative of a rural Ontario farm from the late 19th to early 20th century and is home to many heritage breeds of animals but is a working farm and not a petting zoo. During the summer months, there is also a Farmer's Market at Riverdale with a varity of locally-grown produce and baked goods available for sale. Admission to the farm is always free.
5. St. Lawrence Market
St. Lawrence Market has been part of the downtown Toronto community since 1803 and was recently recognized as the number one food market in the world by National Geographic. Wandering the stalls and enjoying the sights, sounds and smells of the market is completely free but it's also the perfect place to pick up lunch or some groceries for families who are staying in an apartment – after all, you have to eat! I recommend the peameal bacon sandwhich at Carousel Bakery which is world-famous for its deliciousness.
Sometimes Free:
The Art Gallery of Ontario (the "AGO"), located in downtown Toronto, is one of North America's largest art museums. It's also one of the most family-friendly with hands-on learning spaces and activities designed to engage children with the art work and entry to the permanent collections is free every Wednesday evening from 6pm – 8:30pm.
Any other suggestions for free things to do in Toronto with kids?
Lisa Goodmurphy is a lawyer turned family travel writer who grew up in small town Northern Ontario and now resides in the Toronto area. Badly bitten by the travel bug years ago, Lisa considers herself fortunate that  her family is equally enthusiastic about exploring the world. In addition to her own blog, Lisa also writes for TravelMamas.com as the Spunky Travel Mama and has contributed to many online travel publications. You can follow along with her family's travel adventures on her blog, Gone with the Family, on Facebook, Google+, or on Twitter.
---
Pin it now, Read later!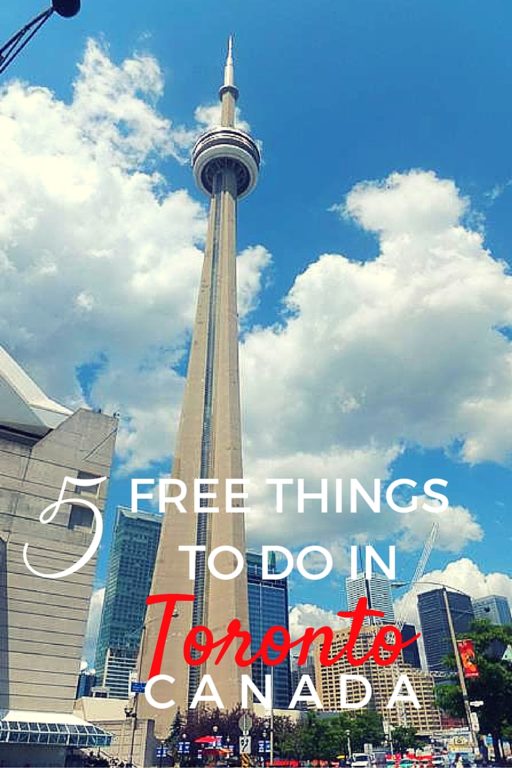 This is a part of a series called Five Free Family Friday which is a collective guide of free family-friendly attractions from places all over the world.  If you'd like to contribute with the free attractions in your home city, I would love your guest posts. Thanks!