Exploring Nymphenburg Palace Munich
Leave it to the royals to shower their wives with suburban palaces. The first royal home we visited during our European castle hopping tour a couple of months ago was Nymphenburg Palace or Nymph's Castle just outside of Munich. Nymphenburg Palace started out as a summer residence when Bavarian Elector Ferdinand Maria gave it to his wife as gratitude for the long-awaited birth of their son and heir to the throne. Ladies, don't we all wish we had such lavish gifts after giving birth?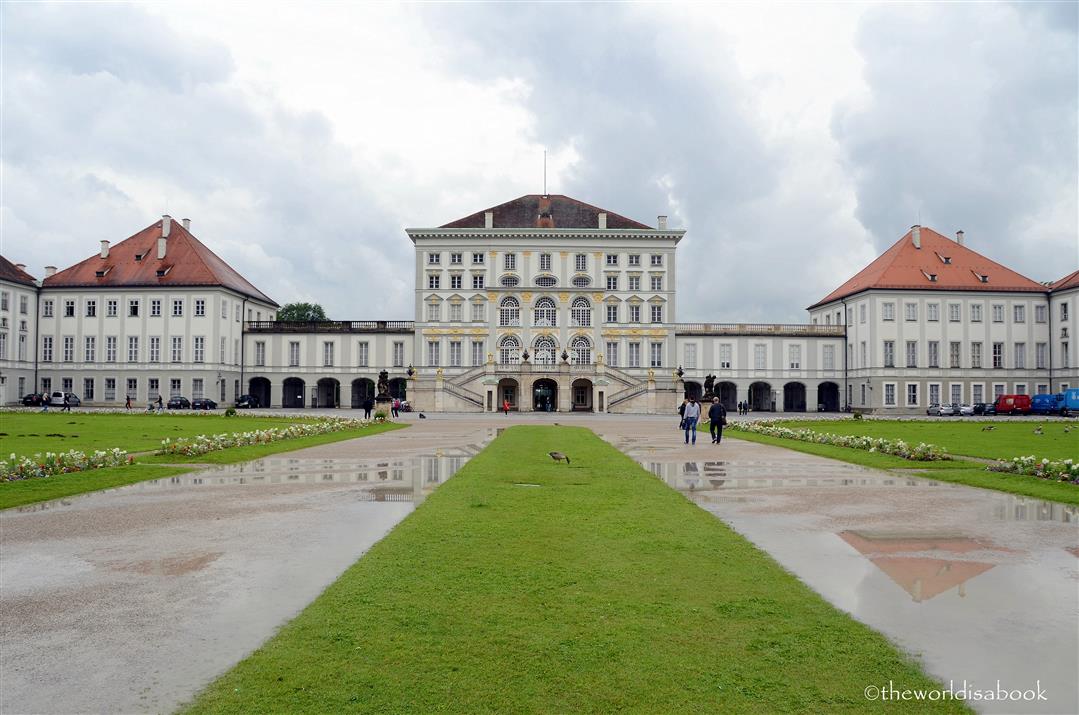 Nymphenburg Palace is a complex of many buildings, pavilions, museums and an extensive outdoor garden. Over the years, the royal family members enhanced and enlarged this palace into this sprawling complex it is today. Once located in an open countryside, construction of the palace complex started in 1664. Its proximity to the city and its farmland surroundings made this a favorite place for the Bavarian royal family to spend the warmer months.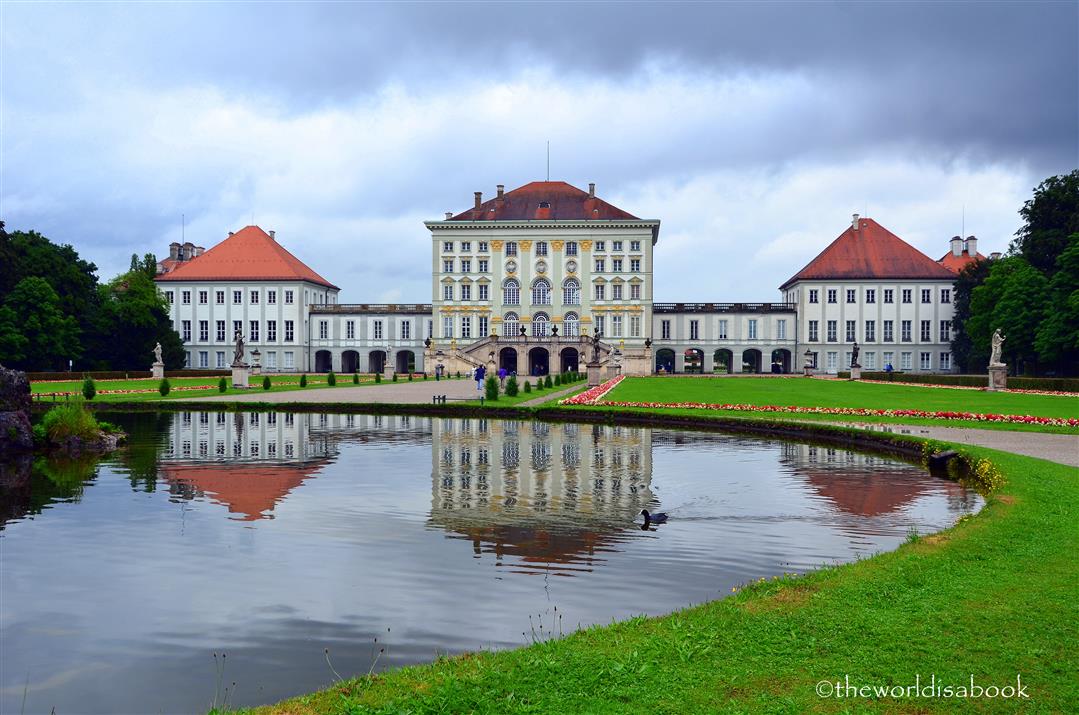 Rain was pouring hard when we got to the palace. Luckily, our first destination was the Marstallmuseum right by the ticket counter. This small museum housed carriages, coaches and sleighs that were used by the Bavarian rulers in the 18th and 19th centuries. This group of horse sculptures pulling a carriage caught our eye at the entrance.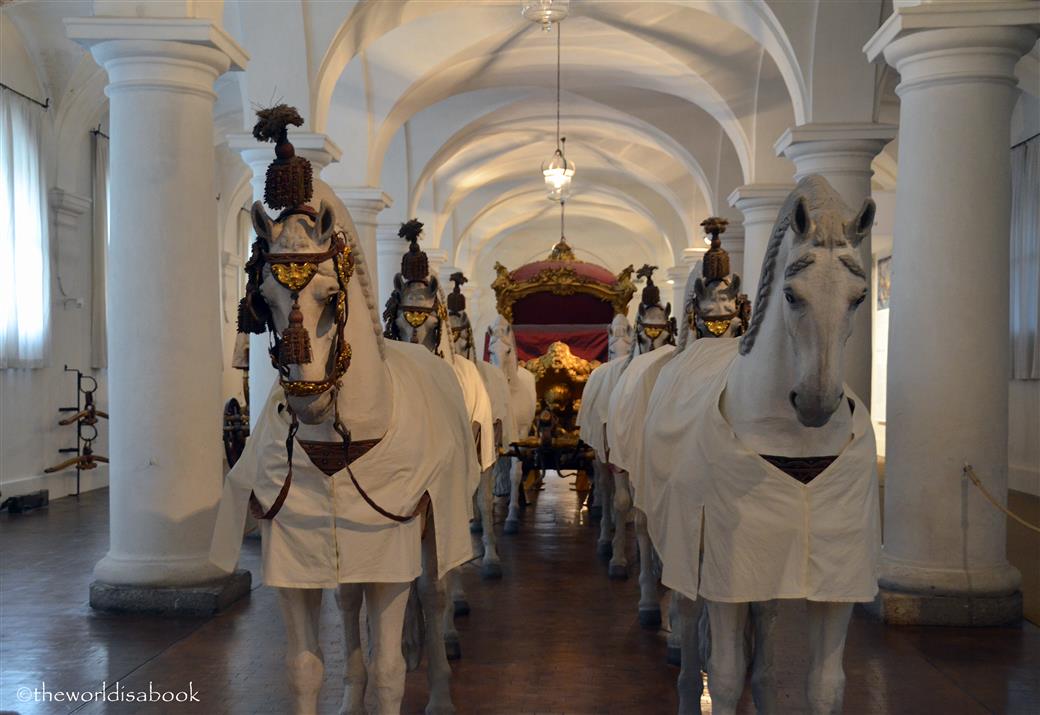 The most extravagant one that looked like it came out of a fairy tale book was King Ludwig II's coronation and state coach. It actually wasn't a surprise to see such opulence considering this was the same king who built three remote, fairy tale castles including the famous Neuschwanstein Castle.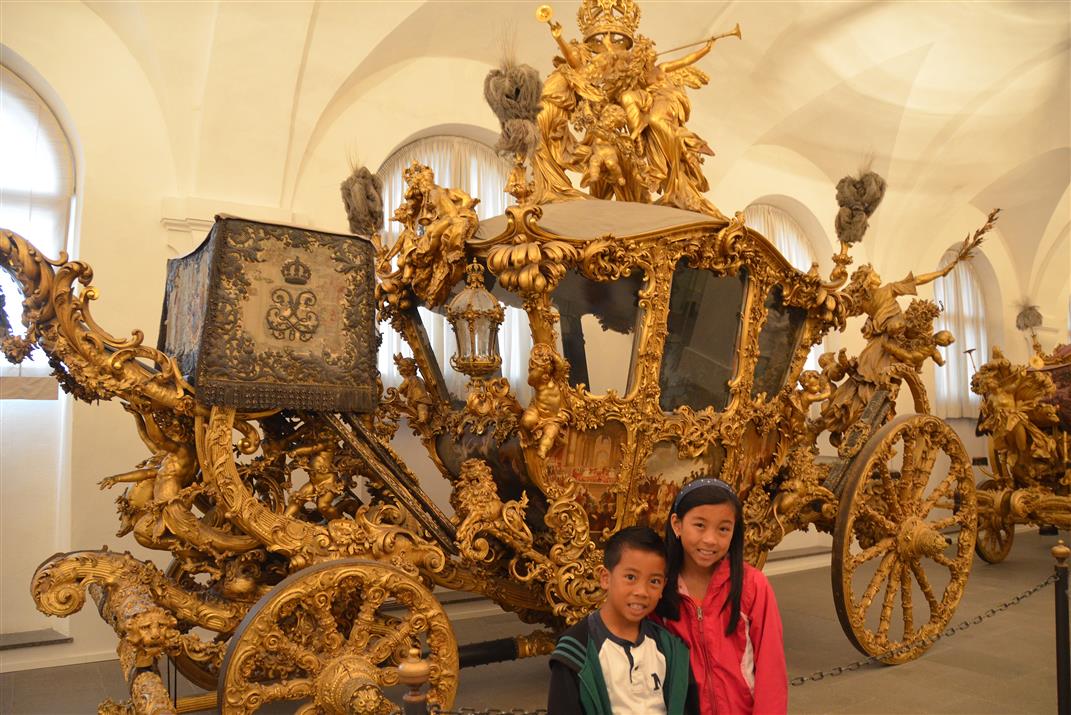 They certainly knew how to travel in style back then. The details on these carriages were amazing.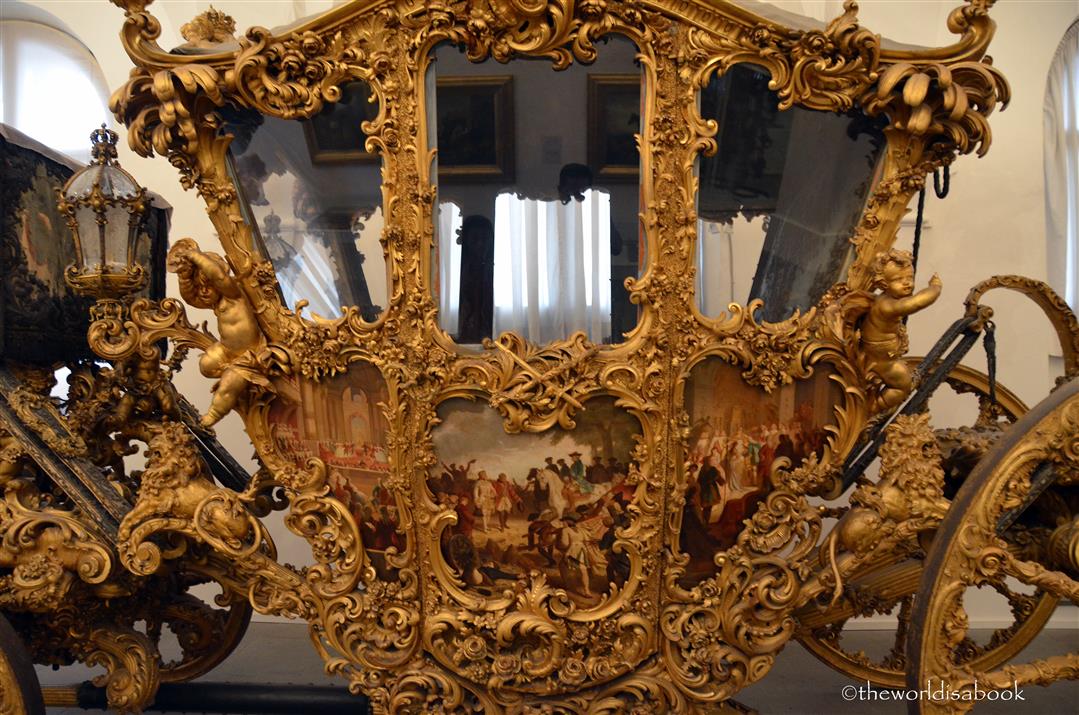 I guess if you're going to be traveling long distances, you might as well be comfortable and let the world know you're made of money.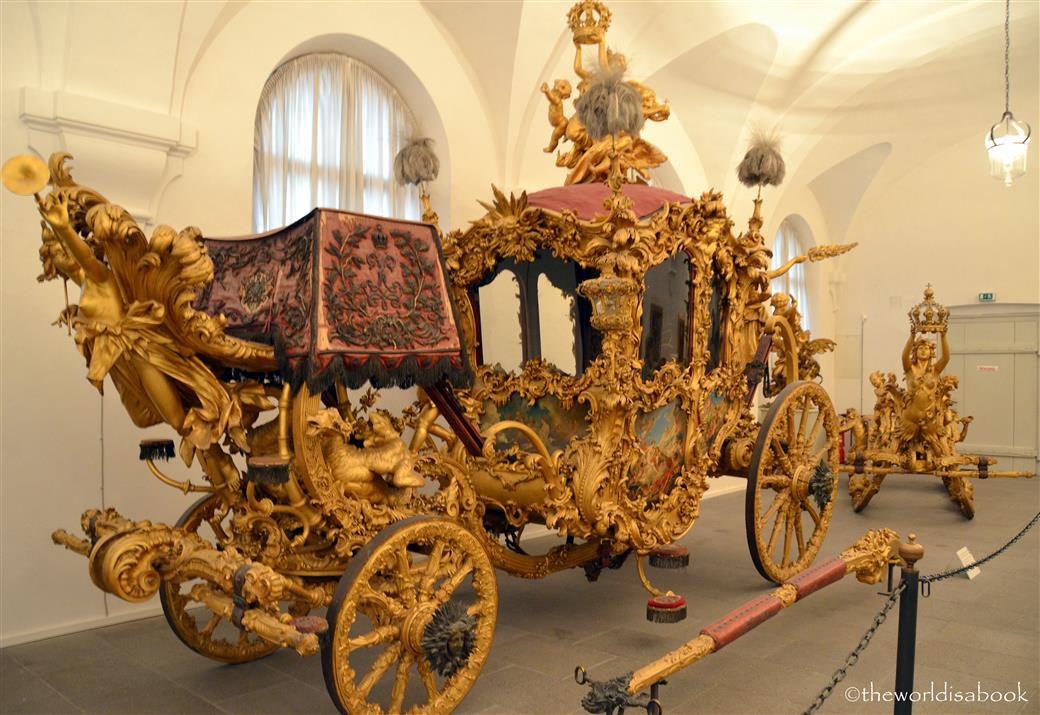 Another must-see in this exhibition is the Hercules Sleigh of Max Emanuel. This was restored in 2012 but is the oldest among the carriages here.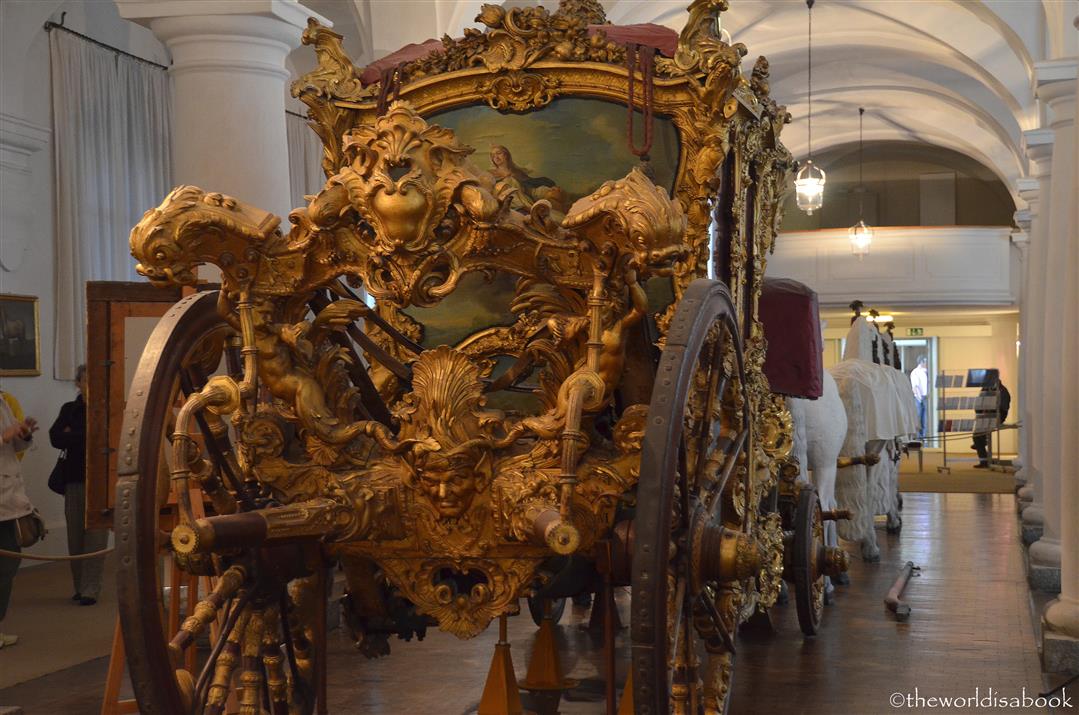 The upper floors also housed royal riding equipment, harnesses and chairs. This area also showed many porcelain exhibits inside glass cabinets. My daughter was fascinated with these displays.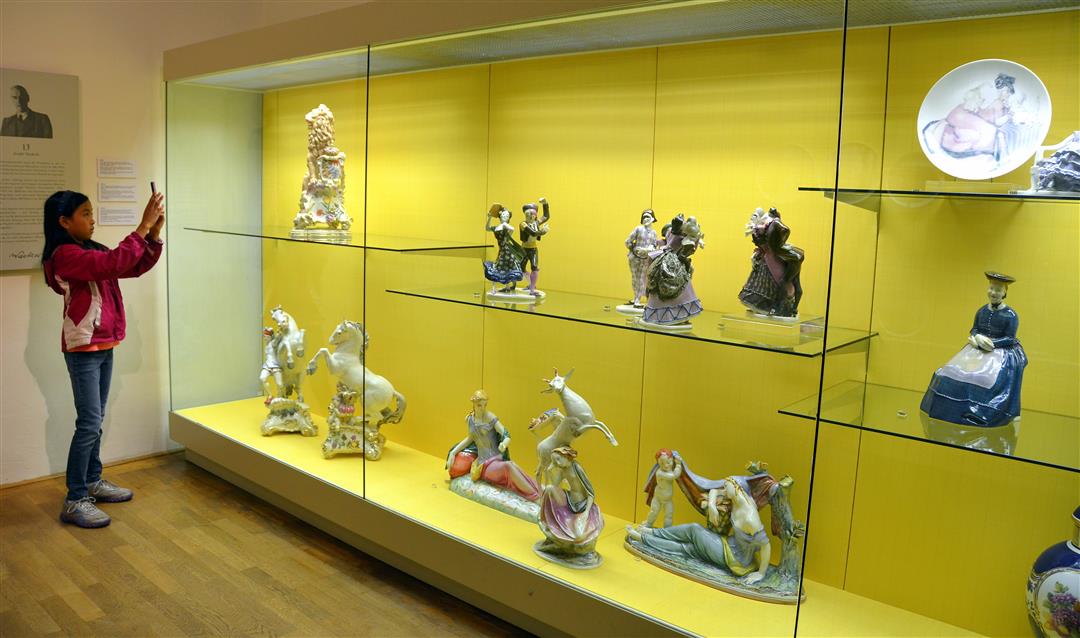 We also found these dining sets on display. They were exquisite but far too pretty to even consider eating on.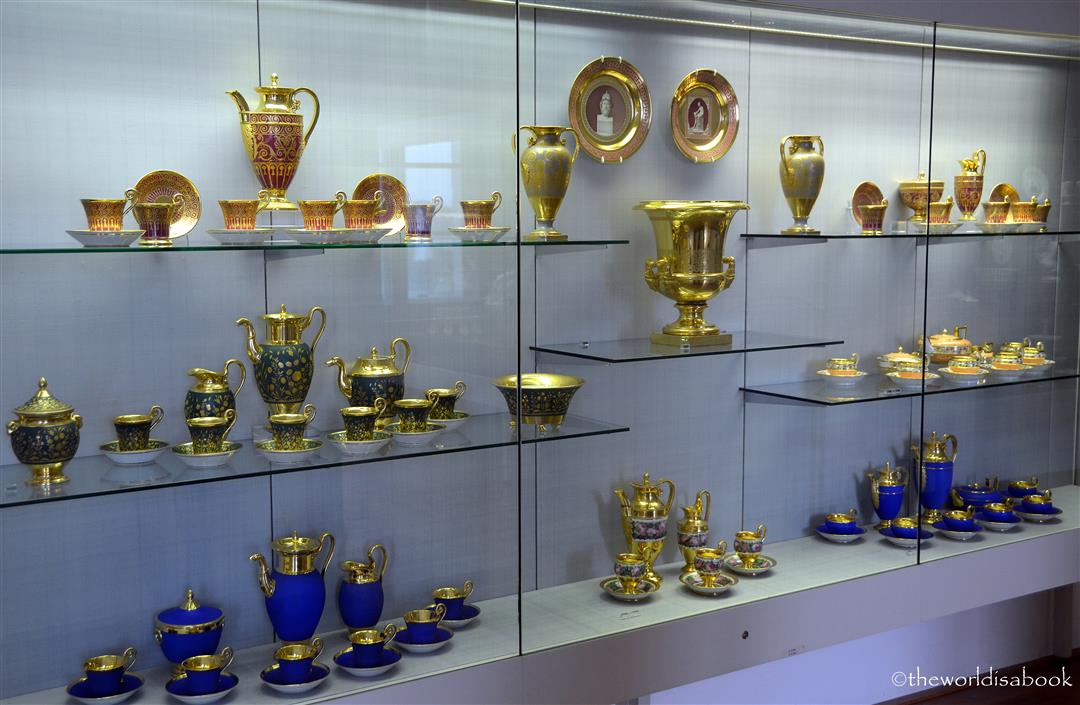 The rain had finally let up long enough for us to briefly go outside and admire the building's architecture. The stately facade of the palace was 600 m (1968 ft) long. Its oldest part is the central section built in 1675 with a double stairway surrounding three arches below. This pavilion was where the royal quarters were located.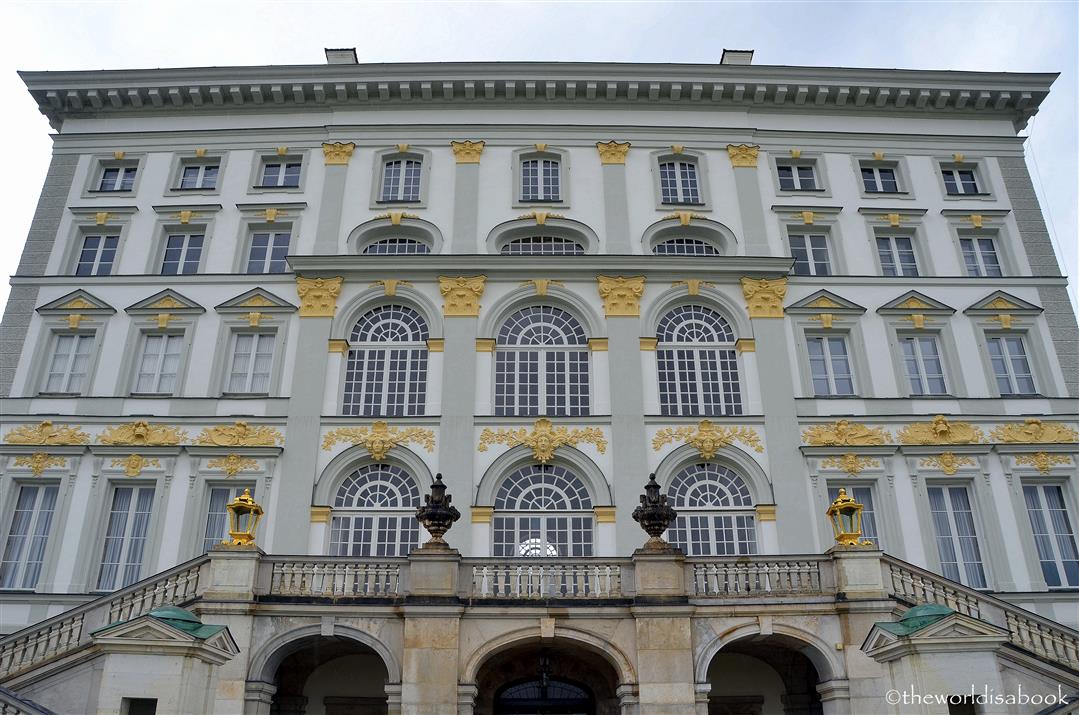 The two pavilions on either side were connected to the center by galleries. The east side housed the coaches' museum we had just visited.
A large fountain that sprouted water periodically was at the center of the circular area in front of the palace that welcomed the visitors.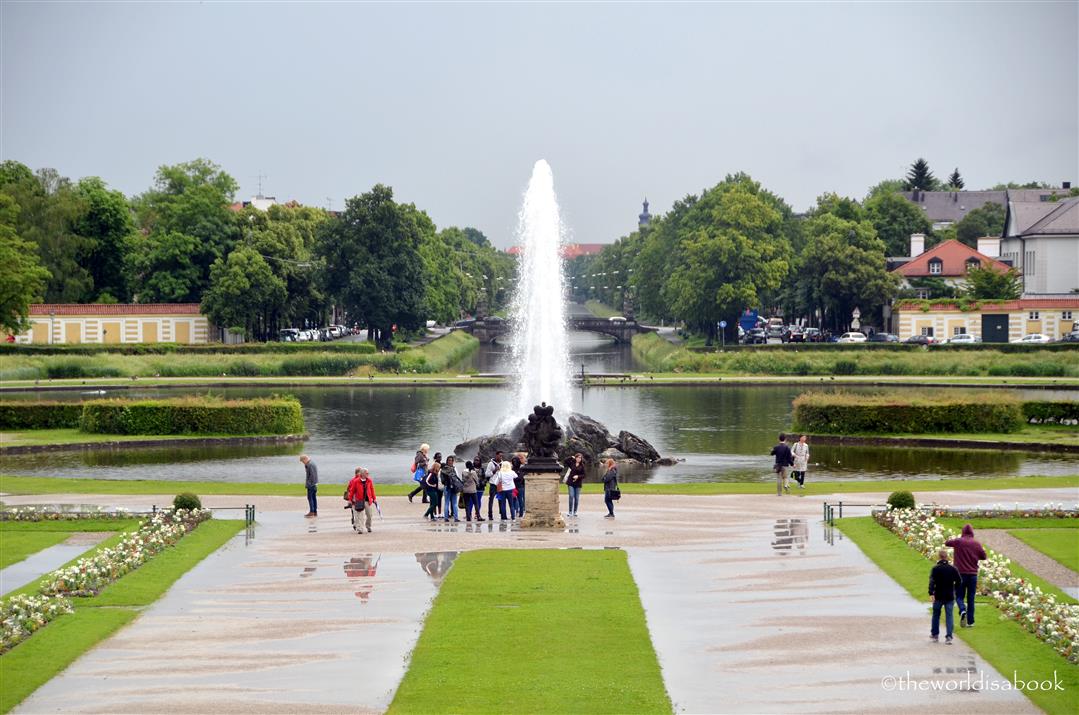 The staircases were adorned with large vases and gilded lanterns that my son could have probably fit in. They didn't hold back on lighting fixtures around this place.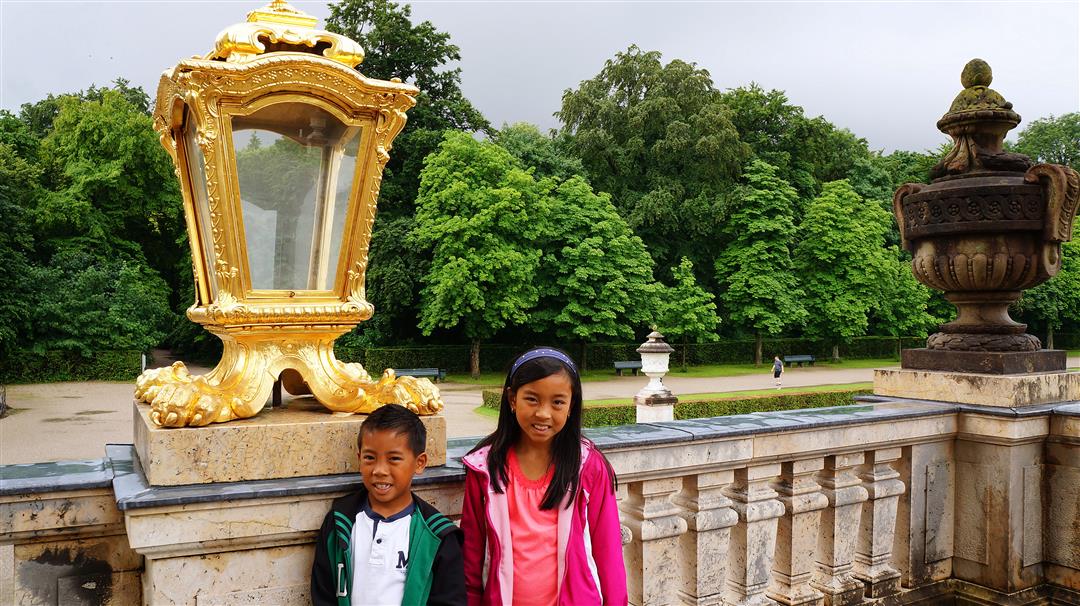 The entrance to the palace rooms and tour was through the gift shop and up the stairs. This almost blinding white room greeted us as we emerged from the doorway. Steinerner Saal or Stone Hall was filled with chandeliers, windows and lively paintings and frescoes throughout the room.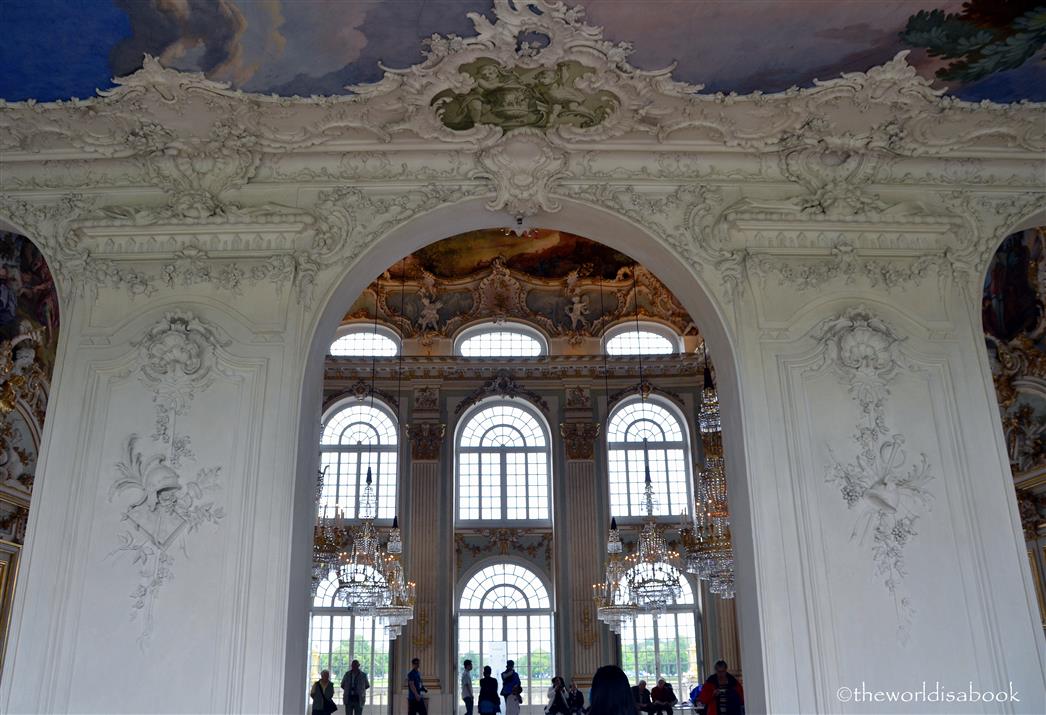 This Rococo style filled grand hall was stunning and has been preserved in its original condition since 1758. No wonder it was the venue for many family celebrations and festivals.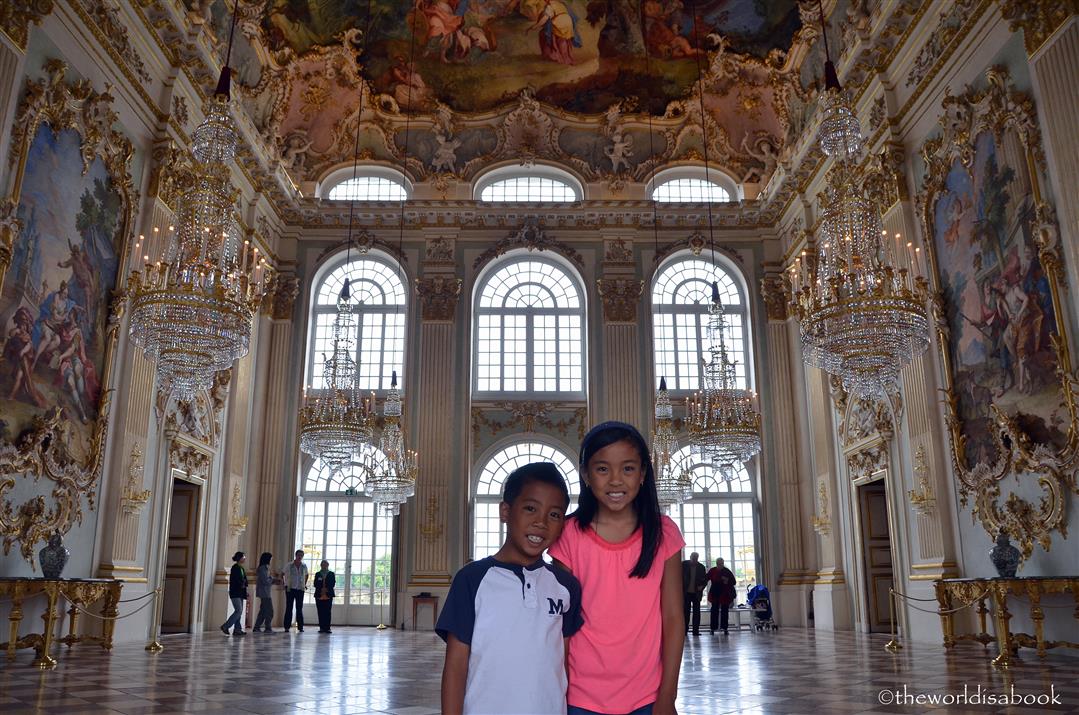 The colorful paintings on the walls and ceiling were mythological scenes set in lush backgrounds that were intended to bring the gardens inside.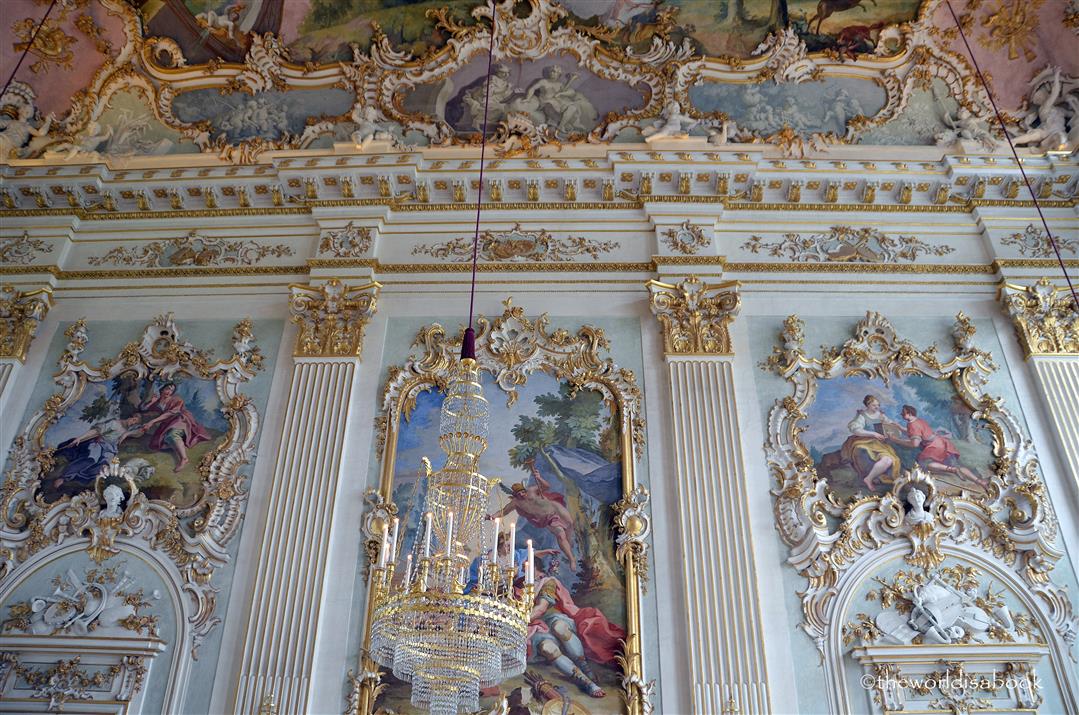 We probably spent the most time in the Great Hall. We found a bench and just sat there and admired the room from top to bottom. If I needed to rest some tired feet, it might as well be in someplace as remarkable as this room.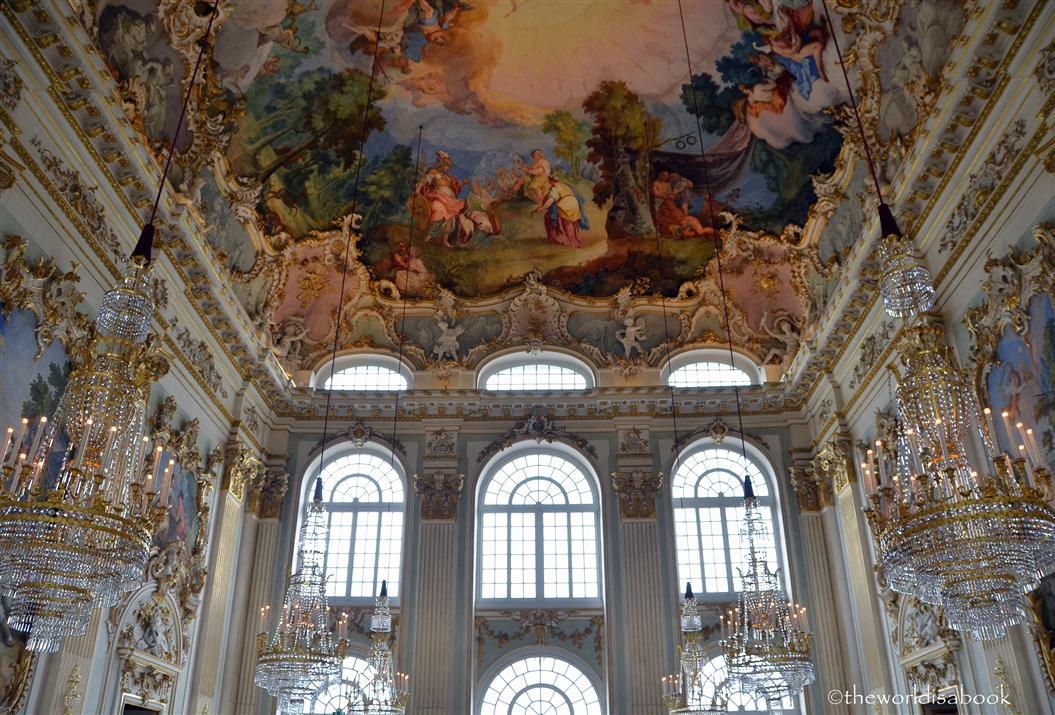 This portion of the fresco showed a Nymph enjoying the gardens to honor the namesake of this palace.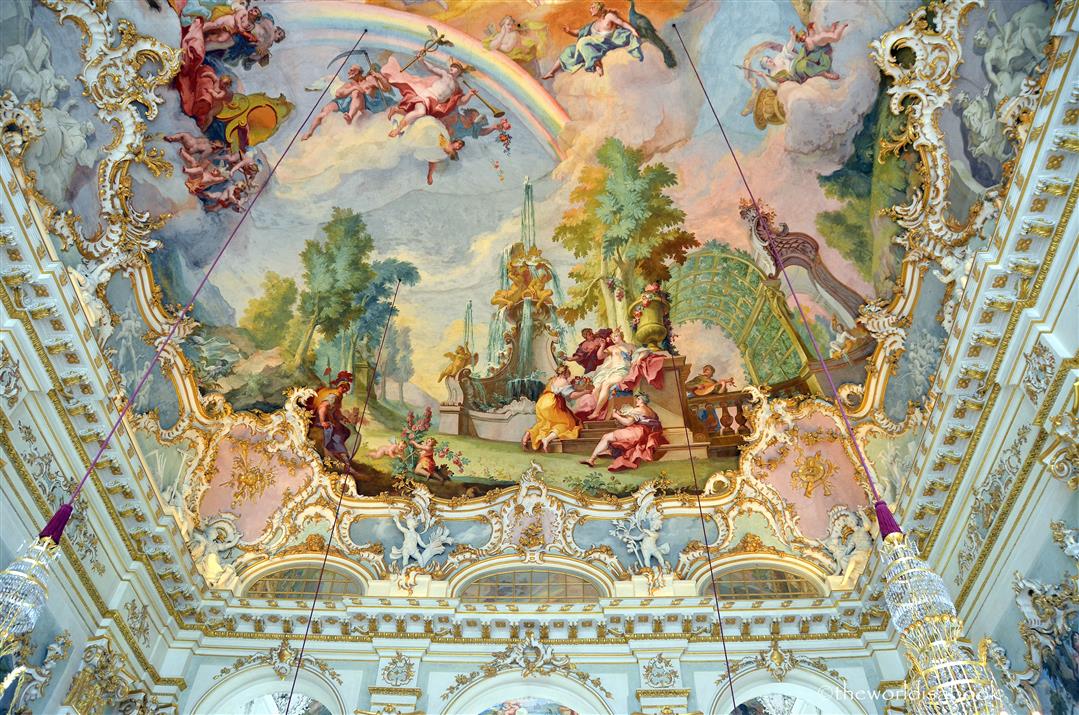 Going through the state apartments was a self-paced tour accompanied by an audio guide. We passed through a couple of royal bed chambers which were not as lavish as other palace rooms we've visited. For a palace with an opulent entrance and great hall, we expected it to be more extravagant. There were beautiful paintings and lovely mahogany furniture but they also looked simple. Those beds also looked small and uncomfortable.
The green royal bed in this room was supposed to be where King Ludwig II was born.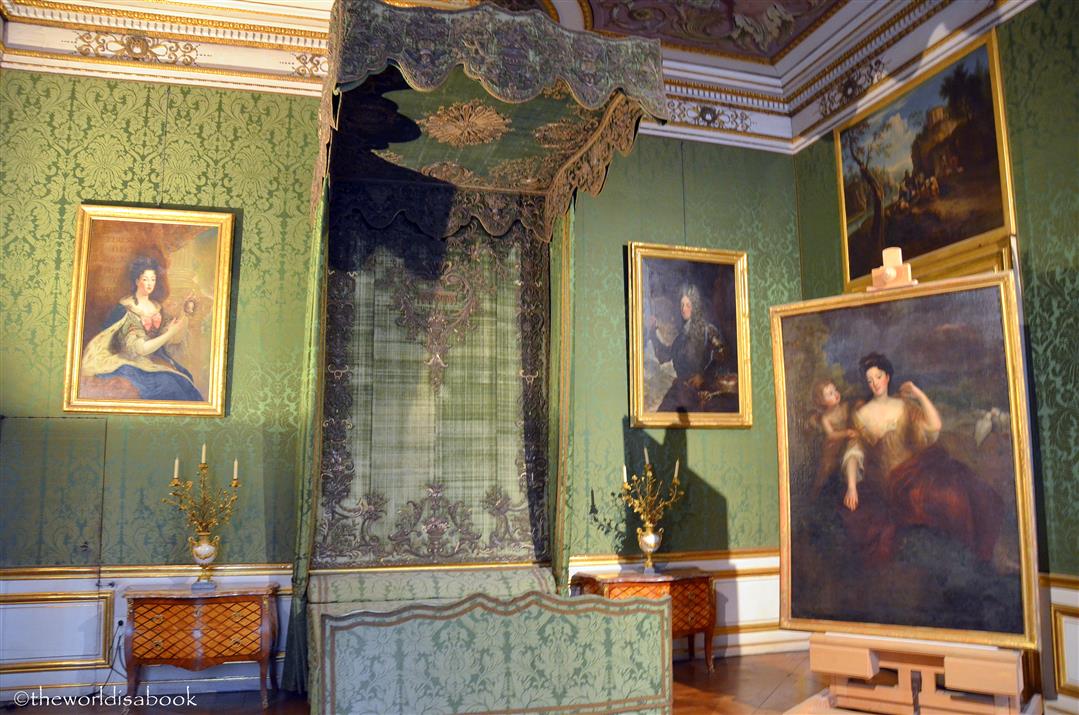 The seating areas were just like the bedrooms – a bit bland. The audio guides tend to focus more on the paintings that hung on the walls or ceilings or a few of the accessories lying around the room. There weren't that many rooms accessible to the public so we didn't spend too much time through the royal apartments.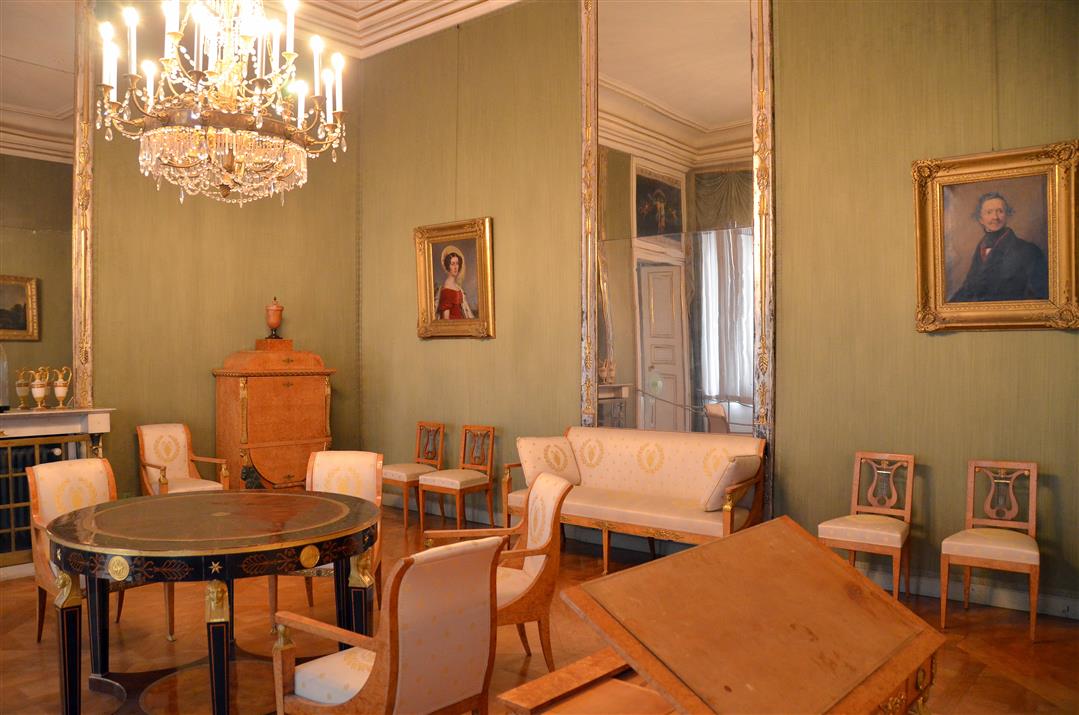 Although, one of the hallways showed some royal elegance.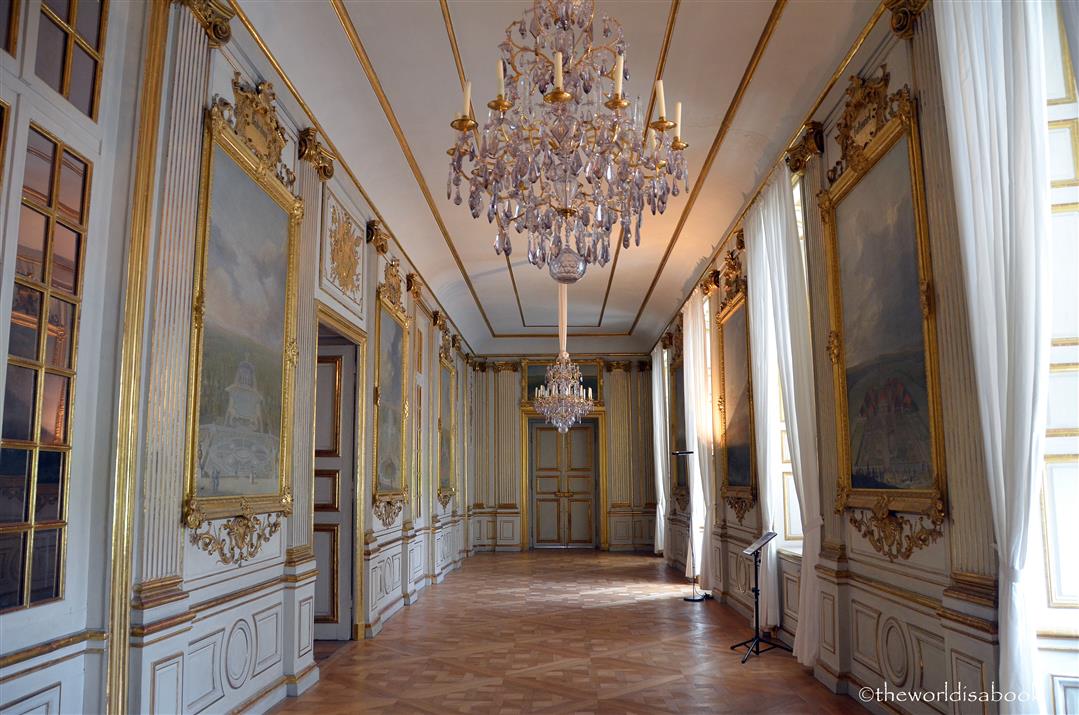 One of the most popular rooms in the palace was the Gallery of Beauties. This room contained over 30 portraits of Munich's young, beautiful women in the early 1800s. Ludwig I commissioned an artist to paint these portraits of women from all levels of society ranging from noblewomen to the cobbler's daughter. It makes one wonder how these women were chosen.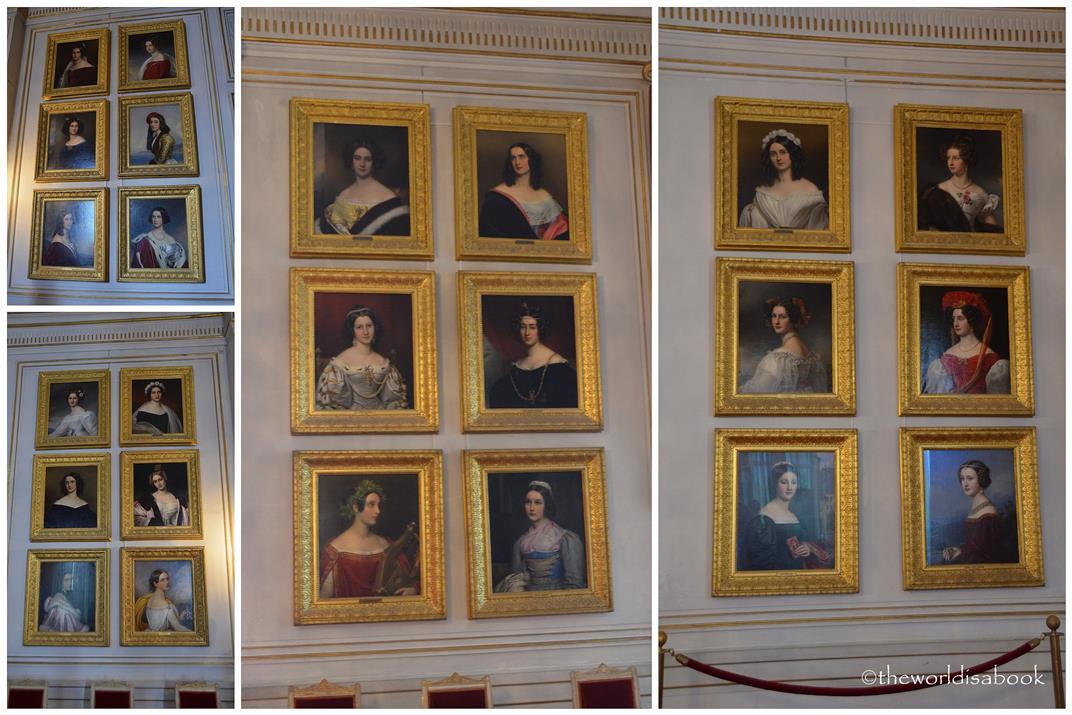 Though, my kids' favorite areas were the gardens and park surrounding Nymphenburg. These areas were spacious and picturesque with plenty of ducks, birds and swans to entertain the kids. Some of those animals were actually much too friendly and didn't hesitate to get close to visitors.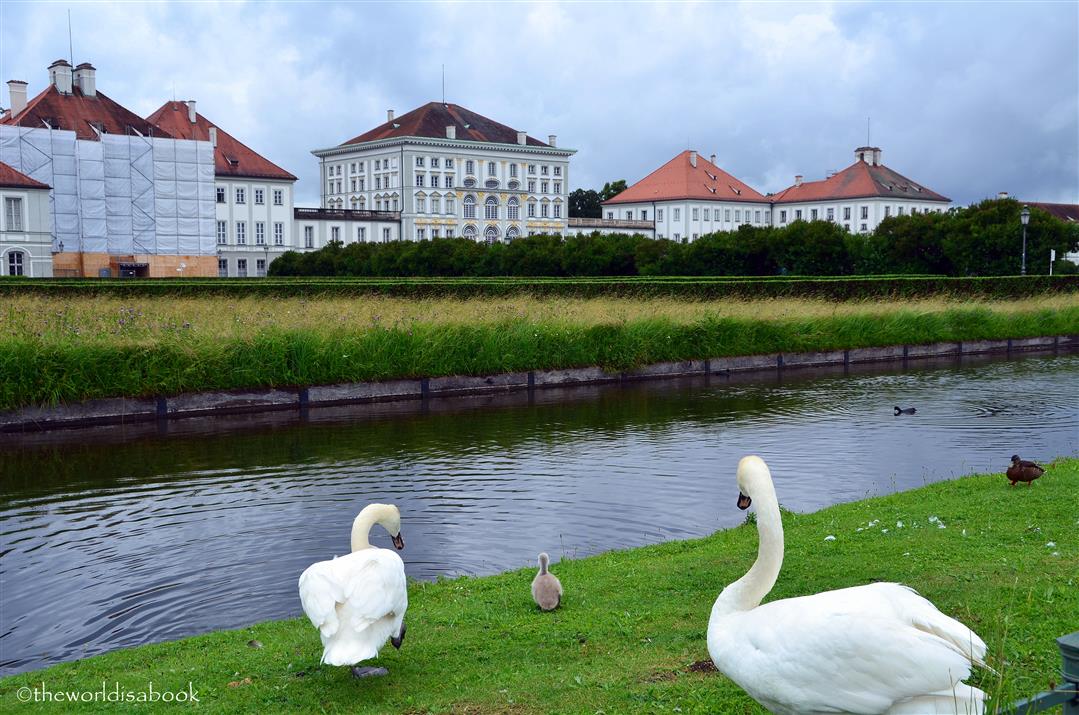 I'm not sure how many pictures my 10-year-old daughter took of this mama swan and her adorable cygnet (had to look that one up). But, she wanted one of her favorite pictures from Nymphenburg included in this post.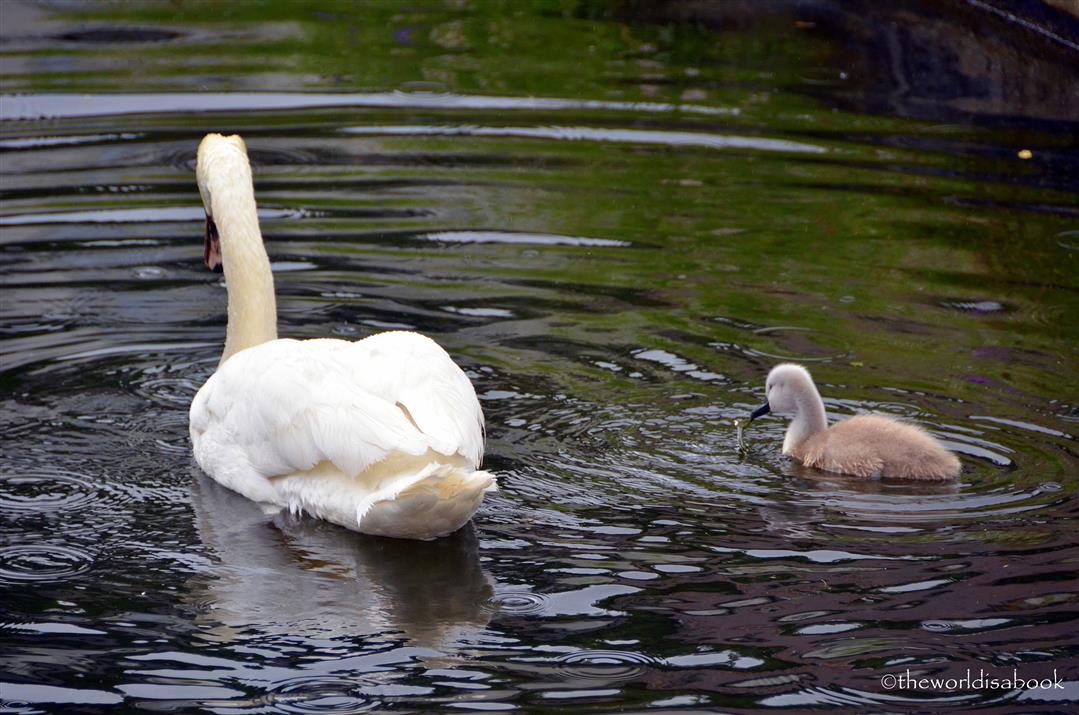 The windows and doors at the back of the palace opened into beautifully landscaped gardens with an 18th century canal at the end. These royal gardens were opened to the public in 1792. We missed a few structures or park palaces scattered throughout the gardens which included a chapel, bathing hall and hunting lodge.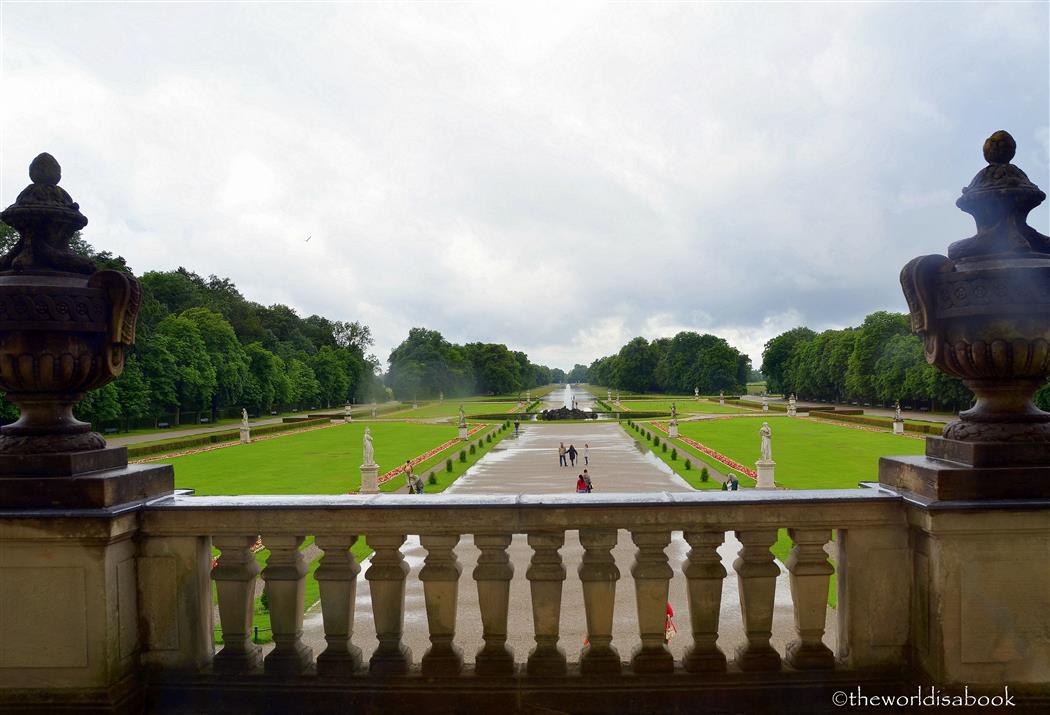 The gardens were arranged in a symmetrical pattern with a gravel path and fountain in the middle. Neatly trimmed hedges and flowerbeds were everywhere. It was a bit cloudy when we were there so we'd gladly go back during a warm, sunny day.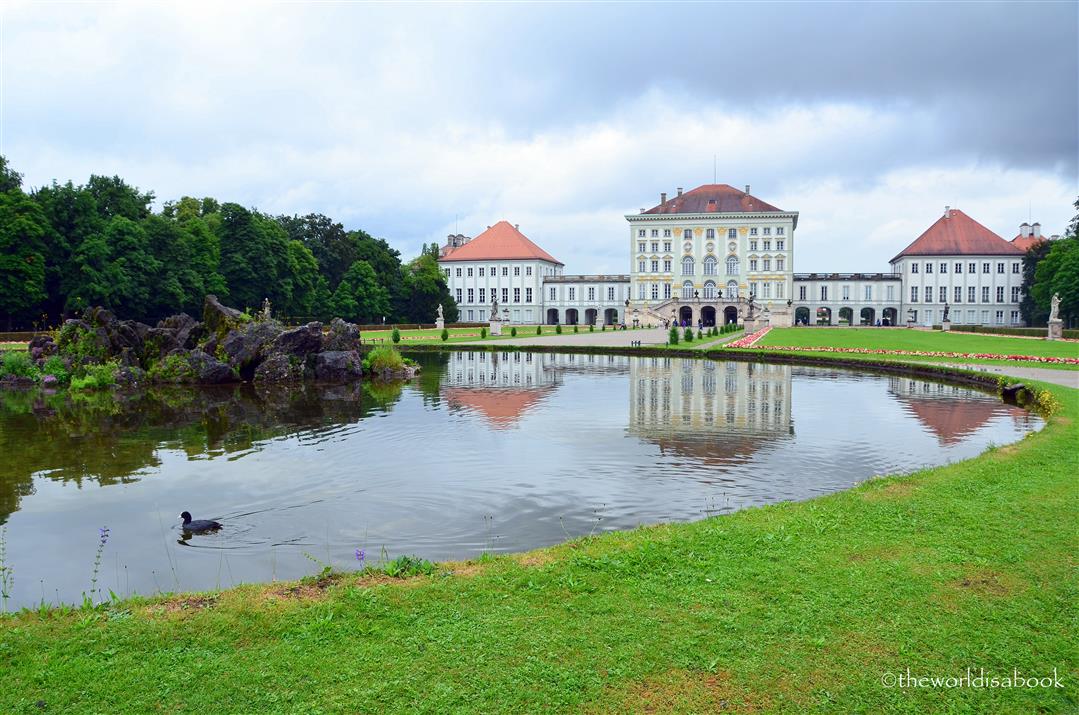 My kids loved looking up to the many statues of gods from Mt. Olympus lining the central area of the park.
As we were leaving, we came across a bus load of English-speaking tourists celebrating a couple on their tour who had just gotten engaged. The guy deserved some high praises and points for picking an unforgettable place to propose. Unfortunately, we didn't get a picture of the happy couple. But, we did find these kids who enjoyed their visit here.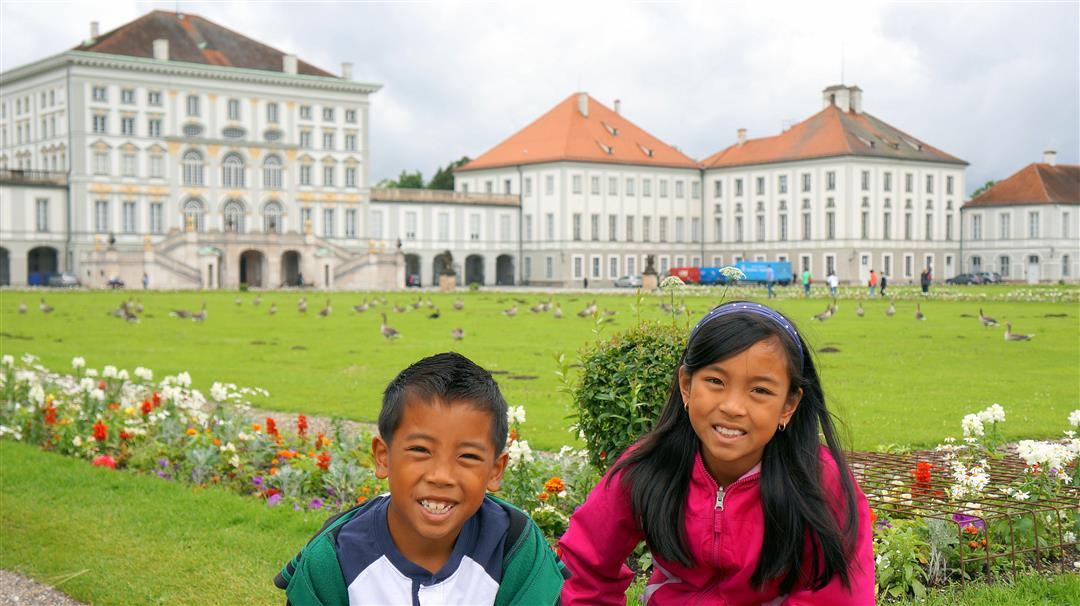 We were here for over three hours and still missed many structures surrounding the main building and gardens. It was easy to spend an entire day just exploring the palace grounds. And to think this was considered a summer retreat in those days. Even though the bustling city of Munich was just a few minutes away, visiting Nymphenburg Palace felt like a world away.
Visiting Nymphenburg Palace Tips and Basics
Admission Tickets: Nymphenburg Palace only 6 euros($8 US); Combination ticket April – Oct 15 is 11.5 euros ($15 US);  Oct 16 – March 31 is 8.5 euros ($11US). This includes the palace, museums and park palaces. There were also discounts (2 euros or less) offered.
For the best value, get the Bayern Pass. It costs about 40 euros for a family of four or 24 euros single tickets to visit over 40 attractions including Nymphenburg and surrounding museums, palaces and castles in Bavaria for 14 days. We saved a lot of money with this pass. There's also an annual ticket option.
Backpacks and large bags must be checked into a locker by the gift shop before entering the self-guided tour.
Visit the

Schloss Nymphenburg website

for more information.
The palace is easily accessible from Munich via S-Bahn or U-Bahn trains and then through trams and buses. Check the bahn site for more information.
If you're driving, there are plenty of parking spaces throughout the front of the palace complex.
A  few of the Hop-on/Hop-off tour buses also stop here.
Don't forget to get the audio guide for a couple of euros. It was very useful to get a sense of history and interesting tidbits beyond the museum-like description boards in each room. Available in several languages.

Have you visited Nymphenburg Palace? Any favorite summer palaces?
Other Palaces and Castles we've enjoyed:
Pin it for later!