Germany with Kids: The Passion Play and Painted Houses in Oberammergau
This picturesque village in the Bavarian Alps, with a little over 5,000 residents, welcomes thousands of visitors every year but is also well-known worldwide. Oberammergau is famous as the host of the Passion Play that occurs every ten years. We spent an afternoon in this lovely town in between our castle hopping in Germany last summer.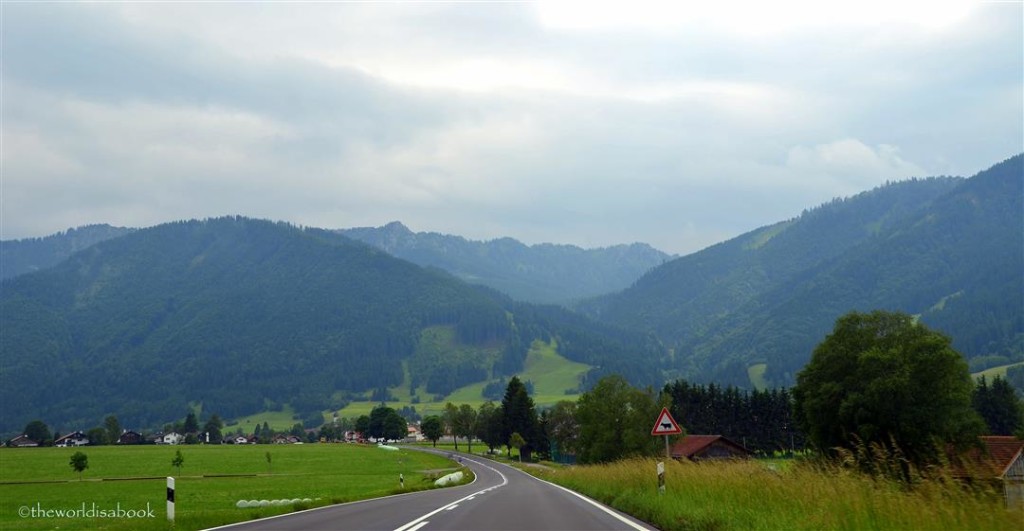 I have wanted to visit Oberammergau ever since I heard of the Passion Play tradition. There was more to this charming town beyond the play and it exceeded my expectations. We found a friendly village with windows overflowing with colorful flower boxes, wood carving at its finest and elaborate paintings on their walls.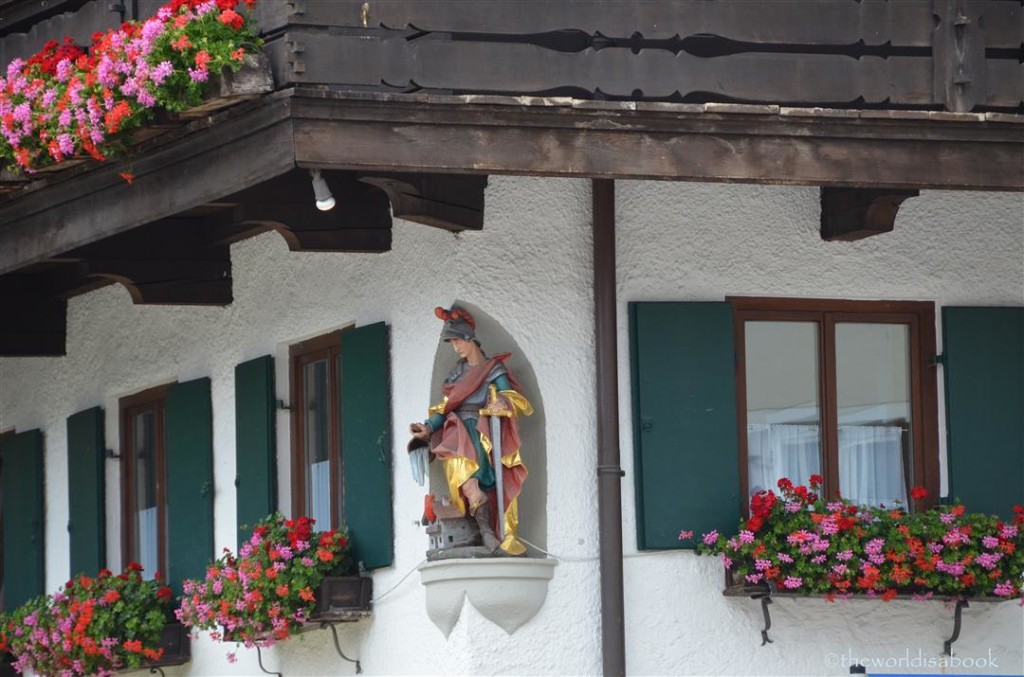 The Passion Play
Bubonic plague was rampant in this region during the 1630's. After seeing their fellow villagers suffer and die, the town made a vow that if God spared them from the plague, they would perform the "Play of the Suffering, Death and Resurrection of Our Lord Jesus Christ" every 10 years as gratitude.
The first Passion Play was performed here in 1634 with 60-70 actors. It was held on a cemetery on a makeshift stage above the graves of the plague victims. It sounds morbid but they kept their promise and the town was spared. Generations have carried on this promise and tradition. This unique fountain showed the vow the villagers made to save them from the plague and the origin of the Passion Play.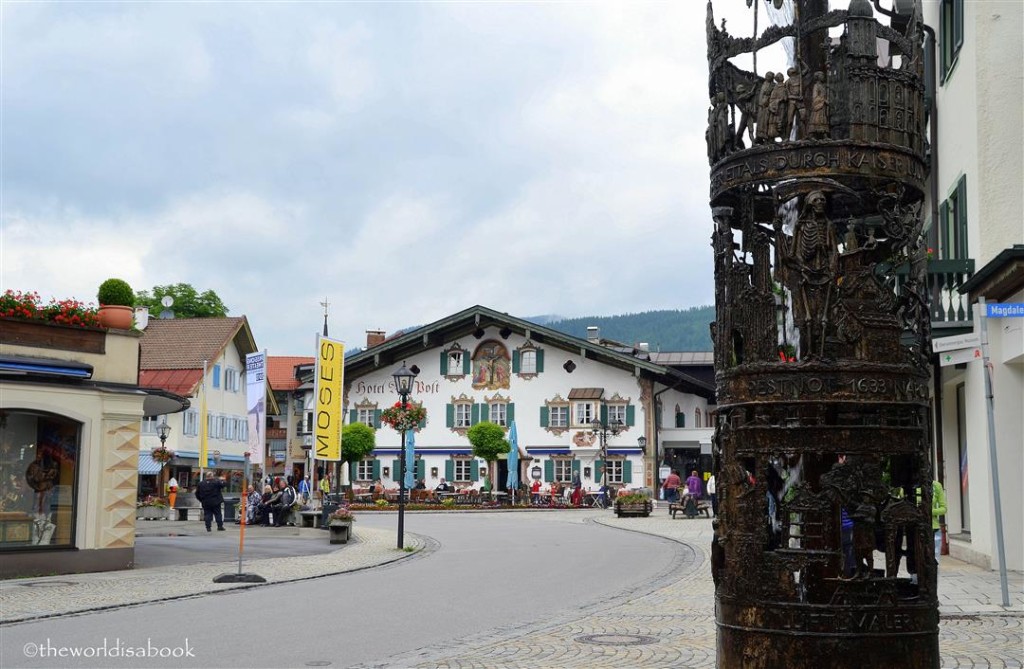 The play has been a scheduled performance for almost 400 years with only two years of interruption due to church interventions. It has evolved into a major production with over 2,000 performers, full costumes, music and choir attracting a worldwide audience.
The play occurs during each decade's first year from May to October and performed five days a week. The Passion Play in 2010 started at 2:30 PM and ended at 10:30 PM with a three-hour intermission during the 102 performances. It is performed in German but the audience is given an English textbook as well. I can't even begin to imagine the pageantry.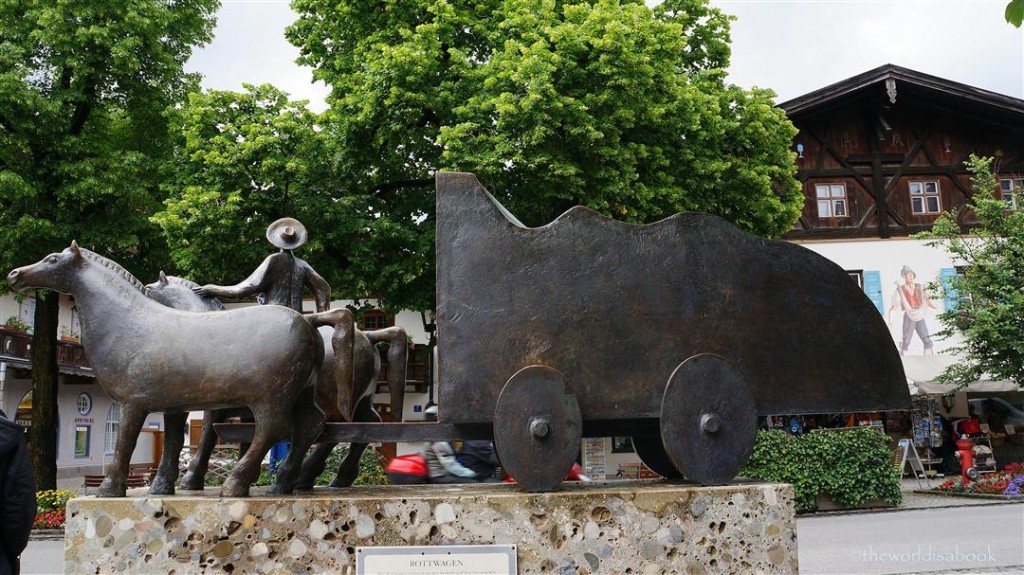 The amateur performers have to be born in the village or have been a resident for 20 years. Some parts are played by members of the same family spanning generations. It's such a great tradition to pass on. Rehearsals are for 10 months and they don't get paid. Its residents' dedication and commitment was just one of the many things we admired about this community.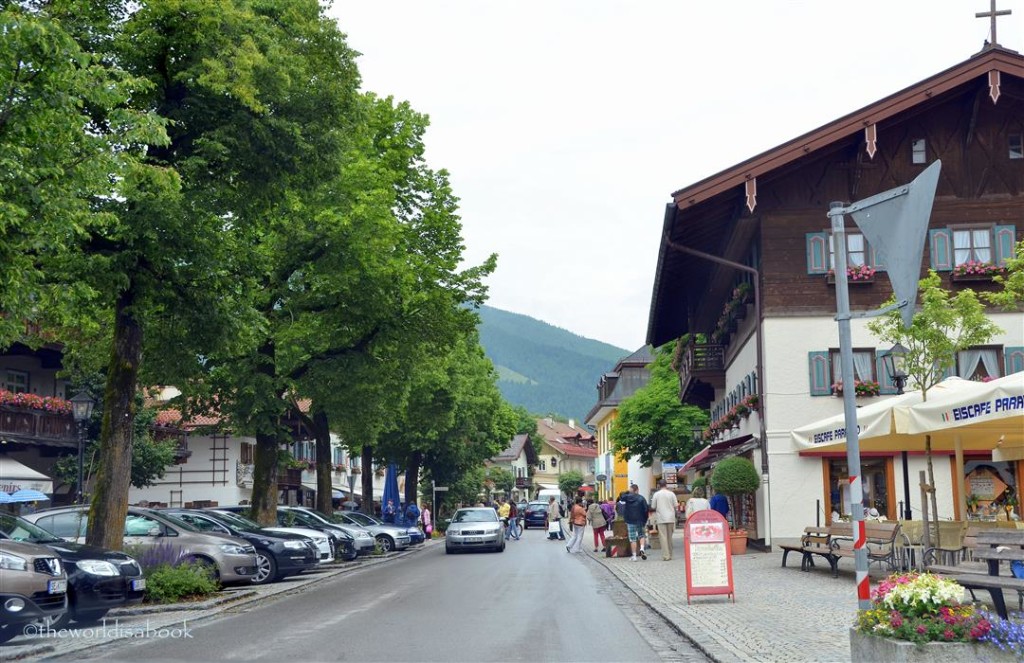 Don't let this simple facade of the Passion Play theater fool you. Behind these doors is a theater that houses over 4,700 people with modern stage mechanics and amenities and even a stage that can accommodate up to 200 performers at one time.  There are guided backstage tours of the Passion Play Theater throughout the year to learn more about the Passion Play's history. Unfortunately, we didn't get the chance to do the tour and missed the opportunity to see the inside of the theater.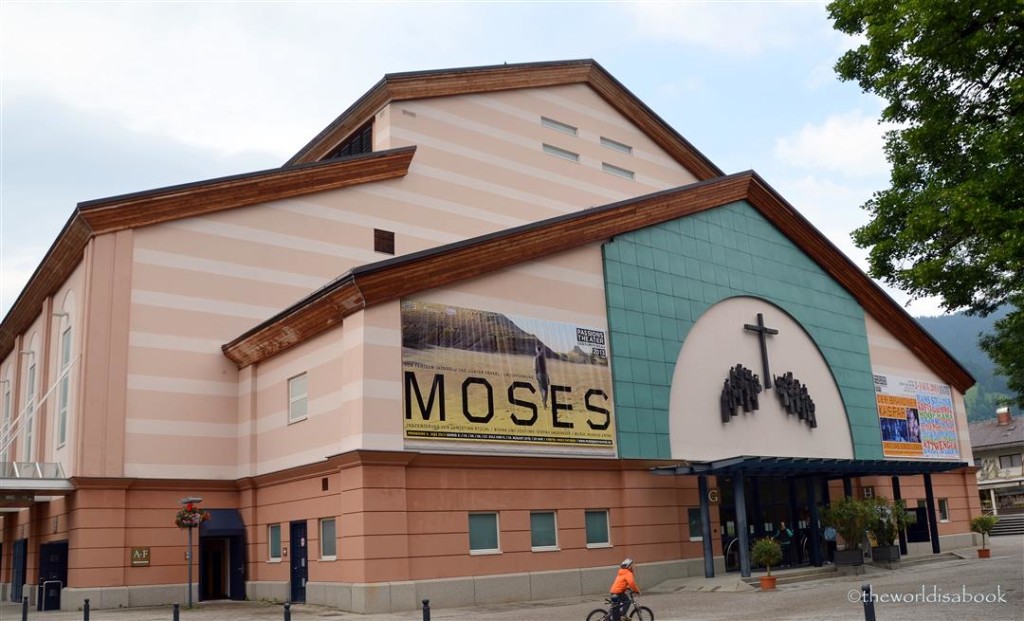 But, there really is more to Oberammergau other than the Passion Play. After all, it has the other nine years to attract tourists. The village is also known for its colorful painted houses and the residents' wood carving skills. It is also surrounded by many hiking trails and various natural attractions.
Kofel Mountain looms on top of the village. The cone-shaped mountain had crosses on top with many trails around it. It is a favorite among hikers and I can imagine the unspoiled, panoramic beauty of the valley and villages from the top.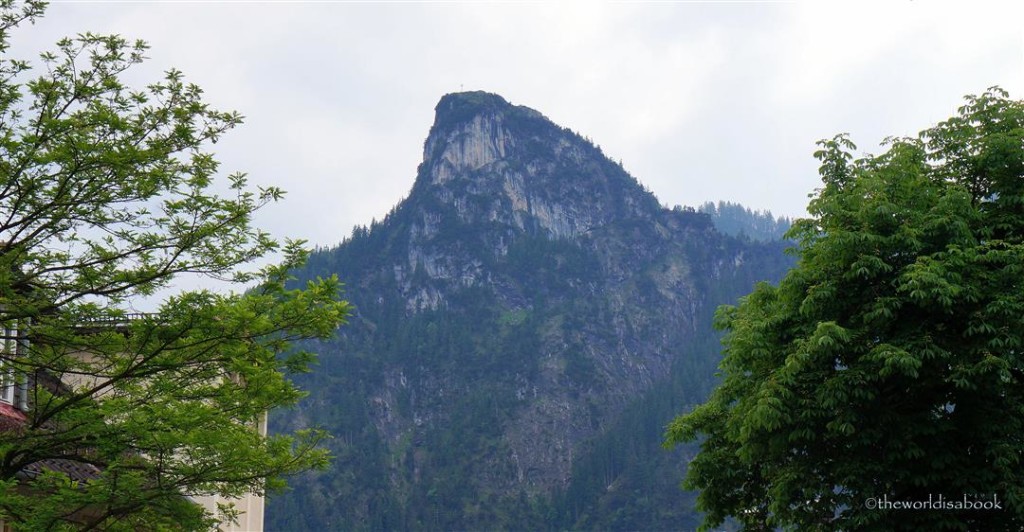 The Painted Houses
We loved walking around and admiring all the Luftl (Lüftlmalerei) or fresco paintings on the houses and buildings. These colorful frescoes on house facades were once used to show the owner's status and wealth in the Alps' foothill region. Businesses, restaurants and hotels now occupy these painted houses.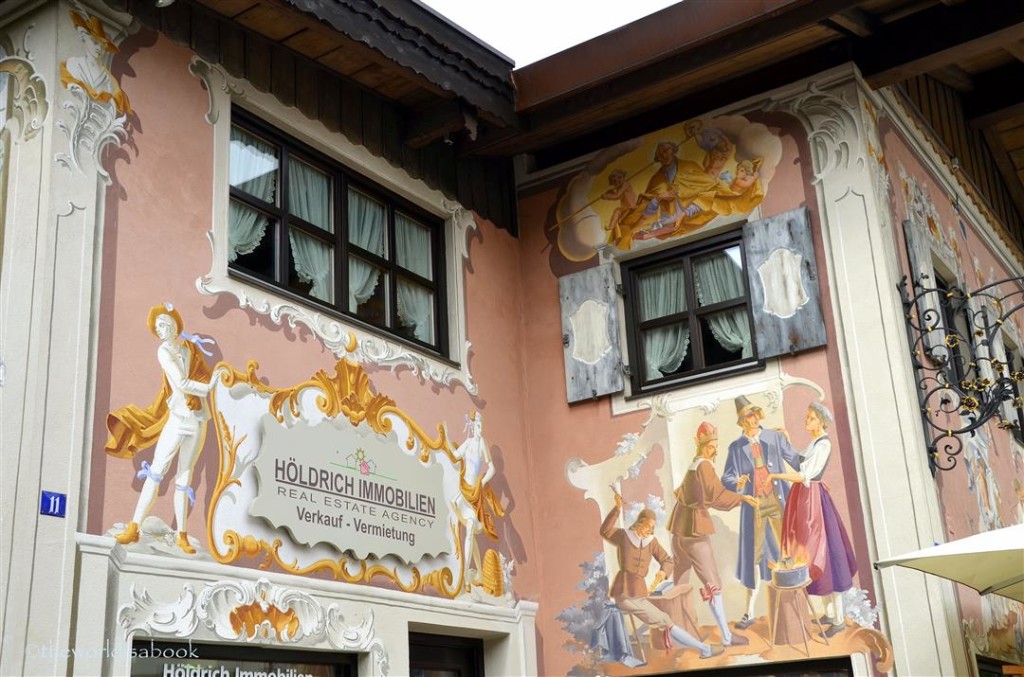 We found many stunning painted houses around Oberammergau with some dating back to the 18th century. This hotel's colorful exterior was one of the first things we saw in town.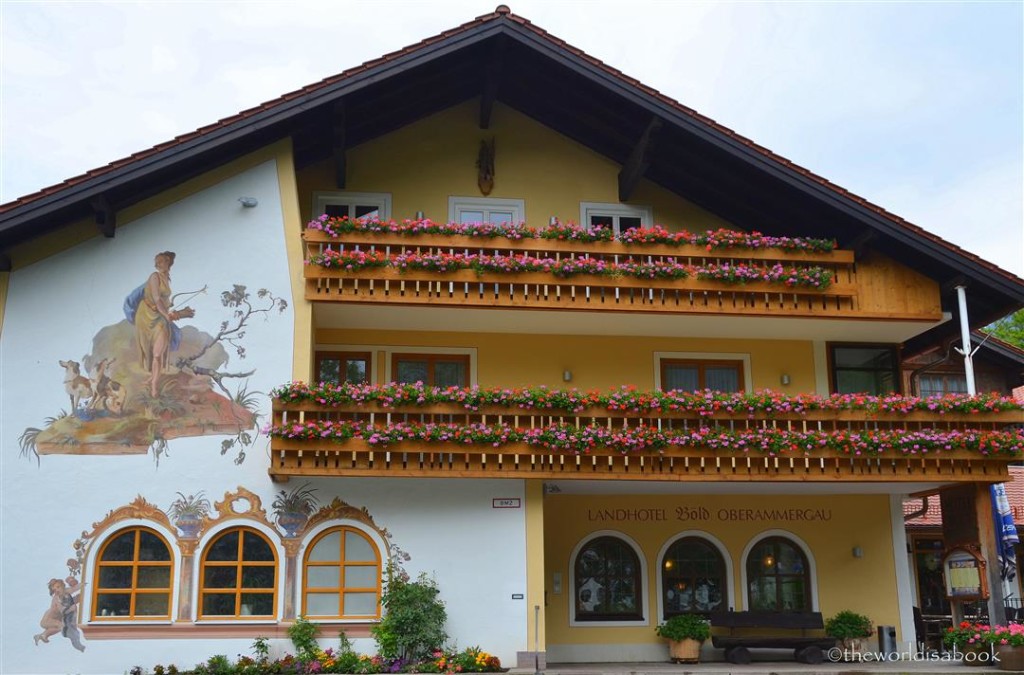 There were religious paintings with saints and scenes from the Passion Play.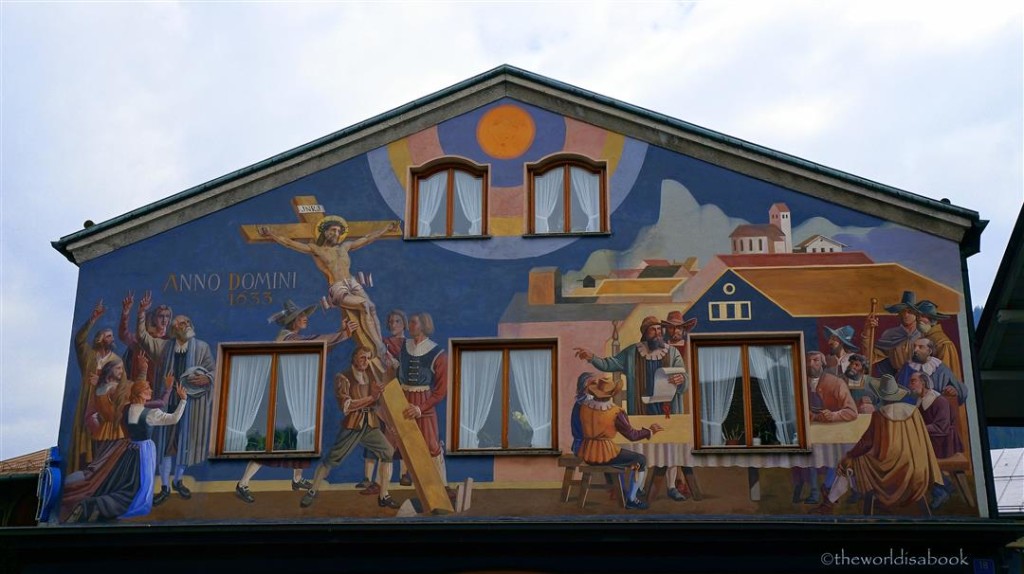 There were also paintings portraying festivals or fairy tale scenes.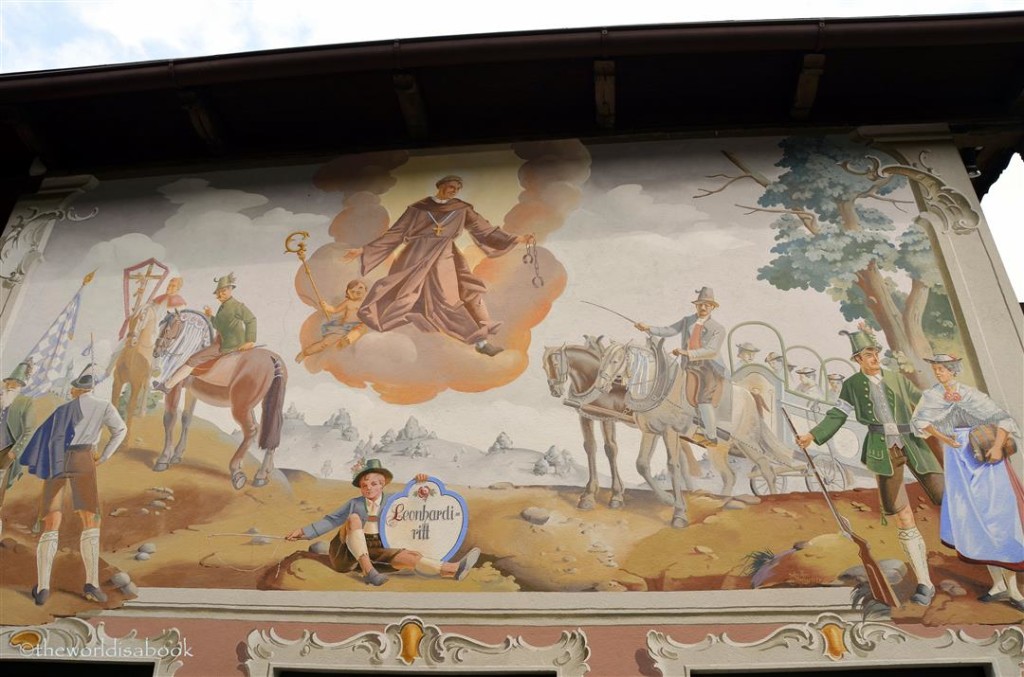 The colors were still so vivid even after being exposed to varying weather conditions all these years.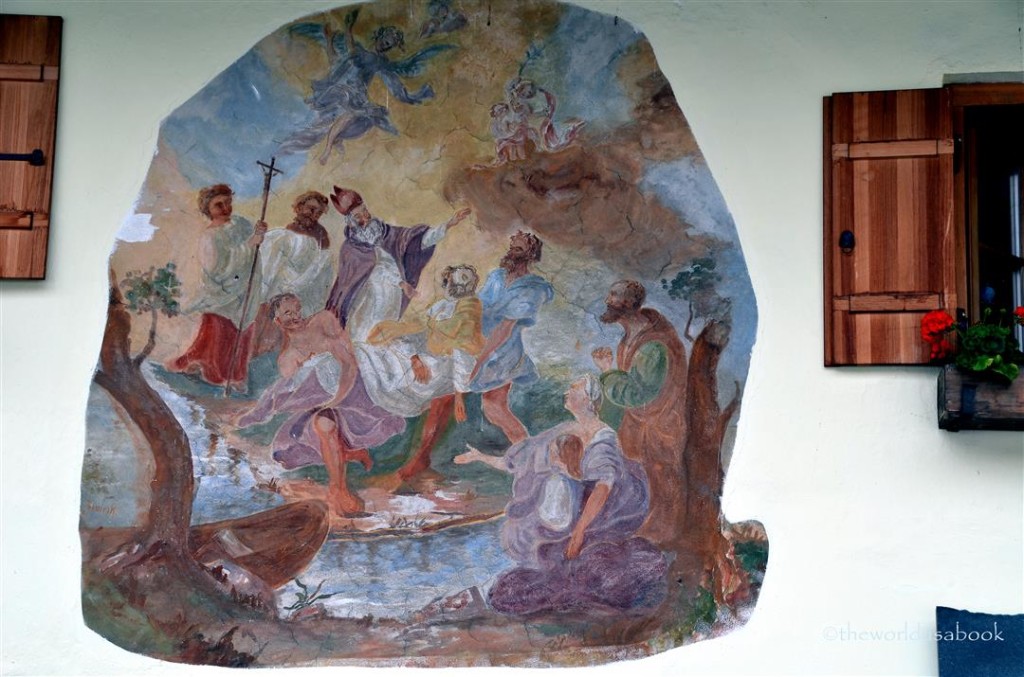 Lüftlmalerei was a painting method where water colors were applied quickly to the wet plaster. Work had to be done quickly since the frescoes were painted in the open air or Luft. The name and method was attributed to the most famous of the Luftl painters, Franz Seraph Zwinck. He lived in Oberammergau in a house called "Zum Luftl" and was called "the Lüftlmaler" or "Lüftl" painter.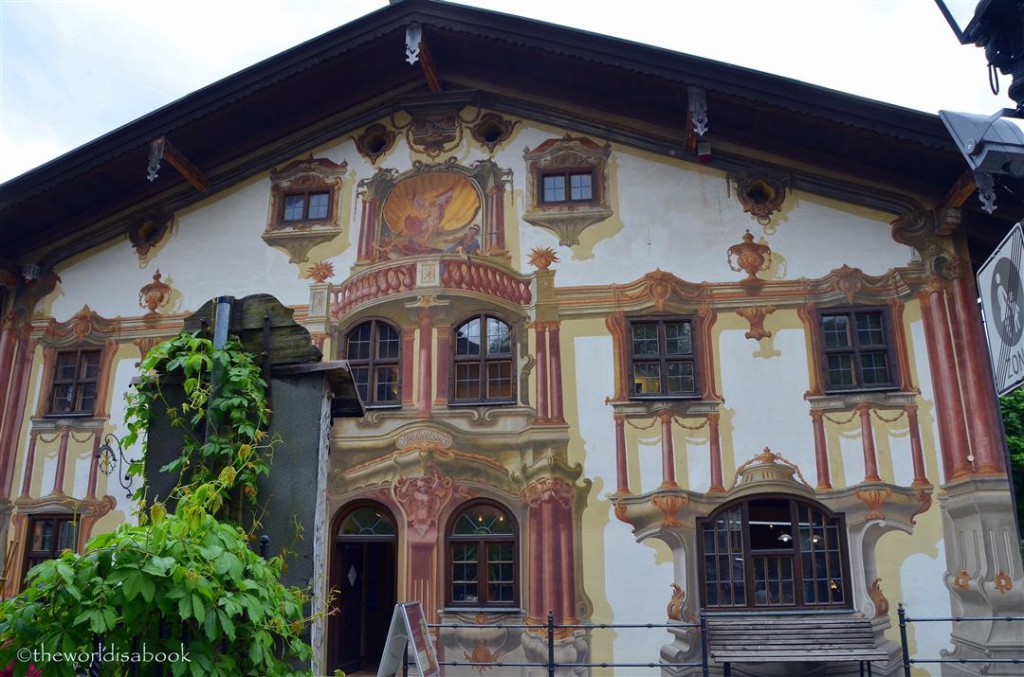 Zwink's many years in the village led to some of the most well-known facades here. These are only a small sample from various painters in a two-block radius.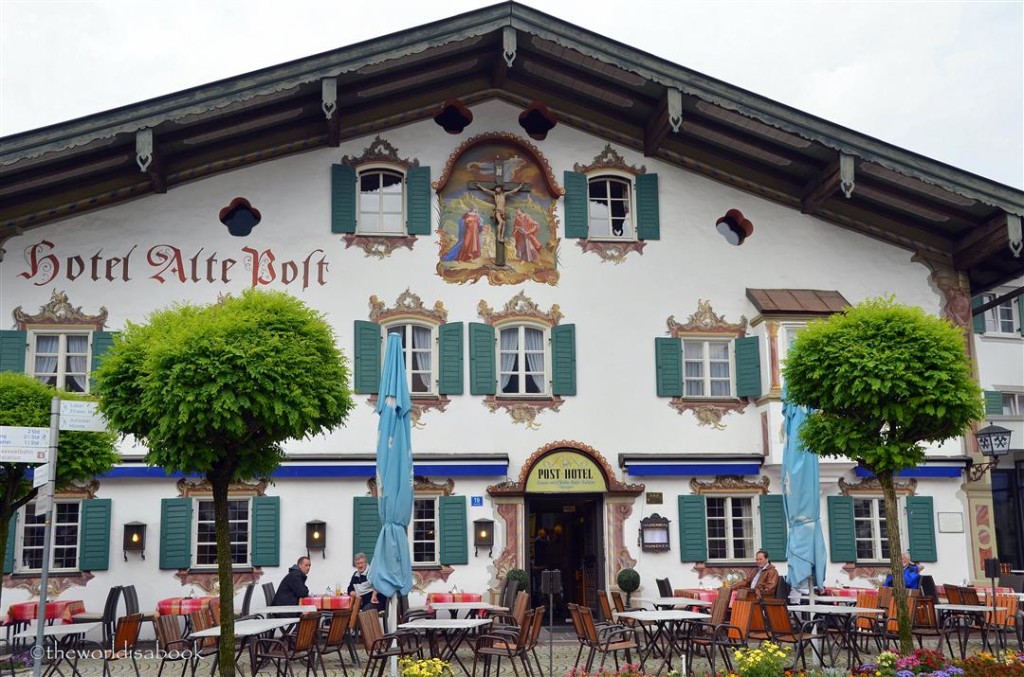 It was like strolling through an outdoor art museum that left us in awe.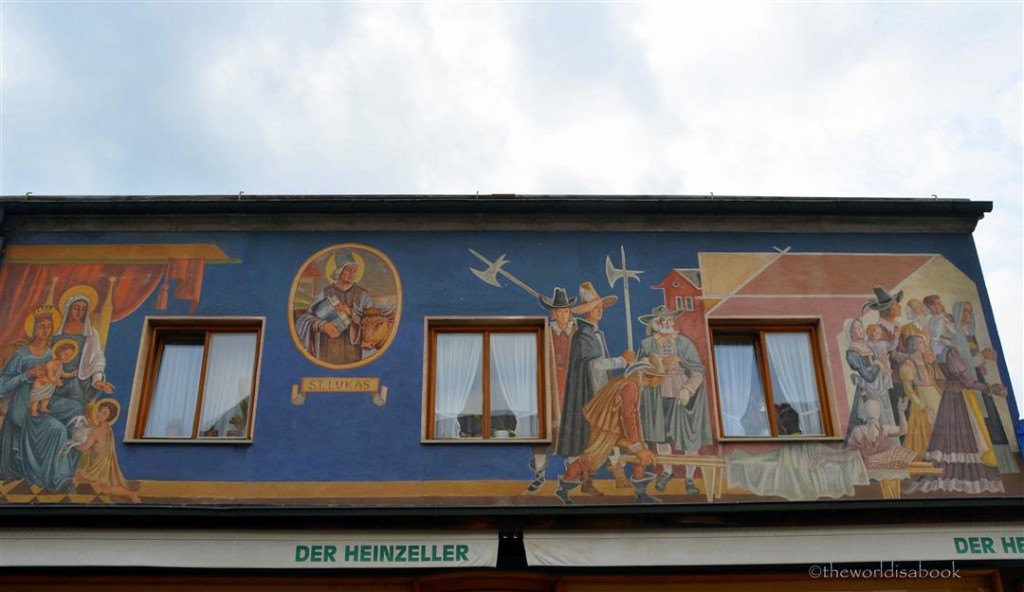 It was amazing to see how the windows, balconies and doors were integrated into the paintings. These pictures don't do them any justice.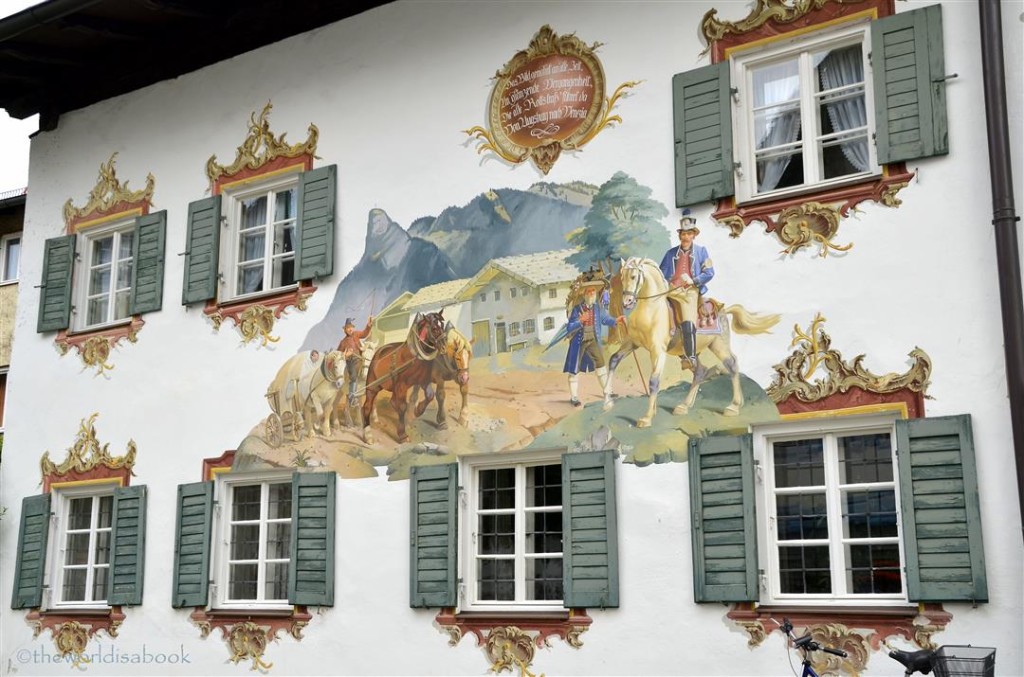 For anyone who likes taking pictures of windows, this town had some of the best vibrant ones we've ever seen.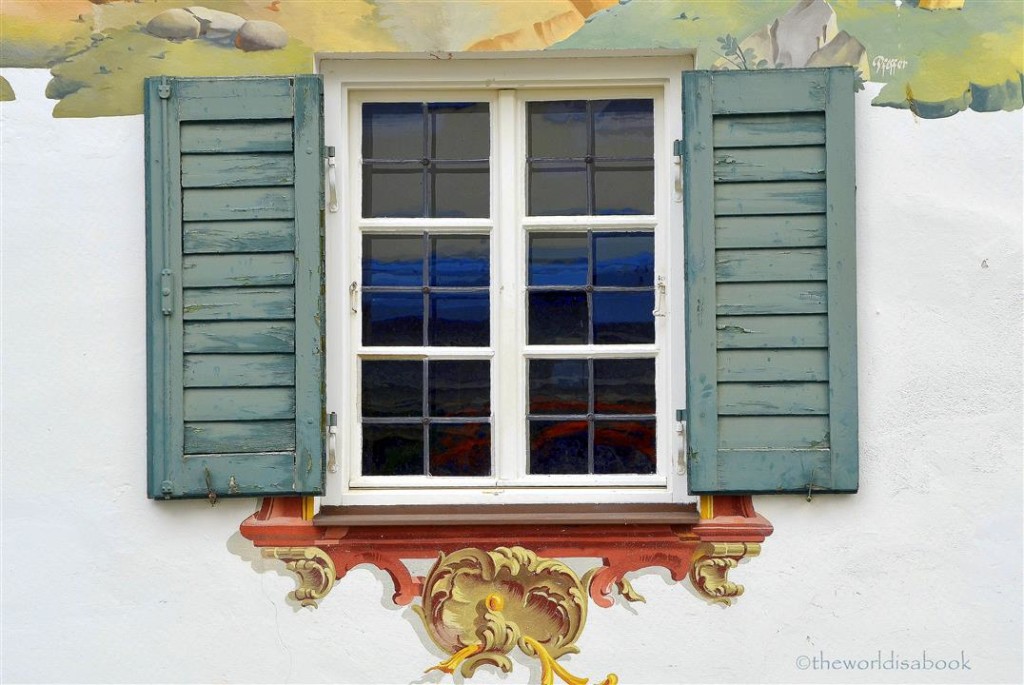 We found this house with a summary of Cinderella's story. The kids enjoyed looking up and spotting familiar fairy tales.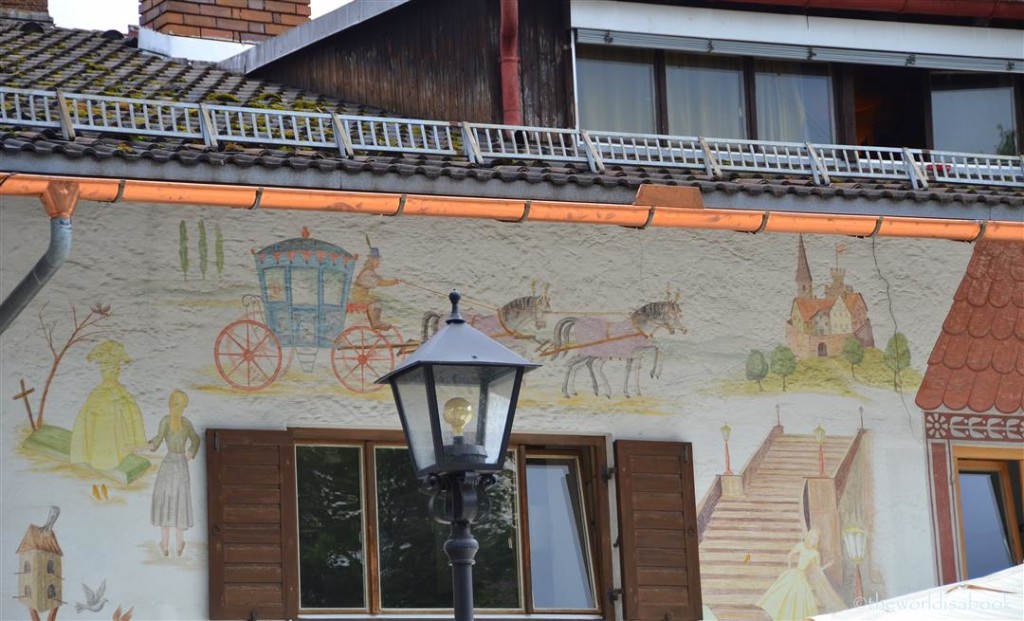 The Art of Wood Carving
Oberammergau is also known for their history and art of wood carving. There were countless shops selling a variety of wood carved merchandise that included crosses, angels, religious figures, ornaments, toys and nativity scenes.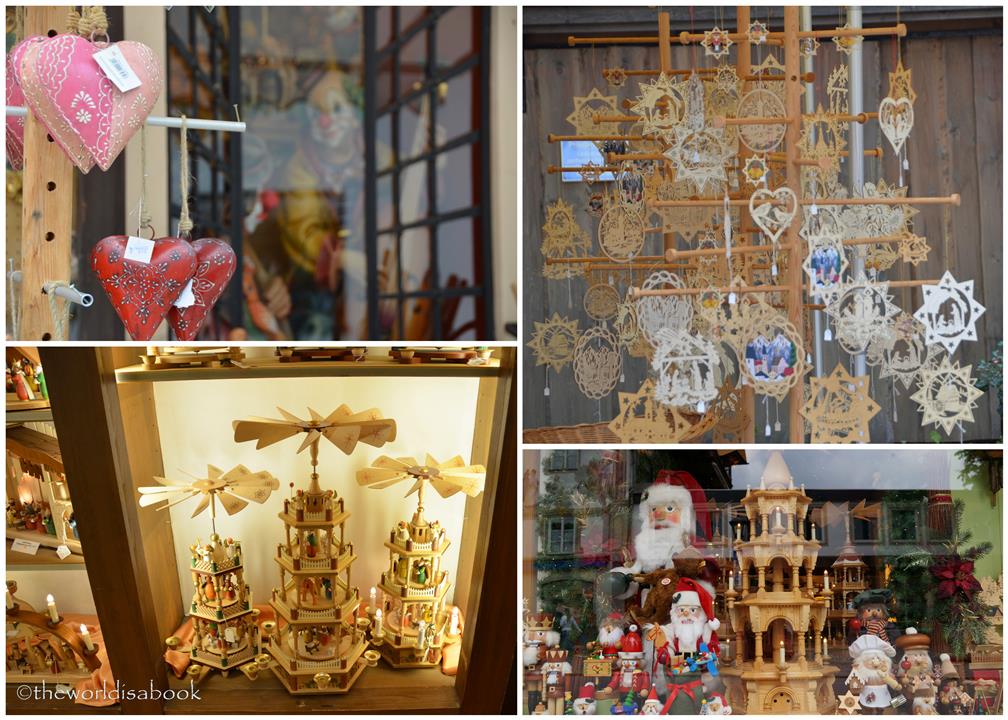 Some shops greeted us with life-sized and intricate wood carvings.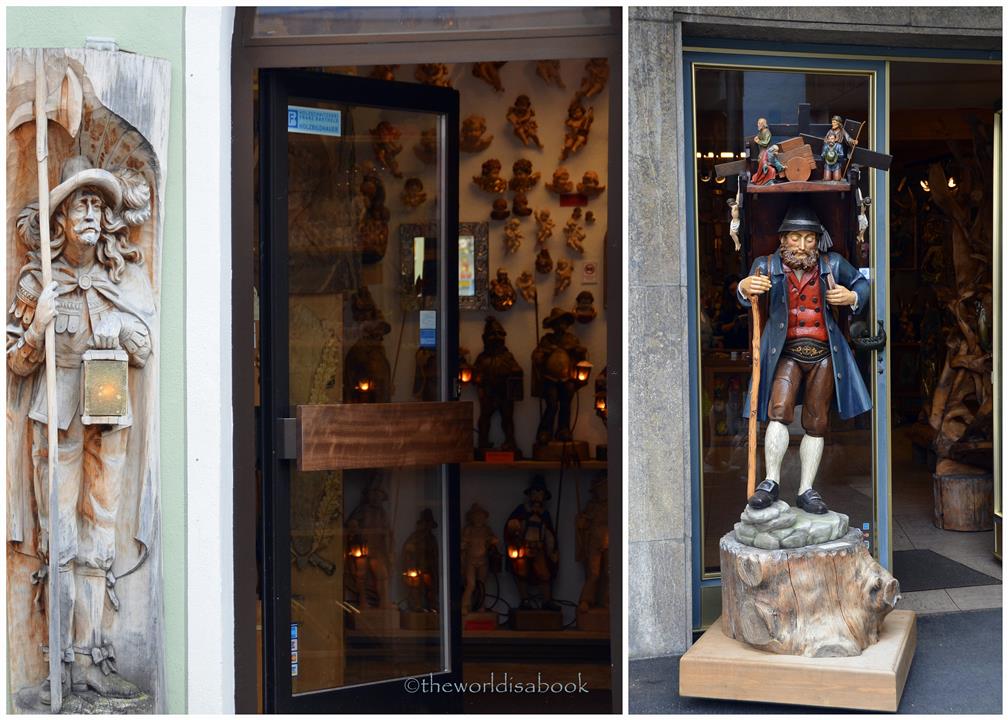 Handmade cuckoo clocks were in many shops too, much to my kids' delight. The craftsmanship on these clocks were amazing. It's no wonder they cost from several hundred to thousands of euros. I constantly wished I had a bigger luggage and a whole lot more money as we walked along all the shops here.
There were many displays that caught our kids' eyes. I think we spent more time inside the shops while we were in town.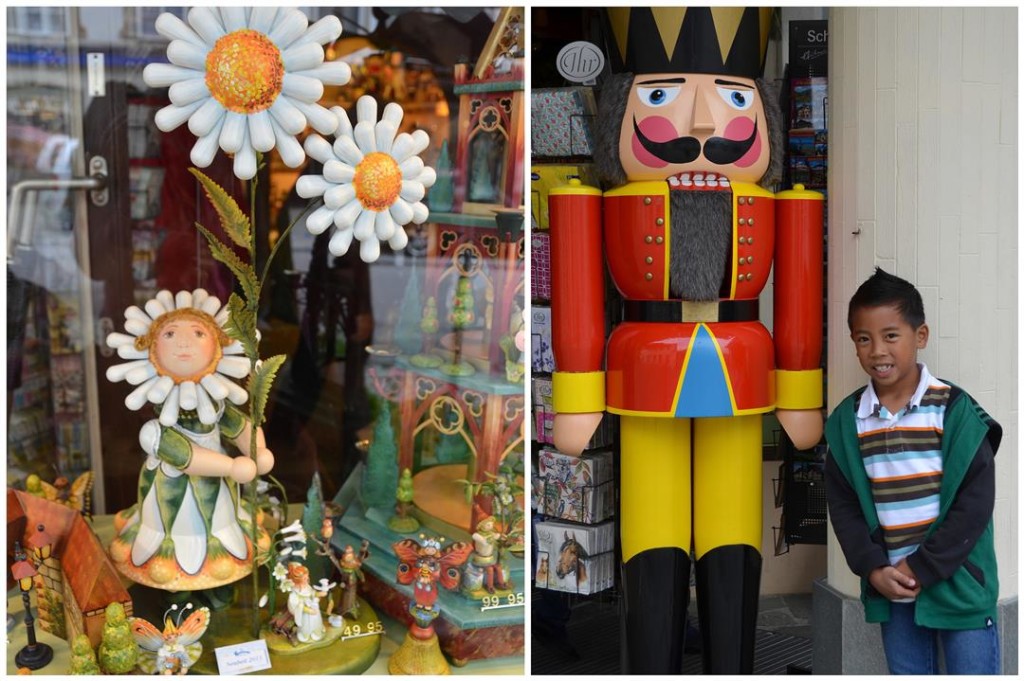 We even found the German version of what looked like Humpty Dumpty.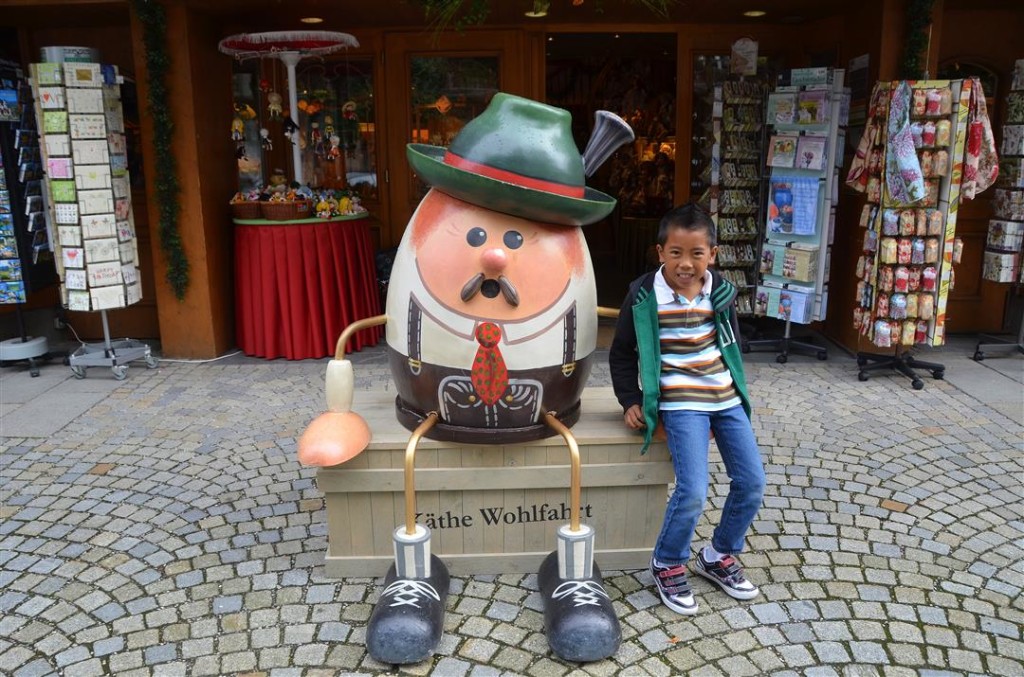 Let the kids loose and they'll find a way to entertain you. I loved this expression on my silly boy's face. What are the odds of ever running into a large wooden owl again?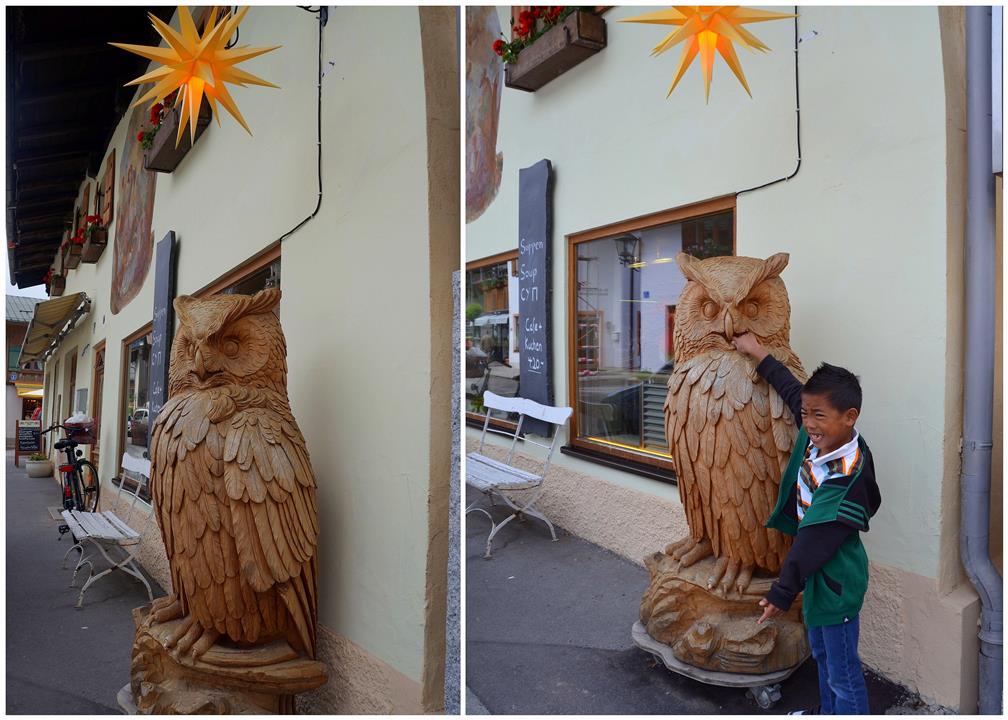 After spending some time in this enchanting village, I'm more determined than ever to return and watch the Passion Play in 2020. I just have to convince my daughter it will be a great high school graduation gift. Sometimes, I do plan way ahead. Oberammergau was beyond the play that catapulted it into worldwide status. One can't help but marvel at the town and its people's history, artistry and devotion to tradition.
Visiting Oberammergau Basics and Tips
Oberammergau is about 56 miles (90 km) from Munich. Trains are available. Though, we highly recommend renting a car and seeing the Bavarian countryside on your own schedule especially if you have kids.
Make it a day trip or two to see Ludwig's castles (Neuschwanstein and Linderhoff) while visiting Oberammergau.
Visit the

Oberammergau Museum

with special exhibits on the history and art of wood carving and the village's past and present.
See the wood carvers in action at the living workshop at Pilatushaus (Pilate's House).
It's never too early to start planning for Passion Play 2020. Here is more information with

video trailers of the play

.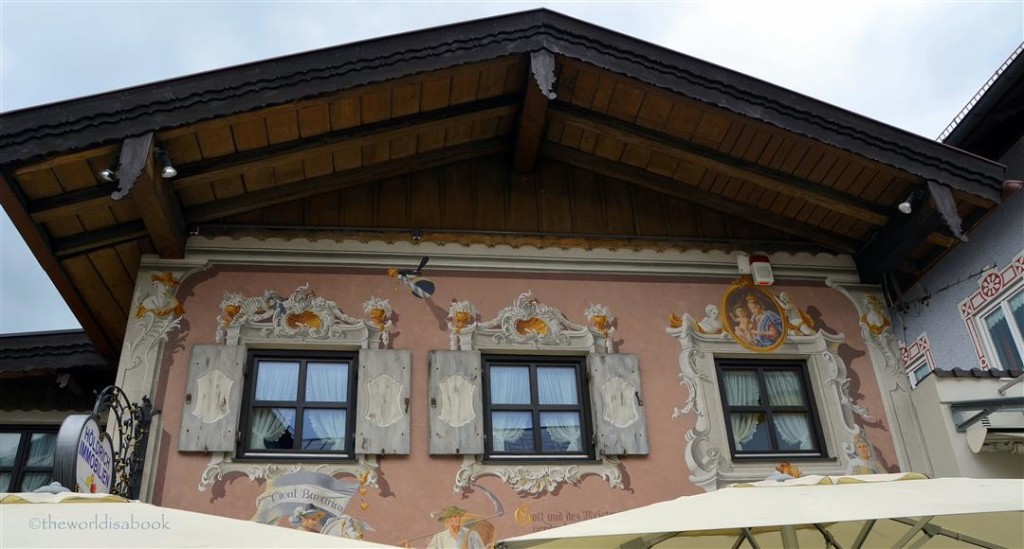 *Have you visited Oberammergau or seen the Passion Play? Who wants to join me here in 2020?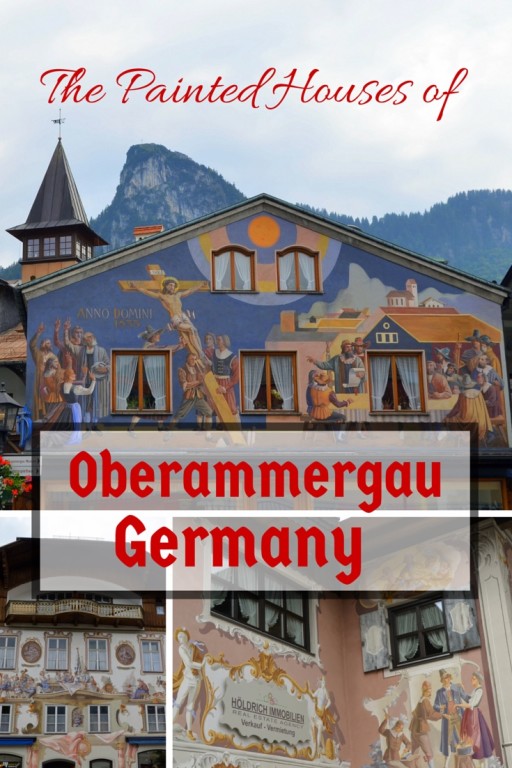 Check out these related posts: