Neuschwanstein Castle with Kids: A Modern Fairy Tale
Perhaps, there is no other castle more photographed than Germany's Neuschwanstein Castle (approximate pronunciation Noy – SHVAN – shtine) It is visited by more than a million people every year and is said to be Disney's inspiration for the Cinderella castle in Florida. I've dreamt of visiting this castle since I was a little girl. Apparently, I've shown these images enough to my daughter for her to have the same travel dream. It has been the image of an ideal castle for me but did it live up to our expectations?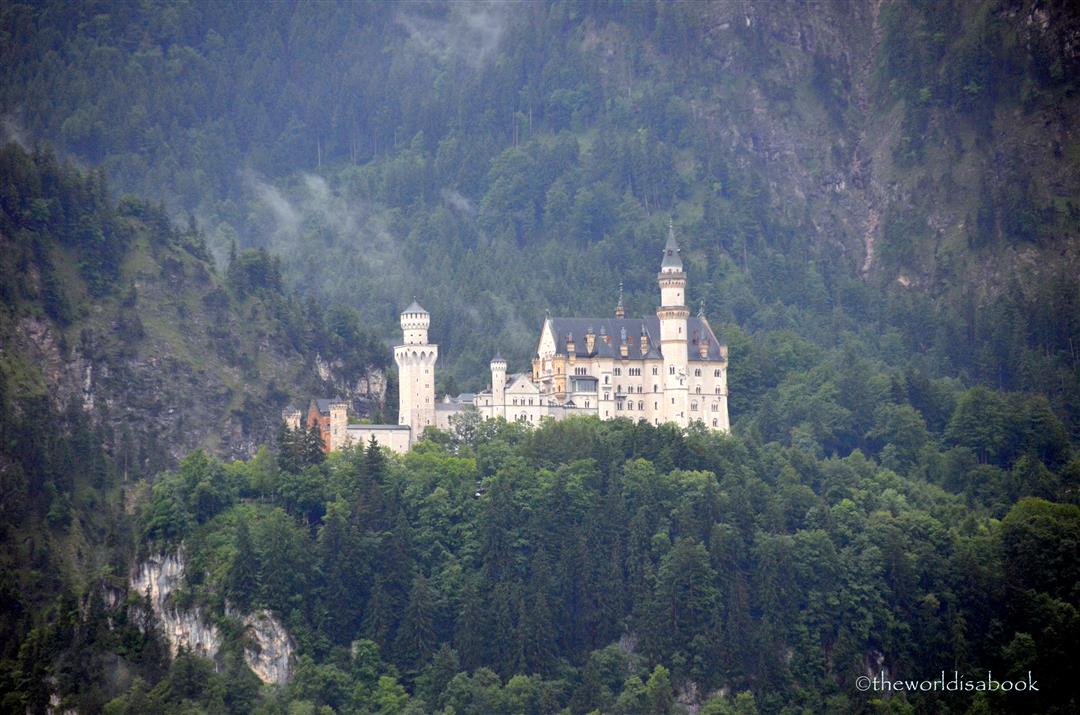 It was a majestic sight from afar and as we got closer, it looked even more incredible. Neuschwanstein meaning "New Swan Castle" was one of three castles built by the "fairytale King" – King Ludwig II of Bavaria. He became king at 18 years old in 1864. A war lost against Prussia led to Ludwig retaining a title and office with limited powers. He decided to create his own kingdom, with extravagant castles serving more as retreats and hideaways, to have some semblance of power. He was ultimately declared insane and whose drowning is still shrouded in mystery.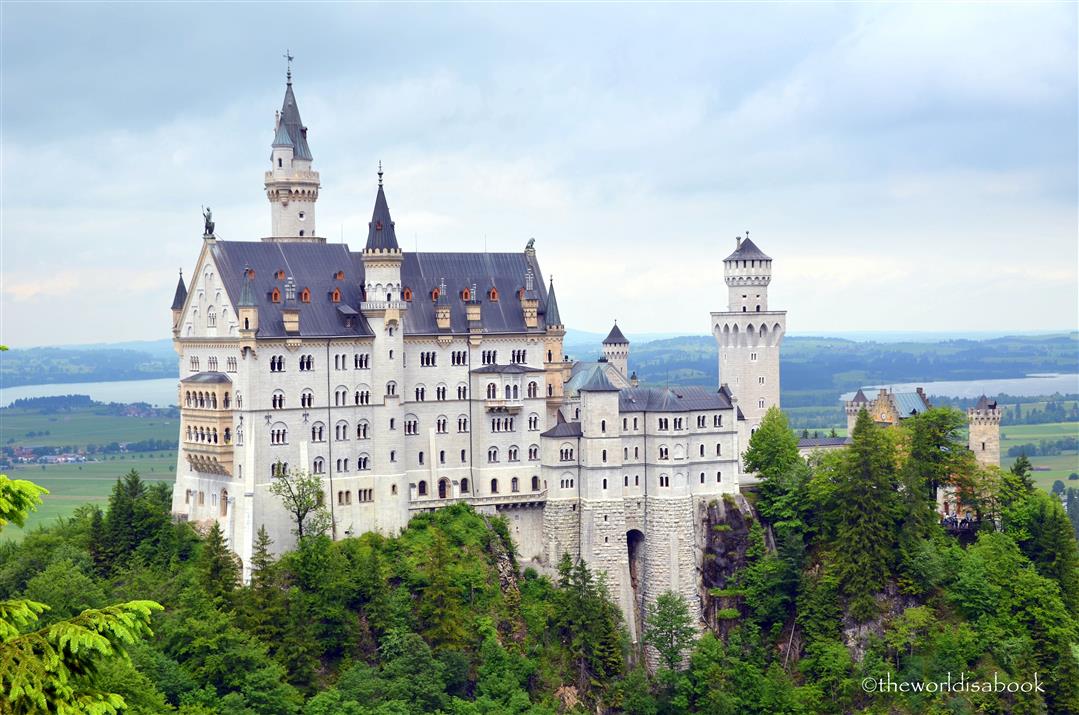 Construction started in 1869 and Ludwig moved in to an unfinished castle in 1884. Much of what we see today was completed in 1892 with a total construction time of 24 years. Ludwig expected three years completion but its location and his extravagant plans made that impossible. The castle is located near the town of Fussen in southwest Bavaria overlooking the village of Hohenschwangau. Built on a mountain ridge known as "Jugend" with magnificent views, this area was a royal family favorite spot.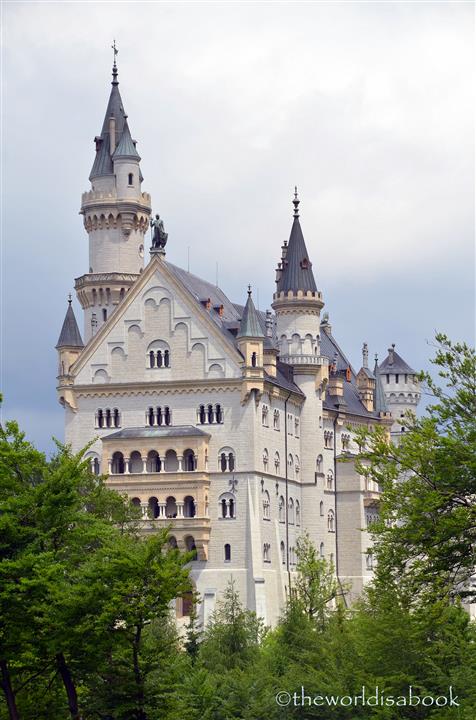 Don't make the mistake of heading straight to the castle. The Hohenschwangau village is a delightful place to walk around. The buildings have windows overflowing with flowers and some with painted colorful frescoes on the walls. There were a few souvenir stores, lodging and restaurants and the Bavarian King Museums too.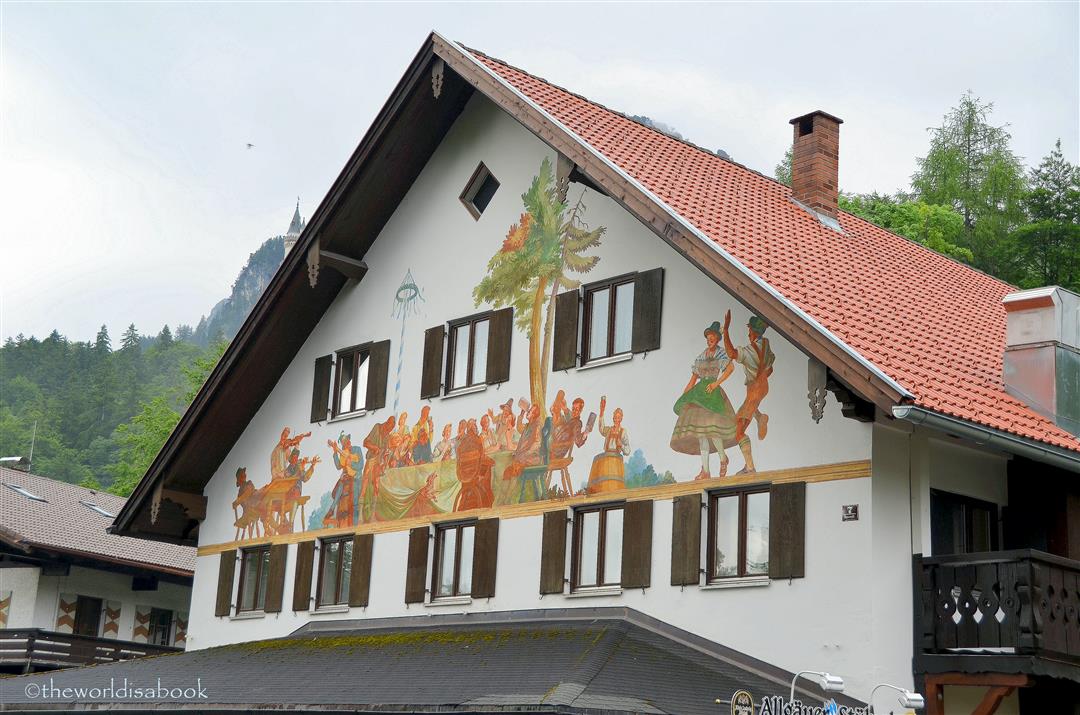 If we had more time, we would have loved to spend a few days in this area and explored it more. There were a few hiking and bike paths including a couple of nature reserve areas. We loved walking by Alpsee Lake. It was so serene and the reflections were mesmerizing.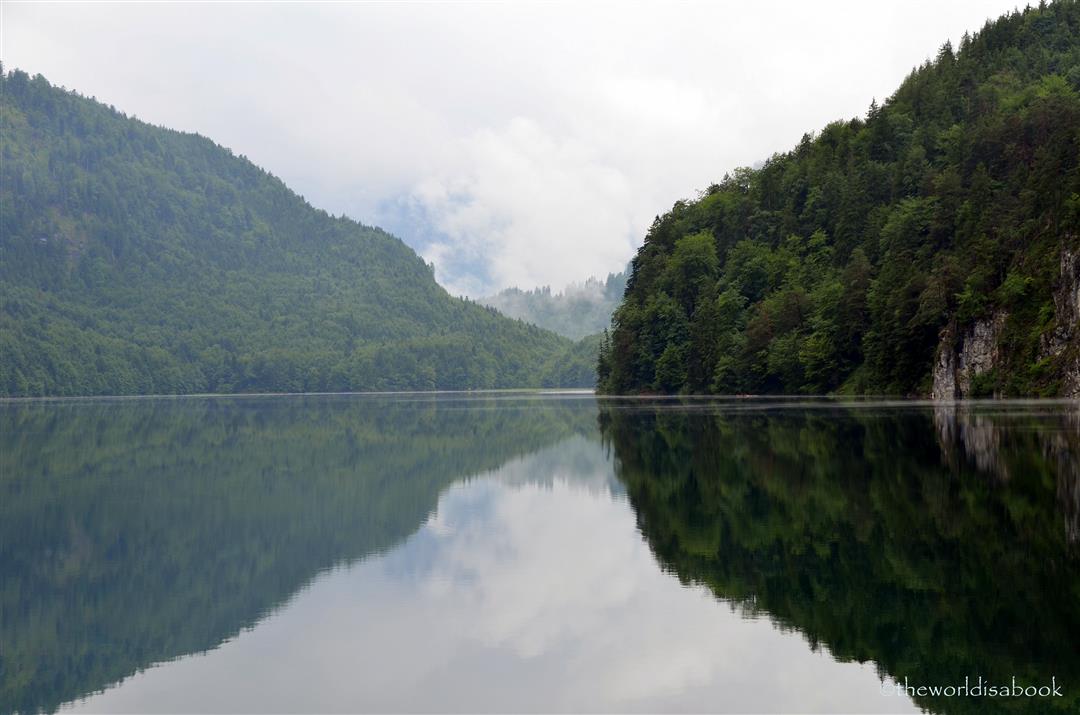 Hohenschwangau Palace sits on a hill across from Neuschwanstein and accessible by stairs from the village. This was Ludwig's childhood home which was a source of inspiration for him to create a "more beautiful and habitable" castle. Ludwig originally named Neushwanstein "New Hohenschwangau Castle".  Bavarian authorities renamed it after Ludwig's death and opened it as a tourist attraction.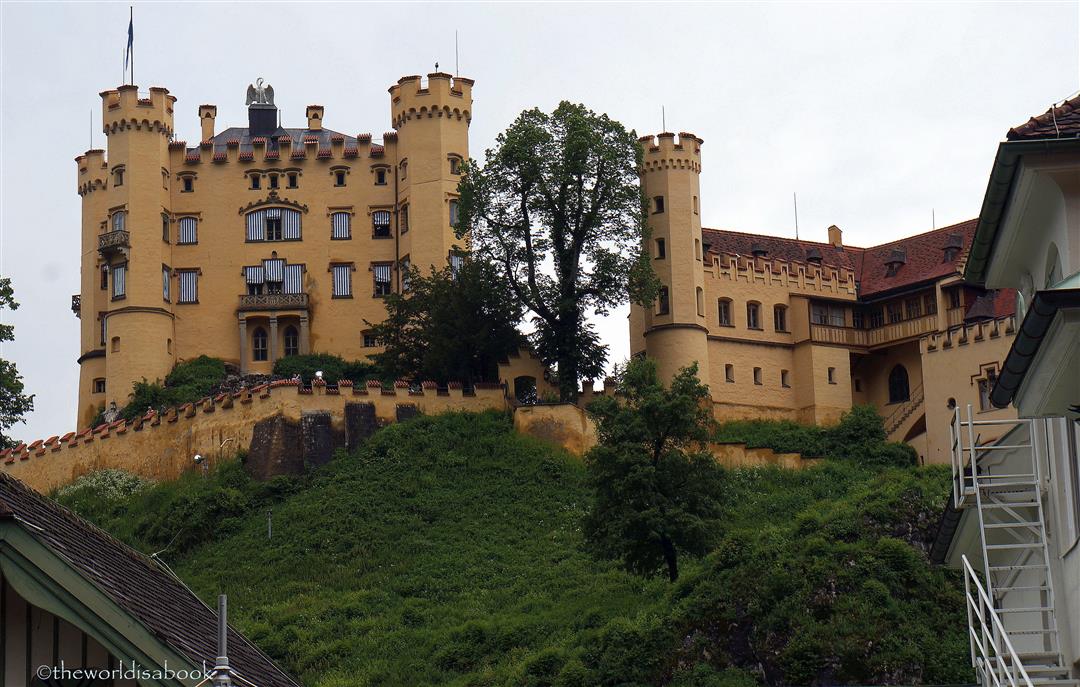 Getting to the Castle
Visitors have three options to get up to the castle. The first is hiking up a steep hill that probably would have taken awhile to get to with kids in tow. Many also preferred to go on a horse-drawn carriage which adds to the fairy tale mystique. But, these were few and far between.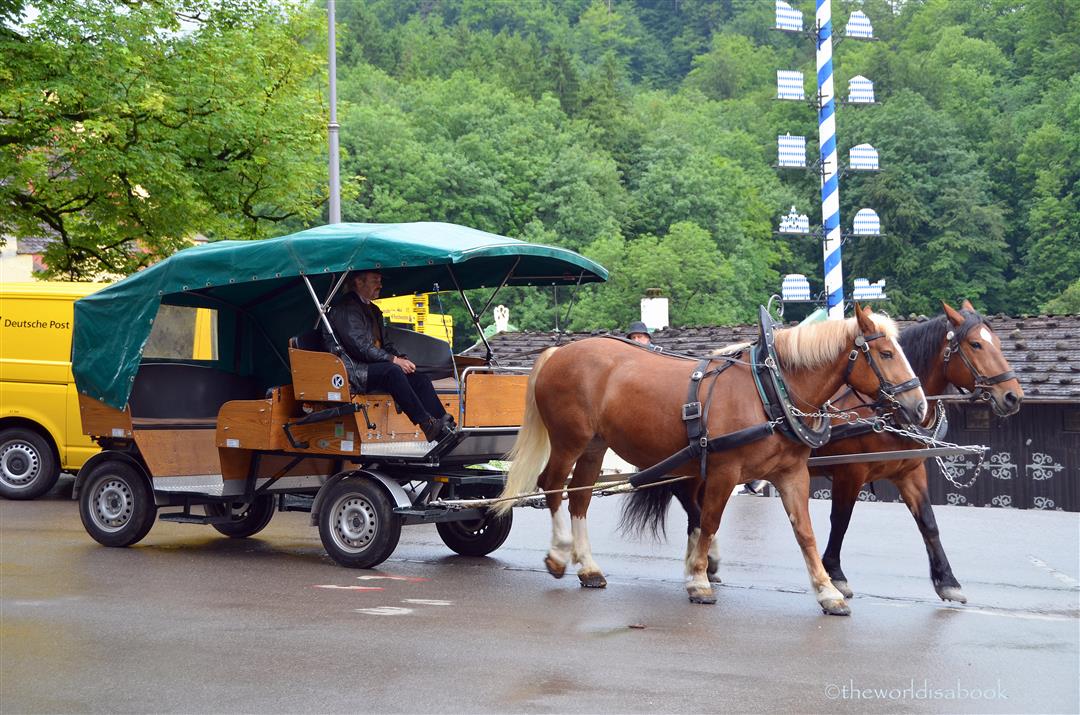 The most popular option is the bus which is what we took and cost less than 3 Euros roundtrip. There only seemed to be two buses during the height of summer season which was very surprising. The lines look daunting but go quickly once it's there. They really do pack these buses to the brim and there are limited seats so expect to stand.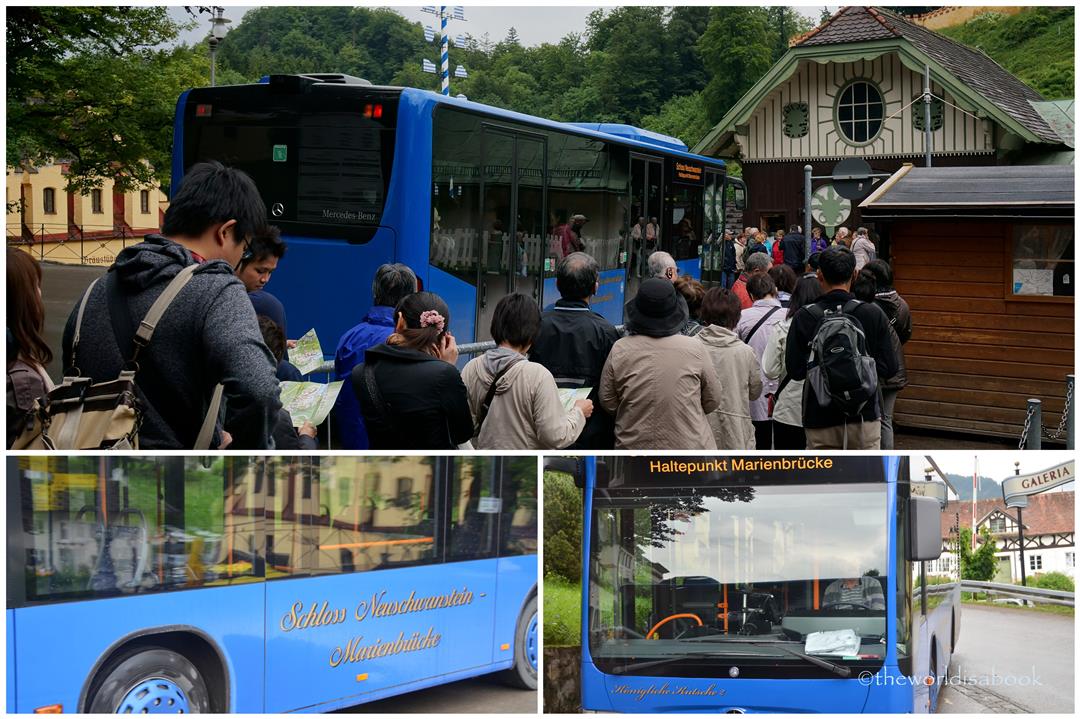 But, the buses didn't drop us right at the castle gate. There was still another 10-15 minute walk before entering the castle. Most of it downhill on the way to the castle but a steep incline on the way back.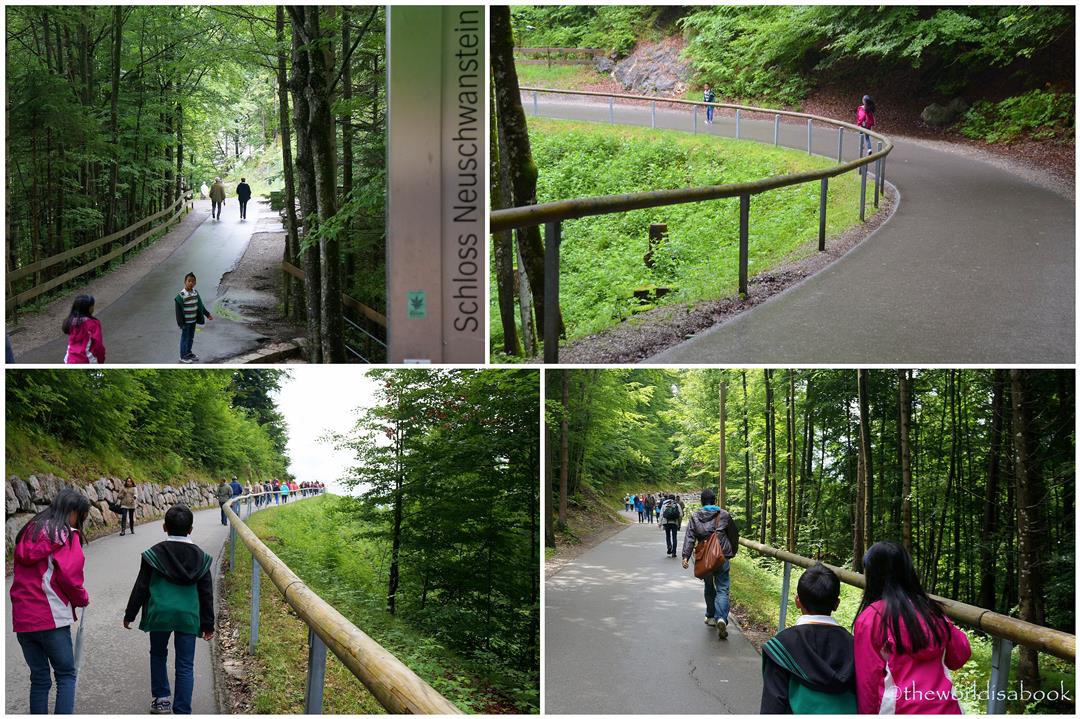 Though, the walk is broken up with some beautiful views of the Hohenschwangau, the Alpsee lake and the Bavarian Alps. We joined the rest of the tourists here to admire the view. It's no wonder the royals chose this area to build their castles.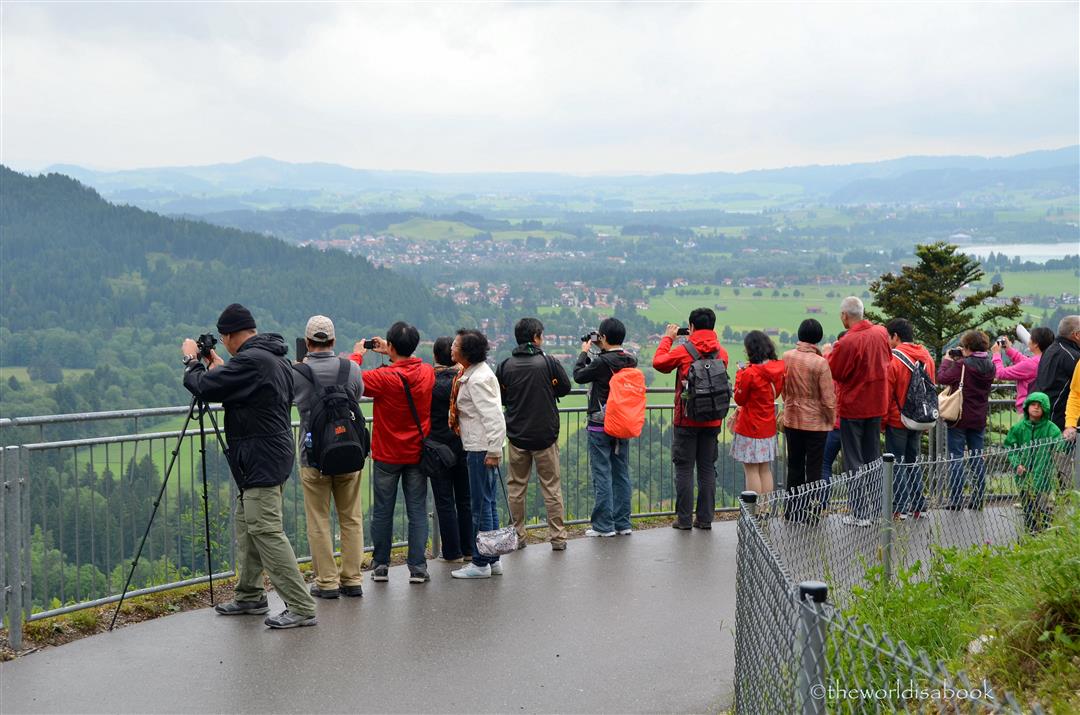 The last few minutes of the walk with the castle in sight made us all very anxious. There was an unexplicable level of excitement to finally seeing this castle that has been on my mind for years. The kids raced in front of us because they really wanted to go inside the castle and explore.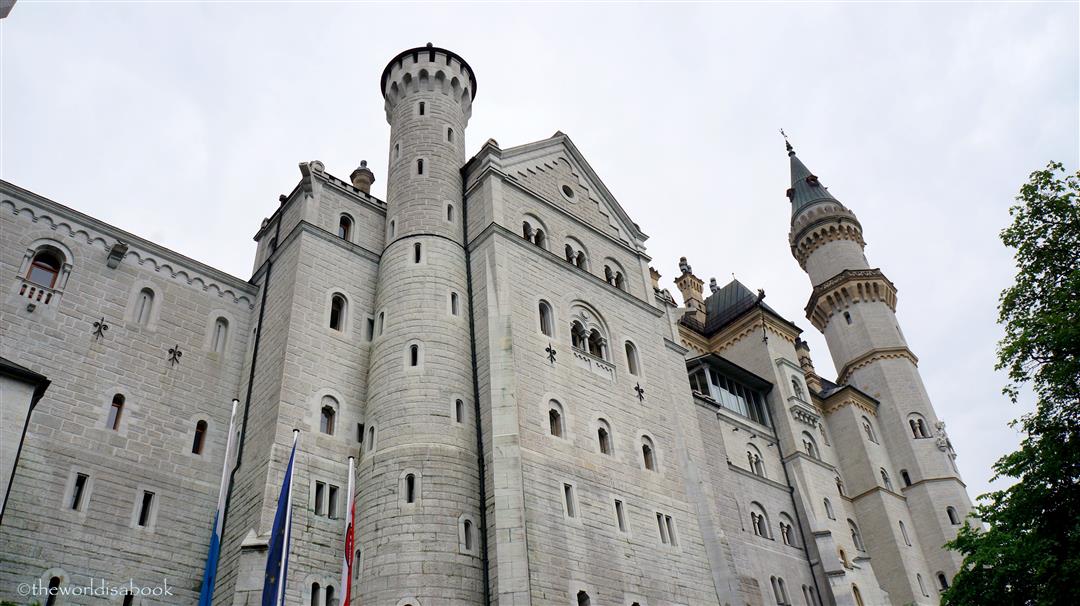 I was half expecting a moat and drawbridge to enter the castle but there was none. Instead, it was an archway entrance which led us to a walled courtyard.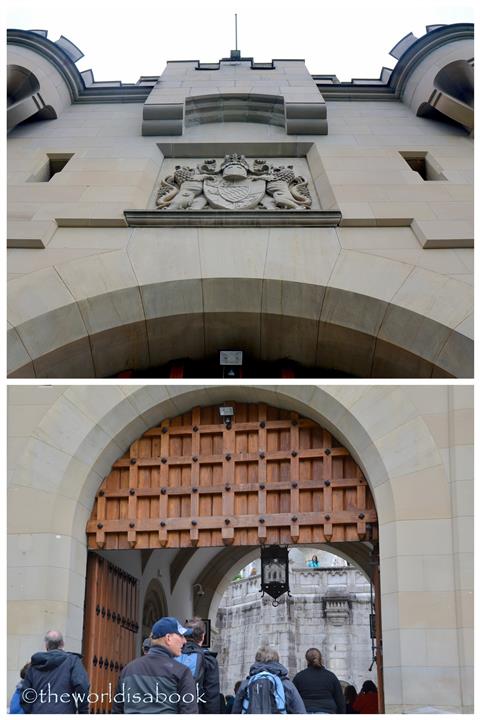 The Castle Tour
We got a glimpse of the Gateway Building which was the first part of the castle built and where Ludwig stayed whenever he visited the construction site. But, this wasn't part of our tour.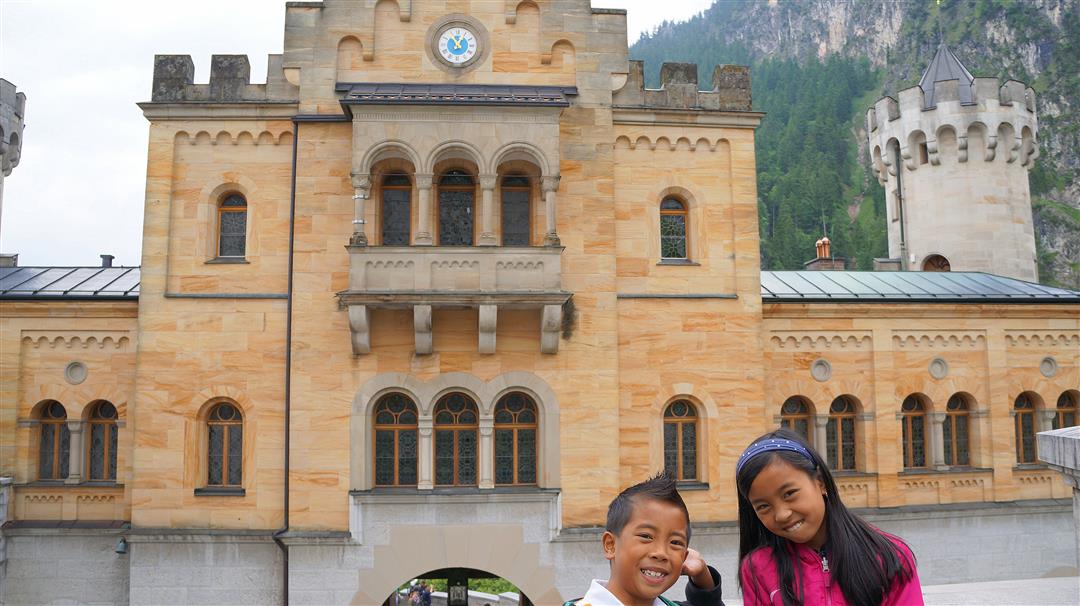 Spend some time walking around the courtyard and looking at the surrounding scenery. The architecture was amazing and felt like setting foot inside a fairy tale book (minus all the tourists). We loved all the spires and turrets surrounding us.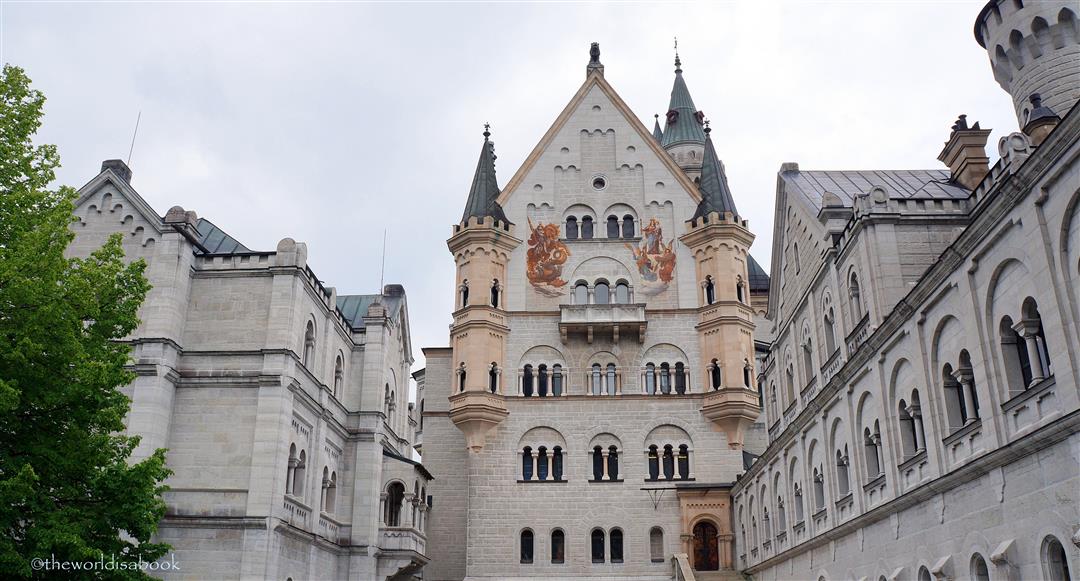 Each castle ticket is assigned a specific time to go on the 35-minute tour. It felt ike being at an amusement park but was well organized. The blinking ticket time told us when to get in a specific gate for our tour guide to meet us.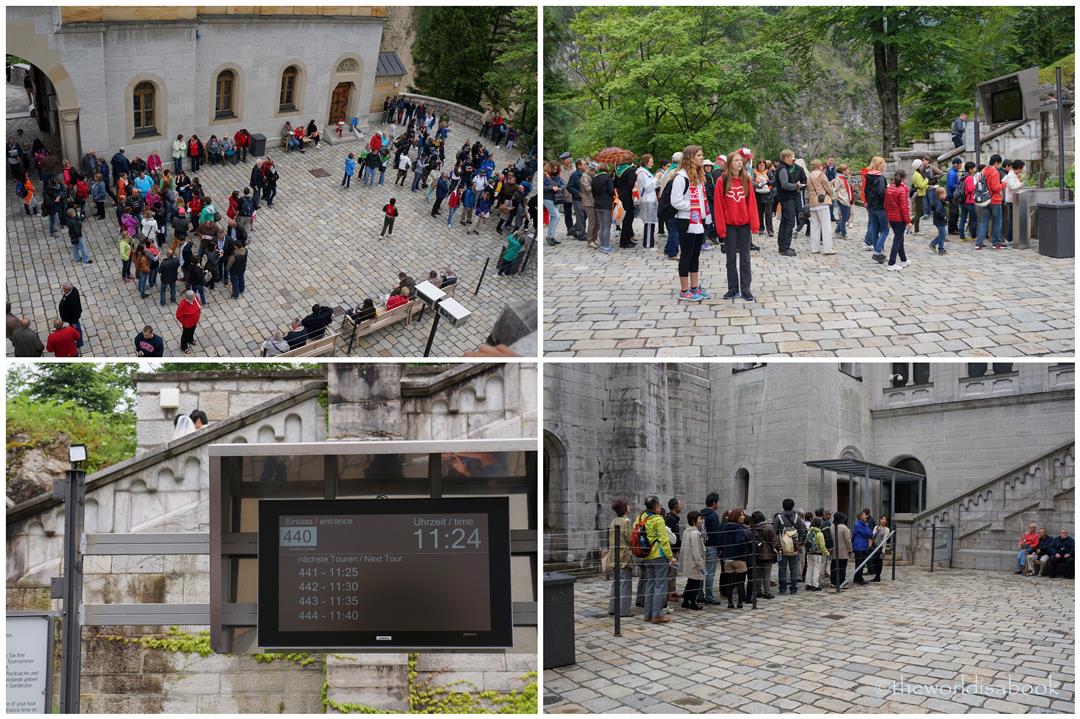 There were about 50 people per tour. We had a wonderful tour guide who spoke excellent English. We toured about 15 rooms but weren't allowed to take any pictures. It seemed like there was always someone around watching. We got to see the two-story throne room, Ludwig's bedrooms making it more clear just how eccentric he was. He clearly had an obsession with swans.
After seeing various European castles over the years, some rooms were a bit dark and lack the opulence of the other royals. Maybe I was expecting a lot of gilded ceilings and walls. We loved the Singer's Hall which took up most of the fourth floor. Ludwig was an avid admirer of German composer, Richard Wagner. Many parts of the castle's interior pay tribute to characters in Wagner's operas, particularly Lohengrin (the Swan Knight), through murals and various art pieces.
Neuschwanstein was built with some advanced technology for its time in the late 18th century which included central heating, flush toilets, telephones and hot/cold running water. Much like an amusement park ride, the tour ended by the giftshop. The one room we were allowed to take a picture of was the huge kitchen afterwards. It was also considered modern for its time.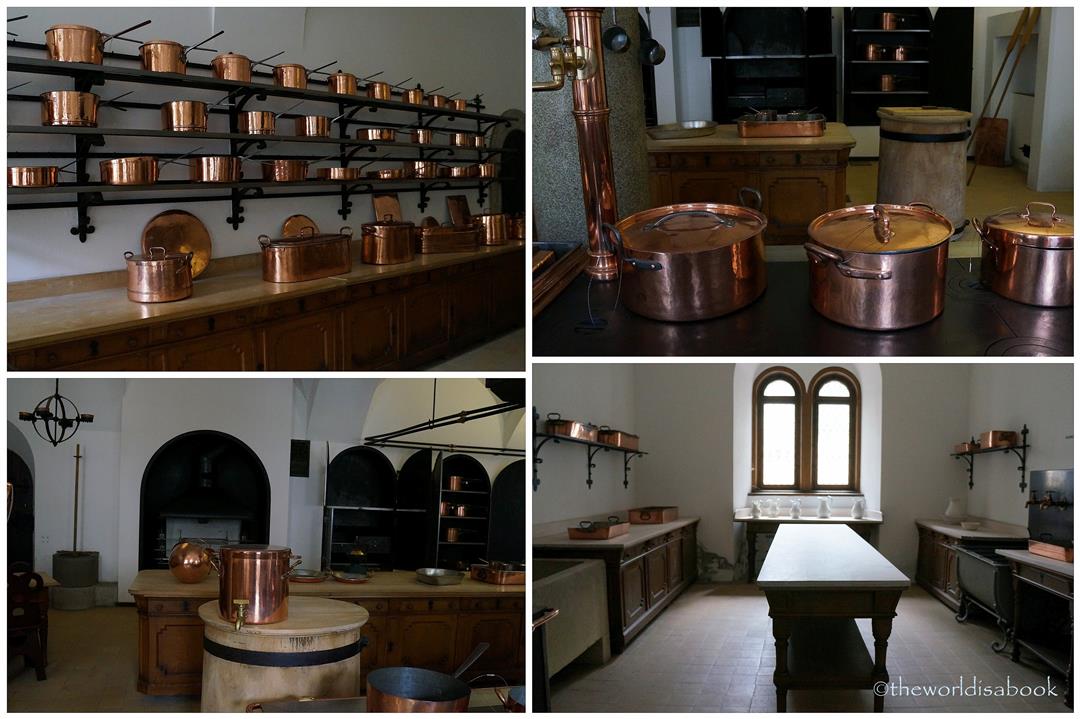 Before going back on the bus, we went to one of the must stop places here which was Marienbrücke or Marien Bridge built above the Pöllat Gorge.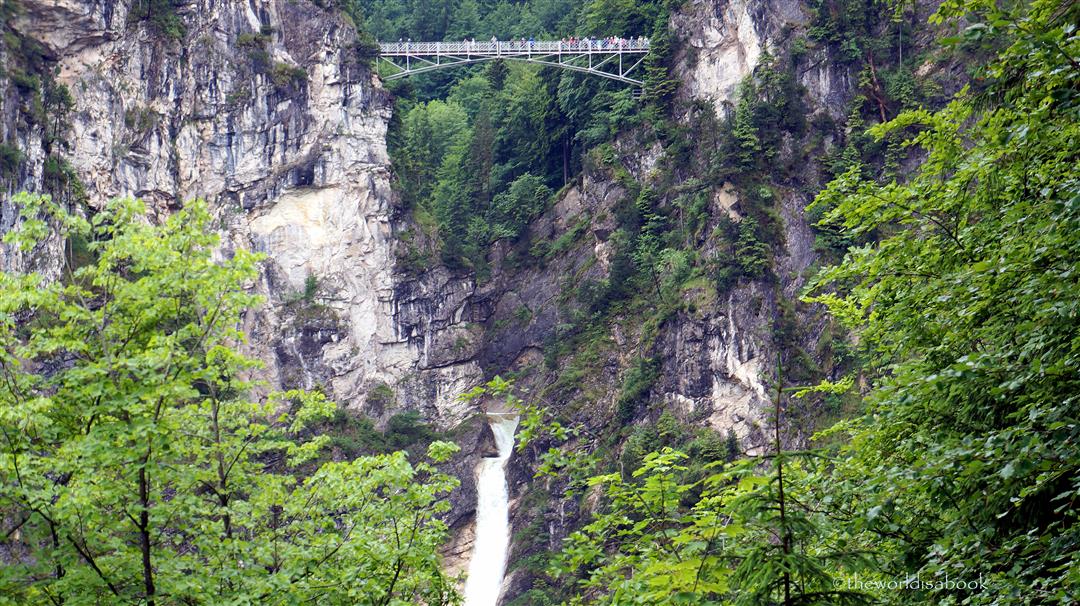 Named for Ludwig's mother and built for her by his father, this iron bridge was the place to go to for this popular view and pictures of Neuschwanstein Castle.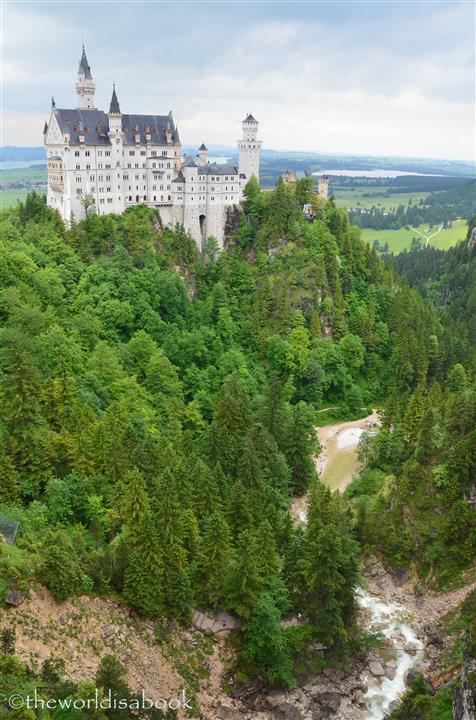 Of course, expect it to be very crowded. This is what we saw when we first got there. It wasn't a very wide bridge and it was a bit of a challenge to pose with the castle without anyone next to you. But, we managed.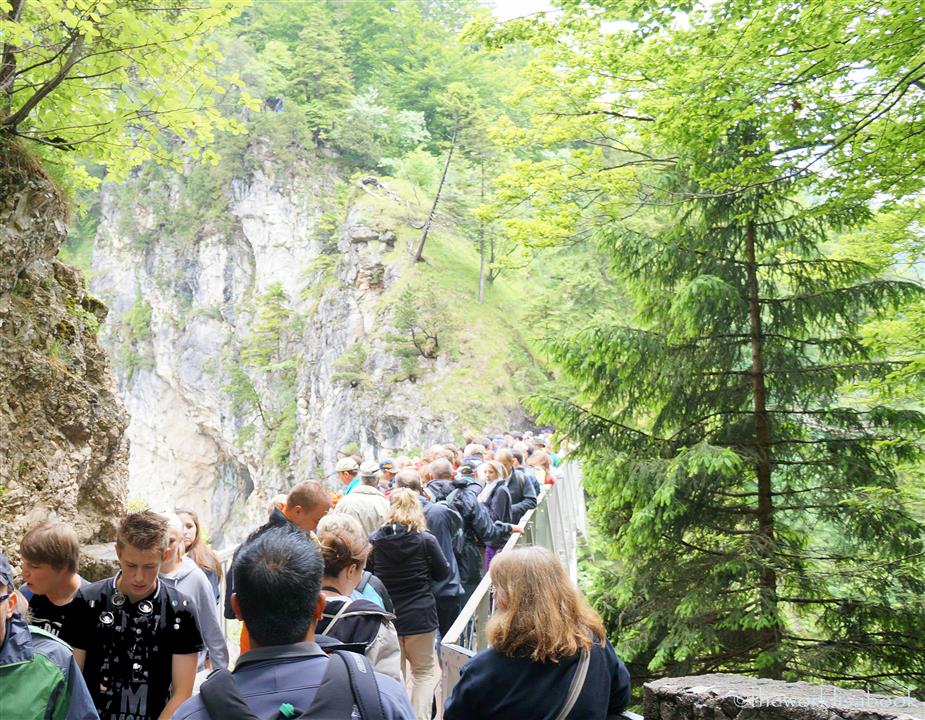 Patience is the key here as we tried to maneuver ourselves to the middle and eventually to the end of the bridge where it was less crowded. This is not the spot to be for anyone who is afraid of heights. I was a bit uncomfortable being on this bridge after seeing a long way down to the ravine. But with breathtaking views surrounding us, it was easy to momentarily forget what we were standing on.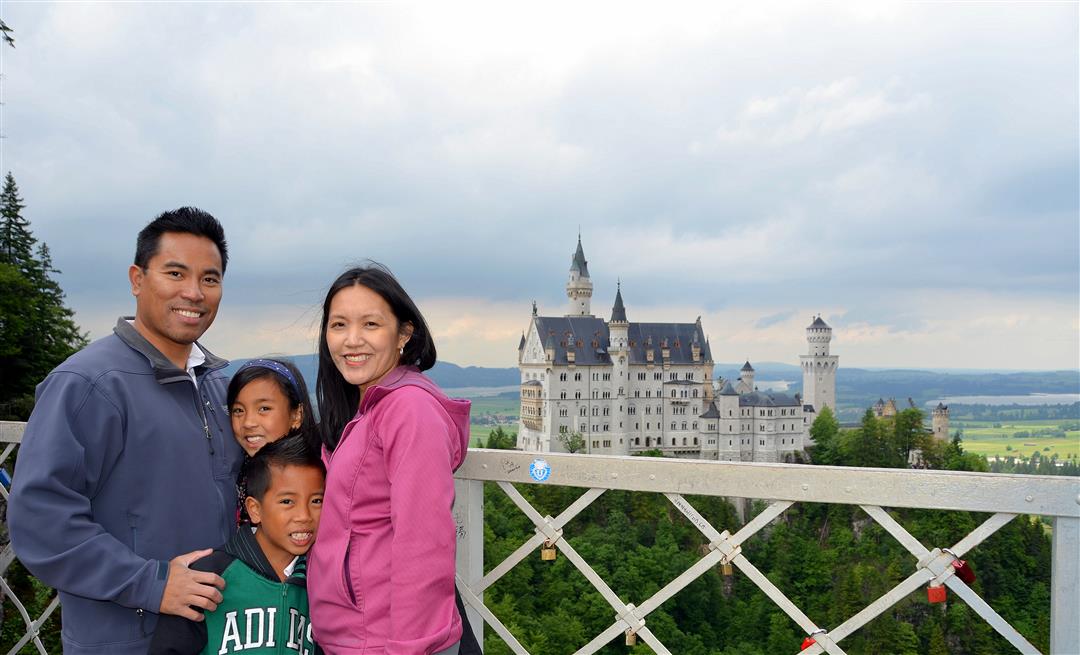 While I was disappointed with how short the tour was, feeling rushed and that we only got to see 15 chambers, it lived up to my expectations for the most part. The number of tourists was a bit unappealing so I really would like to experience this castle in the winter when it's also covered in snow and hopefully with less people. It was still amazing to finally see the splendor of Neuschwanstein Castle in person. Do spend some time in the village and surrounding area though. The region is absolutely beautiful.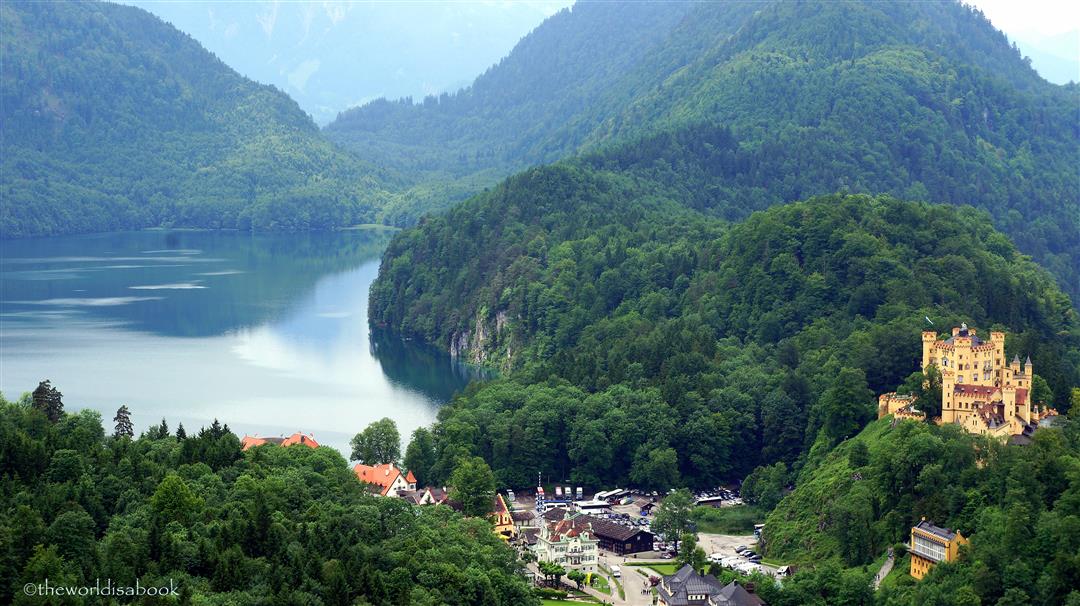 Tips for Visiting Neuschwanstein Castle with Kids
Visiting the inside of the castle can only be done as part of a guided tour where tickets must be purchased before going to the castle at the Ticket Center in Hohenschwangau village.
Tickets: Adults 13 euros ($16 US); Children 18 and younger free. Combination tickets with Hohenshanwagau Castle 25 euro ($31 US) Prices as of Summer 2017. Other combination tickets are also available.
Reserve

tickets in advance online

or through the phone for specific times with an additional fee of 1.80 euro per person. Try to get the earlier tours.
If you're going to be visiting other palaces and castles, look into the 14-day

Bavarian Palace Pass

which allows free entry to over 40 attractions. Family pass – 44 euro ($54 US). We used our pass here but we couldn't reserve the specific time we wanted. We were able to bypass the ticket line and go straight to the reserved ticket lines though.
Check out the

Childrens Page on the Neuschwanstein website

for some fun games and activities to download for the kids.
Get to the castle way before your scheduled time to have a look around and in case the lines to the buses or carriages are too long. We went up an hour before our time and had a leisurely stroll.
Use the restrooms (free) by the entrance before heading for the tour.
Lockers are available and free to use in the room across from the restrooms. There's a 3 Euro deposit but is returned after each use.
There were a lot of narrow and winding stairs (over 160 steps) on the tour. There was a lot of walking so be prepared to carry younger children in carriers. You cannot bring strollers/prams into the castle.
Many day tours are available from

Munich

. We had a rental car and chose to drive. This is a better option with kids. It allows you to go on your own pace and do side trips to

Oberammergau

and neighboring Linderhof Castle.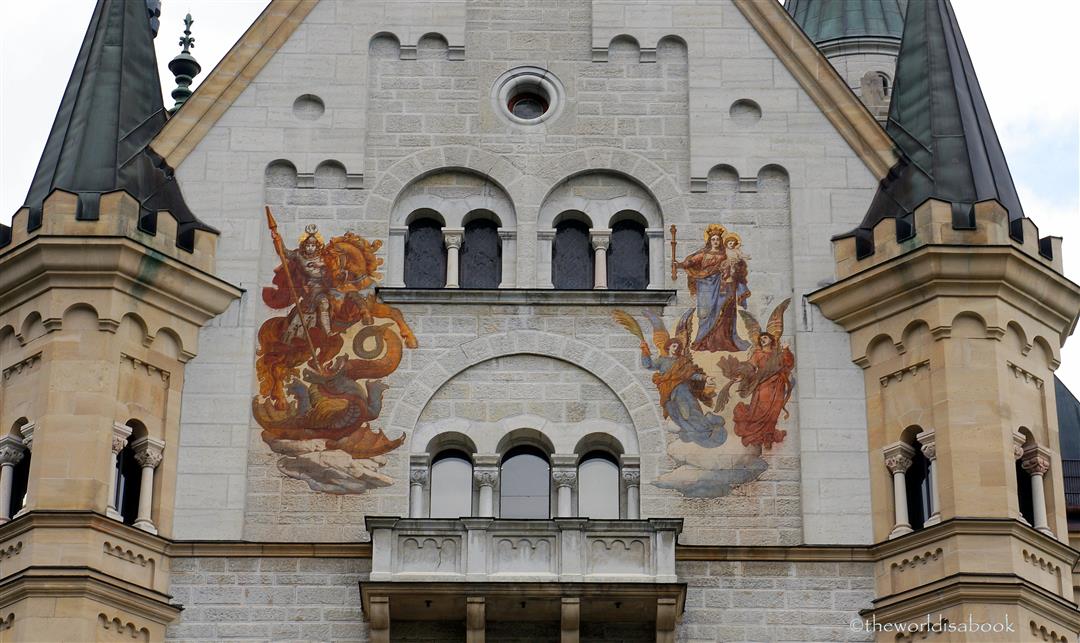 *Have you visited Neuschwanstein Castle? Is it on your travel list?
Where to stay in Hohenschwangau village
Save up to 50% on Value Deals in Hohenschwangau through Booking.com!
See the best hotel prices from the major travel sites on

HotelsCombined

.
Find the best Hohenschwangau hotels and read reviews on TripAdvisor.
Flights/Vacation Packages
Compare airlines, dates and prices all in one place with Skyscanner
Pin it for later!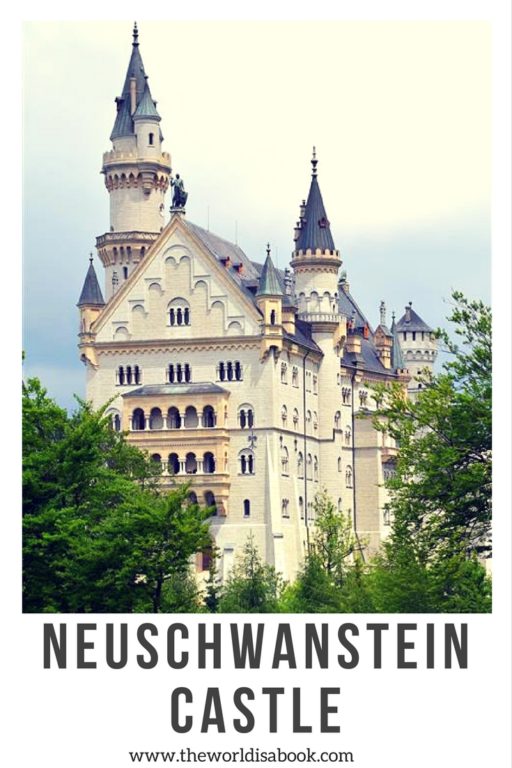 *There are affiliate links in this post to help support this website.