Seeing An Elephant Parade in America
Though it may sound like a herd of elephants lined up along the coast, the Elephant Parade is actually a free, outdoor art exhibition of over 30 life-sized baby elephant sculptures that were hand-painted and designed by local artists and celebrities. They are on display in the coastal town of Dana Point, California (located between San Diego and Los Angeles) making their debut in America after successful exhibitions in London, Copenhagen, Singapore and other cities.

The Elephant Parade was started by a father and son, Mike and Marc Spits, in 2006 to help raise public awareness, to save and support the Asian elephants who are considered endangered species with a population decreasing at 3.5% annually. A baby elephant named Mosha was a big inspiration for the Elephant Parade. She stepped on an abandoned landmine in Thailand, lost her lower light leg and was fitted with the world's first baby elephant prosthesis. Each exhibition has a special Mosha elephant and this is the USA's tribute.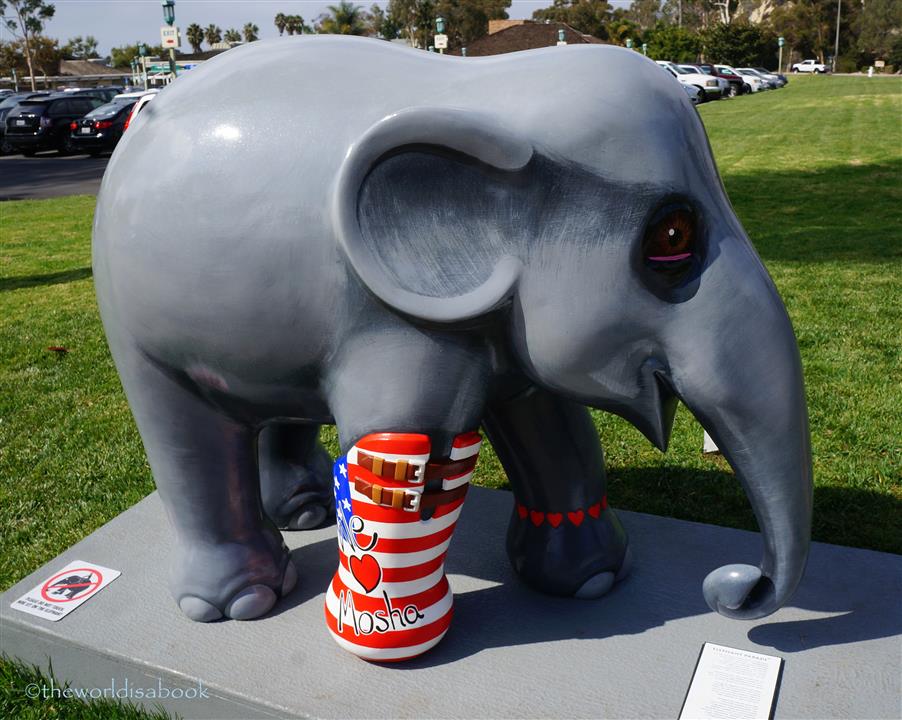 We spent a couple of hours going around scenic Dana Point last weekend searching for these adorable elephants. They were found in the parks, beaches, harbor, shopping centers and inside the resorts. It's a good thing my kids enjoy scavenger hunts.  Many of the elephants were approximately 6 feet (1.8 m) in length and 5 feet(1.5m) high.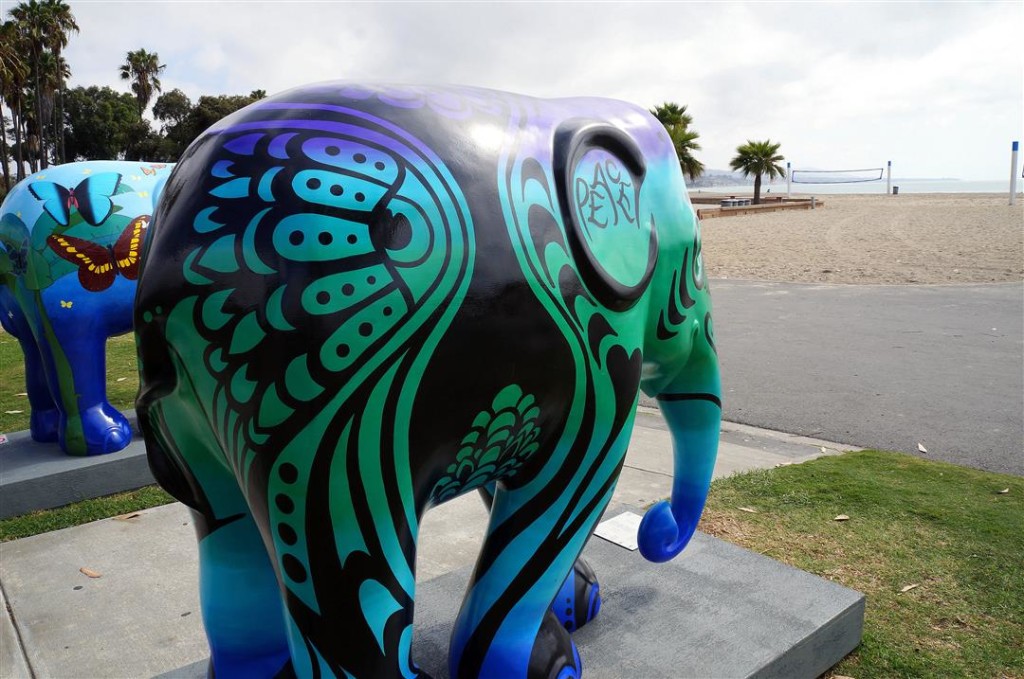 We didn't get to see all of them but here are a few of our favorites. This was called the Gentle Guardian that resembled an angelic elephant about to take flight. It looked like he was guarding the small fishing pier. Each elephant had a sign with the elephant's name and artist and why the particular theme was chosen and tied to the elephant's conservation efforts.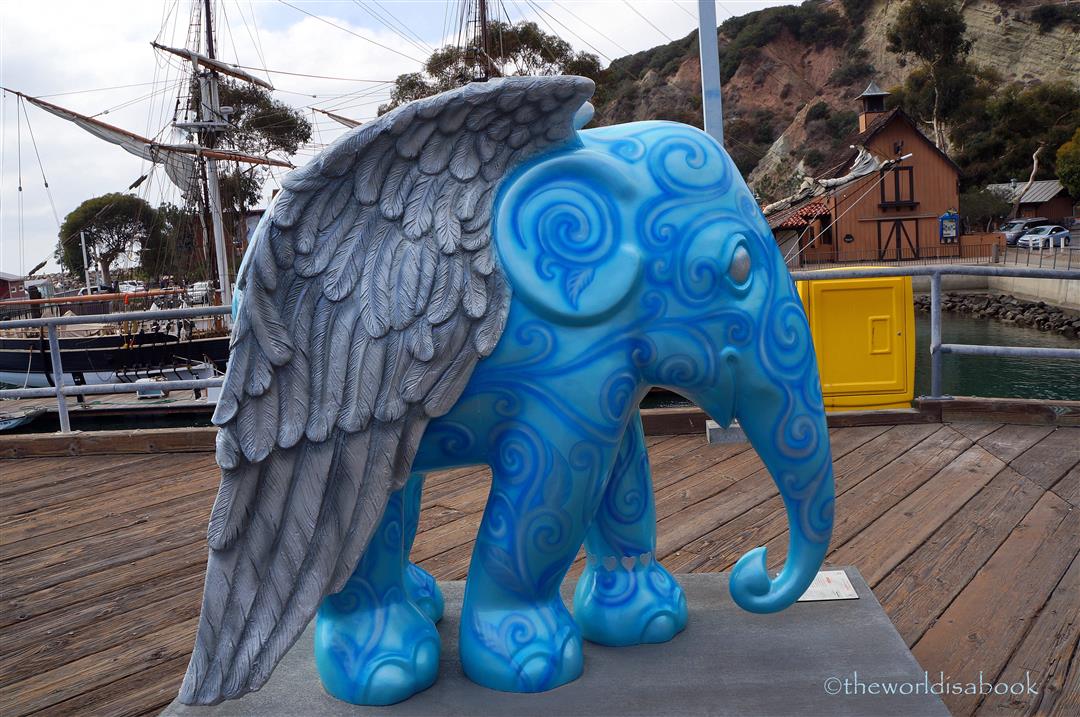 We adored this one called Beady. The colorful beads almost looked like bubbles ready to be popped.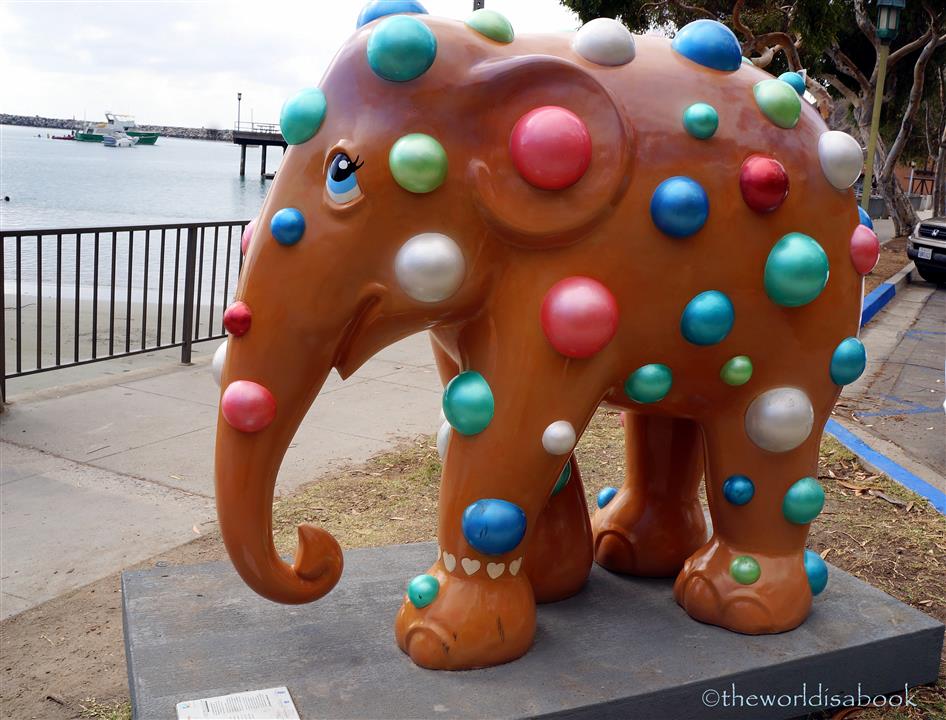 My kids couldn't get enough of Jack. How adorable is this aviation themed elephant located inside the Dana Point Ocean Institute? We loved his whole outfit including his aviator glasses. The artwork was made from sustainable and natural materials.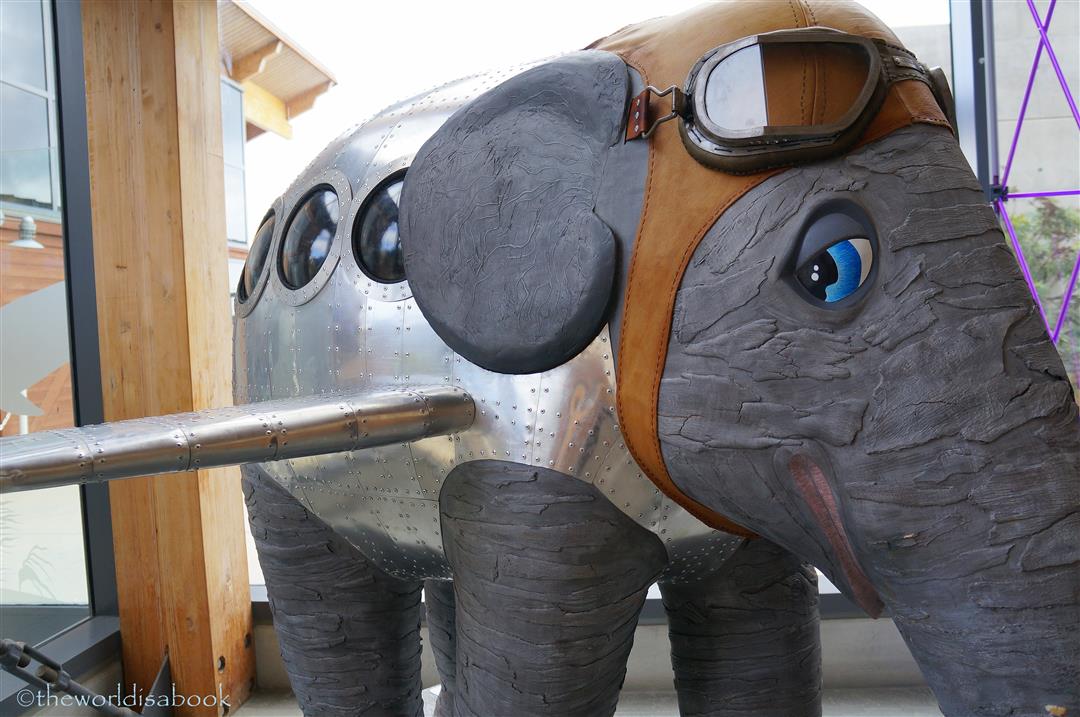 We found this artwork called Corn on the side of the road. Like the elephants, corn has been around for centuries and a reminder for us that the elephants need to survive. Part of the proceeds from merchandise sales and the elephant art pieces helps The Asian Elephant Foundation. The charity supports various projects in 13 Asian countries that range from education, supporting elephant hospitals and sanctuaries and mobile elephant clinics.
One of my favorites was called Zia Skye which seemed to be named after the artist's childrens' names. She had a very colorful map of many of the favorite landmarks along Southern and Central California enhanced by cute cartoon characters.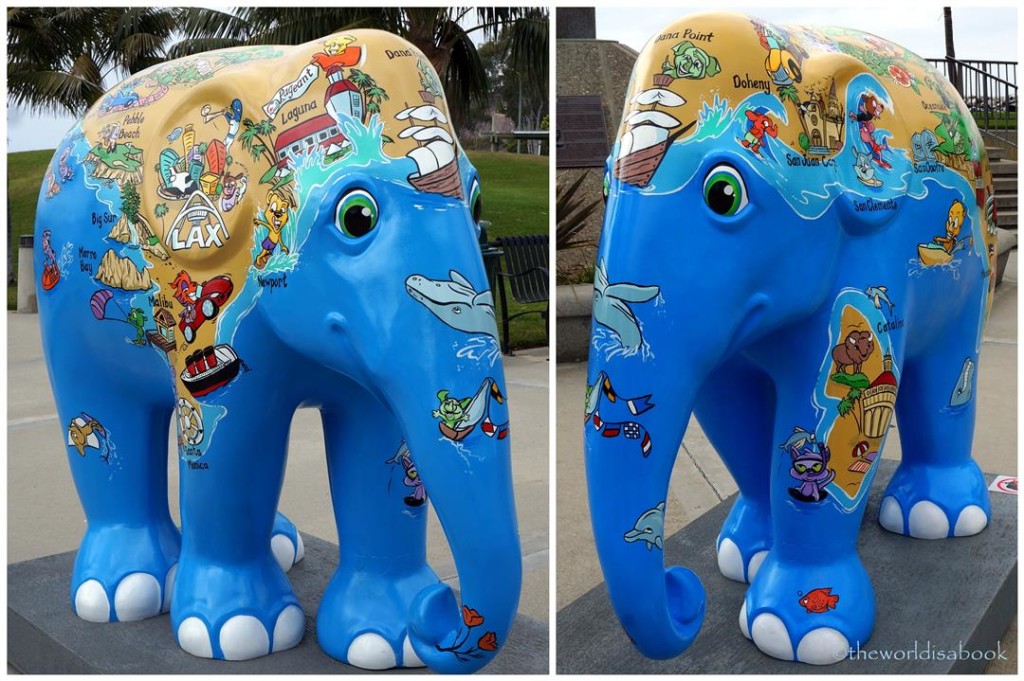 Triumph of Liberty was an imposing elephant that exuded so much patriotism and looked like he should lead the next 4th of July parade. This was a call for Americans to unite and help preserve these magnificent animals.

I wanted to take a smaller version of this one called Maa Lii home. Her designs full of exotic blossoms were just beautiful resembling a walking bouquet. She represents hope for the elephants to blossom again.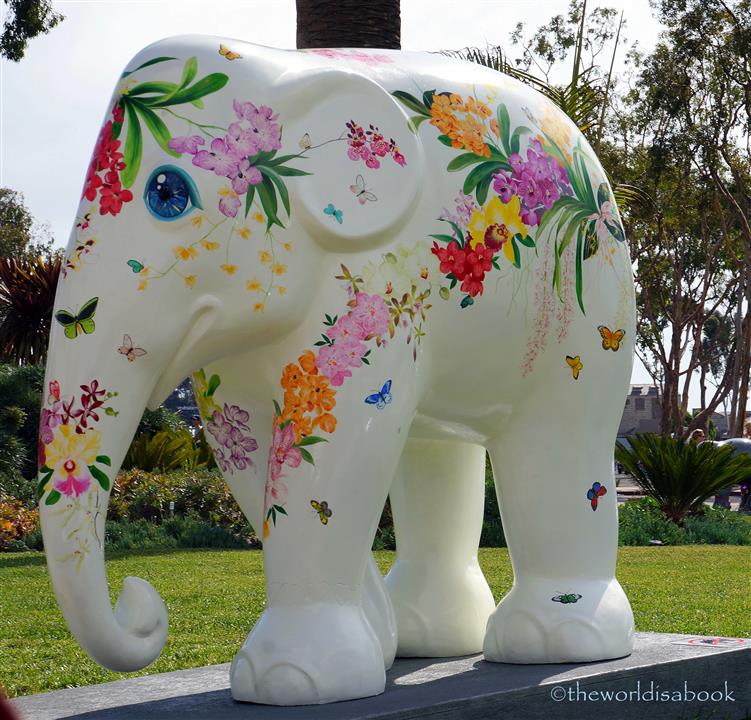 If you're going to display these elephants, it might as well be in scenic places with a beautiful beach as a backdrop. We found four of them along Doheny State Beach. These two are called Punkaphant (has spikey-hair look dating back to the 80's punk days) and The Story of Asia (symbolizes the various Asian life traditions through the faces).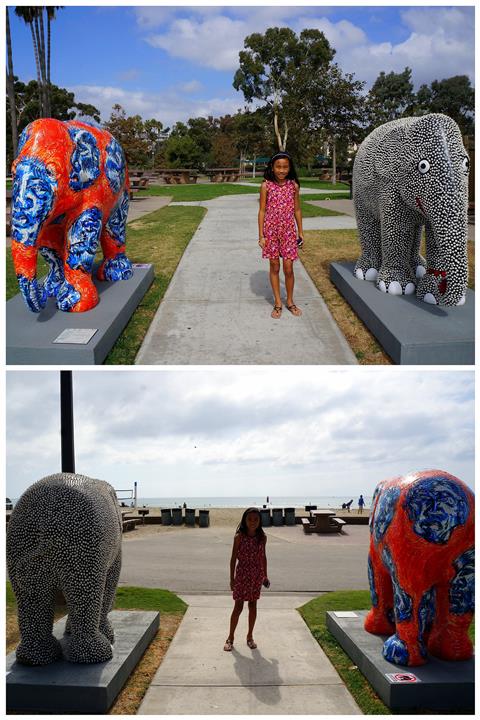 The other two were called Epiphany and Ramafly. We loved all the butterflies on Ramafly.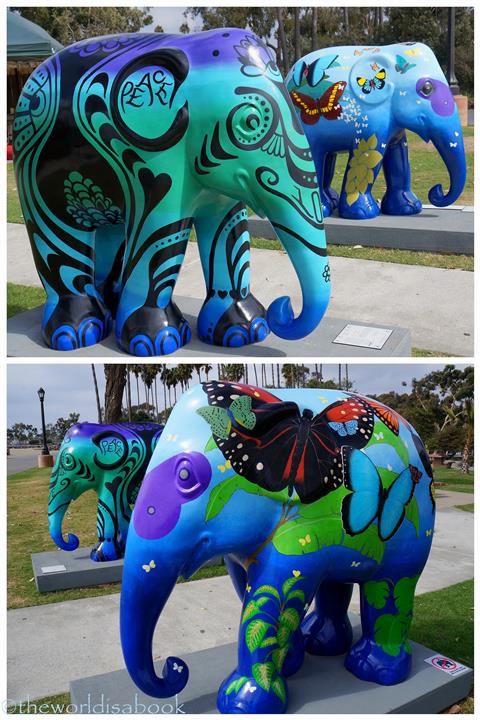 The elephants were also on display at many of the Dana Point Resorts like Laguna Cliffs Marriott, Doubletree Resort, the Ritz Carlton and St. Regis Monarch Beach. This cute elephant was called I Brought My Own Snorkel which we found on the grounds of Laguna Cliffs Resort. It was painted by famed Marine Life artist, Wyland, who is known for painting large murals of whales on building walls. My husband is a huge fan but we were a bit disappointed Wyland only did a small portion of this elephant.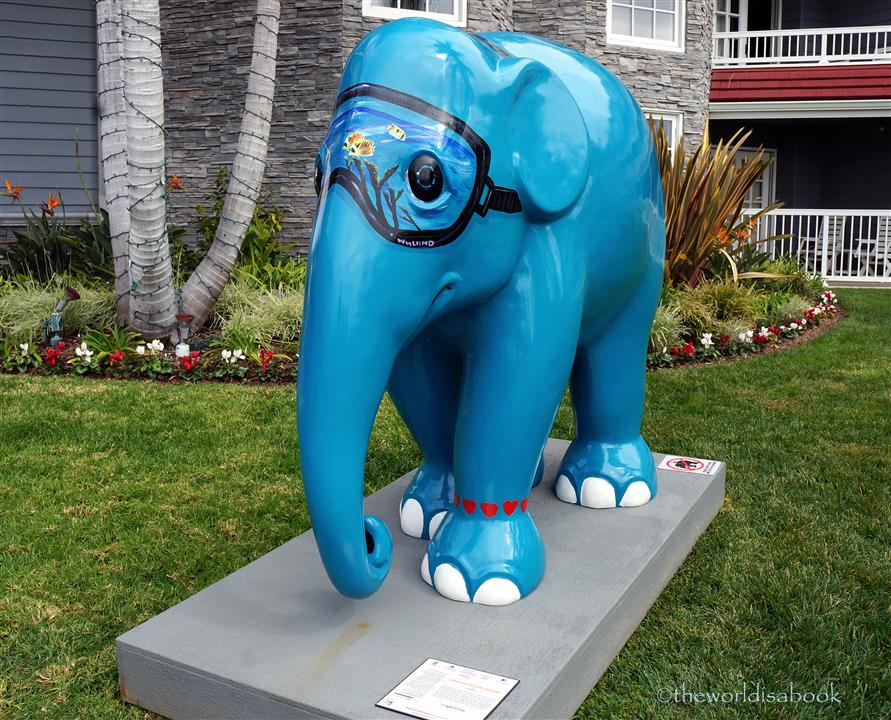 It wouldn't be Southern California without a tribute to the classic surfer ride, the surf-woodie. This smaller elephant was at the entrance welcoming guests to a Woodie show and appropriately called California Surpher.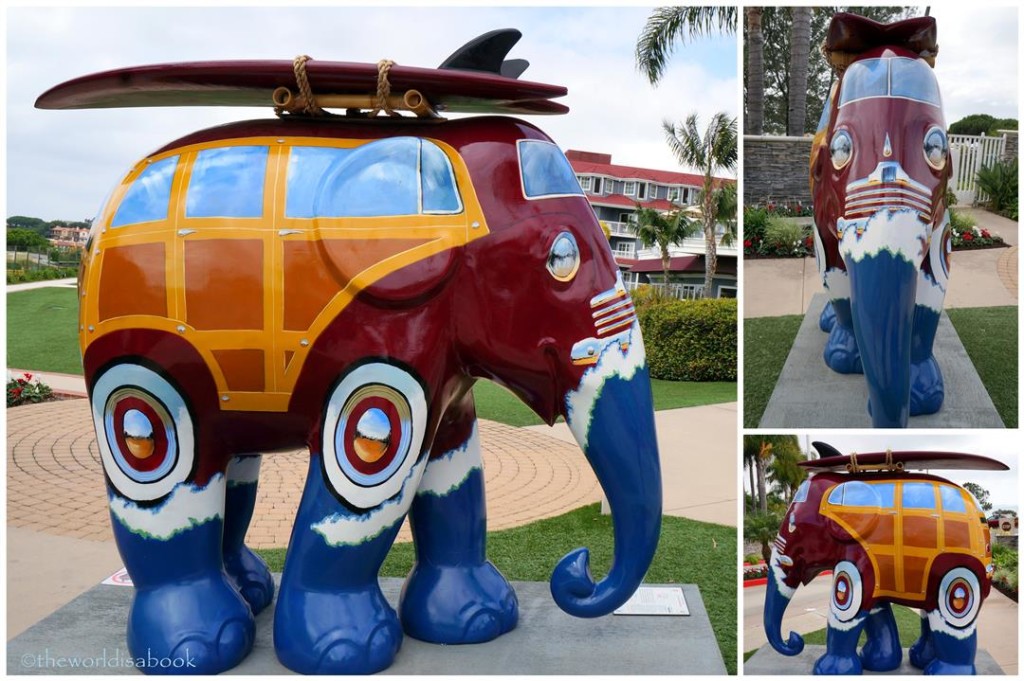 We met other people on a treasure hunt as they crossed off elephants to see. We didn't see other kids but we thought it was a good activity for kids to search for them, see the creative artwork and learn about the plight of the elephants. They seem to be everywhere in the city. We found these two elephants at a shopping center and were called Cycles of Life and the very patriotic American Traveler.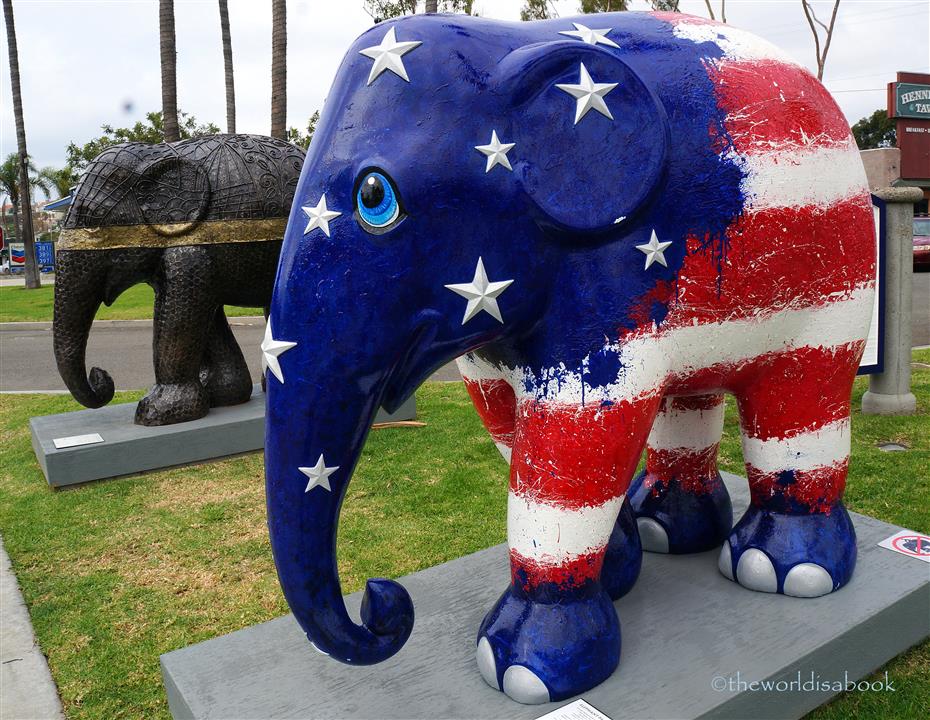 We went into the St. Regis Monarch Beach resort to see their collection. My almost 11-year-daughter says it makes her feel "like a celebrity walking in this hotel". How can you not with a view like this?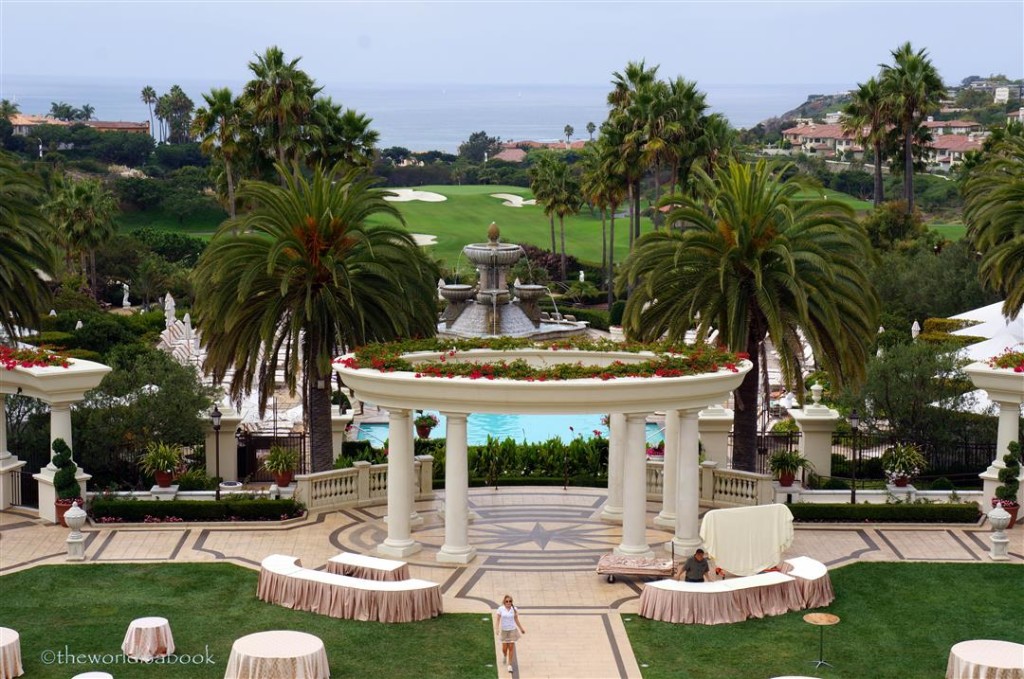 There were a few elephants displayed in the lobby area. One of our favorite elephants was The Shopping Queen. She looked like she was about ready to hit up the stores in full force.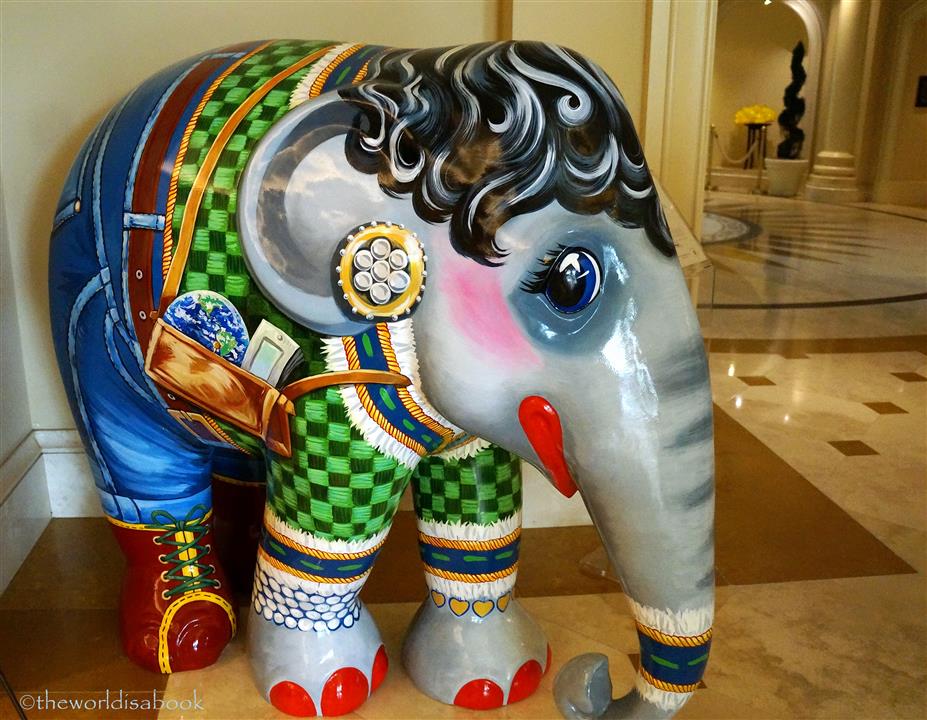 I also loved this one called Wild Life in pink and purples reminiscent of pin-up posters.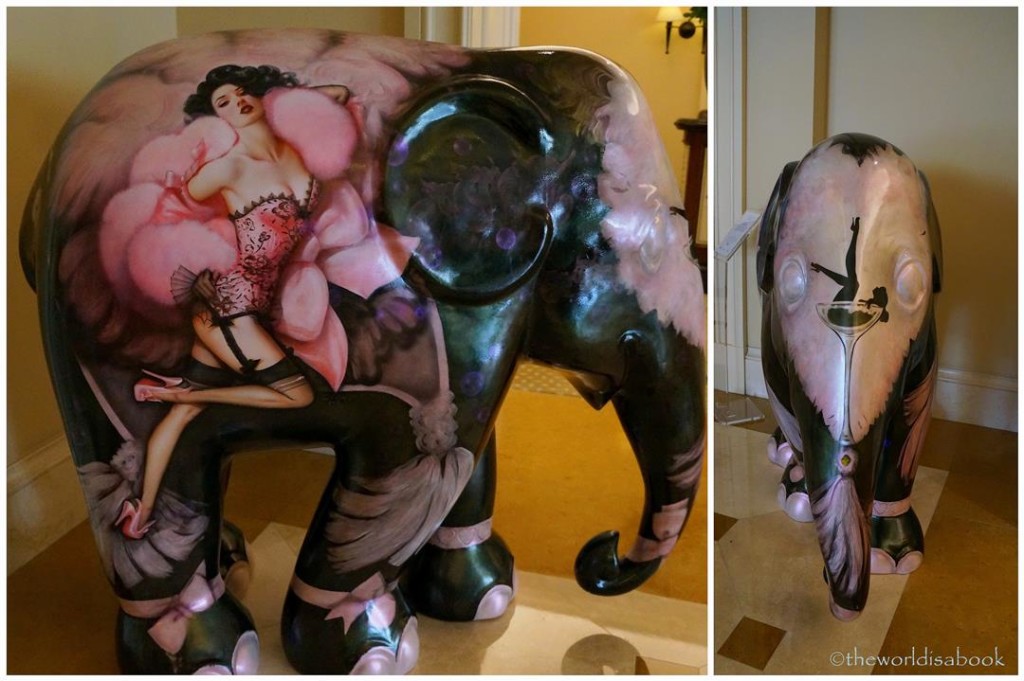 But, the best part here was the display of 14 replicas called the Tribute Collection. These elephants were half the size of elephants displayed from previous exhibitions in other worldwide cities. A total of 45 replicas were on display at the various Dana Point resorts.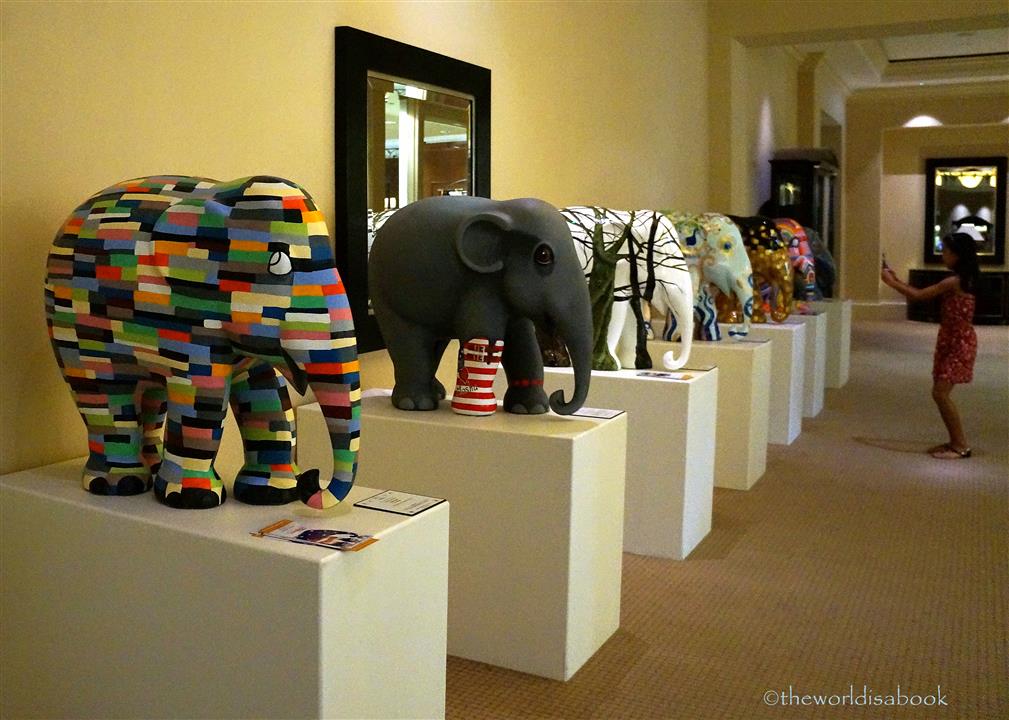 These little beauties cost $3900 USD if you want to take them home. Since we don't have elephant accessory in our budget, we settled for pictures. We found Hellaphunt from the Singapore exhibit and Topographant from the London exhibit.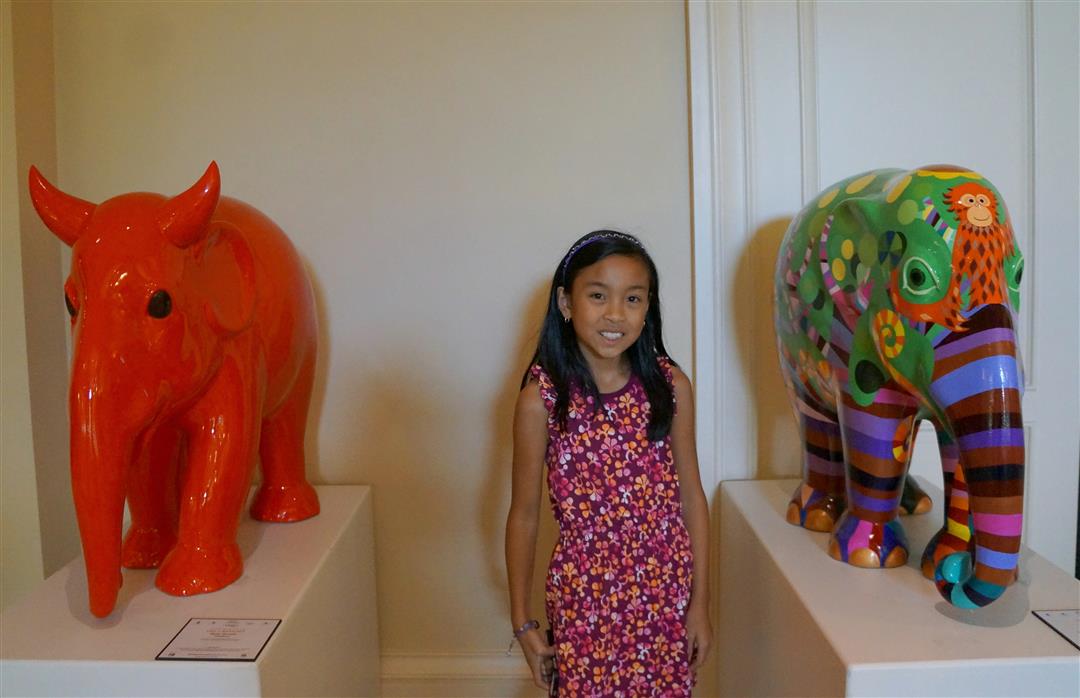 The organizers did a great job scattering these elephants throughout the city and resorts as a way to explore and promote Dana Point to the rest of the world and showcase its coastal beauty. It was a wonderful family outing and one my kids really enjoyed. I don't think they'll look at elephants the same way again. The Elephant Parade included such marvelous and creative works of art and was an ideal way to help conserve and preserve these majestic animals. I hope it comes to a city near you soon.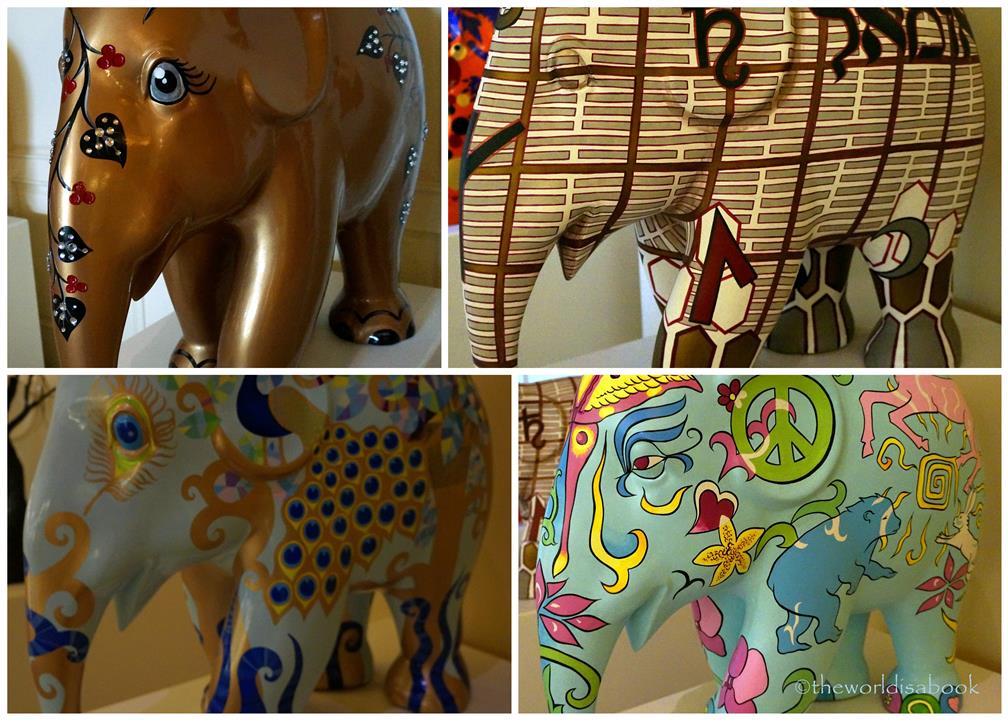 *Which is your favorite Elephant? Have you seen this exhibit?