Strolling Down the Golden Lane in Prague
Within the confines of the huge Prague Castle complex is an ancient, narrow street with small, colorful houses. Entering Golden Lane (Zlatá ulička) felt like walking into a fairy tale village. The 16 houses on the picturesque street are a combination of stores, museums and historic exhibitions of its residents and artisans from different periods. This was called Goldsmith's Lane in the 1560s when it was occupied by goldsmiths.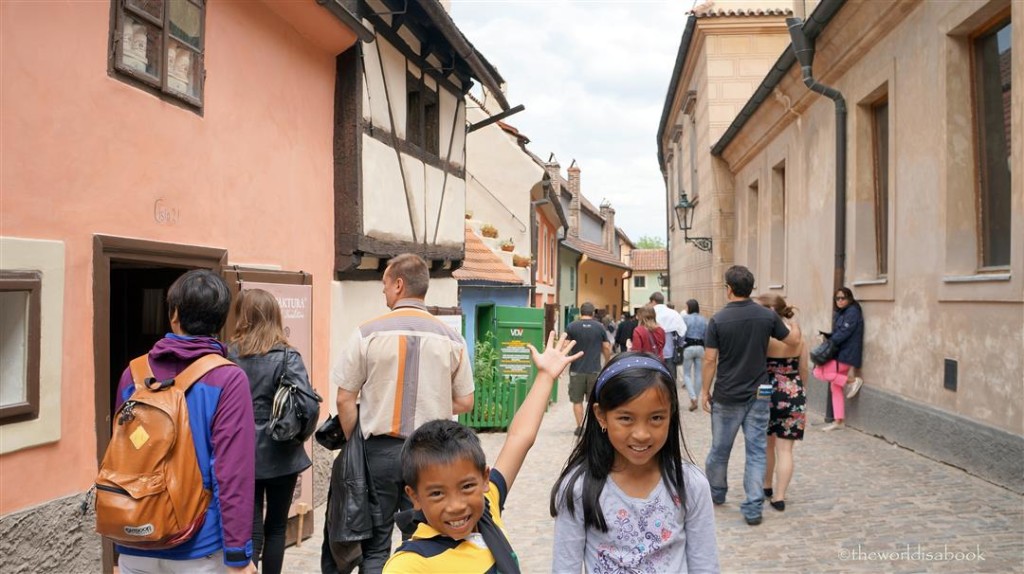 The Golden Lane was built when an outer wall to the castle complex was added. The houses were constructed for and occupied by Emperor Rudolph II's castle guards or marksmen in the 16th century. The space wasn't very big so very small houses were built for the 24 marksmen and their families. It was once known as Archery Lane which just doesn't seem to have the same appeal as its current name.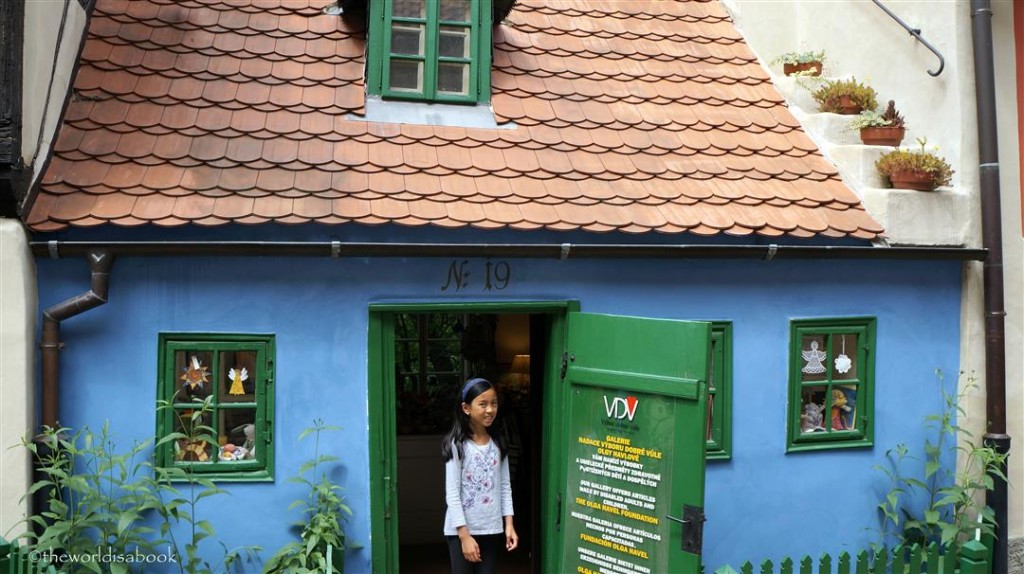 As the need for castle marksmen dwindled, other people moved into the houses. The Czech President's office bought all the houses from its owners in the early 1950s. Many of the Golden Lane houses were reconstructed, restored and its facades painted in various colors between 1952 and 1955. Seven of the houses are used commercially which include souvenir, toy and book shops.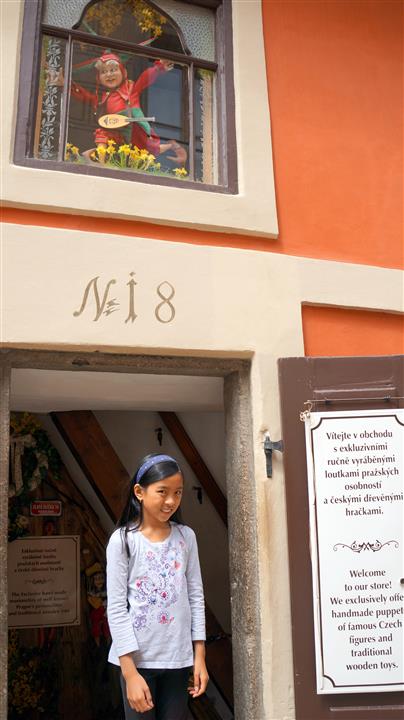 The other nine houses have permanent room exhibitions and staged scenes documenting what life was like here. We enjoyed looking through the houses and seeing the rooms behind glass panels. Most of the rooms were based on real people who lived here.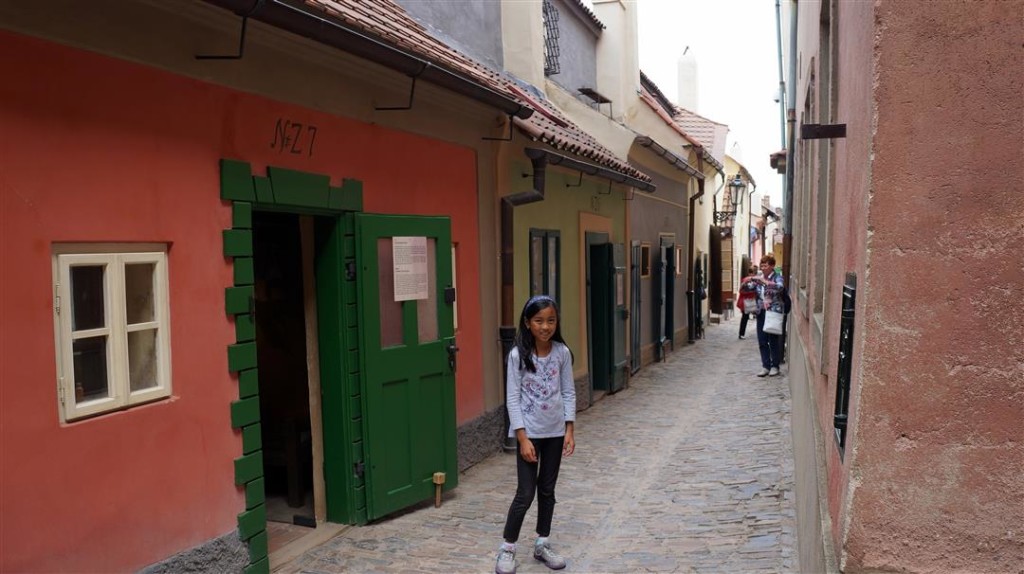 Houses on the street used to be regulated to be built in an arch of the wall so it's facade doesn't protrude. House No. 13 is the only house that followed this regulation. This was also the exhibit for the residence of the Red Artillerymen which were the castle guards. We saw what their uniforms looked like and weapons they carried.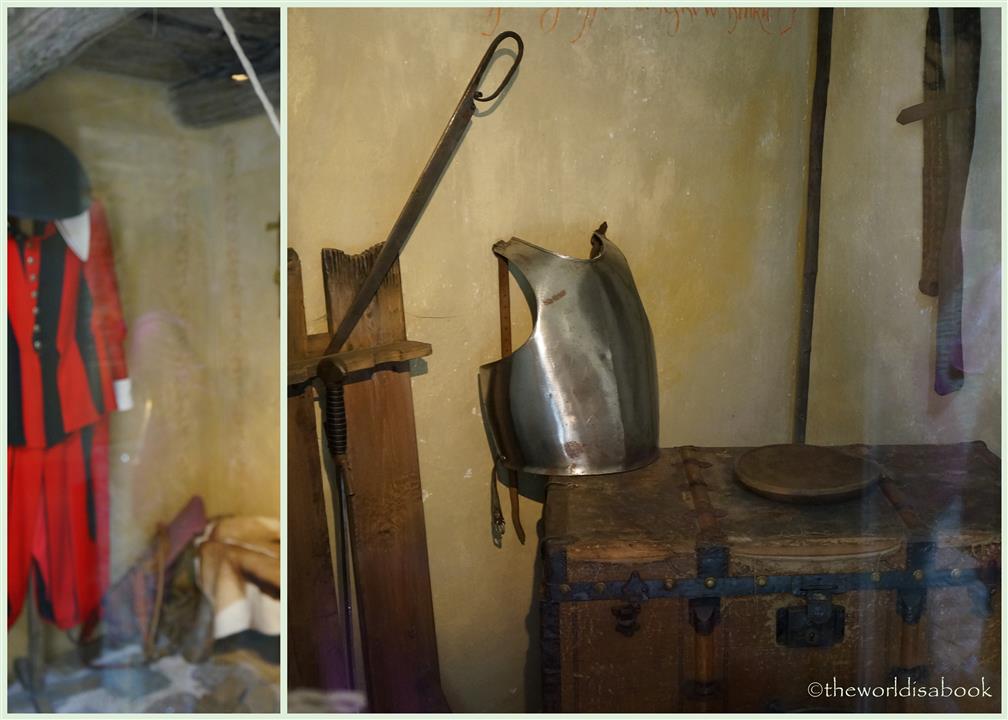 House #14 belonged to a psychic and fortune-teller named "Madame de Thebes". This table setting was laid out daily as she waited for her son's return from World War I. Sadly, he never did.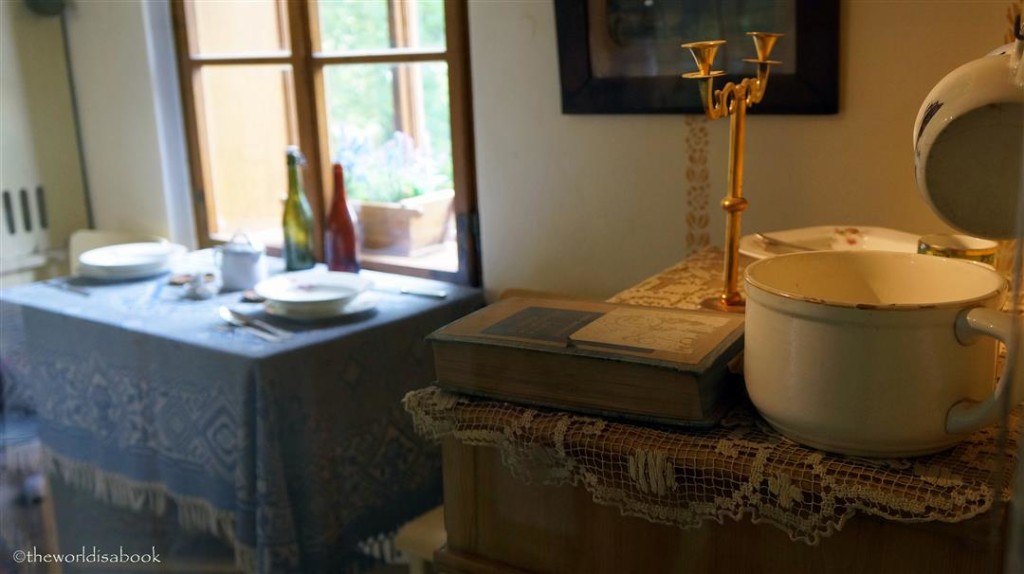 This room was where she entertained customers to read their fortunes. She was arrested and killed by the Gestapo due to her frequent predictions of Nazism's end and fall of the Third Reich.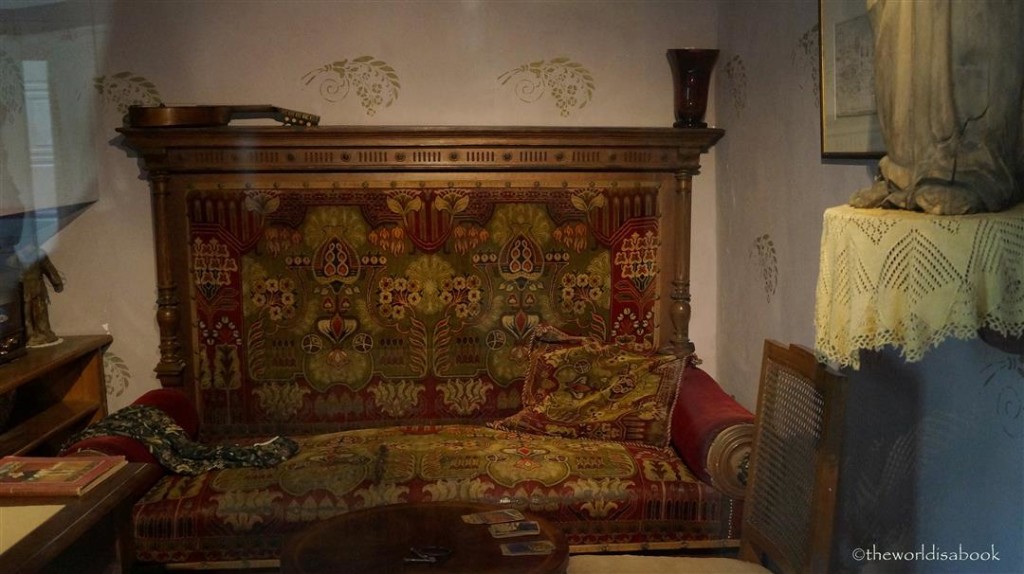 The Golden Lane's most well-known resident was renowned Czech writer, Franz Kafka, who stayed at his sister's House #22 from 1916-1917. This is now occupied by a souvenir shop.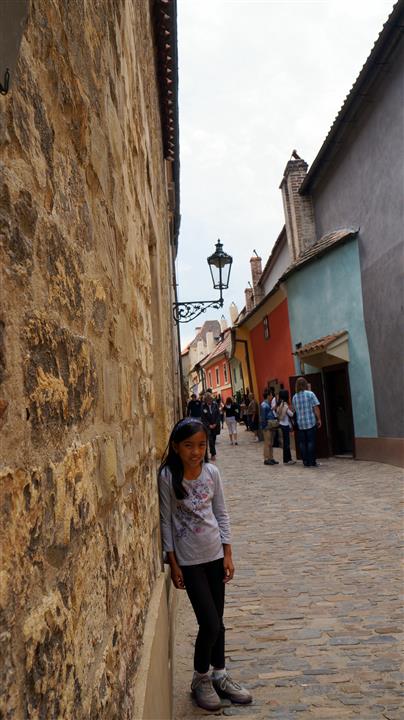 Golden Lane became famous during the early 20th century for the charming houses. As tourists and history buffs flocked here, many of the owners redecorated their houses with furnishings, wall stencils and embroidery among other things. They charged visitors for an open house tour like Mrs. Magdalena's house (#24) below.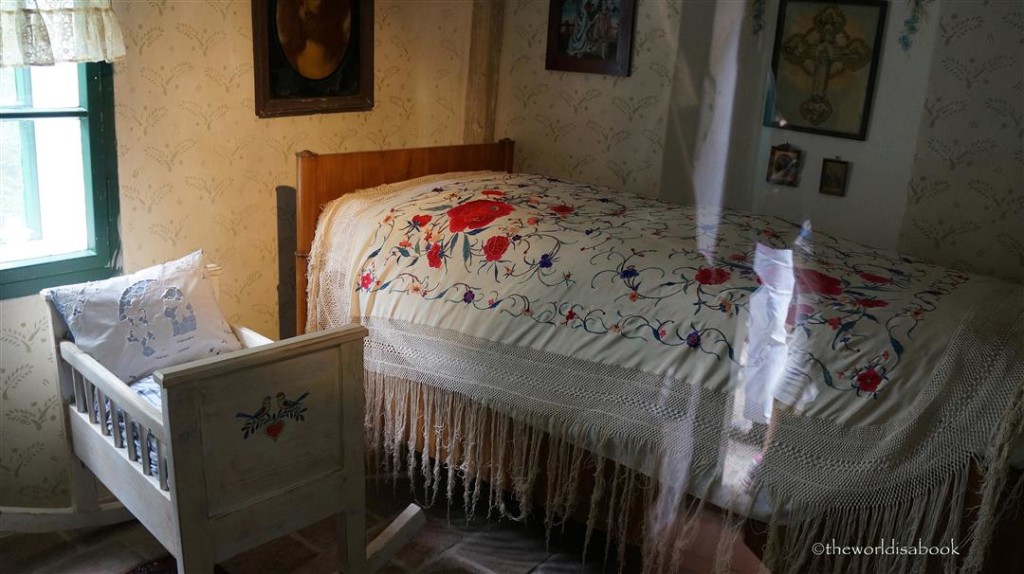 House #26 showed a seamstress' room who we can imagine was kept pretty busy with fixing and sewing clothes throughout the neighborhood and the castle grounds.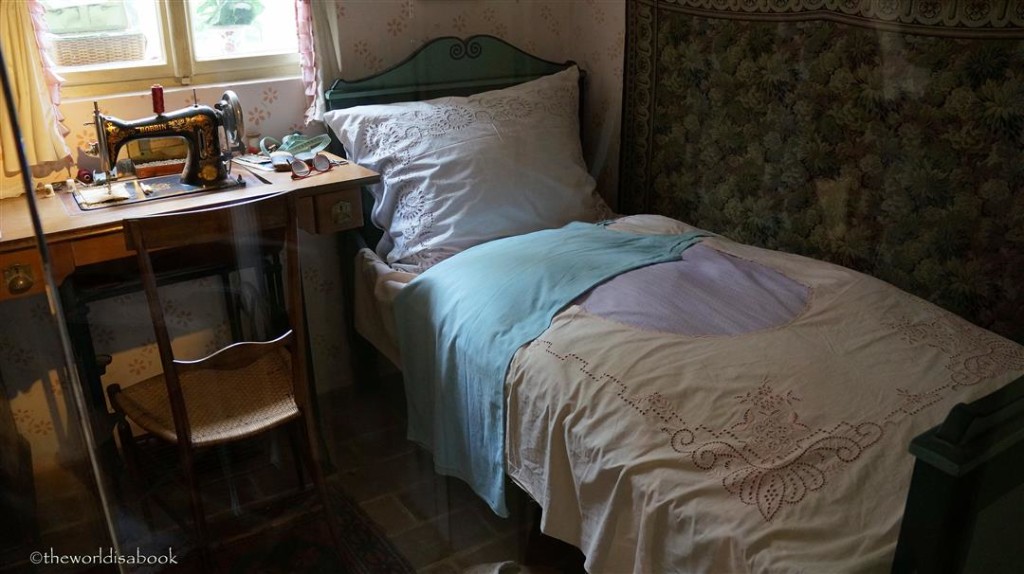 I always enjoy seeing any types of exhibits showing what herbalists back in the days used to cure ailments and diseases. We got a glimpse of a room in House #27 showing some herbs and plants they probably had in their house.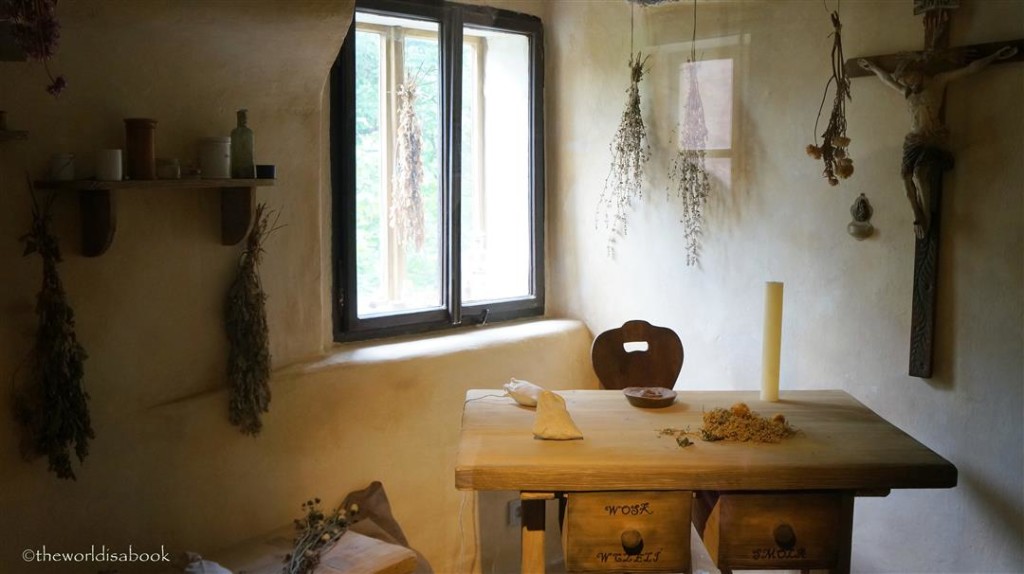 This olden day version of a doctor's office and pharmacy had shelves of bottles of various botanical extracts here. It almost looked like a magic potion shop. It would have been interesting to find out what some of the jars contained.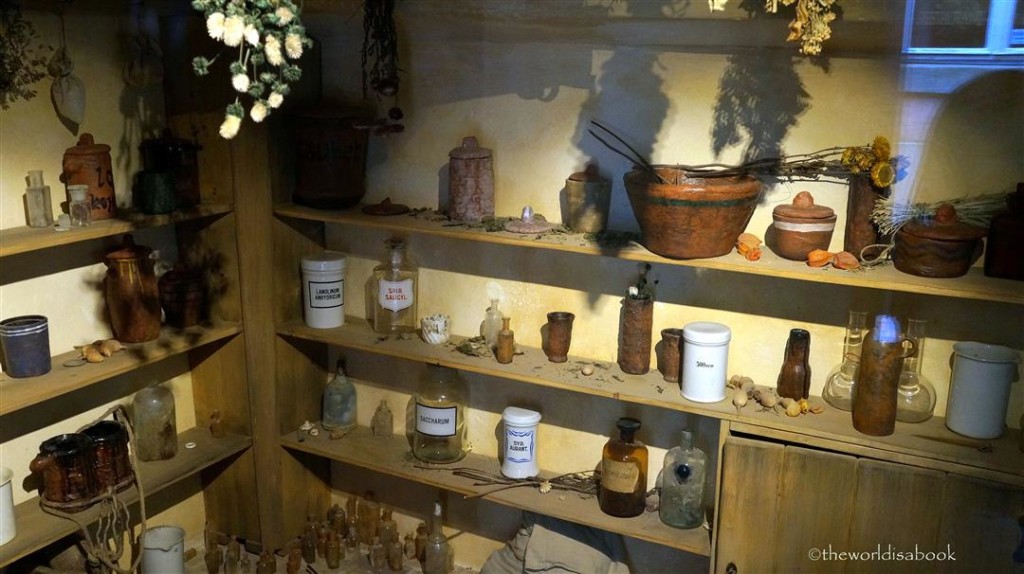 House #12 belonged to an amateur film historian, Joseph Kazda, We saw recreated portions of his house where he entertained guests and also where he hid contemporary Czech film copies against the Nazis and saving many of them. There was a room that was continuously showing a film which almost felt like the owner just stepped out of the house momentarily.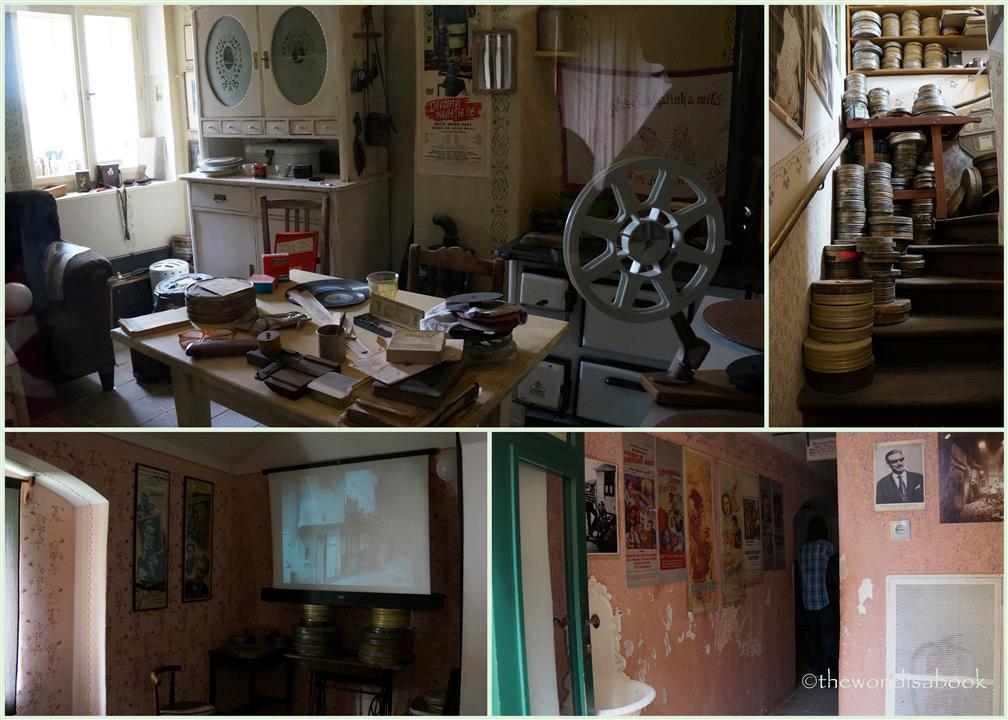 We also ventured up the stairs to some of the displays. The upstairs portion was a long walk through exhibits of armors and weapons which connected most of the houses on the street.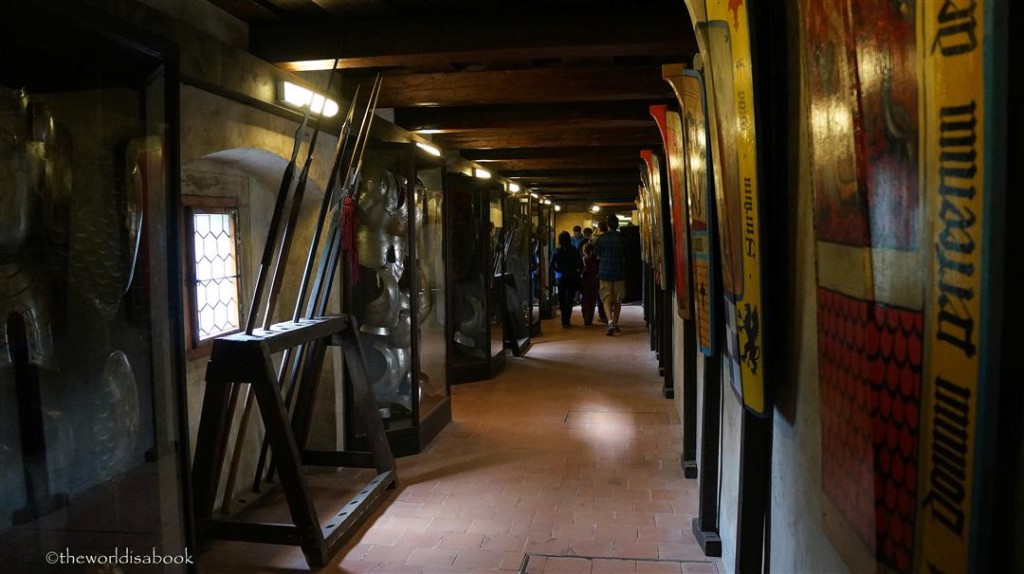 Of course, my son enjoyed this armory display including the knights.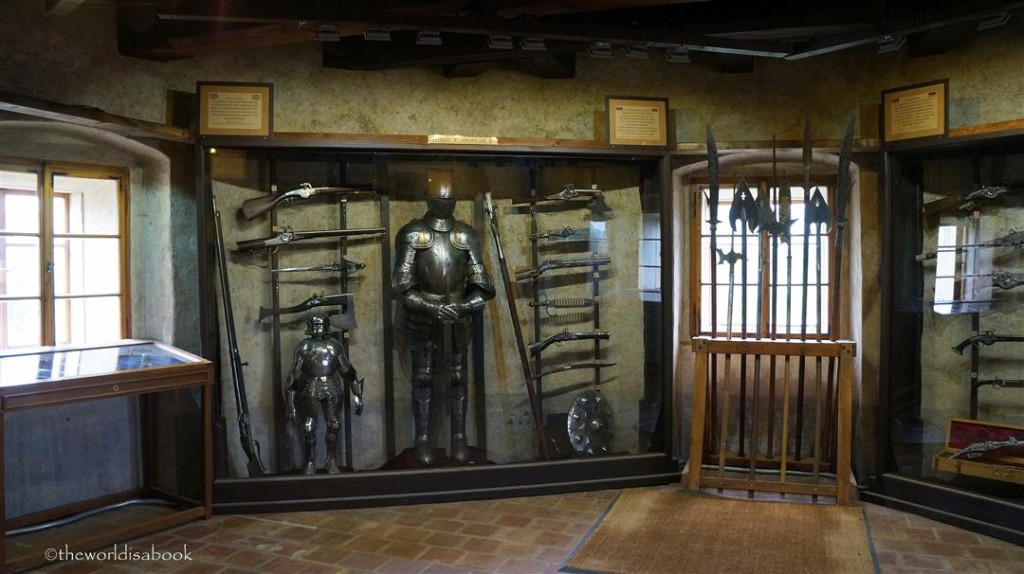 The most disturbing exhibit was the torture chamber room full of instruments that can make most of us cringe. It was a bit hard for my 10-year-old daughter to grasp what humans were capable of doing and what some endured back then using these contraptions.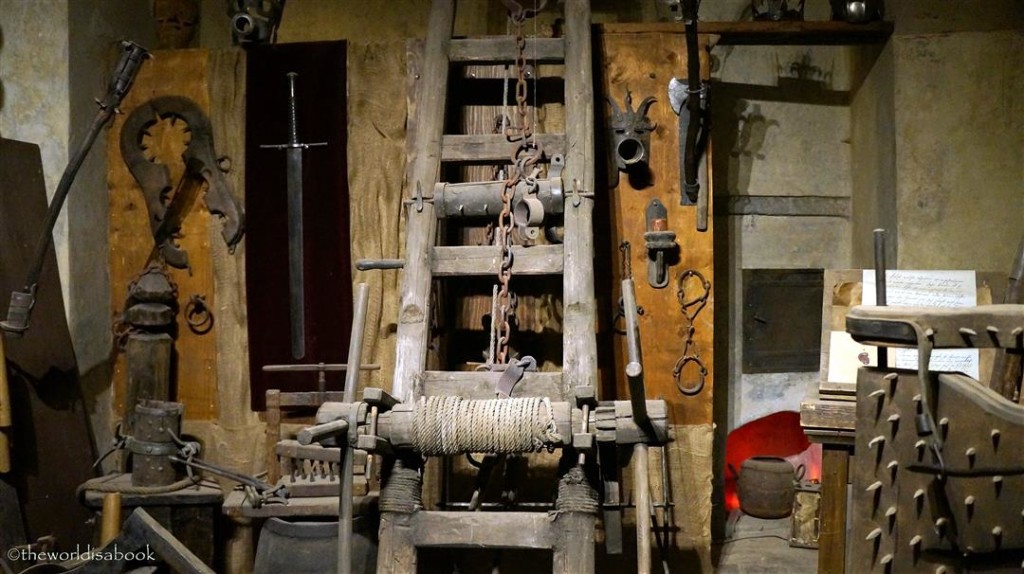 I got chills just looking at this chair.Ouch!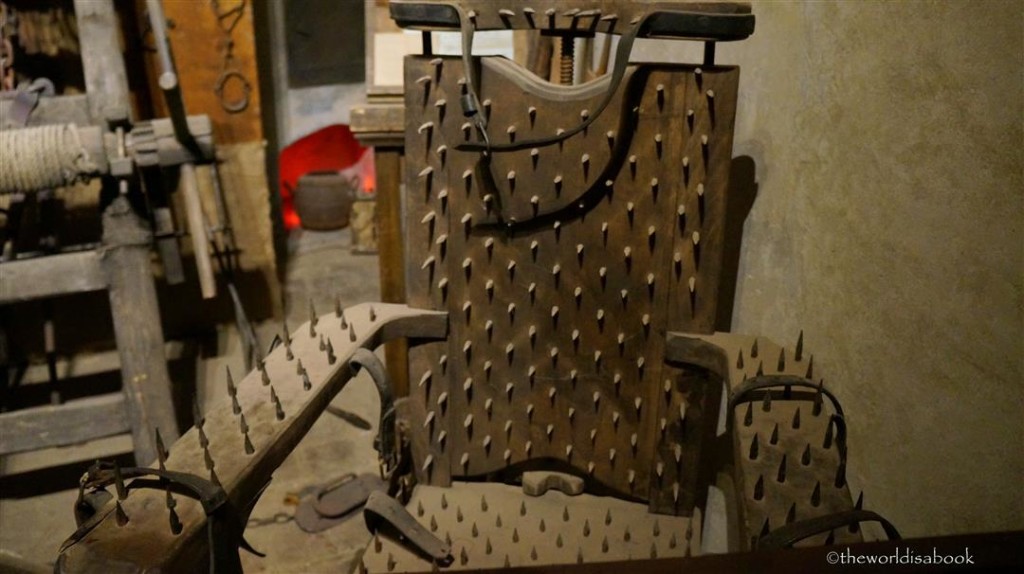 Our stroll down the lane ended at the Daliborka Tower. This was a round cannon tower that was once used as a torture chamber, dungeon and prison until the mid-1800s. A few torture instruments could still be seen here.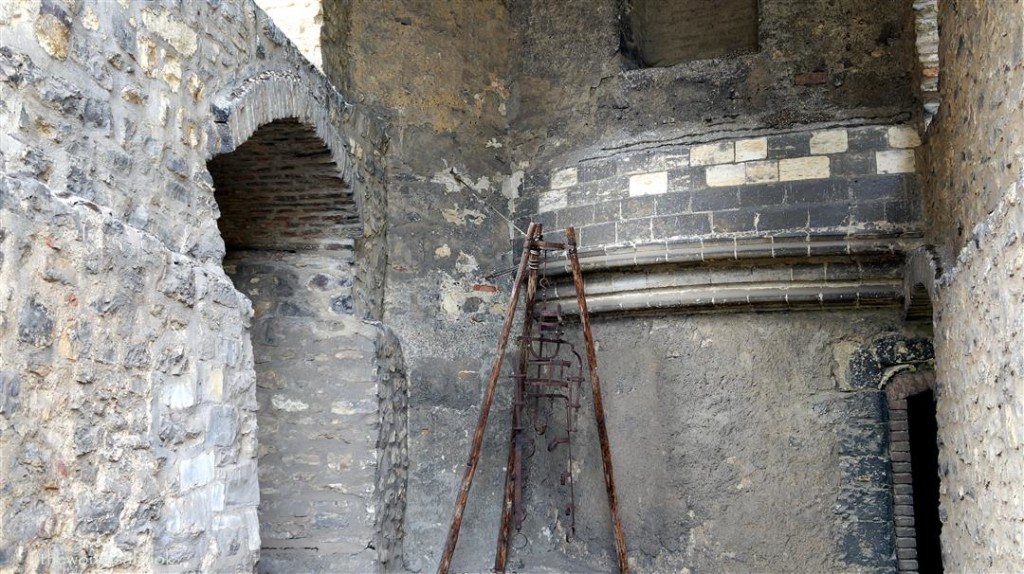 We also found these sculptures lining one side of the wall. I'm not sure if they once belonged here or were leftovers from another museum.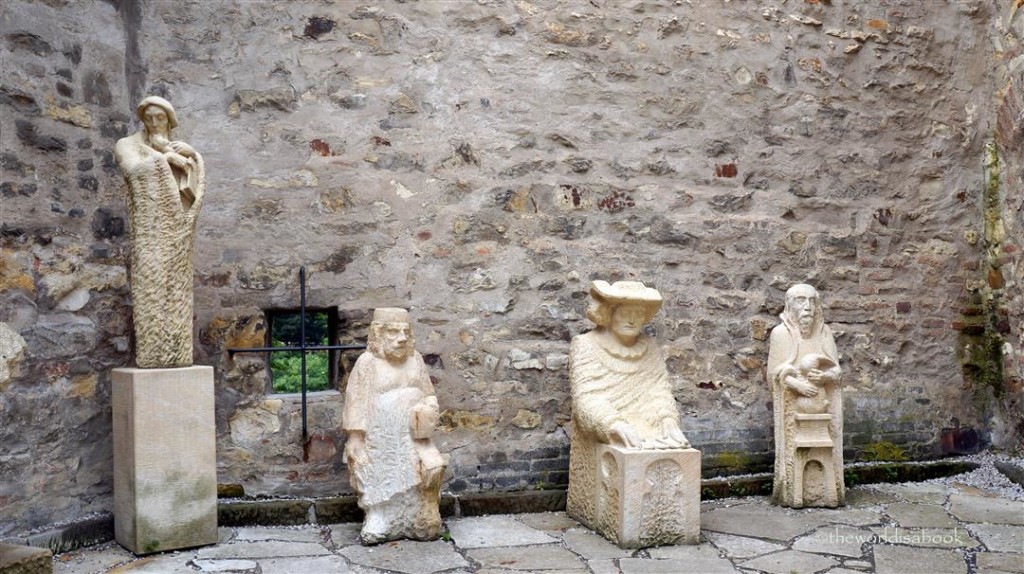 But, one of the best parts was seeing this wonderful view of Prague and its spires.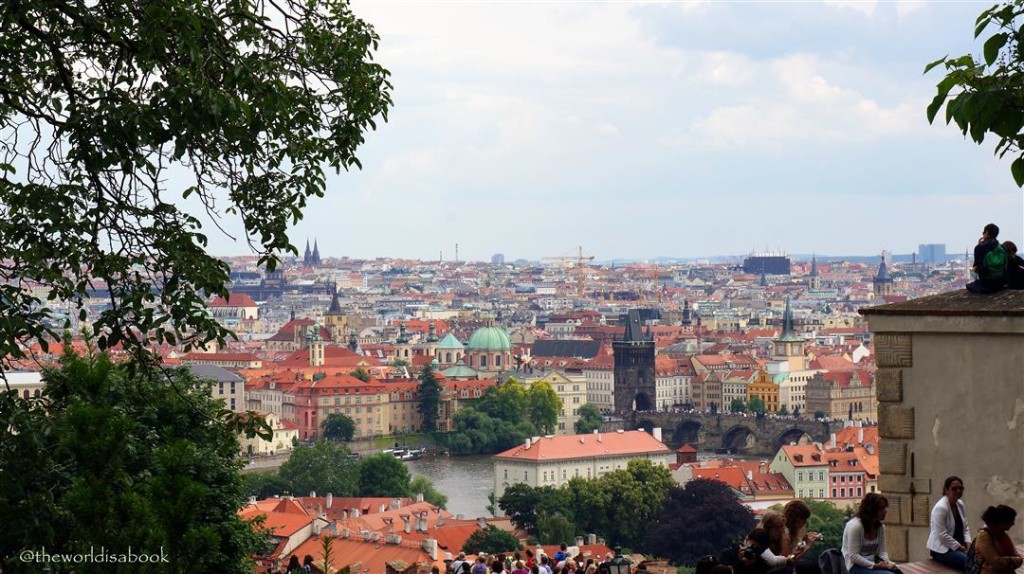 A visit to the Golden Lane doesn't take up much time but definitely worth a stop and a stroll.  My kids loved the small houses and neighborhood that felt like it was made for their size. We really enjoyed how the room exhibits were laid out inside some of the houses. It gave us some sense of how the residents lived here but also gave us some history lessons. Don't miss this small part of the castle complex but one that's very much a part of Prague's colorful history.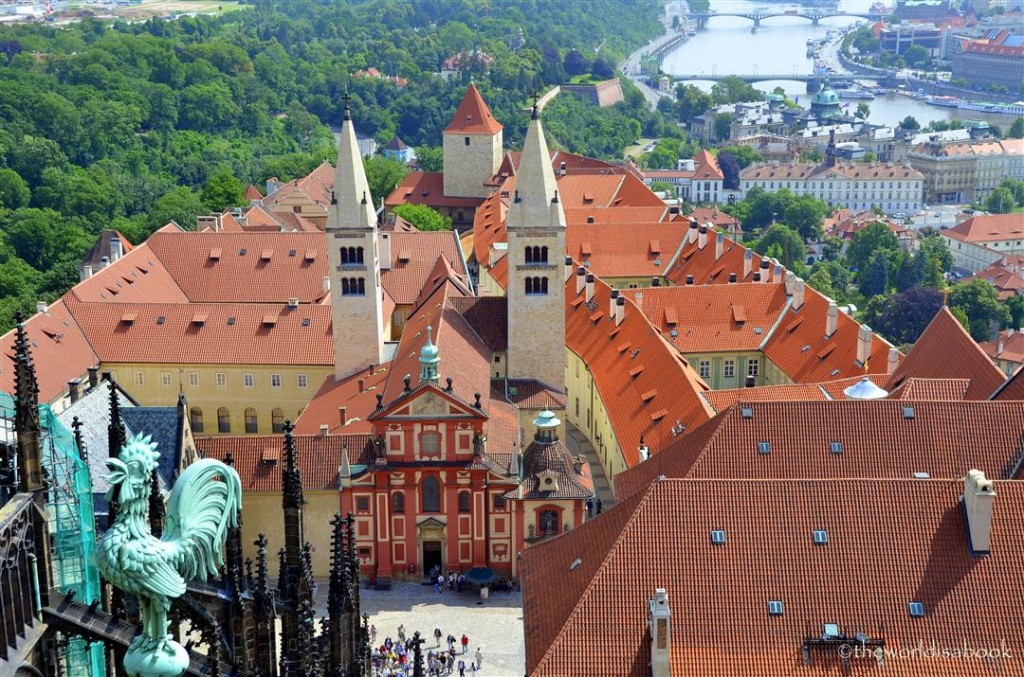 Visiting Golden Lane Basics and Tips
Entry to Golden Lane isn't free. Tickets to street can be purchased separately just for the street or combined with the

Prague Castle complex ticket

. We had the combination self-guided visitor ticket for the castle which was a better deal.
Tickets: 250czk ($13 USD) for a short visit ticket or 350czk ($18.70 USD) for a long visit ticket and can be purchased at the ticket center across from St. Vitus Cathedral. Family admission tickets are also available.
Golden Lane is located in the northeast corner of the the Prague Castle complex. Walk along the side of the church and monastery of St. George with the red facade to reach it. There were some signs pointing towards the street.
Take your time walking around the lane and looking at the room displays closely. The shops are also wonderful for browsing. You'll never know what interesting things you'll find.