Church of Bones Artistry in the Czech Republic
I couldn't think of a more appropriate Halloween post this year than our visit to the macabre Church of Bones or Bone Church at the Kostnice Sedlec Ossuary in the Czech Republic. Located an hour from Prague, this was definitely one of the most memorable and unique places we have visited. The 40,000 human skeletons arranged in decorative fashion were a sight to behold and quite fascinating. Bones were everywhere!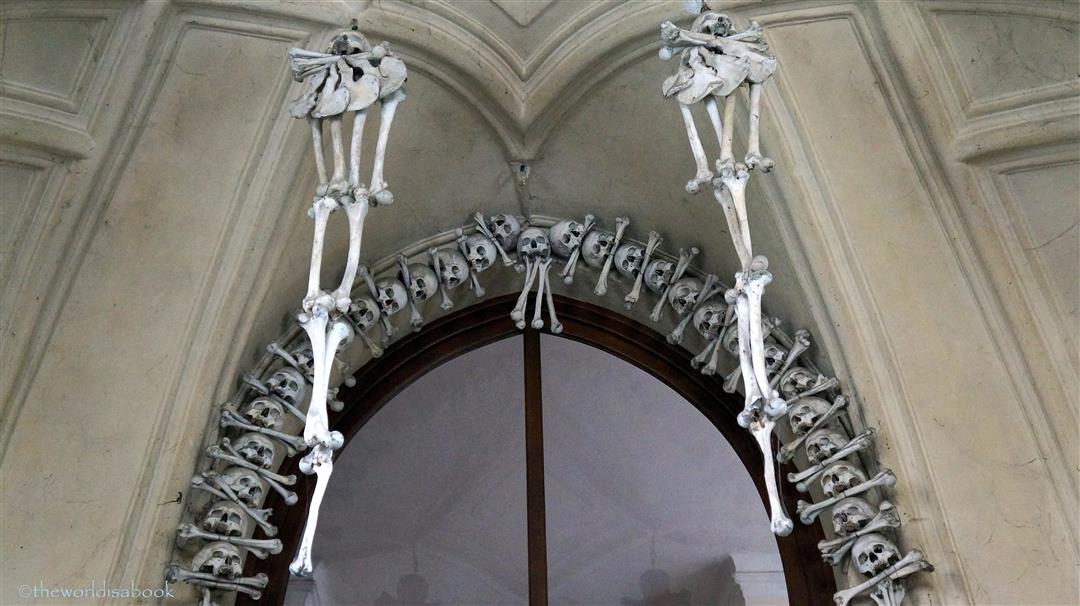 The ossuary is on an underground area past the cemetery and the Gothic church of All Saints. You never would have expected what lies beyond this graveyard.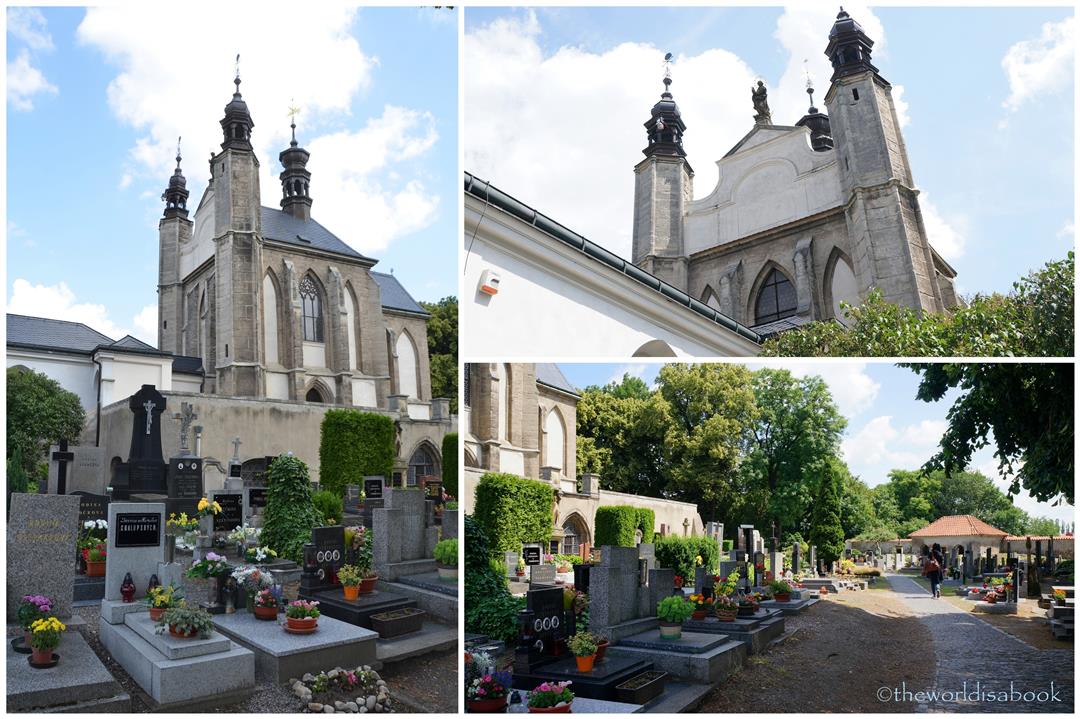 So, how did all these skeletons get here? The King of Bohemia sent the Sedlec Cistercian Monastery Abbot(Henry) to Jerusalem in 1278.  The abbot brought back a jar of "holy soil" from the Church of the Holy Sepulchre, the area thought to be where Jesus was crucified at Golgotha. The soil was scattered over the cemetery. Word spread across Bohemia and surrounding countries and many wanted to be buried in the Sedlec cemetery.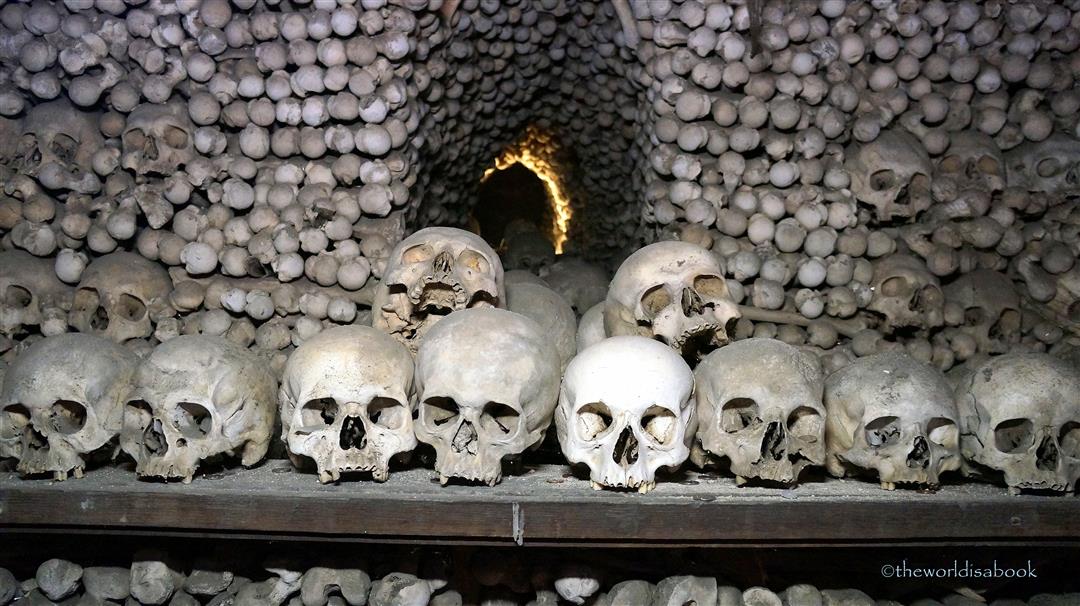 Many came here before their deaths during the European plague epidemics in the 14th century. This quickly amounted to 30,000 people buried here. Another 10,000 people were buried here during the Hussite Wars in the 1400s.
Ossuaries were sites usually used to store skeletal remains when burial space was scarce. Sedlec Ossuary was created in the basement of the Gothic church in the 15th century. Legend has it that a half-blind monk arranged the bones and skulls into the six pyramids and supposedly got his eyesight back after this task.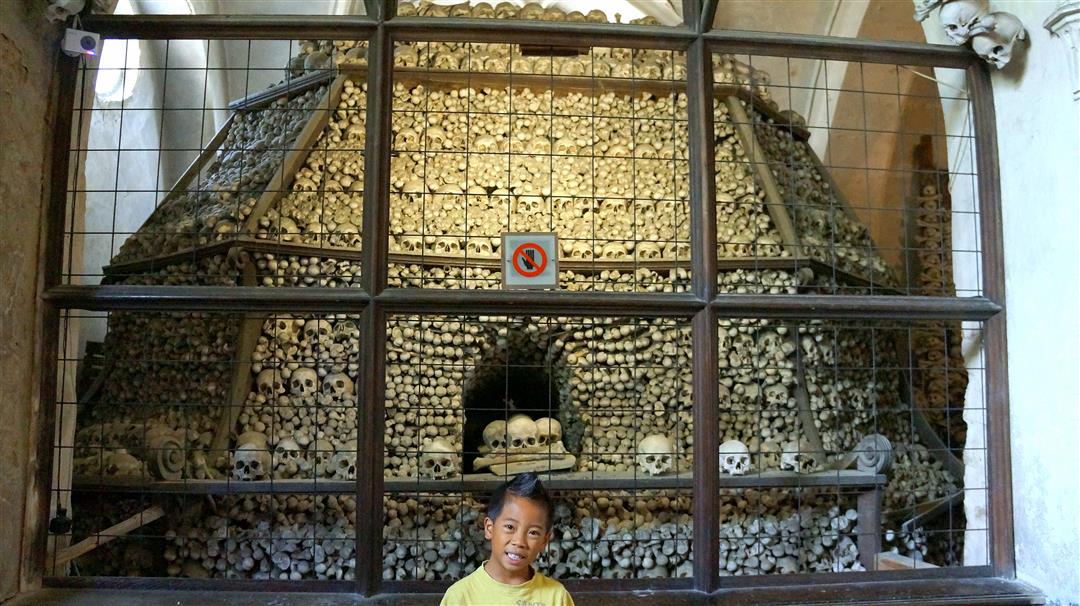 The bones remained in the ossuary for over 300 years until 1870. Frantisek Rindt ,a local woodcarver, was tasked with arranging all the bones. But, the governing body most likely didn't expect such an artistic arrangement and spectacle. He made his mark with this bone signature found at the bottom of the staircase.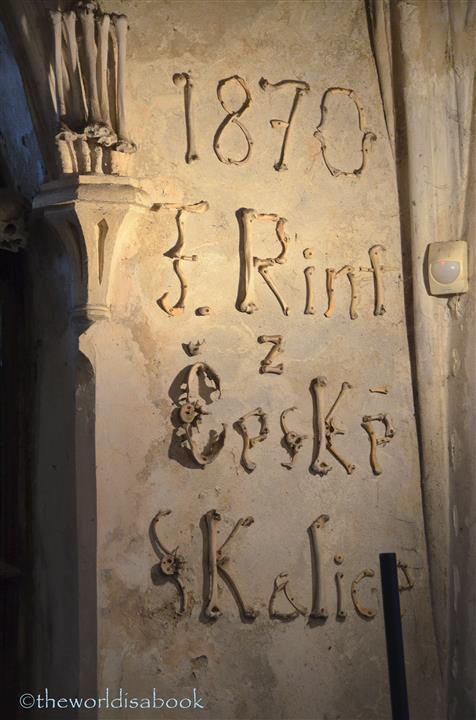 The ossuary wasn't as big as I expected. Looking from the entrance, this was most of the room.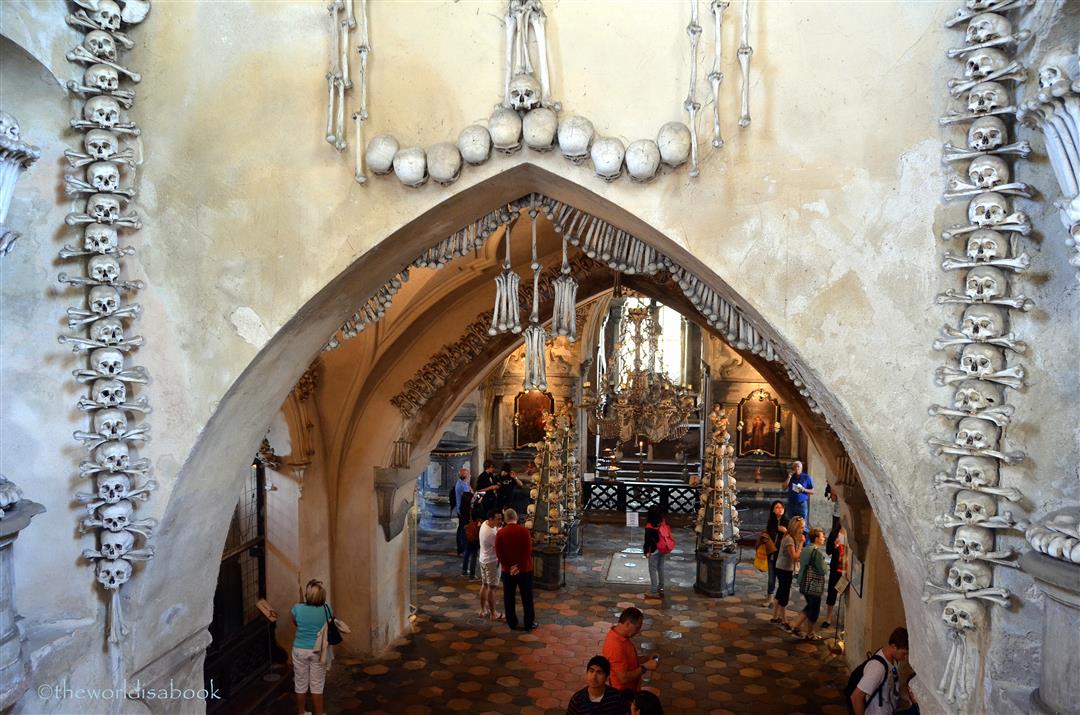 The Bone Church had a vast array of decorations that more than made up for its small space. We were greeted with this arrangement over the arch.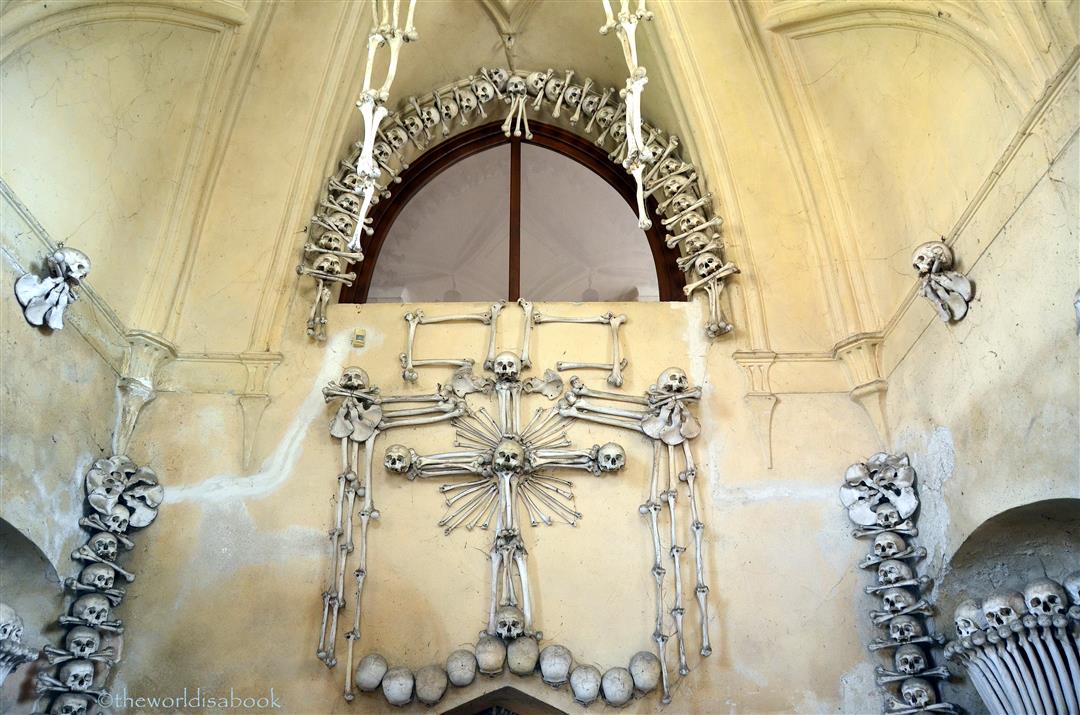 This was on the wall by the ticket counter.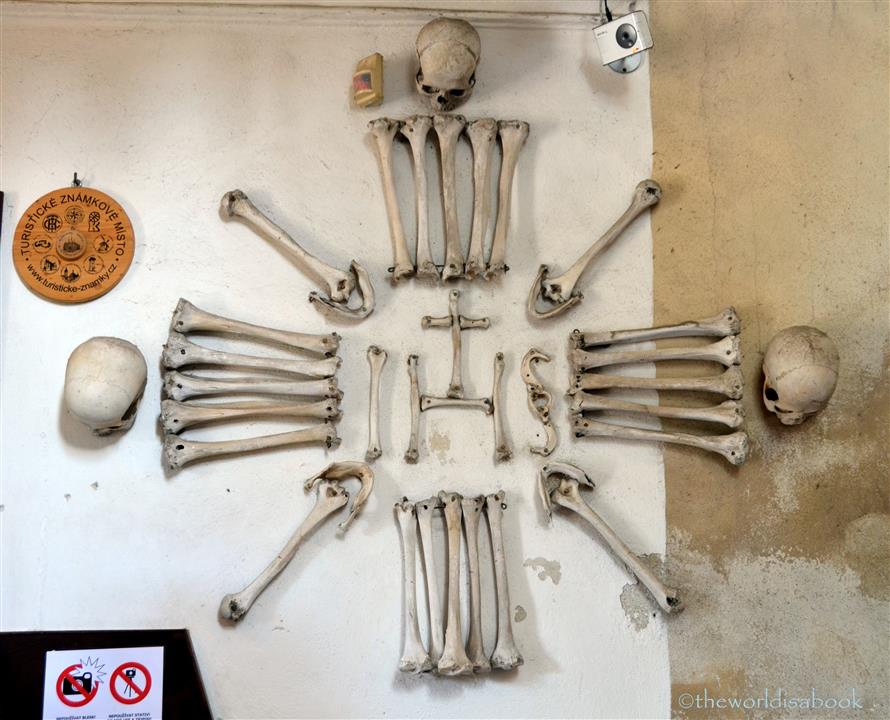 We also found small niches with bone accessories like this below.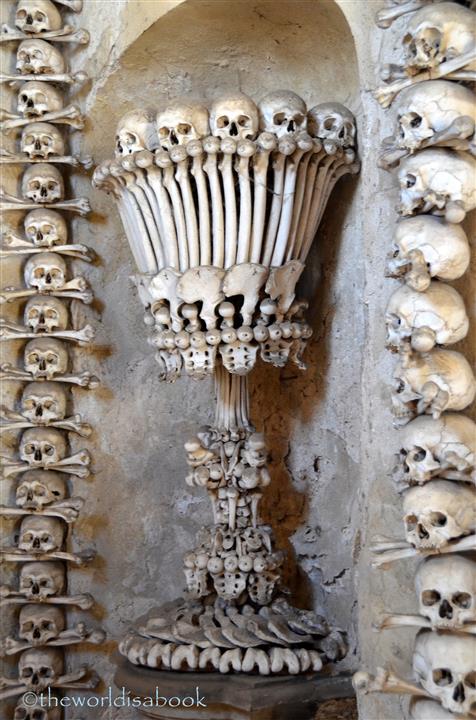 You can't miss the chilling but fascinating artwork that was hung at the center of the Bone Church.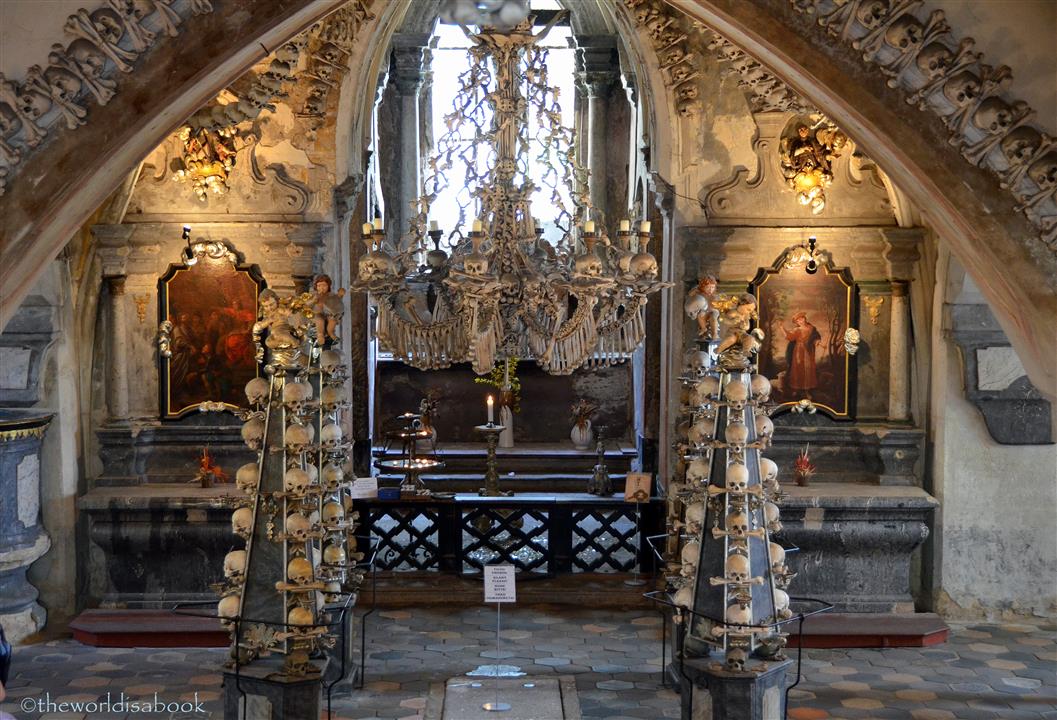 Rint built the chandelier of bones from almost every bone in the human body. He disinfected and bleached the thousands of bones he used with chlorinated lime giving them a somewhat uniform look. I hope he had some help because it just seemed so tedious.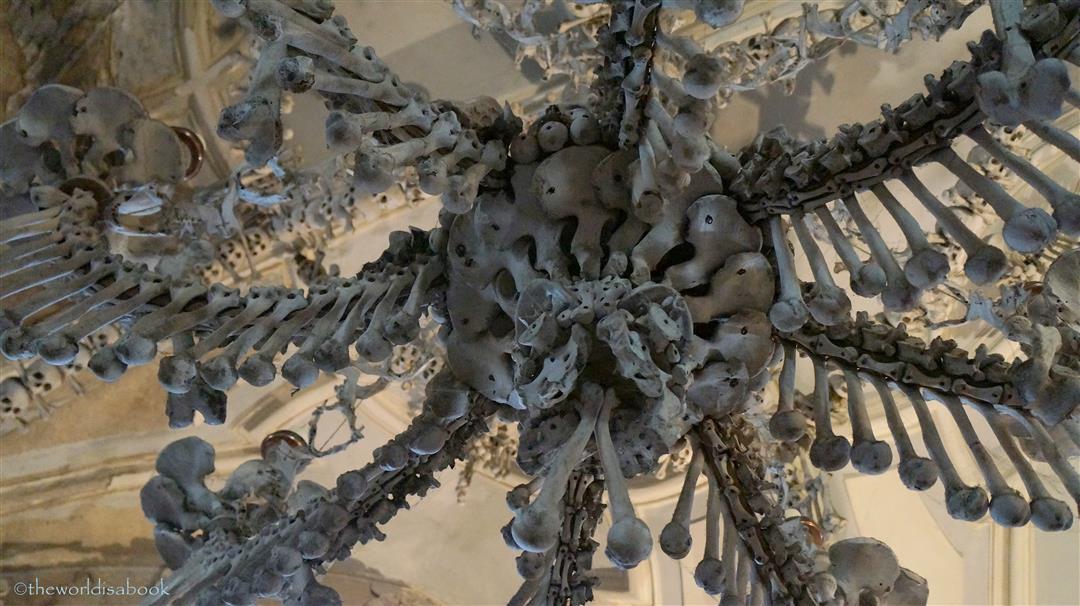 Small angel sculptures were added to enhance or add some color to it. Essentially, you can look at this chandelier as one whole person.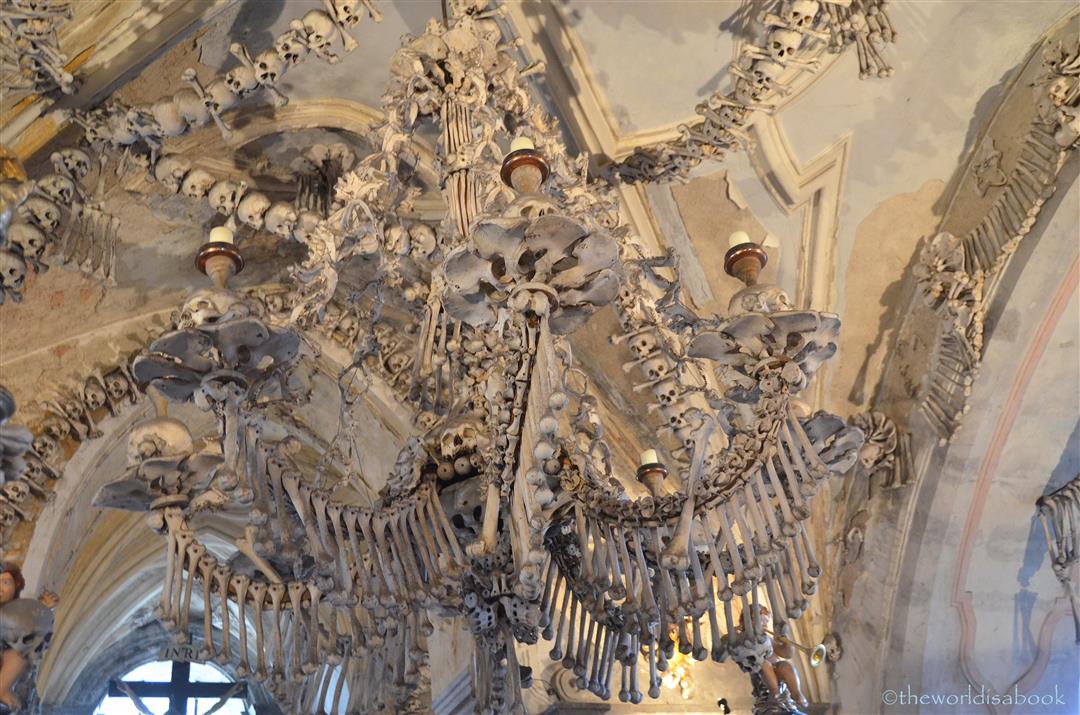 It really was an incredible item and these pictures don't do it justice. One can't help but admire Rint's imagination and creativity in creating this one of a kind masterpiece.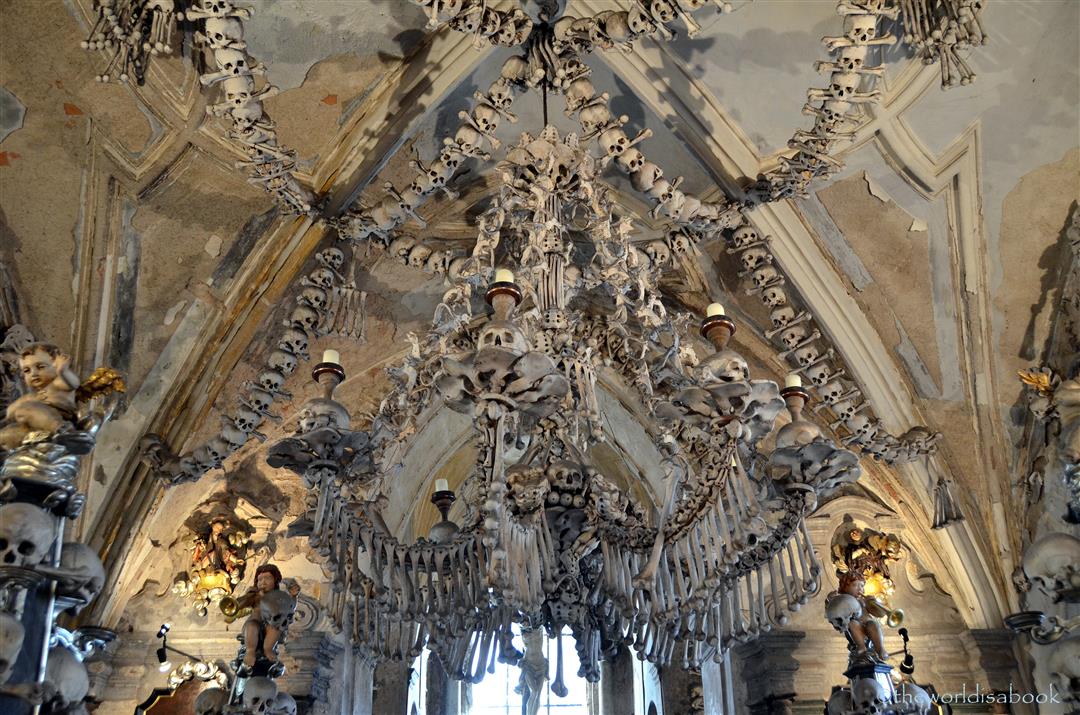 These were the skulls of warriors from the Hussite wars who died from swords and arrows among other things. It was interesting to see the holes and impressions on their skulls.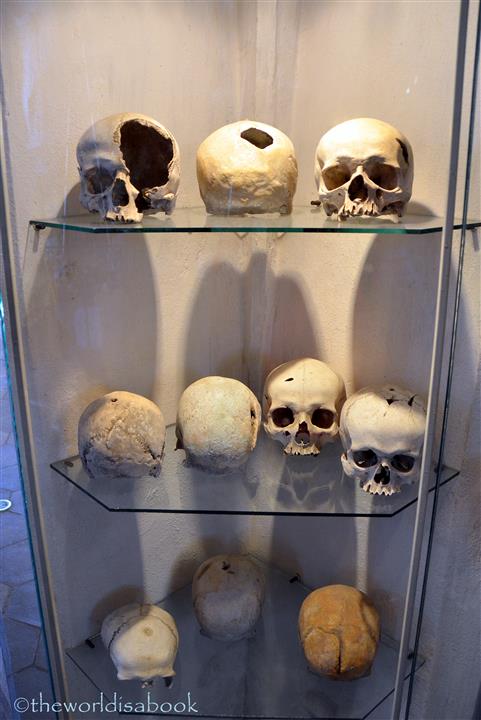 The six large bone pyramids that started this all were behind fences. The bones seemed endless as they were stacked from top to bottom and deep inside the pit.  The wooden carved crowns on top of the pyramids were supposed to represent Jesus' triumph. After all, this was a Roman Catholic church.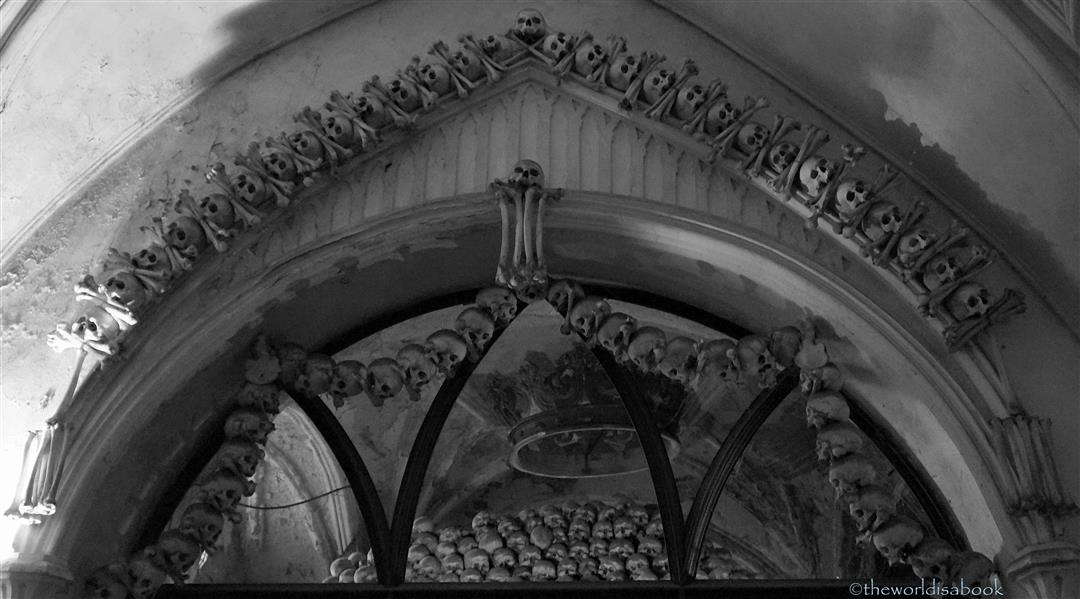 The Schwarzenberg family bought the abbey property at some point. This impressive family crest or coat of arms in human bones was created by Rint in their honor. Can you see the raven pecking at the severed head of a Turk?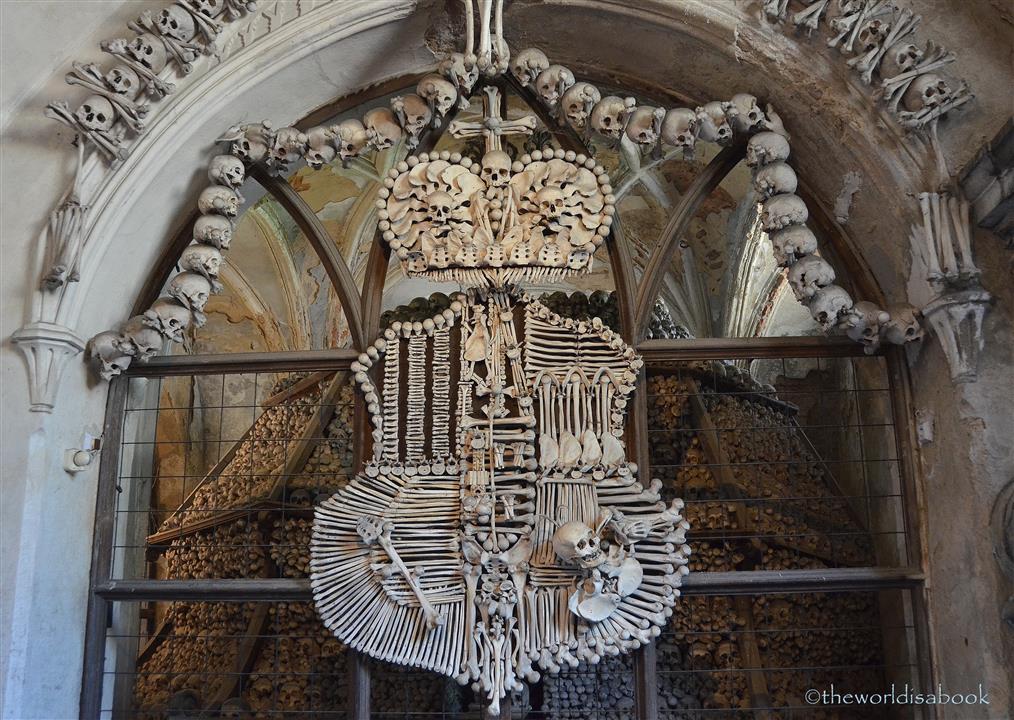 Most parts of the ossuary were decorated in some form or another. There were garlands of bones hanging in many places.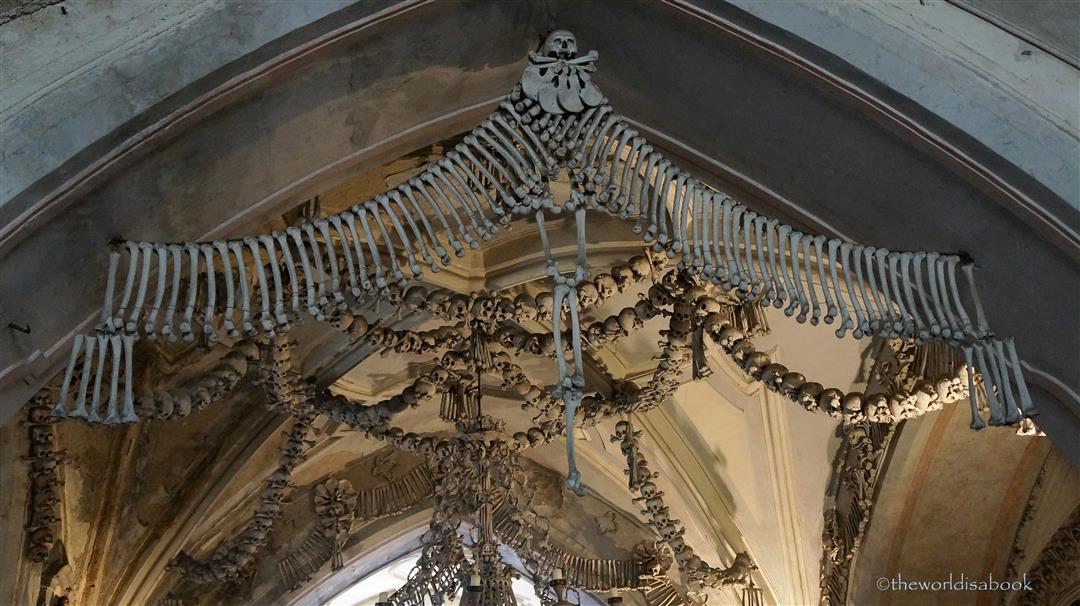 We saw many people spent a short time here and this seemed to be a quick stop for bus tours to Kutna Hora.  Even though it's not very big, take some time to explore the nooks and crannies of the ossuary. We were lucky there weren't that many people during our visit so we didn't have to fight for floor space. We were surprised at some of the details that made us admire and really appreciate the amount of work put into this place.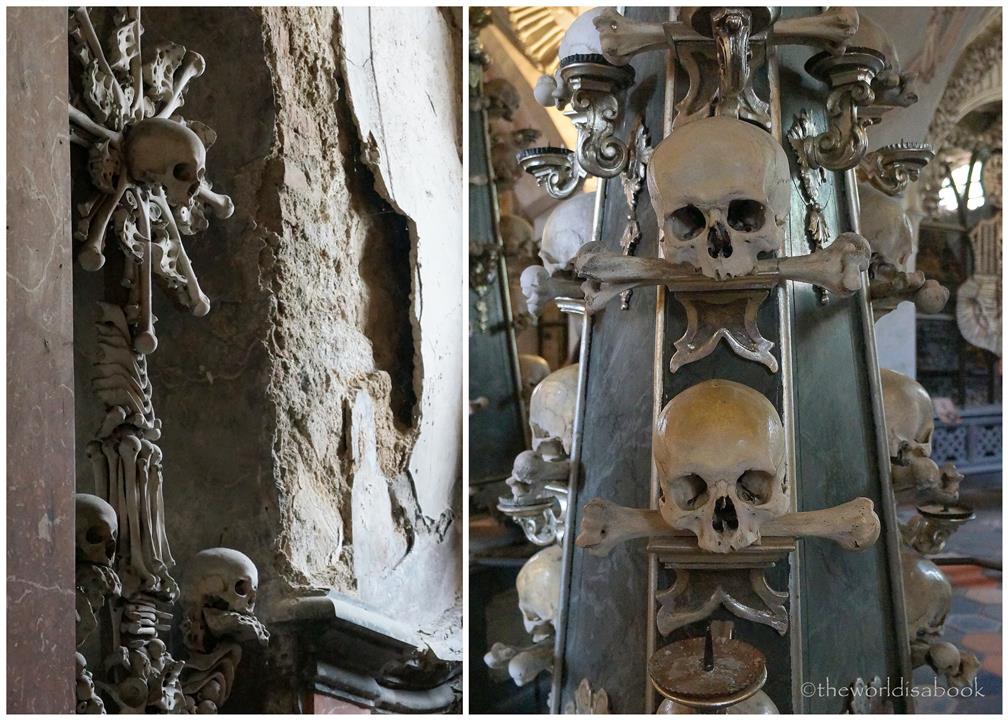 Visiting the Church of Bones with Kids
I was a little worried bringing my kids here but my husband and I really wanted to see this place. They saw pictures beforehand but it was nothing compared to seeing these many skulls in person. We figured they can take a peek and always stay outside if issues arise. Their first reactions were "cool" and "neat" with my then 7-year old son questioning the authenticity of the skulls.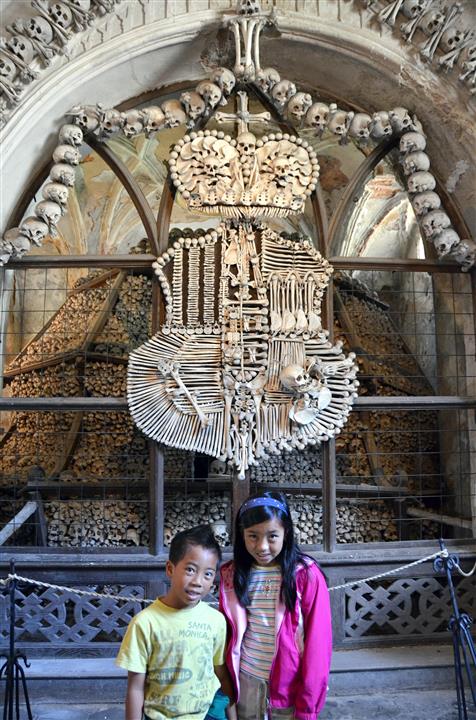 After she saw everything for about five minutes, my ten-year-old daughter wanted to get out. My son, on the other hand, didn't have any issues posing next to skeletons with a smile. My daughter was uncomfortable, didn't like the smell and she felt like all the skulls were looking at her. Well, she had a bit of point. I didn't smell anything noticeable beyond that old church smell. So, she went outside by the ticket area followed by her brother for some company. Fortunately, no nightmares followed our visit here.

The whimsy feel in some of the decorations made it easy to forget that this was also a sacred resting place that deserved respect. I felt a bit uncomfortable not because of all the skulls here but felt more like I was invading a graveyard. Would I be okay letting people use my skeletal remains as decorations for many to see? Whichever way you answer this question may dictate how you view a visit to the Bone Church. My answer to this question was…I'd be fine being propped up in a respectful way like this. How about you?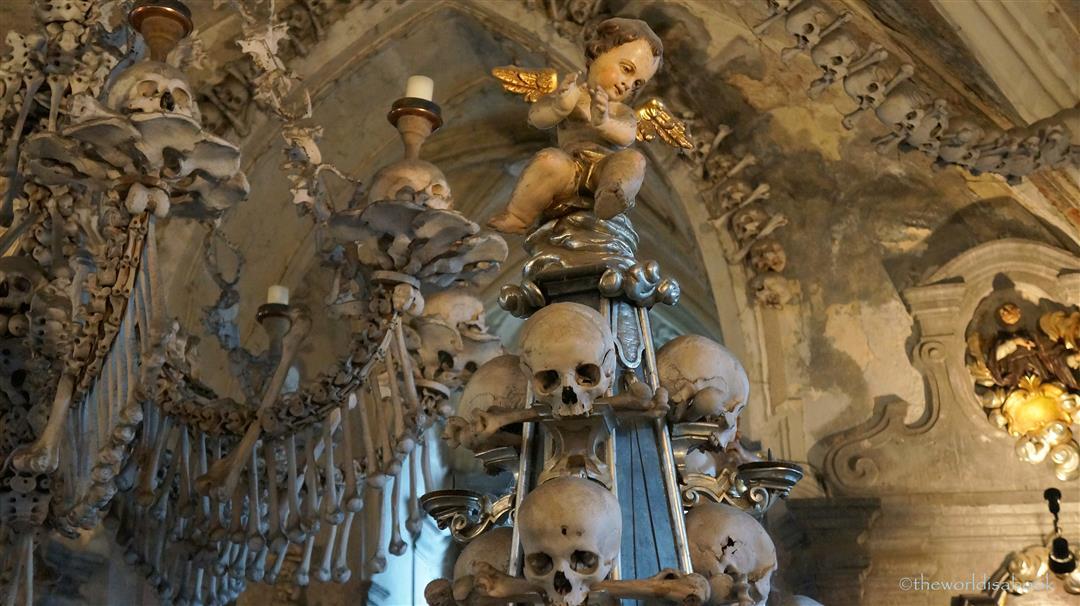 Though it may look like a backdrop from a horror movie, there was also a bizarre sense of peacefulness here. I struggled with a mixture of feeling uneasy, creepy and in awe. But, we don't regret visiting or taking the kids here. We can definitely say it was quite an experience. The church was beautifully arranged and well worth the day trip from Prague.
Visiting Sedlec Ossuary Bone Church Tips and Basics
Getting there:  We took the train from Prague to Kutna hora Hlavni Nadrazi (h.ln) train station which was an hour away. The ossuary was walkable for about 15 minutes on a busy road. But, we took a small local train to Sedlec and it was a short walk from there with plenty of signs pointing us to the right place.
Admission Price: Adults 90 Czech Koronas($5 US); Children 60 CK ($3US), Photo fee additional 30 CK ($1.60 US). Get ticket combo with 1-3 other attractions in Kutna Hora that included two UNESCO sites like the Cathedral of Our Lady (which was down the street) and St. Barbara Cathedral (absolutely stunning and one we highly recommend visiting) and the Jesuit College. We did the 3-combo tour and paid 160 CK ($8.50 US) and 110 CK ($6 US) for kids.
Audio guides were available but each ticket came with a handout (available in various languages) with the history and some explanation of the church.
Do not miss the charming town of Kutna Hora. We took the bus from the ossuary to the town center which was about 15 minutes. There's a visitor's center near the ossuary and they told us which bus to take and departure times. Taxis were also available.
There are also many day trip tours from Prague to Kutna Hora with a stop here. Check with your hotel concierge for any discounts.
Bringing kids – you know your kids' tolerance and sensitivity for these things. My kids tend to like some scary movies but are also a bit older. Even then, my daughter only lasted a few minutes. I have a sensitive 4 -year-old niece who I would never have brought here if she was traveling with us.
Check the departure times of trains going back to Prague. Many only come once an hour and be sure to go on the express ones.
*Have you visited the Bone Church or similar places? 
Pin it for later!