Surfers and Turtles: Sightseeing in North Shore Oahu
Have you visited places multiple times and never made it to certain areas? For various reasons, I have never made it to the North Shore area in Oahu over the years. During our visit to Oahu a couple of weeks ago, I vowed to finally make it to this area which is on the island's northwestern coast. Located about an hour from Honolulu, the North Shore is more than the surfing capital of the world. We found some interesting things worthy of a drive during our few hours of eating and sightseeing.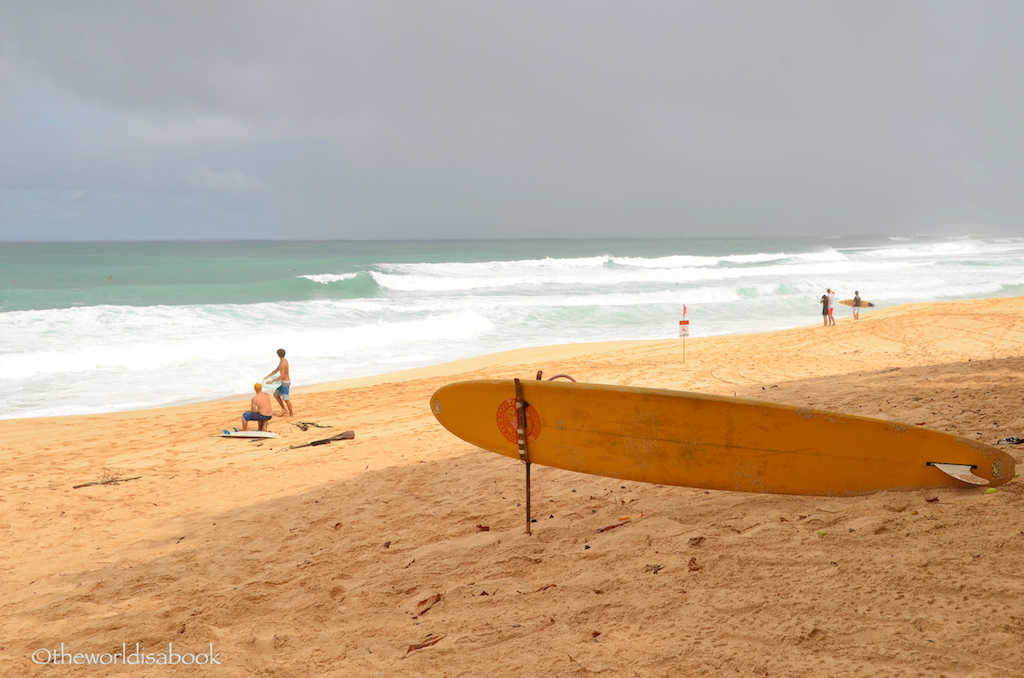 Our drive through the highway was very scenic and among plenty of vegetation and pineapple plantations. We were a bit worried since it was raining but as we neared the historic town and area, we were greeted with this rainbow, blue skies and the wide open ocean.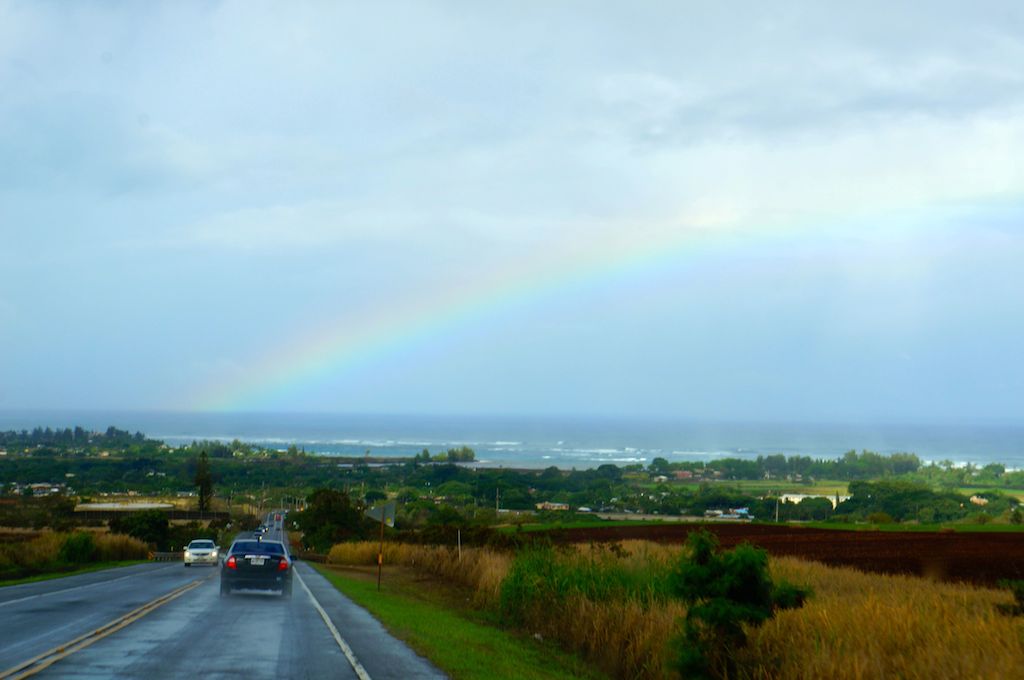 Our first stop was to hopefully see the Hawaiian sea turtles out and about at Laniakea Beach or also known as Turtle Beach. One of my brothers who lives in Oahu got our hopes up by saying they saw six sea turtles there last month. We found the area where many cars were parked across from the beach. We braved crossing the busy street and then a short walk among the rocks to the shoreline.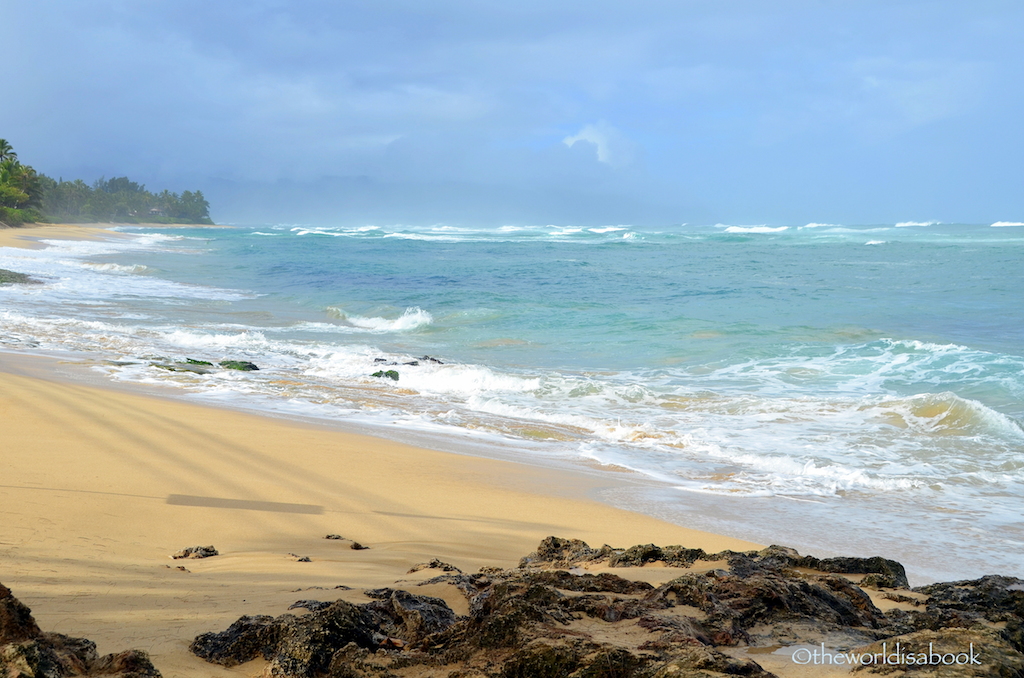 I heard my kids and nieces happily announce "There's a turtle!" even before spotting this huge Hawaiian Green Sea Turtle or Honu basking in the sun.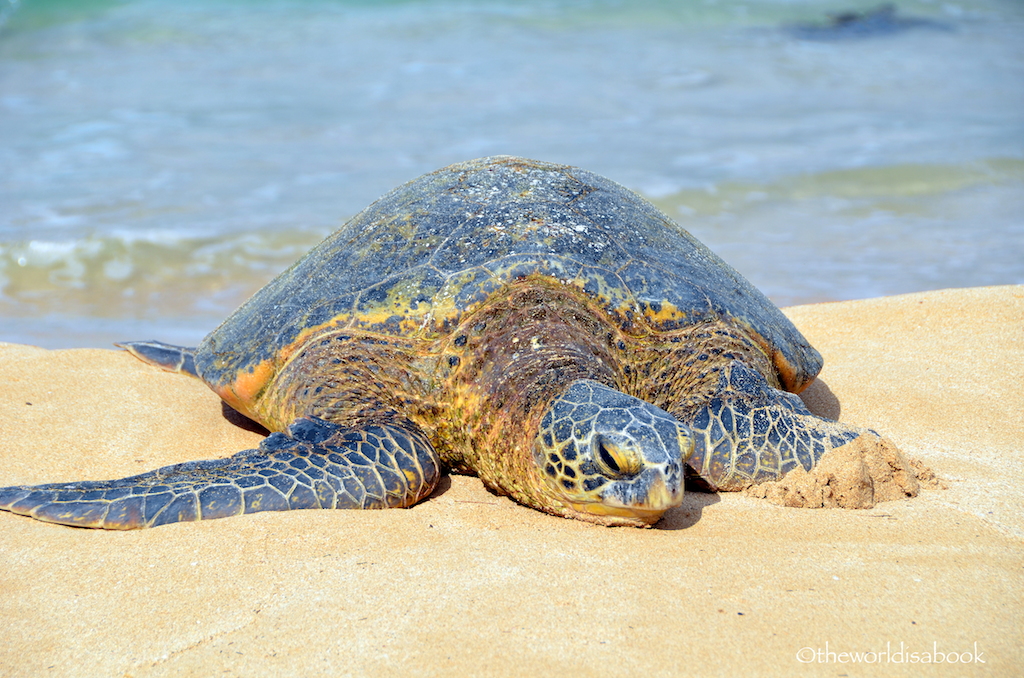 What sight! My kids had seen Hawaiian green sea turtles six years ago during a visit to the Big Island but don't remember it much. So, this was a whole new experience to them again.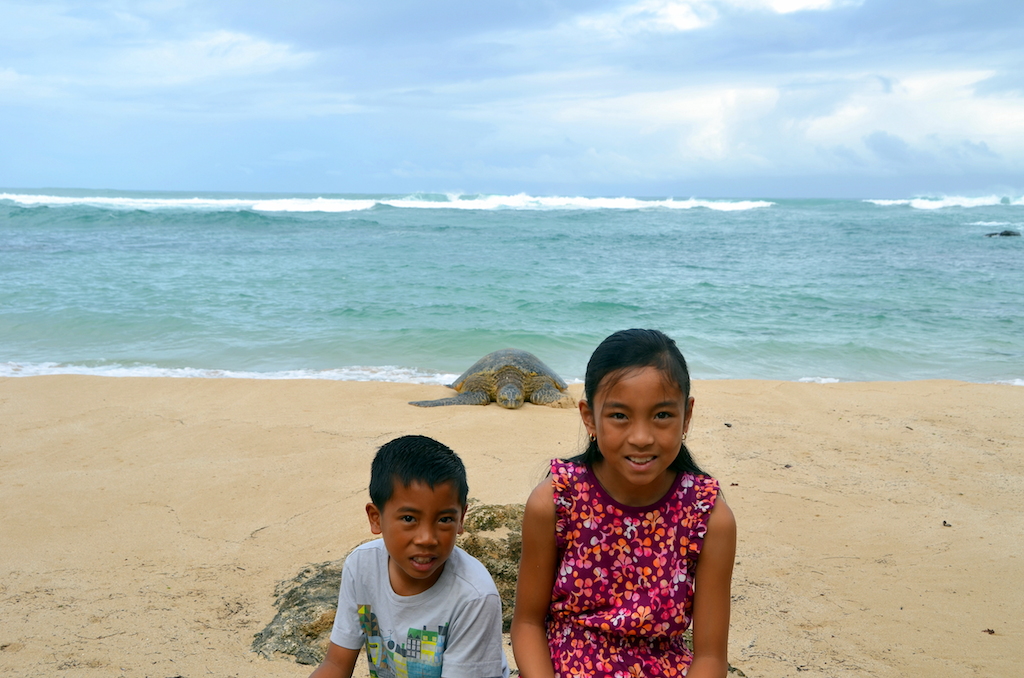 There was a red rope encircling the turtle and two conservationist volunteers from the Malama na Honu organization watching over him. This was actually a good idea so tourists don't get into the turtles' faces or attempt to touch or hurt them.
A sign introduced us to Wooley-Bully (L-7) whose Hawaiian name is Lopeka o Holokai meaning "Roger the seafarer". This adult male was about 40 years old and weighed about 270 lbs (122 kg). We had to ask the volunteers how they were able to tell this turtle from the rest. This particular turtle had a shark-bitten left rear flipper which we couldn't really see from the angle the turtle was situated. These turtles don't stay here year round. They disappear during the winter months and migrate to the French Frigate Shoals which is an isolated atoll to nest.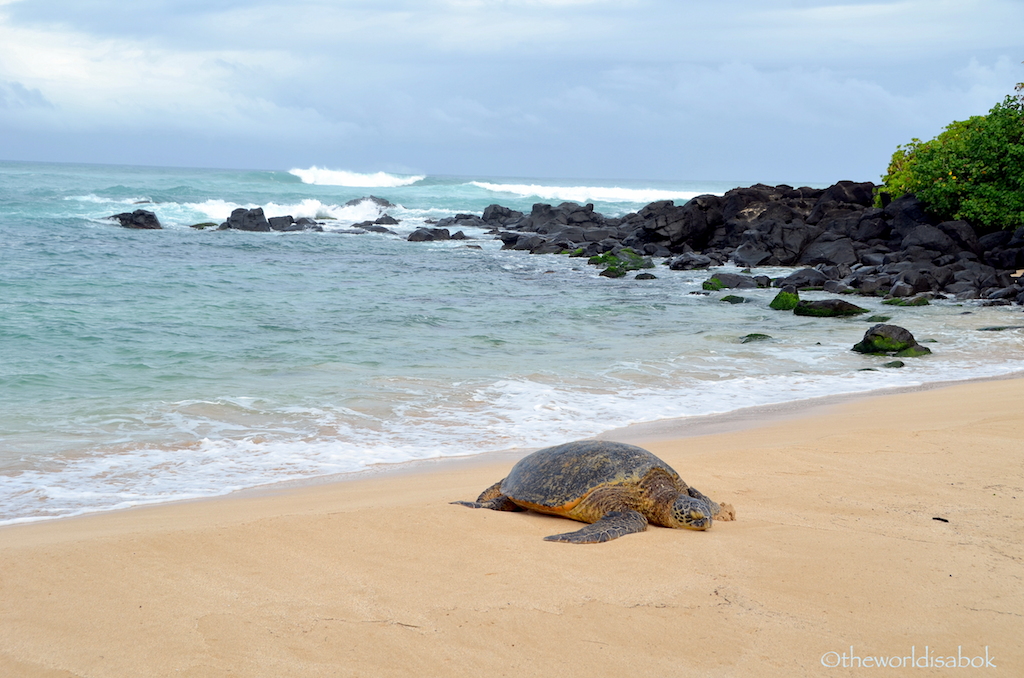 The volunteer also showed the kids about four smaller turtles swimming in the water. At first, they looked like seaweed floating around until we saw them flapping.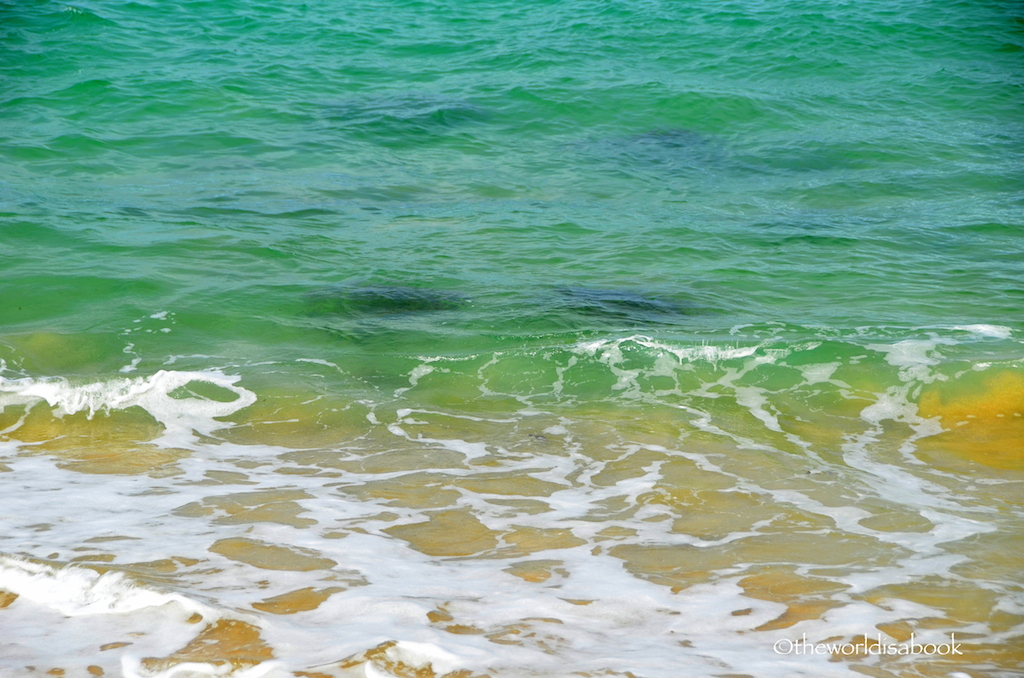 As a lesson in patience and after about 30 minutes of waiting, we were rewarded when one of the turtles eventually washed ashore and sloooowly moved to the sand.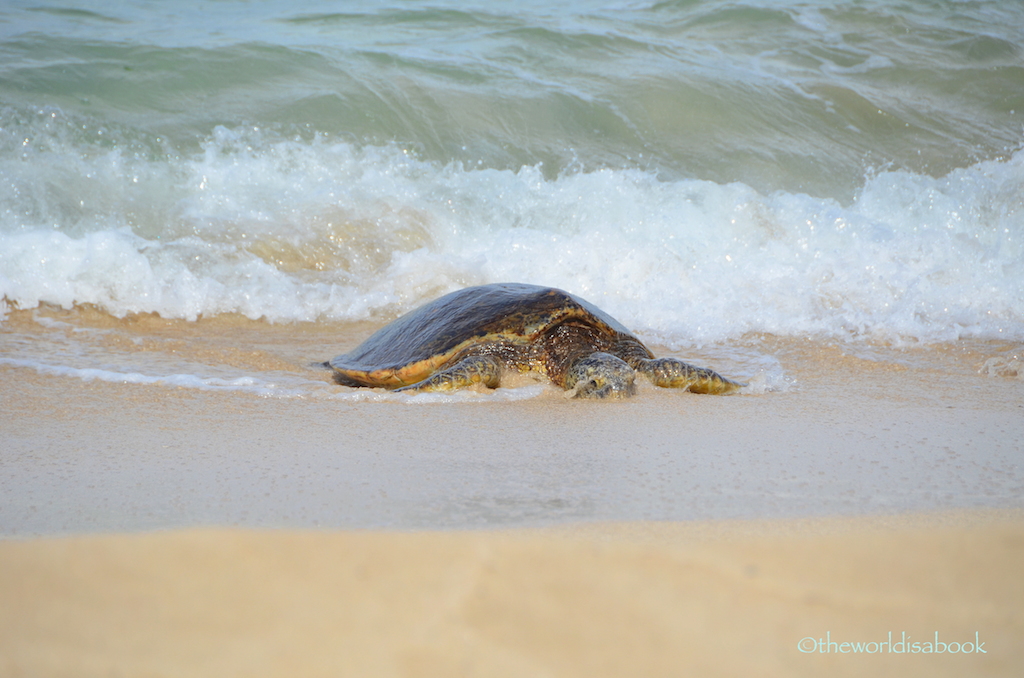 The kids didn't want to leave until they had a good view of that turtle. Unfortunately, we didn't stick around to see that smaller turtle's identification.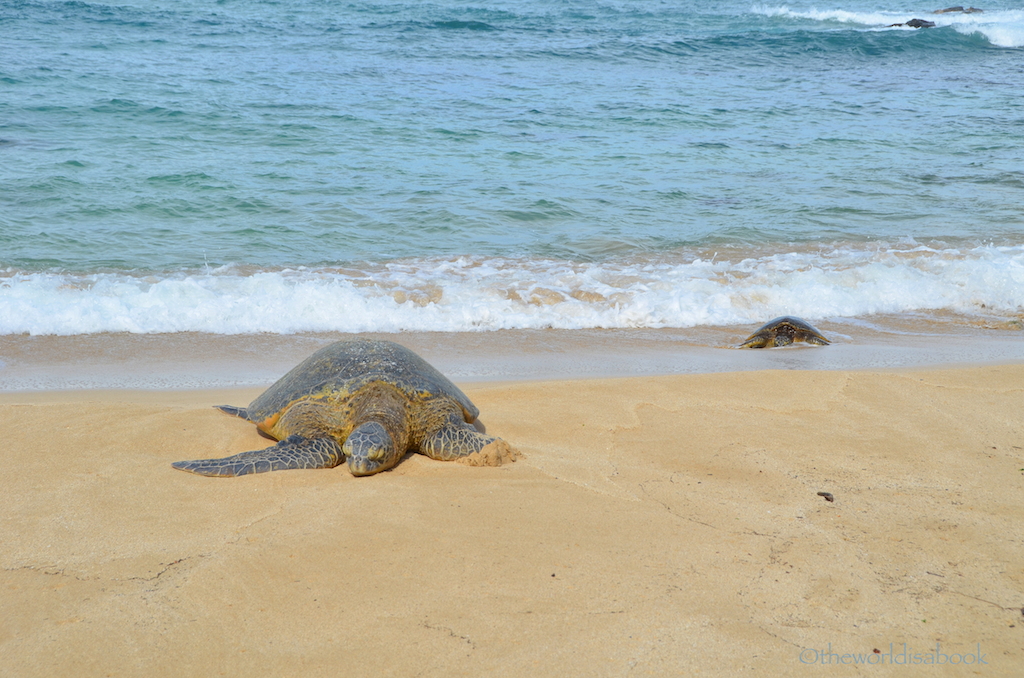 After the turtle viewing, we eventually made it to Sunset Beach to see the surfers brave the waves. The North Shore has been the surf mecca of Hawaii for years. There are various surf spots especially during the winter months when the swells could get as high as 30 feet.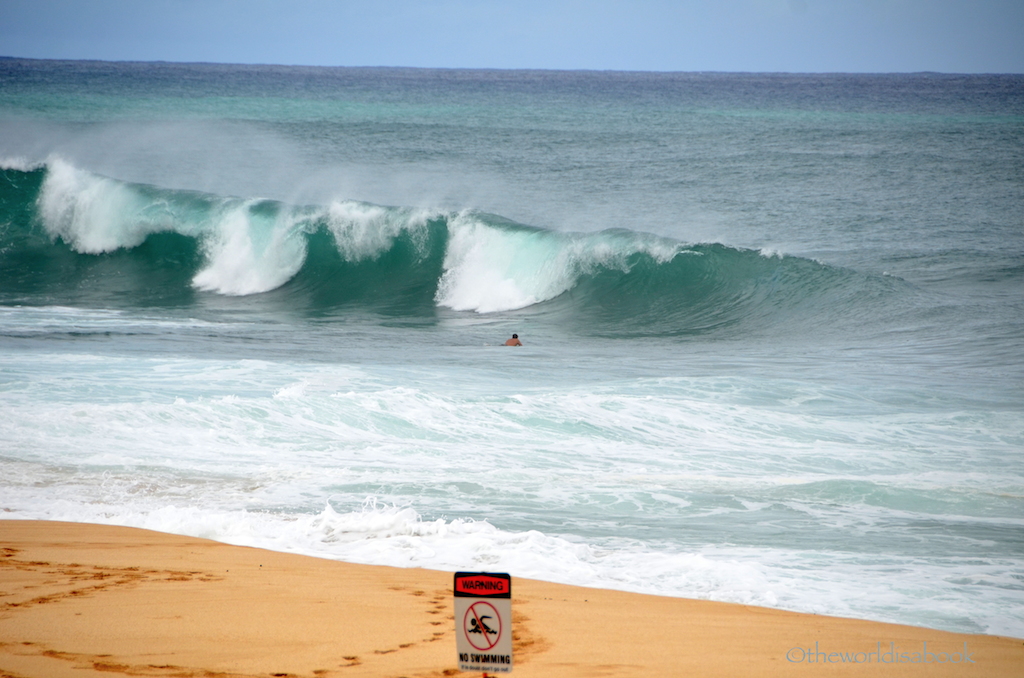 The waves were pretty huge during our visit and probably the biggest we've ever seen. It was fun to watch these surfers catch these huge waves again and again. Their skill and patience were admirable.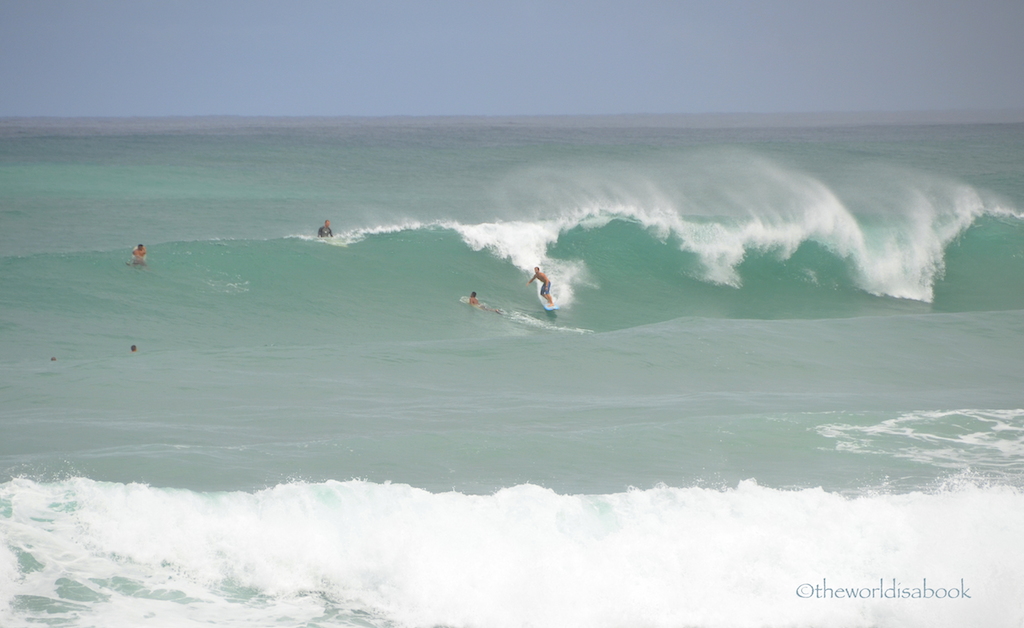 It's no wonder this area attracts many surfing competitions. We were told the waves are smaller and calmer during the summer months (May-Sept.).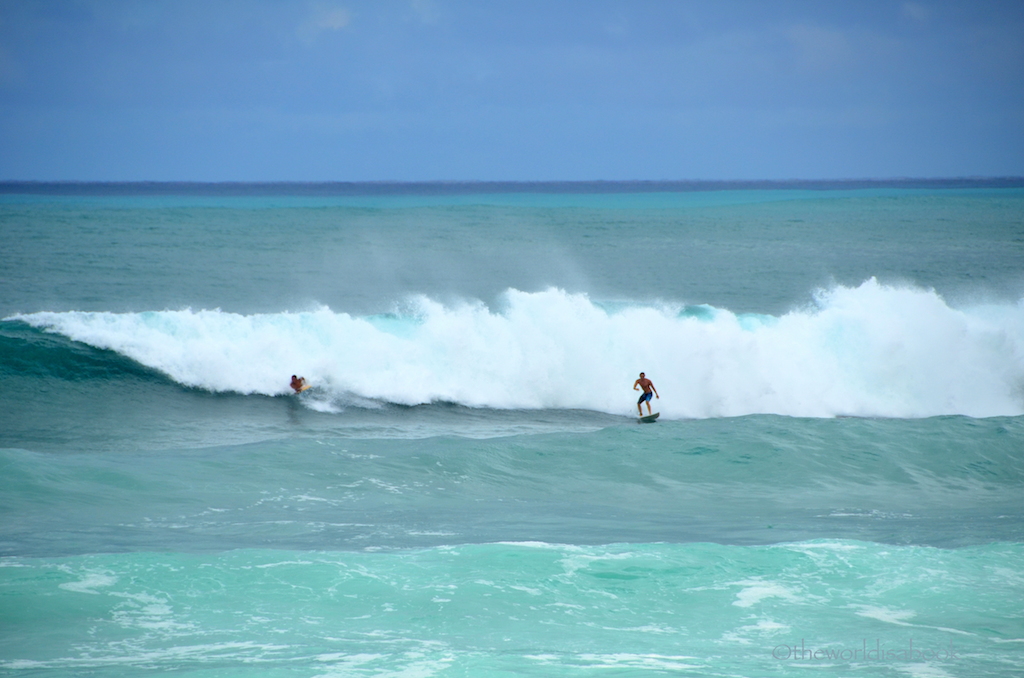 One highlight during our visit was the stand-up paddle board guy my sister-in-law started calling "Dave" because she said he looked like one. For all we know, he was probably somebody famous in the world of water sports. We couldn't believe he was going out there with a paddle board in those big waves. It's hard enough to do that in calm waters.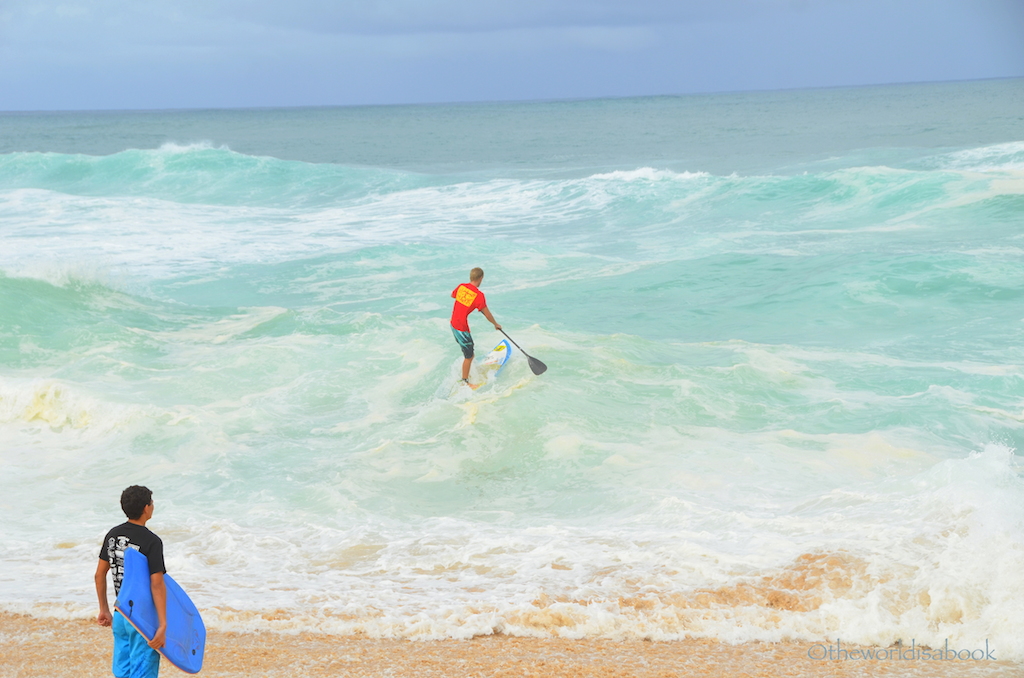 But, Dave kept our attention as well as the other beach goers as we watched him join the surfers and successfully ride those big waves like a pro.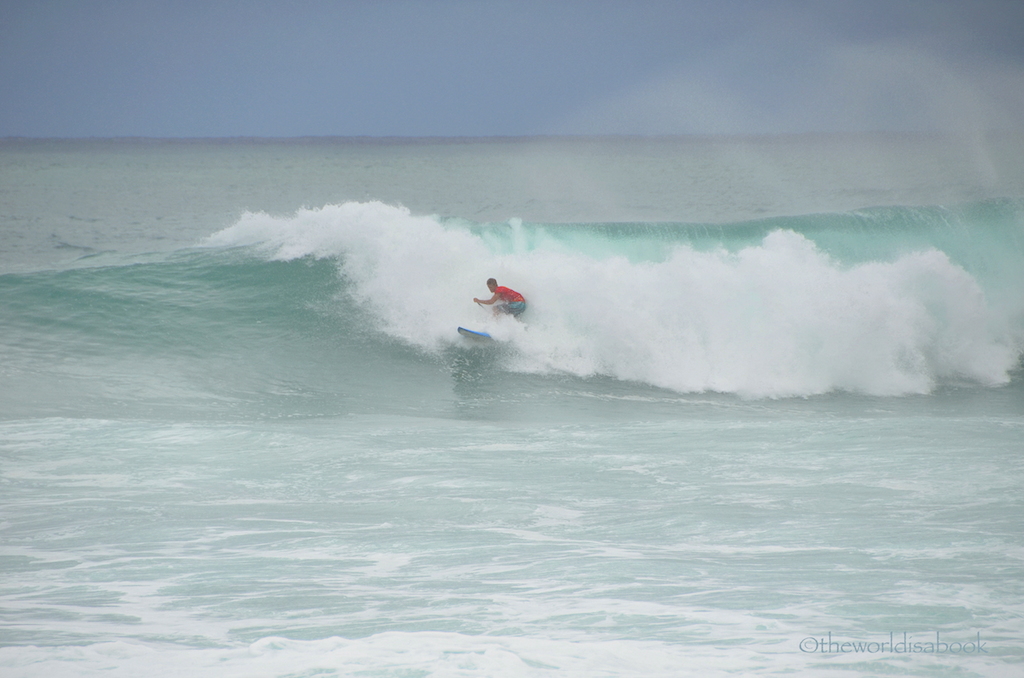 The beach wasn't as crowded with gawkers like us during our visit. Many of the people there were young men waiting for the right time to surf or boogie board.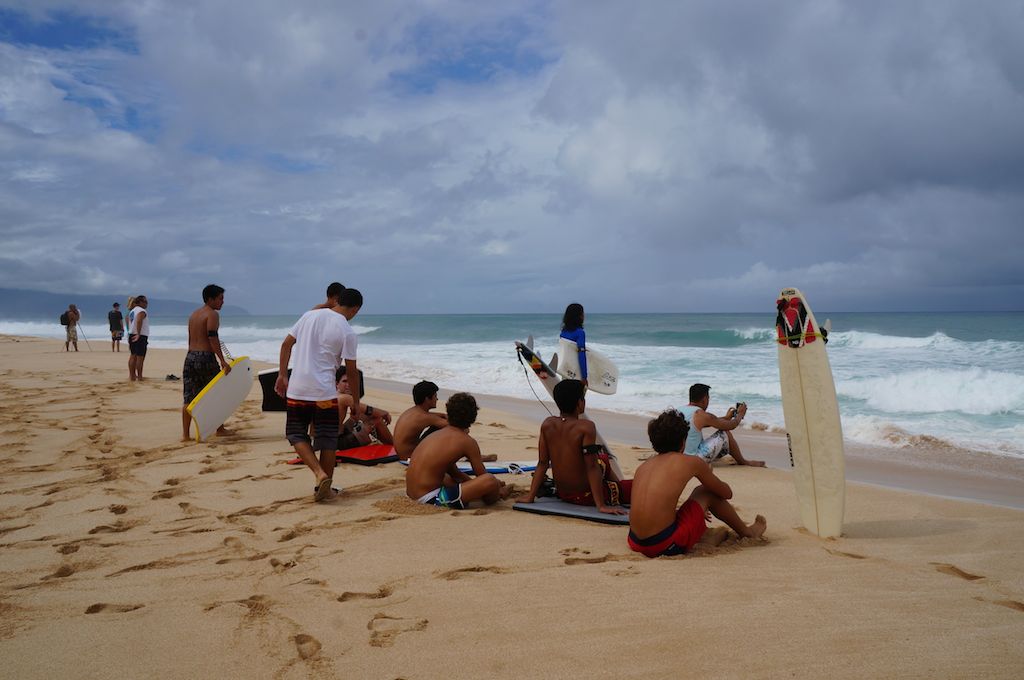 My kids and husband could have stayed here all day but we were chased away by a heavy downpour. So, we headed back to the historic surf town of Hale'iwa (pronounced HAH-lei-ee-vah) which is the gateway to the North Shore. We found quaint shops, restaurants and galleries in this once sugar plantation town. It was a charming little town to walk around and not overly populated with tourists while we were there.
We found this small yard filled with some very colorful and unique art pieces.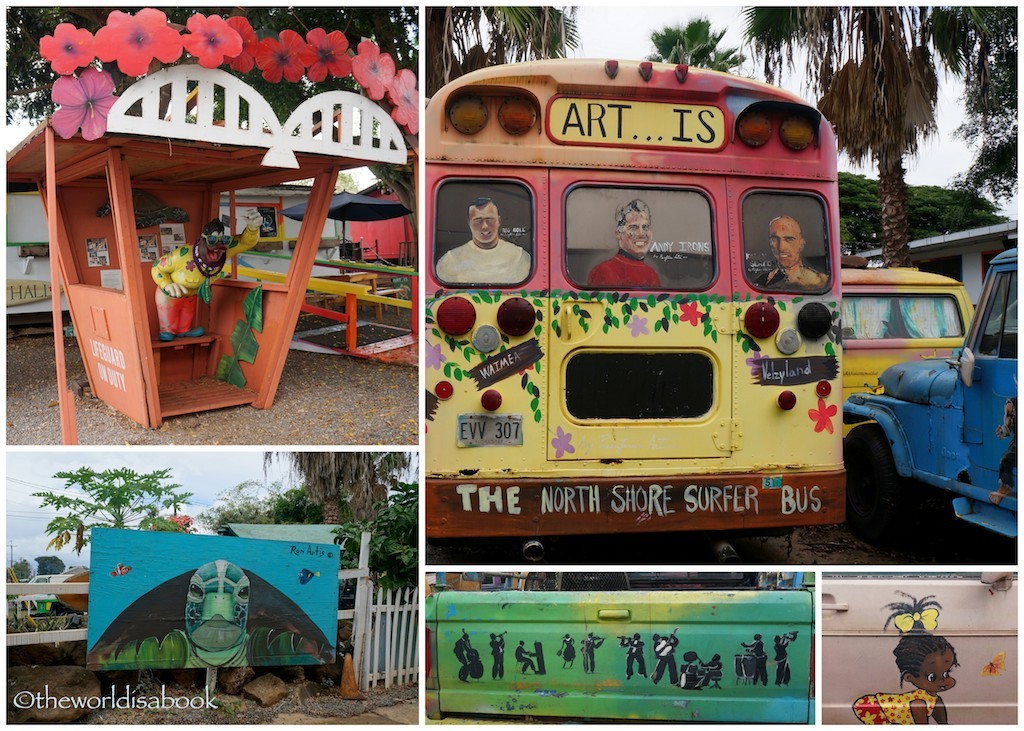 Then, lunchtime came. One of the main reasons I have wanted to go to Oahu's North Shore was to eat at the popular shrimp trucks. A few blocks from the town's main area was a dirt lot with a few food trucks and picnic benches for eating.  There was a variety of food trucks but most people flocked to Giovanni's Shrimp Truck. It was a white, simple truck with writings and graffiti all over it (see top photo below). It wasn't exactly what I had pictured but their reputation and food spoke for themselves.
We're garlic lovers so we couldn't wait to sample their popular garlic shrimp scampi. For $13, the plates came with rice, a dozen jumbo shrimp and A LOT of fresh chopped garlic marinated in olive oil, butter and lemon. It was worth the wait and drive for me while my husband thought it was overrated. He preferred the one we had in Maui's shrimp truck which came with crab mac salad. But, he still finished his plate pretty quickly. Yes, it was as delicious as this picture looks and more.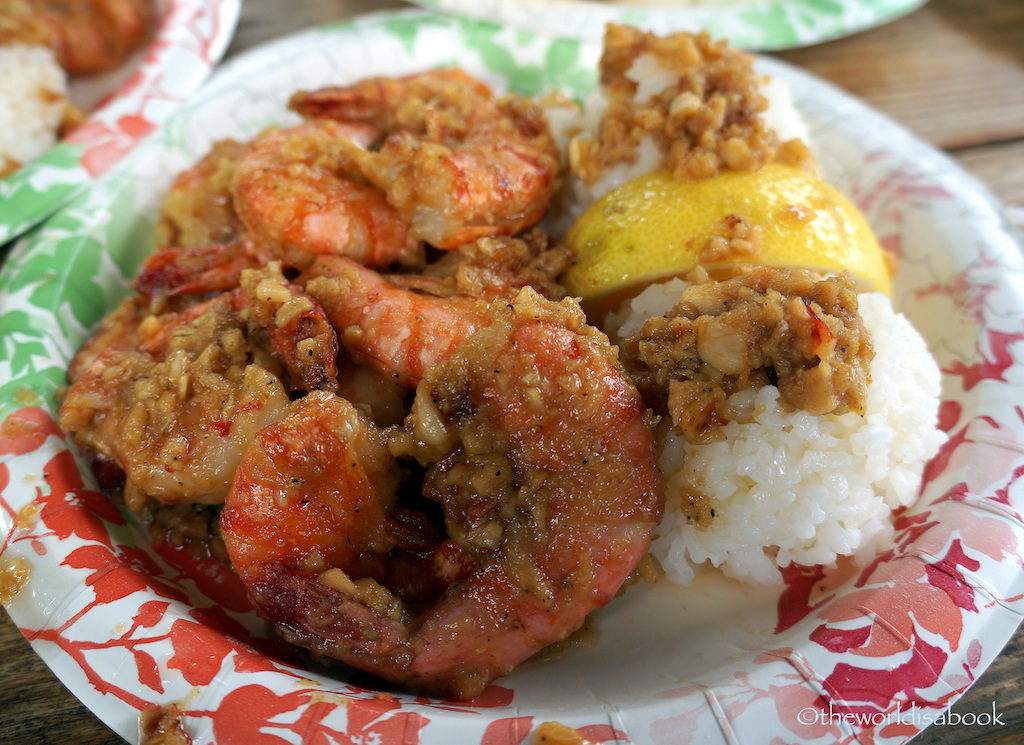 My kids had their other specialty, the lemon/butter shrimp, and loved it. The shrimp was boiled/steamed in lemon and butter.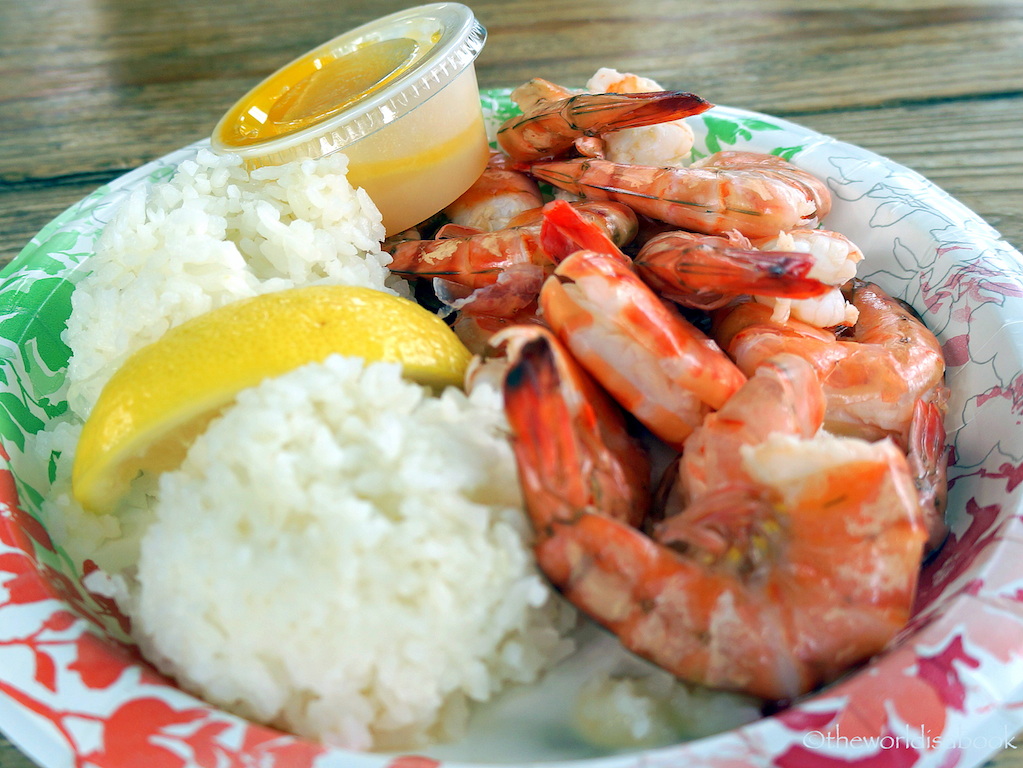 We also have been looking forward to having a Hawaiian Shave ice and what better place than a North Shore landmark that has been here for over 80 years – Matsumoto's. It's hard not to miss this small grocery store with lines that usually snake around and people hanging out at the wooden benches eating their shave ice.
There are many flavor options and the kids chose the rainbow to get the best of everything. My husband and I got the Hawaiian combo (pineapple, coconut, banana) with condensed milk. Trust me, the milk makes a big difference. And don't forget those 35-cents plastic holders to keep things clean and non-sticky. You can add ice cream and other toppings too. Doesn't this look refreshing?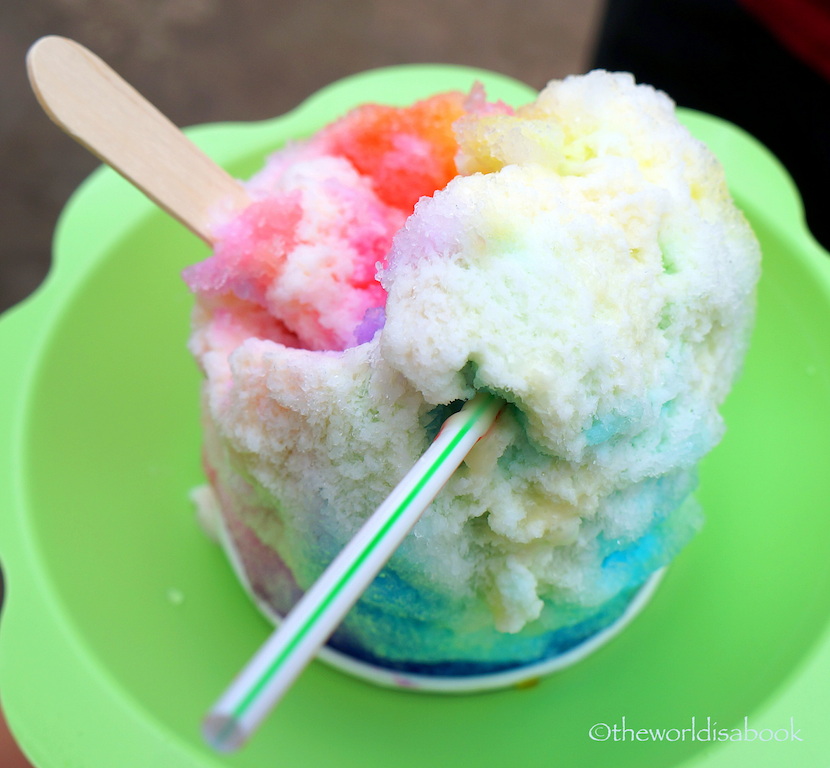 There's still traces of old Hawaii and a laidback, small town feel here in the North Shore. The beaches were amazing and there are a variety of activities for the whole family. I now regret staying away for so long and will make stops here on future visits. We definitely recommend making a day trip here and seeing a different side of Oahu.
Tips for Visiting the North Shore Oahu
Get there early as the two-lane Kamehameha Highway gets pretty crowded later in the day especially during the weekends. We've been told by the locals that traffic can be a stand still on these roads.
Recommended snorkeling places for us was at Shark's Cove (which is a scary name for an area to snorkel). Best time to snorkel here is during the summer months,
Bring binoculars to see the surfers up close.
Stop at

Ted's Bakery

in Sunset Beach for some of their signature pies. We didn't get to stop by but my local friends brought us a chocolate haupia (coconut pudding) cream pie. Delicious!
If you're planning to eat at the shrimp trucks, try to come before noon especially during weekends or prepare to stand in line.
Friends and family have told us not to let the daunting long line at Matsumoto's deter you. The line moves pretty quickly.
Visit

Pu'u o Mahuka Heiau State Historic Site

. This was our next stop before it started raining hard but we never made it. This is the largest religious site on Oahu and has free admission.
Visit

Waimea Valley

. This is on our things-to-do-for-our-next-visit list. Think ancient Hawaiian history, waterfalls and tropical botanical garden.
*Have you visited and eaten your way through the North Shore Oahu? 
Where to stay in Oahu
Hilton Hawaiian Village – The rainbow towers stand out on this 22 acre oceanfront property along Waikiki. Many of the rooms have ocean views. The grounds are beautiful with  tropical gardens, waterfalls and ponds. There are daily cultural activities like hula lessons and a Camp Penguin Kid's Club for kids ages 5-12. We love this resort!
Embassy Suites Waikiki Beach Walk – This all suite hotel offers plenty of space for the whole family including a microwave and refrigerator in the mini kitchen. It is steps from the beach and many dining, shopping and entertainment options. They offer complimentary made to order breakfast buffet and evening poolside reception with complimentary beverages and snacks.
Aulani | Disney Hawaii Resort – This is a bucket list property for Disney lovers. This beautiful 21 acre oceanfront resort is located in the Ko Olina area with great beaches and lagoons. Kids (ages 3-12) can enjoy supervised activities and learn a bit about the Hawaiian culture at Aunty's Beach House. The pool area is fantastic with water slides, a lazy river and one can even snorkel in a private lagoon.
Save up to 50% on Value Deals in Honolulu through Booking.com!
See the best prices from the major travel sites on

HotelsCombined

.
Find the best Honolulu hotels and read reviews on TripAdvisor.
Flights/Vacation Packages
Compare airlines, dates and prices all in one place with Skyscanner
Pin it for later!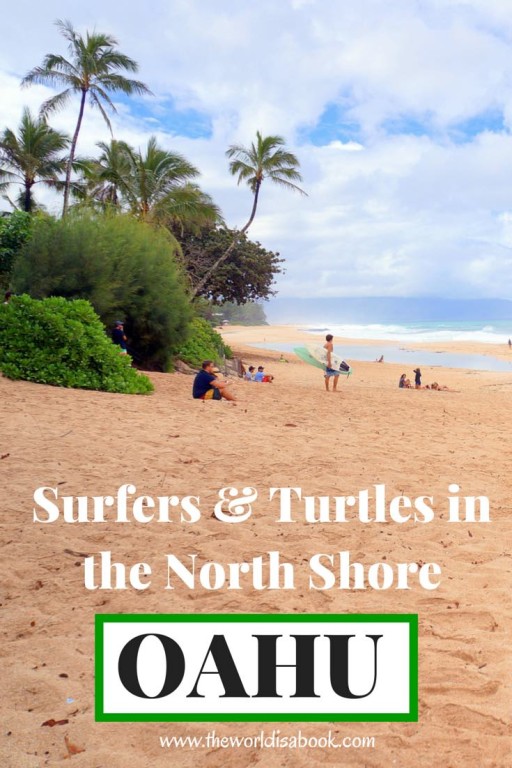 *There are affiliate links in this post to help support this website.