Swimming with the Fishes: Snorkeling at Hanauma Bay Oahu
Hanauma Bay Nature Preserve is perhaps the most popular place for visitors wishing to snorkel in Oahu and was Hawaii's first Marine Life Conservation District. Just like the North Shore, Hanauma Bay has eluded us for years.
The parking lot has been closed twice during our past visits for overcrowding. We finally woke up early enough and made it to Hanauma Bay a few weeks ago and the third try was definitely a charm.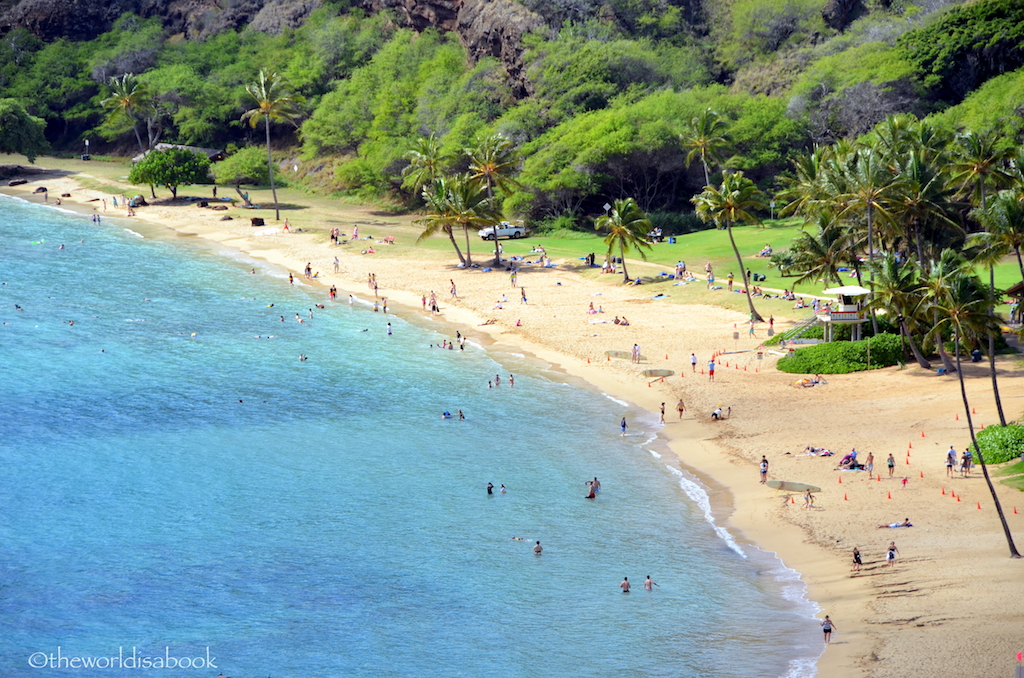 Unlike the many beach areas on the island, Hanauma was set aside to protect and preserve the bay's marine life. The local government has made great efforts to repair damage that was done from years of neglect and allowing too many visitors per year here.
Hanauma used to have up to 10,000 visitors per day during its peak. Only 3,000 people are allowed daily here now to minimize the environmental impact.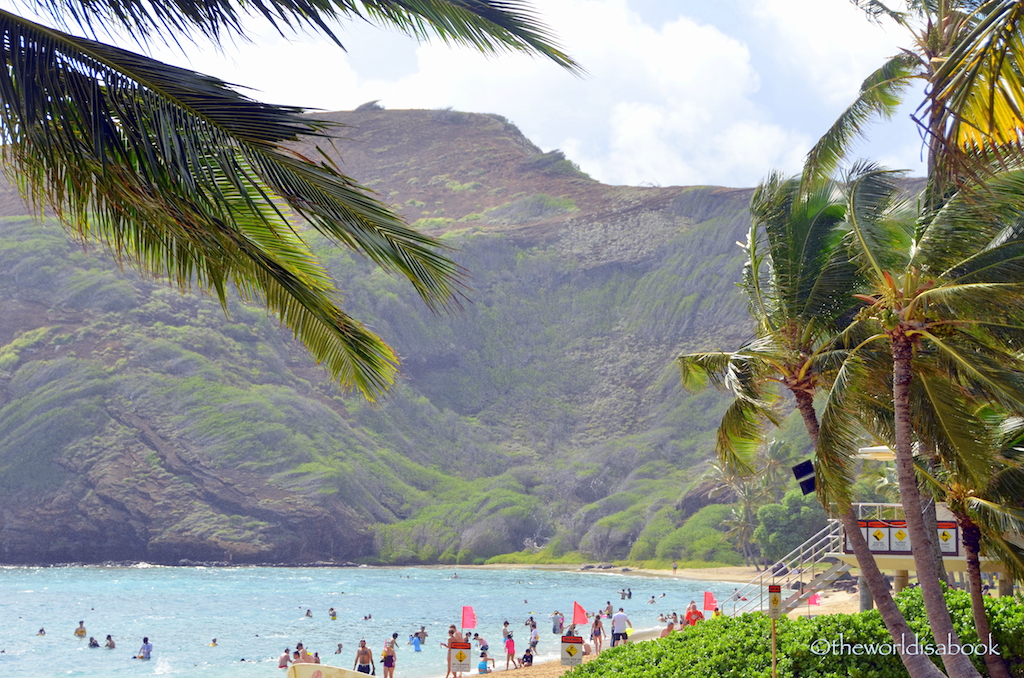 The picturesque bay is thought to be about 35,000 years old and was once a volcanic crater's floor. Hanauma (pronounced ha-now-ma) means "curved bay" and its location protects it from strong currents and large ocean swells.
It is located in southeast Oahu about 10 miles east from Waikiki. It makes it easy for enough for visitors to travel to.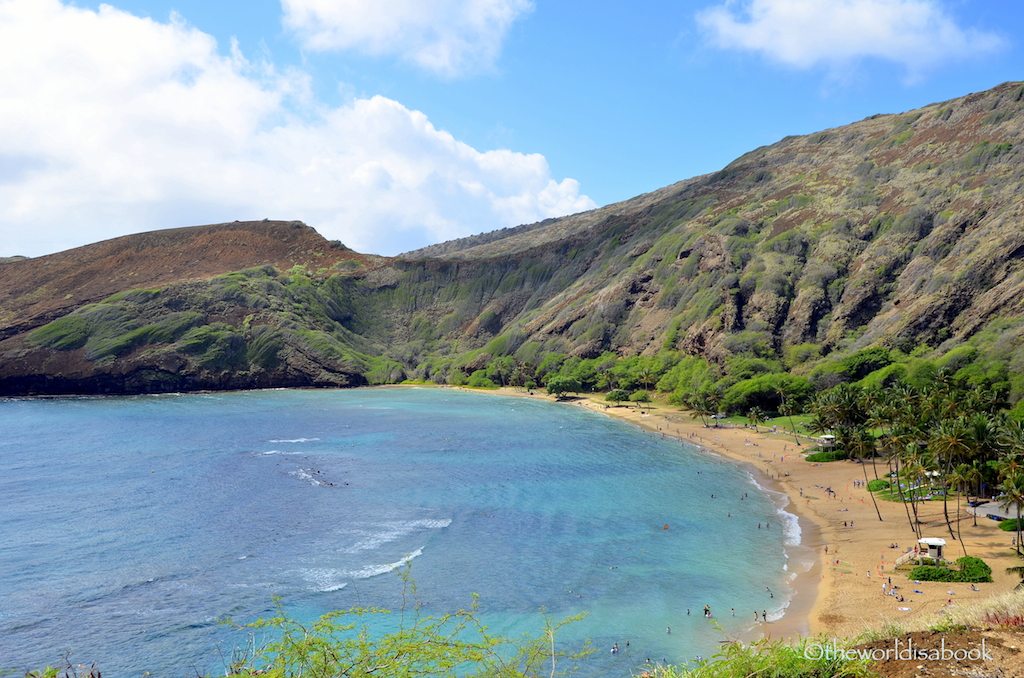 The parking lot is high up on a ridge overlooking Hanauma Bay. The views from the parking lot were incredible on a sunny Hawaiian morning with no dark cloud in sight despite some sprinkling we had seen in other parts of the island. The black areas on the water here are the reefs.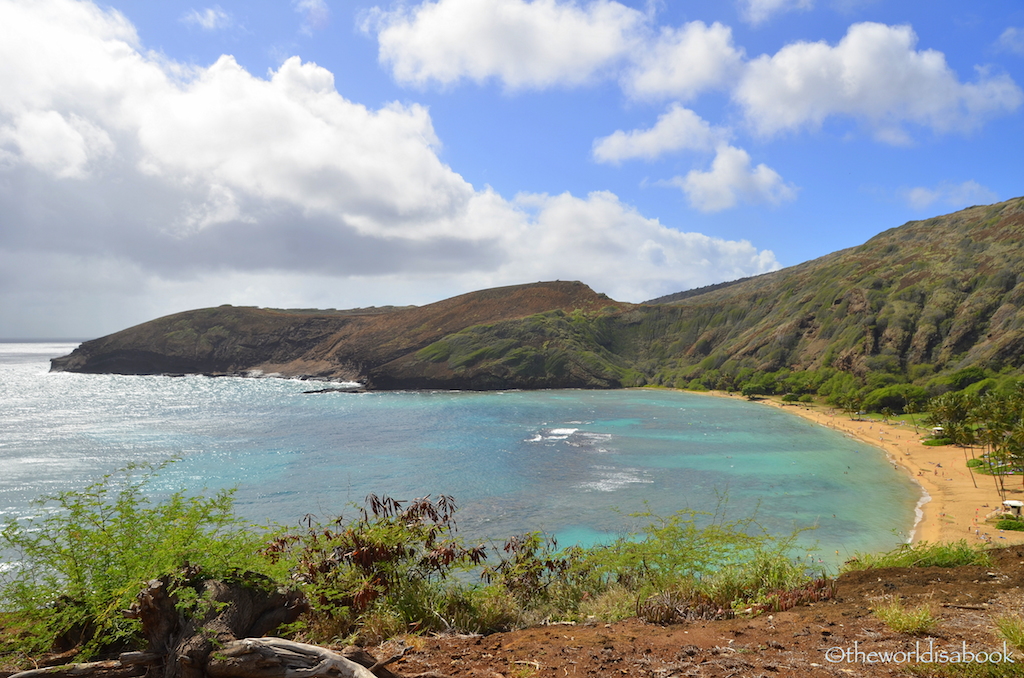 After the ticket counter and a small gift shop, we entered the Marine Education Center which was a wonderful way to greet visitors at the entrance. It was a great preview of what was in store for the visitors at the bay. There were interactive kiosks and plenty of exhibits that showcase the marine ecosystem here with an urgency to preserve them.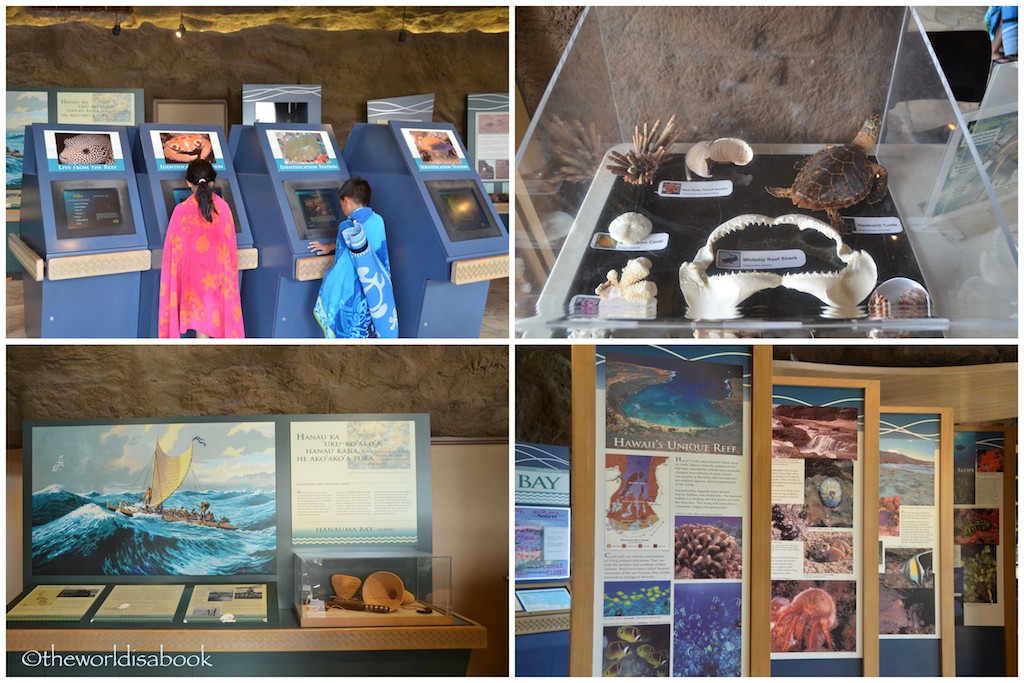 All visitors must watch about a 5-10 minute welcome video before proceeding down to the bay. It was very educational on how this bay came about and pre-cautions we must take to preserve this fragile ecosystem and treat it like a "living museum". Look but don't touch!
Most of the people that were with us in the theater were Japanese tourists and maybe it would have been a good idea to have Japanese subtitles on the video. Don't forget to sign the list if you plan to return here within a year which will exempt you from watching it again.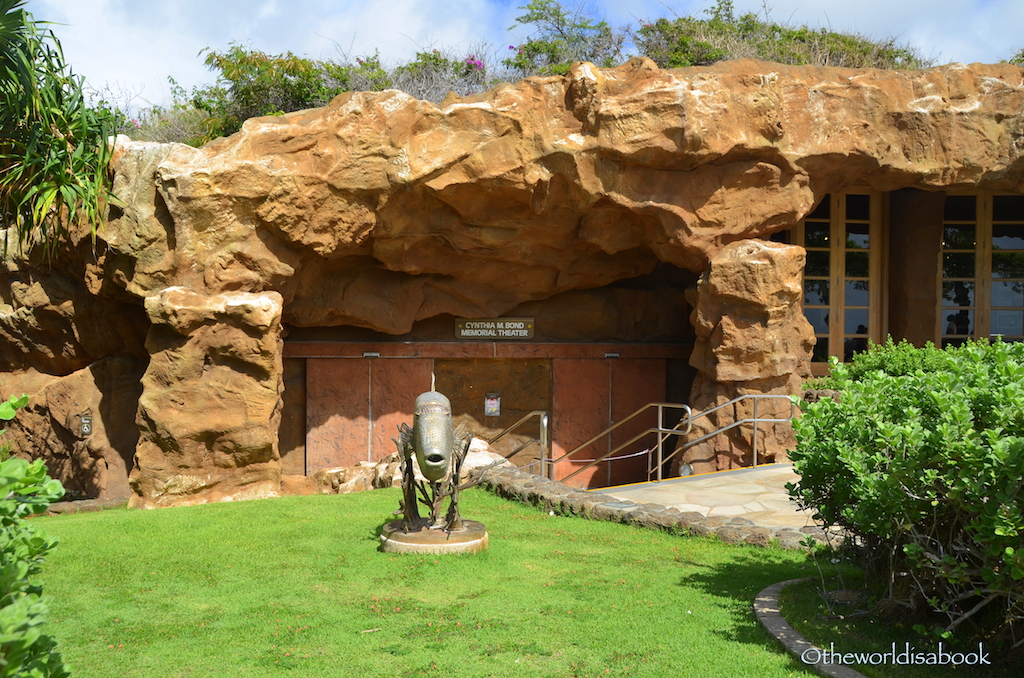 From the upper bay facilities, it's another 10 minute steep walk down to the bay along a ledge with some beautiful views. Trams were also available to ride. But, we recommend walking down to build up the anticipation especially for the kids. This was the crowd that was behind us as we walked down.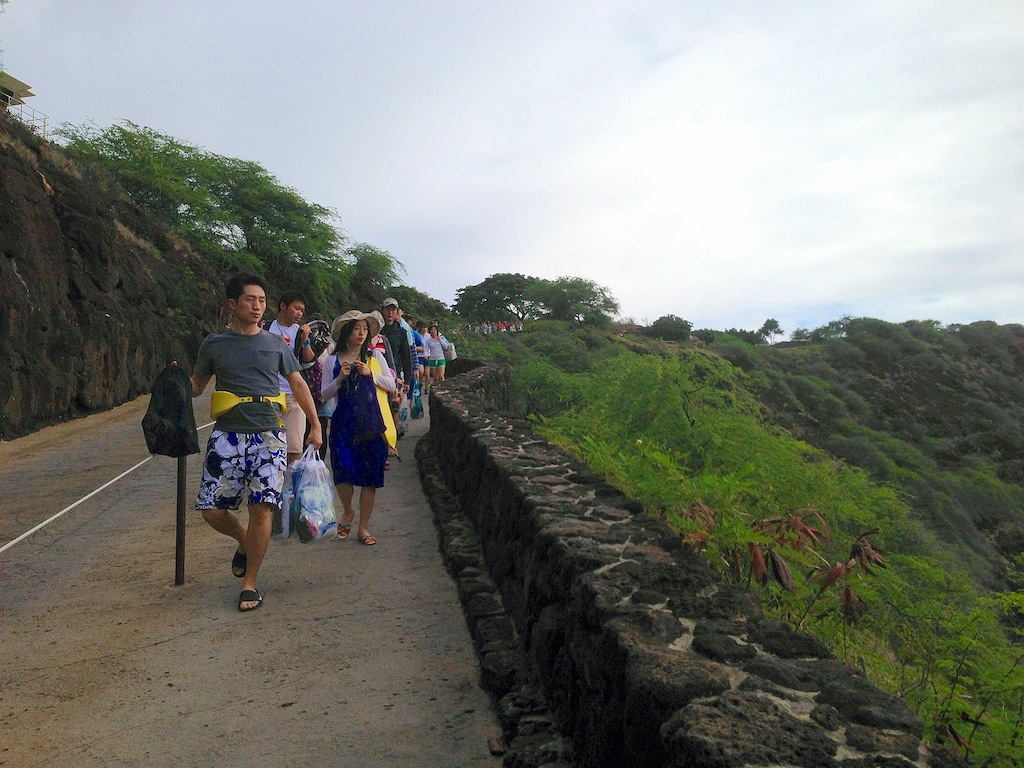 The beach here is beautiful with white sand and plenty of green areas for picnics and shade. We got here early enough (before 9 AM) so it wasn't as crowded yet.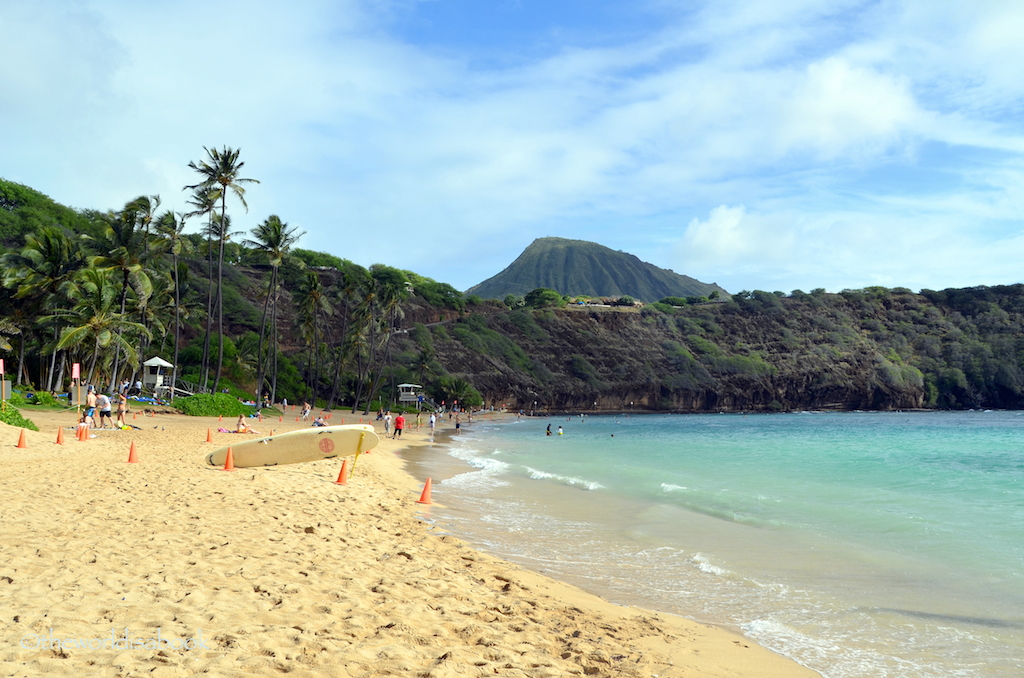 The semi-circular shaped shore of the bay felt like a hidden oasis. The blue waters, white sand and swaying palm trees were screaming relaxation and paradise.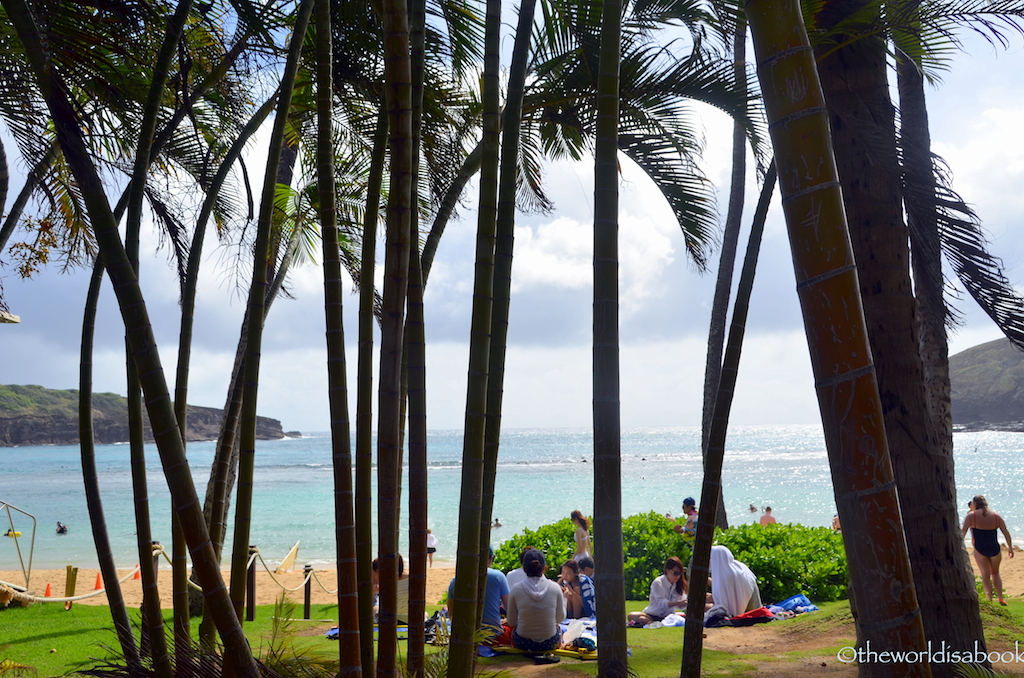 My husband and kids snorkeled while I happily got some sunshine and people watched. I'm not much of a snorkeling enthusiast. But, I had some great views all around.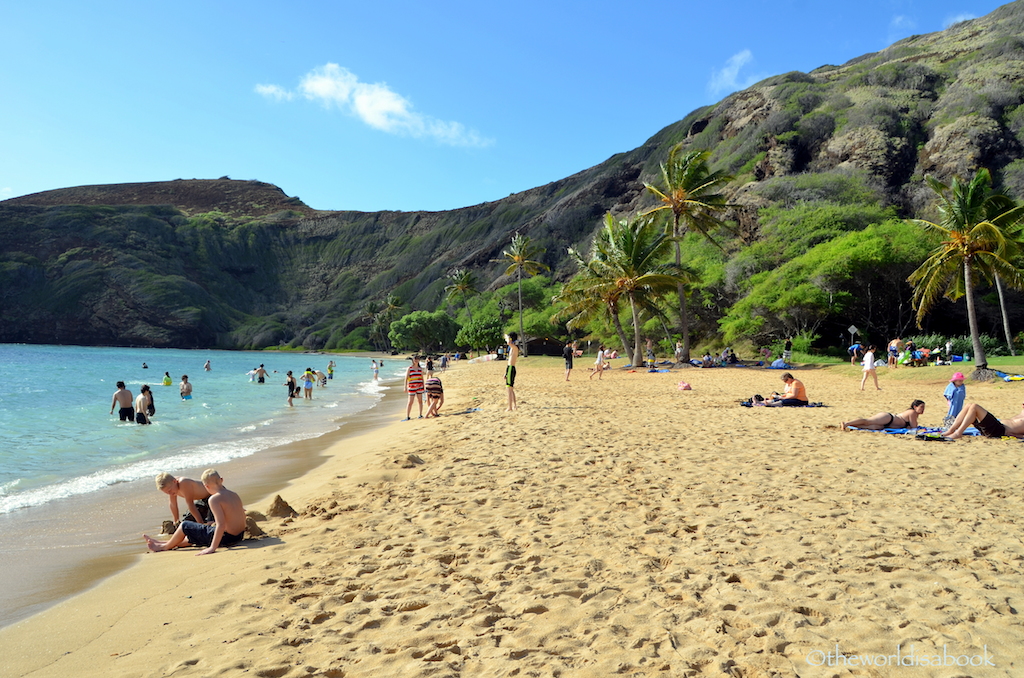 By the way, please don't ever feed pigeons. A lady a few yards from me kept tossing bread despite her husband's protest and learned the hard way. They wouldn't leave her alone afterwards. They surrounded her and annoyed so many of us near her.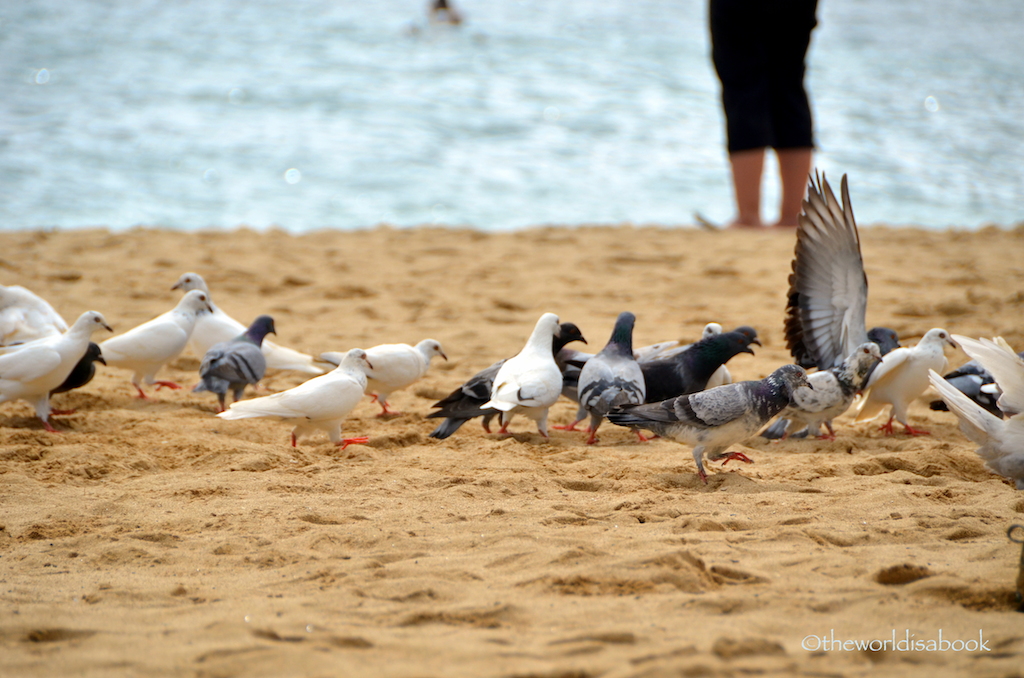 That was the extent of my entertainment while my family was getting ready. They were so excited to finally snorkel here especially my husband. This has been on his travel wish list for awhile now. He even set aside one carry-on bag for snorkeling equipment.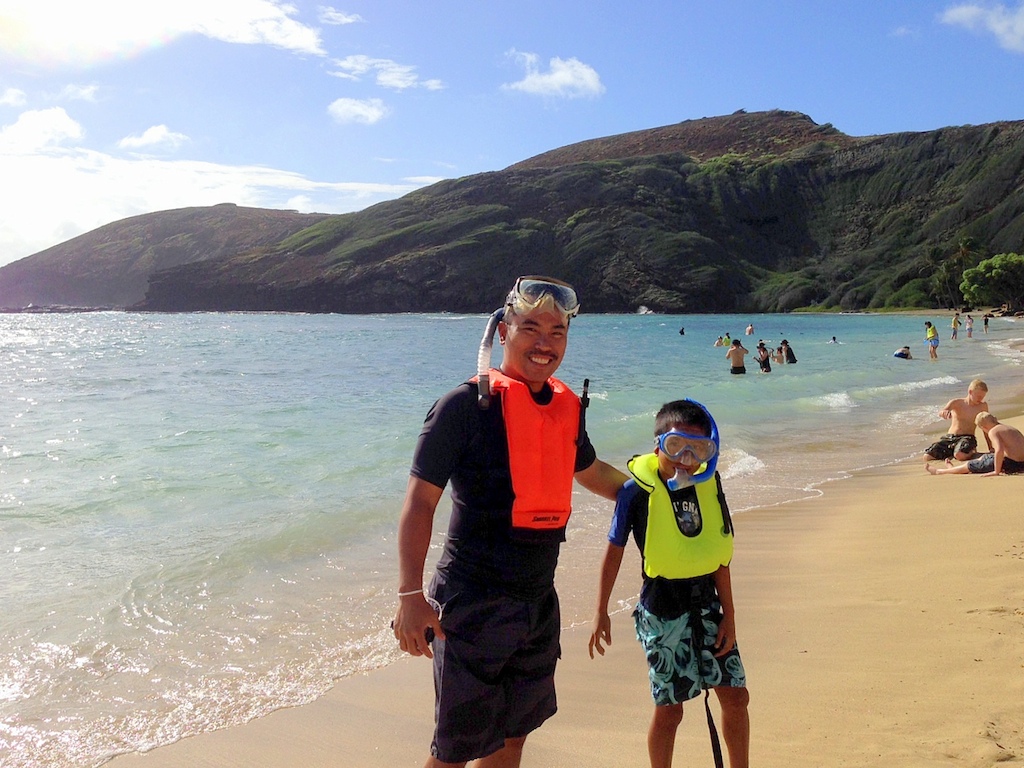 The clearer water was a short distance away from the shoreline and where corals start forming and the reefs are brimming with fish.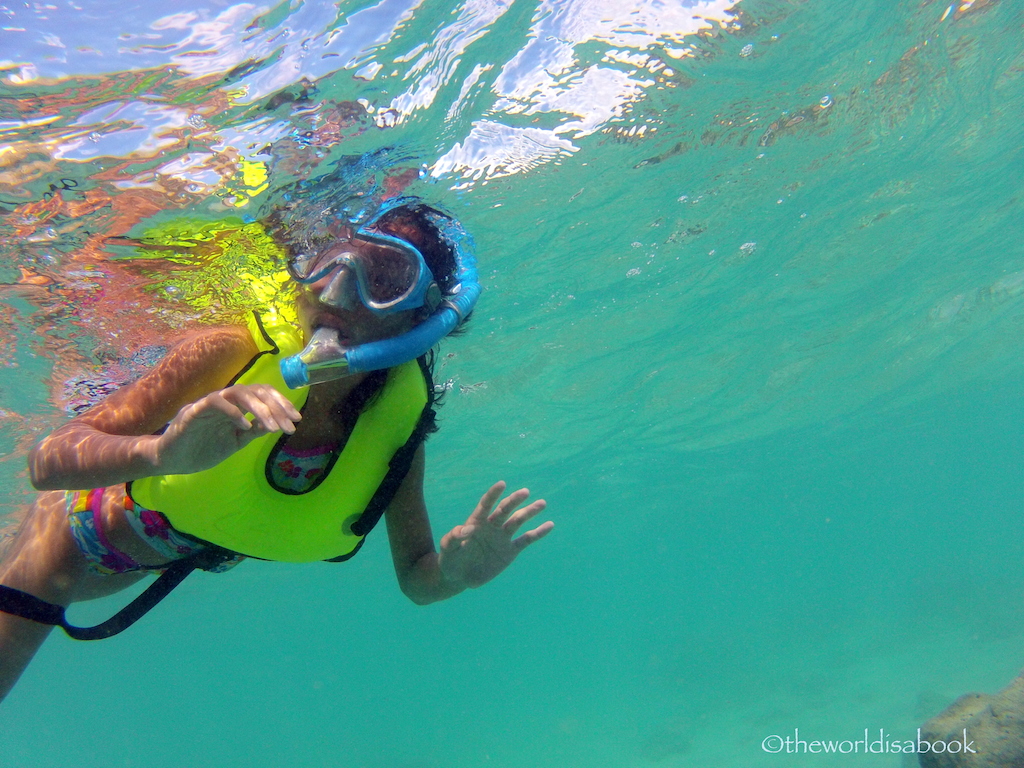 Here are a few of what they saw while snorkeling. Unfortunately, they didn't get to see sea turtles here.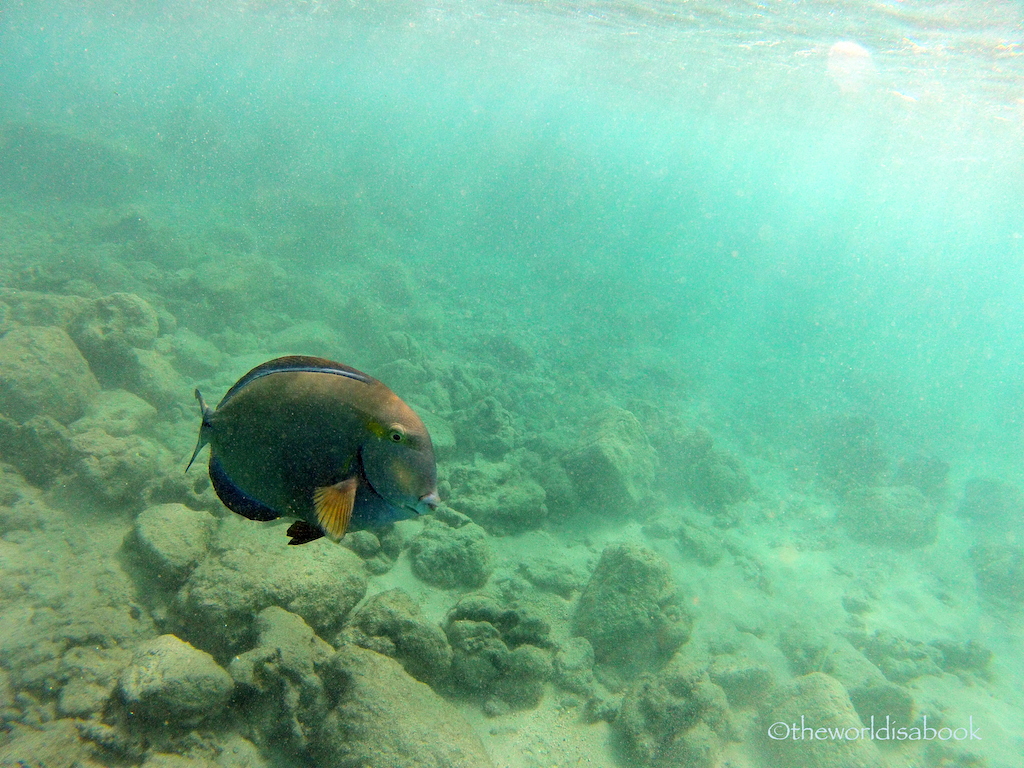 The kids wanted to see the Hawaiian state fish Humuhumunukunukuapuaa (try saying that twice). Luckily, they actually saw them and what is also known as a reef triggerfish. It's the colorful one below.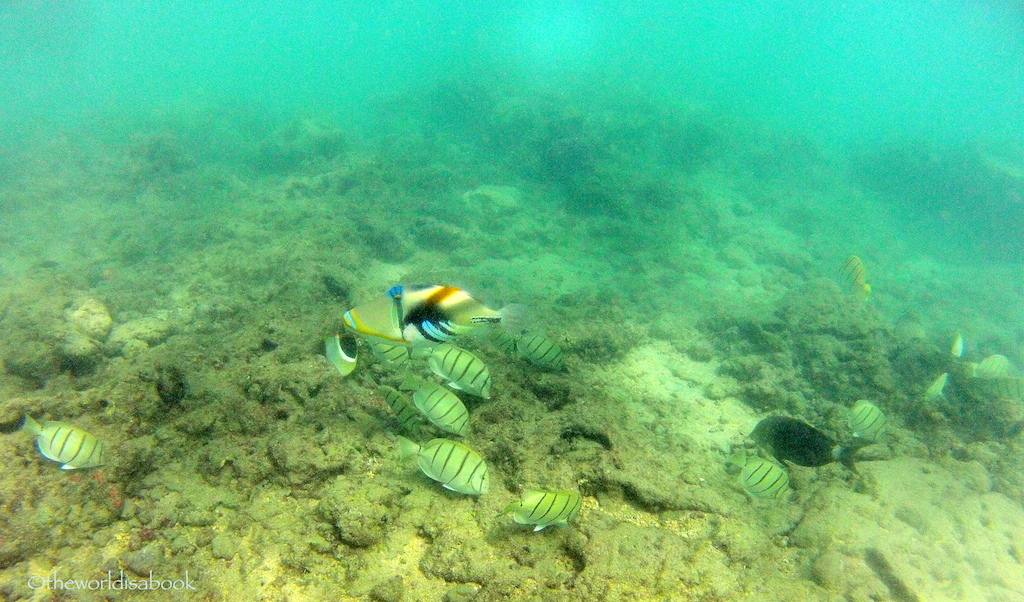 There were many schools of fish and a great variety too – all seem used to and oblivious to people.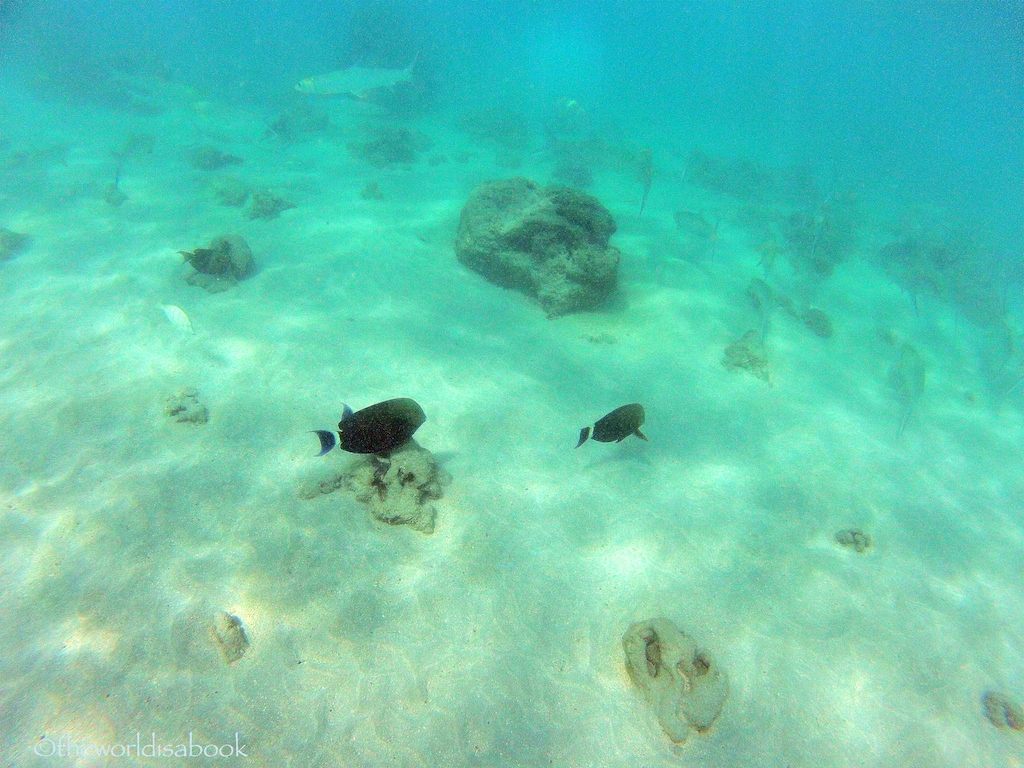 My husband says that there were more varied fish here than the ones he's snorkeled in Mexico and Catalina Island but lesser quantity. Unfortunately, I can't give a better identification to all these fish. With more than 450 tropical fish here, it's a living aquarium and according to my family, a memorable experience to swim with them.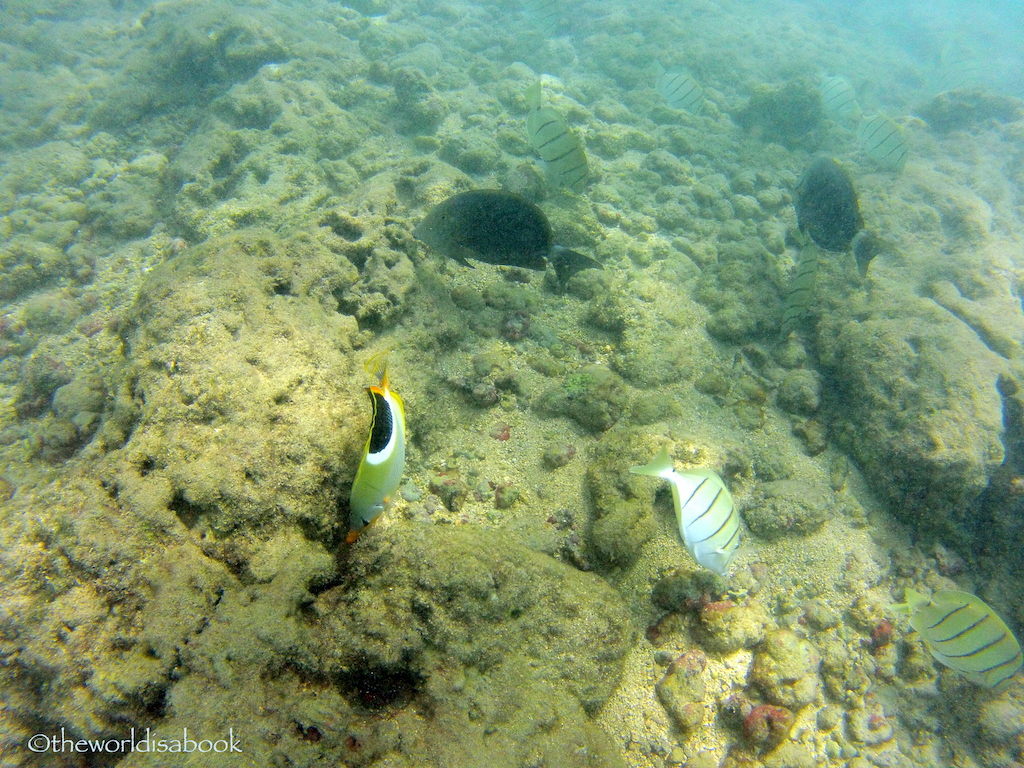 I love this one of the fish in line.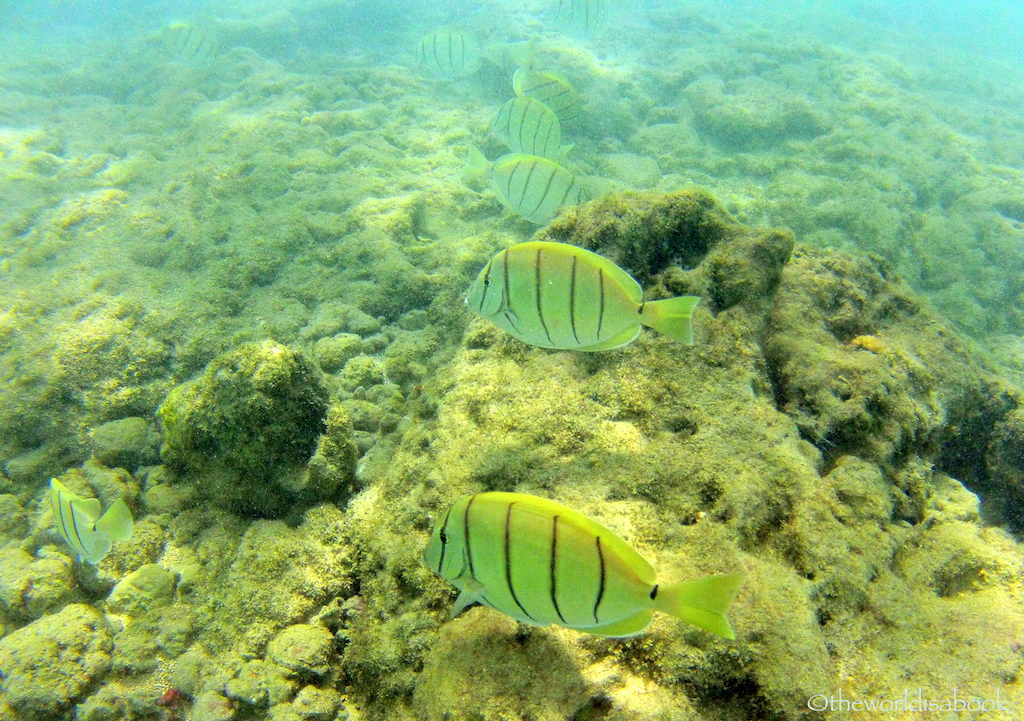 Some areas were calm and shallow which was great for beginners and kids to snorkel. The water temperature was just about right too. My kids loved this area due to the variety of colorful fish they saw and the calm waters.
There's a reason many who have been here emphasize coming early. As it gets later in the day and the crowd increases, visibility also gets murkier in the water.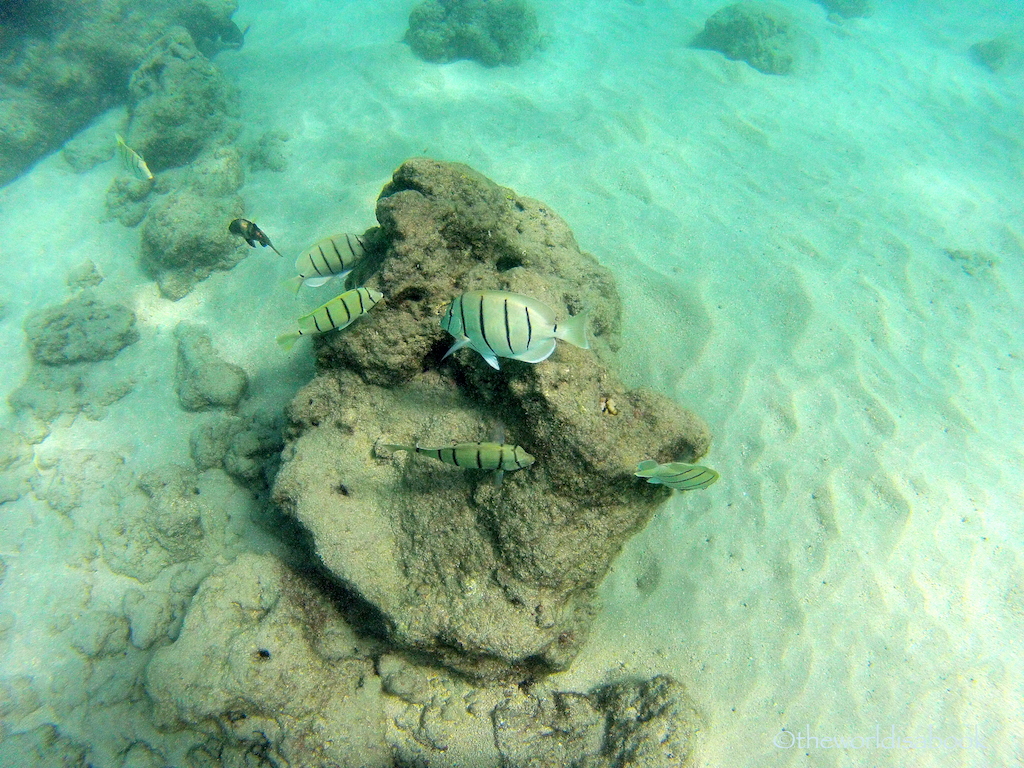 It's not all snorkeling here. My kids also had fun playing in the sand and water.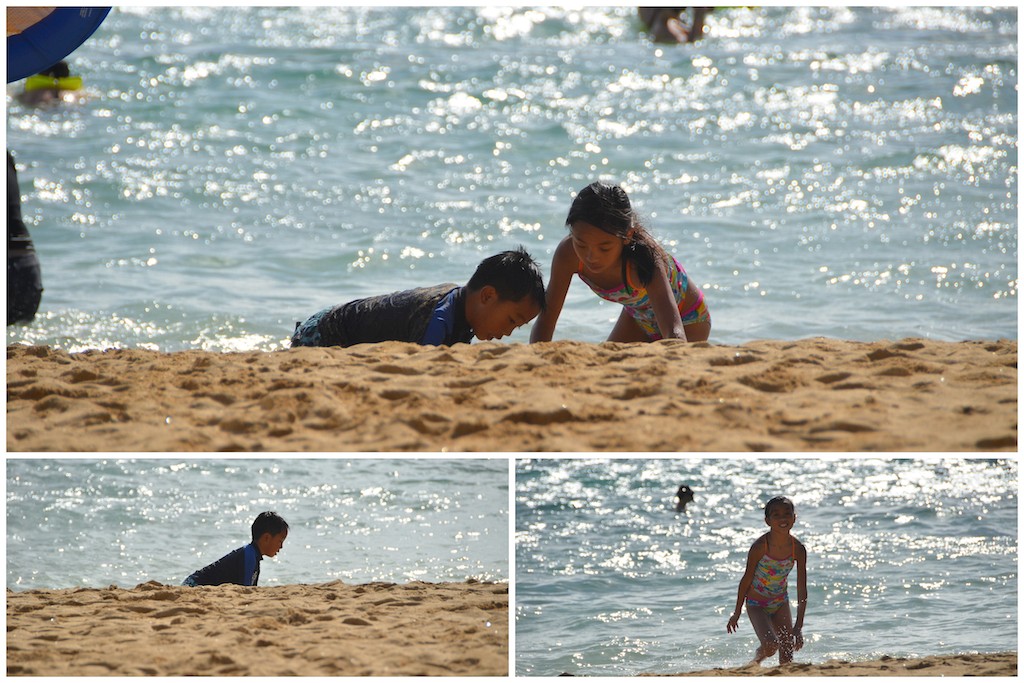 After finally experiencing the beauty of Hanauma Bay, it's not a surprise why this is such a big draw for locals and visitors. It was a wonderful place for swimming and snorkeling for all ages and abilities.
It's so wonderful that the government has implemented conservation efforts to protect and preserve this bay and its ecosystem. Let's just hope the visitors do the same.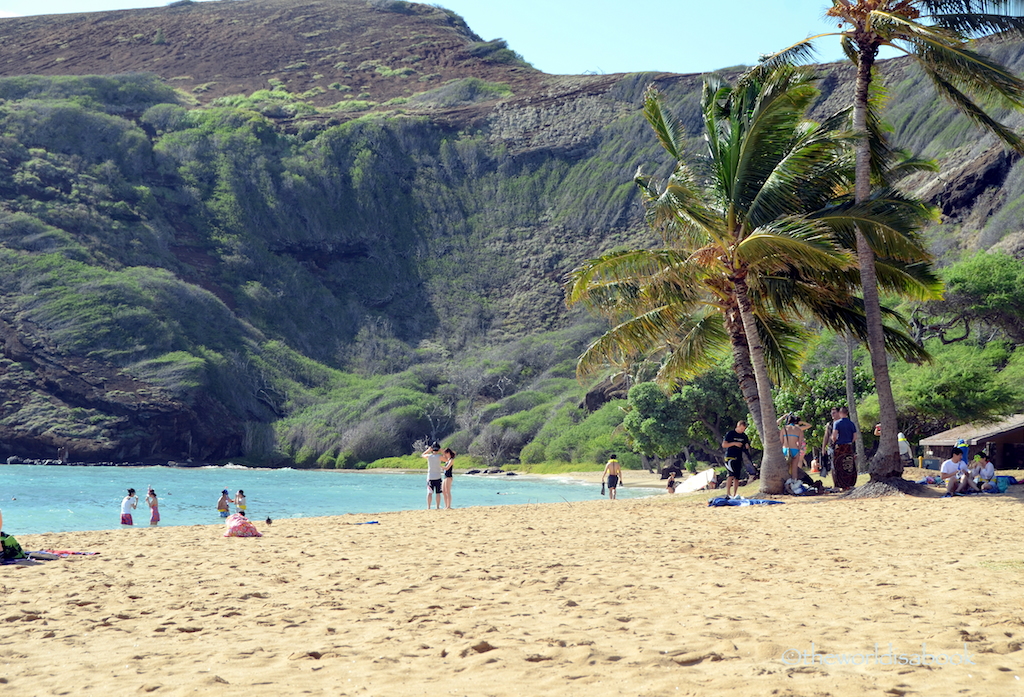 Tips for Visiting and Snorkeling at Hanauma Bay Oahu
Hanauma Bay Nature Preserve is open daily from 6AM to 6PM. Closed on Tuesdays. It is open until 10 PM on the second Saturday of every month. Entrance Fees: $7.50 per person. Free for Hawaii residents, active military and their dependents (bring IDs as proof) and kids 13 years old and younger.
Parking space is limited since it is closed once it fills up. Arrive early to get a parking spot so you don't get turned away. $1 parking per vehicle per day.
Trams are available. $2 all day; $1.25 going up and $1 going down each way.
Facilities down at the bay include restrooms, changing rooms and showers, snorkeling equipment rentals and locker rentals. Lockers can be rented for $7.
Try to bring your own equipment. Since my husband brought our snorkeling equipment we only  rented the kids' life vests for $7. $12 for snorkel/fins rental and $18 for the whole set with vest. Credit cards and cash were accepted.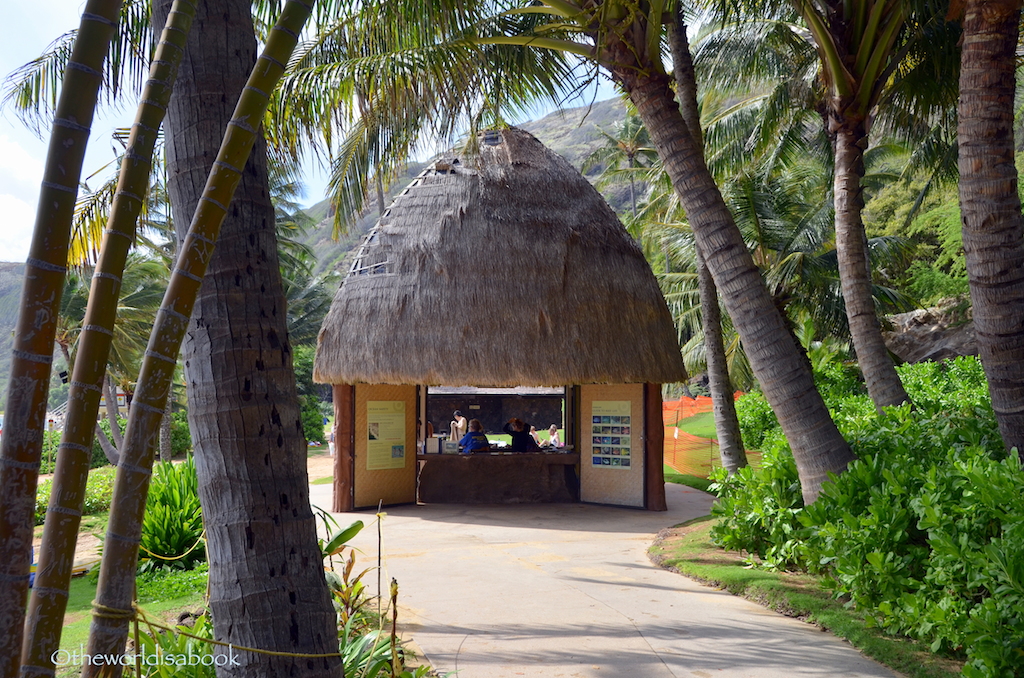 Lifeguards are available but don't go past the buoys.
Bring your lunch, drinks and snacks. There were grass picnic areas near the parking lot and a concession stand to buy food and drinks.
Try checking the tides before coming here since the most ideal snorkeling conditions are during high tides. We got too excited and didn't even check. But, I guess with low tide it can always be a good beach day.
Don't forget your underwater camera or case for your GoPro or smartphone. My husband used our GoPro with an underwater casing for the snorkeling pictures here.
Check on guided tours available from many tour companies and hotels in Honolulu if you don't have a rental car.
*Have you visited or snorkeled at Hanauma Bay? Any other favorite snorkeling spots? 
Where to Stay in Honolulu or Oahu
Hilton Hawaiian Village – The rainbow towers stand out on this 22 acre oceanfront property along Waikiki. Many of the rooms have ocean views. The grounds are beautiful with  tropical gardens, waterfalls and ponds. There are daily cultural activities like hula lessons and a Camp Penguin Kid's Club for kids ages 5-12. We love this resort!
Embassy Suites Waikiki Beach Walk – This all suite hotel offers plenty of space for the whole family including a microwave and refrigerator in the mini kitchen. It is steps from the beach and many dining, shopping and entertainment options. They offer complimentary made to order breakfast buffet and evening poolside reception with complimentary beverages and snacks.
Aulani | Disney Hawaii Resort – This is a bucket list property for Disney lovers. This beautiful 21 acre oceanfront resort is located in the Ko Olina area with great beaches and lagoons. Kids (ages 3-12) can enjoy supervised activities and learn a bit about the Hawaiian culture at Aunty's Beach House. The pool area is fantastic with water slides, a lazy river and one can even snorkel in a private lagoon.
Save up to 50% on Value Deals in Honolulu through Booking.com!
See the best prices from the major travel sites on

HotelsCombined

.
Find the best Honolulu hotels and read reviews on TripAdvisor.
Flights/Vacation Packages
Compare airlines, dates and prices all in one place with Skyscanner
Pin it for later!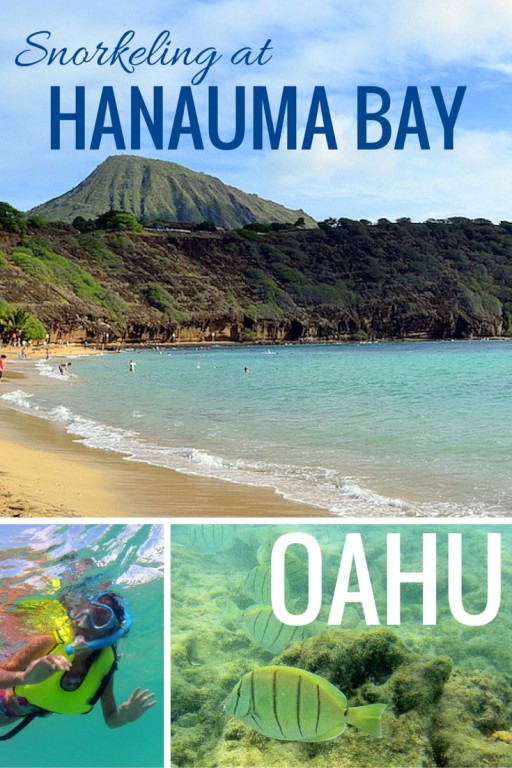 *There are affiliate links in this post to help support this website.