Maui Family Lodging: Royal Lahaina Resort
Maui is known for its expensive lodging.  Condos are most likely the places to stay if visiting for over 4 days and a bigger party to save money on food.  Unfortunately for us, we didn't stay over 4 days which was the usual minimum with the condos.  We were also meeting with friends who were only staying for the weekend.  All of these circumstances allowed us to stay in three very different lodging places.  It wasn't ideal to be nomads for 5 days but it also allowed us to see a variety of lodging alternatives depending on one's budget and location preferences.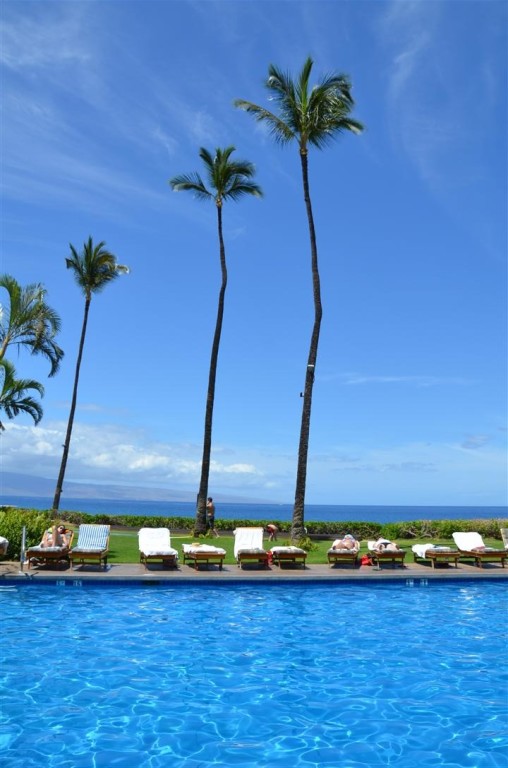 Royal Lahaina Resort – Lahaina, HI (Kaanapali Beach area)
We booked this hotel for our last night using Priceline and got a great rate.  This was the first time we used Priceline but we knew going in which hotel people we were getting based on location and star rating.  This particular website was very helpful with our bids.  Highly recommend! We were a little worried about being booked on the cottages, even though it had kitchenettes, based on reviews.
We were just hoping that we would get lucky and be placed on their newer rooms on the towers.  I almost jumped for joy when I checked in and we were informed our room was in the Lahaina Kai Tower. Based on the type of room we got, we got lucky and got 50% off their prime rack rate.  Rate cards are displayed towards the bottom of their webpage.
We were even more surprised to find a clean, spacious and modern room with a balcony that had a spectacular ocean view.  The room had very nice, contemporary furnishings in dark teak wood.  The beds were very comfortable and we slept well. The linens were soft and we were provided with lots of pillows. There was an in-room electronic safe and mini-refrigerator in the room.  The rooms were 330 square feet.  There was a flat-screen TV with iPod ports and an hour of internet was complimentary.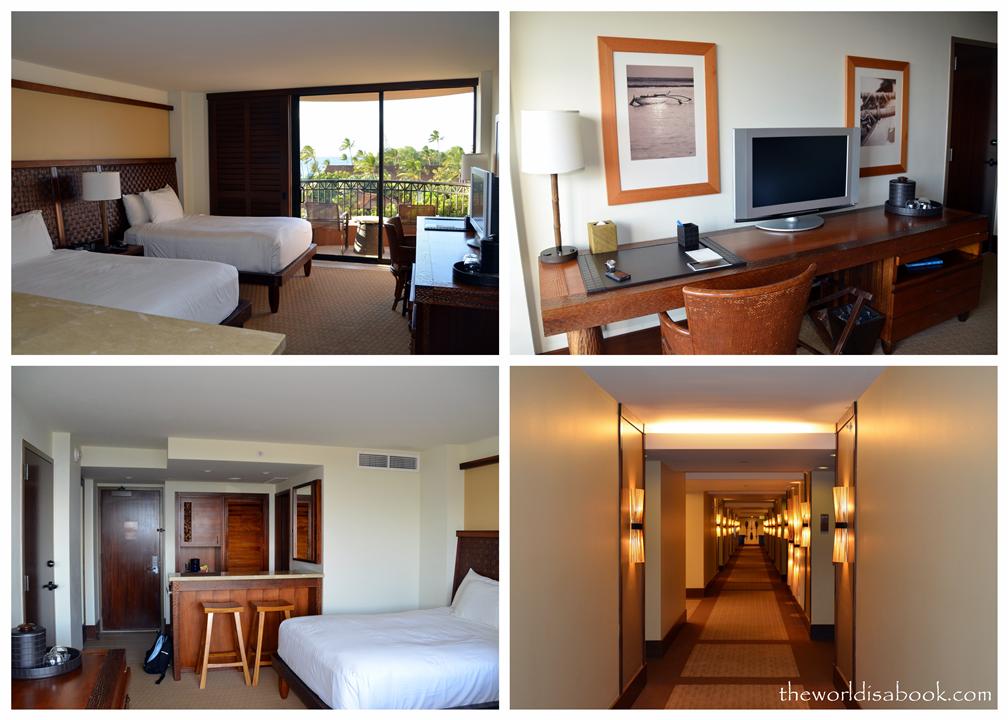 The room had an unconventional layout with a bar area/island but the other side was the counter and sink for the bathrooms.  The toilet and shower were adjacent to the sink and closet separated by a sliding wood door.  There was no bath tub but the shower was very roomy.  We saw rooms a couple of doors down that actually had shutters to separate the sink instead of an open area.
Self- Parking was $11 and Valet parking was $15.  There was a gate attendant at the entrance of the resort.  The parking lot seemed pretty small for a big resort and on most nights shared this lot with the luau guests.  They had a list of activities available for guests such as lei making, pilates, beginner yoga, puka shell necklace making .  Unfortunately, we didn't get to participate in these activities.  We attended their luau (see review here) which was pretty good and was right next door.  They had a torch lighting ceremony at 6:30 PM and live Hawaiian music starting at 5:30 PM every night.
There were two pools though not very big ones.  The smaller one closer to the cottages was a bit more ideal for the kids.  Towels were available for checkout from a small cabana.  There were also pool chairs with covers avaialble for rentals.  There were pathways from the pools to the Kaanaapali beach area.  This particular stretch of Kaanapali beach was not as crowded as the other side of Black Rock.
Contact: 808.661.3611     Address: 2780 Kekaa Drive, Lahaina, HI 96761
Website: http://www.royallahaina.net
Our other Maui family lodging reviews:
Related Links:
Check out these related posts: