Tropical Fun at a Luau in Oahu
A visit to Hawaii usually necessitates attending a luau or Hawaiian feast for many of us. During our visit to Oahu last month, we decided to make this into a family event with my brother and his family who lived there and our other brother who joined us. Paradise Cove claims to be Hawaii's best luau and has been around for over 20 years. Come join us for some Hawaiian activities and food amidst a fantastic tropical setting.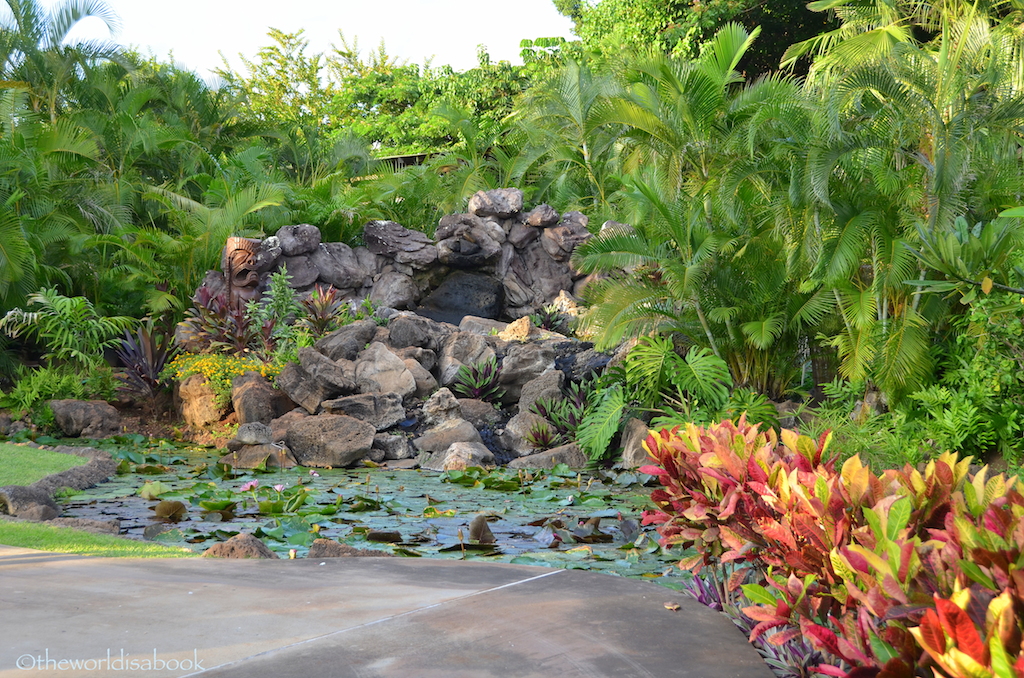 Located at the beautiful Ko Olina Cove on Oahu's coast. Paradise Cove has an enviable oceanfront location set on 12 acres. There's a reason Disney's new Aulani resort was built down the road.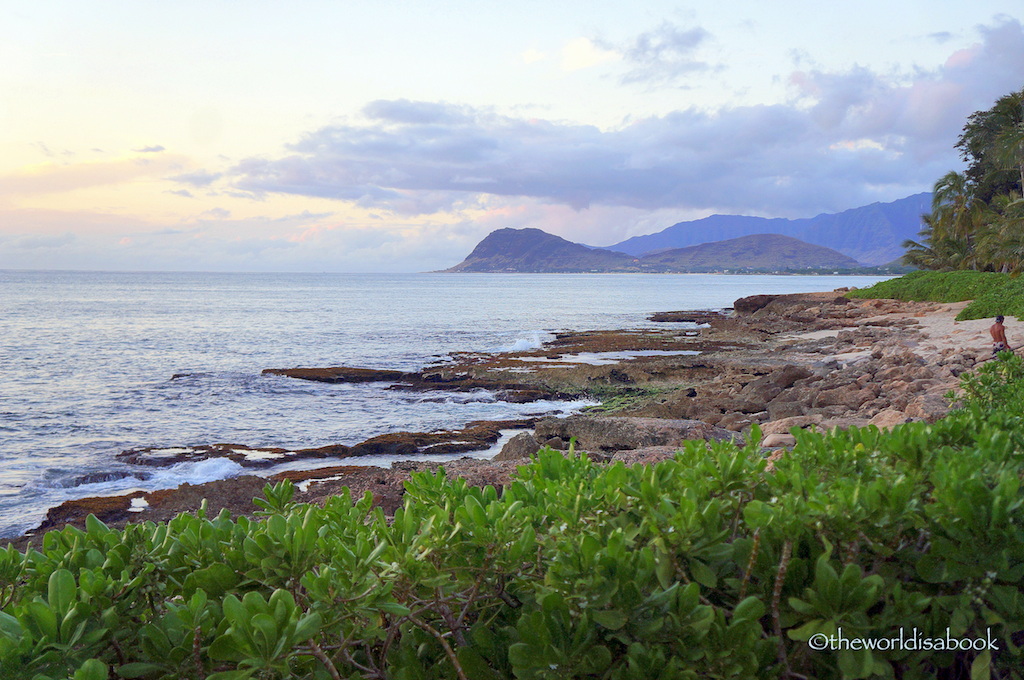 It felt like entering a tropical garden as soon as we entered the gates to the luau. We were greeted with some Hawaiian music to add to the ambience. The free Aloha Mai Tais (with and without alcohol) were freely passed out to get everyone in a festive mood. Depending on the package you purchase, guests are also greeted with a shell or orchid lei.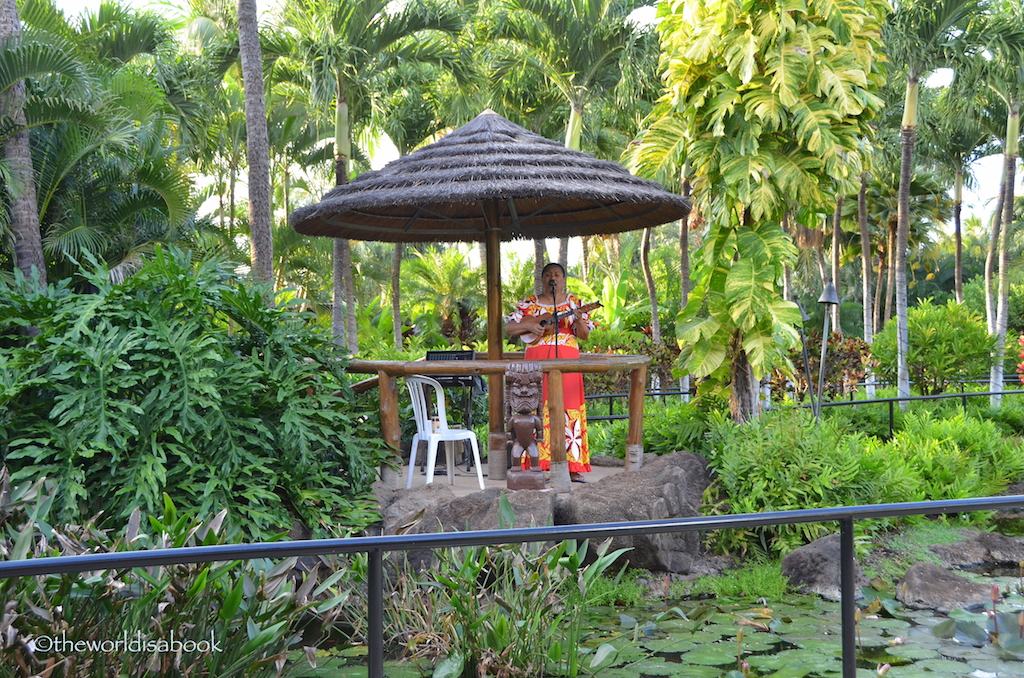 One of my favorite things about Paradise Cove luau compared to other ones we've been to is the variety of fun, pre-show activities everyone can participate to learn Hawaiian games, arts and crafts.  We've gone here before but this was the first time with the kids.  My kids and nieces excitedly ran from one session to another.
They liked participating in traditional Hawaiian games like the 'O'o ihe (Spear throwing) and 'Ulu maika (Rolling stone disks). They quickly collected shell leis as prizes. How to tie a sarong (always very useful tips for the ladies) or even cut and husk a coconut were also part of the demonstrations.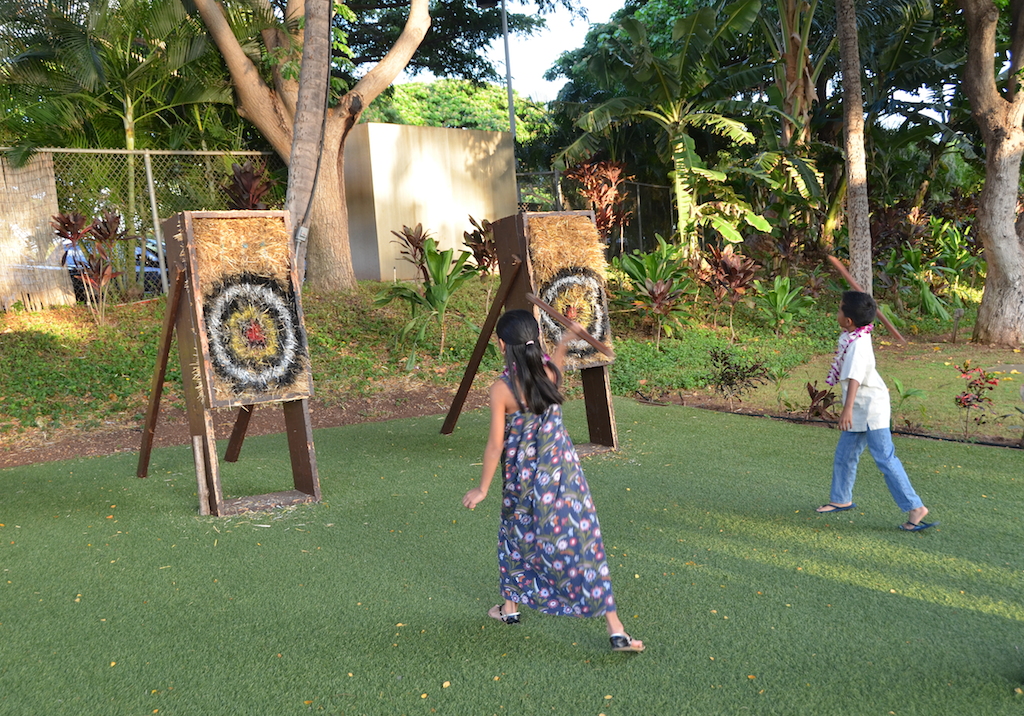 Some of the guys got temporary Polynesian tattoos, while the women tried their hand in making Hawaiian leis or leaves, "crowns" or bracelets. My daughter couldn't get enough of those plumerias and orchids and happily wore some of the ones they made as accessories. While I appreciated the effort put on by the staff, I was a little put off with the tip jar for each complementary activity.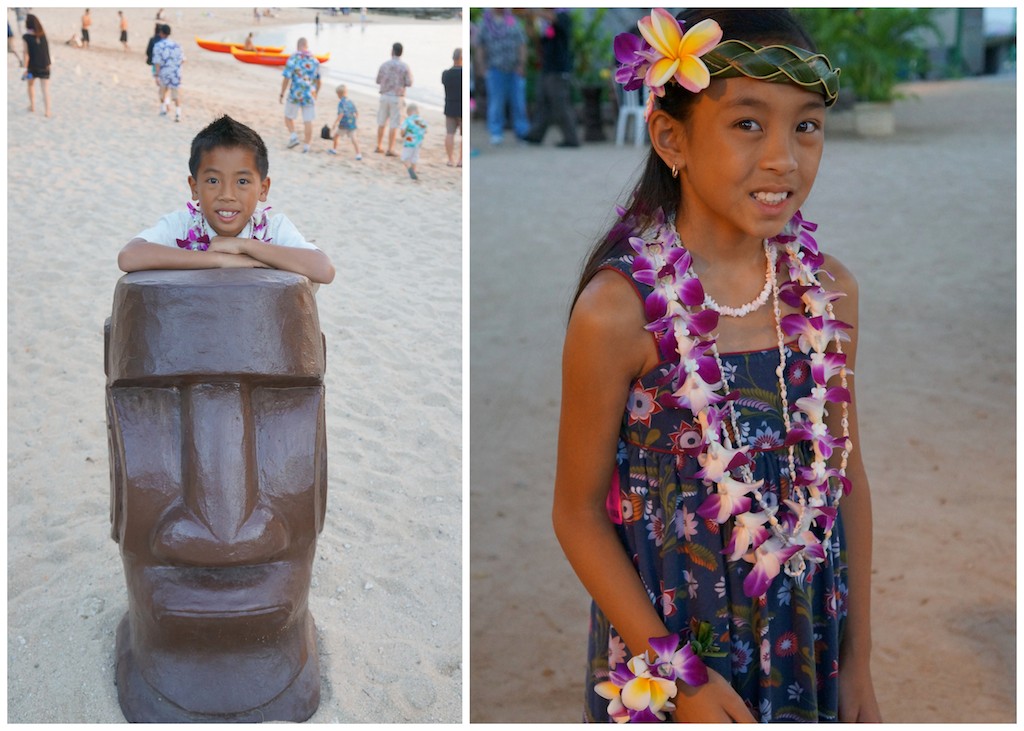 The kids also tried some canoeing in the small lagoon. One of the staffers helped them row around which made their day. To top it off, they had the island's spectacular sunset as a background.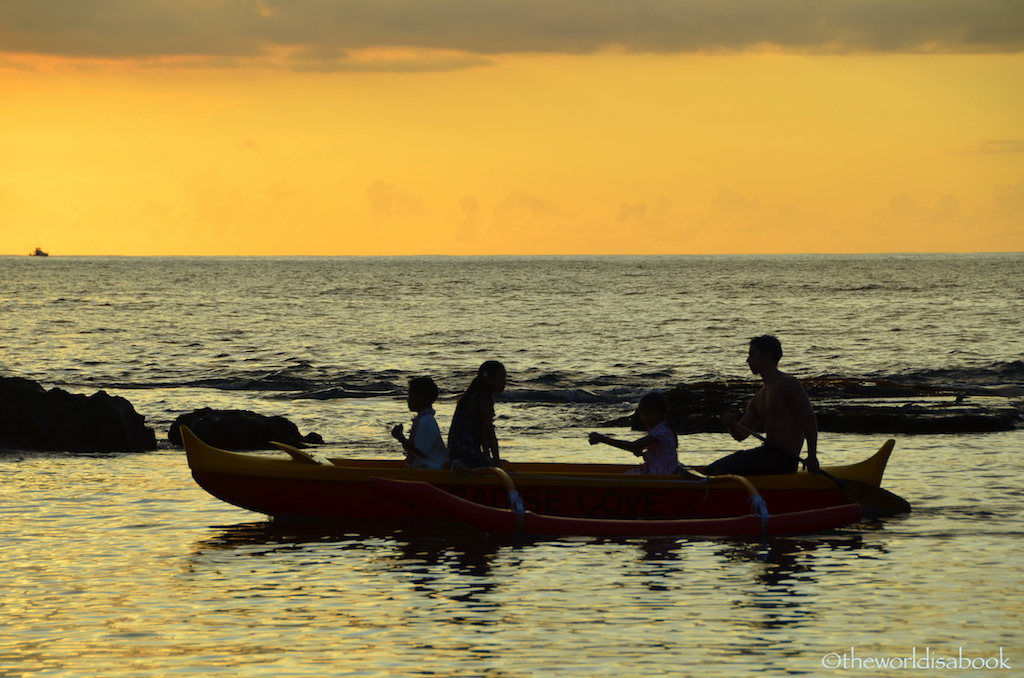 Many of us assembled at the beach area to catch these beautiful views. How could we stop taking pictures with scenes and colors like these?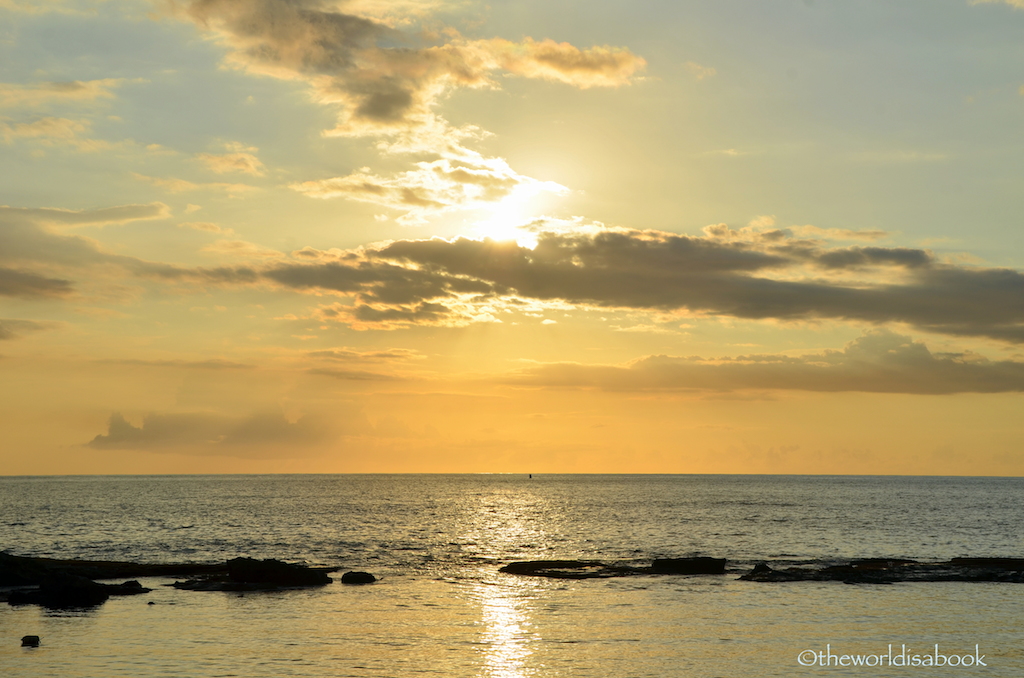 Just one more Hawaiian sunset photo.

The staffers made a wonderful effort to announce events and gather the visitors. It was a pleasure to see an island boy climb a tall coconut tree quickly. Once he reached the top, there was a "Shower of Flowers" as sweet-smelling tropical blossom strips floated down to us.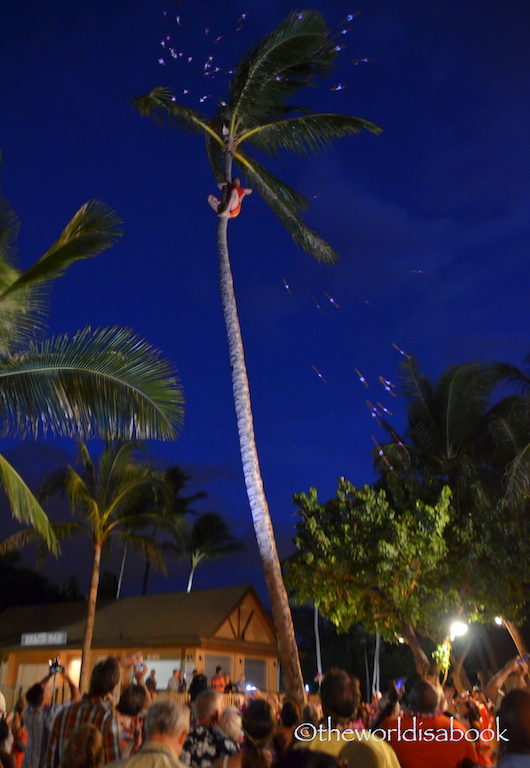 After watching the islanders and chosen guests participate in the traditional hukilau or pulling of the fishing nets from the lagoon accompanied by island chants, we were led to the Imu Ampitheater. The Paradise Cove Royal Court led a sunset ceremony to extract the customary pig being roasted in Hawaii's version of an underground oven or imu.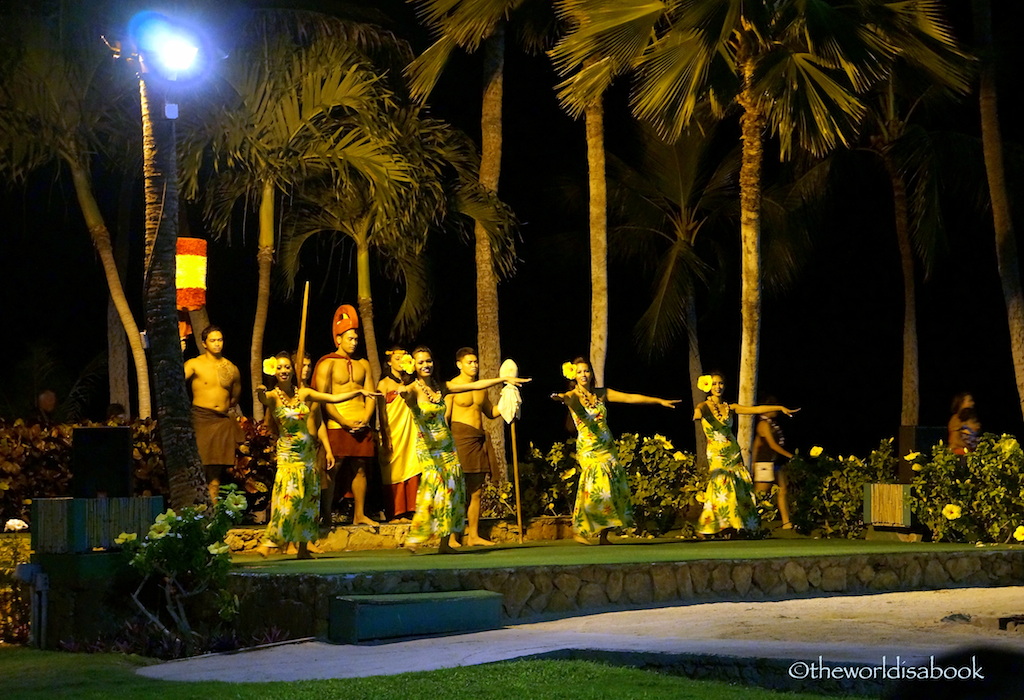 This whole ritual was supposed to emulate what the ancent Hawaiians did to cook the pig. It involved digging a pit in the sand with logs and river rocks to top it, the pig wrapped in banana leaves and burlap bags on top to keep the steam in for 6-8 hours of cooking.
I'm not sure if it was the exact same pig but I'd like to think it was for an added authenticity. Although, the fast-turnaround it took to put the shredded pork on the table was highly suspicious.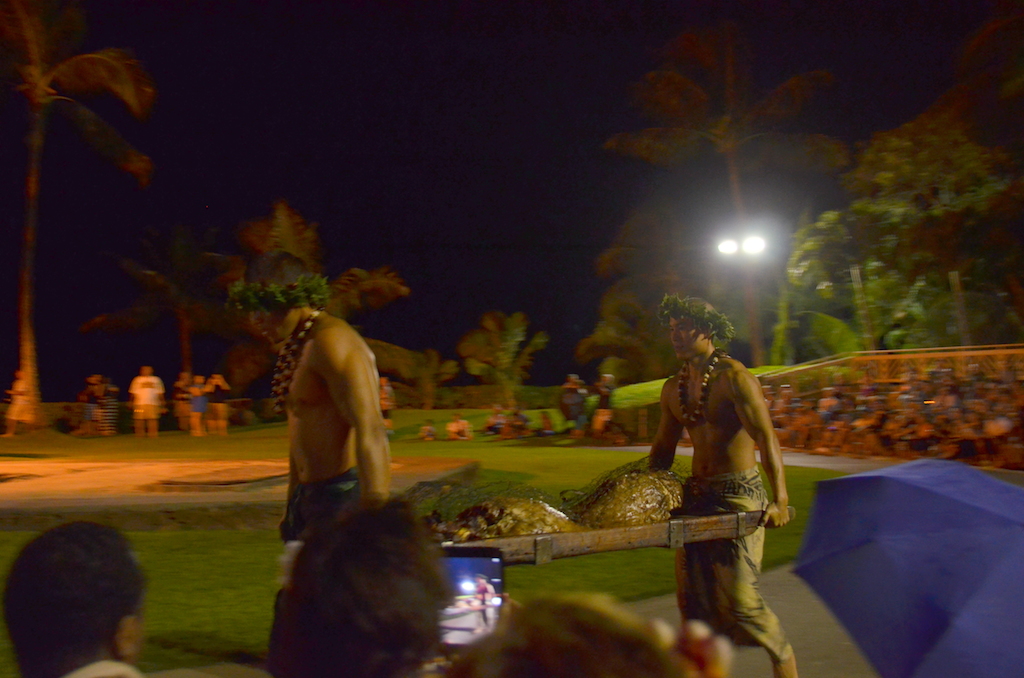 We didn't stay long at the ceremony since it had started to rain a bit. Many stuck it out while some of us sought out cover. It was a pleasant surprise to find ponchos for us to keep at our table when we returned though. Luckily, the rain stopped long enough for us to enjoy the food and show.
Don't expect 5-star dining or gourmet here since it is a buffet with mass-produced food. The buffet included a variety of salads, pineapple chunks and traditional luau food like poi (pudding-like paste made from mashed taro root), lomi salmon, fish with macadamia nut crème sauce, fried chicken (yes, very Hawaiian) and kalua pig with desserts like coconut cake, jello for the kids, cookies and haupia (coconut custard). My kids couldn't get enough of the supposed taro rolls which were really purple Hawaiian sweet rolls After all the pre-dinner activities with no food in sight, this feast was enough to make even the picky eaters pile their plates.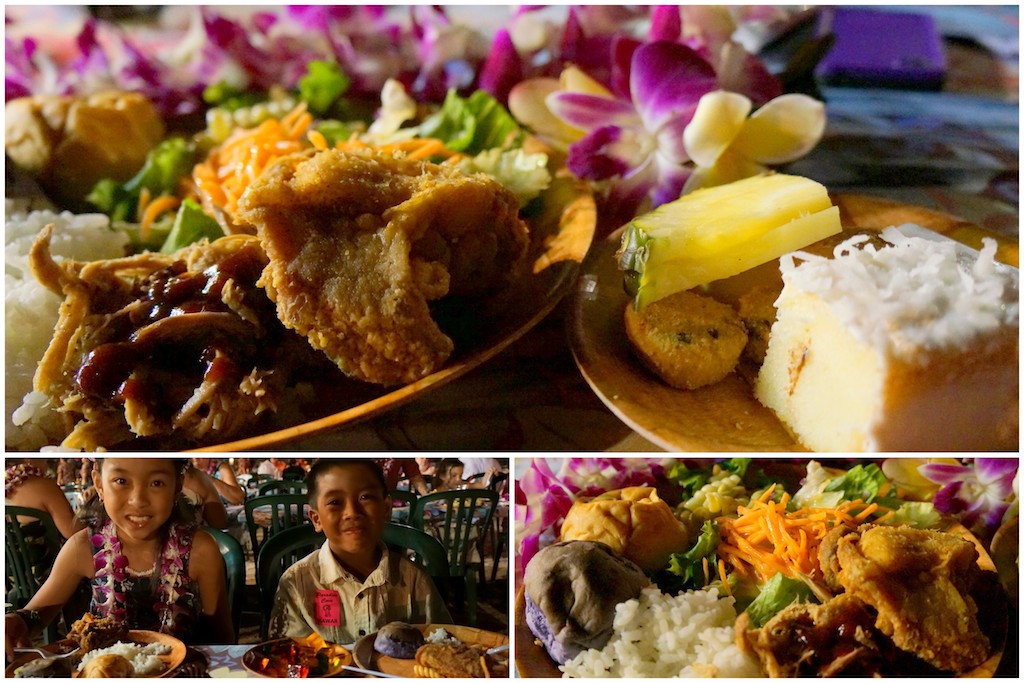 The night ended with some traditional Hawaiian and Polynesian songs and dances on the Paradise Cove Main Stage. I don't know how my brother managed to get us tickets at the front and center area but it was a great vantage point.

The one-hour show had quite a bit of audience interaction – picking people in the audience to learn the hula, honoring the military, birthday and anniversary and newlywed celebrants. It was also a delight to witness someone propose to his lady love. The dancers were very talented and entertaining. I wish they included more dances from other Polynesian cultures but they only had one Tahitian dance during the performance. But, it was still a lovely way to end the whole luau. Everyone can pose with and meet the performers afterwards.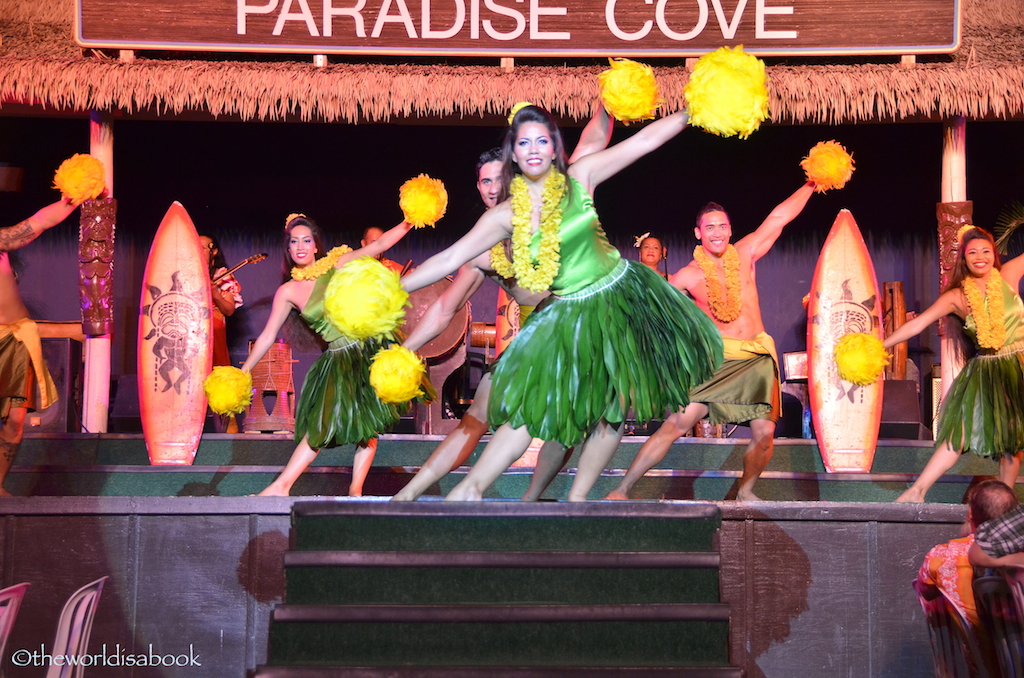 Although, the highlight was the exciting fire dancer who kept our attention.  He was awesome and the kids' favorite performer. Sorry, hula dancers.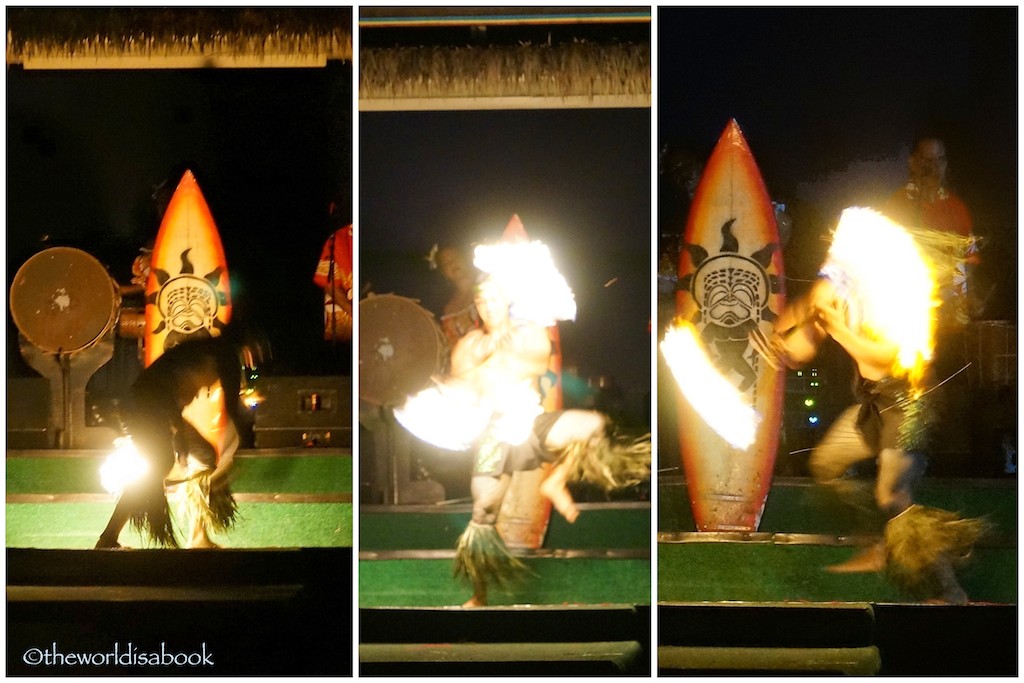 Paradise Cove was such an idyllic, scenic tropical spot for a luau. It was one of the reasons we decided to come back to this luau. They did a wonderful job celebrating Hawaii's culture despite it being a bit touristy at times. We really like the cultural crafts, demonstrations and activities beforehand. There are a few luau options in Oahu but it's hard to beat the setting here. If you're planning a visit to the islands, don't rule out a luau for some Hawaiian style fun, food and feast.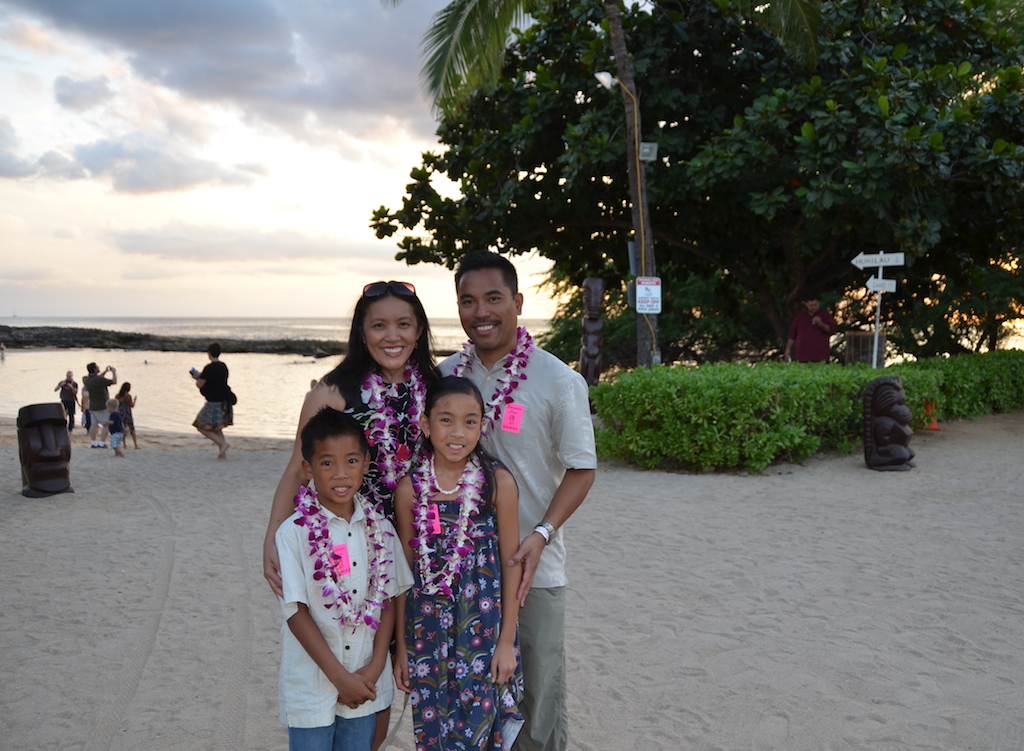 Tips for Visiting Paradise Cove Luau
Transportation from 9 convenient Waikiki locations is included with admission. We saw plenty of large tour buses transporting the guests. We had a rental car so we drove there and parking was free.
There were plenty of things to do while we waited for dinner, however dinner is not until about 7 PM so if you have young ones it might be best to have a late lunch or bring some snacks.
We got there around 4:30 before the buses came and there were no lines anywhere and the kids were first in many of the activities. Paradise Cove is open daily.
Admission comes with two free drink tickets for basic beverages on a list. Many of the sought after drinks were available for a ticket plus some other dollar amount. Thank goodness water was free!
Tickets can be purchased on the day of the event or book in advance. Check your hotels for any discounts since the cheapest package is almost $90. If you have access to the military bases in Hawaii, buy the tickets there for significant discounts.
Three packages are available with the most expensive one having seats at the front and waiter service. We had the intermediate package and we didn't feel like we missed out on anything. Check their website for pricing options and packages.
*Have you attended a luau? Any favorites?
Where to stay in Oahu
Hilton Hawaiian Village – The rainbow towers stand out on this 22 acre oceanfront property along Waikiki. Many of the rooms have ocean views. The grounds are beautiful with  tropical gardens, waterfalls and ponds. There are daily cultural activities like hula lessons and a Camp Penguin Kid's Club for kids ages 5-12. We love this resort!
Embassy Suites Waikiki Beach Walk – This all suite hotel offers plenty of space for the whole family including a microwave and refrigerator in the mini kitchen. It is steps from the beach and many dining, shopping and entertainment options. They offer complimentary made to order breakfast buffet and evening poolside reception with complimentary beverages and snacks.
Aulani | Disney Hawaii Resort – This is a bucket list property for Disney lovers. This beautiful 21 acre oceanfront resort is located in the Ko Olina area with great beaches and lagoons. Kids (ages 3-12) can enjoy supervised activities and learn a bit about the Hawaiian culture at Aunty's Beach House. The pool area is fantastic with water slides, a lazy river and one can even snorkel in a private lagoon.
Save up to 50% on Value Deals in Honolulu through Booking.com!
See the best prices from the major travel sites on

HotelsCombined

.
Find the best Honolulu hotels and read reviews on TripAdvisor.
Attractions
Save Money on Honolulu attractions and activities by using Groupon.
Flights/Vacation Packages
Compare airlines, dates and prices all in one place with Skyscanner