Eating in Maui with kids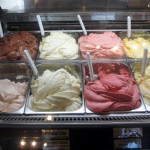 We initially looked for condos to rent while in Maui but with the added cleaning fee and most of them requiring 4 day minimum stays, our schedule and meeting with friends did not make this possible.  Since we were staying at hotels, we had to eat out which meant added expenses for feeding a family of four.  In order to save some money, we looked to yelp and found the LA Times cheap eats for under $20 which helped a lot with our choices here and most of them kid-friendly.
Breakfast
Sunrise Cafe – We ate here solely based on the $5.95 breakfast.  This was a block from the big Banyan tree on Front Street in Lahaina along the ocean.  It was a small dining area inside and we ended up on a table in the covered patio.  But, the ocean views were blocked and instead we got the backyard of the neighboring building.  There seemed to be a bit more locals than tourists at the time we were there.
They did have a varied menu of breakfast items.  The kids had the waffles with strawberries and blueberries which was a decent serving shared between two kids and they actually liked their food.  The banana nut muffin was good and a pretty big size.  The $5.95 breakfast included eggs and fried potatoes which was pretty delicious but the bacon, ham or sausage cost and  extra $2 garnished with banana and pineapple slices.  They offered some tropical juice options (mango, pineapple, guava, etc.)   Breakfast was an overall good value with friendly and efficient service but be warned they only accept cash.
Contact: 808.661.8558       Address: 693 Front St # A Lahaina
Coconut Grill – This was located at Maui Seaside Hotel in Kahului near the Maui airport.  We ate here for breakfast only because we had a voucher.  It was pretty crowded with mostly guests of the hotel.  Service was prompt and friendly.  It was a pleasant atmosphere with a lot of Hawaiian classic décor. The complimentary breakfast included eggs or ham with toast and eggs.  The portions were not very big but it was good enough to get us to lunch.  The prices were pretty high for the small portions they served since we had to order breakfast for the kids which only consisted of waffles and bacon.
Contact: 808.871.8881   Address: 100 W. Kaahumanu Ave., Kahului
Whaler's Village – This shopping center was situated among the Kaanapali beach resorts and was connected to all via a boardwalk.  There were a few restaurants here and all seemed to be pretty popular. It was a nice and convenient place to go to if staying at the nearby hotels.  We walked to the center for breakfast since we didn't want to drive to Lahaina and come back.
They had a food court with McDonald's, a Chinese fast food, ice cream and smoothies, pizza and Italian fastfood (think Sbarro's) and a sandwich place.  Surprisingly, there were some good breakfast options and platters at the food court.  In the end, Mickey Ds won with the kids.  Something only in Hawaii is the local breakfast platter at McDonalds of rice, spam, eggs and Portuguese sausage for about $6.  For the first time, my husband was actually happy to eat at McDonalds.  There was also an ABC Market here for basic necessities.
Contact: 808.661.4567  Address: 2435 Ka'anapali Pkwy, Bldg H-6, Lahaina
Napili Market – We went into this supermarket in a shopping center in the Kapalua area to buy some drinks and came out with some breakfast plates for less than $5.  So, we're including it here for cheap alternatives to breakfast.   The breakfast plate was something very local and different.  The plate had an omelette, slice of ham, portuguese sausage and small bacon strips over steamed rice.  It was surprisingly tasty and satisfying.  We brought it back to eat at our hotel balcony and ate breakfast enjoying the ocean view. The market also had a pretty decent deli and bakery section for pastries.   It was too bad we found it on our last morning in Maui.
Contact: 808.669.1600 Address: 5095 Napilihau St Ste 113 Lahaina
_________________________________________________
Lunch/Dinner
Geste Shrimp Truck – Oahu is famous for their shrimp trucks in the North Shore so I went searching for Maui's shrimp trucks and found this one and only truck so far.  We had a latitude/longitude coordinates from some of the other review sites and our trusty GPS found it along with other food trucks, including ones selling fresh fish, lined up on Kahului Beach road near the Maui Community College.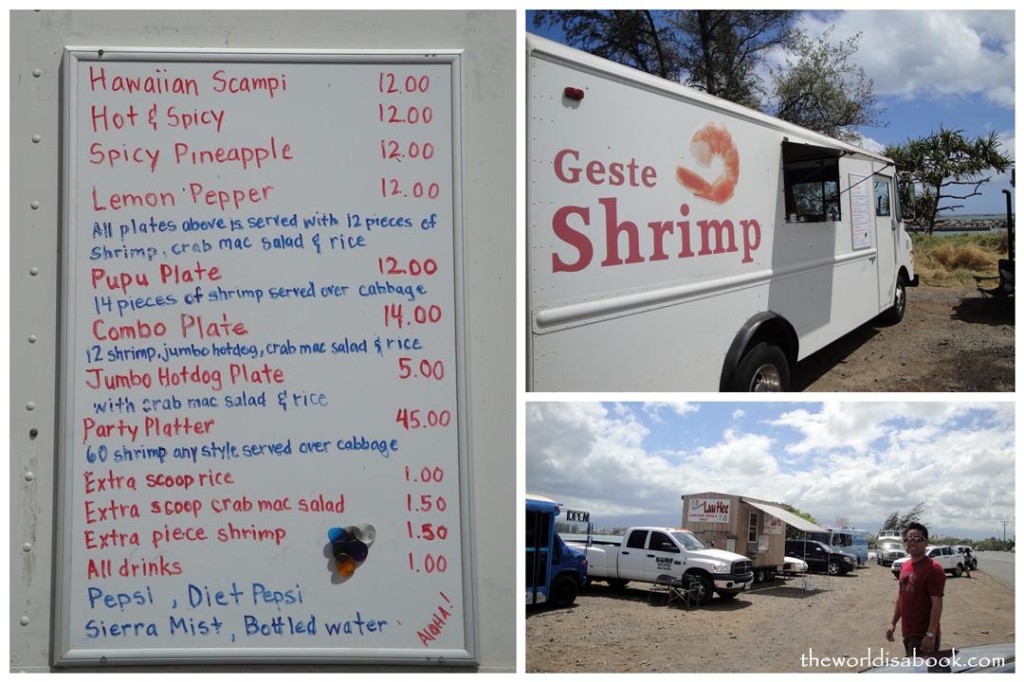 We were the first customers at 11AM.  We got the Aloha combination of shrimp and sausage for $14 which was scampi style with a lot of garlic. My husband got the spicy pineapple. The sauce was just right with plenty of garlic.  There was 12 shrimp for $12 that came with rice and macaroni/crab salad. The shrimp was big, deveined and absolutely delicious.  One of the best shrimp dishes we have ever tasted.  The macaroni/crab salad was tasty too which was a nice twist to this salad common throughout Hawaii.  We had eaten a pretty decent size breakfast but we still devoured our plates.  Our kids who are usually pretty selective and not quite big garlic fans loved the food as well.

We took the plate and had a little picnic at a nearby beach.  It was too bad they weren't around on Monday or we would have definitely made a return trip for lunch.  They were there everyday except for Sundays and Mondays. For shrimp and garlic lovers, we highly recommend this and will hunt for this truck on our return trip to Maui.
Contact: 808.298.7109 Address: Kahului Beach Rd, Kahului
Beach Bums Bar & Grill –  We stopped here on our way to Kihei and after checking out the shopping center next to the Maui Ocean Center.  There were really not many choices here.  It wasn't a very big place so we had to wait for more than 30 minutes.  It was an open air restaurant so we had a great view of the ocean, the Maalea harbor and all whale watching tours departing and arriving as we were seated on a table outside.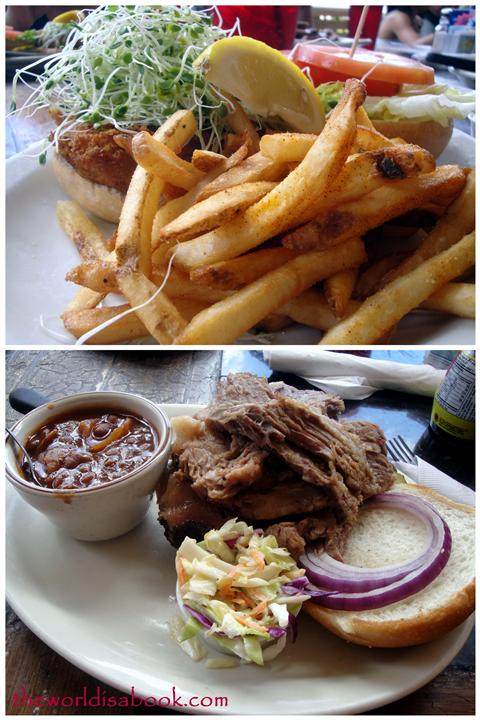 The children's varied menu included hot dog, mac & cheese, burgers, grilled cheese or chicken strips for $6.95 and didn't include a drink.  It was a little pricey for kids' meals.  I had the calamari sandwich with a little too many greens but was pretty good with a big calamari steak.  The sauce was uneventful. My husband had the pulled pork sandwich with chili.  He liked the chili a lot but felt it was too small of a portion.  It was an affordable lunch with decent size portions and amazing views and location.  It would be a good place to eat after an aquarium visit.   The staff was friendly and attentive to our big party which included 4 indecisive kids.
Contact: 808.243.2286  Address: 300 Maalaea Road, Maalaea
Aloha Mixed Plate – This was a seaside restaurant on Front Street across from the Lahaina Cannery Mall.  It was next to the Old Lahaina Luau so you will hear the luau music and sounds from 6-9 PM.  We wanted to go to a Hawaiian restaurant and this had a lot of local food.  We were seated with less than a 5 minute wait for a party of eight on a Saturday night.  They were pretty crowded but it was pretty spacious.  It was so great to hear the waves crashing as we were eating.
The adults with the exception of me had the Hawaiian dish, lau lau (pork wrapped in taro leaves).  My husband is very particular about his lau lau especially the ratio of meat and these exceeded his expectations.  Our Oahu resident friends liked their lau lau a lot too.   The kids had the Kalbi ribs and absolutely loved them with big portions shared between two kids and leftovers too .  I had the coconut prawns and it was crunchy with big shrimp and a delicious sweet sauce.  Service was quick, prompt and very friendly even after one of the kids in our party spilled a glassful of punch on the table.    Click here to see their menu.  It was a great place to try some local dishes with a reasonable price and big portions.
Contact: 808.661.3322   Address: 1285 Front Street Lahaina
Paia Fish Market and Restaurant – There were actually a variety of restaurants in the little town of Paia on the way to Hana.  We came in here because the smell of seafood was too inviting.  This was located right by the lone traffic light in town and Hana highway.  It was community style seating in picnic benches type furniture decorated with a lot of plastic sea life.  We ordered through the counter and their varied menu was prominently displayed.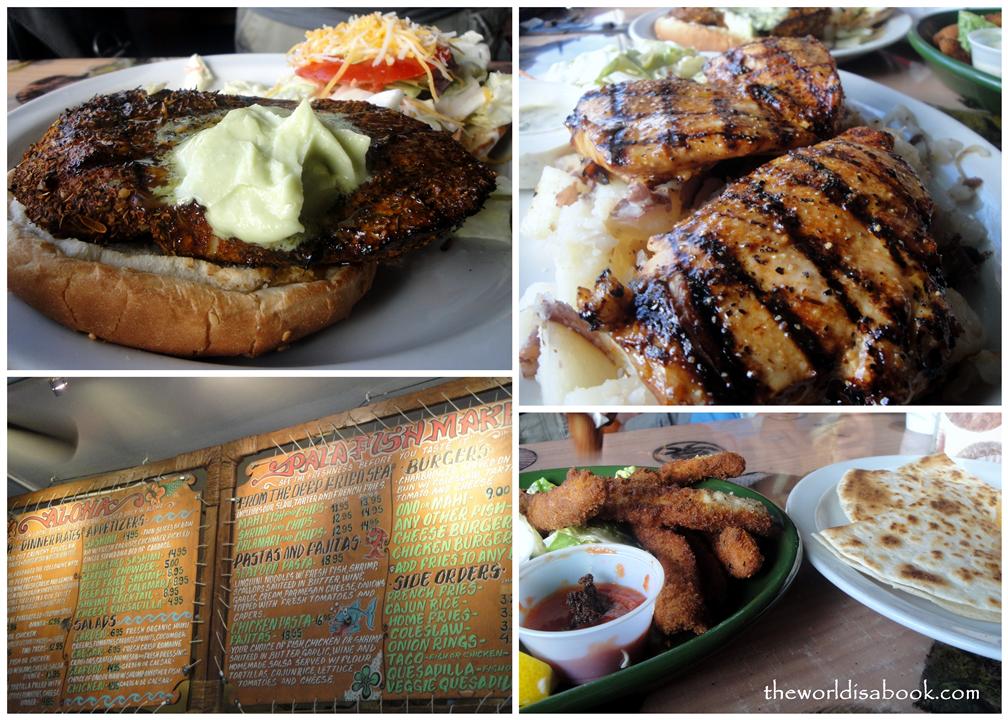 My husband decided to try the Obama burger which was ono fish with wasabi sauce. He liked it a lot and the wasabi sauce was not overpowering.  It was a big portion with seasoning and fries.  We ordered Calamari for appetizers which was exceptionally great, tasted so fresh and was perfectly seasoned with not too much breading.  The kids had the quesadilla which they enjoyed but there's not much one can do with cheese quesadilla. I had the grilled chicken teriyaki which was very good. The dinner plate had a choice of sides (grilled red potatoes, cajun rice, fries).  Prices ranged between 8-15.  The service was quick.  We ate before 6 PM but when we left it was starting to fill up.  We highly recommend this place and will likely return. Big portions that got us through dinner and an overnight flight from Maui to San Diego.
Contact: 808.579.8030 Address: Hana Highway, Paia
Da Kitchen at the Wharf – This was located at the bottom portion of the Wharf mall near the banyan tree plaza on Front Street. We ate here based on another LA Times recommendation.  A children's menu was available. Our kids shared a chicken katsu and didn't finish it.  The Maui noodles I had was uneventful.   It was just us and another family there around 8 PM but the courtyard had plenty of seats.  There was a nearby singer nearby for some shared entertainment. It was a good place to go for big portions with reasonable prices in Lahaina.
Contact: 808.661.4900    Address: 658 Front St #102 Lahaina
_______________________________________________________
Desserts
Ono Gelato – This local gelato company had three locations throughout Maui (Paia, Kihei and Lahaina).   They pride themselves with making their gelato fresh daily using a lot of local ingredients and fruits.  We went to the Paia location which was right by the town's only traffic light on the Hana Highway. We passed by their Lahaina location on Front street and was much bigger and offered sandwiches and baked goods.
There were only two seating benches within the store and a couple of tables outside at this location so gelato order  were made to be eaten out.  You really can't go wrong with gelatos and the variety of flavors infused with local fruits was mouth watering.  One of the few places with a restroom for public use in town.  We had the pineapple, coconut, mango, and guava (why not..we were in Hawaii) and opted not to do the combination flavors.  They also sold some of their gelato on pint containers.  It was a definite stop on the drive to and from Hana.  Their display was so pretty with a tropical leaf or flower tucked here and there with the gelato.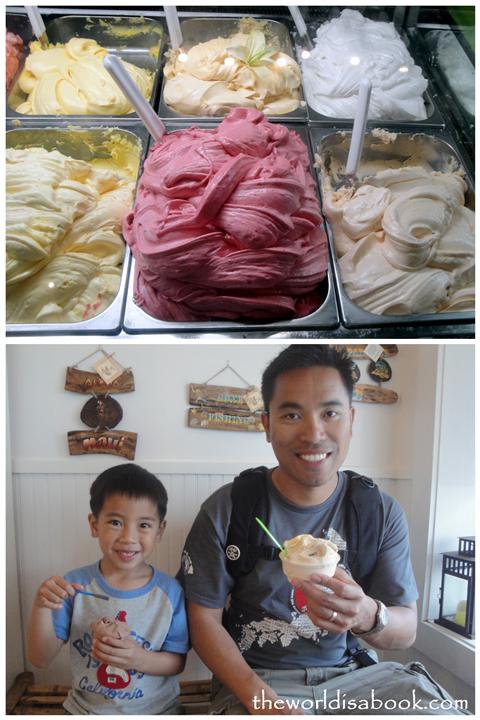 Contact: 808.579.9201    Address: 115D Hana Highway Paia
Ululani's Hawaiian Shave Ice – While in Hawaii, shave ice is a welcome treat for everyone and this place ranked among the best in many review sites.  We went to the Lahaina location which was next to the Cheeseburger In Paradise in an area with craft vendors on Front Street. There was a line the night before and when we went around 1 PM the next afternoon with no lines.
They had very friendly service and the staff actually engage in conversations with their customers while we were waiting.  They had a multitude of flavors to choose from and a pretty reasonable price for their portions.  Options of ice cream at the bottom and other add-ons (mochi, tapioca pearls) were also available for minimal cost.  There were also various combinations available.  We were told the most popular one was the Haleakala which was Coconut and Leche. My son had the kid's rainbow(Cherry, banana and blue raspberry) while my daughter decided on bubblegum and passion fruit.  While I'm not usually a shave ice fan, their shave ice was pretty great with  a lot of flavor and and no big chunks of ice.   It's no wonder it has fared well in many reviews.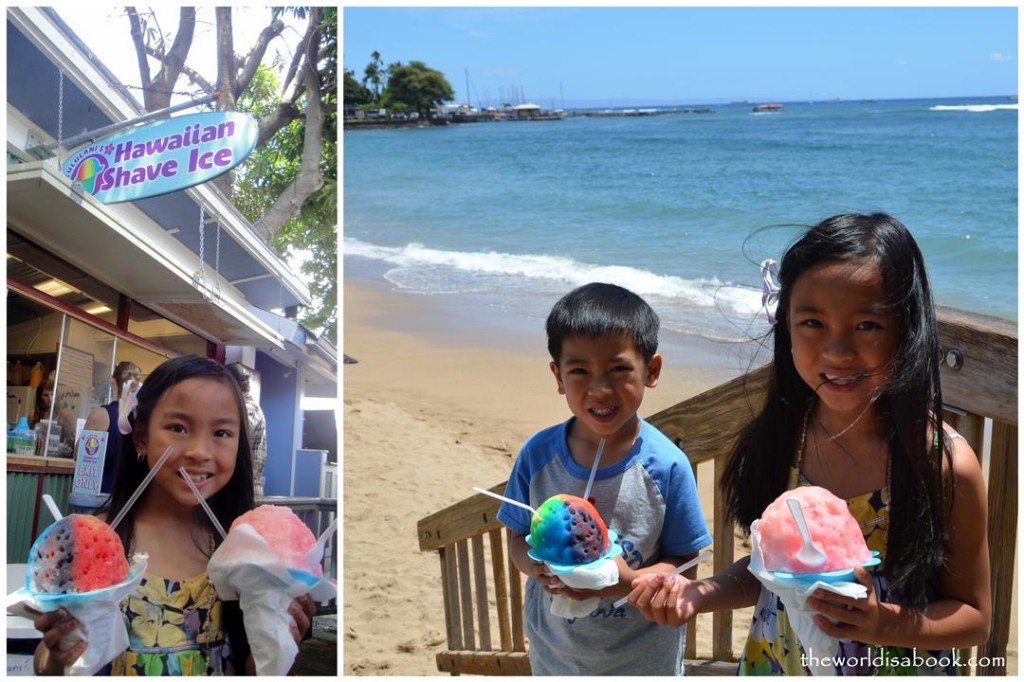 Contact: 360.606.2745  Address: 815 Front St Lahaina
Tasaka Guri-Guri – This much touted Maui institution was located at the end of the Maui Mall by Long's Drugs near the airport.  It was a very small storefront where it only sold the ice cream and a few snacks. There were only two flavors of strawberry and mango at the time we were there. Kids' size scoops were available .  It was simply delicious and was so cheap.  It was no wonder this has been around for years.  The scoops were small but enough to satisfy all of us and were refreshing under the Maui sun. It's a bit hard to describe this particular ice cream.  It was a cross between yogurt and ice cream but with a smooth consistency.  We know we're going for a stop here every time we go to Maui in the future and will recommend it to friends and family.
Contact: 808.871.4513      Address: 70 East Kaahumanu Ave Kahului
TIP: We saw plenty of fruit and vegetable stands throughout Maui but the most varied one had to be in the Kahului area near the airport.  There were two big stands in the K-mart parking lot behind Costco overloaded with all the locally grown fruits and vegetables.  It was a great place to buy tropical fruits for a whole lot less than the supermarkets.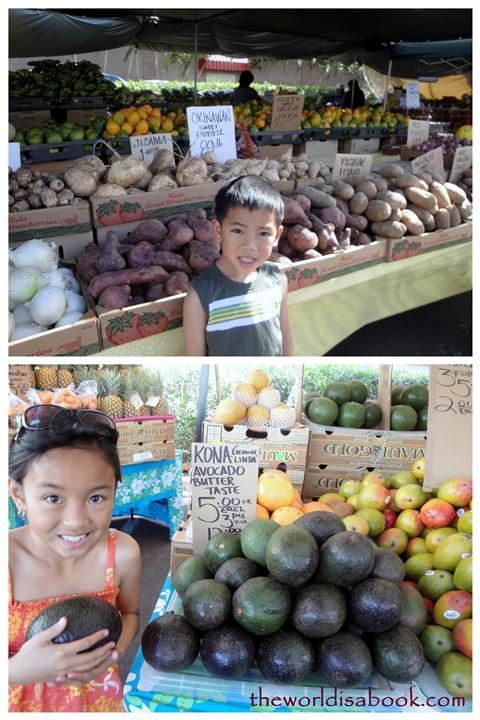 Related Links:
Check out these related posts: