Treasure Hunting at Victoria & Albert Museum London
The name alone doesn't really explain what's hidden inside one of London's best museums – the Victoria and Albert Museum, also known as the V & A. This is the world's largest museum of decorative arts and design with over 4.5 million objects in its permanent collection and covering 5,000 years of art in 145 galleries. The V & A collection was vast, varied and unique. We used their 20 Greatest Treasures Guide to see the museum's highlights with a limited time. Though, along the way, we also saw some treasures we thought were interesting.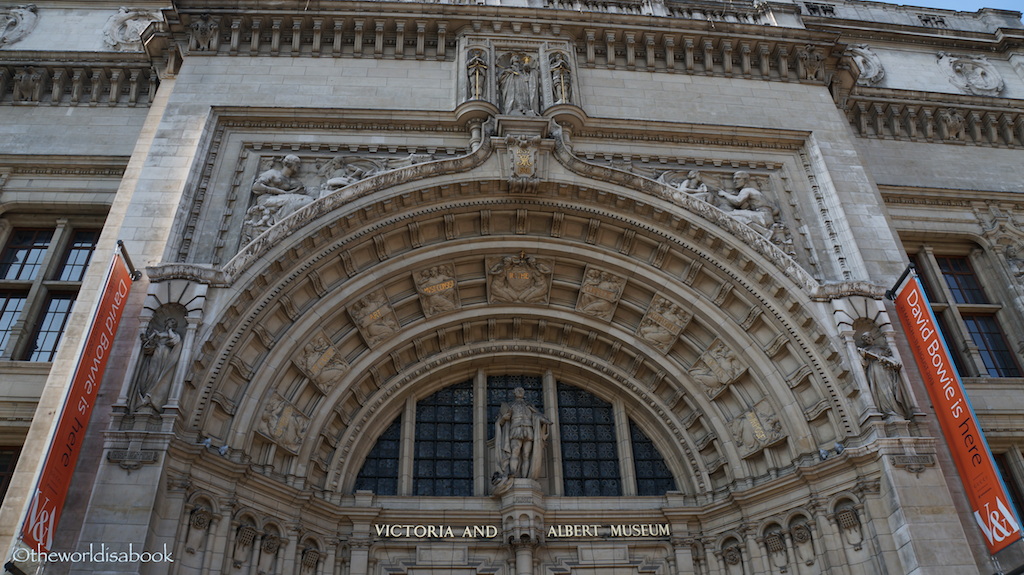 The museum was named after Queen Victoria and her husband, Prince Albert. It was founded in 1852 after the Great Exhibition's success of celebrating the British Empire's arts and crafts. Prince Albert played a huge role in the exhibition and wanted to make the exhibition permanent. The building was completed in 1909.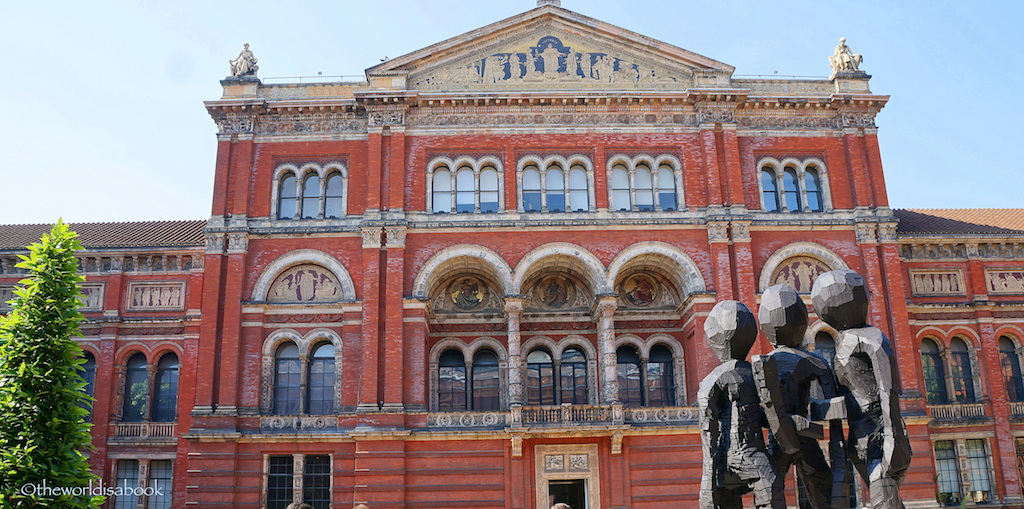 The entrance hall was adorned with a stunning glass chandelier in blue, green and yellow by American glass sculptor, Dale Chihuly. I'm a big fan of his work so it was a pleasant surprise to see this in London. It was a lovely way to greet visitors, and it hung prominently above the information desk.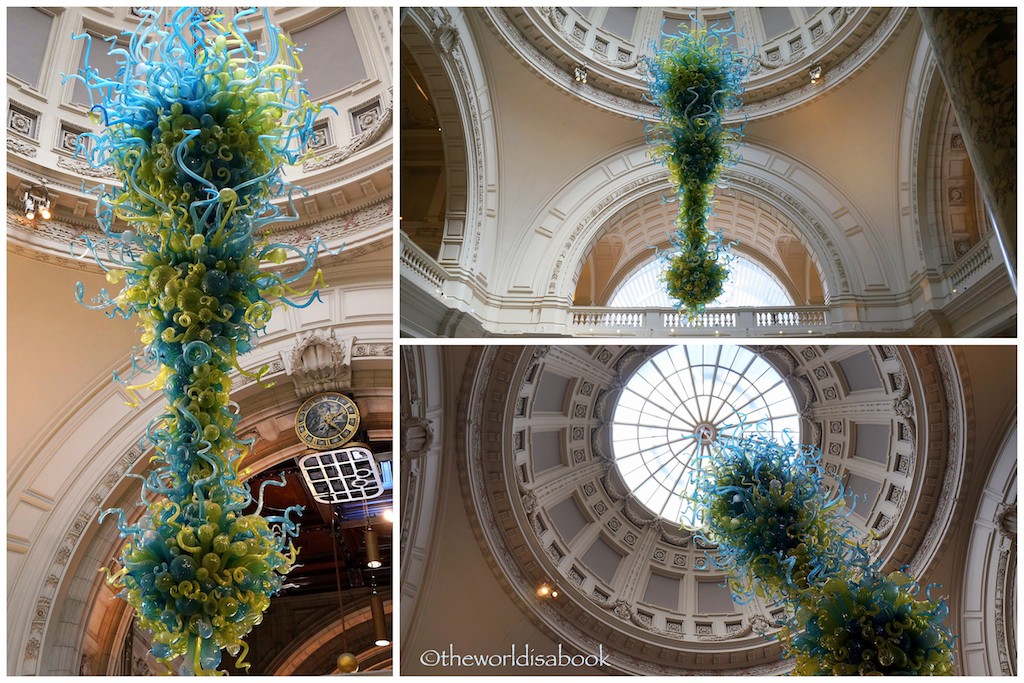 The museum was huge with about 7 miles ( 11.27 km) of gallery space on six floors. We saw art and design including paintings, ceramics, furniture, fashion, photographs, sculptures, glass, woodwork and porcelain among other things. There was always something interesting at each turn.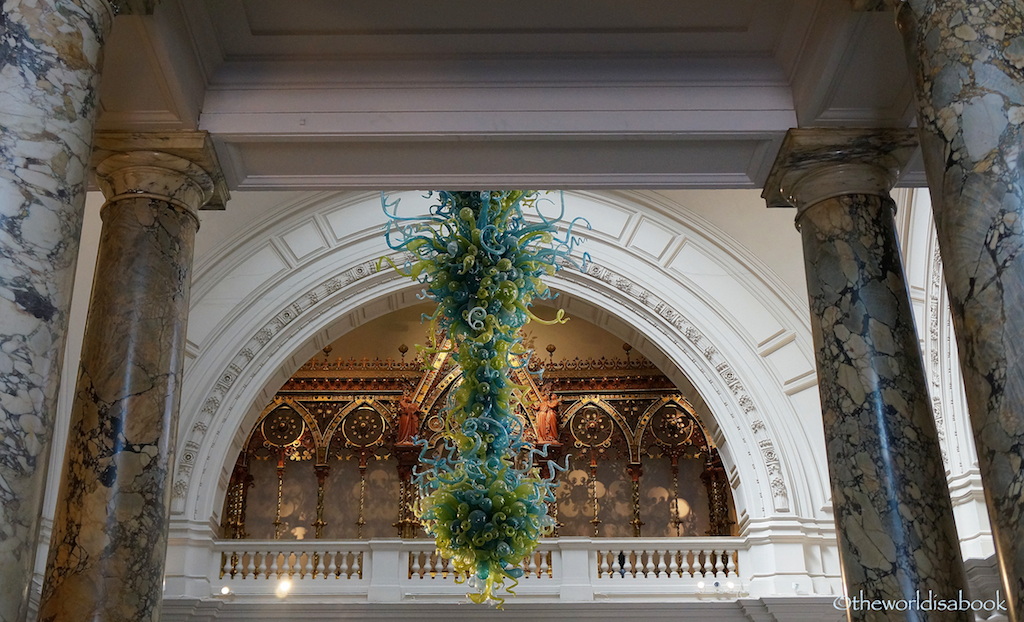 We started off our visit at the Fashion and Textiles collection which has about 100,000 objects. The gallery featured European fashion, fabrics and accessories from 1750 to today. We loved seeing how clothing evolved through the ages. They ranged from historical period outfits to some questionable ones of the 20th century. Bell bottoms and shoulder pads, anyone?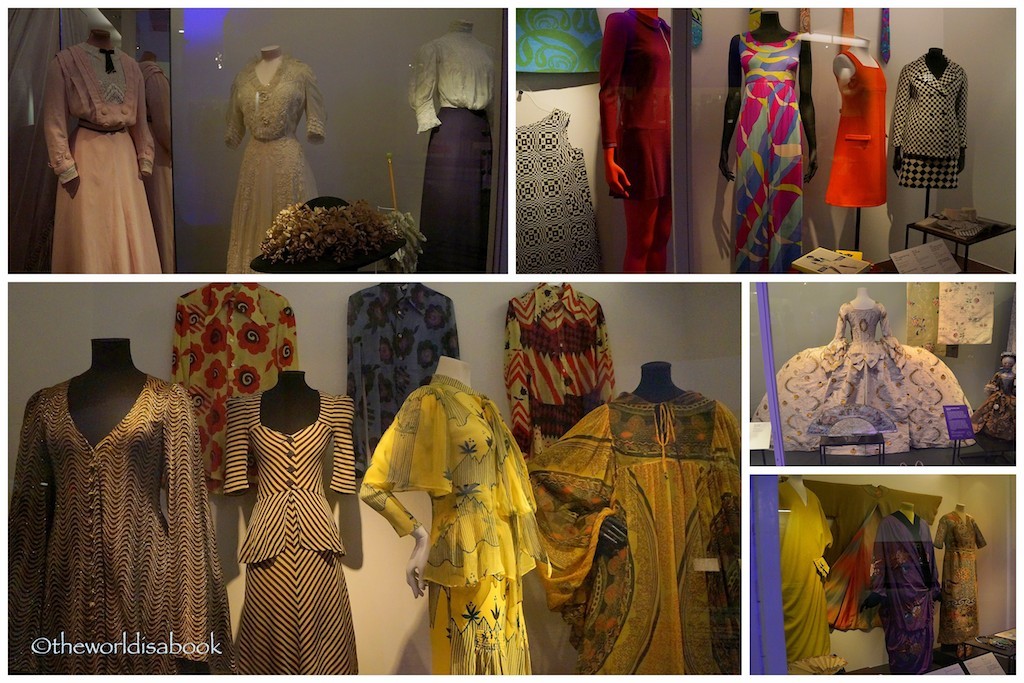 The magnificent Ardabil Carpet is the world's oldest dated carpet and was prominently displayed inside a central glass case in the Islamic Art gallery. This Persian carpet dating back to the early 1530s is part of a matching pair. Over the years, the carpets were damaged and parts of one carpet were used to repair the other. The smaller, border less carpet is at the LA County Museum of Art. This exhibit is lit for ten minutes every 30 minutes to preserve the carpet's color.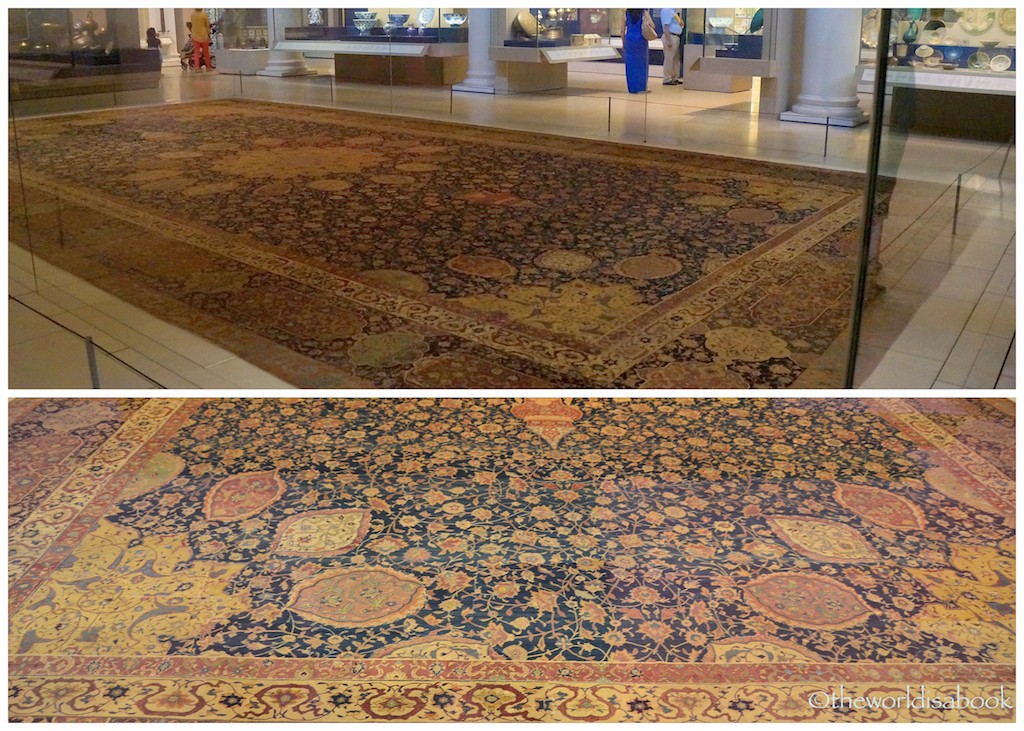 In the South Asia Gallery, we found Tipu's Tiger. This mesmerizing and disturbing 18th century, wooden piece portrayed a large tiger devouring a European or maybe a British soldier. When a handle is turned, it's supposed to produce growling sounds from the tiger and the screaming cries of the dying man. This wasn't demonstrated to visitors but nonetheless, an interesting piece. It was built for the Indian Sultan Tipu.
We loved touring the two-level Cast Courts and could have spent all day here. The kids were fascinated with the large plaster cast objects. This was a cast collection of famous and original European monuments and sculptures. These casts were created in the late 19th century to show the monuments to those who weren't lucky enough to travel and see them in person.
There were many familiar ones here including Celtic crosses and Michelangelo's David sculpture.
The biggest ones here were the casts of Trajan's Column from Rome. The original monument was constructed to memorialize Emperor Trajan's victory in the Dacian Wars in the early 1st century AD. This cast was a tremendous effort to build and assemble  The decorations on the columns show the history of Trajan's successful campaigns and showed 2500 figures. The column was divided into two sections here.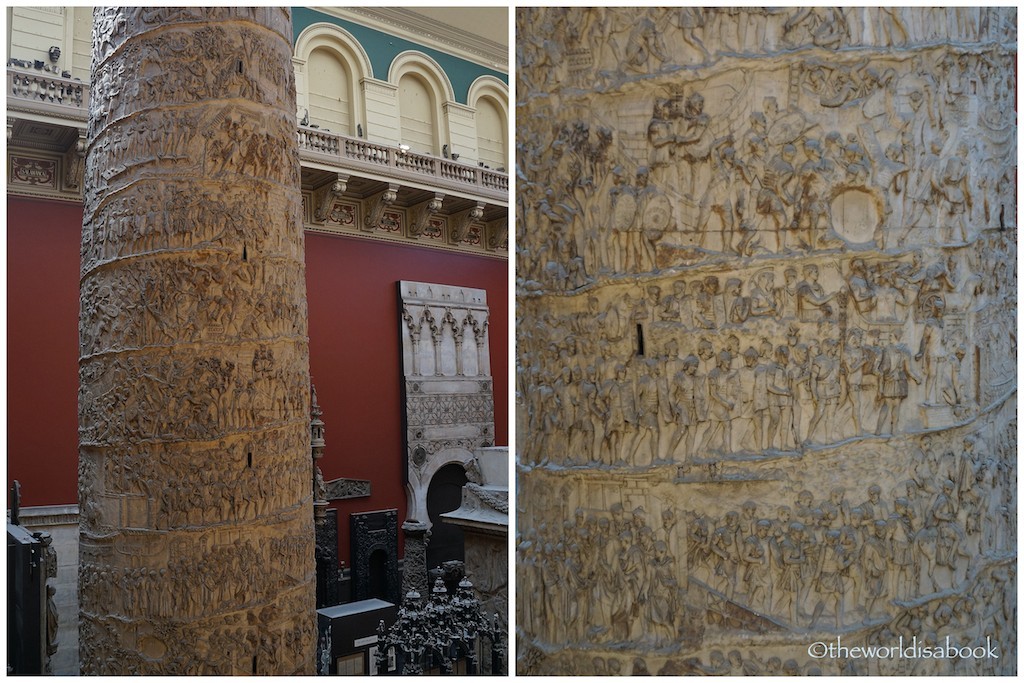 Of course, we made a stop at the Jewelry Gallery. One of the highlights here was the Heneage Jewel (left photo below) which was a pendant made of gold and diamonds and rubies. The front shows Queen Elizabeth I's image. The Queen gave this to Sir Thomas Heneage, the Vice-Chamberlain of the Royal Household, for outstanding service. I loved the way they arranged the jewels in the right picture.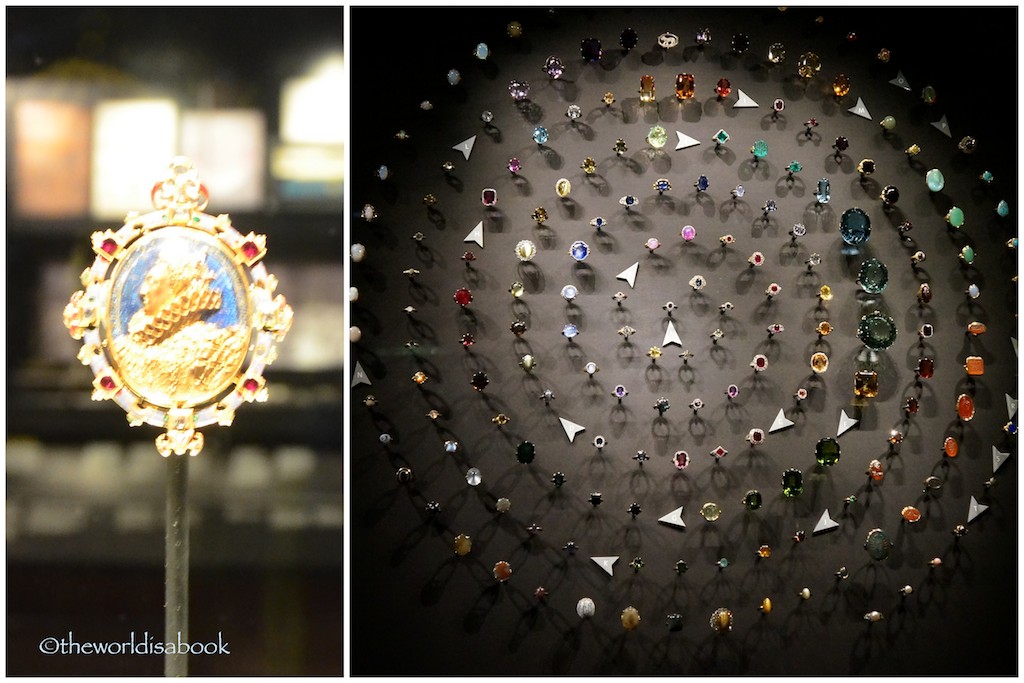 We also enjoyed the Theatre and Performance collection with over 3,500 stage costumes and accessories. This tribute to designers, tailors and seamstress had sets and familiar costumes from various live performances ranging from the 1850s to today including some from the Lion King musical. It was so interesting to see the amount of work that goes into these costumes and designs. The intricate details on some of these costumes were amazing.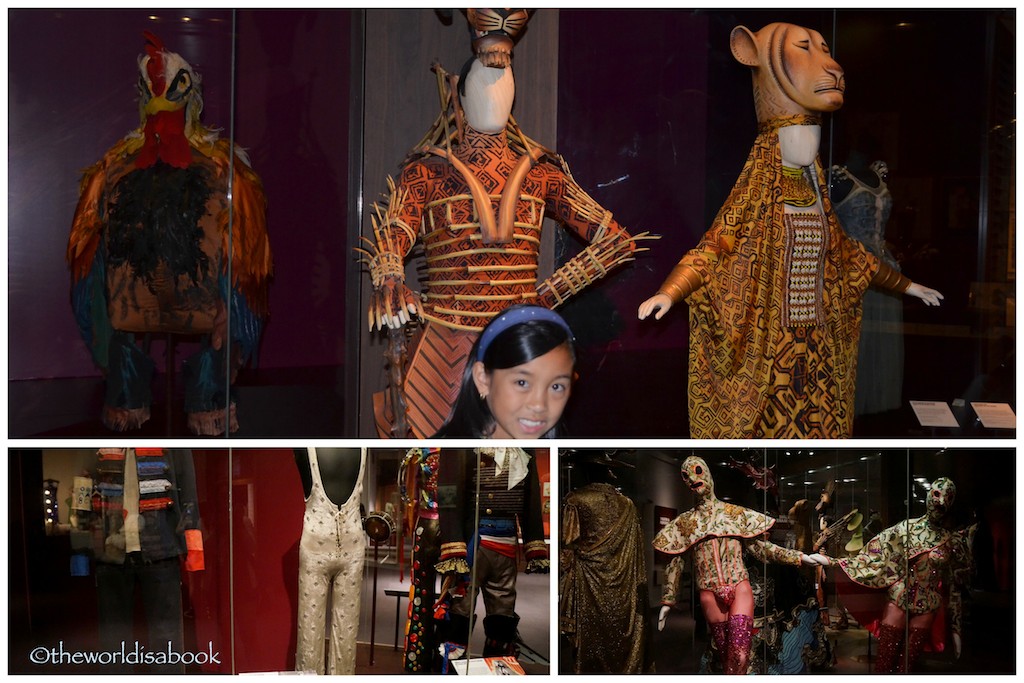 My kids loved the dress-up area where they were able to try on some of the awesome outfits. The museum encouraged everyone to use the costumes to create characters and we saw some adults happily doing this too.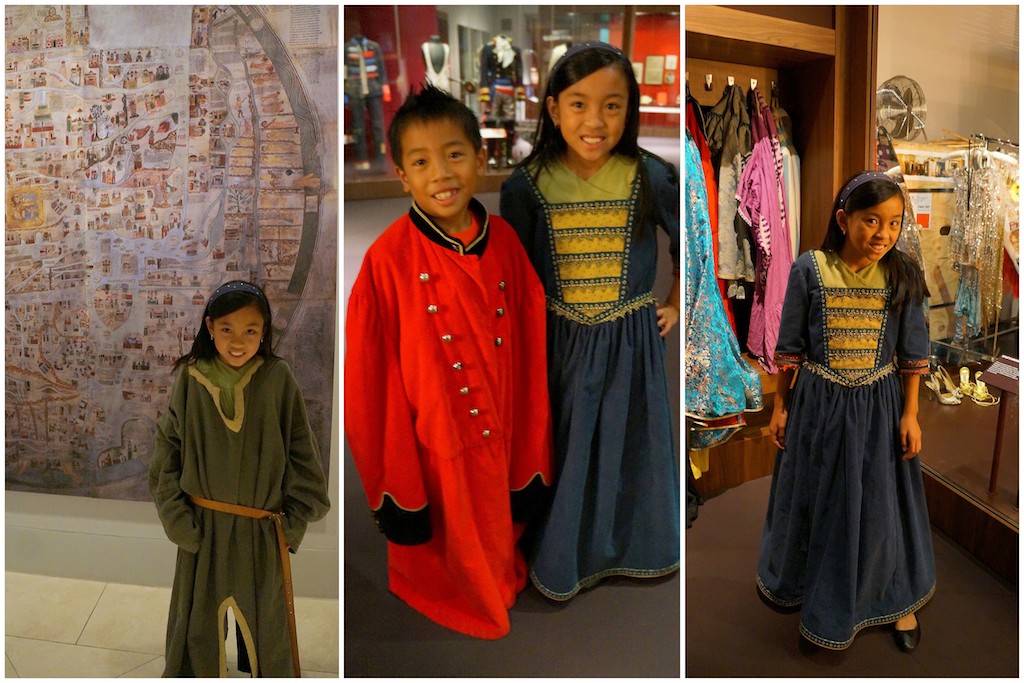 One of the museum's most popular objects is the Great Bed of Ware. This four-poster, carved and painted bed is over 3 meters (9.8 feet) long. It is the only bed known of this size and was believed to accommodate at least four couples. It was built in 1590 and displayed more as a tourist attraction at an inn in Ware, Hertfordshire. Red wax seals and carved initials from visitors on the bedposts and headboard can still be seen today. This bed was also mentioned in Shakespeare's Twelfth Night.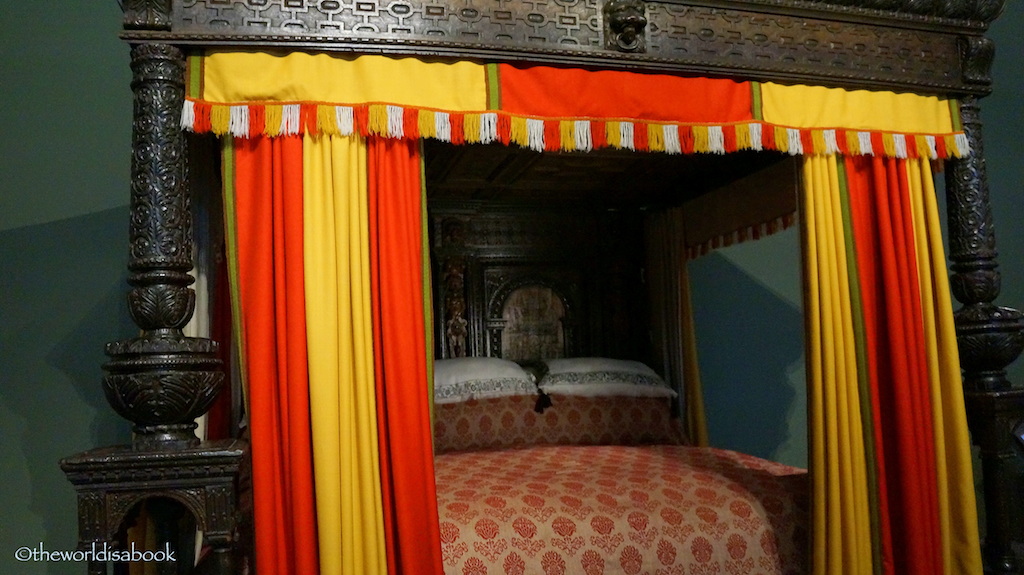 We found the Forster Codices fascinating. This was made up of five of five of Leonardo da Vinci's notebooks but bound in three volumes. It was written in Da Vinci's famous mirror-writing where the words appear normal when reflected in a mirror. It wasn't big in size but the magnitude and depth of DaVinci's thoughts inside this object was priceless.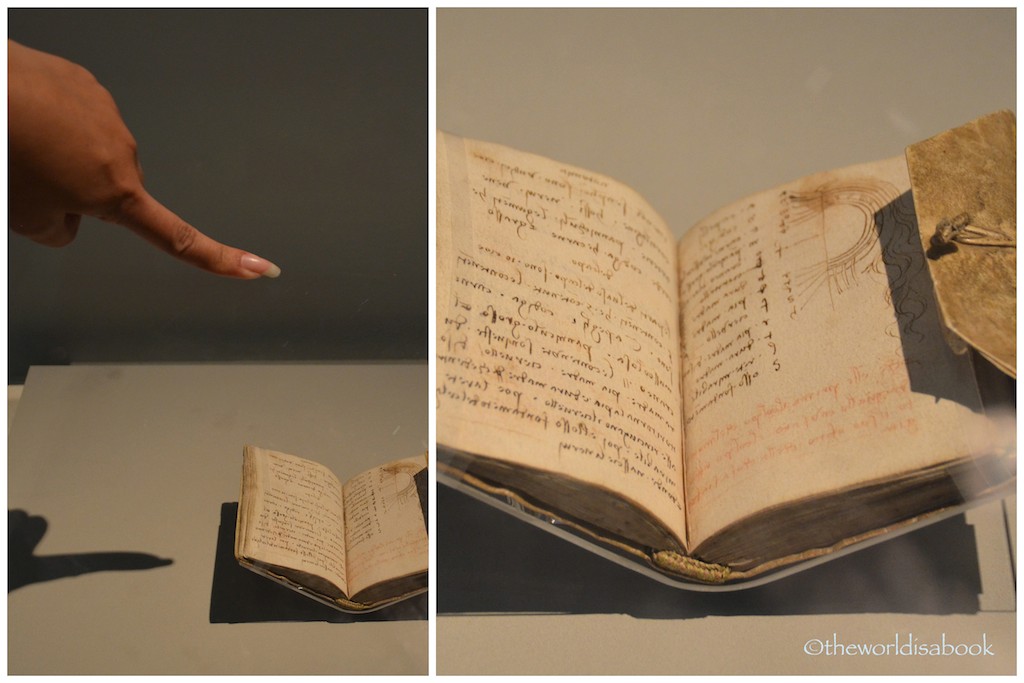 This colorful wood panel was one of my favorite pieces.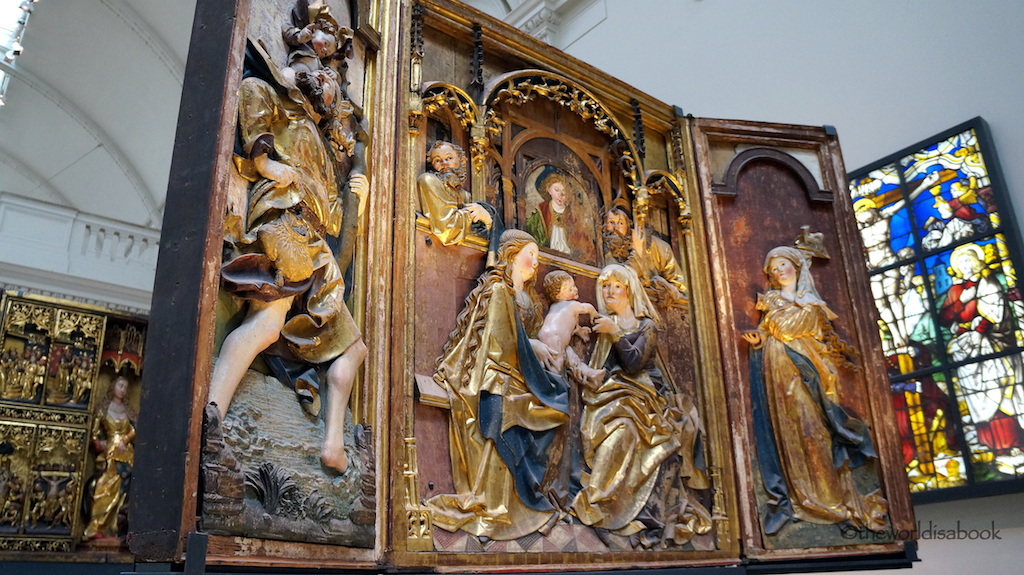 There were many sculptures here too including some of Rodin's works. One of their greatest treasures is a marble sculpture on the left below of biblical Samson slaying a Philistine by Giambologna. I included the one on the right because it was odd. I'm not sure what the meaning of the woman dangling her baby was supposed to portray and I didn't take a picture of its description.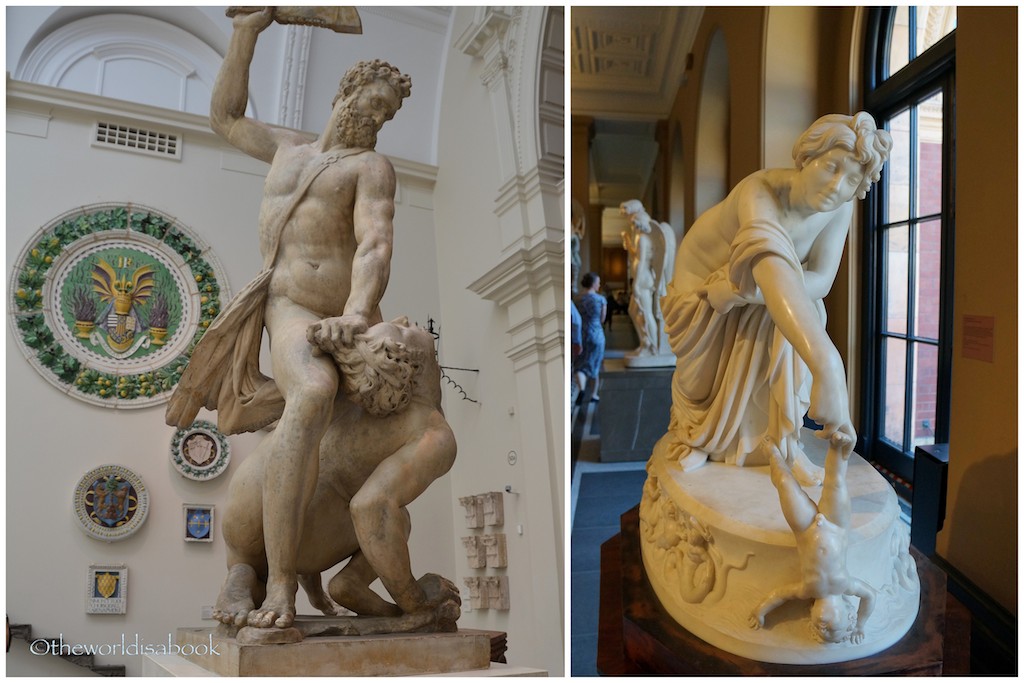 The central courtyard was one of our favorite areas. Since it was a hot summer day in July, this was a popular place for everyone to relax and bask in the sun. We found many kids on the shallow elliptical pond happily playing in the water.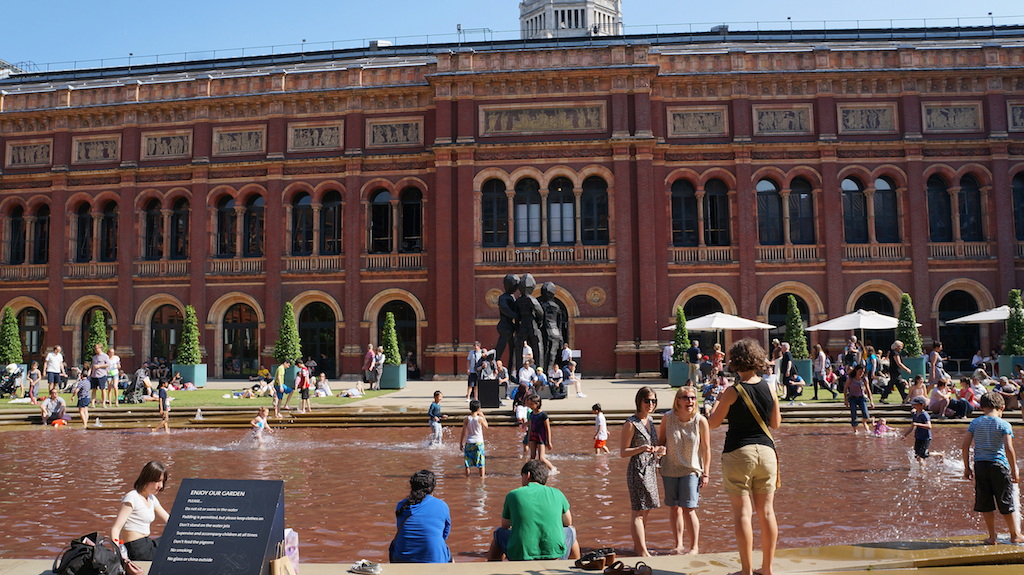 Don't miss the museum's Café which were three interlinked ornate rooms. The food selection was pretty good too.
Our favorite was the Gamble Room which was the original Refreshment Room. This had to be the most beautiful museum cafeterias we've ever visited. The walls and columns were made of ceramic tiles which were washable.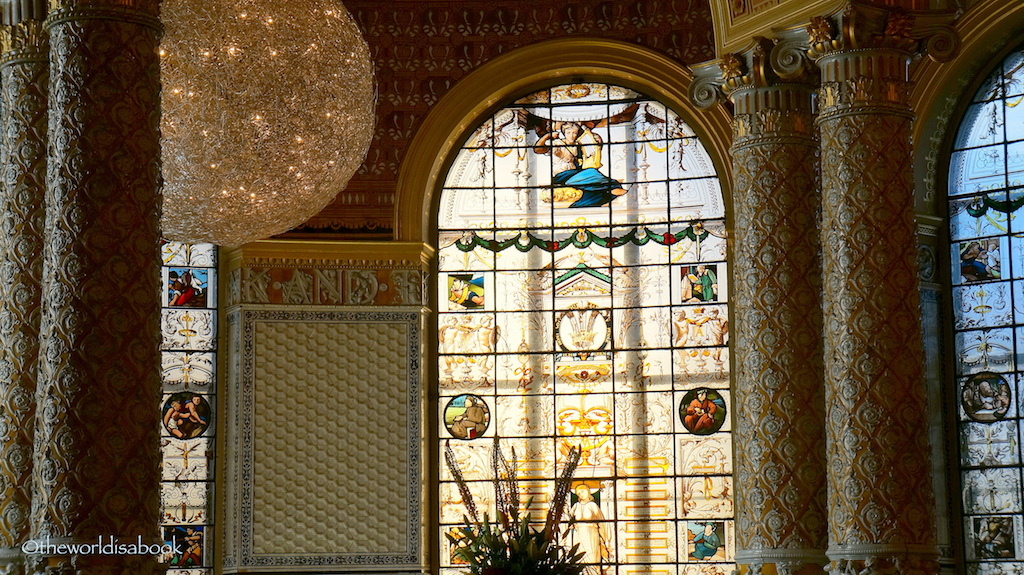 The museum's buildings and architecture housing these treasures were also something to be awestruck about. It was lucky enough to have survived intact from World War II so it still stands in its original, splendid building.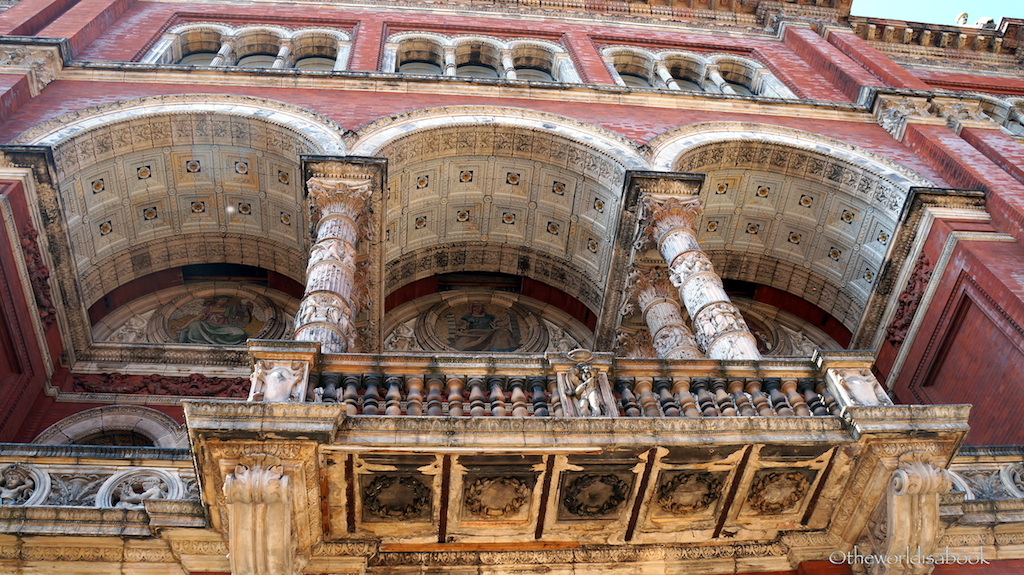 Visiting the Victoria and Albert Museum with kids
We were very surprised with the kid-friendly factor of the V & A museum. For a museum whose exhibitions seem more suited for adults, my kids were so engaged and interested in many of the objects.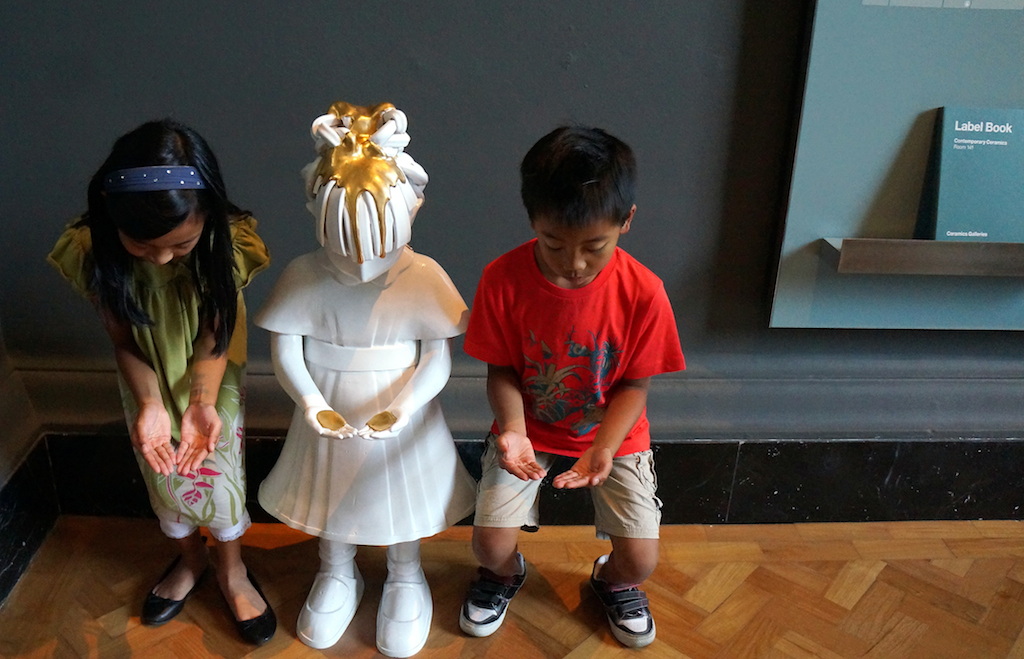 Even though its size was a bit overwhelming, it was a treasure trove for kids. There were a variety of educational interactive and hands-on activities in many of the galleries. There were some displays that encouraged visitors to touch sample objects – music to many kids' ears.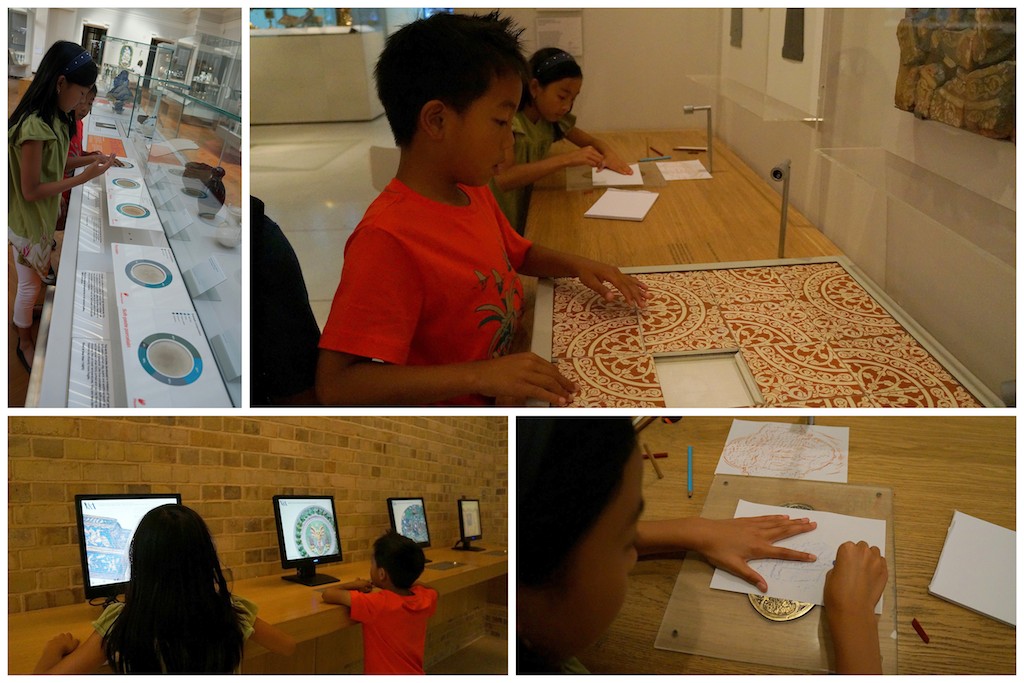 My kids loved posing with the unique objects they found. I don't remember what these were but they thought it was "cool".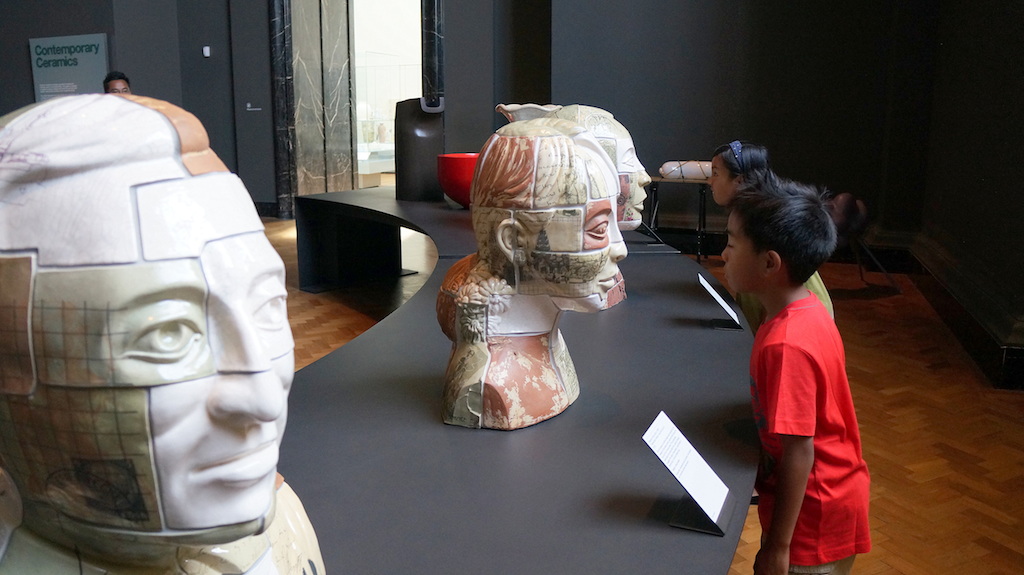 No, my son didn't turn into a donkey but we found this strange sculpture they couldn't resist posing with.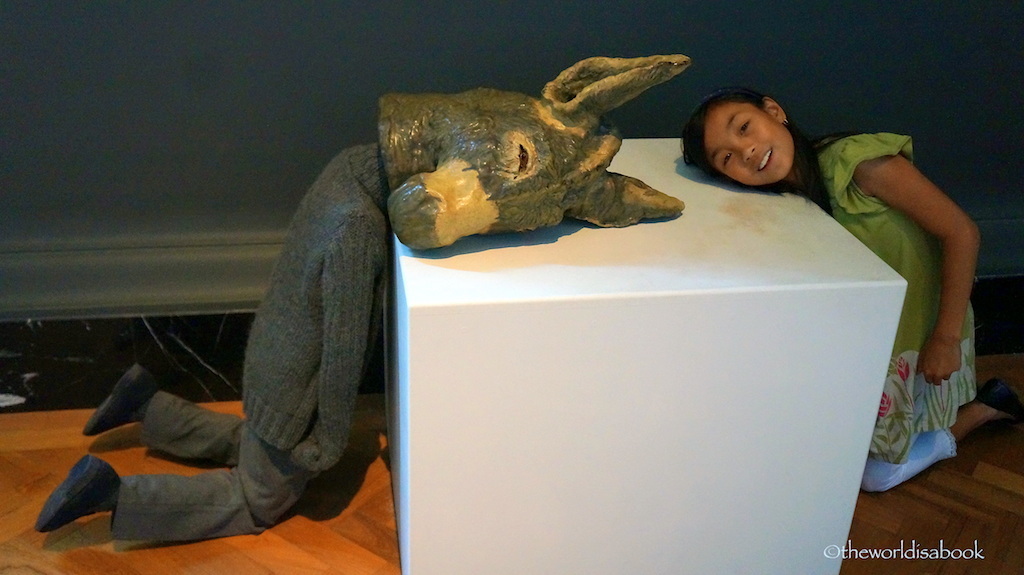 London has so many free museums and attractions. This museum wasn't initially on our list to see but it was highly recommended by our tour guide to the Roman Baths. We were glad we decided to spend a few hours here looking at some of the world's treasures. The sheer number of diverse exhibits have made this museum a family favorite. There was always an element of surprise that greeted us in each room. Don't miss this when visiting London!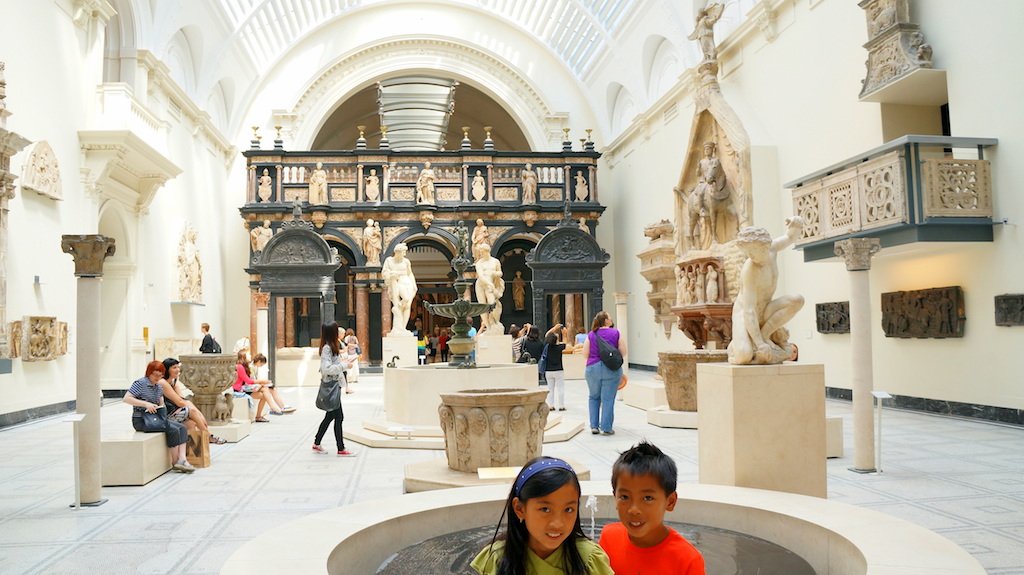 Visiting Victoria and Albert Museum (V & A) Basics and Tips
V & A is open late until 10 PM Friday nights and until 5:45 PM on other days.
Free museum admission but they highly encourage a small donation.
Check for free family activities during weekends. The information desk has all the schedules.
For a simple activity for the kids, create a scavenger hunt game for them. The game can be a specific theme or random things. This is the perfect place to hunt for a variety of objects.
Free Daily tours and talks everyday (10:30, 12:30, 13:30; 15:30). See the screens by the entrance or info desk.
Nearest London Underground (Tube) station: The South Kensington underground station (on the Piccadilly, Circle and District Line) is a five-minute walk. Plenty of signs directing you to the museum.
Check the

events calendar

since there is always a revolving exhibition going on here. There was a popular one on David Bowie during our visit.
Get a copy of the 20 Greatest Treasure Guides. This was a wonderful way to see some of the museum's highlights and useful for first-time visitors.
It's huge so plan accordingly if you're on a tight schedule. Choose the areas that interest you the most or feel free to wander around and see what you bump into.
*Have you visited the V & A Museum or another one similar to this?
Lodging
Haven't booked your San Diego hotel yet?  See the best prices from the major travel sites on HotelsCombined.
Flights/Vacation Packages
Pin it for later!