5 Free Things To Do in London With Kids
London is consistently ranked as one of the most expensive cities to live or visit. For Americans, like us, our money doesn't go very far with the low exchange rate. But, it's such a vibrant, diverse city with so much to offer including many free activities; it makes for a wonderful and memorable family trip. There are a multitude of free attractions but these were our five free favorite things to do in London with kids.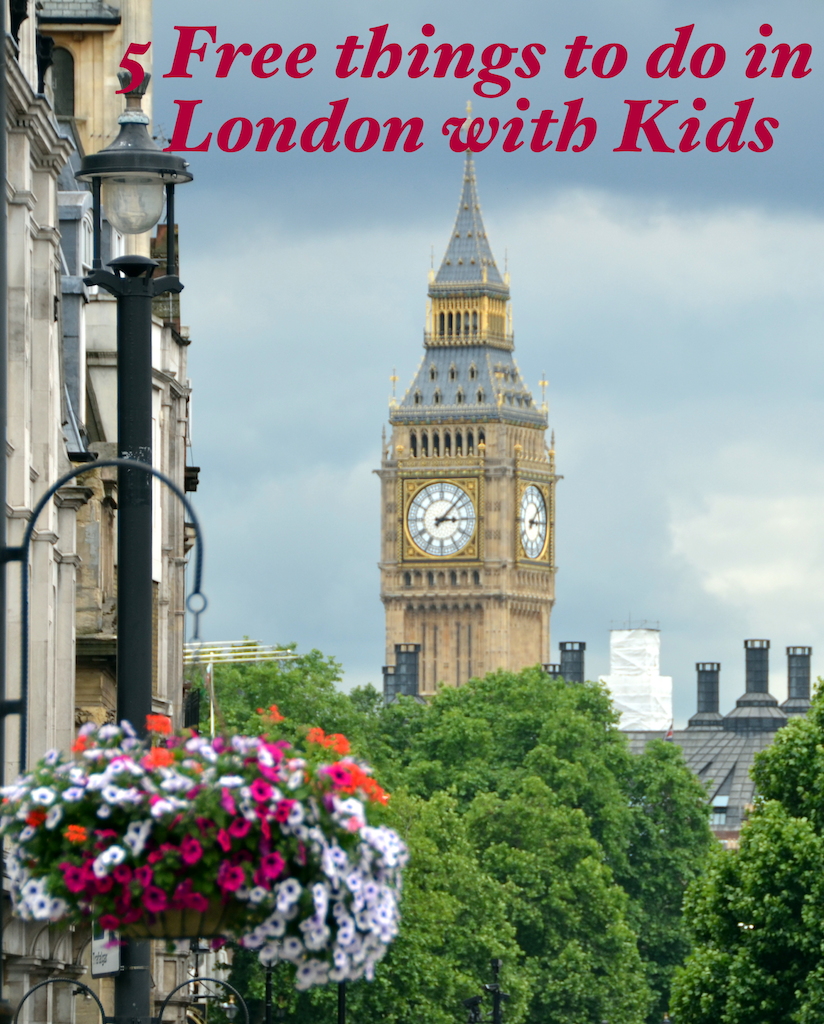 1. Stroll the Parks and Gardens
It always amazes me how many beautiful parks and green spaces are in this metropolis. London has eight royal parks among many others worth checking out. We've been to London during spring and recently in the summer which were ideal times to visit with the flowers in bloom. We've only been able to visit Kensington, St James Park and Hyde Parks though.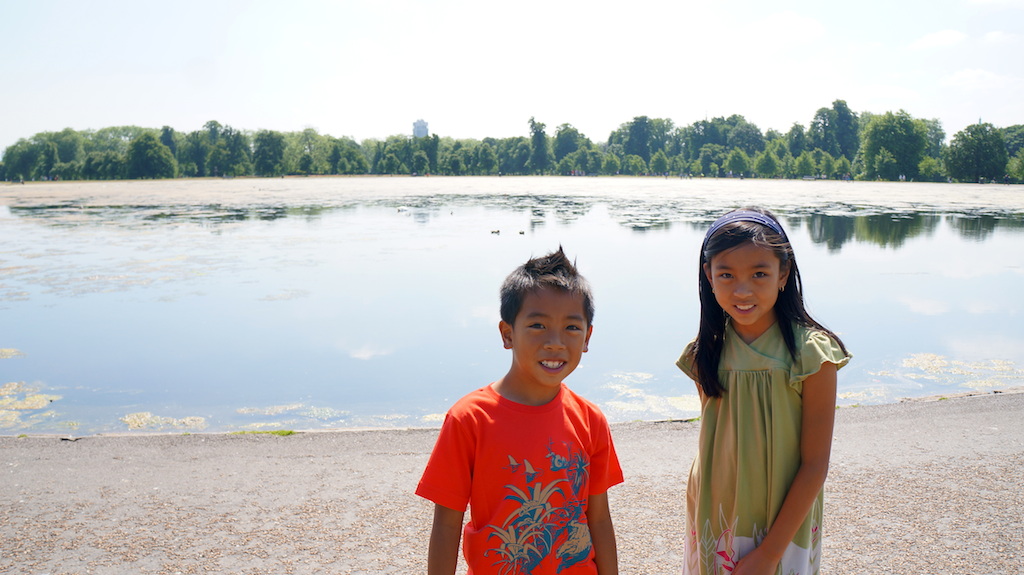 St. James Park is located by Buckingham Palace and was a wonderful place for a stroll with ponds, fountains and water fowl kids can watch and feed. There are also playgrounds for a quick stop. Hyde Park is one of the city's most popular parks, accessible and huge. The park has over 4,000 trees, gardens, meadows and a lake.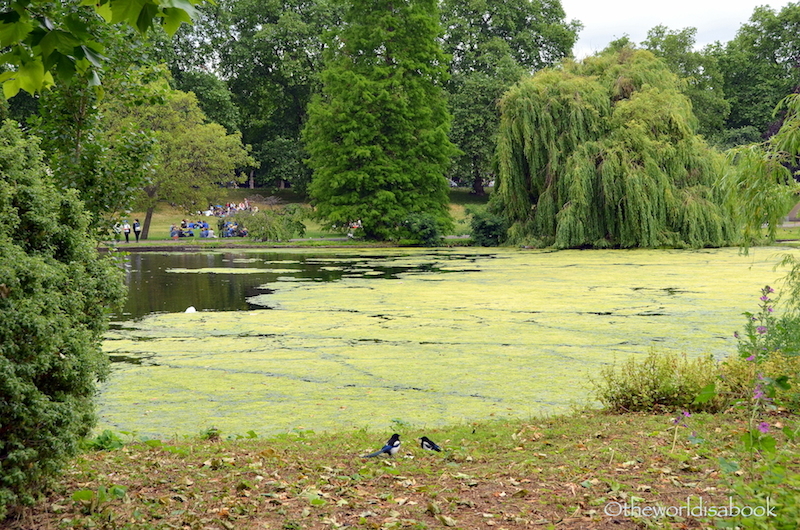 My kids loved Kensington Gardens especially the Princess Diana Memorial Playground. The large wooden pirate ship centerpiece with a small beach around it was where most kids' gathered. It was a small oasis with various trees and plants filled with whimsical sculptures, teepees, explorer areas and a sensory trail. We liked that they provided plenty of seating for adults. Only kids 12 and under are allowed.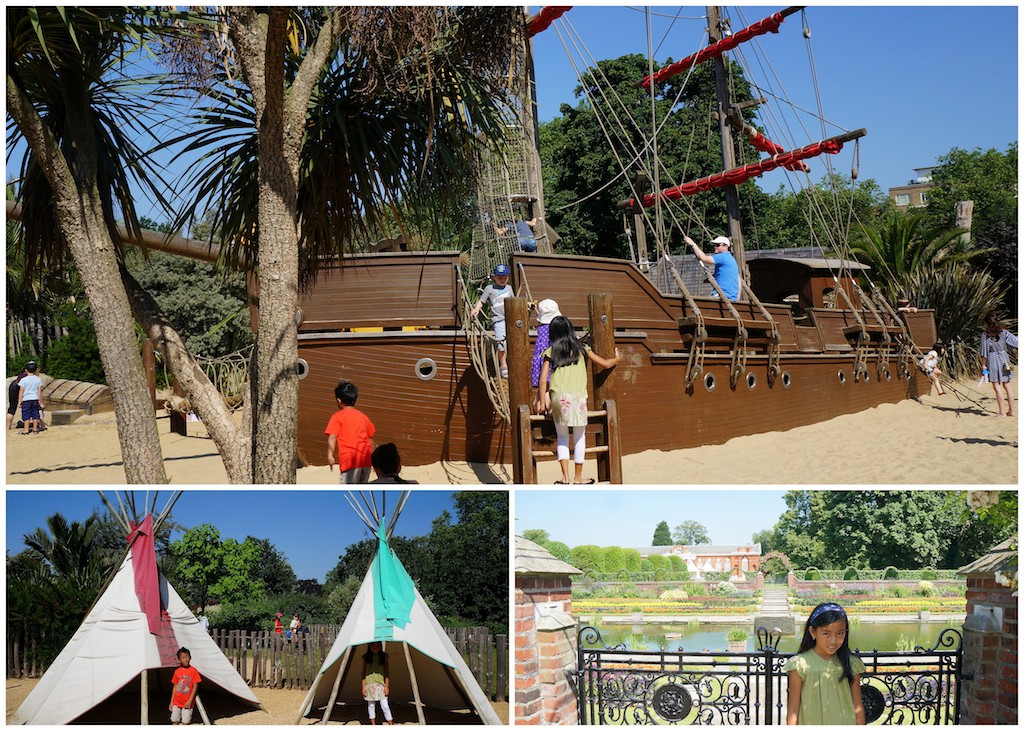 Check this list of some of the London parks to see what's near you.
2. Explore Museums and Galleries
One of the great things about London is the number of world class museums and art galleries with free admission. There are over 50 museums that cover art, natural history, science, culture and even a chocolate museum that we sadly didn't get to explore. One can spend countless trips here and not see everything.  We were only able to see the British Museum, the V & A and the National Gallery during our brief visit.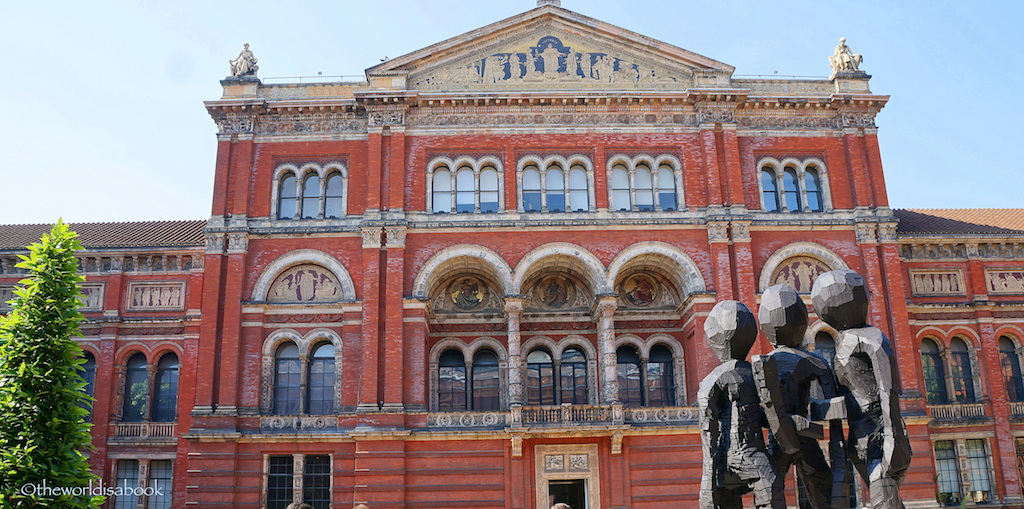 The British Museum is one of the largest in the world with over 8 million objects in their collection detailing human culture and history over the centuries. We loved the British Museum's Egyptian collection. Some were a bit morbid but it was the best collection of mummies we've seen so far.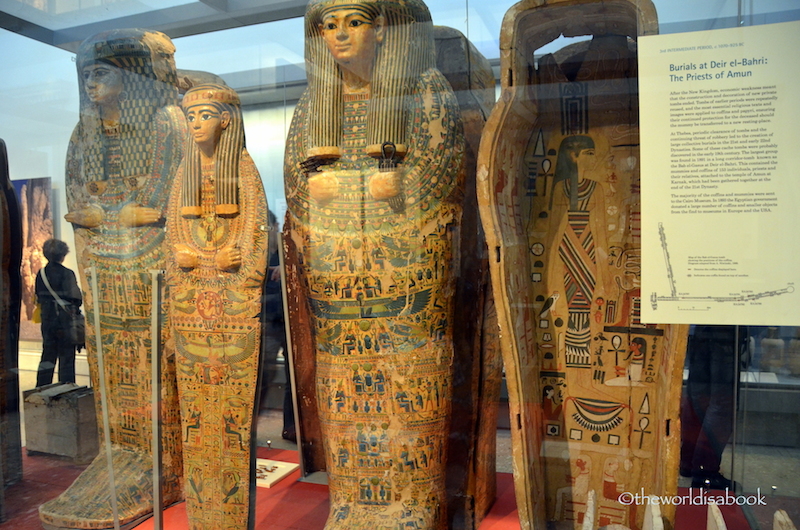 My kids enjoyed participating in the activity trails that really engaged them. There were interesting themes like Sailing on the Nile (Ancient Egypt exploration) and Hunting for Dragons (explore fantastic creatures) that my kids chose. Check for free tours, digital workshops and talks throughout the museum. Kids can also borrow a gallery activity backpack (with £10 deposit) with various themes. Art materials are also available for the budding artists. Don't forget to visit the Families desk in the Great Court to get all of these activities and enhance the kids' experience. The museum is open until 8:30 PM on Fridays.
We also enjoyed our visit to Victoria & Albert Museum (V&A). This is the largest museum of decorative arts and design in the world. With 145 galleries and 4.5 million objects in their permanent collection, there was always something interesting around the corner. There are many interactive and hands-on exhibits for the kids in many of the galleries include dress-ups. Be sure to get the 20 Greatest Treasures Guide from the information desk as a wonderful way to see the museum if short on time. The V&A is open until 10 PM on Fridays.
3. Find Harry Potter
London was used as inspiration in the successful Harry Potter books and some areas made it on to the eight films. While there are specific Harry Potter walking and guided tours, fans can see some of these attractions for free on self-guided walks. London's famous icons like Big Ben, the Tower Bridge, London Eye and Buckingham Palace have all made it in the movie. Leadenhall Market and Borough Market and Millennium Bridge have also made appearances in the movie. This is a great list to use for a self-guided walk to find Harry Potter.
One of the most popular sites to visit is Platform 9¾ at King's Cross Station where Harry and the gang caught Hogwarts Express. There is a disappearing luggage cart where fans can pose with next to a Harry Potter store. Store workers are there to loan fans a scarf and take your picture. You can take your own camera too. Even my husband, who is a closeted Harry Potter fan, couldn't wait to get into the action, showing my daughter how to do a fun pose.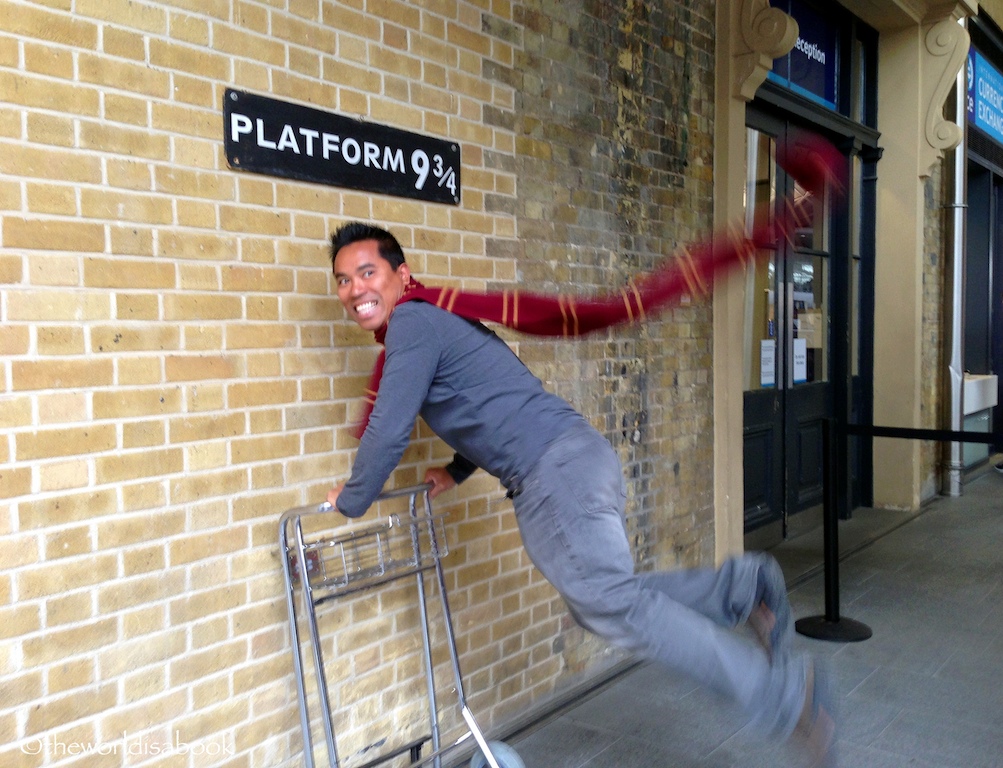 You can't miss a visit to Warner Bros. Studio Tour – The Making of Harry Potter where much of the movie was filmed if you're a Harry Potter fan. It's a day trip from London but worth it. This was one of the highlights of my kids' trip to London. My review of it is coming soon.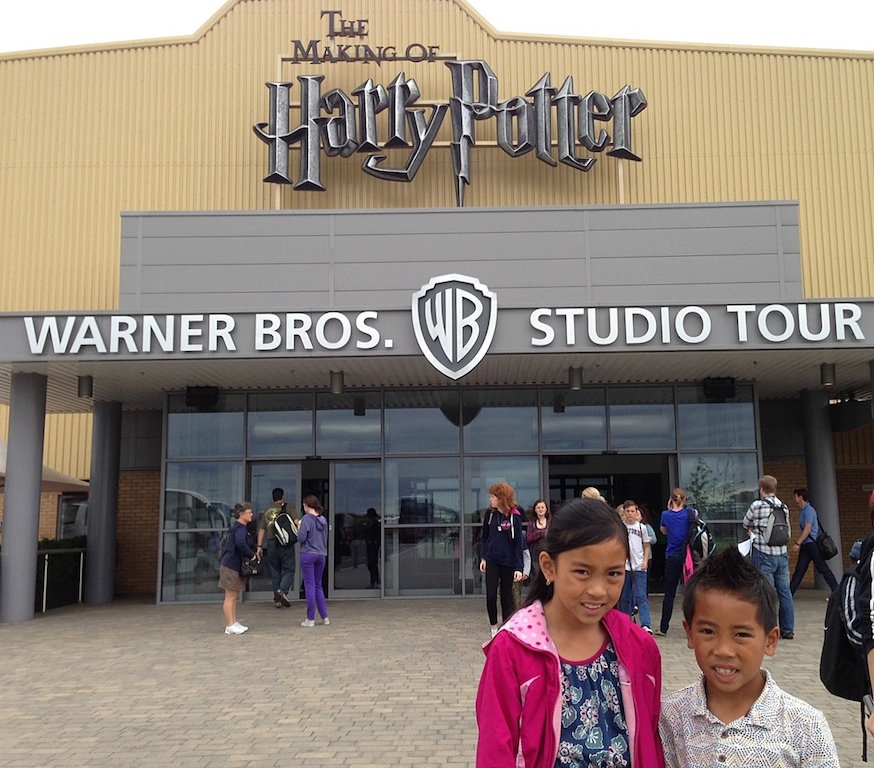 4. See the Changing of the Guards
One of London's most popular attractions is watching the pomp and circumstance of the Changing of the Guard ceremony, officially known as Guard Mounting. The ceremony takes place in front of Buckingham Palace at 11:30 AM and lasts about 45 minutes. It is held everyday during spring and summer and every other day during fall and winter. There is no ceremony during rainy weather so plan accordingly. They were accompanied by a Guards band that played contemporary songs much to the audience's delight. There are four guards at the front when the Queen is in residence and two at all other times.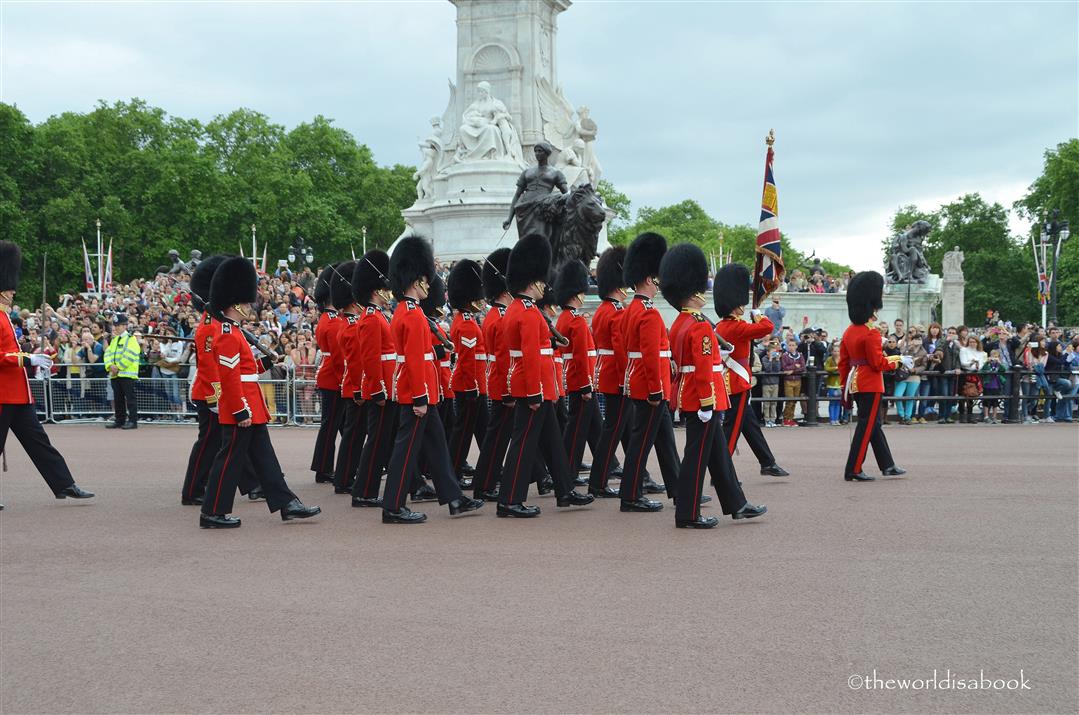 Get there early to get a good spot by the gates. We mostly saw the band and the guards marching and couldn't get a good view of the actual switch. My kids did though taking turns on dad's shoulders.  It helps to move around but this is what I mostly saw and that's my daughter with a much better view.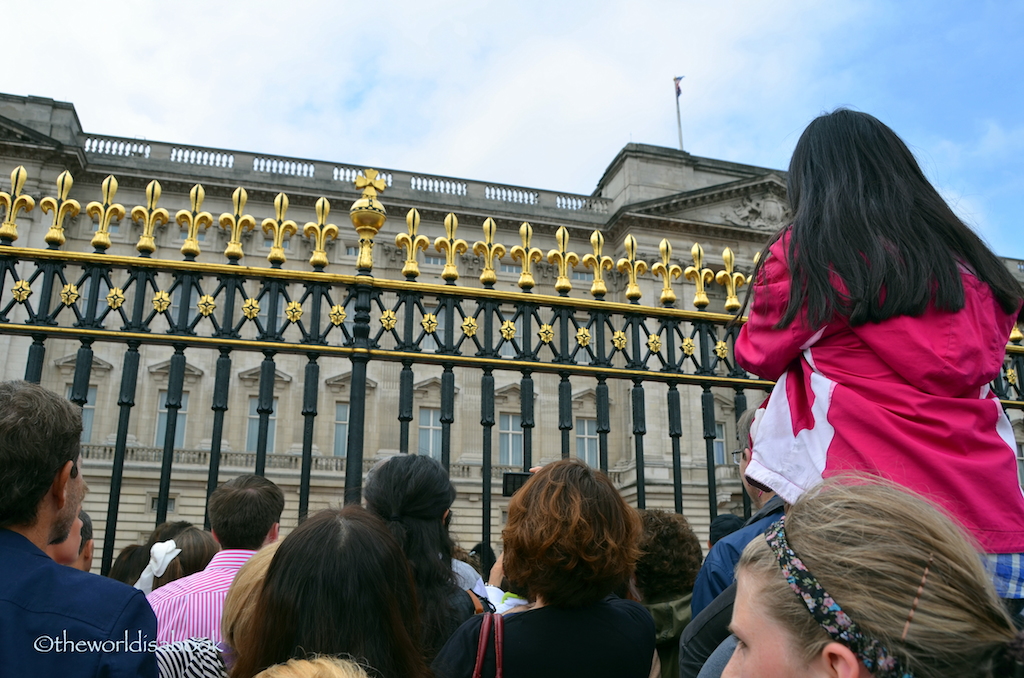 To get that special picture close to the guards, head to the Horse Guards Building at Whitehall east of St. James Park and near Trafalgar Square. There is also a 30-minute Changing of the Guard ceremony of 12 mounted troops at the Horse Guards Parade daily at 11 AM (10 AM on Sundays) during the summer. It is on alternate days at other times of the year.  The mounted trooper from the Queen's Household Cavalry is on guard and visitors can pose near them but remember not to get too close to the horses.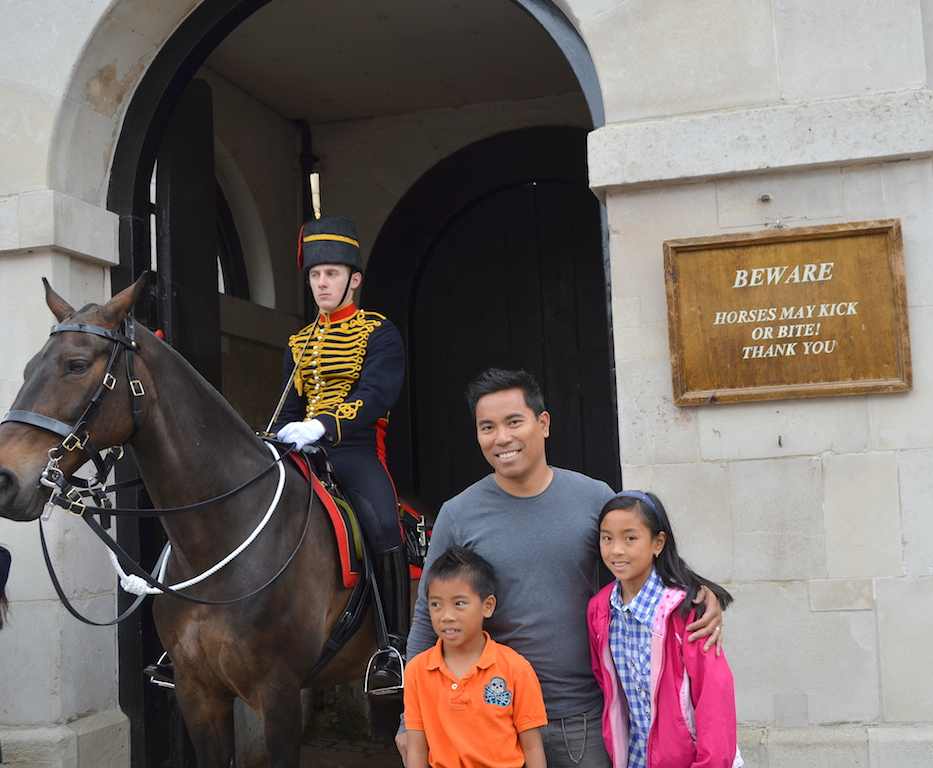 The guard's hats are called bearskins and weigh 665 grams and some are passed down within the family. Can you tell this guard didn't really enjoy posing with tourists?
5. Visit the Toy Stores
Toy shops don't necessarily rank as a must-visit in any city but these stores should not be missed when visiting London with kids. Hamley's is England's beloved and popular toy stores. The Hamley's flagship store on Regent Street was one of the first places we visited and my kids were in toy heaven.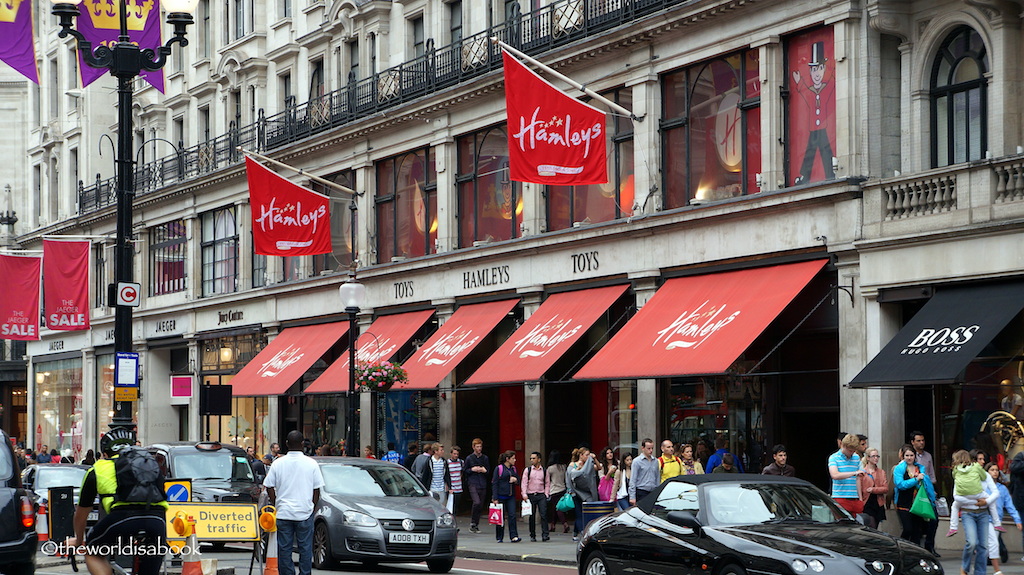 Seven stories and over 50,000 toys can do that. I admit my husband and I had fun seeing old toys we used to play with and seeing our kids excitedly go from one section to another. There were life-sized LEGO creations of the royal family you can pose with as well as cartoon characters. It's amazing what they can do with Legos.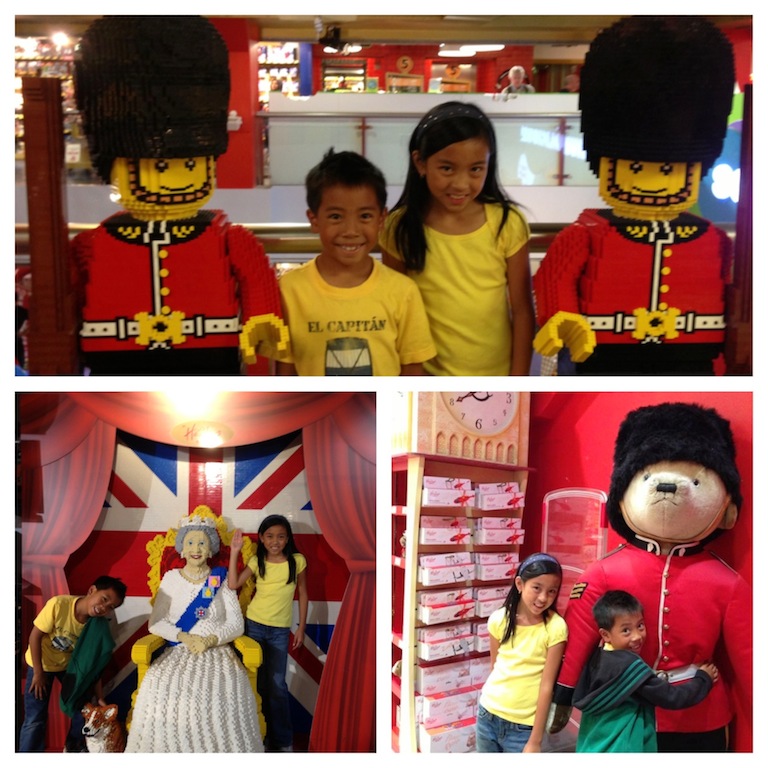 We liked that they promoted toys and games using kiosks and made them interactive for kids. I can't guarantee you'll walk out of here empty handed but we can guarantee it's a lot of fun to visit even for adults.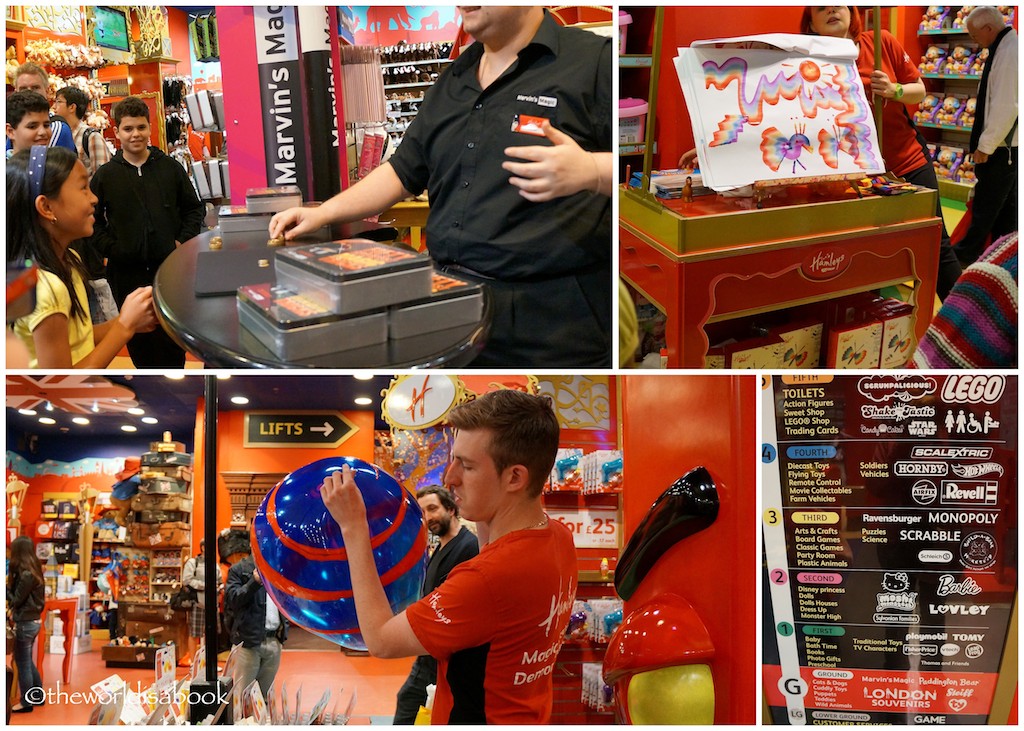 We also visited the famous Harrod's department store on Knightsbridge. This was a shopper's paradise. We really loved the food hall and and the Egyptian decorated escalators. My kids couldn't wait to get to the Toy Kingdom. There were six different worlds here including candy and book areas. It wasn't as crowded as Hamley's but every bit as impressive.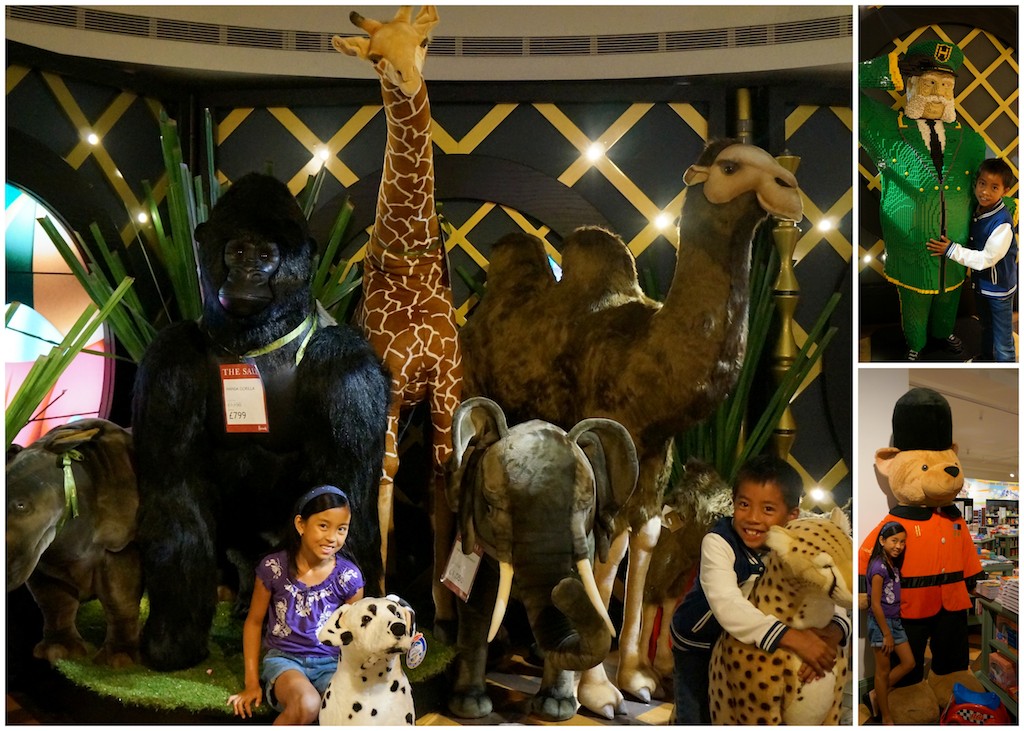 London has so many iconic structures and attractions and the great thing is most of them are free. It's like a Who's Who of monuments here – the lions at Trafalgar Square, Parliament Square, Tower Bridge, Big Ben, Greenwich, the Thames and the list goes on. Its high price tag with many other things is definitely offset by these fun and free attractions. We hope you enjoy your London visit as much as we did.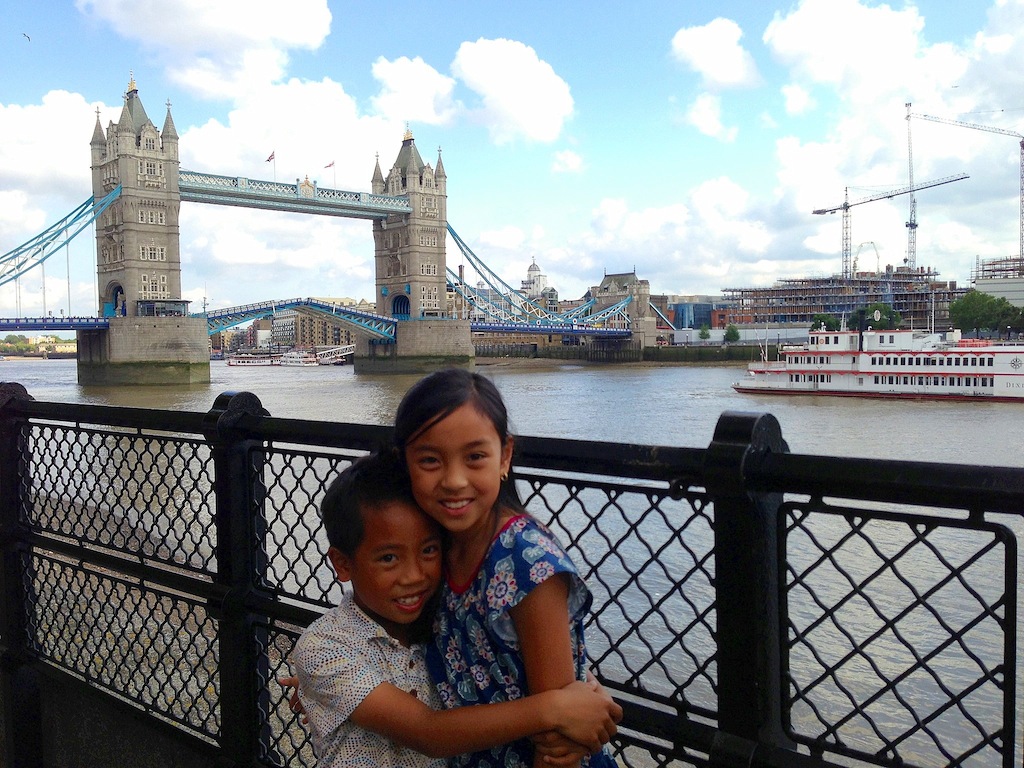 *Any other suggestions for free things to do in London with kids? 
Want more London information? Check out this post on Where to Stay in London: The Ultimate Sightseeing Guide by HotelsCombined to complete your family adventure in London. 
This is a part of a series called Five Free Family Friday which is a collective guide of free family-friendly attractions from places all over the world.  If you'd like to contribute with the free attractions in your home city, I would love your guest posts. Thanks!