Favorite Food Souvenirs from Around the World
"Collect memories, not things when traveling" But, I've always done both. I probably have more trinket and souvenir collections than an average person that qualifies me as a hoarder. My husband will wholeheartedly agree with this, by the way. Though, my favorite souvenirs to take home are delicious, edible ones that remind me of the places we've visited or ones I can't find at any of the local stores.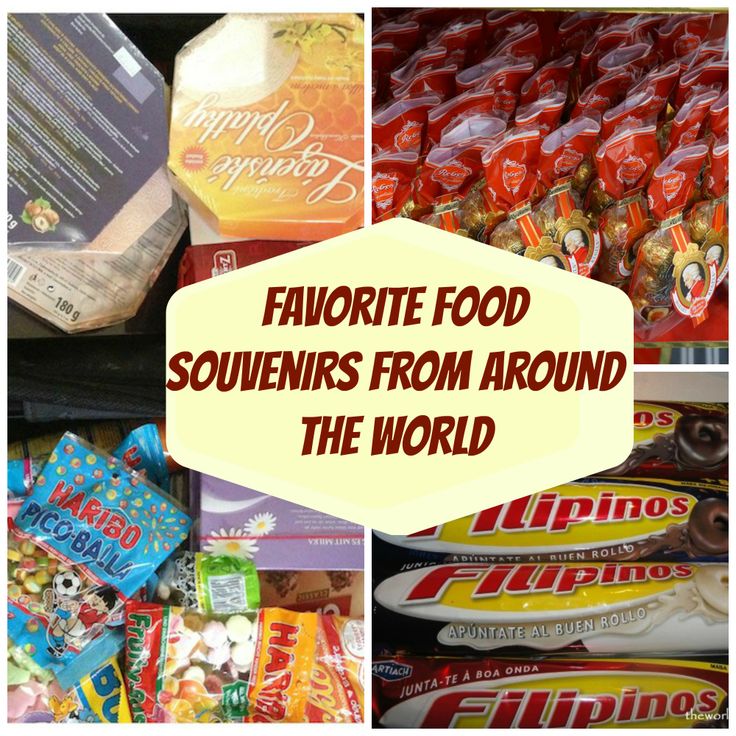 These were our carry-on luggage from our last two European trips filled with goodies. We're happy to share some of our food souvenirs we've enjoyed and brought home.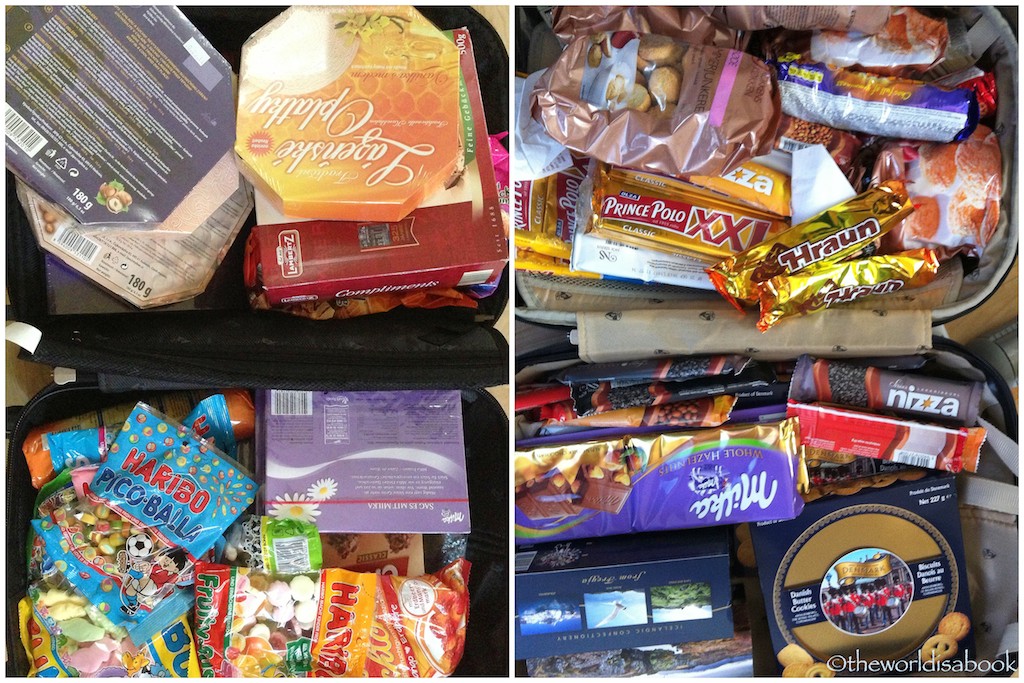 Japan
While my kids could have probably stayed at the 100 Yen shops (dollar stores) all over Tokyo and sampled, these were a couple of the ones we took home. The Tokyo Banana is one of the most popular souvenirs from Japan. This banana shaped sponge cake was filled with banana-flavored custard. For those who have tasted a Hostess Twinkie, this was the Japanese version in banana form but much more delicious. My kids were addicted to these snacks.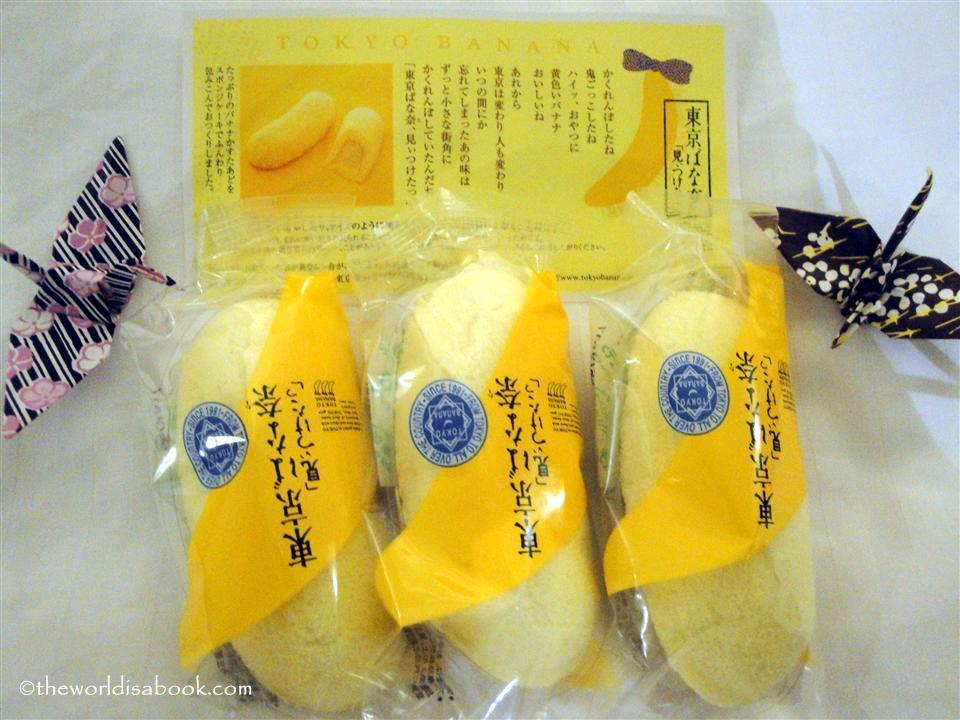 There's no other candy that my friends and family (including me) take home from a visit to Tokyo than the unique Kit Kat chocolate flavors usually not found anywhere else or These are mostly found at airports and train stations but a new Kit Kat store also opened in Seibu Department Store in Tokyo's Ikebukuro. Do flavors like Green Tea, wasabi, passion fruit, cola, rum raisin appeal to you? My daughter and I love the Cookies and Cream and strawberry ones. You can try some flavors by ordering select Japanese Kit Kat flavors at Amazon.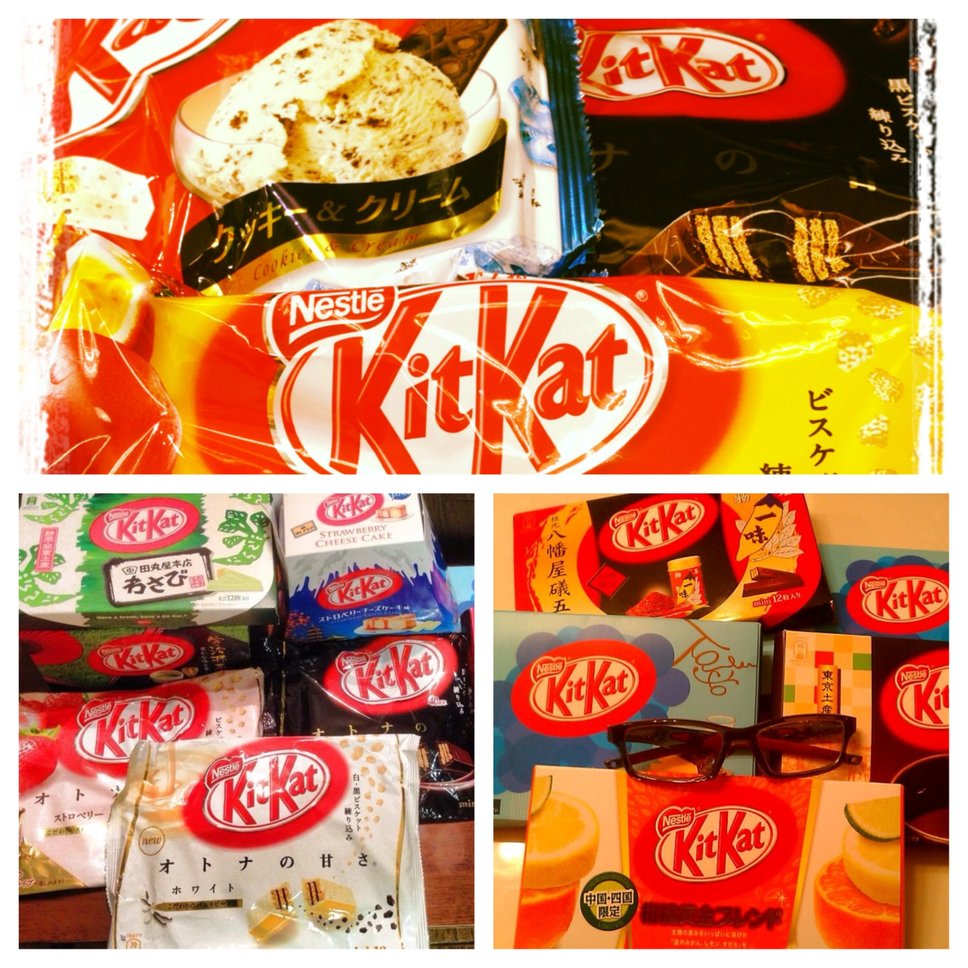 Brussels
It's really hard to leave Brussels without taking home box(es) of chocolates. Belgian chocolates are some of our favorites. Popular brands like Godiva Chocolates and Guylian came from here. One of the great things about visiting Brussels was sampling chocolates from the many chocolatier shops there. So, you'll know which ones to take home.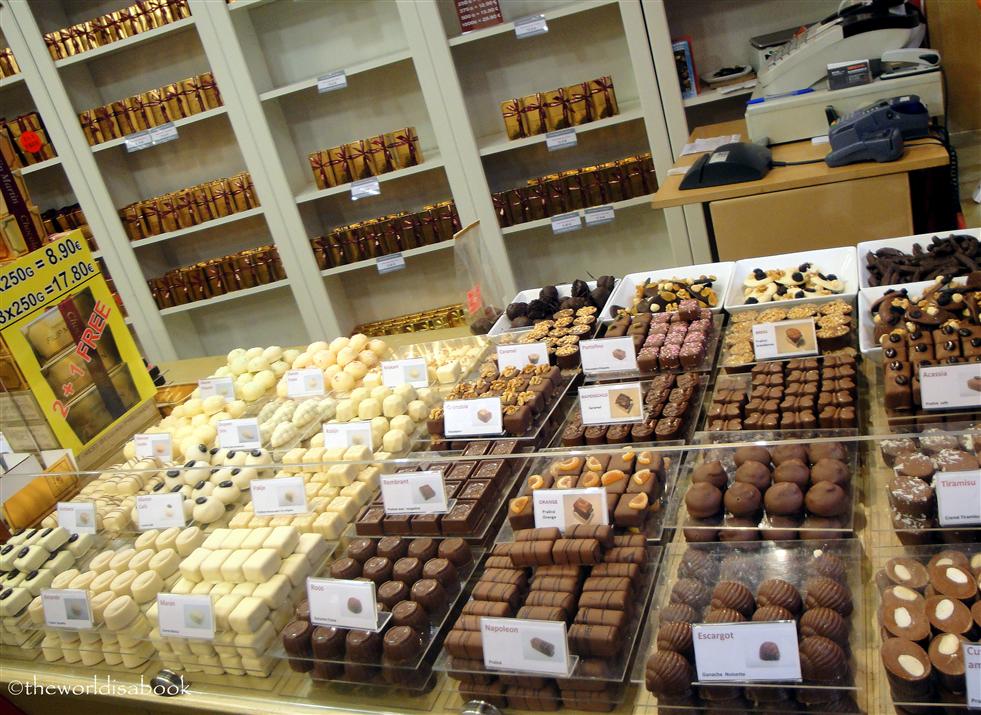 Paris
We love macarons and they seem to be everywhere in Paris and come in beautiful packages and tins. These meringue-based biscuits with a variety of flavors and fillings are so hard to resist. They're a bit pricey but worth every cent. The two most popular places in Paris are Ladurée and Pierre Hermé. Apparently, I have total lack of self-control because these have never made it back to America.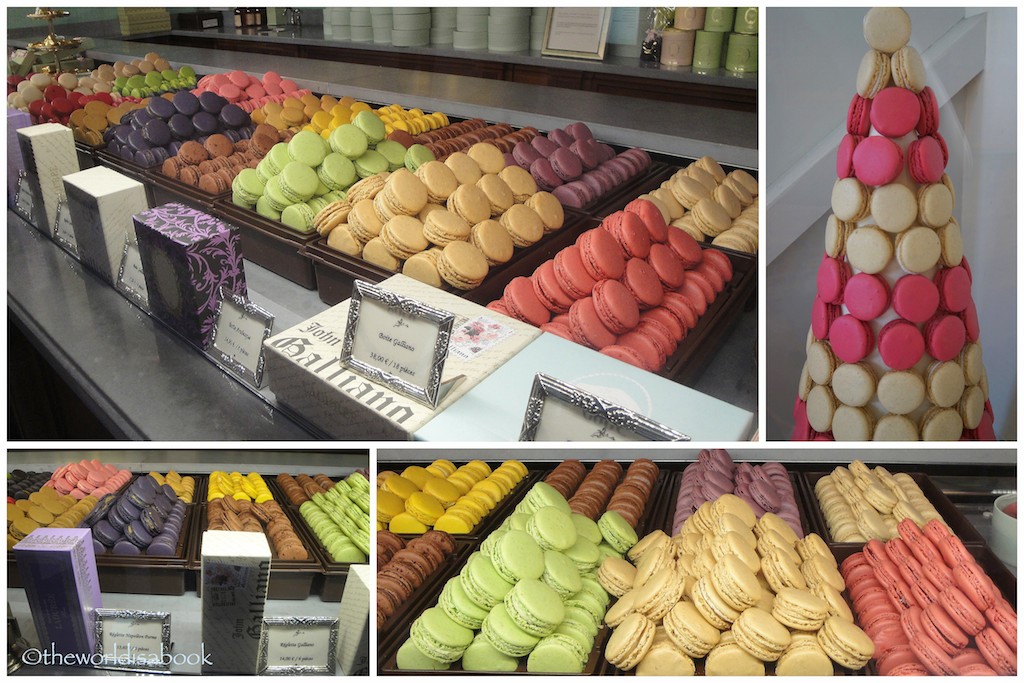 London
Afternoon tea is a long standing tradition in London. I'm far from a tea connoisseur so I don't know the fine details of tea drinking. I bought these because I liked the containers. These were great souvenirs from London's most popular store, Harrods. As a side note, the Harrod's food hall is such a wonderful place to eat. Their desserts and pastries were mouthwatering.

Madrid
While we would have loved to take some of Spain's jamon or ham home, there are restrictions for bringing pork into the United States. But, my kids made sure they ate more than their share while in Madrid. I did take home a lot of these Filipino cookies home. As a Filipino, I had to do it and everyone was amused when we handed them back home. The mini-doughnut shaped cookies were covered in white, dark or milk chocolate and were great snacks.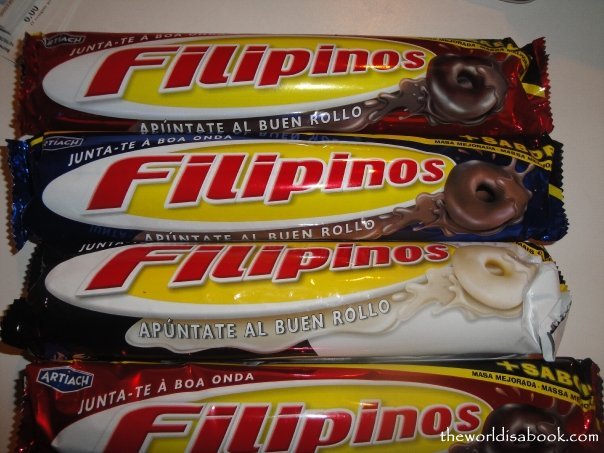 Amsterdam
We were in cheese heaven after seeing all these wheels of Dutch cheese in an Amsterdam supermarket. I don't even remember which we got but they can be brought into the USA. They just need to be vacuum-packed and cannot be from unpasteurized or raw milk cheese.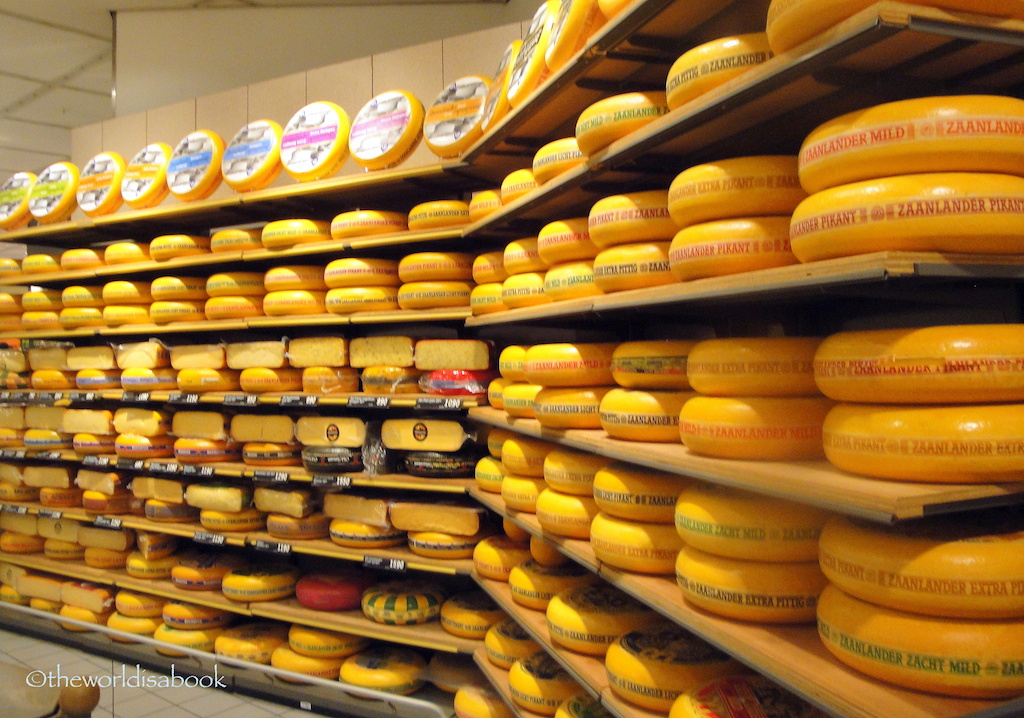 Stroopwafels were fairly common in many of the stores. They were thin layered waffle cookies with a caramel type filling in the middle. We brought the mini-stroopwafels in packages or tin cans home and they were devoured fast.
Germany
I suppose you can take some form of these giant pretzels home. But, this photo was the best souvenir we could get and memories of eating a variety of these delicious treats. I'm including it to remind those traveling to Germany not to miss eating one (or more) of these.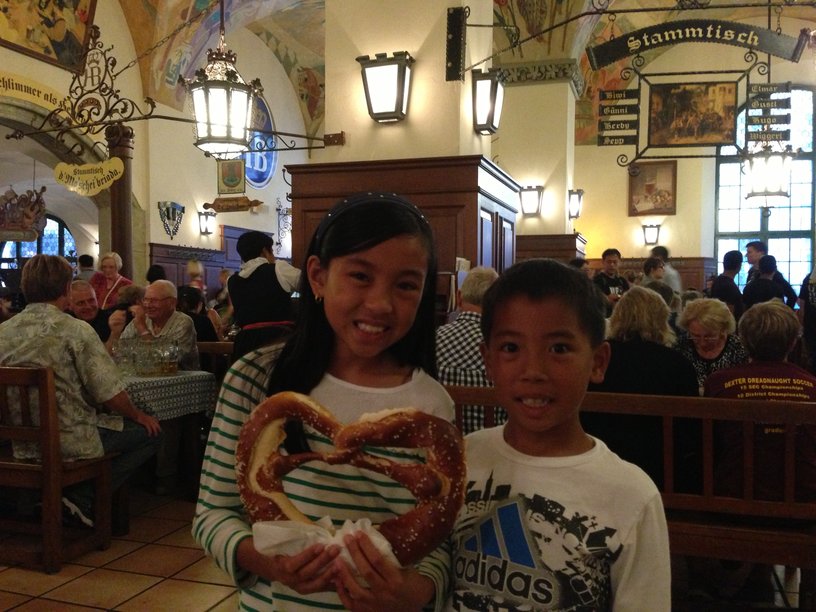 We've never bought so much candy packages than in Munich, Germany. You may be familiar with the Haribo brand which invented gummy candy and is currently one of its biggest manufacturers. Germany's candy aisles had so much more variety than we've ever seen before. They came in all forms and shapes – Smurfs, fish, dinosaurs, frogs, soda bottles. Packages were less than a Euro and let's just say we bought one (or two) of each here and more from other places. We all agreed the German version was sweeter and easier to chew than the Haribo candies found here in America in stores and online.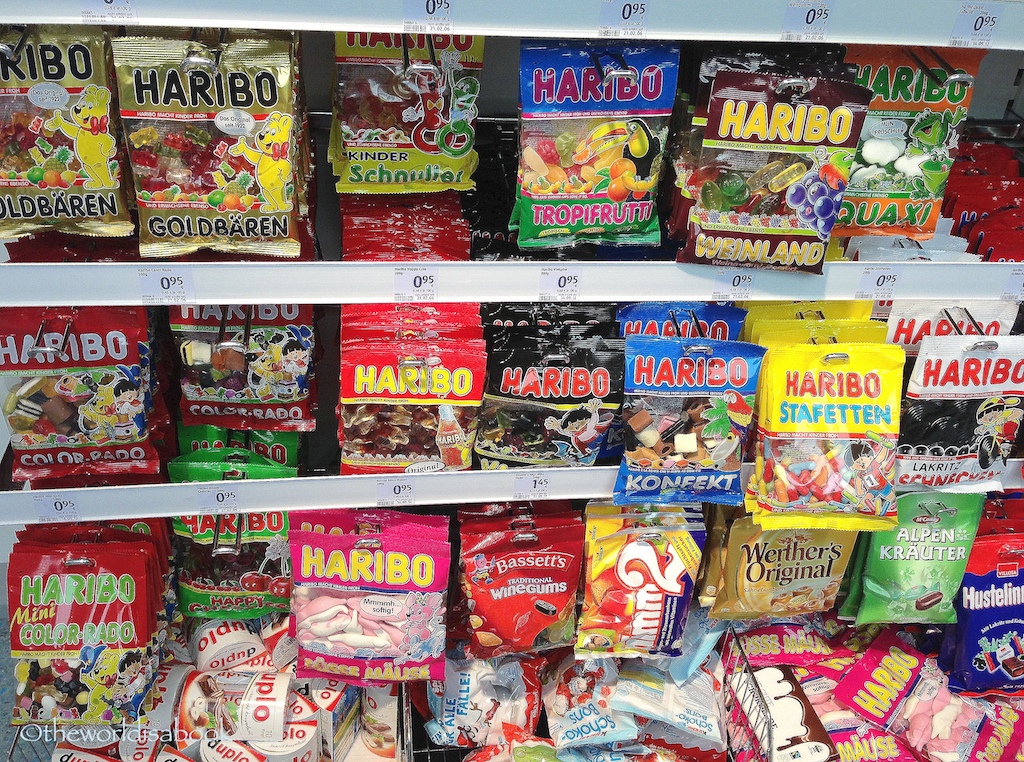 Prague
We found many of these Spa wafers (lázeňské oplatky) in souvenir and grocery stores. These wafers originated in the Czech spa towns when they were offered to guests as snacks. These popular snacks were large, round, thin and flavored with fillings in between. Its delicateness reminded me of a giant communion bread we get at Catholic churches. They were delicious and made for great snacks as we walked around Prague. We loved the hazelnut and chocolate ones!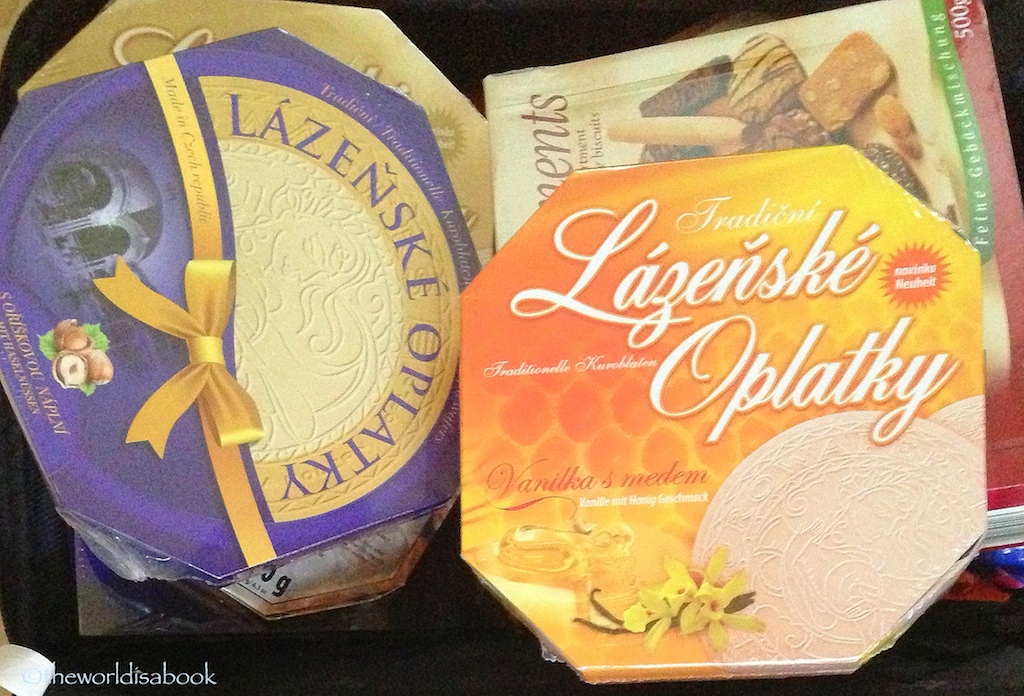 Salzburg
Mozart's presence is all over Salzburg so it wasn't a surprise to see him being honored in the form of chocolates. The Mozartkugels or Mozart Balls are pistachio marzipan balls covered in nougats and coated with chocolate. They were delicious and small enough to make them addicting. There are a variety of brands and confectioners selling them but the original Fürst chocolates come in in blue covers. The red versions are the mass produced ones.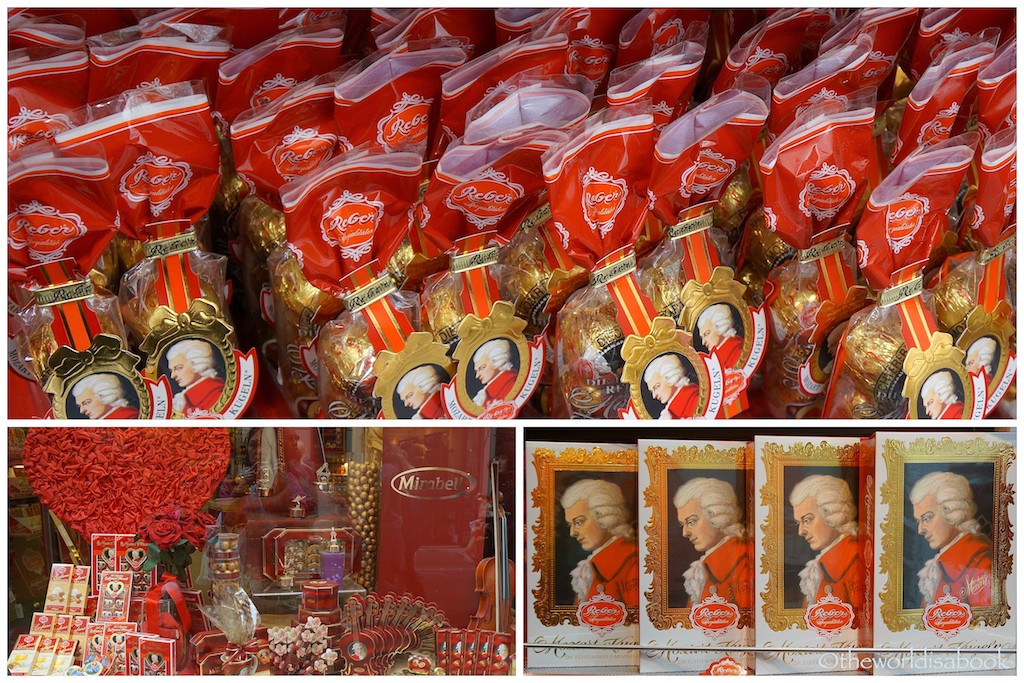 Iceland
Have you ever had an Icelandic chocolate covered licorice? We didn't know these existed until our trip to Iceland a couple of years ago. Those Nizza and Pipp chocolate bars were great! It looked like any other bar but with licorice bits in the middle. Who knew this combination worked? Black licorice is very popular in Iceland and comes in a various forms. Its salty flavor is an acquired taste though.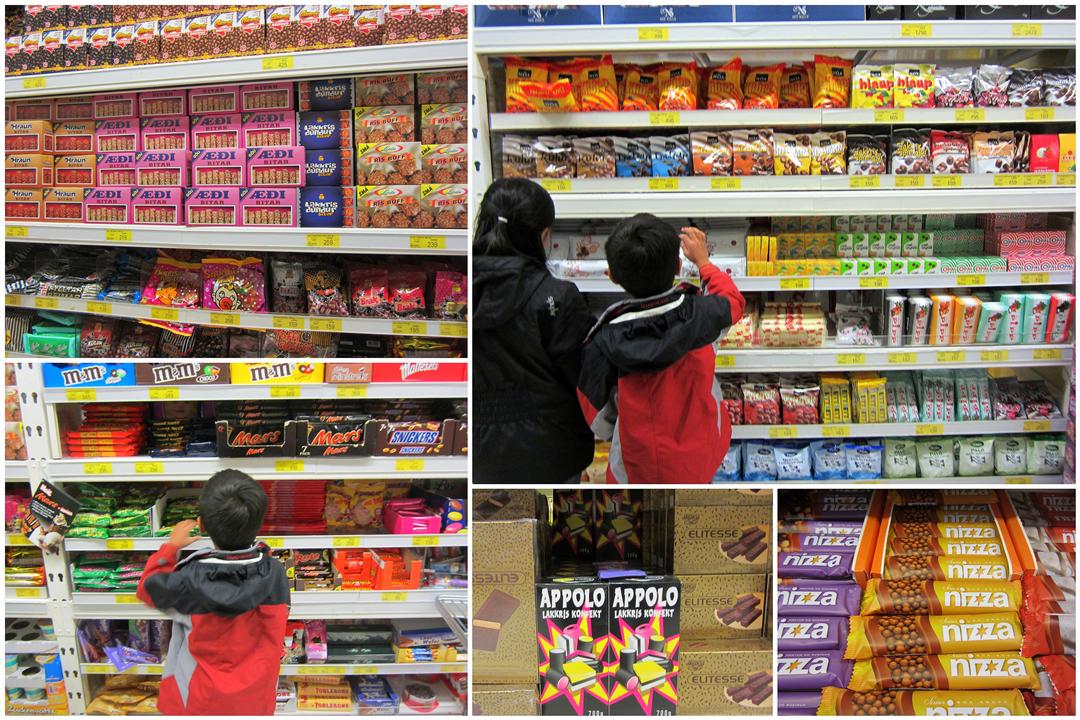 Chicago
I love bringing home a tin of Garrett Popcorn from Chicago. One of my friends, who lives in Chicago, has sent me gallon tins over the holidays for many years. This popular Chicago treat comes in many flavors but we love the Chicago mix of caramel and cheese. These can be ordered online and available at some international locations plus New York City and I'm so happy to have found it in Las Vegas too. Don't leave the city without a tin or some samples!
New Mexico
Chile peppers are almost synonymous with New Mexican cuisine. Chile ristras (string of dried chiles) and wreaths can be found hanging at many structures around the state. They're great decorations and I've brought a couple of them home. The dried red chile can also be used for cooking. The ristras are made with various types of chiles but for a more New Mexican local flavor, try the hatch chiles.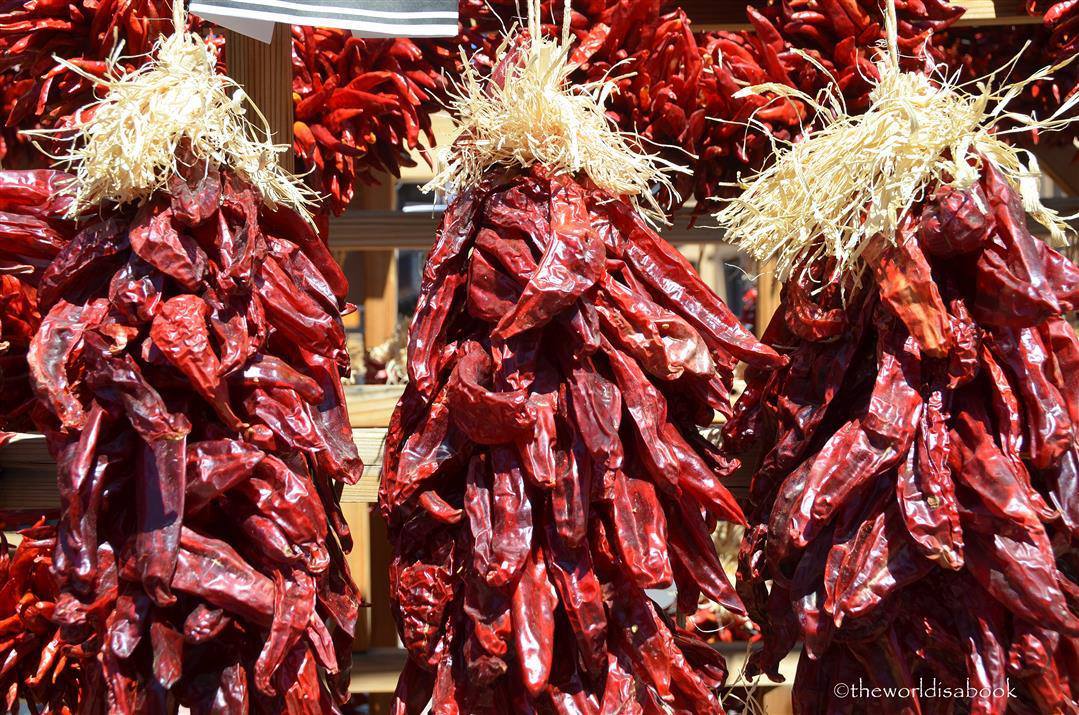 Hawaii
While I've seen many people bring home Dole pineapples from Hawaii at airports, I've never really felt the need to buy them as souvenirs. We do bring home a lot of macadamia nut products when visiting the islands. We usually get A LOT of these chocolate covered macadamia nuts and macadamia nut Hershey's kisses (only found in Hawaii or Hersey World in Pennsylvania).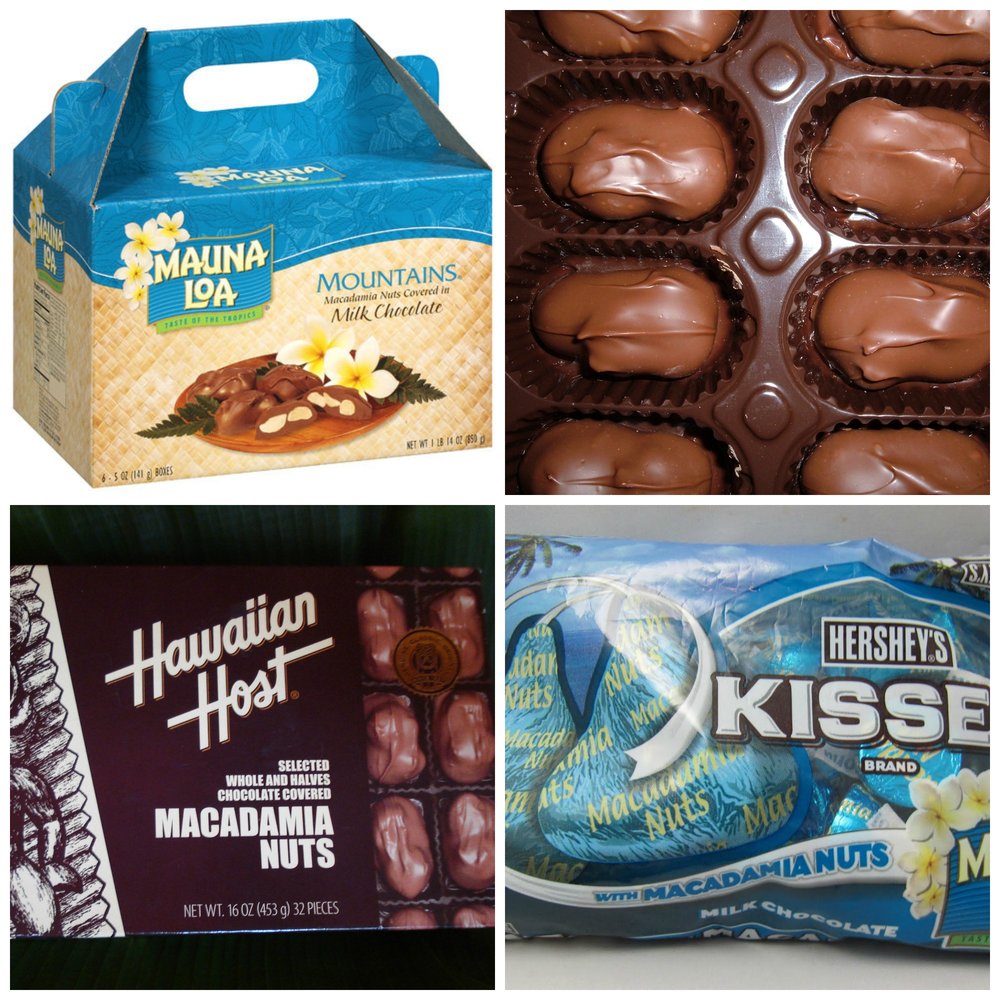 For the more adventurous eaters, there are also wasabi and teriyaki macadamia nuts or spam flavored macadamia nuts. I'm not a big fan of the spam aftertaste. If you're visiting the Big Island, go to the Mauna Loa factory and they have free samples. We've found the cheapest places to buy them are from Costco and if you don't have a membership, Walmart comes a close second.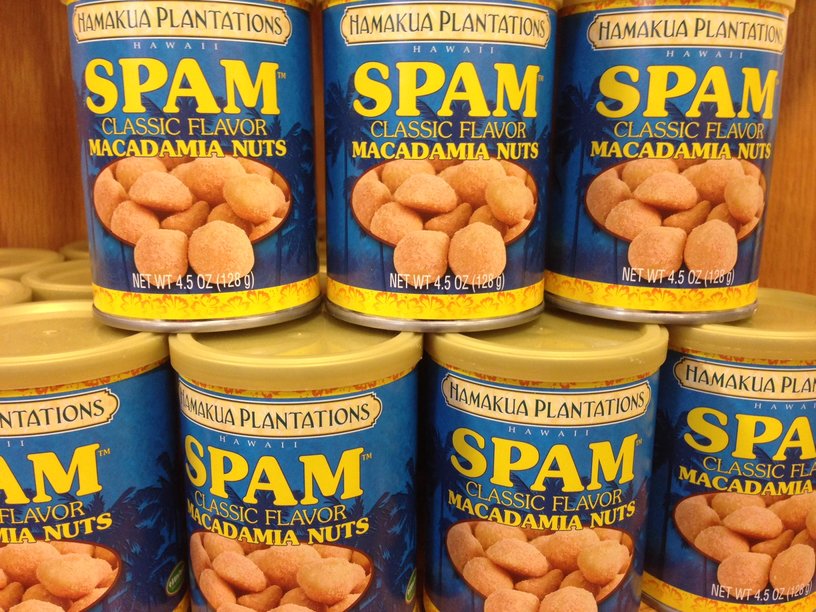 Souvenir shopping, especially for food, is a great way to gain some insight into local culture. These souvenirs are usually cheaper, more enjoyable for everyone and some are easy to pack. I hope these gave you some ideas of what to get at these destinations during your travels. Or if you're not the souvenir type, inspired you to bring back some food souvenirs. It's hard to resist sweets and chocolates.
Food Souvenir Tips
Make sure to check food items you are bringing into your home country are not prohibited. This is the USA's list of prohibited food items.
Visit supermarkets and grocery stores for the best and cheaper selections. We love browsing the aisles to see local goodies and unique things we can't find at home. These are usually easy to pack too.
Scatter the souvenirs. Don't put them all in one luggage especially if you're checking it in. We usually don't take chances and put the souvenirs on carry-on luggages.
*What food souvenirs have you taken home?
The World Is A Book is a participant in the Amazon Services LLC Associates Program, an affiliate advertising program designed to provide a means for sites to earn advertising fees by advertising and linking to amazon.com.
Pin it for later!