A Maui Luau with kids
We were excited to take our kids to their first Hawaiian luau since we didn't have a chance to take them last time we were in Hawaii.  We decided on the Royal Lahaina Resort Luau primarily based on the price. We read good reviews about them too and they actually had a limited keiki (children) buffet.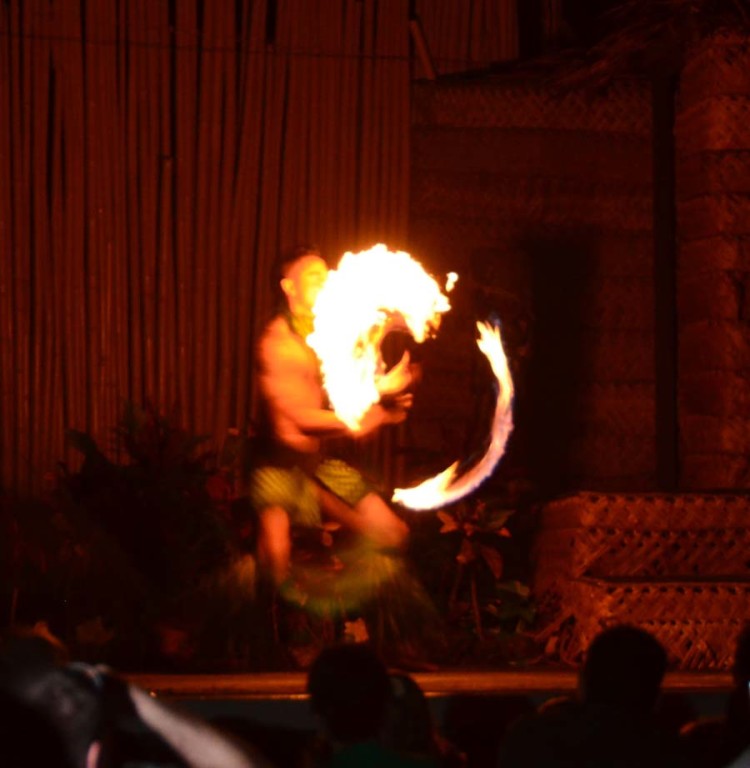 We got our tickets through the  website, mauiactivitiesoutlet.com, which was about 40% off the regular price.  The kids (11 and under) were free for each paying adult and those 5 and under were free with no restrictions.  We printed our tickets from the email confirmation and turned them in when we were lining up.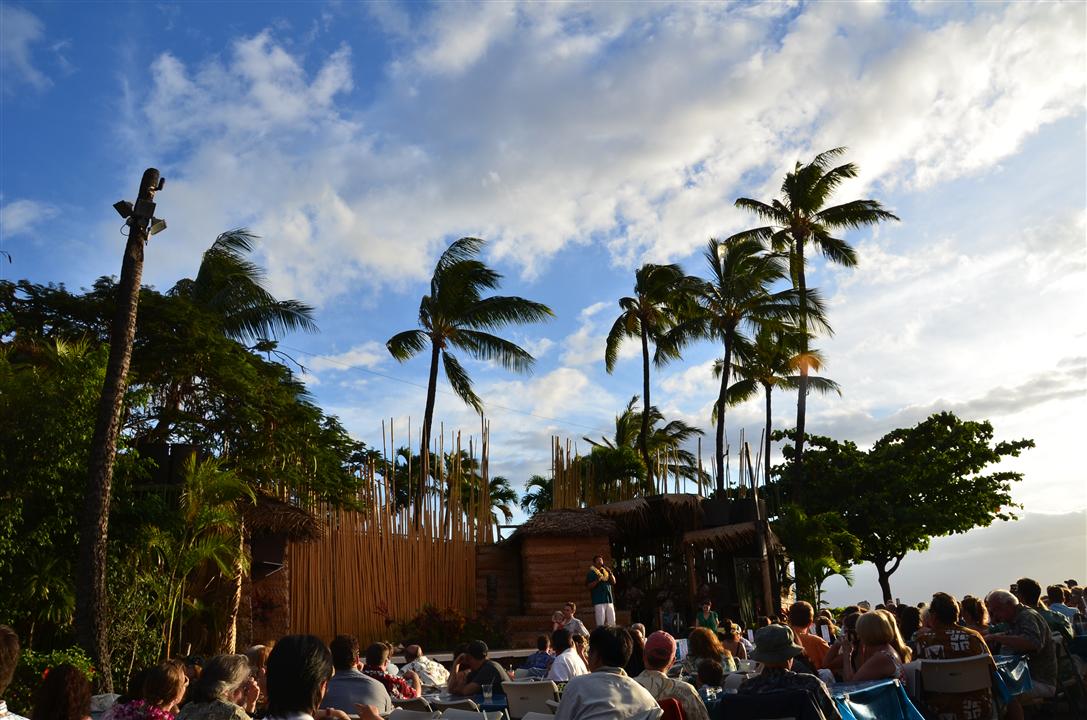 The luau was located on a separate area from the hotel closer to some condominium properties but shared the same parking with the Royal Lahaina resort.  People started lining up around 4:30 PM and the doors opened at 5:15 PM.  There were two photographers at the entrance to take group pictures which were later displayed and sold as an 8×10 for $20.  Of course, we bought one as an expensive souvenir.
There were also vendors selling leis, and other handicrafts at the various tables.  They were beautiful but a little pricey.  It was a very relaxed setting with long tables and plastic chairs set alongside Kaanapali Beach.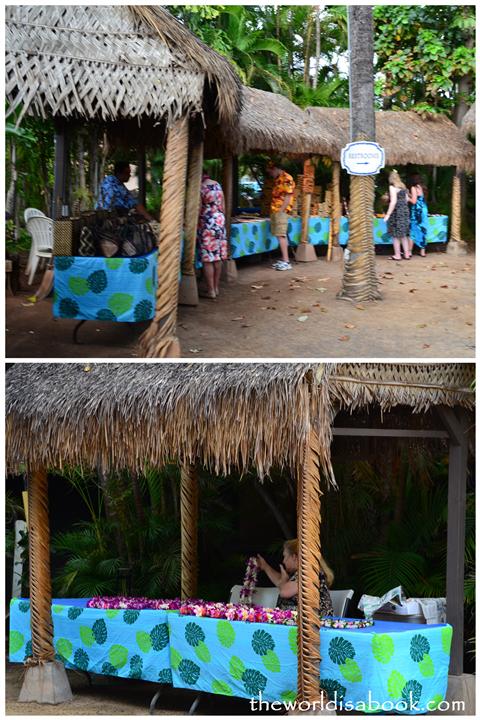 We were directed to the unassigned seating areas as we entered. We were lucky enough to be seated towards the tables closest to the buffet so we  got to eat after those who paid for the VIP tickets.   The pig was brought out before the show after it was dug out from the pit near the beach.   I'm still a bit skeptical on this being the same pig they served for the kalua pork.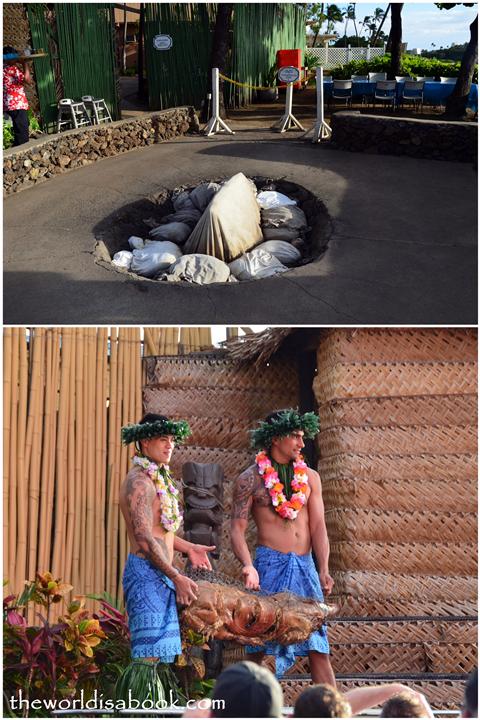 The Keiki buffet was a small circular area with hotdogs, mac & cheese, chips, and chicken fingers.  I expected a bit more but our kids were satisfied with the food.  We expected a  bit more fruit variety too but we only saw pineapple for the fresh fruit.
There were Yakisoba noodles, Kalua Pork,  Kalua Turkey, Teriyaki Chicken, Mahi-mahi, various salad including one with papaya dressing which was pretty good.  Dessert was chocolate cake, coconut cake, and haupia (coconut pudding).    It was a very satisfying meal and everything we ate was delicious. For a full menu list, go here.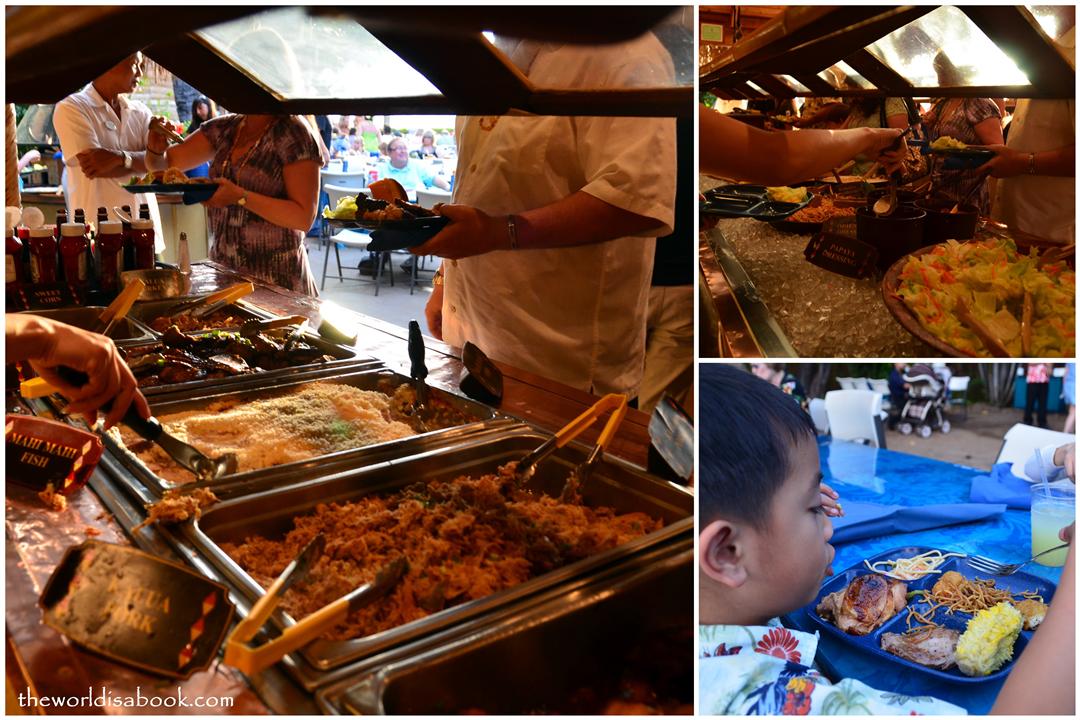 The staff passed out drinks (pineapple juice, Mai Tai, Blue Hawaii) while coffee, water and fruit punch were in self-serve stations.  There was also a bar for ordering sodas and other drinks and they sold drinks on special containers for about $14 with unlimited refills.   My husband liked the Blue Hawaii and felt the Mai tai was watered down.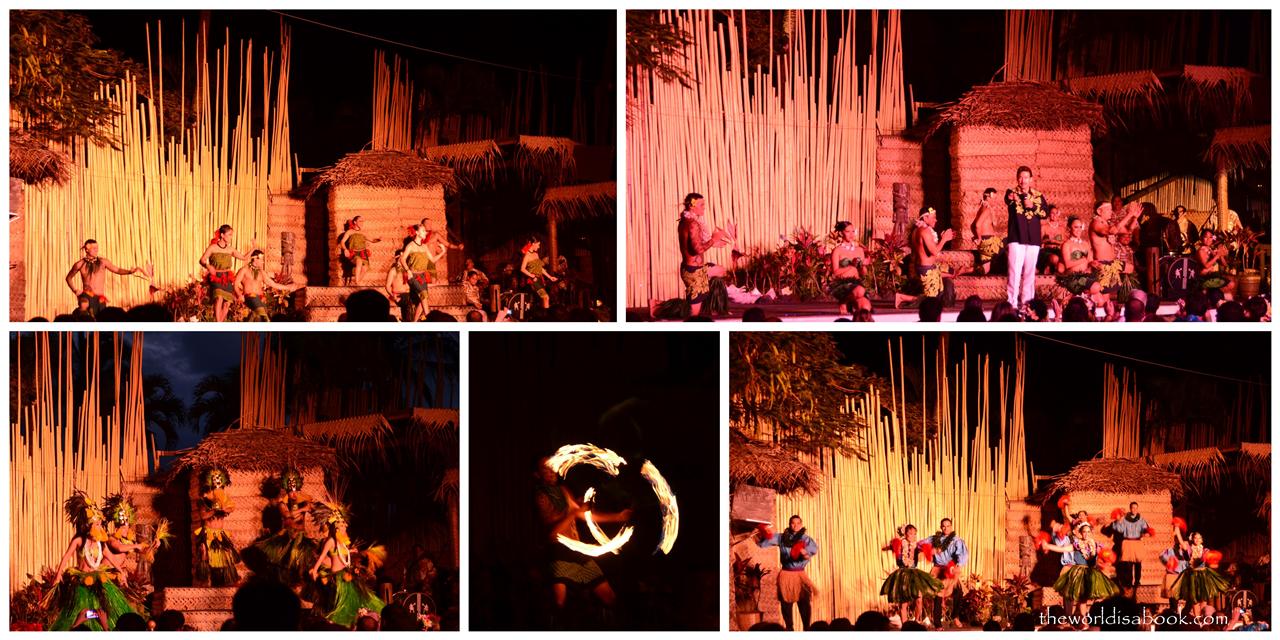 The Polynesian show was entertaining with a singer as an emcee and a variety of dances from the different islands. The dancers were all very talented and were a joy to watch.  They paid tributes to birthdays, wedding and anniversary celebrants which was a great touch. The highlight for my kids was the fire dancer that ended the show.  With little exclamations of "Cool, how'd he do that?"
The performers came out afterwards to greet guests and pose for photographs.  We were a little disappointed with the menu and lack of pre-show activities compared to another luau we attended in Oahu but overall it was a good value.   My husband was expecting some Hawaiian staple food like lau lau and lomi lomi salmon but we didn't get either one.  It was a family event that was not to be missed while in Maui and we were happy our kids enjoyed their first luau.
Website: Royal Lahaina Resort Luau
Contact: 808.661.3611
Address: 2780 Kekaa Dr Lahaina, HI
Related Posts: