Journey to Herrenchiemsee: The Bavarian Versailles
In the last installment of our European castles and palaces tour from last year, I'm taking you this week to another one of Bavaria's "fairytale king", King Ludwig II's, castles. But, this one is more remote and less well-known than Neuschwanstein and Linderhoff.  The Royal Palace of Herrenchiemsee (New Palace) was built in 1878 on Herreninsel Island in Lake Chiemsee which was about an hour from Munich and Salzburg. The castle on an island perfectly suited the king who relished his solitude.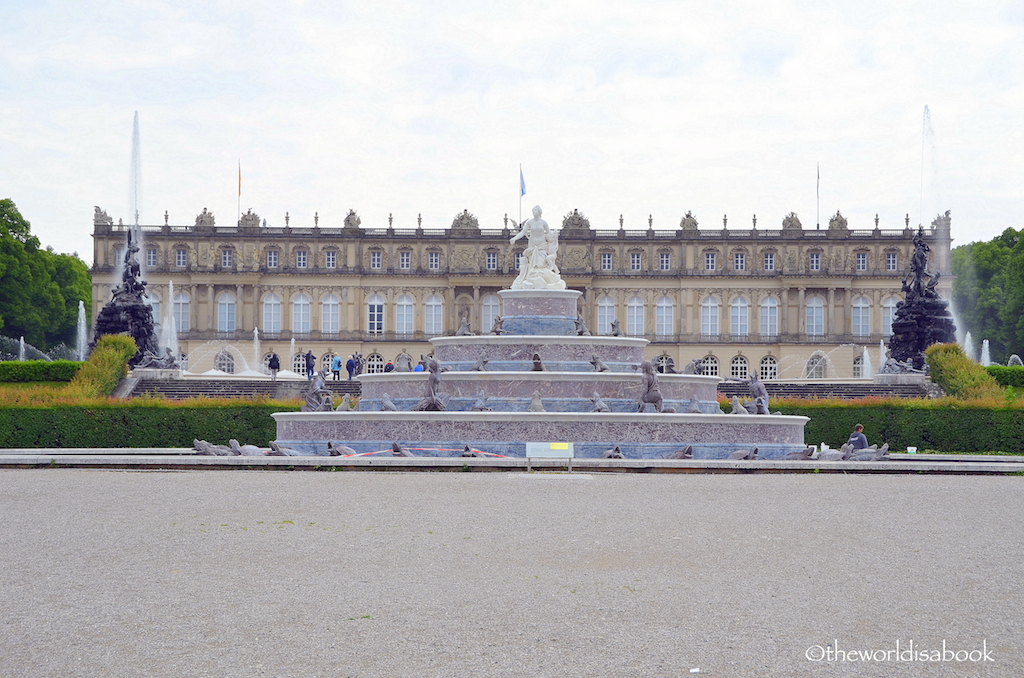 Herrenchiemsee was inspired by and modeled after King Louis XIV's French Versailles Palace. The ornate palace was never meant as a residence but as an homage and "Temple of Fame" for King Louis XIV or the Sun King whom Ludwig deeply admired. Ludwig clearly knew how to pay tribute to other royals but he didn't just want to copy Versailles he also wanted to surpass it.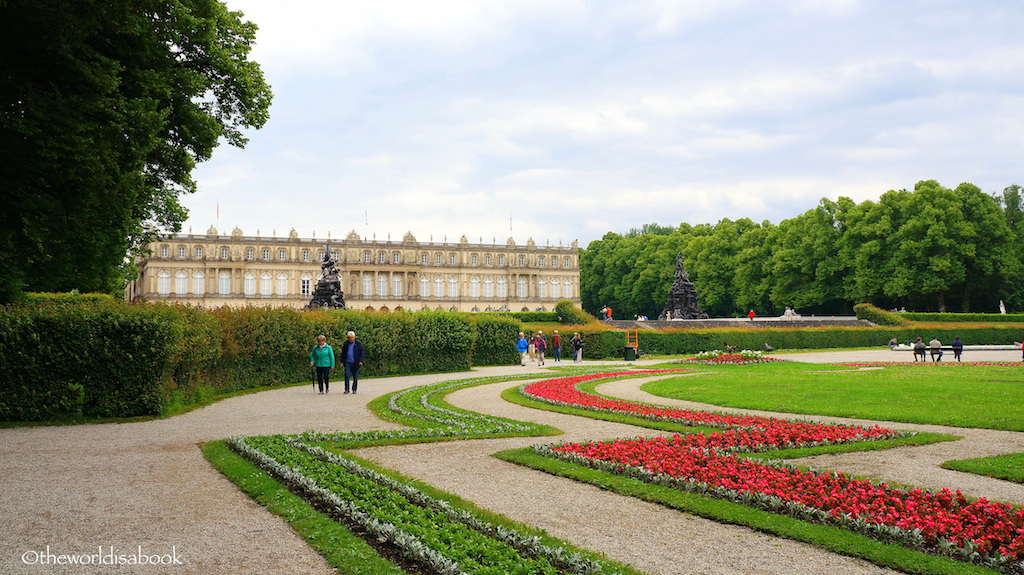 Our journey to the Bavarian Versailles started at the charming town of Prien. We boarded the ferry that took us to the island on an overcast day but the scenery was still beautiful.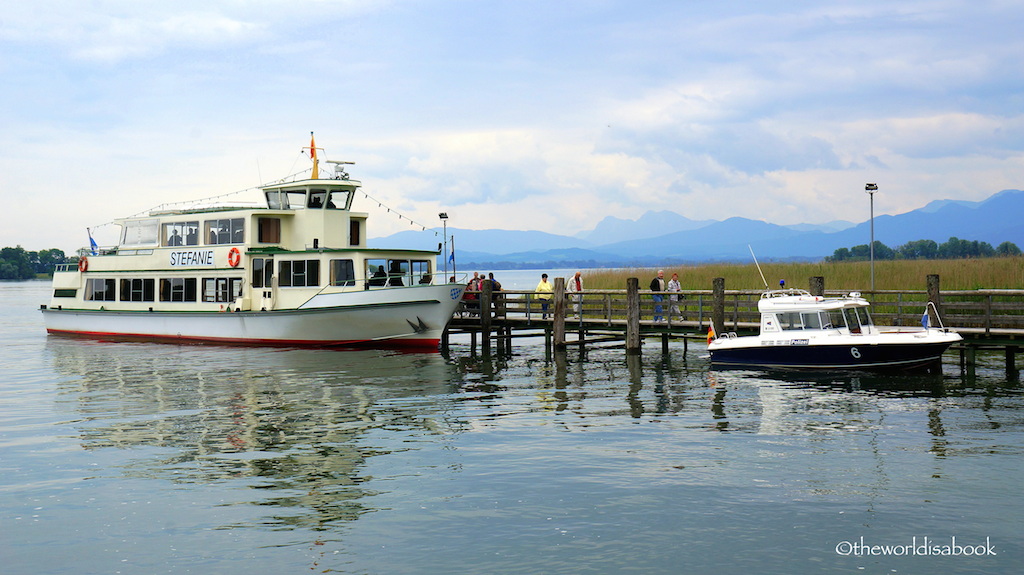 Lake Chiemsee was just beautiful and surrounded by fantastic alpine scenery.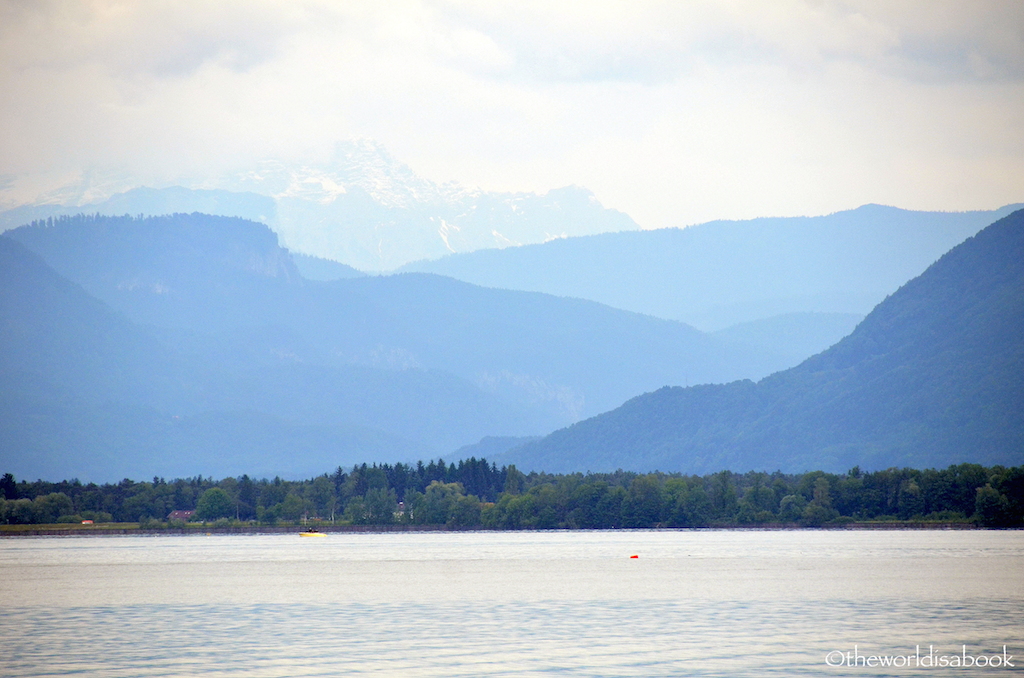 There weren't that many visitors on our boat on a late June Wednesday which was a good thing. The boat ride only took about 20 minutes but it was very picturesque. We passed by surrounding islands and some with the region's common onion domes.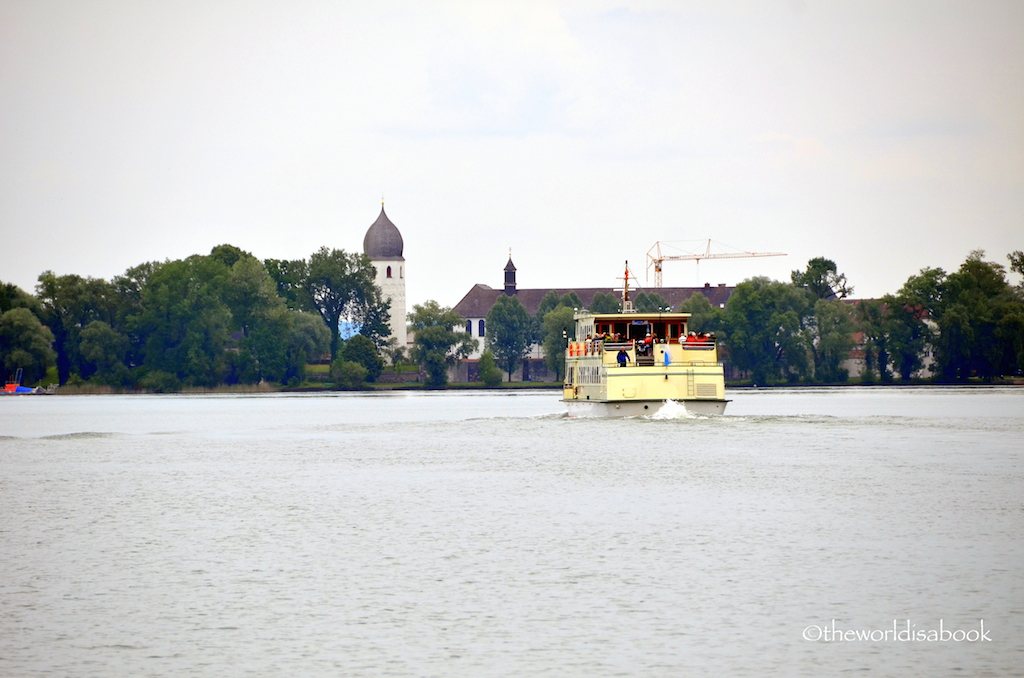 We saw a few sailboats and an occasional fisherman. Lake Chiemsee is Bavaria's largest lake and we can only imagine the level of activity here on a sunny summer weekend.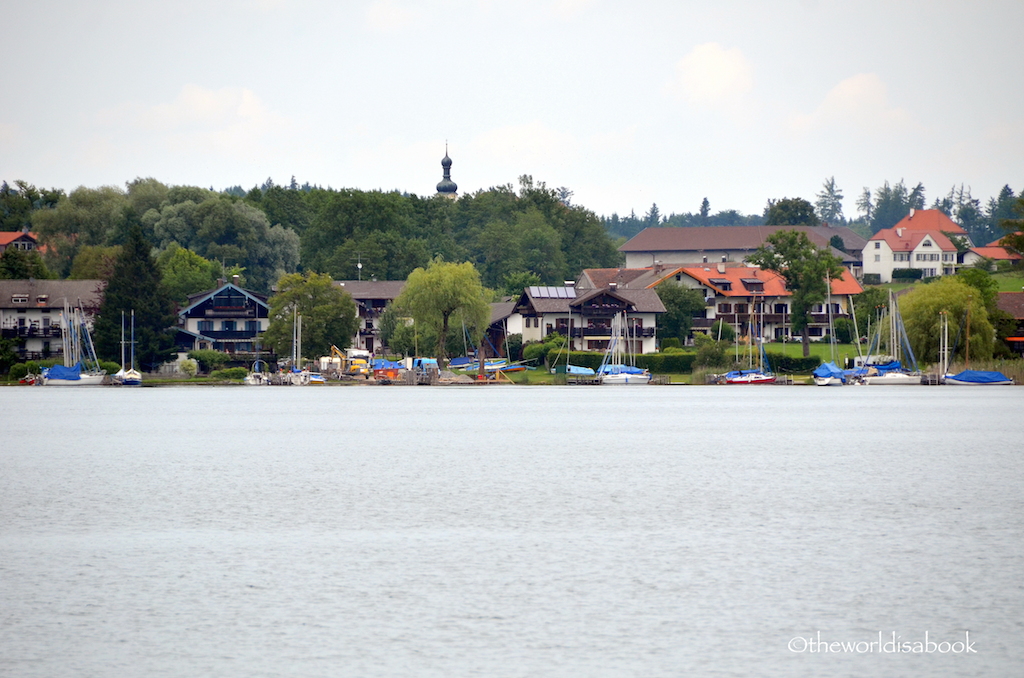 We couldn't see the palace from the dock once we got to the island. Like the other castles, Herrenchiemsee can only be seen through guided tours assigned during specific times and available in several languages. We booked our tour in the ticket area by the docks with an hour to spare.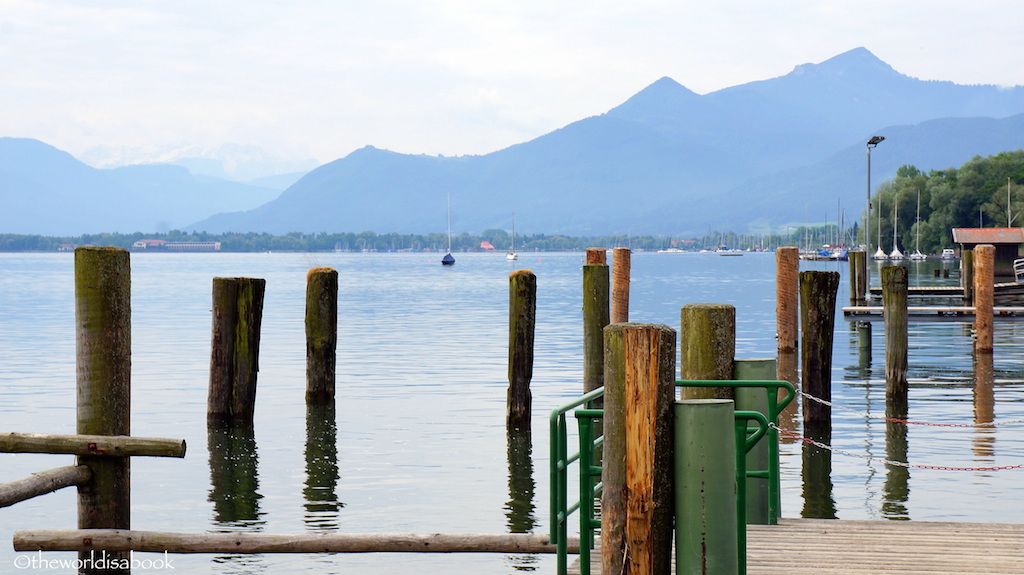 Visitors have an option of riding a horse carriage or walk about 15 minutes through a forest trail to reach the palace. While it would have been part of the fairy tale magic to arrive at a castle in a horse-drawn carriage,the line was just too long. So, we decided to do a leisurely stroll through the woods instead.

It was a fairly easy walk along the path. My kids were happy to spot these horses grazing on a field. My daughter was convinced that horse had a heart birthmark.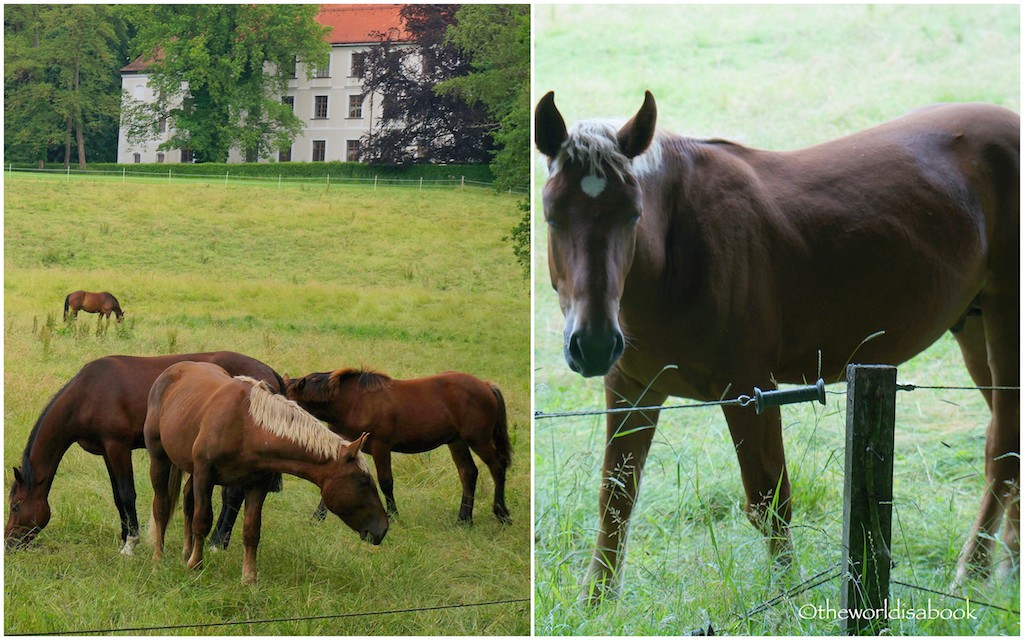 The trail opened into a park, fountains and the palace. For anyone who has been to Versailles the park in front is supposed to be a replica.Since funds ran out and Ludwig died, only the central part of Herrenchiemsee was finished.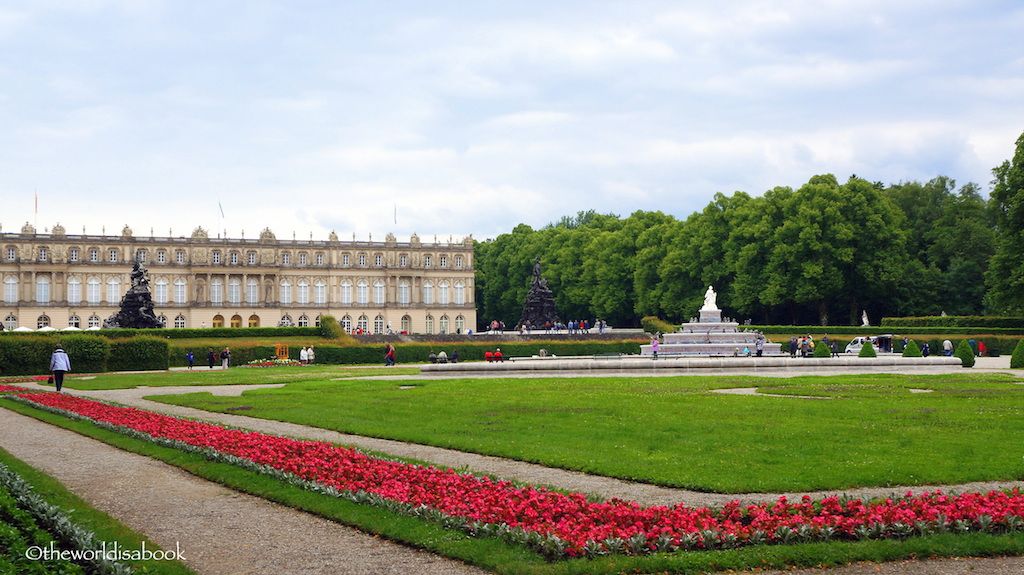 There's a Latona fountain as a central focal point. According to Greek mythology, Latona was one of Zeus' mistress. She fled to a village with her children, Artemis and Apollo. But, the village denied them water from the lake so these villagers were turned into frogs. Unortunately, it wasn't working during our visit.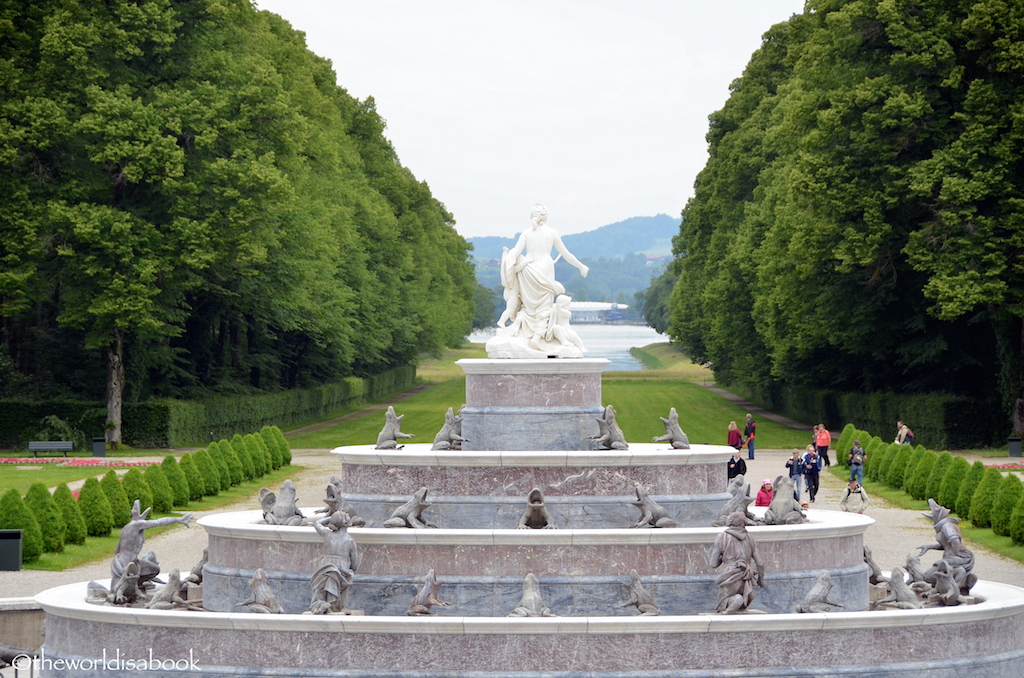 The fountains put on quite a display while we were there. The two large side fountains were also duplicated except the statues of Pheme and Fortuna on top were inspired from a Spanish palace.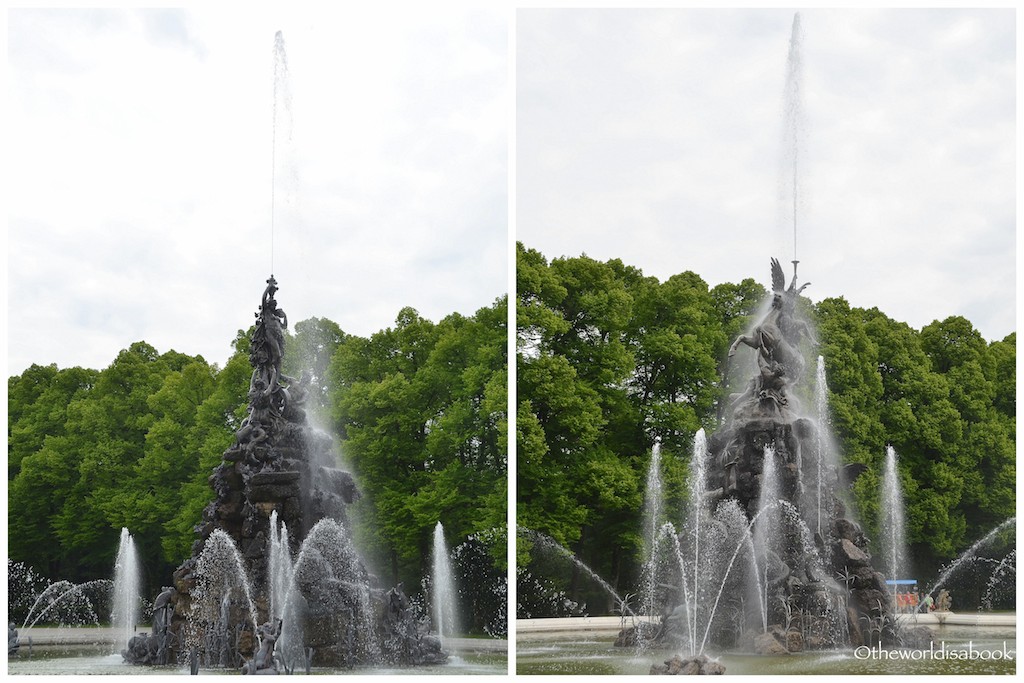 My kids loved seeing all the cherubs and other statues surrounding the fountains.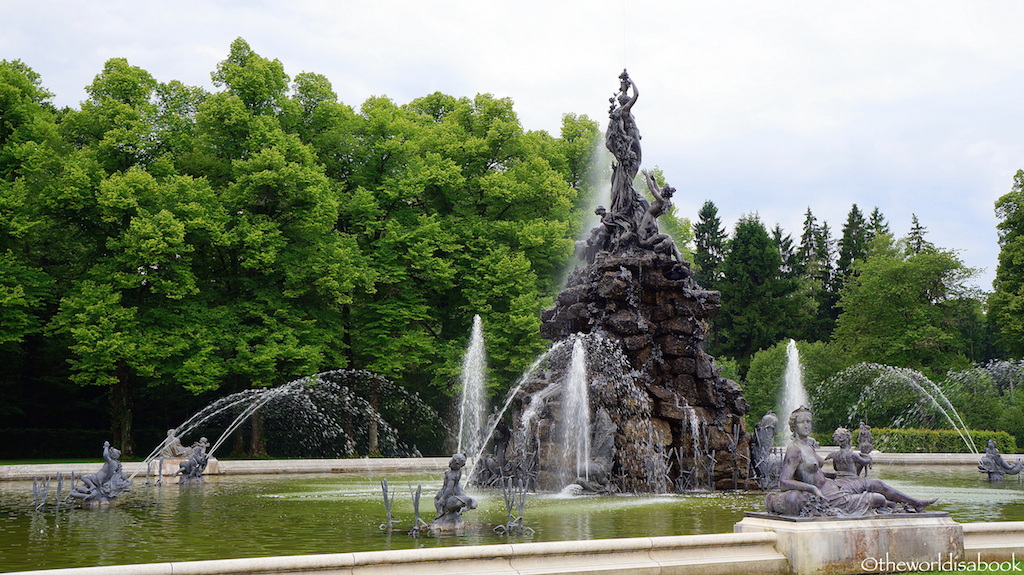 We found several kids on field trips happily playing around the fountains. My then 7-year-old son decided to do his "I'm drinking from the fountain shots" at various points on both fountains. This was one of them.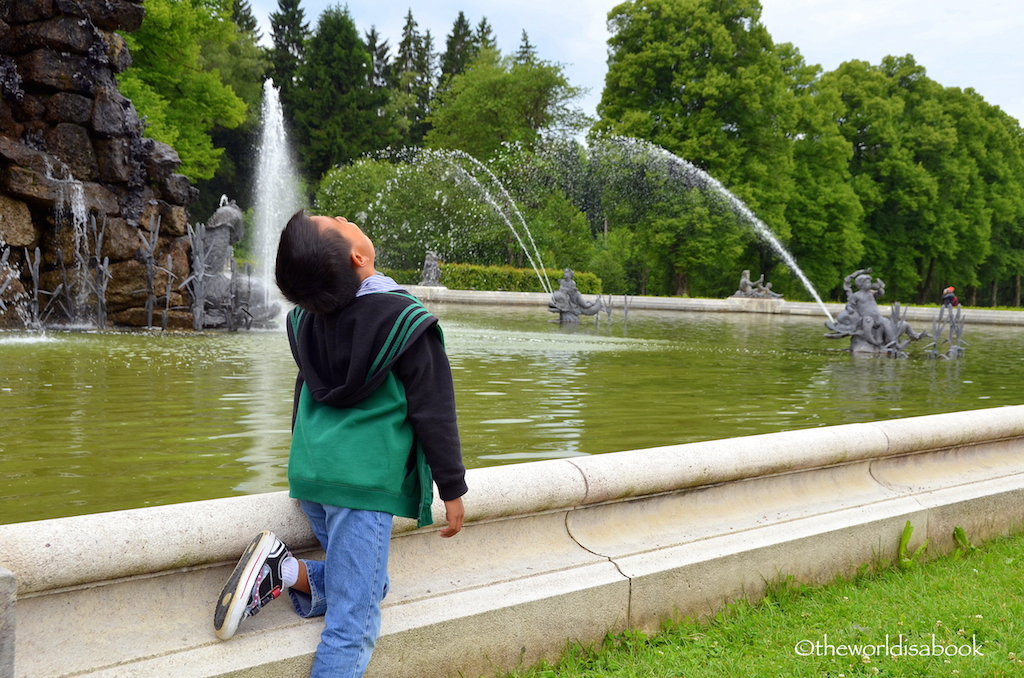 Like Ludwig's other castles, no picture taking is allowed inside the castle which is always disappointing. This hallway where we waited for our tour was the only picture I was able to take.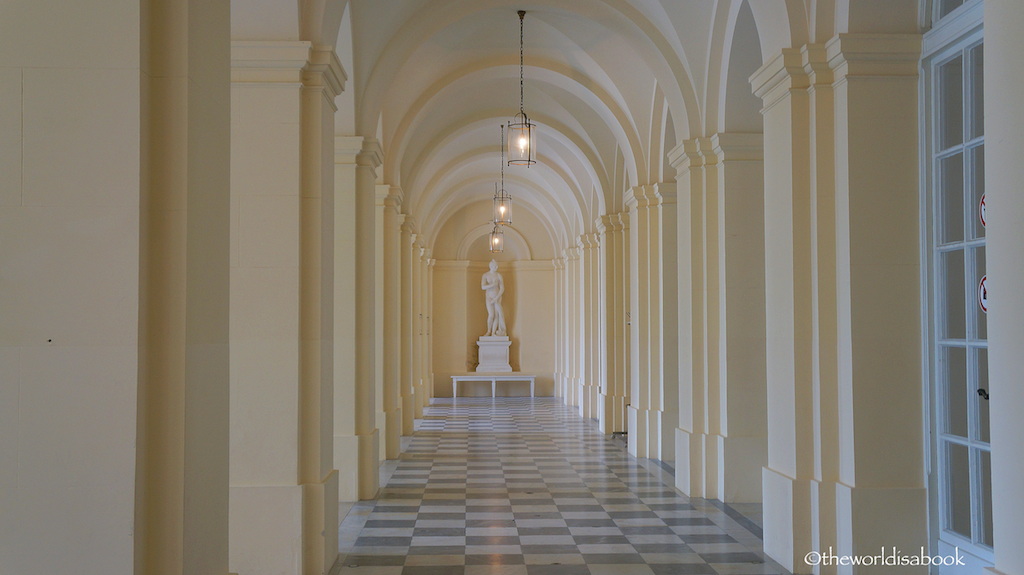 We got lucky with less than 10 people in our English-led tour and with a wonderful tour guide who answered everyone's questions. She took time to explain some interesting history and details that even made my kids pay attention during the 40-minute tour. These tours can really be a hit or a miss depending on the quality of the tour guides.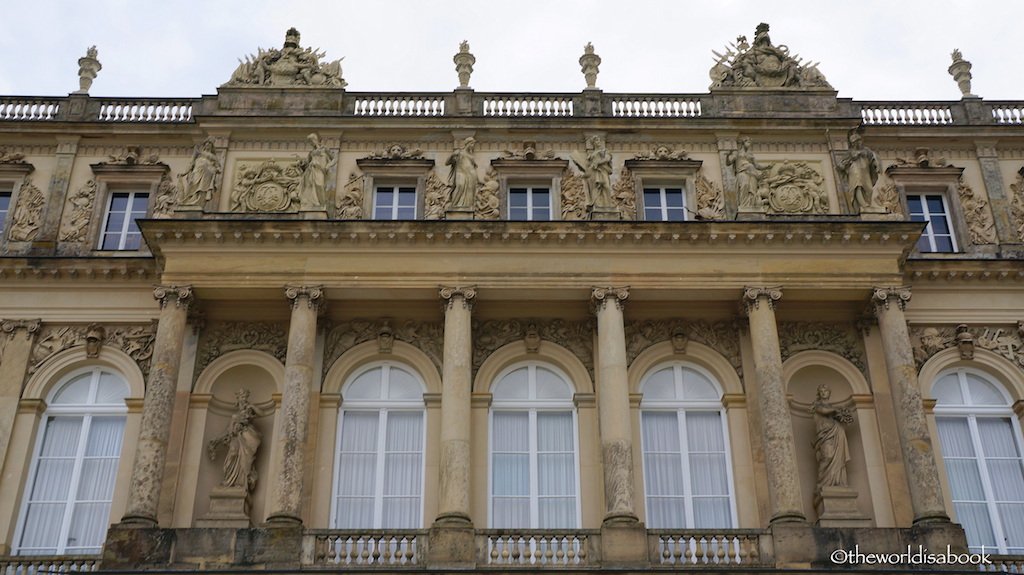 We started our tour at the ground floor's vestibule which was where the guests entered and were welcomed into the palace. The tour took us through about 20 state rooms. The interior in this palace are some of the most opulent we've seen. King Ludwig didn't spare any expense. Herrenchiemsee was his most expensive castle and cost more than Linderhof and Neuschwanstein combined.
It was mostly in French rococo style which meant over the top decorative. There were carved panels, marble floors, colorful wall and ceiling frescoes, exquisite furniture and gilded walls. We found it interesting that Ludwig ordered that anything resembling Bavaria Germany be removed from the palace. This meant no flags, seals or lions which were Bavaria's symbols. Of course, there is a large painting of Louis XIV.
King Ludwig ordered that Herrenchiemsee's Great Hall of Mirrors and two nearby chambers must be exact copies of Versailles. When we stepped into the Great Hall of Mirrors, many of us in the tour let out gasps of amazement. It was magnificent and was our favorite room.
This version is 26 feet longer than Versailles with 33 pendant chandeliers. The workers spent a lot of time in Versailles to ensure it stayed true to the original. The paintings showcased Louis XIV's important milestones. While the French version held many celebrations and welcomed guests, none took place here when Ludwig was alive. He only visited every fall and most of the time at night which was when he was awake. The gallery would be lit up by 2,188 candles. We can only imagine how magical it must have looked or how many people it took to illuminate the place. Concerts are held here in the summer minus the candles.
We also saw Ludwig's bedroom which was decorated in golds and blues. It was definitely fit for a king and luxury at its finest. But, Ludwig only spent nine nights here. Our tour ended at the unfinished north staircase with its exposed red bricks. This was an entrance to the north wing which was torn down after Ludwig died.
The island also housed the King Ludwig II Museum on the palace grounds with furniture, memorabilia, documents and sketches of his dream world and castles. There was also an Augustinian monastery here with art exhibitions. Since we had prior appointments in Munich, we didn't have enough time to visit either one of these.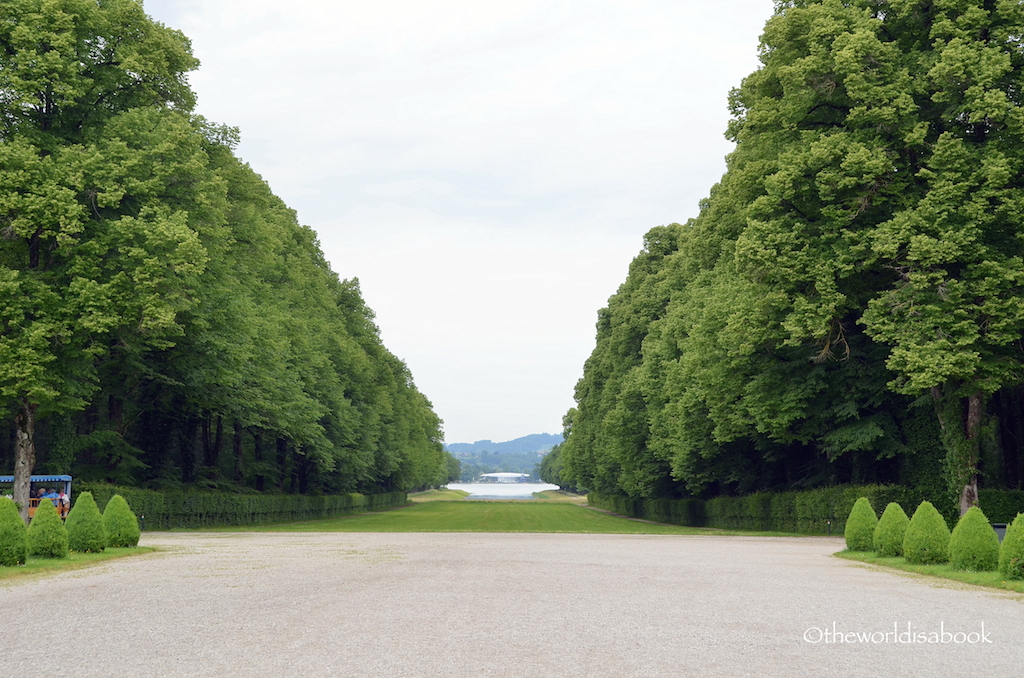 Be sure to check the times the ferry returns to the mainland in case you're on a set schedule. We didn't have to wait long on the way back and it's also possible to visit the other islands around the lake. On the way back to the mainland, we spotted this charming chapel along Lake Chiemsee's shores.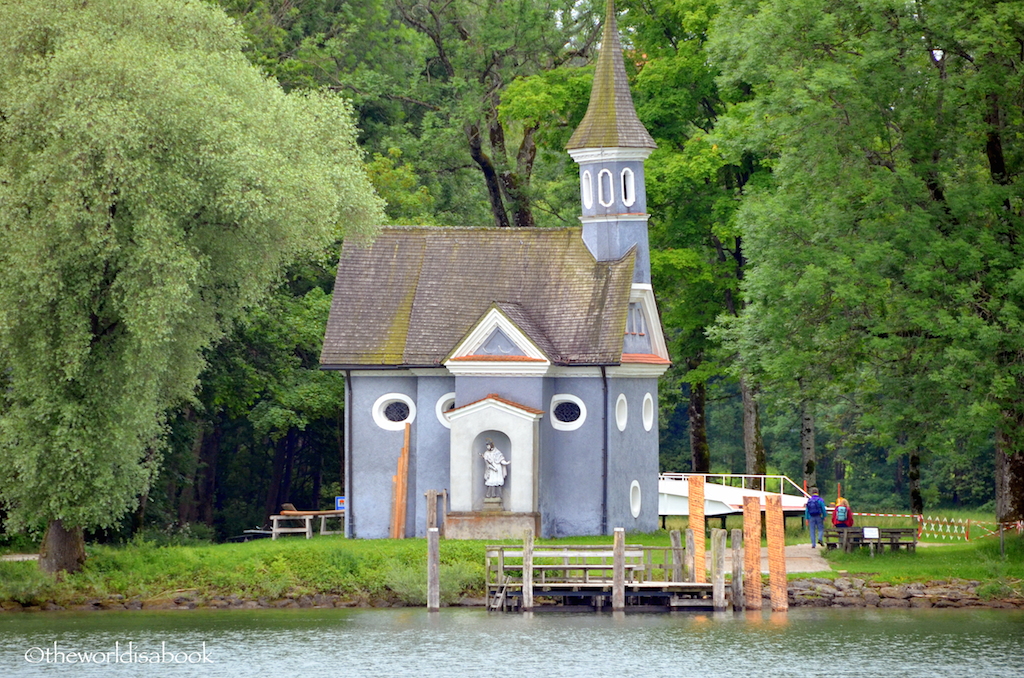 Don't miss a visit to the lovely town of Prien once you get off the boat. It's a lovely place to have some lunch by the water. There was a pleasant lakeside walk with several attractions for children including a playground. It looked like boats and some water activities were also available during the weekends.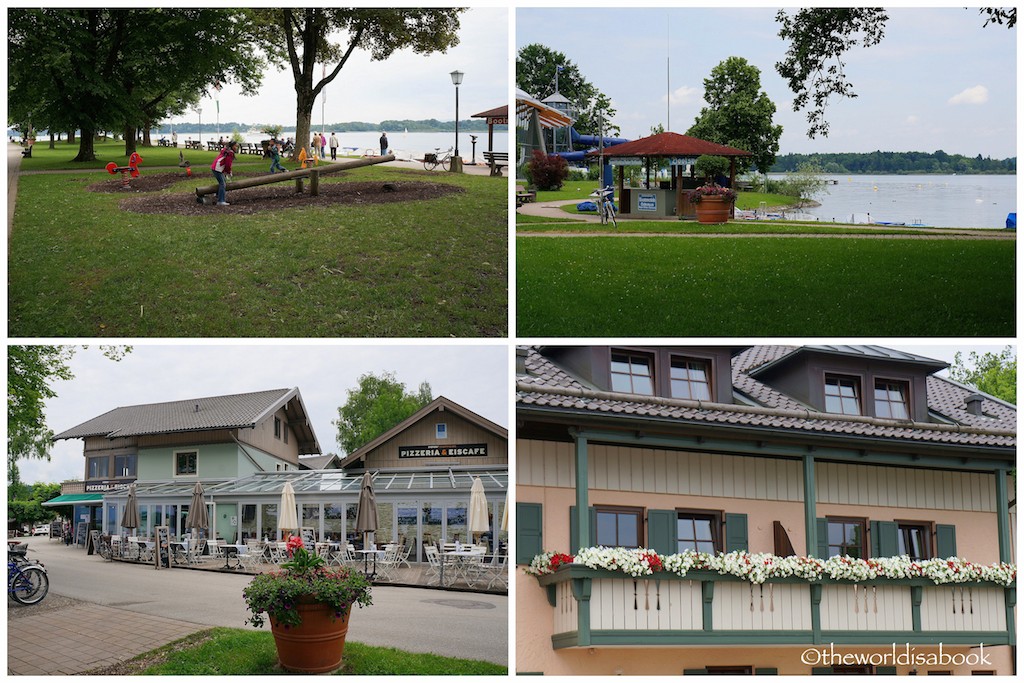 We really enjoyed our short visit to Herrenchiemsee and the journey to the island. It is worth the day trip and boat ride to visit this stately home. It may not have been finished but it was still spectacular and maintained very well. It was a delight to see the castle much as Ludwig had left it and not a re-creation or a remodel. We actually found its interior more ornate and grand than the more popular Neuschwanstein castle. The island is a wonderful place to wander around and having the palace there just made it even more magical.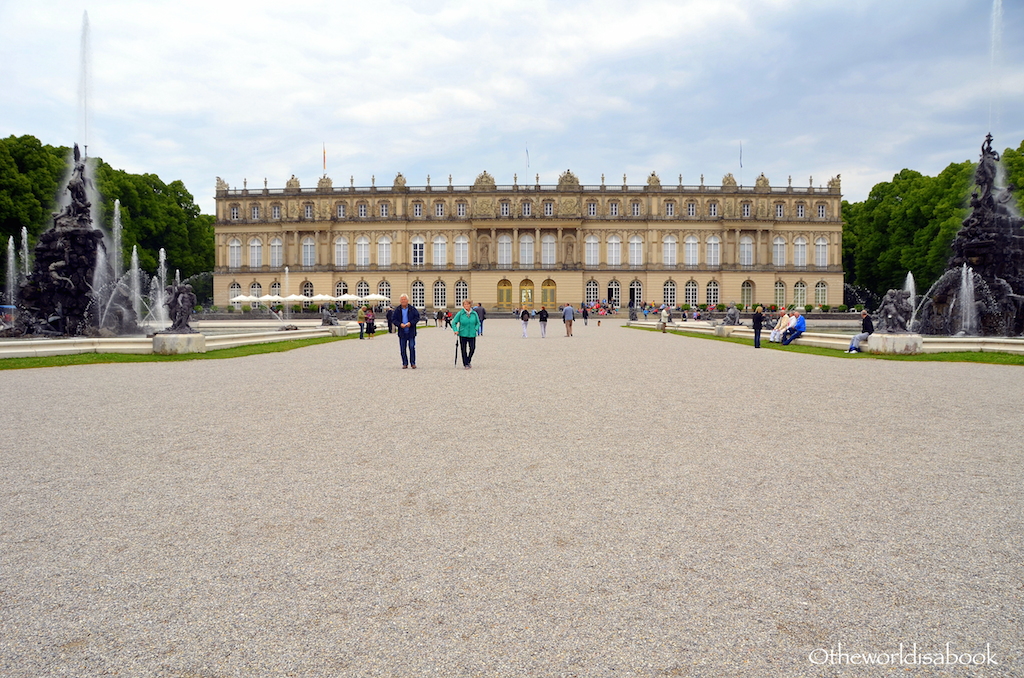 Visiting Herrenchimsee Palace Basics and Tips
Getting to Prien by car: We had a rental car and didn't have any issues using our GPS to get to the boat dock. There were plenty of parking spaces next to the dock and reasonable day parking rates.
Getting to Prien via train: Trains can be taken from Munich to Chiemsee Hbf. You have an option to walk or take a steam engine train (about 10 minutes) to the Prien-Stock ferry dock. Check on the train and boat ride combo ticket.
Check the Chiemsee ferries website for the latest fares and times to get to the island.
The horse-drawn carriage cost €3 for adults one way (kids 5-17 €1) are and takes you from the boat dock to the palace. They are available from mid-April to the end of October  (weather permitting).
Admission Price: €8 for adults and kids (under 18) were free. This includes admission to the Ludwig II museum and the Augustinian canons galleries.
Buy the 14-day Bavarian Pass which allows free entry to over 40 attractions and covers Herrenchiemsee and the Ludwig museum. Family pass – 40 euro ($54 US).
*Have you explored Herrenchiemsee or any of Ludwig's castles?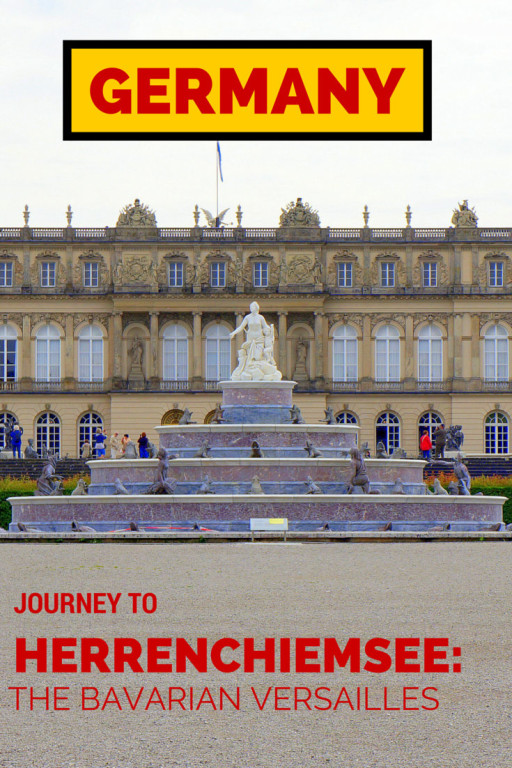 Check out these related posts: