Beyond the Circle of Rocks: Our Tour of Stonehenge
Stonehenge is one of the most recognizable attractions in the world. It's on many people's "travel bucket list" for one reason or another. This world heritage site and prehistoric monument may look just like a collection of giant stones arranged in a circle but is actually shrouded in secrets and mystery.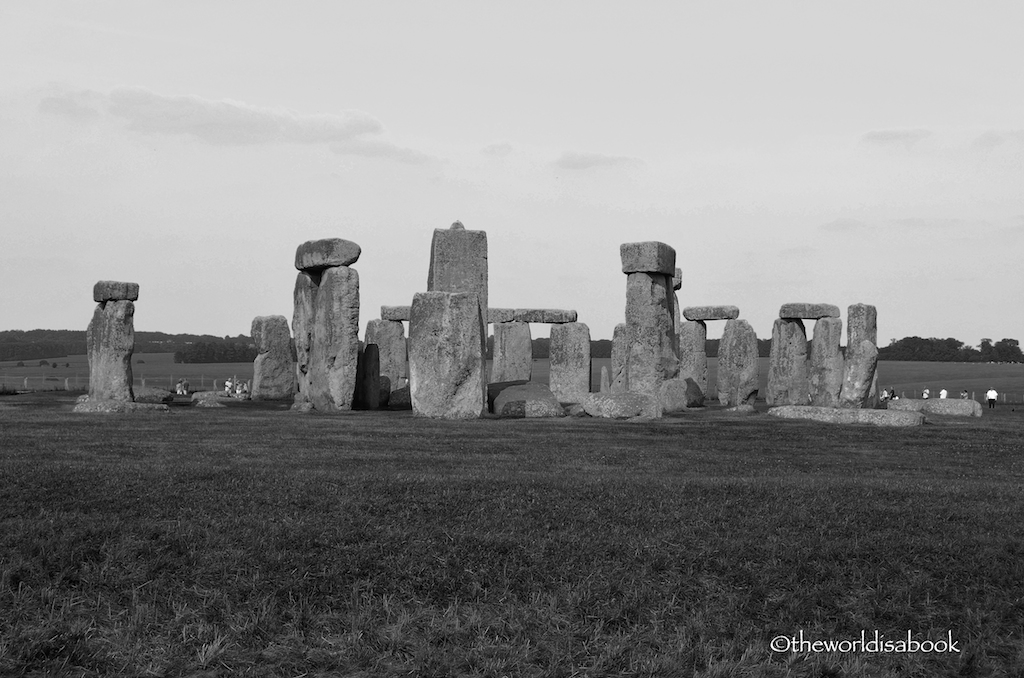 Located in England's Salisbury Plain in Wiltshire County (about 2 hours from London), I admit Stonehenge was never high on my travel list considering the number of UK attractions out there. I'm more of a castles and museums gal. But, my husband wanted to see it so we compromised and chose a day tour that included Windsor Castle, the Roman Baths and Stonehenge. We arrived at Stonehenge late in the afternoon and the site was already crowded with tour buses. It is best recommended to visit during sunrise or sunset with less people and there are shadow effects present.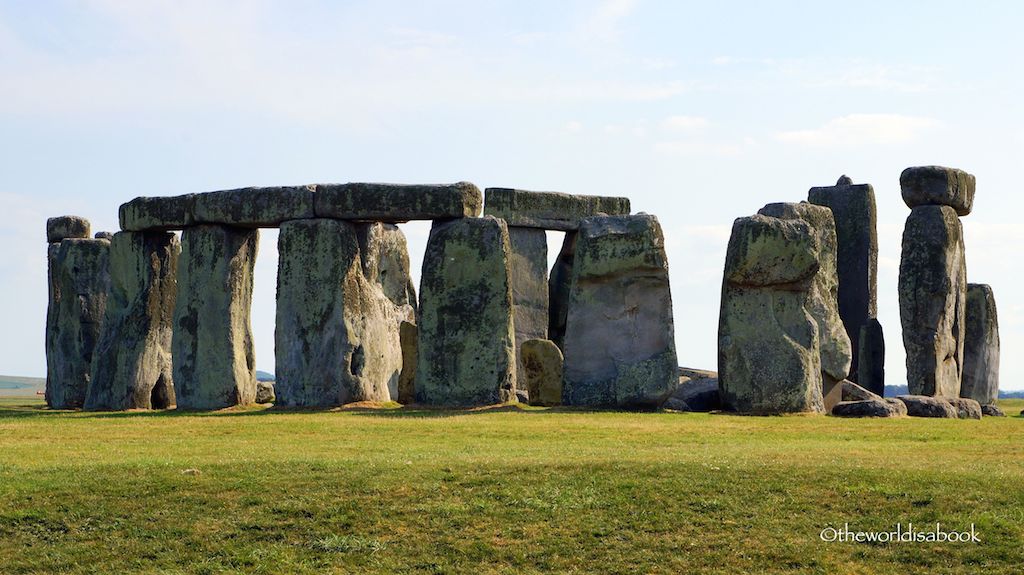 Our tour guide gave us an hour here, which made me feel rushed. It's one of the reasons we don't do too many guided tours. Audio guides came along with our tickets. We went through a tunnel and on to a pathway that encircled the stones. We found this drawing of Stonehenge on how it might have looked in its original form.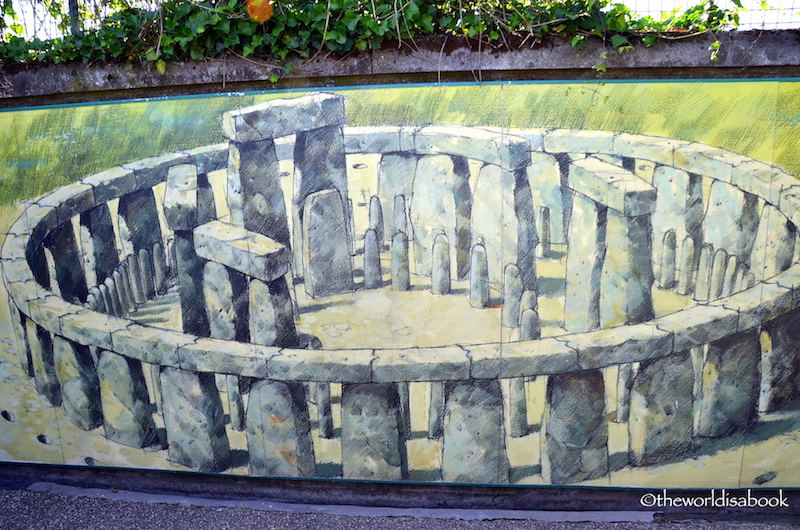 There were markers with numbers along the path for us to punch into our audio guide detailing Stonehenge's history and mystery. A rope barrier, about 50 ft (15 m) from the stones prevented visitors from getting too close. Apparently, visitors through the years used to chip off pieces of the rocks as souvenirs which ruined it for the rest of us.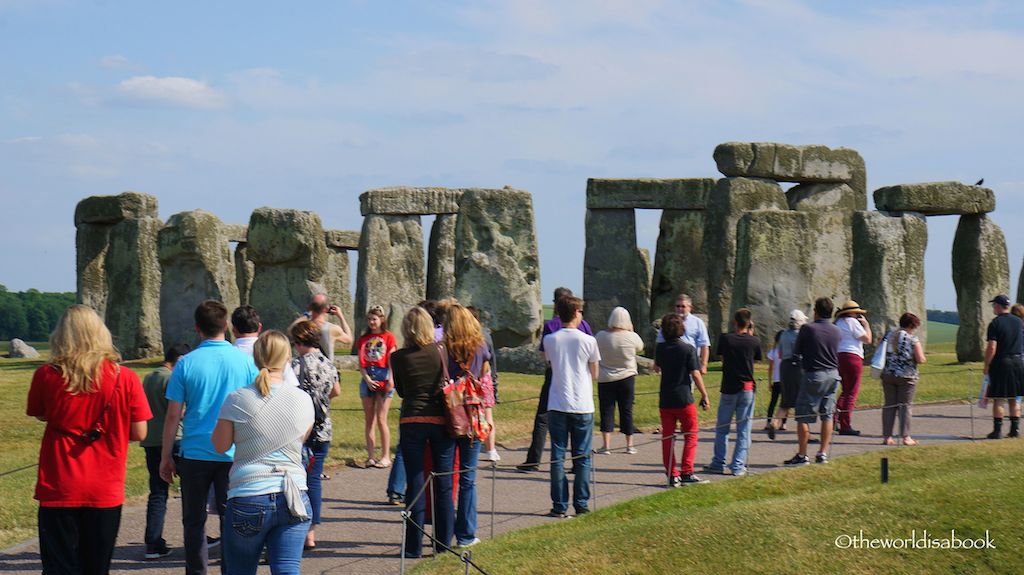 It was a bit disappointing that visitors can't touch or even get close enough to the stones anymore. I wish I had that "WOW" moment when I first saw it but I didn't. I did marvel at how massive the rocks were and its unique arrangements.  But, as I listened to the audio guide and learned more about its history, I grew to appreciate the incredible work it took to get these rocks here and how long they've withstood time and the elements.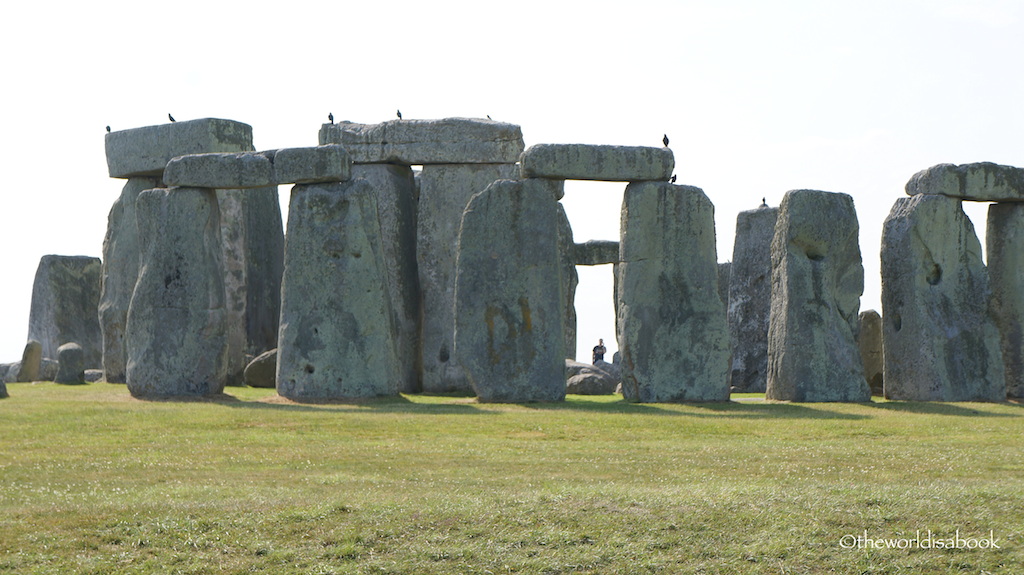 Stonehenge was believed to have been built during the Neolithic Period or New Stone Age about 5,000 years ago but went through several phases of reconstruction. The rocks were arranged in a circle looking like they sprouted from the ground. The standing stones or sarsens were huge standing up to 29 feet (9 m) and most weighing almost 9 tons. The horizontal rocks on top of the sarsens are called "blue stones" based on their changing color when they're wet or cut and can weigh up to 4 tons.
Mysteries and Theories of Stonehenge
Much of the appeal to Stonehenge are the mysteries surrounding it. What was its purpose? How did they move these massive rocks from hundreds of kilometers away to here with limited tools back then? One of the theories and a likely possibility was that builders transported the smaller blue stones through rivers. The bigger sarsens were moved on land using animal fat and logs. It still boggles my mind on how long it took them to transport these and how much manpower they needed. Archeologists and scientists have been baffled for years but here are some interesting theories of Stonehenge's purpose.
1. They were used as religious or spiritual landmarks or as an astronomical observatory. It was a "Neolithic computing machine" with areas within the monument that could predict solstices, equinoxes and eclipses.
2. Folktales have said that Merlin, the powerful magician, created Stonehenge as a burial place for Britain's king and princes. He used a giant who carried the stones to this location. My kids liked this one, of course.
3. My favorite theory is that the aliens built them. Geologists who studied Stonehenge believed these rocks came from Wales' Preseli Halls – 250 km (155 miles away). Since no one has been able to show evidence that humans had tools used to move the colossal rocks, the logical solution was aliens with otherworldly strength were the only ones capable of moving and erecting them. When it's inexplicable, blame it on the aliens.
4. But, the most probable theory and what experts believe is that Stonehenge was used as a "monument to the dead" and as a cemetery. The area was originally a burial ground supported by evidence of all the burial mounds around here and cremated remains found. In 2008, archeologists also uncovered what looked like remains of a large Neolithic village, a couple of miles away, where the builders who erected the stones lived. It was evidence that Stonehenge was a part of huge religious site.
Archaelogists found a giant timber circle version of the stones next to the village. They believed that the wooden version represented life since wood rotted while Stonehenge represented the afterlife which was permanent one. I really like this interpretation a lot.
We enjoyed seeing a couple of the artists immersed in painting Stonehenge and loved seeing their progress. It probably takes a lot of concentration with people constantly walking around and peering at your work.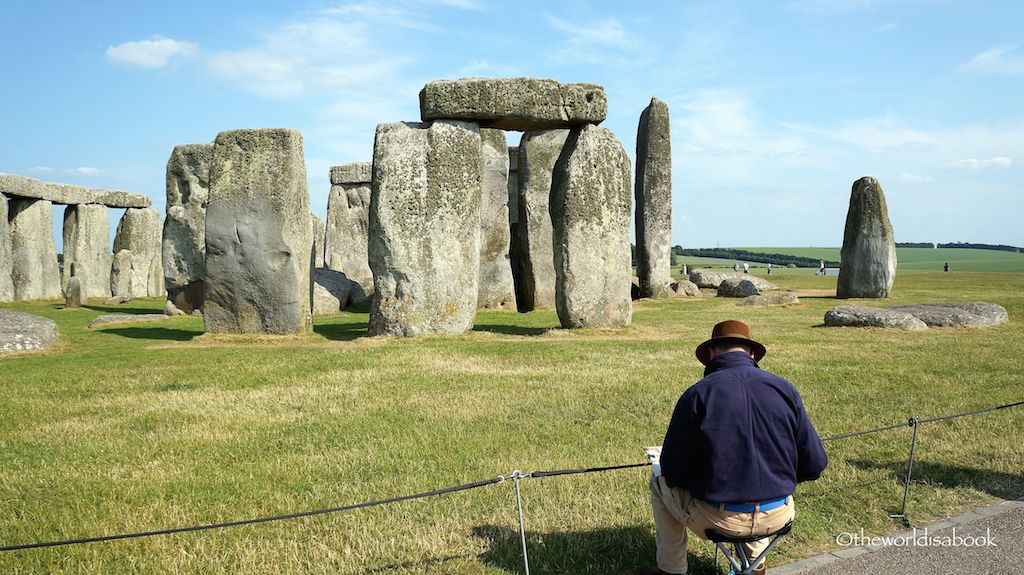 I thought its location in an open field in the English countryside would have that feeling of solitude but it didn't. It was by two busy roads and we heard the sound of cars a lot in addition to all the tourists walking around.

Stonehenge with Kids
My kids found the rocks stacked and its formations interesting at first but after about 10 minutes into the path, they were bored. They didn't have a kid-friendly audio guide version so it didn't hold their interest for too long. We tried to give them an abbreviated version of what we were listening to but it didn't help. In hindsight, I probably should have given them an activity sheet or brought a book along. I wasn't surprised when my then seven-year old son asked, "Why are these rocks special again?" halfway through the visit. You can't win them all…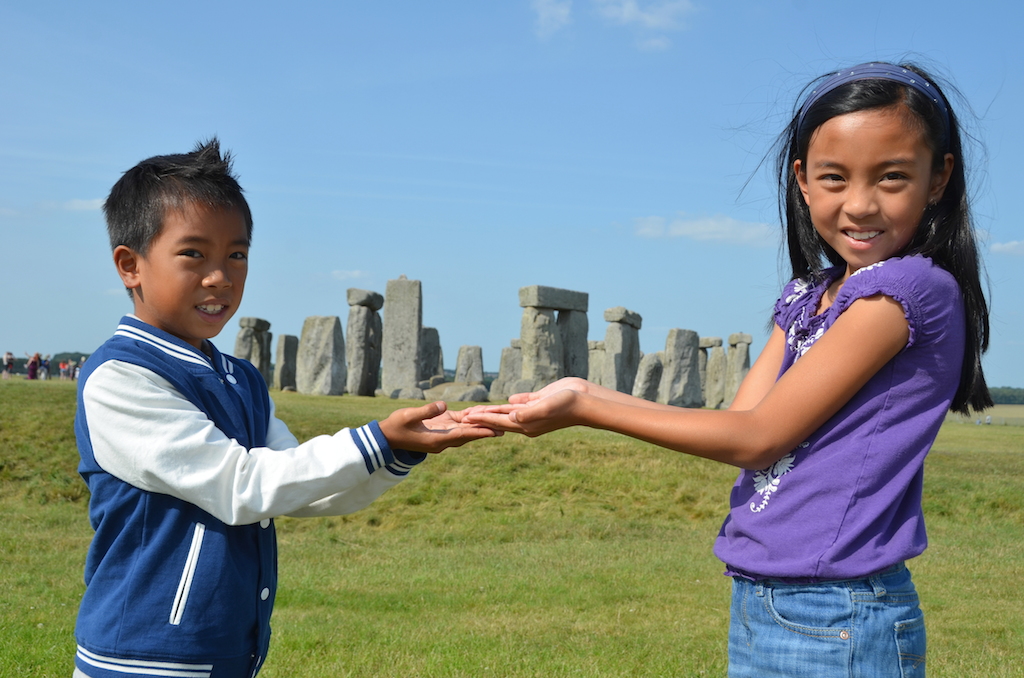 They were more interested in running around the surrounding open field and looking for sheep in the nearby pasture. Unfortunately, my kids were spoiled after seeing opulent castles and churches a week before, exploring the British Museum's treasures the previous day and playing an interesting scavenger hunt game at the Roman Baths a few hours earlier. So, a rock circle, despite its historical significance, didn't appeal much to them.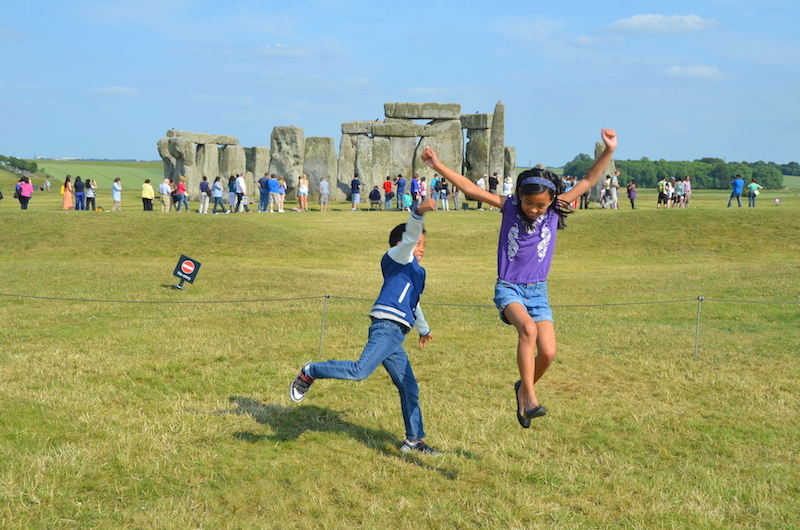 If you're visiting with kids, plan something to engage them unless you've got little history or archaeology buffs or you're here briefly. Though, I'm hoping the new visitor's center will help a lot. During our visit last July, we saw a large new visitor's center and exhibition space, with archaeological treasures, that was being built. It opened in December 2013 and is supposed to enhance the Stonehenge experience. There's a reconstructed Neolithic village in the outdoor area opening in April 2014 and visitors can see how the people lived 4,500 years ago. This would have altered my kids' experience here tremendously.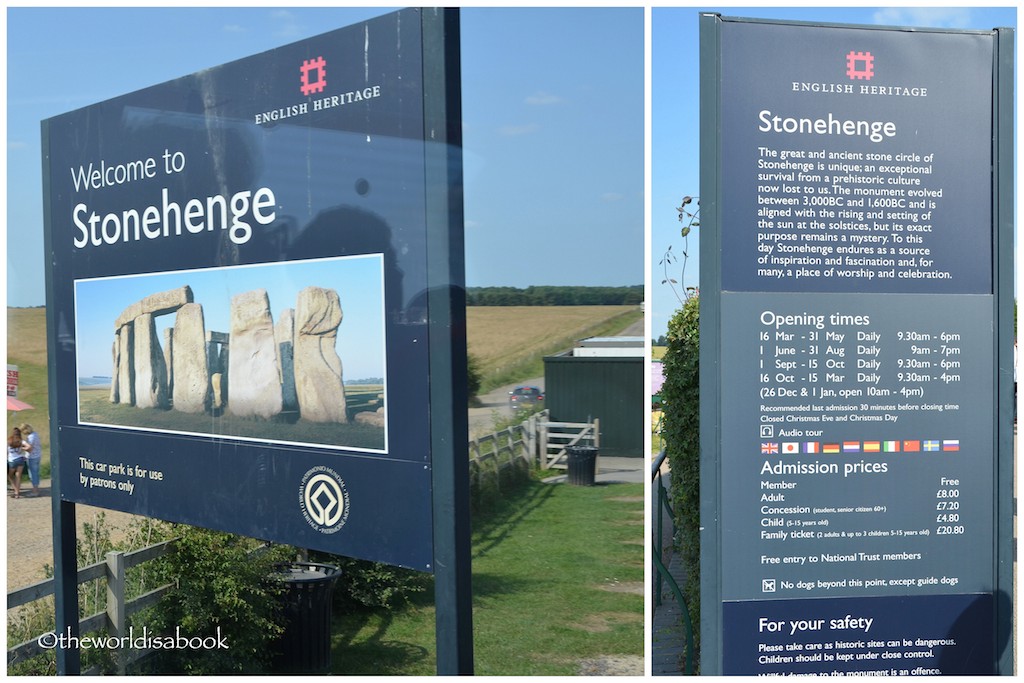 I can certainly understand why Stonehenge is listed in many overrated tourist attractions. In its simplest description, it is a circle of rocks, in an open field, in the middle of nowhere. I learned that looking beyond its simplicity and delving into its history and mysteries makes a visit here more interesting and worthwhile. So, if you're in England and have some time and visiting nearby attractions then we recommend a stopover.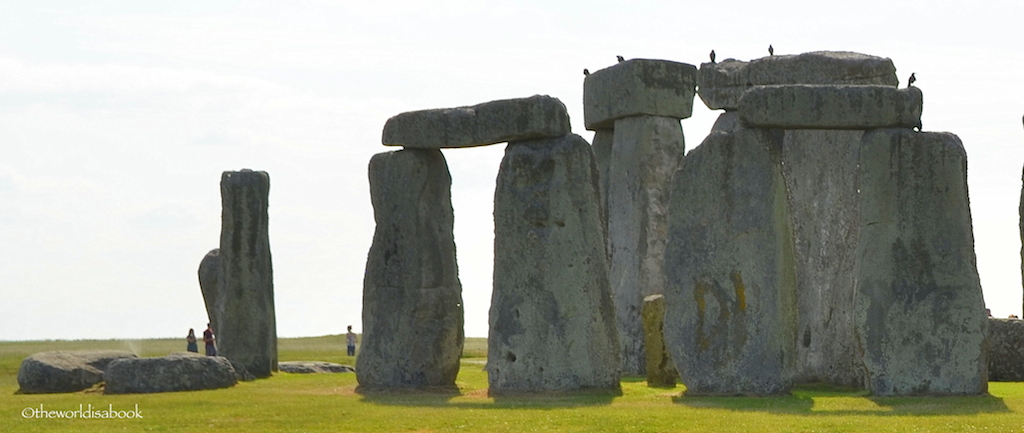 Visiting Stonehenge Basics and Tips
Check their

website for the latest ticket prices and opening times

. Prices for adult tickets average almost £14 or $23. Look into the Family Price for 2 adults and 3 kids.
Look into the

overseas visitor pass

if you're driving around the UK and have plenty of time to visit other attractions.
Starting February 1, 2014, visitors must now buy timed tickets in advance and recommend booking in advance. Everyone must now board a shuttle for a 10-minute ride from the visitor's center to Stonehenge. From what I've read, this has resulted to long wait times.This may not apply to visitors on organized tours.
Plan to spend some time here to walk around and explore the new visitor's center unless you're on a tour. With the new exhibits, I would hope the group tours would allow at least a visit of two hours. If not, look into doing it yourself or go on smaller, private tours.
Look into private sunrise or sunset tours. I've read that visitors can get closer to the rocks and have the place to themselves with great photo opportunities.
Another option for a Do-It-Yourself visit is taking the train to Salisbury from London (1 hr 20 min) and go on a Hop-On-hop-Off bus to Stonehenge.
Try to avoid visiting during solstice and equinox days (shortest and longest days of the year), which are sacred days for pagans and many people come here to worship and celebrate.
If traveling with kids, get the Children's activity pack from the shop (£2.99) before you explore to engage the kids and enhance their visit. Ask for the free family audio guide tour. (We wish we had this during our visit).
*Have you visited Stonehenge? How was your experience?