An Afternoon Stroll at The Huntington Library, Art Collections and Gardens
There aren't many places in Los Angeles I would repeatedly return to but The Huntington Library, Art Collections and Botanical Gardens is definitely one of them. My daughter and I spent a beautiful Saturday afternoon here last weekend while my guys preferred to hang out elsewhere. We've been here a few times and each time the Huntington Library never fails to amaze me. This trifecta of books, art and gardens ensures there is something for everyone and a pleasant surprise at every turn.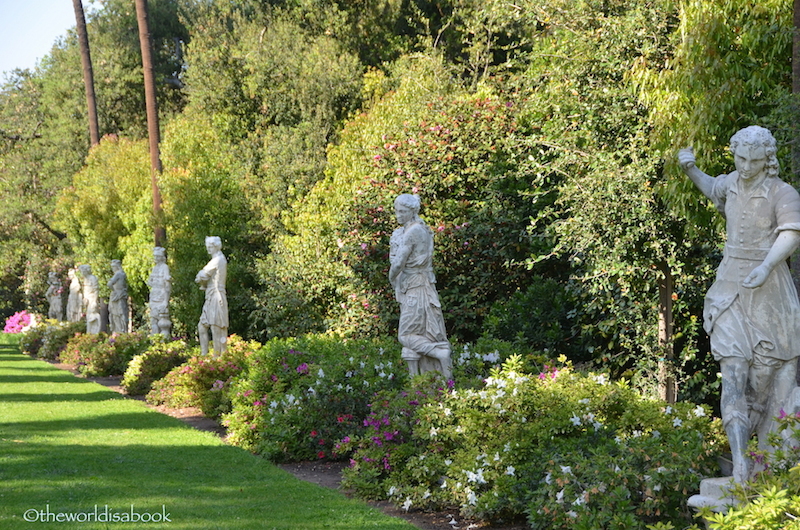 The Huntington was founded by Henry E. Huntington in 1919. He was a rich businessman with a varied portfolio of interests in Southern California. He was also an avid collector of books, art and a love for gardens. Mr. Huntington bought the expansive San Marino Ranch and started the foundations of this special place. It is located in the affluent neighborhood of San Marino surrounded by stately homes and mansions.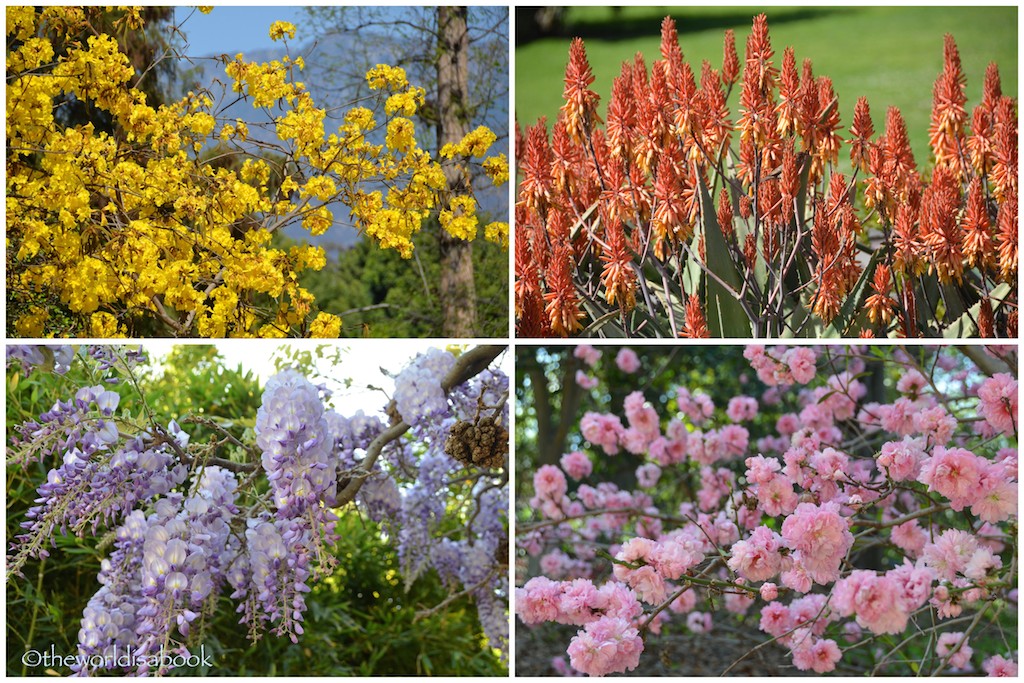 The Library
The library portion is considered one of the largest and finest research libraries in the US with over 9 million items. It's an impressive and amazing collection. Their collection includes rare books and manuscripts from British and American history and literature. Some of the most prized exhibits are early editions of Shakespeare's works, an Ellesmere manuscript of Chaucer's Canterbury Tales, the Guttenberg Bible in vellum, and the "double-elephant folio" edition of Audobon's The Birds of America. Interactive stations are a great addition to learn more about each object.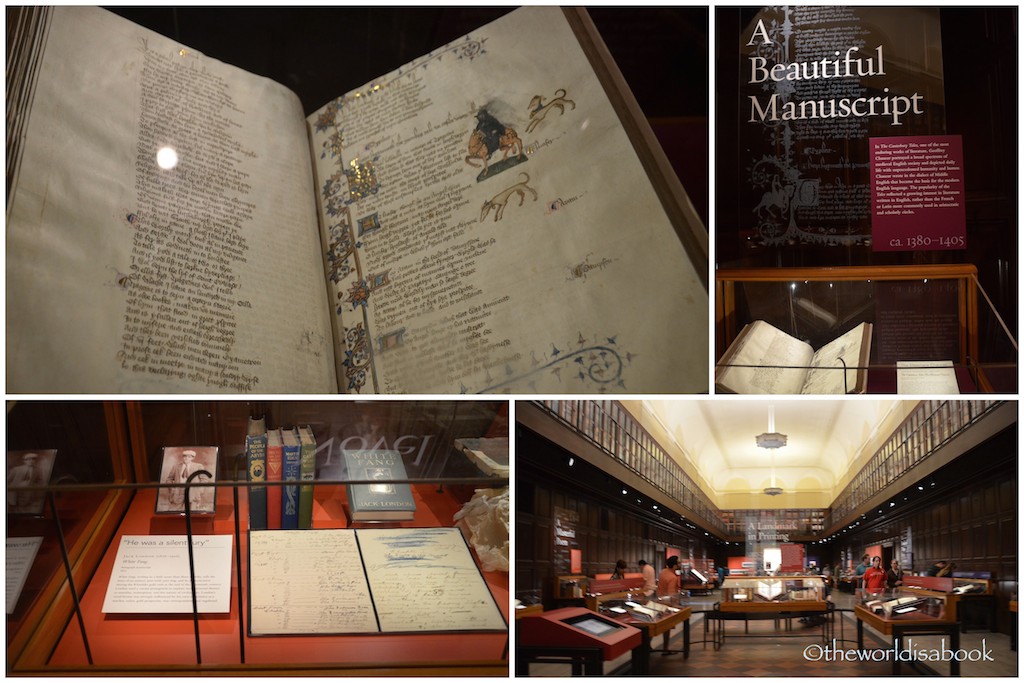 The Art Collection
The elegant Beaux-Arts mansion was the Huntington's former residence but is now the Huntington Art Gallery. This sprawling, 55,000 square feet villa houses one of the finest European art collections in the US but is also a period home showcase. Exploring this large estate gave us a a glimpse into the Huntington's opulent lifestyle back then. It was fun to imagine what sorts of festivities and parties went on here and how the rooms may have looked during its heyday.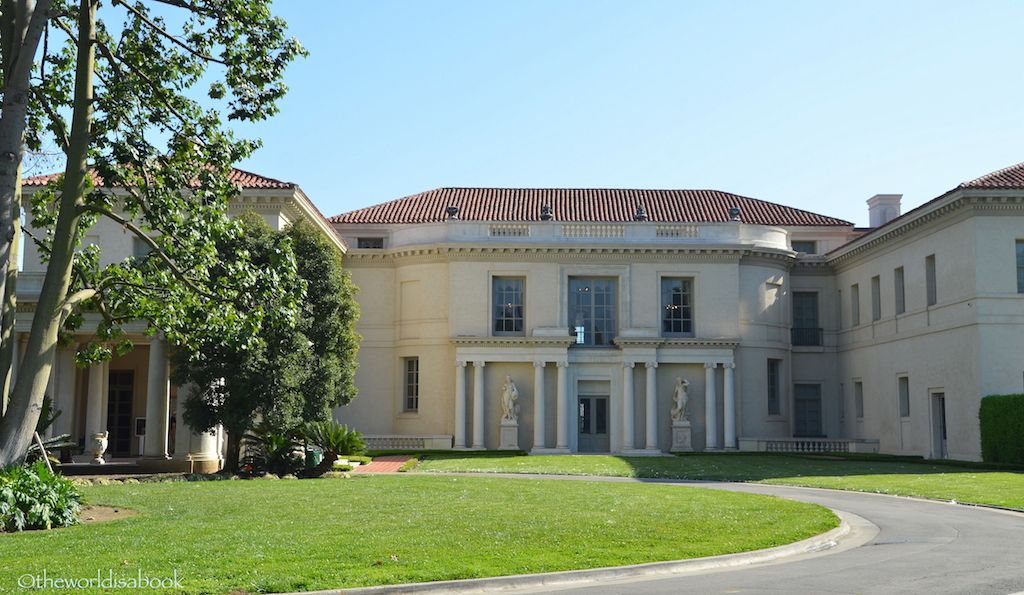 Arabella Huntington, the lady of the manor, was an avid art collector which was evident as we walked around the gallery. There were collections of porcelain, tapestries and furniture but there were also interactive computer stations which my daughter enjoyed. There was also another building, that we didn't get to visit this time, that specifically contained American Art from the 17th to mid-20th century.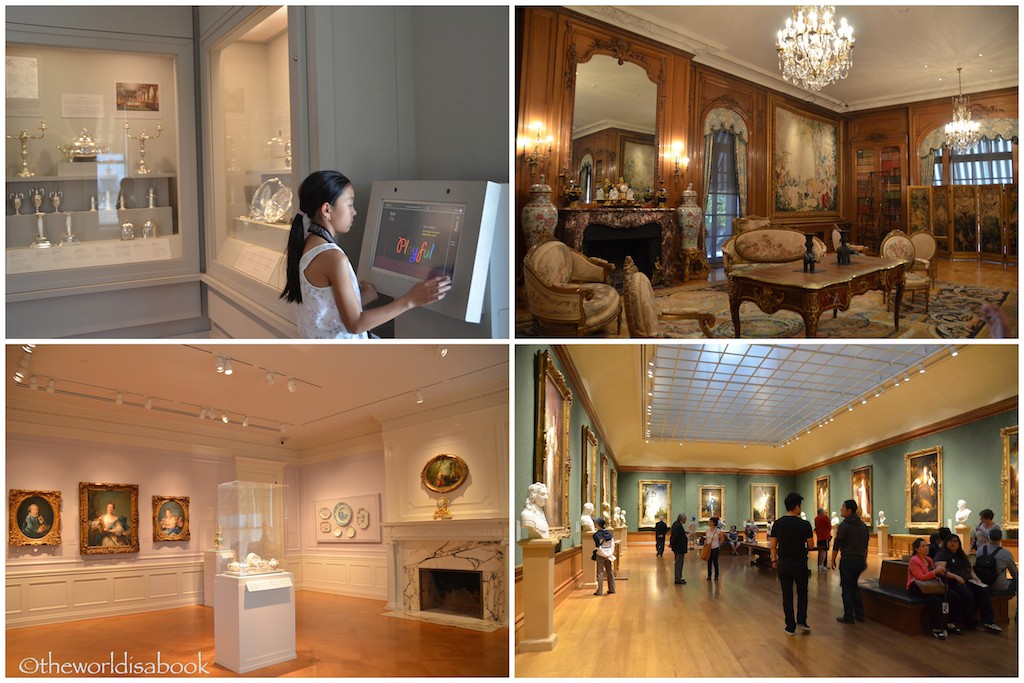 Its displays aren't as large as the Getty Museum. The gallery only displays 1,200 objects at a time. Though, it has about 400 paintings, 300 sculptures, 2,500 decorative art objects and 20,000 prints and drawings in its collection.  Free audio guides are available. The two famous paintings here are Gainsborough's Blue Boy and Thomas Lawrence's Pinkie.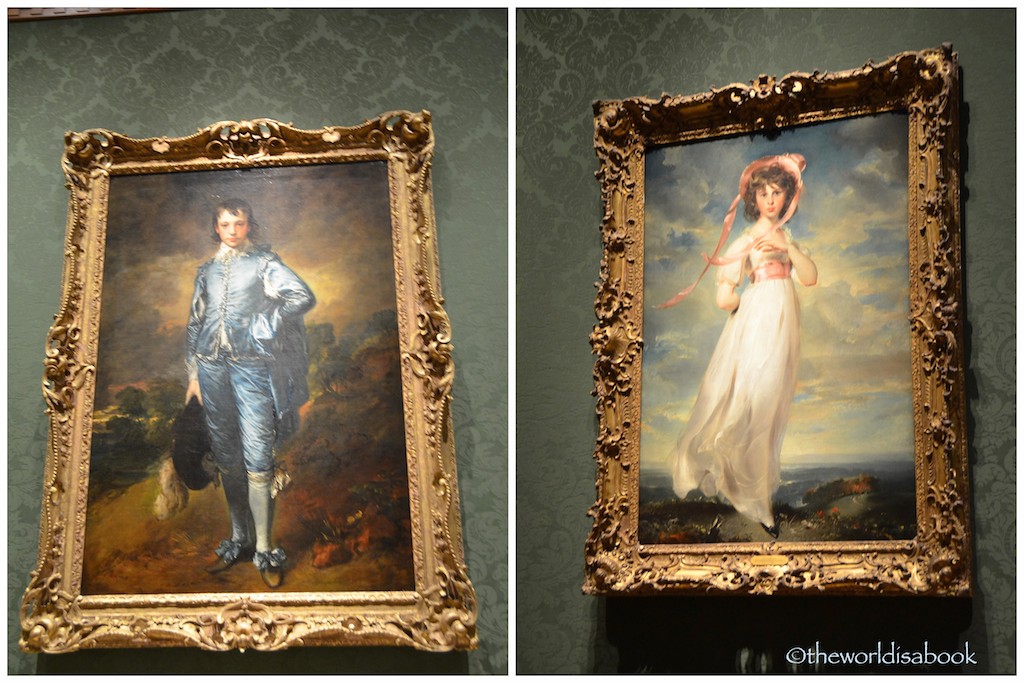 Outside the art galleries is the North Vista lawn which showcases a fountain and many beautiful sculptures. This area always reminds me of a European garden. This seems to be a popular area for couples and group studies among students.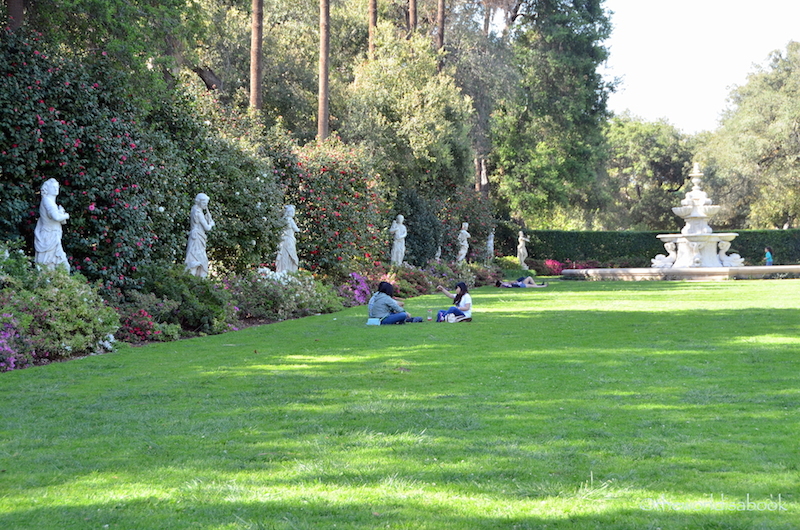 The Botanical Gardens
My favorite part here has always been the various themed botanical gardens. There are over a dozen gardens which take up over half of the whole area that range from roses, jungles, herbs, palms and even an Australian one. One of the best times to visit is during Spring when many things start to bloom. But, the gardens really should be visited during different seasons.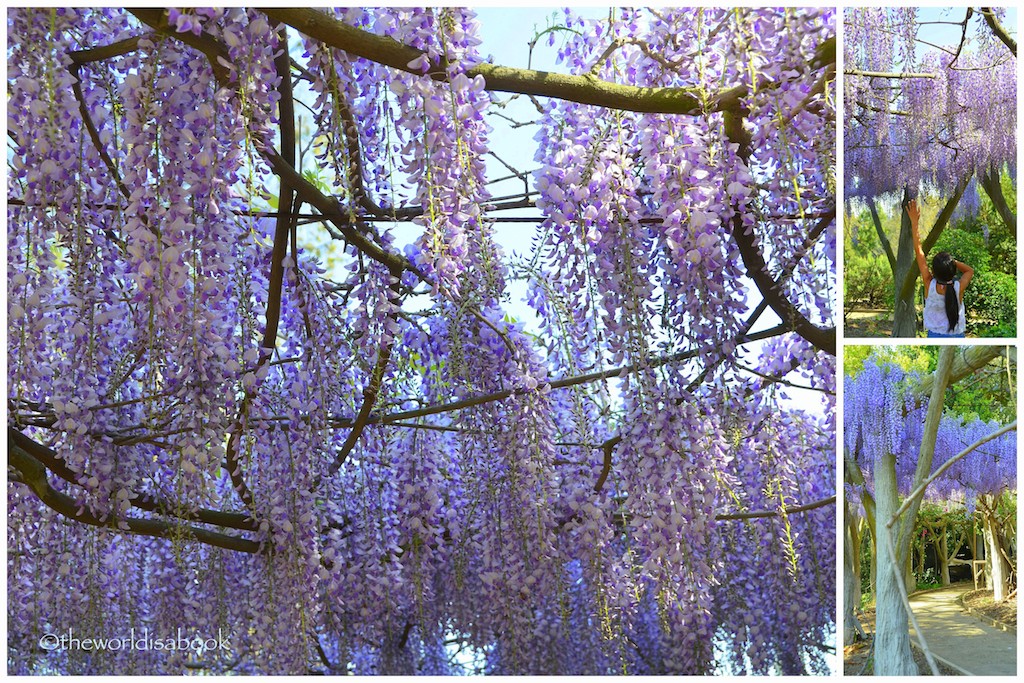 The Childrens's Garden is usually our first stop and my kids have spent hours here as toddlers. This popular area is filled with several interactive discovery centers where kids can get wet and explore. There are garden tunnels, fountains, misting pits and plant clubhouses to enter. It is always a joy to see so many kids having so much fun here. Seeing my daughter barely fitting into those vine tunnels made me realize it's only going to be another year or two before she would want to hang out here.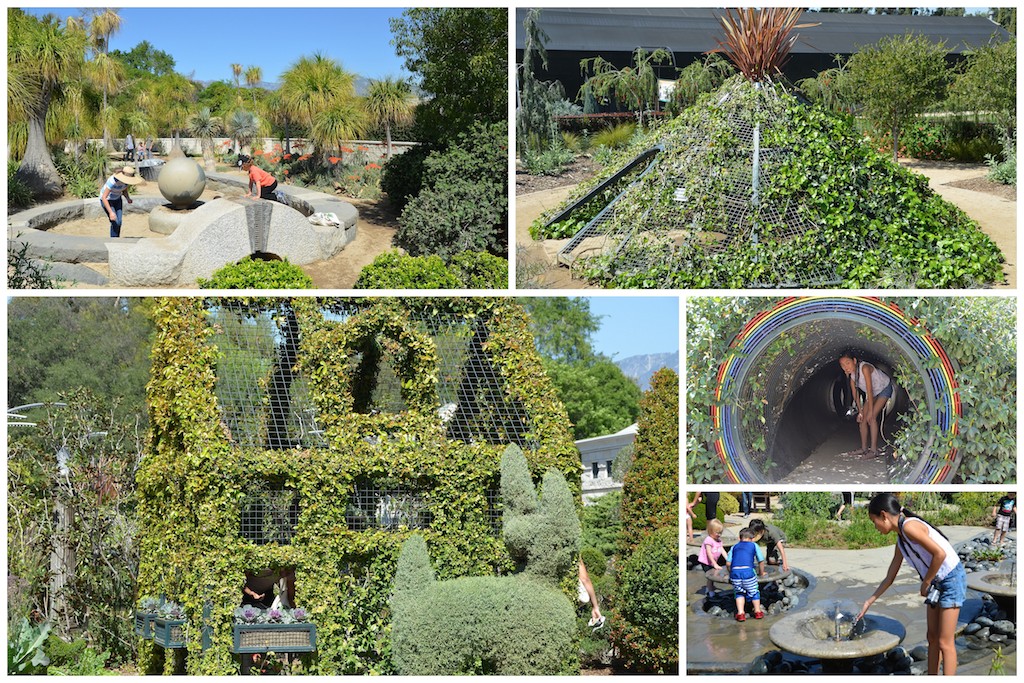 Near the Children's Garden was a walkway that led to a small citrus orchard. It smelled heavenly here and smelled like boxes of oranges exploded. It wouldn't be a Southern California garden without a walk through and some poses with oranges. As tempting as it may be, visitors are not allowed to pick the fruits.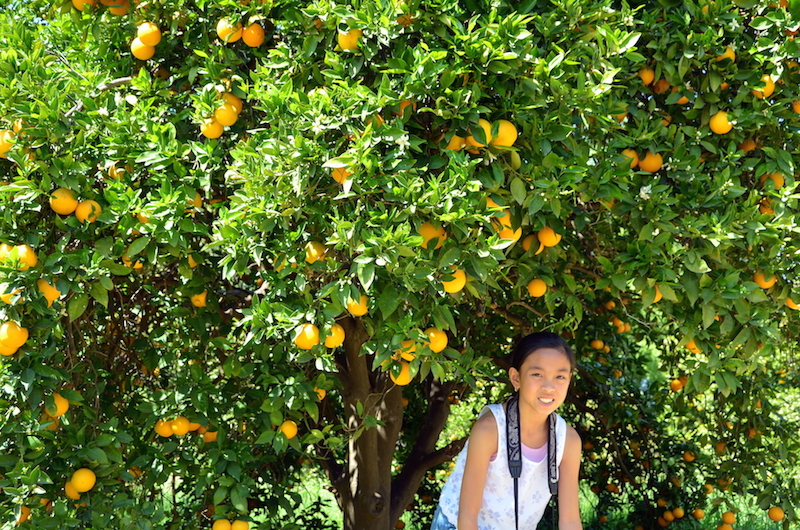 We also love exploring the Conservatory. There is always something new and interesting here. There are various stations with microscopes and exhibits so visitors and especially children can learn more about plant life.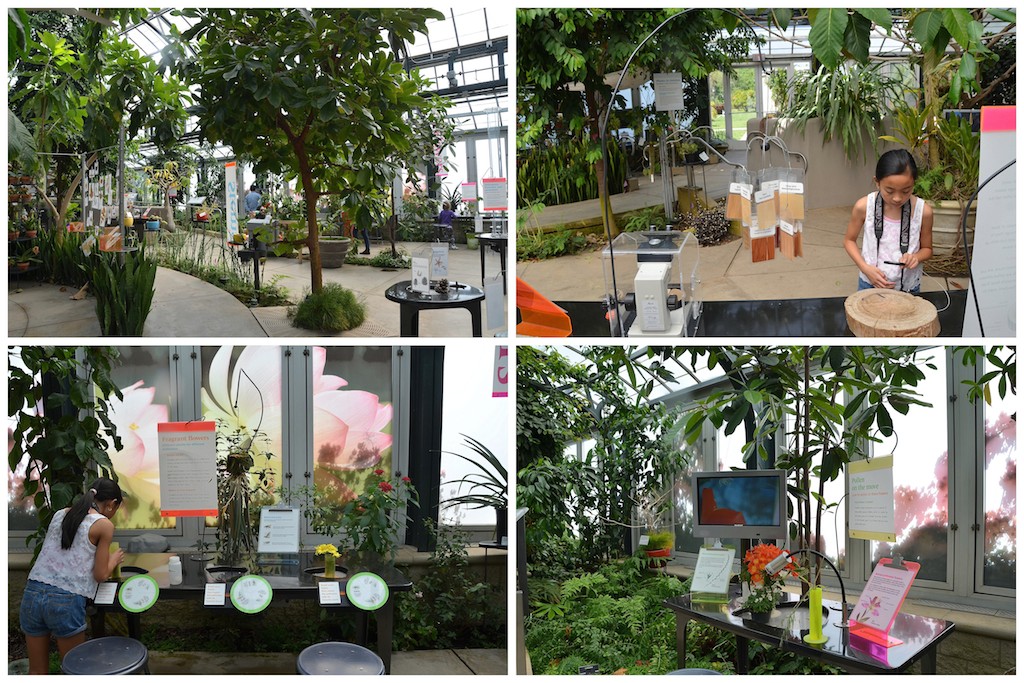 There is also a tropical section inside the conservatory filled with some of the most beautiful orchids.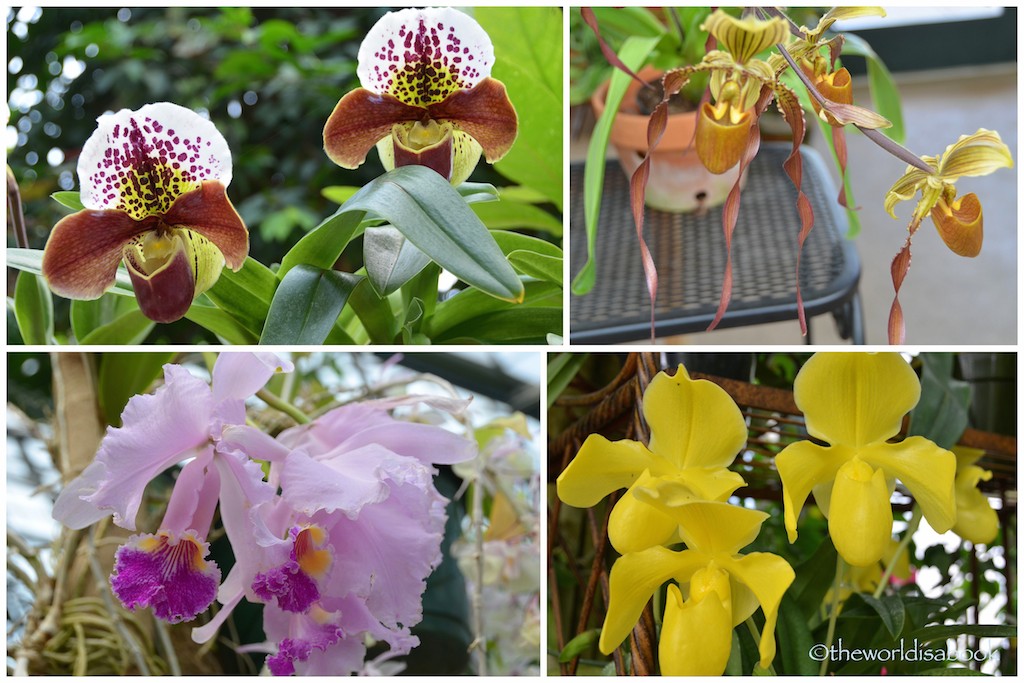 The Chinese Garden or Liu Fang Yuan or Garden of Flowering Fragrance was just recently renovated and re-opened. It was even more grand than I remembered. This was how I would have imagined a garden in ancient China to look like.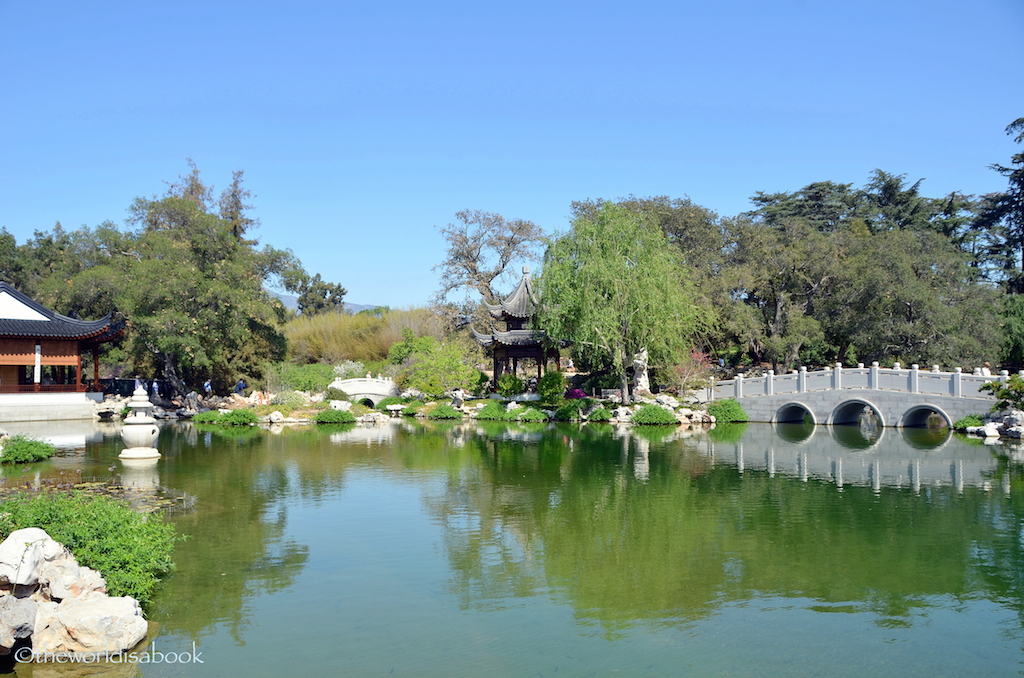 The central lake surrounded by pavilion complexes, tea houses and and stone bridges was an idyllic place for a leisurely stroll. It was easy to sit in one of the benches and enjoy the serenity this beautiful garden offered.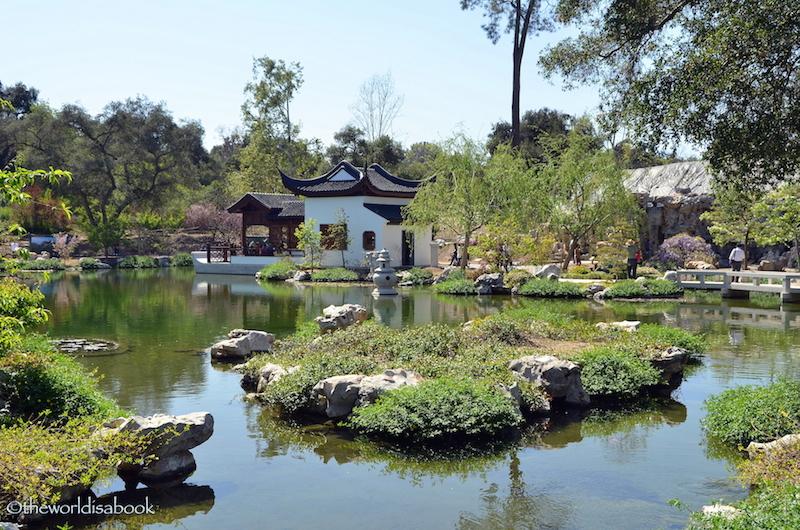 Visitors can also walk behind a small waterfall.
They're not finished with the Chinese Garden though. We saw plans for expanding the garden into the hills and adding more pavilions. It's no surprise to see many people using these areas as a background for engagement and family photo shoots.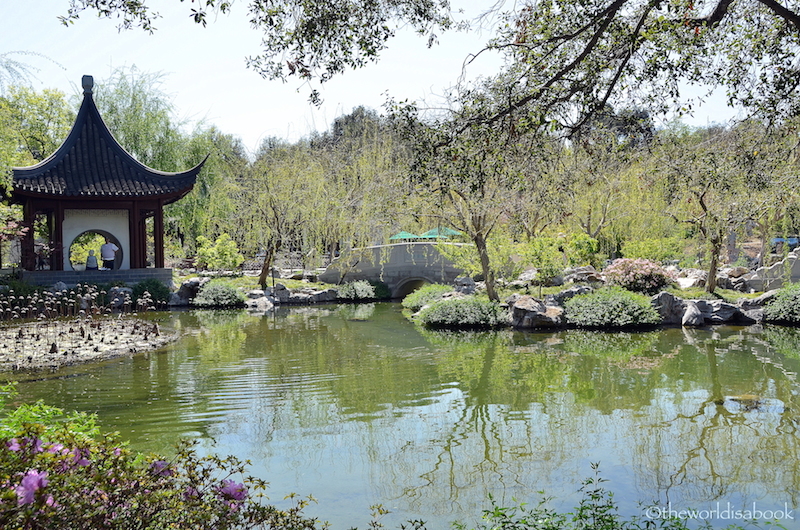 My other favorite place has always been the Japanese Garden which exudes tranquility and splendor. I've always felt like I've set foot in the land of emperors and geishas whenever I come here. There have been many movies and shows filmed here including Memoirs of a Geisha. Once upon a time, I dreamt of taking pictures here after our wedding but it didn't work out.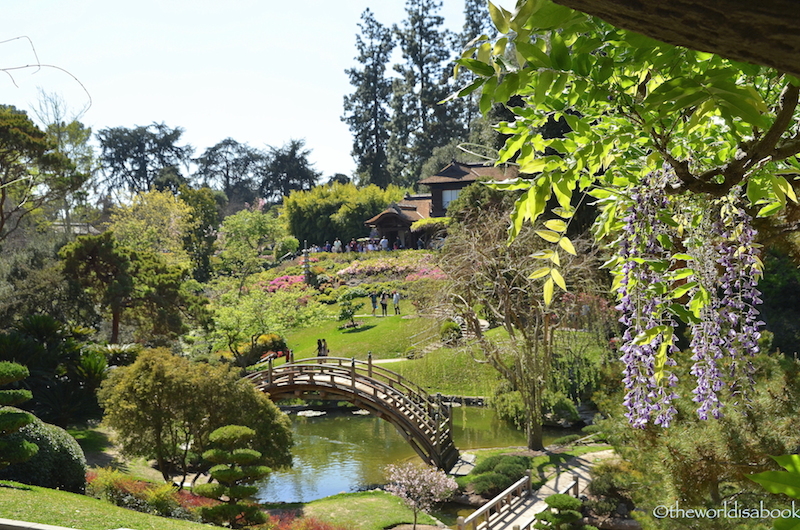 The central feature is an arched pedestrian or moon bridge over a koi pond. Unfortunately, no one is allowed to walk on the bridge. There is also a Japanese house and a ceremonial tea house at the top area.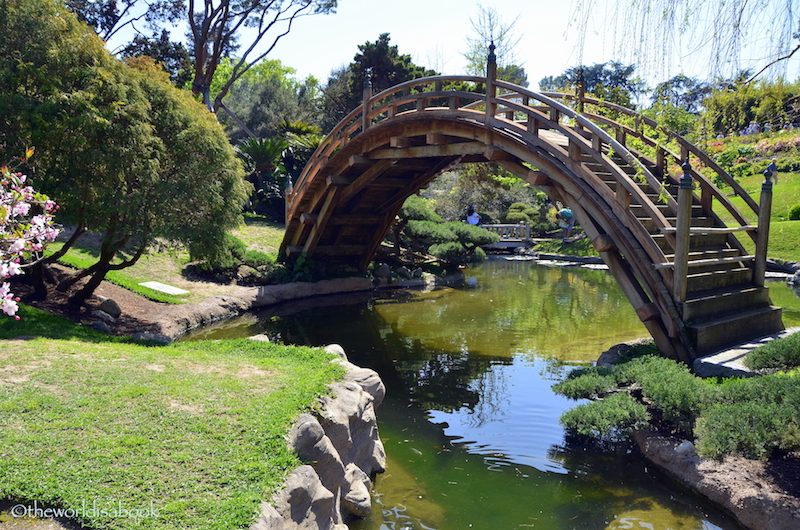 The Discovery Carts were something new since our last visit. These stations were full of activities for kids and the young at heart. My daughter loved the Japanese cart filled with raking a zen garden, writing Japanese characters and making origami.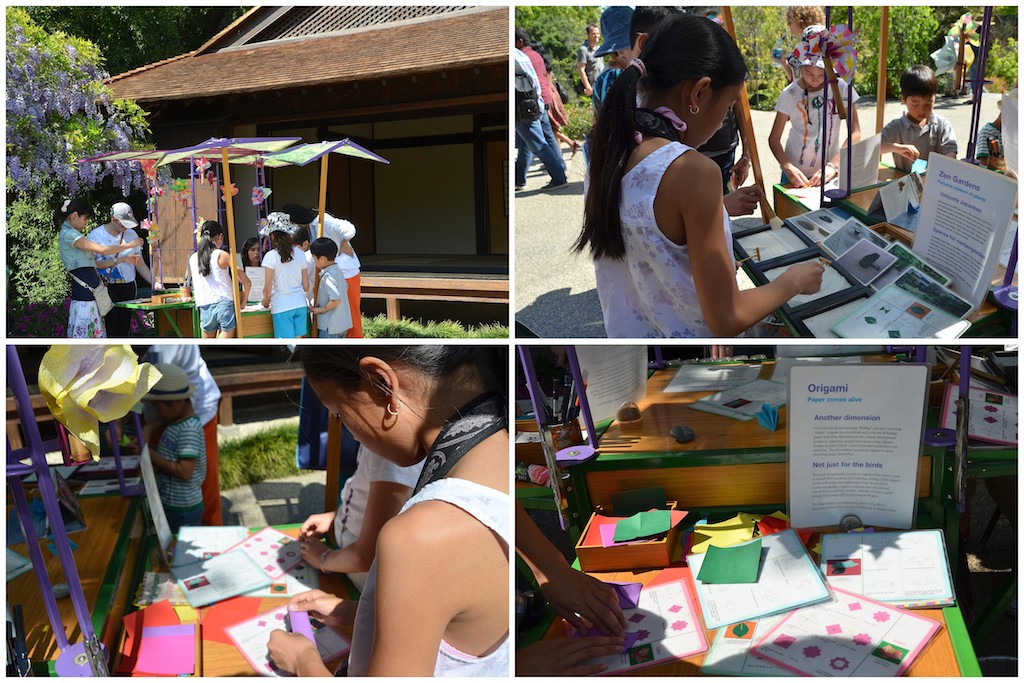 Explore beyong this garden and you'll find a small waterfall, a stone garden and a zen garden. Kare Sansui was a dry landscape garden that combined a Japanese garden's basic elements. The raked area of gravel was used to represent waves while the pruned plants and strategically placed rocks represnt islands and mountains.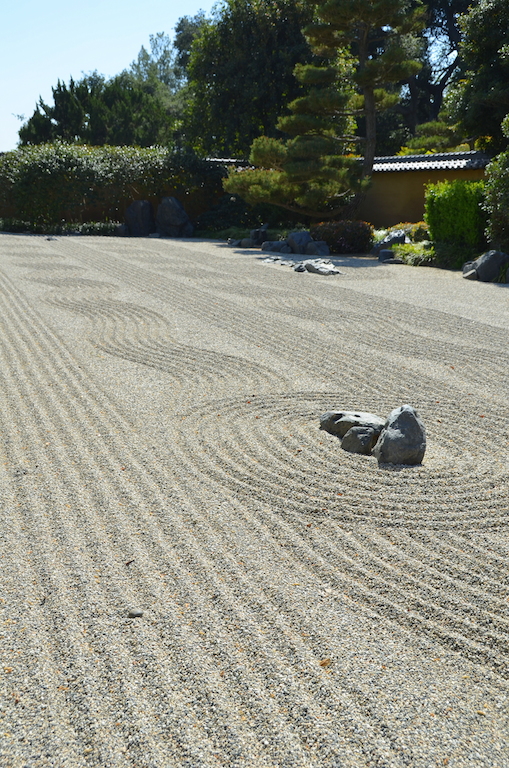 They also have an amazing collection of bonsai displays and is worth taking some time to see these remarkable miniature plants.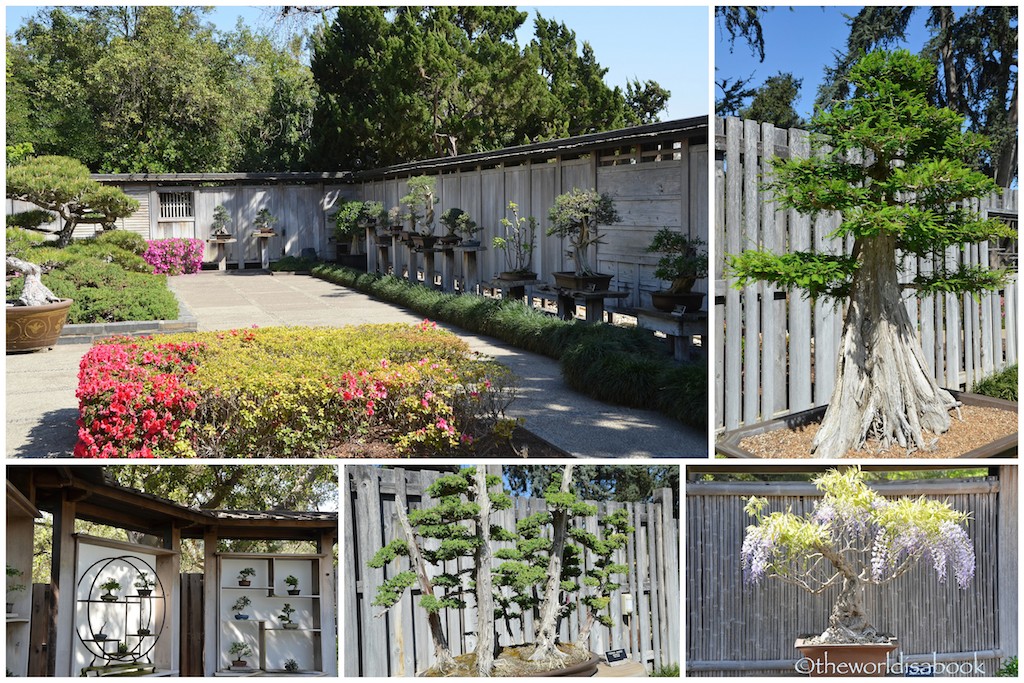 My kids also seem to always wander off to the lily ponds. Unfortunately, the lotus flowers weren't in bloom yet. But, the ducks and turtles here never fail to entertain. This statue always makes me smile since we always see kids in this same position at the the edge of the pond.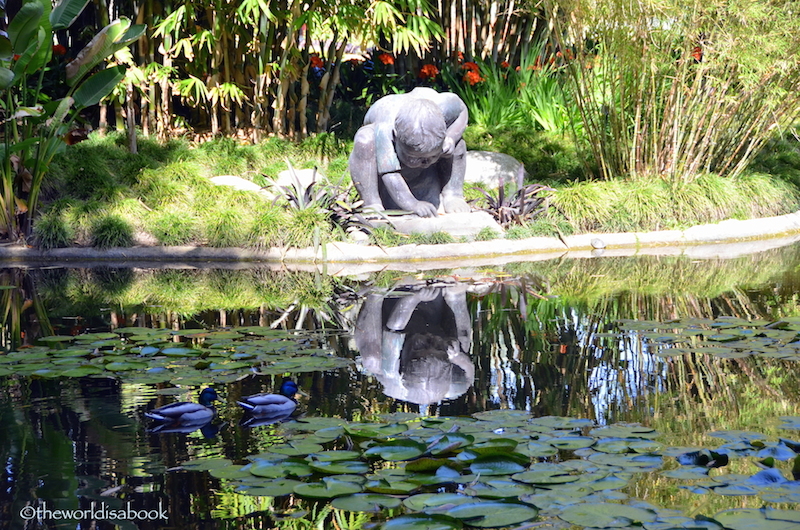 For some reason, we always end our visit at the Desert Garden. This has one of the largest outdoor collection of cacti and succulents in the country. It is huge and easy to get lost in and contains more than 5,000 species so there is always something to see. I love coming here to get ideas on succulents which seem to be the plants I don't manage to kill.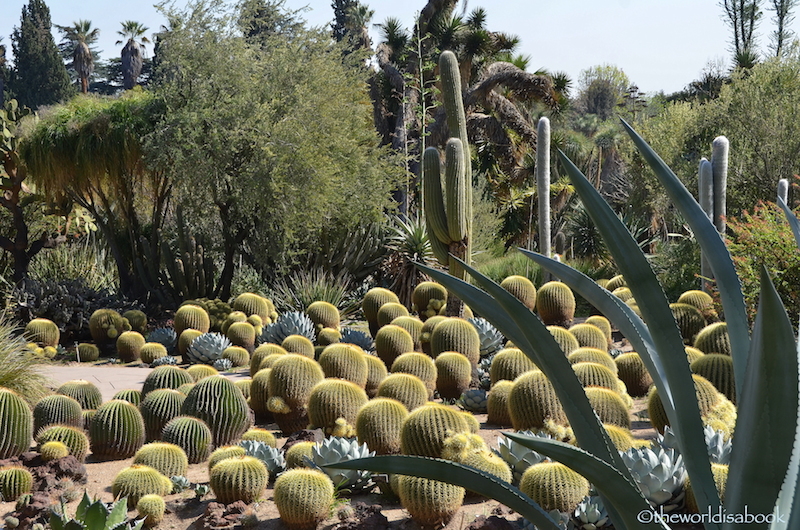 We found a variety of birds here compared to the other gardens due to all the flowering plants. Who knew drought resistant plants could be so lovely?
There is nothing quite like The Huntington in Southern California. It is one of Los Angeles' best gems and a welcoming and relaxing place amidst the city's chaos. The botanical gardens provide a wonderful opportunity to travel through the different landscapes around the world. It's beautiful, educational and serene and one you shouldn't miss when visiting this area.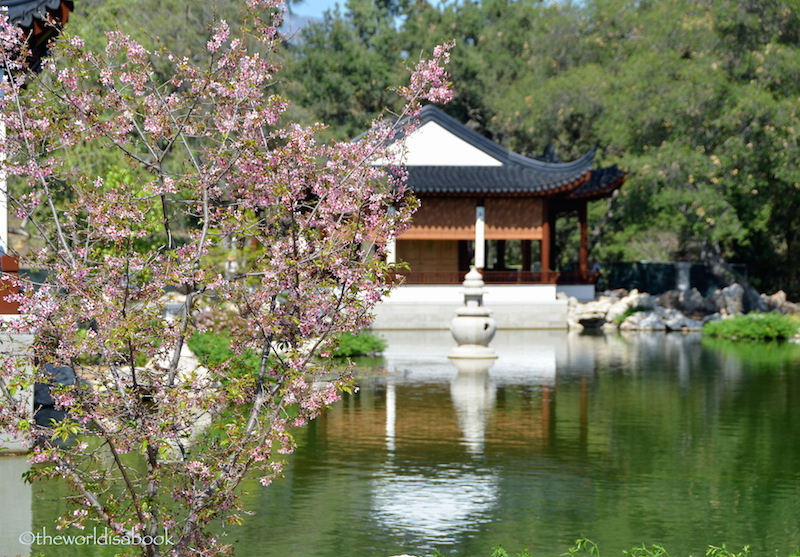 Visiting The Huntington Tips and Basics
Admission: Weekdays $20 adults, $15 65+, $12 students (12-18); $8 kids (5-11)
Weekends: $23 adults, $18 65+, $13 students (12-18); $8 kids (5-11)
Hours: Closed on Tuesdays; Noon – 4:30 PM on weekdays and 10:30 AM – 4:30 PM on Weekends.
No picnics are allowed on the grounds but be sure to bring snacks and water for the kids.
There is plenty of free parking.
This is a huge place so if you're short on time, stick to the gardens and choose which themes will appeal to you or your family.
Wear comfortable walking shoes and ensure plenty of rest time with the kids. There are plenty of benches scattered around the gardens.
Free guided garden tours are available. Check in at the entrance kiosk for times and availability.
Reserve a tea room experience at the Rose Garden Tea Room. There is a separate fee for tea and food.
Summer evening concerts with picnics or dinner.
Free admission on the first Thursdays of each month but tickets must be reserved in advance at The Huntington website.
Have you visited The Huntington? Where are your favorite gardens?
Pin it for later!