The Wonders of Lower Antelope Canyon Arizona
Lower Antelope Canyon is one of the most spectacular places we have visited. We explored this hidden gem in northern Arizona a couple of weeks ago and it has left such a lasting impression. The canyon was named for the herds of pronghorn antelope that once roamed the area many years ago. Located in the Native American Indians land of the Navajo Nation, its Navajo name is Hasdestwazi, or "spiral rock arches" and you'll see just how magical it is on this photographic journey with us.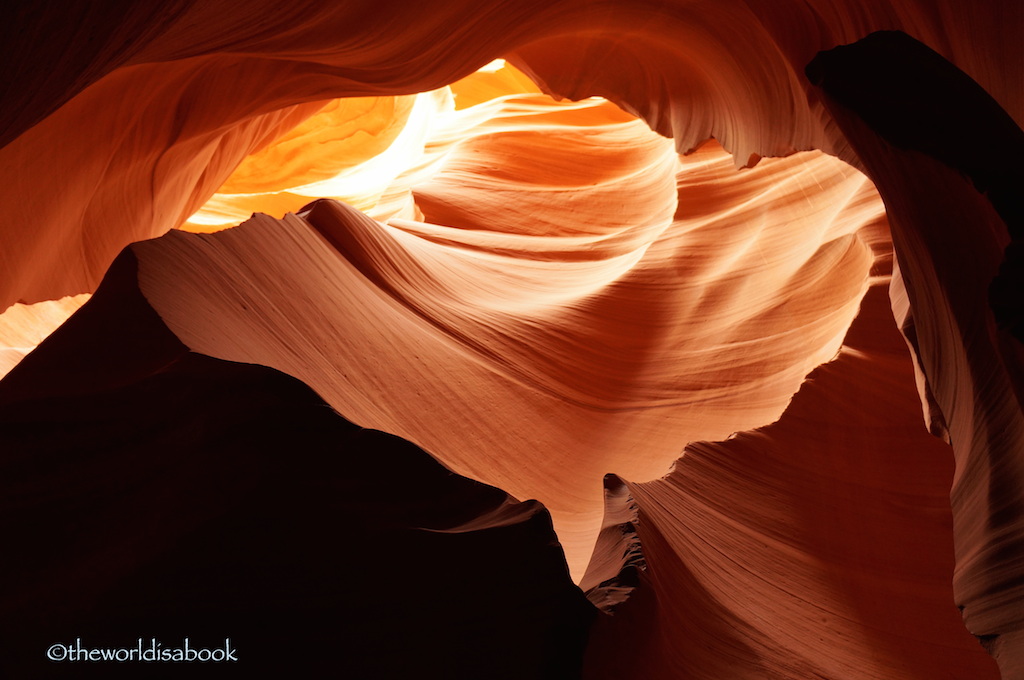 The canyons can only be toured with a guide unless you do the self-guided photography tour. There is an  upper and lower Antelope Canyon but we decided to tour the lower one based on online reviews and made it to the 3PM tour. Reservations are not needed. Visitors can simply walk up and tours are given every 20 minutes. Don't expect any modern facilities here. It was pretty much a shack, a dirt parking lot and portable toilets.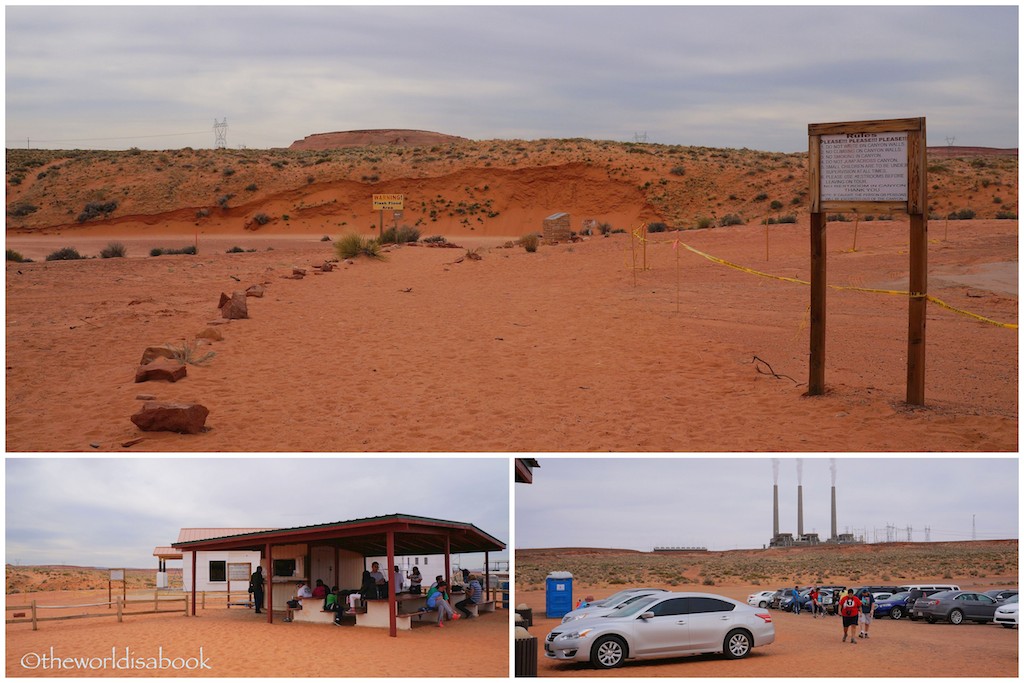 Our guide was a local high school student and a Navajo tribal member who led our group of 13 (with my two being the only kids). We walked a short distance on red sand to some unassuming rock formations.
The entrance was inside a large crack with metal stairs leading down into the bottom of the canyon. The stairs were a little steep on some parts but with handrails so it wasn't too nerve-wracking for kids and nervous moms.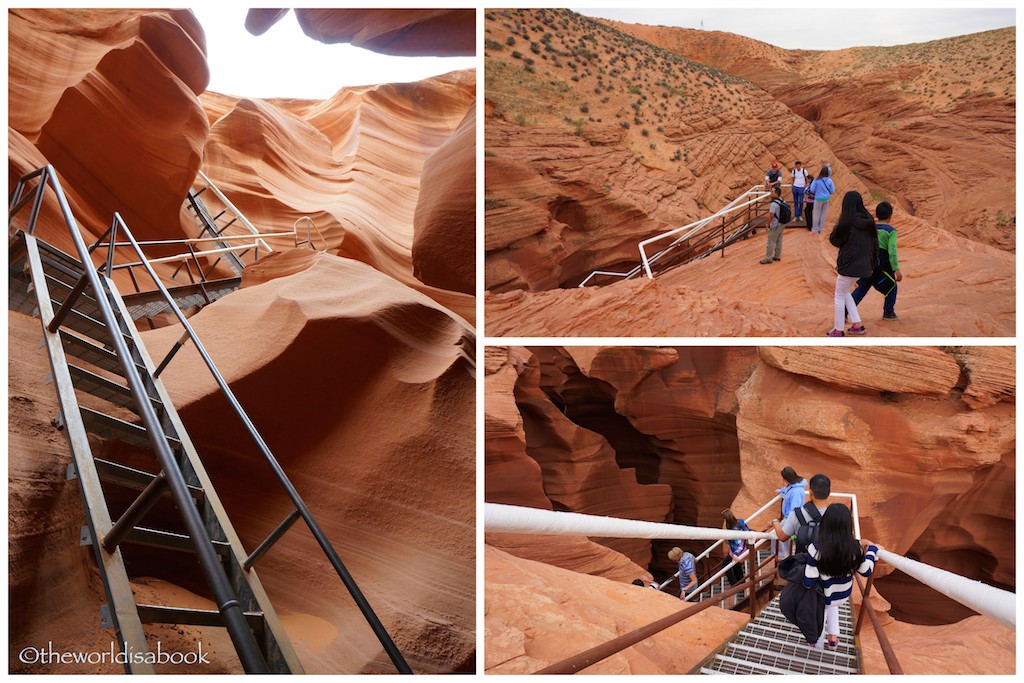 We've seen many pictures of the slot canyon but nothing prepared us for the incredible scenes that greeted us was once we were on the canyon floor. While it may be a little clichéd to say it needs to be seen in person, this is definitely one of those you need to personally see to fully appreciate its beauty.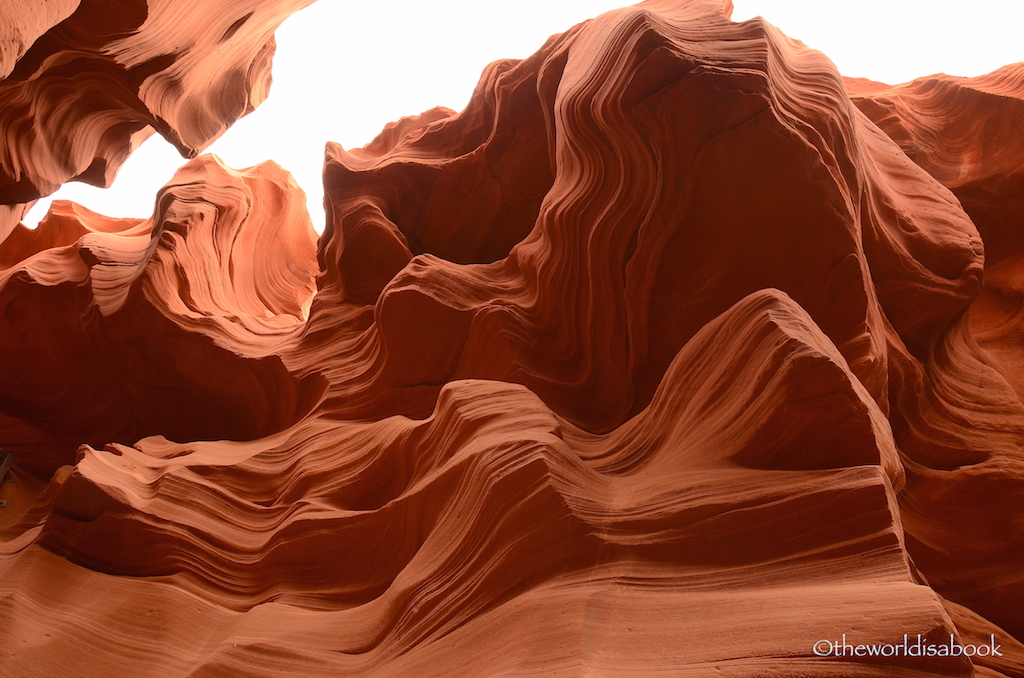 Orange and tan sandstone walls that almost looked like someone painstakingly sculpted them surrounded us. It was one of Mother Nature's finest masterpieces. I couldn't get over how remarkable the texture and curves of the sandstone walls were.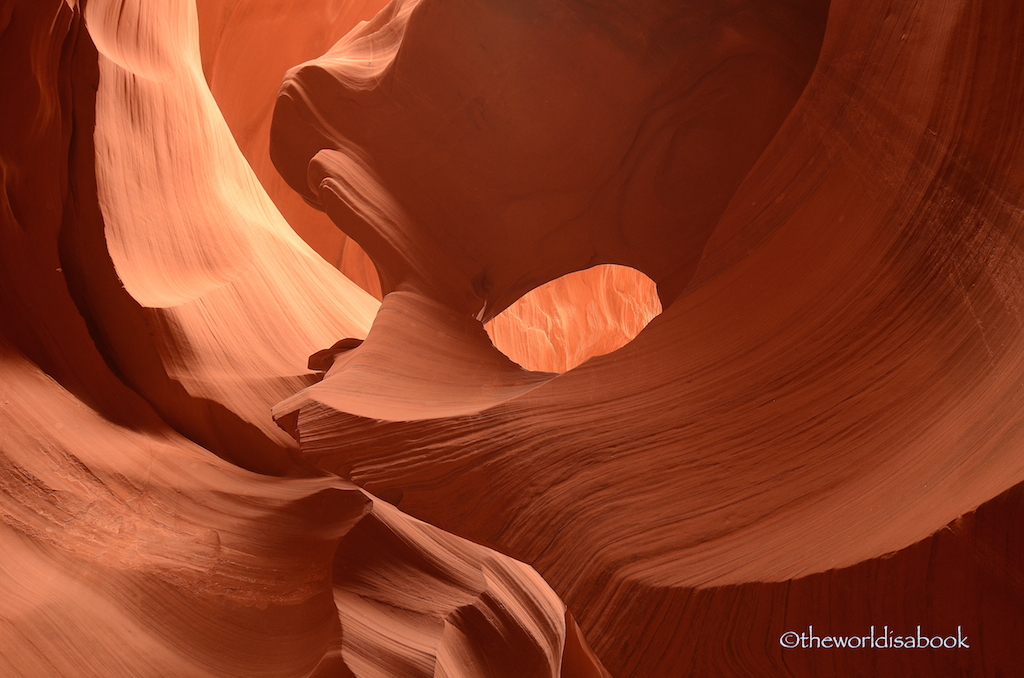 Antelope Canyon was created by water and wind. These forces of nature sculpted and eroded the sandstone over thousands of years turning it into a slot canyon. The slot canyon is very narrow, hence its name, where some areas were as wide as my arms stretched out.
Some parts also had really narrow passageways. It took some maneuvering and scrambling to get around some areas but made the exploration more fun. There were metal ladders throughout the canyon to help visitors navigate their way through. Some paths only enabled one person at a time to pass through.
Flash flooding played a big part in carving these rocks and creating the smooth, flowing shapes as it rushed into the canyon's passageways. These canyons are closed to the public with any rain forecast in the area since flooding still happens.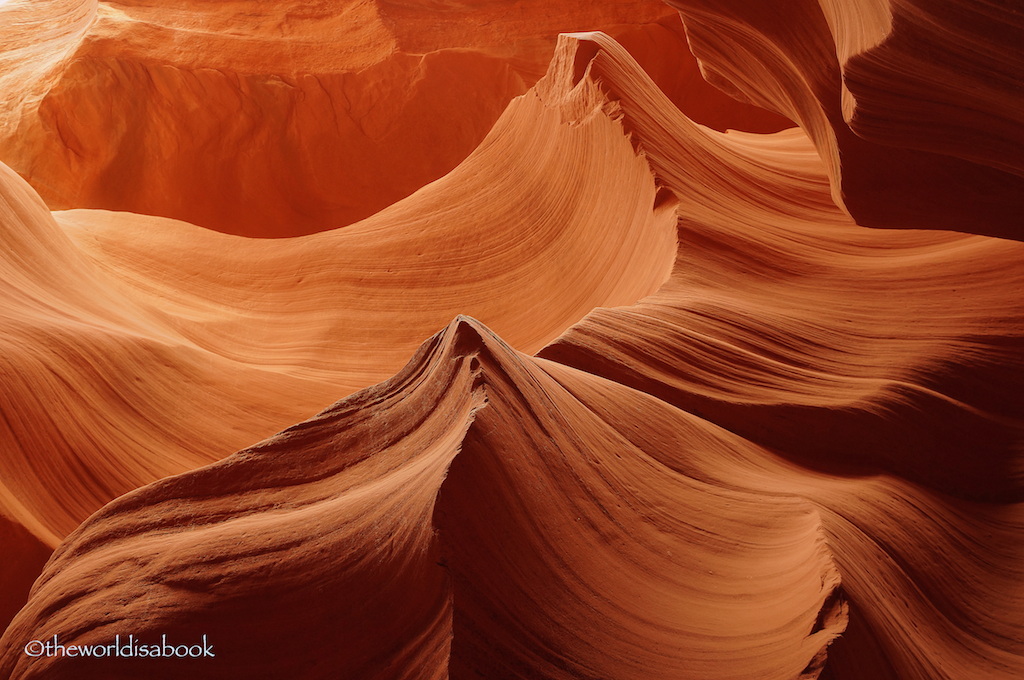 Lower Antelope Canyon is about 1/4 mile long. Luckily, some areas were wide enough for active kids to run around and see a visual treat at each corner.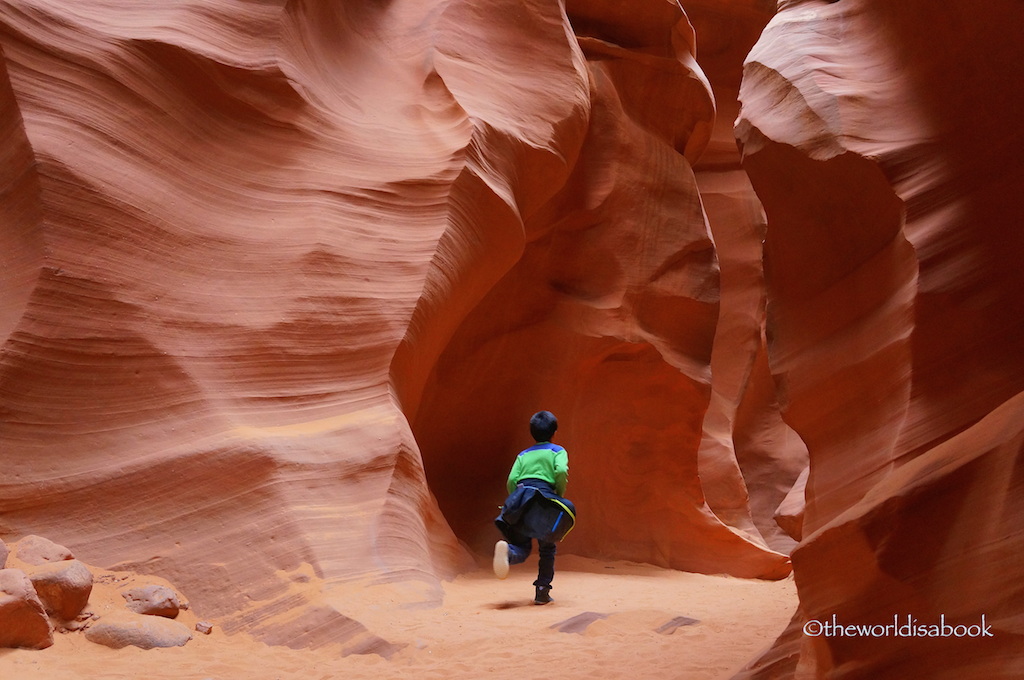 The red sand on the ground was very soft and fine. It was so tempting to walk barefoot. My kids couldn't help but grab some sand and let it run through their fingers. Some of the rocks have already started to fall apart in some areas.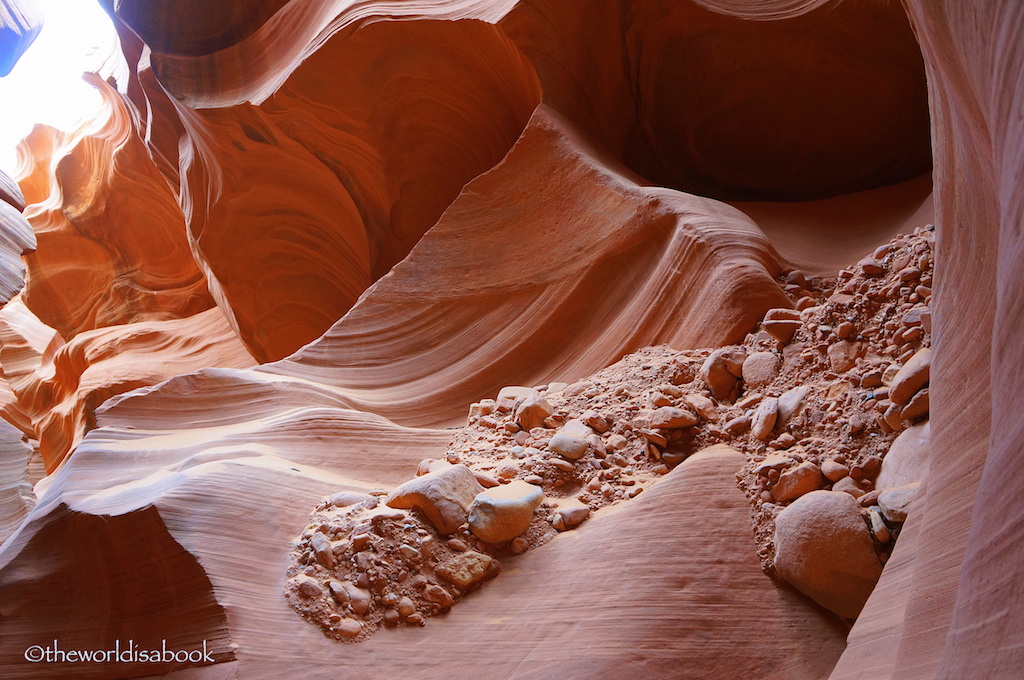 We were told that Antelope Canyon became part of the Navajo Parks and Recreation and was opened for tourism in 1997. Guides were necessary to protect and preserve this sacred land.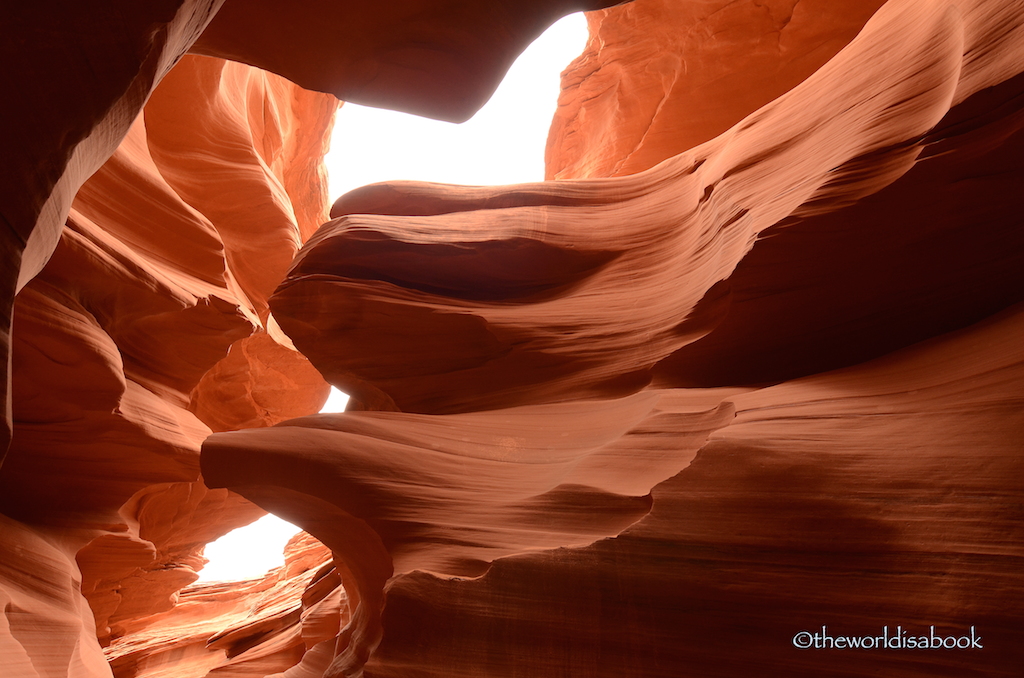 We were the only tour group in the canyon so it was fairly quiet. Being in such an amazing place almost requires total silence to fully enjoy its beauty and admire this remarkable wonder of colors, patterns, shadows and shapes. The Navajos consider this a spiritual place and you can almost feel it radiating from the canyon walls.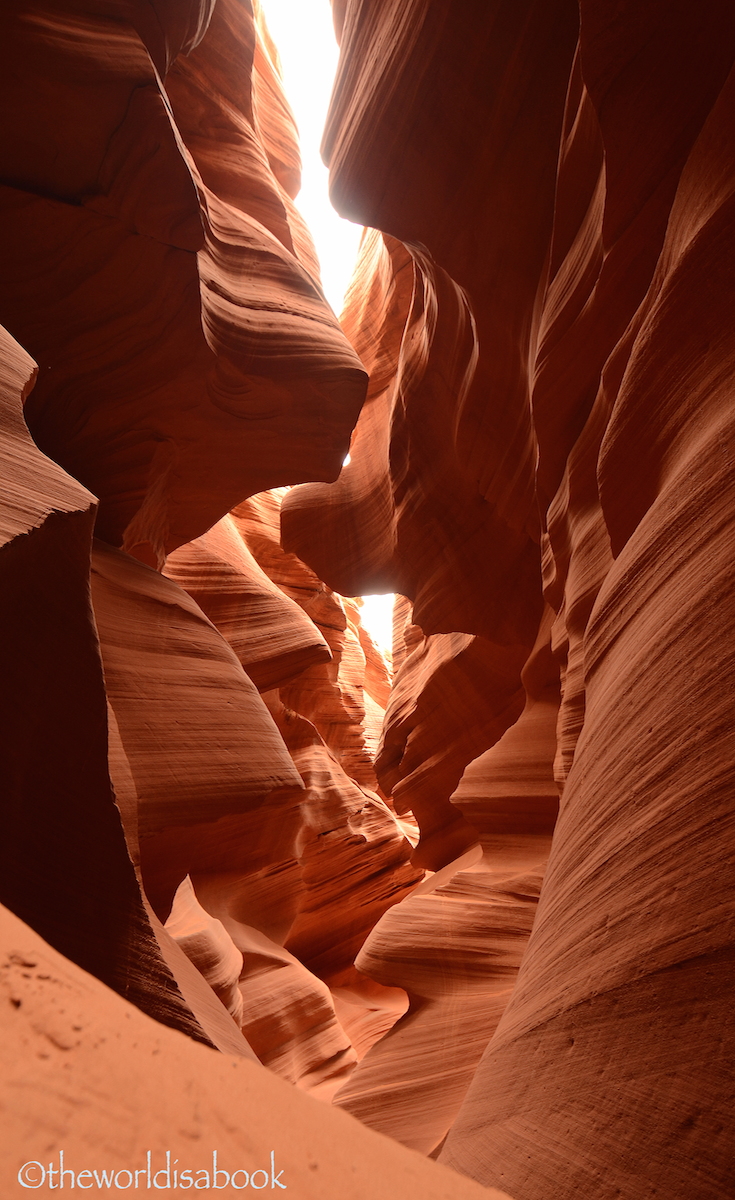 Light filtered into the canyon through the narrow gaps. There was just enough sunlight that crept through that made the formations even more dramatic. There is a different scenery each time depending on the position of the sun. Lighting is supposed to be better during the early hours and late in the afternoon.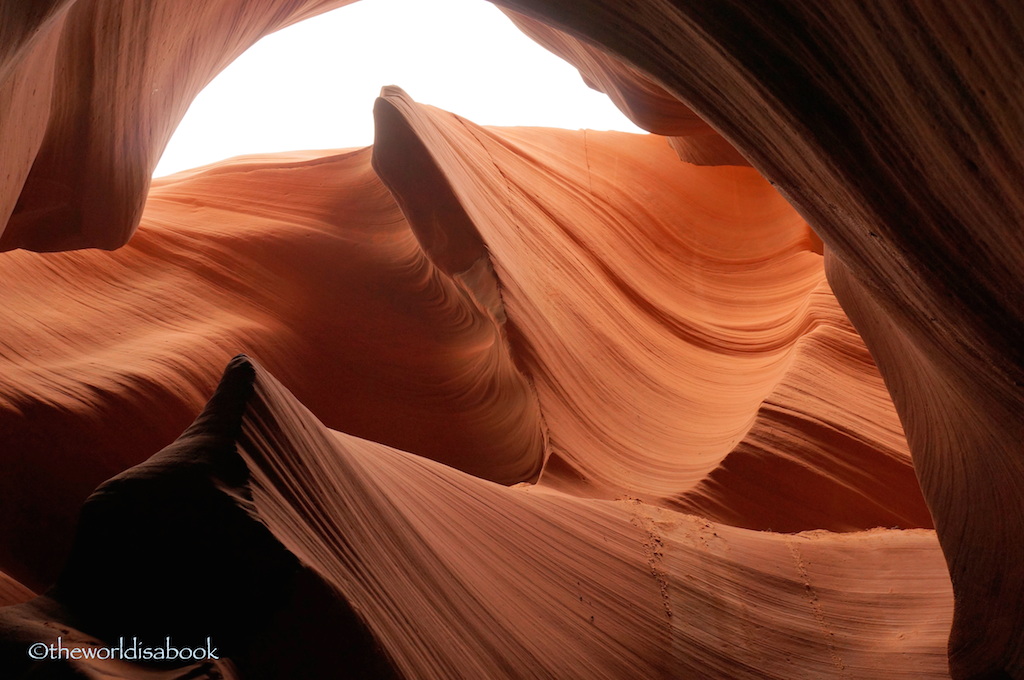 We were treated with a pleasant surprise at every turn. We couldn't stop taking pictures to somehow preserve such splendor in photos. I'm not sure you can really take a bad picture here. Though, we'd love to come back soon with no cameras in hand and just walk through in silence for a different experience. I can certainly understand why this place has been often referred to as a "photographer's paradise".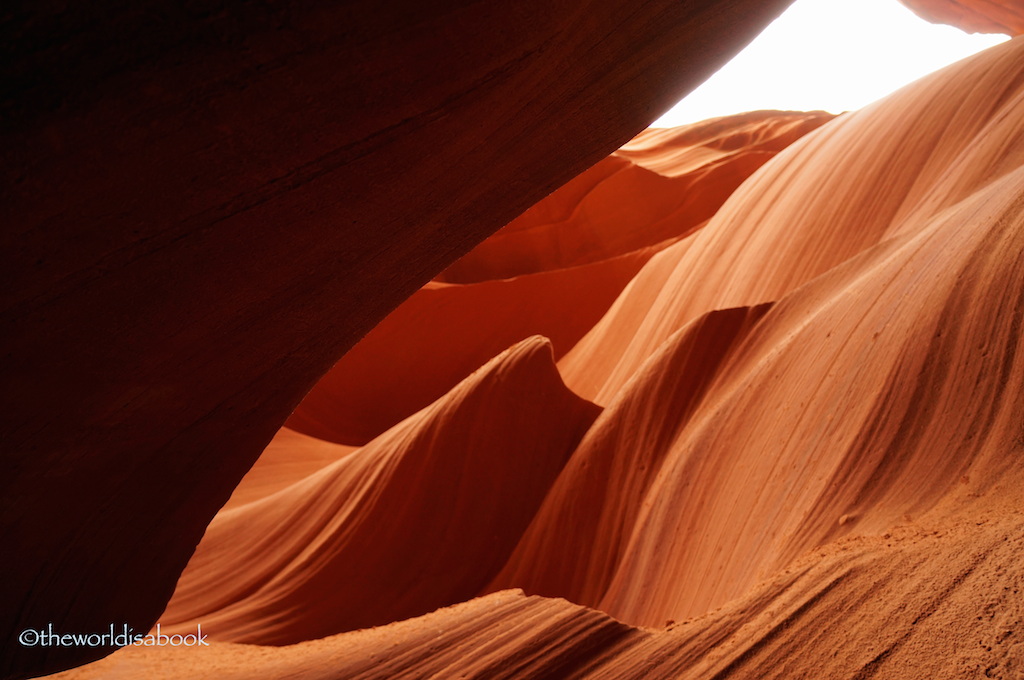 For amateurs like us, we were glad we had a very helpful tour guide who loved photography and has actually sold his work. He told us what settings to use for our cameras and smartphones and showed us the best spots and angles to photograph.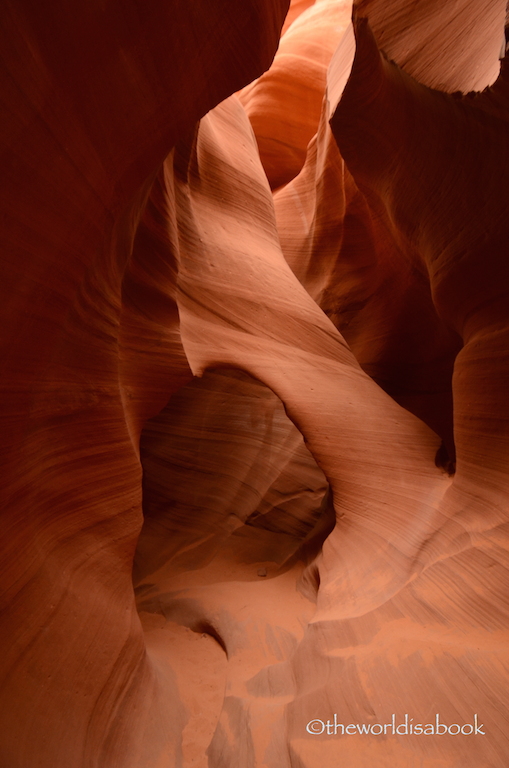 Some of the curve-shaped rocks almost looked like they were bendable and easily stretched. Those smooth looking surfaces looked very deceiving. It was hard to believe they were rocks and it was an endless display of amazement for all of us.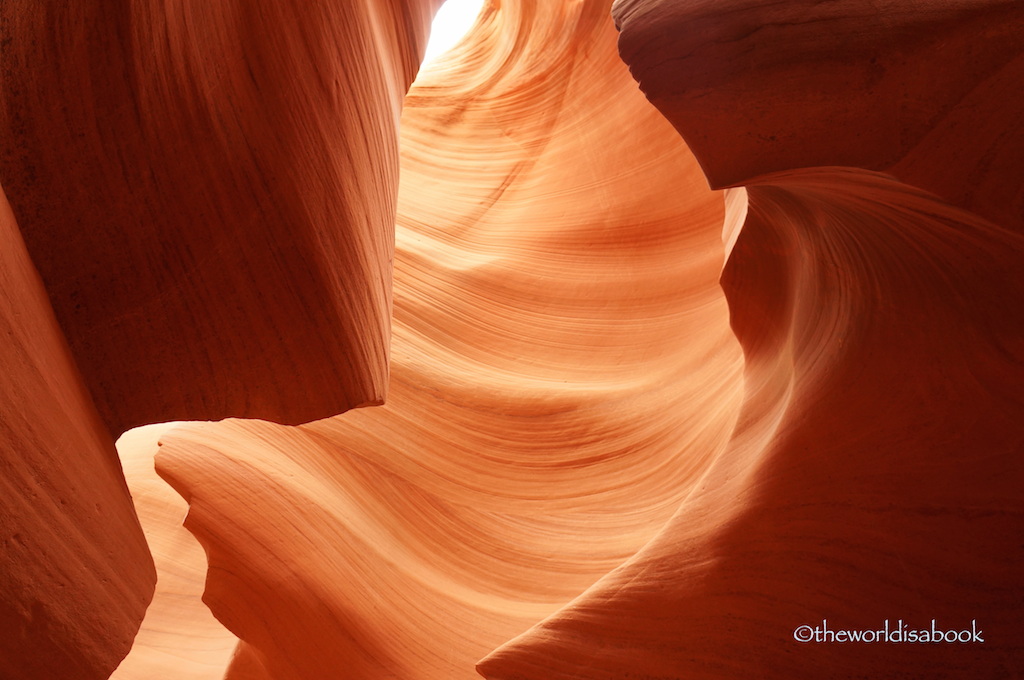 Much like clouds, some of the rock formations began to take on faces and animals once you look closely. Finding hidden figures within the rock formations entertained my kids throughout the tour. The guide pointed out some obvious ones to us like this lion's head.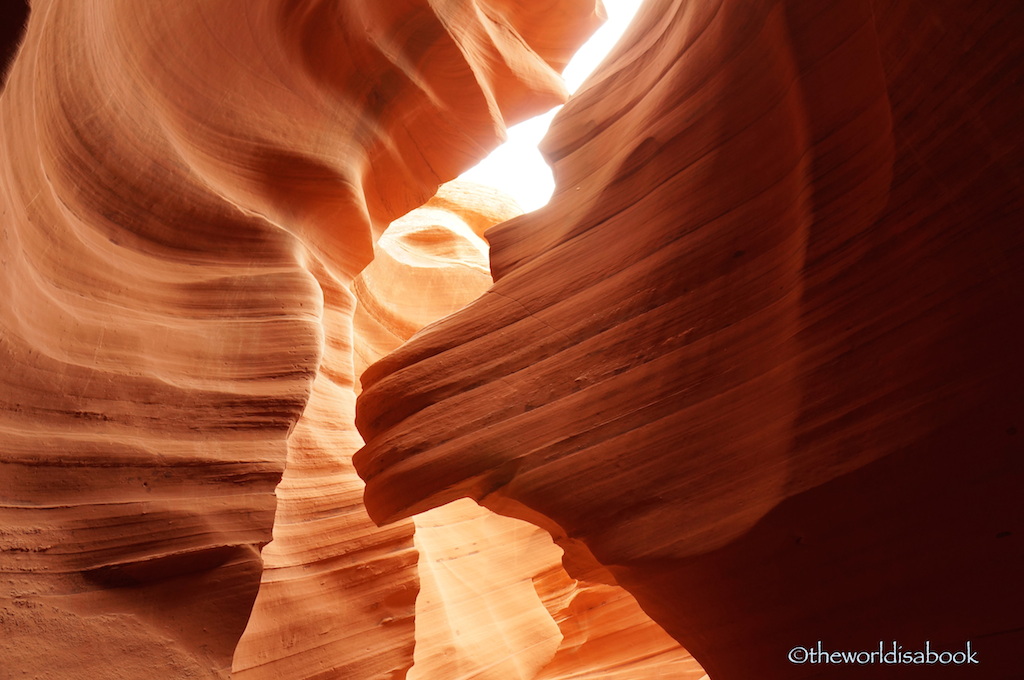 It was a fantastic place to let your imagination run wild. Do you see a turtle head in here?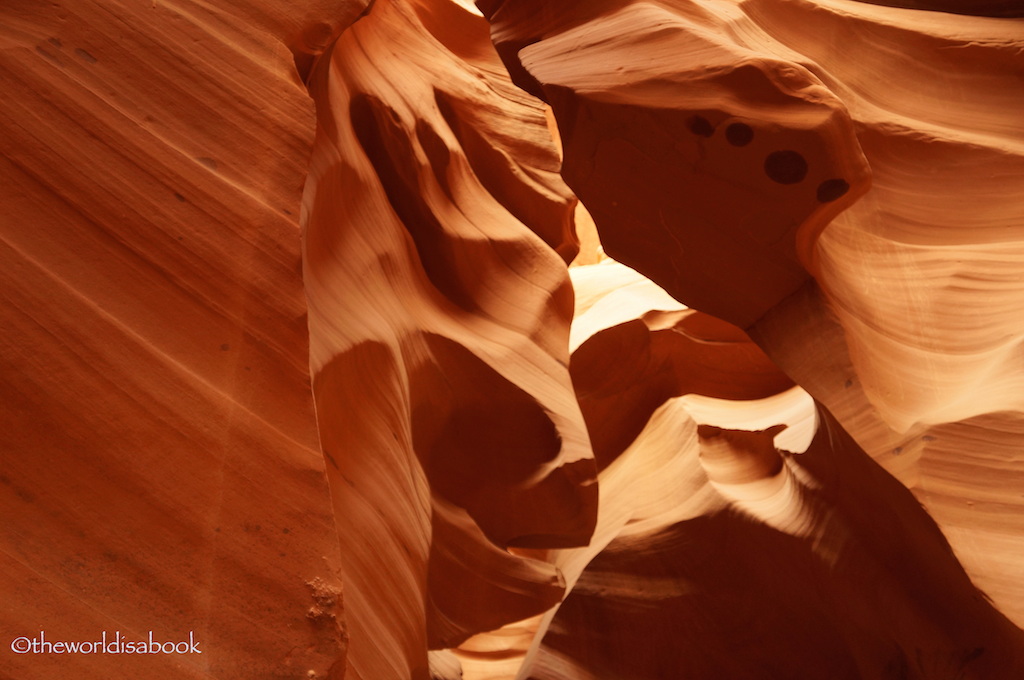 Can you make out a person's profile blowing something? This image almost seemed mystical and could possibly portray an entity shaping the rocks with each breath.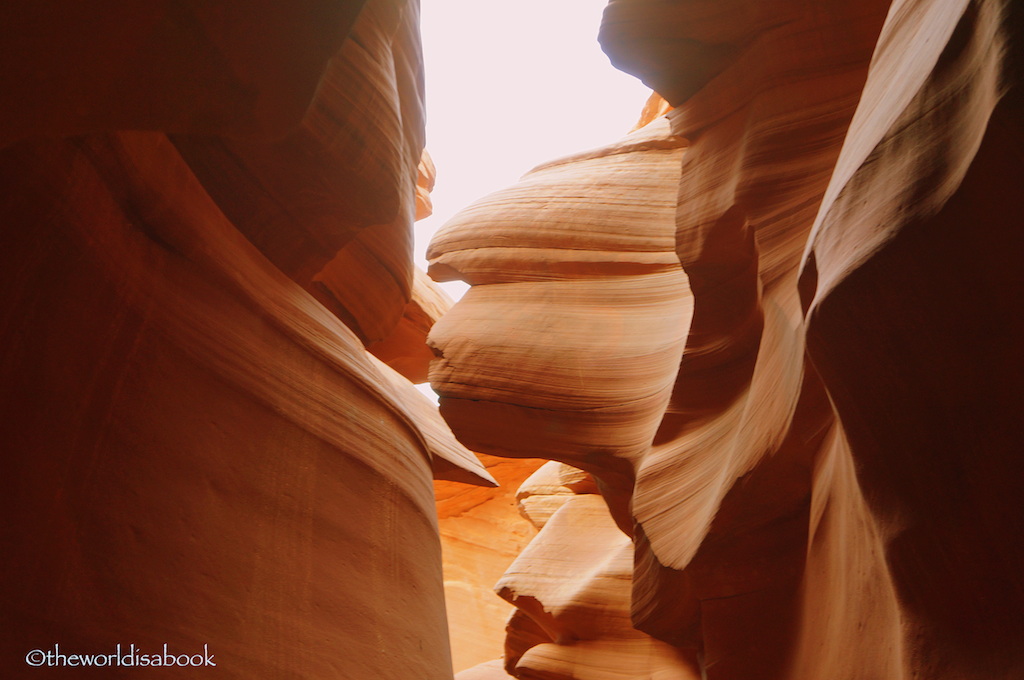 Since we went a long way down, we also needed to climb some stairs to get back to the surface. But, we took our time getting back up since there were still some stragglers behind us. It was worth it to stop for awhile and soak in the remarkable images before going back up to the real world.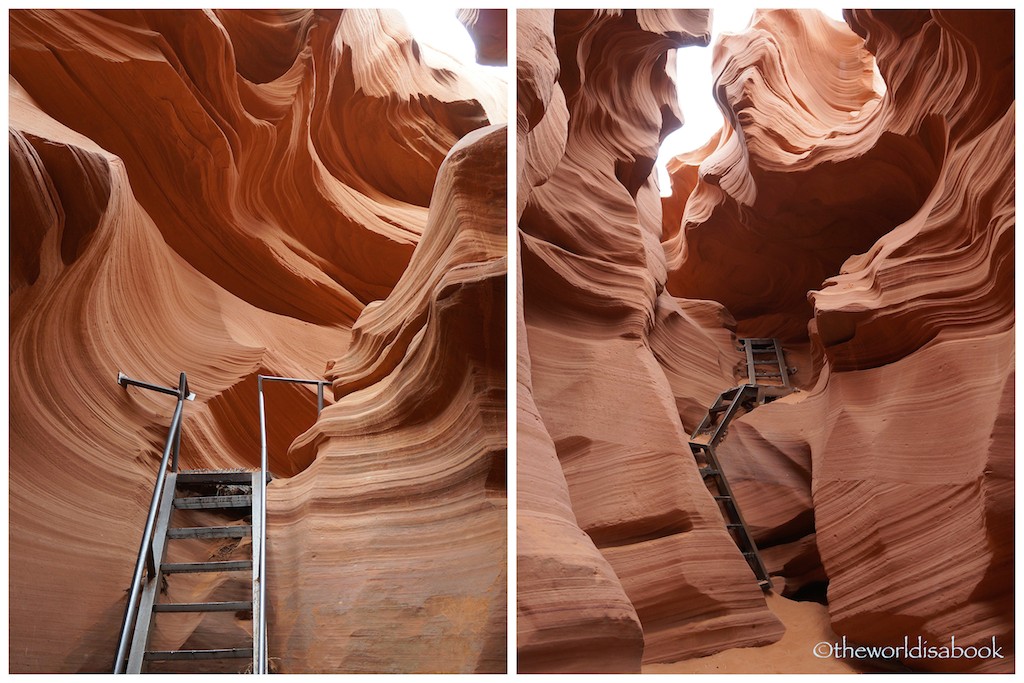 This was how the slot canyon looked from above and where we finished our tour.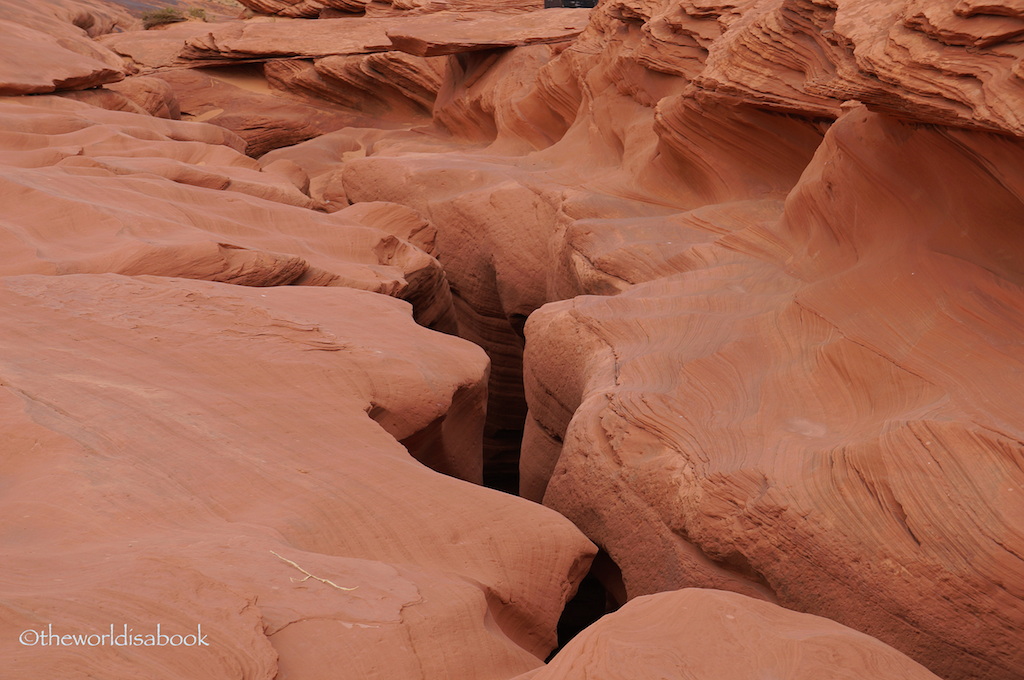 Though, this may not be as popular as nearby Grand Canyon, Antelope Canyon should be visited at least once especially if you're in the area. Pictures can't truly capture this spiritual and incredible place. Lower Antelope Canyon treated us to a showcase of shapes, textures, colors and an experience that will stand out in our travels and memories.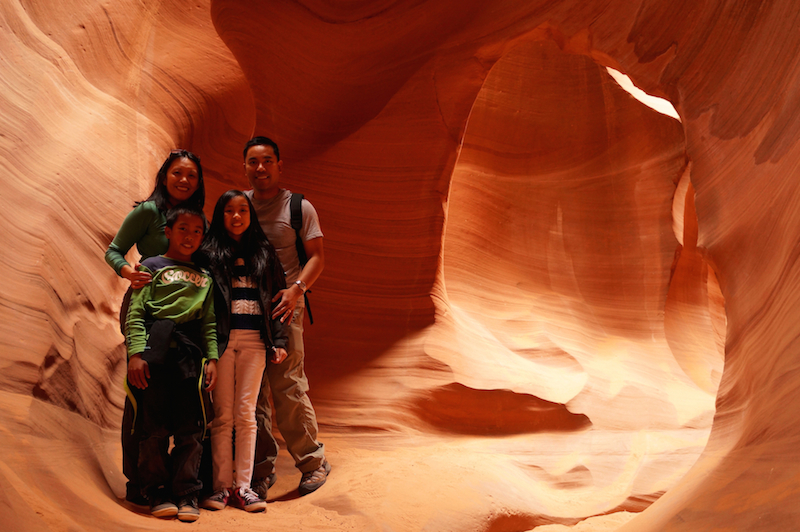 Visiting Lower Antelope Canyon Basics and Tips
Book your tours with Ken's Tours.

Ticket Prices: $25 (13 and older); Kids $17 includes a $8 Navajo Park Permit; Kids 6 and under are Free; Cash or Travelers checks only. (as of June 2017) If you're doing the Upper and Lower Canyon together in one day, you only pay for the $6 Navajo Park Permit once.

Self-guided Photography tours (2 hour limit) – $50 (including Navajo Permit Fee); Must have a tripod and DSLR for each person.

Premium rate for tours between 11 AM and 1 PM (better light when mid-day sun higher in the sky)

Open all year, seven days a week. Keep in mind that they will close Antelope Canyon for any rain forecast around Page, Arizona due to possible flash floods risk. Check the weather before you go and plan accordingly.

Tours start at 8:30 AM and ends at 4 PM and scheduled every 20 minutes. They usually last about an hour but can also depend on your guide and group. Ours went over by 15 minutes.

Use the portable restrooms (port-o-potties) before going on the tour since there are no restrooms at the canyon.

Bring any snacks or water with you especially when traveling with kids. There are no concession stands here.

Wear contrasting colors with the rocks like green, black, yellow or blue to stand out in the pictures. White is not a good option especially when you brush up or sit on the rocks. My daughter was wearing white jeans and it took some time to get all that red dirt out.

Wear closed toe shoes since you'll be walking in soft, red sand.

Bring a light jacket since it is a bit cooler in the canyons.

Summer is their busiest season so you'll have tours right after the other and possibly more people in your group.

Bring extra cash to tip your guides.

Choose your canyon accordingly. Lower Antelope is longer, less crowded and cheaper compared to Upper Antelope. The upper portion requires a bumpy ride to get to the entrance compared to our short walk. It also requires reservations with various tour companies. The upper is an easy walk through the canyon but the lower one requires more scrambling and going on metal ladders. Read the reviews online. For what it's worth, many of the locals we met told us they prefer lower over upper.
Have you visited Antelope Canyon?
Where to Stay/Lodging in Page/Lake Powell
Best Western Plus at Lake Powell – We stayed at this hotel and were happy with it. It was close to many of the attractions, shops and restaurants. Rooms were spacious and the heated pool was great. Complimentary wifi is available and full, hot breakfast.
Courtyard Page at Lake Powell– This looked like the nicest hotel in Page and was in a great location. They offer free wifi. If you want to splurge a bit, this may be worth it.
Save up to 50% on  hotels on

Booking.com

See the best prices from the major travel sites on HotelsCombined.
Find the best Page hotels and read reviews on Tripadvisor.
Flights/Vacation Packages
Compare airlines, dates and prices all in one place with Skyscanner
*This post contains affiliate links that help pay for this site.