Where Time Begins: Greenwich England with Kids
We usually do river cruises to be familiar with the city. London was no different. It was a spontaneous decision after we saw boat passengers looking so relaxed and we wanted to rest our tired feet. We decided to cruise on the River Thames to the the famous and historic site of Greenwich where time is set and where east meets west.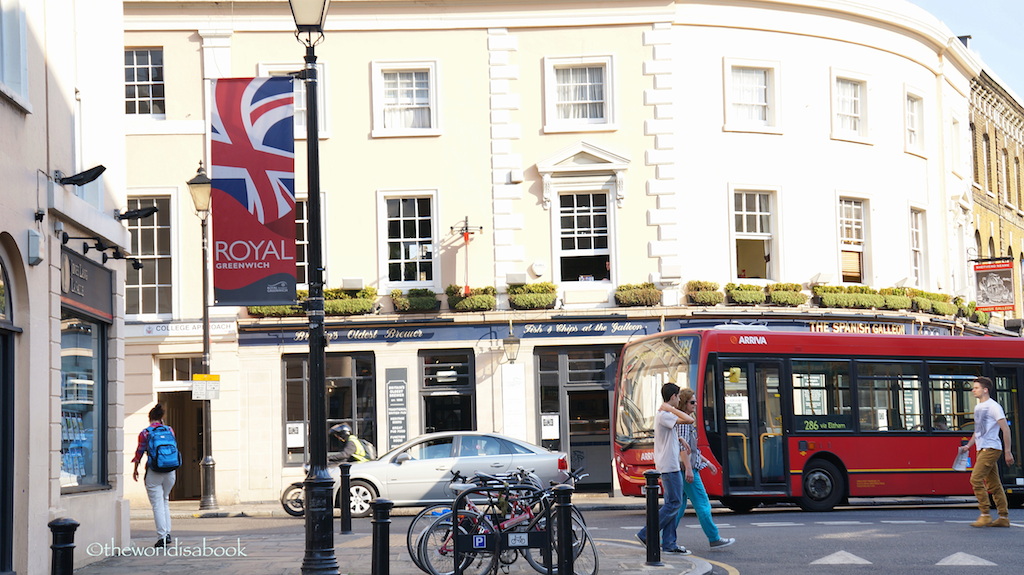 We embarked at the Tower Millennium Port right by the Tower of London which gave us the opportunity to cruise under the famous Tower Bridge. It was a wonderful way to see London from a different perspective.

The 30-minute cruise on the Thames Clipper was a bit uneventful as we passed through many modern buildings in what appeared to be the financial district. There were no tour narrations so this seemed more for commuters and a leisurely ride instead of a river boat tour.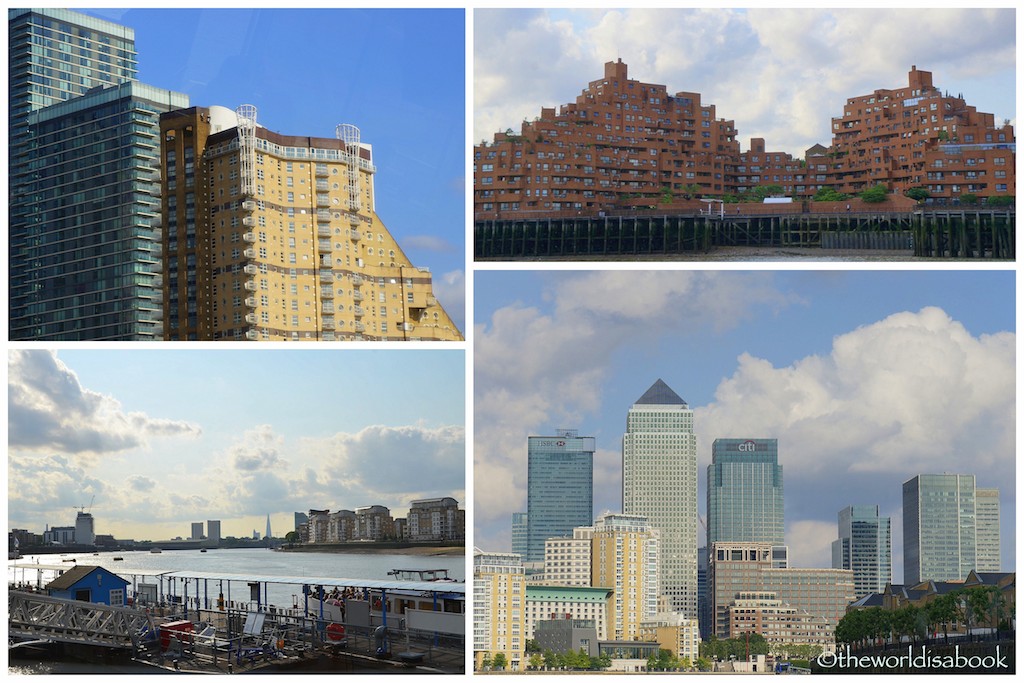 Greenwich is a Royal Borough of London and a city rich in maritime and royalty history. Henry VIII and his daughters Queen Mary and Queen Elizabeth I were all born here. Maritime Greenwich's historic buildings, town center and Royal Park have also been designated a UNESCO World Heritage Site.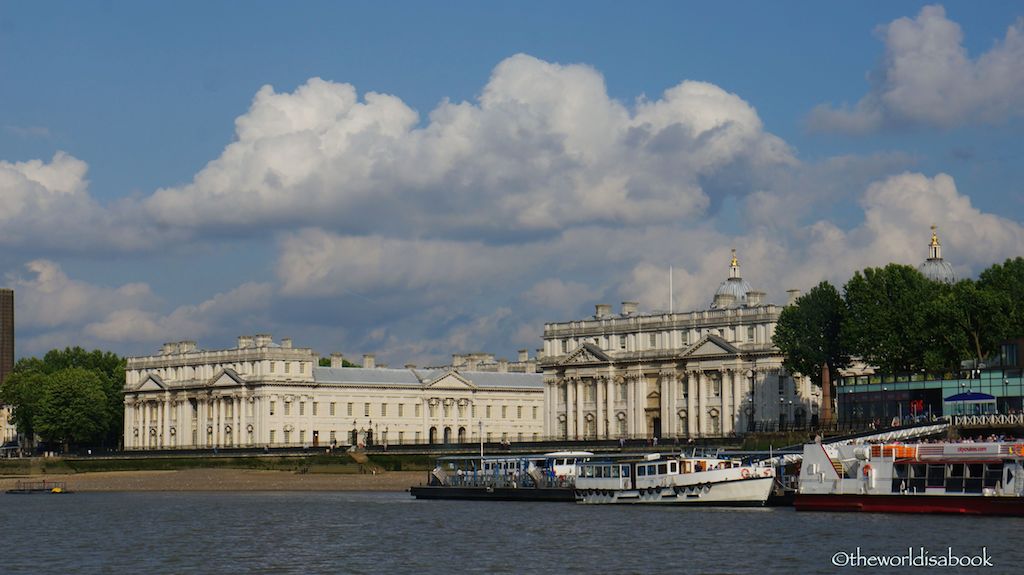 The beautiful, twin-domed Old Royal Naval College was a remarkable baroque fixture that greeted us as we neared the dock. This was originally Greenwich Hospital in the 17th century and became the Royal Naval College in the late 1800's where it was a world renowned naval sciences training ground for officers. The University of Greenwich now occupies most of the complex.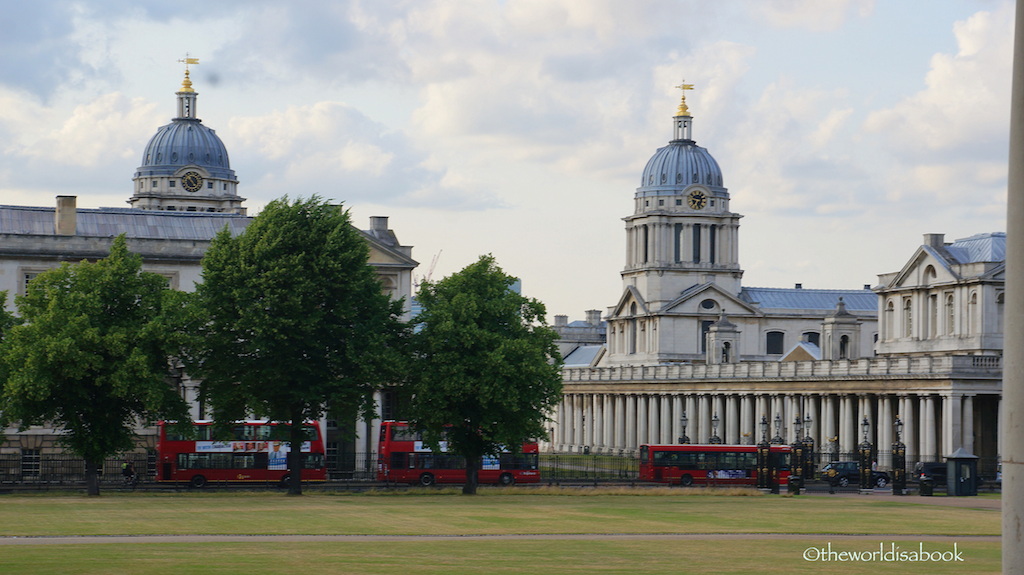 One of the first things we saw getting off the Greenwich Pier was a vessel call Cutty Sark. This 19th century sailing ship is the "last surviving tea clipper" and named after a Scottish legend. The ship also serves as a memorial to those in the Merchant Navy who lost their lives during the wars. Visitors can explore the museum underneath and climb onboard to learn more about the ship and the crew's experiences.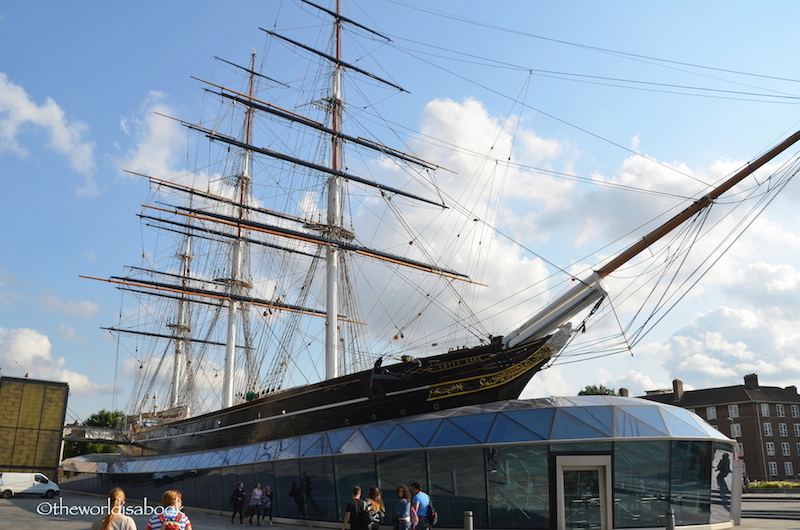 It's hard not to miss this round, red-brick structure with a glass dome. This is actually the entrance and marker for the Greenwich Foot Tunnel. This tunnel takes pedestrians underneath the River Thames to the other side of the bank. This was built in 1902 to give workers easier access to both river banks. Unfortunately, we didn't get to go down.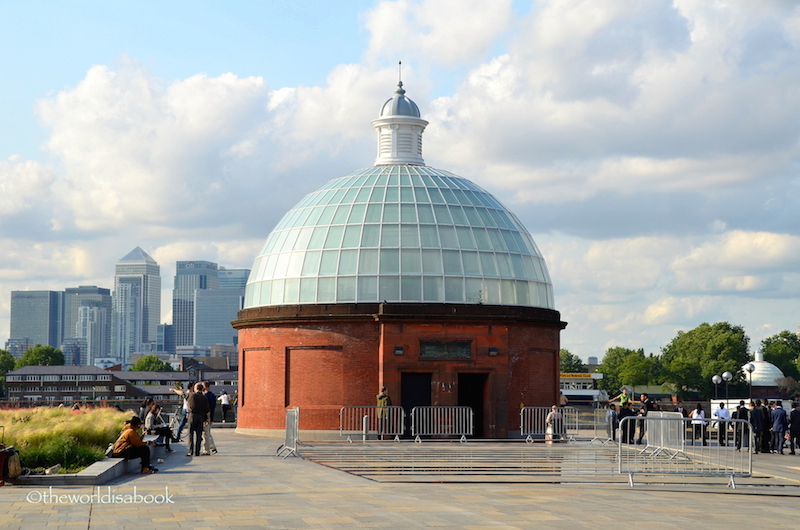 Greenwich looked like a quaint and charming city that felt a world away from London's hustle and bustle despite its proximity. We found old buildings, nice stores, cafes and of course, plenty of pubs. I'm sure these pubs have seen quite some action from sailors over the years. Greenwich was a pleasant place to walk around and I wish we had more time to sightsee.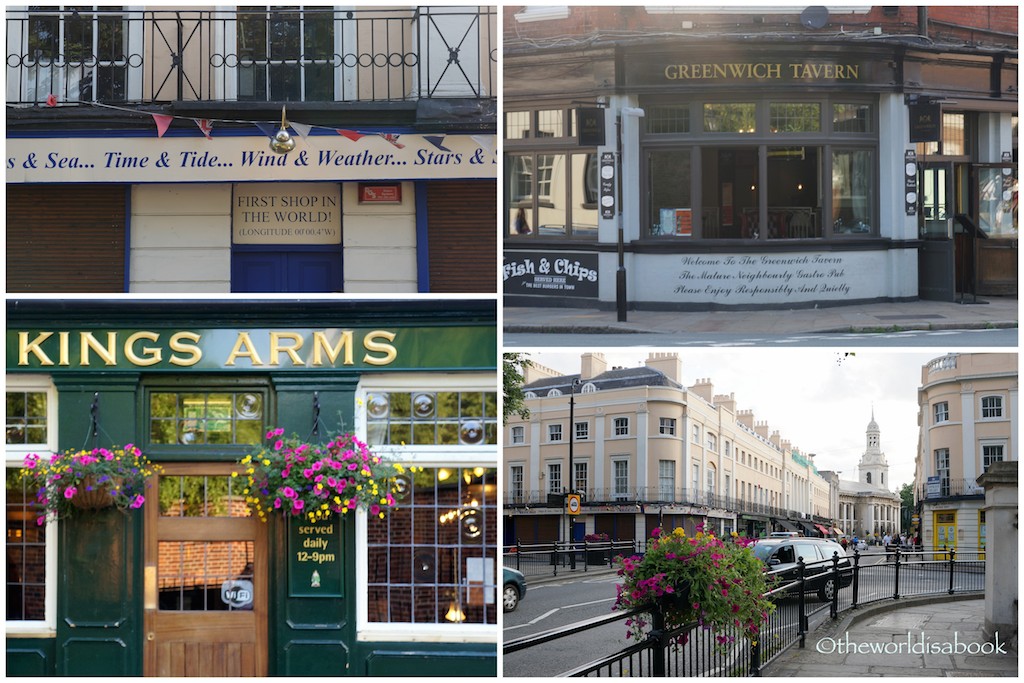 It was hard not to miss the expansive Greenwich Park. This is London's oldest enclosed royal park and was once used as a hunting ground. Everyone seemed to be heading here during our late afternoon visit. We loved the tree lined walkways and open fields everywhere. This was also the main thoroughfare to Greenwich's famous attraction.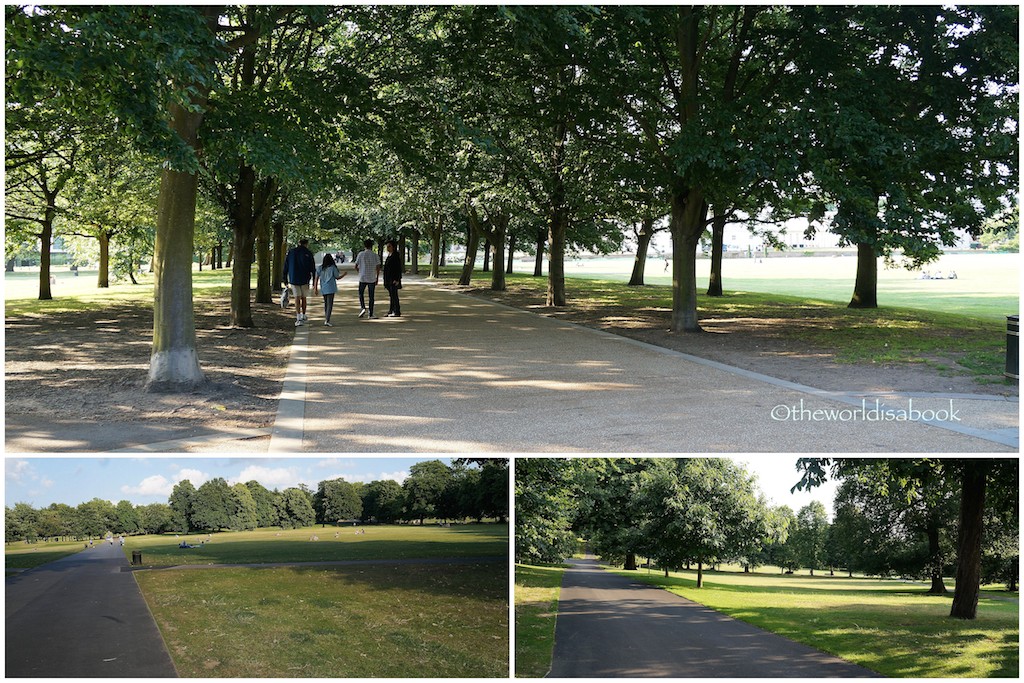 It was a steep climb to get to the observatory at the top of the hill and home of the Royal Observatory.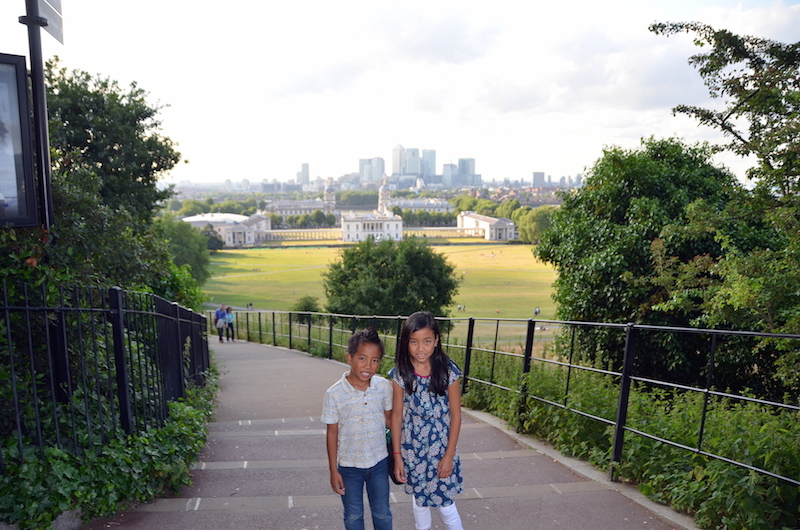 This historical observatory is the location of the designated line where the world's time begins otherwise known as Greenwich Mean Time (GMT). It's also the start of how every place in the world is positioned in longitude and latitude and home of the Prime Meridian of the World at Longitude 0º.

Visitors flock to the Prime Meridian courtyard by the observatory to straddle both sides of the Eastern and Western Hemispheres marked by the famous Greenwich Meridian Line on the ground. GMT was established here in 1884 largely due to the observatory's central role in astronomy research and time keeping.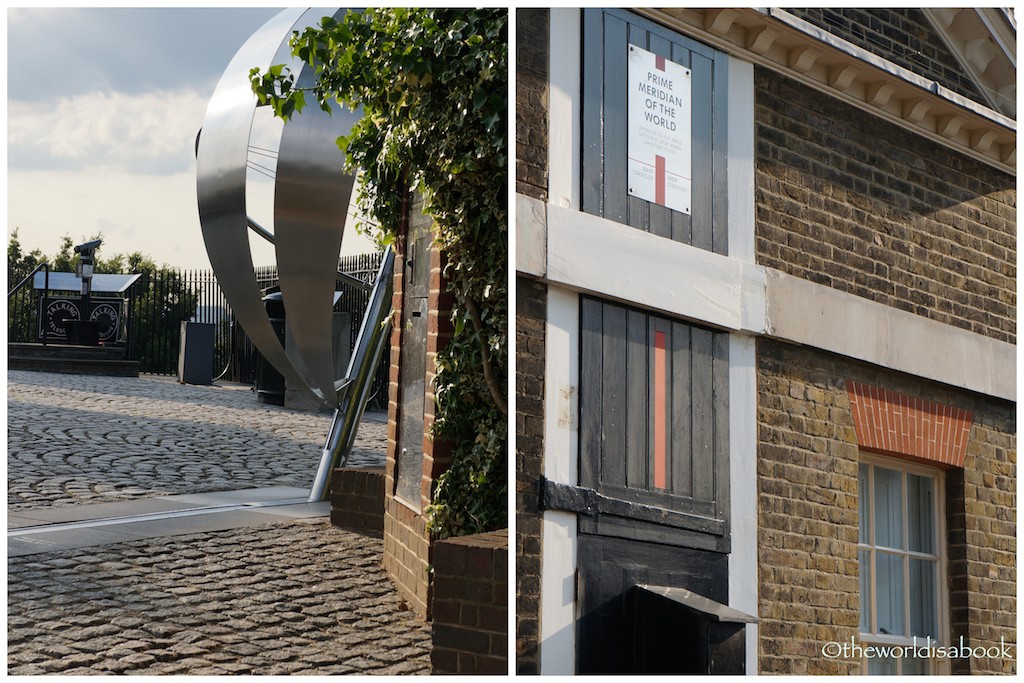 The observatory and courtyard were closed when we got here which we knew before cruising to Greenwich. But, we still wanted to see what was around the area. I can imagine the wait times and how crowded this place must get as everyone waits for people to take their tourist photos.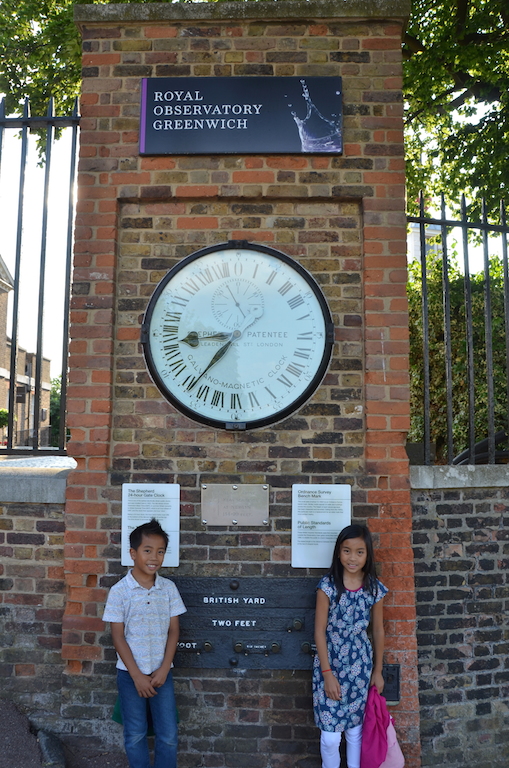 No worries if you come here when it's closed. We found what I call the "poor man's version" outside the fence. The designated Prime Meridian line was also there for everyone to stand on two hemispheres. Plus, it was free and with no crowds.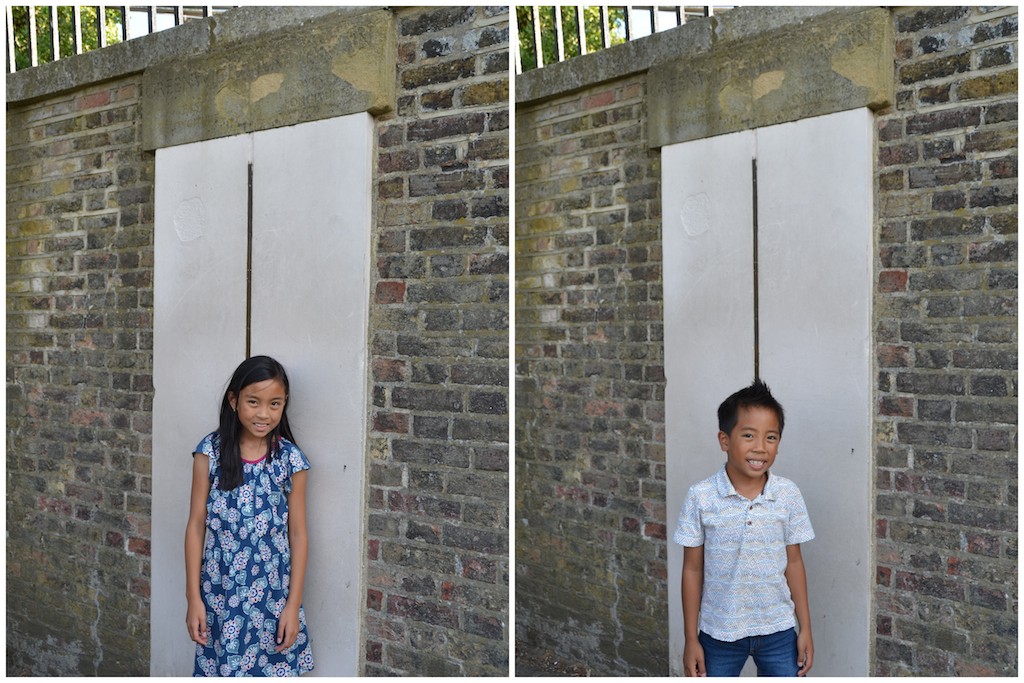 Though, we were disappointed to have missed exploring the observatory's interior which also housed a planetarium and interesting exhibits on clocks and the UK's largest refracting telescope.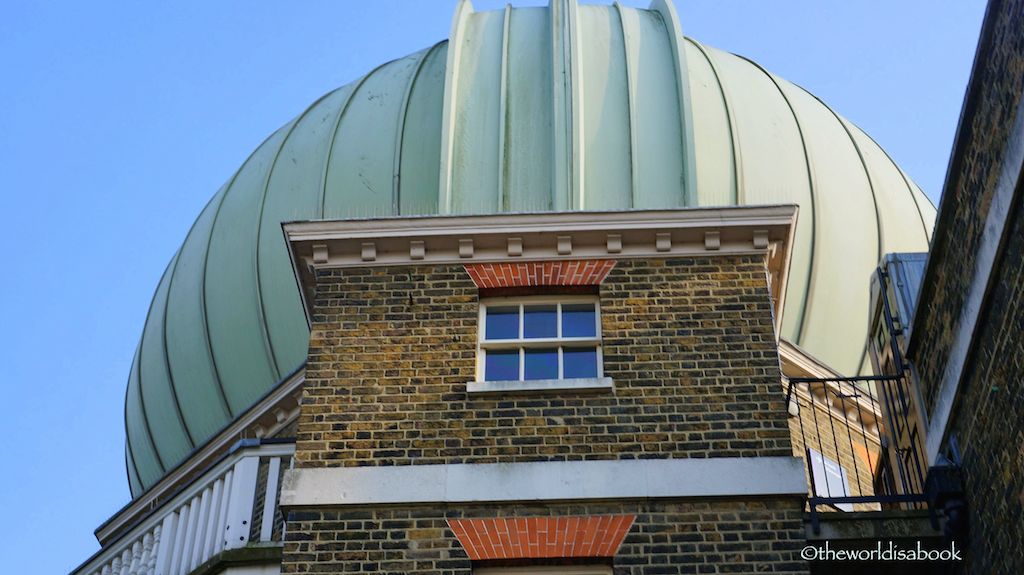 From afar, we couldn't help but notice the red ball on top of Flamsteed House's roof. This was Greenwich's original Observatory building. This was one of the first public time signals in the world. The red ball was raised and lowered everyday at 1PM for ships on the River Thames to accurately set their times.

One of the benefits of being at this vantage point is the surrounding views of Greenwich Park, the River Thames and beyond.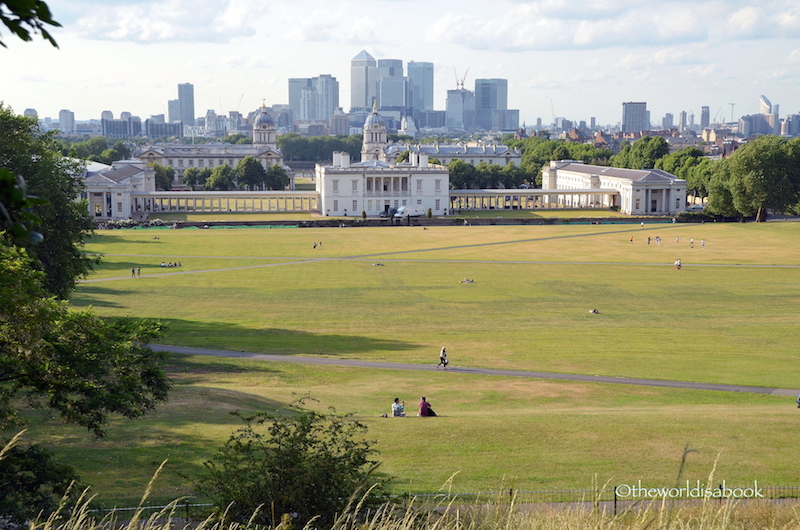 The striking, 17th-century Queen's House was just down the hill from the observatory. This was initially Henrietta Maria's (Charles I's queen) home but is now a fine arts museum and an events venue.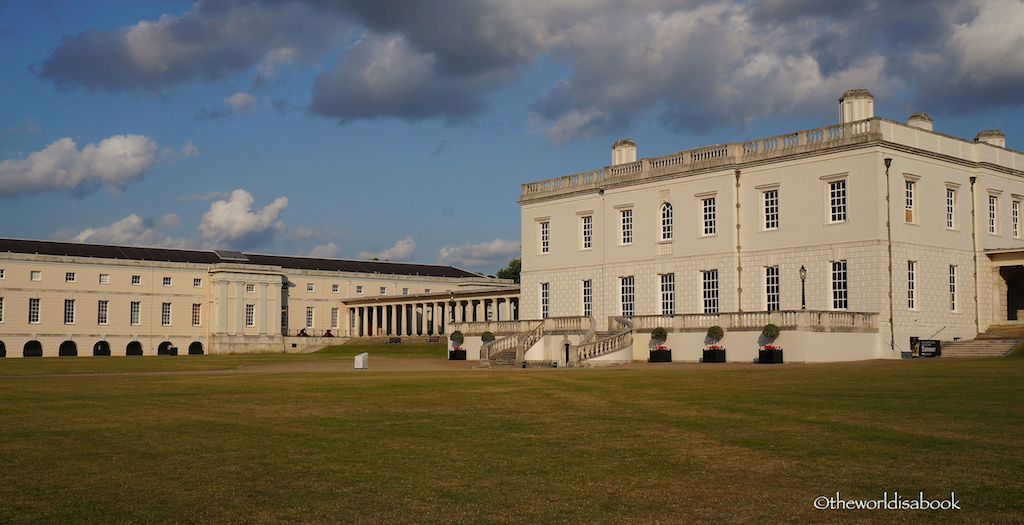 While my husband and I rested on the benches along these lovely columns at the Queen's House, my kids found somewhere to entertain themselves.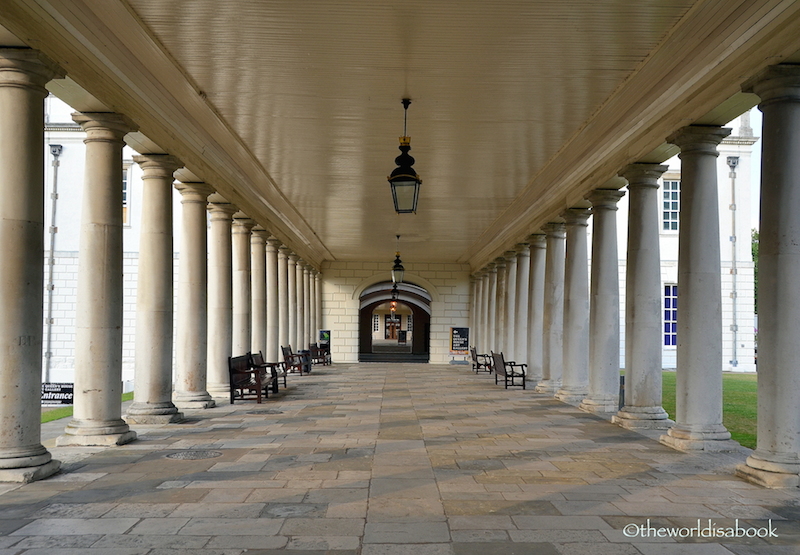 We seek out open spaces for my kids to run around and release all that energy wherever we go. There was this large grassy area by the Queen's House that my kids loved and used as a giant playground. They had it all to themselves which was rare in the London parks we visited.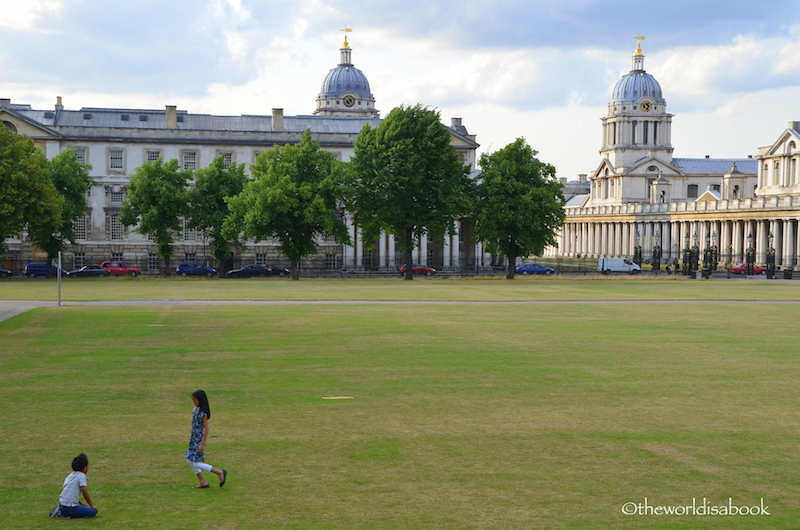 Playing here led to awkward tumblings and cartwheels. Can you tell they loved being here? It amazes me how much energy most kids have (including mine). We walked a lot including that uphill observatory climb and I don't even remember feeding them sugary treats. It was a delight to watch them enjoying themselves against the shadows of one of the most visited places in the world.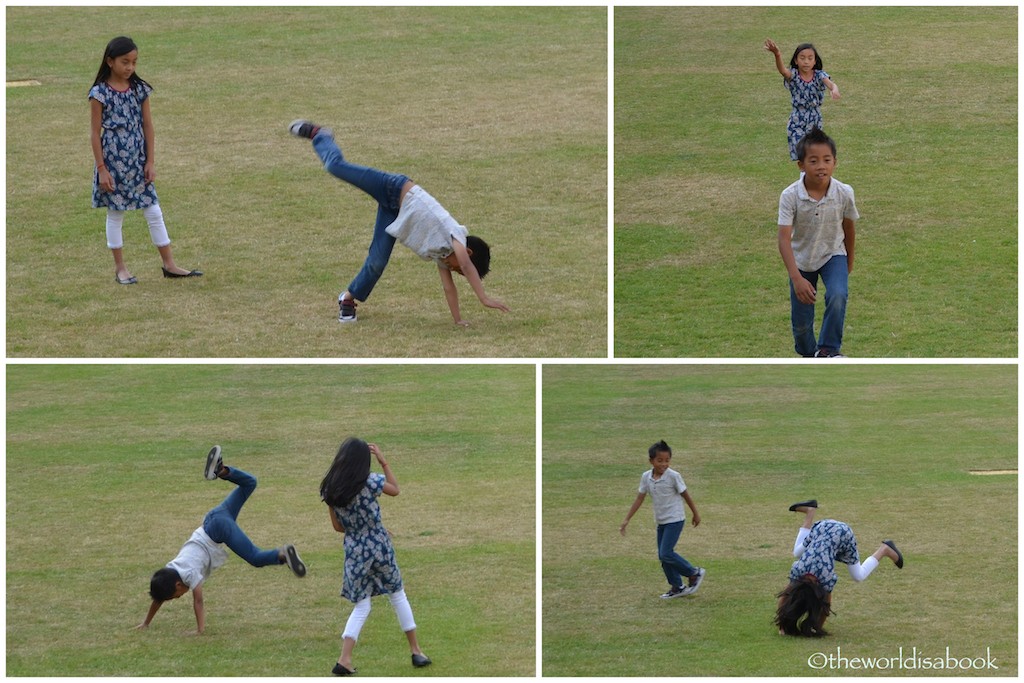 It was surprising to see many interesting museums around Greenwich. We also passed by the National Maritime Museum which is supposed to be the world's largest maritime museum. Looking at it online, the museum looks fun and is filled with great exhibits and interactive activities including a Children's gallery.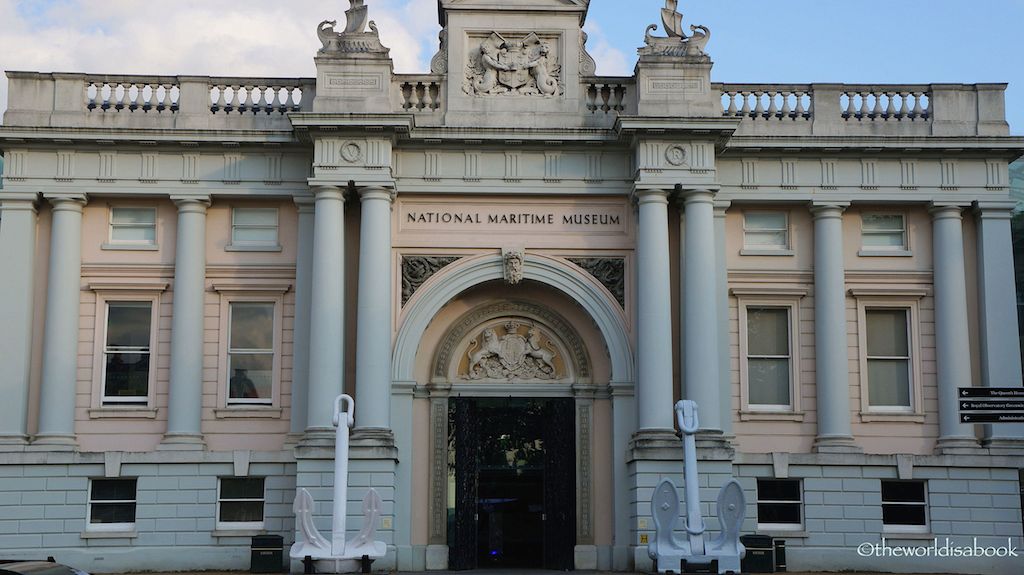 We found "Nelson's Ship in a Bottle" outside the maritime museum which is a small replica of Lord Horatio Nelson's flagship HMS Victory where he died. It had 80 cannons and 37 colorful sails which were inspired by vibrant Indonesian batiks.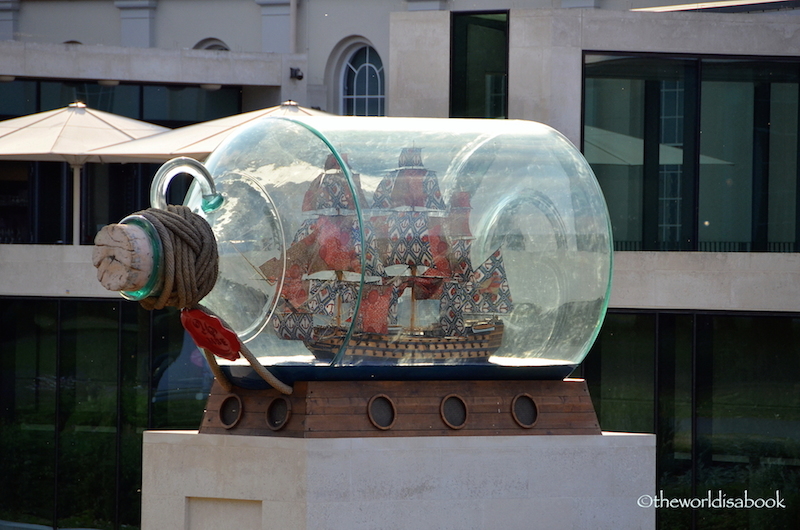 Although many of the places around Greenwich were closed during our visit, we still enjoyed walking around this town filled with maritime history and a world famous attraction. We would love to return and visit many of its museums and explore the park. It was far from London's crowds during the summer and worth a half-day trip or longer with or without kids in tow.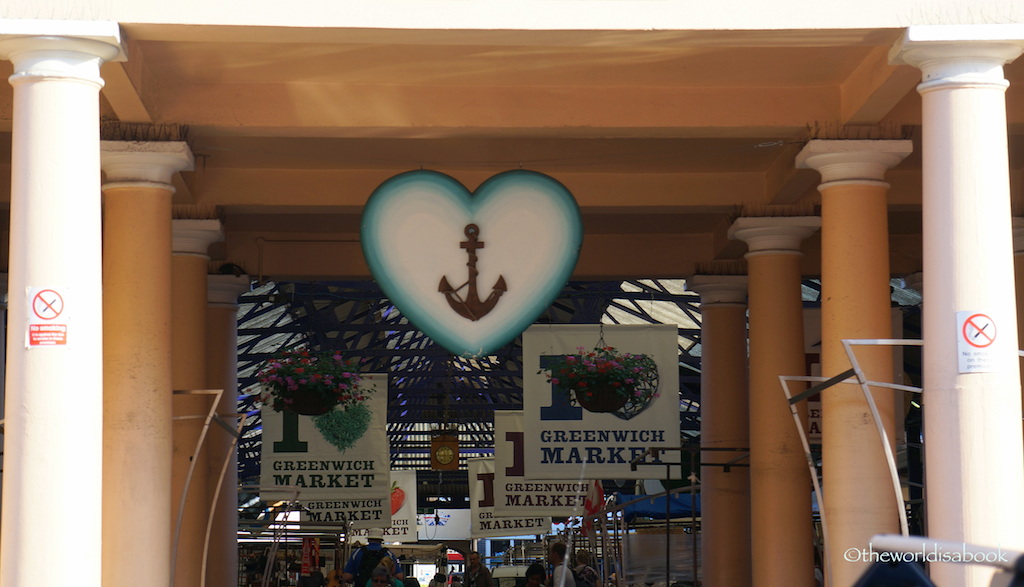 Basics and Tips for Visiting Greenwich with Kids
There are many companies that offer river cruises with stops in Greenwich. We did a round trip excursion. You can also opt for riding the train or tube or a combination of transportation options.
If you want to go to the Prime Meridian tourist spot inside the Royal Observatory gates, keep in mind that it closes at 4 PM and fees apply. Many of the museums usually close around 5PM.
Greenwich has so much to offer beyond the maritime buildings and museums and historic center. You can even go on the UK's only urban cable car that crosses the Thames. Visit the Greenwich website for more attractions and events.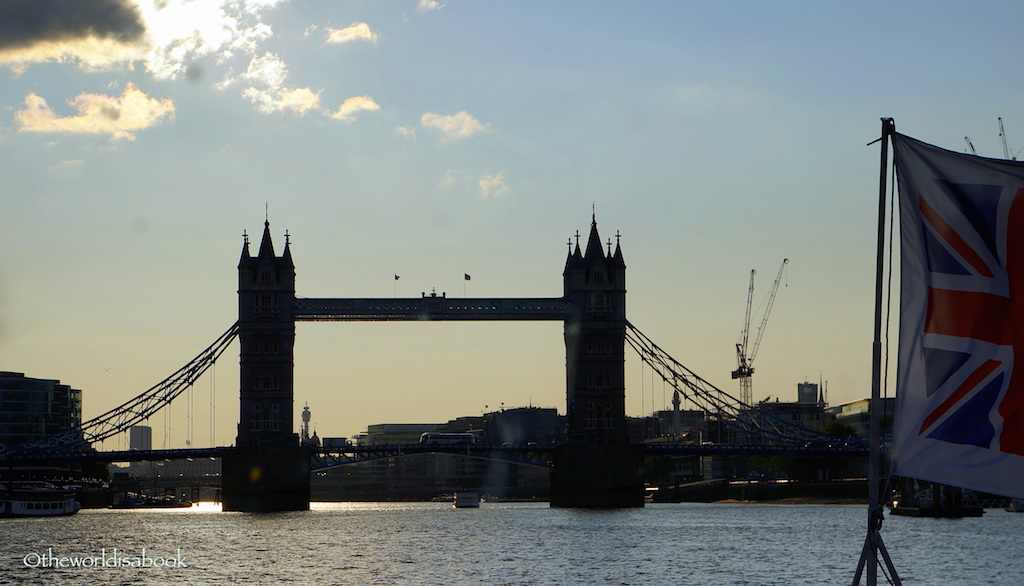 Have you visited Greenwich and the Prime Meridian?
Pin it for later!