On the Cliff's Edge at Horseshoe Bend, Arizona
You've probably seen photos of the iconic Horseshoe Bend somewhere. This is the aptly named horseshoe-shaped area of the Colorado River as it twists through sandstone cliffs in a 270 degree angle. But, what is it really like trying to take these pictures and with kids in tow? Come along with us on this adventurous journey.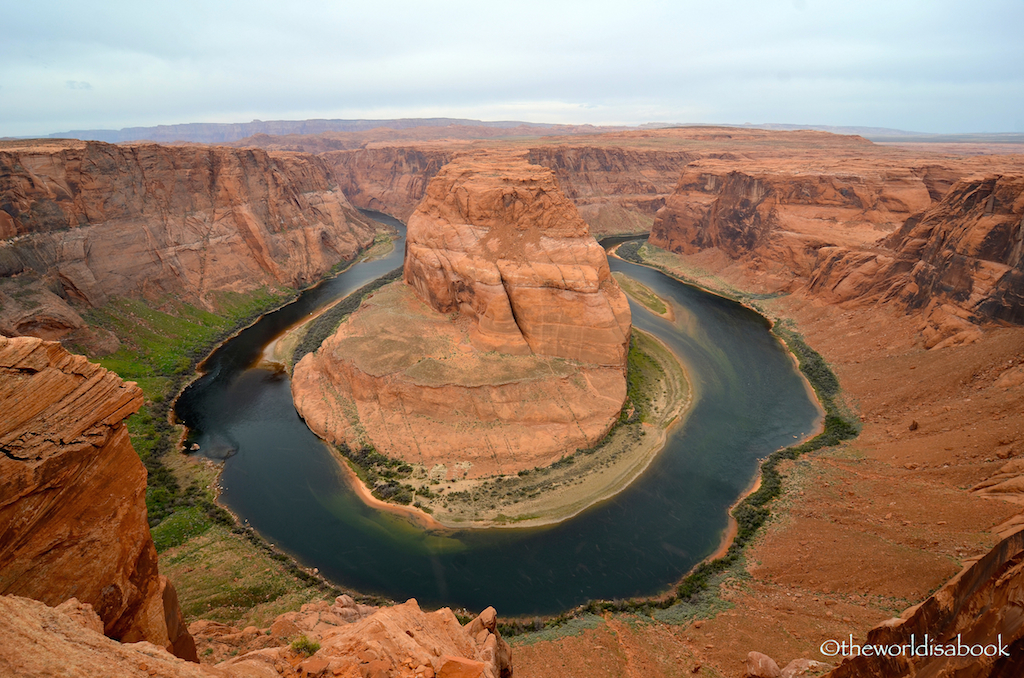 This area has been high on our travel wish list for awhile now and we finally made the trip a few weeks ago. The bend was in the same area as the Antelope Slot Canyon which we visited the day before. It is located about 5 miles (8.5 km) from the Glen Canyon Dam and Lake Powell near the Utah/Arizona border. Can you see all the people in the photo below?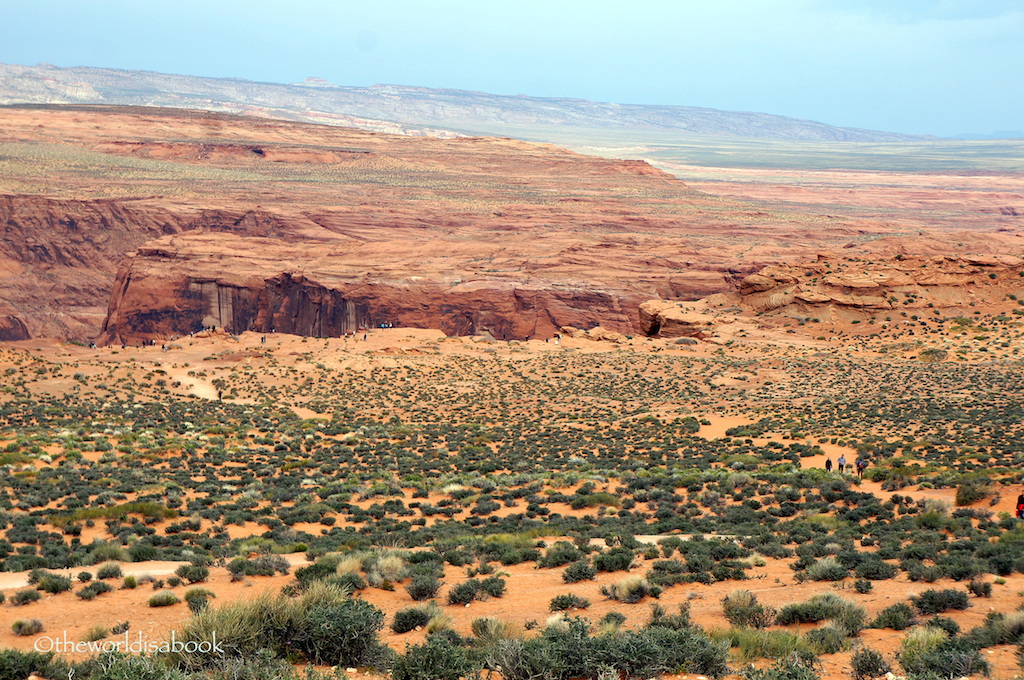 We drove into a dirt parking lot off US Hwy 89 near Page around 9 AM. It was already filled including a parked tour bus. So, go early. The ¾ mile one way trailhead was an initial walk up on red sand to a small covered gazebo for some viewpoints of the area.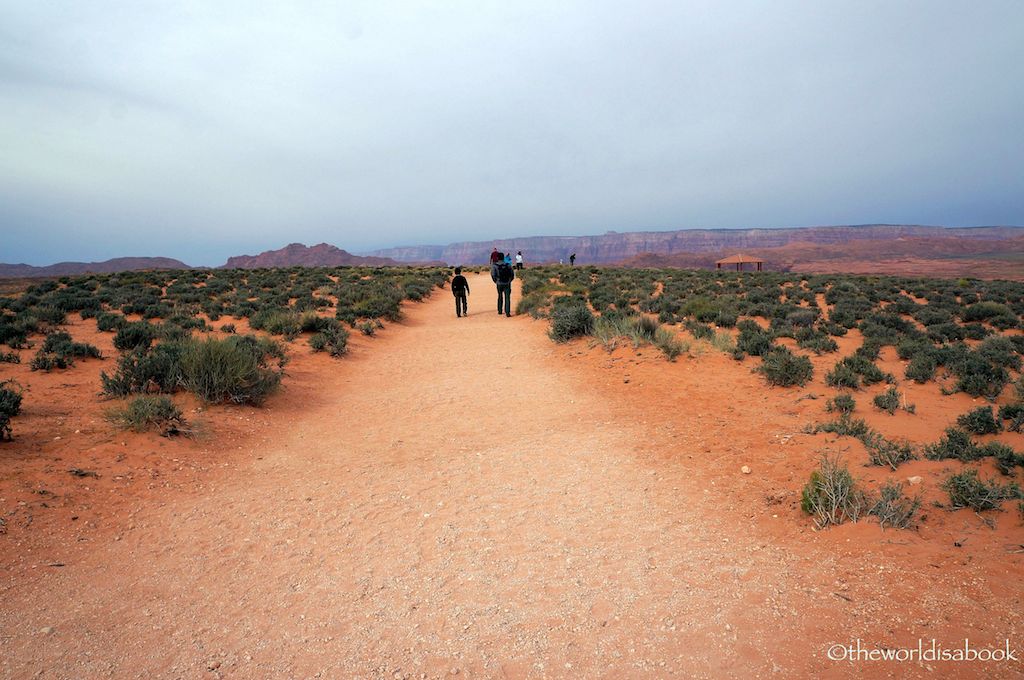 The remainder of the trail to the rim was downhill with a combination of sand and stone. We didn't spot any animals but did see some florals. There appears to be nothing until you reach an area where it just drops off.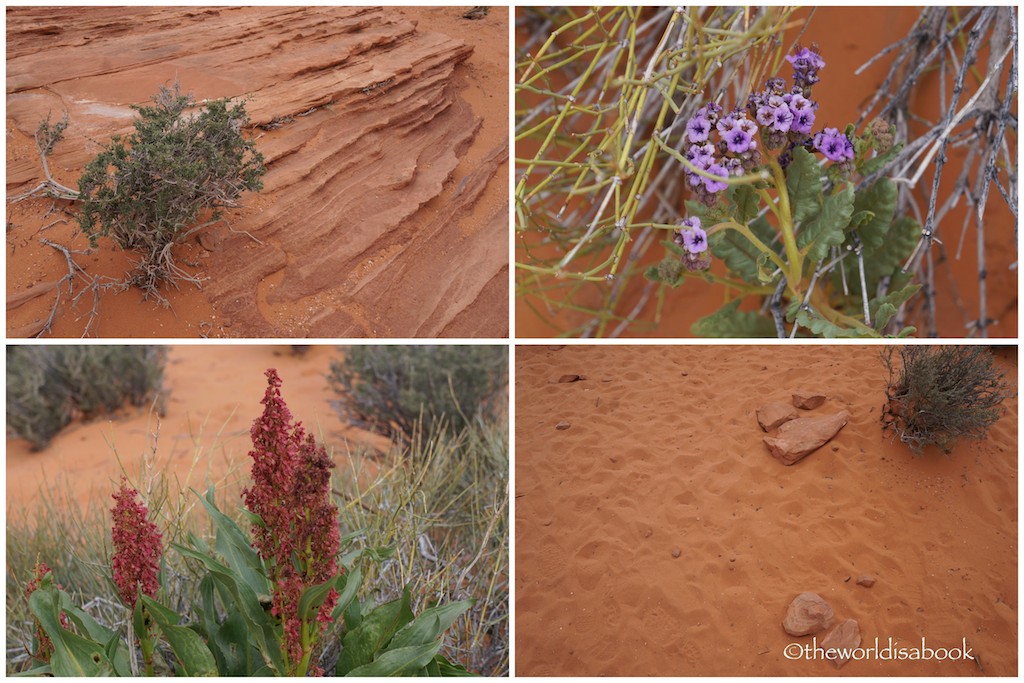 I was unprepared for the phenomenal view of Horseshoe Bend as we approached the rim. I don't know what I was expecting after seeing countless pictures but I wasn't prepared for its size. Pictures make it look smaller than it actually is. It was immense, incredible and very scary.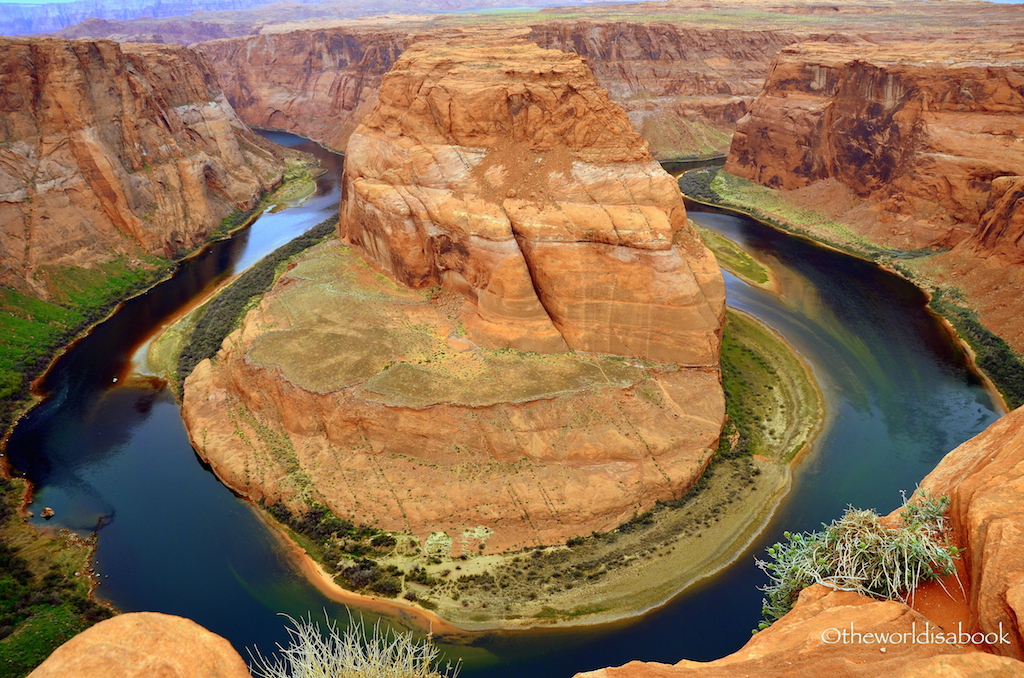 Unlike other tourist overlooks, there were NO guardrails that separated visitors from the 1,000 feet ( 305 m) drop into the Colorado River. This is a free attraction and maybe there aren't any funds or not enough complaints to warrant the government to build a barrier to protect visitors here. We felt so vulnerable standing on the edge of this overlook.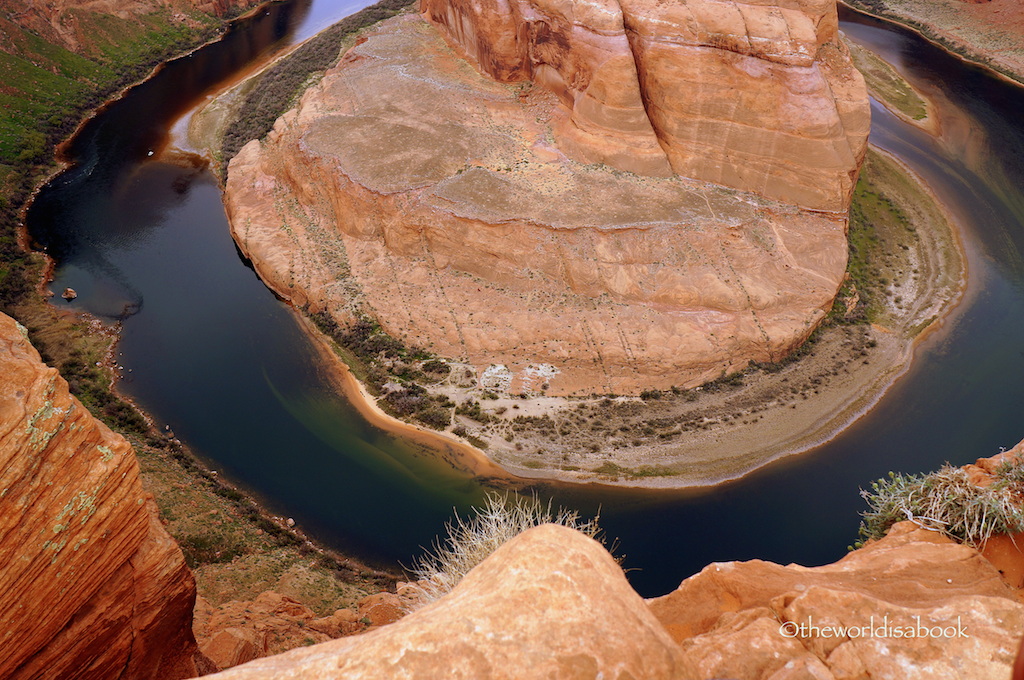 My heart skipped a beat as I looked down while firmly holding my very active 8-year-old son's hand. I don't have a fear of heights or suffer from vertigo but looking down that sheer cliff drop off made my heart race and I felt dizzy. This isn't for the faint-hearted. I would be very hesitant taking active toddlers here.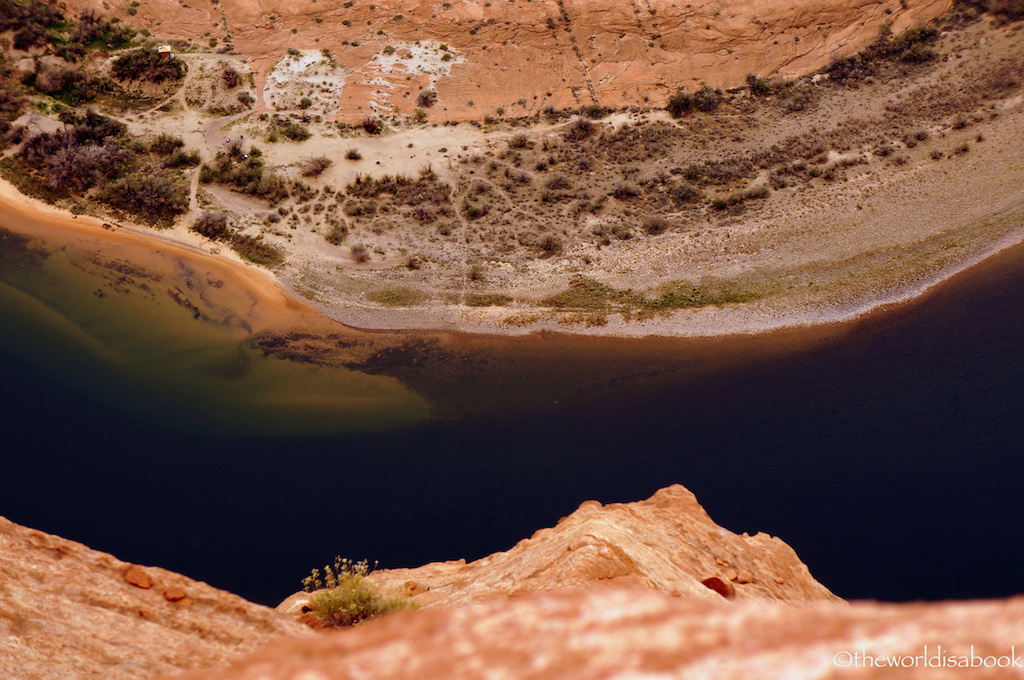 It was amazing to see the layers of smooth Navajo sandstone, sand and other particles that created this cliff, eroded by natural elements, over thousands of years.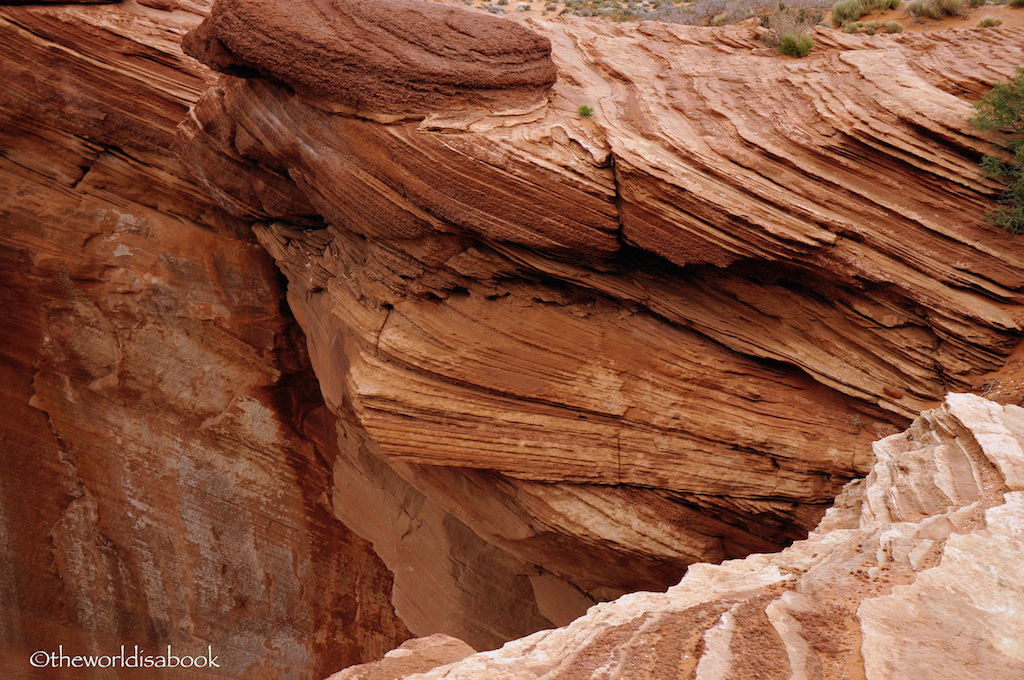 The Colorado River is an astonighing force that cut through these sandstone layers in the canyon to naturally form this unusual bend.
There were many vantage points on the cliff to see Horseshoe Bend. But, many flock to the center area which also got a bit crowded. We saw various angles of the sandstone cliffs and the river below by walking to some uncrowded spots. We stayed for awhile taking in the scenery. There may have been a crowd here but there was also a sense of peace and serenity surrounding the area.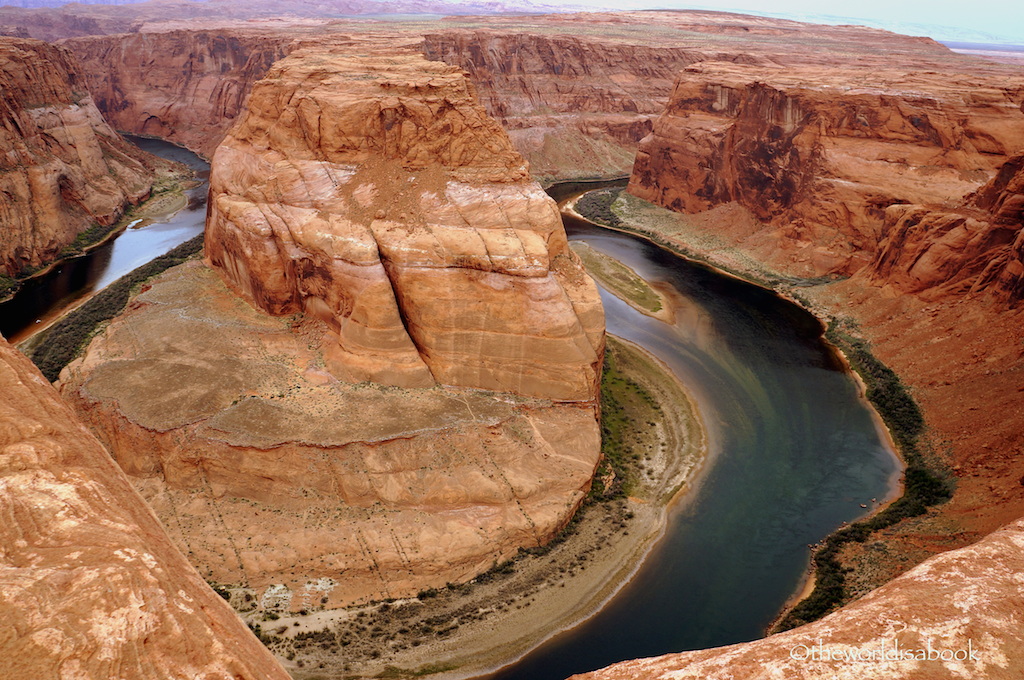 Despite what this calm scenery may look like, it was also very windy here. It almost felt like anything that wasn't nailed down was going to be blown over. I was too pre-occupied and stressed to videotape. It was strong enough that our rafting trip down that river below was cancelled an hour earlier due to high wind advisory. So, we will need to go back one of these days and try to do that rafting trip. I can't even begin to imagine how all of these must look from below.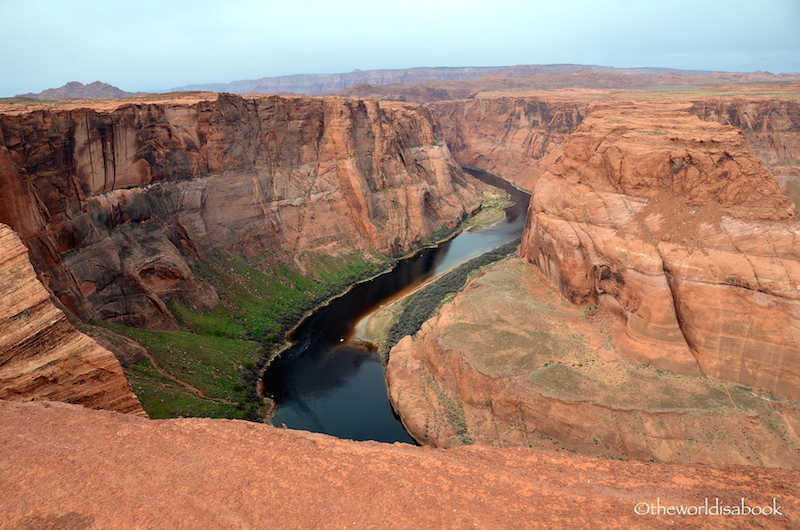 The kids and I decided to stay as far away from the edge as possible. There weren't many kids there and it was easy to know where they were. Moms, like me, were yelling at them to stay back or stay put. It was stressful watching some of those kids stray from their parents. It was a relief to see my son actually stay in one area for once…far away from the rim.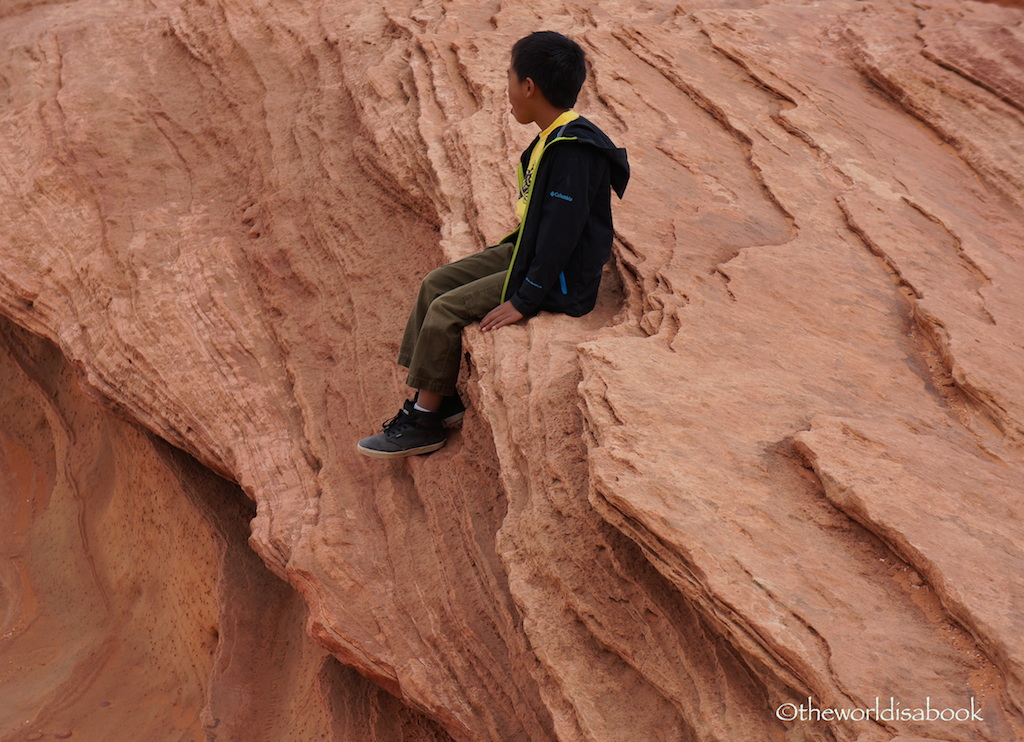 At some point, it got so windy and with sand flying everywhere that my kids huddled into one area and covered themselves. I felt bad for this poor, little girl who started crying so hard after she was sandblasted. Those specks of sand were painful!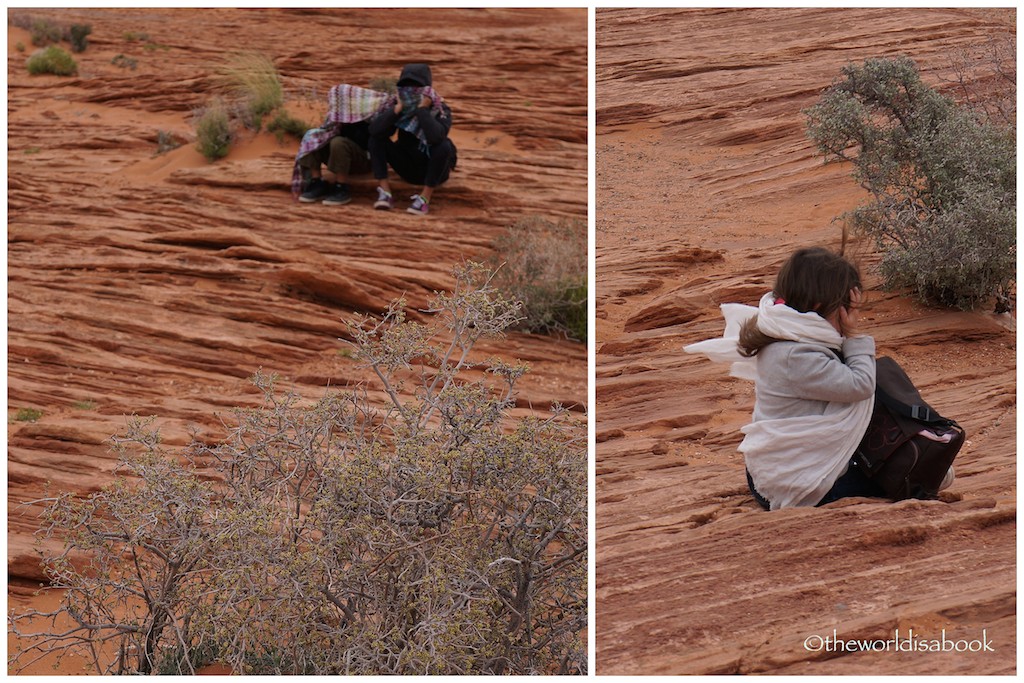 While my kids and I waited for my husband as he took endless pictures from different angles, I found people watching here quite interesting. Some people really do have nerves of steel to get that tourist picture. They were all making me nervous as they stood too close to the rim of the steep cliff.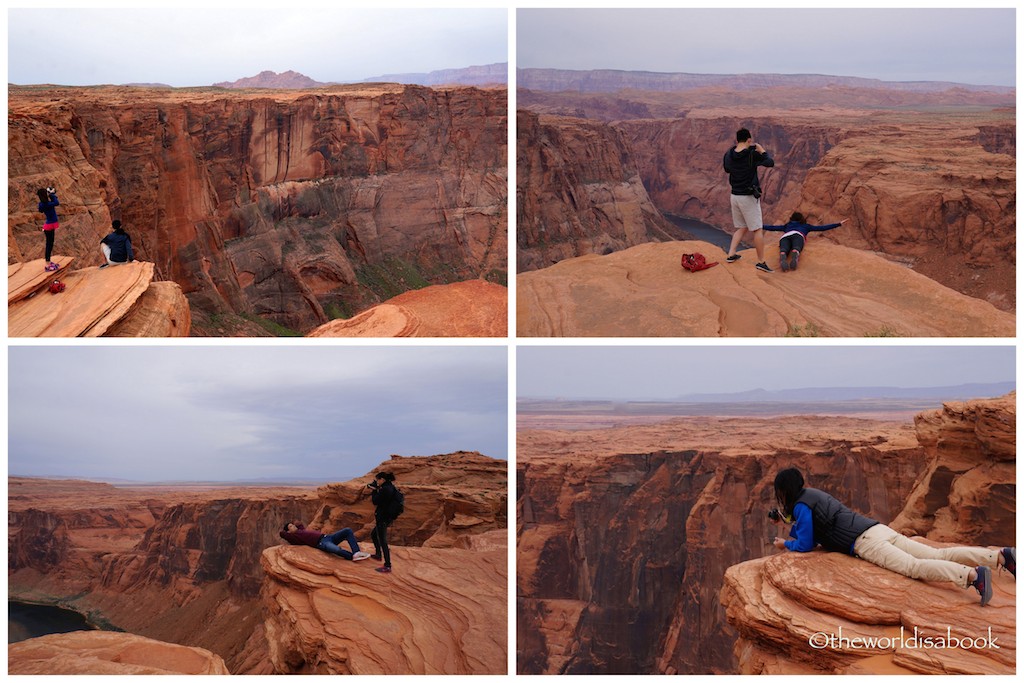 Yes, that is my crazy, gutsy husband who couldn't resist doing this shot despite my protest. He insisted I take the picture from a higher ledge. Thank goodness for zoom lens! He felt left out watching those other people posing. He slowly crawled on his stomach to the rim to get into that position. Would you dare?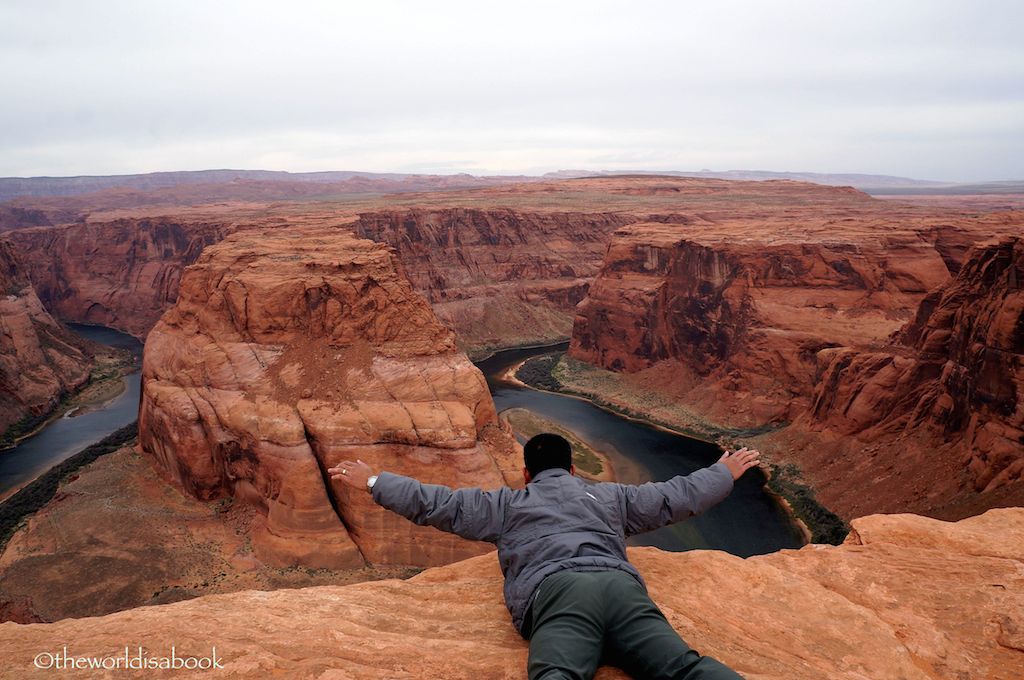 Of course, we couldn't leave without some jumping shots to add to our tacky tourist photos collection.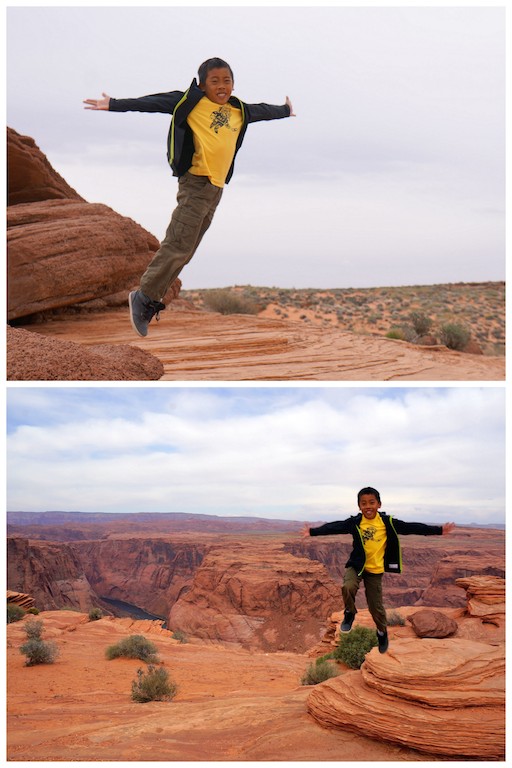 It was a nerve-wracking experience standing at the overlook but worth it for one of the most amazing natural views of the winding Colorado River. Horseshoe Bend was a grand spectacle. The hike wasn't long and not too strenuous and may only take a few minutes to see the bend but it made for a memorable adventure.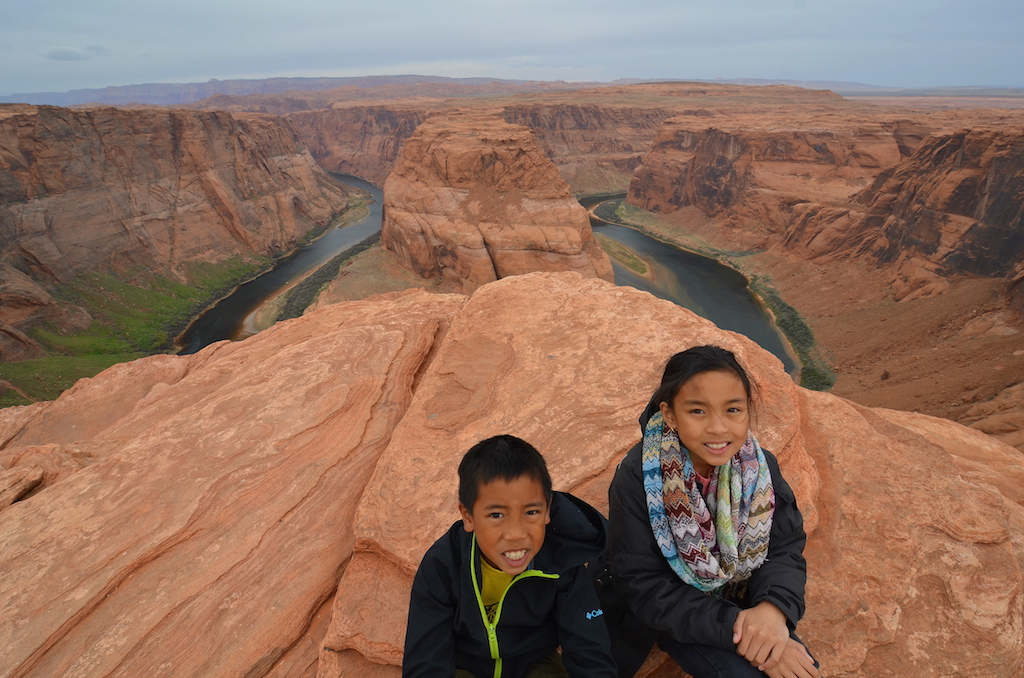 Visiting Horseshoe Bend Basics and Tips
There is plenty of parking on the dirt lot. Trash cans, restrooms or food concessions are NOT available here.
Bring plenty of water (especially if traveling during the summer months) and snacks for everyone.
Leash your pets if you are planning to bring them here.
Weather can change dramatically here. We experienced sprinkling, high winds, sun and cloudy all within an hour.
Dress in layers for wind and sun protection. Bring head cover since there are no shades anywhere in the area.
Bring binoculars to see boats and campers down the river.
Wear closed toe shoes since you'll be walking in sand for the most part of the trail.
There is a "Leave Nothing Behind" message at the beginning of the trail and a great one to keep in mind when visiting this beautiful area.
This tip is from my husband who took most of the photos here. Use a wide-angle lens and change your lens carefully since it could get quite sandy. You should also take a camera with panoramic features to get the entire Horseshoe Bend scene. I'd like to thank him for having enough nerves to be at the edge and snap away.
Have you stood at the edge of Horseshoe Bend?